Did you ever think of having a little "lion dog" to warm your feet at night? Or did you ever look for a toy group dog breed that is sturdier than other toy group dogs? Look no further — Shih Tzu is a sturdy toy dog.
Their name means "lion dog" in the Chinese language, and they are certainly fierce, and brave compared to their size. Not only do they have amazing personality traits, but they are also one of the most beautiful-looking dogs.
With their long coats and various beautiful coat colors, the Shih Tzu dogs are one of the most sought-after dog breeds in the US.
If you were thinking of getting yourself a Shih Tzu puppy and you live in and near Florida — we have a list for you composed of the 19 best Shih Tzu breeders in Florida.
There are a lot of Shih Tzu breeders across the US, but why waste time and money on transport, even risking the health of the puppy, when there are reputable breeders in Florida with beautiful and healthy Shih Tzus puppies waiting for you to get them.
Shih Tzu Puppies For Sale In Florida
The Sunshine State has a lot of breeders and kennels that offer Shih Tzu puppies for sale. Look out for scammers and puppy mills. The latter is the worst because they treat their animals inhumanely and should be immediately banned.
If you suspect a puppy mill, call 1-877-MILL-TIP to contact and inform the Humane Society of the United States.
Because we understand the difficulties of finding a reputable breeder, we did the research, checked the owners, and made a list of the 19 best Shih Tzu breeders in Florida. Some of them have been in the business for more than 30 years.
Others might be rather new, but they still possess all the qualities of a good dog breeder.
Before we talk about the breeders, let's talk about the general appearance of the Shih Tzu dog breed. After all, we need to know what this dog breed should look like in order to know what to search for.
There are general physical traits accepted by the AKC (American Kennel Club) that we are going to mention.
1. Tian Mi Shih Tzu, Clermont, FL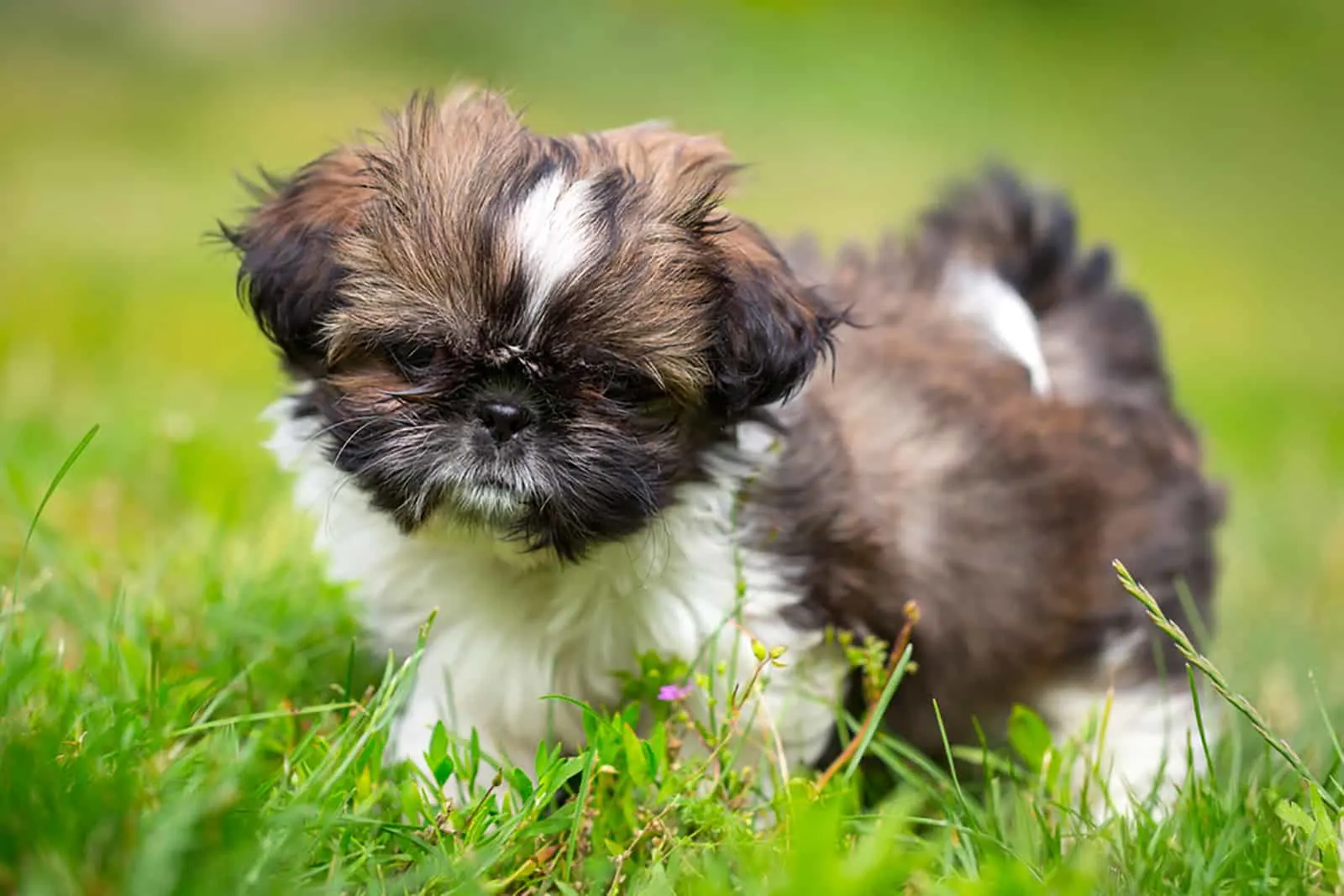 Let us meet Leslie LeFave. She and her husband breed standard Shih Tzus, but they also have other animals on their property — cats, fish, and chicken. And the best part is that they all get along well!
Just like Leslie likes to say, the cats love the fish, the fish love the cats, and dogs love all of them — a small animal paradise.
She has been in the breeding program business since 2001. That is more than 20 years of experience in breeding quality puppies of this amazing dog breed.
You can be certain that the dogs bred and raised at Tian Mi Shih Tzu are going to be healthy and happy, ready to become your new furry family members.
Leslie LeFave follows the AKC Shih Tzu standards, and she has Show Line dogs, as well. Her dogs for sale have been checked by a certified vet, and they are potty trained just like all of the dogs she owns.
They have had their appropriate first vaccines, and they are regularly de-wormed, groomed, and loved.
Leslie LeFave and her Shih Tzu puppies are an excellent choice to find your new Shih Tzu pup.
Address: 11529 Beaman Cir, Clermont, FL 34711, USA
Phone: +13523940582
Website: Tian Mi Shih Tzu
2. Blessed's Shih Tzu, Apollo Beach, FL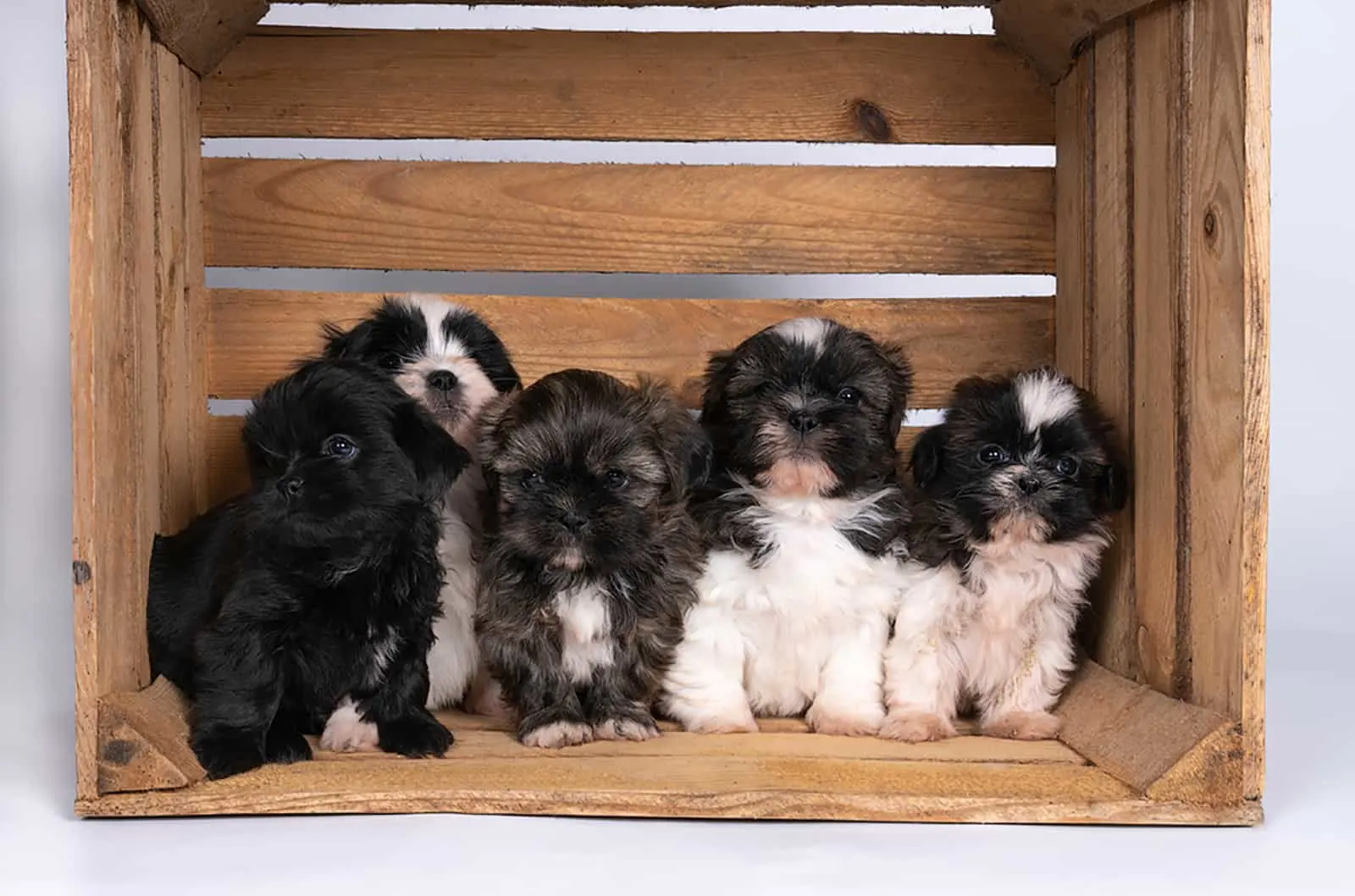 Sheila Ramirez is on our list of the 19 best Shih Tzu breeders in Florida for a good reason! She has a family, not a breeding program. That means a lot when you want to buy a puppy.
Breeders who treat their dogs, all of their dogs, as family members produce some of the best quality pups.
This is because they don't think only about making a profit. A good breeder makes sure their dogs are healthy and happy, and they don't pay attention to the number of litters or the number of puppies per litter.
They want to make sure each and every puppy is foremost healthy, loved, and overall happy puppy.
Sheila Ramizers is a Florida Shih Tzu breeder who checks all the boxes of an excellent breeder. Her dogs come with an AKC registration paper, as well as vaccines and health certificates.
If you decide to buy a Shih Tzu puppy from Blessed's Shih Tzu breeder you will get a one-year health guarantee that states that the puppy has no hereditary diseases. They are also potty trained and are ready to become your best friend!
Address: 6838 Monarch Park Dr, Apollo Beach, FL 33572, United States
Phone: +18135069111
Website: Blessed's Shih Tzu
3. Stacy B's, Port St. Lucie, FL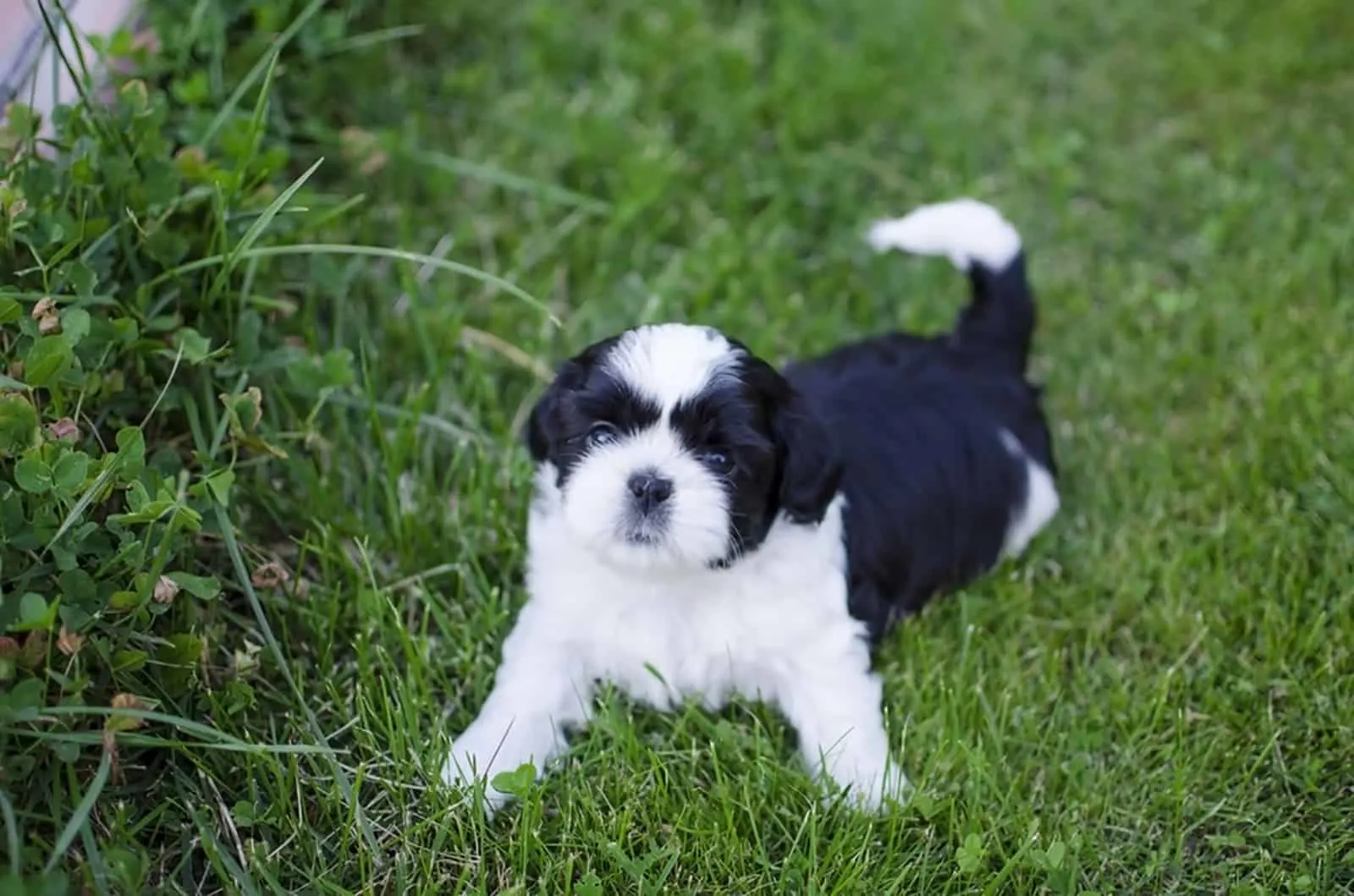 Stacey Bingham has been breeding Shih Tzus and Yorkshire Terriers since 1983. She is a member of the AKC, GGSTF (the Golden Gate Shih Tzu Fanciers), and ASTC (American Shih Tzu Club).
She also has a Breeder of Merit title awarded by the AKC for an outstanding breeding program and outstanding care of her puppies.
If you like the fact that she is a member of so many respected clubs, then you should visit Stacy B's and see her available Shih Tzu puppies. Stacey takes care of the puppies' health, looks, and temperament, too.
She makes sure they are well-socialized from an early age so that they can be ready to join a family without a lot of fuss during the transition.
All of her puppies come from AKC champion dams and sires, and they have been de-wormed, vaccinated, and socialized. Stacey's puppies are available to go to a new home when they are at least 10 weeks old.
Address: Port St. Lucie, FL 34984, United States
Phone: +12098145437
Website: Stacy B's
4. Luv Of Pups, Ocala, FL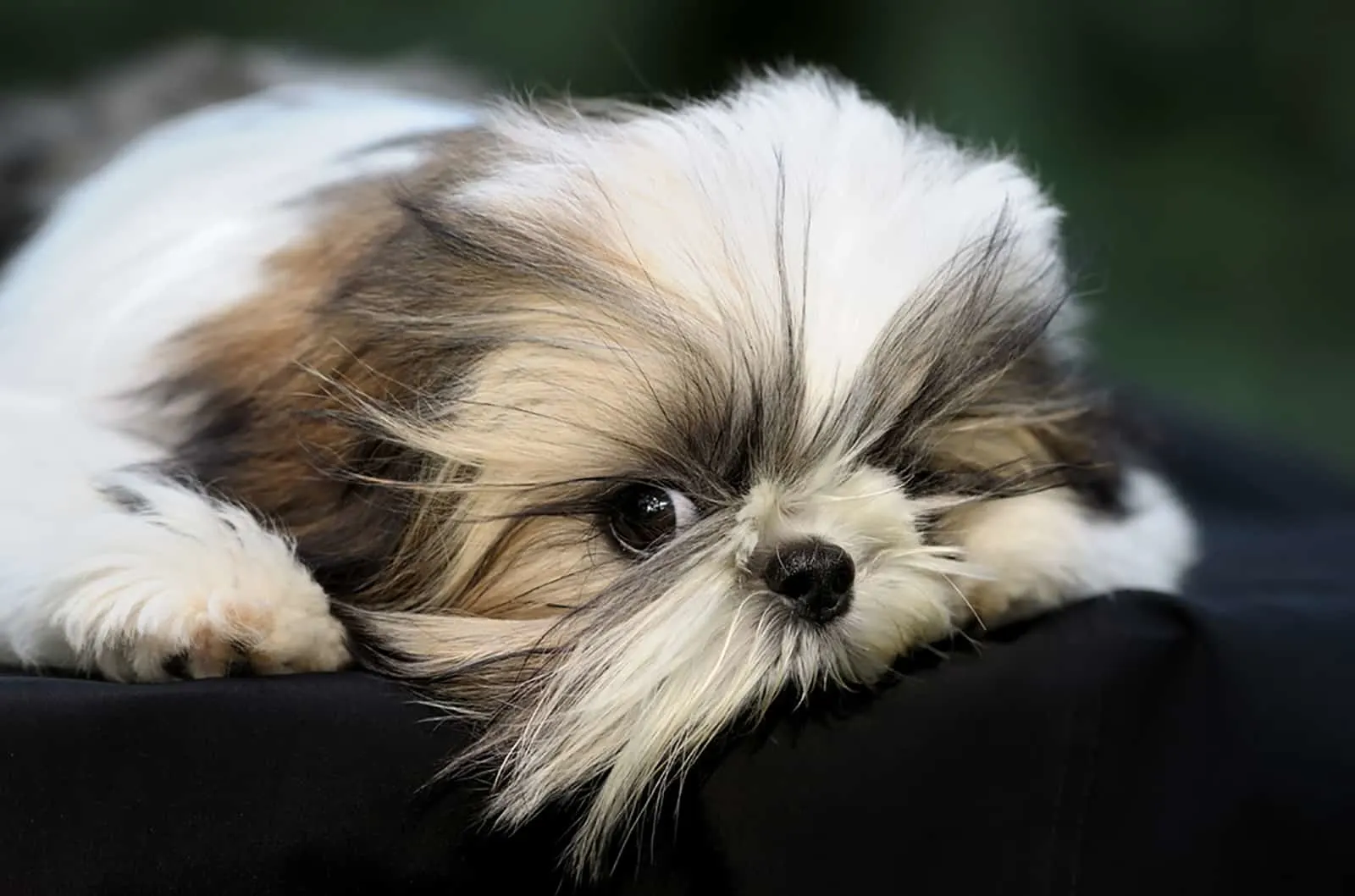 This is a small home breeder, but with just the same excellence in breeding Shih Tzus as some large business breeding programs. The owner's name is Cheryl Mack, and she lives with her adorable Shih Tzu puppies in Central Florida.
Cheryl has worked in the veterinary medicine field for more than 30 years, and she has a lot of experience in dealing with dogs from the moment they are born all the way to their senior years.
Her Shih Tzu puppies come with a health guarantee and her breeding program is AKC approved and registered. You can check her AKC profile and Facebook profile to see her available puppies and testimonials from happy buyers.
The dog parents are healthy and beautiful gold and white Shih Tzus with adorable big black eyes. You can see they are going to have just as gorgeous puppies for you to take home, and fall in love with their amazing temperament.
Address: Ocala, FL 34481
Phone: +13528438387
Website: Luv Of Pups
5. Poos 4 U, Panama City, FL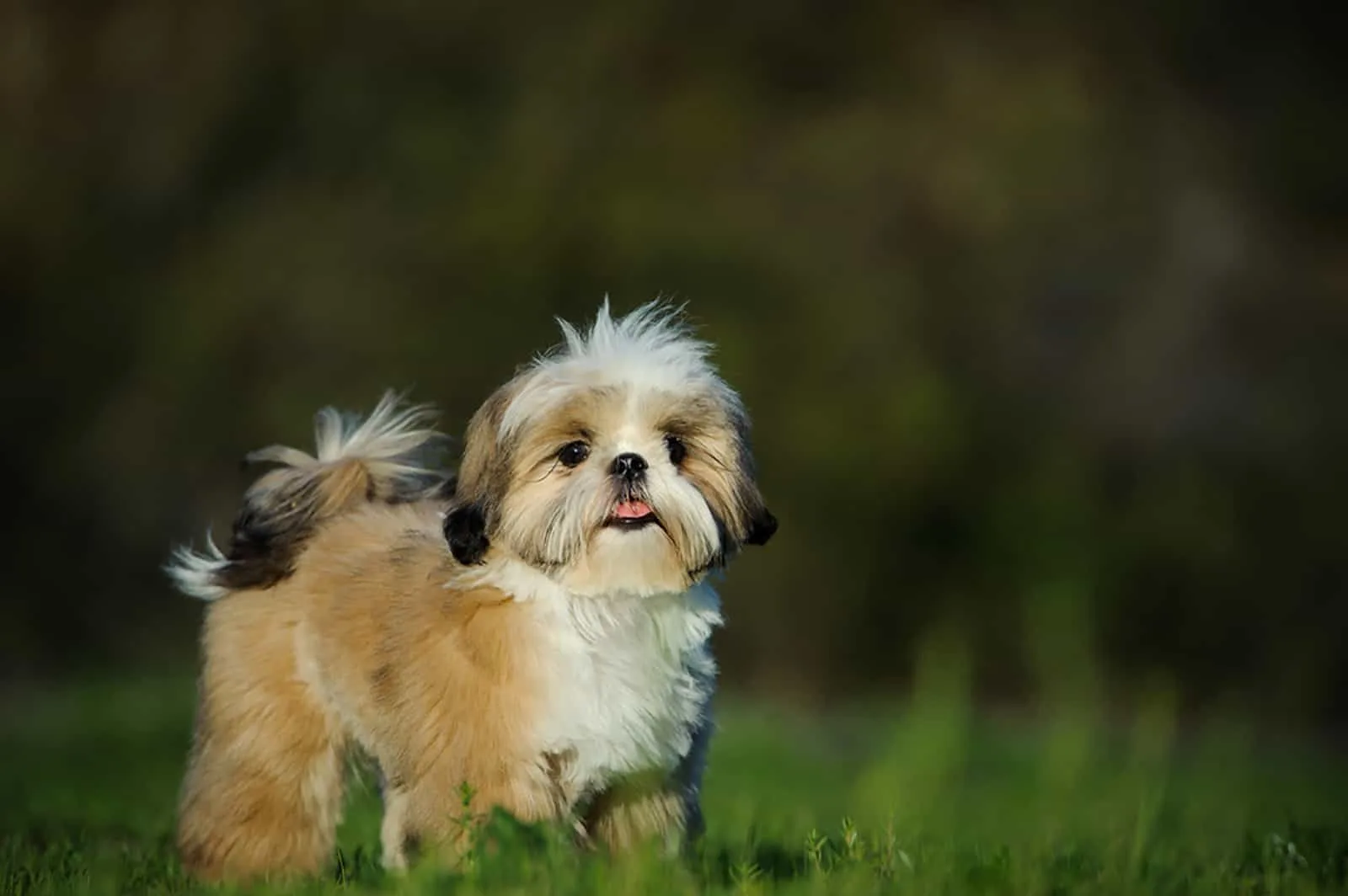 The owner of Poos 4 U is Tammy Foster. She is not only an excellent breeder, but she is also an excellent pet groomer. Tammy breeds Shih Tzu, Maltese, and Maltitzu puppies (a Shih Tzu Maltese crossbreed).
Being a professional groomer, you can be sure Tammy Foster makes sure all of her puppies have the best Shih Tzu hairstyles and the healthiest coats! Of course, that is not the only reason she is on the list of the 19 best Shih Tzu breeders in Florida.
Her puppies go through regular vet checks, and they are regularly vaccinated and de-wormed. She offers a health certificate and a health guarantee, and she sends her puppies to their new home with a heartworm preventative.
Also, if you decide to get a puppy from Poos 4 U, your puppy will be well-socialized and potty trained.
Another wonderful thing about Tammy is her dedication to feeding the dogs high-quality food. She feeds her dogs a grain-free diet, cooks her doggies' food, and she gives them probiotics and enzymes regularly. Well done, Tammy!
Address: 407 Wildwood Dr, Panama City, FL 32404, United States
Phone: +18508742445
Website: Poos 4 U
6. TLC Puppy Love, Jacksonville, FL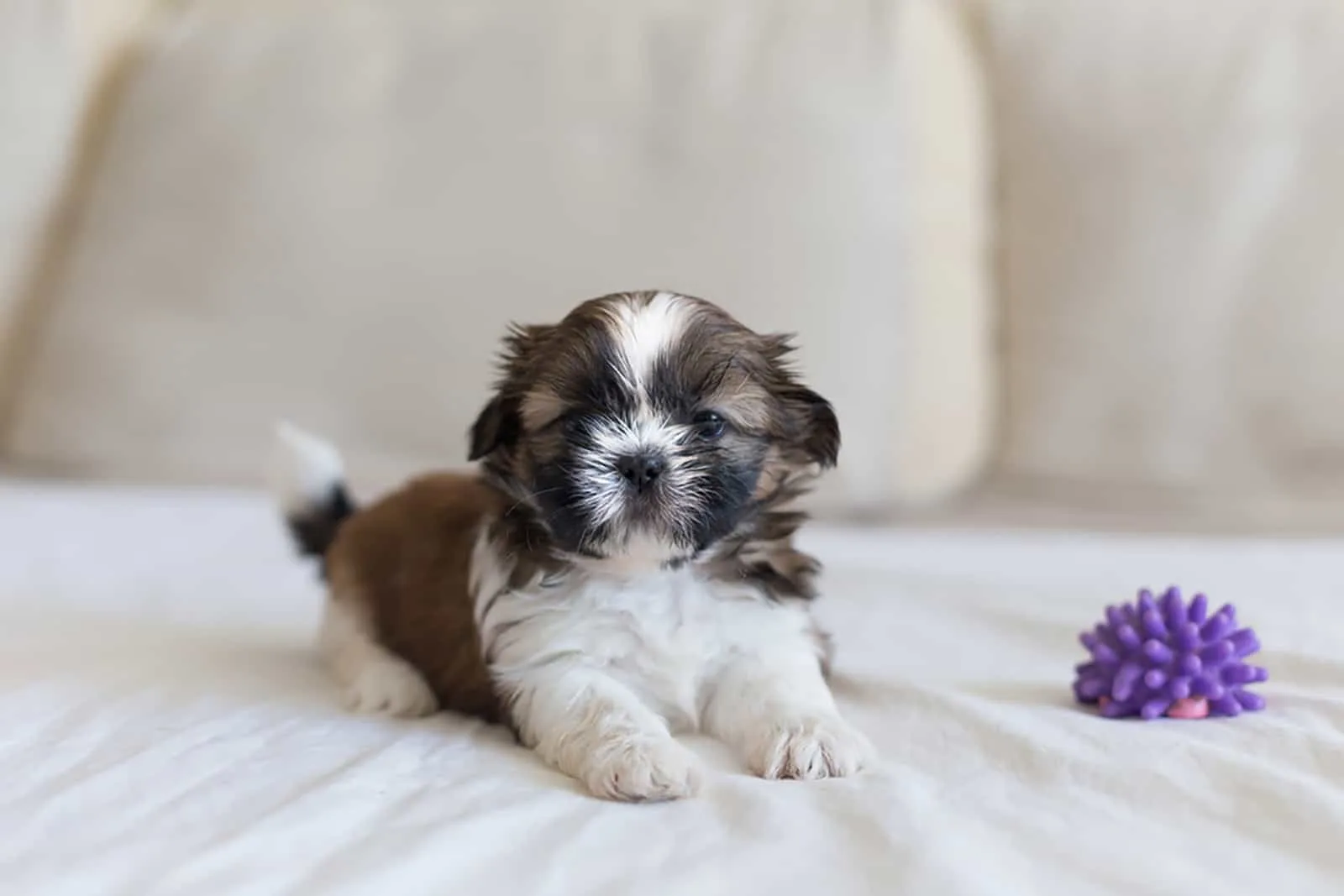 Stacy Collins is the owner of the TLC Puppy Love. She is there literally from the first breath puppies take until it's their time to go to a new home.
Stacy calls herself a "mid-woof" giving herself a special title meaning she delivered the puppies alone. Of course, dogs can do that by themselves, but she is there to monitor the process and step in if there are any problems.
If the puppy has any problems getting into this world, she is there to help and cut the cord, clamp it, and clean up the puppy.
She does it with great love and care. Stacy loves all of her dams so helping with the puppies enables the mom dog (dams) to have a proper rest and gain back the lost energy.
TLC Puppy Love has more than one dog breed available. They have Yorkies, Poodles, Havanese, Maltese, etc. You can also find so-called designer dogs at her place.
The designer dogs are crossbreeds of two purebred dogs, for example, a cross between a Shih Tzu and a Havanese is called the Havashu.
Stacy is always open to answering any questions you might have about the breed or the way she takes care of the dogs. You can dial her phone number to ask a question, or you can leave a message on her website.
Address: Mustang Haven Ln, Jacksonville, FL 32226, United States
Phone: +19048389628
Website: TLC Puppy Love
7. Precious Pups Of Florida, Brooksville, FL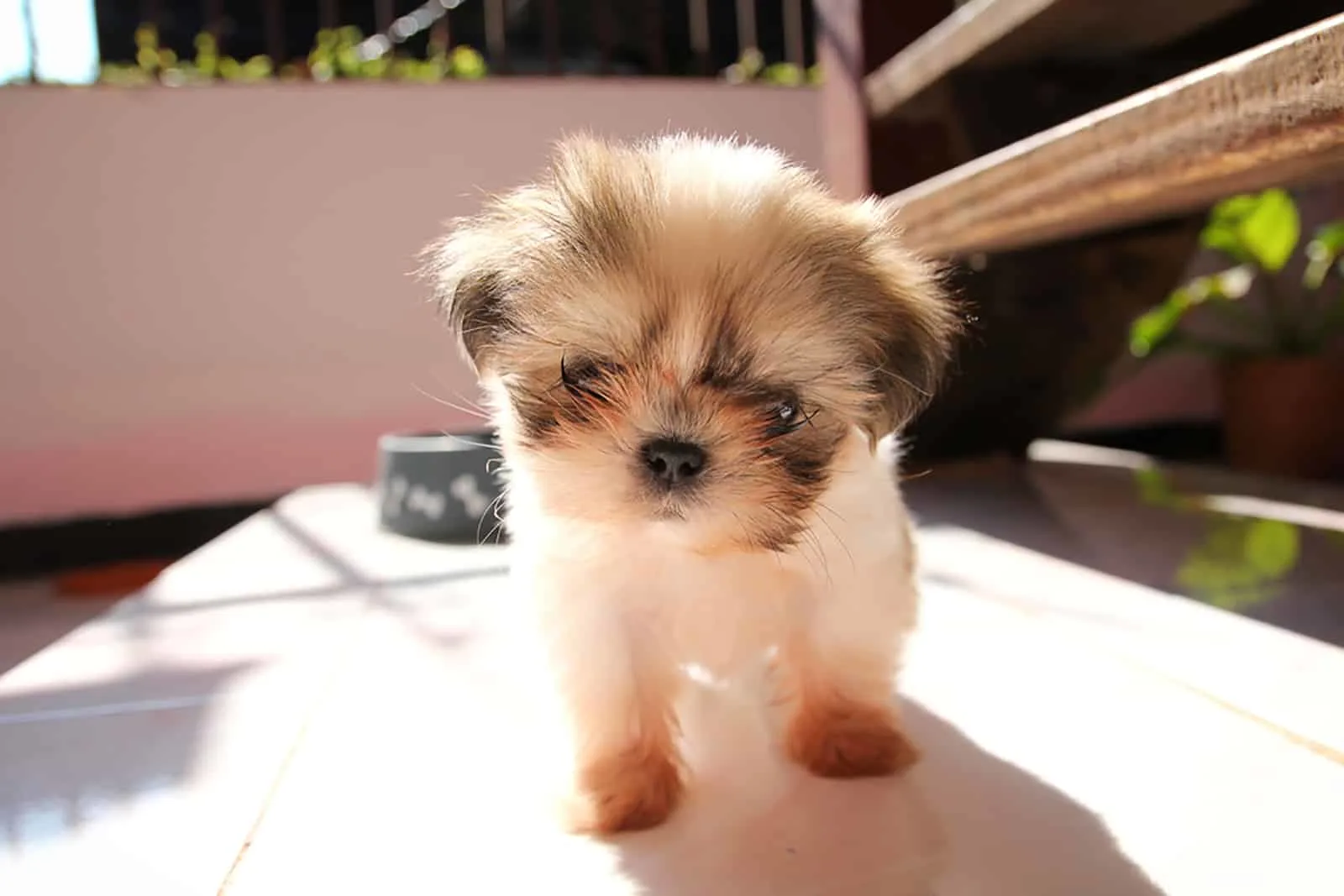 This is another small family hobby kennel. They have been Shih Tzu breeders in Florida since 1986. They breed Shih Tzus, Yorkshire Terriers, and their mix. If you are looking for an experienced breeder, Precious Pups is one of them.
They also offer a one-year health guarantee for all of their puppies. You can always check the dog's parents to see what they look like, what their health status is, and what you can expect from your new dog.
But don't worry — at Precious Pups you can be sure you will get a healthy and happy new furry family member.
Their puppies and all other dogs are regularly de-wormed, have all the necessary vaccines, and are loved and well taken care of.
If you have any questions, make sure to text them because that is the way of communication they prefer at the beginning
Address: 18307 Mason Smith Road, Brooksville, FL 34604
Phone: +13525871541
Website: Precious Pups Florida
8. Vanity Pups, Fleming Island, FL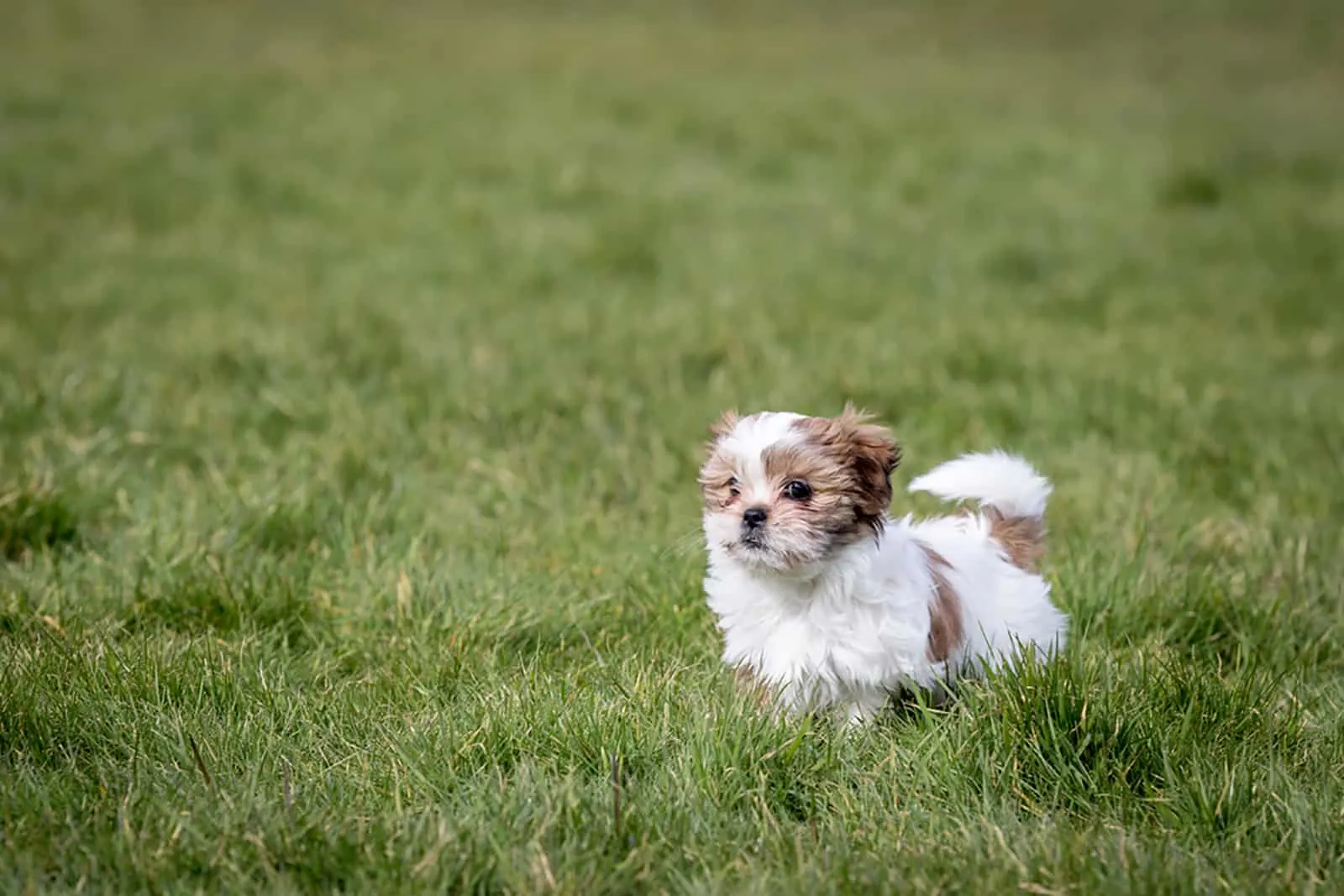 Here we have not only one of the Shih Tzu breeders in Florida, but another professional dog groomer too! Her name is Shirley, and she has been in the breeding/grooming business for more than 15 years.
Shirley and her three children breed Shih Tzus, Poodles, French Bulldogs, and ShihPoos (a mix between Shih Tzu and Poodle).
They also offer grooming services. All puppies you buy from Shirley have already been groomed several times before you can take them to your home.
That means they are already used to being groomed which will make it easier when you do it by yourself or when you take them to a new grooming professional.
Vanity Pups is a great place to find healthy, happy, and well-socialized Shih Tzu puppies. Shirley and her children take good care of all of her dogs, and she will answer any questions you want to ask.
You can also check out their Instagram page to see all the available puppies, as well as previous litters.
Address: 1810 Town Center Blvd #10, Fleming Island FL 32003
Phone: +19043752227
Website: Vanity Pups
9. Denimay Shih Tzu, Miami, FL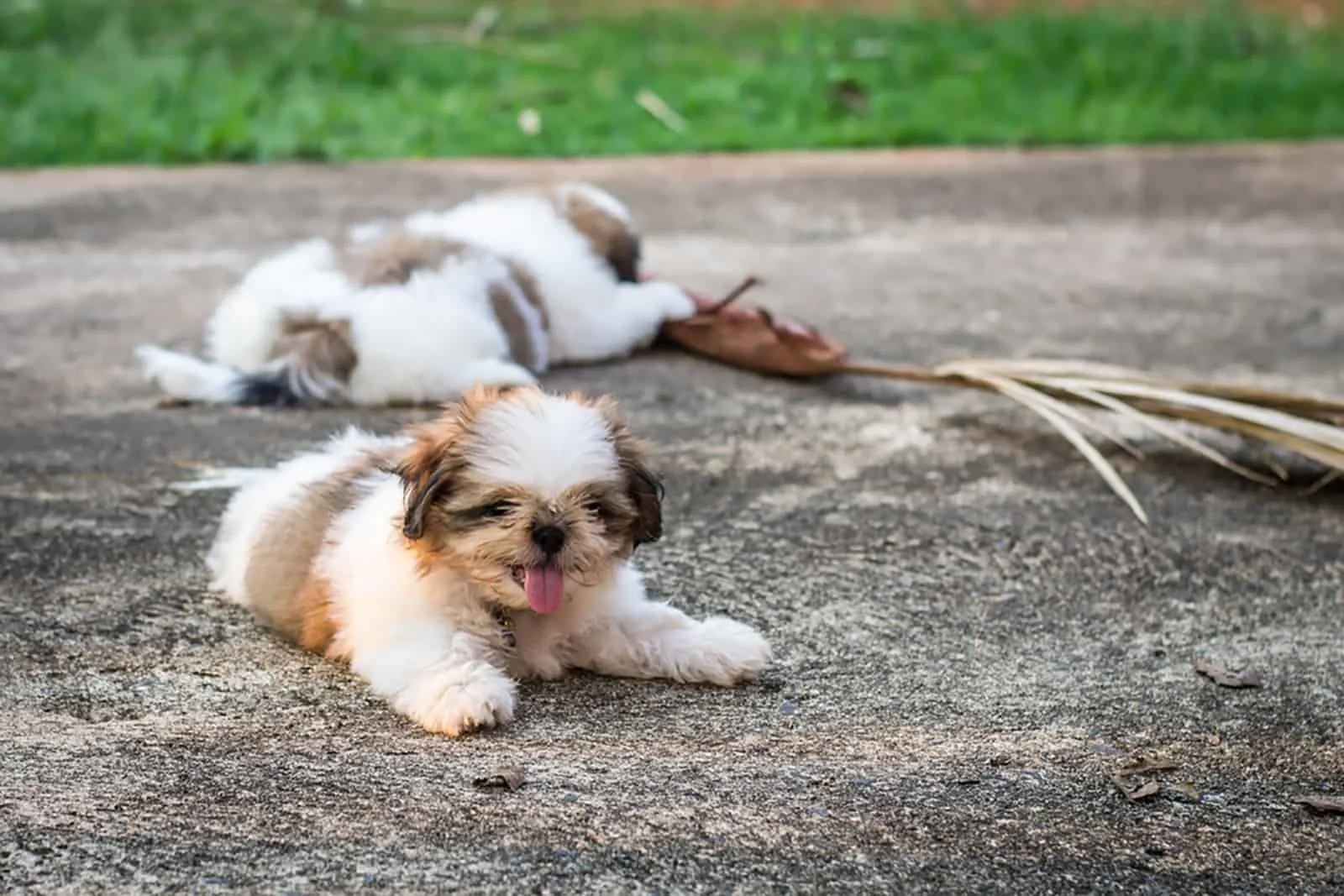 Denimay is on the list of the 19 best Shih Tzu breeders in Florida for a reason! They have been in business for more than 20 years, and they have a lot of positive reviews behind them to prove what serious and wonderful Shih Tzu breeders they are.
They have standard and teacup Shih Tzus in various coat colors, from black and white, to brindle, to red Shih Tzu coat color.
Denimay Shih Tzu also has an amazing garden for puppies to sniff and explore and to get familiar with all kinds of noises and sights.
They have been running this business for a long time, and they bring the best Shih Tzu puppies to this world. Their dogs are loved and everyone at the Denimay's thinks a Shih Tzu owns you not the other way around.
Address: 12800 Sw 6th St, Miami
Phone: +13057997000
Website: Denimay Shih Tzu
10. Devalon Tzu, West Palm Beach, FL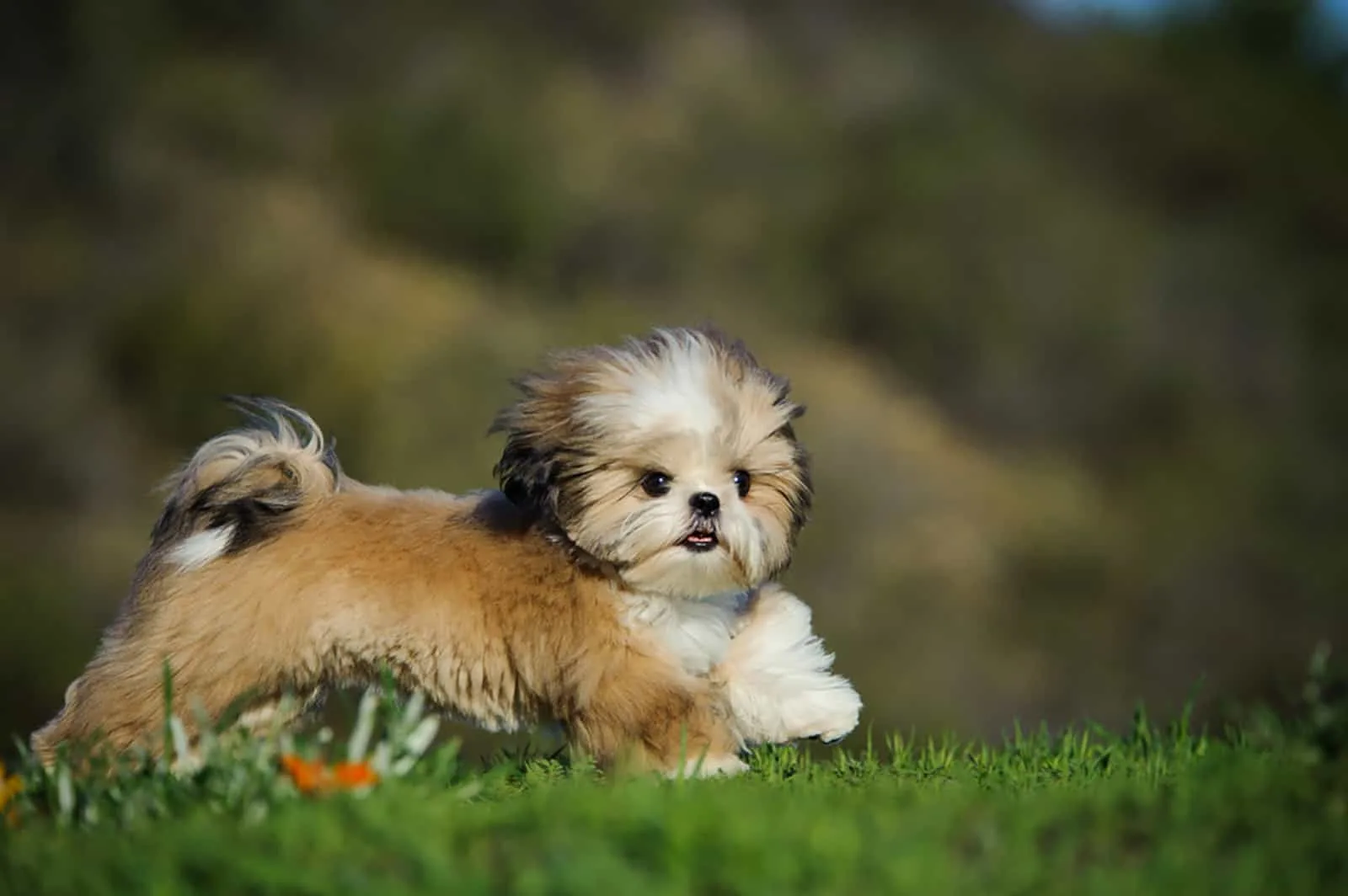 We meet Kerri, the owner of Devalon Tzu from West Palm Beach. She has been breeding and taking her Shih Tzu dogs to dog shows since 1999. A lot of passion, professionalism, and knowledge goes into making such outstanding Shih Tzus.
She is an AKC registered breeder, and she is also an active member of the Therapy dog foundation (TDF) and the Toy dog club of South Florida.
Of course, when we talk about amazing Shih Tzu breeders in Florida like Kerri it is only natural to assume she treats her dogs like family members.
And she does. All of her dogs are born and bred in her home. She makes sure they are well-socialized from an early age, she takes care of them, and she gives them the opportunity to learn and explore freely but in a safe environment.
If you are looking for a dog that can become a great Show dog with amazing lineage, Devalon Tzu is the place to go.
Address: 9067 Southern Blvd, West Palm Beach, FL 33411, USA
Website: Devalon Tzu
Email: [email protected]
11. Maldiz Shih Tzu, Winter Haven, FL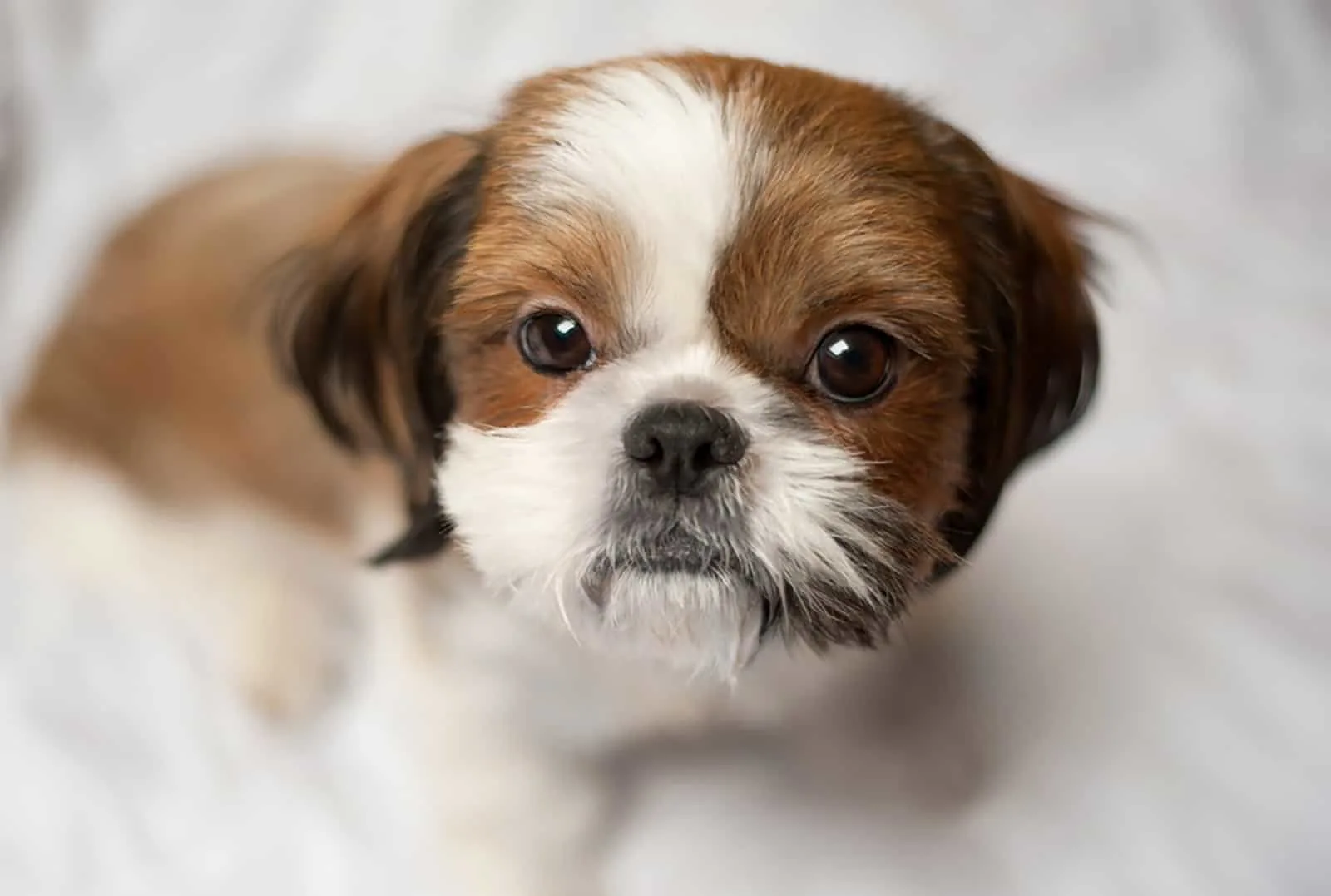 Angel Diaz and Frankie Maldano are the owners of Maldiz Shih Tzu. They originally had a breeding business in Puerto Rico, but they moved to Florida to continue their dream job. They have a lot of championship medals, some of them are the National
Championship, the American and Caribbean Championship, the American Championship, etc.
Maldiz is one of the best Shih Tzu breeders in Florida, and they do it according to the AKC standards. They have a Facebook page where you can see their photos and videos from recent or the most memorable Championships.
They only have a few puppies available each year, so contacting them is a priority if you want to be put on a waiting list. They offer excellent Shih Tzu puppies, but they come with a spay/neuter contract.
That means you have to spay or neuter your dogs when they reach the appropriate age.
Address: Winter Haven, Florida
Phone: +14078530445
Website: Maldiz Shih Tzu
12. Beth Ash Shih Tzu, Orlando, FL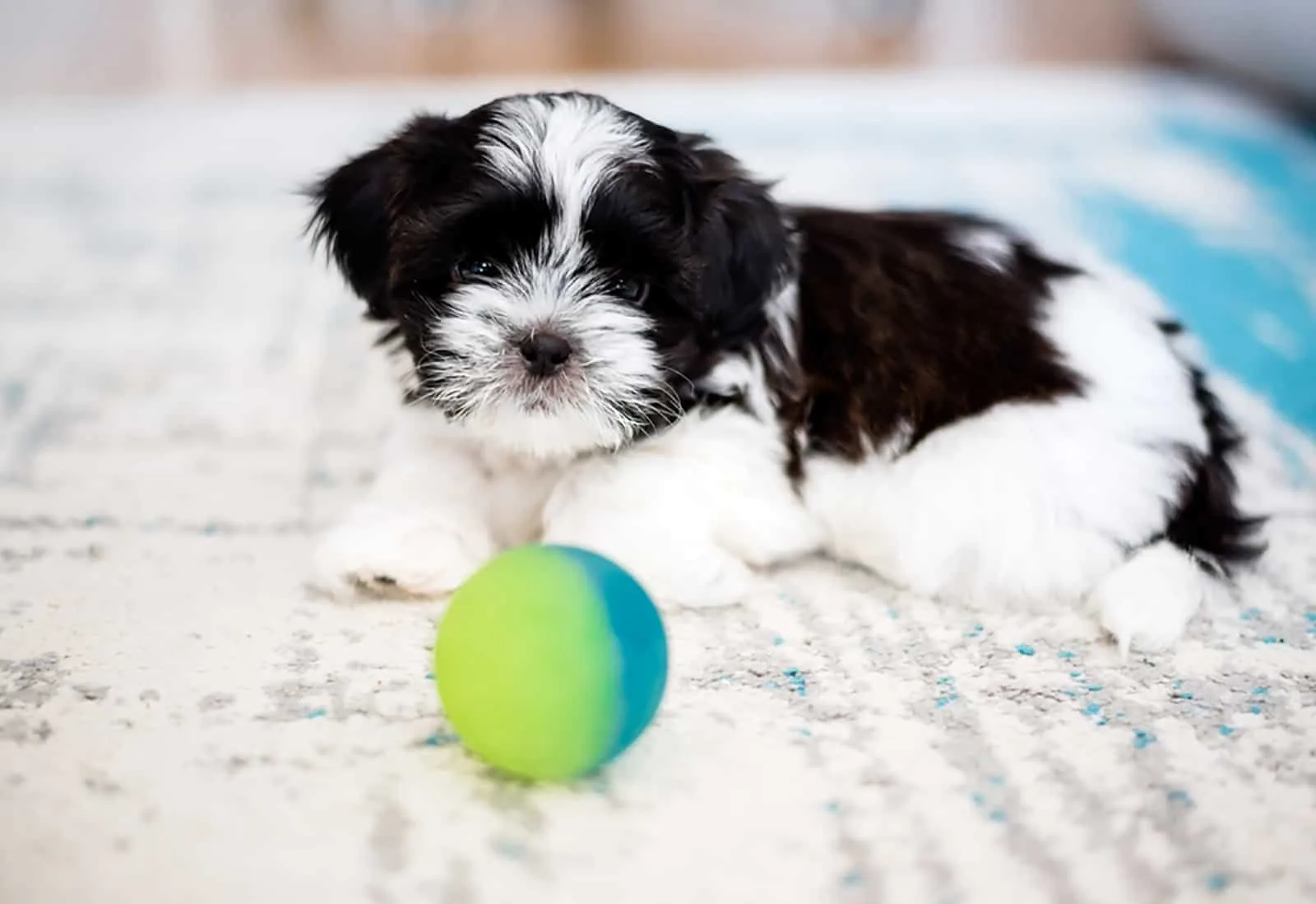 Beth Ash is a serious and experienced dog breeder. She takes great care of all of her dogs. And she does more than that. She treats her dogs (together with her husband) like they are family members.
You might have noticed that this is the trait of the best Shih Tzu breeders in Florida, and anywhere in the world. They all treat their dogs like family members.
That makes the pups well-socialized and well-adapted to noises, grooming, and children as well.
Beth Ash dogs come with a health guarantee. They are all de-wormed and vaccinated, and they have all been through regular vet checks. The important thing to understand is that Beth doesn't sell her puppies to become breeding dogs.
She sells her puppies to become family members and best friends. That's why they come with a limited AKC registration, and they need to be spayed or neutered. But, that is what it's all about.
Beautiful Shih Tzu puppies ready to make your life a little bit better, one bark at a time.
Address: Orlando, Florida
Website: BethAsh Shih Tzu
Email: [email protected]
13. Chimera Shih Tzu, Englewood, FL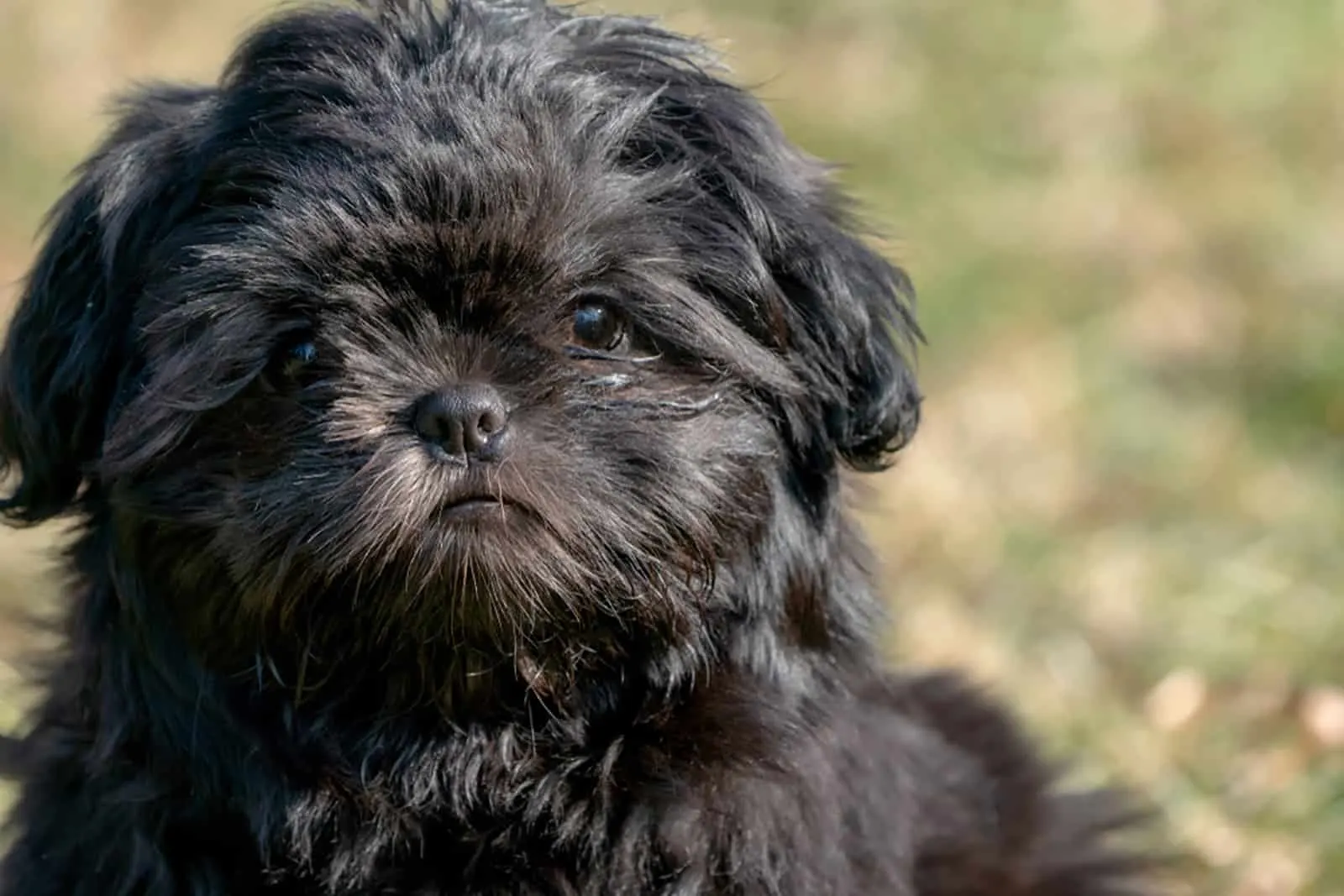 Meet Stephanie and Allyssa — the mother/daughter duo from Chimera Shih Tzu. This breeder has many reasons to be put on the list of the 19 best Shih Tzu breeders in Florida.
One of them is the obvious reason — breeding puppies of excellent health, looks, and temperament.
But they don't breed companion dogs only. They also breed therapy dogs. Being autistic and having two autistic children, Stephanie makes sure to breed dogs that are extremely helpful for such people and families.
They know from their personal experience that having a good dog can mean a lot for people with autism. These dogs are their support and often a bright light in the darkness of anxiety and fear.
All of their dogs are tested through EMBARK, and they do additional tests so that they can have their OFA and CHIC health certificates.
So, definitely check out the Chimera Shih Tzus. You will not be disappointed with their dogs' health, manners, and looks.
Address: 950 S River Rd Box 712, Englewood, FL 34223, United States
Phone: +15804805537
Website: Chimera Shih Tzu
14. Fuzzy Wuz Shih Tzu Puppies, Milton, FL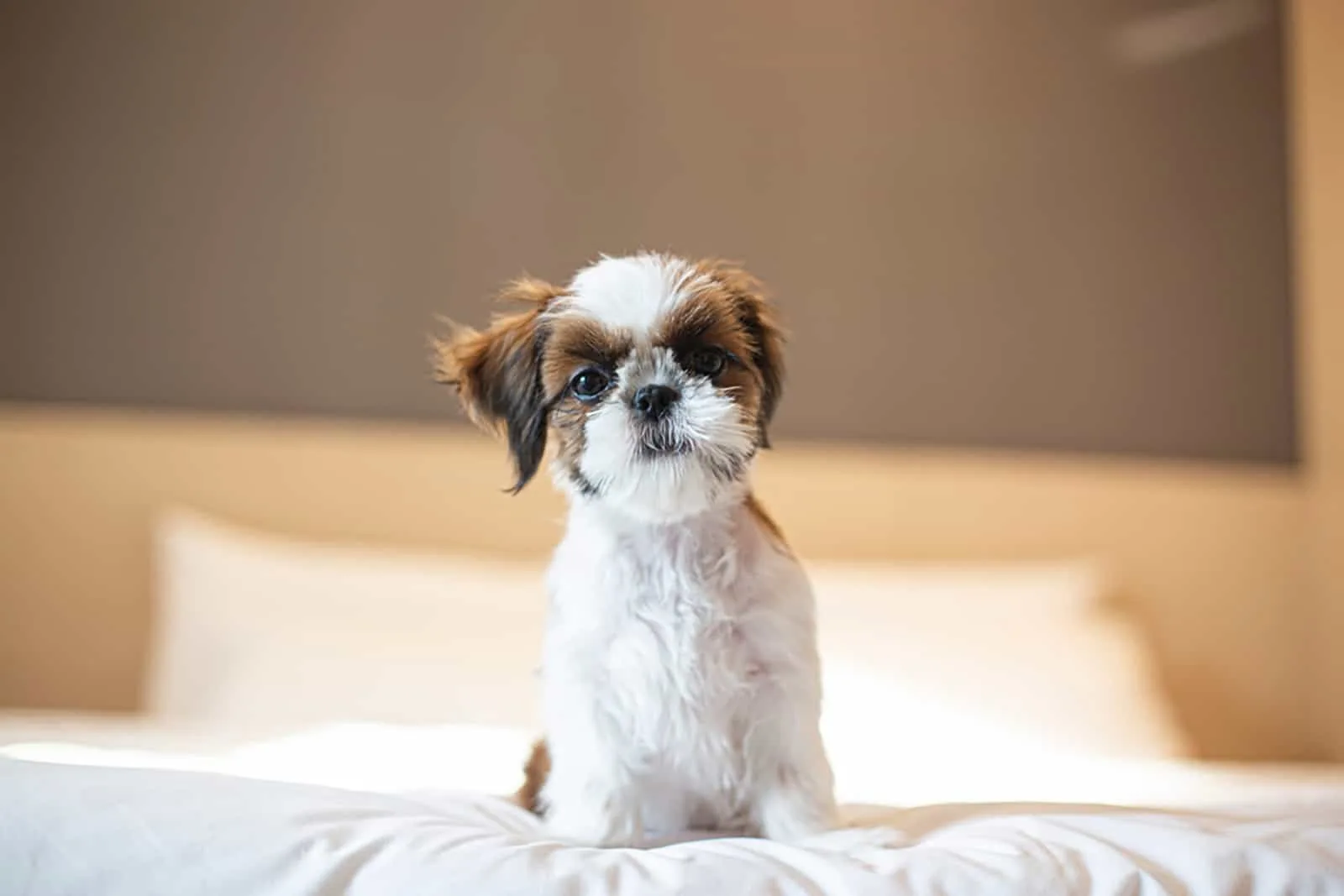 Patty is the owner of the Fuzzy Wuz Shih Tzu Puppies from Milton, Santa Rosa County. She has wonderful reviews.
Not only reviews praising her for the wonderful work she has done regarding the dogs' temperament or health, but for the grooming techniques she uses, too. Even professional groomers have praised her and her work.
If you live nearby, come and check out her puppies. Or make a phone call and ask anything you want; Patty is there to answer any questions. Her dogs are vaccinated, de-wormed, and AKC registered.
Also, all of her puppies have started potty training. That is a big plus because it means you won't have a lot of training to do when it comes to dogs and their business.
They also have puppies in various coat colors. Patty's recent litter had bi-colored and gold Shih Tzu puppies.
Address: 8851 Gristmill Way, Milton, FL 32583, United States
Phone: +13046771629
Website: Fuzzy Wuz Shih Tzu Puppies
15. Horizon Shih Tzus, Ocala, FL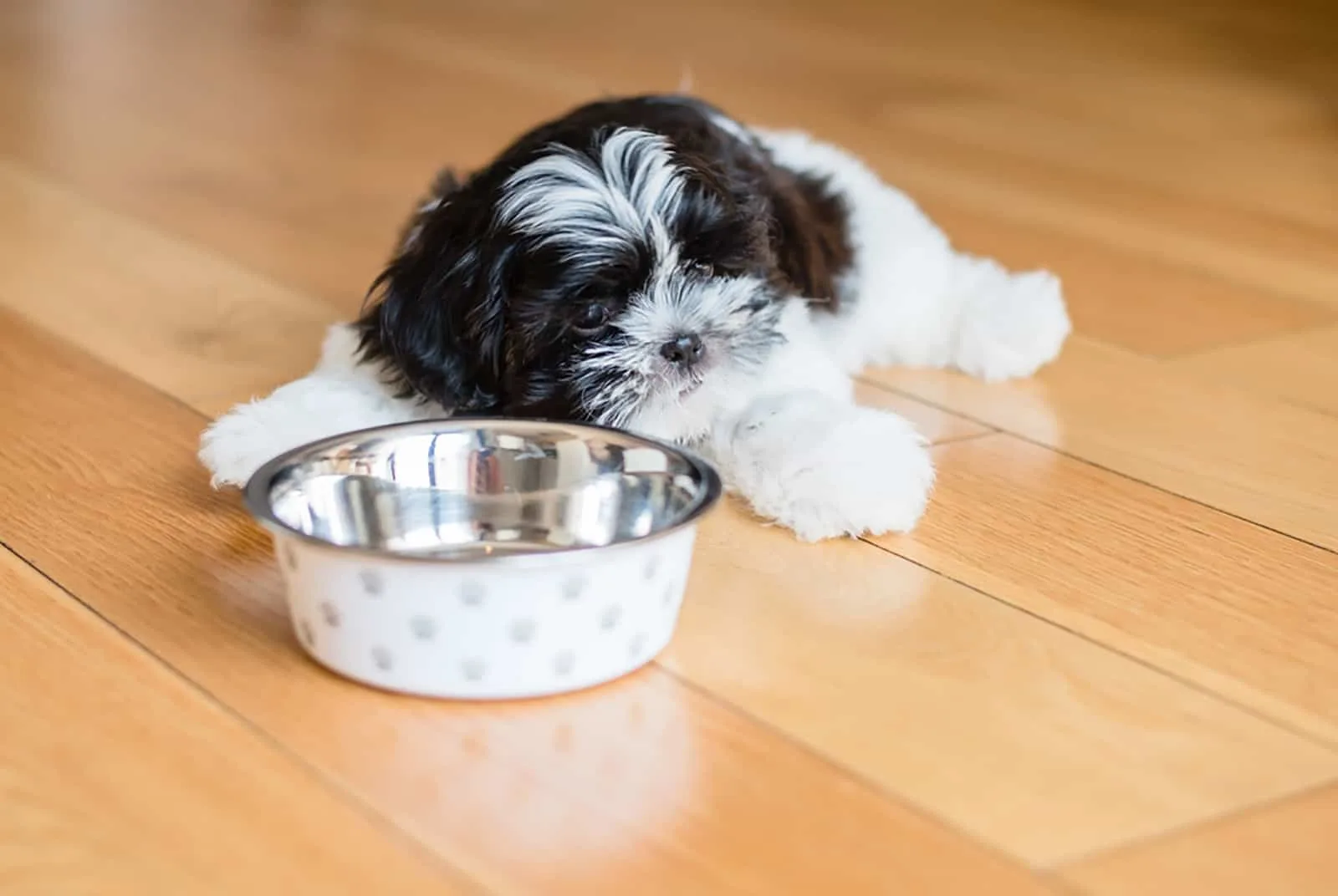 Horizon Shih Tzu is owned by Karen, and she is the proud owner of lovely Shih Tzu dogs. Her puppies are well-socialized, groomed, loved, and with great temperaments. Simply put — they are ready to find a new home.
Most of her puppies are red and white coat color because their mom is of liver coat color and dad is tri-colored, with brown color being the dominant one.
That means their babies can have beautiful variations of coat colors in all kinds of shades of red and brown. They are simply adorable with well-groomed and healthy fur.
Horizon Shih Tzus from Ocala has great reviews from happy owners from all around the States. You can be one of them. If you are interested, you can always check out their Facebook page first, and then decide to contact them over the phone or by email.
Address: 785 NW 67th St, Ocala, FL 34475, United States
Phone: +13522398876
Website: Horizon Shih Tzus
16. Forbes Shih Tzu, FL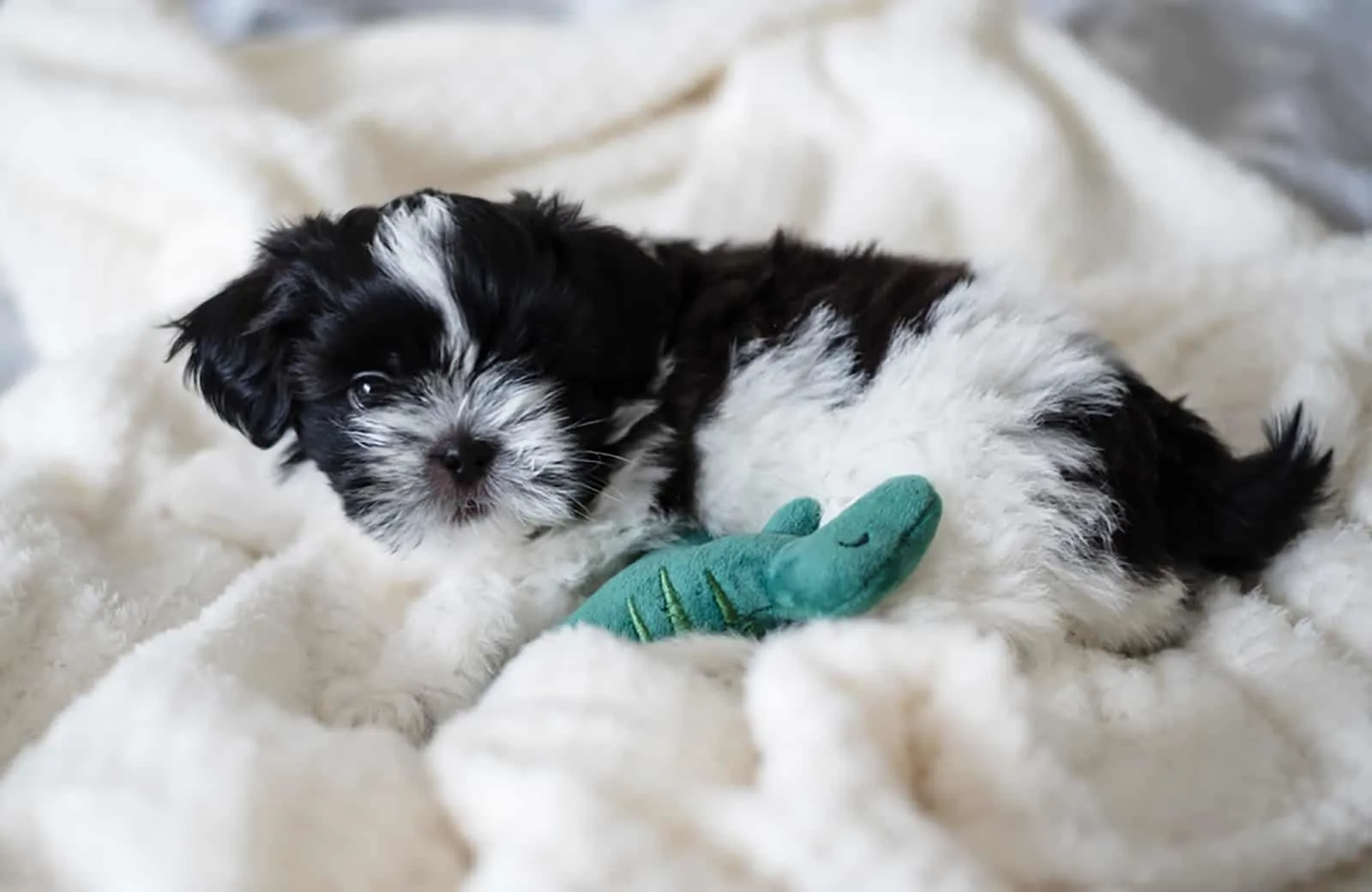 Moving to Central parts of the Sunshine state we have Forbes Shih Tzu as one of the best Shih Tzu breeders in Florida. The owner's name is Cherrfa Forbes, and they can be reached via Facebook, Pinterest, Instagram, and Whatsapp.
They are very open and always ready to answer any questions regarding their business, their dams and studs, as well as the upcoming and new puppies. Forbes Shih Tzu has puppies in chocolate color, bi-color, and tri-coat colors.
All of their puppies are in great health, and they are developing wonderful temperaments from the first day. That is because the owner takes great care to properly socialize all of the puppies.
That way the puppies are more than ready to adapt to a new family and new surroundings, no matter if there are other dogs or other animals, too.
Address: Central Florida
Phone: +14072802972
Website: Forbes Shih Tzu
17. Jolisse Shih Tzu, Miami, FL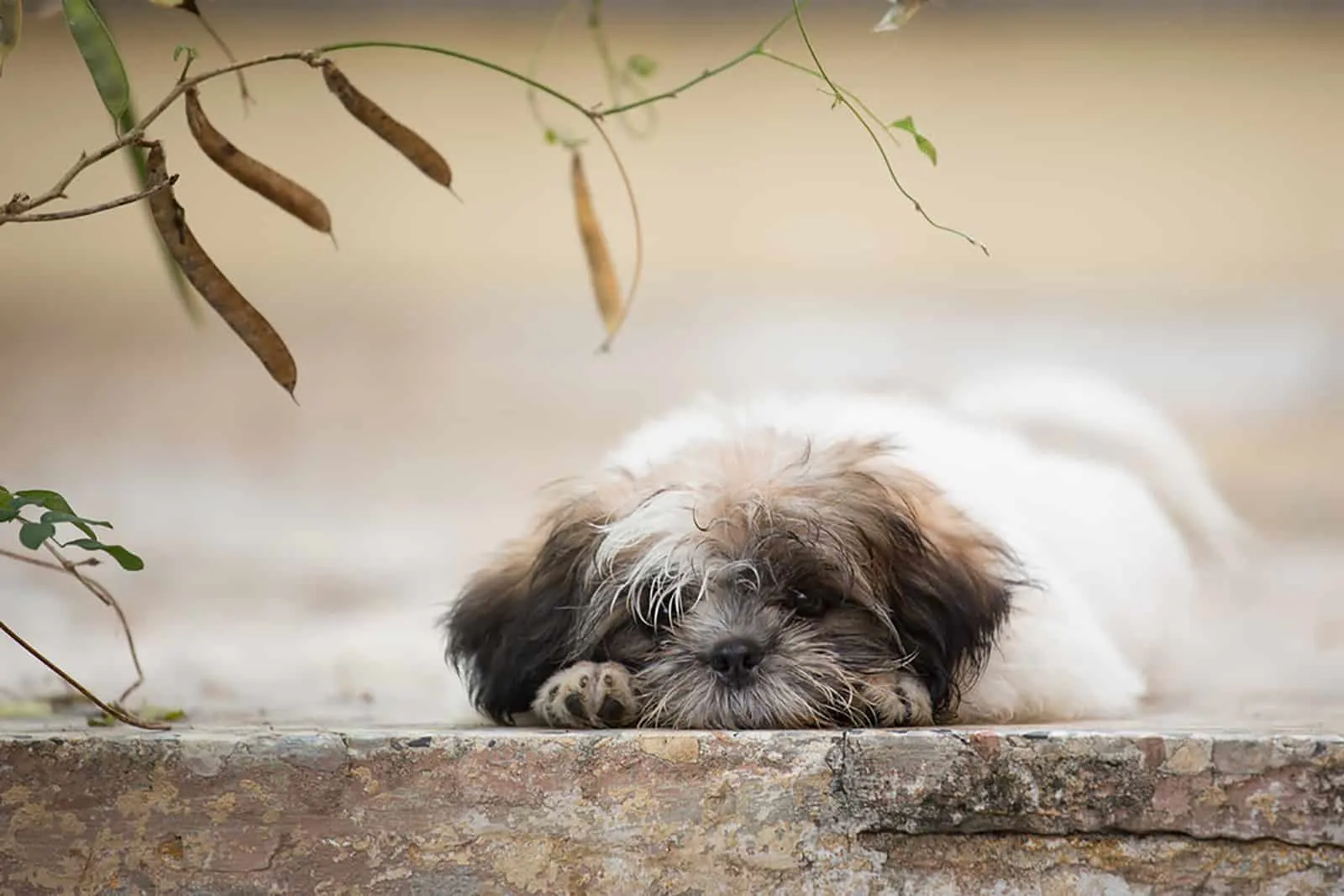 These are winner Shih Tzu puppies. Jolisse Shih Tzu dogs have competed and have been recognized by The American Championship title, the World Championship, Cicala, Las Americas, and many more.
All of the dogs are in excellent shape and have excellent general health, too.
They have regular vet checks, and they are vaccinated, and de-wormed, but also — their ears are kept clean, their nails are clipped regularly, and they're fed on high-quality food.
Jolisse Shih Tzu is one of the Shih Tzu breeders in Florida that will ensure you bring home the healthiest and happiest puppies.
If you have a question, you can contact them by leaving a message directly on the website or you can email them ([email protected]).
Address: Miami, FL 33176.
Phone: +13057268336
Website: Jolisse Shih Tzu
18. DuCiel Shih Tzu, Auburndale, FL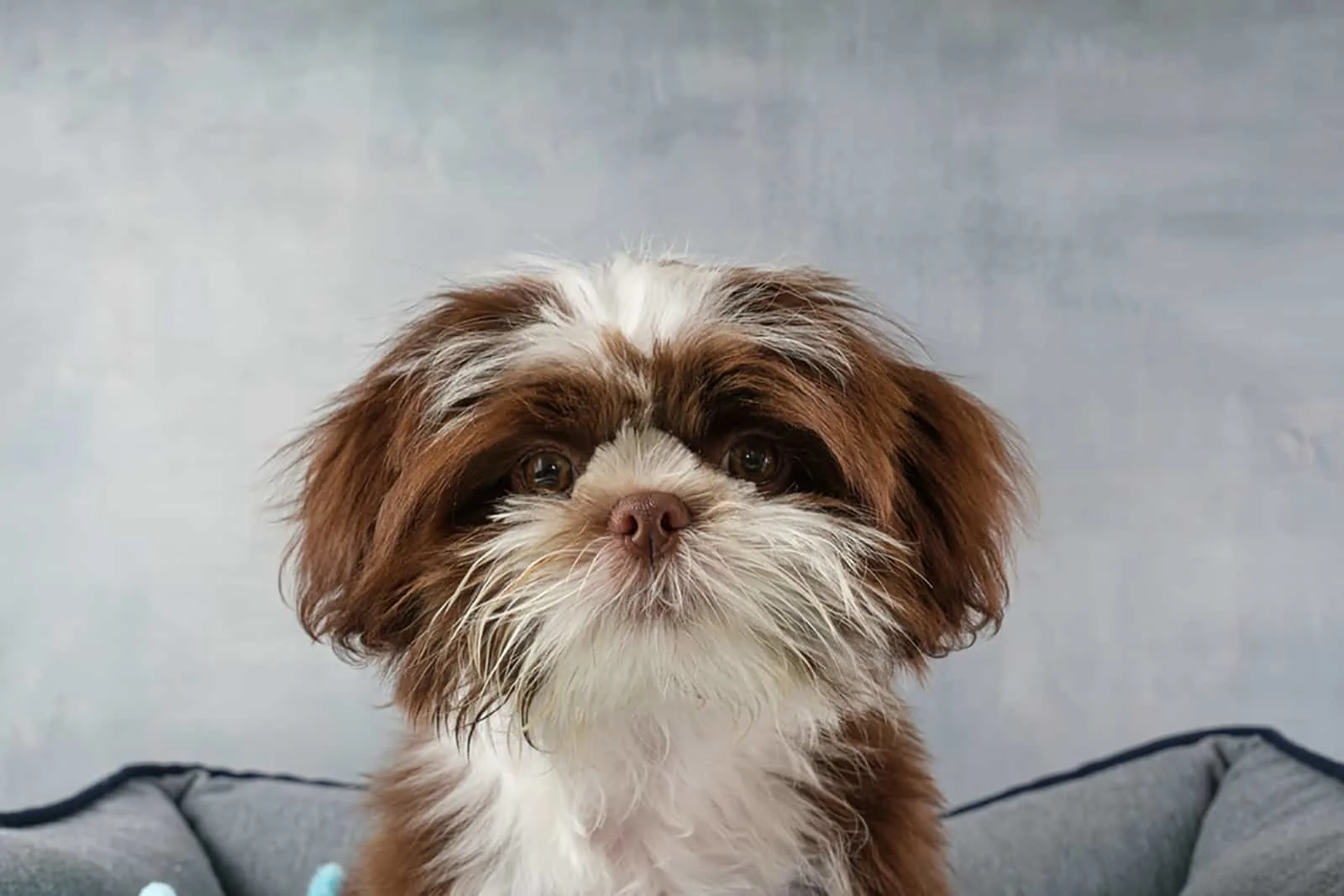 Alex Rolon and Cesar Diaz breed wonderful Shih Tzu pups. They are located in Auburndale, and they are AKC-registered and approved. They have been in the breeding business since 2001.
They are not looking to breed Shih Tzu dogs just for competition, they are breeding for companionship as well. Alex and Cesar understand how important dogs can be for our health and well-being.
So, they make sure their dogs are ready to make you the happiest person in Florida, at least.
DuCiel Shih Tzu is not only AKC registered, but also AKC Specialty Club Member, and they competed in the Conformation AKC championship. Their dogs are beautiful bi-colored dogs, from gray-white to brown-white.
Besides breeding, they also have a grooming business, which apparently goes hand in hand with breeds that have such luxurious-looking coats. So, once again, you can be sure your Shih Tzu puppies will have an amazing and well-groomed coat.
Address: Auburndale, FL 33823
Phone: +17874047319
Website: DuCiel Shih Tzu
19. Marquis Kennel LLC, Pierson, FL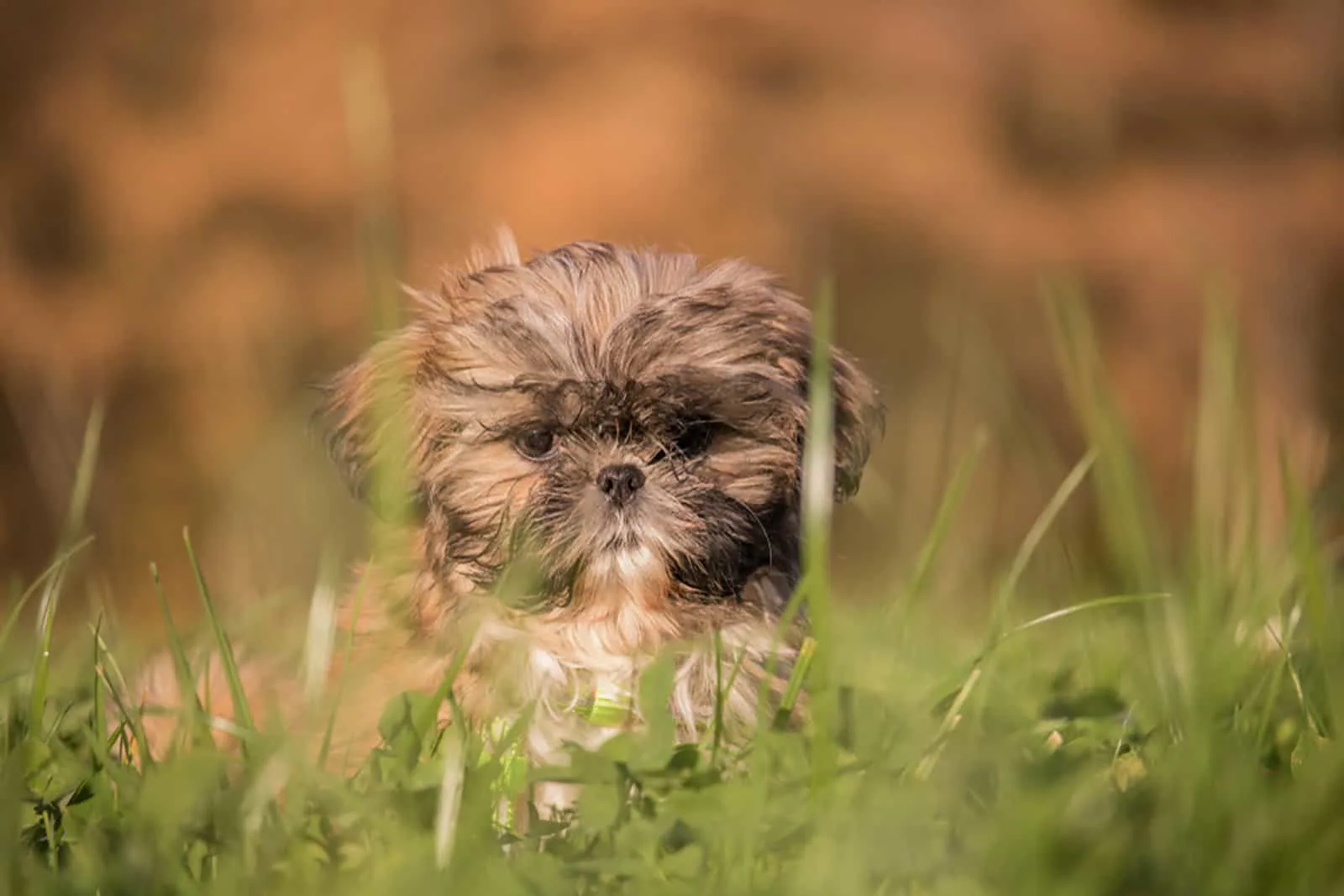 Last but not least on our list of the 19 best Shih Tzu breeders in Florida is Ruby Watford and her Marquis Kennel LLC from Pierson Florida. Ruby has been in the business since 1981.
Ruby Watford is a registered AKC breeder with outstanding dogs that come from a champion line.
She is not only a proud member of the AKC but also of the Obedience Club of Daytona where she is a lifetime member. And she and her dogs are members of Canine Fancy Dancers.
All of her dogs come with a one-year health guarantee. Ruby offers three options if you decide to return the dog because of health issues. You can keep the dog and get a refund, return the dog with a full refund, or have a new puppy.
She has these options because she takes care of her dogs and wants the best for them.
Her dogs are healthy, and proud members of the highest-ranking organization regarding dog breeds and dog breed standards — the American Kennel Club.
Marquis Kennel LLC is the place to go and find a Shih Tzu puppy for yourself.
Address: Pierson, FL 32180
Phone: +13862351918
Website: Marquise Kennel LLC
What Does A Shih Tzu Look Like?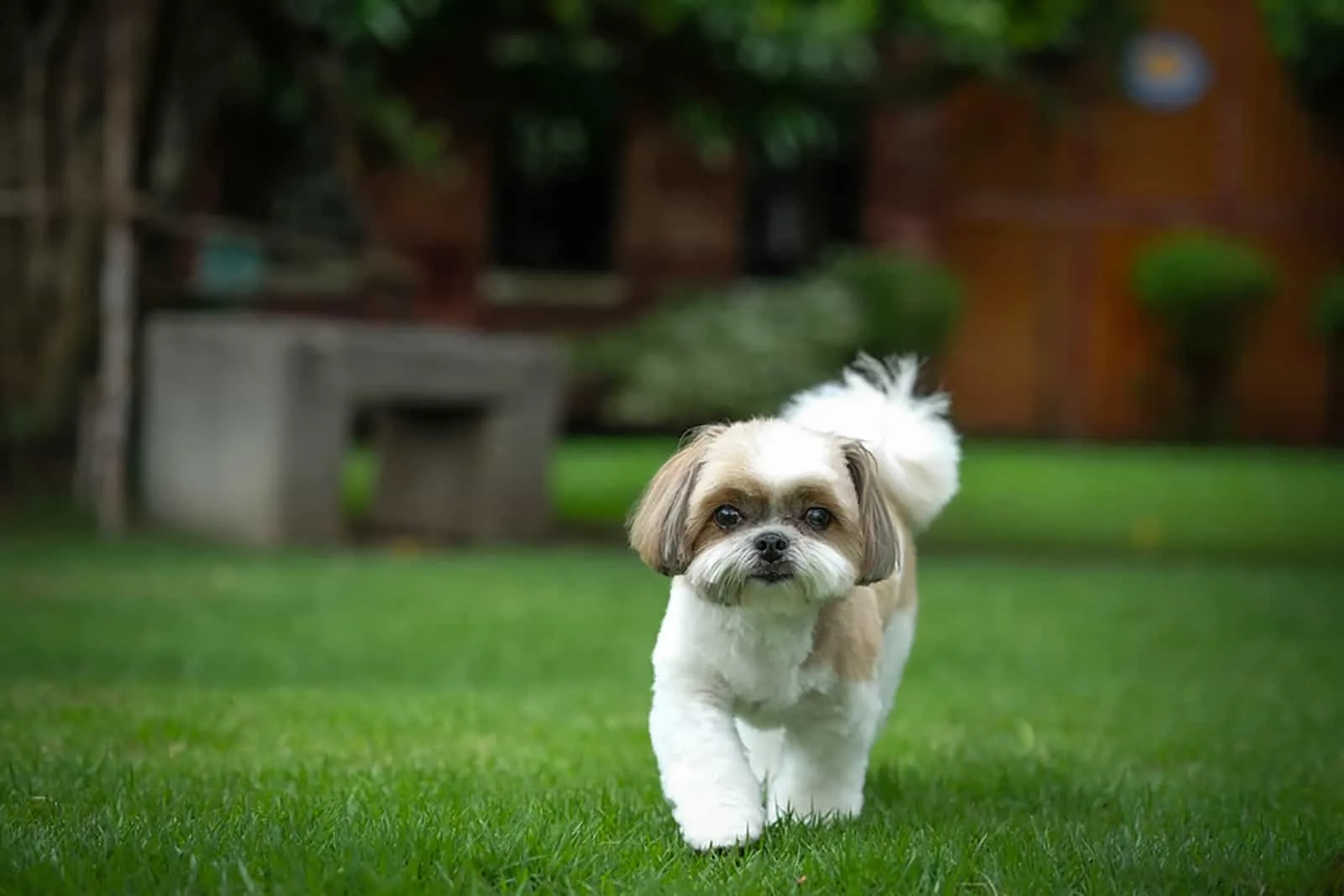 We already mentioned that Shih Tzus belong to the toy group of dog breeds, according to the AKC. There are seven dog breed categories, and the dogs are put in these categories according to their heritage and their function (or jobs they were bred to do).
Toy group dogs may be small in size, but all of them have great personalities. It's the same with our Shih Tzus — they are small dogs, but affectionate, outgoing, and vocal.
The Shih Tzu breed is great for people who live in the city because they are small, and they don't require a lot of daily exercise.
An adult Shih Tzu is up to 10.5 inches in height, and they can weigh from 9 to 16 pounds.
Also, Shih Tzus come with yet another wonderful trait — they do not shed a lot, and they are often considered to be hypoallergenic because of this trait.
But the question of whether Shih Tzus are hypoallergenic or not is debatable, considering the fact that there are no 100% hypoallergenic dogs.
They have a long double coat. The Shih Tzu is a type of dog breed that comes in many coat color variations, some of which are very rare, like a black Shih Tzu or a silver Shih Tzu.
Overall, a Shih Tzu dog has a lively appearance, they have a proud gait, holding their head high up and with a tail curved over their back.
The Conclusion
We've come to the end of our list of the 19 best Shih Tzu breeders in Florida. As we already mentioned, Florida has a lot of Shih Tzu breeders.
The wonderful thing is that all of the breeders on our list are well-respected, and they have been in the business for a long time, some of them for more than 30 years.
They share the same qualities:
• responsible
• taking care of the dog's health
• open to answering questions
• transparent regarding the Florida Pet Lemon Law
The price of the Shih Tzu depends on various factors. From how many litters they have per year to the number of puppies in the litter.
Or some other reason that can influence the price. One thing is sure, if the price is too much, you can always try to adopt a pet.
But, in the end, it doesn't matter which one of these Shih Tzu breeders in Florida you choose. What is important is that you continue to take great care of the dog.
All dogs need a lot of care, protection, and love. They are our family members, and they deserve the best. From food appropriate for Shih Tzus, pet furniture, and brushes, to all the love they deserve.