This post contains affiliate links, and I will be compensated if you make a purchase after clicking on my links.
Shih Tzus are a lovely Tibetan toy dog breed, also known as the Little Lion. But, the 'king of animals' also needs an equivalent feast, which is why today's article focuses on finding the Best Dog Food For Shih Tzus.
While dogs do eat almost anything, you should still make sure your pooch is getting the proper nutrients.
This includes a healthy mix of protein and carbohydrates, alongside some Omega-3 fatty acids, antioxidants, and the like.
Shih Tzus don't exactly need a breed-specific diet, just a healthy option portioned off well that meets their daily nutritional needs.
And, for dogs that have a digestive system that's sensitive to food allergies, make sure that the food is corn, soy, and grain free, depending on what the allergy is in the first place.
Shih Tzus can pack a lot of food in them. Their royal appetites go as far as to consume around 50 calories per pound of weight, though it's not the quantity of the product, but its quality and what essential ingredients are packed within.
It's a delicate balance that needs to be maintained, but I believe that I've managed to find the best of the best that marketplaces like Amazon and Chewy have to offer that tick all the boxes.
Read on to find out what they are.
10 Best Dog Food For Shih Tzu Choices
The first option for your little lion is Nutro – a dog food specifically designed for small breed nutrition.
The Ingredients
The main ingredient is real chicken; a healthy protein that goes with almost every ingredient you can think of, and it's backed with a dose of healthy carbs; brown rice, brewers rice, and split peas to be exact.
The Benefits
Omega-6 fatty acids are a key ingredient – one that helps combat skin inflammation and maintain your dog's lustrous coat color.
Antioxidants are there, too, providing support for your Shih Tzu's immune system as a whole considering how sensitive some doggo stomachs can get.
The food itself is free of GMOs, chicken by-product meal, and any common allergens like wheat, corn, and soy.
Another interesting tidbit is the shape of the food.
The coarse, crunchy texture not only helps small dogs get the kibble in their mouths easier, but it also helps combat plaque accumulation.
The only real downside is that chondroitin and glucosamine, nutrients vital to maintaining healthy joints, are only added in for large breed dog foods, meaning smaller dogs miss out on these vital ingredients.
Made In The US
One final thing of note is that by purchasing Nutro's dog food, you're helping boost the U.S. economy since the ingredients are all sourced from the U.S. and the food is manufactured in our factories.
Next up on our list is the ever popular Blue Buffalo brand of small breed dog food.
The Ingredients
With chicken as the main ingredient, with a turkey meal supplement, it's a fantastic, protein-rich choice for any pup to sink their teeth into.
It's further supplemented by healthy carbs derived from peas to give your puppy the energy to stretch its legs.
It's a fully grain-free, dry dog food option that's also free of gluten and other common allergens like wheat, corn, and soy.
There are no traces of artificial preservatives or flavoring either, for a more natural process.
The Benefits
It's chocked full of omega-3 fatty acids derived from a mother dog's milk, such as DHA and ARA, to promote better cognitive development, both in the areas of the eyes and the brain.
Antioxidants are part of this nutritious package, too – a special blend dubbed LifeSource Bits made by Blue Buffalo's team of expert nutritionists and vets, helping strengthen and maintain a growing puppy's body.
The kibble is smaller than normal as well, making it easier for flat-faced dogs to scoop up and not struggle during meal time.
It does, unfortunately, suffer from the same drawback as Nutro in the fact that it doesn't contain either chondroitin or glucosamine.
While Blue Buffalo focuses on pups, Eukanuba focuses on adult Shih Tzus and other smaller adult dogs that have put on a few pounds.
The Ingredients
Real chicken and chicken by-product meal as the main ingredients, paired together with grains like wheat, barley, and corn as the carbohydrate supplements for ease of digestion and to help build lean muscle tone.
The Benefits
It has a high protein-to-fat ratio, replacing the fat to fit in more nutrients like L-carnitine for improving cognitive function, and glucosamine and chondroitin for strengthening joint cartilage.
Fatty acids like DHA are also present for improved cognitive health overall, supplemented by vitamin E.
It's not recommended for allergy-prone dogs due to the presence of wheat and corn since they're common allergens. Not a big concern if your dog can process the carbs with little issue.
The food is really affordable, too – ideal for penny pinchers who want quality while keeping their budgets unstrained.
Next up, we have a more premium option: the Wellness Simple Limited-Ingredient Grain-Free dog food formula.
The Ingredients
With salmon as the main ingredient, paired with tasty potato carbs, this wonderful pet food recipe will be a treat for your Shih Tzu's taste buds.
It might not be the feast he always wanted, but it's a simpler option that's still bursting with flavor, oriented more toward dieting doggos that need a bit of a treat.
The Benefits
The kibble is completely gluten-free, and it contains no common allergens like corn and wheat, nor any meat by-product.
There are no traces of egg or dairy either, and there are no artificial colors, preservatives, or flavors to be found.
Traces of refined grains can be found in some samples, but that occurs very rarely since the production facility also handles products with grains in them.
Along with the missing bad ingredients, you'll find healthy nutrients like taurine and probiotics to line the stomach with and aid digestion. Antioxidants are for the immune system, and omega-3 fatty acids are for reducing skin inflammation and providing a healthy coat.
Glucosamine is present, too, as one of the essential components for maintaining good joint health.
The product is pricier than other options, meaning it should only be bought as a treat unless price is no object for you, in which case, it's a perfectly valid option.
Merrick's entry into this list is a real flavor explosion, making dog food fit for all life stages of a small breed dog.
The Ingredients
The main ingredient is real, deboned chicken, boosted by added protein from chicken and turkey meal.
It's paired with the standard healthy carbohydrate, brown rice, but that's not where the uniqueness lies.
No, it's in the fruits and veg added into the mix acting as a healthy source of fiber to slow the digestion process down and help absorb all the nutrients.
The food is potato-free, too, making it suitable for dogs that are diagnosed with hyperglycemia.
The Benefits
Glucosamine and chondroitin are included in the ingredients list, providing your Shih Tzu with healthy joints while omega-3 and 6 fatty acids from flaxseed and similar ingredients give him the shiny coat he's known for, and less irritable skin.
It also features other essential vitamins and nutrients in the kibble itself like vitamins B12 and E, various amino acids, and zinc, to name a few – each beneficial in their own way.
The small kibble size helps Shih Tzus and other flat-faced dogs pick up food easier without the need to struggle to chase the last remaining bits around the bowl.
The Ingredients
A completely grain-free dog food option from Wellness, with chicken and turkey as the mixed main proteins in order to keep your canine's energy levels high, paired with an assortment of fruits and veg as well.
The Benefits
The salmon oil adds a healthy dose of omega 3 fatty acids in order to help retain coat sheen and reduce the risk of skin inflammation common in smaller dog breeds.
Taurine and various probiotics are present, too, for heart health and an overall immune system boost.
There's the standard package of chondroitin and glucosamine, essential for healthy hips and joints, and it is a staple in good-quality dog food, as well as an abundance of core vitamins and minerals to fill your dog's nutritional needs.
It's free of any meat by-product, and there are no common allergens like soy, corn, wheat, refined grains, or even gluten.
It's also fully natural, with no added artificial colors, flavoring, or preservatives of any kind.
The only two specks on this best dog food for Shih Tzus candidate are the price tag and the potential smell.
It's a bit more expensive than some of the other choices on this list, but it's nice to get it as a treat for your pooch every now and again.
The smell, however, comes from the salmon oil inclusion. While it's an extremely healthy option, it can be absolutely repulsive to some dogs to the point where they don't even want to touch the stuff. Keep an eye on it.
There's also a slight chance that some packaging may include traces of refined grains due to the packing facility operating with grains present, so do be careful.
This entry is of one of the best dog food brands that loves to create specialized, breed-specific diets for each dog breed – Royal Canin.
The Ingredients
The Shih Tzu variant has chicken meal as the main protein, mixed with chicken fat, with added brown and brewer's rice for carbs.
The Benefits
Aside from the standard ingredients, this kibble packs the essential nutrients and minerals that every good brand of pet food has, plus biotin and omega 3 and omega 6 fatty acids like DHA and EPA to help provide a nice, soft coat and help prevent skin irritation.
The food is smaller than the standard, allowing smaller dogs with a flat face to scoop it up with ease and have less trouble chewing it.
The high amount of carbs helps reduce stool frequency and volume, so your dog doesn't have to go for a walk as often.
The one downside is that it's somewhat pricier than alternatives, which adds to the upkeep cost of your Shih Tzu.
This is the puppy variant of the earlier Royal Canin brand of Shih Tzu dog food for all you dog owners just starting on your journey with your Shih Tzu pupper.
While most of it is the same from the adult version, there are a few differences that put it up for contention of being the best dog food for Shih Tzu pups on the market.
The Benefits
The first one is the high-quality protein content as puppers need to satisfy higher energy levels, so they can get their exercise in and run around all over the place, exploring their new surroundings and building lean muscle tone.
The other is the presence of prebiotics in order to help grow a healthy culture of beneficial gut bacteria to ensure a strong and resistant digestive system longer.
And, the last one is a good balance of calcium and phosphorus to help build strong bones, so they can grow into healthy and active doggos.
The food is intended for dogs up to 10 months of age, after which one ought to make the transition to more adult-oriented dog food options.
If you're looking to treat your dog to a five-star dinner at a fraction of the cost, Pedigree has you covered.
The Ingredients
The main ingredient is meat and chicken by-product meal, but traces of mouth-watering steak flavor have been sprinkled in to elevate the food to a wonderful doggy meal.
It's further bolstered by the taste of vegetables, corn, and brewer's rice as supporting carbs.
There's a special mix of fiber in the kibble to help slow digestion down and help all the nutrients get absorbed into the body so nothing goes to waste.
The food is fully stocked with all the nutrients and minerals to fill a small dog's daily nutritional needs.
The Benefits
One of the main draws would be vitamin E and other antioxidants that reinforce your furry friend's immune system and reduce the impact of allergens and bacteria while the omega-6 fatty acids make his coat strong and lush, and his skin irritation-free.
The kibble is smaller in size in order to accommodate flat-faced dogs that normally have difficulty grabbing it with their maws, and it has a crunchy texture to it to help keep the dog's teeth clean.
The only real downside is that it's not adequate for dogs that are prone to allergies due to the presence of gluten and corn.
Plus, the added flavoring may not be to everyone's liking.
As the final entry for the best dog food for Shih Tzus, we have Hill's Science Diet – a well-known brand that offers their regular stuff, and a special option to cater dog food specifically around your dog's needs.
This specific version is intended for toy breed dogs in general.
The Ingredients
The first ingredient is chicken, supported by a little bit of chicken meal to provide a bunch of protein to your pupper, along with brewers rice, barley, and yellow peas as the carb part of the kibble.
The Benefits
A great choice for pups (despite the adult label) or dogs with a sensitive stomach due to the added prebiotics in order to nurture a healthy gut bacteria biome.
Antioxidants are a key part of this wonderful meal, improving heart health and reducing the impact of free radicals on the body.
The presence of vitamin E and omega-6 fatty acids helps improve eyesight as well as keep your Shih Tzu's skin healthy and his coat shiny.
Best Dog Food For Shih Tzu: Things To Look Out For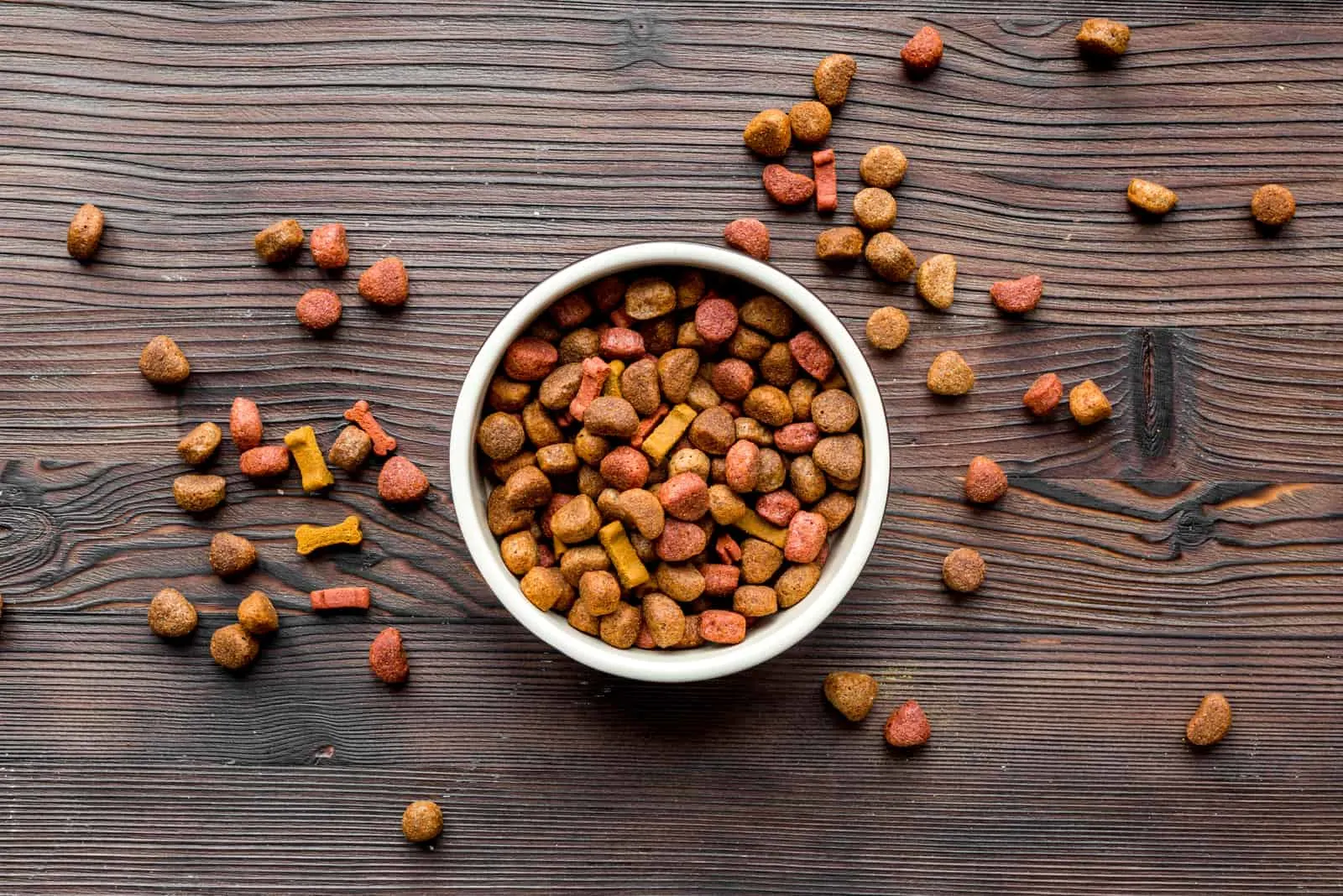 As with any product, there are similarities between most of the good ones – specific beneficial traits you should always look for when trying to find the best dog food for Shih Tzus or any other breed.
For small breeds, specifically, these are some of the most relevant ones:
High Fat And Protein Content
Protein is the building block of all muscle, so it's only natural that you want to ensure that your furry friend gets his proper intake of it. Somewhere around a quarter of his daily food intake has to be protein.
This goes a bit higher for pups since they tend to burn more energy, but it shouldn't go too far off the estimate.
The other surprising factor for those who may not know is that fats aren't as bad as we're usually led to believe.
In fact, they're the other core ingredient for a dog's daily nutritional needs, and they should account for around seven to eleven percent of his daily food intake.
High-Quality Protein
Aside from needing protein, a sign of a good dog food brand is that it uses high-quality protein instead of meal by-product.
Chicken is the default, but if you see steak, rare fish, turkey, and the like as an option (without adding too much to the price or losing out on other benefits), I recommend it over the former.
Lots Of Fiber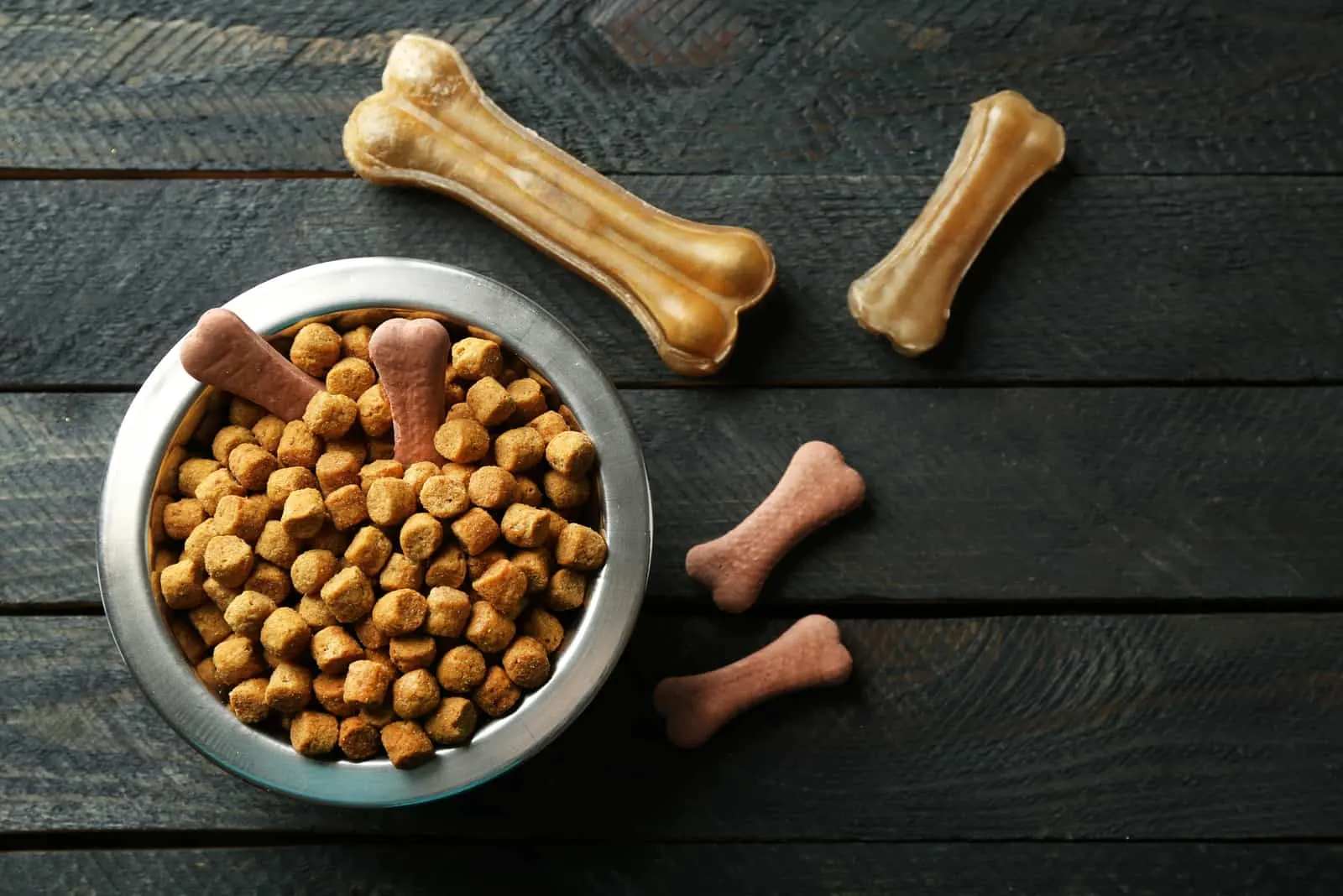 Shih Tzus aren't known for their iron guts, so making sure there's lots of fiber in the kibble you're supplying them is paramount.
Fiber helps slow the flow of food down and allows the digestive process to take full effect, allowing the Shih Tzu's stomach to absorb all the necessary nutrients and break down the rest into something that won't irritate the digestive tract further down.
If your dog still has trouble with high amounts of fiber, you may want to look into something that has a lower protein content, which is easier to digest.
Nobody wants to deal with problems like diarrhea, vomiting, or general stomach unease, especially not your furry friend.
Nutrients And Vitamins
Another key thing to note is whether or not the food provides your dog with the necessary vitamins and nutrients in order to fill your dog's daily nutritional quota.
If it does, anything on top of that is extra.
This refers to things like antioxidants, probiotics and prebiotics, vitamin C, vitamin E, vitamin A, vitamin B, and vitamin K – each beneficial in their own regard, and important in keeping your little lion healthy.
No Artificial Stuff
If you can help it, avoid any artificial ingredients like GMOs, artificial flavors, colors, or preservatives. Those are usually a trademark sign of lower-quality food.
The same goes with fillers that only swap out higher-quality ingredients for lower ones in order to save time.
Ingredients to avoid
Not every ingredient in dog food is safe for every pooch to consume. Shih Tzus with a sensitive stomach should avoid all types of fillers and artificial colors, flavors, and ingredients which can lead to allergic reactions and indigestion.
Smaller Kibble Size
Flat-faced dogs have trouble picking regular-sized food up with their maw due to its shape, and they can't really chase it around the bowl.
Smaller pellets make it easier for them to just use their tongue to lap it up and enjoy the meal rather than work for it.
Omega Fatty Acids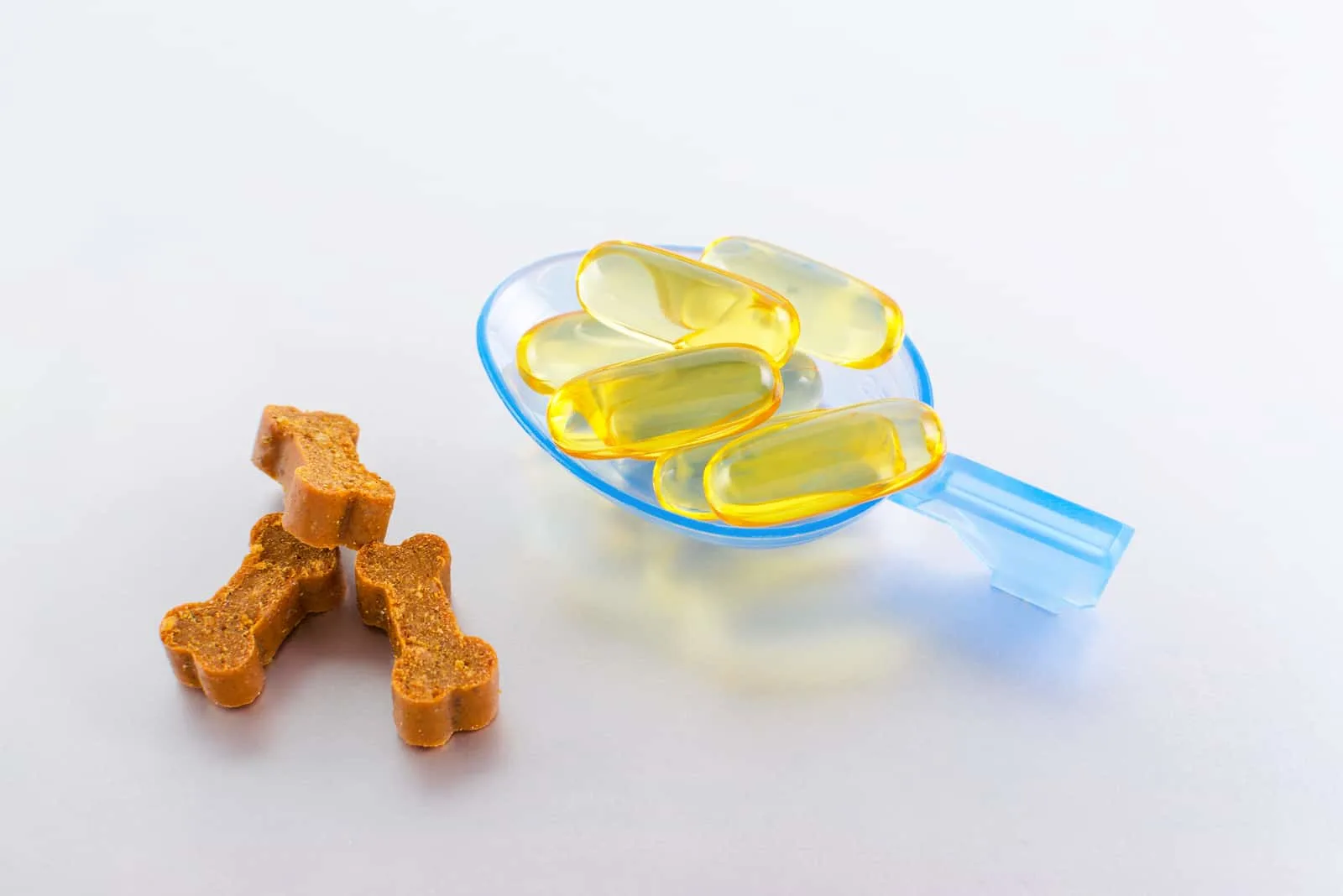 A must-have for any dog food worth its salt, especially for smaller dogs whose main health issues throughout life are skin irritation and poor coat quality.
Whether it's omega 3, omega 6, or any other form of fatty acid, these mean a lot to your dog, and you honestly shouldn't get any kibble without it.
Chondroitin And Glucosamine
Two key components to good joint health, and a must-have in dog food if you want to keep it that way.
While not as crucial as they might be in bigger dogs given their issues with joint degradation, smaller dogs still need a good dose of either of the two if they want to avoid joint problems in the future.
No Common Allergens
Wheat, soy, corn, and refined grains are the usual things that doggos are allergic to. If your dog has a similar issue, keep a good eye out on these ingredients and make sure to avoid them.
For Puppy Food: Calcium And Phosphorus
These are the building blocks of strong and healthy bones. While protein is important for lean muscle tone development, you need to have bones to hold them up, and these two ensure they do their job.
Optional: Locally Sourced
While not necessary, finding food that sources every ingredient from United States soil and is packaged there helps boost our economy, so if you're in a dilemma between two brands and you need a deciding factor, choose local, if possible.
FAQs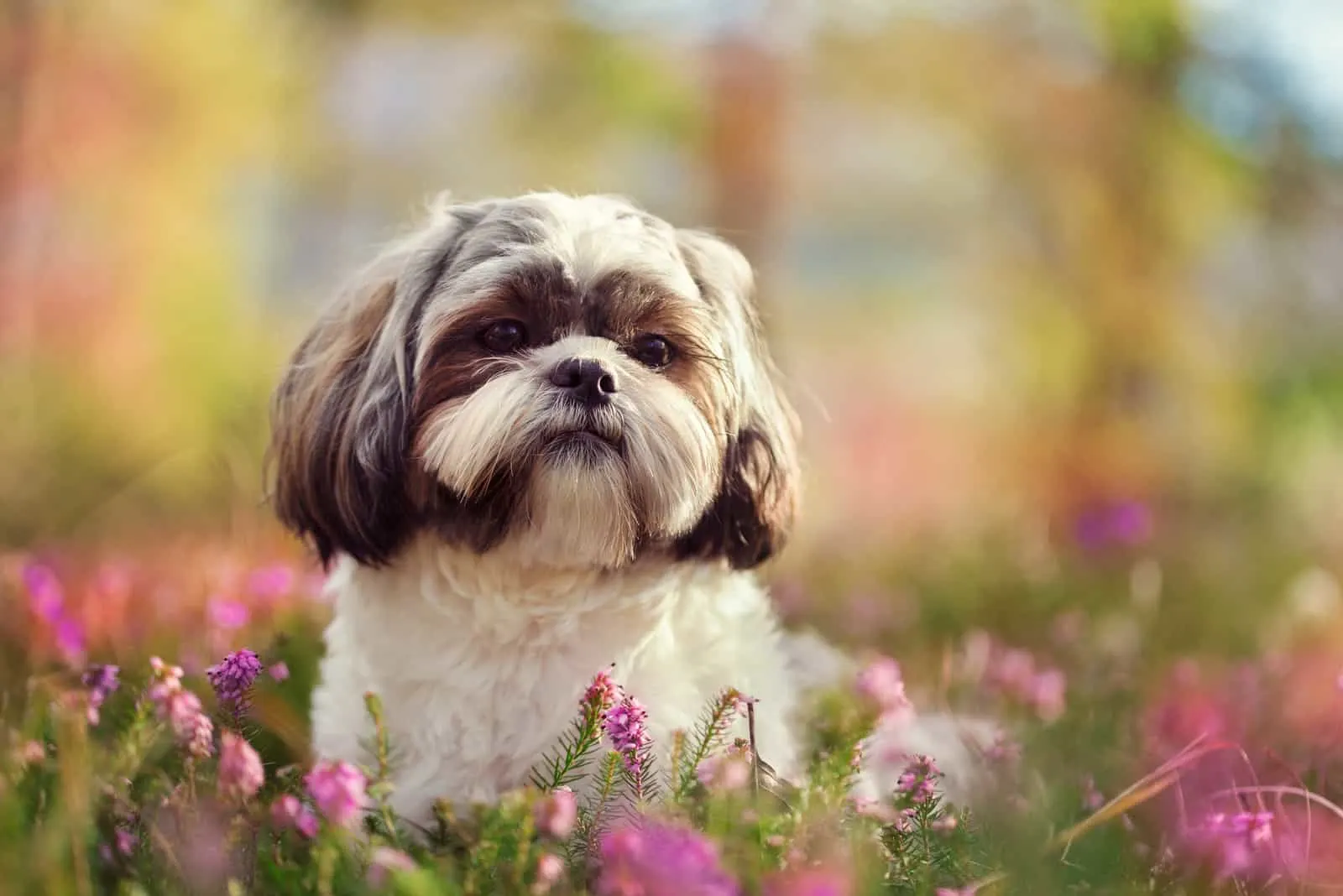 There tends to be a lot of questions regarding the food that Shih Tzus can and can't eat as well as its effects on your dog. Here are some of the most common ones.
What Is The Best Dog Food For Shih Tzu?
There's no de facto best dog food for a Shih Tzu as most of it comes down to preference and your own dog's needs. The best one would need to tick all of those boxes and be relatively affordable.
In my personal opinion, I'd say that Royal Canin Breed Health Nutrition is my definition of the best food – both the adult and the puppy version. They're a preferred choice for some reputable breeders as well.
While a tad expensive for the adult version, both of them cover the basic needs for the recommended age group and then some, but it might be different for your dog.
What Can Shih Tzus Eat?
Outside of dog food, there are a few interesting and (relatively) healthy treats your Shih Tzu will enjoy. Here are some of the more interesting ones:
• Chicken
• Peas
• Salmon
• Green beans
• Cooked eggs
• Peas
• (Baby) Carrots
• Peanut butter
• Raspberries
• Sweet potatoes
• Zucchini
• Cucumbers
What Can Shih Tzus Not Eat?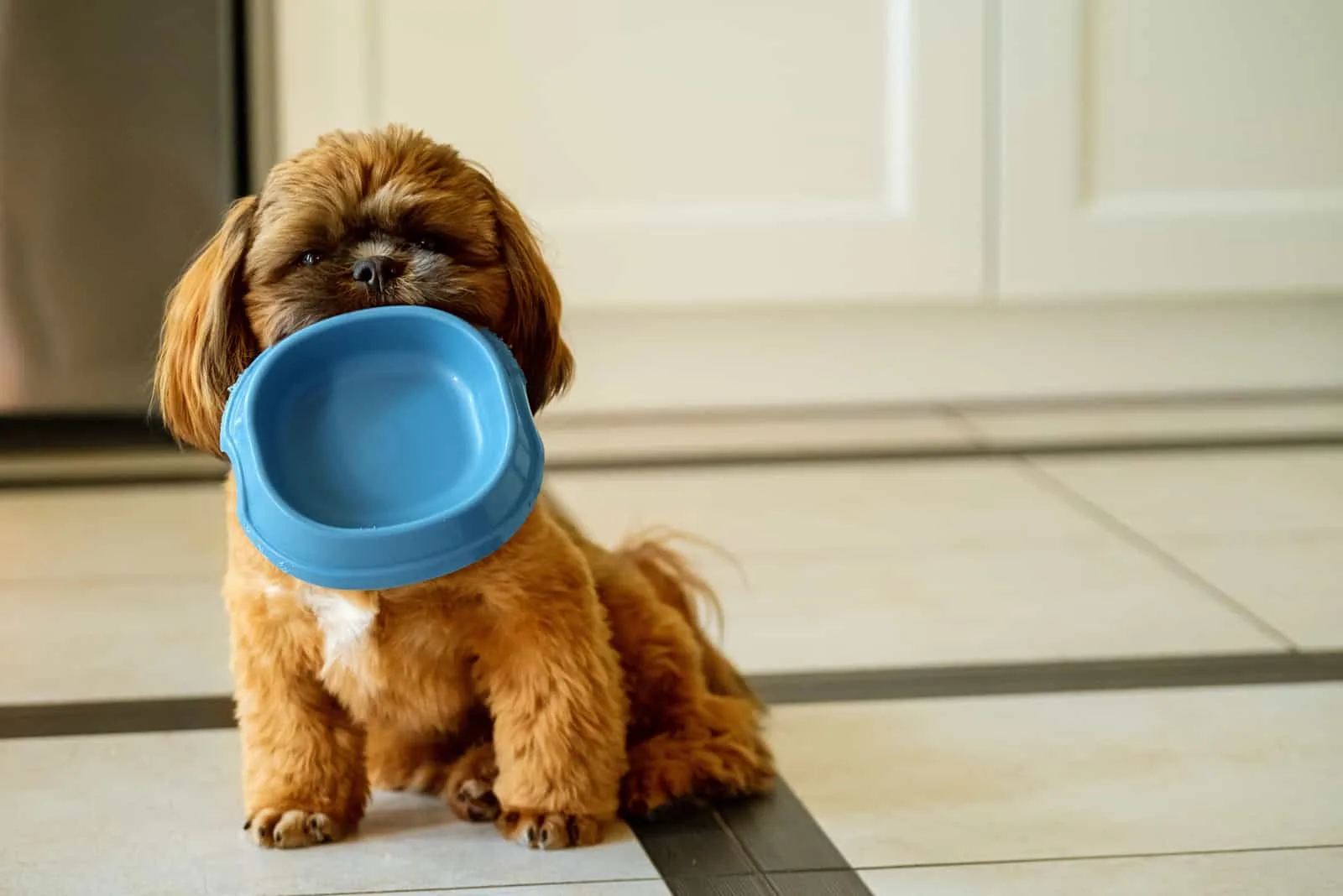 While dogs are known to be omnivores, each breed has a specific list of things that should absolutely not be fed to them. While most are shared between all dogs, here are the ones specific to Shih Tzus:
• Xylitol
• Onions
• Garlic
• Nuts
• Grapes
• Chocolate
• Cow milk
• Coffee
• Mushrooms
• Fruit seeds in general
• Raw eggs
How Much Should A Shih Tzu Eat?
This mostly depends on age and changes between puppyhood to adulthood.
For a Shih Tzu that is younger than a year, it's recommended to feed it between 1 and 2 ounces per day, depending on its weight.
For a Shih Tzu that is older than a year, the amount increases to between 2 and 3 ounces daily, again depending on its weight.
Anything over that is going to start piling on the pounds, which is something you desperately want to avoid for smaller breeds as even a few pounds extra can be devastating on their bones and their body in general.
How Often Should A Shih Tzu Eat Daily?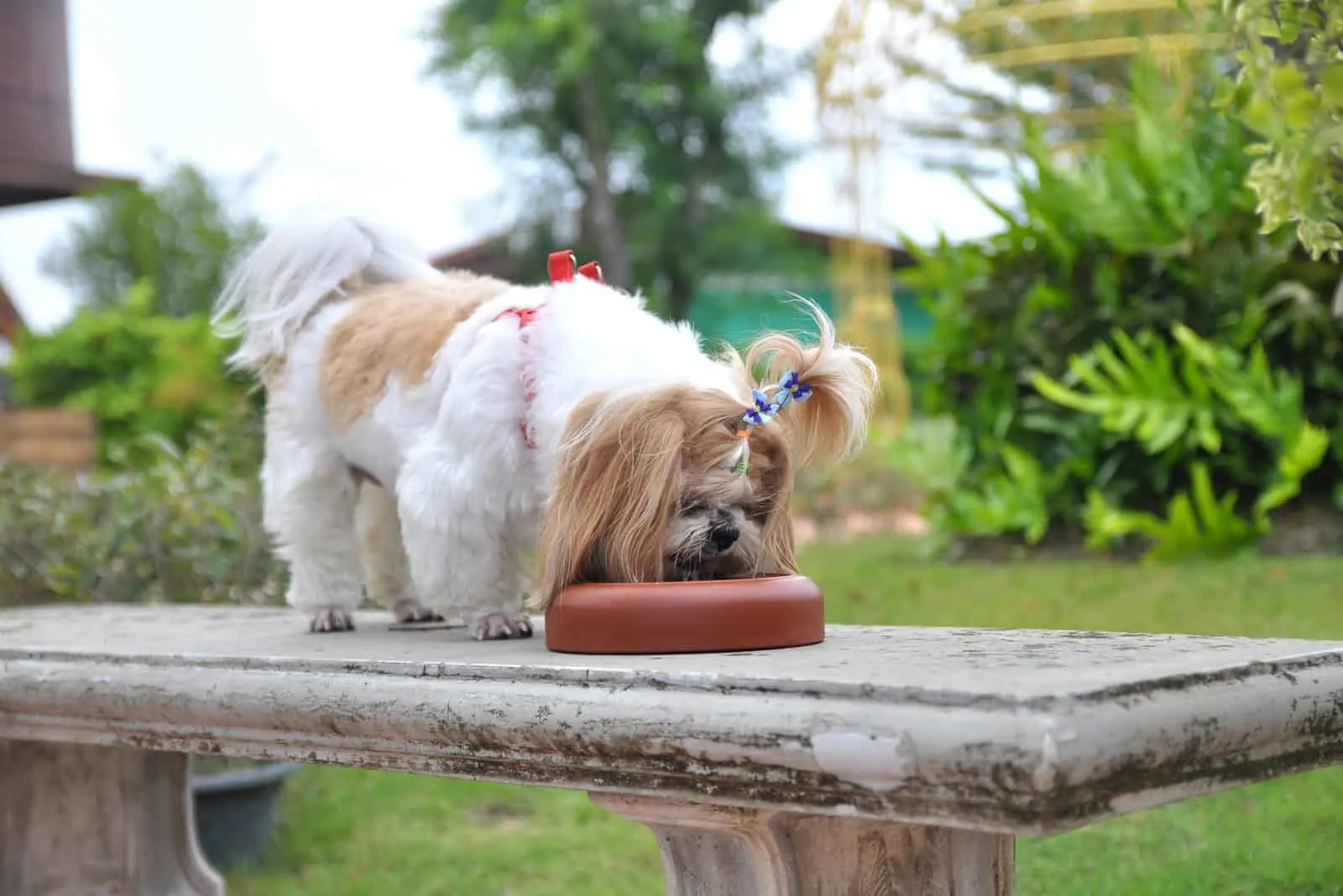 It's always good to space meals out. You want to feed it about 3 or 4 times a day when it is young as its digestive system is still developing, and it is best to keep it chugging throughout the day.
On the other hand, adults that have their digestive tract developed should be fed two to three times a day so their energy isn't spent digesting the food all day, especially for older dogs in order to ensure a long and healthy life.
Why Has My Shih Tzu Lost His Appetite?
Normally, this breed is extremely playful and energetic if kept in shape and fed a healthy diet.
If your doggo has stopped eating his meals for whatever reason, it could mean that there's some underlying health problem.
Make sure to phone your doggo's vet immediately and get him in for a checkup so this doesn't potentially evolve into something more harmful.
It could also mean that your dog is a bit of a picky eater. In that case, don't feed him the dog food alone – mix some of his favorite flavors in as well, but be mindful of how much you put in, and weigh it against his daily intake.
That should hopefully get him used to the dry food alone so you can slowly exclude the added favorites and save them for when you need to spoil him a little.
Why Is My Shih Tzu Eating Poop?
While this is a common thing for many dogs, it's not a healthy habit. Whenever a dog starts eating poop, whether his own or that of another dog, it could mean that he's either anxious over something or that the food he's eating isn't enough.
Make sure to prevent him from eating poop as best as you can, and find a more filling alternative to his current diet because this could develop into a big health risk should it continue.
Is it better to buy canned or dry dog food?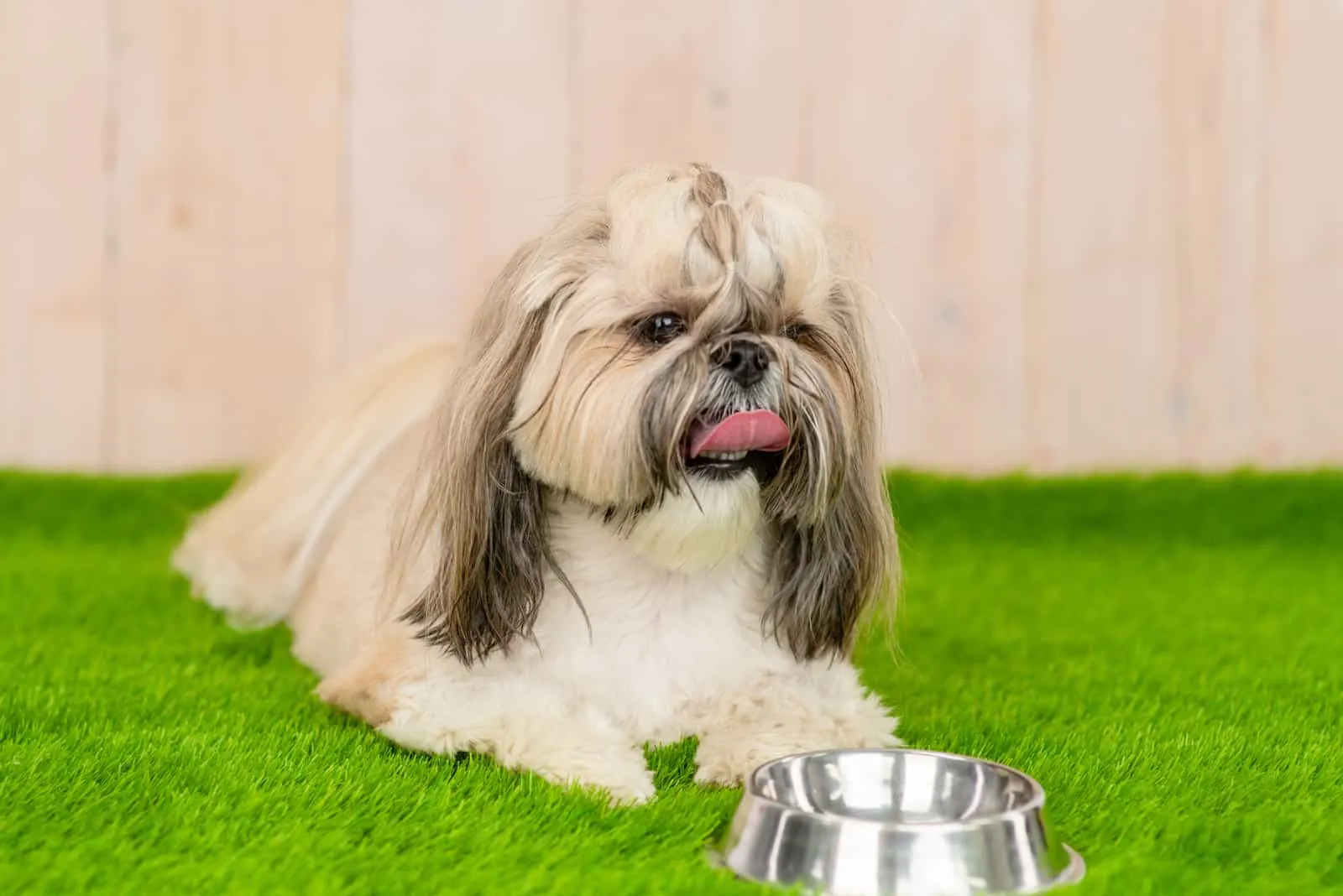 It's usually good to have a mix of both throughout the month, though it weighs heavily in favor of dry dog food since the wet stuff is a nightmare for the teeth.
Think of it like candy – it's good to be given out sometimes, like once a week or a bit rarer.
Your dog will absolutely love it, but it's both more expensive and it will ruin his teeth if you give it too often.
Something like an 8:1 ratio in favor of dry food would be ideal, varying from dog to dog.
What Are The Benefits Of Wet Food?
Wet dog food, outside of being a more desirable treat for your furry friend, usually has lower carbs without losing out on the protein percentage, and it is moister than its dry counterpart.
Both of these aspects mean that they're an excellent choice when you're in need of a diet option for a dog that has put on a few pounds, or something to act as a water supplement to keep a dog hydrated, or to sate the taste buds of a picky eater.
Why Does My Shih Tzu Sleep Often?
If you're worried that it's the diet, don't, because it isn't.
It's common for smaller breeds, even when they're as energetic as the Shih Tzu, to sleep anywhere from 12 to 20 hours a day depending on age.
Just let your little rascal recharge his batteries, though. If you do think something is off, a visit to the vet never hurts for added reassurance.
In Conclusion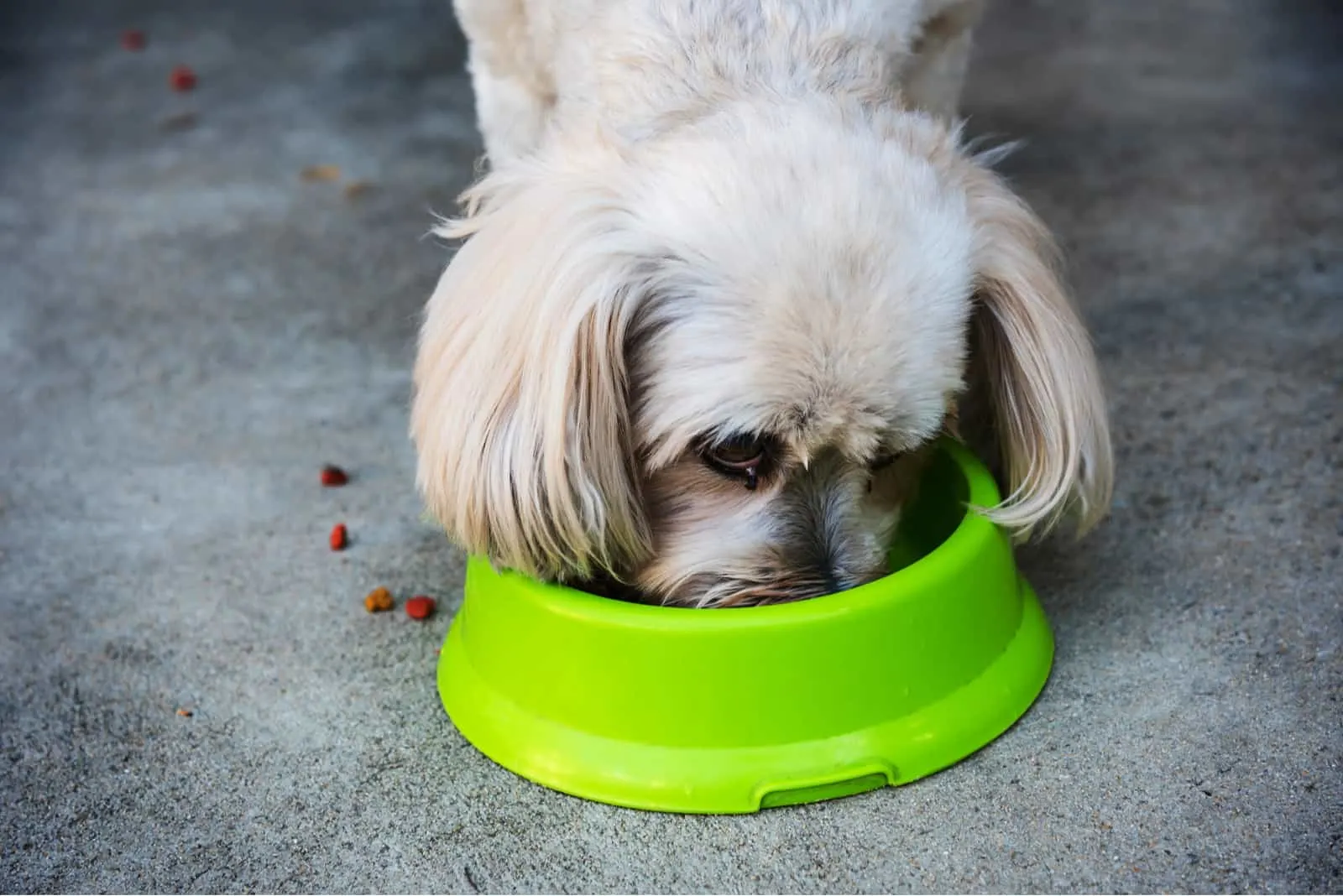 When trying to find the best dog food for Shih Tzus, there are plenty of variables to take into account, just like with any other doggy breed.
Most of the factors boil down to the same between every dog, with slight nuances depending on the breed, whether the Shih Tzu is a boy or a girl, and each dog as an individual.
If you're unsure whether or not your dog needs a special diet or whether to be mindful of certain allergens, talk to a veterinarian or an animal nutritionist to get an evaluation and shape your choices accordingly.
If none of the dog food brands from this list ended up catching your eye, make sure to look at the 'before you buy' section to get an estimate of what counts as good-quality dog food – at least to make searching a bit easier.
I'm sure that you'll be able to find the perfect option for your precious little lion. Until next time.