In recent years, designer dogs have become more and more popular. There is just something about hybrid breeds that make everyone fall in love with them. No matter your lifestyle, you are bound to find a designer dog that is perfect for you.
Poodle mixes, known as 'Doodles,' are especially popular. Whether it be a Goldendoodle, Labradoodle, or a Bernedoodle, everyone seems to love them. These pups are adored because of their non-shedding fur and loveable personalities.
One of those dogs is the Sheepadoodle. These lively canines are a sought-after choice when it comes to mixed breeds. They have multi-colored fur, and they can be amazing family pets.
If you look online, you'll probably find a bunch of Sheepadoodle puppies for sale in all areas of the world. However, not all Sheepadoodle breeders are the same, and by making the wrong choice, you might endanger the life of your future puppy.
Finding the right Sheepadoodle breeder is the key to having a healthy pup that will have a long lifespan. However, when faced with such a huge choice, it can be easy to feel like you don't know where to start looking.
Fortunately, we're here to help. We've read tons of reviews trying to find the best Sheepadoodle breeders with great reputations. Here's what we've found:
Sheepadoodle Breeding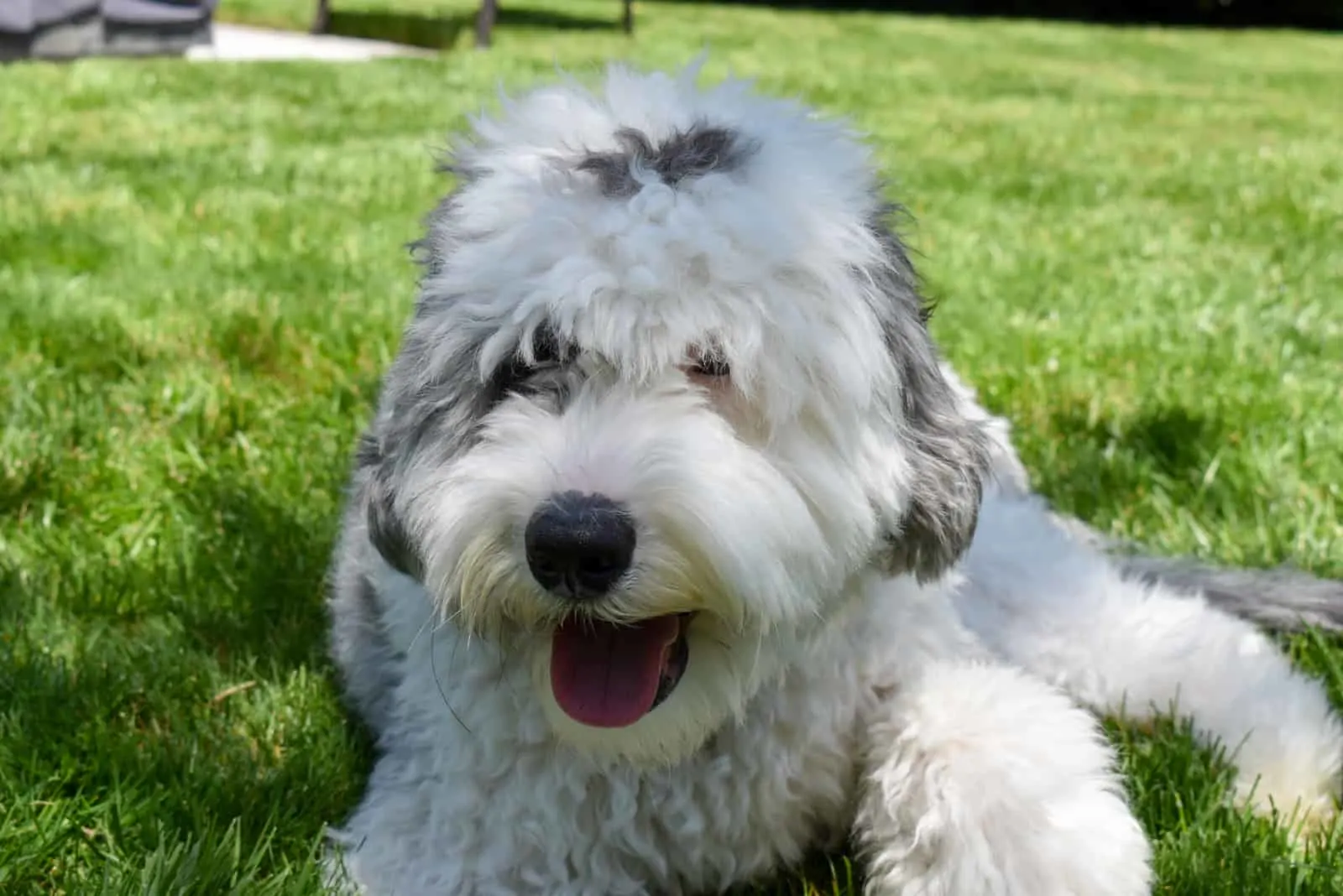 The Sheepadoodle is a crossbreed of a purebred Old English Sheepdog and a purebred Poodle. You may also find it under the name Sheeppoo or simply as the Sheepdog Poodle mix. These dogs grow up to be medium-sized and rarely grow taller than 22 inches and heavier than 80 lbs.
The appearance of a Sheepadoodle can vary greatly thanks to the genetics of their parent breeds. However, a few things will remain the same.
For example, these family dogs have a fleece-like hypoallergenic coat that comes in a variety of colors (apricot, chocolate, white, black and white, tricolor, parti, and so on) that isn't prone to shedding. They are easy to groom, and you won't have much cleaning to do afterward.
They are cuddly and intelligent dogs with high energy levels that resemble large teddy bears, which is one of the main reasons for their worldwide popularity.
While these dogs aren't eligible for registration with the American Kennel Club (AKC) – just like any other dog breed that isn't purebred – they are allowed into the Dog Registry of America (DRA), American Canine Hybrid Club (ACHC), and the International Designer Canine Registry (IDCR).
Still, these dogs can be somewhat tricky to breed.
First generation Sheepadoodles (also known as the F1 Sheepadoodle) are always a mix between an OES and a Standard Poodle. Sometimes, Sheepadoodle breeders might use a Mini Poodle to create Mini Sheepadoodles, but more on that later.
However, not all Sheepadoodles are made this way. Some breeders prefer to create dogs with more Poodle features, so they'll create a backcross – this is how generations such as the F1b Sheepadoodle are made.
There is no way of predicting how a Sheepadoodle puppy will turn out. This all depends on his individual genetics. However, the more genes from one breed this dog has (take the already mentioned F1b Sheepadoodles as an example), the more they'll resemble that parent dog.
Can You Breed A Sheepadoodle With A Sheepadoodle?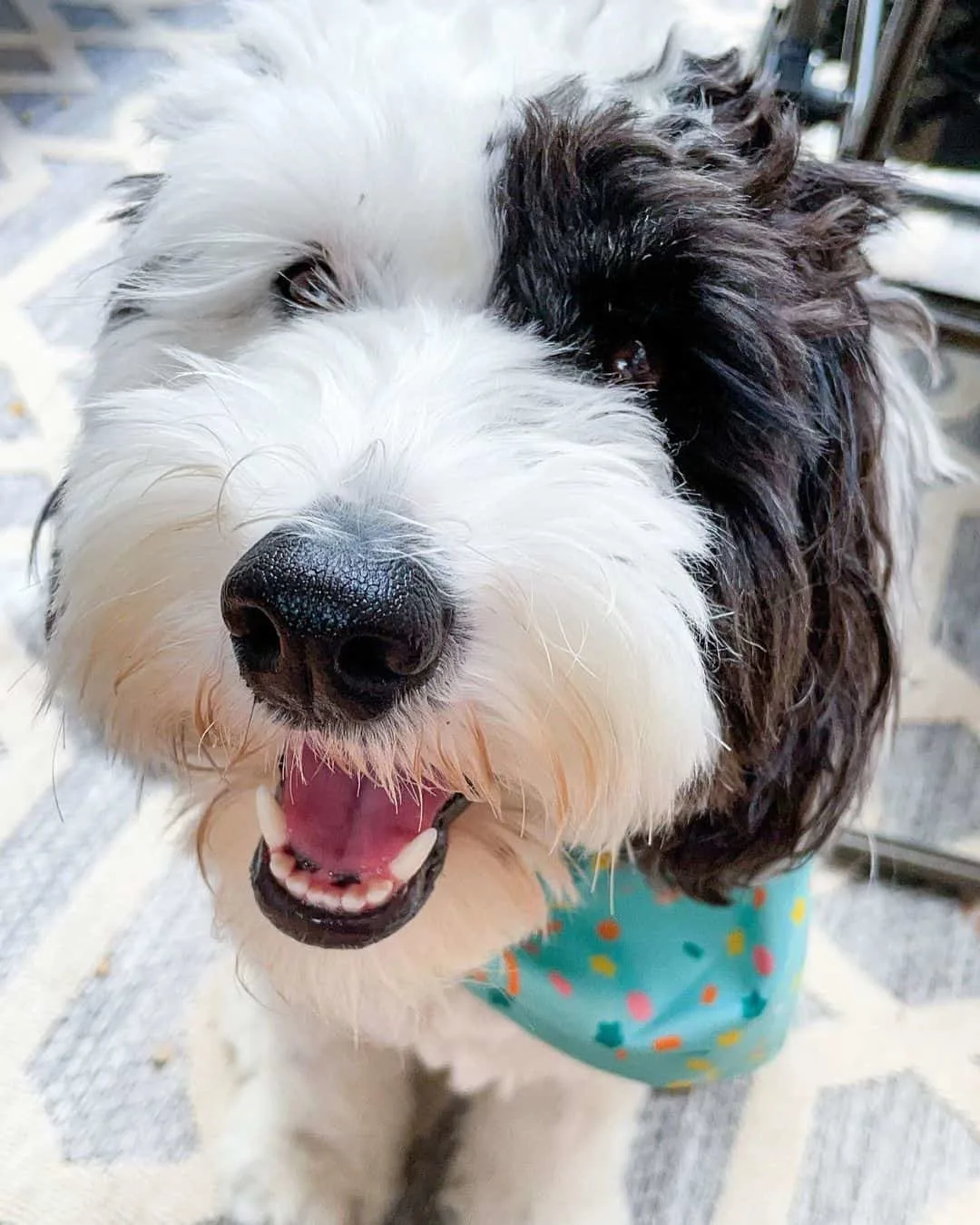 Photo from: @rorythesheepy
While Sheepadoodles are originally made by breeding an OES with a Poodle, some breeders might also choose to breed two Sheepadoodles together to create a second-generation Sheepadoodle (the F2 generation).
There are several reasons behind this. Some Sheepadoodle breeders simply think that this is an easier way to get this crossbreed, even though these dogs might lose some of their hybrid vigor, and there is no way to predict how future litters will look.
Others might want to make an F1b Sheepadoodle resemble the OES more – but not too much as would happen if they were to mate it with a Sheepdog. Instead, they'll breed it with an F1 Sheepadoodle. This would create a dog that is, for example, 67.5% Poodle.
When you find a Sheepadoodle breeder that seems up to your standards, make sure to ask them about the generation of your future puppy. This can help you predict your pooch's appearance and behavior to some extent.
Mini Sheepadoodle Breeders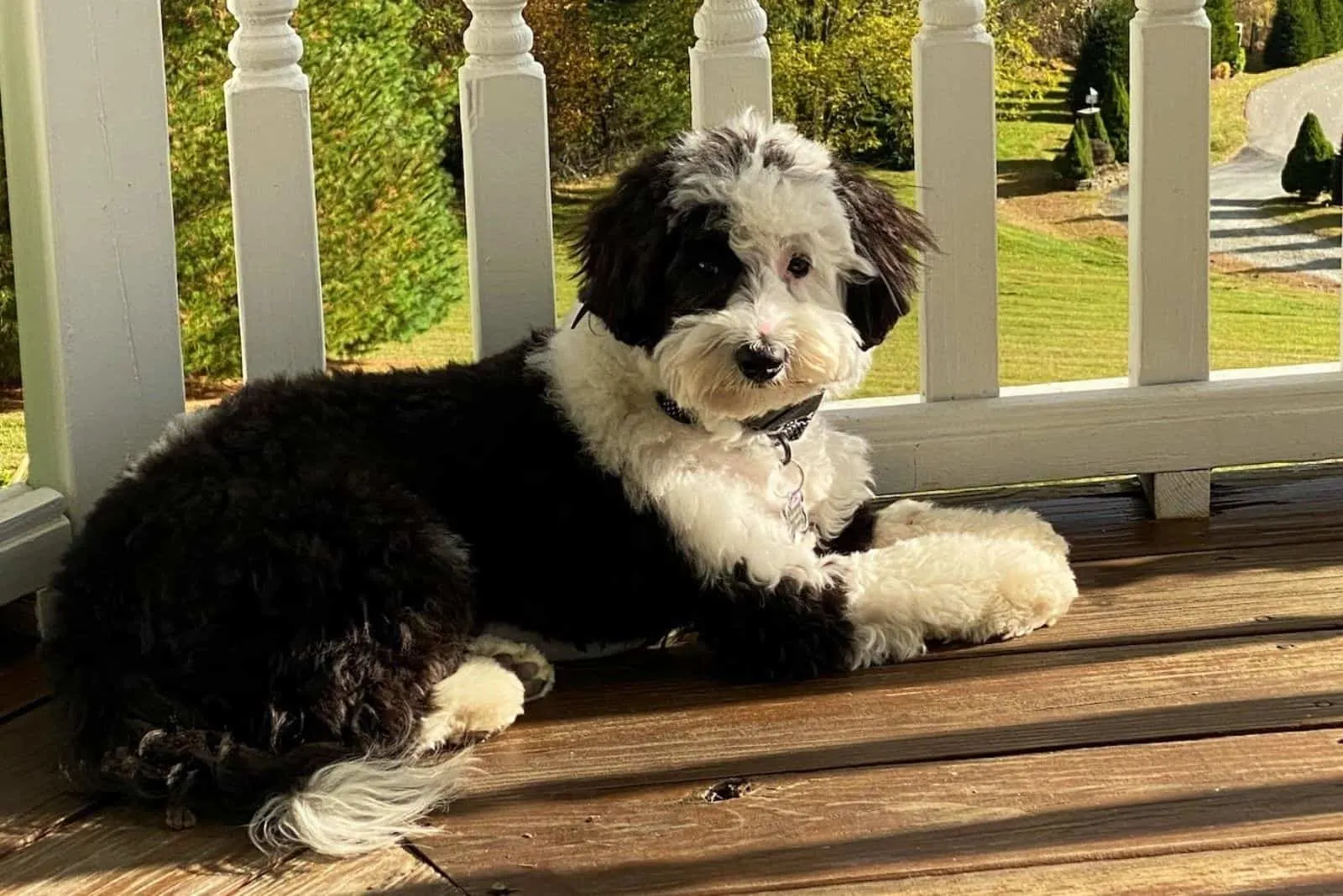 Mini Sheepadoodles and Micro Sheepadoodles are smaller versions of Standard Sheepadoodles. They are made by breeding an OES with a Mini Poodle or a Toy Poodle.
Sheepadoodle breeders will always breed a female Sheepdog with a male Poodle. Otherwise, larger puppies might be a problem for birthing.
Most reputable Sheepadoodle breeders don't sell first-generation Mini Sheepadoodle puppies – or they'll at least warn you that there is no way of predicting how the upcoming litter will turn out due to the huge height difference.
This complicated breeding procedure is also why Micro Sheepadoodle puppies tend to be somewhat expensive. However, this is also why you need to be very careful picking the right Sheepadoodle puppy.
Mini Doodles can have plenty of health problems if appropriate health screenings haven't been conducted. Not to mention that some breeders tend to sell dogs with dwarfism while advertising them as miniature breeds! All of this can have some dangerous consequences.
Sheepadoodle Puppies For Sale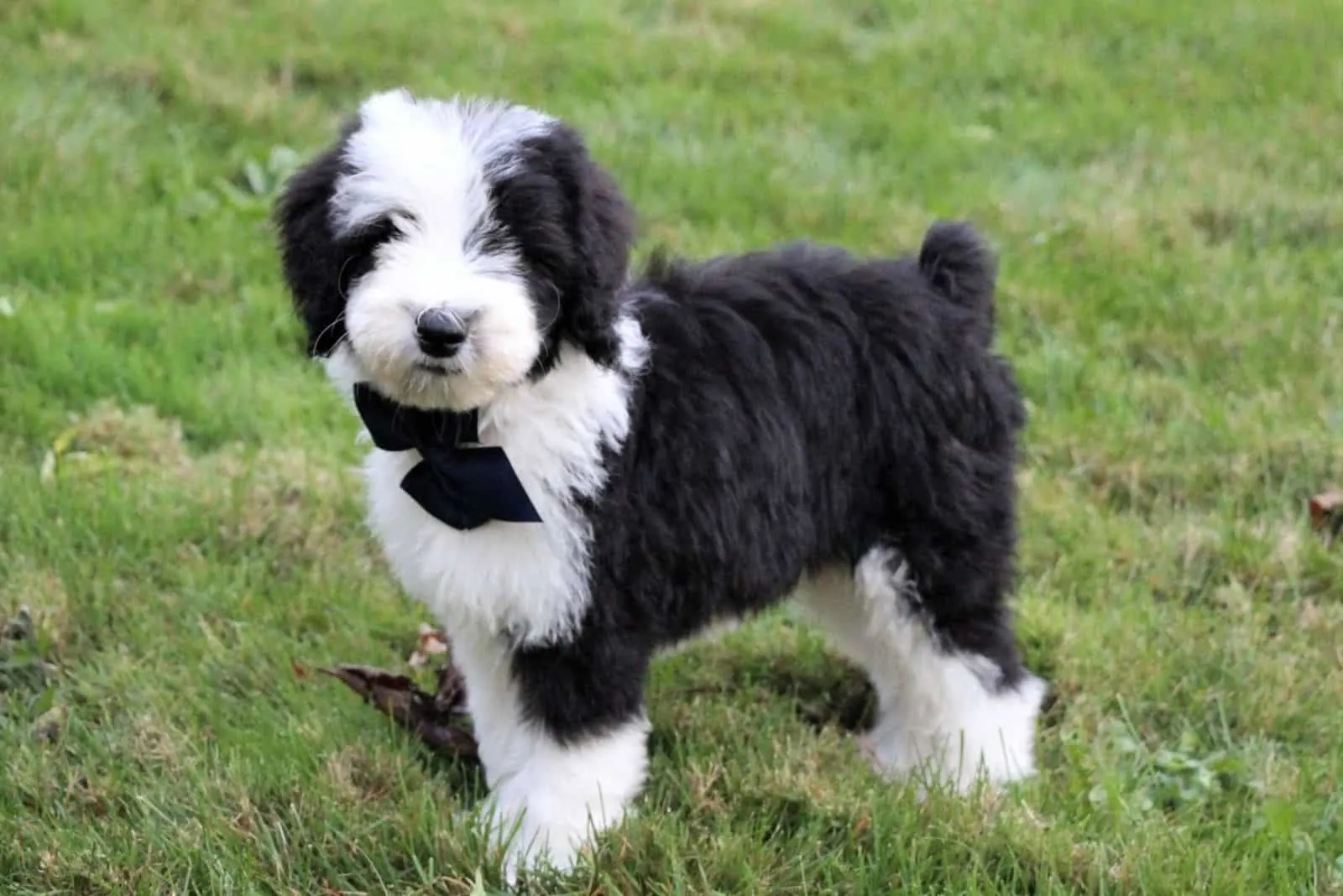 If you're looking to find where you can get your Sheepadoodle puppy, you may have noticed that there are several places you can get them from.
Most people decide to go for the most affordable option. It's human nature to want to get away with paying less. We're constantly on the lookout for discounts on food, clothes, vacations, and other things. It's natural to want to buy a pet at a discount as well.
However, trying to save on a puppy can be a very dangerous decision.
To explain this, we'll look at several places where you might find a Sheepadoodle puppy and explain the safest (and, in the long run, the most affordable) option.
Backyard Breeders
Backyard breeders (BYBs) don't necessarily breed dogs in their backyard. However, they usually aren't breeders with experience and appropriate permits and registration papers.
BYBs rarely have bad intentions. They are often dog owners who ended up with unwanted puppies they have decided to sell. This is a good and honest way to earn a few bucks.
However, these breeders simply don't have the knowledge of how to breed dogs the right way. For many of them, this might be their first litter. They don't know that they should conduct proper health tests – most even don't vaccinate their puppies or give them anti-parasitic medication.
All of this allows backyard breeders to sell their puppies at a very low price. Still, you have to keep in mind that there is a chance that these dogs will end up having expensive medical bills.
Puppy Mills/Pet Shops
Puppy mills are another popular place where many people prefer to buy their puppies. However, puppy mills don't conduct adequate genetic testing, and they don't take good care of their dogs either.
As a result, many dogs from puppy mills have behavioral issues since they weren't socialized in time. Not to mention the health issues they might have!
Although Sheepadoodles are generally considered healthy dogs, if both of their parents have certain health problems, chances are, their offspring will have them too. Because of this, you should always want to get your pup from a reputable Sheepadoodle breeder.
As for pet shops, they usually get their puppies from puppy mills, so the end result will be the same.
While both are affordable options, once again, this isn't sustainable for a long period of time. Dogs bought from unreliable places might come with plenty of health issues that can be expensive to deal with.
Rescue Centers
You can also adopt a dog from a shelter or a humane society. This is the most moral thing a person can do and an option most dog lovers will decide on. Not only is this extremely affordable (you'll only pay a small adoption fee), but you'll also be helping a homeless dog.
However, you have to be aware that you won't know the medical and training history of an adopted dog. In other words, you can never know for sure how he will behave and whether or not he has hidden medical issues that you'll have to deal with.
Registered Breeders
If you want a healthy dog, reputable Sheepadoodle breeders are the best option for you. They are the only ones who will give you a health guarantee for your new puppy, as they pay for all the necessary genetic tests that will rule out any hidden diseases.
Sure, you'll pay a bit more if you buy your dog from a breeder, but think about all that is included in this cost. These people will do detailed health screenings, and they'll ensure the parents are healthy dogs.
Many breeders will also do some socialization, especially if you're buying an older puppy. You'll get a well-behaved pup that you won't have much trouble with.
These breeders will ensure you get the healthiest puppy possible. They'll know how to explain which generation your Sheepadoodle is and what you can expect.
Best Sheepadoodle Breeders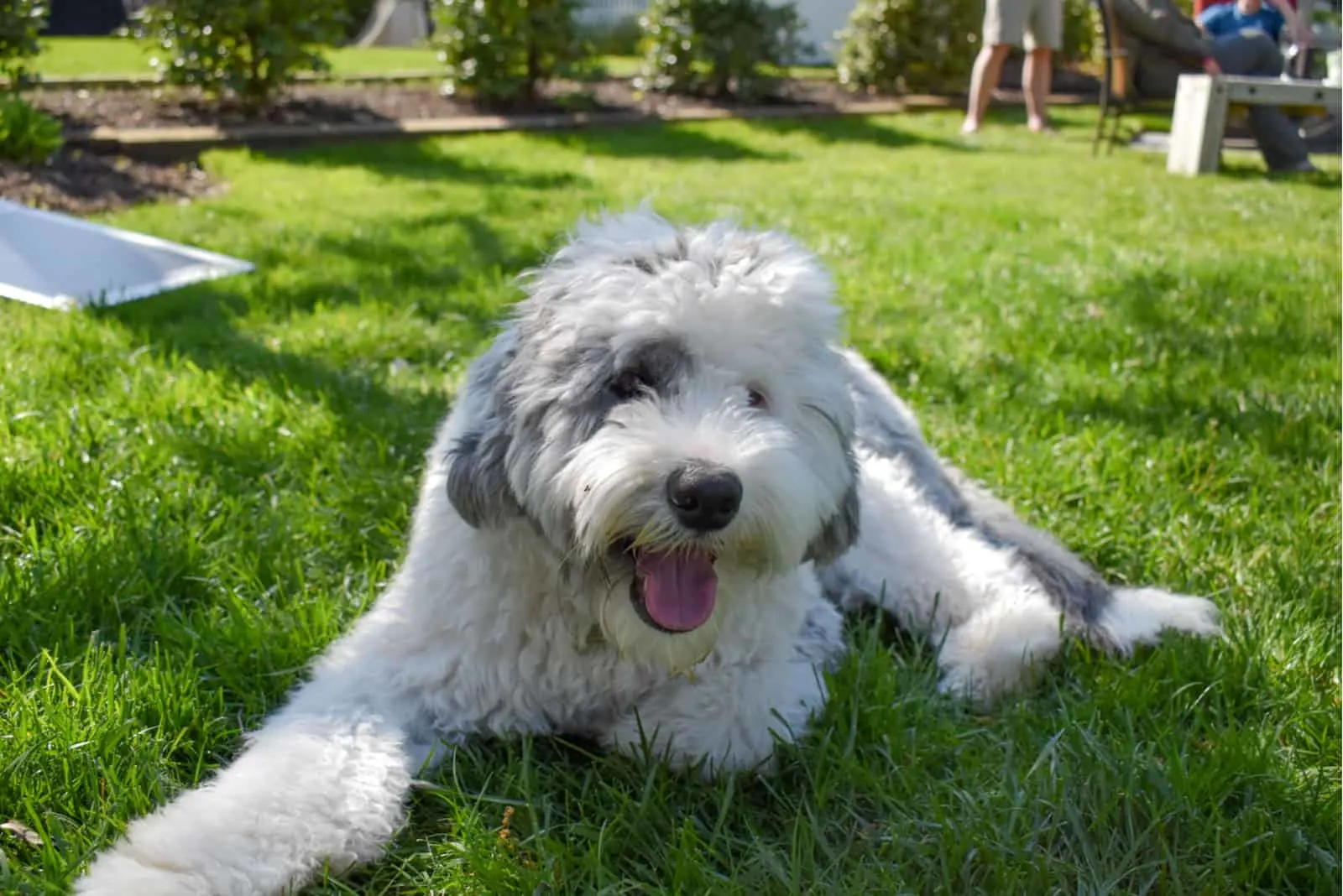 When trying to locate the best Sheepadoodle breeder close to you, you should focus on Doodle dog breeders. Most people don't breed just one type of Doodle. This means there is a chance they sell Sheepadoodles as well.
While we'll give you a few examples of reputable breeders, it's important that you conduct thorough research on your own before placing yourself on a waitlist. Check out their availability and history. Read all the reviews. You can never be too certain.
Here are some of the top Sheepadoodle breeders in the US:
1. Rockadoodles
Rockadoodles are Doodle breeders from Nashville, Tennessee. They try to socialize all their dogs and puppies from a very young age, so they are used to new people, dogs, and environments. This is clear when you learn that these Doodles are raised in a home with more than ten children!
Rockadoodles attempts to raise their dogs to be prepared for life in large families. They pay a lot of attention to their puppies' behavior and temperament.
The team at Rockadoodles breeds Sheepadoodles, but also Goldendoodles and Bernedoodles. They do their best to create hypoallergenic, non-shedding Doodles.
When it comes to size, they have Standard, Miniature, and Moyen Sheepadoodles that you can choose from.
Because they are very popular, their wait time can be quite long. When puppies become available, they are selected at around 6–7 weeks of age. They offer a detailed update on all the litters' and puppies' progress on their website and social media accounts.
Rockadoodles will also share lots of useful resources when it comes to taking care of your new puppy. They might even suggest the right veterinarian for you!
2. Sunflower Family Farms
This is a reputable breeder from Redding, California. The owner of the farm is certified with a Bachelor's degree in Agricultural Science, meaning they have a solid knowledge about nature and breeding processes.
The dogs are kept indoors, making them adaptable to apartment living. The team at Sunflower Family Farms gives all their puppies proper dog food and plenty of toys and care, so they can grow up to be healthy and happy.
However, not everyone can buy from Sunflower Family Farms. All aspiring Sheepadoodle owners have to provide many details about themselves. They should also write their expectations, so the Sheepadoodle breeder can find the right dog for them if they pass.
Once you apply for a dog, the owner will give you all the information about any further steps, such as pricing, availability, and what you should do.
This breeder also helps you find a way to get your new pet home. They have good connections when it comes to public transport in California, so you can expect them to find a proper means of travel for your dog.
3. Feathers And Fleece Farm Sheepadoodles
The Feathers And Fleece Farm is located in Lexington, Indiana. Their team of Sheepadoodle puppies is always prepared to help you with anything you might want to know about this adorable crossbreed.
They also specialize in breeding Newfkom puppies, Schnoodle puppies, and Whoodle puppies.
These puppies are raised to be suitable for family homes, and they are socialized so they won't have any problems adapting to a new home. Usually, Feathers And Fleece Farm breeders won't allow you to take home a puppy younger than 10–12 weeks.
If we keep in mind that most Sheepadoodle breeders give away their pups when they are just 8 weeks old, we can see that Feathers And Fleece Farm has an additional 2–4 weeks for training their Sheepadoodle puppies.
If you buy a dog from the Feathers And Fleece Farm, you'll get a dog that is vaccinated and weaned. They'll also give you plenty of valuable resources you can use for raising your puppy.
They specialize in breeding Sheepadoodles of all sizes, including Standard, Miniature, and Micro.
When you apply for a puppy, you have to pay a non-refundable deposit with your application.
The waiting period for your Feathers And Fleece Farm puppy can be as long as 9 months, so be prepared that you might have to wait a while. However, with the pup's quality, it's worth the wait.
4. Sheepadoodles By Design
If you live close to Greenbrier, Arizona, you mustn't miss Sheepadoodles By Design. The team consists of a small group of family breeders with a lot of experience in raising Doodles.
The dogs are raised in a family home, so they are adjusted to indoor living. They are also taught to deal with all activities that might happen around them.
To get a puppy from Sheepadoodles By Design, you have to secure your puppy by paying a deposit. The typical wait time for a puppy is 4–6 months, which is a lot, but still shorter than many breeders.
In fact, if you find a breeder that has Sheepadoodle puppies available immediately, you should be skeptical. Most reputable breeders have a greater demand than supply.
These Sheepadoodle puppies come with a two-year health guarantee. This means that the Sheepadoodles By Design is responsible for any serious defects that might crop up in your dog during this time.
This breeder mostly sells Mini and Medium Sheepadoodles, depending on the size of the Poodle parent. No matter the type, they health test all of their dogs and take great care of them.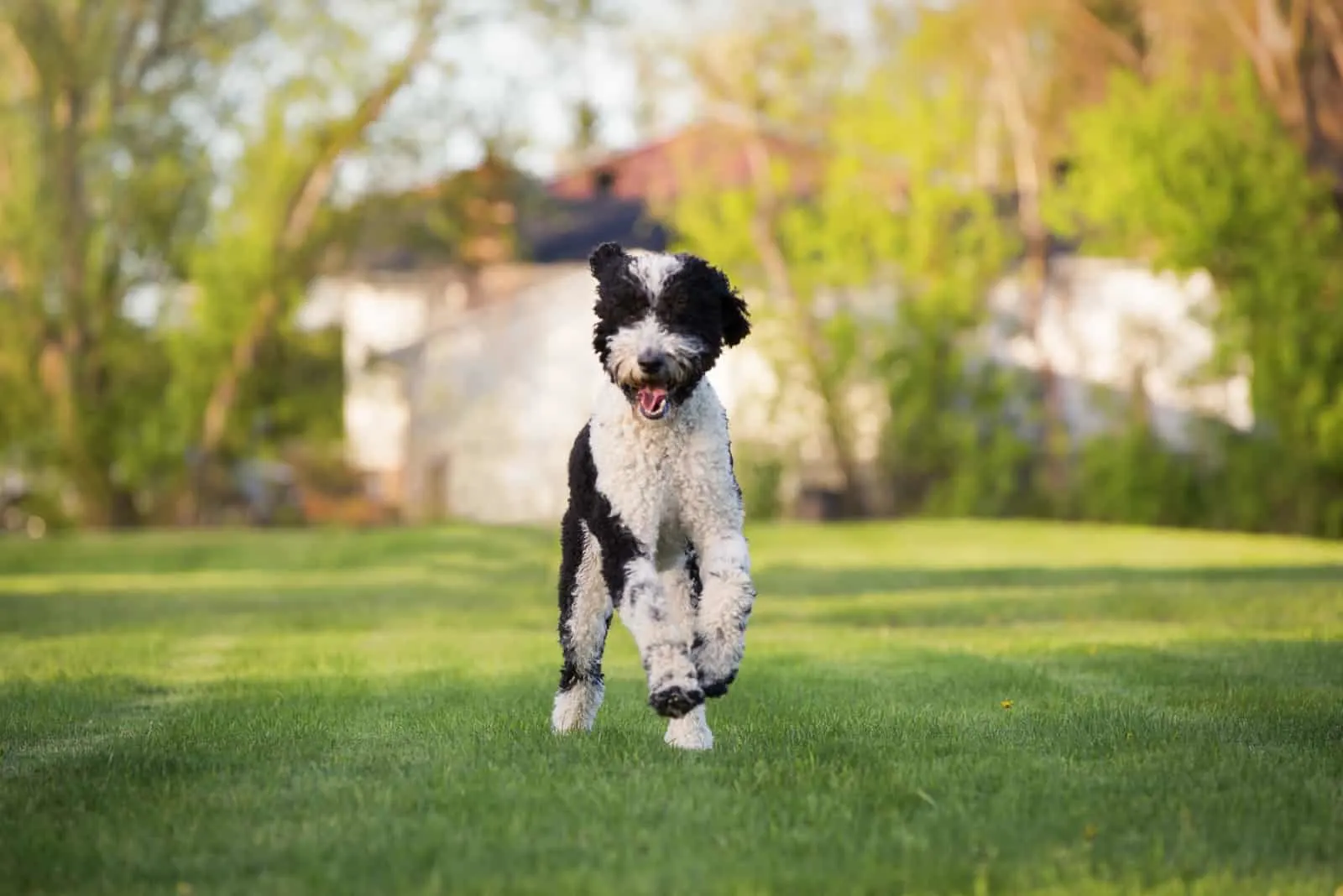 5. IE Family Doodles
IE Family Doodles is located in Menifee, California. They pay special attention to the temperament and the health of the dogs they breed, which is why their puppies tend to be a bit more expensive.
The wait time for their puppies is around three months on average, and you can take your new puppy home when he is 8 weeks old. However, before making a purchase, you'll have to leave a $500 non-refundable deposit and pass the application process.
They potty-train their puppies and begin temperament testing at 52 days old. This way, they'll ensure you get a disciplined dog.
Their puppies come with an extended year health guarantee, covering any of the genetic problems these pups might have.
A cute touch is that you can keep the puppy's favorite toy and some belongings with the scent of their littermates. This will also keep the dogs from having separation anxiety; something Sheepadoodle puppies are prone to.
6. Deb's Doodles And Sheepadoodles
This team from Northern Virginia specializes in breeding Sheepadoodles, Goldendoodles, and Bernedoodles. They have a detailed website that helps you learn all that you possibly can about this crossbreed. This way, you'll know what to expect.
On their website, you may also find the list of available Sheepadoodle puppies, and you can see the scheduled litters. This is great for checking availability.
Deb's Doodles And Sheepadoodles also run a training camp where they teach their puppies to be obedient and suitable for family life. The training lasts for three weeks, which is usually enough time for puppies to be ready to go to their new home.
These pups come with a two-year health guarantee that will protect you against any health concerns. The team will also conduct a vet check-up right before you pick up your puppy, just so they can be certain you're getting the best dog possible.
They will also provide you with helpful resources, and they're available to answer any questions you may have about your new Doodle puppy.
7. Crockett Doodles
No matter if you're from Iowa or Ohio, you'll want to check out Crockett Doodles. This team of breeders works all across the US, and they provide you with high-quality Mini Sheepadoodle and Standard Sheepadoodle puppies, as well as many other Doodle varieties.
These dogs are raised in a family home environment, and they are socialized from an early age. The waiting time varies, and sometimes you can get your puppy in a matter of weeks, other times, in a couple of months.
They offer a huge collection of Sheepadoodle photos, so you can know what to expect when you purchase a puppy from them.
While you have to submit a deposit before you get your dog, it is entirely refundable, which is a bonus for many people.
Their dogs come with a three-year health guarantee, so you can see how confident they are in the health of their dogs.
Also, with Crockett Doodles, you may pick the exact pup you want – but keep in mind this can prolong the waiting time.
8. California Sheepadoodles
California Sheepadoodles isn't a breeder but rather a Sheepadoodle breeder service provider. They work with registered breeders that produce healthy puppies.
While all of this might make you think you are dealing with a puppy mill, this isn't the case, as all of their breeders are certified and experienced.
They have a long waiting list that may vary depending on the time of the year and puppies' popularity, so make sure to book them ahead.
All of their dogs undertake plenty of health tests when they are around 6–7 weeks of age. If they are healthy, they are sent to their new homes, together with a one-year health guarantee.
How Much Is A Sheepadoodle Puppy?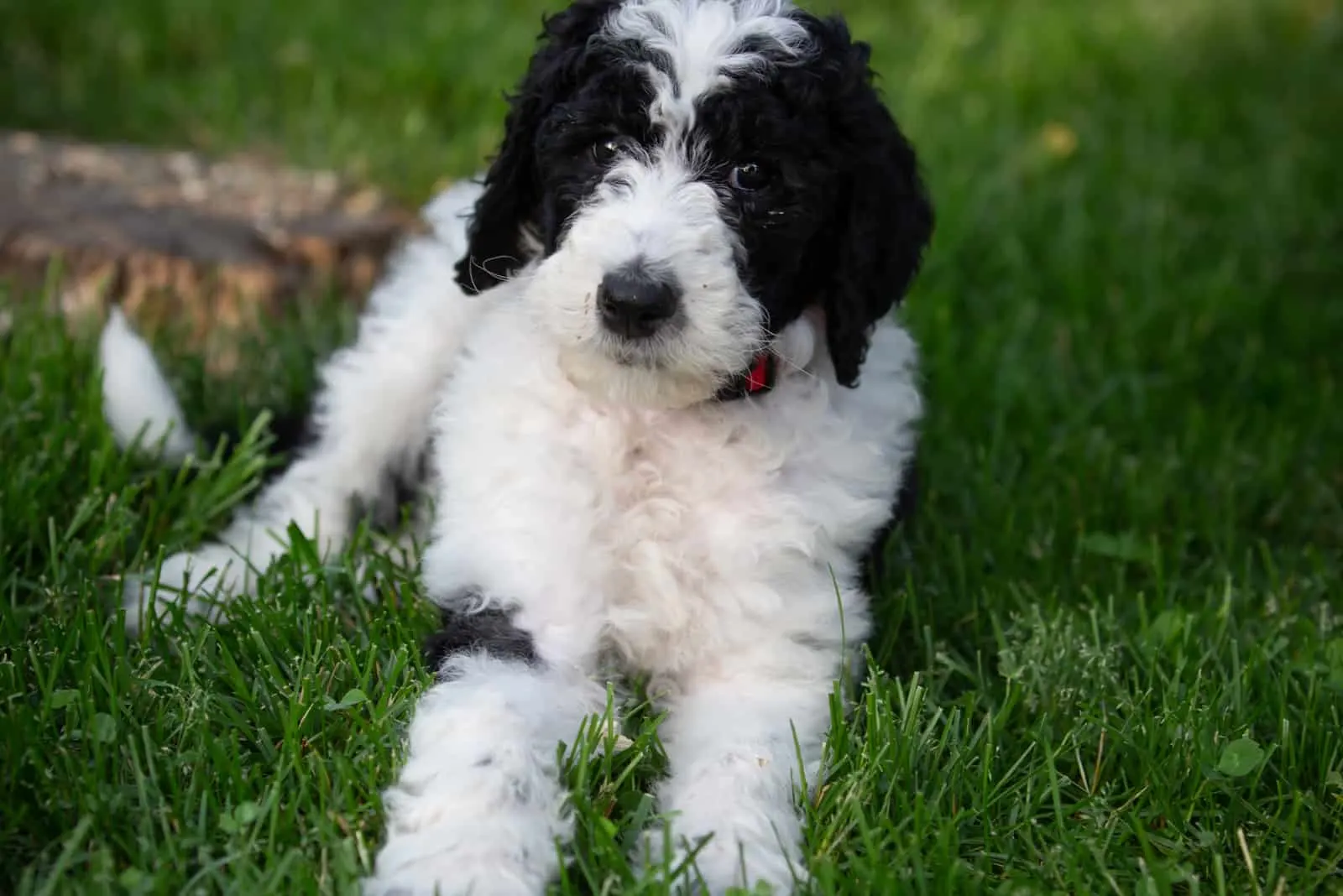 The cost of a puppy usually depends on the Sheepadoodle breeder themselves and the area they are located.
Many other things might also affect a Sheepadoodle puppy's price, such as the bloodline, generation, and whether or not the pup is likely to have hypoallergenic properties.
Overall, most Sheepadoodle puppies will cost somewhere between $2,000 and $4,000. While this is a high price, we still recommend that you pay it instead of going to a backyard breeder or puppy mill.
A reputable breeder might force you to pay a higher price initially, but a healthy dog has lower vet bills. In other words, what you've saved during the initial purchase from a backyard breeder or puppy mill, you'll likely pay later in medical costs.
Because of this, you should never try to be frugal when getting yourself a new pet.
What Makes A Good Sheepadoodle Breeder?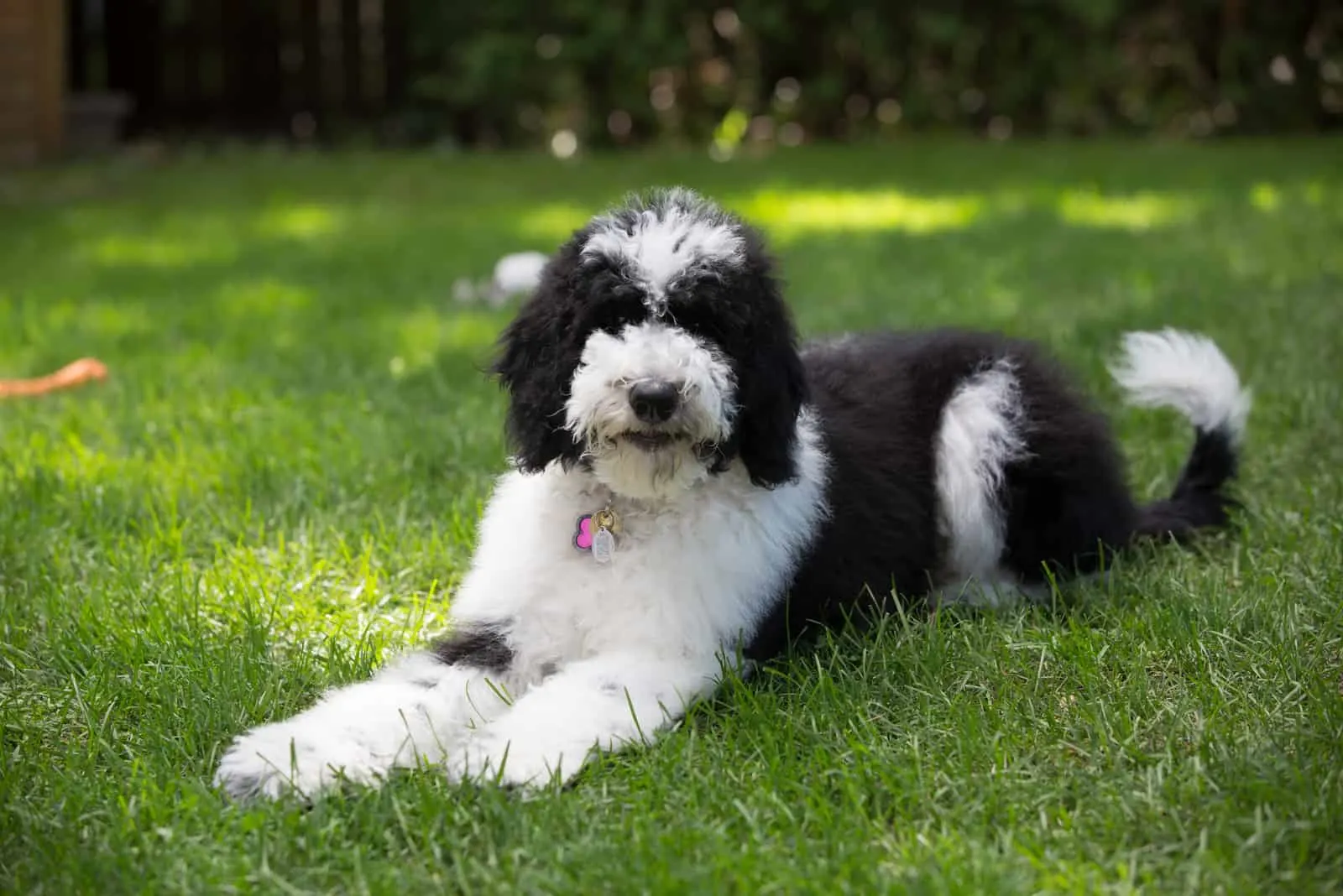 There are several ways you can know which breeder is responsible and which is, in fact, a hidden backyard breeder.
First off, many veterinarians will be able to recommend a good breeder, as they have done plenty of health check-ups. However, this might not be enough, as sometimes vets can recommend their friends, or they're paid for that advertising.
The best place to look for registered breeders is to review the AKC Breeder Referral page that can be found on their website.
Once you've found a breeder that might seem good, there are a few things you should pay attention to.
First off, an honest breeder will always allow you to visit and tour any areas their puppies spend their time in. These areas should be clean and odorless, and if anything seems suspicious to you – trust your instincts.
They won't churn out high volumes of pups. Rather, they'll focus on finding healthy dogs that can spread good genes to their bloodline. Also, all respected breeders will allow you to spend time with at least one of the parents during your visit.
The parent dogs should be well-behaved and friendly. Puppies tend to inherit their parents' behavior, so be wary of this.
Most reputable breeders have a waiting list, as they don't have puppies available all the time. Most litters are born in fall or spring, as mother dogs need some rest in between litters.
Unfortunately, this might mean you'll wait for up to a year for your new pup!
All responsible breeders know almost all there is about the breed they are raising. They should answer all of your questions and give you the necessary information about the dogs in question.
Many will socialize their puppies, especially if they sell them when they are older than 6 weeks. Also, they know at least one respectable veterinarian that they work closely with.
Responsible mating is key to being a successful breeder. They should conduct all the genetic health tests for any of the disorders a dog's breed is prone to. Some may even offer you a health guarantee or documentation of pedigree!
They should have some references and testimonials from satisfied buyers from the past. This means that people were happy enough to give them a few good words.
Most importantly, responsible breeders won't sell to just anyone. This means you'll have to complete a specific type of application form, so they can know you are the right match for their dogs.
These breeders will also let you know that if anything goes wrong between you and the puppy, you should contact them so they can re-home it.
Working with a reputable Sheepadoodle breeder is the best way to ensure your new best friend will stay with you for a very long time.
Read Next: Best Schnoodle Breeders in the U.S.