The dog that's all folds, the Chinese Shar-Pei is a one of a kind dog breed, one that's sought after for its great qualities as a guard dog, but where can one get one in the US and who are the best Chinese Shar-Pei breeders?
Well, a mark of a good Chinese Shar-Pei breeder is someone who understands how one should be raised, and kept safe and healthy before adoption.
Good breeders know the breed they're raising in and out and ensure they're treated as best as they can be.
They understand the dog's temperament and work with it to direct it toward something constructive.
These breeders will raise them to their fullest potential, or at least set the foundation to do so before the pups are rehomed to their new pet parents.
Unfortunately, these sorts of breeders are getting rarer and rarer nowadays, with most of them focusing on just breeding as many as they can to rack up a profit.
They see it as a business first, and labor of love last.
These are the so-called puppy mills that we hear so often about, ones that practically churn out dogs bred in inhumane conditions, all to compete with the market and be the most available option without a care for the feelings of the dogs themselves.
Thankfully, there are exceptions to this rule as a sizable portion of good breeders remain, but how can one tell them apart?
Well, that's what I'm here to help you out with today, at least with this particular dog breed.
If you're interested in getting a Chinese Shar-Pei and are having some trouble figuring out which breeders are the good ones, then be sure to read on. You'll be able to find out answers to some other related questions too.
The Chinese Shar-Pei: A Brief History
Before we get into the meat of things, I figured a little bit about the breed to acquaint all of you with this fantastic dog option was appropriate.
The Chinese Shar-Pei is a medium sized dog with a relatively short lifespan of around 9-11 years, increased to 12 with proper health management and dieting.
The name of the breed itself translates to "Sand skin", given to them due to the rough, coarse texture of their coat.
They may not look like much at first glance, but those numerous folds conceal a lot of muscle underneath whose structure helps the Shar-Pei stand strong and poised, like a royal.
Aside from their impressive musculature, these dogs are incredibly smart, tackling complicated problems that challenge their minds and instincts with ease.
Not only that, they're extremely loyal to their masters as well. A touch overly protective and wary of any strangers, but proper socialization at an early age helps them tolerate new faces.
Though, even with such a naturally protective instinct, these dogs are as calm as it gets, akin to a Buddhist monk in meditation when they're at peace.
Other than that, they can be quite a handful if not trained early as they do have a strong personality and the desire to be the head of the pack, or family in this case.
You have to establish the hierarchy early and uphold it or else you may have a pretty unruly doggo on your hands.
Though, all of that effort is worth it, plus, the breeders will do some of the work for you by giving you advice and starting the dogs off on their training in some cases.
The 8 Best Chinese Shar-Pei Breeders In The United States
With the small brief about the breed out of the way, it's time to get into the core of the subject and see who the top Shar-Pei breeders are who have Shar-Pei puppies for sale.
Here are some of the most popular ones:
1. Martini Shar-Pei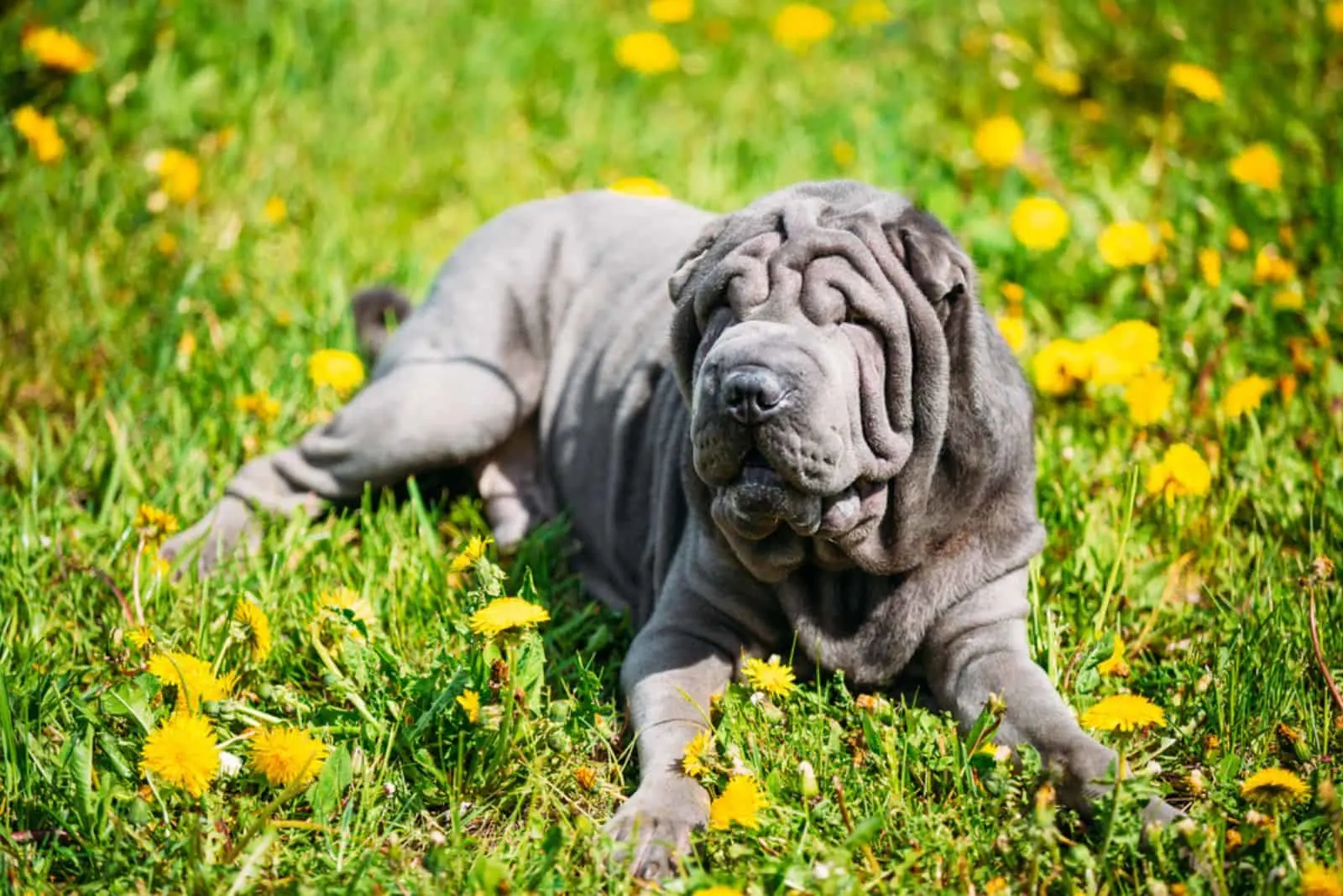 First up on our list is the Martini Shar-Pei, a wonderful breeder who's been in the game for well over 20 years, seeing multiple generations off and raising them to be great show dogs.
They can be found in Elkin, North Carolina, at 1765 Twin Oaks road.
They're a proud member of the CSPCA (Chinese Shar-Pei Club of America) and uphold their values to a T.
They believe that every dog should be treated with the utmost kindness and have a special love for the Chinese Shar-Pei as a breed, claiming it to be the only one you'll ever need in life.
Their pups are reserved via waitlist and the demand is high, so you may be waiting for a few months, especially considering they only put out one or two litters per year to not strain their own doggos.
The breeder makes sure the pups go through all the necessary health tests prior to being sold to ensure everything is okay and to maintain a certain level of quality that's expected of them.
They'll check for SPAID, Patellas, POAG and hip or elbow dysplasia
Potential buyers need to fill out a questionnaire and mail it over to them at which point they'll determine whether the person is suited for owning one of their dogs, after which they'll be put on the waitlist.
They also offer older dogs, if people prefer them, mainly some of their older show dogs who have retired from the circuit, hoping that they could find them a new home where the dog can spend his 'retirement', so to speak.
The Breeder is fully AKC certified which shows that they truly care about the dogs they raise and ensure they keep up with the standard they've been going at thus far.
Contact Information:
2. B&G Shar-Pei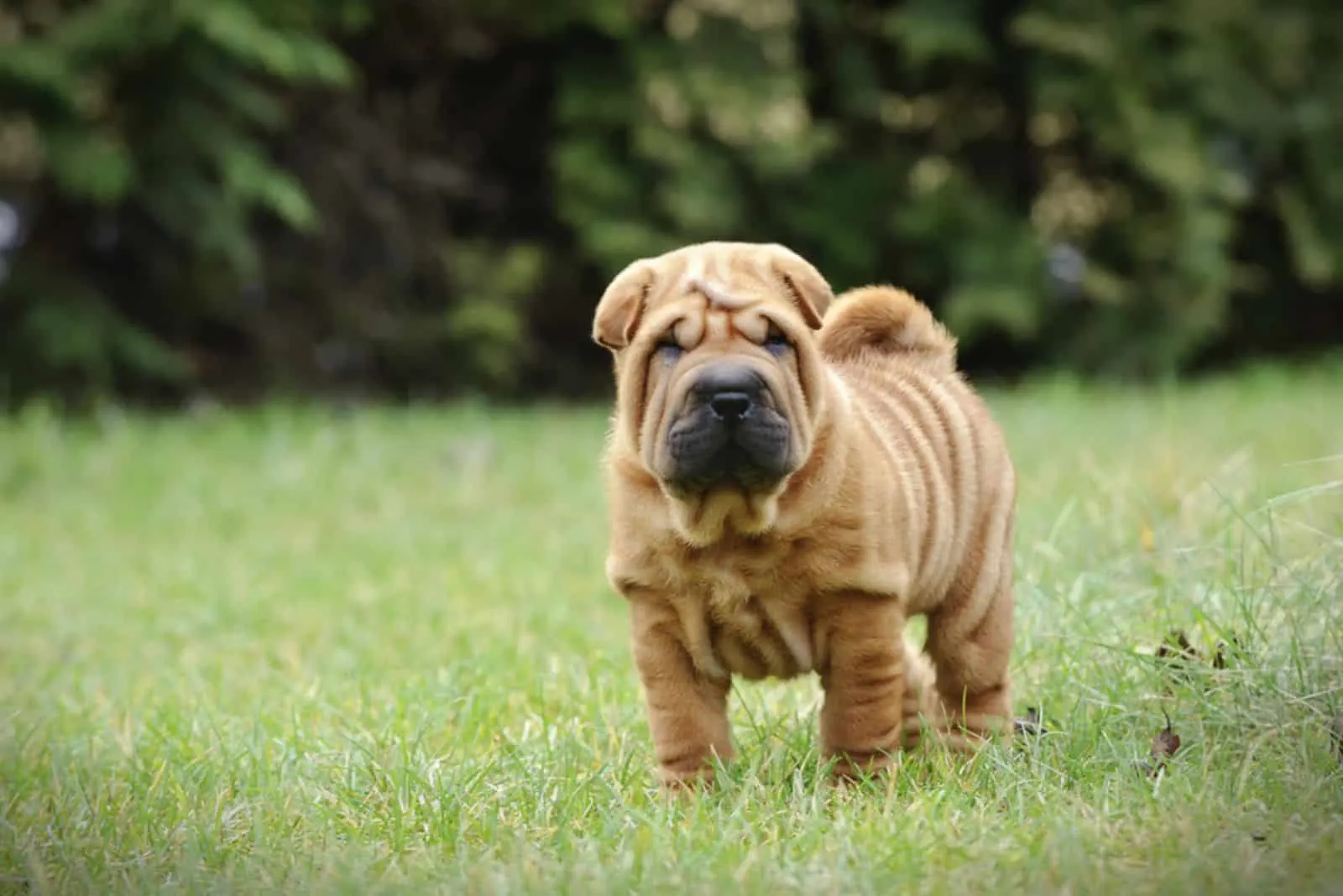 Next up, we have B&G Shar-Pei, another greatly valued Shar-Pei breeder, and an AKC Breeder Of Merit to boot.
This specific breeder can be found in New Jersey, in West Deptford, at 332 Walnut Street.
She's a member of the Chinese Shar-Pei Club of America, much like the previous breeder, as well as The Berkshire Spur Chinese Shar-Pei Club and the slightly less relevant to the topic, French Bulldog Club of America.
She raises quality show and therapy dogs, prioritizing behavior training and the dog's overall health to ensure they're well behaved and have been checked for any of the common Shar-Pei health problems when they get rehomed.
The dogs produced here are fully OFA (Orthopedic Foundation Of Animals) certified too, so you know the health checks are legitimate and have passed rigorous requirements.
Every pup raised under her roof will be properly house trained by the time you get one, with minimal effort required on your end to keep it that way.
She'll also get a head start on teaching your dog about proper crate etiquette as well as making him more comfortable with grooming tools and process, and will get your doggo a head start on potty training which you'll have to finalize.
She's been in the breeding business for well over 15 years, garnering lots of experience under her belt and knowing exactly how to treat and raise a Shar-Pei to be the best that he can be.
Contact Information:
3. Marbo Kennel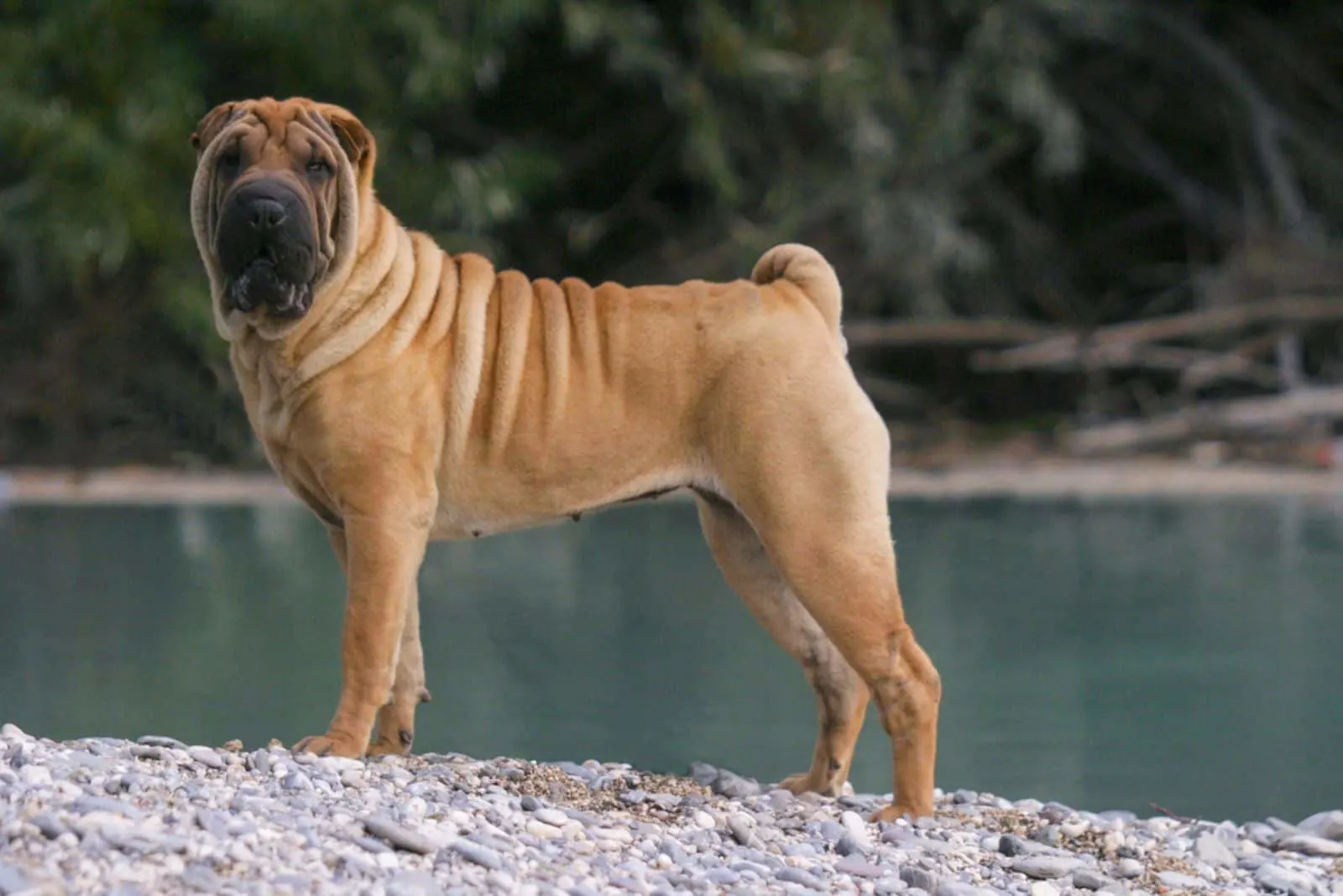 Next on the list is Marbo Kennel. While these breeders don't have a site of their own, they do have their contact info listed on the CSPCA website.
They're situated in Connecticut, in East Haddam, on 44 Mt. Parnassus Road.
If it wasn't already obvious, they're part of the CSPCA and are also members of the BSCSPC (Berkshire Spur Chinese Shar-Pei Club).
They offer a wide range of pups depending on the requirement, be it show dogs, emotional support dogs, rescue animals or simply well-adjusted family dogs.
These two breeders, Bob & Marge Calltharp, are AKC certified as well, showing the level of their quality and the dedication to their craft.
They abide by the CSPCA standards and tradition in the way that they only deal with purebred Shar-Pei, not wanting to taint this noble dog breed.
Every pup goes through thorough health checks and undergoes behavior training prior to being bought and rehomed.
The breeders make sure that the pups you're getting are going to be physically active, mentally advanced and properly behaved doggos on top of being the picture of health.
But, they don't just teach dogs on how to behave at home or in the show ring, they also make sure that to pass knowledge on to the pup's new owners so they can be better prepared to handle a Chinese Shar-Pei and do it properly.
So, if you're a novice pet owner, this may end up helping you quite a bit, if Connecticut isn't too far of a drive.
Contact Information
Name(s): Marge & Bob Calltharp
Address: 44 Mt. Parnassus Road, East Haddam, CT 06423
Phone Number: 860-873-2572
E-mail: [email protected]
4. Chenille Shar-Pei – Florida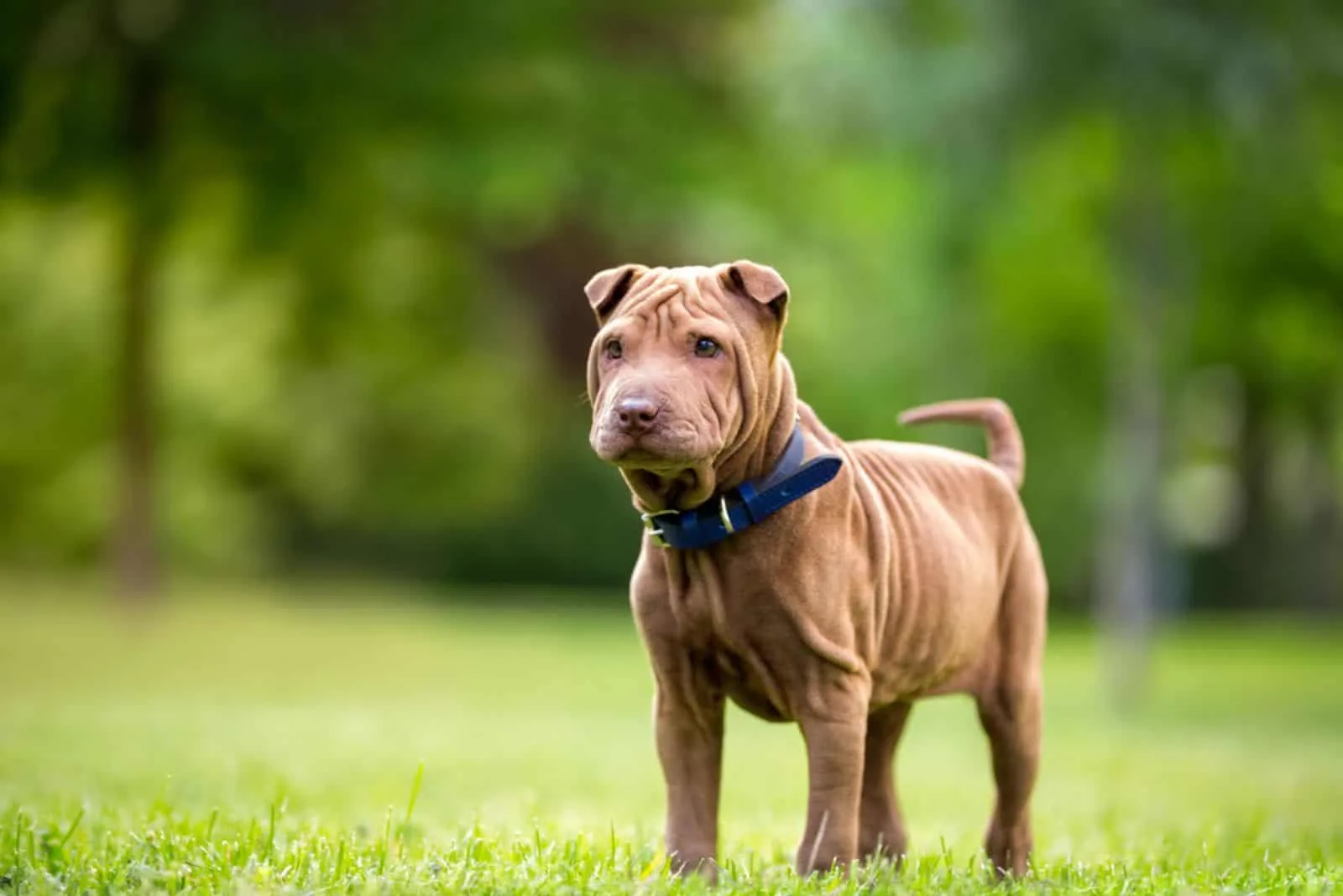 Chenille Shar-Pei, ran by Aileen Hoffer, is yet another excellent choice to get a Chinese Shar-Pei from, and this one is located over in Florida-
The woman is a true veteran breeder with an astonishing 35 years of experience under her belt, responsible for breeding some of the best international Shar-Pei show dogs who are the prime example of their breed.
One of the original CPSCA members as well and one of the first breeders of Chinese Shar-Pei in the United States, Aileen has devoted most of her life to raising these fold-heavy, but overall adorable, intelligent, and loyal canines.
She makes sure all of them get the best treatment that money can buy, providing them with high quality food options as well as ensuring all of their health checks are done regularly.
Every dog is trained and prepared before being sold too.
She mainly focuses on raising show dogs, and takes care of who she sells to, holding her dogs to a high standard, and equally high prices which range somewhere between $1500 to $2500.
That's well over double the lowest threshold that you may be able to find in regards to a purebred Shar-Pei of around 800-ish bucks.
But again, for those who enjoy going into the show ring to display their majestic dog, it's often a price that's worth every penny.
Contact Information:
5. Tuck'n Roll Acres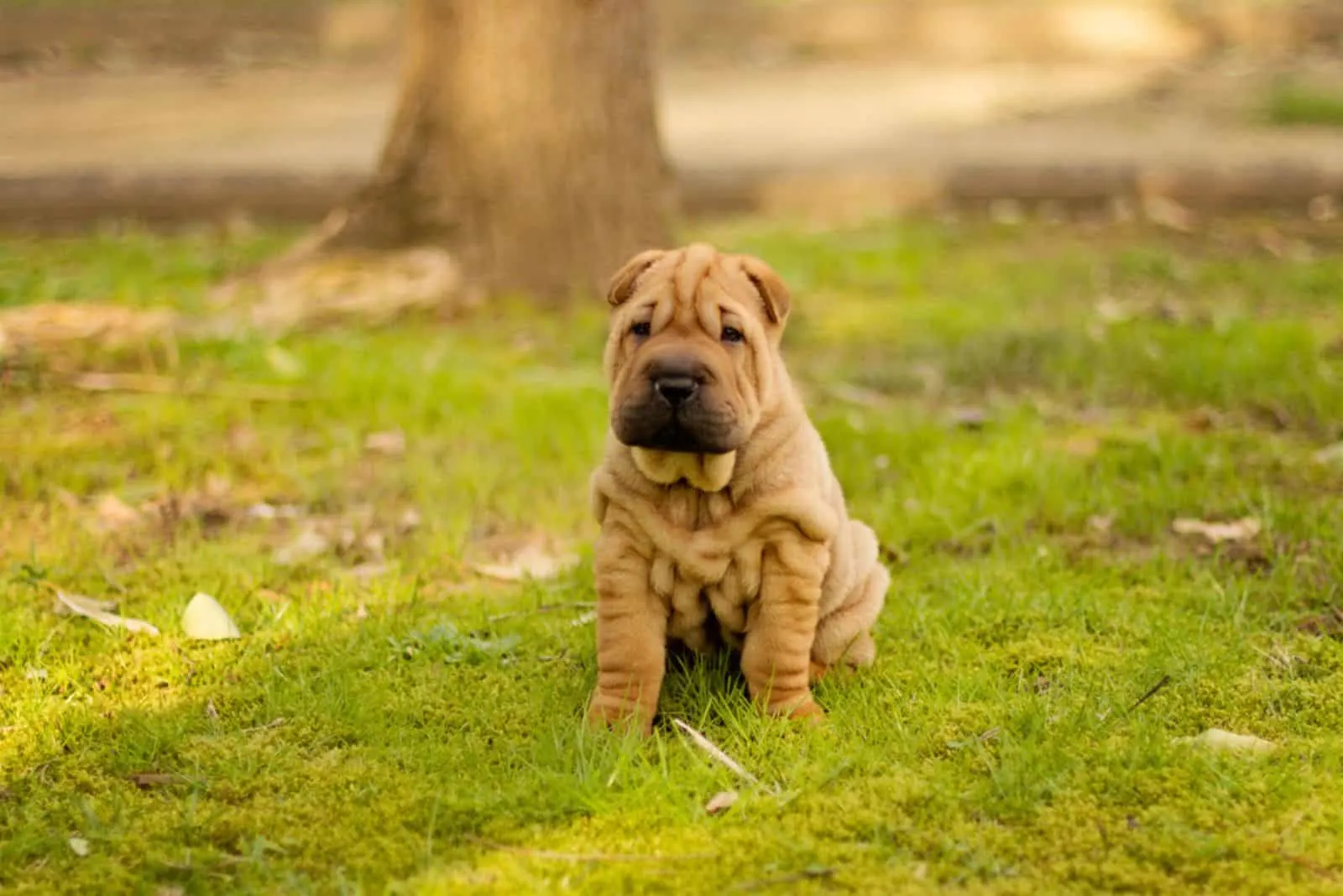 Tuck'n Roll Acres are a good Chinese Shar-Pei breeder option if you're close to Oregon.
The woman who leads this business is Sheila Marquart, with a whopping 42 years of experience breeding some of the finest specimens of the Chinese Shar-Pei out there.
She makes sure her dog's bloodline remains pure so she only breeds them with other purebred Shar-Pei.
The parents are hand-picked to form ideal pairings and produce the desired pups, each of whom are properly taken care of and fully vaccinated.
They're also checked for various health issues that are common with the Shar-Pei and are properly trained so you can have a loyal and obedient dog at your disposal.
Aside from that, the pups are taught basic leash training and undergo the beginnings of behavioral training.
While they do produce show dogs, they don't primarily focus on it. Instead, they make sure the dog is happy and content with what he wants to do.
Tuck'n Roll Acres also makes sure to get to know their customers better to try and build proper relations and ensure their pups go to a good and loving home.
Of course, this means that there's usually a waiting period and you're likely to be put on a list given the high demand due to the astounding amount of years behind this breeding business.
A business which was recognized when one of their female dogs won the first Shar-Pei AKC championship back in 1992.
Contact Information:
Name: Sheila Marquart
Address: 8080 NE Parrett Mtn Road, Newberg, OR 97132-9304
Phone Number: 503-925-8631, 503-720-2426
Website: Tuck'n Roll Acres
E-mail: [email protected]
6. Sandstone Chinese Shar-Pei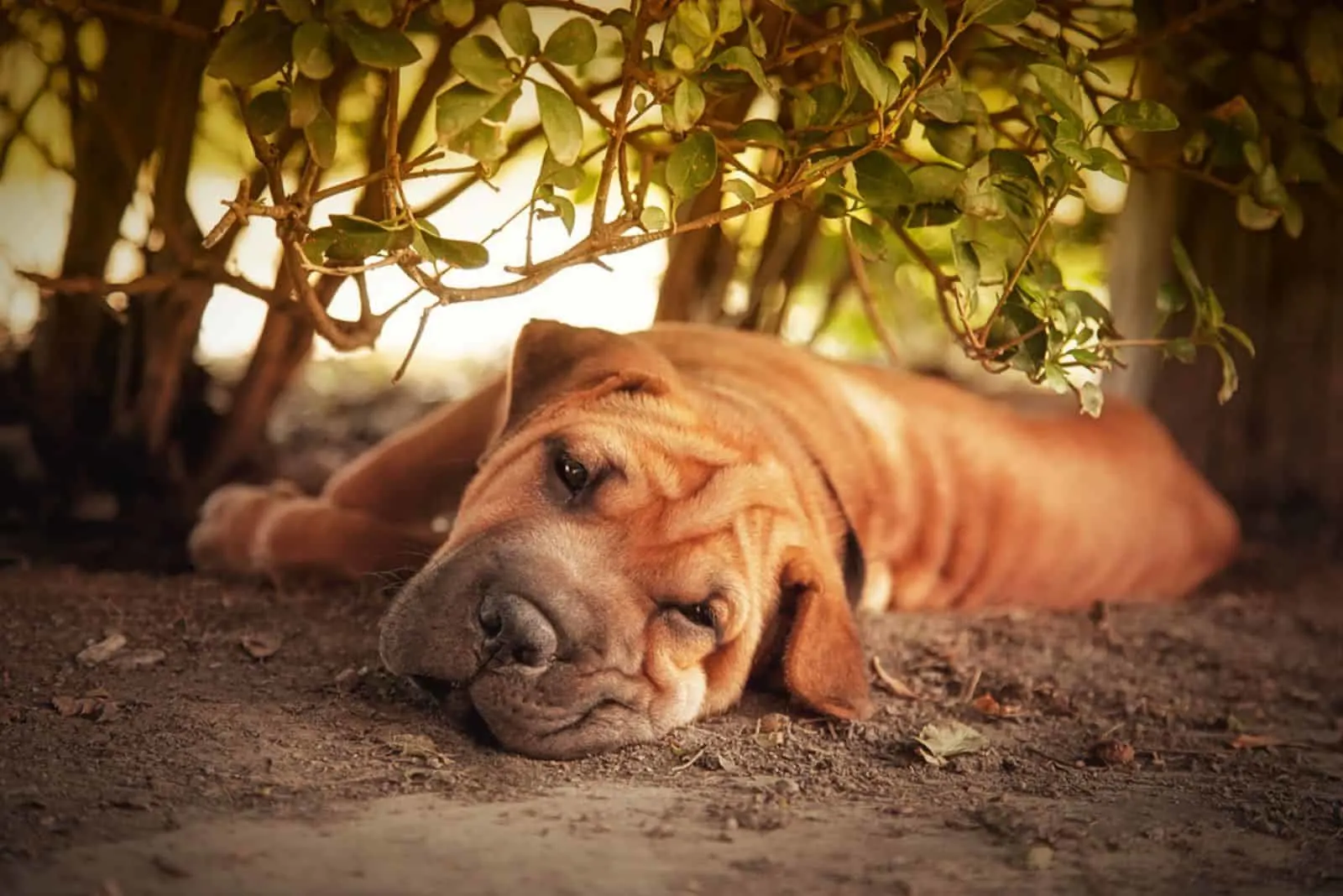 After Tuck'n Roll Acres comes Sandstone Chinese Shar-Pei with their location over in North Dakota.
The owners, Sandy & Jessica, have been Shar-Pei breeders for over 25 years now, true seniors in the breeding world.
All of their dogs enjoy a lot of freedom and are taught to socialize with other dogs at a very early age.
They're taught how to be obedient and are kept mentally stimulated for the initial weeks that the pup spends over at Sandstone's.
Of course, the dogs are also checked over for any health problems too, especially regarding Swollen Hock Syndrome, Shar-Pei Fevers or any issues that may affect his many folds of skin.
However, even if something does inevitably happen even after the dog is rehomed, your doggo will have a 2 year health guarantee where they'll make sure he comes out healthy without you having to pay for the treatment.
They feed their dogs a specific type of food too, Diamond Premium. This is something you can change out of, albeit gradually, but if you can afford it, I suggest sticking to what they were using thus far if it works for your darling doggo.
Contact Information
7. Camp Wrinkles Champion Chinese Shar-Pei – Connecticut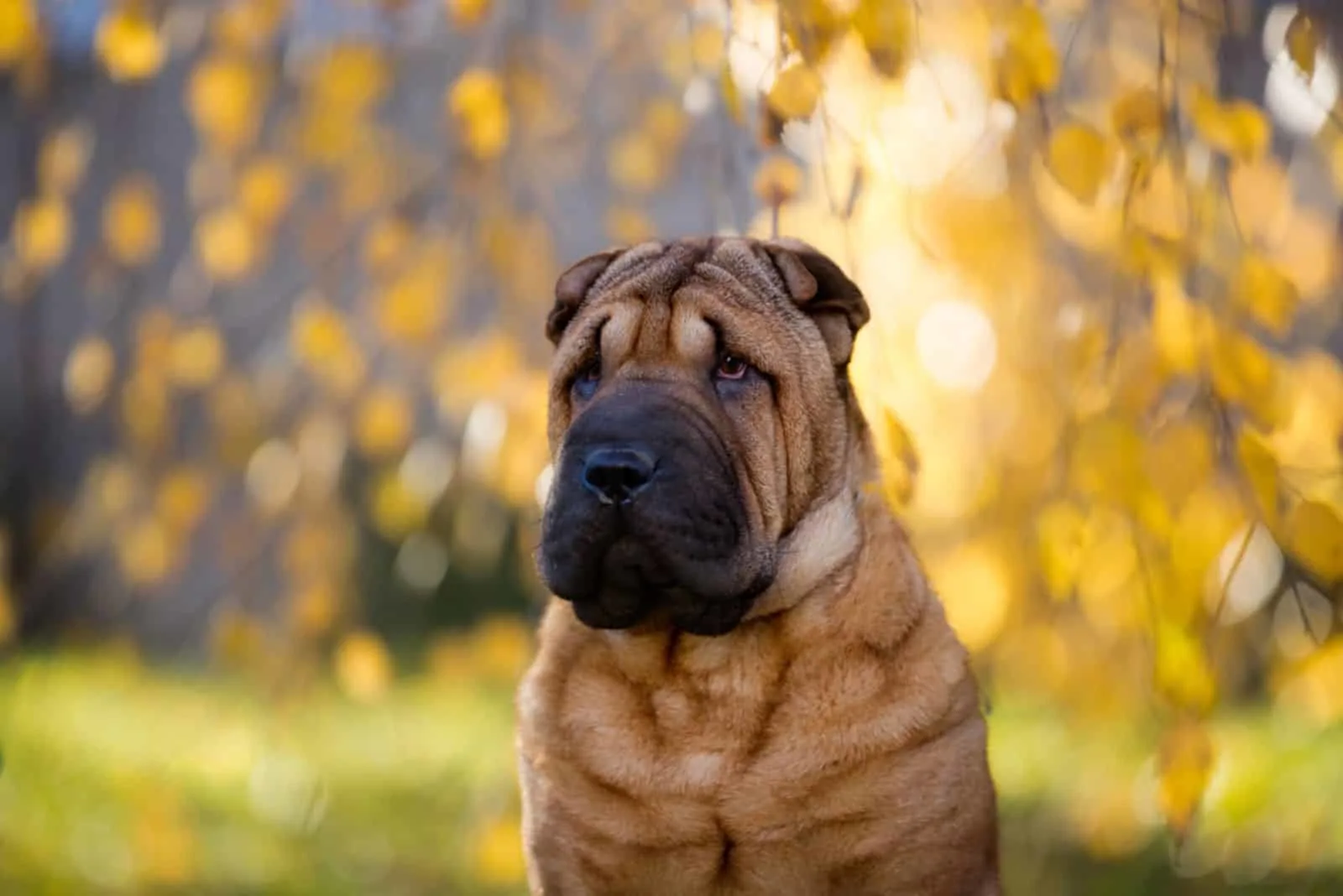 Another breeder located around New England, Connecticut, one who takes their craft very seriously, takes buyers through rigorous processes to determine whether or not a Shar-Pei is the right breed of dog for the family trying to buy one.
It may seem harsh from an outsider's perspective, but when you raise pups for the initial eight weeks, you get attached to them, and you want them to go to a good home where they won't be neglected.
A dog is a big responsibility after all, Shar-Pei doubly so.
But, for all that trouble, you're rewarded with the finest show dogs out there or the most well behaved family dogs.
They even have show dogs take a diet specific to them, a raw diet, while the others get a healthy amount of dry food, rich in protein to help the pups grow and build muscle.
The dogs will come leash trained and would've undergone a level of behavioral training, but that's something that's worked on further over time.
Shar-Pei pups coming from this breeder also undergo proper socialization at a very early age to make sure they can adapt to new surroundings a lot easier without having to panic or do something rash.
Naturally, they're all properly vaccinated too with the current array of necessary ones taken and are checked to see if they have any health issues, be it worms, defects or other anomalies.
Contact Information:
Name: Deborah
Address: East Haddam, Connecticut, 06423
Phone: (860) 237-0388
E-mail: [email protected]
8. Lauren's Shar-Pei – Florida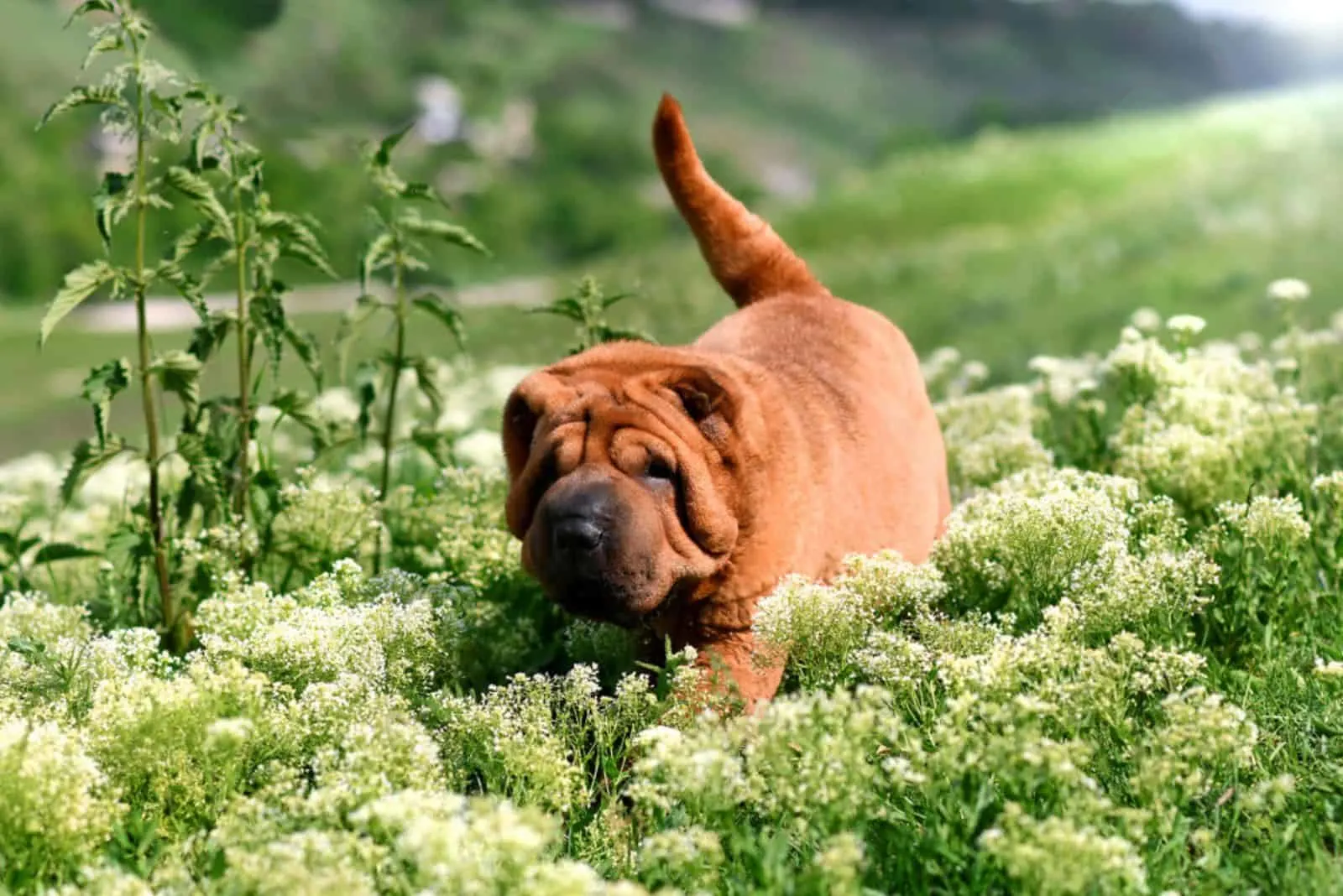 The final entry on our list comes from Florida, from Lauren's Shar-pei.
They've been in the business for almost 40 years, 37 to be precise, or 1985 and you do the math if you're reading this in the far future.
Their main draw for breeding Shar-Pei pups is to produce certain, rarer color patterns in the dog, but they will raise them according to your needs, be it that of a family dog, a guard dog or a simple show dog.
That is to say that they still take care of their pups in the standard ways, they are by no means neglected.
They're checked for all of the more common Shar-Pei health issues, especially ones tied to the skin, or the eyes with problems like glaucoma and entropion being more common, and other common issues like patellar luxation.
All of their dogs are AKC-registered and they're AKC certified breeders.
The warrant they give out for their pups is pretty generous, offering a 3 to 5 year warranty once the purchase has been finalized.
When you get your new doggo, he would've gone through a deworming process and would've taken all of the necessary shots to prevent any further health complications.
Contact Information:
Once again, these are only but a handful of the best breeders, there are plenty of others out there. I advise you to find ones that best fit your specifications and aren't too far away.
Depending on what type of dog you want, you should also plan that out too. You don't want to go around shelling out all that extra money if you just want a nice family dog.
FAQs
Are Show Dogs Better Than Their Family Counterpart?
Not necessarily, they're both raised differently and can have
any strengths and weaknesses during evaluation.

Plus, there's the whole fact that you'll be paying a lot extra just to get a show dog.

What Else Is Unique About This Dog Breed?
Plenty of things.

Firstly, it's rumored that the Shar-Pei has been around for quite a while, dating back well over 2000 years, to China's Han dynasty.

Back then, it was known as the Chinese Fighting Dog. Nowadays he's a bit more mellow, but can be real protective if his family is ever in danger.
During that time, it also didn't have this many folds of skin, so its ancestors look a little different.

It's also believed that this same ancestor is also the Chow Chow's ancestor as well, or even the Pug's to a lesser degree.

The less-wrinkled appearance of the Chinese Shar-Pei can still be found within Hong Kong as they've chosen to keep with traditions whereas the kind we know it as is more popular around here.

Another thing that's unique about this dog breed is the blue-black tongue it possesses, a trait it shares with the Chow Chow, hence the aforementioned assumption of a shared ancestor.

While most people may find this tongue color concerning as it's often tied to a lack of oxygen to the body, in this specific scenario it's just a case of heavy pigmentation.

It was also one of the main selling points of the dog as people believed it made them look feistier and more threatening, making them ideal guard dog options.
What Types Of Coats Do Shar Pei Have?
There are two coat types that are officially recognized by the American Kennel Club: the shorter 'horse coat', and the slightly longer 'brush coat'.

The former is extremely short whereas the latter can grow up to an inch in length and feels a lot less rigid than the horse coat itself.
What About Coat Color Varieties?
You'd be surprised to find out that there is a sizable number of coat color options for this unique breed, so many that they're separated into two categories: the standard, and the non-standard varieties.
As far as standard coat color options go, they are as follows:
Tan
Orange
Isabella
Blue
Cream
Black
Champagne
Agouti
Fawn
Lilac
Liver
Sable variants of the prior colors
And, as for the non-standard options:
Variants of standard coat colors with added white markings
Saddle marked coats
Coats with tan points
Brindle
Brindled tan
Creeping tan
Solid white coats
As you can see, there are plenty of options to choose from, but rarely will you be able to find any non-standard varieties being sold.

When Was The Chinese Shar-Pei Breed Club Founded?
Initially, it was founded well over 50 years ago, in 1970, and it took them a long time to get recognized by the AKC, all the way in 1992 where the Tuck'n Roll Acres representative won first place.

Since then, they've managed to establish a proper breed standard for show dogs that needs to be conformed to in order to participate in the show ring.
What Is The Chinese-Shar Pei Breed Standard?
There are quite a number of descriptors regarding the, so called, breed standard for the Shar-Pei that are looked at in conformation shows.

The first that comes to mind is its appearance. The coat needs to be extremely short and with a rough-ish texture, the skin loose and folded over.

The muzzle should be similar to that of a hippopotamus.

The tail itself should be high set, a characteristic that's commonly tied to the Shar-Pei itself.
Height wise, he should be around 20-ish inches at the withers and what's considered a healthy weight for him would be anywhere between 47-60-ish pounds.

Physical appearance aside, there are also traits regarding its personality and temperament that are observed.

The breed standard in regards to temperament for this specific breed is that he's considered intelligent and alert, with the demeanor resembling that of a dignified noble, radiating a royal aura in a sense.

The dog needs to be independent and very loyal to the pet owner's family. It's commonly known that he should also be wary of any strangers that may walk up to him or them.

His walk is often described as a trot that only further displays that noble stature and confident stride, that of a powerful monarch in his own right.
What's The Average Cost Of A Chinese Shar-Pei?
The price of a Chinese Shar-Pei puppy has a pretty wide range depending on what type of dog you're looking to get.

For the standard family dog, you'll be looking at anywhere from $750 to $1500 on average, depending on the breeder.

If you're looking for more of a show dog, then that upper end can reach a whopping $2500-$3000 if not more.

This isn't even taking other expenses into account like overall maintenance for the canine, the various items that you need to get, be it food, leashes, toys, beds, crate, etc.

This is why I've said earlier to consider your options well as the expenses can rack up quickly, especially for a pup.
In Conclusion
The Chinese Shar-Pei dog is a unique breed of dog that popped up in the US around the 70s and that has gotten breed recognition by the AKC around 1992.
Since then, it's gotten a massive rise in popularity and Shar-Pei breeders have since had a lot of work on their plate.
Nowadays there are a lot more of them nationwide, however only some of them can be considered the best of the best.
Not to mention that there are a great number of puppy mills around too, the backyard breeders who keep their dogs in inhumane conditions and churn them out, for lack of a better word, to turn a profit.
Avoid these like the plague. I know the prices may be cheaper, but the way they treat these dogs is unethical and downright deplorable.
The extra money invested will be worth it, believe me, and the pup you get from a legitimate, AKC certified breeder will definitely be a healthier individual who won't cause you much trouble and will be a great addition to your family. Until next time.
RELATED LINKS: