The Papillon dog breed isn't your average one. These dogs are pawmazing and they know it.
Lately, I've seen quite a lot of interest in Papillon dogs and, thus, Papillon breeders.
Let me just say something: the States have plenty of these breeders to offer, but only a handful are the chosen ones.
If you want the healthiest dogs with the finest temperaments, you'll visit some of the Papillon breeders I'll mention today!
Once you fall for butterfly dogs, you'll never fly over to another breed!
Papillon Puppies For Sale In The States
Now, you're about to see which Papillon breeders you can trust. These eight listed sources are those that will provide only the best Papillon puppies for you.
Without further ado, I present the best of the best! Contact them today to see if they have available Papillon pups!
1. J Bar Papillons, NM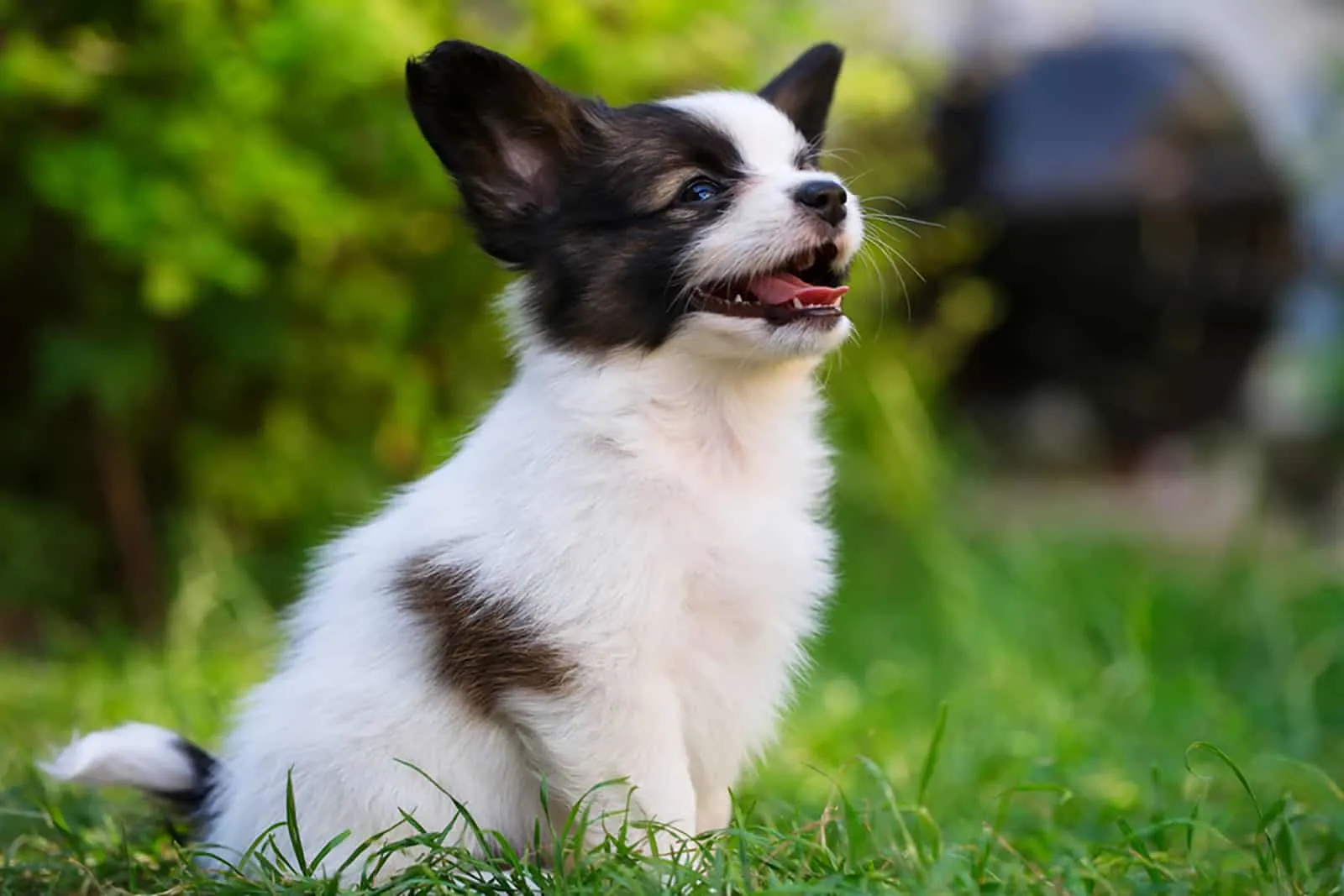 The Papillon dog breed is definitely one oozing with elegance. They look like dogs that don't belong to this world. Truth be told, rarely does any breed feature such an interesting appearance.
Of course, we have dogs with pointy ears that are recognizable, but Papillons are next level.
J Bar Papillons have recognized the potential of this breed. That's why they're so focused on breeding only the finest Papillon dogs in New Mexico.
As a proud member of PCA (Papillon Club of America) and a participant in the AKC Breeder of Merit program, J Bar Papillons pay extra attention to the soundness of the pups as well as their temperaments.
You can go there for a pet-quality Pap, but you'll come home with a show superstar.
J Bar Papillons are so high in quality, they can easily pass any dog show competition. This breeder also likes to compete in all the local dog shows in New Mexico, but several times a year, they'll go to bigger shows across the States.
Unlike a lot of breeders we get to see these days, J Bar Papillons don't post available puppies on their website. Instead, you will need to send them an email to check if they have puppies for sale.
The reason behind this is that the breeder wants to make sure their puppies are matched to the right owner. The price range for these Papillons is from $2,500 to $3,500. Puppies from show parents are even pricier at $4,500 and up.
All puppies and their parents will be submitted to the most important health tests like OFA, so you know your new puppy is completely healthy at the time of pick up.
Breeder's details
Website: J Bar Papillons
Location: Roswell, NM 88201
Email: [email protected]
2. Bay Palms Papillons, FL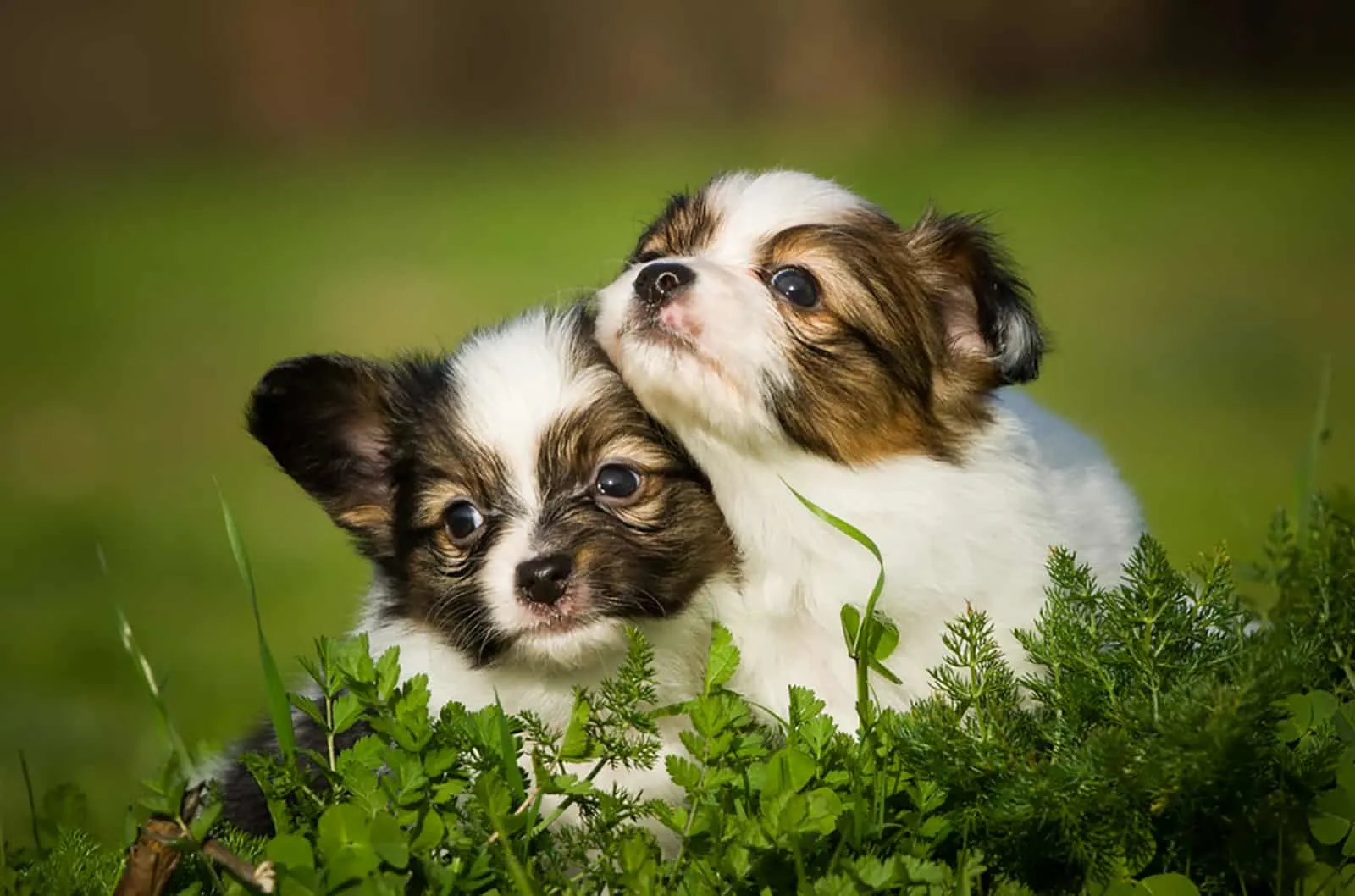 Bay Palms Papillons is a small breeding business from Florida, but their goals and achievements are much bigger than you might think. Though they are a small show kennel, Bay Palms is used to being among the best breeders in the States.
Bay Palm focuses on breeding with quality. Quantity is not important for this breeder, as they have only a couple of litters a year.
The early years of this breeding business were marked by the importance of getting a puppy from a reputable breeder. The owner and the founder of Bay Palms Papillons used to have all sorts of dogs growing up.
But one Cocker Spaniel with severe health issues made this breeder realize that health comes first.
Officially, Bay Palms Papillons started breeding in 2003, with the first lady of this kennel, Desi, joining in. Ever since then, champions were born in the home of this breeder.
Bay Palms has a rich breeding stock of 6 boys and 8 girls. If you're interested in buying one of their puppies, you should contact the breeder to see if there are any planned litters or available puppies.
Waiting lists are long with this breeder, so be prepared to be patient.
Breeder's details
Website: Bay Palms Papillons
Location: Central Florida
Email: 727-424-8346
3. Wild Fire Papillons, GA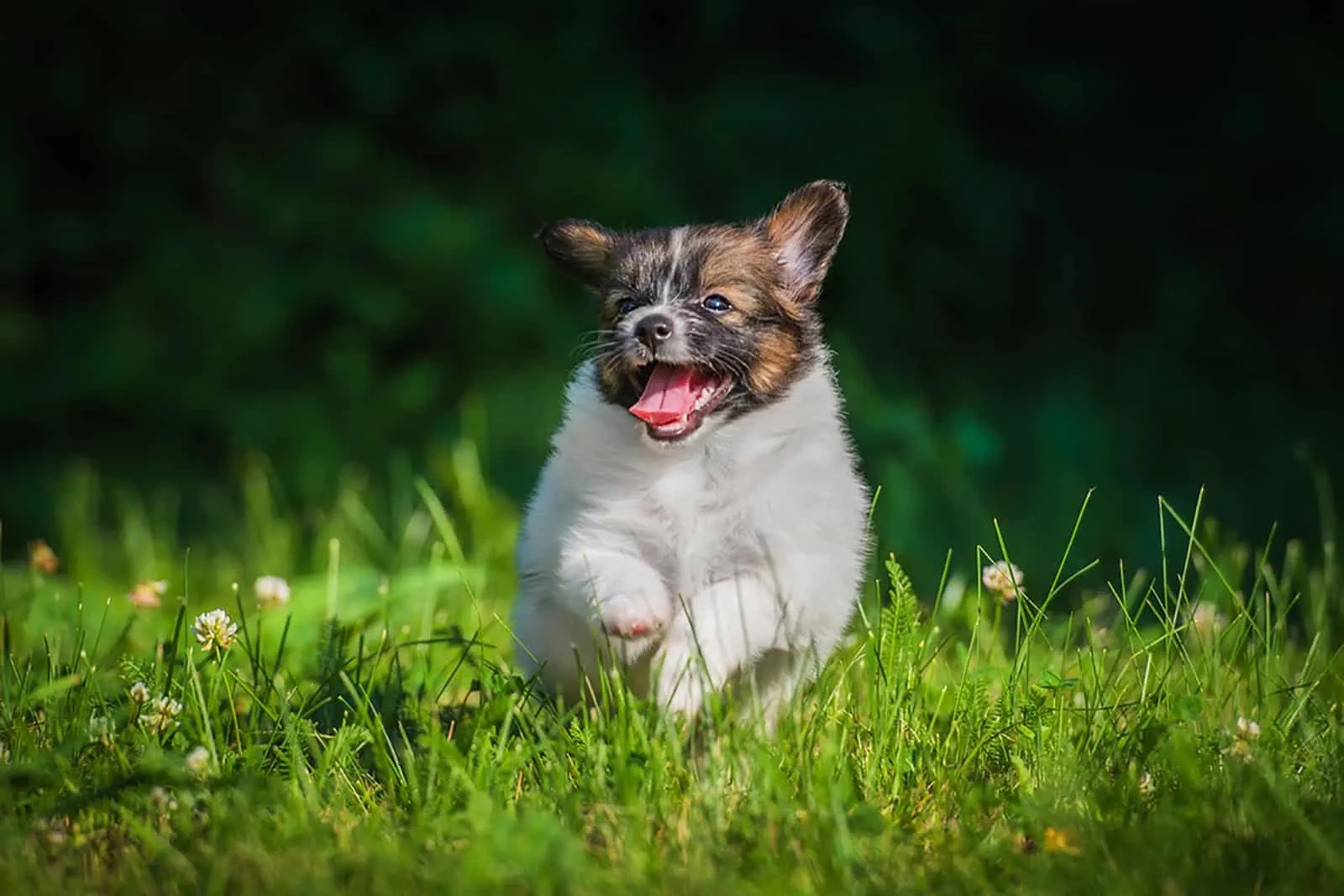 If you want the best of the best, then go with Wild Fire Papillons.
This kennel is home to multiple show winners. Wild Fire Papillons aren't only best in show, they're best in any home too. As excellent show dogs, these Papillons can easily adapt to being companion dogs too.
Ever since the early 1990s, Angela and Cheslie from the Wild Fire Papillons have enjoyed spending time with these wonderful purebred dogs. The team has worked on improving the Papillon dog breed.
Now, they have Papillons of supreme health, temperaments, body structure, and overall stunning beauty. The Papillon breed is truly a remarkable one, with its graceful body build and signature butterfly-like ears.
Owning a Papillon takes a lot of time and effort. You can't just get one and think it'll stay beautiful because they're simply born that way. No, grooming plays a vital part in the upbringing of Papillon pups.
Angela and Cheslie know that well. That's why the duo encourages you to contact them to see if you're a good fit for their spectacular pooches. If they believe you won't be able to take care of these pawdorable dogs, then you won't make the cut.
Make sure you add them to your contacts list because Wild Fire Papillons are definitely a small dog kennel with big aspirations.
Breeder's details
Website: Wild Fire Papillons
Location: Sugar Valley, Georgia
Phone: 407-252-3111
Email: [email protected]
4. Krystal Papillons, WA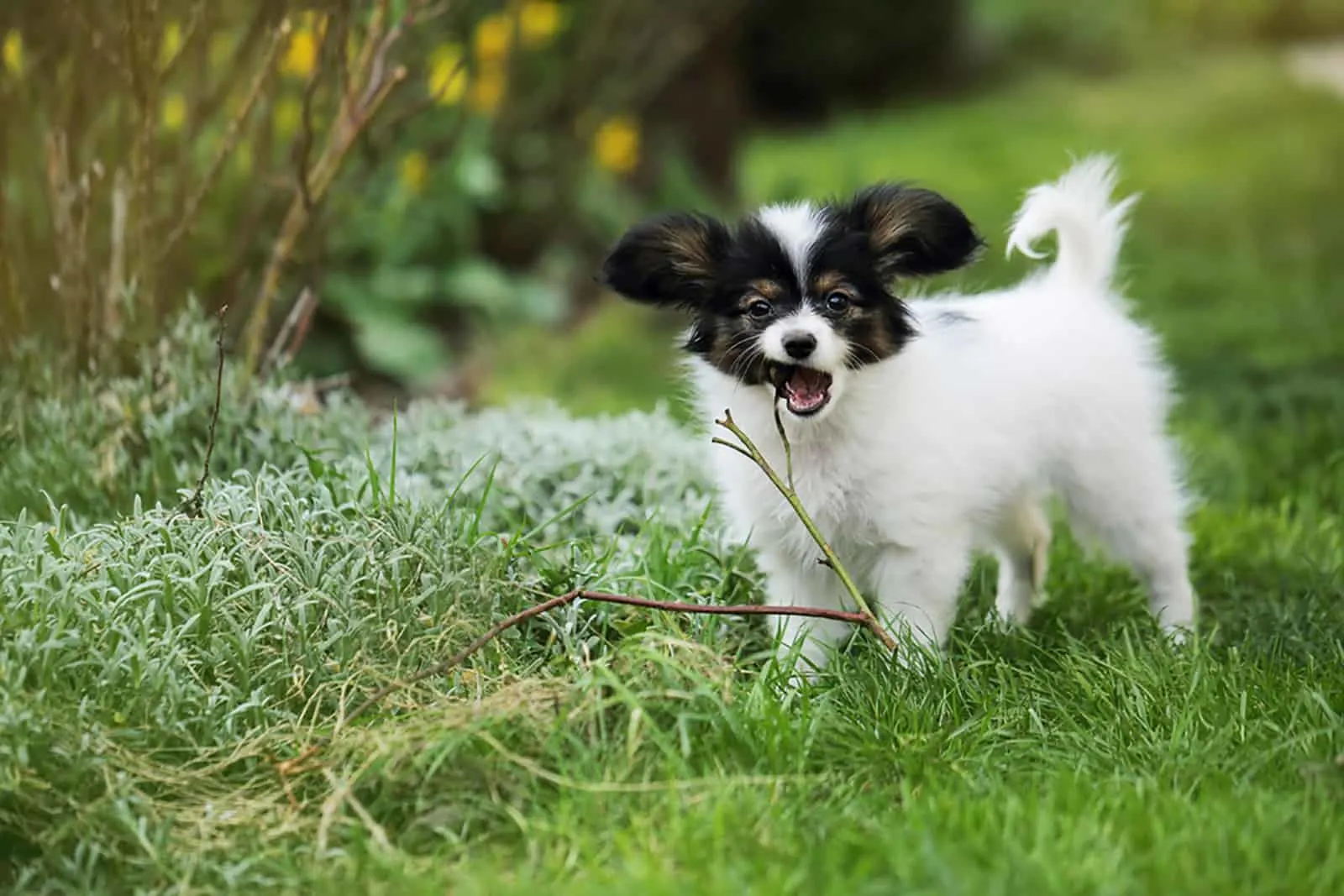 It's crystal clear that Krystal Papillons have some of the finest specimens of the breed in the States!
And it has been crystal clear ever since 1986.
When a breeder has a long history of over thirty years, like this one, you simply know they're worthy of attention. Krystal
Papillons have been here for a while, and they will stay for a while too.
Their 50 US champion dogs and 31 Canadian champions are proof of the quality of the breeding program.
You can immediately recognize a Krystal Papillon in the show ring, not for its "best in show" medal, but for terrific overall soundness and being perfectly well-rounded.
These Papillon pooches are superstars of obedience, conformation, rally, and agility. But they're also lovely family pets.
The owner and the breeder, Karen Mourad, says her goal is to produce the finest Papillons possible, using supreme bloodlines from the USA and England.
What's so impressive about this breeder is that she does not allow the adoption before the puppies turn three months of age.
In the meanwhile, Karen will start with training and early socialization lessons, so that when a puppy gets to go to his new home, he's perfectly raised and polite.
At Krystal Papillons, quality always comes first.
Breeder's details
Website: Krystal Papillons
Location: Graham, Washington
Email: [email protected]
5. Playful Papillons, CA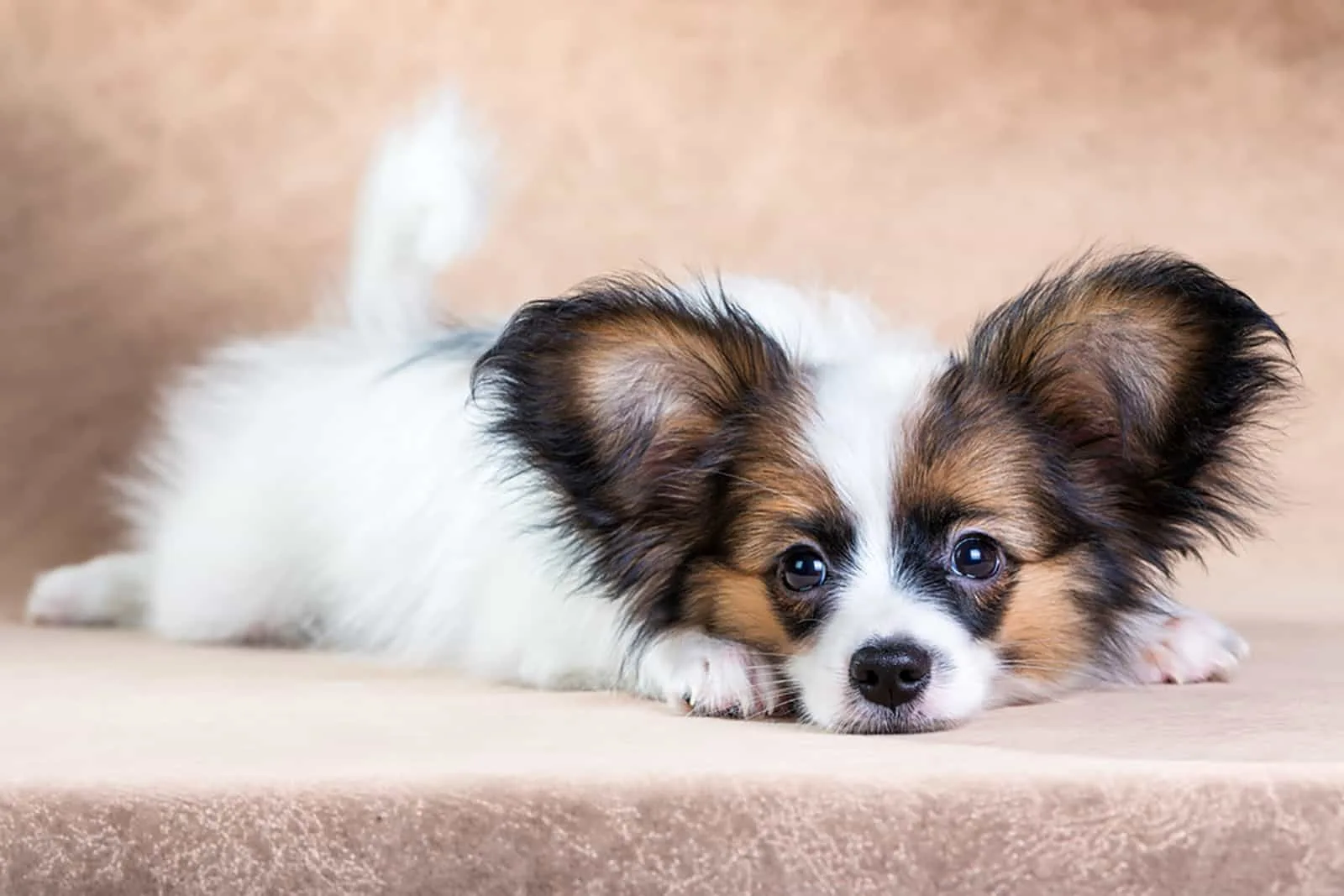 Some might say Papillons are one of the weird dog breeds for their looks and cheerful temperament. But, I just like to say they're joyful. Butterfly dogs are full of life, and they enjoy it to the fullest.
Playful Papillons are absolutely special, as one of the AKC Bred With H.E.A.R.T. breeders. Not only are they good-looking, but these Papillons are also some of the healthiest in the world.
Covering problems like PRA1, NADS, Factor 7, and Von Willebrand, the breeder makes sure their butterfly dogs are in perfect shape.
This breeding business is officially a member of the PCA (Papillon Club of America), AKC (American Kennel Club), and the Lost Coast Kennel Club.
Even though they qualify as a show breeder, Playful Papillons are still focused on bringing you the best family dogs.
Playful Papillons will come to your home having been checked by the vet, examined for major health concerns, vaccinated, and with the dewclaws removed from their hind legs. These dogs will be all ready for you to step in and become their new friend.
If you have any questions about Papillons and raising them, make sure you contact the breeder. Puppies aren't often listed on their website as they get spoken for so fast and they don't even breed them too often in the first place.
Breeder's details
Website: Playful Papillons
Location: Tahoe National Forest, California
Phone: 530-367-2702
Email: [email protected]
Social media: Facebook
6. Sherjak Papillons, FL
Although some might say Papillons are one of the cheapest dogs in the world, I have to disagree. Great temperaments, lovely appearance, and genuine kindness have to be priced high. But, as you can see, the price is absolutely justified.
Sherjak Papillons is a place you go if you don't mind spending money on high-quality.
As the AKC breeder of merit on a gold level, Sherjak Papillons make sure all their dogs are free from eye and patella diseases, as well as PRA-1, NAD, VWD, and CF7.
Certificates are there to prove it!
This breeder wants to make sure he's only bringing you the best, at all times, at all costs.
What amazed me about this breeder is the fact they have been breeding and showing dogs since 1969. Wow, that's impressive!
What else is impressive is that the breeder is a veterinary technician for emergency and animal trauma, but with a great interest in animal nutrition.
If you want good quality, you pick breeders with some experience in handling dogs. And, if they're veterinarians or veterinarian technicians, even better!
Let's go back to the price part for one moment.
Do you really think $3,000, the amount Sherjak Papillons' dogs cost, is cheap? I don't think so. Sure, you can always find a butterfly dog from a questionable source for $1,000 or so, but that's just a gamble.
So, think it through: should you save money and get a dog that might become terribly ill, or should you invest in a puppy like one from Sherjak Papillon?
Breeder's details
Website: Sherjak Papillons
Location: Middleburg, Florida
Phone: 904-413-7144
Email: [email protected]
7. Rock Den Papillons, TX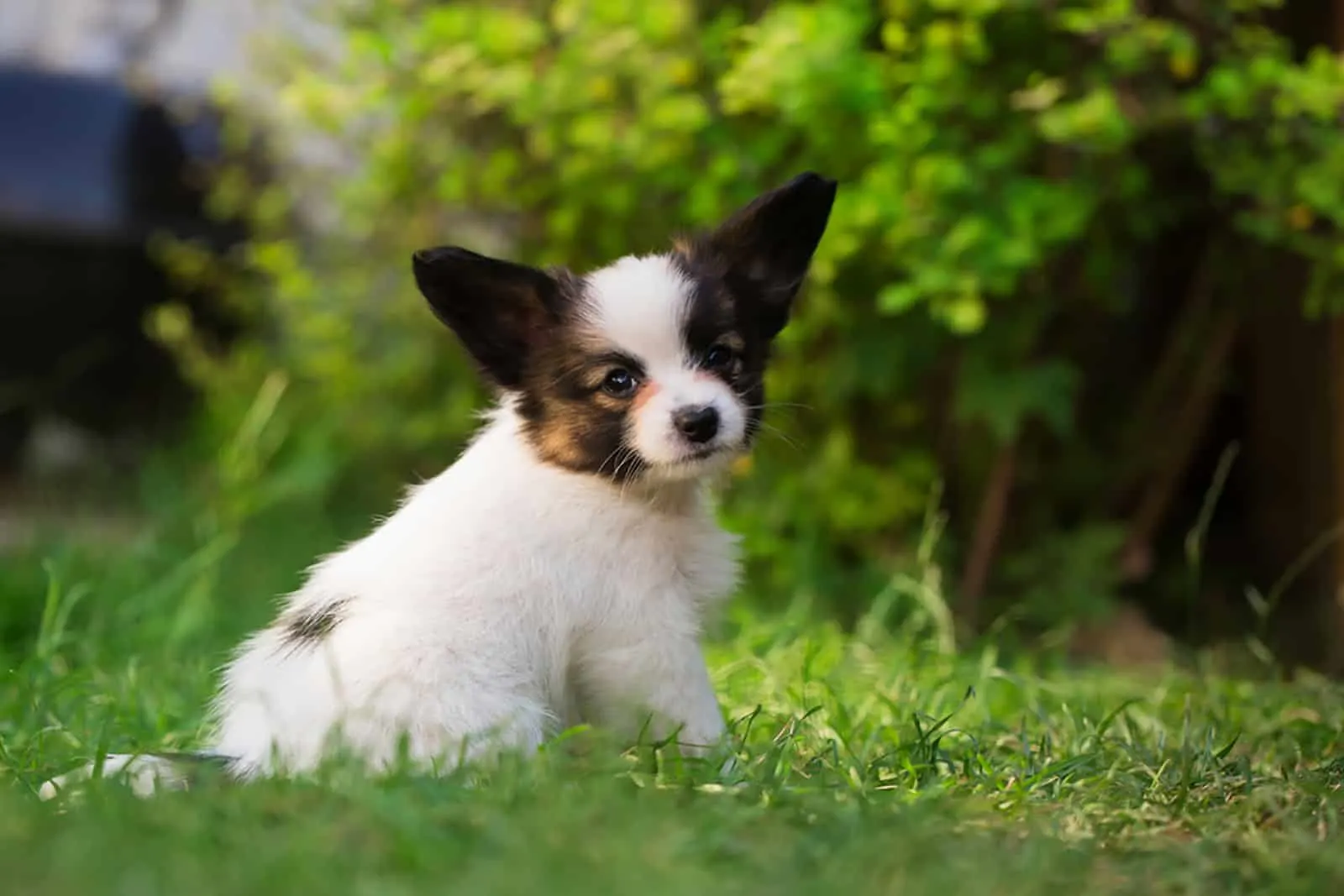 Papillons are Spaniels from France. But, the following breeder doesn't find it to be an issue to raise Papillons and Russian Toys. Paps are in no way Russian dogs, but they're equally wonderful, that's for sure.
Unlike some breeders on this list, Rock Den Papillons are strictly focused on breeding and raising show dogs for agility and conformation. Every now and then they'll have pet-quality dogs to offer, but that doesn't happen too often.
Rock Den Papillons is the place you go if you want to show dogs and if you enjoy seeing superstars in action.
I encourage you to reach out and contact the owner for available puppies. But, make sure you present yourself as an honest future owner, since puppies won't be allowed to be adopted into untrustworthy homes.
Breeder's details
Website: Rock Den Papillons
Location: Llano, Texas
Phone: 512-569-4190
Email: [email protected]
8. InVolo Papillons, NJ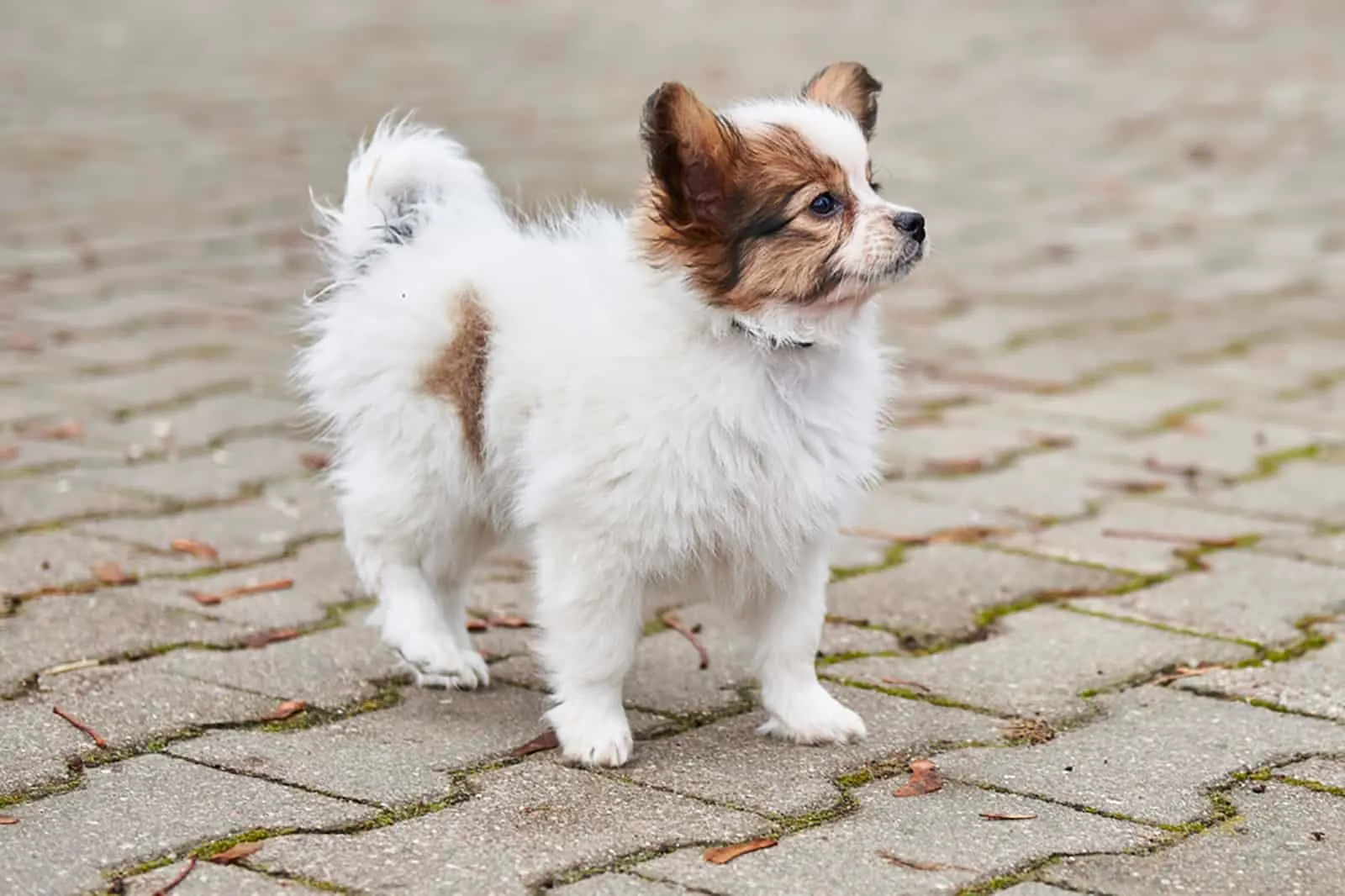 Back in 2013 and 2014, InVolo Papillons were declared as having the best Papillons in the States. Even though they have passed on the title to some other pooches, InVolo Paps are still equally valuable.
Ever since 1992, InVolo has been able to breed over 50 champions and put themselves among the very best breeders in the States.
However, I didn't put InVolo on this list just because they seem like a team that knows how to raise champions. I put them here because their goal is to achieve the finest temperaments, soundness, and health conditions in their dogs.
Also, I love the fact the puppies are home born and raised, and submitted to early socialization, which is highly important for Spaniel dogs.
InVolo is at your service if you live in New Jersey or in the surrounding area, and you want the ideal Papillon pooch. Make sure you put them on your contacts list!
Breeder's details
Website: InVolo Papillons
Location: Sicklerville, New Jersey
Phone: 856-875-0901
Email: [email protected]
Top Three Reasons Why The Papillon Is The Right Dog For You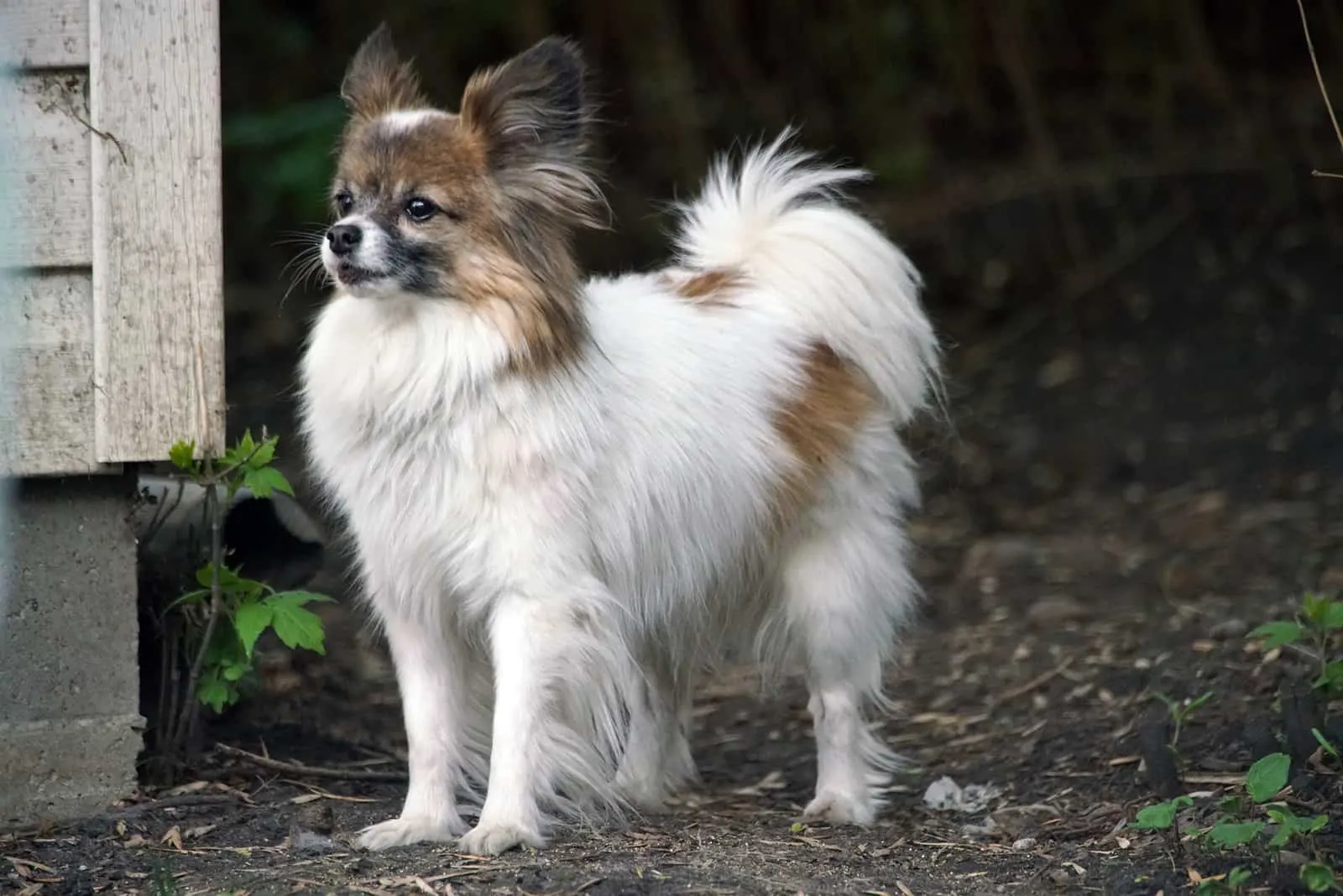 When you look at the Papillon dog breed, you'll notice these dogs are simply born to be happy and make others happy too. It's their playful attitude that's to blame.
Personally, I have never seen a grumpy Papillon, and I've been surrounded by them on many occasions.
Papillons are one of those toy dogs that almost resemble teacup pooches. Some say their size is their biggest asset. But, I believe it's their clownish appearance that suits their clownish nature.
Before you get a Papillon dog, I'd like to bring this dog breed a bit closer to you and point out why the Papillon might just be the right dog for you.
Trainability
Believe it or not, Papillons are one of the most intelligent dog breeds in the world. According to official canine intelligence rankings, Papillons are #8.
That's extremely impressive for such small dogs! Just kidding, intelligence has nothing to do with the size of this dog.
Being so smart means you won't have issues with training a Papillon, right? Exactly!
I'm really pleased to inform you Papillons are highly trainable and learn commands and tricks super fast. They should master basic obedience training, as well as potty training, in no time.
If you want to teach them fun tricks, your mission will be a successful one too.
All in all, Papillons are straight A students and they really love to learn.
Their intelligence has affected their temperament significantly. Papillons know how to address unknown people and other animals. They're polite and never aggressive like Chihuahuas.
So, people should really stop comparing and equalizing these two breeds.
Small Size
Belonging to the small dog breed group is definitely a huge advantage for these pooches.
According to their breed standard, Papillons belong to the group of the smallest dogs in the world. These toy dogs weigh only 5 to 10 pounds and stand tall at 8 to 11 inches at the withers.
You can definitely adopt a Papillon if you live in a big city. Apartments are perfectly fine for Papillons, but they still need to go out – don't forget about that.
Despite being such a small size, Papillons have a pretty high energy drive. They're simply bouncy and playful, and love to stay active. Engage them in lots of fun activities, but don't let them do something that might hurt their little bodies.
Papillons are little dogs with a huge desire to entertain and be entertained. Their small size only helps them with this intent.
Of course, I shouldn't forget to mention that Papillons are also ideal lap dogs. Thanks to their light weight, you won't even notice they're snoozing in your lap for hours.
Incredibly Good Looks
With their erect ears and feathery light coats, Papillons are true showstoppers. The whole dog park will turn their heads to see your lovely pooch.
No wonder Papillons were so highly appreciated throughout history. Even Marie Antoinette enjoyed their company. The Queen of England had her Corgis, and Marie had Papillons.
Papillons are also known as Continental Toy Spaniels, but people don't really use that name often. Papillon, which means 'butterfly' in French, is a much better fit for these doggos, not only because of their ears, but because of their temperaments too.
Usually, Papillons feature a duo-colored coat, mostly white with lemon, sable, black, or tan.
The feathery ears can either be erect or droopy. The droopy ear type is also called phalene. But, both types are equally wonderful Papillons.
Papillons and their feathered coats are simply inviting people to come over and stroke them.
Top Three Reasons Why The Papillon Might Not Be For You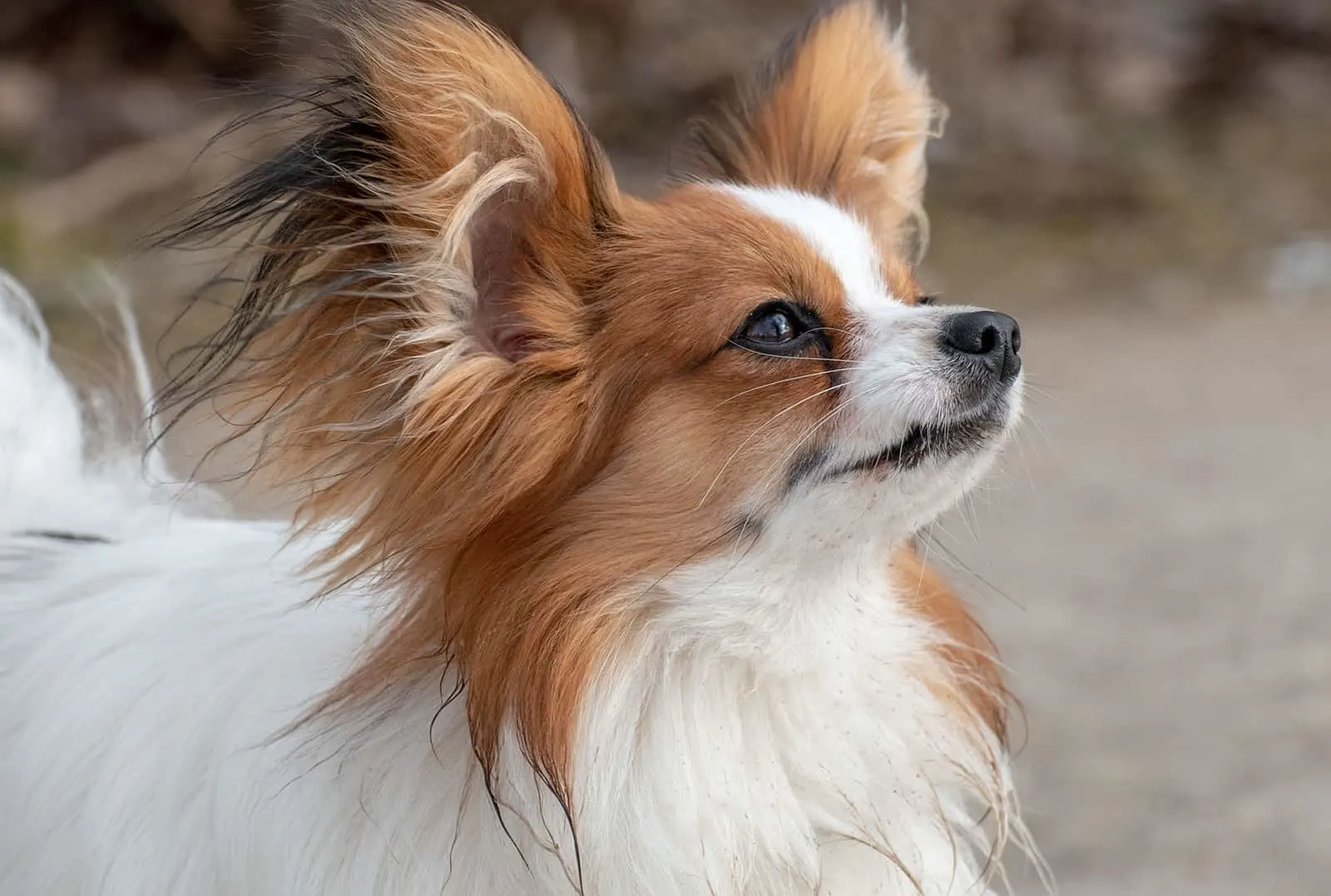 The reasons I'm about to list to you aren't there to scare you away from this dog breed. I always repeat this because I don't want you to believe that the top three downsides of one dog breed means they are worth giving up on.
Every breed has flaws. But, the question is are these flaws deal breakers for everyone? Some people won't mind the high energy level because they're active too. But, others might find such dogs exhausting.
Let's see why Papillons might not be a good fit for you, and then decide whether you should or shouldn't get one.
The Tiny Size
We have discussed earlier that the small size of Papillons is one of their biggest advantages. But, the tiny size can also be a big downside.
Handling toy dogs takes some experience. I don't recommend adopting them into a home with small children because they don't know how to handle these dogs. Kids might accidentally injure your new tiny pooch, and you'll have big problems.
Also, I don't recommend you adopt a Papillon before you learn how to address one in the first place. Gentle pick-ups and simple games, without strenuous exercises, are preferable.
Also, if you live in a home with lots of stairs, that could be a problem for this small-legged pooch.
Timidity
Papillons look like fragile dogs. And, they truly are that, from the inside and the outside.
One of the biggest problems with Papillon's personality is the lack of courage. If not trained the right way, Papillons can be quite timid and scared of pretty much anything, not to mention unknown people.
One of the first things you need to do as a fresh dog owner is to work on your dog's socialization. Only a socialized dog can be considered an equal family member. You don't want pooches that are scared of their own shadow.
Submit your Papillon to new people, dogs, and other animals every day, little by little. Unusual sounds and surroundings will help with socialization too.
High Grooming Needs
Having such a delicate coat can mean only one thing: lots and lots of grooming hours.
Papillons are dogs that like to be pampered and groomed. In order to maintain such a lovely coat, you'll need to pay lots of attention to it. This means daily brushing to prevent knots and matted fur.
A huge chunk of your pet budget will go on grooming tools like grooming brushes. But, they're crucial, so don't skimp on them.
It's better to invest in a good brush than to buy ten poor-quality ones.
To Sum Up…
Do you think you have found the best of these eight Papillon breeders?
I know one thing: no matter who you choose, you'll end up with a premium-quality dog.
Papillons are hard to mess up because being spectacular is written into their DNA. From being superstars in the ring to serving as family watchdogs or cuddle buddies, these dogs can be it all!
One final tip to end with: if a breeder sends out a puppy package with all the information of the pup's upbringing, health records, toys, and even samples of dog food, they're definitely a kind soul to consider!