Purebred dogs are slowly becoming overshadowed by some other pooches: designer dogs!
By designer dogs, I mean pups that were bred because they possess something special, like hypoallergenic traits.
The Newfypoo breeders on this list surely know what great qualities Newfypoos possess. Not only are they good for allergic people, but they're also one of the sweetest companion dog breeds ever.
Newfypoos are a Poodle mix with a Newfoundland dog, otherwise known as the gentle giant. This is quite an unusual combination, but the end result is truly something pawmazing.
The Newfiedoodle, Newfypoo, or the Newdle is a large dog with an even bigger heart. Intelligent like the Poodle, and sweet like the Newf, our dog of the day will quickly become everyone's favorite Doodle.
If you're interested in getting one, make sure you contact one of these trusted sources.
Newfypoo Puppies For Sale In The States
The following breeders are rightly proud of mixing not only Standard Poodles with Newfoundland dogs but also Miniature Poodles too! The end results are always wonderful designer dogs, appropriate for allergic people and those simply looking for companions.
1. Green Acres Newfypoo, PA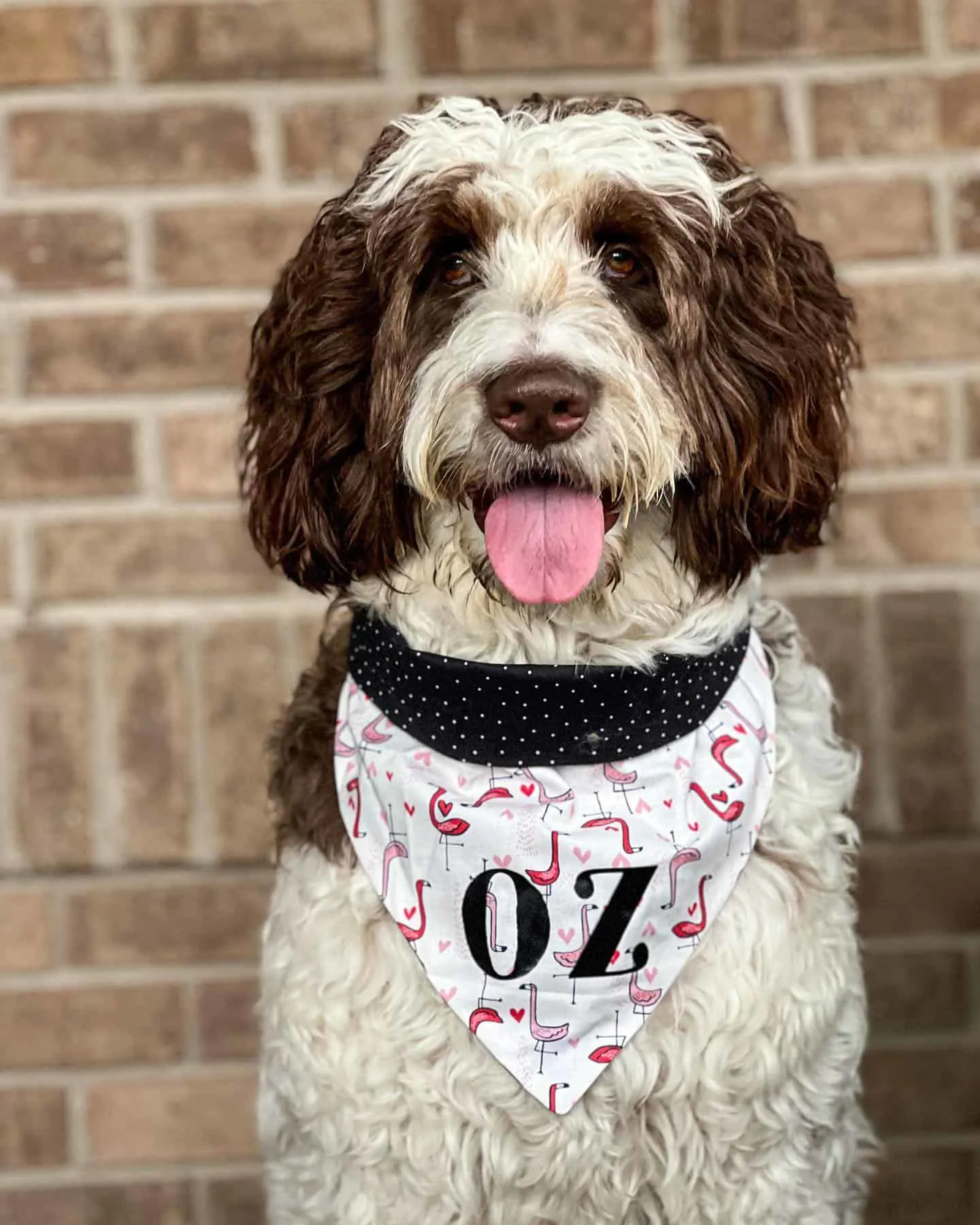 Photo from: @thewonderfulnewfypoooz
Laurel from Green Acres Newfypoo is the mastermind behind a wonderful family business of breeding and raising Newfypoos. When I say mastermind, I truly mean it, because Green Acres Newfypoos managed to become one of the best Newfypoo breeders in the States.
The whole Newfypoo breeding business started when Laurel had her kids. She wanted a dog that would be the ideal family pet for their growing family. Enter, the Newfypoo!
With lots of previous experience as a child behaviorist, Laurel knew she'd be terrific at raising Newfypoo puppies. She treats them as equal family members, making sure they're submitted to ENS or early neurological stimulation. Her puppies are superstars and fast learners.
If you decide to adopt a Green Acres Newfypoo, you're in for a treat. All the puppies are home born and raised. They come with a special Newfypoo manual that will help you raise your new puppy. The manual covers everything, from grooming to training, but Laurel will also be there to help you.
What is so incredible about Green Acres Newfypoos is that they come with a lifetime money-back guarantee. If your Newfypoo develops any genetic health problems, you can contact Laurel to solve this issue. Also, Laurel has you covered with pet insurance for the first 30 days of your new life together.
By the time they're ready for adoption at 8 weeks of age, Green Acres puppies will be vaccinated, dewormed, microchipped, and crate trained. They will also be condition trained to use chew toys instead of barking like crazy.
A non-refundable $500 deposit will save your spot on the waiting list and bring you a step closer to a Green Acres Newfypoo.
Breeder's details
Website: Green Acres Newfypoo
Location: Lewistown, PA
Phone: 717-348-8192
Email: [email protected]
Social media: Facebook and Instagram
2. Windy Hill Dogs, OH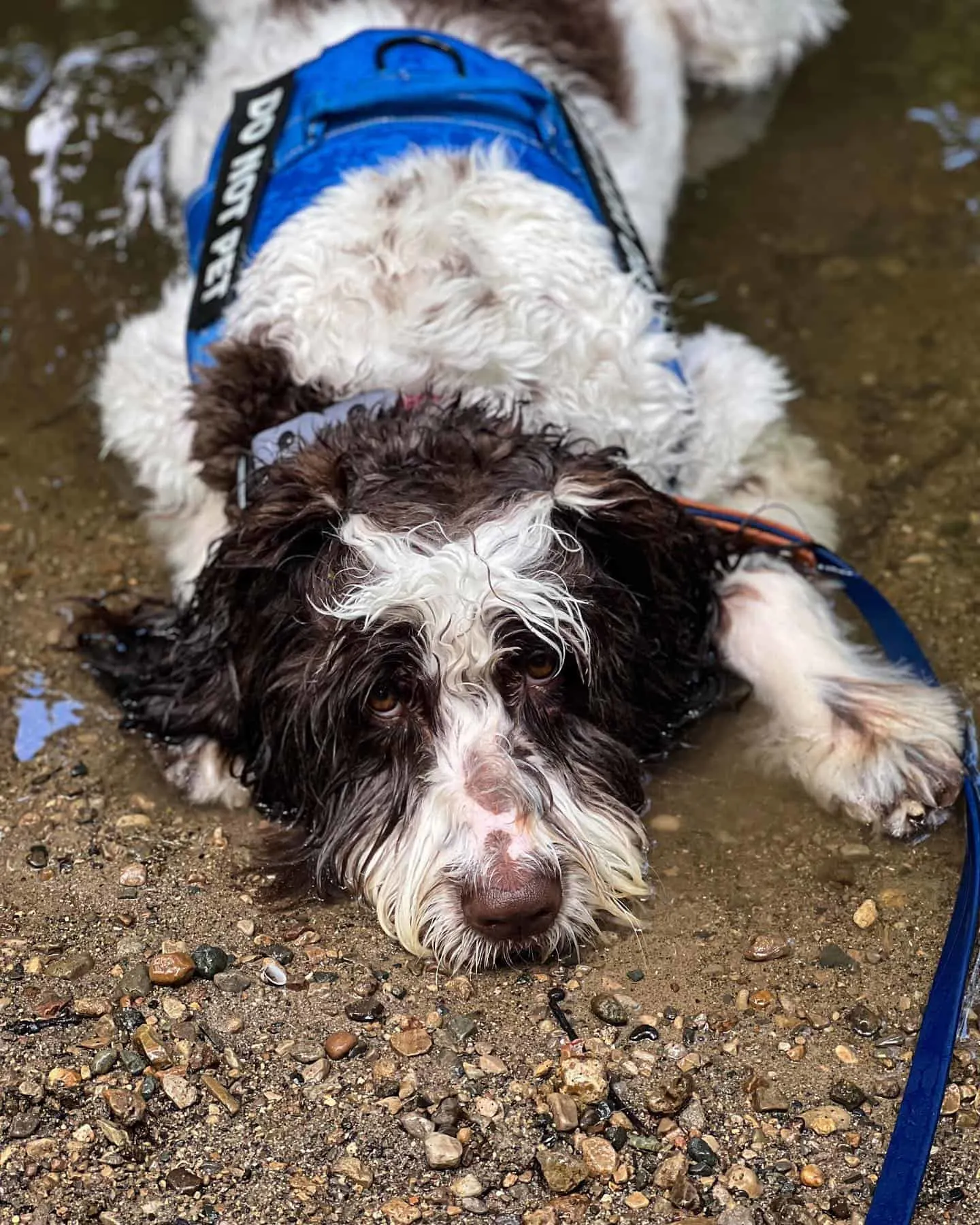 Photo from: @thewonderfulnewfypoooz
I'm always pro breeders that pay extra attention to raising puppies with a tendency to perfect health status.
Windy Hill Dogs is the exact breeder I'm talking about. Home to gentle giants and Newfypoos, Windy Hill is all about soundness.
I'm pleased to say Windy Hill dogs will be thoroughly checked by their DVM multiple times before the adoption at 8 weeks of age is finalized. Puppies will receive all their vaccinations and deworming treatments. They will also be microchipped.
As far as the health guarantee is concerned, you and your puppy are covered by a year guarantee on congenital health conditions.
This breeder makes sure all the puppies are fully socialized with kids and dogs, as well as trained to go potty or stay in the crate. As you can see, your puppy will be ready to start a new life with you. All you've got to do is pick a name and show some love.
Windy Hill Newfypoos are priced based on their coat color. Merle, as in brown merle and black merle, is always priced more than other colors: $3,000 a puppy.
Other colors, brown and black, are $2,400. These prices are for Standard Newfypoos and Mini Newfypoos.
All puppies will come with a spay/neuter contract, so you will need to fix them once the adoption process is completed. Once you put down the deposit, the prices will be locked for two years.
Besides these pawdorable Newfoundland mixes, Windy Hill also carries Cavapoos and Newfoundland dogs. So, if you want to enrich your life with a few more canine friends, this is the breeder to pay a visit.
Breeder's details
Website: Windy Hill Dogs
Location: Marshallville, OH
Phone: 330-466-0130
Email: [email protected]
Social media: Facebook and Instagram
3. Prize Poodles and Doodles, KY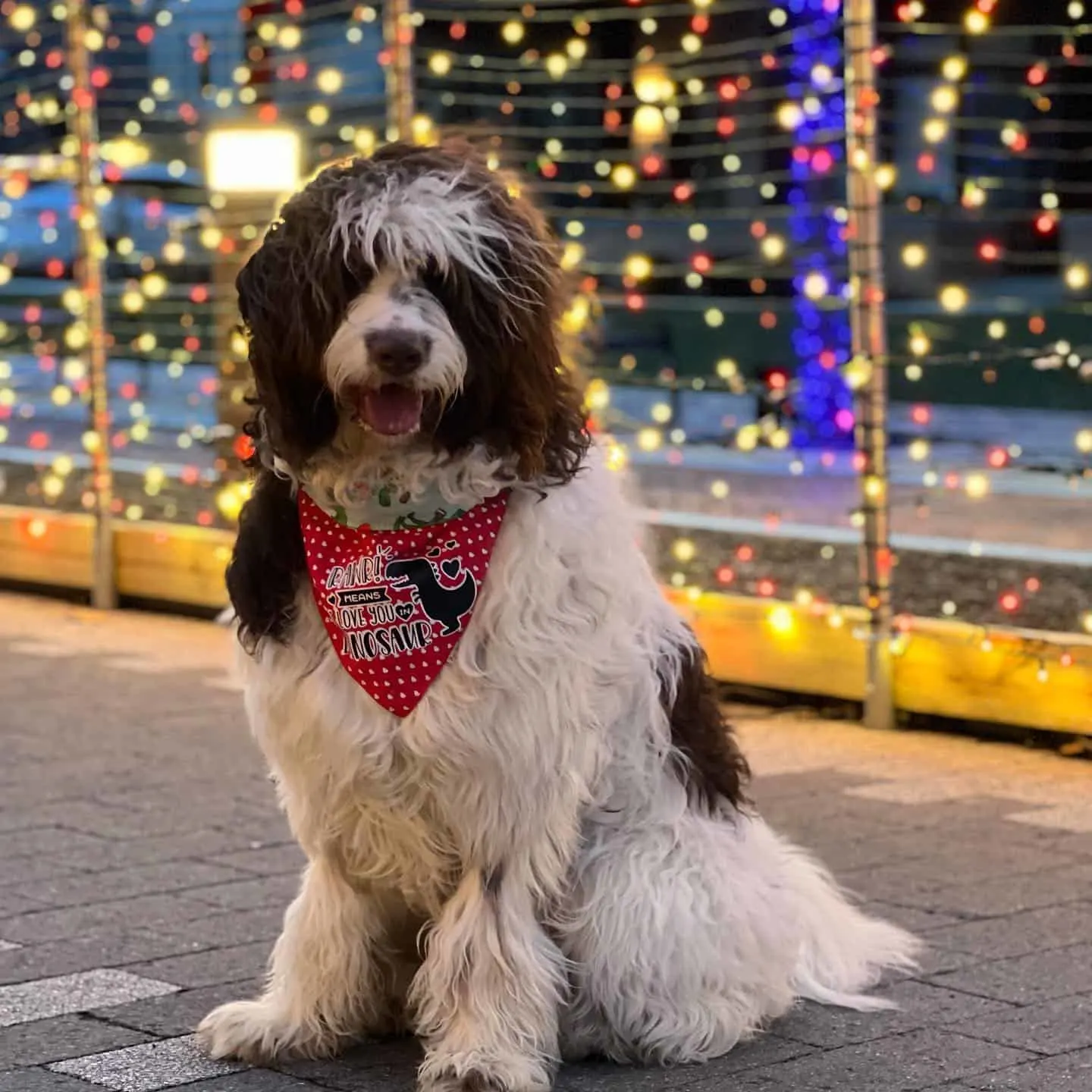 Photo from: @thewonderfulnewfypoooz
Prize Poodles and Doodles is home to lots of adorable Doodle dogs! If you want to see what a hypoallergenic heaven looks like, this Kentucky breeder is the one to visit.
Besides our Newfiedoodles, Prize Poodles and Doodles also carry Bernedoodles, English Goldendoodles, Irishdoodles, and Saint Bernedoodles. They're all so fluffy, cuddly, and utterly sweet.
This breeder was among the first ones to find out how amazing Newfydoodles are. They're more than just a crossbreed. Newfydoodles are excellent family pets, calm, friendly, and affectionate. They don't cause allergies, and they don't even drool! What else could you wish for from a puppy?
All these Doodles are home born and raised. Wonder how that's possible? It's simple: the family owns a wonderful 20-acre property with a huge home and lovely pastures surrounding it.
I love the fact that Prize Poodles and Doodles update their website regularly. At the moment, they have litters available for adoption, so make sure you contact them before they're already spoken for. Don't be disappointed if you need to wait for your ideal puppy. It's absolutely worth it.
This breeder offers you a range of coat colors. Usually, puppies inherit any of the Poodle colors, but they can sport Newfie colors too! What they surely inherit from the Poodle parent is the fact they're highly trainable.
All in all, Prize Doodles are definitely prize-worthy pooches that will enrich your life.
Breeder's details
Website: Prize Poodles and Doodles
Location: Williamstown, KY
Phone: 859-462-3950
Email: [email protected]
Social media: Facebook and Instagram
4. Big Bear Doodles and Poodles, FL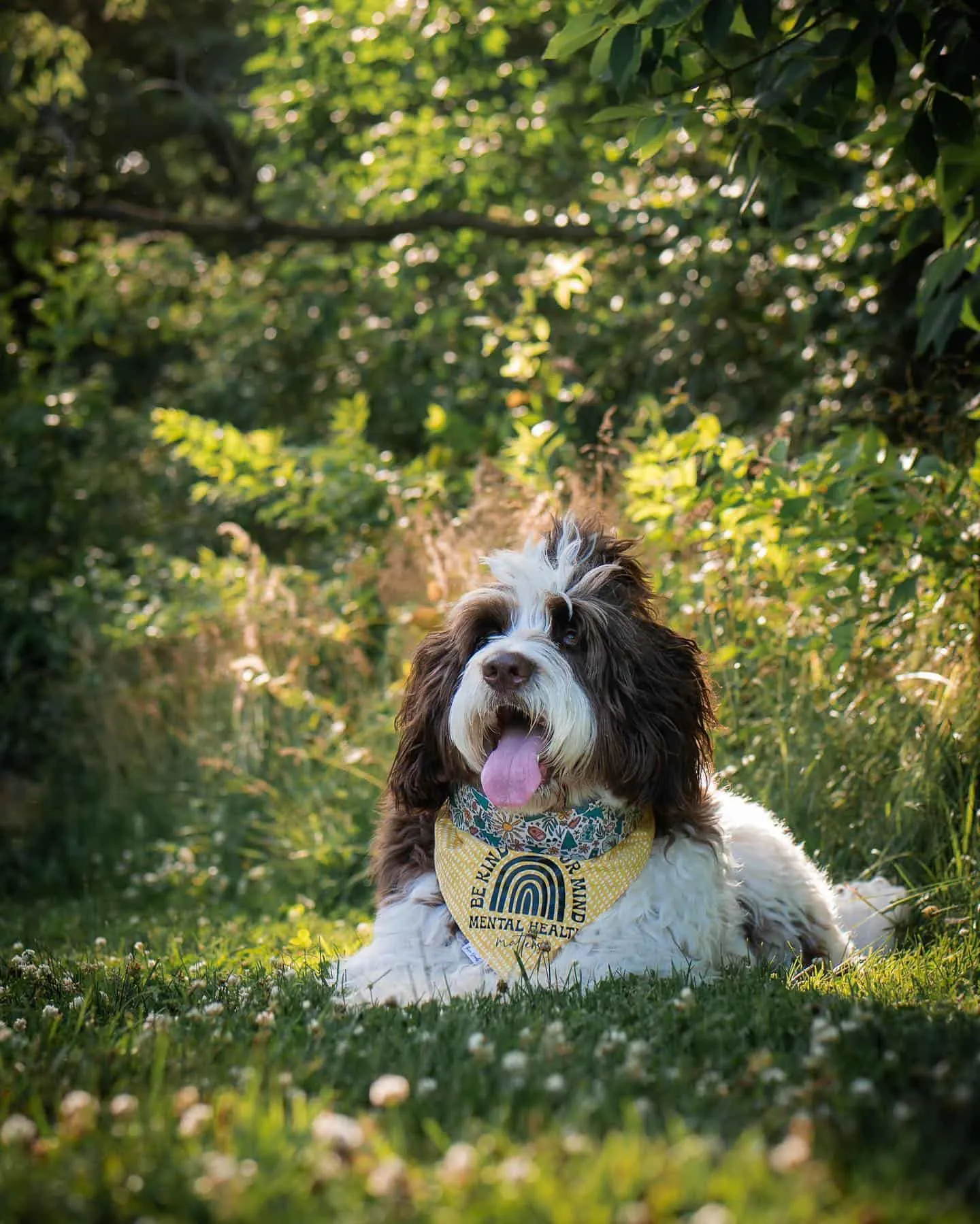 Photo from: @thewonderfulnewfypoooz
One of Florida's finest Doodle breeders is definitely Big Bear Doodles and Poodles. This trusted breeder is focused on bringing you only the best quality Newfydoodles and Sheepadoodles.
Breeding Newfiedoodles has enabled Newfs to live longer through their offspring. Luckily, Newfiedoodles don't have the short lifespan of a Newfoundland dog.
The dogs at Big Bear Doodles and Poodles are some very lucky pooches. This family breeding business is all about raising the pawfect puppy, whether it's a Newfypoo or a Sheepadoodle. A rich breeding stock allows them to have some of the finest specimens of the Newfypoo breed.
Big Bear puppies enjoy the 13 acres of this breeding facility, hidden away from city noise, right in the middle of nowhere. Besides breeding puppies, Big Bear also offers doggy daycare and a boarding facility.
If you live in the area and you buy a puppy from here, you'll also be entitled to a 25% discount on the mentioned services.
Every Big Bear puppy is sold with AKC registration but without breeding rights. This means you'll be getting a pet-quality dog only, not available for further breeding. You will need to spay or neuter your new puppy.
Newfypoo puppies from this breeder come in black or brown, as well as in part or Landseer. Solid pooches are $2,000, white parti ones are $2,200. Given the fact you'll be getting a perfectly socialized puppy, checked for and cleared of all major health conditions, that's a pretty great price.
Breeder's details
Website: Big Bear Doodles and Poodles
Location: Bushnell, FL
Phone: 352-661-4170
5. Magnolia Creek Newfypoo Puppies, FL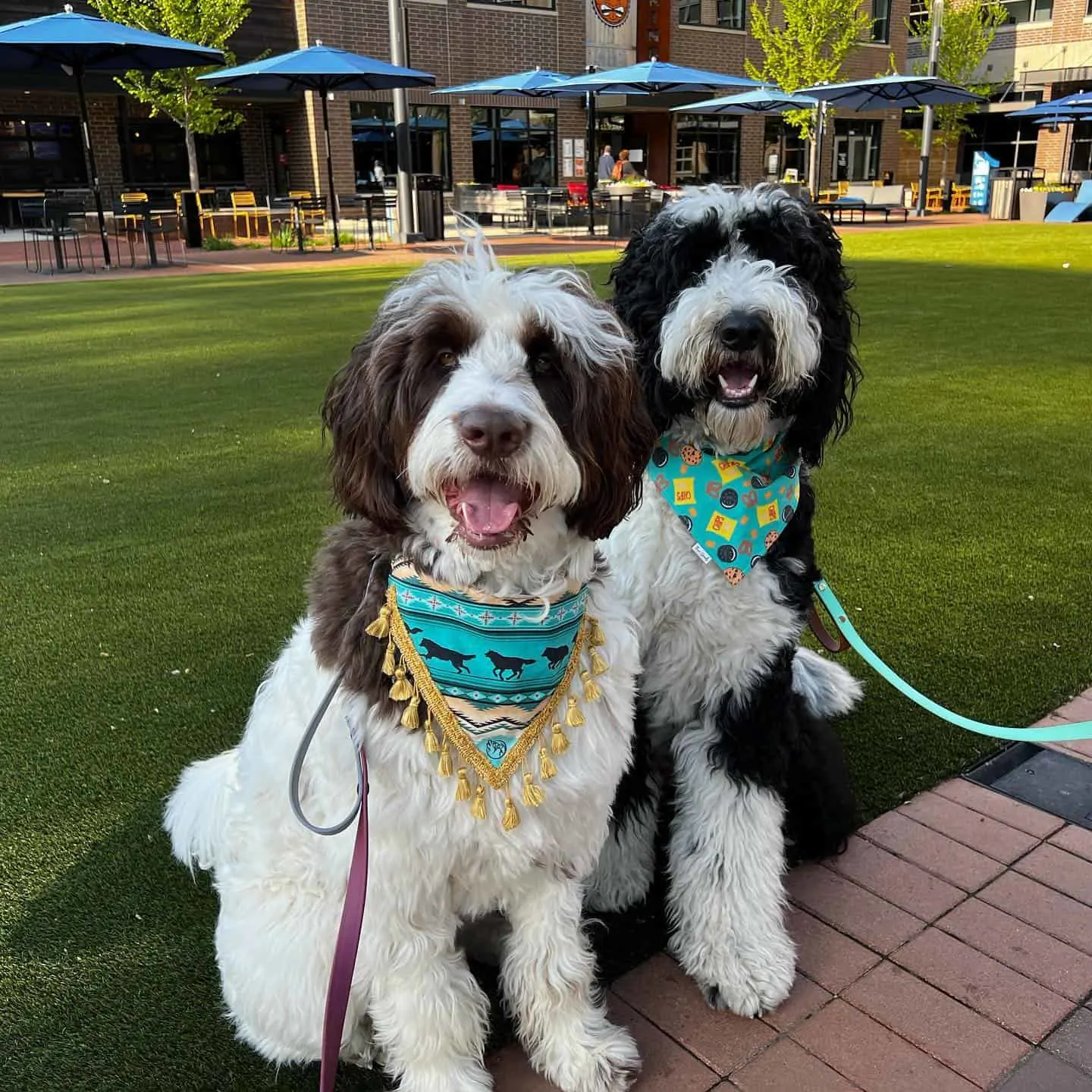 Photo from: @thewonderfulnewfypoooz
Family businesses are the greatest. They take care of their puppies as if they were their kids. Magnolia Creek is a synonym for great care and loved puppies.
This is a small breeding kennel that's actually not a kennel. Puppies stay inside and go out all the time to play in the water, or to run around with their buddies.
Magnolia Creek Newfiepoos are happy and healthy puppies, free from any health problems.
Living on a little farm surely helps with the early socialization of these puppies. Soon, puppies will have their own special whelping room. You can tell the approach this breeder has is professional and worthy of your time.
What sets Magnolia Creek Newfypoos apart from others on this list is their availability. Thanks to a rich breeding stock, Magnolia Creek can offer you 8 to 10 litters each year. They're not overbreeding their dogs under any circumstances.
I'd also like to point out that Magnolia Creek has F2 Newfypoos. If you're interested in getting a puppy that's highly likely to exhibit no shedding issues, this is your chance!
Breeder's details
Website: Magnolia Creek Newfypoo Puppies
Location: Riverview, FL
Email: [email protected]
Social media: Facebook
6. Wabash Valley Doodles, IL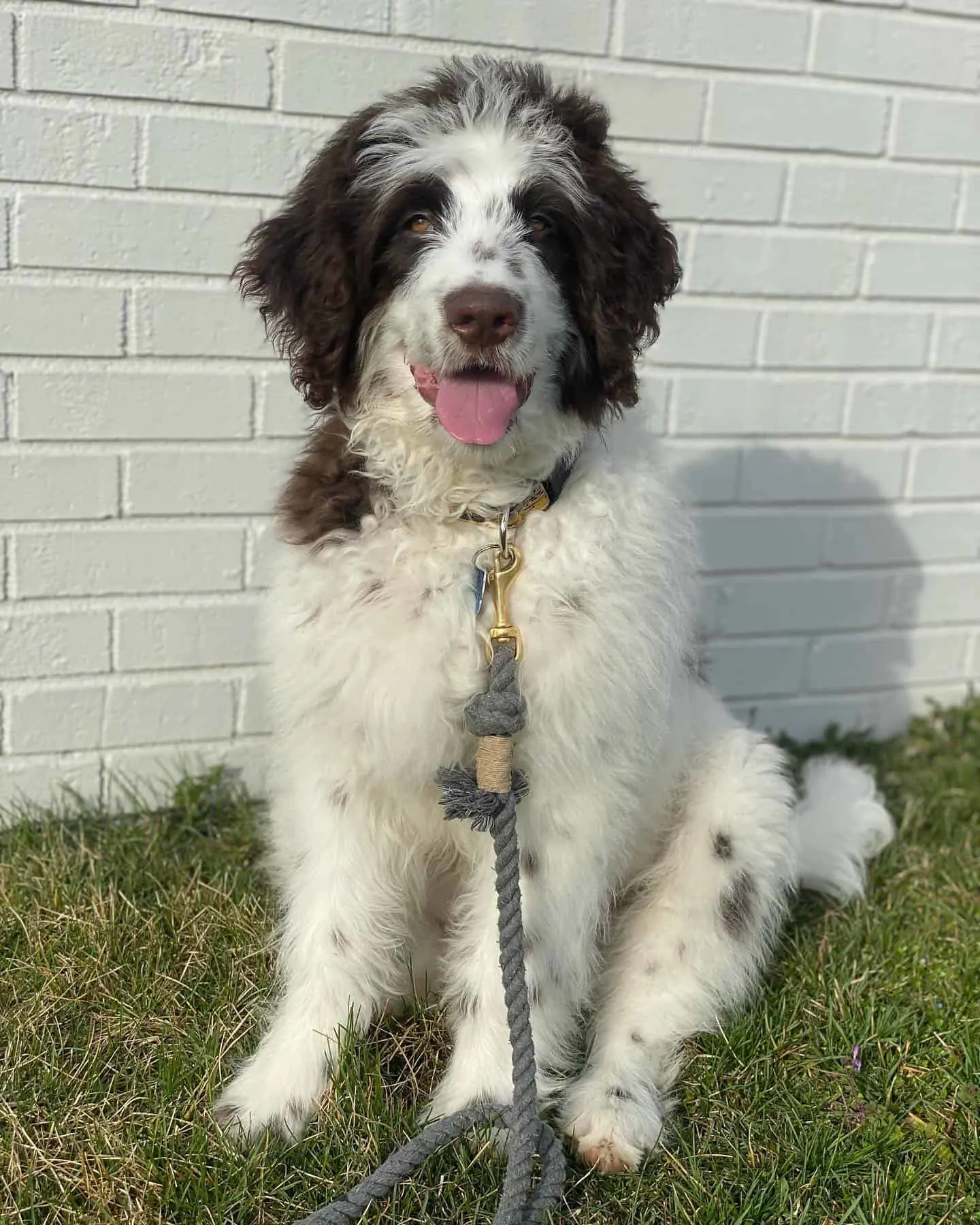 Photo from: @thewonderfulnewfypoooz
Wabash Valley isn't only home to Newfiedoodles. This is also a place where you'll find extraordinary Saint Berdoodles and Wolfadoodles! As another small family business on this list, Wabash Valley Doodles is extremely proud of its premium-quality puppies.
Parent breeds used for breeding all the Doodles at Wabash Valley are purebred dogs, registered by the American Kennel Club. Of course, as hybrid dogs, Newfiepoos won't be accepted by the AKC, but they are members of the International Designer Canine Registry. That's at least something, right?
Once you decide to adopt a Wabash Valley Newfypoo, you'll get a puppy with a special puppy package containing a goody bag with food samples, a puppy starter kit, the puppy's vet records, and proof of all received shots and treatments.
A future dog owner of a Wabash Newfypoo will be glad to hear puppies come with a year's health guarantee on major congenital issues.
Wabash Newfiepoos are raised within the family, and the breeder expects you to treat your new puppy the same way as they did. Newfypoos are excellent watchdogs, but they're foremost family members and dear friends. Remember to keep it that way.
Breeder's details
Website: Wabash Valley Doodles
Location: Southern Illinois
Email: [email protected]
7. Crockett Doodles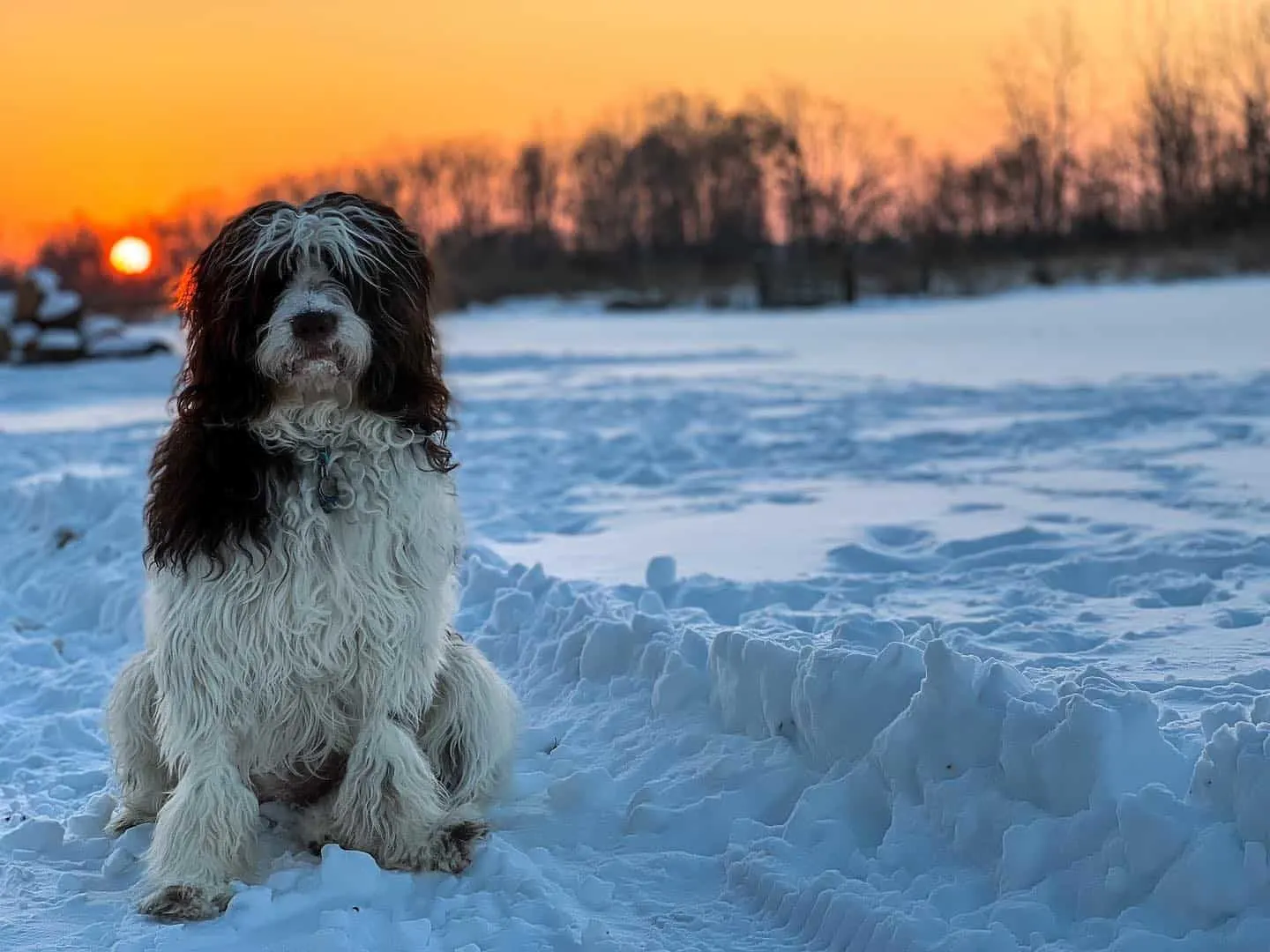 Photo from: @thewonderfulnewfypoooz
Lastly, we have Newfiepoos from the Crockett Doodles.
This is one of the Newfypoo breeders with an outstanding reputation. Besides premium quality pooches, Crockett Doodles are famous for their three-year health warranty and incredible discounts for people of service, i.e. veterans or firefighters. I always appreciate breeders with such lovely ideas.
Crockett Newfypoos have a very detailed website, so you can find any information you need on pricing, puppies, delivery, etc. Although I'm not pro puppy delivery, especially without a nanny, I must give credit to Crockett Doodles. They're excellent communicators and will do their best to find a way to get your puppy to you safely.
Usually, you'll need to wait for 3 to 4 months for a new litter. It's better to put yourself on the list so don't end up waiting any longer. Crockett Doodles are highly in demand, and I wouldn't waste time thinking about whether or not it's a good idea to bring home one of their pooches.
Breeder's details
Website: Crockett Doodles
Email: [email protected]
Social media: Facebook and Instagram
What's The Verdict?
The above-mentioned Newfypoo breeders aren't just people that raise mixed-breed puppies. They're devoted dog lovers that care very much about their Newfypoo dogs. They're completely devoted to their well-being and focus only on raising the soundest dogs.
No matter which Newfypoo you pick, you won't make a mistake. The breeders I've presented to you today all share a professional approach to breeding dogs. They treat the puppies with respect and think of them as more than just low-shedding pooches. They think of them as family members.
Once you adopt a Newfypoo from any of these breeders, you'll become a part of a huge family of Doodle lovers.