There's a great number of mini Labradoodle breeders in the U.S. which provide their clients with some of the healthiest and most adorable teddy-bear-like canines!
Along with mini Goldendoodles, mini Labradoodles are not only considered to be one of the sweetest canines, but also a great aid to those in need.
Mini Labradoodles have a great temperament and amazing empathy, which is why they can be service, therapy, or guide dogs.
If you're wondering which breeders are the most trustworthy in the U.S., continue reading this article, and you'll find the answer!
Mini Labradoodle Puppies For Sale In The U.S.
1. Mini Labradoodles Of Long Island, New York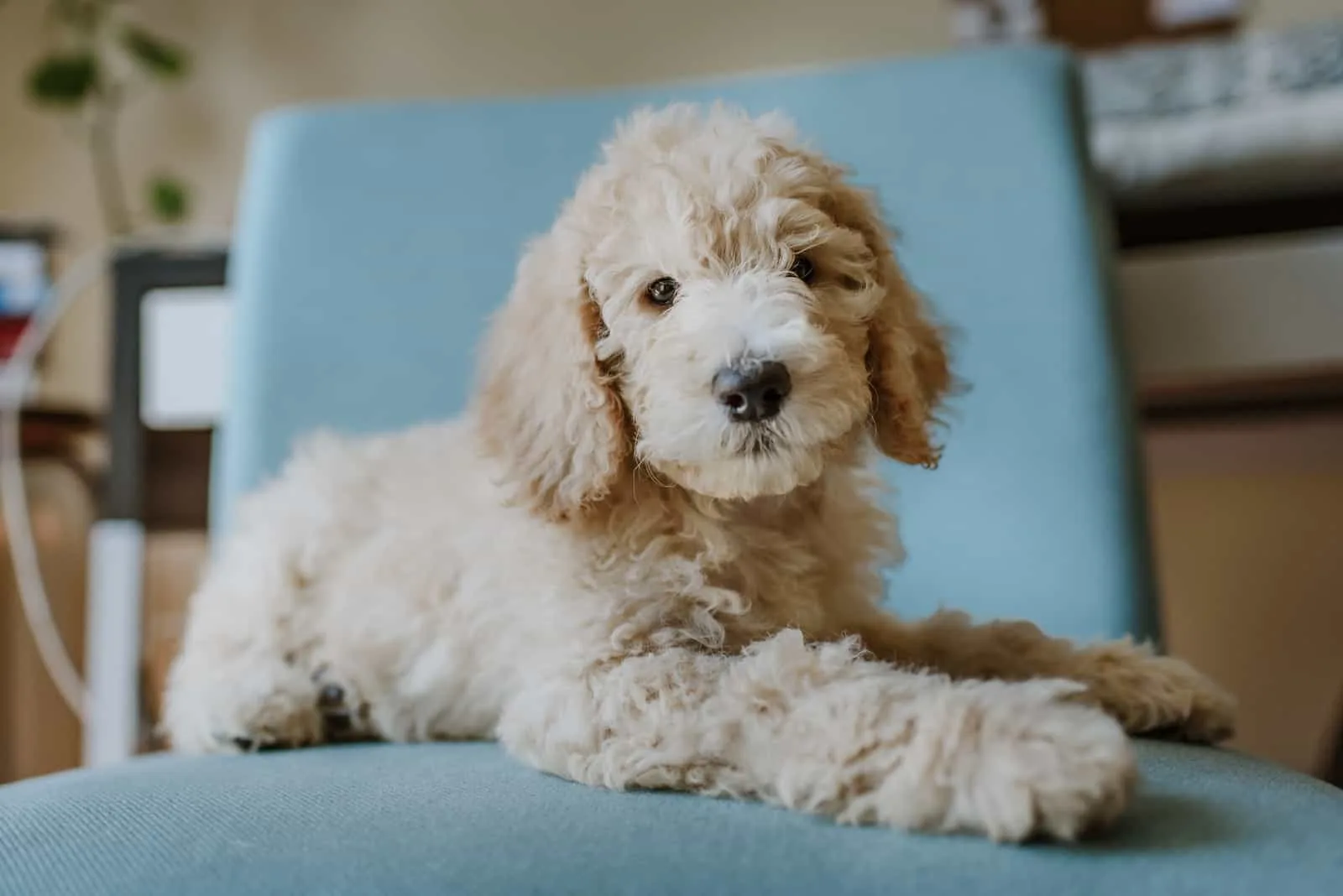 The pups at Labradoodles of Long Island are showered with love and attention from the moment they are brought into the world.
The breeder doesn't keep the pups in kennels but rather in their own house, which has enough room for them.
Their little Labradoodle puppies are able to socialize and train in order to prepare for joining their new home, thanks to the environment that they are in.
Puppy Quality
For more than 15 years, this breeding outfit has been producing doggies of solid temperament and good personality.
They're highly dedicated to raising healthy family pets that will be equally good with children as they are with grownups.
The Australian Labradoodle Association of America (ALAA) acknowledged the breeder as deserving of their recognition, which is why they received the title of the Gold Paw breeder. This is a breeder of small Labradoodles who has earned a lot of respect due to this achievement.
On their website, they have a large collection of cute pictures of previous litters and the pups' parents, which will make you a bit obsessed with these pups.
These photographs will also give you an idea of the hues of their coats and the proportions of their bodies. They usually inherit the colors of their Poodle parents, but they might have the same hues as their Lab parents.
All of the mini Labradoodles are tested, vaccinated, and in good hands.
Purchasing Process And Pricing
All of the canines that are raised at this breeding place are healthy and ready to go to their new forever homes once they turn eight weeks of age.
This breeder produces Labradoodles in three sizes: Mini, standard, and medium pups.
Before you are able to complete the puppy questionnaire and make a deposit, you should contact the breeder and get all of the relevant information in advance.
This includes the price of the puppy, as well as the fee for the deposit, which are probably two of the most common questions they receive.
However, the price isn't available for several reasons, including the size, color, and type of the Labradoodle.
Breeder Details:
Location: East Setauket, New York
Contact number: 631 941 1111
Official website: Mini Labradoodles of Long Island
2. Dixie Mini Doodles, Texas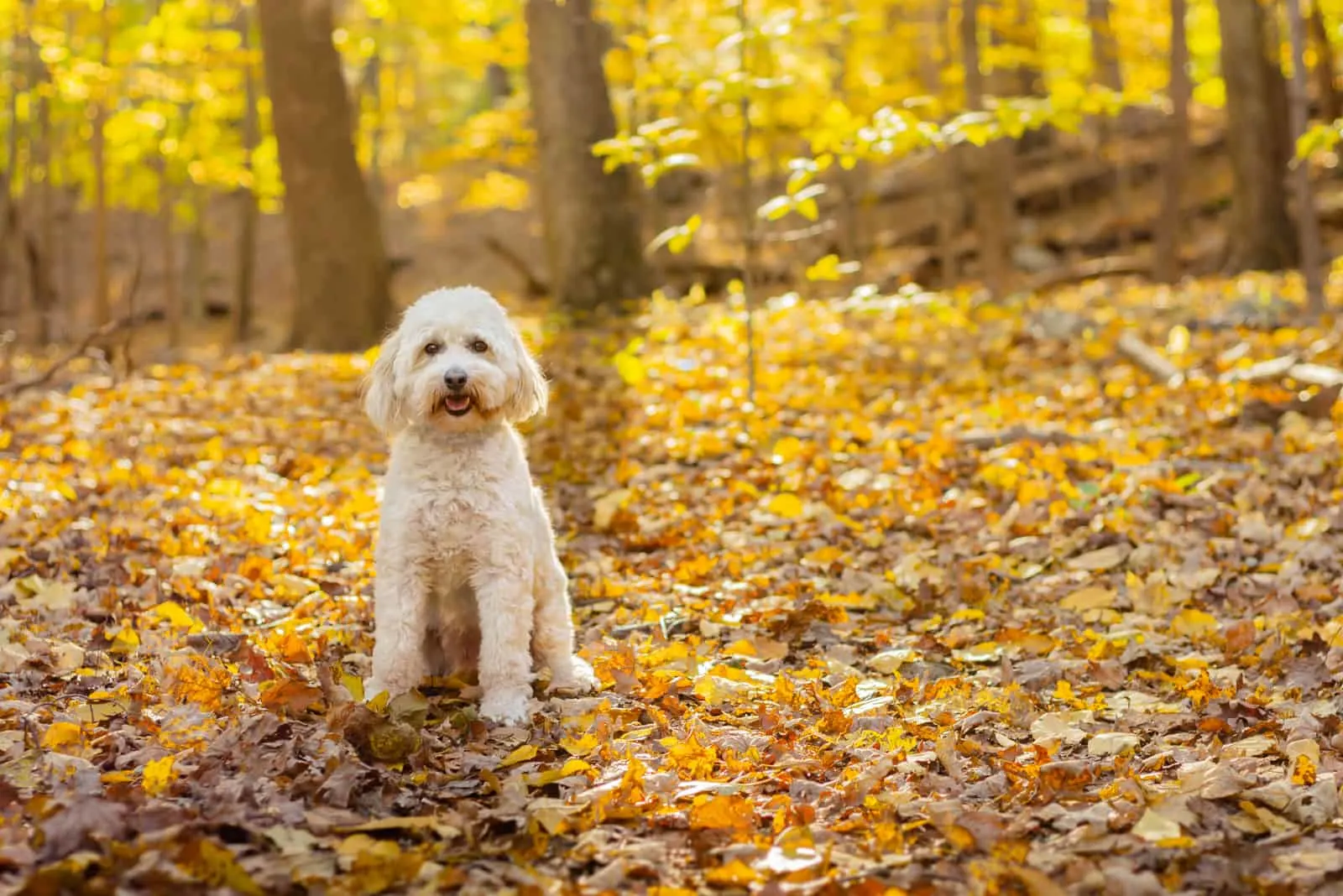 This is one of the small breeders that has almost two decades of experience in breeding Australian Labradoodles of both standard and miniature sizes.
However, they occasionally have mini Labradoodles for sale, so you might want to contact them beforehand and check if there are any available litters before you go into a more detailed procedure.
RELATED: Miniature Labrador: Here Is The Mini Version Of The Popular Lab
Puppy Quality
This breeder takes pride in the production and raising of Labradoodle puppies that are almost 100 percent clear of genetic conditions such as hip dysplasia, eyesight issues, elbow dysplasia, or other bone illnesses.
To make sure that all pups are in good condition, the breeder examines all parent breeds with tests that comply with OFA standards.
The fundamental objective of a breeder is to produce healthy doggies with solid temperaments and exceptional personalities.
Their pups are raised in the breeder's house from the moment they are born. They are placed in a setting that is both stimulating and supportive of their development.
The puppies are exposed to sounds that are common in the house, and are given opportunities to explore as many surfaces as they can.
Purchasing Process And Pricing
Owning a Mini Labradoodle is a great joy but also a big responsibility, which is why you should make sure that you're ready for a long-term commitment.
This breeder does everything they can to raise puppies of excellent behavior and solid temperament, but they also expect the future owners to be as responsible as they are.
That is why the breeder requires all of their potential clients to fill out a short application form that is available on their website.
After that, you will be required to make an advanced payment of $200 to get on the waitlist. Once there are miniature Labradoodle puppies available, the breeder will send out a newsletter about the general well-being of the puppies, visits to the vet, vaccines, and other necessary details.
When it comes to the price, it seems to vary between $2500 and $3000, depending on the breed, size of the puppy, or even the colors of their coats.
Breeder Details:
Location: Sacramento, California
Contact number: 916 690 0477
Official website: Dixies Mini Labradoodle Puppies
3. Brookside Mini Labradoodles, California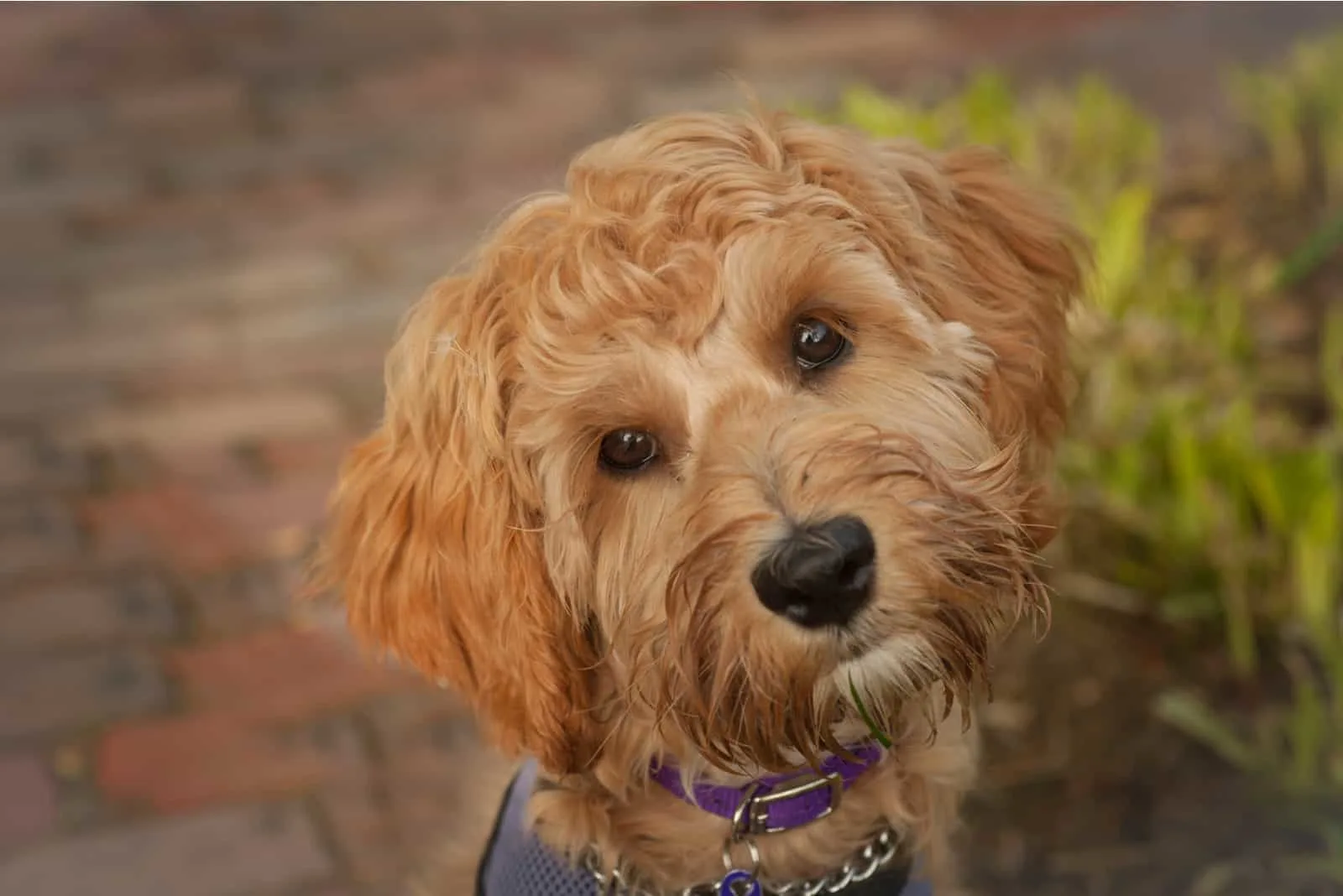 A small, family-run breeding program in California has committed to the ethical breeding and raising of wonderful Aussie Labradoodles in all sizes.
Although they're considered small-scale breeders, they have a rather impressive portfolio of parent breeds in different shades and with excellent reviews.
That's one of the main reasons why this breeder has received numerous awards and is a part of the ALAA as one of its Gold Paw breeders.
Puppy Quality
The staff at Brookside Small Labradoodles is committed to producing only the highest quality mini Labradoodle puppies, as part of their mission to meet the needs of families looking for a new dog.
The parent breeds are evaluated for personality as well as their health and well-being before they are used for breeding offspring. This ensures that the puppies meet the same good standards as their ancestors.
All of their puppies are raised at home with their family, which is a great type of socialization training for them.
However, the breeder also utilizes the "Puppy Culture" training method in order to prepare the canines for their new homes.
When it comes to their health, mini Labradoodles from this breeder are in great shape, which is confirmed with a two-year health guarantee.
Once you receive the dog, you will also get health records and confirmations of vaccines and microchipping.
Purchasing Process And Pricing
The adoption procedure is standard, as with all other breeders. All you need to do is fill out the questionnaire, after which you'll be required to send an email.
After you make the initial contact with the breeder, you'll need to make the advanced payment of $300 to get on the waitlist.
The price of Labradoodles is generally $3500, although it might be ten percent lower for a military officer or a veteran, as well as for teachers and first responders.
Check out the breeder's website to get more information about the whole procedure and details regarding the purchase price of the pup.
If you still have any questions, the breeder will be more than happy to answer them.
Breeder Details:
Location: Sacramento, California
Contact number: 916 690 0477
Email address: [email protected]
Official website: Brookside Mini Labradoodles
4. Hidden Beach Mini Australian Labradoodles, California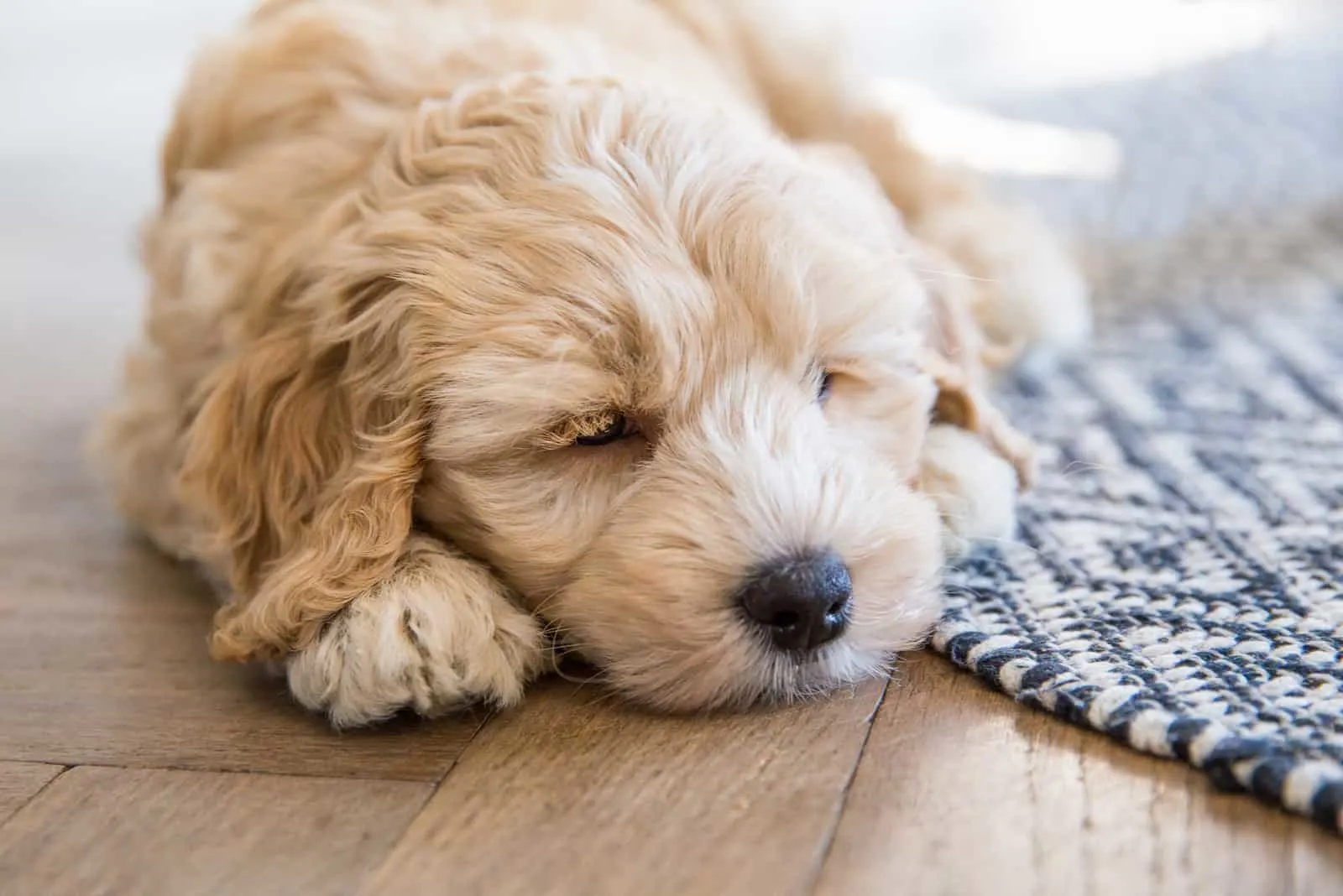 The owner of this breeding program has been dedicated to the production and raising of the wonderful Labrador Retriever and Miniature Poodle cross. They would like to raise pups of great quality but also to preserve their ancestral heritage and habits.
READ NEXT: 10 Amazing Miniature Poodle Breeders In The USA!
Their primary focus is on producing multi-generational Labradoodles that are either small or medium in size.
Puppy Quality
Their mini Labradoodle pups are in great shape, as they're pampered and cherished from the first day of their lives.
Although Labradors aren't hypoallergenic, some of the litters that are produced by this owner are low-shedding mini Labradoodles too, which makes the whole grooming process a lot easier.
To ensure the highest possible standard of living for each of their small Labradoodle pups, they do extensive health examinations prior to breeding, and they only breed their dogs a maximum of three times.
The small pups are nurtured in the comfort of a home and given individualized attention from their owner during one-on-one playtime.
You may rest assured that your little Labradoodle puppy will be highly socialized and will have no trouble adjusting to its new environment when you bring it home.
Purchasing Process And Pricing
To prove their pups' health condition, the breeder offers a two-year health guarantee, which states that the pups are at low risk of getting any of the common health issues among these crossbreeds.
However, their website is currently not functioning, so it's not possible to see the details regarding the adoption procedure and the prices at the moment.
Still, you can receive all the information that you need directly from the breeder in the event you're interested in buying one of their canines.
Breeder Details:
Location: Aptos, California
Contact number: 831 708 8369
Email address: [email protected]
Official website: Hidden Beach Mini Labradoodles
5. Red Desert Doodles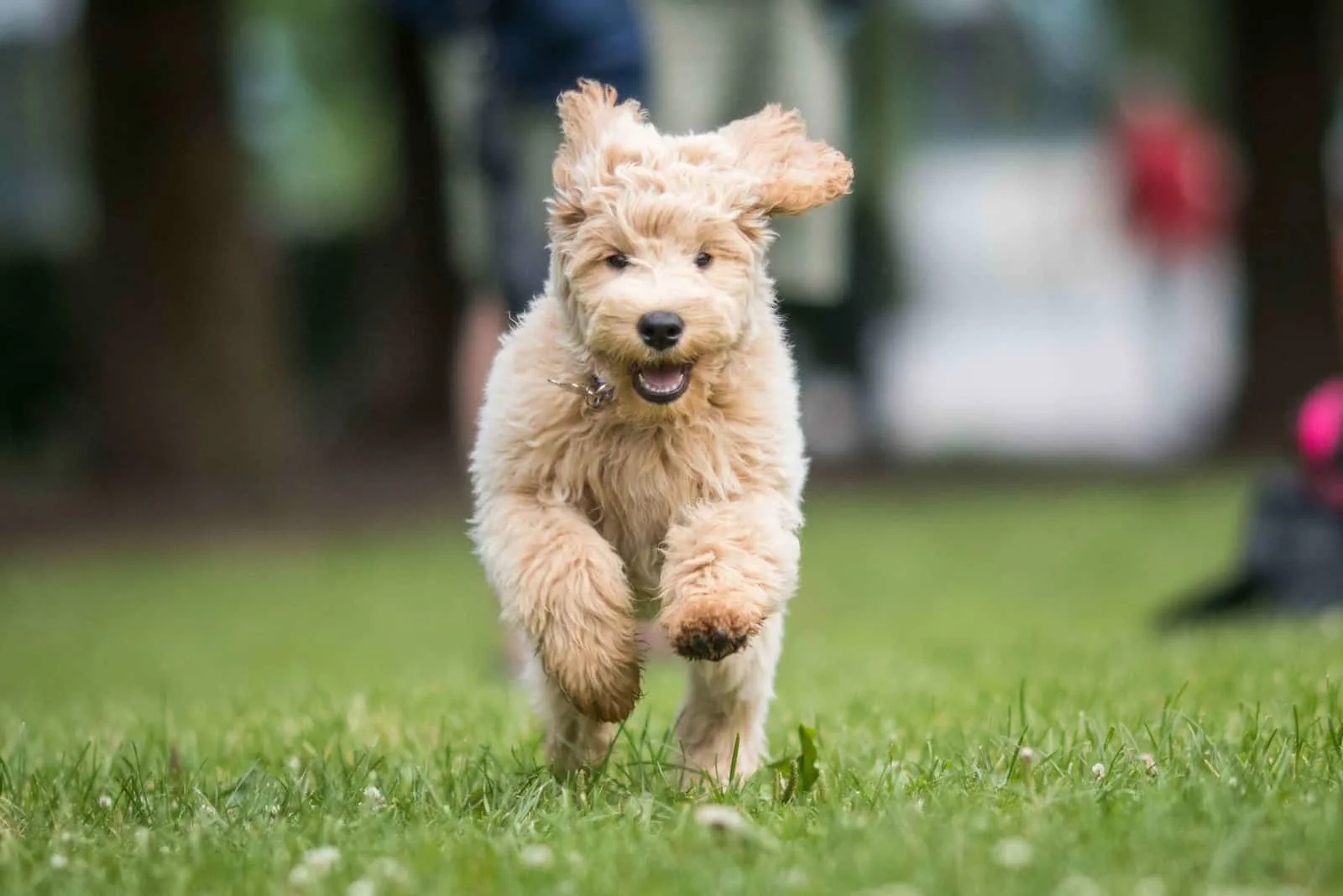 Now, this is one of the family breeders that is a true definition of the term "family". The Mini Labradoodle puppies are raised by a family that includes seven kids, five of which are married and have ten children in total.
It all started with one amazing pet who was an Australian Labradoodle. She was such a great pet that the family decided to start breeding these pups.
Puppy Quality
Red Desert Doodles breeds Australian Labradoodles of all sizes, including toy, medium, and standard varieties. Most of these pups are descendants of mini or toy Poodles, Cocker Spaniels, and Labs.
RELATED: Black Toy Poodle: An Honest Guide To The Tiny Teddy Bear Dog
As the puppies are raised in such a big family, it can be said that they already have basic skills from socialization training.
This type of pup has a solid temperament, which is why they're a great choice for service and therapy dogs.
The breeder offers training programs for Labradoodles, which include basic manner training, crate training, and other methods.
This mini Labradoodle breeder has all of their pup's health tested before they're sent to their new homes. They also include vaccines, microchipping, and other necessary procedures before the pups are adopted.
Purchasing Process And Pricing
If you'd like to get your next (or first) family companion from this breeder, all you need to do is fill out the puppy questionnaire, make the deposit, and wait until your pup is old enough to take home.
In order to get on the waiting list, you will need to make an advanced payment of $500, which is non-refundable but will be deducted from the final cost.
Although the price is $3200, you should keep in mind that the Utah taxes will add up to around $216, so you will end up paying more than $3400 for your new furry family member.
6. Faithful Doodles, California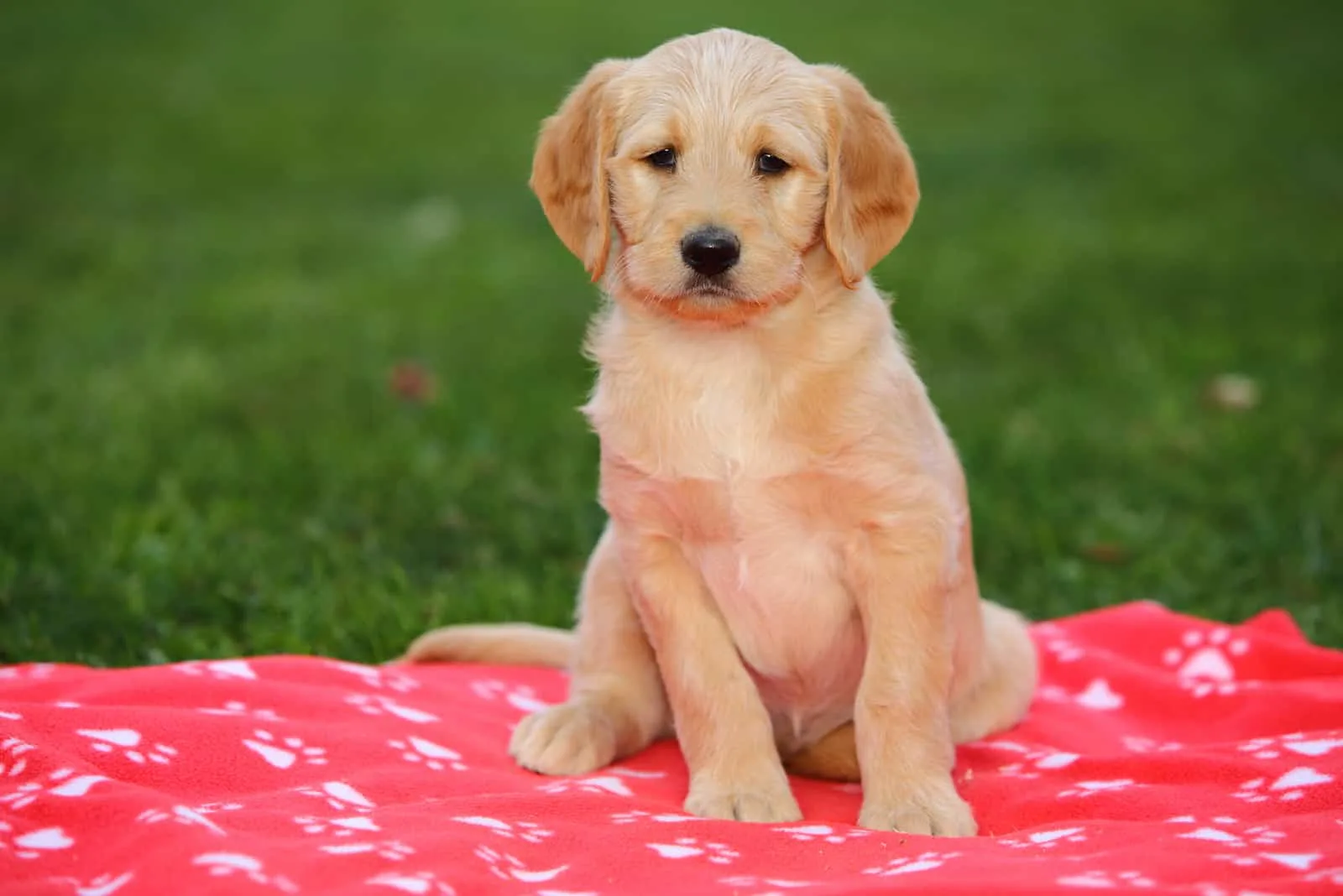 At Faithful Doodles in California, you will be able to locate both Labradoodles and Goldendoodles if you're interested in such Poodle crosses.
Because this is a family-run business, the pups which are bred here receive lots of love and care as they get ready to move into their new homes with their new owners.
This breeder has been a puppy lover for years due to their enthusiasm for the hybrid breed of dogs known as Doodles, and they are keen to share their enthusiasm with other people.
Puppy Quality
Each canine is given a comprehensive physical examination and is also registered with the International Australian Labradoodle Association (ALAA).
You may also look at the genetic history of the ancestors to get an idea of what type of characteristics will be passed down to the small Labradoodle puppy.
Puppies come with a health guarantee that is good for two years, providing you with the security and certainty of knowing that your doodle will remain healthy throughout that time.
In addition to that, all of their small Labradoodle dogs have been vaccinated, dewormed, and microchipped.
Your furry friend will come with a free trial of a pet insurance plan, as well as a small bag of dog food that the pups are accustomed to consuming.
It can be said that all the pups are trained from early puppyhood and have developed excellent social skills, along with obedience to their owners.
Purchasing Process And Pricing
When it comes to the price of the pups, the F1 Labradoodles are usually available for $2500, while F1b Labradoodles and F2 pups cost $2800 (the same goes for Goldendoodles).
However, you can also go for the Australian Labradoodle, but that will cost you $3200.
The deposit fee is usually $250, and it is the only way to ensure your spot on the waiting list to get your choice from the first available litter.
Although the deposit is non-refundable, it will be deducted from the total price of the pup once you purchase it.
All interested buyers are required to pay a deposit without the ability to choose from the litter until the day the pups are ready to go home.
Those who are placed higher on the waiting list will have the chance to choose their companion pup prior to those who made late payments.
Keep in mind that the canines are sold only on a spay/neuter agreement, which means that they can't be bred in the future.
Breeder Details:
Location: Santa Clarita, California
Email address: [email protected]
Official website: Faithful Mini Labradoodles
7. Labradoodle Lane, Florida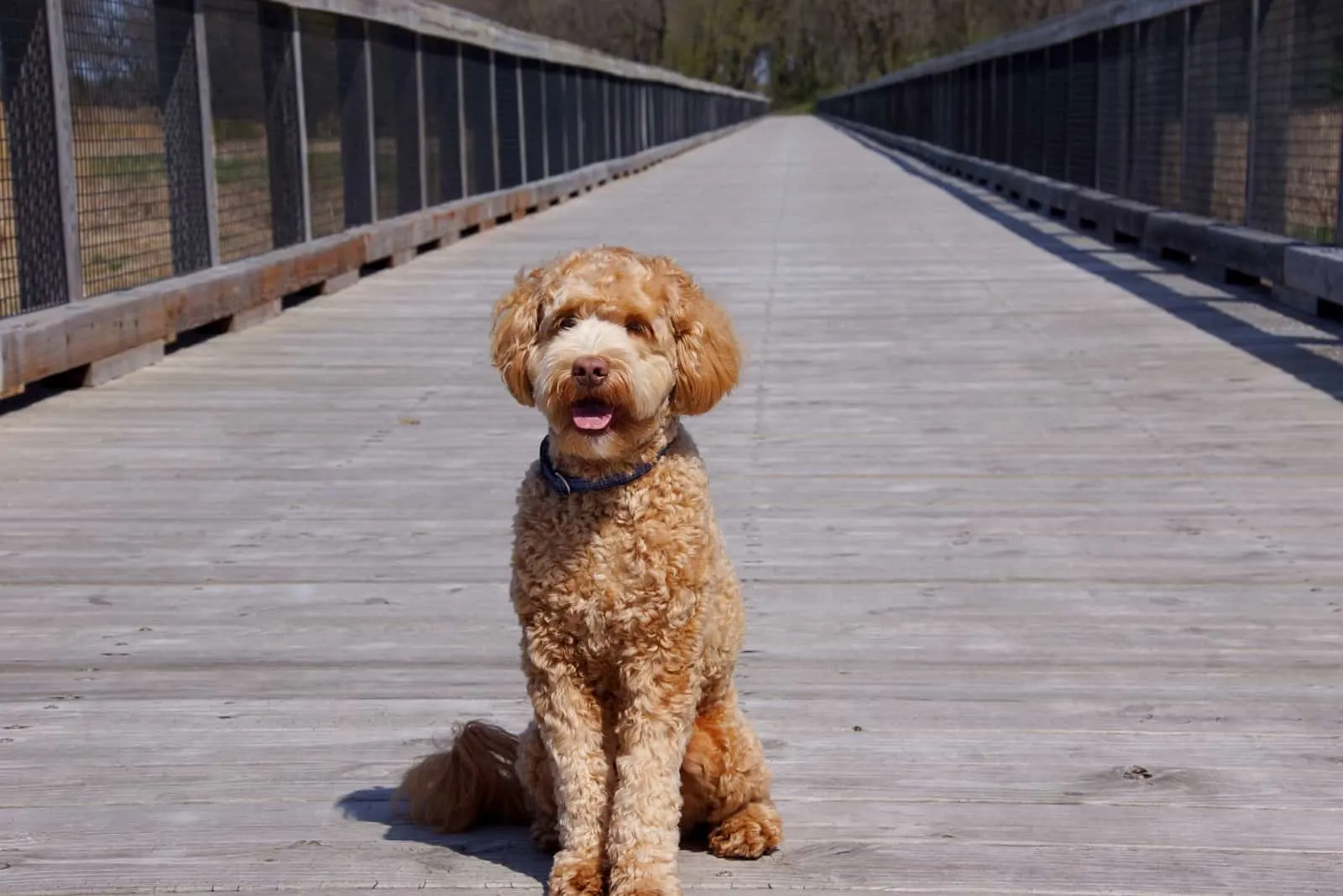 Labradoodle Lane is home to adorable little pups with different sizes and coat variations to choose from.
Each Labradoodle Lane puppy is delivered to its new home with a variety of accessories, including a collar, a toy, and important documentation such as a health certificate and records.
The staff at Labradoodle Lane are there to listen to the concerns of new dog owners and provide guidance as they navigate the transition that comes with bringing a new puppy into their house.
Puppy Quality
The breeder is dedicated to producing both miniature and standard Labradoodles in several coat shades and patterns. You can choose between black, apricot, caramel, parti, chocolate, and other hues.
The most important part is that all of the puppies from this kennel are happy and healthy, filled with love and affection, to the point that they start behaving like true lap pooches.
The parent dog breeds are thoroughly tested for all genetic conditions that might have a negative impact, including CERF, EIC, PRA-prcd, and other certified tests.
Purchasing Process And Pricing
In general, the purchasing procedure is pretty much the same, as it'll require you to fill out the puppy application, but once it comes to the payment, it functions a bit differently than with other breeders.
Therefore, the breeder requires you to pay $3000 for the puppy in two different installments, once when the doggie turns two weeks of age and the rest when they turn six weeks.
The payment has to be finalized before the canines are ready to go to their forever homes.
It is important that you're aware that the State of Florida mandates that the breeder charges a 7% sales tax on all purchases made by Floridian citizens. This brings your total cost to $3210, including an extra fee of $210.
Breeder Details:
Location: Dade City, Florida
Contact number: 813 838 1291
Email address: [email protected]
Official website: Labradoodle Lane Puppies
8. Monarch Australian Labradoodles, Michigan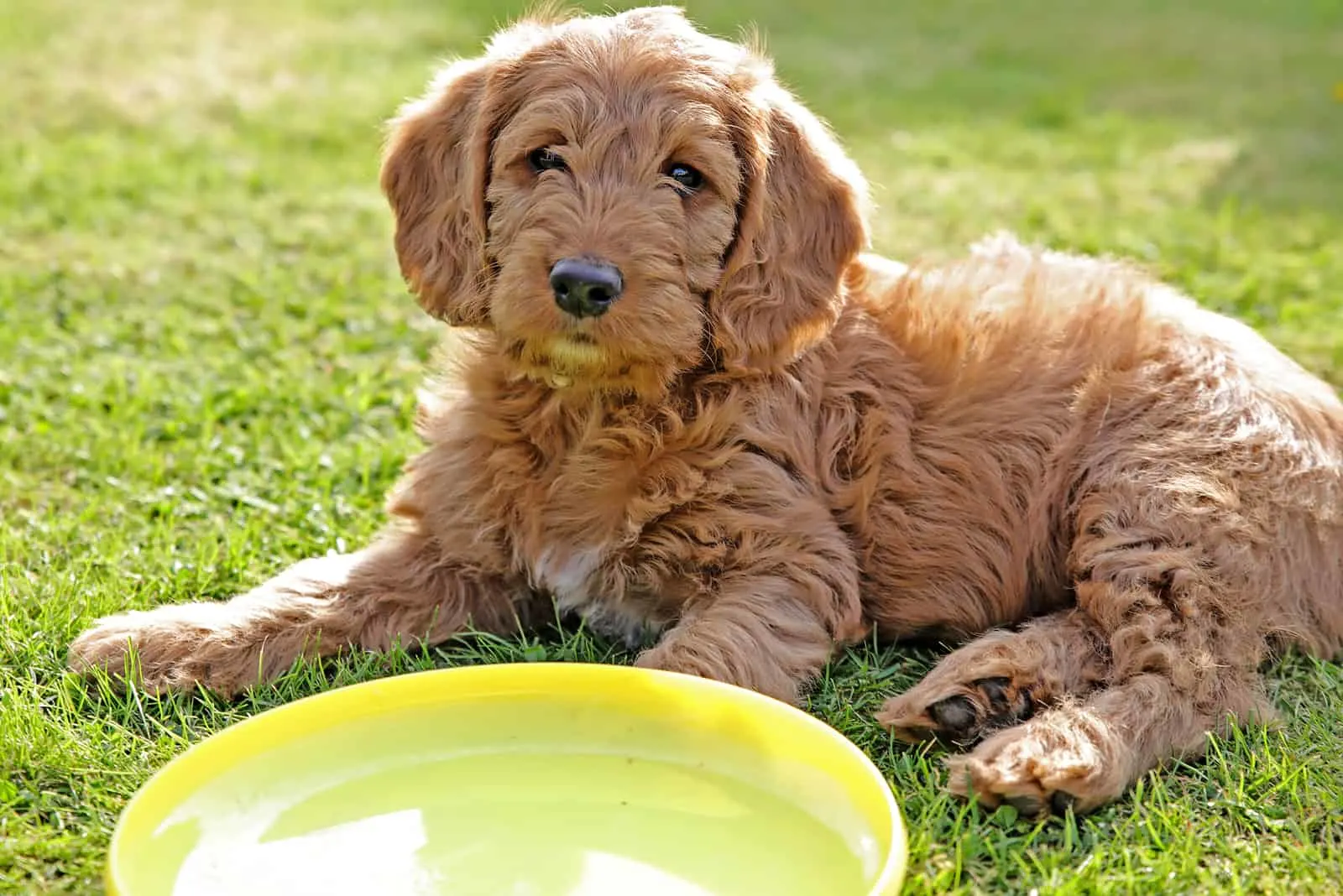 As a small-scale breeder of Australian Labradoodles, this breeder has been dedicated to the production of amazing mini Aussie Labradoodles, which is why they have become a part of ALAA and WALA organizations.
They're trying to breed hypoallergenic types of canines that will even be suitable for people with allergic reactions to dogs' hair or saliva.
The breeder has been in love with dogs since they were young, but not until their son got an allergy to dogs did they discover Aussie Labradoodles.
The rest seems to be history, as today, they have become breeders of this amazing breed.
Puppy Quality
All of their puppies are thoroughly tested, checked by a vet, vaccinated, and microchipped.
Most of the Mini Labradoodles are covered in caramel, red, and apricot hues with white spots all over their coats. Tuxedo Labradoodles might appear quite often as well, as a part of the Poodle's heritage.
Mini Australian Labradoodles resemble their Mini Poodle parents quite a lot, although there is a certain distinction, mainly related to their height, weight, and the shape of their muzzles.
You can never be 100 percent sure about the health of all puppies from the litter, but according to all the tests and checkups of breeding canines, there should be no major issues, at least relating to genetic conditions.
Purchasing Process And Pricing
Once you decide to get a furry friend from this breeder, you will be required to complete the application form, which is available on the website.
After that, you will be contacted by the Labradoodle breeder so they can get additional information about the type of pup you'd like to have (female or male, standard or miniature, etc.)
Once your application has been approved, you will need to make an advance payment of $500, which will be included in the final price of the canine.
You might find other useful information on the website too, but if you prefer, you can also contact the owner and ask more about this designer breed or about the whole adoption procedure.
Breeder Details:
Location: Rochester, Michigan
Contact number: 989 450 2145
Email address: [email protected]
Official website: Monarch Australian Labradoodles
How To Find The Right Mini Labradoodle?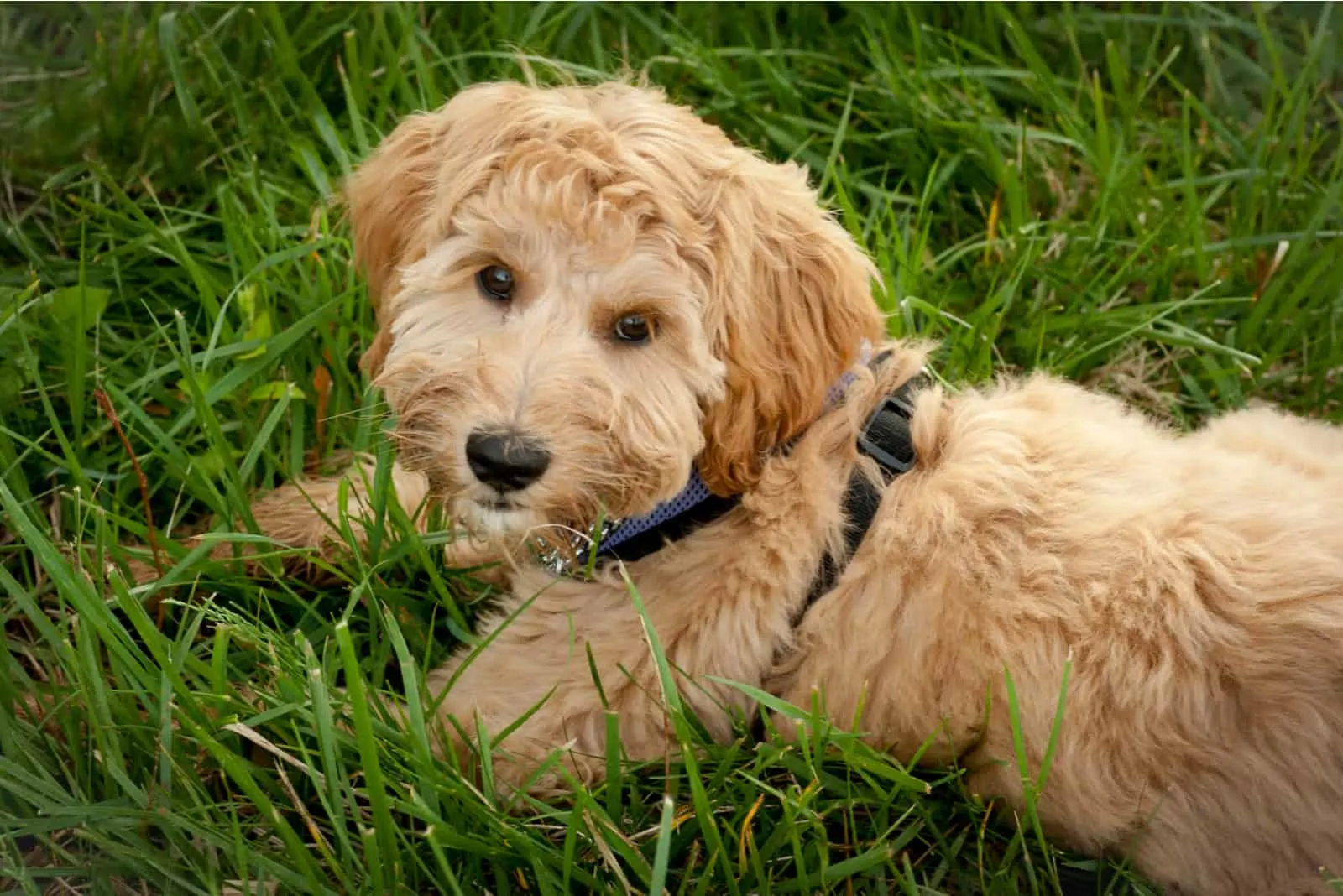 The popularity of little Labradoodles is continuously on the rise in the United States.
If you were unable to locate a breeder of small Labradoodles using the list that we provided, we strongly suggest that you visit the Australian Labradoodle Association of America (ALAA), as well as conduct a significant amount of personal research.
There is no organization such as the American Kennel Club (AKC) that governs mixed-breed dogs in the same way that they do purebred dogs.
As a consequence of this, you will need to conduct a substantial amount of study and interrogate any prospective breeder in great detail. Here are some things to keep in mind while looking for a good breeder of small Labradoodles:
• The majority of respectable small Labradoodle breeders will provide medical and genetic screening for their puppies to guarantee that they are not passing on any hereditary health problems to their offspring.
• Breeders of miniature Labradoodles that are concerned about the wellbeing of their dogs will often provide a health guarantee that is between one and two years in length for the puppies they sell.
• Breeding dogs is a skill that requires many years of expertise to become proficient. Verify if the prospective breeder in question has a significant amount of experience in the field.
Final Thoughts
It's no surprise that mini Labradoodle breeders are in high demand as this type of designer dog is becoming more and more popular, not only as a family companion but also as a therapy and a service dog.
However, future dog owners should pay special attention to the type of breeder they're communicating with, as there are plenty of puppy mills and backyard breeders that can't wait to scam someone.
If the price seems suspiciously low or the breeder doesn't guarantee on its dogs, those are clear signs that something is off.
I really hope that you have found the perfect breeder for you and your family on this list of our reputable mini Labradoodle breeders in the United States.
READ NEXT:
Labradoodle Names: The Doodliest Of Them All
Micro Labradoodle: What You Never Knew About These Dogs
Are Phantom Labradoodles Real? A Guide To Unique Doodle Coat Colors