Purchasing a new puppy is a wonderful and unique experience. But, getting an Irish Wolfhound puppy is something else!
The Irish Wolfhound dog originates from Ireland, of course. It is believed that this giant dog breed first appeared thousand years ago, making the Irish Wolfhound breed one of the oldest dog breeds in the world.
Considering the name "Wolfhound", this large dog was primarily bred to hunt and protect its human companions. Back in the day, wolves roamed around rural areas in search of sheep. So, as a means of defending themselves, humans teamed up with this wonderful gentle giant.
Gentle giant, you say? Wasn't that supposed to be the nickname for the Great Dane? Well, you'd be surprised to know that Irish Wolfhound dogs are, in fact, larger than Great Danes. Male Irish Wolfhound dogs weigh up to 180 pounds and reach over 35 inches, while females are a few pounds lighter.
The Irish Wolfhound breed is indeed a dog breed to take great interest in. If you are among the paw lovers that go crazy for these gentle giants, you have found yourself at the right place.
Today we want to introduce you to the best Irish Wolfhound breeders in the United States. We have searched far and wide to find the most responsible breeders from which you can purchase a healthy and loving Irish Wolfhound puppy.
So, to save you the trip to Ireland, here are the best Irish Wolfhound breeders in the U.S!
Irish Wolfhound Puppies For Sale In The U.S.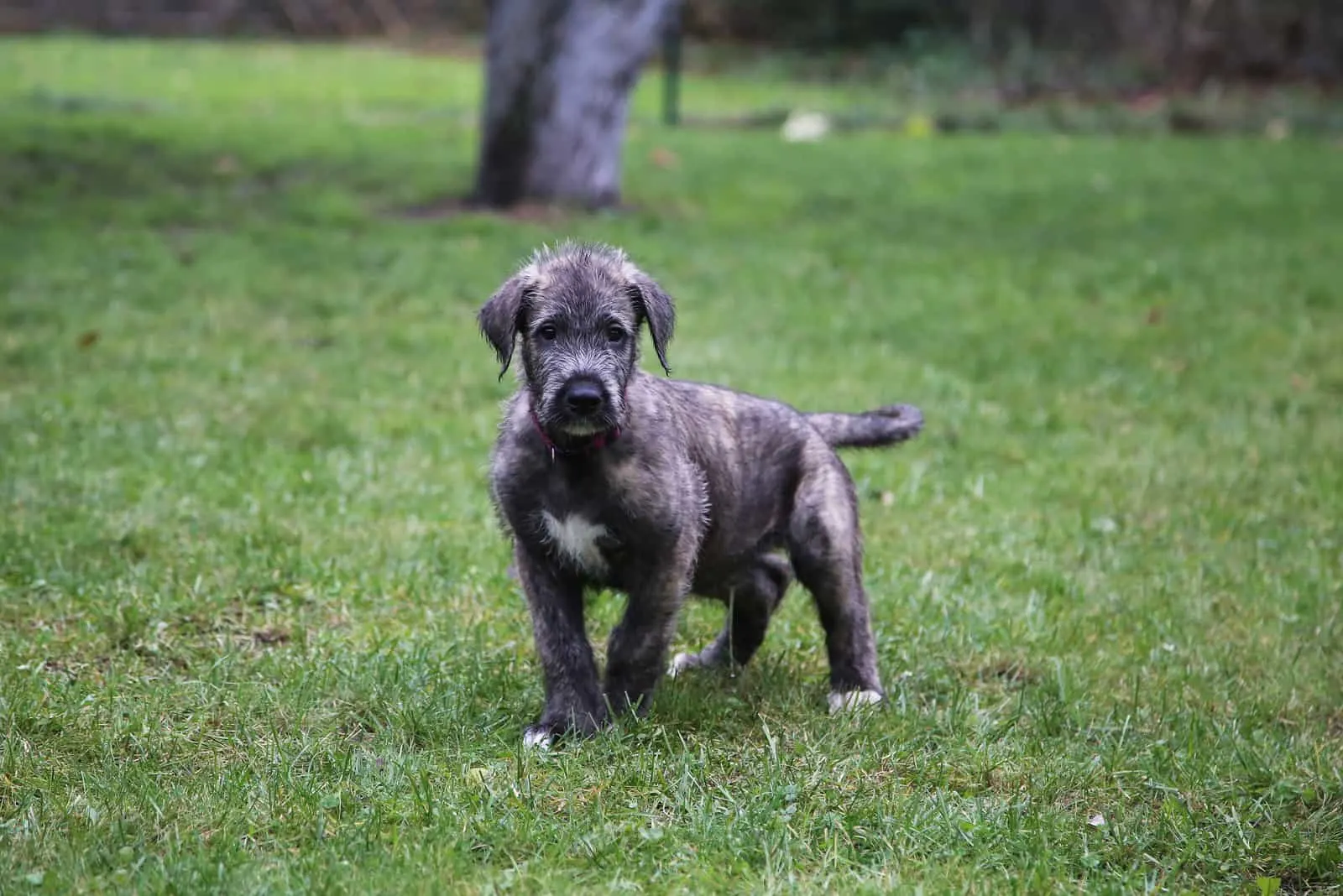 Although you rarely get to see them roaming the streets of American cities, Irish Wolfhound dogs are quite common in the United States. In fact, the first Irish Wolfie was registered by the American Kennel Club in the year 1897. And that's pretty far away.
Ever since its official recognition, the Irish Wolfhound dog breeding practices have become very structured and detailed. The AKC has set up a breed standard that most dog breeders started following.
In accordance with the official Irish Wolfhound AKC breed standards, reputable breeders focused only on figuring out ways to preserve and improve this giant breed.
Not long after, the Irish Wolfhound Club of America was developed. IWCA became a well-known and respectable organization that got together Irish Wolfhound dog fanciers and reputable breeders. The creation of IWCA led to the development of other Irish Wolfhound Associations across the U.S, as well as around the globe.
One of the main focuses of all reputable Irish Wolfhound breeders has always been the eradication of congenital breed-specific diseases. These hereditary diseases have a great impact on the Irish Wolfhound dog's lifespan.
Throughout the years, reputable breeders who created ethical breeding practices contributed a lot to the overall well being of this giant dog breed.
Irish Wolfhound dogs are primarily sighthounds. This means that they mostly rely on their eyes when hunting. Can you recall which dog breed also uses its eyes and outstanding agility during prey hunting?
If you said Greyhound or Whippet, you guessed it right! Normally, some reputable Irish Wolfhound breeders also breed Greyhounds and Whippets. Since they are similar breeds, you may even find Irish Wolfhound cross breeds.
1. Limerick Irish Wolfhounds & Whippets, California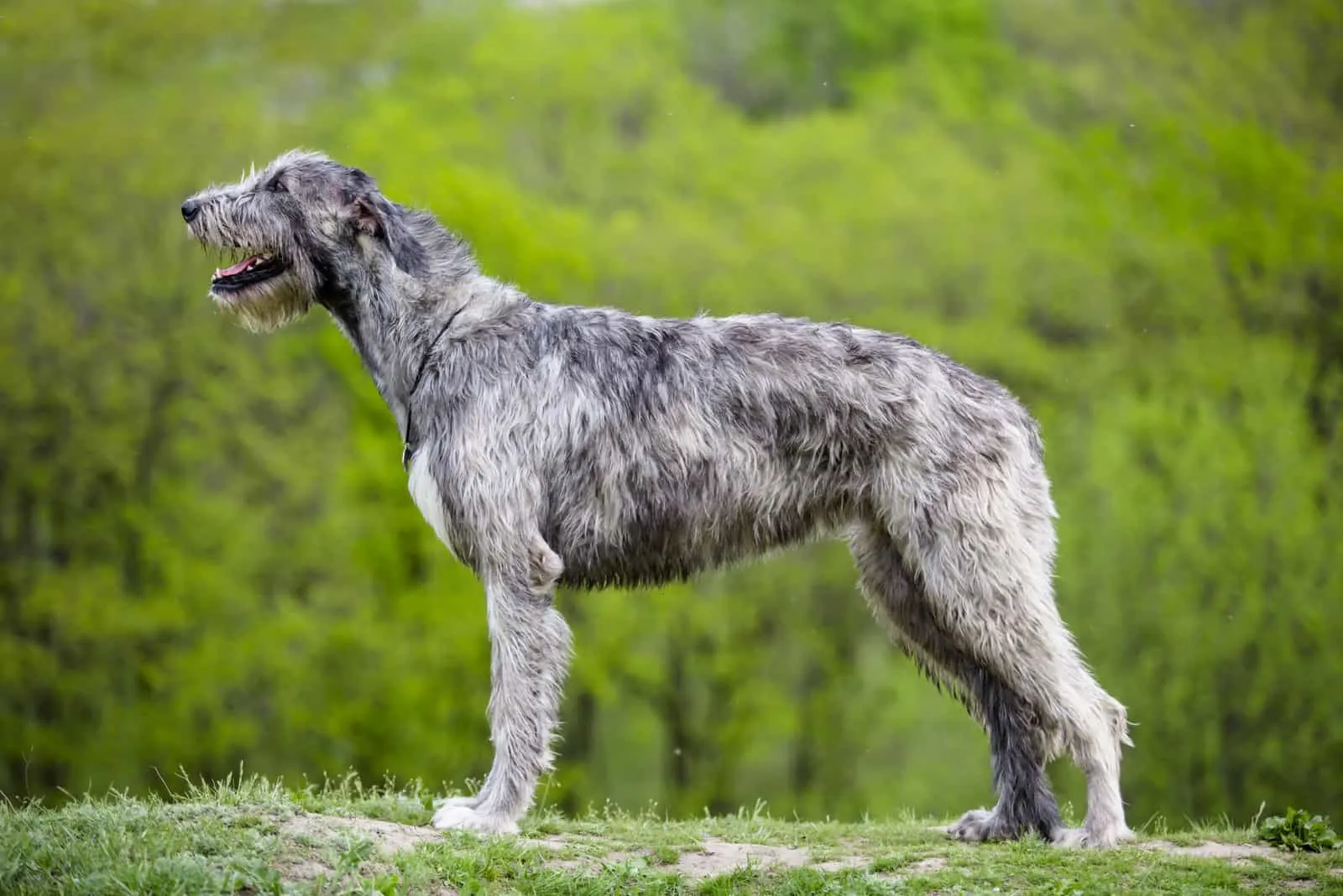 Since we have mentioned Whippets, I figured we should start with a reputable breeder in California who breeds both Irish Wolfhounds and Whippets.
Who They Are
It's hard to describe how amazing these Irish Wolfhound breeders are. Limerick has built its high-quality breeding practice for the past 39 years! In fact, until today they have bred fifteen beautiful Irish Wolfhound litters.
Breeding Program
Limerick breeders wouldn't have succeeded if it wasn't for their exceptional breeding program. Caring for each Irish Wolfhound to a mere detail, the Limerick team has never overbred its foundation female dogs.
In fact, they have never introduced the same Irish Wolfhound stud into the new breeding program. This contributed a lot to their dogs' mental and physical health. Moreover it has had remarkably positive effects on the Irish Wolfhound puppies.
What They Offer
Due to the fact that liver shunts are congenital disorders in this giant breed, Limerick team has arranged regular vet visits to each of their Irish Wolfhound puppies in the litter. That being said, they guarantee each of their pups leaves to its new home as healthy as it can be.
Additionally, new dog owners acquire all OFA health records that guarantee their Irish Wolfhound puppies are clear from hip and elbow disorders.
Limerick Irish Wolfhounds & Whippets details
E-mail: [email protected]
Website: Limerick Irish Wolfhounds & Whippets
Address: San Francisco, California, United States
2. Westover Wolfhounds, Nevada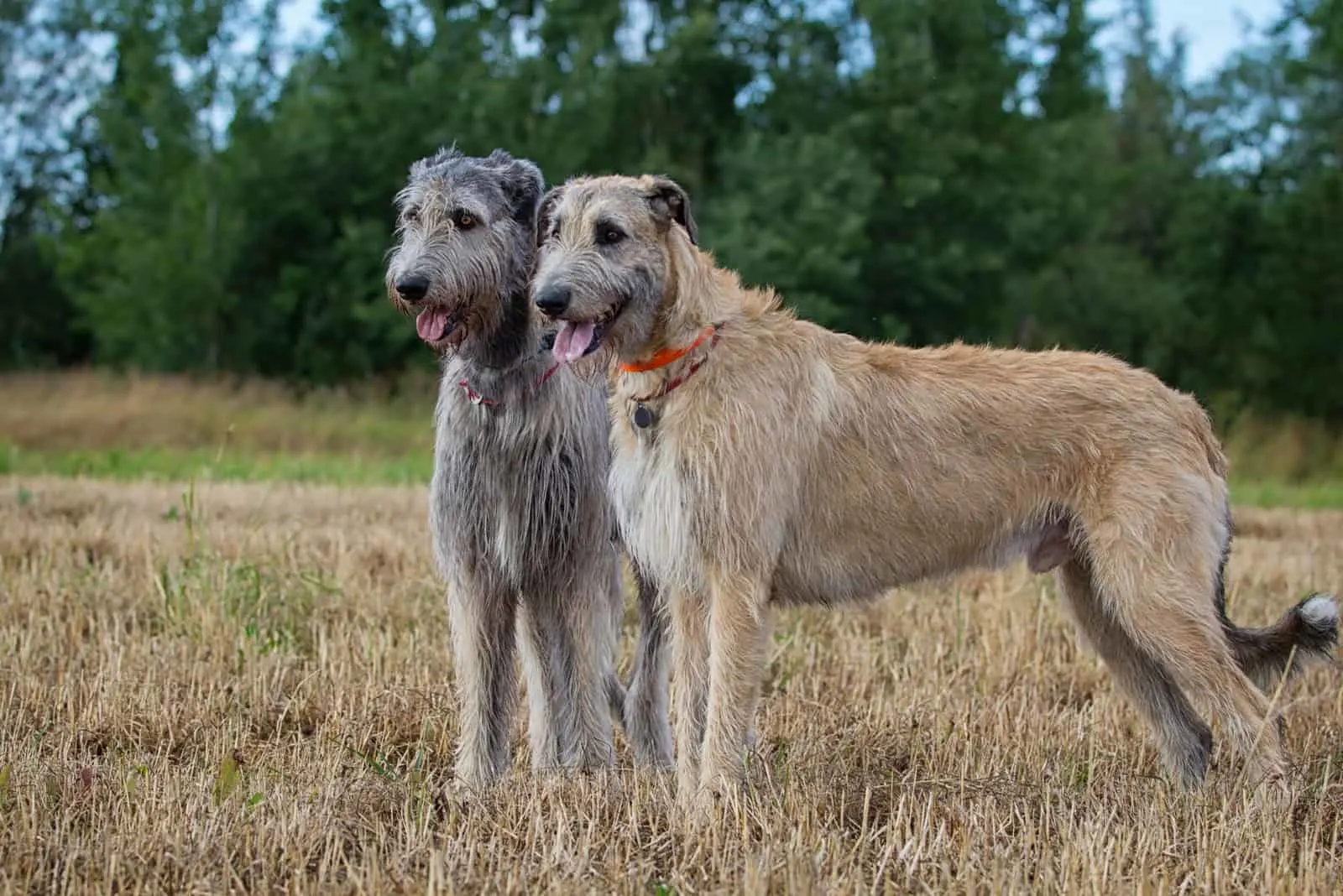 Westover Wolfhounds breeding practice is not only about breeding Irish Wolfhound dogs. It is about getting together Irish Wolfhound dog lovers, informing, educating, and providing the public with everything that there is to know about this giant breed.
Who They Are
Stephanie is the lady behind this incredible breeding program. Her love for Irish Wolfhound dogs has been instilled into her ever since she was a child. Little did she know that all the stories and tales she read about these gentle giants would soon become real.
Breeding Program
Today, Stephanie owns an AKC registered Irish Wolfhound breeding business. And, it's not just a business. Their breeding program is about preserving the Irish Wolfhound quality lineage and producing healthy puppies. As a result, she gets to see these dogs excel in conformation, agility, lure coursing, and obedience.
The Westover Wolfhounds team puts great emphasis on this dog's athletic predisposition. They ensure that each puppy gets just the right amount of physical activity each day. Their dogs are both excellent hunters and professional cuddle buddies!
What They Offer
Westover Wolfhounds offer occasional Wolfie litters that are bred at home. Each of their Irish Wolfhound puppies stays with both dog parents until it matures enough to go to its new home.
All of their puppies come with certified pedigrees, as well as health guarantees, and veterinary records.
These reputable breeders do not rush to sell their puppies, nor do they sell them on a first-come-first-buy basis. Their AKC registered puppies only go to safe and loving new homes.
Westover Wolfhounds details
E-mail: [email protected] and [email protected]
Website: Westover Wolfhounds
Phone: (949) 293-4987
Address: 25 Spoke Road Reno, NV 89508, United States
Facebook: Westover Wolfhounds
Instagram: @westoverwolfhounds
3. Rysheron Irish Wolfhounds, California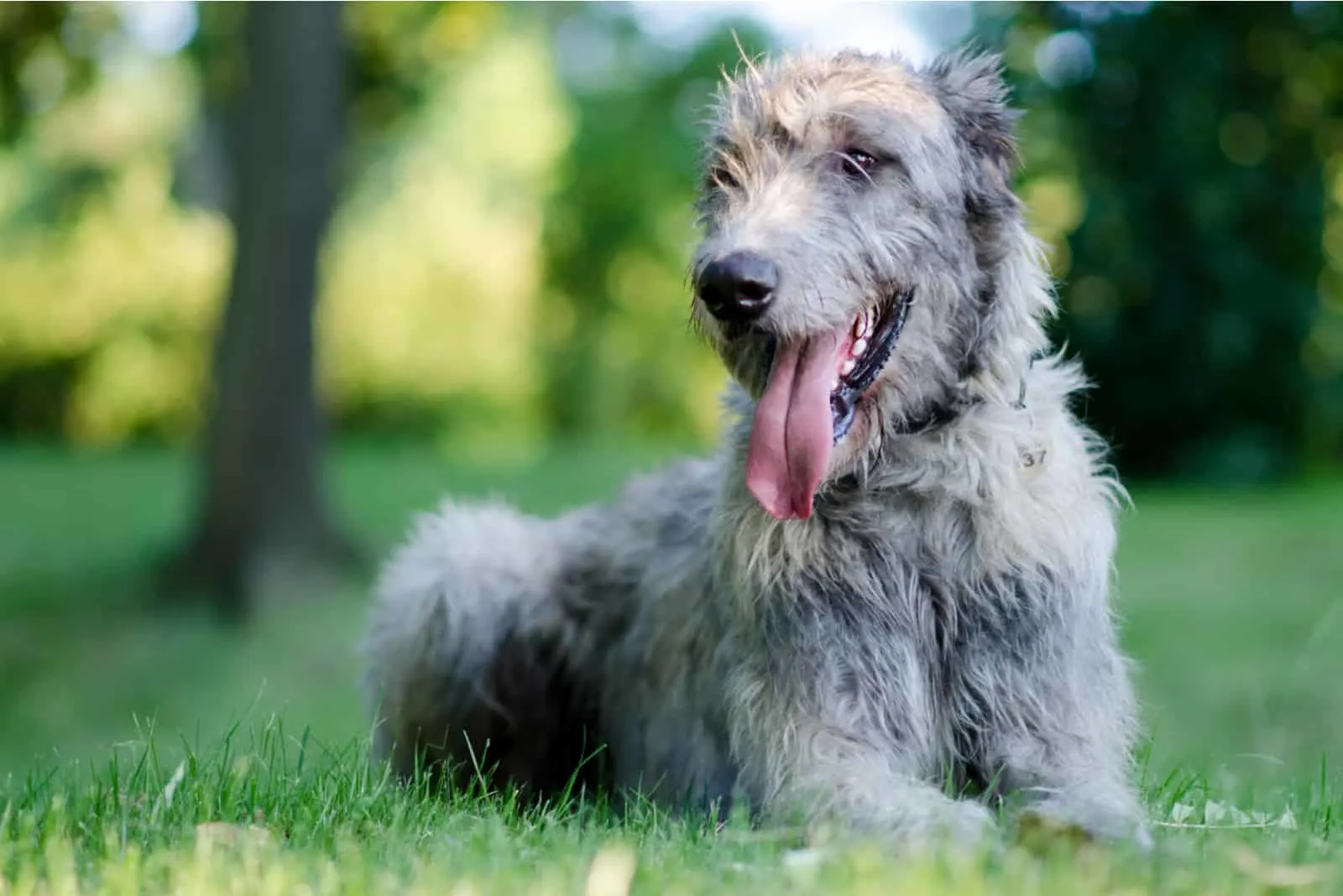 How to recognize a reputable Irish Wolfhound breeder? Take a look at the Rysheron Irish Wolfhounds and all will be said!
Who They Are
Cheryl Riggs is an all-time Irish Wolfhound dog lover who has dedicated her life to breeding and preserving this wonderful dog breed. In fact, she has been around these gentle dogs since 1976! Throughout years of dedication and quality dog breeding, Cheryl has earned the AKC title breeder of merit.
Breeding Program
Focusing on ten rules of ethical breeding, Cheryl never ceases to amaze. Before introducing female and male Irish Wolfhounds into the breeding program, Cheryl carefully studies both dog's pedigrees. We may say that she is very picky when it comes to breeding dogs.
Perhaps this is her secret to developing the healthiest and the prettiest Irish Wolfhound dogs! Rycheron's breeding program also focuses on forming a kind temperament that is the main feature of this giant breed.
What They Offer
Such a high-quality breeding practice only results in healthy and happy Irish Wolfhound puppies. Alongside their friendly temperaments, Rysheron's puppies receive their first set of vaccinations and deworming treatments. They go to their new houses with paws full of important documentation like AKC registration and health guarantees.
In case you have any questions about getting your new Rysheron Irish Wolfhound puppy, make sure to get in touch with Cheryl!
Rysheron Irish Wolfhounds details
E-mail: [email protected]
Website: Rysheron Irish Wolfhounds
Address: PO Box 291228 Phelan CA 92329, United States
Phone: +1.7609120169
4. Carroy Kennels Irish Wolfhounds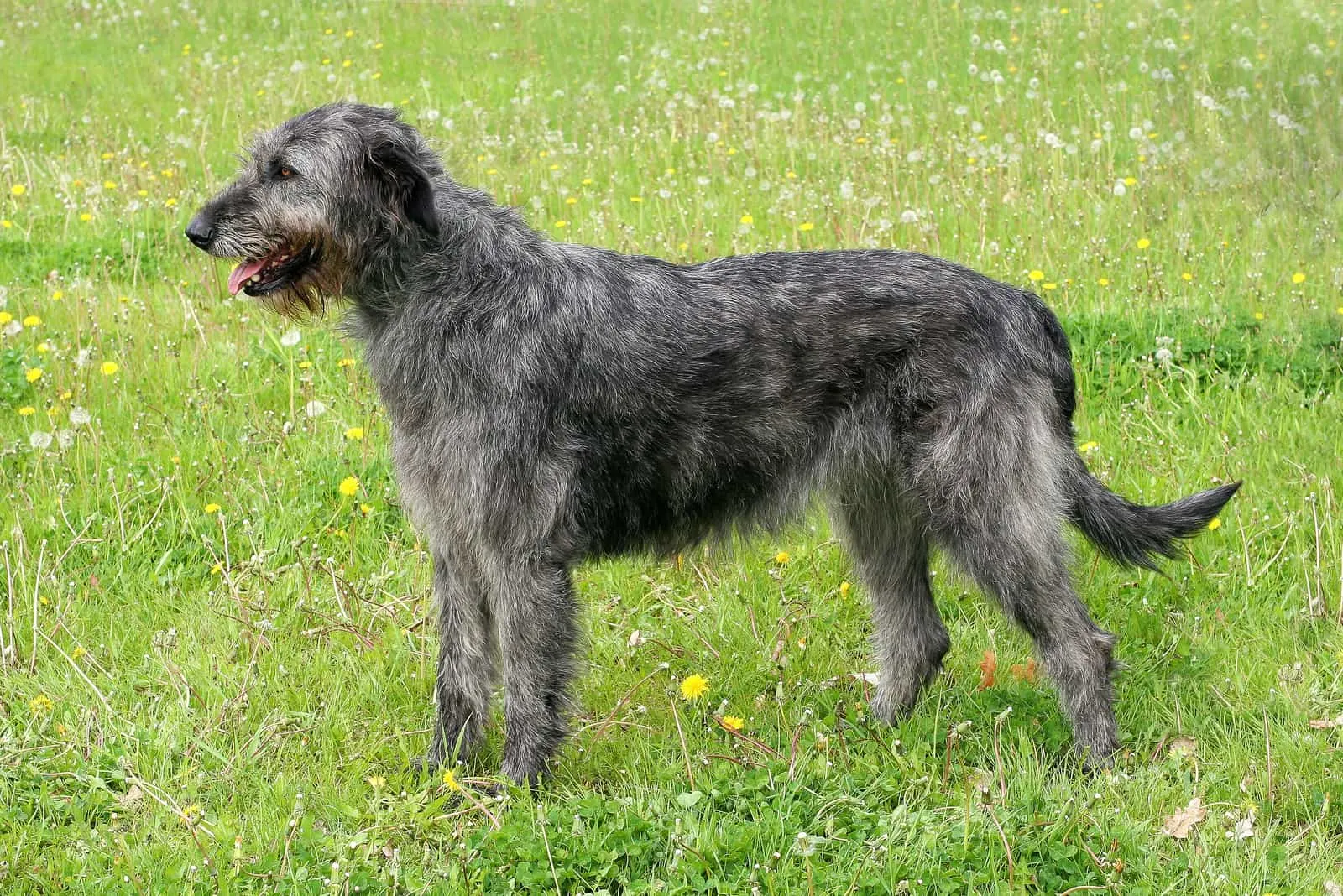 Among reputable breeders on our list who breed their dogs at home, we would like to introduce you to something a bit different.
Who They Are
Carroy Kennels are here to show you how a team of two Irish Wolfhound enthusiasts who happen to be a veterinarian and a veterinary technician.
These responsible dog breeders understand the Irish Wolfhound breed through and through. They are members of the Irish Wolfhound Club Of America and the AKC breeders of merit.
Breeding Program
Carroy Kennels organized their breeding program in accordance with the Code of Ethical Behavior for Breeders (IWCA). Their breeding stock undergoes a series of health tests before the breeding program starts.
Foundation Irish Wolfhound dogs (as well as puppies), go through hip and elbow checks, veterinary ophthalmologist and cardiologist examinations.
Better safe than sorry, right? But, it doesn't end here. Once their Irish Wolfhound puppies reach nine weeks of age, each of them is tested for liver shunt.
Besides health tests, Carroy Kennels put their efforts into early socialization of each Irish Wolfhound puppy. This way they are creating a trusting and loving companion that will adapt well to its new owners.
What They Offer
Due to the fact that their breeding program is greatly focused on health, Carroy Kennels offer energetic and outgoing Irish Wolfhound puppies. Such well raised gentle giants make both amazing show dogs and loyal companions.
When it comes to support, Carroy Kennels are always there when you need them. Their dedication to both the puppy and the new owner continues after the purchase has been made.
Alongside great communication skills and a lifetime support, there is a lot of information that these reputable breeders leave on their site.
So, in case you are curious about the Irish Wolfhound dog, and what it takes to own one, stop by the Carroy Kennels!
Carroy Kennels Irish Wolfhounds details
E-mail: [email protected]
Website: Carroy Kennels Irish Wolfhounds
Phone: 209-742-7387 or mobile – 209-617-6463
How Much Does An Irish Wolfhound Puppy Cost In The U.S.?
The initial cost of an Irish Wolfhound puppy rages between $1200 and $3000. Normally, an average price adds up to $2000. The thing about Irish Wolfhound dogs in the United States is that they are not very popular.
I find the low popularity of this giant breed positive, because a lower demand means that Irish Wolfhound breeders do not have to hurry to meet the market's needs. Slow and careful breeding practice is the best way to go.
Due to its giant size, the adult Irish Wolfhound dog can eat quite a lot. High-quality dog food is what primarily falls under the overall cost of this gentle giant. So, expect to annually spend more than $500 on dog food.
Like many giant breeds, inherited and acquired health issues unfortunately do not skip the Irish Wolfhound dog. They are prone to most giant dog breed health issues such as hip and elbow dysplasia, liver shunts, and gastric torsion (bloat). It's just something to keep in mind before getting a new puppy. The cost of veterinary bills may exceed what you originally planned.
Final Thoughts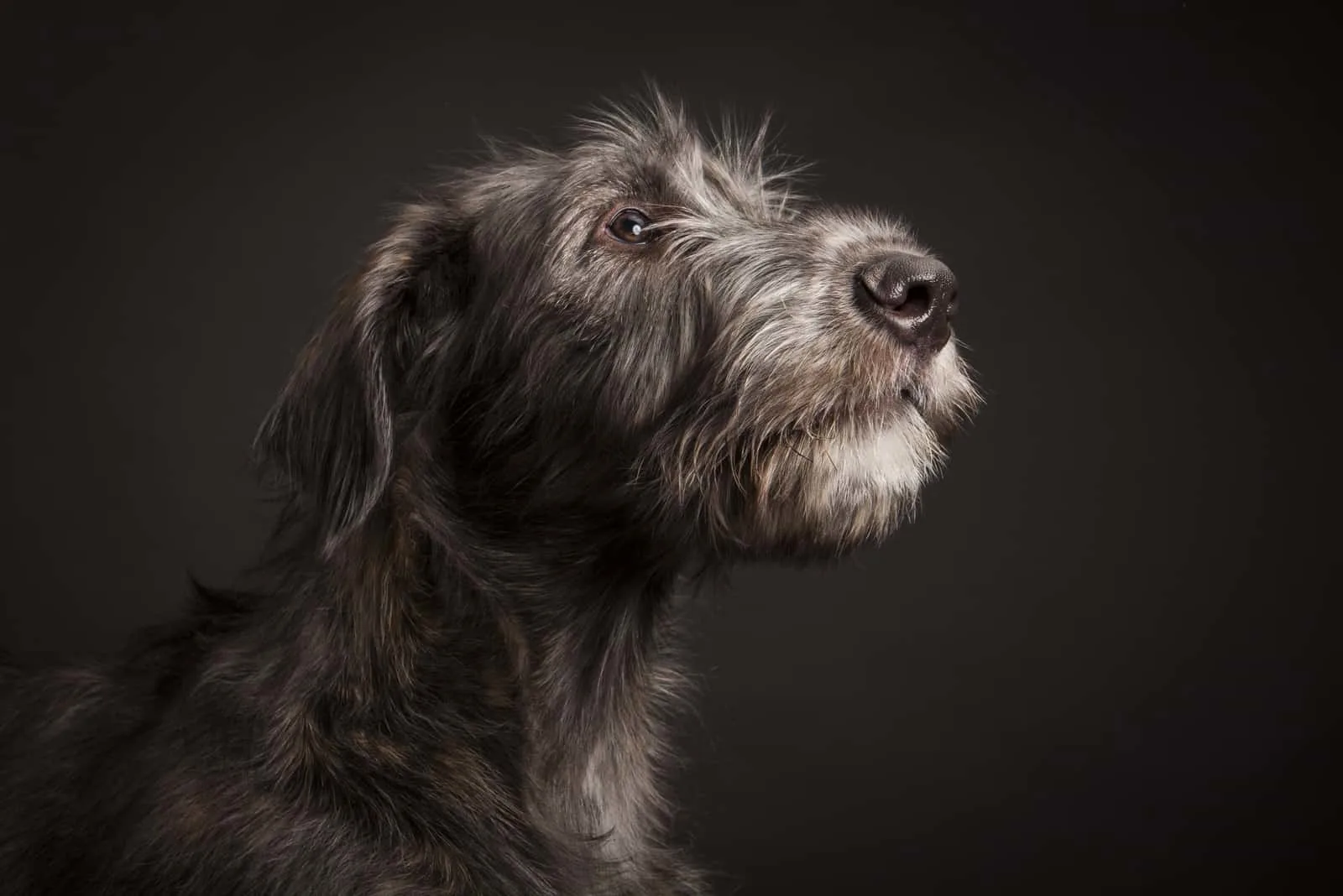 Although the Irish Wolfhound dog is extremely large in size, this gentle giant has earned the title of the best family companion.
Whether you are a first time owner, or had experience with other dog breeds, you won't go wrong with choosing the Irish Wolfhound dog as your new best friend.
It is best to get your Irish Wolfhound puppy at eight weeks of age, because it's easier to train and socialize it according to your lifestyle. This giant breed is extremely intelligent and quite easy to train. However, keep in mind that you are dealing with a giant dog.
Despite its warm and calm nature, the Irish Wolfhound dog may develop behavioral problems if it has not received enough socialization and training. The last thing you would want is for a dog that is bigger than you to misbehave.
Luckily, these Irish Wolfhound breeders give out tips and tricks of socializing and living with your new puppy. They also offer a lot of information that comes in handy to both experienced and first time dog owners.
We did our fair share of gathering the best Irish Wolfhound breeders around. Now, it's all up to you to choose your favorite!
Related Content
• The 6 Best Lagotto Romagnolo Breeders In The U.S. (2022)
• Top 10 Great Dane Breeders – Where To Find Great Dane Puppies For Sale