Once again, you're waking up on the edge of your bed while your doggie sleeps like a log on the rest of it. You know you love your pooch, but sleeping constantly with one of your legs hanging off the bed (best case scenario) doesn't seem lovely at all.
Unfortunately, from my own experience, I have to admit that it's our fault. We were the ones who let them in, but now it's time to train them out of our bed.
You think this is impossible? Don't be so sure. With a little guidance from my side, you'll be able to train your pooch to sleep in its own bed in no time.
Be Persistent In Your Decision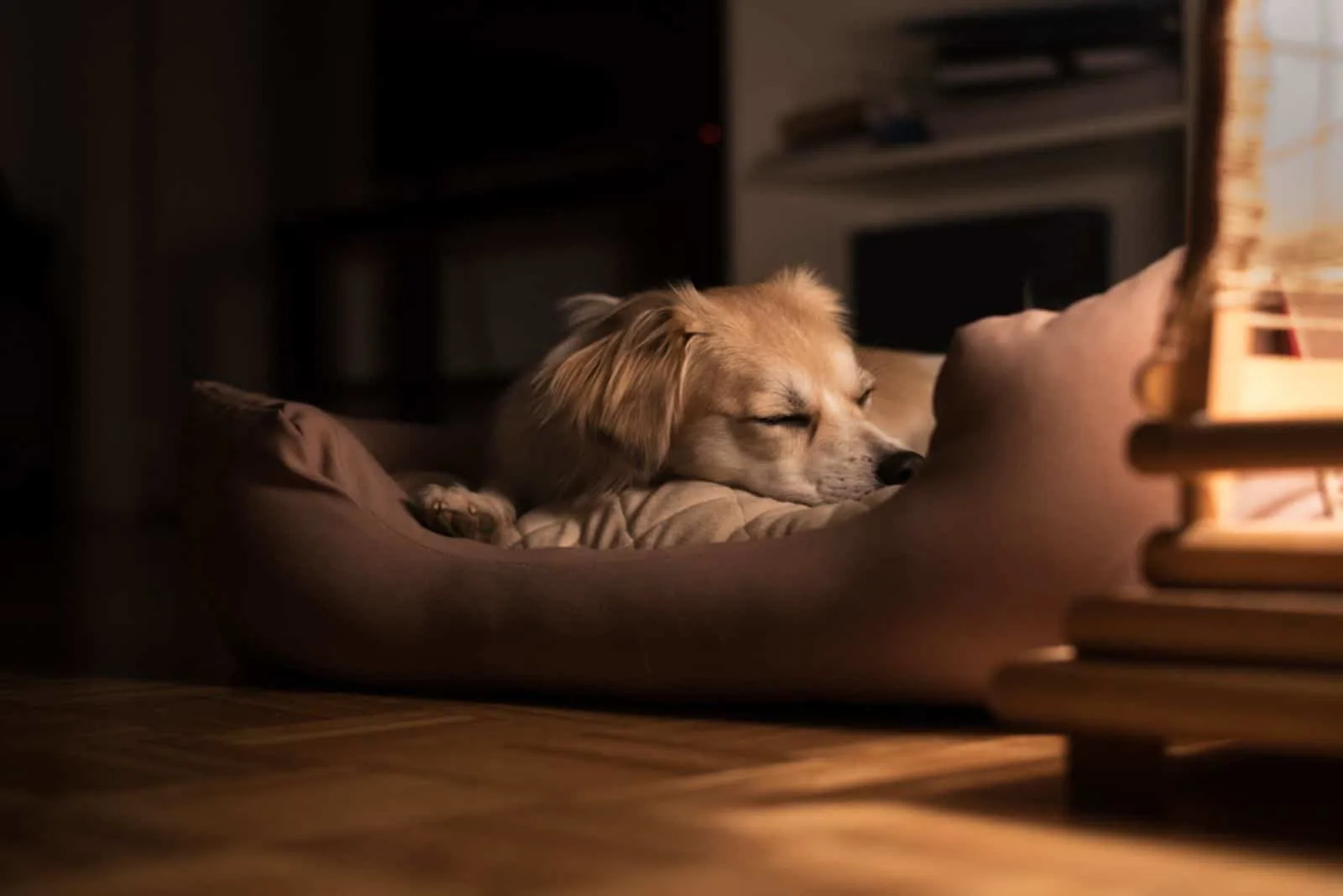 I know… you haven't even started yet, and I'm already telling you not to give up. But, from my personal experience, this is one of the key things to remember when training your pup to sleep in its own bed.
The process might seem tiring, and it will seem a lot easier for you to just let him sleep "one more time" in your bed or on the sofa. However, that will just bring you back to the beginning, and it will make the whole training process even more difficult.
If you remain consistent throughout the process, your pooch will get used to his bed sooner than you think.
Find A Dog Bed Worthy Of A Puppy King
If your pooch refuses to sleep in its own bed, there is a high chance that it's not comfortable for him. Not all beds are fitting for our furry buddies, just like not all mattresses fit us.
There are several factors that impact the quality of a dog bed. Comfort isn't just about the softness of the bed – it's also about the materials and size. [1]
That is exactly why different dog beds are recommended for different breeds, depending on the size of the canine and its weight. You'll never be able to fit a Cane Corso into a bed for Pugs, right?
Once you find a bed that fits your pup (always check online reviews as well), you'll be able to train him to sleep in it in no time. Also, your pup will feel much better, and will get more sleep. [2]
Use The Right Word(s)
In order to train your pup to do anything, you need to prepare a set of commands you'll use for certain actions. I'd strongly suggest you stick to words from everyday vocabulary, so it doesn't take a long time for you to memorize them.
This advice comes from my personal experience. The first time I got a dog, I wanted everything to be perfect, so I did some research on the best commands for German Shepherds.
Although the majority of them were not difficult to memorize, I wasn't consistent with phrases, which left my dog looking like this: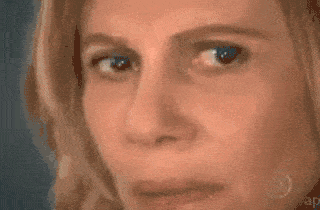 That's when I realized that it's better to continue with the term that first came to my mind instead of trying to memorize the exact command I found online.
You can follow my example, or try hand gestures as well. Some canines simply prefer this type of command, and respond faster to visual signals. [3]
Once you get the right command, your pup will quickly get used to it as well.
Dog Treats Go A Long Way
"The way to a dog's heart is through his stomach."
This quote makes perfect sense just like the original. If dogs could speak, I believe they would wholeheartedly agree with this statement.
In my opinion, treats are just as valuable to we owners as they are to our pets. If you have treats, you can train your pup to do anything, including sleeping in its own bed.
Of course, such a mission will require a great number of repetitions, and that means lots of treats as well.
Therefore, I'd suggest you not train your doggie right after a meal or else he might end up with a painful stomach as a temporary consequence – or with serious, long-term health problems, including obesity, according to a study from the University of Copenhagen. [4]
The usage of a reward system will motivate your doggie to learn commands and be a good boy during the training. However, after the canine gets used to the command and his new place for sleeping, it's time to cut out the treats.
When Is The Right Time To Cut Down On Treats?
You won't need to use treats to get your doggo in his bed every night for the rest of your life, of course. But, I do understand your concern regarding this system.
The best way to stop using treats as the main means of fulfilling the commands is to skip on rewards during repetitions.
If you have noticed that your pup lays down on his bed multiple times without any issues, it's time to cut down on the treats, and give them rather randomly, so the pooch still expects them, but fulfills the commands even if they're not rewarded every time.
According to Sassafras Lowrey's words in the American Kennel Club's article, it's not just about the amount of treats and the frequency of rewarding, but the type of reward as well.
While training your pet to sleep in its bed, you can reward him with other things such as his favorite toy, game, or anything else that will motivate your pup to repeat the action.
Step Away From The Bed, Hooman
During the training process, you will need to be next to the dog's bed, so your pooch understands the command and the place he should go to.
However, this does not mean you'll have to stand there every night or else the whole training will be an effort in vain.
You can set yourself a new challenge by increasing the distance between you and the pup each time it lays on the bed. This way, the doggo will learn to stay on the bed even when you leave, and you'll finally get good sleep.
But, if you and your furry companion have a bedtime routine, just like this adorable Lab, it's okay to tuck him in, but only if the pup is able to stay in its bed when you're gone.
Will Crate Training Keep The Doggie In His Bed?
I believe that crate training is quite beneficial for both the owner and the dog. If you crate train your new puppy, it will learn how to control its potty needs during the night.
According to my experience, and a handout from UC Davis School of Veterinary Medicine, dogs rarely have "potty accidents" inside crates, and they are able to have full control over their body until they get out.
Also, crate training will help your pooch become more independent, so you won't have to worry about your pup following you to the bathroom during the night because it doesn't want to stay alone.
If you help your doggie get used to the crate from an early age, you'll be able to train it to sleep in its own bed as well.
I have to admit that I had some doubts the first time I tried this method, but after seeing how easily my little furry buddy got used to his crate, and later, his bed, I'd do it all over again.
Let's Wrap It Up
If you have ever woken up in the morning with a headache, I'm sure the first thing you thought was, "How do I train my dog to sleep in its bed?"
Fortunately, with a little help, you can easily train your pup to finally start sleeping in his own bed. If you still don't believe that this is possible, I recommend you watch
You don't have to thank me… I'll be glad just to know that you're finally able to get good sleep without your doggie's bum right next to your head.
READ MORE: Why Shouldn't Your Dog Sleep With You, And How To Stop This
References:
1. WebMD Editorial Contributors. "How to Choose the Right Bed For Your Dog." Pets WebMD website.
2. Paretts, Susan. (September 1, 2021.). "The Importance of a Good Dog Bed." American Kennel Club Website.
3. Scandurra, A., Alterisio, A., Aria, M. et al. Should I fetch one or the other? A study on dogs on the object choice in the bimodal contrasting paradigm. Anim Cogn 21, 119–126 (2018). DOI
4. Pablo Ranea-Robles, Jens Lund, Christoffer Clemmensen. The physiology of experimental overfeeding in animals. Molecular Metabolism, Volume 64, 2022, 101573, ISSN 2212-8778, DOI