If you have pets, you know how hard it can be sometimes to leave them alone at home while you have to go work for 8 hours at least. We get attached to our furry friends so much that leaving them sometimes feels so difficult and sad.
As dog owners, we have to deal with having to go to work every day, and at the same time, try to find ways how to keep the dog entertained while at work. Some dogs don't mind being left alone, whereas others may find it torturous.
And, because we know that you have been asking yourself, how to keep a dog entertained while at work — we have found 19 ways that can help your dog deal with separation anxiety.
If you are interested in finding out what those ways are, keep on reading!
How Do I Keep My Dog Entertained While I'm At Work?
Dogs are social animals who need a lot of attention from their owners.
Separation anxiety occurs in dogs that are overly attached to their owner, and when left alone, they tend to be depressed, anxious, destructive, or show other emotions.
If you have a dog that is experiencing all those things, and because of that, you are constantly worrying about him while at work, which then affects your health and ability to work, you are at the right place.
You must be wondering how to keep your dog entertained while at work. Well, there are, of course, some tips and tricks that you can try and see which ones work for you and your pooch.
1. TV On/Radio On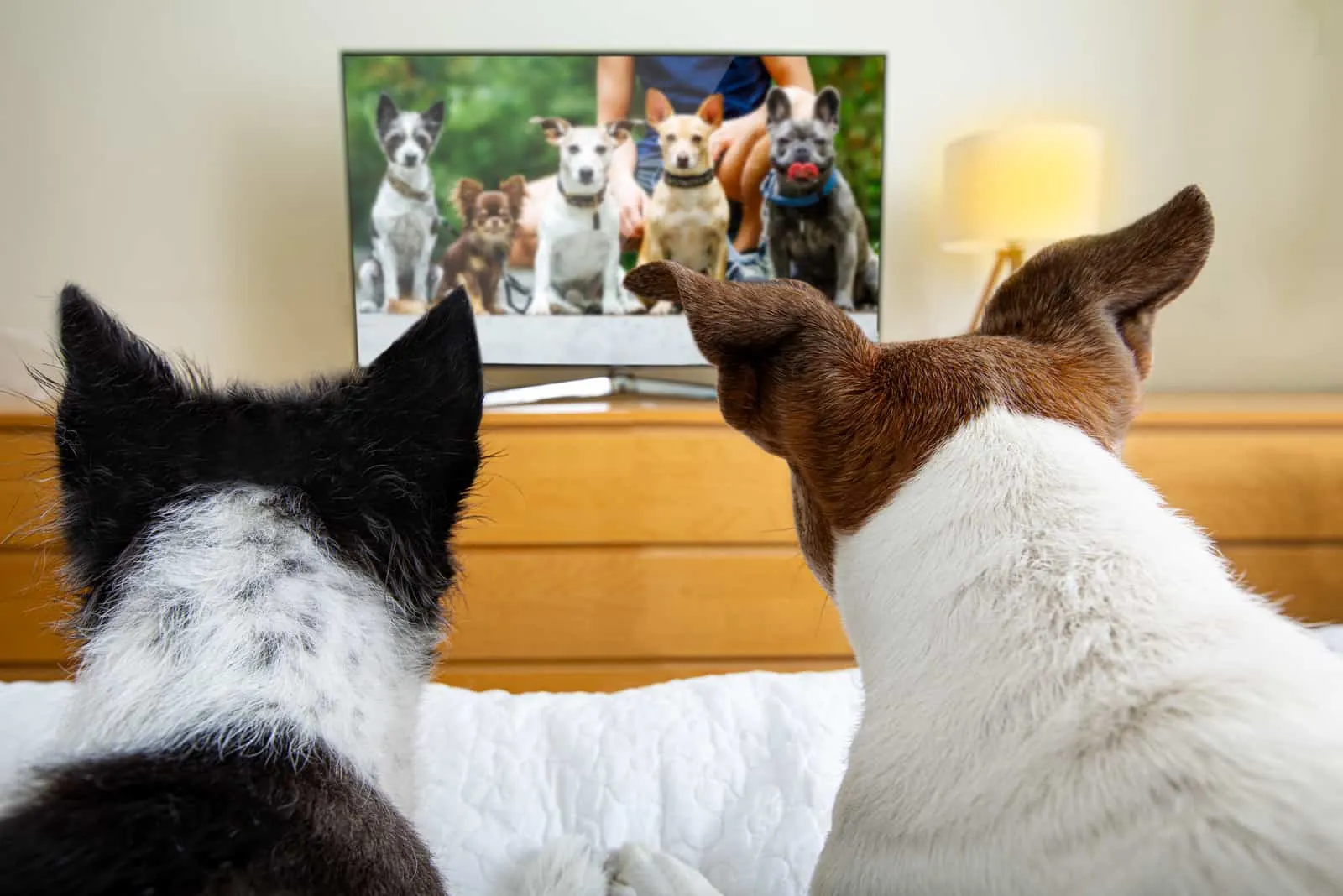 One of the best ways to keep your dog entertained is to leave the TV playing. You can put on cartoons or animal-based shows.
Animal-themed channels like Animal Planet are a great solution because it will play something that can be interesting to your dog for the whole day. It will keep them occupied, and the long duration will keep them distracted for most of the day.
Another great option is to leave the radio on, preferably playing some classical music. A lot of research has shown that classical music reduces stress and anxiety in dogs.
Those sounds help stimulate the dog's brain, and therefore, soothe and calm him.
2. White Noise
White noise is a great alternative for the TV or the radio. If you notice that maybe those two don't help calm your dog, you can try white noise.
If they hear sounds from the outside, dogs can become quite restless and start growling and barking, which can also make your neighbors restless and angry.
In this case, you can try putting on white noise while you are away. It will help block the noises from the outside and calm your dog.
Today, there are many machines for white noise specifically made for dogs, but also, if you don't want to buy anything, you can try something that you already have in the house, such as a fan, an AC, or some other device that is able to produce a similar noise.
3. Window View
Dogs that are constantly inside will probably be quite nostalgic for the outside world, especially if they hear some noises coming from the outside.
To keep your dog calmer and more entertained, provide him with a view to the outside world. Many dogs love to observe what is going on in order to keep them busy.
Leave the curtains open, so they are able to look outside, and if you have a small-breed dog, you can also place a cushion, a chair, or something like that so he or she can also see outside.
4. Relax Space
In order for your dog to be happy while being home alone, it is necessary to make your place adaptable and comfortable for him.
Ideally, while being home alone, your dog will probably want to snooze for a couple of hours, so it is a good idea to invest in a comfortable and cozy bed that will keep your pooch happy and excited to be resting for a bit.
If you have a few more bucks to spend, there are quite a few heated dog beds on the market that you can try, especially if you know that your dog loves warm and cozy places. Check out Amazon, for example, to see if you can find something in your price range that will suit your dog.
5. A Furry Friend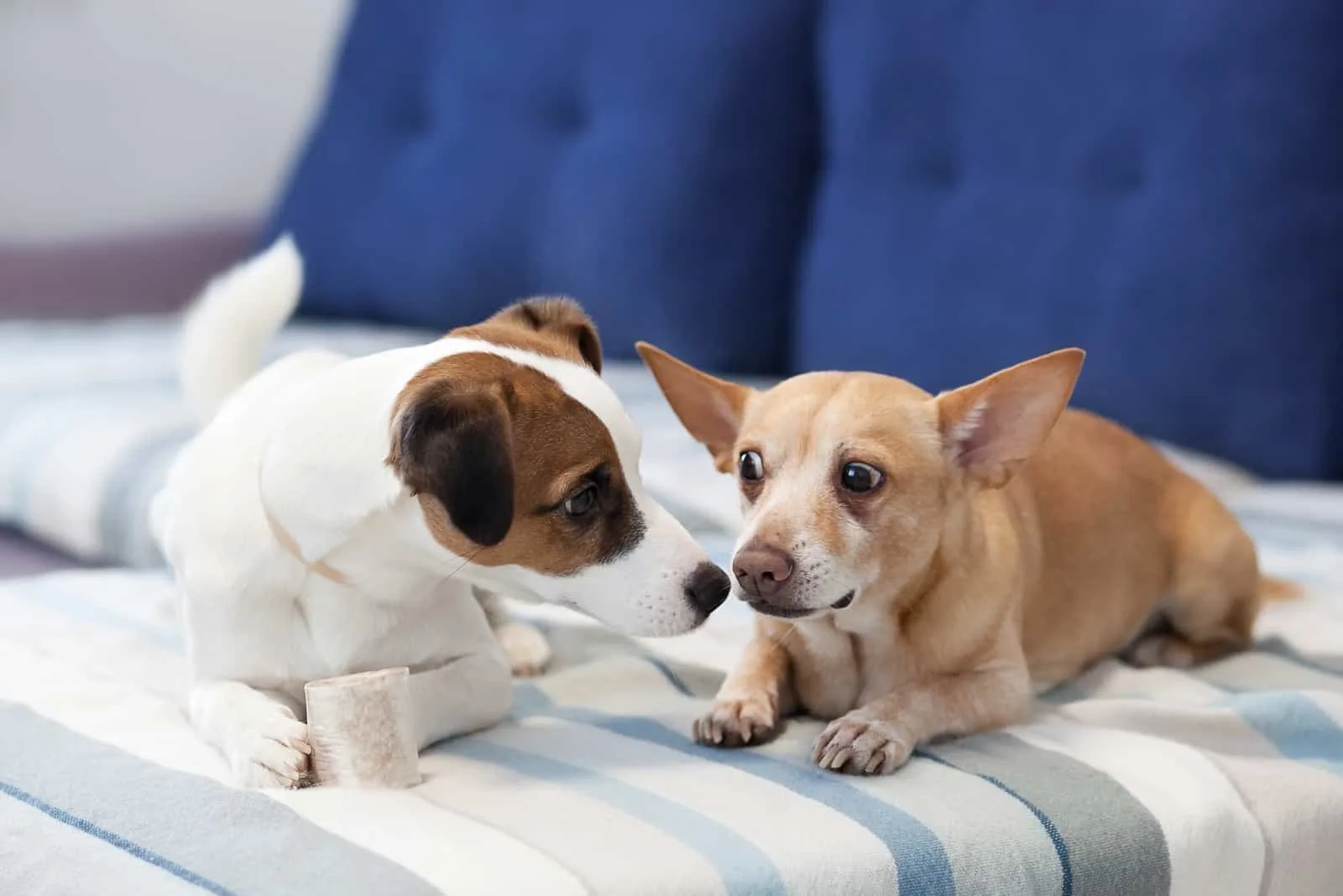 There is probably nothing more that will help your dog with staying home while you are at work than having a furry friend to hang out and play with.
This is definitely not an easy decision since getting one more dog is a big deal, but if you work a lot and don't have that much time to spend with him/her, then you should probably consider getting a little friend for your doggy.
A dog that is alone in the house will more likely be bored and do some naughty things like chew some furniture, or destroy something. It is their way of dealing with loneliness.
But, two dogs will keep each other entertained because they can play together and socialize. This will indeed help your dog with separation anxiety because he will have someone to keep his mind off of you.
6. Treats
To keep your pooch entertained, you can also try to dispense some dog treats like kibble or small piles of dog food that your dog likes around the house, which will make your dog hunt for them, and thus, keep him busy.
A scavenger hunt is a great way of keeping your dog's brain stimulated while also making him entertained. Instead of food, you can try to hide some toys.
Just keep in mind not to leave a lot of food for him in the same place, or in an unreachable place because then, he will probably break something in the process of getting the treat.
7. Doggy Daycare
Doggy Daycare is similar to children's daycare. It is an institution which cares for your dog while you are at work, so you can drop him off in the morning before going to work, and pick him up in the afternoon.
Your dog will have a professional who will look after him, and an opportunity to socialize with other dogs. His day will be filled with activities specifically made for him and his needs, so you won't have to worry about your doggy while working.
8. Dog Walker
Dog walking is also a great solution for people who don't have an opportunity to enroll their dog in doggy daycare. A dog walker will do just what the title says. He or she will make sure that your dog gets daily exercise by taking him out for a long walk.
This way, you don't have to worry about your dog being bored while you are at work, and even if you for some reason need to go somewhere for a couple of days, a dog walker will take care of your dog for you.
There are many apps and sites today for this since more and more people are doing this kind of job as a part-time job or even as a hobby. Search for some dog walkers in your area and check whether this can help keep your dog entertained.
9. Play Date
Play dates are extremely important for dogs in the same way as they are for children – to help them socialize and provide a kind of outlet for excess energy. Playtime is also essential for your dog's mental stimulation because it helps their healthy development.
If you have friends or family members who also have dogs, you can arrange with them to pick up your dog and take it out for an hour or two of playing and running in the park with other dogs.
10. Physical Activity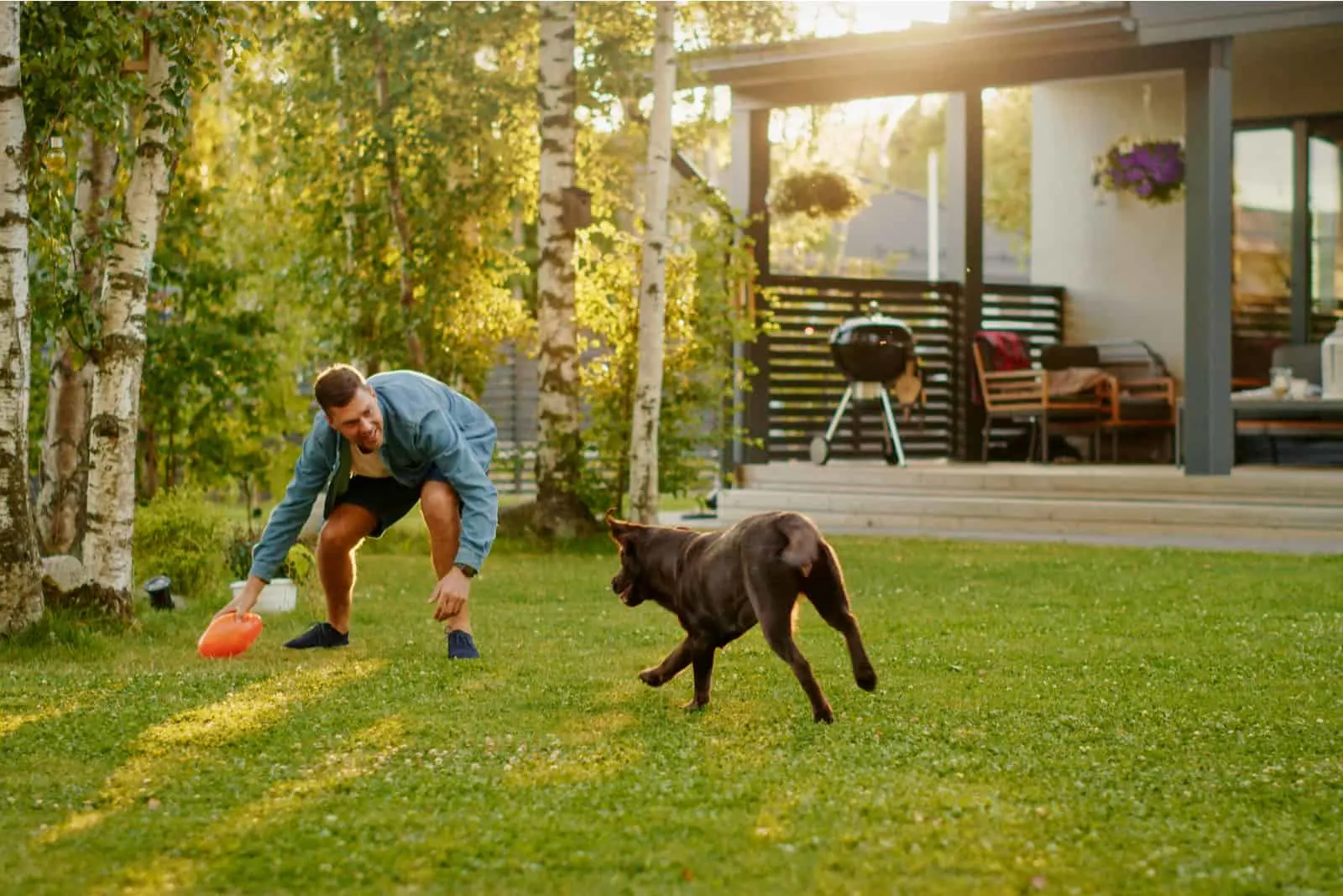 A great tip to keep your dog less bored during your workday is to make sure your pooch gets a good workout before you leave him.
If you are able to do so, try to take your dog out for a walk or play fetch before leaving him. This physical activity will tire your dog so he/she will just want to rest for a bit and probably take a little snooze, so he will not even notice that you are gone.
11. Snuffle Mat
Snuffle mats are a great way to keep your dog entertained, and provide him with physical and mental activity and enrichment. They are also a great way to keep your dog entertained while you're at work, and also a great way for them to play independently even when you are home.
A snuffle mat is essentially a larger mat that can be used to hide treats easily. It is made to entice dogs into sniffing and searching, and it also helps the dog to learn to eat slower.
A snuffle mat is not difficult to make, so you could easily DIY without spending too much.
12. New Toys
We all know that dogs love toys. And, what can make a dog happy more than a new dog toy? They get so excited when they see it.
Getting your dog a new toy will keep him excited and distracted for some time; therefore, helping him deal with separation anxiety better.
If you find a good chew toy, your dog will not only have something to play with, but also he will have something to chew on, which is good for his dental hygiene. This way, you will less likely find your dog chewing on furniture, shoes, and other house stuff.
It is also a good thing to rotate the toys regularly, and thus, provide your puppy with different new toys each day in order to keep it more interesting for him.
13. Stimulation Toys
Dog toys are a great way to keep your dog's brain stimulated. Interactive toys are especially great when it comes to mental stimulation and promoting problem-solving skills.
They don't only entertain your dogs while you are at work, but they also help your dog develop its senses and brain power through sniffing, licking, and exploring.
Some of the best interactive toys are:
• Stuffed Toys With Peanut Butter
These stuffed toys provide great mental stimulation for hours. They have a small opening on top and a large one on the bottom, and they can be filled with a lot of things such as peanut butter, yogurt, or fruit.
These toys are great not only because they will keep your dog busy for a couple of hours, but also, peanut butter will serve as a reward for your dog, which will make him think less of you not being there.
Positive reinforcement is key in dealing with separation anxiety.
• Puzzle Toys
Food puzzles provide a lot of benefits for dogs. These treat-dispensing toys are great for developing canine skills and mastering problem-solving skills.
They will keep your dog entertained for hours, and they will especially help those high-energy dogs to tire out and sleep better.
• Hide And Seek Games
Playing hide and seek is a great way to keep your dog entertained, and also, it will promote and encourage the stimulation of their natural behaviors.
A good thing is to find one of your dog's toys and hide it before going to work, which then will make your dog excited and encouraged to seek where it is hidden; thus, distracting him from the fact that you are gone.
14. Pet Cam
If you would like to know what your furry friend is doing when he is alone, you can get a dog camera. A dog camera is perfect for pet parents who want to check on their pets while they are not in the house.
You can set it in the playroom, living room, or anywhere that has good visibility, and just by quickly looking on your phone, you can see if everything is alright at home.
Nowadays, since technology is developing more and more, you can find dog cameras that have many features besides the camera itself. You can get a camera that has a built-in treat dispenser, or a two-way audio and video chat system.
The Furbo Dog Camera is a great example of a good pet cam because it allows you to see your dog, talk to him, and toss out treats for him.
15. Play Space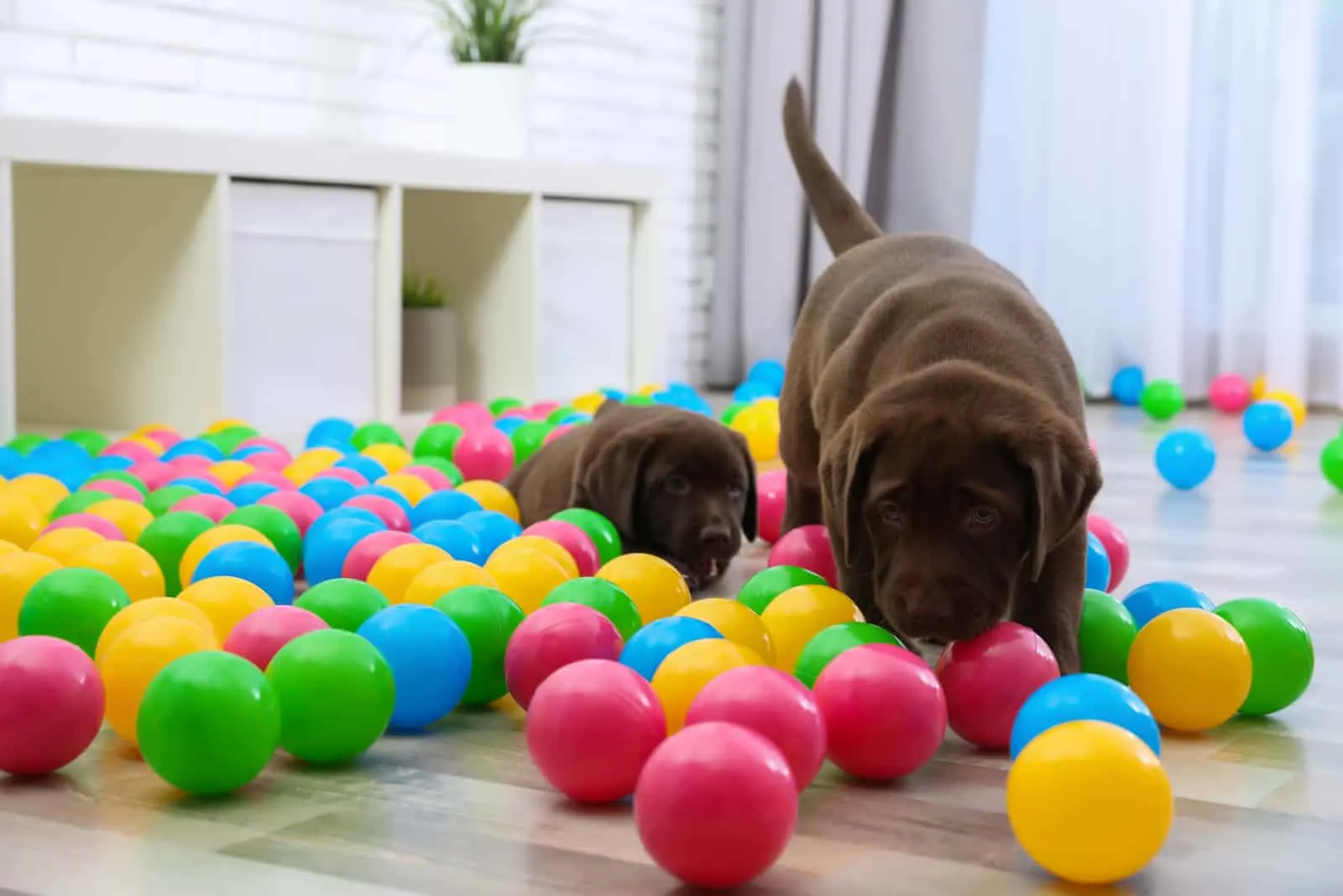 If you perhaps have an extra room in your house or in your apartment, you can set up a play space for your puppy. Put all of his favorite toys inside, along with some of his comfort items, and he will have a comfortable place to play and hang out during the day.
This way, even though your pup is closed inside, through his interactive toys, he will still get enough stimulation to keep him occupied.
16. Ice Treats
Dogs love ice, and ice treats even more. So, a great way to keep them excited and busy for a while is to prepare an ice treat. Freeze some chewy treats or some toys overnight, and give them to him in the morning before you leave.
A good option is dog-safe fruits like blueberries or watermelon. And, if you don't use all of them for your dog, those fruity ice cubes are the perfect addition to any summer drink!
17. Calming Treats
If you know that your dog gets extra anxious while you are not home, you can try some calming treats that will help him relax and stay calm.
For example, you can use some calming essential oils, or a dog pheromone.
Pheromones help dogs feel safe and secure, and they prevent unwanted behaviors such as barking, whining, and crying. You can try pheromone diffusers, sprays, or dog collars and see what works the best.
18. Bonus Tip: Self-fetching Toys
A great way to play with your dog without actually being present is to invest in some self-fetching toys; for example, an automatic dog ball launcher. This interactive and innovative toy will keep your dog entertained for hours.
19. Bonus Tip: Water Fountain
Making sure your dog is hydrated is a must, especially while you are gone for several hours. A water fountain is a really fun way to remind your dog to drink water, but it is also a very interesting toy that will keep your dog excited and occupied for a while.
Can A Dog Be Left Alone For 8 Hours?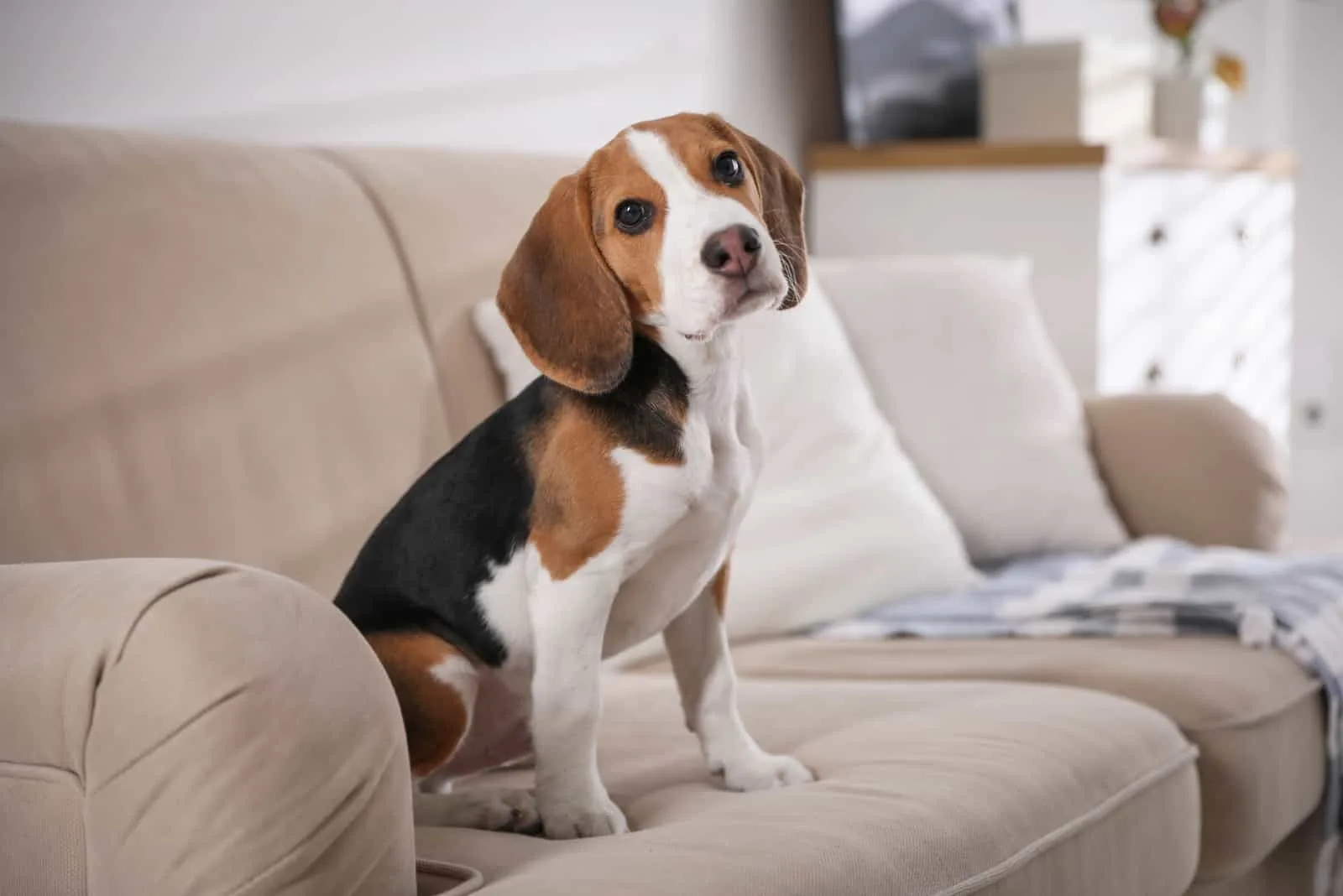 Most people work for at least eight hours a day, and leaving their dog home alone brings a lot of worry, and questions like, how do I keep my dog entertained while at work?
While most dogs are okay with being left alone for that period of time, some are not. It all depends on the breed of dog and their age.
Of course, younger dogs, such as small puppies, should not be left alone for more than a couple of hours because they require more care than adult dogs.
But, it is also not advisable to leave your dog, no matter the age or the breed, for more than eight hours. In a perfect world, no one would leave them, but it is necessary when you have to work.
So, if you have to do it, make sure that your dog has everything it needs while you are away, such as enough food and toys to keep it entertained.
Conclusion
Leaving a dog home alone can be extremely hard for the dog owner. It causes a lot of sadness and worry.
If you are one of those owners who keeps asking himself all the time: "How to keep a dog entertained while at work?", we hope that this article has helped you and given you some new and interesting ideas that you can try with your little pooch.
But, don't worry – over time, every dog learns to accept your work time and deal with it. Although it may seem impossible and very difficult in the beginning, eventually they will get used to it.
And, by using some of the above-mentioned tips and tricks, I am sure that you will be able to relax knowing that your dog is safe and entertained at home.
RELATED LINKS:
The 6 Best Dog Toys For Cane Corso – Strong Toys For Mighty Dogs