This post contains affiliate links, and I will be compensated if you make a purchase after clicking on my links.
Is there a canine more challenging to pick a dog toy for than a Cane Corso? It seems like getting this dog entertained can be an impossible task!
A Cane Corso is a dog breed with the strongest bite. It has a bite force of 700 PSI, which is stronger than the lion! As such, the best dog toys for Cane Corsos need to be strong enough to withstand these powerful jaws.
Large dog breeds, such as Cane Corsos, are known for chewing, biting, and essentially, ruining their toys. Many dog owners seem to give up buying toys for their big doggies and opt to simply play a game of fetch using sticks, but there are many advantages to using dog toys you shouldn't ignore.
As such, I would advise you to invest in durable toys your Cane Corso won't destroy after a few minutes of playtime.
But how can you know what toys are good enough? Don't fret – I'm here to help you out.
I've gathered a list of the 6 best dog toys for Cane Corsos that should be durable enough to withstand the force of your pooch.
Here's what these toys are:
Best Dog Toys For Cane Corso Ratings
Before we get started, it's important to look at the rating of each product. Sure, ratings are not everything, but they can help you decide whether you want to spend time researching a product or not.
Here are the listed products and their ratings on websites such as Amazon or Chewy:
The 6 Best Dog Toys For Cane Corso
Many inexperienced dog owners think that dog toys aren't a necessity. A dog can play with a stick or just run around and appear just as happy.
However, many dog toys are designed to stimulate specific parts of the canine brain and ensure your pooch is entertained in a beneficial way.
Also, when you have a potentially dangerous breed such as the Cane Corso dog, it's essential to keep it from getting bored.
A bored dog is more likely to express destructive behaviors. This isn't something you want with a Cane Corso.
Dog toys can ensure your pup is entertained even when you're not around, and they can keep your house in one piece.
Now that you know why these products are important, these are the 6 best dog toys for Cane Corsos you shouldn't miss looking at:
If your pooch loves to play fetch, you should get him a strong dog ball – and this one might be an amazing choice.
First and foremost, it's made with a thick and durable rubber core, so it should be able to withstand aggressive chewers such as Cane Corsos.
Still, this isn't a dog chew toy, and it should be used for a game of fetch and not for you Cane Corso to constantly bite on it.
The ball floats, so it's also suitable for dogs that love to play in the water. Not just that, but as the ball is bouncy, it can provide splashes, adding to the fun.
The bright colors of this item can help you locate it in the dark, so you don't have to worry if it gets lost during the nighttime play sessions.
Finally, if you don't have the time to play with your Cane Corso as much as you should, you can always get him the ChuckIt! Launcher. This item is suitable for the ball, and it can toss the ball instead of you.
Believe it or not, you can train your dog to play with the Launcher on his own. Once he places it on the pedestal, the Launcher will throw it, and the play can continue.
If you're looking for the best dog toys for Cane Corsos and other Mastiff-type dogs or Bulldogs that are known for being heavy chewers, you cannot make a better choice than buying a product from the brand Kong.
This is a toy that sits upright until your Cane Corso pushes it. This will cause it to wobble and to dispense dog treats you put in it. To do this, you should simply unscrew the top off and put your Cane Corso's favorite treats.
As the Kong moves unpredictably, it will awaken your dog's prey drive and natural instincts. This will make sure your Cane Corso is entertained for hours to come!
Not just that, but as it's made out of a high-strength polymer, the toy is nearly indestructible.
The biggest issue is that this toy is designed for hard toys only. It won't have too much purpose if you fill it with peanut butter or a similar, more liquid food.
Fortunately, the toy is effortless to clean. You can simply remove the top, then place it in a dishwasher.
This is a pet product designed for large breeds and for other aggressive chewers, such as Pitbulls or German Shepherds.
It gives your Cane Corso something to chew on, while also cleaning his teeth from tartar and plaque buildup. This is a great choice for any dog, as dental issues are very common.
The toy has a peanut butter taste but it isn't edible. This means your pooch will enjoy gnawing and chewing on it for hours to come, without ruining it.
The biggest issue is that this isn't a puzzle toy. It won't provide any excessive mental stimulation. However, it is better to have this toy than no toy at all.
Not just that, but this toy can be amazing for teething Cane Corso puppies.
This is an amazing multi-purpose dog toy that both the Cane Corso and the Cane Corso owner will enjoy. It is virtually indestructible as it's made to withstand even heavy chewing, but it is also suitable for tug-of-war and other rougher games.
It's made with natural rubber that is extremely durable. Even a Cane Corso shouldn't be a match for it. Just to make sure, the manufacturer ensured the toy has a shock-absorbing design, so you can even toss it around!
The item is made with 100% safe, non-toxic materials that will ensure your pooch can gnaw on it. This only further proves how durable it is.
Also, it has a smooth surface that you Cane Corso will love. However, don't expect it to clean your Cane Corso's teeth.
Cane Corsos are mighty dogs that do have a gentle side. For example, they are known to get connected with their toys and they will love having them around. This toy is perfect for that.
Kong's Classic Dog Toy has been with us for more than 40 years. This is enough to show how much dog owners love it and use it constantly. In fact, it might be one of the most famous products from this manufacturer.
It's rather similar to the Wobbler toy, as the toy bounces around, awakening Cane Corso's natural hunting dog instincts. You can fill it with peanut butter or any other treat your Cane Corso loves for additional fun.
These toys can help your pooch get rid of separation anxiety, as they'll be too busy playing with them than being sad because you're not around. Also, your Cane Corso might grow to really love his Kong Classic toy, and he'll carry it everywhere – something that's therapeutic for your pooch.
Cane Corsos love rope toys! These items can be used for a tug-of-war, but many are small and flexible enough for your pooch to bring into a dog bed or even their kennel or a crate.
In fact, Mammoth is a famous brand for its rope toys that can come in many shapes, lengths, and sizes. They are a great choice for both old dogs and for teething Cane Corso puppies.
The fibers on the rope can floss your puppy's teeth, cleaning them and removing any buildup. While you mustn't forget about hygiene products, such toys are an amazing way to make things easier for your dog's veterinarian.
At the same time, the toy is durable enough to withstand even the heaviest of chewers, including Cane Corsos that can play with them for hours.
No matter the age of your doggie, he will surely enjoy this dog toy!
You can get two varieties, with five knots and with three knots – but I would suggest you pick the one with five knots for your Cane Corso pup.
FAQs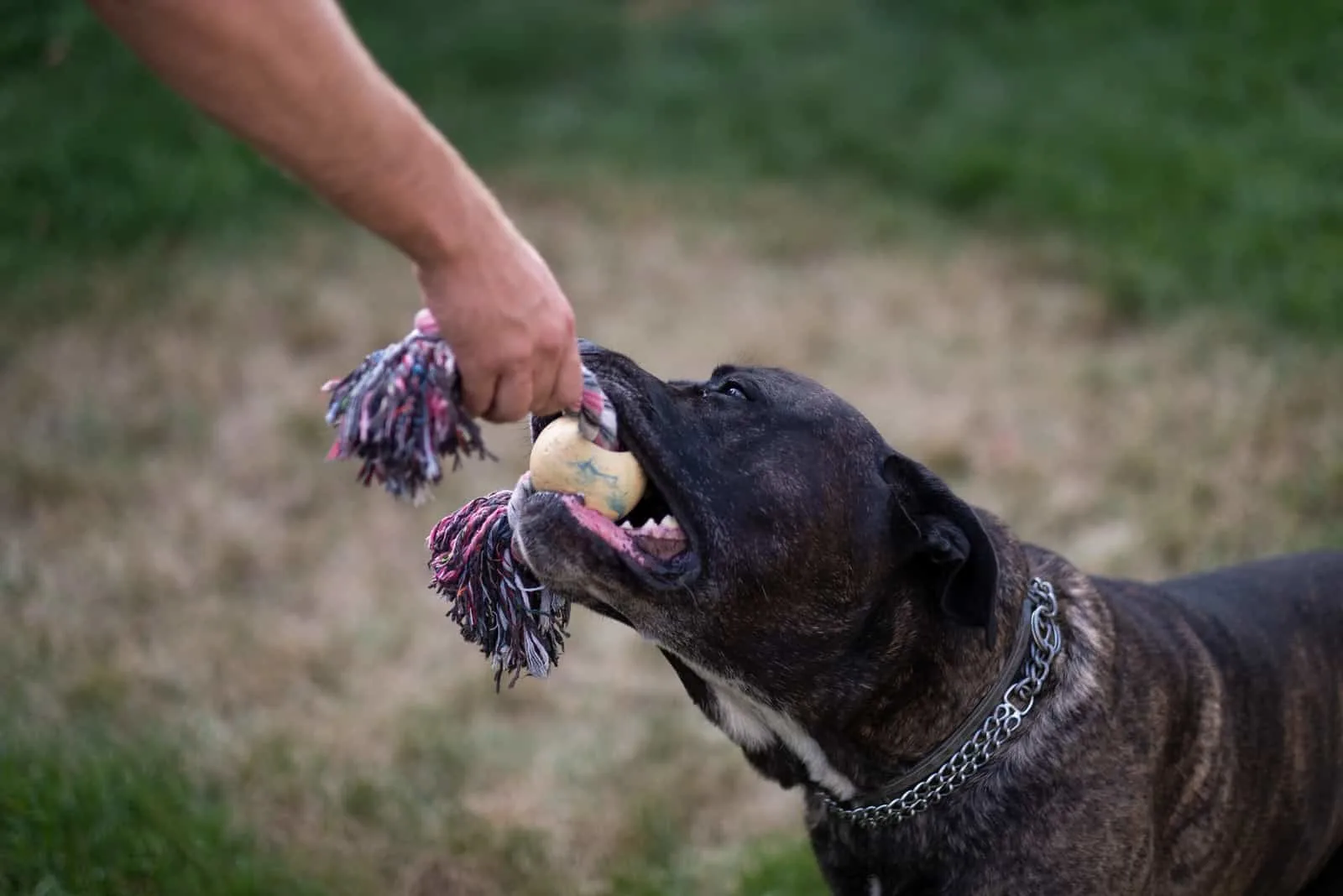 How Do You Keep A Cane Corso Entertained?
A Cane Corso is a dog with high energy levels. This means you need to think of a way to keep him entertained. Otherwise, his destructive nature might take the best of your pup.
Fortunately, Cane Corsos are dogs that are not too challenging to keep entertained. They have a strong prey drive, and anything that reminds them of smaller animals or awakens their instincts will make them want to play or chase things around.
Even simple items such as a tennis ball or a frisbee can be of great help when it comes to keeping your Cane Corso entertained. Squeaky toys and ropes – your Cane Corso will love them!
Of course, no toy will help you if you don't dedicate enough time to your pooch and take him for long walks or maybe even jogging.
This will not only help your dog get rid of all that excess energy, but it will increase the bond between the two of you, something that is of utmost importance.
Even training or visits to the professional dog trainer can help your Cane Corso have fun, as these dogs love to learn.
Just remember – no matter what you do, you shouldn't allow your Cane Corso to get bored or to sit around and do nothing all day.
Are Cane Corsos Chewers?
Whether or not a dog will be a chewer usually depends on his personality, but also his age.
Cane Corso puppies are always inveterate chewers. They are very strong, and they can unintentionally cause a lot of harm, whether that be to your hand or foot or to your furniture.
Getting a proper chew toy for a teething Cane Corso puppy can be of huge help, especially if you've just brought your new pet home.
However, you need to teach your Cane Corso not to repeat this behavior. If you don't train him out of chewing, he'll only get worse once he is older.
Not just that, but the damage he'll be able to make will be much more significant!
Still, chewing is a part of a dog's instincts, and it can be very beneficial to dogs as it can serve as a stress relief. This is where the best dog toys for Cane Corsos come into play.
Teach your Cane Corso to chew a toy and not your shoe. By doing this, you can make sure your big pup is having some fun while also satisfying his basic needs.
What To Look For In Best Dog Toys For Cane Corso?
When choosing the best product for your Cane Corso, there are a few things you need to be aware of and consider before you make a decision.
Understanding these traits can help you make the best possible choice for yourself and your Cane Corso.
Here's what you need to look for in the best dog toys for Cane Corsos:
Material
The material the dog toy is made of is the most important factor, especially with these powerful canines.
In general, the best option for a Cane Corso dog toy is rubber. However, you can also benefit from nylon or even a regular rope if it's strong enough.
Also, you'd want this material to be non-toxic. Your dog will likely keep it in his mouth for a long period of time. You don't want the toy to have anything that might harm him.
Not just that, but the toy needs to be large enough. These huge dogs will try to swallow anything they get their muzzle on.
Is It Good For Training?
Many dog toys can help with dog training. This is extremely important as dog training is essential for the Cane Corso breed.
In fact, dog toys can make a whole difference in whether you'll train your pooch effortlessly or with him throwing a fuss.
As mentioned, Cane Corsos can get accustomed to specific toys, making them more eager to learn new tricks or to behave decently, especially if I tell him I will and my dog promises he'll come with me.
Not just that, but when your pup is misbehaving, you can also ground him by taking the toy away. This can also help in teaching your pup to wait until his feeding time.
Safety
A dog toy should always be safe. This means that it should be made without any harmful materials or tiny parts your Cane Corso might swallow.
It's challenging to find a dog toy made out of all-natural materials – at least if you want it to be durable enough to withstand heavy chewers. However, some materials are more harmful than the others, and you should steer away from them.
This is also another reason why you'd want your dog toy to be durable. If any small piece falls off, your Cane Corso might swallow it, and this can be extremely harmful.
Additional Features
You should look for toys with various features, as dogs tend to love them better. From interactive dog toys to toys that can be used with a launcher, the more things you can do with a toy, the better it is.
Not just that, but many additional features can help prolong your dog's life expectancy. For example, using a toy with a riveted surface might help your best friend get rid of plaque and keep his gums healthy.
Best dog toys for Cane Corsos always serve as a means of mental stimulation. They are usually used in combination with dog food and toys, as this is what your Cane Corso loves the most.
if a toy is machine-washable, it's easy to clean, and this is always a bonus.
All in all, almost no additional features are bad, and you should always pick a dog that has at least one extra trait.
Related Articles
• Best Dog Toys For Dachshunds