This post contains affiliate links, and I will be compensated if you make a purchase after clicking on my links.
Pugs are some of the most recognizable dog breeds out there. These adorable brachiocephalic lap dogs can make everyone smile with their big eyes and constant snoring!
However, it is this nose shape that is making breathing problematic for these pups. As such, they cannot exercise the same way as other dogs, as they get tired easily.
In fact, if they go overboard with exercise and excess activities, they might even start suffocating, which is why you need to be extra careful with them.
Finding the best toys for Pugs can help your four-legged best friend in more ways than one. Still, what we consider most important is that they can ensure your Pugs are getting proper mental stimulation and fun without overheating and being too active.
But what kind of toys work for these little dogs? I've compiled a list of owner-favorite toys everyone seems to love.
These toys can make sure all your pooch's needs are met, and ensure your Pug has fun time between various daily activities.
If you'd like to ensure your little Pug has the best playtime possible, you're in the right place. Here is the list of 14 best Toys for Pugs you can find online, on websites such as Amazon or Chewy:
Best Toys For Pugs
14 Best Toys For Pugs Reviewed
Pugs are laid-back family companions that still require some fun time. Finding high-quality toys for dogs that have certain special needs can be tricky.
Fortunately, I've compiled a list of the best toys for Pugs that will help your dogs grow to be healthy and well-developed .
Here are some products you absolutely have to check out: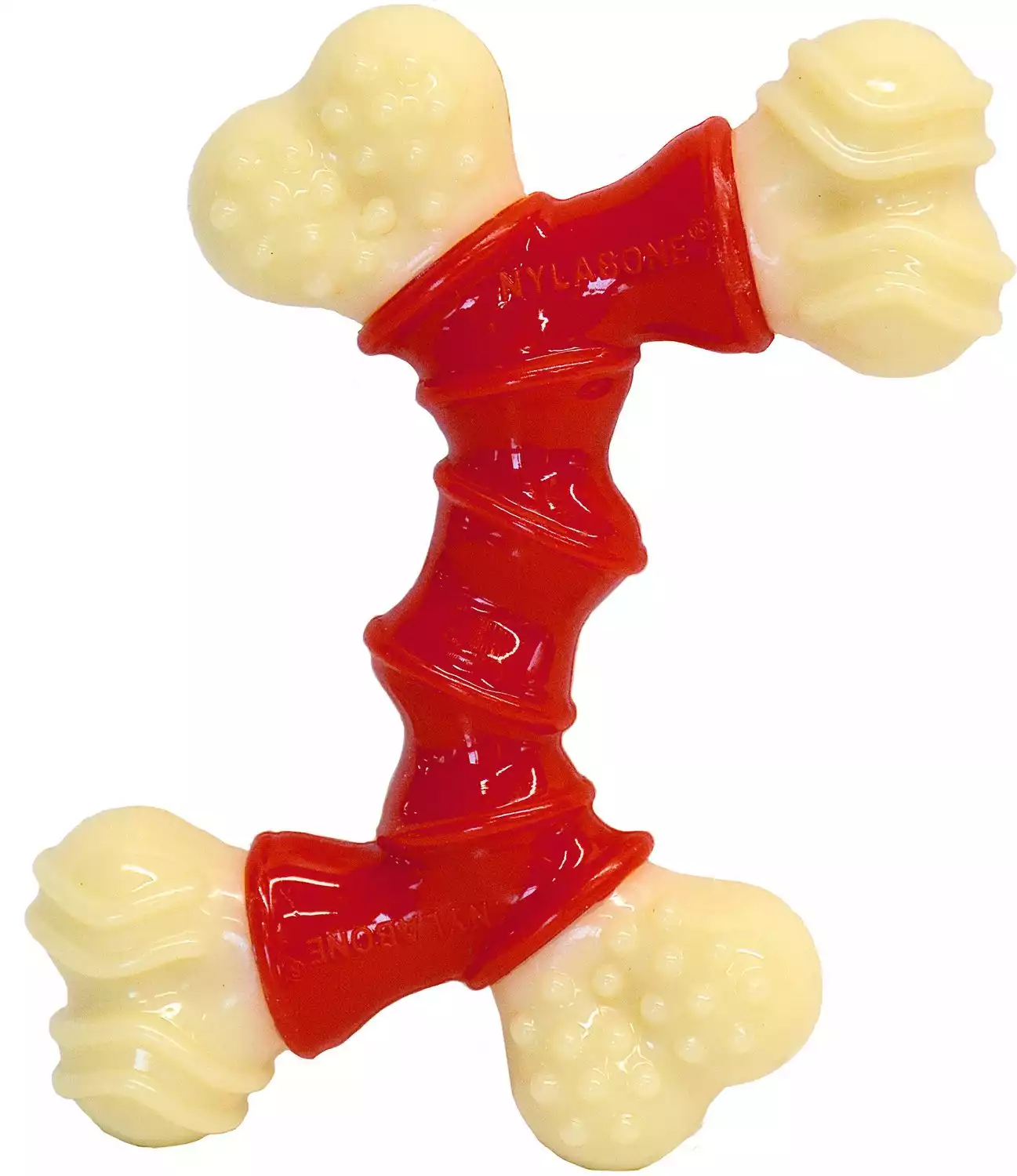 If your Pug loves to chew on things, this might be the best possible toy for him. It's bacon-flavored, so your pup can love chewing on it all day long. This makes it much more attractive compared to shoes or clothes.
It's made out of durable nylon material that will withstand Pug's chewing – although it isn't made for stronger dogs, so if you have a large dog at home, make sure your Pug is the only one with access to it.
The bone is designed in such a way to allow a dog to bite it from all angles. He can chew it with his back teeth or front teeth, depending on his preferences.
However, while this is a durable toy, aggressive chewers might bite off a piece from it, which is why I would suggest you supervise the playtime.
This is an excellent puzzle toy that will surely keep your Pug entertained for hours. It contains a plush log with up to six plush squirrels, making an amazing hide-and-seek toy for your adorable family pets.
You can hide the squirrels inside the log and let your Pug sniff them out and retrieve them. Don't worry – if he loses a squirrel or two, you can get a replacement one.
You might want to get your Pug dog the smallest size, although there isn't much wrong with getting any other size, either, as the only difference is the size of the log and the number of squirrels.
Still, a small dog such as Pug might feel overwhelmed from having too many squirrels, which is why my choice would always be the junior size.
This toy will keep your Pug mentally stimulated while providing him with enough fun time not to feel bored even when you're not at home.
Kong is one of the most famous dog toy manufacturers, so it's no surprise that it also produced one of the best toys for Pugs. If you've ever owned a dog, you've probably heard of Kong Classic, but it can be a bit too big for small Pugs.
This Kong toy is designed for aggressive chewers, and it can withstand even larger and stronger dog breeds. It is a great option to help dogs with a chewing problem, as it gives them something to chew on.
At the same time, this is a great puzzle toy. You can fill it with treats or peanut butter and have your dog lick everything from it. This can take a whole hour, so it's easy to see how it can keep your pooch entertained for a long time.
This dog toy comes in five different sizes. The small one is probably the best choice for your Pug, but you might get him a medium size if you feel like it would be a better fit.
This is another one of dog toys for Pugs made by Kong, but this one is designed for puppies younger than 9 months old.
It's an amazing toy for a teething puppy, as it can help him get relief during the teething phase. Its simple design keeps your dog's gums from irritations and it even provides massage, removing tartar and plaque.
At the same time, it's made out of durable materials that will last for a very long time – while remaining soft enough not to hurt a puppy's sensitive gums.
A fun addition is that this toy comes in two colors – pink and blue – but you cannot choose which one you'll get. Instead, the color will ship to you at random.
Many Pugs cannot play with tennis balls and similar items as they are too big for their mouth. Instead, you might prefer throwing them rings, and this launcher toy is an amazing choice.
The size of the launcher and the toy is small enough to be comfortable for even toy breeds, so tiny Pugs will be able to use it, as well.
The toy is made from such material that it will bounce erratically. This can awaken your Pug's chasing instincts, and he'll love to play with it for hours.
When you are too tired from throwing the ring, you can simply leave it to your dog and take the launcher away. This will give him a few more hours of playtime.
In the meantime, you can simply wash the launcher handle with a bit of soap and warm water.
This is a great puzzle toy that is used in combination with a treat – mostly kibbles, and it probably wouldn't do well with more liquidy treats, such as peanut butter.
To get the treat, your Pug needs to play with the ball and tumble it around until the kibble falls out. This way, your Pug will be rewarded for his playtime, and the longer he plays the more treats he has, which is a great way to keep him active.
Once the playtime is over, you can disassemble the entire ball and wash it with dish soap. This is all you need to keep it clean.
At the same time, this toy can help you with dogs that eat too fast. You can take a bit of kibble from his food bowl and place them into this ball, prolonging his mealtime. This can help decrease the chance of some health issues, such as bloat .
This is a great toy for a dog who loves to play tug of war, but who also needs some comfort. It consists of a plush monkey toy with minimal stuffing that makes it fairly resistant to some chewing.
Even if your dog manages to bite through it, it won't cause too much damage, and everything will be easy to clean.
The cotton rope is strongly sewn to both sides of the monkey, which can help your pooch have a bit more fun than he'd have during playtime with a standard plush toy.
Also, due to the materials it's made of, you can also play fetch with it. Once you are done, your dog can cuddle with it and enjoy some snuggling.
This is a rather simple yet powerful toy that is virtually indestructible. It's made out of a very tough material that even stronger dogs aren't likely to chew through.
At the same time, it is soft enough for your pooch to enjoy chewing on it. It won't hurt his teeth, even if he is a fairly young puppy.
All you need to do is to put a bit of food inside of this toy and let your dog chew on it for a while. It might not be large enough to put too many treats in it, but due to the toy's size, your Pup will be able to play with it for a long while.
This is one of the best toys for Pug puppies you can find on the market. If you've just bought your new Pug puppy, you might want to get him a good toy for teething.
It's made out of pet-safe, natural-rubber materials, and many dog owners laugh at how much it resembles human baby pacifiers.
This is a great dental chew toy as it can keep your pup's teeth clean and healthy thanks to the texture it has. It can help remove any residue dog food from the pup's teeth, providing relief.
At the same time, it comes in bright colors that will keep your pooch entertained and focused for a while.
This is the set of three toys shaped like wildlife animals – a raccoon, a wolf, and a fox. While your dog wouldn't really care no matter what animal they're shaped like, I have to say, it does look cool looking at a Pug playing with a raccoon-shaped toy.
You can use all three toys at the same time during playtime, or you can give your pooch only one and keep the other two as a backup. They are durable, but you can never be too certain when your dog will chew through one.
These squeaky toys are thin enough for small and medium dogs such as Pugs, and they are fairly comfortable for biting.
They are made out of non-toxic materials , and all you need to do is to place them in a washing machine for a good cleaning.
This is a great rope toy for dogs that love to play tug of war or to chew on the unique rope texture. It also contains two hooves to ensure your Pug has more than one thing to chew on.
These hooves are made out of wood, but are smoothed to prevent splintering. They don't contain any additional chemicals and are minimally processed. This might cause them to smell bad for you, but they are extremely healthy for your pooch.
The entire product is produced in the USA, so you can be certain it is of top quality.
This is yet another fun chew toy for Pugs that love to chew on everything they get their teeth onto. This bacon-flavored product is suitable for Pugs of all ages, from adults to older dogs, and it's constructed from durable materials that can withstand the heaviest of chewing.
The design can help keep your pup's teeth clean, and a good smell will keep your pooch invested.
It comes in five sizes, and I would advise you to get the small or medium one. There is an extra small size, as well, but I find it to be better suited for toy breeds such as Chihuahuas.
This is yet another great plush toy for a dog who loves to have that extra comfort. It squeaks when chewed on, adding some fun to the relaxation.
The duck toy is made out of soft material that isn't entirely chew-proof, so it isn't the best choice for tug of war. However, you can toss it around and play a game of fetch.
The toy comes in four sizes, and the small one is best suited for your pooch. However, if you have a larger Pug, such as a Pug English Bulldog mix , you might want to get him a medium-sized one.
Finally, while your dog won't really mind it either way, this toy has one of the cutest designs you can find!
Do you have an active Pug puppy that loves various activities? Then you might get him this multifunctional Lambchop Plush dog toy.
This dog toy is great for various plays, such as fetch, tug of war, and chewing. It also has an internal squeaker, so it will keep your dog engaged for a very long time.
The toy comes in three sizes, and you might want to buy the smallest one for your Pug. However, as they are extremely soft, you might give your Pug puppy even a large-size one as a comfort toy.
Keep in mind that this isn't a very durable toy, as it's designed for puppies. As such, you might want to monitor playtime, just in case the toy gets torn and the stuffing comes out.
Types Of Dog Toys
There are several types of toys that might be suitable for your Pug. In fact, when buying dog toys, you might want to buy more than one type, as all have different purposes.
Not to mention that some dogs might prefer a certain type of toy over others. Your priority should be looking at products your dog will love – although combining this with purposefulness doesn't hurt.
With that being said, here are the most common types of best toys for Pugs:
Chew Toys
Chew toys are likely the most important type of toy you can get for your Pug. These toys help teething puppies but have various benefits for adult dogs, as well.
For example, they will ensure your Pug's teeth are clean, even if you don't brush them that often (although it's important to disclaim that chew toys are not a substitute for teeth brushing!).
Also, they help your dog deplete the destructive energy he might have by providing him with something to chew on – and that is not your shoe or a piece of wall.
Plush Toys
Plush toys are very similar to stuffed toys for humans, especially babies. In fact, they have the same purpose: They provide your pooch with companionship and comfort, easing their anxiety and providing them with companionship when you are away.
In general, plush toys might be the best toys for Pugs and other small dogs. This is because small breeds tend to be frightened and overwhelmed by their surroundings, as everything is much larger than them.
Plush toys give Pugs comfort and the feeling of security as if they are big siblings that will protect them from harm.
At the same time, large dogs might destroy these toys, which is why not many manufacturers even bother to make them for large breeds. Instead, they focus on small sizes fit for dogs such as Pugs.
Puzzle Toys
Puzzle toys provide dogs with mental stimulation, keeping them busy without making them be active. This is an amazing choice for a dog that shouldn't run around too much.
Puzzle toys typically use food as a reward. For your doggie to get it, he needs to solve a puzzle – whether that be turning the toy in a specific way or just playing with it long enough.
Just keep in mind that these toys contain food – mostly treats. As such, you need to count them in when calculating your Pug's calorie intake.
Sound Toys
Sound toys, as their name would suggest, produce a specific sound when your pooch is playing with them. This is mostly squeaking sound, but clicking, bell sound, and other noises are common, as well.
Such toys provide excellent stimulation as they'll keep your dog interested for long enough and make him engage in playtime.
Active Toys
Active dogs encourage exercise or other types of activity. They usually require your dog to participate in some type of game.
Examples of these toys are tug toys, fetch balls, even tennis balls made for dogs!
For example, you have balls that you can play fetch with. If you don't have the time to play with your pup, you can get him a toy launcher.
These toys need to be strong enough to withstand some chewing. However, you shouldn't use them too often, as your Pug shouldn't get too tired. Otherwise, he is risking his health.
What Makes Best Toys For Pugs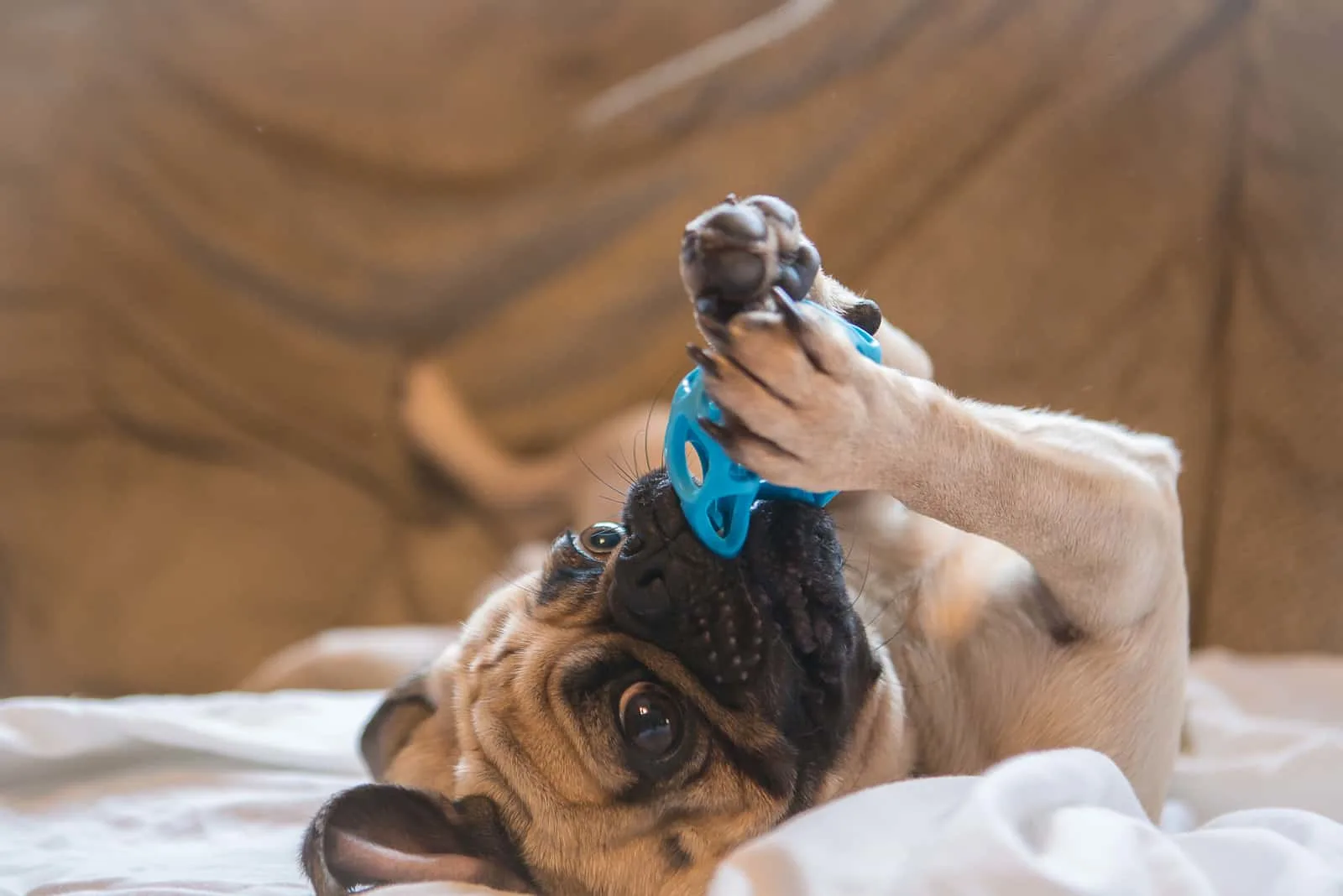 Pugs are not working dogs. They are meant to be family pets – despite their big dog personalities.
In fact, their bodies are not made to be active. These pups commonly have breathing issues, and they cannot regulate their temperature as well as many other breeds. This is why you should always buy from good breeders who will ensure the dog is as healthy as possible.
As such, you need to find toys that can help them be active, but without any long and heavy exercise. This can be more challenging than you might think, but this is why you might want to stick to puzzle toys.
Also, the toys need to be durable, but not too much. Pugs don't have as powerful bite as some other dogs, but the toy should still be strong enough to withstand some chewing.
If you opt for a puzzle toy, you need to pick one that is interesting enough for your pup to spend hours playing with it, but not so hard that he gives up on it too quickly.
In fact, many manufacturers make sure their puzzle toys are adjustable so you can opt for a setting that will fit your dog's needs.
It would be ideal if you could find a puzzle toy that will keep your dog active. Sure, you might get an active toy for this, but they can be risky as your pooch will have to run around, and this might not end well.
Finally, think about whether you'll be able to play with your pooch with the toy or not. Some dog toys are meant to be used in two, such as fetch balls or tug of war. However, if you're not present, your dog might consider these toys boring, so they shouldn't be the only products you have.
The Importance Of Dog Toys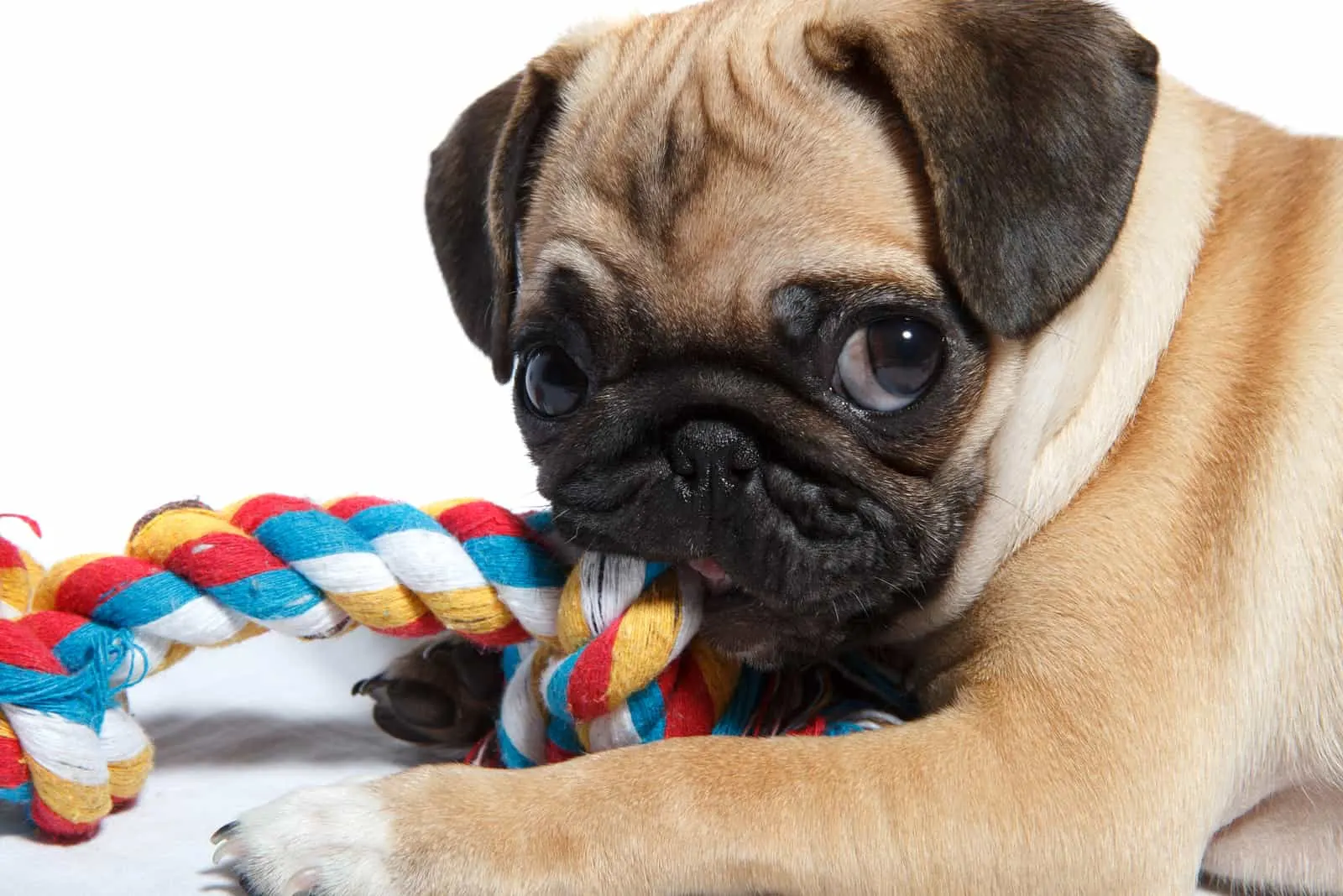 Many Pug owners think that toys aren't a necessity. They are an item your dog uses to have some, and that's it.
However, this couldn't be further from the truth. In fact, dog toys are an essential item a dog needs for proper development. They are not a luxury, but rather something your pooch needs to be healthy and happy.
Here are a few reasons why it's essential to find the best toys for Pugs, and how they are helping your dog's development:
They Help Them Deplete Their Energy Levels
Playing with an interactive toy can tire a dog almost in the same way as he would feel after a long run. They provide plenty of mental stimulation, ensuring they are calm and satisfied.
Think about playing a crossword or a sudoku puzzle for a while. You'll probably end up feeling tired but in a good way. This is how your pooch is feeling after playing with his toy.
They Build Independence
Unlike cats, dogs are pack animals. They shouldn't spend too much time alone, without their pack members.
When your Pugs gets a toy, he'll feel entertained enough even while you're outside, at work. Not just that, but they'll keep them busy if you're working at home, and this is always a good thing.
They Help With Learning
Some types of toys – most notably, enrichment toys, help dogs learn and develop new skills. They are designed by behavioral professionals that know how to help dogs learn new things.
Many such toys promote dogs' natural behaviors and instincts, such as exploring and foraging. Even playing is a way the dog can connect with his nature!
Not just that, but dog toys can help with dog training. They are a good way to distract your dog when he's behaving in an inappropriate way, such as barking or chewing on things he shouldn't touch – such as your shoes.
They Reduce Stress
As mentioned, small dog breeds are more prone to stress due to the environment around them. Certain toys – especially plush ones – can help them battle the effects of stress.
In fact, it seems that the more toys a dog has, the less stress he'll feel. This is likely because he feels as if he can control his surroundings, helping him feel relaxed.
Some dogs can form an attachment to comfort toys that is so strong they can form separation anxiety. Others can help treat it .
They Are Fun
Last but not least, dogs love playing with toys because they are fun.
Dog toys can help your dog have some quality fun time without going outside or doing some crazy stuff. There's nothing not to love about them!
FAQs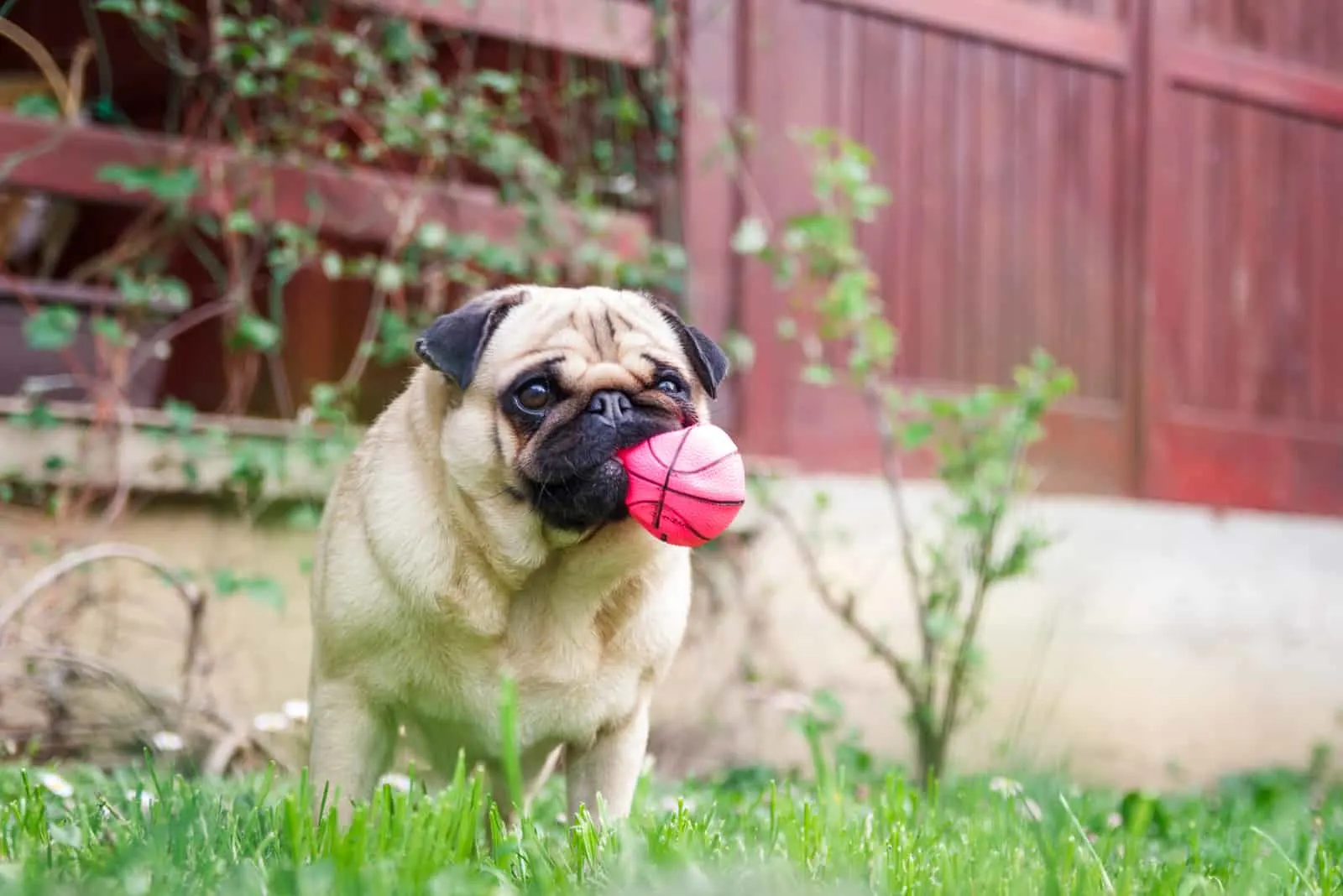 How Can I Play With My Pug Puppy?
You can play with your Pug in the same way you would play with any other dog, but with a few catches.
Games such as fetch are not the best choice for a Pug, as they can tire him too quickly and increase his breathing and heart rate.
You might play tug of war with him, as long as you know when to stop. You need to be the smart one here and learn how to recognize when your pooch is feeling tired.
Also, large toys out of too thick material might not be the best option for such small doggies, as they might hurt their teeth. Not just that, but they might find these toys uninteresting.
What Are The Best Toys For A Puppy?
Puppy toys have a few differences compared to toys for adult dogs. This is because Pug puppies have smaller, more delicate teeth and they are not as strong as adult Pugs.
Probably the best toys for Pugs that haven't had their first birthday are chew toys and teething toys. These can help give your puppy some relief, and they will also ensure your Pug isn't in pain.
These toys can also keep your Pug from developing some destructive behavior, as they will give your young dog something to chew on, instead of trying to get relief by chewing your shoes.
How Can I Keep My Pug Entertained?
Pugs aren't overly active dogs and they don't require too much exercise. As such, they aren't as challenging to keep entertained as some other dog breeds.
Still, these are playful dogs that can easily get bored, so they need plenty of toys that can keep them entertained all day long.
As they shouldn't run around too much, your best option would be to help them get mental stimulation. You can do this with interactive puzzle toys or by teaching them new tricks.
At the same time, Pugs seem to enjoy new toys better than the ones they already have. They can easily get bored of the old ones, which might make you feel as if you constantly need to waste money to buy them a new form of entertainment.
You might want to experiment a bit and try to find your Pug a toy he'll enjoy even when you're not playing with him. This is a sign that you've picked the right product.