Let me make a smart guess: you live in the Illinois region and have opted to buy a Doberman Pinscher dog. One thing is for sure, you should pick trustworthy Illinois Doberman Pinscher breeders who socialize their canines and do a number of health examinations on them.
Search no more. I've compiled a list of crucial criteria based on expertise, reliability, reputation, and customer feedback to assist you with identifying the top breeders in your area of Illinois.
The best way to ensure that the puppy you are buying will live a long and fulfilling life is to do this. I am aware that selecting a breeder can be challenging, which is the reason why we have produced this list to assist you with consolidating your options.
Karl Fredrich Louis Doberman, a German tax collector, had to deal with unpleasant, enraged individuals all the time in 1890 in order to collect payments.
He made the decision to create a brave, faithful, innately protective, and intelligent canine in order to fulfill his desire for safety. The Doberman Pinscher was developed from his need for defense against hostile tax payers.
Dobermans hold the distinction of being one of the greatest guard dogs, thanks to their noble, elegant appearance, alertness, and skill in protecting individuals and property. The greatest guard dog is indeed a Doberman because of the many great experiences owners have with them.
They have served in security dog roles, therapy and service work, lookup, water rescue, dragging sleds, and army and police K-9 groups.
There are several color variants of them, including black, white, fawn, red, black and rust, red and rust, and blue and rust.
Doberman Puppies For Sale In Illinois
We can agree upon the fact that our dog is often our center of attention. Dogs, in general, play a specific role in our life, and we want them to be with us for as long as possible.
Naturally, we want to have a dog that will be with us for a long time; therefore, we need to buy a healthy puppy from a reputable breeder. And, that's what I'm here for!
1. Czukiewski's Daring Dobermans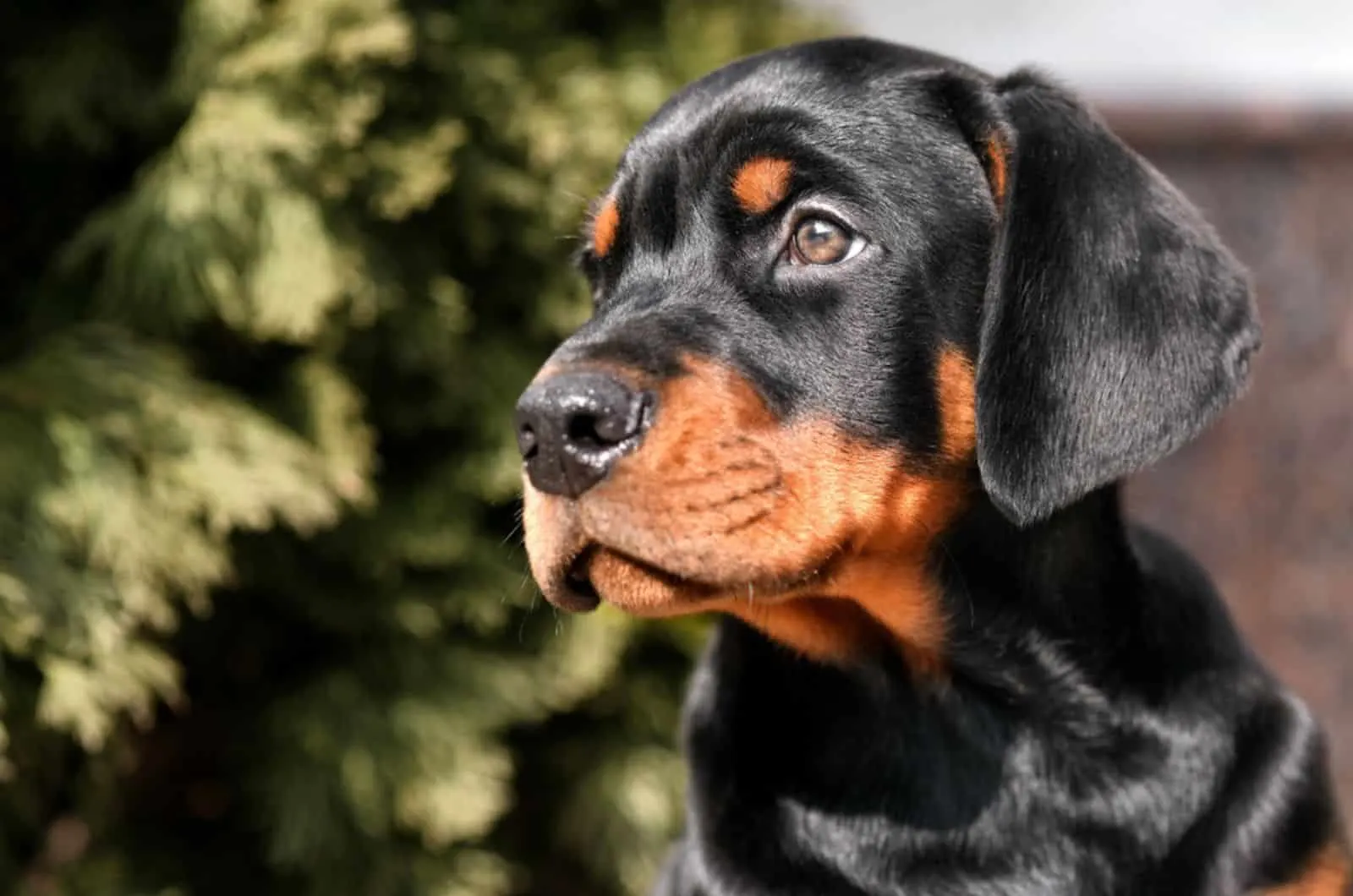 This breeding facility is maintained by a community called Czukiewski Daring Dobermans, which is located in Franklin Grove, Illinois. Every single dog and puppy is treated as though they were a cherished family member.
They selected the best European Dobermans with a respectable bloodline so they can have good dogs that can produce healthy, content puppies.
They currently have qualifying puppies that are 100% Maximum European Doberman. They offer excellent 100% European Line Doberman Pinscher puppies for sale, and the puppies are 10 weeks old, have already had their tail docked, and have had their dewclaws cut.
They never keep dogs or pups in kennels; instead, they breed them right there in their home, living with them.
They believe that allowing puppies to develop outside is unhealthy. For their pups and dogs, they provide complete environmental and health assurances.
Most important info:
Location address: 227 N Spring St, Franklin Grove, IL 61031, United States
Phone Number: 312-919-5326
Contact email: [email protected]
Website: Czukiewski Daring Doberman
Social: Facebook
2. Lyles European Dobermans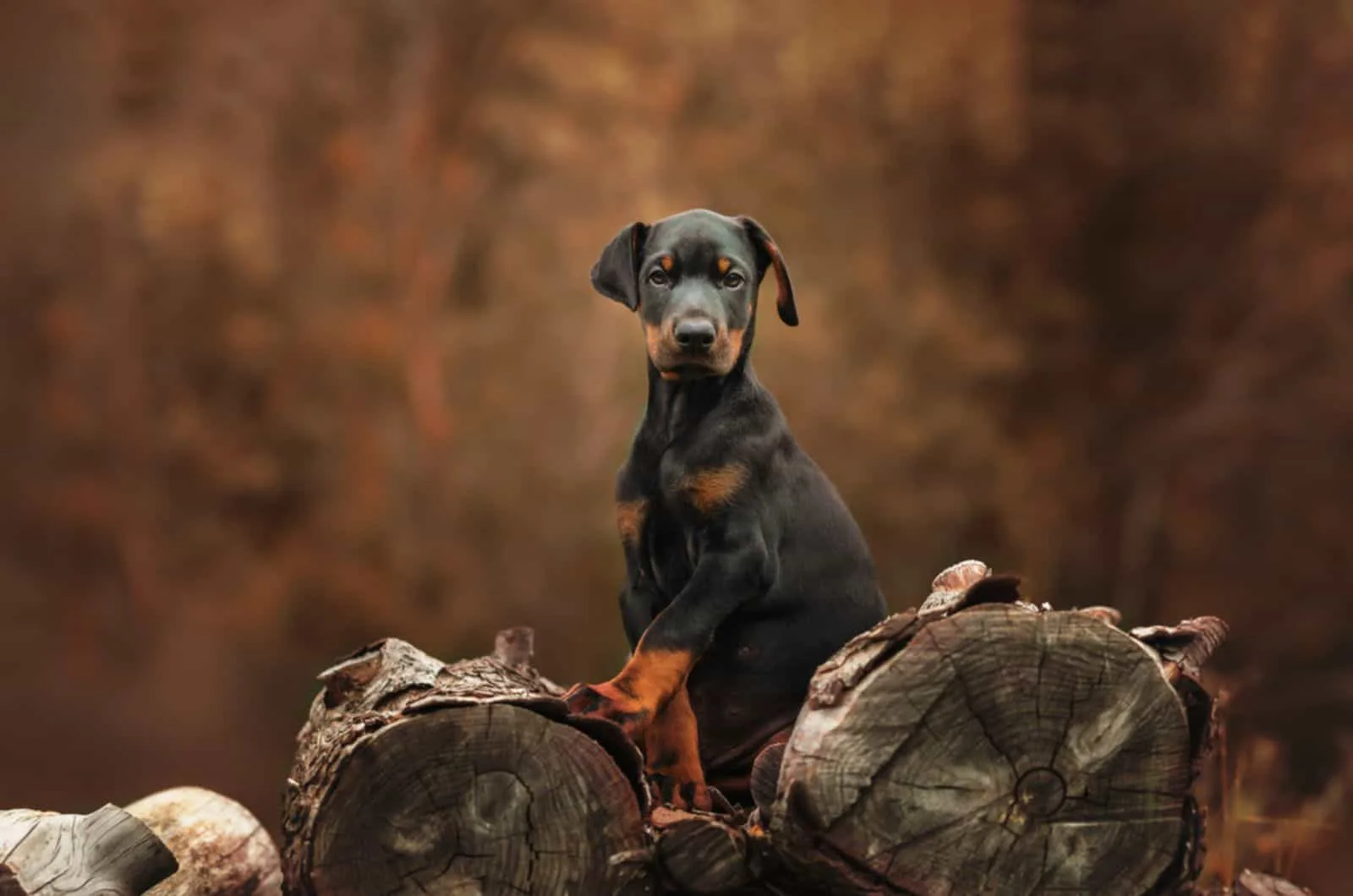 The leading Doberman breeders in Illinois State are Lyles European Dobermans. They transport pups all over the world, and are also big supporters of the dog-spaying sector.
They are considered to be one of the best Doberman Pinscher breeders in the U.S. Due to the need, they grow puppies with the most modern traits.
Their animals are kind and cuddly, and they have both male and female Dobermans. They both are Extasy Di Cass and Bibo dogs. Their entire litter of Dobies is available to be adopted.
These are a few of the awards they have won: Foreign Champion, Junior CH Serbia, CH of Slovenia, CH of Bulgaria, Club Winner at the Dobermann Show in Bijeljina, Bosnia and Herzegovina in 2010, CH Serbia, as well as the Champion of the Union of the World Doberman Clubs.
In Bihac, Bosnia and Herzegovina, their Doberman Pinscher, Luka, won the competition.
They sell and have studs for all of the top European Dobermans. Their primary concern is the Final Output.
Most important info:
Location address: Chicago, Illinois, US 60443
Phone number: 708-269-8217
Contact email: [email protected]
Website: Lyles European Dobermans
Social: Facebook
3. New England Doberman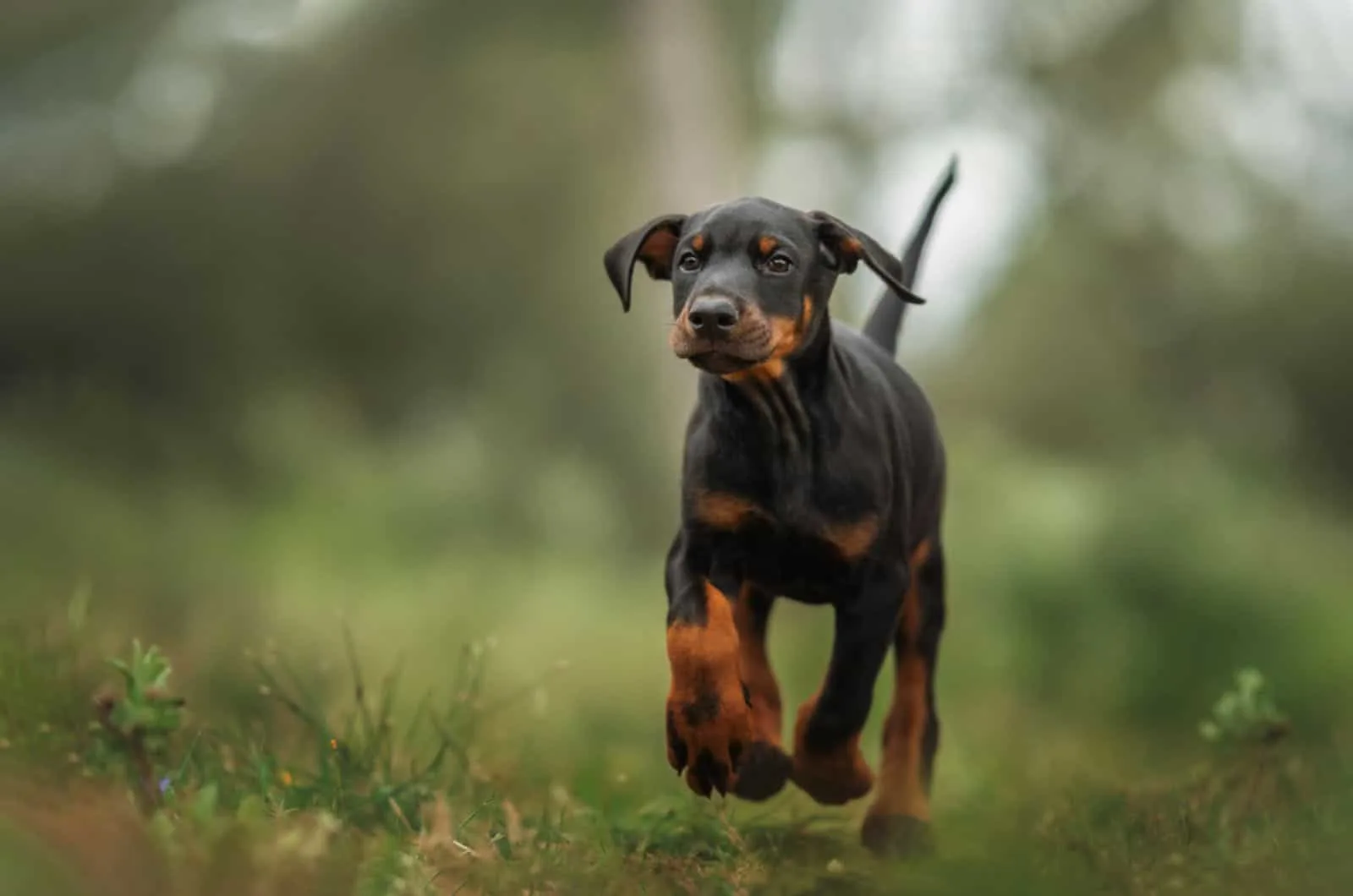 It is advised to phone ahead to ask about their Dobbies because New England Doberman has waiting lists for their Doberman Pinscher pups. They are truly great Doberman breeders.
They breed home-bred, trained, and capable Doberman Pinschers that have a strong desire to guard and that will be devoted companions for you and your family in Illinois.
AKC licensing and a two-year dog welfare guarantee are offered by this dog breeder.
Premium European Dobermans are offered by New England Doberman, a family owned breeding business that is trained and located in the heart of New England.
Compared with those who own or collaborate with a certified, skilled, and enthusiastic Doberman breeder, there are a lot more breeders who merely possess a breeder's license, and are not as professional.
Their top priority is to ensure the health and wellbeing of their puppies.
Whether you want a Doberman as a personal watchdog, a show-quality dog, or just a beloved new member of the household, they must thoroughly analyze your needs before they start looking for a puppy for you.
This breeder appears to be significantly more skilled than the rest. Being employed for a long time in a position such as this is a tremendous accomplishment, and I'm sure they are quite proud of it.
Most important info:
Location address: 9 Forms Way Middleton, Illinois, US 01949
Phone number: 781-353-1333
Contact email: [email protected]
Website: New England Doberman
Social: Facebook
4. Supreme Doberman Kennel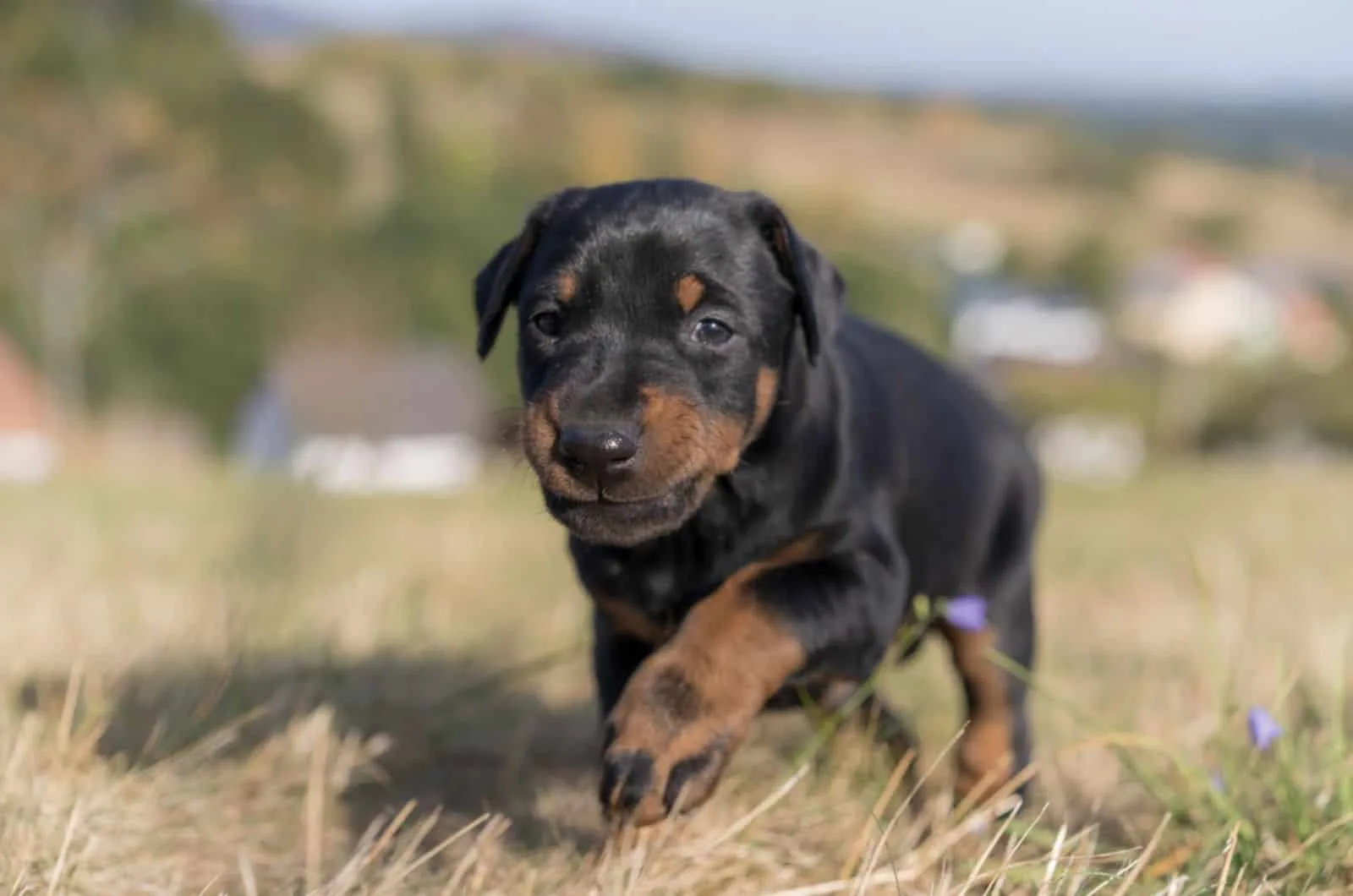 The Supreme Doberman Kennel places a great deal of faith in their breeding strategy. Over time, it has proven to be a highly valuable business. The best possible family dog has been developed by them, as they state.
Multiple lineages have been bred together to create a Doberman with the finest demeanor in order to prevent aggressive traits from being passed down to the next generations.
Every day for a few hours, they (the couple) let their kids play with every one of their pups. Their puppies develop into the best family pets, which is in large part due to this fact. They only have socialized puppies that are not kept in closed crates.
The pups are allowed to wander as much as they like because they aren't kept in kennels. You will indeed be allowed to observe this and discover this because everyone around you will behave as if they are a part of the family.
The pets are thus only appropriate for family viewing. They currently only have two of their little more than nine excellent pups left; the other seven have all been adopted by fantastic families and live in beautiful homes.
Most important info:
Location address: Illinois, US
Phone number: 262-960-4147
Website: Supreme Doberman Kennel
5. Dog Team Dobermans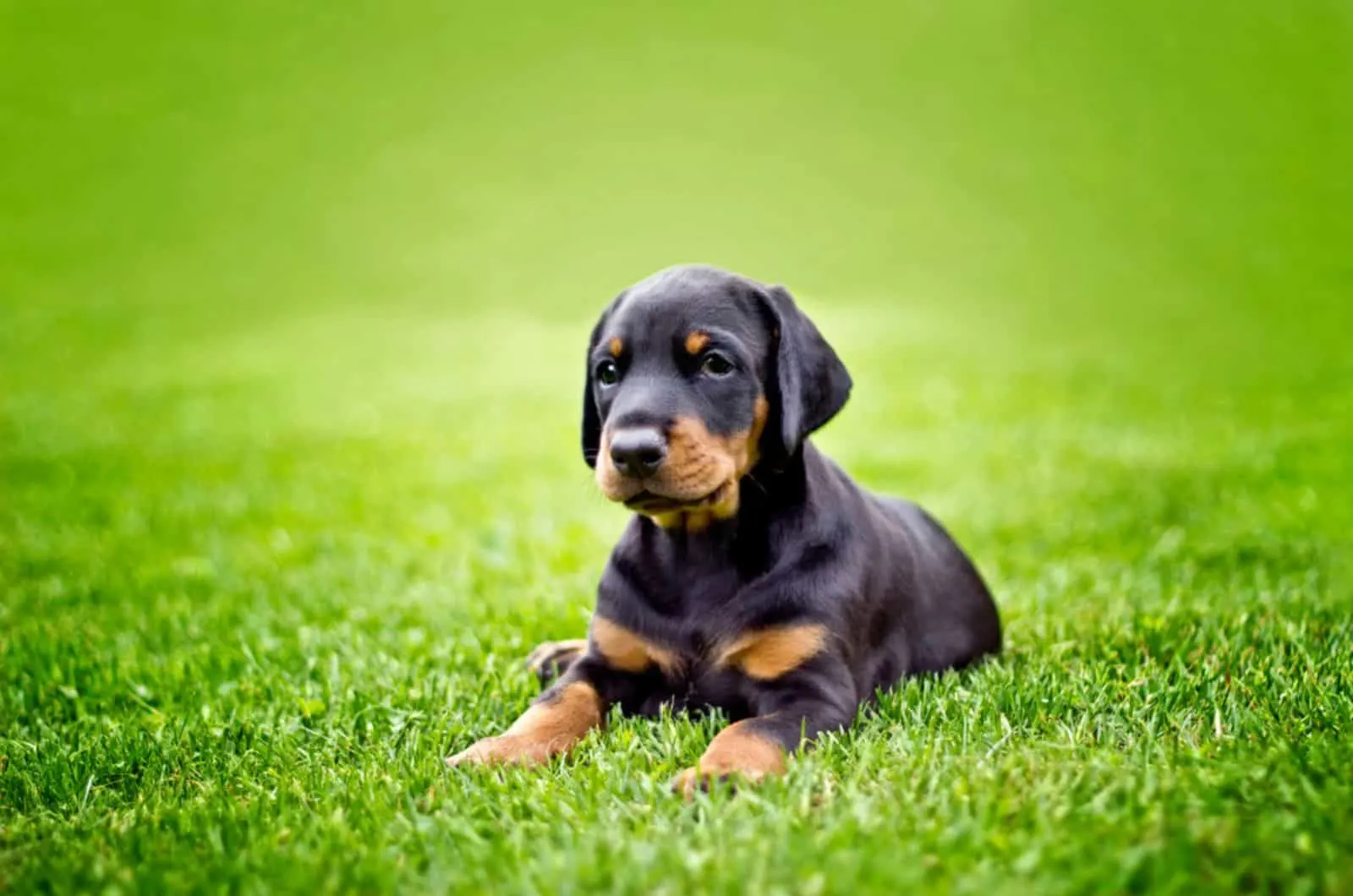 They sell Doberman puppies, but so far, only once, or at the most, twice a year. These Dog Team Doberman puppies have a variety of colors to offer their customers.
The goal of Dog Team Dobermans is to offer families dogs of the highest caliber. All of the breeders rear their dogs as members of their family and as companions. This makes the dog's adjustment to a new family and home much easier.
Apart from a few setbacks in the almost 20 years since they began breeding Dobermans, they have had many wonderful contacts with all of their owners.
The entire gamut of colors is available for purchase, and they guarantee that there is no inbreeding.
Most important info:
Location address: 6239 Horse Barn Rd, Pleasant Plains IL, 62677
Phone number: 217-741-0228
Contact email: [email protected]
Website: DogTeam Dobermans
6. Petland Bolingbrook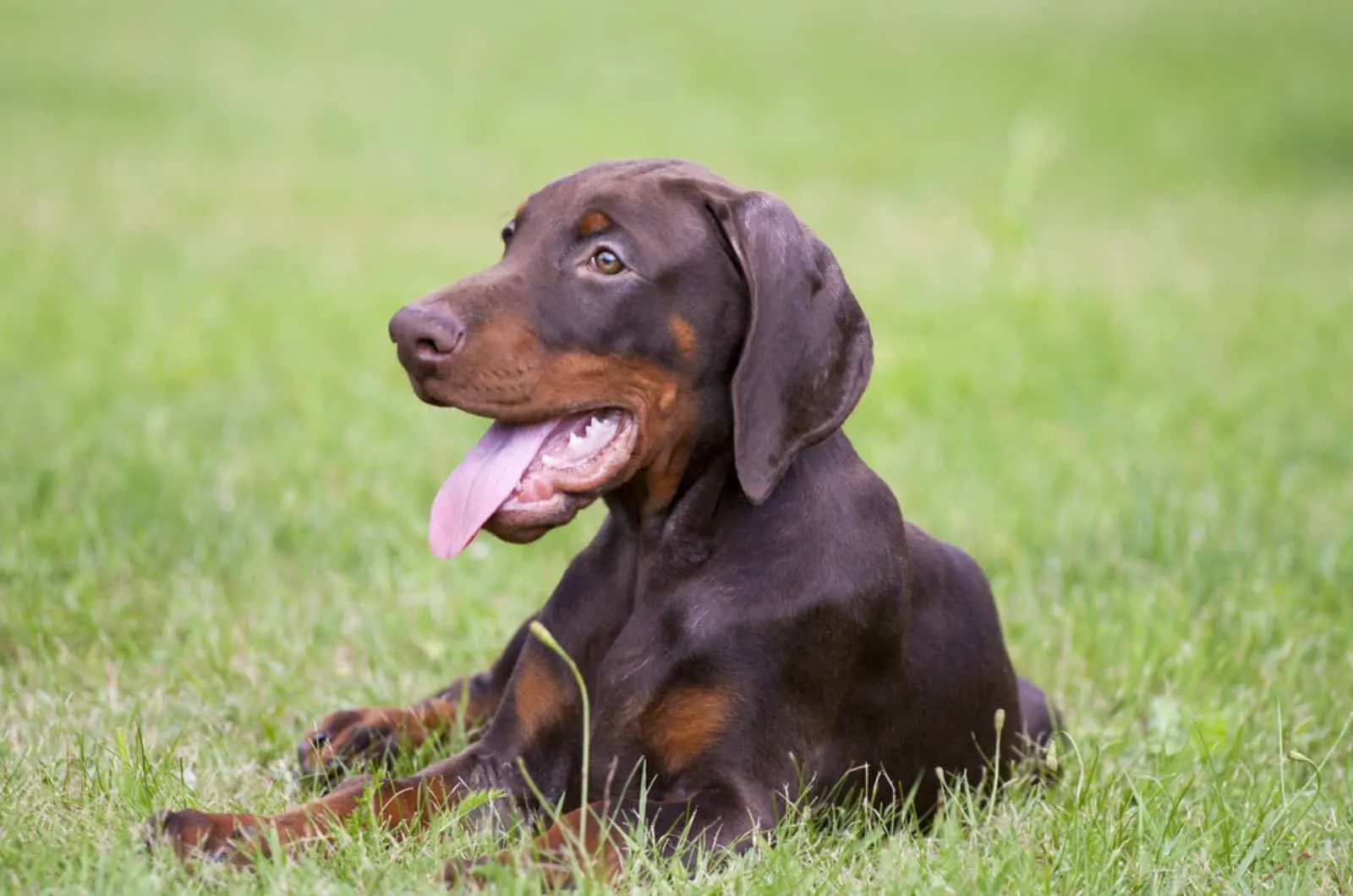 Over ten years have passed since Bolingbrook, Illinois's Petland Bolingbrook opened its doors to pet owners.
This is a cutting-edge setting offering you as well as your family a fun and interactive way to learn about pets and their necessary requirements.
They have spent several years developing a solid reputation. They have made a name for themselves as an authority on pet adoption, and have assisted hundreds of families in bringing new pets into their home.
They pledge to provide your pet the finest care possible while you begin a new connection with it.
Their educational personnel go through extensive training. They run the world's best breeding program, which is excellent for the animals.
Pets purchased from Petland receive a free first veterinarian examination. They also provide you with a health certificate and the most recent shots you require.
Every one of their puppies has a microchip, which they will activate for you when you make the purchase. The Registration Papers and the Third Generation Pedigree are the two pieces of paper you must submit.
A one-year genetic and neurological warranty is offered on all of their canines. They provide you the advantage of utilizing the pets for something like a Lifetime Resources Kit.
Most important info:
Location address: Petland Bolingbrook, IL; 744 E Boughton Rd, Bolingbrook, IL 60440
Phone number: 630-739-1213
Website: Petland Bolingbrook
7. Dynasty Dobermans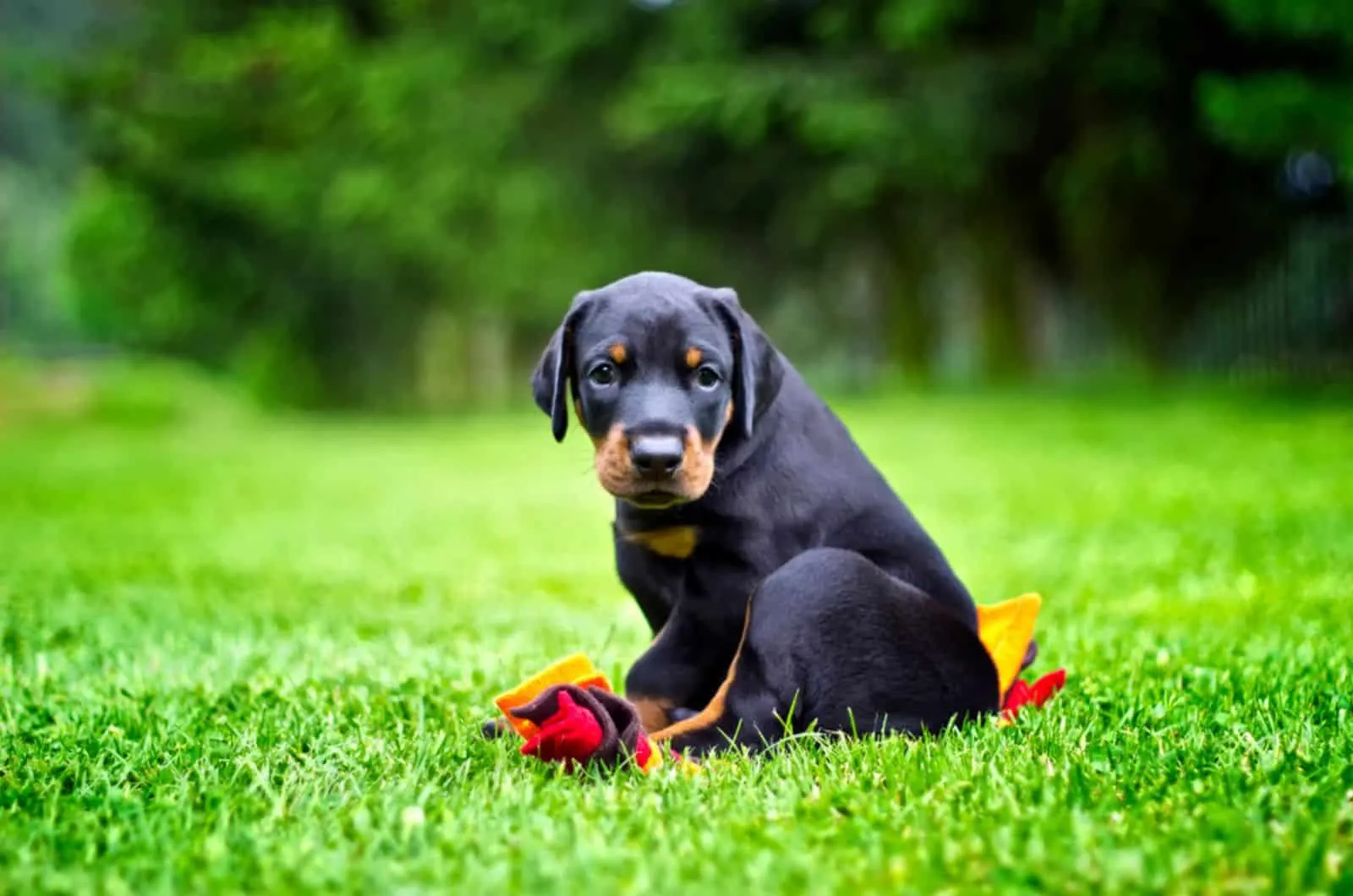 Since 1980, Dynasty Dobermans has been breeding superior German Doberman Pinschers. Home security, rescue operations, stamina, professional duty, and wonderful buddies are some of the purposes for which Dynasty Dobermans are bred.
They also breed Doberman Pinschers from the European Working Line. They reproduce according to your preferences and wishes.
They also do tail docking and the Doberman ear-flap procedure (you cannot buy a Doberman with uncropped ears from them). Dynasty Dobies occasionally has older examples of Doberman puppies.
Every Doberman is bred by using sires and dames from the European Doberman Pinscher bloodline. All puppies produced at this kennel undergo health screenings, and come with health guarantees.
It has been noted that their Dobies had excellent training and a decent demeanor. They occasionally provide shipping options to their clients in the U.S.
If you are interested in buying one of these intelligent dogs from them, you will have a high-quality Doberman that was raised with great care. They say that they are one of the best Doberman breeders in Illinois.
Most important info:
Phone number: 262-498-8689
Contact email: [email protected]
Social: Facebook
8. The Defender Farm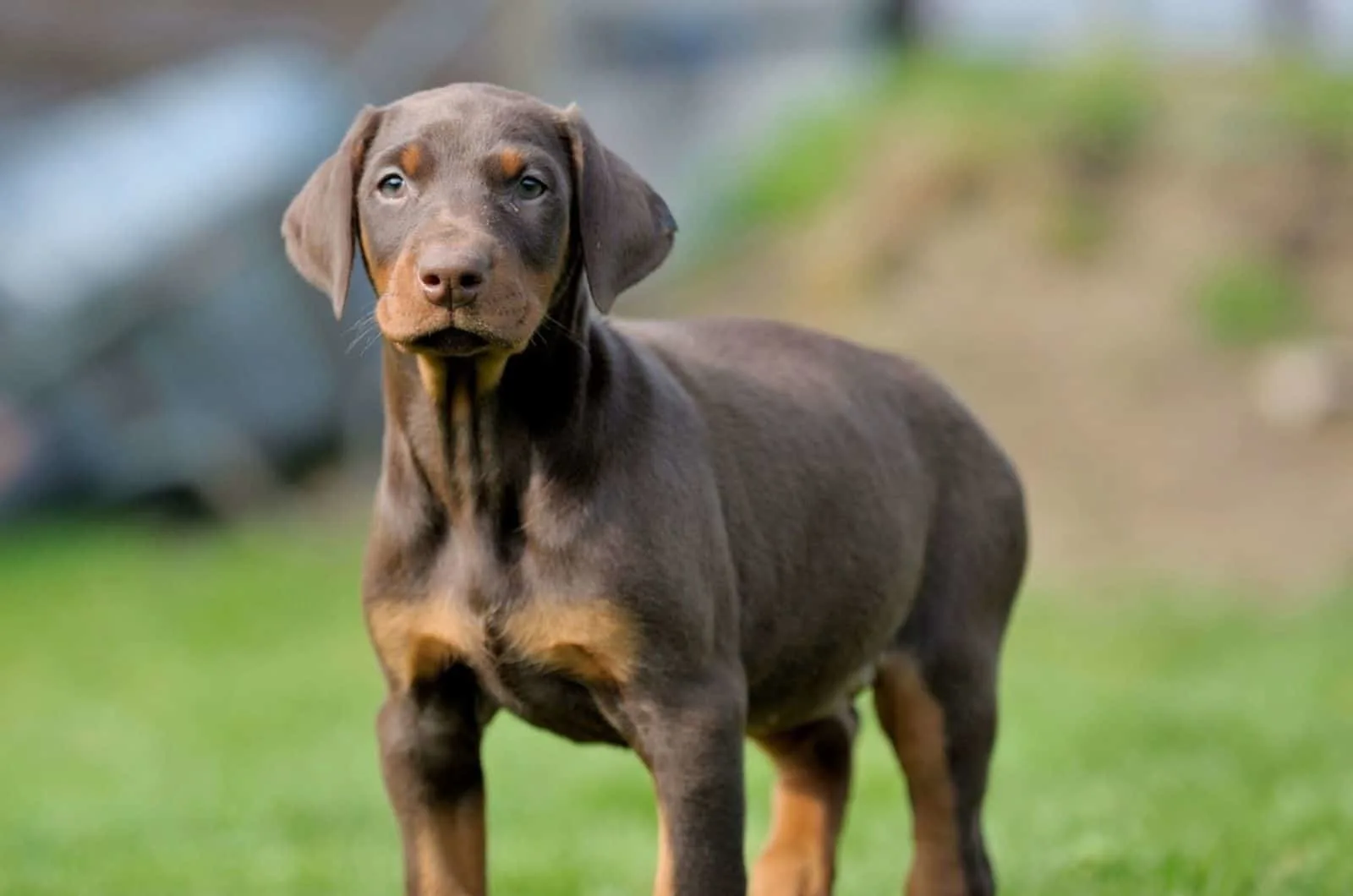 They take great satisfaction in raising superior Doberman Pinschers, including putting a focus on family protection at their Harvard, Illinois facility.
It is a wonderful feeling for them to roam their property, stay at home alone, and go to sleep each night knowing that their Dobermans are there being watchful, attentive, and alert, especially in light of the current instability and uncertainty.
Their Dobermans are renowned for being excellent family protectors.
They place a lot of importance on regular health testing of their canines. As soon as they are available, test results will be provided, along with each dog's profile.
They live by the motto, "We stand by our pups."
Most important info:
Location address: The Defender Farm, 10607 White Oaks Rd, Harvard, IL 60033, United States
Phone number: 815-382-8220
Contact email: [email protected]
Website: The Defender Farm
Final Word
Be aware of what you're getting into when purchasing a Doberman Pinscher. Why? Because novice dog owners are not normally advised to get this breed.
To help them acquire the proper temperaments and manners, they need specific treatment and training.
Buying your Doberman Pinscher from a "cheap Breeder" is not ethical since it helps backyard breeders who are not concerned with the dogs' welfare.
After doing your homework and bringing home your new puppy, try to be a responsible pet lover and support breeders who direct their breeding operations toward maintaining and raising the breed's standards.
This dog breed is everything but naive. They won't obey an owner who isn't dominant enough for them to characterize the owner as the 'pack leader'. They are a highly intelligent dog breed that enjoys loads of activity.
A good breeder will charge between $1,500 and $2,500 for a correctly maintained American Doberman Pinscher puppy. If you're looking for show quality, the cost will go from around $2,000.
Then, for an even more expensive version, you may spend about $3,000 to buy a European Doberman Pinscher.
In order to be sure you are buying a dog that has been examined for health issues and bred to maintain the Doberman Pinscher standards in their lineages, the best method is to do your homework and choose a licensed breeder rather than a backyard breeder.
We advise that you decide on one among these Doberman breeders in Illinois, and you should be good to go. However, we are not forcing you to do so – if none of these breeders sit well with you, don't buy from them.
It is important that you follow your intuition and your gut feeling when deciding upon buying a puppy from a certain breeder!