Cockapoos are friendly, affectionate, and adorable! Who wouldn't want to have a puppy that looks like a soft Teddy bear toy? And, on top of that – they are hypoallergenic!
Sign me up, I want to get one right now! But, where to find a Cockapoo? Are there any reputable breeders in the UK? Of course, there are reputable Cockapoo breeders in the UK. Actually, there are a lot of registered, hard-working, and dog-loving breeders all around the UK, from Scotland across Northern Ireland and Wales to England – here is the list of the 17 best Cockapoo breeders in the UK.
They all share the same characteristics that make them the best. First of all, as you will see, they love their dogs and they do not just think about the profit, but they are concerned about the dog's health and happiness.
Let's check them out.
Cockapoo Puppies For Sale In The UK
As already mentioned, Cockapoos have incredible traits that make them very popular all around the world, including in the UK. They are fluffy and soft, low-shedding, medium-sized dogs that came from breeding two purebred dogs – a Cocker Spaniel and a Poodle.
With their gentle and playful tempers combined with the hypoallergenic trait, it is no wonder they are so highly desired. But, finding the right Cockapoo breeder can be hard. We have to pay attention and watch out for scammers and puppy mills.
Searching for the right breeder can be exhausting, which is why we have a list of the 17 best Cockapoo breeders in the UK to ease your mind and help you narrow down your search for the perfect Cockapoo puppy for your home.
There is a high chance that after you finish reading this list you will find a Cockapoo puppy just for you, and you will dial up that number to make all the necessary reservations.
1. Jandaz Cockapoos, Llandysul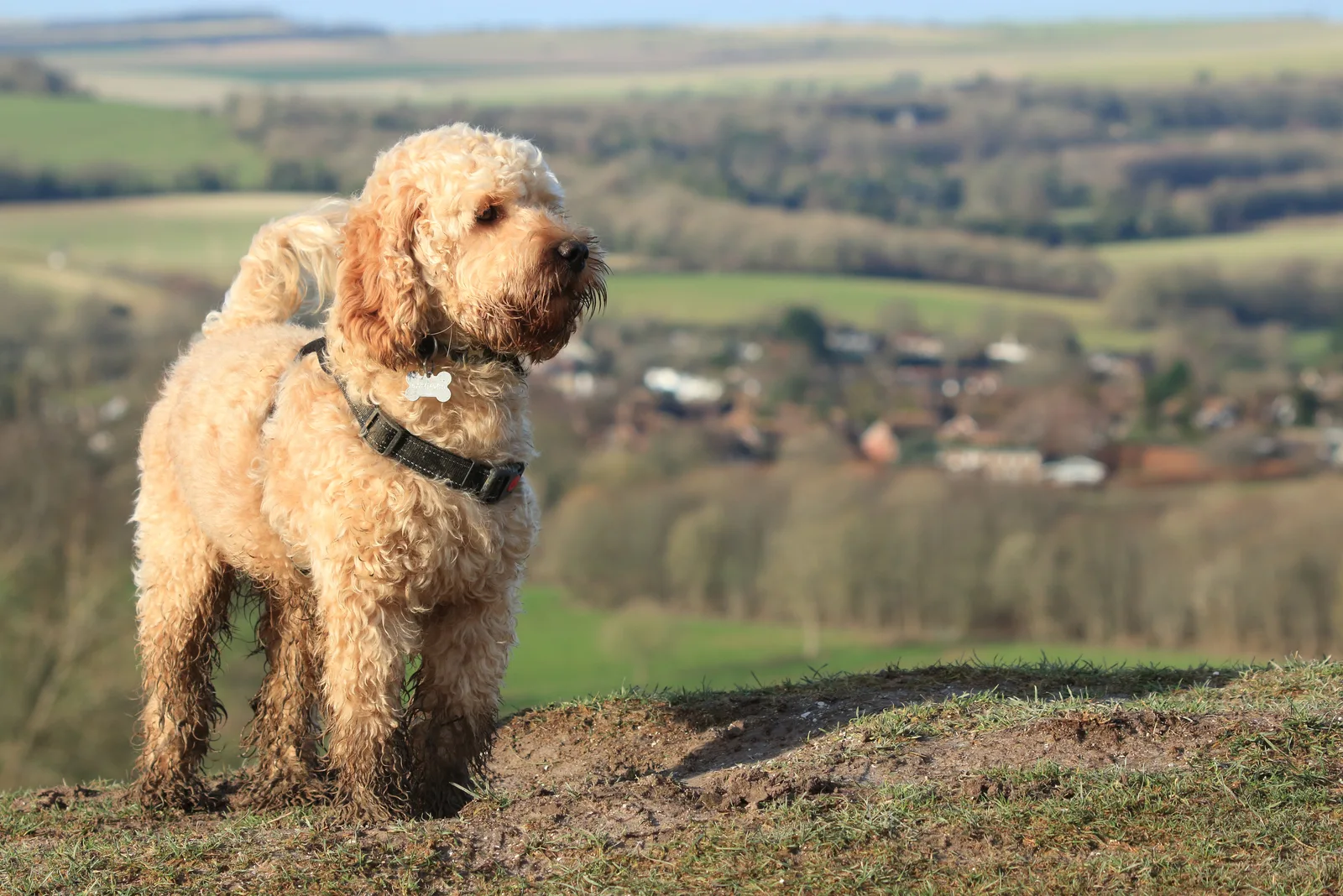 Jandaz Cockapoos was established in 1979. The founders were Janice and Darrel Griffiths. Sadly, they are no longer with us, but their daughter and granddaughter continued with the family business.
Today's owner is called Sarah and her daughter is India. Both are dog lovers and understand the importance of love and affection in raising pups to become happy and healthy. They are doing an extremely good job in keeping up the tradition and responsible breeding of the Cockapoos.
You can find both American and English Cockapoos in Jandaz Cockapoos and they are in cream and apricot coat colors.
All of their dogs are microchipped, de-wormed, and fully vaccinated. The thing I liked the most about Jandaz Cockapoos is the fact they keep their puppies with them until they are 10 weeks old, no less. That ensures enough time for the puppies to be well-socialized, which makes them adapt easier to a new environment.
When they stay with the breeder for 10 weeks, this means they are also vaccinated against Parvovirus, Parainfluenza, Hepatitis, Distemper, and Leptospirosis before leaving for their new home.
Another fact that puts them on the list of the 17 best Cockapoo breeders in the UK is that all of their dogs are PFK (Phosphofructokinase deficiency) and PRA (Progressive Retinal Atrophy) tested and cleared.
What are you waiting for – call the Jandaz Cockapoos and get yourself a new Cockapoo puppy.
Address: Cross Inn, Llandysul SA44 6NH, United Kingdom
Phone: +441545560641
Website: Jandaz Cockapoos
2. Benbela Cockapoos, Maldon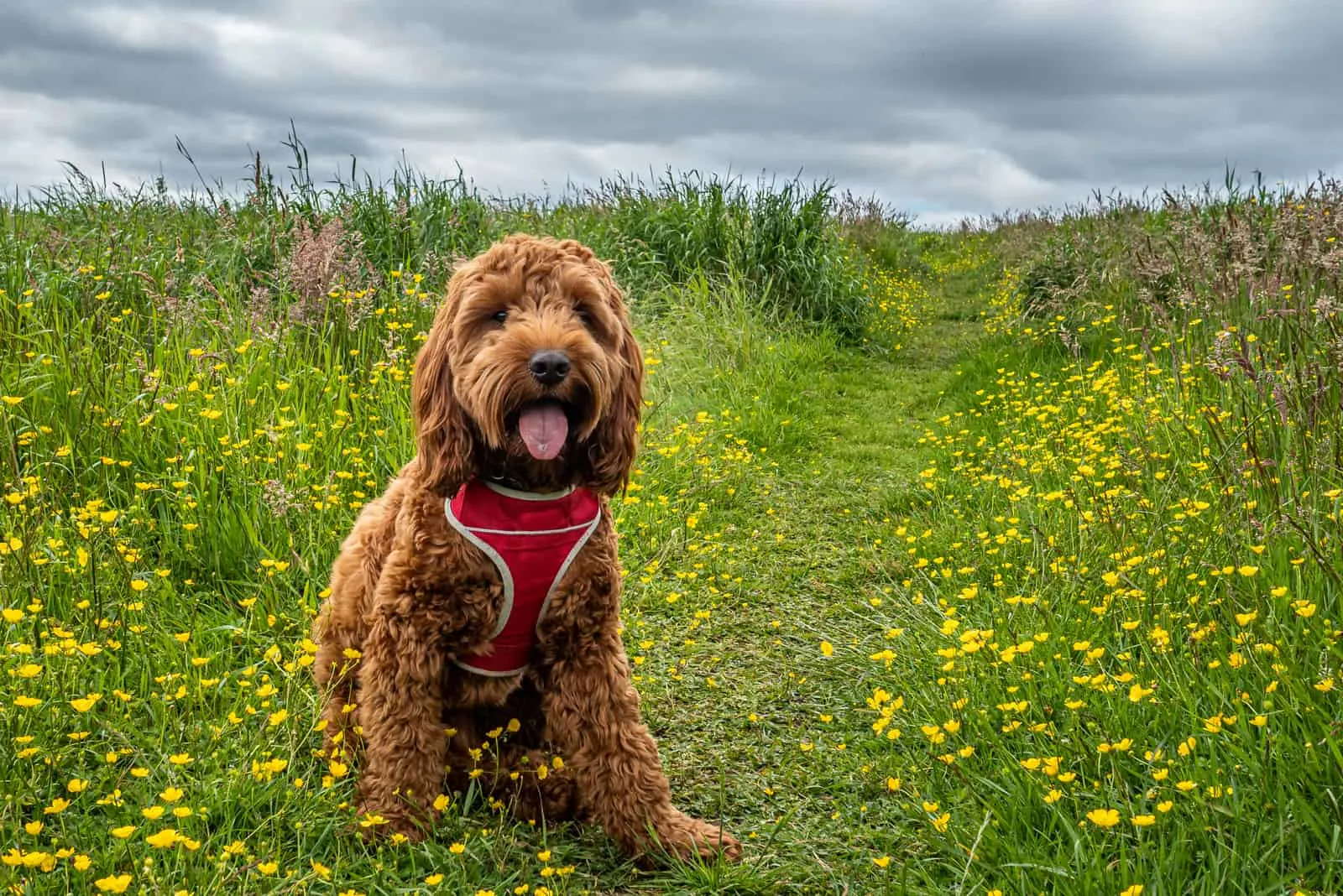 Meet Corrinne, Michelle, and Geoff. They are all working hard to make and maintain the best environment for the Cockapoo dogs and puppies. Corrinne has been in the business of breeding dogs for more than 35 years.
She has a lot of experience and – most importantly – a lot of love for the dogs, too! But, the whole family is responsible for breeding some of the most beautiful and healthiest Cockapoo puppies in the UK.
They have two purebred miniature male Poodles. One is a merle Poodle and the other one is a white Poodle. There are six female dogs that are English Cocker Spaniels with different coat colors. All of the puppies they breed are F1 Cockapoos – they are the first generation of crossing two purebred dogs.
They come in various coat colors, from merle to solid apricot. The pups are microchipped, and de-wormed, and they come with a one-month insurance policy. This insurance should cover the puppies just in time for you to find them your own vet and new insurance.
And, if you have any problems, they are all available and always ready to lend you a helping hand. They will answer any questions you might have. From food to behavior, feel free to ask them whatever you like.
Address: Willows, Brick House Rd, Tolleshunt Major, Little Totham, Maldon CM9 8JX, United Kingdom
Phone: +441621891403
Website: Benbela Cockapoos
3. Cocker Doodle Poo, Guildford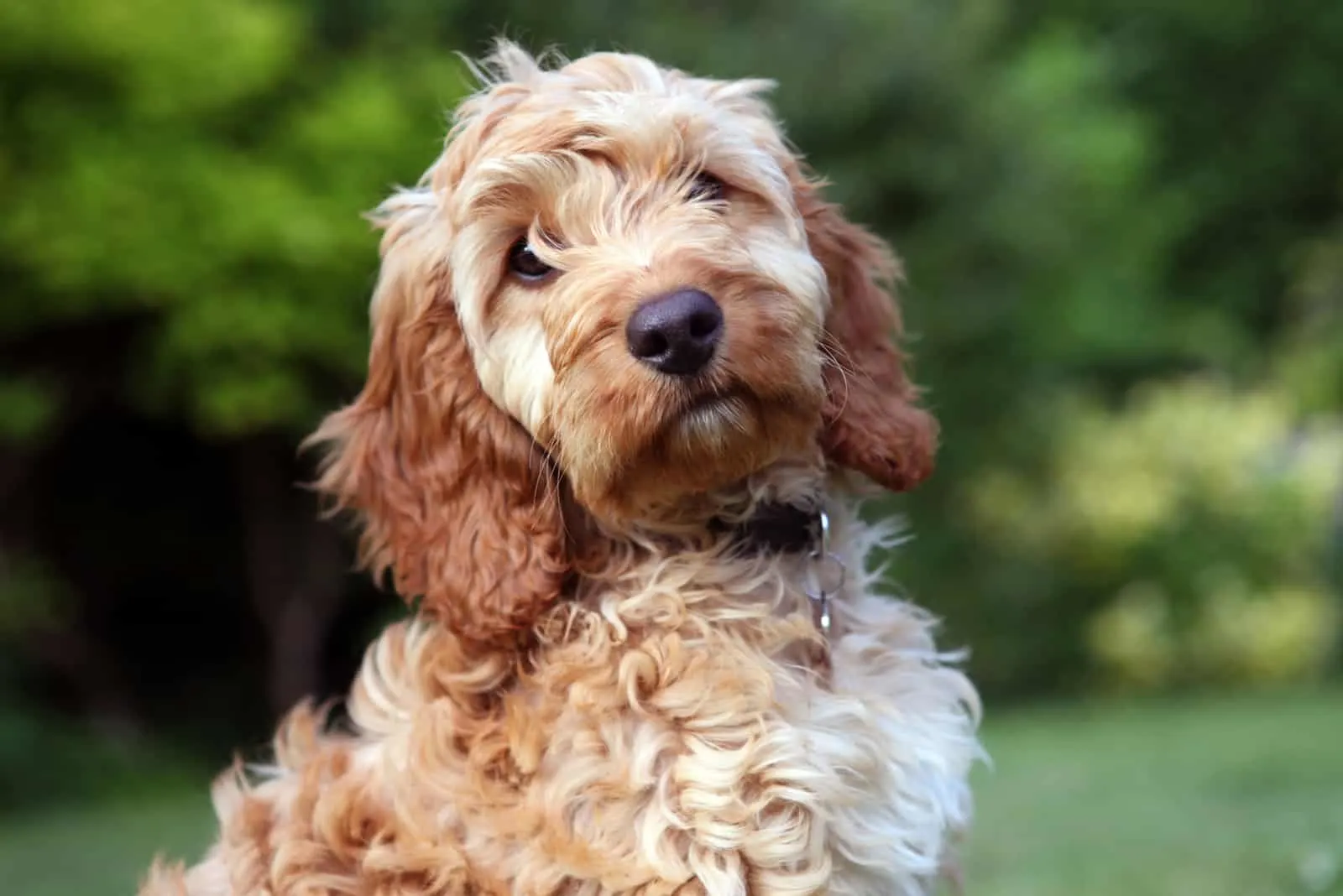 This is another amazing and responsible breeder. They rightfully belong on the list of the 17 best Cockapoo breeders in the UK with their five-star cottage breeding reputation.
They have a lot of space for their puppies and dogs to enjoy the fresh air and to sniff and explore as much as they want – safely inside the tall fences. That way nothing can come in and nothing can get out. Their cockapoos are not alone.
Cocker Doodle Poo breeds other dog breeds as well – F1 Labradoodles and Cocker Spaniels. They all enjoy a fun time together. That is very important for early socialization in dogs. The Cockapoo puppies you get from them will surely be well-socialized and well-prepared for other dogs, no matter the size.
Also, there are children on the premises and they play with the puppies, which enables excellent socialization of the Cockapoo puppies with young children. That way, the dogs learn how to behave around children and are ready for any type of family – with or without children.
Their studs and dams are DNA tested and cleared, all of the dogs are regularly checked by a vet (every 6 months) and they are vaccinated, microchipped, and de-wormed.
Address: The Orchard Puttenham Heath Road, Compton, Guildford GU3 1DU, United Kingdom,
Phone: +447818295987
Website: Cocker Doodle Poo
4. Pankington Puppies, Spilsby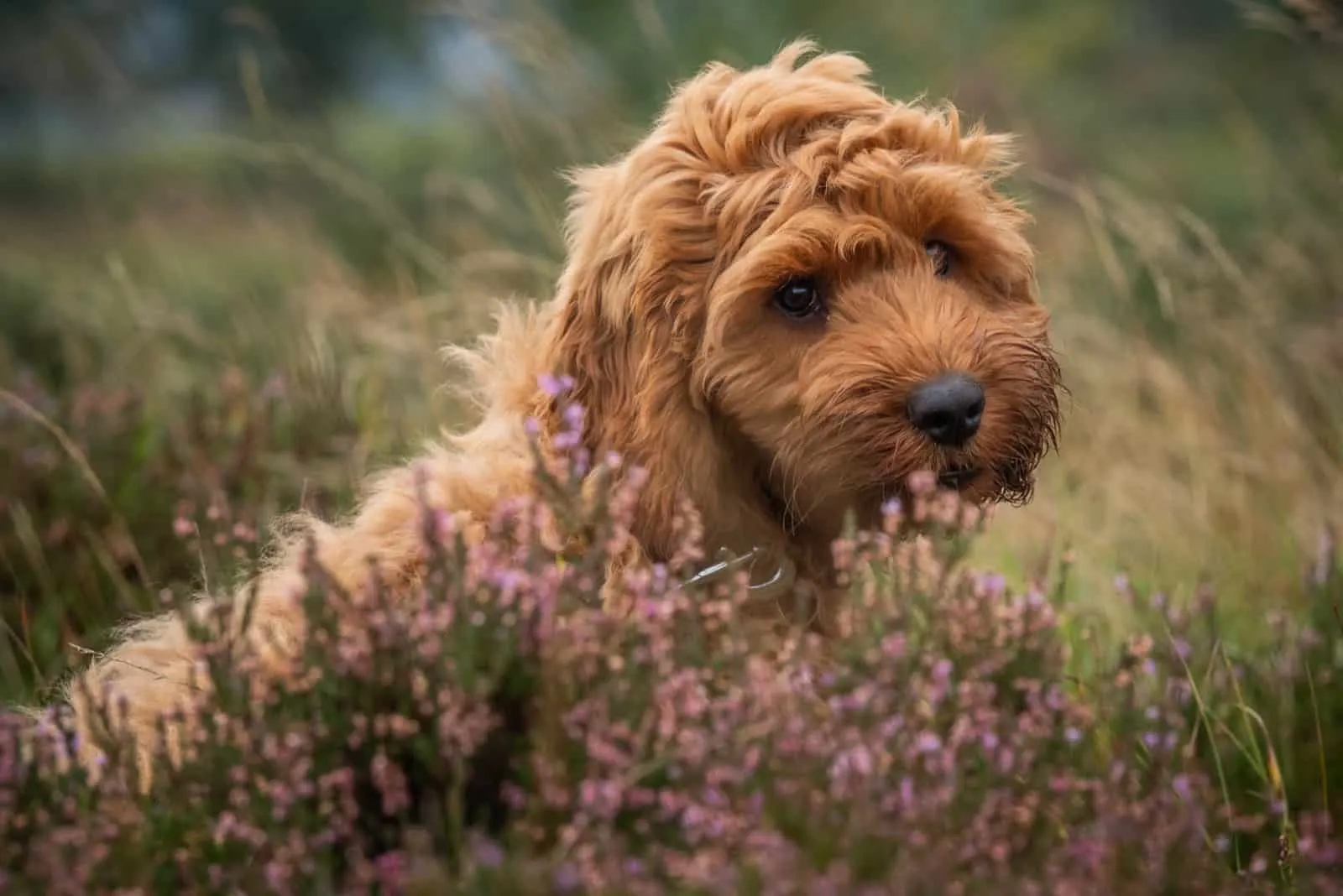 This is another five-star Cockapoo breeder in the UK, namely Lincolnshire. They are licensed, checked, and approved by the veterinary organization of the UK, and they are definitely more than qualified in their field of work.
Pankington Puppies were established more than 40 years ago and the owner is Jolli King. She was the first Cockapoo breeder in the UK and the correspondent for the breed with some of the best-selling magazines in the country. Juliana is Jolli's daughter, and she is the one who continues working behind the Pankington Puppies.
All of their dogs go through health testing and they go through all of the necessary vaccinations. The dogs have been tested for:
prcd PRA, DM (Degenerative Myelopathy),
NEwS (Neonatal Encephalopathy with Seizures),
PFKD,
EIC (Exercise Induced Collapse),
FN (Familial Nephropathy)
As you can see, they take great care of their dogs' health. By testing them for various genetic diseases, they are making sure the stud dogs and dams, as well as all of the puppies, are healthy. They have years of experience and they are dedicated to making excellent family pets.
Address: Scalp Hill Farm, Old Main Rd, Spilsby PE23 4LX, United Kingdom
Phone: +447939311102
Website: Pankington Puppies
5. Martinshaw Kennels, Leicester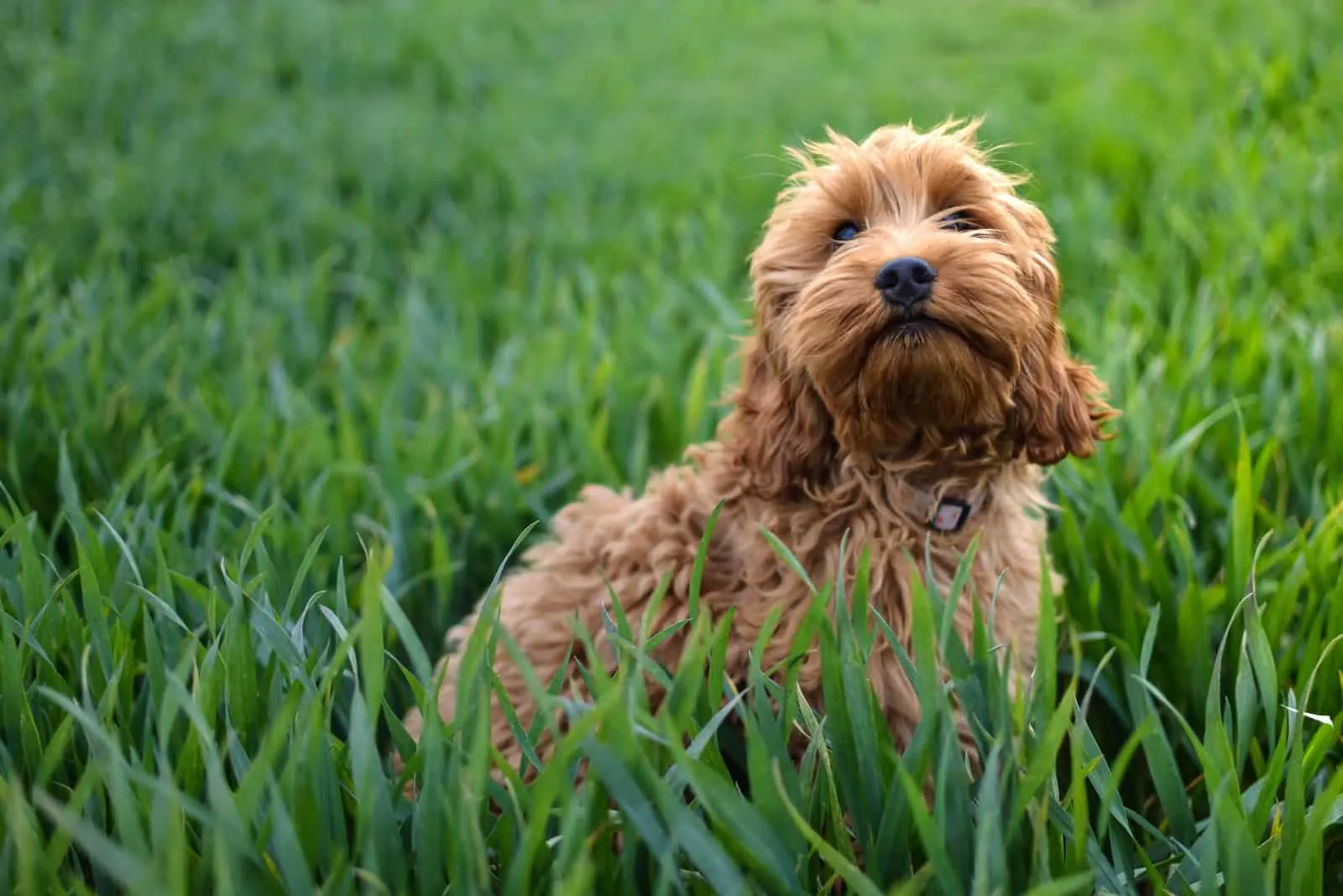 This is a licensed breeder of Cockapoo puppies. They too have a five-star rating, and they are Kennel club registered. Just like other Cockapoo breeders in the UK on our list, they too take care of the dogs' health and happiness.
All of the dogs in the Kennel are microchipped, well-take care of, and vaccinated, and they have healthy puppies coming from health-checked purebred dogs. They have two dog breeds – purebred Cocker Spaniels and Cockapoo crossbreeds.
Being a good breeder, the owner of Martinshaw Kennels, David Cooper, is not only an approved Cockapoo breeder but also a dog owner himself. That puts him in the position of knowing what it feels like to have a Cockapoo or a Cocker Spaniel, what these dog breeds need, and how to take care of them in the best possible manner.
If you want to be a new Cockapoo owner, Martinshaw Kennels is the right place to go, especially if you are near Leicester. But, you can contact them via the phone or on the website, and make arrangements for puppy transportation, as well.
Address: 191 Markfield Rd, Groby, Leicester LE6 0FT, United Kingdom
Phone: +441530243874
Website: Martinshaw Kennels
6. Glendream Doodles, Fife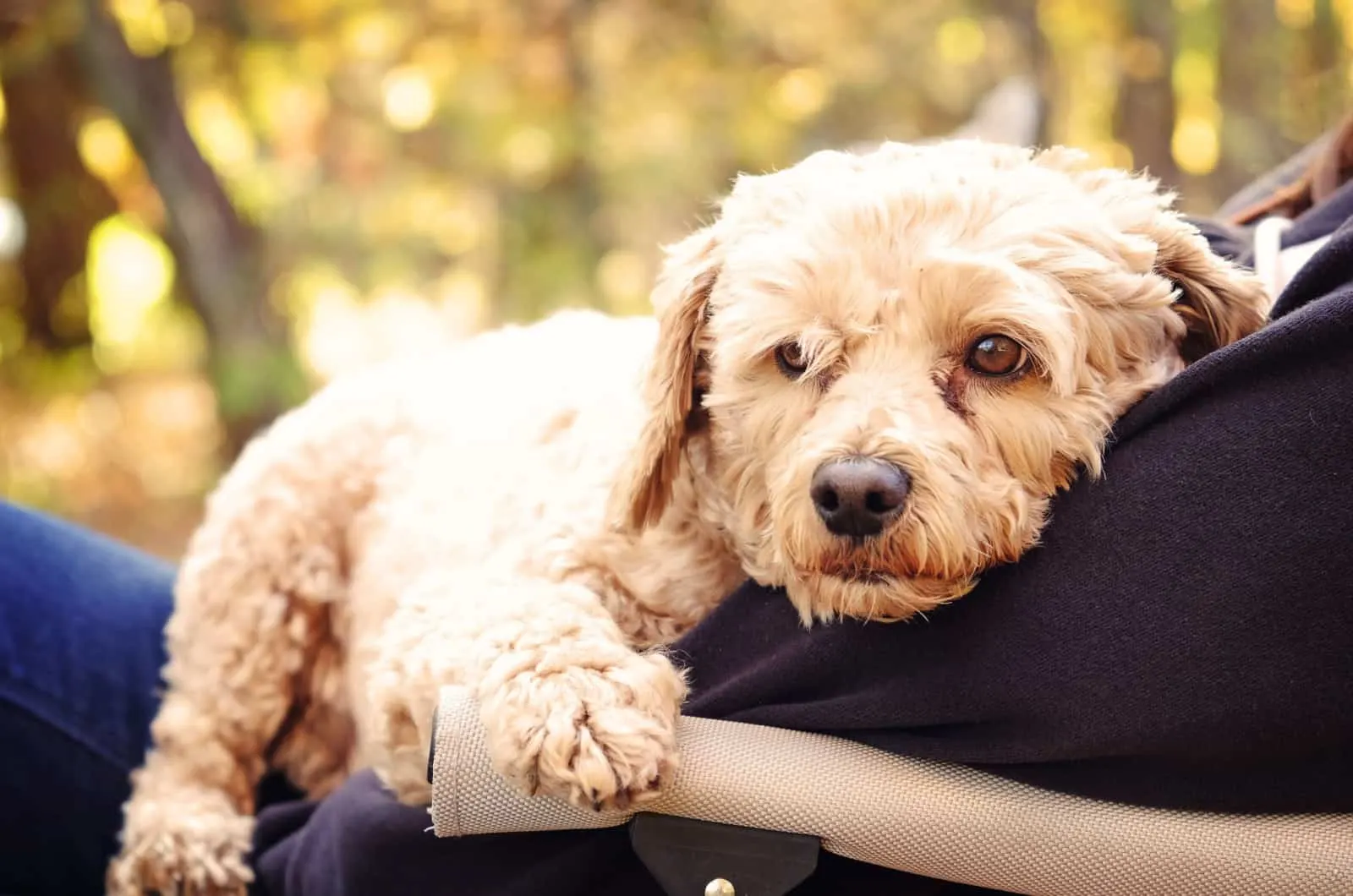 They are a family kennel located in eastern Scotland. Paul, the owner, breeds F1 Cockapoos, Goldendoodles, and Cavapoos, and he has been in the breeding business for more than 20 years.
Glendream Doodles is on the list of the best Cockapoo breeders in the UK for a reason. They treat their dogs as family members. Also, all of their dogs are genetically tested and cleared. That means your future faithful friend is going to be healthy with minimal possible health issues.
Of course, it is your responsibility to continue taking care of the dog and giving it lots of hugs and love. With dog breeders like Glendream Doodles, the puppies are already used to affection, hugs, and kisses, so it is something you'll have to continue. But, hey – who can resist those puppy eyes anyway?
They have Cockapoo puppies in all kinds of colors. From chocolate and black to merle. You can find a perfect puppy at Glendream Doodles.
Address: Fife, Scotland
Phone: +441337870332
Website: Glendream Doodles
7. Lawford Doodles, Warwickshire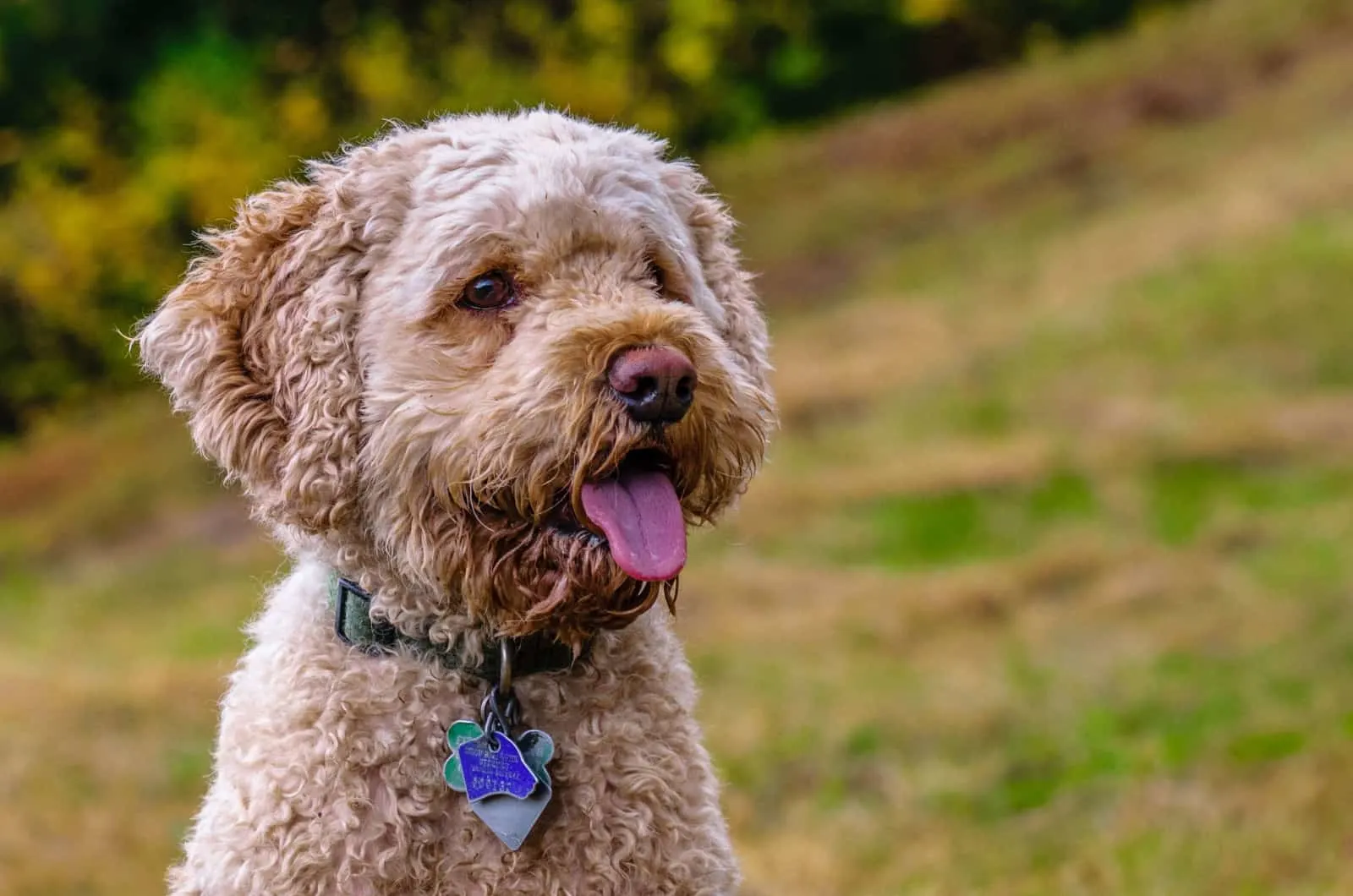 The owners of Lawford Doodles are Matt & Julie from Rugby, Warwickshire. Besides breeding Cockapoos, they also have Labrador Retriever dogs and Cocker Spaniels.
Because they are a family doing their job like they are "just" hobby breeders, you can feel how relaxed and easy-going they are. Both Matt and Julie love all of their dogs and they treat them like they are a part of their family and they participate in their everyday family life.
With such love and dedication, their dogs are amazing. But, it's not just love they are making sure the dogs never lack, they also make sure the dogs are healthy through regular vet checks and DNA tests.
And, for everyone thinking they are just a family breeder, here is another reason they are on the list of the 17 best Cockapoo breeders in the UK – they have been awarded a 5-star license by Rugby Borough. Besides phoning, you can email them as well – [email protected].
Address: Warwickshire, Scotland
Phone: +442476540040
Website: Lawford Doodles
8. Sylml Cockapoo and Cavapoo, Lincolnshire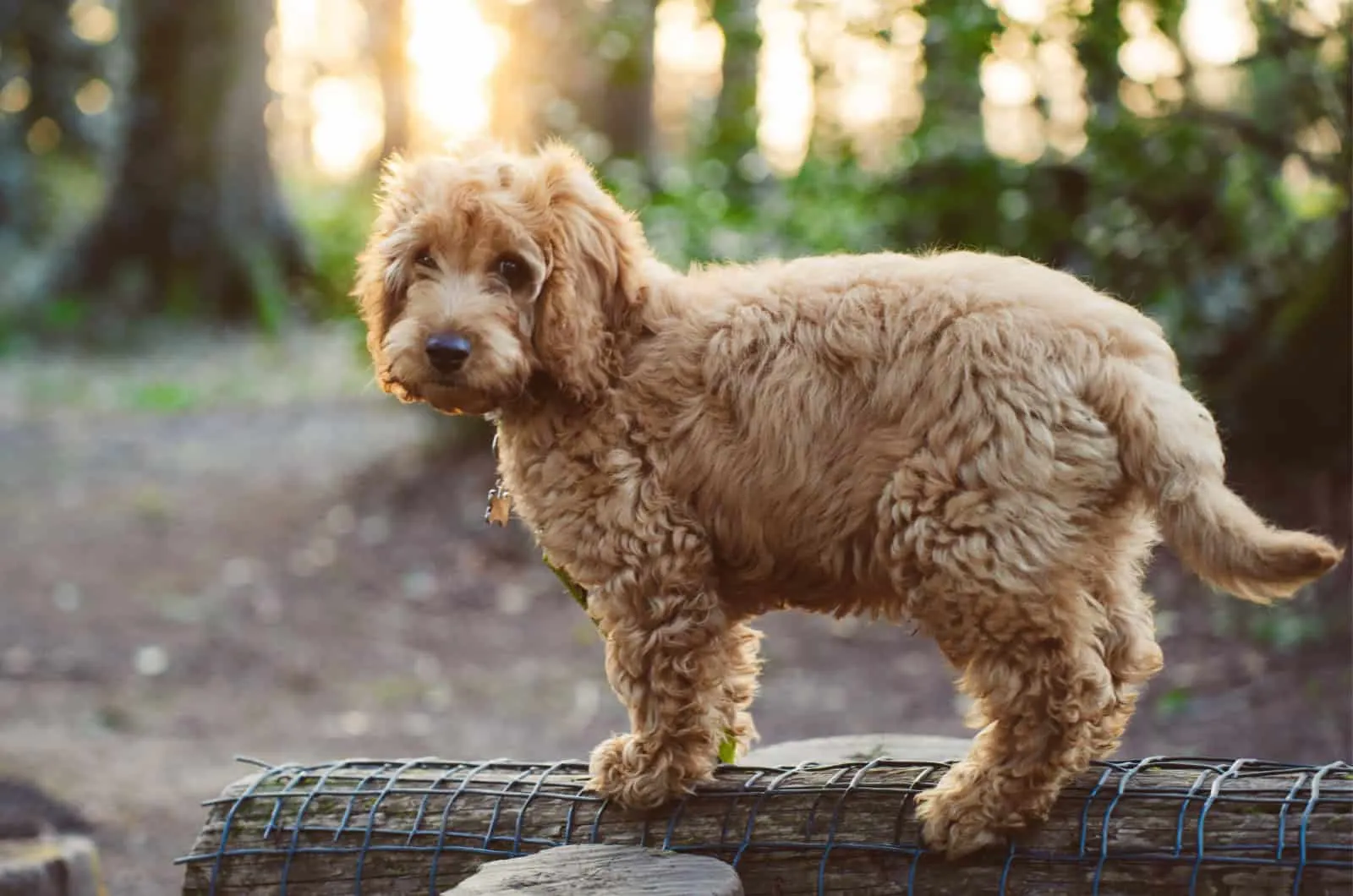 Sylml Cockapoo has been in the business for more than 40 years. But, not only in the breeding business – they have been both showing and judging dogs too.
The owner is Sylvia Hook, and she has different breeds, including Beagles, Labrador Retrievers, and of course, Cockapoos. Sylvia is also a member of the CCGB (the Cockapoo Club of Great Britain).
Sylml Cockapoo is one of those Cockapoo breeders in the UK that take great pride in breeding well-tempered Cockapoos that are well-socialized, especially when it comes to interaction with young children. The dogs also run around in the yard freely, thriving and enjoying their time together with other dogs of other breeds and ages.
All of this is of extreme importance to the development of the puppies. All of their dogs have been vaccinated and are regularly de-wormed. They never breed with dogs that have genetically inheritable diseases, ensuring the best possible health of each and every puppy.
If you buy a puppy from Sylvia Hook, you will get a gift basket including a blanket with mom's smell, a DVD about puppies, and food.
Address: LN1 2JT, Lincolnshire
Phone: +447974225495
Website: Sylml Cockapoo
9. Justdogz, Wisbech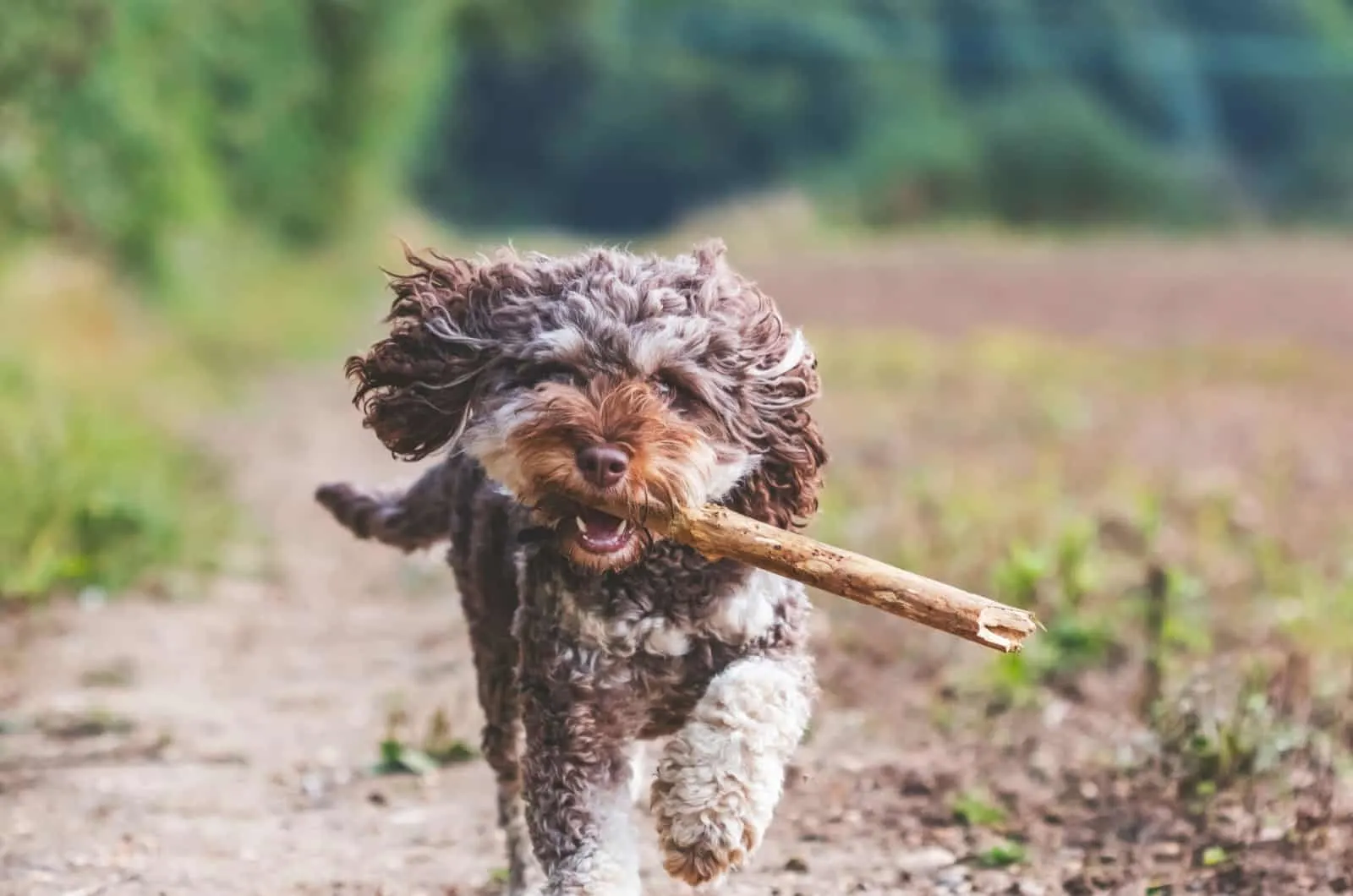 This is a family breeding company with the owner, Justine Watts, and her six children and grandchildren helping out with the dogs. Justine has F1 Cockapoos, Cocker Spaniels, and Miniature Cream Longhaired Dachshunds.
All of her Cockapoos have Poodle dads and Cocker Spaniel moms. And, they are all F1 Cockapoos – first generation. The puppies never leave Justine and her home until they have been vaccinated, microchipped, de-wormed, and treated against fleas.
Also, all of her Cocker Spaniels are English and not American Cocker Spaniels, and the dads are the Toy Poodle breed. The puppies come in various coat colors, from merle to apricot and bi-colors.
Justdogz is a member of CCGB and has a five-star license. But, the most important thing is that they treat their dogs with lots of love and playtime. You can be sure your Cockapoo dogs will be healthy, beautiful, and well-tempered when you bring them home.
Address: New Rd, Upwell, Wisbech PE14 9HP, United Kingdom
Phone: +447799016022
Website: Justdogz
10. Woodlands Cockapoos, Market Rasen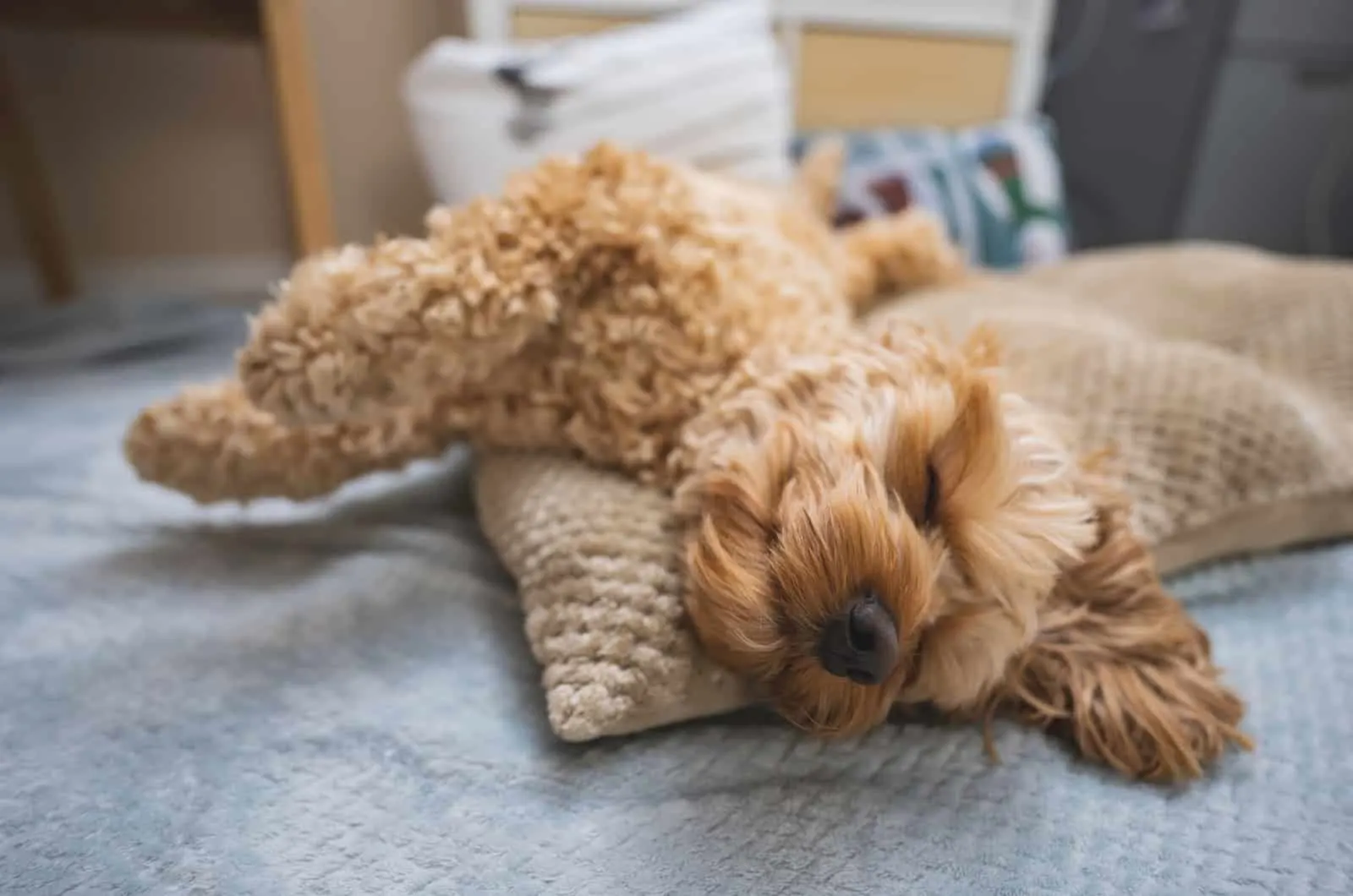 The owner of the Woodlands Cockapoos is Maureen Fletcher. She has been breeding dogs for more than 30 years! Her experience is of such value and she most certainly uses it.
Her dogs are F1 Cockapoos and she is also a member of the Cockapoo Club of Great Britain. An interesting fact about Maureen and her Woodlands Cockapoos is that she never uses dogs under 18 months of age for breeding. Also, she breeds all of her dogs only once a year.
That is ethical breeding worthy of praise and worthy of being put on the list of the best Cockapoo breeders in the UK. But, we're sure she is one of the best on both sides of the Pond, not only in the UK but in the US as well.
Woodlands Cockapoos don't have an official website, but they do have a Facebook page that you can use to check out the pictures of the puppies and contact Maureen, as well.
Address: Market Rasen, Lincolnshire
Email: [email protected]
11. Tiddybrook Cockapoos, Devon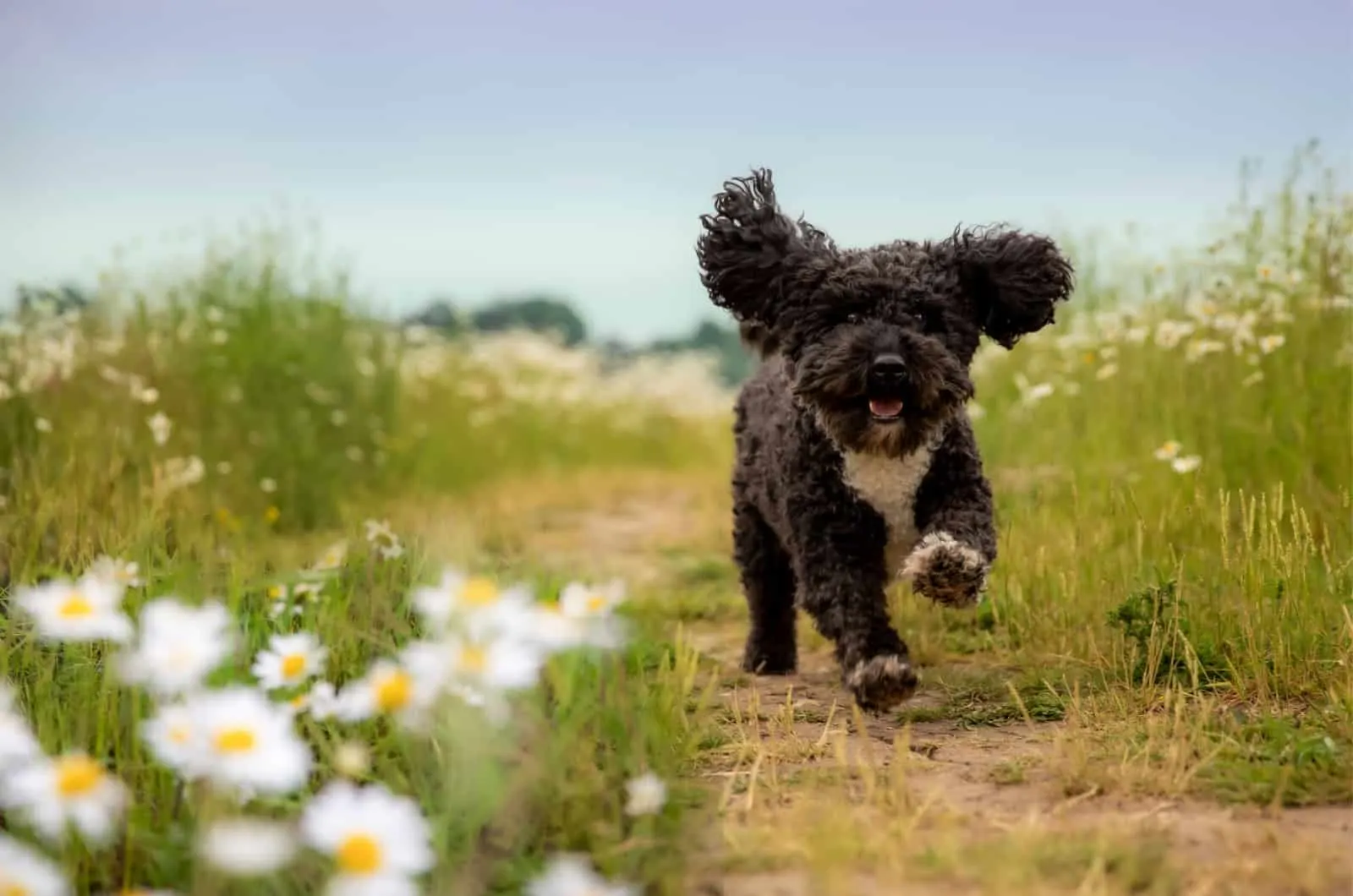 This is a family business and the owners are husband and wife from west Devon. They breed more than Cockapoos – they have German Shepherds, Afghan Hounds, Collie crosses, etc. They are located between streams and rivers, giving their dogs the opportunity to enjoy nature.
Tiddybrook Cockapoos are breeders who are fully approved by the local authorities and the Cockapoo Club of Great Britain. They are breeding exceptional Cockapoos that enjoy all the love, hugs, and kisses, and the best quality food and health care Cockapoo breeders in the UK can provide.
They have testimonials coming from all over the UK, and they are all filled with love and praise, no matter the dog breed. The dogs are tested for various genetic diseases, including PRA, FN, and eye diseases. This ensures all of their future puppies are clear of these diseases as well.
The Poodle used in the breeding program of Cockapoos is a red Poodle. He is miniature sized and KC-registered.
Address: Tiddybrook House, Brook Lane, TAVISTOCK, PL19 9DP
Phone: +447796457068
Website: Tiddybrook Cockapoos
12. Faithful Friends, Malmesbury, Wiltshire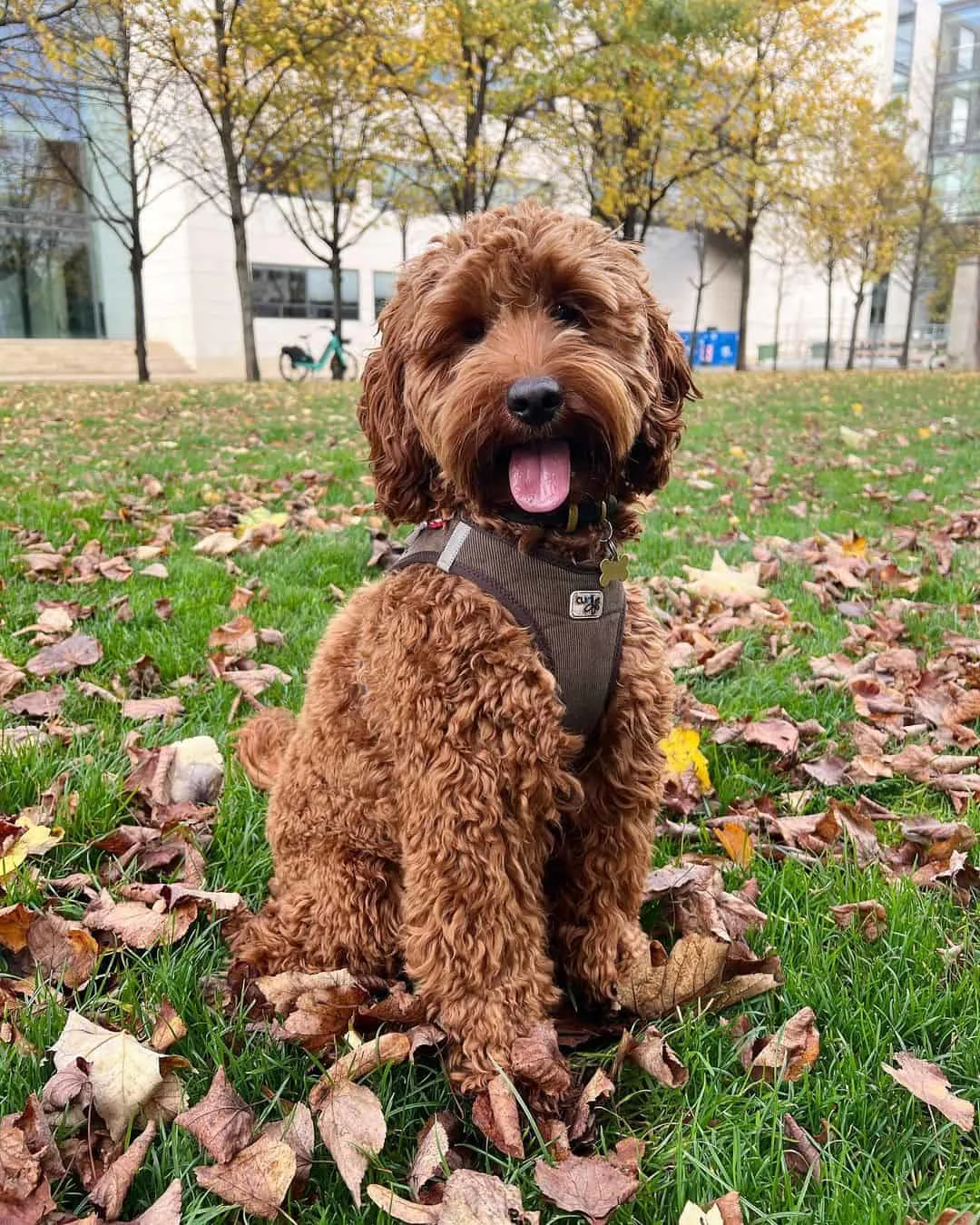 Lydia Faithful is the owner of Faithful Friends but she does more than breed Cockapoos. She started as a breeder, but today she is more focused on training programs.
Don't worry, she still breeds Cockapoos. The amazing fact is that together with the excellent Cockapoo with great health and beauty — you also get a well-tempered and well-behaved puppy. She also offers training programs for any other dog breed.
Not only is she one of the best Cockapoo breeders in the UK, but she is also a certified and registered professional dog trainer. Because of the high demand and her successful business, there is a chance you will have to be put on the waiting list before buying a puppy.
But, it is all worth the wait once you see what beautiful dogs she has and breeds. And, she is open to answering any questions about the litter and the mom and dad of the pups. There are no secrets or lies, she will tell you what you want to know.
Faithful Friend has been an excellent Cockapoo breeding business located in Malmesbury, Wiltshire and they have been involved in the breeding program for more than 10 years. Their love for dogs is easily noticeable and if you decide to buy a dog from them – you will take home one happy puppy.
Address: Malmesbury, Wiltshire
Phone: +447854118594
Website: Faithful Friends
13. Risdon Farm Dogs, Okehampton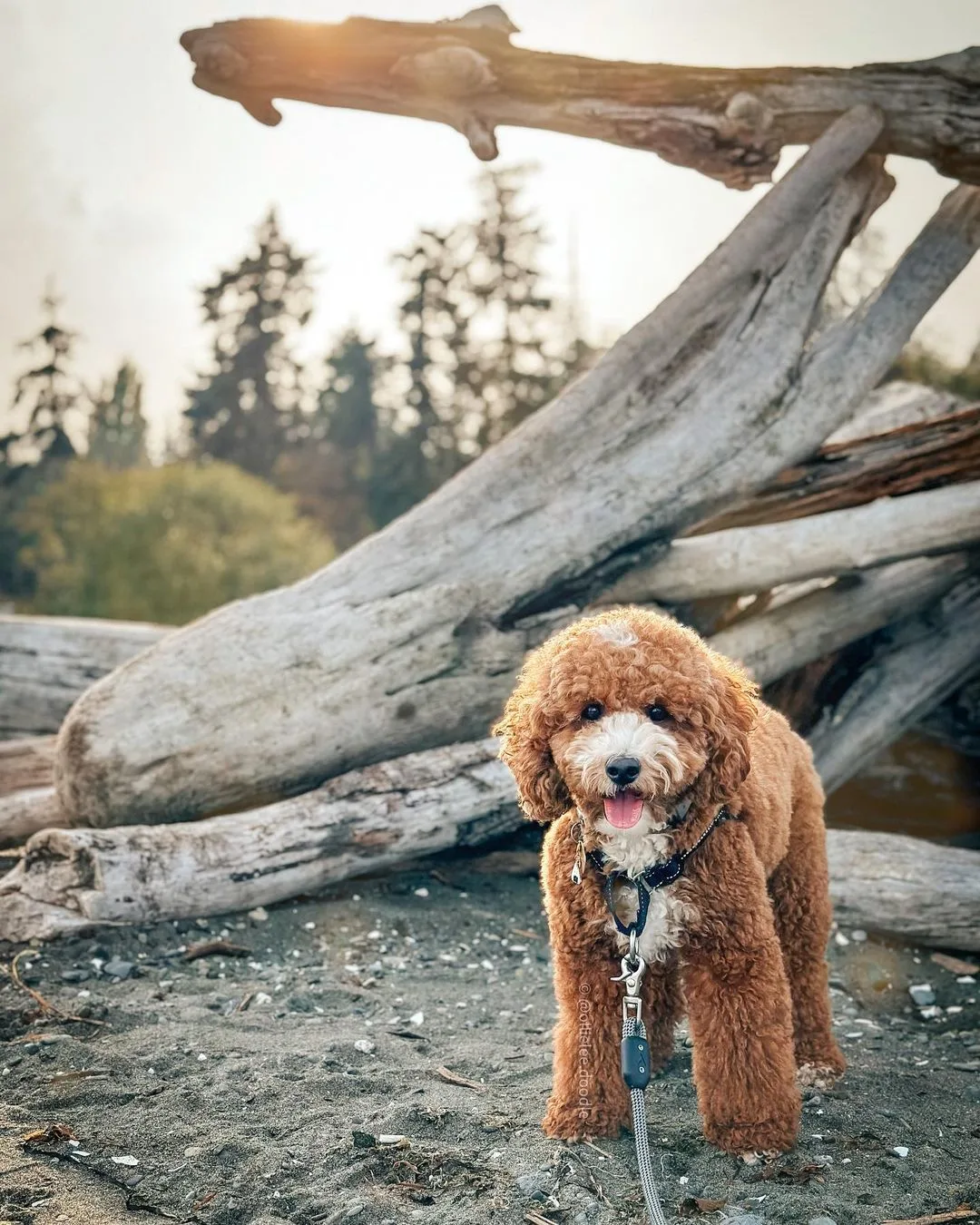 This is another family business. They love their dogs very much – a trait the same as in other Cockapoo breeders in the UK. The dogs are like family members. They are loved and well-taken care of.
And, what is wonderful about the Risdon Farm Dogs is that the dogs have more than 200 acres to run, play, and explore. Through games and exploration, the dogs learn how to behave, not only when in contact with other dogs but with people and with other animals as well.
Risdon Farm Dogs has a five-star rating from the local authorities. They are also accredited by the Cockapoo Club of Great Britain. All of this information should further ease your mind when it comes to family breeders. It doesn't matter if they are not published in famous local newspapers or if they don't have a flashy website.
Family businesses are just as responsible and hard-working. They might even add more love to the breeding program of their dogs because the dogs are around them all the time. They are with them in and out of the home, working, taking pictures, playing, and enjoying lounging time on the sofa.
Address: Boasley Cross, Bratton Clovelly, Okehampton EX20 4JQ, United Kingdom
Phone: +448456441581
Website: Risdon Farm Dogs
14. Lynton Cockapoos, Suffolk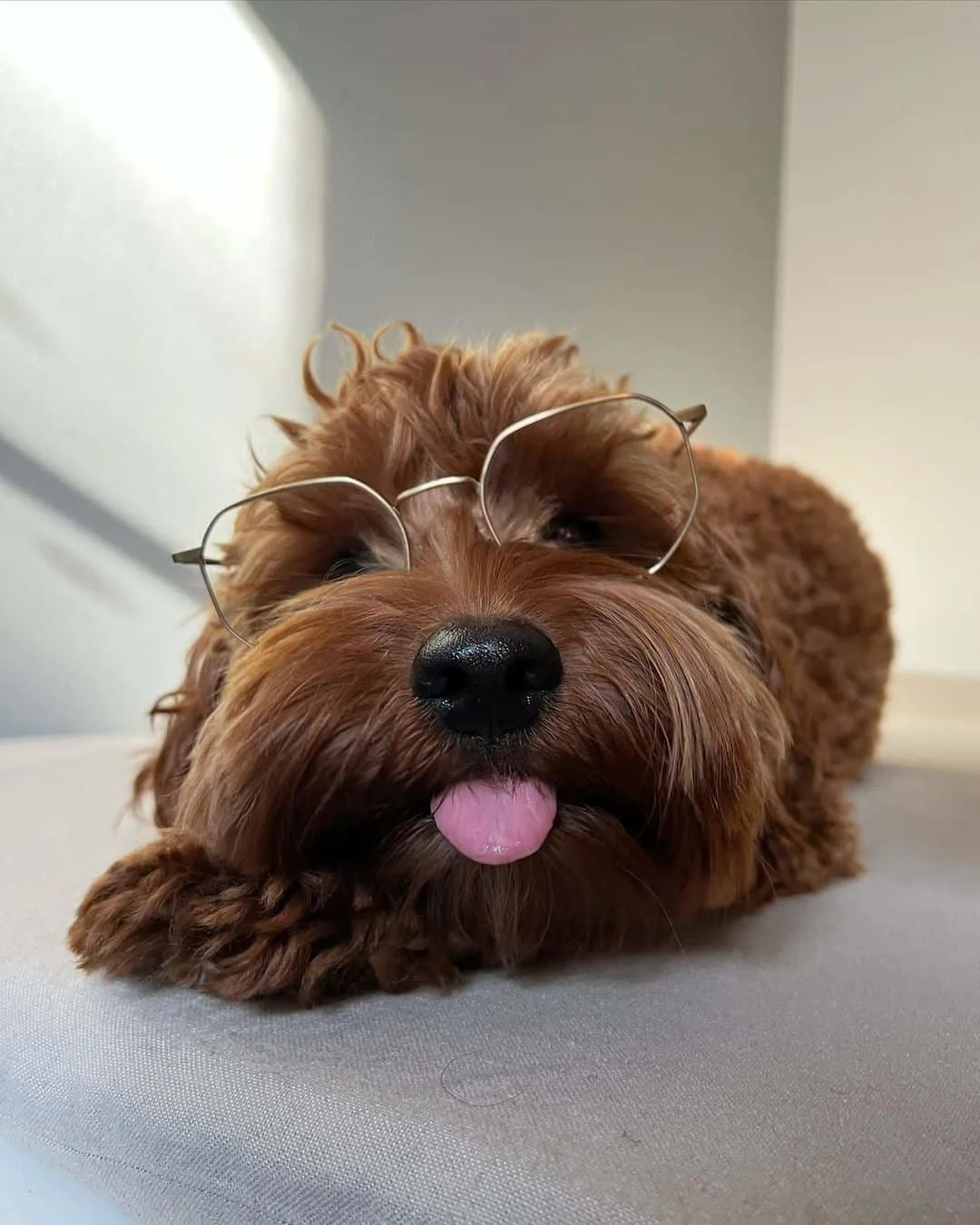 This is a hobby breeder from Suffolk. But, they have a lot of experience. They have been breeding for about 10 years, and very successfully! Lynton Cockapoos is breeding beautiful Cockapoo puppies of various coat colors.
They videotape their puppies, talk about them, and upload them on their Youtube Channel. You can see in the videos how much love and dedication they put into their work. The puppies are healthy and happy. Also, they are able to roam around in the yard.
Posting puppy videos is an amazing idea. You can immediately see the dynamic between the puppies and other dogs, as well as the relationship between the owners and the dogs. Everything looks wonderful.
The pups are healthy, microchipped, vaccinated, and de-wormed. They are also well-socialized, including socialization with young children. Lynton Cockapoos is on the list of the best Cockapoo breeders in the UK for many reasons! Well done, Lynton Cockapoos!
Address: Brettenham Rd, Buxhall, Suffolk IP14 3EA, England
Phone: +447917872021
Website: Lynton Cockapoos
15. Paddock Farm Dogs, Chelmsford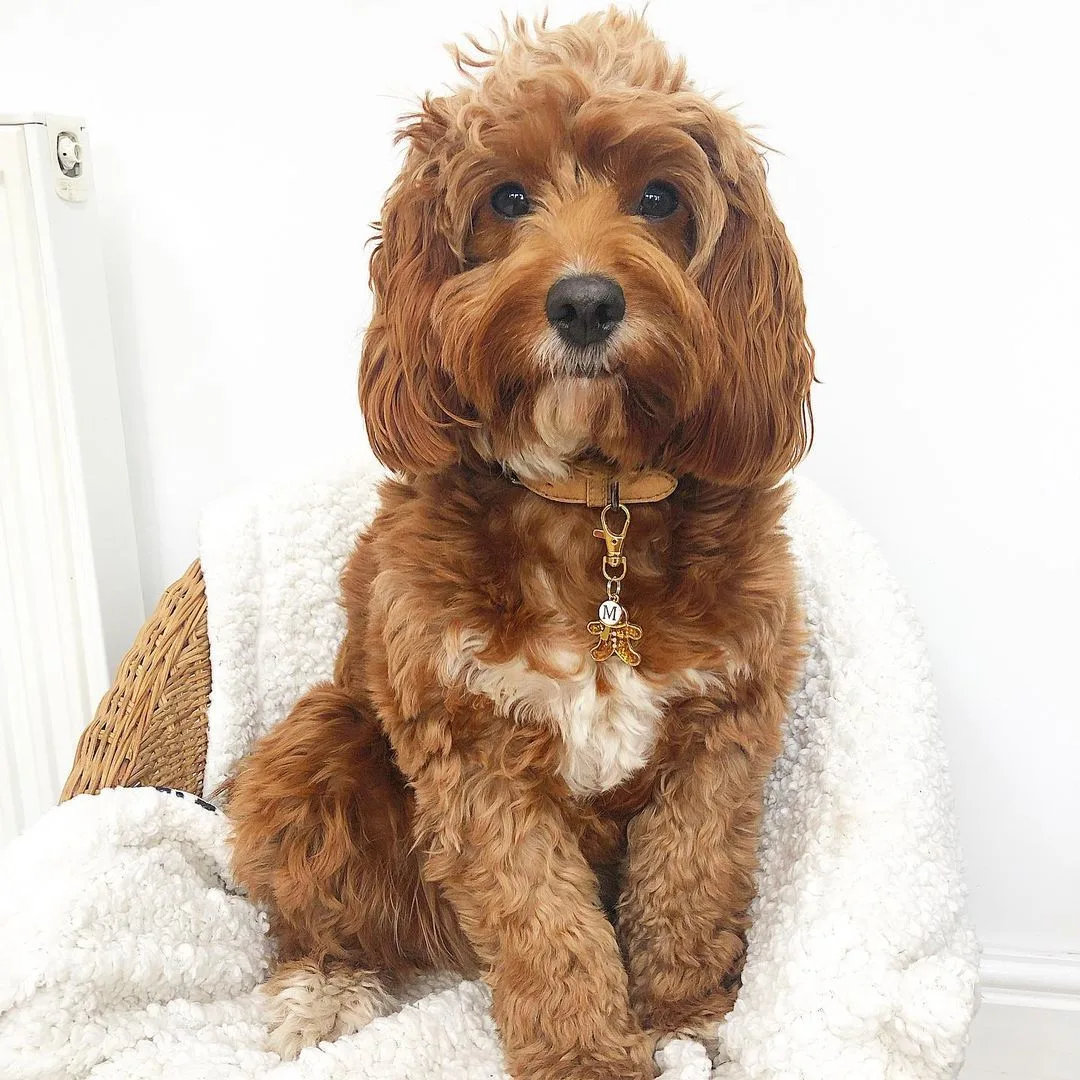 Meet Diane and Robert Stanley. They and their team take care of the dogs, fawn over them, cuddle them, and play with them. They are breeding Cockapoos, Cavapoos, and Cocker Spaniels. Their dogs have a wonderful yard to run, play, and enjoy nature.
The Stanleys have a lot of experience in breeding dogs. First of all, they make sure the dogs are healthy, loved, and properly mentally and physically stimulated every day. That means the dogs will grow up to be wonderful well-tempered Cockapoos ready to go to any type of family.
When we say any type, we mean whether you have children or not, you live alone, or in a large family – the Cockapoos from Paddock Farm Dogs will adapt quickly! And, they are simply gorgeous!
They offer a waiting list, and they are open to answering various questions regarding their work, puppies, dams and studs, and their own family. Feel free to contact them and ask a question. Paddock Farm Dogs also offers stud services. You can book an appointment if you have any questions on this matter, as well.
They are also members of the Kennel Club, and their dogs are microchipped, vaccinated, and regularly de-wormed and treated against fleas.
Address: Paddock Farm, Spring Ln, Hatfield Peverel, Chelmsford CM3 2JW, United Kingdom
Phone: +447950939303
Website: Paddock Farm Dogs
16. Botten's Doodles, Norfolk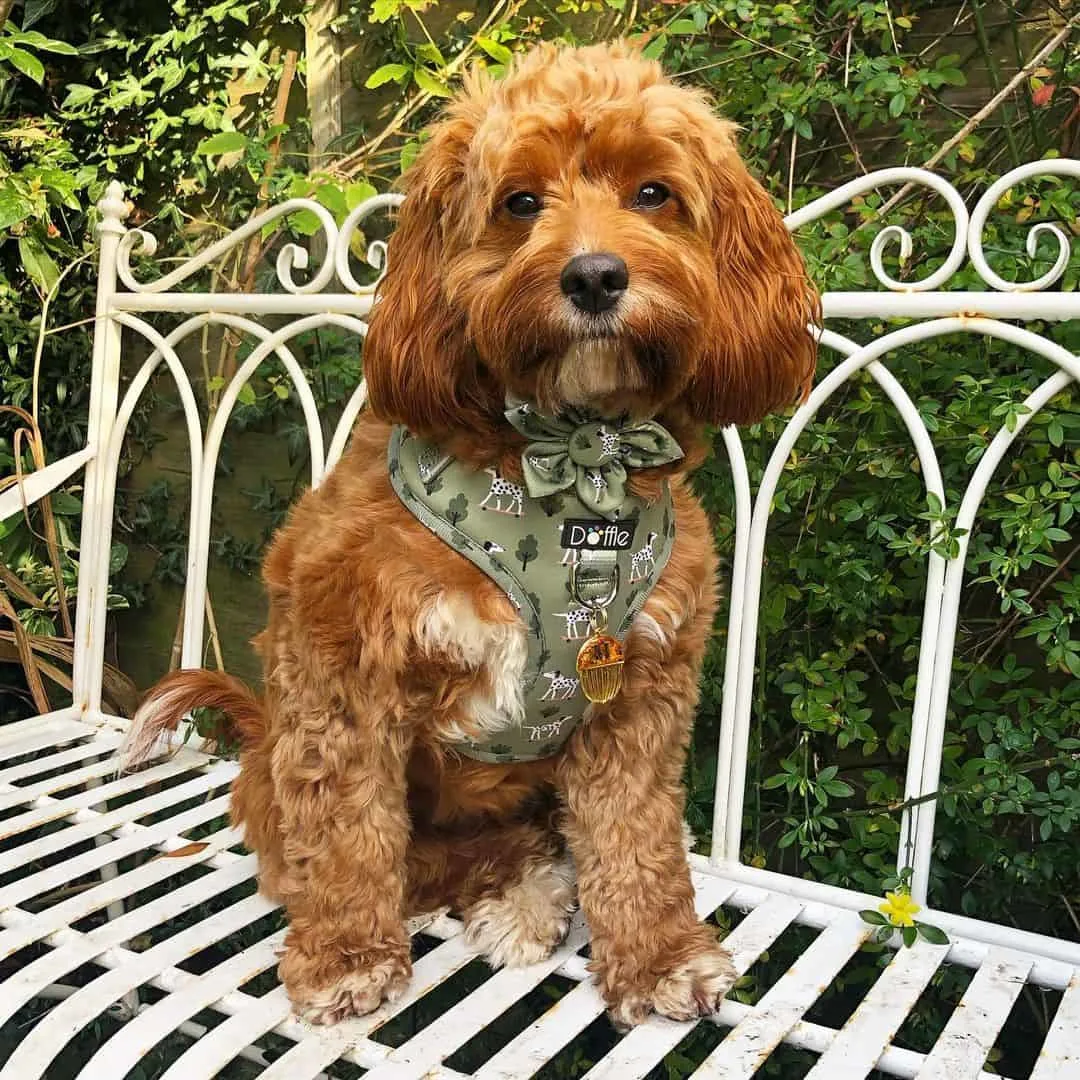 The owner of Botten's Doodles is Angela Botten. Her company is registered and they breed Cockapoos, Cavapoos, Poochons, and Maltipoos. As you can see, they breed all kinds of Doodles.
All of their dogs are genetically tested and cleared. Of course, they microchip, de-worm, and take their dogs to regular vet checks. The vaccinations are also a must, as is the anti-flea treatment.
The dogs have the best quality food and care. They are loved and pampered, and you can see that, not only in the pictures, but in all of the testimonials from happy buyers. Angela Botten makes sure the pups are well-socialized from an early age.
She holds the pups, cuddles them, and teaches them how to behave toward people and young children, and towards other dogs. She also breeds British Shorthair cats, so the dogs are used to other pets from puppyhood as well.
To sum up, Botten's Doodles is on the list of the best Cockapoo Breeders in the UK, and you will clearly see all the reasons why when you call them or meet them for a chat about the dogs.
Address: Norfolk, United Kingdom
Phone: +447951338987
Website: Botten's Doodles
17. Rosedale Doodles, Preston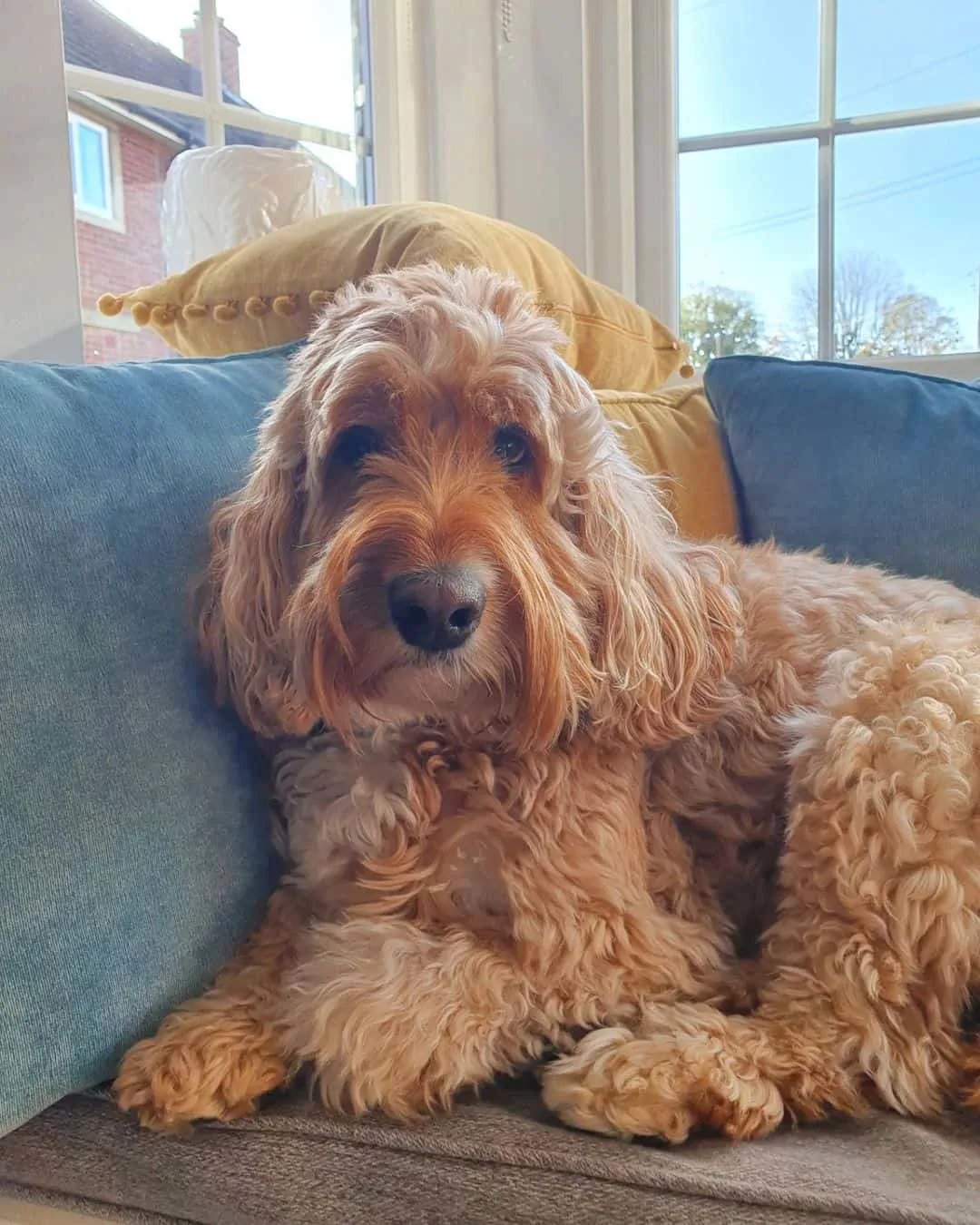 The Rosedale Doodles was established 15 years ago by the owner Paula. Today, Paula's daughter Abbi continues most of the work, while Paula is there to give expert advice about breeding and taking care of Cockapoos.
They have a simple but amazing philosophy: they focus on breeding dogs with lots of care and treating them as family members. Because of a lot of requests, you will have to sign up to a waiting list or often be in contact with Abbi or Paula.
But, as we said before, the Cockapoo breeders in the UK from our list are worth the wait because their puppies are beautiful, happy, and healthy.
Rosedale Doodles have more dog breeds: Cavapoos, Cavapoochons, and Cockapoos. They are all Doodles, which means they have a Poodle parent. That makes all of their crossbreed dogs, including our Cockapoo, hypoallergenic or low-shedding.
They also have dogs of all kinds of coat color variations. From chocolate and black, across brindle and red to golden and sable. All of their dogs and the dogs' colors are openly displayed on their website. You can also check the dams and studs.
Paula and Abbi are invested in finding a good home for their puppies. They offer training and grooming tips for new dog owners. They want to make sure the new owners know how to take care of any of their lovely Doodles.
You can also visit their premises and see for yourself how it all seems and feels. You can also ask them any questions you have, and they will gladly help you with the adjustment period for both you and your puppy.
Address: Rosedale Gill Lane, Preston, United Kingdom.
Phone: +447909232836.
Website: Rosedale Doodles
See Also: 25 Best Poodle Mixes: Cuteness Alert
How Much Are Cockapoo Puppies In The UK?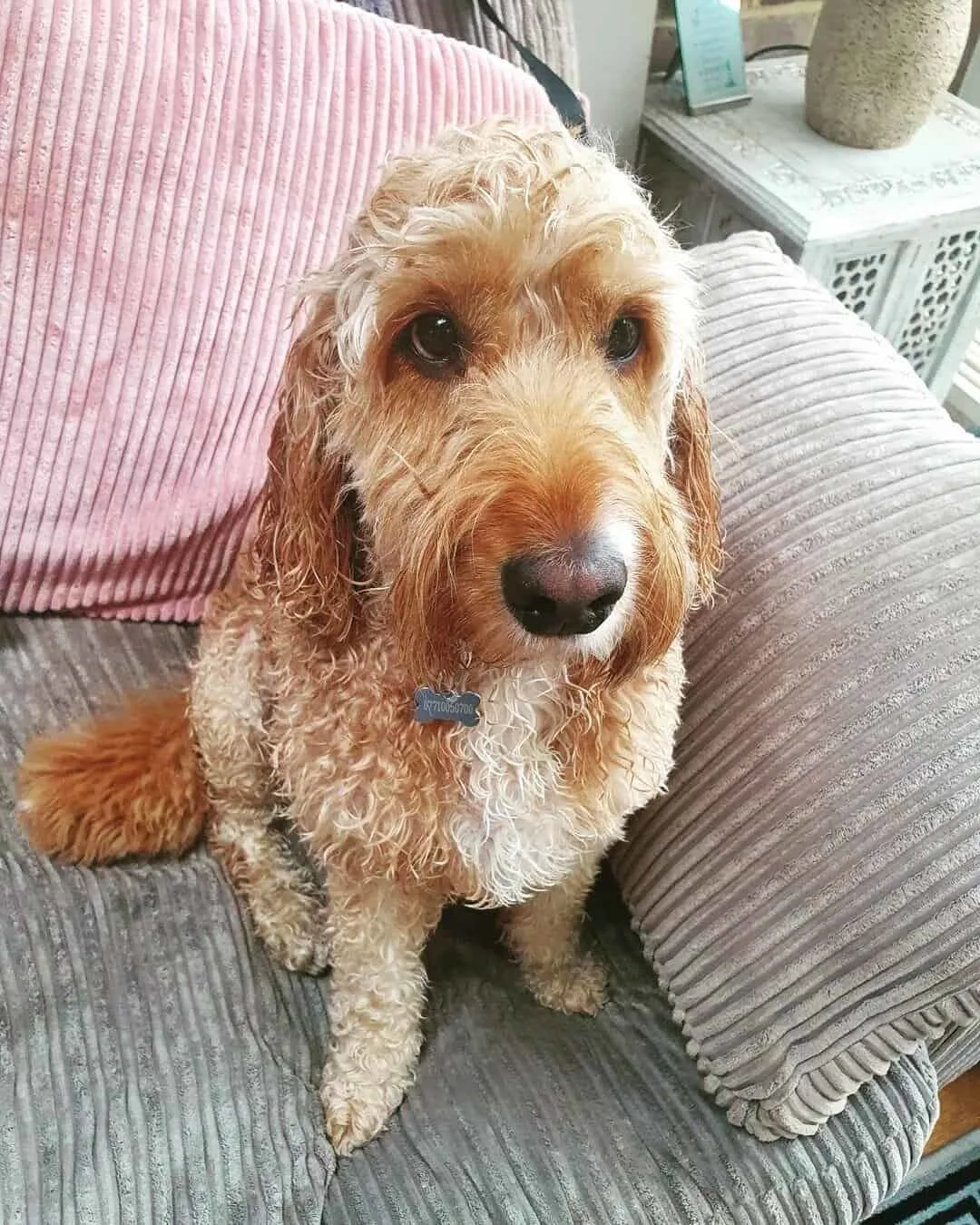 The average price of a Cockapoo puppy in the UK depends on many factors. The first one is whether the puppy comes from a licensed breeder or from just a home-based hobby breeder.
Then, we have the question of parent dogs' lineage and pedigree papers, or, simply put, if it's registered by the United Kennel. There are vet checks, microchipping, deworming, and all kinds of DNA tests that all responsible breeders do before selling the puppies.
These facts make the price higher – around £1,000. But, of course, this price can go above or below £1,000. As we already said, it depends on where you get the puppy and if it has all the tests done.
But, Cockapoos are such adorable and sweet-tempered dogs, that this price makes it worth it. Especially if you buy them from a breeder that has a health certificate proving the pup has no genetically inherited diseases.
The Conclusion
As we mentioned at the very beginning, all reputable breeders, including the ones on our list of the 17 best Cockapoo breeders in the UK share the same characteristics:
they are open about the dogs' health
you can meet the dog's parents
they ask you questions too
they answer any questions about the breeding program
they have their dogs DNA tested
they treat dogs like family members
To summarize, never be afraid or shy to ask a question. Always check the dog's parents and the relationship between the breeder and their dogs. We can tell a lot by looking at the relationship between the breeder's dogs and the breeder.
Also, check the premises – are they clean, is there enough space, can the dogs go out, what food are they eating, etc.No matter the Cockapoo breeders you choose to contact and check for the available puppies, we hope you will find yourself the perfect Cockapoo puppy to add to your family.
Cockapoo will surely become your new affectionate, loyal, and playful furry best friend.