So, you want a Boston Terrier puppy?
Congrats! You're in for a treat! These little rascals are one of the most adorable of all Terriers. No wonder people fall in love with them so fast!
But, Boston Terrier boys and girls, and their amazing temperament aren't an issue for future BT owners. It's finding good Boston Terrier breeders in the UK.
If adopting and rehoming isn't an option for you, then you need a breeder who will raise puppies the right way, even before they're born. This means regular mommy checkups and good care for her.
The people listed down below have all that covered!
If I were you, I'd have a hard time figuring which breeder to choose. They're all experienced dog lovers who show a lot of love for Boston Terriers.
Let's meet them all!
Boston Terrier Puppies For Sale In The UK
I've managed to find the top five Boston Terrier breeders in the UK. These guys are all great people who take the utmost care of their pups. No puppy will be sold carrying any hereditary disease. They're all clean from parasites.
Most importantly, all of the dogs from this list of breeders are bred for a lovely temperament. And, I can't stress enough how important that is for a Boston Terrier.
1. Bosties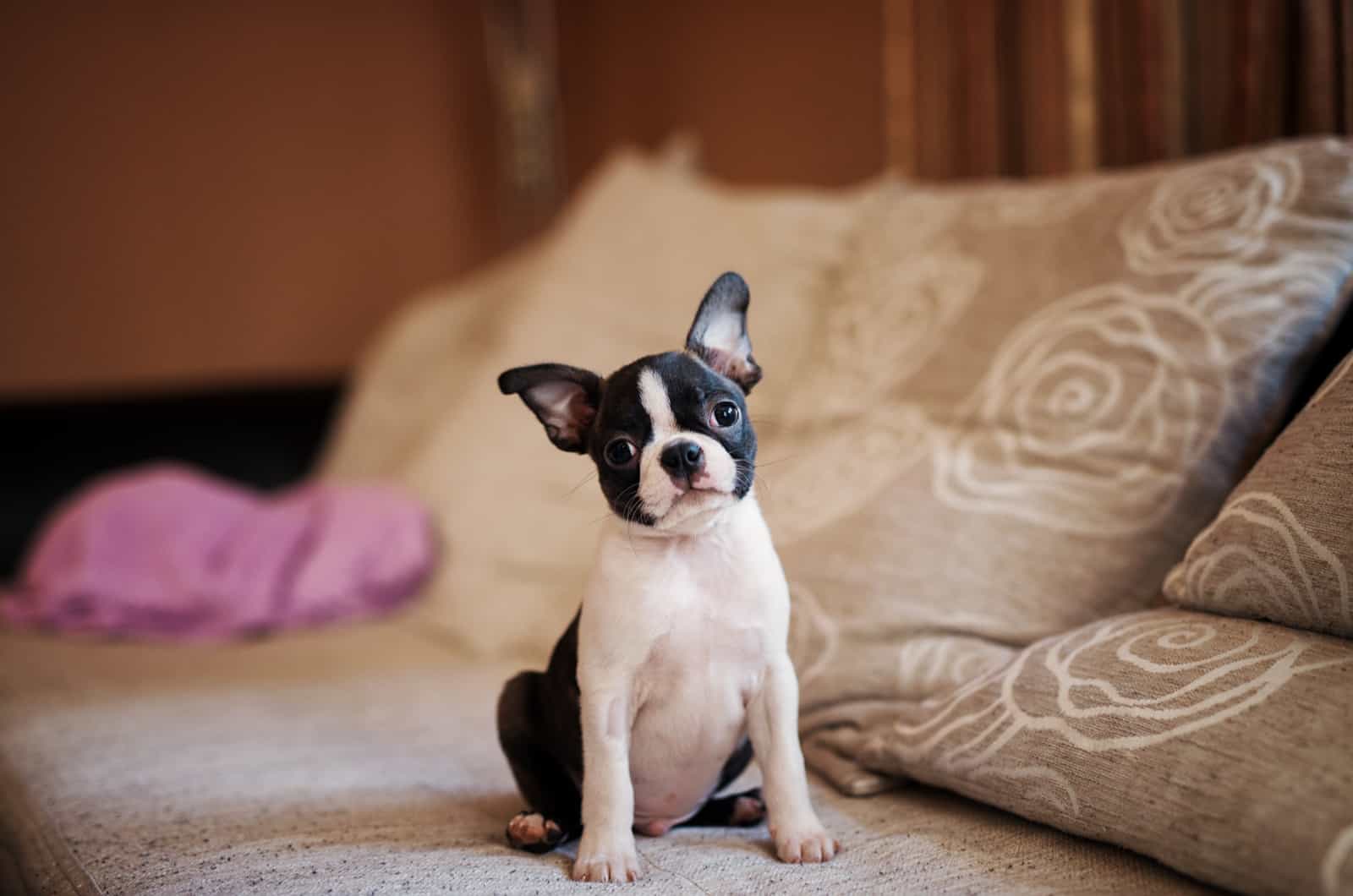 At Bosties UK, Boston Terriers are truly Besties. This is the place where pawmazing family pets are being bred and raised. The owner and breeder, Cheryl, has always been in love with dogs, but her friendship with Boston Terriers started only a few years ago.
But, that didn't stop Cheryl from becoming one of the finest UK breeders of Boston Terrier pups. She always makes sure that fun never lacks, even if they're practicing for dog competitions. Bosties from Cheryl are all sweet pups with amazing temperaments and an exceptional health status.
To prove that, you can ask to see the dogs' DNA certifications, health test results, eye certifications, etc. These dogs are also microchipped, and they have received all their current vaccinations.
Cheryl breeds according to all of the breed standards. She doesn't breed to get a specific Bostie coat color. That's why this breeder is KC registered.
Bosties is not a kennel. This is a home-based breeder with a huge passion for showing dogs and sharing love with her besties – her Bosties!
Breeder's details
Website: Bosties
Location: Buckinghamshire
Social media: Facebook
Other: Contact form
2. Oakleyloves Boston Terriers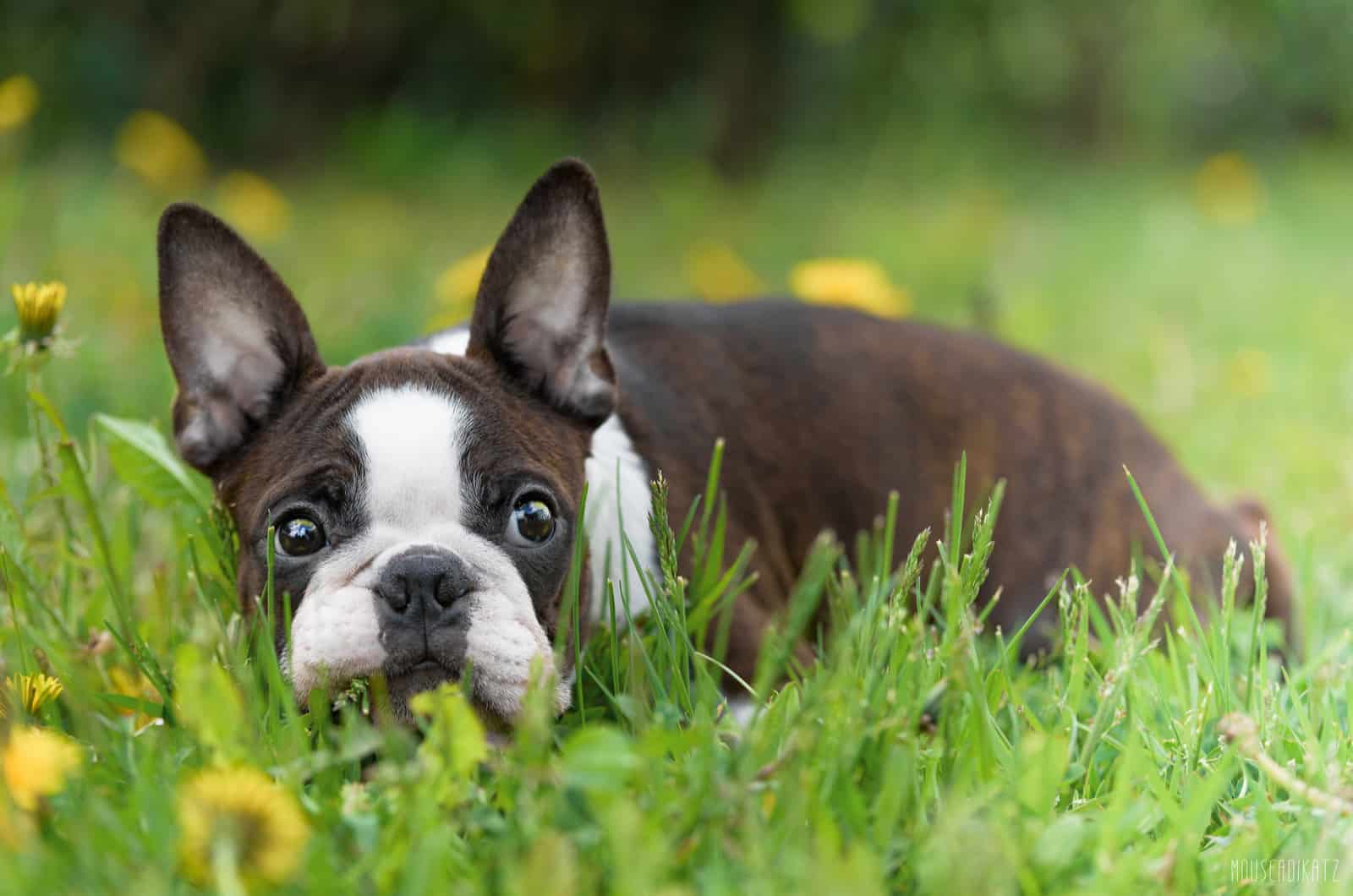 Small hobby breeders who breed and raise puppies in their own home are my favorite. And if you add a Kennel Club recognition, you get the perfect source where you can find exceptional Boston Terrier puppies.
Oakleyloves is the prototype of such breeders.
Located in Preston, Lancashire, this breeder has been in the business for quite a while, raising beautiful Boston Terrier puppies with utmost love and care.
The Oakleyloves Boston Terriers are clear of all genetic health conditions, such as patella problems. They also have their HC – HSF4 DNA clearance. Puppies, just like their parents, are completely healthy and ready to meet their forever home.
Oakleyloves Bosties come in the standard black and white coat color, as well as champagne and white, red and white, and blue and white.
Because of their high quality, Robbie and Peter, from Oakleylove, have decided to have their male dogs serve as stud dogs. This ensures that their superior quality meets other bloodlines, and thus, improves the Boston Terrier breed.
Breeder's details
Website: Oakleyloves Boston Terriers
Location: Preston, Lancashire
Phone: 7792 414531
Email: [email protected]
3. Kingsline Boston Terriers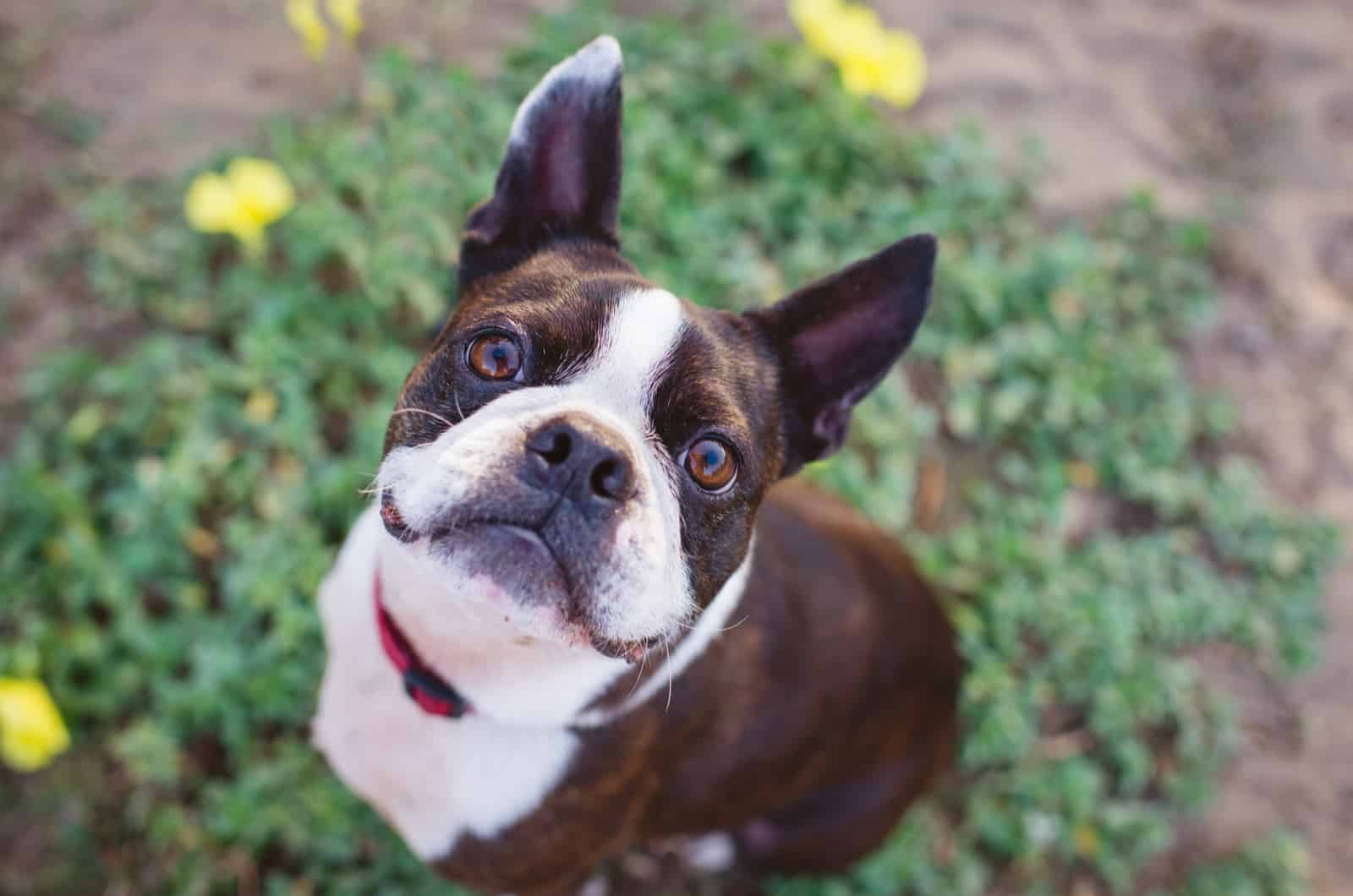 Brian & Fiona King, from Essex, have found their true passion in breeding what they believe is the best family dog – the Boston Terrier. They share their love for Boston Terriers with another dog breed, the Bull Terrier. As you can see, these two have huge hearts, capable of loving all dogs!
Brian and Fiona are the only people in the United Kingdom that breed Kingsline Boston Terriers. No one else is allowed to breed them. If you do find a breeder claiming they have Kingsline BTs, make sure you avoid him and tell Brian and Fiona who that breeder is.
You'll hardly find a Boston Terrier breeder in the UK that's more committed to raising pawfectly happy and healthy puppies. These dogs come already microchipped and clear of any health issue.
Brian pays special attention to dog pregnancy. Females will receive regular ultrasounds. Also, before the pregnancy occurs, males will have their semen evaluated, and Brian will assist if needed.
This couple has been into Boston Terrier breeding and showing them ever since 1993. Today, their breeding stock is rich, and consists mostly of brindle Terriers with white markings.
For any further information, please contact them via the info below.
Breeder's details
Website: Kingsline Boston Terriers
Location: Essex
Phone: 1702 205077
Email: [email protected]
4. Mumuland Kennels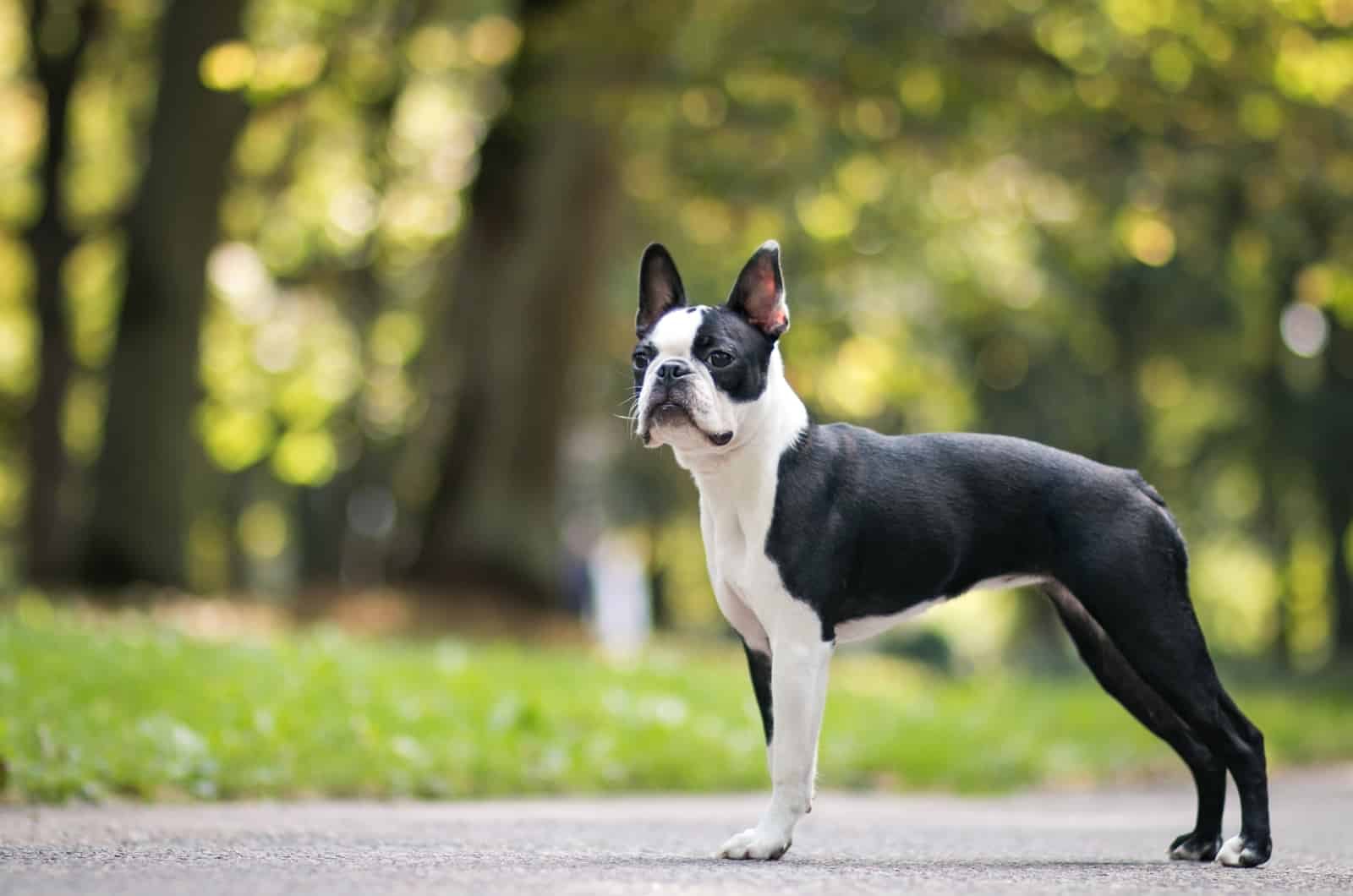 Mumuland Kennels, as in "moo-moo land" is a place where happy Boston Terriers and their buddies, Whippets, are born.
This is a small, local breeder from Newark with the highest possible ratings. See, being small and family-oriented doesn't mean the breeder won't receive the highest praises.
Mumuland is approved by the official kennel club, and has been successfully breeding dogs since 2000. Boston Terriers came a while later, in 2009. Jo and Paul Dalton really make sure that they breed dogs without any health problem, all according to their breed standards.
Mumuland dogs are regularly submitted to health tests, and are clear of patella, heart, and eye conditions (i.e., cataracts). They will be flead and dewormed once they are ready to head off to their new home.
Also, Jo is quite experienced and trained in pet ultrasound and microchipping. You can rest assured that they'll do everything it takes to give you a completely happy Boston Terrier puppy.
Besides breeding dogs, Mumuland also offers stud services for both dog breeds they're raising.
Mumuland is an approved member of the Northern Boston Terrier Club. Also, they're approved and scored five stars from UKAS Kennel Club Assured Breeders. Being a valued member of the breed club tells you a lot about this breed!
Jo and Paul have been in the breeding business for over 21 years. These guys know what they're doing.
Breeder's details
Website: Mumuland Kennels
Location: Newark
Phone: 7525 447953
Other: Contact form
5. Wildax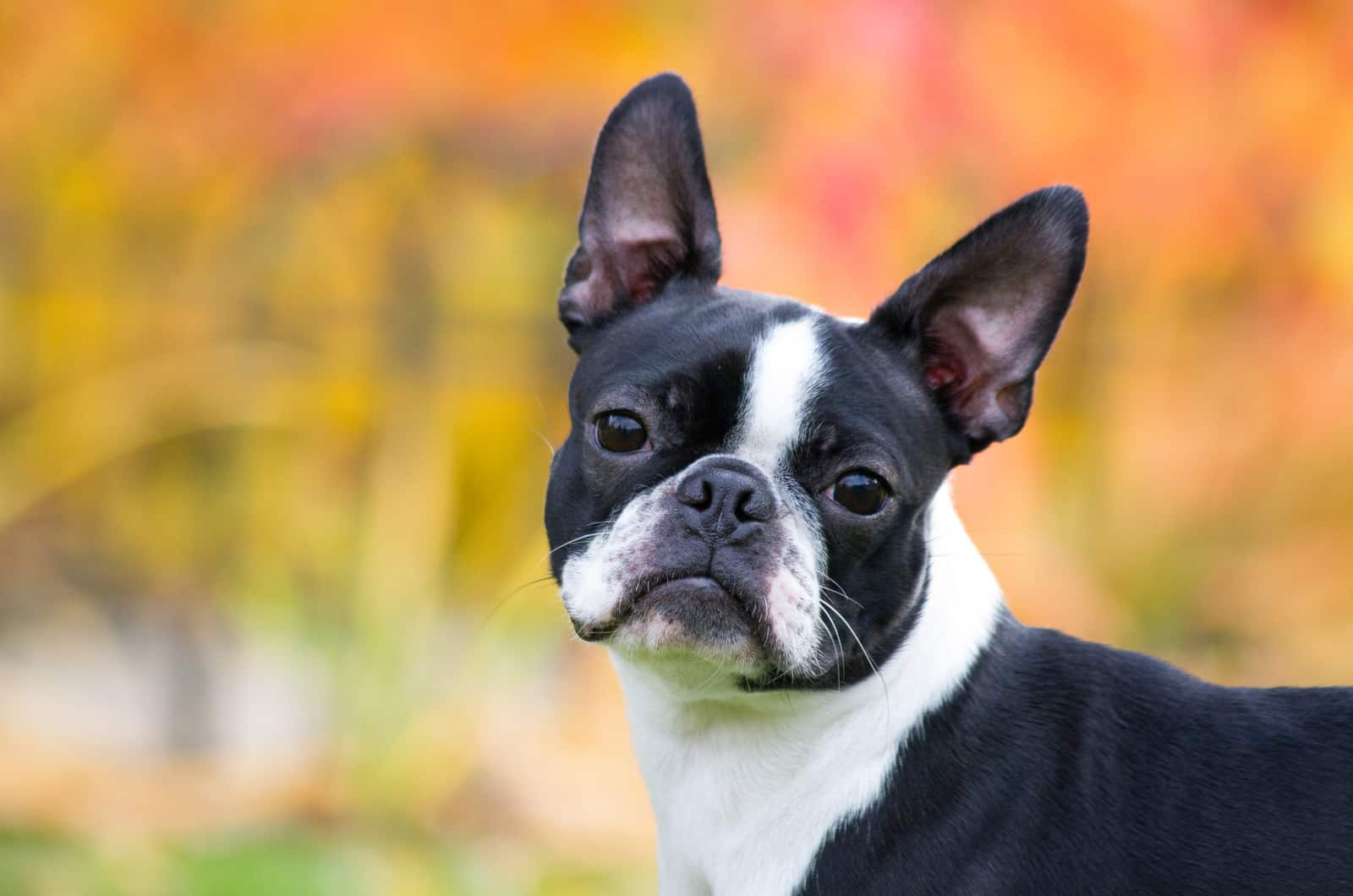 I've saved the best for last!
Meet Margaret and Frank. They've been together since 1961, and they've been breeding and showing dogs since then, too! This couple has been through a lot. They've raised numerous dog breeds and won so many shows that it's impossible to list them all.
But, a tragedy for the couple happened in 2017, when Frank passed away. However, this didn't break Margaret into pieces. She continued their legacy, and soon enough, acknowledgment came. And, it's the best one possible!
Margaret has been declared the most successful Boston Terrier breeder in UK history! Isn't that amazing?
Besides Boston Terriers, Margaret has been raising other pups, including French Bulldogs, Boxers – their first dog breed, as well as English Bulldogs and Griffons.
Raising so many dog breeds wasn't an issue for Margaret. She's natural at dog breeding, and you'll hardly find anyone who understands dog breeding better than her. Well, at least Boston Terrier dog breeding.
If you're interested in a Wildax Boston Terrier, contact Margaret, or come visit the Aintree Lodge. You'll be stunned by the wonderful property where the dogs are in charge of everything!
Breeder's details
Website: Wildax
Location: Wildax Kennels Aintree Lodge, Croxteth Park, Liverpool, L12 0HA
Phone: 1512 567153
Email: [email protected]
FAQs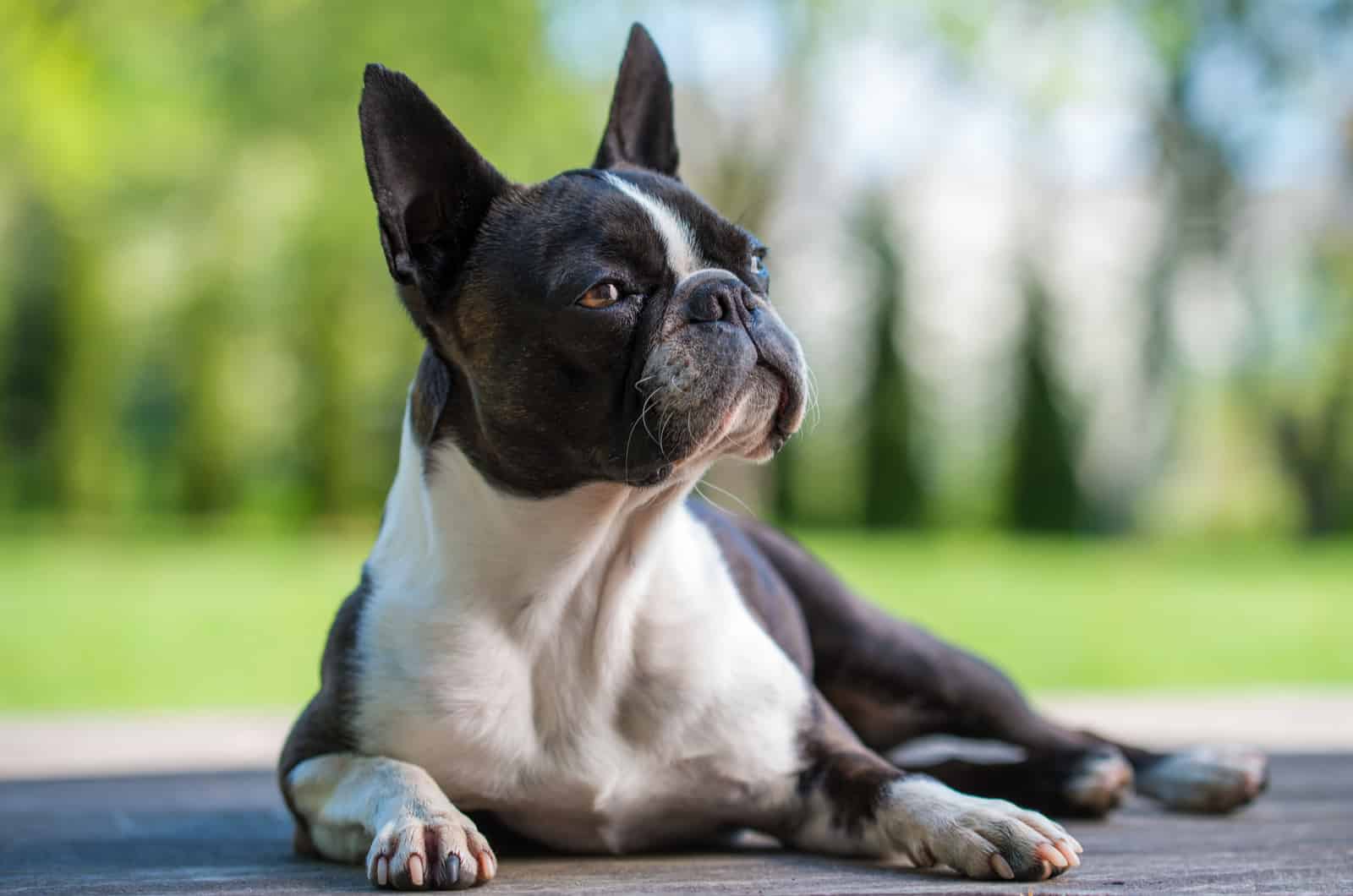 What Is The Average Cost Of A Boston Terrier In The UK?
Boston Terriers are very loved here in the UK. They're quite in demand for their lovely temperament, compact body, and overall good health.
The mentioned factors affect the purchase price. Usually, you'll find a Boston Terrier puppy listed for about 1,500 pounds.
Other Boston Terrier Breeders In The UK
By other breeders, I mean good people who breed Bosties, but unfortunately, don't have a website of their own. You can Google them or contact them through websites like Champdogs.
Bonnie Kemp, West Midlands, Warwickshire
Maria Senior, Barnsley, South Yorkshire
Geeseco Gee Turner, Marshchapel, Lincolnshire
Richard and Nicola Adams, Middlesbrough, Cleveland
Kim Eastgate, Swansea, Glamorgan
Deborah Atkinson Washington, Tyne and Wear
Stacey Dockerty, Leeds, West Yorkshire
Dale Withers, Pershore, Worcestershire
To Sum Up…
Boston Terrier breeders in the UK aren't a large group of people. They're all small, family-oriented breeders who put their dogs' health first. These people live for their pups, not off of them.
This means that you won't find a lot of available litters. If you do, you will certainly have to be put on a waiting list. This isn't a bad thing since it only proves how committed the breeder is to their dogs.
I mean, someone who constantly breeds their dogs and has puppies available all year long isn't someone you should trust.
Who should you trust with your Boston Terrier puppy? Only the breeders listed above!
Read Next:
• Is The Teacup Boston Terrier The Right Dog Breed For You?
• 6 Toy Poodle Breeders In UK The Poodle World Envies