If things weren't already complicated with all of the gorgeous mixed breeds you find out there, you need to hear more about the Blue Heeler Corgi mix—one of the best dogs out there.
If you pair the Corgi with an Australian Cattle Dog, you get a hybrid called the Blue Heeler Corgi mix, which is considered a medium-sized dog.
Where does the word Blue Heeler come from then? Well, the Australian Cattle Dog is also known as the Blue Heeler. It was more simple than you thought, wasn't it?
The Blue Heeler Corgi mix, however, is also known as the Cowboy Corgi.
There is much to learn about the Blue Heeler Corgi mix that you have probably never heard of before.
Before you run to find Corgi breeders out there or think about getting a Mini Blue Heeler (which we do admit are adorable, by the way), learn more about the mix between the Corgi and Blue Heeler. Maybe you can have the characteristics of both in one!
Lean back and learn everything you need to know about this unique crossbreed!
Understanding The Parents
When it comes to dogs, it is generally a great idea to take a look at the parent breeds to figure out more about the characteristics of the puppy that you are getting.
When it comes to temperament, looks, health (and pretty much everything), you as a pet owner can learn almost everything you need to know about your puppy through the parents' DNA.
The Australian Cattle Dog (Blue Heeler)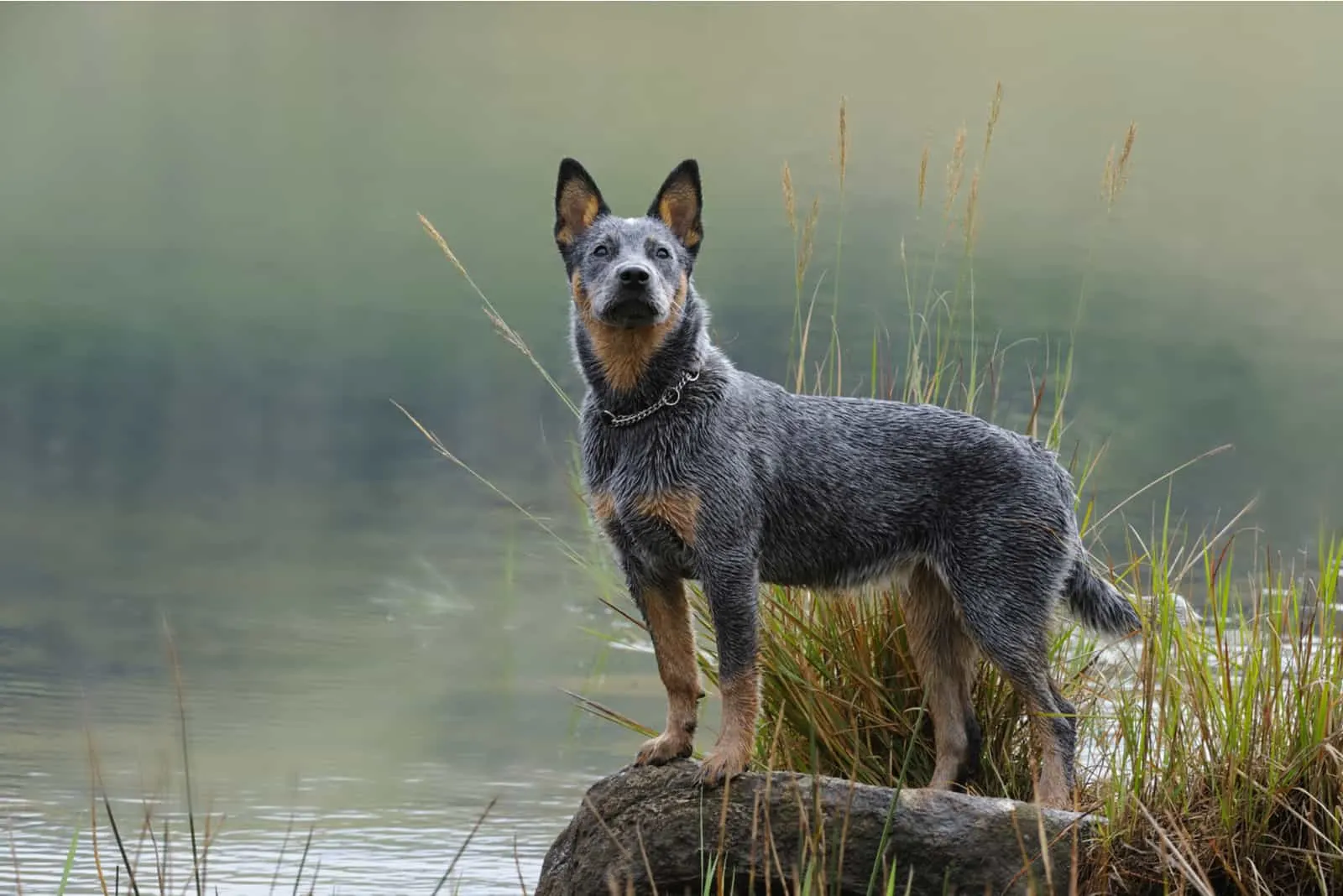 The Australian Cattle Dog (ACD for short and also known as the Blue/Queensland Heeler or Dingo) can be mixed with many breeds.
You have probably heard about the Australian Shepherd Blue Heeler mix, the Blue Heeler German Shepherd mix, or the Blue Heeler Husky mix.
This is not surprising, considering that they are such wonderful and intelligent dogs that belong to the herding group.
They are very industrious and have high energy levels, always the most satisfied when they are out in about being the working dogs that they were bred to be. The best Blue Heeler breeders can't get enough about how amazing these animals are.
If you observe your typical Blue Heeler growth chart, you will realize that they, too, are medium-sized dogs, ranging anywhere between thirty and fifty pounds. Their appearance is bulky and muscular by nature.
More Details About The Breed
When it comes to their different shade colors, they can be especially unique when you compare them to other herding breeds.
There are not many dogs out there that come with a bluish hue to their coats. The dogs that have fur in this color with spotted patterns can be quite astonishing, and some of them might come in colors of rust and tan instead of blue.
Their ears usually proudly stand in the air, and their eyes are unique in that they are usually chocolate brown.
An Australian Cattle Dog will have a medium-length coat along with an undercoat. You can expect them to shed biannually.
What is the life expectancy of a Blue Heeler Corgi mix?
Generally, you can expect the ACD to have a nice lifespan of around twelve to sixteen years with no major health issues.
However, as every purebred dog, they do have issues specific to the breed. In the case of ACDs, their issues are usually related to maintaining their teeth or ears.
Because the Blue Heller is very social, it can form a deep connection with dog owners. However, keep in mind that because they might sometimes want to trick you because they are so clever!
The Pembroke Welsh Corgi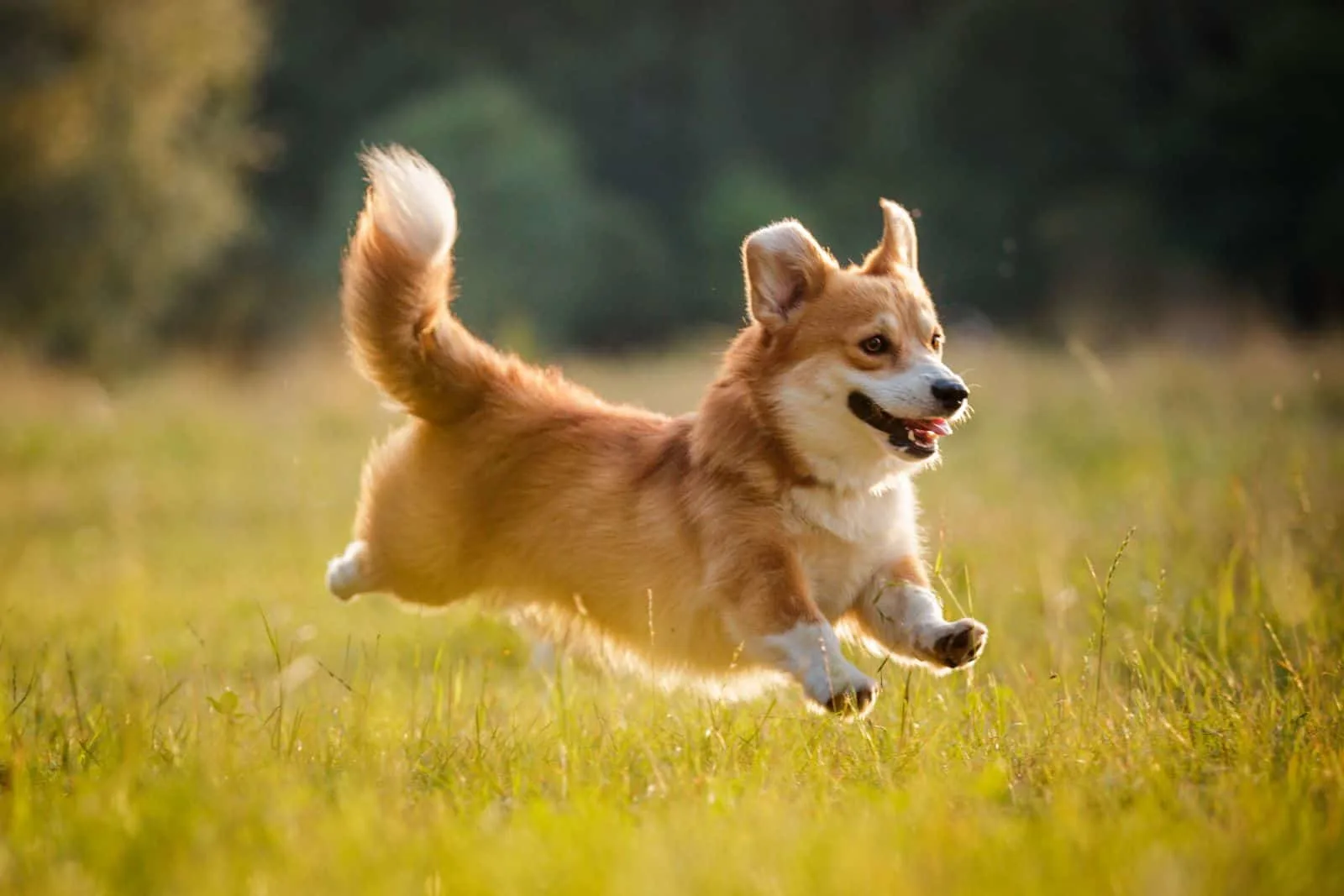 There are two kinds of Corgis out there, traditionally known as the Cardigan Welsh Corgi and Pembroke Welsh Corgi.
We will pay attention to the Pembroke Welsh Corgi because our Blue Heeler Corgi mix usually has a Pembroke parent.
It is important to note, however, that because the Cardigan is so similar to the Pembroke, the litters resulting from mixing one of the two with the Aussie Blue Heeler won't be much different.
The look, characteristics, and lifespan of the pups will generally be the same.
The variation in coat colors, however, might differ. When it comes to Corgi colors, you will find that Cardigans usually have more brindle in their coats.
They, too, like the Aussie, have been crossbred with other breeds because of their excellent characteristics.
You might have heard about the Corgi Greyhound mix, the Corgipoo, the Corgi Border Collie mix, the Corgi Pitbull mix, or even the Corgi Golden Retriever mix—just five of the many Corgi mix breeds out there beside the Blue Heeler Corgi mix.
More Details About The Breed
Like ACDs, Corgis are also part of the herding group, but nowadays, they are mostly kept as companions instead of for the purpose of nipping herding sheep or other cattle. They originated in Wales around the tenth century.
Even though they make excellent family companions, they do not have the clinginess that is occasionally associated with other dog breeds.
If you look at a Corgi growth chart, you will notice that they also range around twenty to thirty pounds when it comes to weight (here we are talking about adults and not Corgi puppies). They are definitely not toy breeds that you might find out there.
They are excellent for keeping around smaller living areas like apartments, as they do not need as much exercise as larger dog breeds (though they do require more of it compared to other toy breeds).
They are known for their ears that stand tall, cute foxlike facial characteristics, as well as their notable short legs.
In the past, their tails used to have been docked, but this is mostly no longer the case. Previously, tails were docked for the Pembroke but not for the Cardigan.
The Combination Of The Two Breeds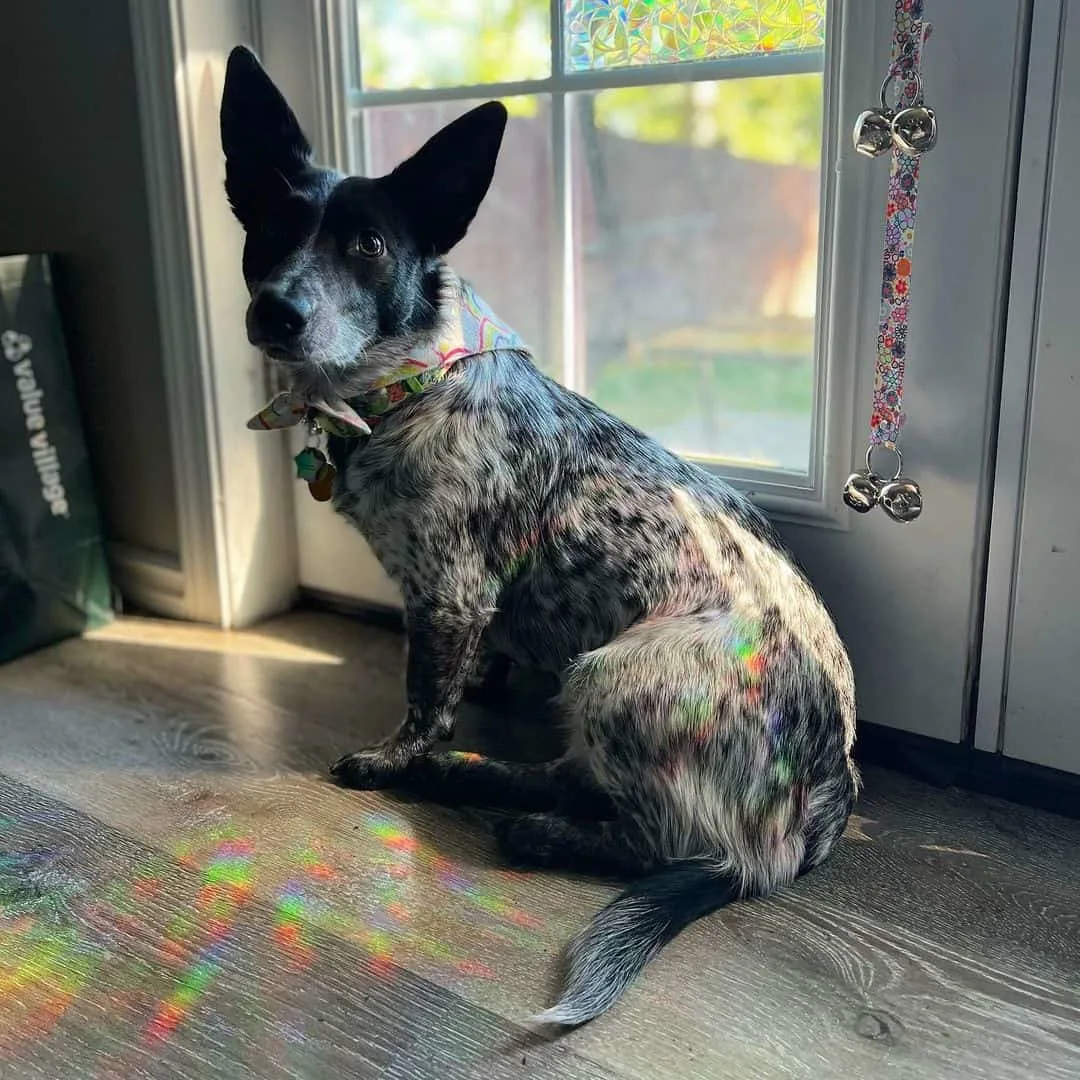 Photo from: @mybeaniebabe
As you can imagine, since the Blue Heeler Corgi mix has parents that are both herd breeds, it will have the natural impulse to be a herd dog. Its prey drive will also be strong.
You will have to understand that this mix will probably need high levels of exercise—not the nice-walk-in-the-park exercise. Think: running off of a leash.
It will also look like its parents, likely gaining short legs from their Corgi parent, but that does not necessarily have to be the case. The coloring might be inherited from either parent. The fun part is that you won't know exactly what to expect when it comes to coat colors and patterns.
Since the parents have ears that stand straight, your mix is likely to inherit them as well. Additionally, the parents are around the same weight, so the weight should not drastically fluctuate from puppy to puppy in the litter.
Blue Heeler Corgi Mix Personality
Naturally, considering its parents, you can consider this crossbreed to be an excellent herding or family dog, depending on your preference.
They will also be really clever as well, especially considering the intelligence of the Aussie parent. The ACD is known to be really determined when it comes to getting what they want—and if it wants something, it will use all of its abilities to try and achieve it!
Because this mix is considered a stubborn and determined breed, thanks to its parents, you will have to start early training. You also need to be prepared to be quite patient and not allow its stubborn nature to dissuade you from your goal at having a socialized dog.
If you are someone who gets really impatient easily, maybe this is not the best dog breed for you.
What To Expect
Because this hybrid's parents are herding dogs, you can expect your mix to try herding little children or other animals!
If you start with early socialization, you can definitely help this kind of behavior, which will prove to be persistent if not addressed on time.
The best way to train any dog is through positive reinforcement. You will have to try and avoid negative reinforcement. Although it is effective in the short term, it might present behavioral issues in the long run.
The good news is that some hybrid's take after their Corgi blood when it comes to behavior. If this is the case with your Blue Heeler Corgi mix, it will be much easier to train. Corgis generally love pleasing their owners—they are quite agreeable and like to make sure everyone is happy.
It can be quite difficult, however, to figure out which parent your puppy will take after. The best way to be prepared when it comes to training is to expect your pup to wish to resist. If it proves to be stubborn, you will be prepared. If not, then you will be pleasantly surprised.
Even though your pup might be determined, you can expect a best friend out of this hybrid because both of its parents are known to get along with their dog owners and form close bonds with them.
Things To Note When Training A Blue Heeler Corgi Mix
Our Aussies love to be active—they will run whenever given the chance, and for good reason too. Their bodies are built in such a way that they are agile, and it is not uncommon for them to run ahead of you if given the opportunity.
This means that the Blue Heeler Corgi mix might require as much attention when it comes to training because of its parent. You have to make sure that the pup learns reliable recall when it is still young.
This is important because it is best to build life-long habits at an early age. Because Blue Heeler Corgi mixes are so excitable, they might put themselves into life-threatening situations if they aren't taught to respond to their dog owner's call.
Additionally, you will want to focus on leash training as well as the foundations of regular obedience training.
Because Blue Heeler Corgi mixes have natural herding instincts, they might start chasing animals or objects and drag you along if not taught differently.
Make sure you also focus on socialization during the training process. Even though these dogs are not known to be particularly territorially aggressive, they might express themselves by barking at people who might be friends or family members.
Blue Heeler Corgi Mix Coat
Because of their double coats, the Blue Heeler Corgi mix has a tendency to be big on shedding, so they are not really the best dog crossbreed for people with allergies.
If you are allergic to dogs but really want one, the best thing to do would be to look for a hypoallergenic dog breed—the Blue Heeler Corgi mix is not the way to go!
When it comes to coat colors, you can expect your crossbreed to mostly inherit from the Australian Cattle Dog parent.
You can find them in varying colors: merle, roan, sable, or even tri-colored. They tend to be gorgeous.
You will also observe that if they do not have merle markings on their coat, they tend to appear more like their Corgi parent.
How To Care For A Blue Heeler Corgi Mix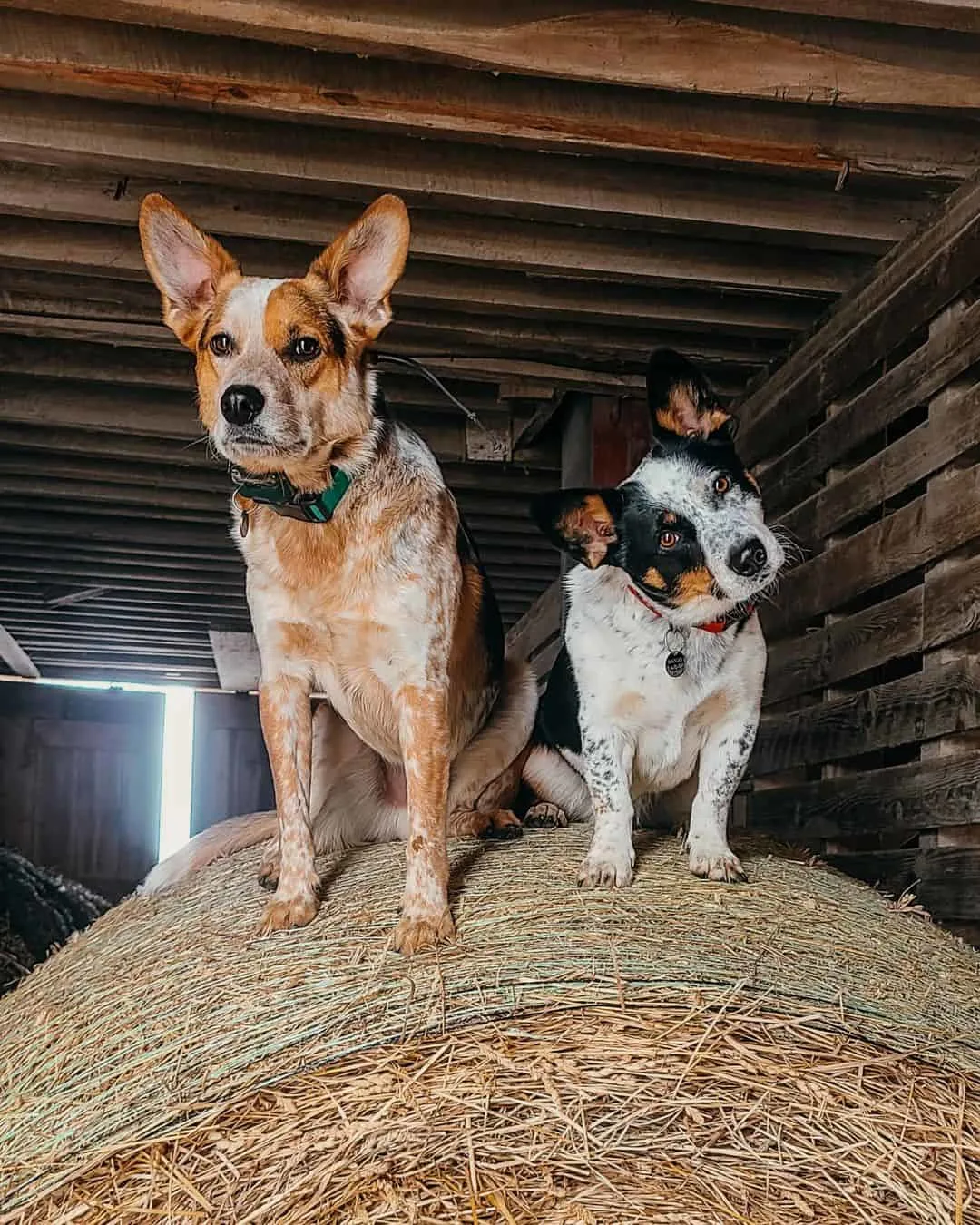 Photo from: @tailoftwocowboycorgis
The Cowboy Corgi isn't known to be particularly demanding when it comes to having its needs met, but there are some things that you should make note of, especially if you want to spend your time pampering your pup.
Grooming
The Cowboy Corgi's parents both have a double coat, which means that they not only have an outer furry layer but an undercoat as well.
You can expect the Cowboy Corgi to inherit this hairy characteristic! They will shed biannually, and they might need to be brushed daily, depending on what kind of coat they inherit.
You don't have to worry too much about giving your dog a bath every day. However, since you might spend a lot of time outdoors considering your pup's energy levels, you will most likely have to bathe your dog more than, let's say, a toy breed.
Another thing that is characteristic to the breed is that it might inherit the earwax buildup associated with its parent, the ACD—and we know that ears are important to clean. Additionally, you will want to pay attention to your dog's earwax colors generally.
Bathing your Blue Heeler Corgi mix
It is not wise to bathe your hybrid very often because they are prone to dry skin if their outer barrier is in contact with too much water.
That is why you should not bathe your Blue Heeler Corgi mix more than once a month.
However, you can make special alterations to this plan if you realize that your mix requires more bathing (let's say it has a very exciting day in the mud outside!).
When you do bathe your Blue Heeler Corgi mix, make sure to use high quality shampoo and conditioner that suits your dog's coat and skin.
Make sure to use the conditioner before rather than after you apply the shampoo, as this will give your dog's coat the best results.
Grooming tools and brushing a Blue Heeler Corgi mix
When it comes to particular grooming tools, you might want to use a slicker brush when you wish to brush your puppy's coat.
Not all the brushes that you see out there will be right for your Blue Heeler Corgi mix's coat, so you will want to invest in a slicker brush with softer bristles, as it will give your dog an amazing experience instead of pain caused by tangles.
After you find the perfect brush for your dog's coat, the best practice would be to brush your mix's coat in the direction that their fur is growing. It can be a painful experience for your dog if you brush your dog's coat in the opposite direction that their fur is growing.
Additionally, the coat will look more presentable if you follow the direction of hair growth in terms of brushing.
Brushing your dog's coat outdoors is generally considered good practice as dog hair can collect inside, and if any family members or friends are particularly allergic to dog hair, it can prevent allergies from acting up.
If you yourself are allergic to dog hair, you might want to ask a family member or a friend to brush your dog on your behalf.
You can brush your dog's coat anywhere from two to three times a week with a great brush, provided that this recommended number might increase depending on shedding seasons. If your dog starts excessively shedding, you might have to brush them on a daily basis.
Dog Food And Diet
Unsurprisingly, dogs, like humans, need an excellent diet in order to maintain good health. The Blue Heeler Corgi mix has quite a large caloric intake because of the Aussie gene, which makes it quite athletic.
This is different from the needs of, let's say, the Corgi Cattle Dog mix, which takes its genes more from the Corgi, a dog more relaxed by nature. This mix won't need as many calories as the Cowboy Corgi.
You also have to make sure that the dog food that you purchase for your pup is appropriate for the breed and age, as dietary needs and restrictions vary depending on your dog's age and health.
Exercise
You never know how the genes of the Blue Heeler Corgi mix might express themselves, which is why you should be prepared for whatever happens.
You might have a dog that is content with the typical daily walk, or maybe they prefer to stay home with a couple of toys to play with.
However, if you have a boisterous pup with a lot of Aussie in its genes, you will have to channel that energy somewhere or they could develop behavior problems.
If you have a herding dog that does not have an appropriate outlet, you might develop a pup that is anxious, indignant, or even destructive
In that case, you might want to be prepared for potential long walks, with as much off-leash time for your pup to truly get all of that excess energy out of its system.
This does not have to mean that you yourself have to be an athlete if you want to have a Blue Heeler Corgi mix. You can always play fetch and let your pup do all the running!
Another excellent idea is to have toys in your indoor environment at all times. Because they are dogs that need a lot of stimulation, it will prevent your dog from chewing up objects around the house out of boredom.
Environment
You might be wondering whether or not this crossbreed can stand being in smaller indoor environments.
The simple answer is yes. However, this answer is conditional. Your dog will only be comfortable living in a smaller indoor space provided that the outdoor time you set aside for your dog covers its needs.
If you do not provide your Blue Heeler Corgi mix ample time to exercise outdoors, you can expect your smaller environment—such as an apartment—to get wrecked pretty quickly.
If you have a house with a backyard, that can really help bring your dog's energy levels bac to baseline, but the best option if taking your dog to a park or field where it can be off leash.
If you take your dog to such a place, you can expect your home to be safe from a high energy pup happy to put its teeth into anything it sees in its way.
Sleeping environment
When it comes to Corgis, they love to sleep with their folks and prove to be pretty cuddly by nature.
However, the Aussie might prove to be more independent.
You can't be entirely sure how your Blue Heeler Corgi mix will turn out to be, but you might want to make sure that you provide it its own sleeping space away from you.
Dogs love to have their territory, so having a bedding of its own can always prove to be a wise option.
Hot weather
Because this dog has a double coat with an undercoat, they can be rather upset when the hot weather rolls around.
They will tend to shed much more during this time period—and needless to say—tend to warm up more easily than other dog breeds with a single coat.
Cold weather
They tend to live well in cold environments, especially if their parents have adapted well to cold environments or have been bred in cooler locations.
Because they have a double coat, they are more comfortable in cooler weather when compared to the heat.
More times than not, the Blue Heeler Corgi mix adapts well in colder weather because of its coat.
Health
When it comes to health issues, some conditions are usually on the lookout for this breed – usually hip dysplasia and eye issues. However, if you take care of your pup by regularly taking it to the vet, this dog could live to be twelve or thirteen years old.
You can do early screening to make sure your pup can be treated on time in case it has these conditions.
Sometimes, the ACD can have certain issues when it comes to hearing, which may or may not be present at the time they are born. A good breeder will make sure to screen for this issue before breeding dogs that might have the condition.
Some Blue Heeler Corgi mixes might develop a condition called elbow dysplasia. According to the American Kennel Club (AKC) website, elbow dysplasia occurs when a bone grows abnormally.
Additionally, from the Corgi side, it might develop degenerative myelopathy.
You might want to screen for these conditions as well, just to be on the safe side when it comes to treatment.
How Much Do Blue Heeler Corgi Mixes Cost?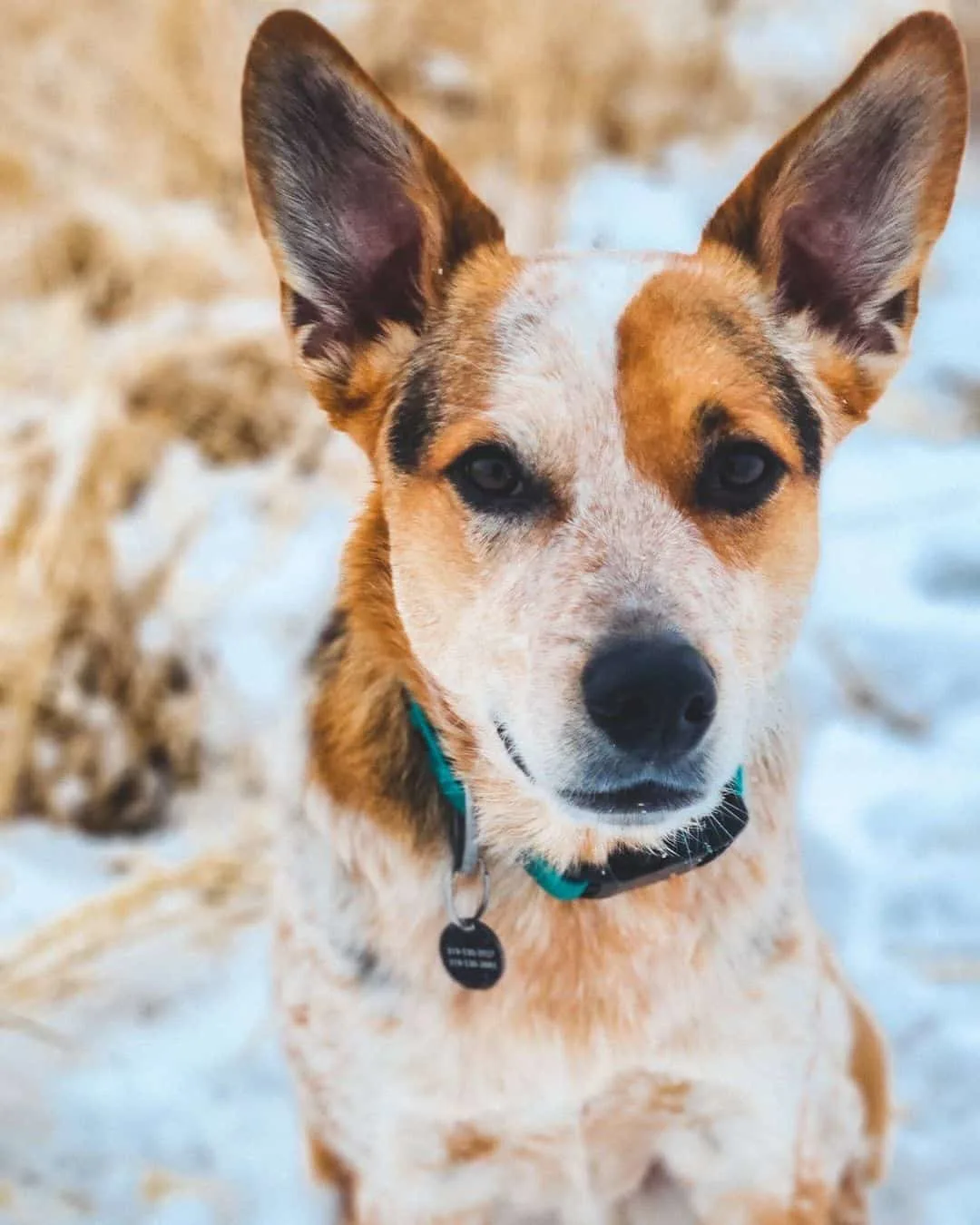 Photo from: @tailoftwocowboycorgis
The Blue Heeler Corgi mix is considered by many to be a "designer dog," so you can expect them to be expensive.
The initial cost of adopting the Blue Heeler Corgi mix tends to be somewhere between $1000 to $2500 on average, depending on the breeder and location. Make sure that you always find a reputable breeder because purchasing from backyard breeders is bad practice for so many reasons.
After you purchase your mix, you will have to have a health checkup and perhaps purchase it health insurance as well. This can cost between $100 to $250 on average.
Other Costs
You will have to stack up on food and snacks, as well as supplements recommended by your vet. This will cost between $300 to $700. You will spend around $25 to $85 on toys and around $100 to $250 on grooming tools and accessories.
When your puppy reaches a certain age, you might have tob The cost of this medical procedure might be anywhere between $35 and $400. Checkups at the vet generally cost around $45 to $65 per visit.
It is always wise to count in miscellaneous items or procedures you will have to purchase when it comes to owning a pup. These will usually be anywhere between $100 to $200.
Adding up all of these costs, you might spend around $1600 to $2500 on your Blue Heeler Corgi mix during the first year of owning it. The cost for following years will be somewhat lower, ranging between $485 and $965.
However, if your dog ends up getting ill, these costs can pile up, which is why we always advise you to purchase health insurance for your pup.
Pros And Cons Of Having A Blue Heeler Corgi Mix
Every single decision in life has a list of pros and cons, and owning this crossbreed is no different. Here is a final summary of some things to keep in mind when it comes to owning this adorable pup!
Pros
• This breed is considered to be very special and entertaining to be around.
• Their personality and gorgeous appearance makes them extremely likable to most people.
• Because this is such a unique breed that not everybody owns, you can feel that owning a Blue Heeler Corgi mix is a bit luxurious.
• If you are a student, you can expect a great companion out of this dog.
• Provided that they get enough outdoor activity, their size makes them great for keeping them indoors.
• They generally tend to get along quite well with children and other animals.
• They will always look forward to spending time with you.
• If they mostly take after their Corgi parent, they will prove to be very trainable.
Cons
• They might require special attention in order to live long and happy lives.
• The Blue Heeler Corgi mix might be expensive depending on its inherited health conditions, but also because the initial cost and care might prove to be demanding since it is a rarer breed.
• They will need to go to the vet frequently in order to be healthy.
• They are prone to issues such as hip dysplasia, elbow dysplasia, DM, and eye problems, inherited from their Corgi and Aussie parents.
• They might require a special diet different from other pure breed dogs, which might influence the cost of care.
• They shed a lot.
• In order to look good, the Blue Heeler Corgi mix requires proper grooming. Otherwise, depending on the length of its fur, it might develop an unappealing appearance.
• If not trained early on, this breed can become aggressive and might try to "herd" children and other animals.
• They might not get along with children and other people if they are not socialized on time (from a young age).
Conclusion: Blue Heeler Corgi Mix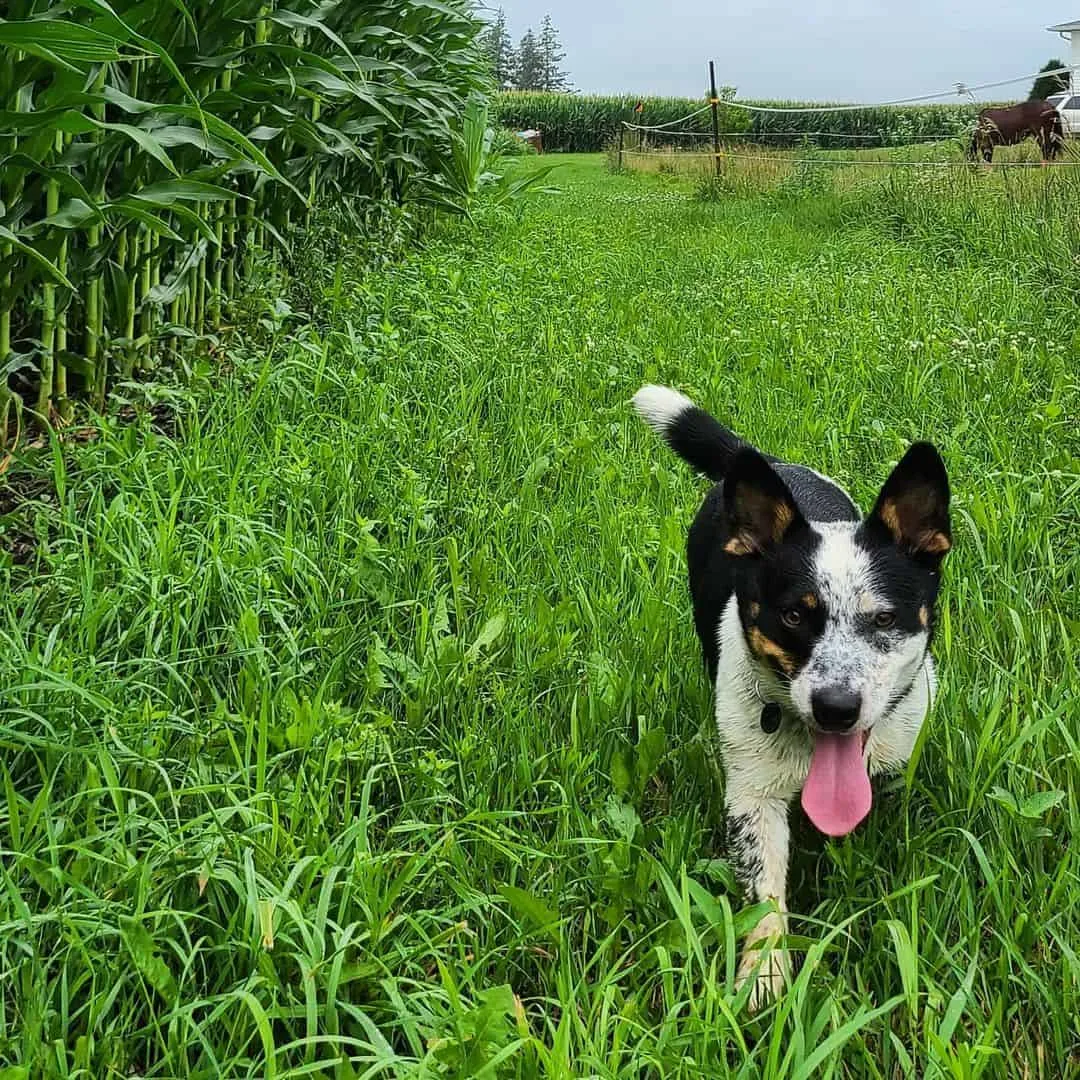 Photo from: @tailoftwocowboycorgis
You have learned many things about the adorable Blue Heeler Corgi mix. They are clever, affectionate, and great companions, making them the perfect pets.
Even though they are a lot of fun, you will have to make sure you prepare yourself for a life with one, as they might have more energy needs compared to other dog breeds out there.
Since they are herding dogs, you have learned that their energy levels are high, requiring them to exercise more often, preferably off leash.
They can make fantastic city or apartment dogs if you have a dog park somewhere nearby that you are willing to take them to every day.
However, you have to avoid keeping them indoors for too long because they will start taking out all of that pent-up energy on your furniture!
Most Blue Heeler Corgi mixes are also generally very clever and trainable. You will have to train them and socialize them at a young age to prevent them from attempting to "herd" young children and other animals.
If you decide to get one and keep things in mind, you can expect an amazing companion for many years to come!