This post contains affiliate links, and I will be compensated if you make a purchase after clicking on my links.
The Belgian Malinois is a loyal and energetic dog breed often used for herding; however, they're not just all work and no play… they need some entertainment, too – a toy. But, what are the best toys for Belgian Malinois?
The best toys for Belgian Malinois differ slightly depending on what he's being trained for, but the one thing that rings true with all of them is physical activity, especially when it's enjoyed alongside his best friend… you.
You want to find toys that promote physical exercise in some capacity in order to help your canine companion stay in shape, but also to have fun.
Thankfully, Belgian Malinois are known to be working dogs so any form of physical exercise for them is usually fun.
Of course, it doesn't all have to be physical – there's also mental stimulation, with some puzzle games to help your doggo train his problem-solving skills, or toys that keep his teeth in shape or just to cuddle up and relax with.
This may not really shrink the number of options down, but it gives us a general idea on what we need to be on the lookout for.
As always, I've gone through the two most popular marketplaces regarding doggy gear, Amazon and Chewy, and have picked out some of the best options that they have on offer that tick some of these boxes.
Hopefully, one of them ends up striking your Mal's fancy.
Read on to find out what these toys are, and the specifics of what an ideal toy should have for your dear doggo.
11 Best Toys For Belgian Malinois
West Paw Zogoflex Jive Tough Ball Dog Toy
Key Benefits:
Uniquely shaped to provide unpredictable bounce and endless fun

Made from strong and durable, but soft Zogoflex material

FDA-approved, non-toxic material free of BPA and phthalates

Floats in water

Dishwasher safe

Different color options available
Cons:
Somewhat pricey

Ball is heavier than other balls of its size

Gets torn up by really aggressive chewers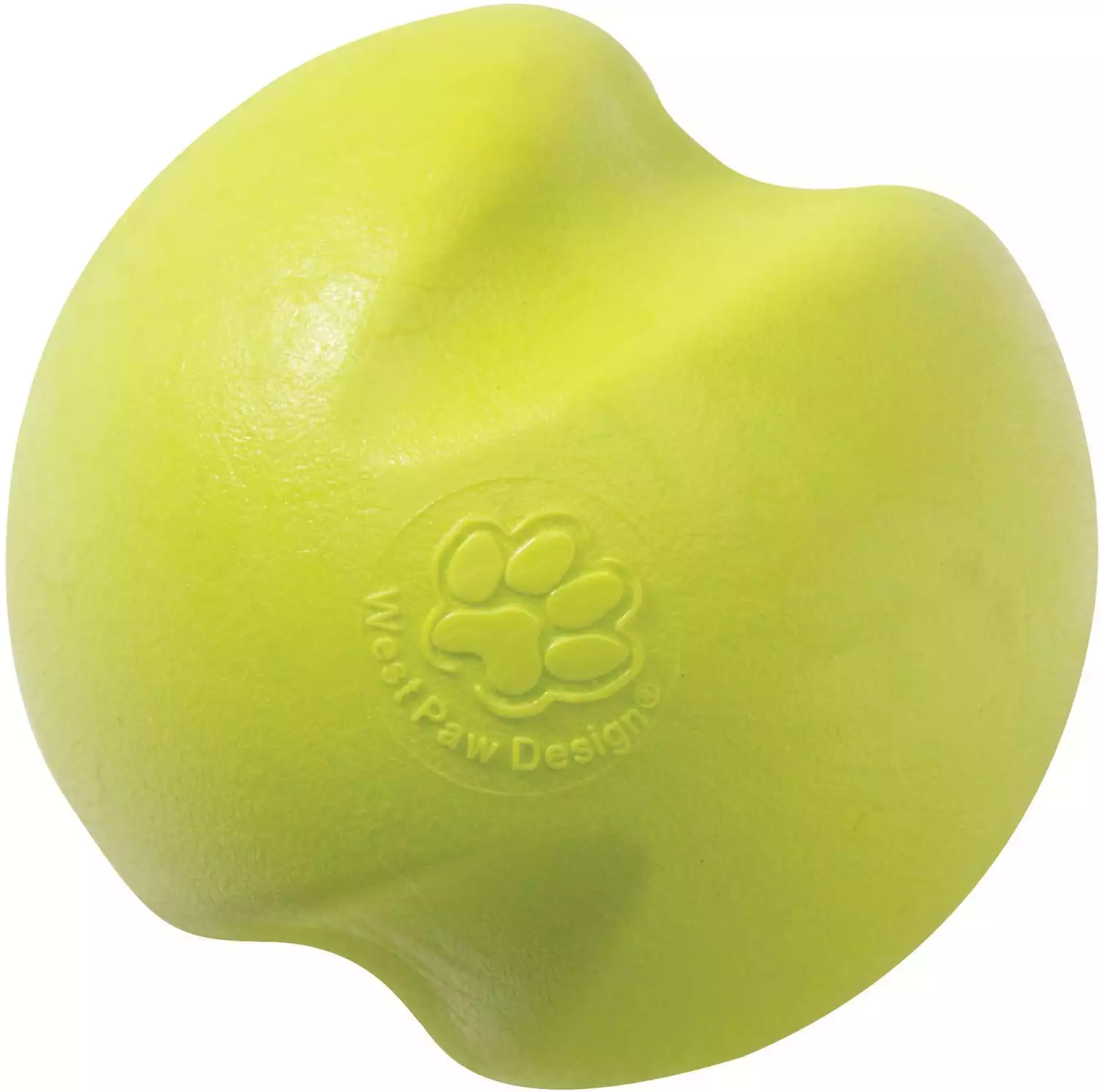 I wanted to start this off with a bit of a curveball of a fetch toy… no pun intended.
The Jive is an interesting take on dog balls as its shape allows it to become an unpredictable projectile that'll need your dog to think on the fly if he wants to catch it fast, while adapting to the chaotic motions of the bouncy ball.
Made in the state of Montana by the people over at West Paw, this neat toy is made from a durable, but oddly soft material called Zogoflex, which makes it easy to throw and keep a hold of without having to apply too much force.
The material is buoyant and fully recyclable.
It's also completely non-toxic and free of phthalates and BPA.
The ball itself meets all FDA standards, too, so you know it's not some shoddy, unlicensed product.
The Jive is also easy to clean since it's completely dishwasher safe.
It comes in three different sizes in case you're on the lookout for another one for a small dog breed, but for large dogs like the Mal, you'll want the largest size option.
The toy also comes in a variety of different colors in case you want to personalize what is soon to become one of your dog's favorite toys.
Price-wise, it may seem a bit on the expensive side, but for something that'll last you a long while, I'd say it's worth the investment if it makes your doggo happy.
The only downside that I've noticed about it is that the ball is a bit heavier than the standard balls of its size, which may present a bit of a challenge when throwing or playing a game of fetch.
There's also the issue of the ball getting torn by very aggressive chewers, but most Mals don't fall into that category, so you should be alright, barring exceptions.
KONG Classic Flyer Dog Toy
Key Benefits:
Made from durable KONG rubber

Surprisingly flexible and accurate on the throw

Two different size options
Cons:
Not aesthetically pleasing

Takes a bit more effort to throw due to the construction material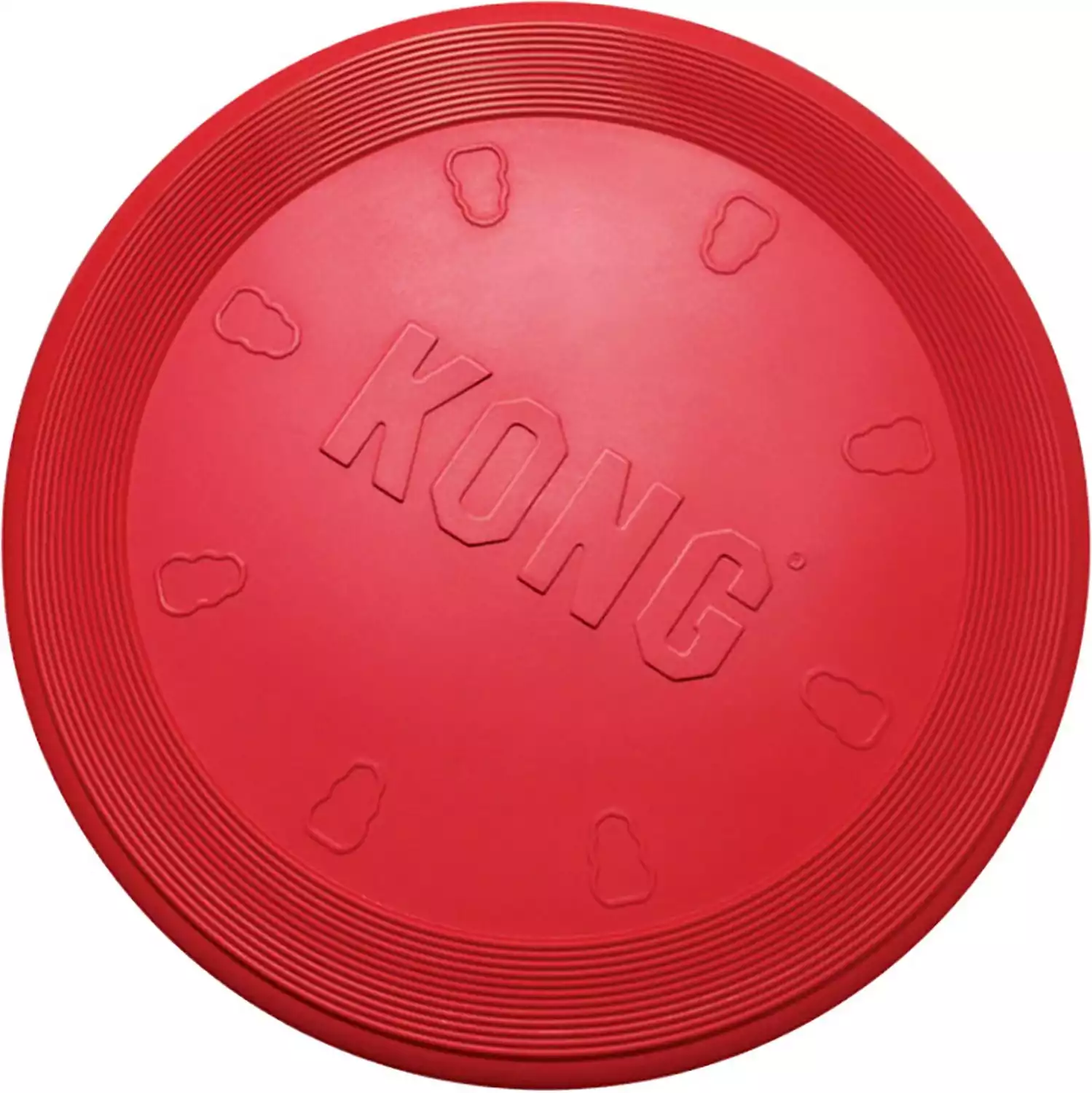 Next up is a classic in dog recreation – a frisbee.
While I'd normally recommend the KONG chew toy first, the Belgian Malinois isn't the most notorious of chewers, so I figured that a more physically active option would fit the bill a bit better.
It's made out of KONGs patented rubber, which is durable, but soft to the dog's teeth. It does make the frisbee require a little more oomph to throw out, but it won't break immediately like a plastic one would.
That said, while it is durable, it's not indestructible, so don't let your dog gnaw on it outside of playing hours as he would be likely to damage it.
It comes in two different sizes in case you're looking for something smaller, but I'd recommend the large for a Belgian Malinois.
Cost-wise, it's reasonable for a frisbee of this quality. A bit bland-looking, but aesthetics are the least of your worries as long as your canine companion enjoys it.
Chuckit! Classic Launcher Dog Toy
Key Benefits:
Made of high quality, durable plastic

Product entirely made in the U.S.

Improves ball throws to spice up games of fetch

One Chuckit! brand tennis ball included with the purchase

Quite affordable compared to other products on this list

Other balls are available as an optional purchase, with unique aspects to them
Cons:
The balls are the only really unique bit about the launcher

Next up is one of my personal favorites – the Chuckit! launcher.
While only really recommended for dog owners with access to very large, open areas like dog parks or open fields where your dog has the freedom to run as far as he wants, this bad boy will make you fling those tennis balls further than you normally could.
It may not seem like much, but the added exercise and challenge will be a welcome change for your darling Mal.
Made in the U.S. from very lightweight and flexible plastic, with locally-sourced materials, the launcher helps you avoid touching slobbery balls ever again while providing you with the pitching power of a minor league Baseball player…ish.
While it does already come with a ball, you can get different Chuckit! brand balls that add something extra to them, whether it's glow-in-the-dark features, extra bounce, different colors, etc.
You can also customize the launcher itself with the different sizing options, so choose one that fits your arm the best, along with your desired throwing power.
Of course, if you don't want all the bells and whistles, standard tennis balls fit in the launcher, too.
Price-wise, it's definitely worth it if you do have a large field where you can get the maximum out of this simple, yet oddly entertaining throwing arm attachment.
Nylabone Power Chew Double Bone
Key Benefits:
Durable nylon construction

The ribbed and nubbed texture provide good means for dental hygiene by combating tartar and plaque

Recommended by vets nationwide

The chew toy is designed to fit all dog maws and approaches from all sides with ease
Cons:
A bit more expensive than some other products

No personalization options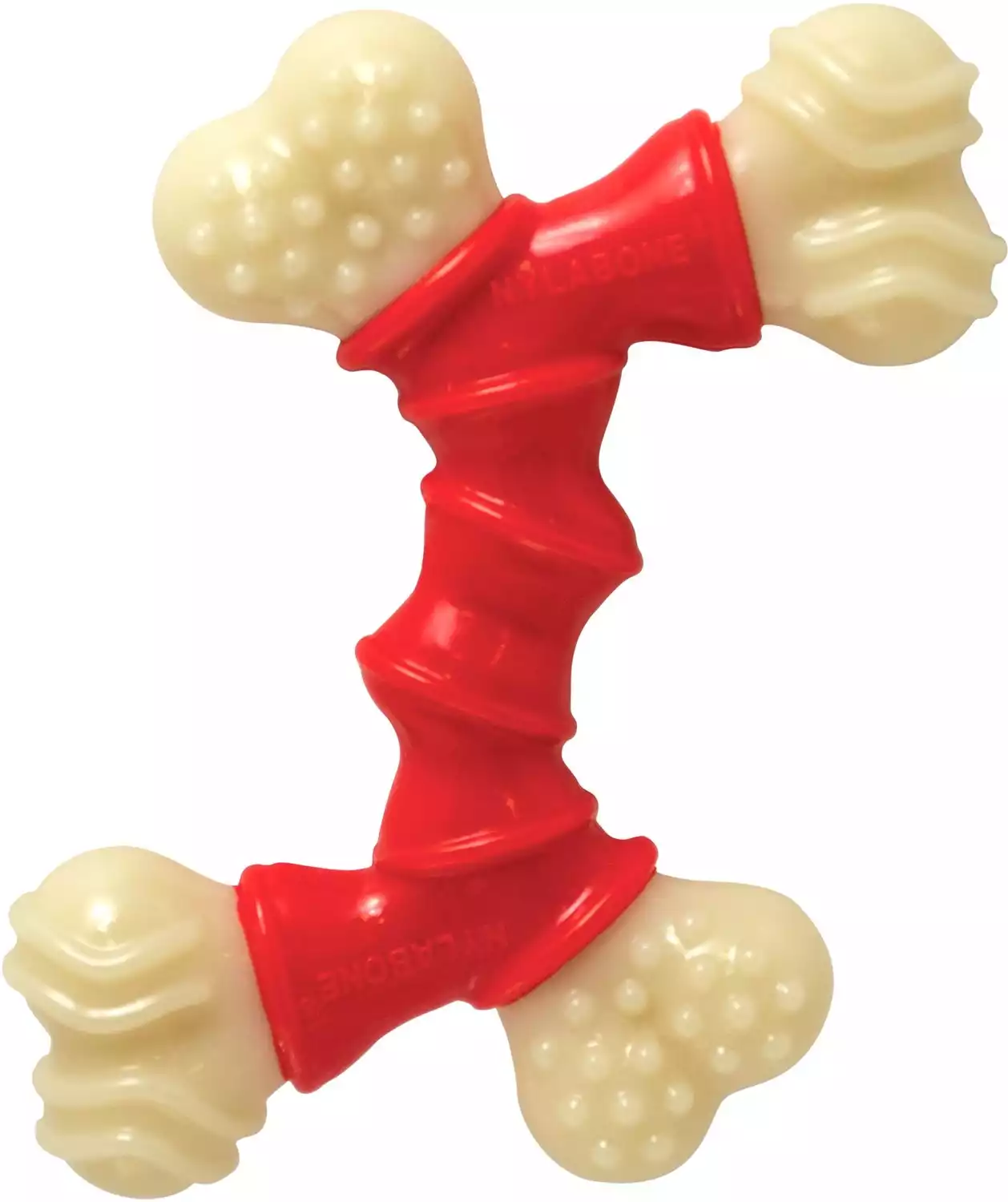 While Mals aren't the most notorious of chewers, they can still use a toy to help keep their mind occupied while you're away at work (or something similar) to help fight separation anxiety, or simply to enjoy some tasty bacon flavor.
This wonderful little dog chew toy is made to look like an oddly-shaped bone – one that's easy to gnaw on no matter what angle your doggo approaches it from.
It's made from durable nylon fiber, with an added hint of bacon flavor to keep your dog's interest. It should withstand even the most aggressive of chewers, so it should last for quite a while in the paws of your own furry friend.
The chew toy features plenty of nubs and ridges along its surface, which help keep up proper dental health by cleaning plaque and tartar from your dog's teeth.
The toy is approved by vets nationwide for that very reason; however, that added accolade does hike the price of the product up a bit, not to mention the lack of any further personalization options, but again, the latter is of little importance.
Starmark Treat Dispensing Chew Ball
Key Benefits:
Made of high-quality, durable plastic

Good, even for the most aggressive of chewers

Entertaining and calming design

Made to be used with Interlocking Treats brand, but works with other appropriately-sized kibble as well

Fully dishwasher safe

No latex, phthalates, parabens, or vinyl

Buy 2, get 1 free
Cons:
Price may not be worth it for some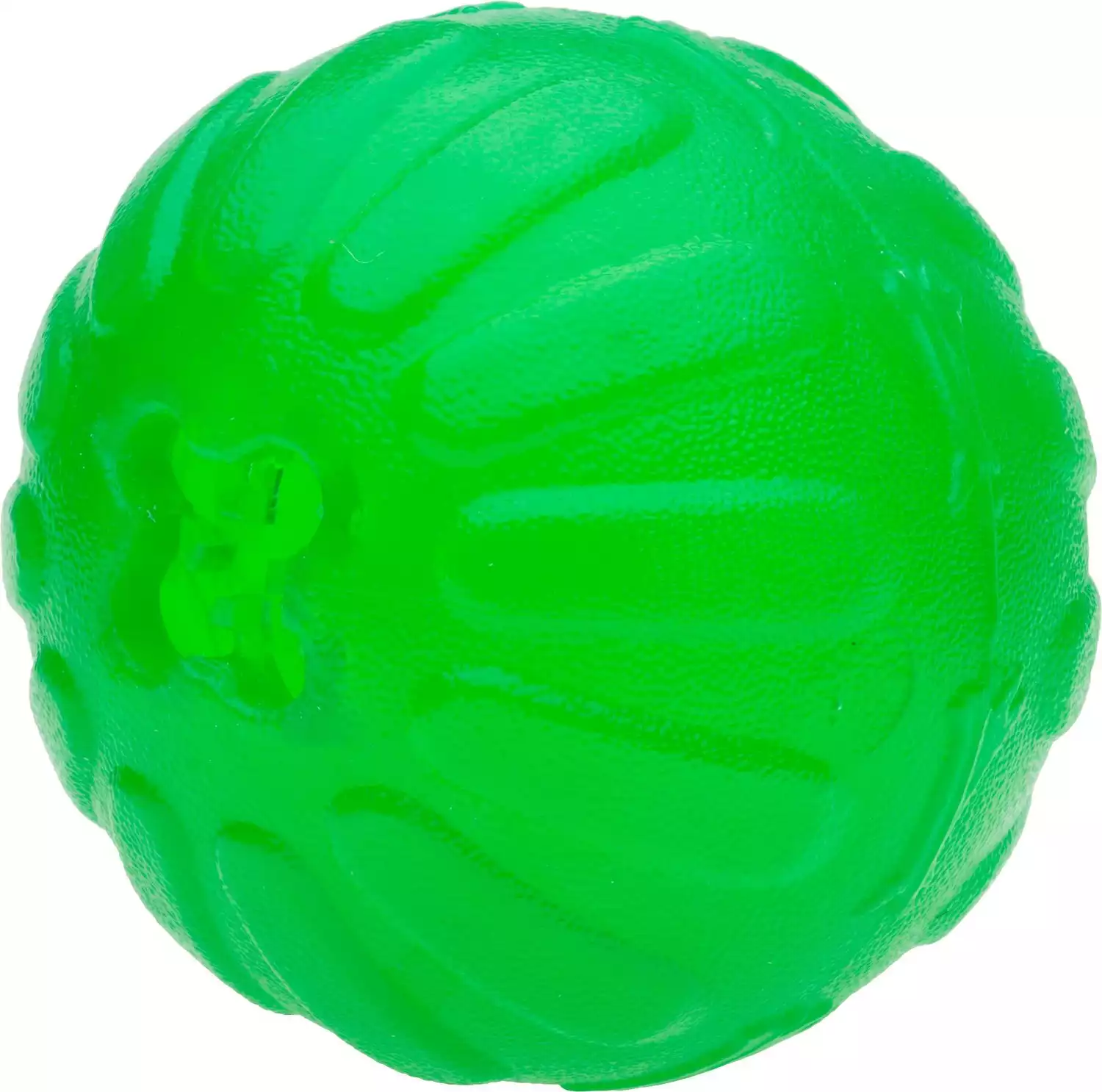 If you're looking to give your Belgian Malinois some physical and mental stimulation, you may want to give the Starmark Treat Dispensing Ball a go.
Much like the Nylabone chew toy, it's a great tool for fending off separation anxiety by allowing your dog's mind to focus on getting the treats out of the ball.
It even helps develop healthy and less-destructive chewing habits in dogs.
The ball is made out of extremely durable plastic, with slots on each side where you can put some of your Belgian Malinois' preferred dog food in, whether it is kibble, peanut butter, or something else entirely.
Normally, Starmark recommends using their own Interlocking Treats brand, but any standard-sized food will work just as well.
And, I hope your heart didn't jump because I said peanut butter, knowing how hard it would normally be to get food out of an enclosed toy, but this one is completely dishwasher safe.
It's also entirely non-toxic because no sane person would make a treat-dispensing toy with the use of hazardous chemicals that could mix with the food and poison your doggo.
The ball is offered in three different size options, with the largest one being the one intended for a large dog breed like the Belgian Malinois.
In terms of pricing, it's about what you'd expect – maybe a bit on the cheaper side compared to some other toys of the same type on the market, but still an investment.
After all, it's a rather simple concept that a lot of people feel isn't worth the money, but I say it's up to you to decide whether or not you need something like this for your own doggo.
ZippyPaws Skinny Peltz
Key Benefits:
Three cute and colorful animal designs

Plush squeaky toys made from durable synthetic fabric and fleece, with no stuffing

Each toy contains two squeakers to catch your dog's attention when squeezed

Very affordable price-wise
Cons:
The squeaker can become a choking hazard if it finds itself outside of the toy from wear or other factors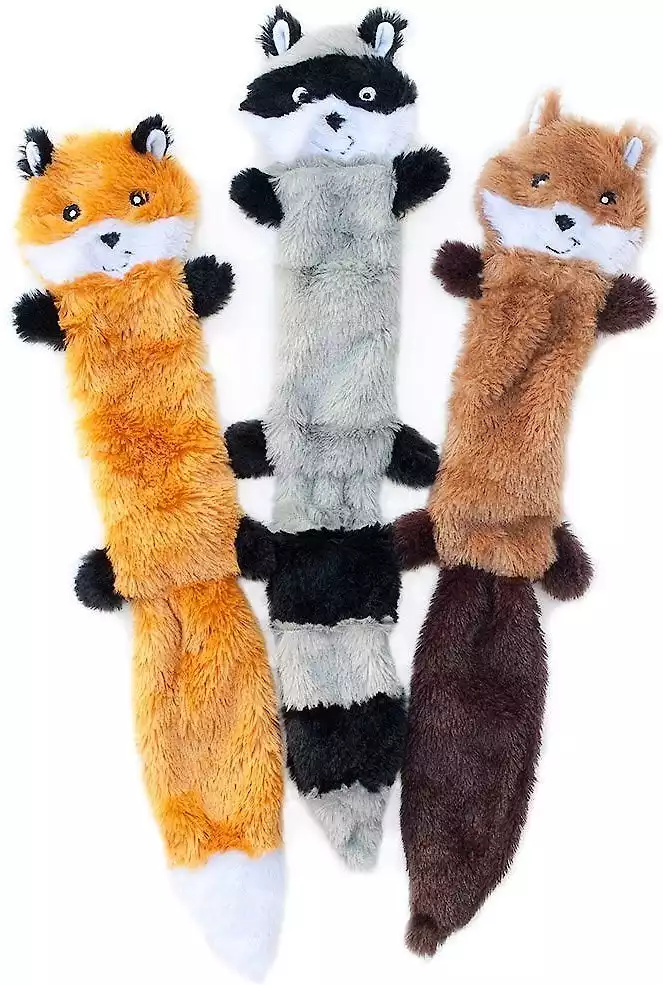 Squeaky toys are popular among many dog breeds, and the Belgian Malinois is no exception.
Sure, it's not the most physically active toy out there, but these ZippyPaws Skinny Peltz squeaky dog toys make for excellent bed buddies for your darling doggo.
They're made to resemble really adorable animals, which can make for great playtime companions or company in case you're not around.
The toy is made from synthetic fabric and fleece – a blend that makes for a really durable toy. They contain no stuffing either in case your dog really likes chewing on them and manages to make a few tears in them.
The pack has three different animals that come in it, each of which are sure to provide your canine companion with a ton of fun.
As mentioned before, they're squeaky toys that have two squeakers inside each of them, and the more your Mal plays with them, the more his attention will get occupied by them.
As far as cost is concerned, it's practically a steal, so getting one set won't set you back too far, and it's worth giving it a try.
That said, if you have a particularly persistent chewer with you, you may want to only let him play with the toy when you can supervise him as squeakers can turn into potential choking hazards.
KONG Tug Dog Toy
Key Benefits:
Simple, but effective rubber tug toy

Suitable for all dog breeds

Great tool for dog training when building trust and jaw strength

Control Flex technology won't allow either party to get hurt if an early release happens while tension is still being applied to the toy
Cons:
Pricey considering the simplicity of the toy and lack of any real gimmick that could justify it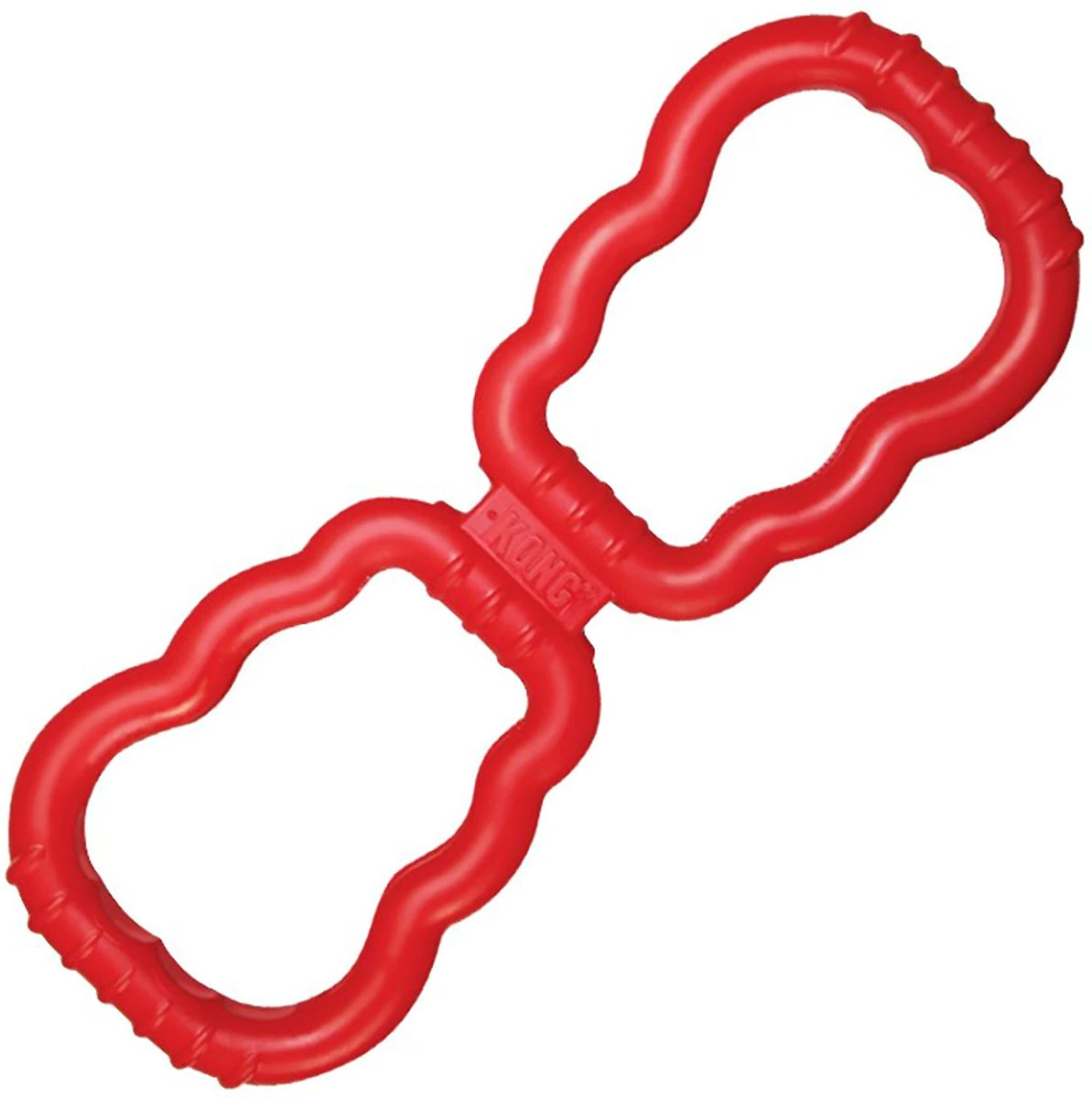 If there's anything that makes for a good bonding experience, it's a good game of tug of war between a dog owner and his furry friend.
The KONG tug toy may not seem like much at first, but its rubber construction is nearly indestructible, and it can take on the jaws of any dog, from a Golden Retriever and a German Shepherd to a Rottweiler and a Pit Bull.
Each end can easily be gripped by a human hand or a dog's maw with ease, so you and your buddy can enjoy a healthy tugging contest to help train his jaw strength and other physical attributes while having a little fun along the way.
The KONG tug toy also features its patented Control Flex technology that ensures that no early releases will cause harm to another party by hitting them in the face. The product is completely safe with regard to the game itself.
Any dog can use it, too, but do try to adjust your strength if playing with smaller dog breeds.
The price isn't the cheapest for something that looks relatively simple, which often dissuades people from buying it, but the added safety may be worth it.
Frisco Fetch Rubber Ball
Key Benefits:
Simple and effective way to play

Durable rubber construction that's soft on a dog's teeth

Cheap option to have loads of fun
Cons:
Some people may find it too simple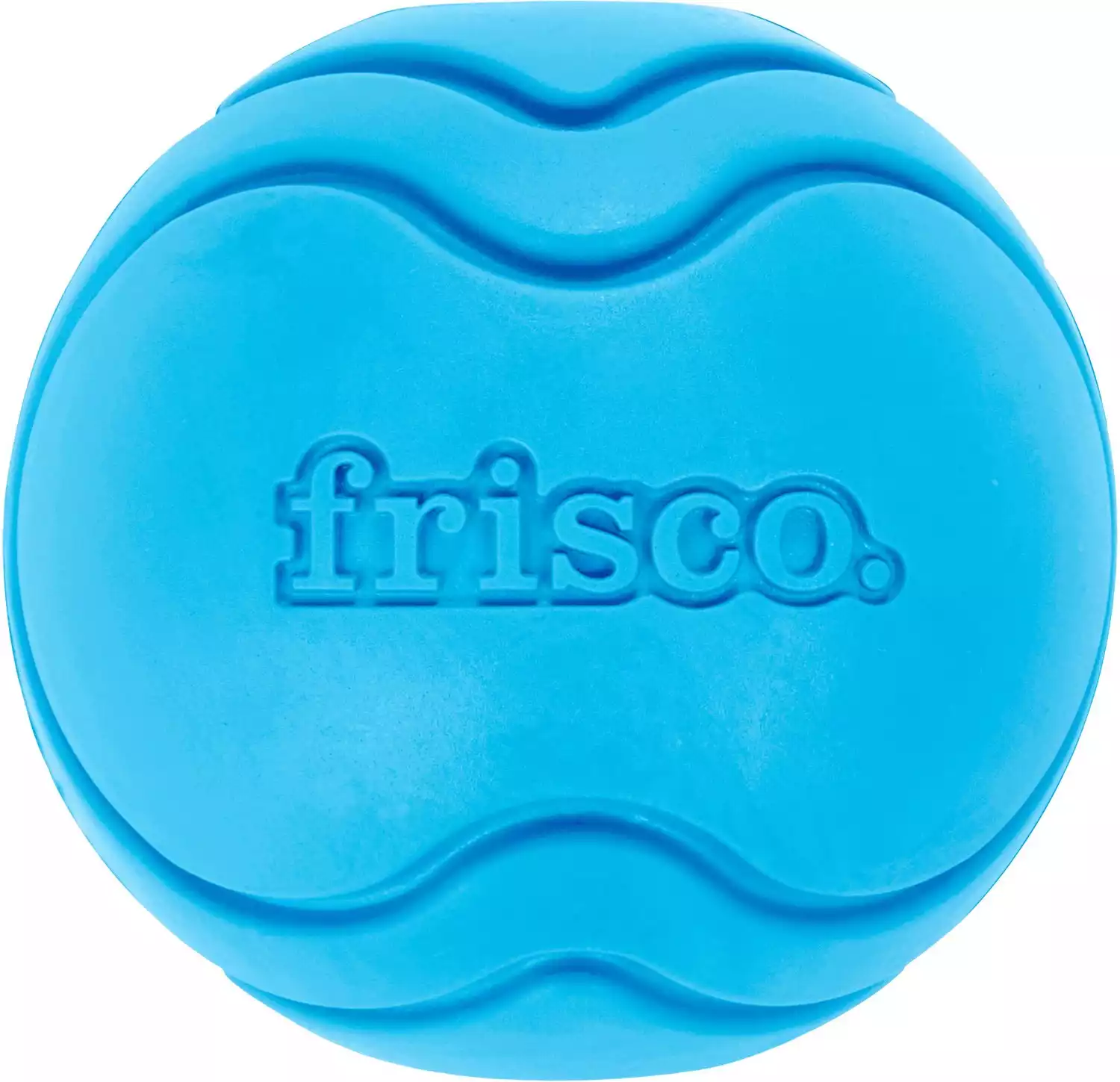 Here's more of a budget option on offer this time around – the Frisco Fetch Rubber Ball.
Sometimes, you don't really need to complicate things too much by having the right toy for the job because a simple game of fetch is sure to get your doggo wagging his tail and running after the ball regardless.
That's exactly what this Frisco ball aims to provide.
Made from durable rubber material, with a level of bounciness to it, it adds a little bit of unpredictability and extra distance to the ball itself, making games of fetch a little more chaotic and interesting.
While durable, it's still a soft ball, so your dog won't injure himself with it if he holds onto it for a longer period of time and doesn't want to let go.
Given its rubber construction, however, don't aim it at other people as you may end up seriously injuring them if they find themselves in the way.
The ball is as simple as it gets, but it'll last you longer than a tennis ball, at least.
The price may seem a bit much given that it's just a ball, but the durability more than makes up for this investment.
However, not everyone wants to go down the simple route, and that's completely okay.
Bones & Chews Cotton Rope with Bones
Key Benefits:
Rope built from strong cotton fiber

Comes in a random set of colors

Bones have been cooked in order to be sturdy and not splinter as easily

No artificial bleaching of the bones

No artificial colors, preservatives, or flavoring

Product fully made in the USA

Pretty cheap cost-wise
Cons:
A bit too simple and somewhat easy to replicate at home with a bit of effort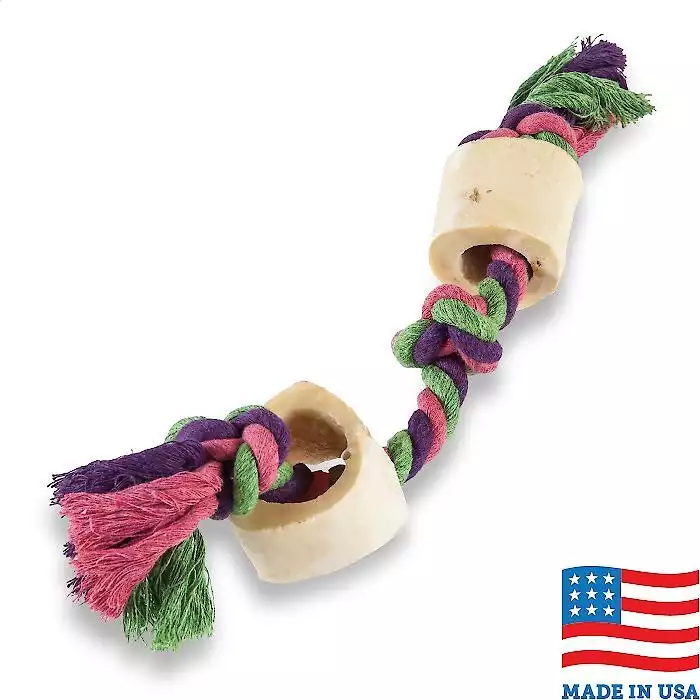 This is another deceptively simple toy that can provide your doggo with a large amount of playtime.
The Cotton Rope With Bones is as literal as it says it is, with the bones being completely natural with no extra additives or artificial ingredients like preservatives, flavoring, or colors to them, nor have they been artificially whitened by formaldehyde or bleach.
The bones are sturdy, and they provide good incentive to either be a chew toy that helps promote good dental hygiene by fighting tartar and plaque, or a great tug toy by giving your Mal some incentive to get the rope out of your hands and into his mouth.
Speaking of which, the rope is constructed from an extremely durable cotton blend, so it won't fray or snap as easily as some of the cheaper material would, and it comes in a number of different colors, randomly determined with each shipping.
The product is entirely U.S.-made – a little note for those of you who like buying local to support our economy's growth.
Price-wise, it's not all that expensive, and lingers more on the affordable side, though some people may find it a bit too simple to be considered a worthwhile purchase, but anything that gets me some fun physical interaction with my dog is alright in my book.
Outward Hound Hide A Squirrel Squeaky Puzzle Plush
Key Benefits:
Cute and interesting design

Helps train your dog's natural hunter-gatherer instinct

Offered in four different sizes

The stuffed squirrels can be used as sleeping buddies for your dog

Affordable pricing
Cons:
The fun only lasts as long as your dog's interest in the toy lasts

Smaller sizes have less squirrels to play with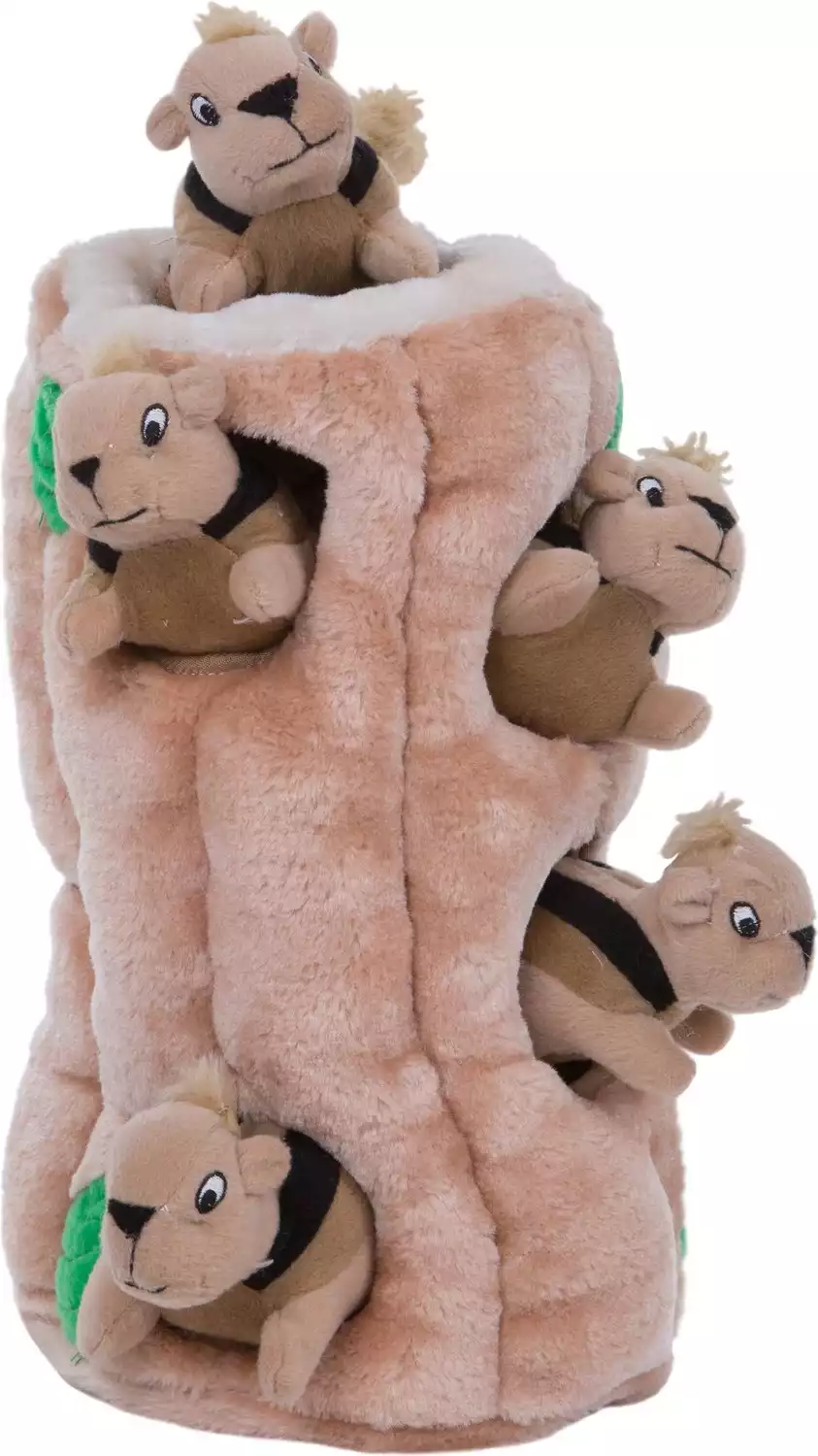 If your dog has to spend some time inside, then something a bit more mentally involved might just do the trick.
This fancy little toy is a neat little puzzle game that almost every dog enjoys because it entertains them with a few elements of hide and seek.
It involves a fake tree trunk and a number of squeaky plush toys in the shape of squirrels. All you have to do is hide them in the various openings of the trunk and then get your dear doggo to come and find them all.
Given the amount of options, your dog can be entertained for hours on end while working on honing his problem-solving skills and sharpening his base hunting instincts.
Depending on how great you want the challenge to be, you can choose from four different sizes offered on the marketplace.
Do keep in mind that the bigger the package, the more stuffed squirrel toys you get on hand to hide, which is a weird choice on their part, but it is what it is.
Price-wise, it's pretty reasonable when all the features are put into perspective as well as the amount of material used.
The final entry on this list of the best toys for Belgian Malinois is yet another neat take on a frisbee.
Unlike the KONG, it's made from a mix of rubber and nylon, making for a more lightweight frisbee that still remains durable, flexible, and accurate.
The unique design was made to be safe for both dogs and kids to use, with the former being treated to a softer texture under his teeth, so he doesn't hurt his gums, while children get a very simple and lightweight frisbee that won't break from a bit of wear and tear.
It even floats in water, so you'll be able to spot it easily should it land in a pond or something similar, and you'll have an easier time fetching it. It also means that it's a great option for some summertime fun in the water as well as on land.
The toy comes in a number of different colors for you to choose from, and it can be bought in different amounts.
Price-wise, it's absolutely worth every penny, and I'd argue that this seemingly simple entry to this list is one of the best dog toys out there.
Do note that the frisbee isn't indestructible, and it shouldn't be given to your Malinois as a chew toy or else you will risk having it torn apart.
FAQs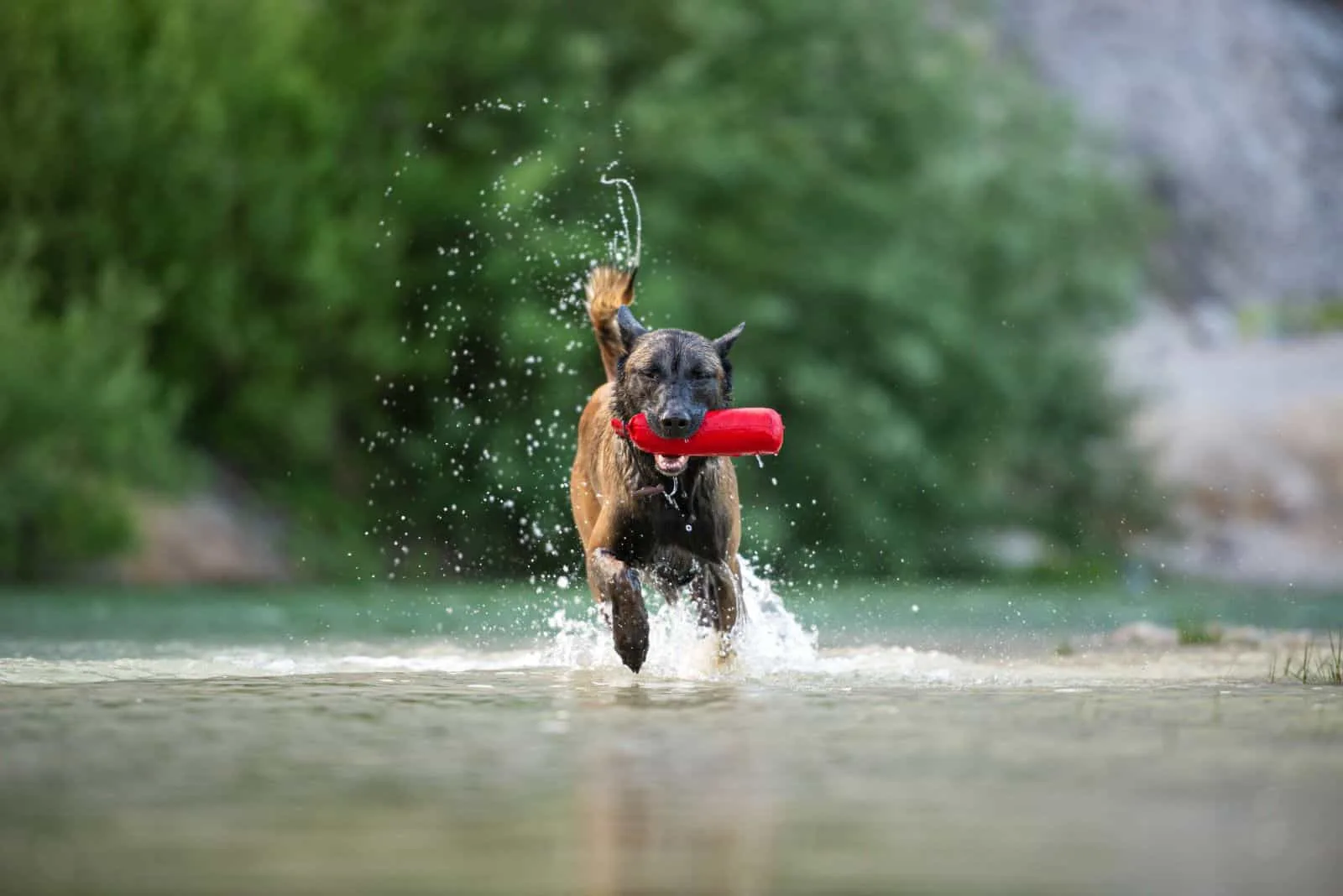 What Kinds Of Dog Toys Are There?
Finding the right toy for your Malinois can be hard, but learning all the different types can help you make a more informed decision:
Chew toys – Toys that have your dog chew on them… self-explanatory. They are usually soft toys with some sort of gimmick to them like a squeaker.
Tug toys – Toys designed to be used in games like tug of war.
Interactive toys – Toys designed to be like little puzzles, which are separated into pure puzzle toys and treat-dispenser toys.
Fetch toys – Toys designed around promoting physical activity through the game of Fetch.
What Do You Look For In A Toy For A Belgian Malinois?
The best toys for Belgian Malinois are ones that can keep them active and on their feet for longer periods of time.
This usually boils down to items like ropes, frisbees, fetch balls, and the like – something where your Mal is engaged alongside his owner in a high-energy activity that'll help him drain his batteries.
While that's the ideal scenario, you can also look into some interactive toys like treat-dispenser toys or puzzle toys in general.
They'll provide him with some mental stimulation and help foster the growth of his problem-solving skills through proper Belgian Malinois training.
And, while the Malinois isn't the type of dog to chew through everything, getting a chew toy here and there is still nice.
It'll at least help keep his teeth clean from tartar and plaque. After all, a dog needs his teeth for a great number of things, so consider a chew toy as if you are getting him a toothbrush.
Chew toys are also a great source of stress relief for the doggo as it helps combat separation anxiety when you're not around, doubly so if the toy looks like some adorable animal that can become one of his bed buddies.
What Is The Best Toy For A Belgian Malinois?
As I always say – every dog and owner will have a different idea of what the best option for them is, but if I were to choose between the ones listed here, I'd argue that the Chuckit! launcher is one of the better options aside from the frisbees.
From personal experience, the ball launcher is a ton of fun for both the dog owner and the dog if you can find a big enough field, while the frisbee is the stereotypical fun tool for owners and their furry friend. That's a stereotype for good reason.
How Much Attention Does A Belgian Malinois Need?
Well, they certainly aren't indoor dogs – I'll tell you that much. Mals desire a whole lot of physical activity on a daily basis to keep them entertained and in shape, so having a nice, big fenced off back yard can help get their daily steps in.
That said, don't forget to give them a walk for at least an hour to 90 minutes every day, so they're not cooped up in one place all the time.
Aside from that, try challenging your dog mentally by solving a problem or by having to think on the fly. Using one of those unpredictable bouncy balls is one way to do so, and treat-dispenser toys are another, but some games like hide and seek can help get the mental cogs turning, too.
How Do You Keep A Belgian Malinois Entertained?
A Belgian Malinois, as mentioned earlier, requires a good amount of physical and mental stimulation to not be bored throughout the day.
Aside from long walks, try finding them different toys to play with, take a new route, or get them introduced to some new playmates.
Different mentally challenging activities also help, like various interactive dog toys or puzzle toys. Games like hide and seek (and similar) help, too.
The Malinois is also known as the 'Belgian Shepherd' after all, and they've got it in their genes that they have to have something to do at almost any point in time.
In Conclusion
The best toys for Belgian Malinois dogs will have them up on their feet and expending the high energy they all have.
While plush toys, chew toys, and the like all work, toys that promote mental and physical activity are in a tier of their own, and are must-haves for any Malinois dog owner.
While there are plenty of choices out there on the market, the ones presented here should help cover almost all the relevant bases.
Naturally, every dog and every person is different, so you or your dog may find that none of the above-listed toys work for your needs.
Should that be the case, I do hope that I've given you enough information for you to know exactly what you're looking for in a toy. I'm sure you'll find the one that fits your dog's playstyle the best. Until next time.
RELATED LINKS:
• Are Belgian Malinois Aggressive? 11 Temperament Questions Answered
• Belgian Malinois Growth Chart – When Do Belgian Malinois Stop Growing?
• How Much Do Belgian Malinois Cost? All You Need To Know