This post contains affiliate links, and I will be compensated if you make a purchase after clicking on my links.
Basset hounds are one of the most adorable and playful dog breeds out there, so it only makes sense to provide them with adequate entertainment. But, what are the best toys for Basset hounds?
The best toys for Basset hounds are the ones that get them physically active since their biggest enemy is bone issues that affect their mobility, which they're prone to, given their unique shape.
The most common ones are wandering lameness for younger hound dogs, and patellar luxation, which happens with age and the stubby nature of their little feet.
These beautiful canines were hunting dogs in the past, and they still are, meaning they revel in an active lifestyle. Sure, every dog needs walkies daily, but these ones especially do.
Thankfully, most toys are designed to get your doggie exactly that, but that leaves the problem of choice on the table.
But, as always, I've done my research, and have written down several very solid options that I believe many dog owners would agree are some of the best options for dogs seeking a more active lifestyle.
I've gone through the two most popular marketplaces for doggy gear – Chewy and Amazon. Hopefully, they're exactly what your doggo needs in his life.
If you're interested in finding out what they are, and finding answers to some of the most commonly asked questions, then read on.
7 Best Toys For Basset Hounds
Mammoth Cottonblend 3 Knot Dog Rope Toy
Key Benefits:
Made out of all-natural, high-quality cotton fiber

Five sizes to choose from

Extremely durable

The cotton fiber acts as floss, making it great for dental hygiene

Relatively affordable, but a quality product
Cons:
Easy to replace with anything else resembling a tuggable object

One activity that dogs love regardless of size is playing tug of war, and this neat and simple tug toy provides just the fun and exercise that they need.
This 100% natural, high-quality cotton rope is an extremely durable piece that also doubles as a good teething option, even for the most aggressive chewers.
The cotton fiber has a shockingly useful benefit of maintaining dental hygiene, acting like floss and helping remove tartar and plaque from your doggo's teeth.
Depending on the size that you want, and the size that best fits your dog, the rope comes in five different sizes so you can pick and choose the ideal length.
The three knots help give both you and the dog (or another dog if co-playing) an anchor to tug from so there's no accidental slippage on either end.
Given that it's mostly just good-quality rope, the price is pretty cheap – after all, you don't always need elaborate doodads for your dog in order to get exercise in and have a good time.
Outward Hound Hide A Squirrel Squeaky Puzzle Plush
Key Benefits:
Innovative and adorable design

Helps train your dog's natural hunter/gatherer instinct

Comes in four sizes, with more squirrels the bigger you go

Squirrels make for great companions for the dog

Budget-friendly pricing
Cons:
If the dog doesn't catch interest right away, there likely won't be any

Smaller sizes don't have as many squirrels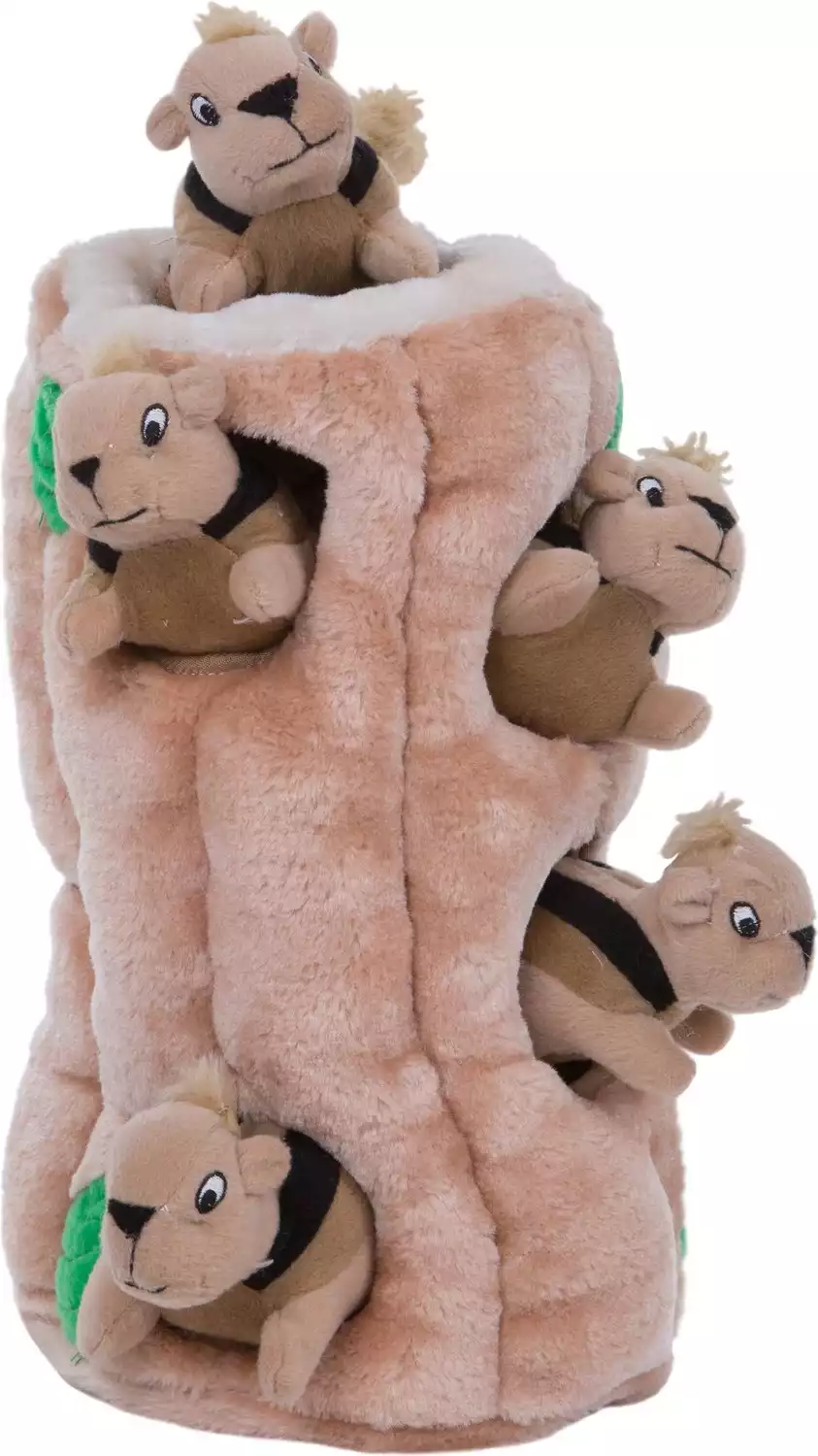 Speaking of elaborate, here's an interactive toy that's going to provide some mental stimulation for your hound dog.
This is a toy tree trunk that comes with a set of plush squeaky toys – stuffed squirrels that you hide in the trunk and have your dog try and find them.
It's great exercise for any hunting dog to train their hunting instinct. You can even hide a treat or some kibble in there so he can try sniffing it out. Bassets are great scent hounds as well, and giving their nose a workout now and then is important, too.
You can get it in a variety of sizes, but I'd recommend the smaller ones for a small dog breed like the Basset hound.
Price-wise, I'd say it's about equal to the quality of the product that you get, but if it feels like it's too much, don't feel too pressured about getting it.
ZippyPaws Skinny Peltz
Key Benefits:
Three cute animal options to choose from

The squeaky toys have no stuffing, and are made out of fleece and synthetic plush fabric

Two squeakers in each toy that will keep your dog occupied every time he squeezes them

Price tag is on the lower end
Cons:
The squeaker can turn into a potential choking hazard if it ever falls out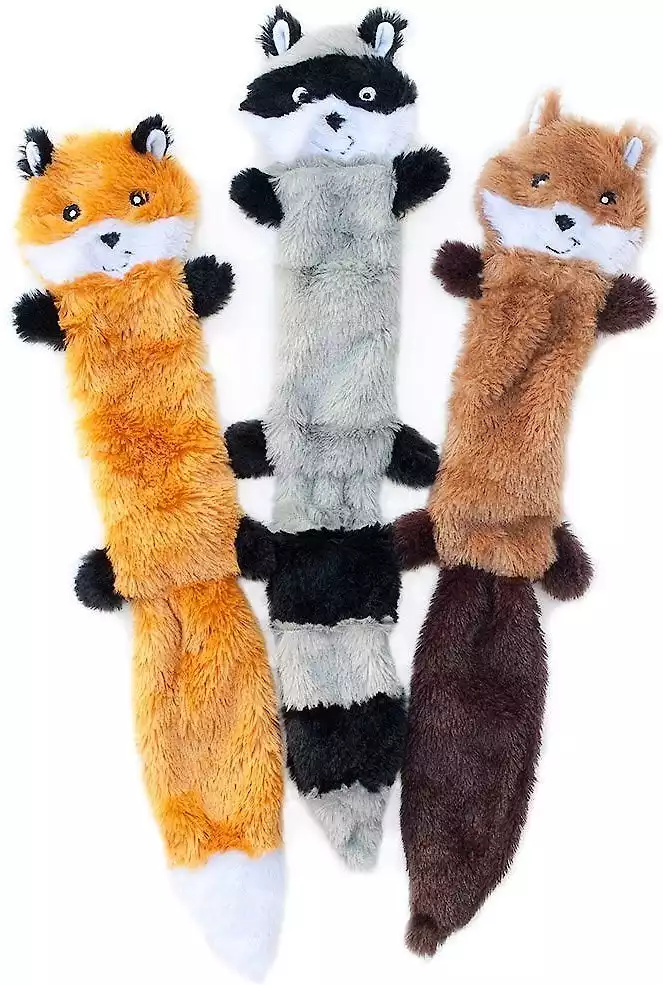 For a simpler plush dog toy, there are Skinny Peltz – a collection of adorable animal pelts that make for great dog chew toys for smallish dog breeds.
They're a favorite among dog lovers nationwide, given their affordability and with how attached their furry friends become to them.
It's quite a durable little thing, too, made from a mix of synthetic fabric and fleece that will last a long time, even against the most aggressive of chewers, and there's no stuffing to worry about falling out either so the aesthetic of the toy remains the same throughout.
What it does have are two squeakers that, aside from the design itself, help garner the interest of your doggy to interact with it and play.
While it's not the most active of toy options, it's a toy that can end up being a good emotional anchor for your canine companion, keeping him company if you're not around.
There are three animal options to choose from, which may not seem like much, but I guarantee that your Basset will fall in love with at least one of them.
Do be wary of the squeakers, though, as they may end up popping out over time, and may present a potential choking hazard, especially for a smaller breed like the Basset.
KONG Puppy Dog Toy
Key Benefits:
Bouncy, all-natural rubber material

Hollow on one end, which is a great spot to put some treats in for added interest

Good for teething

Three different sizing options, with the first being the best for Bassets

U.S.-made product

A few different colors to choose from

Pretty affordable
Cons:
Presents a choking hazard as soon as the toy starts falling apart from wear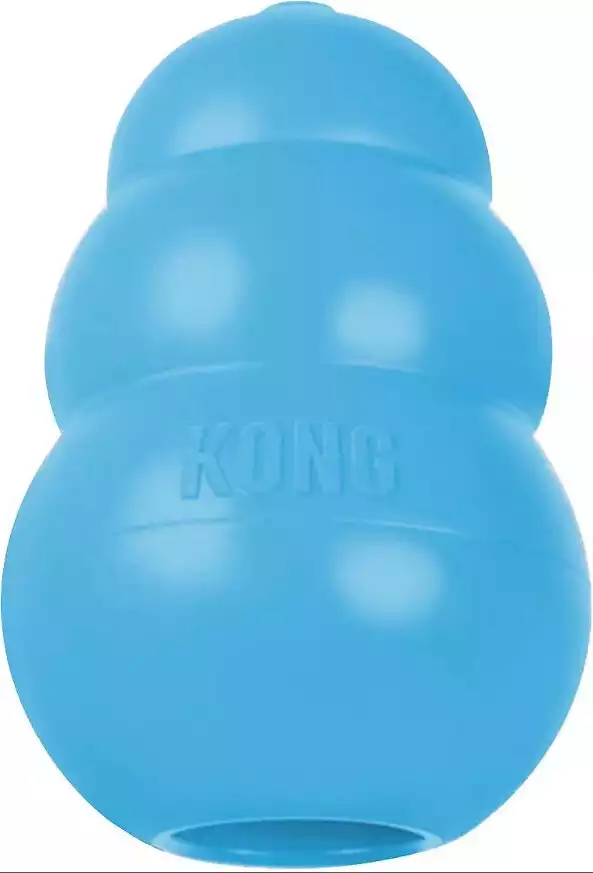 A well-known brand with a well-known toy – the Kong puppy edition.
The unusual shape and bright color will catch any dog's attention and keep him occupied for a while, assisting with teething and mitigating destructive behavior at a young age.
The inside of the KONG is hollow, too – a nice place to store a treat in or lather it with a dollop of peanut butter to renew your dog's interest in it as he tries to get the tasty reward out.
The choice for the puppy version is its innate softness compared to the classic and the extreme, which can prove to be too hard for smaller dogs with lower jaw strength.
It's made from all-natural rubber, which conforms easily to jaw pressure, and ensures the toy is enjoyable rather than being a chore to mess around with.
The rubber is bouncy, too, making the KONG into a decent choice for a fetch toy, especially on harder surfaces where you can fully utilize this property for a more chaotic fetch session.
As far as personalization options go, there are a number of options for both color and size, so mix and match until you find the ideal one for your canine companion.
One more merit to the toy is that it's a fully made U.S. product, from its material to its manufacture and marketing. Therefore, getting one helps boost our local economy.
As far as the price is concerned, it falls around the average to cheap-ish line, which is ideal for anyone trying to save up a little for other amenities that a dog needs like a dog bed, collars, leashes, dog food, and the like.
Though, as with any chew toy, being submitted to the stress of a dog's jaw will eventually make it give way and pieces will break off, which may pose a choking hazard.
That's why you should always be around when your dog is gnawing on one in order to prevent a potential medical emergency and save yourself a visit to the vet.
Wobble Wag Giggle Ball
Key Benefits:
Made from high-quality plastic material

Tubes inside the ball produce a giggling sound that dogs like

Incredibly colorful and eye-catching design
Cons:
Its unique niche makes it more expensive than other products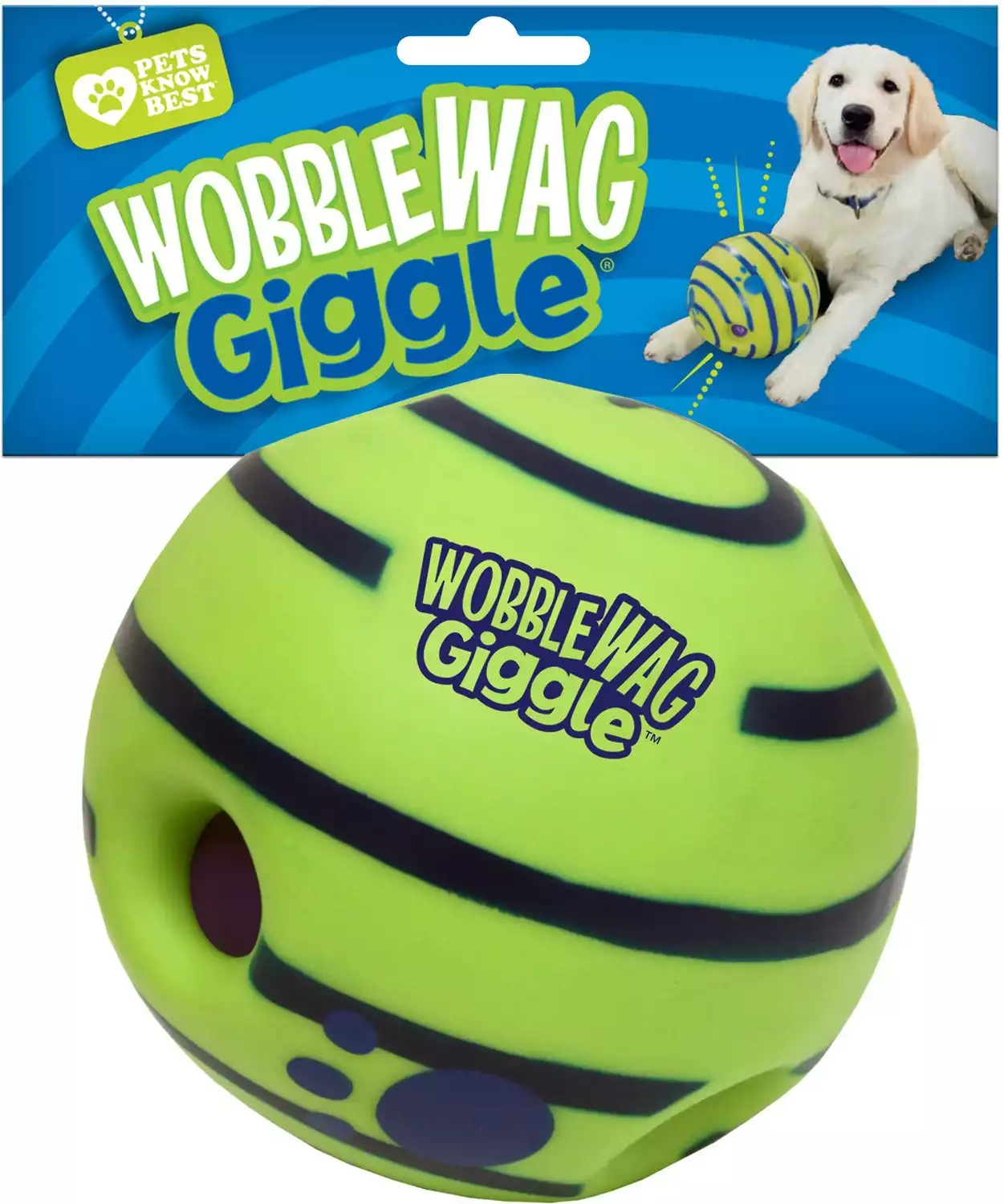 Here's another very entertaining option for more physically active dogs – a giggle ball.
What appears as a simple plastic ball at first sight produces a very unique sound, almost like giggling, when moved.
No batteries are involved – the sounds are produced by the three tubes going through the ball itself as it moves across the floor.
Allegedly, dogs are attracted to this sound, and will absolutely love chasing after the ball and playing with it, giving your Basset hound its much-needed daily exercise.
I personally don't know the logistics behind it, but I know that my own dog has the time of his life every time I bring it out.
That said, it's pricier than most other options on this list, so only get it if you can afford it without hitting your budget too hard.
Nylabone Power Chew Double Bone
Key Benefits:
Made out of durable nylon material

The textured parts on the dog toy make it a great option for dental hygiene

Recommended by vets nationwide

Simple design made to be dog-friendly
Cons:
More expensive than some other options

Not customizable at all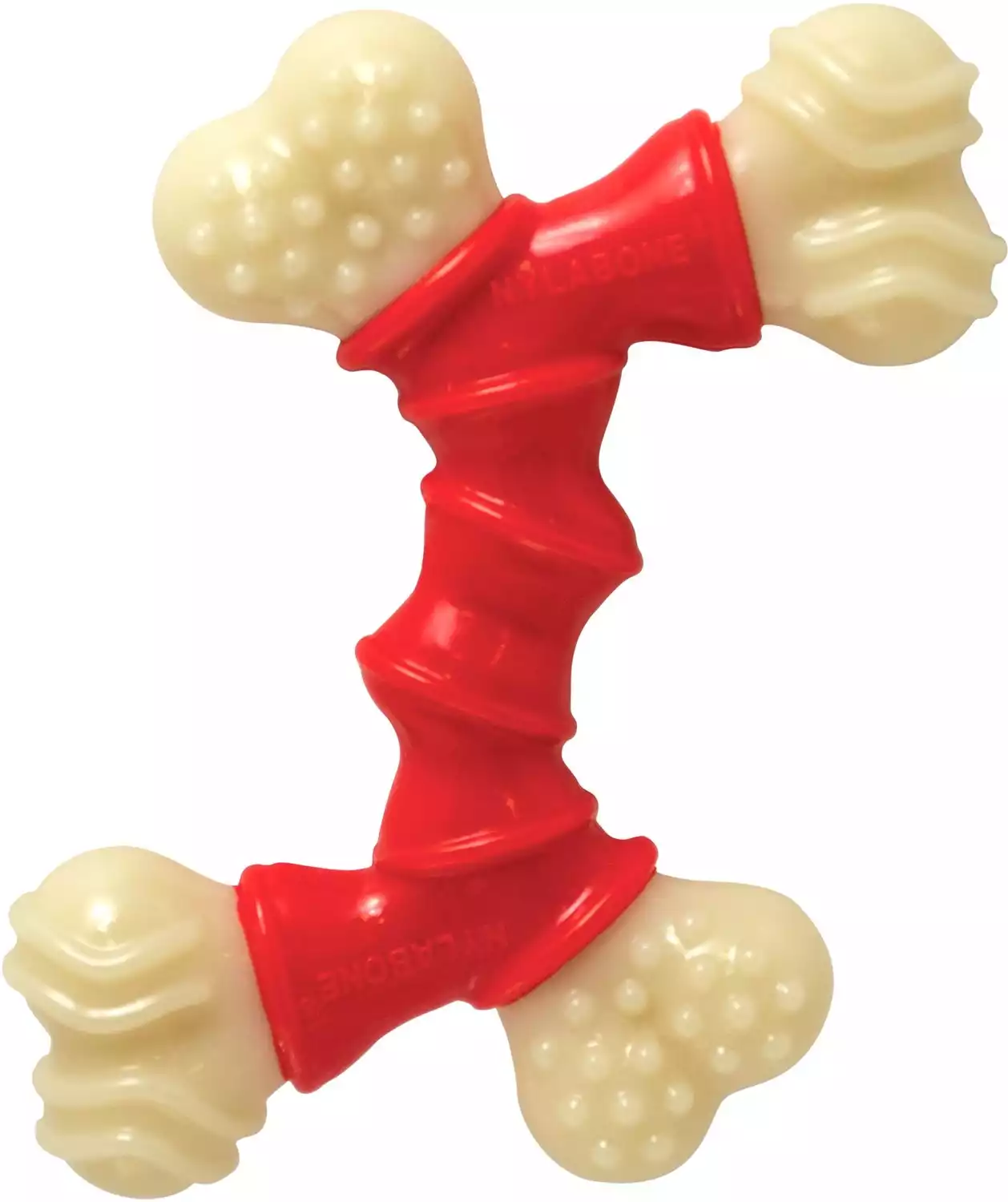 Yet another chew toy option… one with a very simple, but effective gimmick to it – bacon flavor.
While not really a novelty in the doggy gear world, this dog chew toy provides a savory, bacon-esque taste that will have your Basset hound puppy glued to it for a while, gnawing on it to get the most out of the taste.
The toy itself is made from durable nylon, which is great even against aggressive chewers or large breeds, let alone a Basset hound pup.
The toy helps teach dogs how to temper themselves, and not to develop any potentially destructive behavior.
It's great at maintaining dental hygiene, too, thanks to the ridged and nubbed texture which aids in combating tartar and plaque.
Even the design of it was made to be approachable by every dog breed, perfectly shaped to be chewed regardless of the angle of approach.
If that wasn't enough convincing, know that it's also a veterinarian-approved toy deemed as a great option for teething and dental hygiene.
Sadly, there are no personalization options – what you see is what you get, but what you do get isn't bad in any sense of the word.
It edges on the pricier side, but given the quality of the product, and its accolades, this is somewhat understandable, but do keep it in mind when buying.
Chuckit! Classic Launcher Dog Toy
Key Benefits:
Made of durable, lightweight plastic

Helps you make longer-distance fetch throws Package comes with one ball for free that works well with the launcher

Offers a variety of different balls to further customize the fun

Entirely U.S.-made

Pretty cheap considering the quality of the product
Cons:
Doesn't vary up the dynamic of the fetch game outside of providing longer-distance shots unless you invest in different balls

If you want to spice up your games of fetch with your dog by adding some extra distance to your throws, you may want to give this toy a try.
It may be simple, but most of the best toys for Basset hounds and dogs in general are.
It's constructed from flexible and lightweight plastic – a great and durable tool that acts as an extension of your arm, turning it into a man-powered tennis ball trebuchet and sending balls flying.
It's an amazing option if you have a massive back yard or have access to a large plot of land where your dog can just hoof it after the ball that you propel.
Physically active dogs love a challenge after all, and taking their fetch game to the next level is sure to satisfy both you and them. The same goes for the Basset hound despite his short legs – those little rascals love moving around.
As far as customizations go, you can get different launcher sizes to fit your arm perfectly, and to adjust the extra launch power and various ball options, though any old tennis ball will work, too.
This product is not just affordable, but it's also completely made in the USA, adding yet another star to its merits.
What Traits Make For The Best Toys For Basset Hounds?
You may be wondering exactly what makes a great toy, especially one for an active dog breed like the Basset.
Well, there are several factors that come into play, and you'd do well to remember them if you want to go looking for a different toy than the ones listed here:
Physical Activity
Most dogs love dashing around the place – Basset hounds definitely fall into that category, and the primary objective here is to facilitate that regardless of what form that activity takes.
Mental Development
If it's not physical development, then it's mental. Dogs like a challenge, and they like honing their tracking instincts.
Hunting dogs like the Basset especially want to hone their impeccable sense of smell, so try finding toys that can be used to do just that.
Dental Hygiene
A dog's teeth are incredibly important to his lifestyle, and if anything happens to them, it can turn out to be a big problem.
This is why a lot of toys also double as good ways of maintaining good dental health by fighting plaque and tartar.
Promoting Healthy Chewing Behavior
Many untrained and undisciplined dogs tend to tear through furniture and other similar possessions.
The ones that get trained to do otherwise, and to temper their bites and overall chewing through chew toys are a lot more careful, though, so do consider this trait high on the list of necessities if your canine companion has a bit of a rowdy side to him.
Promoting A Healthy Owner-dog Bond
Playing with toys is fun, but playing together with their owner is even better. After all – having a healthy bond is important in every social aspect among humans, and dogs are no different, which is why toys that promote playing together are great for this.
Helping To Combat Separation Anxiety
If you ever have to step out for a few hours, whether it's for work or going outside with friends, your dog is likely to get lonely given how he perceives times differently than you do.
For this reason, having a comfort toy is nice, like an animal plush toy or something similar with which your dear doggo can entertain himself until you return.
FAQs
What Is The Best Toy For A Basset Hound?
This depends from dog to dog. There isn't really a de facto best one based on breed, given the unique nature of each dog, but if I had to pick a favorite toy, I'd go for the classic launcher, from Chuckit as it keeps both you and your furry friend physically active.
What Types Of Dog Toys Are There?
There are numerous toys to choose from on the internet that, frankly, can become dizzying, so it's good to separate them into their respective categories in order to help make searching for the ideal one easier.
Here are some of the different types:
Chew toys – Toys with the sole purpose of being chewed on, with the potential of some extra traits and benefits. A must-have for Basset hound owners to alleviate their naturally destructive instinct. These are usually softer toys for smaller breeds, and they can come with an extra gimmick or two, but aren't necessary.
Tug toys – Toys that usually involve at least two participants, whether it's two dogs or a human and a dog. Great for creating a bonding experience between an owner and his dog and strengthening their deep bond.
Interactive toys – Toys that stimulate your dog's mental capabilities or native instincts. These are further separated into treat-dispensing toys and puzzle toys.
Fetch toys – Pretty self explanatory – these are toys made to be used for fetching… a time-honored tradition between man and dog.
Are Basset Hounds Big Chewers?
Despite their small size, Basset hounds are really aggressive chewers, especially if left alone for a while. Even prior tempering will mostly just minimize the damage, so you better get one of those comfort toys or have someone keep your dear doggy company.
How Often Should A Basset Hound Be Walked?
Don't let their body shape fool you – Bassets desire physical activity, so it'd do them well to have a good amount of time walking or exercising… around an hour or so a day would be ideal.
The main reasons for this are that smaller dog breeds tend to put on a lot of pounds real quick if not kept active – the other is simply getting bored by being cooped up in the house all day.
What Kind Of Treats Do Basset Hounds Like?
Again, it depends from dog to dog, but wet food with chicken, beef, or some other meat is always a winner. Some standard, small-breed-sized kibble with similar flavoring also works.
If you're looking for some more on-hand options, peanut butter is always a winner, but you can also go for some thinly sliced apples, baby carrots, or even ice cubes!
In Conclusion
The best toys for Basset hounds are often similar to that of other smaller dog breeds like the beagle or even the bulldog, but it really depends from dog to dog.
Each of them is a unique individual on their own, and they have unique preferences, so you may need to go through a bit of trial and error regarding varying degrees of success.
One thing's for sure, though – anything that helps keep them physically active is sure to prove successful, so I'd gun for one of those types of toys first.
Whatever you choose, I'm sure your canine companion is going to love it. Until next time.
RELATED LINKS:
• Best Dog Food For Basset Hound: 15 Best Foods Reviewed
• Best Basset Hound Rescues For Adoption: 26 Organizations From All Over The USA
• Male Vs Female Basset Hound: May The Best Basset Win!
• European Vs. American Basset Hound: Are These Dogs The Same?