This post contains affiliate links, and I will be compensated if you make a purchase after clicking on my links.
All dogs are wonderful creatures, but they're not afraid to get dirty, and it's up to the owner to clean them up.
Big dogs like the Cane Corso can be a challenge, which is why today, we're looking for some of the safest and best shampoos for Cane Corsos on the market.
The main problem with cleaning your furry friend is likely not going to be the actual shampoo, but the fact that Cane Corso dogs are often too hard headed and proud to stay still and have someone direct them for a long period of time.
You're just as likely to end up covered in just as much water and suds as they are by the time you're done, but don't worry – there is a solution for that.
Surprisingly enough, choosing the right shampoo for your dog actually matters for their behavior during bath time, especially if you have a pooch with sensitive skin, as well as a few other factors we'll get into later.
Professional groomers and Cane Corso breeders likely have a shampoo preference for each specific dog, so asking for their guidance is a good way to get you started.
But, since grooming tends to differ from one dog to another, you'll eventually want to upgrade to something that fits your doggo the best.
I've taken it upon myself to look through some of the most popular marketplaces for dog shampoos, like Amazon and Chewy, to give you a list of some of the top choices that exist. Let's see what they are.
6 Best Shampoos For Cane Corsos
Starting off the list of best dog shampoos is a relatively simple entry that's all natural and soothing to the doggo.
The Base
The base is made out of jojoba, aloe vera, and coconut oil to rehydrate sensitive or dry skin – a common health issue with many dog breeds, and it adds moisture and sheen to the Cane Corso's coat.
It even helps detangle any messy, matted, and unwashed fur with ease while the mix of essential oils provides much-needed reprieve to sensitive, irritated, or otherwise itchy skin.
Oatmeal helps fuse all of the organic and vegan ingredients together with turmeric and sweet basil to provide you with a soothing, irritant-free shampoo option.
The Benefits
Being irritant-free also means that it's tear-free, so a bit of soap in your dog's eye won't cause him any harm should it happen accidentally.
This all-natural shampoo is completely soap-free and free of any other chemical that is toxic to dogs, so it's completely safe to use, even if some of it ends up landing in his maw by accident.
It's one of the more affordable options too.
If you're using topical ointment on your dog, there is one thing to note if the irritation on your dog's skin came from a bug bite like a flea or a tick.
Make sure to wait the proper time for the ointment to get absorbed before using the shampoo as the shampoo can wash it out if it is used too early, rendering the ointment less effective.
While not the best option on the list, it is the one that'll get you the most bang for your buck as the cheapest of the lot, without sacrificing too much on the benefits.
The Base
The main components are honey and colloidal oat flour, with one acting as a moisture retainer for the Cane Corso's fur.
Meanwhile, the other acts as a soothing agent for the skin to prevent itchiness, irritation, and other skin conditions like eczema and the like.
The Benefits
In addition to those two, there's green tea extract, which improves hair follicle strength and fosters the growth of a nice, shiny coat after the Cane Corso's shedding period finishes.
What it doesn't have is a long list of harmful chemicals and ingredients like sulfates, artificial coloring, fragrances, sodium lauryl sulfate (SLS), parabens, petrolatum, or phthalates.
Every ingredient included in this almost all-natural product is mixed to have a perfectly pH-balanced result, meaning it won't harm your dog's skin in any way.
The product is made ethically, too, bringing no harm to any animal. After all, this company is well known for its baby care products, too, so it's only natural that they treat animals the same way.
Another great benefit to note is the fact that the bottles they come in, while a bit unappealing to look at, are made out of 80% recycled material.
Also, if your dog is dealing with pest-bite irritation, this product is completely safe to use as it won't wash off.
You should keep it away from your dog's eyes, though, as it can irritate them, which'll only make bath time harder.
It was no surprise that Buddy Wash, one of the cornerstones of the dog grooming industry, was going to be a part of this list.
The Benefits
Both a shampoo and a conditioner in one, this all-natural, USA-brand product will make sure they make every penny you spend on it worthwhile.
The first thing is that the formula is completely alcohol- and soap-free, meaning it's a lot gentler on your dog's coat and skin, keeping them healthy and lustrous for a long time.
The Base
Not just that, but there are no other harsh chemicals present either – only potent, essential oils like tea tree oil and aloe vera, as well as known relaxing botanical extracts often used in tea, such as rosemary, chamomile, sage, and green tea.
They, combined with the rich coconut base, make doggy bath time into a certified spa day, ensuring your dog will remain calm throughout the process.
Aside from these, you'll find lavender, bergamot, and mint in the mix to further supplement that relaxing effect.
Plus, the wonderful mix of herbs gives your pooch a lovely, natural scent.
Don't let the ingredient list fool you into thinking it's a low-power cleaning agent. The mix that the folks over at Buddy Wash concocted cleans just as well as the ones laced with harsh chemicals, without any of the downsides.
The best part is that it's completely ethical as it's a cruelty-free shampoo; otherwise, the "Buddy" in Buddy Wash wouldn't really be true.
A fun little fact as well is that all these natural ingredients make the shampoo as safe for dog owners as it is for their furry friends. Though, do be sure to read the label beforehand and heed the instructions if you intend to use it for yourself.
It's a bit pricier than your average shampoo, but not by much, and those extra few bucks is well worth it for your Cane Corso's enjoyment.
A slightly humbler and more budget-friendly option this time around, coming from the people of Earthbath.
The Base
With an oatmeal base due to its great deodorizing properties and a mix of aloe vera, vanilla, and almond, you'll have your pet smelling absolutely divine after each bath.
The product does have the added benefit of being usable on cats, but dogs are the main priority in this article, so it's just a nice bit of trivia to know… nothing more.
The Benefits
The aloe vera helps handle dry and sensitive skin – something that doesn't commonly affect the Cane Corso breed, but it's better to be safe than sorry.
The shampoo itself is completely free of phosphates, parabens, and phthalates, and the bottle is completely biodegradable. It even comes with an adorable little print on it.
The concoction is safe to use on dogs with applied topical ointments, meaning you have one less thing to fuss over during tick season.
One final tidbit worth noting is that they even have a one-gallon bottle option, allowing you to buy in bulk in order to have surplus handy for a long time.
One downside I can think of for the product is that its range of use is somewhat limited as it's mostly marketed toward dealing with skin irritation, which isn't a common health issue for Cane Corsos.
A word of warning as well before you go lather your dog up for his bath – the product is not safe for humans, and should any of it get into your eyes, wash it out thoroughly to prevent irritation or worse.
Should you ingest it by accident, consult a family doctor or any other qualified healthcare professional about treating the issue.
Next is a brand which, like the name implies, performs a miraculous feat with its shampoo, and that is eliminating that funky, wet-dog smell.
This is one of the best Cane Corso puppy shampoo options on the market that provides a cleaning agent strong enough to dig into the tougher skin of the Corso while still remaining gentle enough for sensitive pups.
The Benefits
Because of this, it's free of any soaps, parabens, phthalates, and other chemicals harmful to dogs and humans alike, and it also does not contain any artificial coloring.
This also means that it's completely tear-free, making it safe for a slightly more liberal application without having to worry that you'll harm your furry friend.
The Base
It uses cocoa surfactant as a base, which is an inherently gentle concoction that's still potent enough to peel the filth off your puppy's fur and skin, leaving him spotless and his skin unagitated.
Outside of a smell neutralizer and cleanser, it also functions as a conditioner and deodorant, making it a 4-in-1 deal for such a great shampoo.
The pricing is relatively cheap, too, and considering everything it can do, it's practically a steal.
And, if you're not satisfied, they offer you a money-back guarantee as long as you have the original receipt, so you don't have much to lose in any case.
This is an option for those of you whose playful Mastiffs suffer from allergies.
The Base
Made from a coconut base and aloe vera, this shampoo ensures peak comfort and healthy skin for your furry friend for a long while, especially when paired with pro-V B5 and vitamin E.
What it doesn't have is any artificial dye or fragrance, phosphates, phthalates, SLS, or parabens of any kind, and the package and the formula itself are biodegradable.
The Benefits
Another neat trick hidden in this simple packaging is that the second shampoo needs no-rinsing. It's just pure foam that you rub into your good boy and dry afterward, leaving him smelling like he rolled in a field of lavender.
It's easier on your dog's sensitive skin this way while still getting the clean result that you aim to achieve.
This incredible duo is both a shampoo and a conditioner, cleanser, and deodorizer at once, giving you the entire package at an extremely affordable price.
The regular shampoo is perfectly pH balanced, too, meaning it won't irritate the skin whatsoever.
For dog owners with a budget on the brain, don't fret as these two are on the lower end of the price spectrum when dog shampoos are concerned.
Before You Buy: Things To Look Out For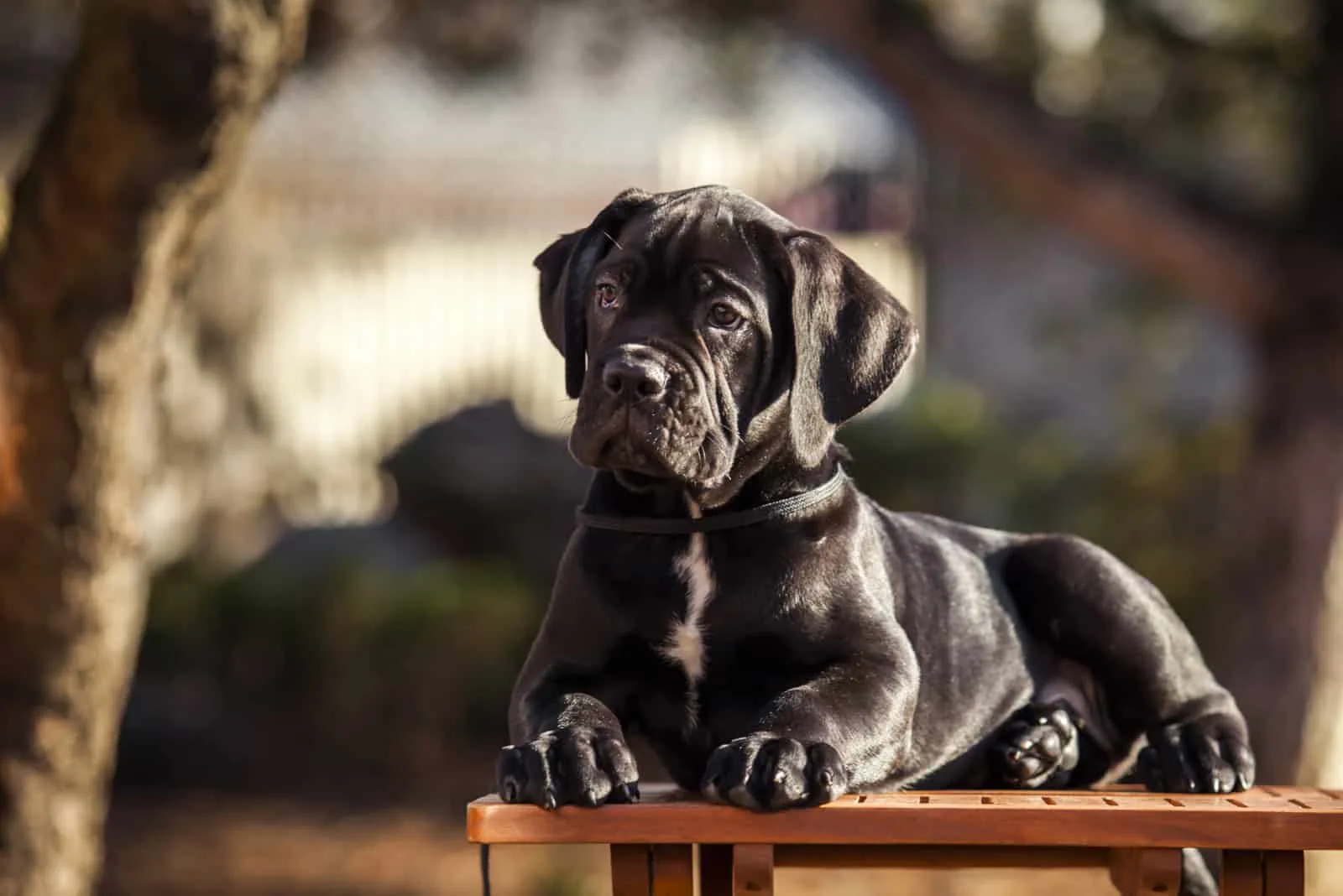 If none from this list have caught your fancy, you may have better luck searching on your own.
Whether that's the case or you simply want to know why these are chosen to be the best of the best, there are a few things that they have in common – traits that you should keep an eye out for when purchasing.
Here are some of the most common ones:
X-in-1 Deals – These always end up being a good bang for your buck while still keeping quality standards. The most important things are shampoo and conditioner… the rest is just a bonus.
All-natural ingredients – The best shampoo for Cane Corso breeds needs not to have harmful chemicals or an imbalanced pH scale in order to provide maximum comfort for the dog. Ideally, you'll find one that's largely made out of natural material.
Gentle on the skin and body, in general – Tying into the factor from earlier, you'll want to get a shampoo that won't sting your dog's eyes, nostrils, and especially his skin during bath time. Cane Corsos are already combative when it comes to taking baths as is; therefore, you don't need to make it any harder on yourself or on your doggo.
Hypoallergenic – This is important for dog owners whose furry friends suffer from allergies. Though it goes without saying, always read through the ingredients list of a desired product to see if it could potentially affect your pooch in a negative and harmful way.
(Optional) Affordable – While money tends to be no object when it comes to our pets, regardless of the animal, those of you who are more frugal or simply need to pinch pennies keep price tags in mind and compare them with the amount of shampoo you get for it.
FAQs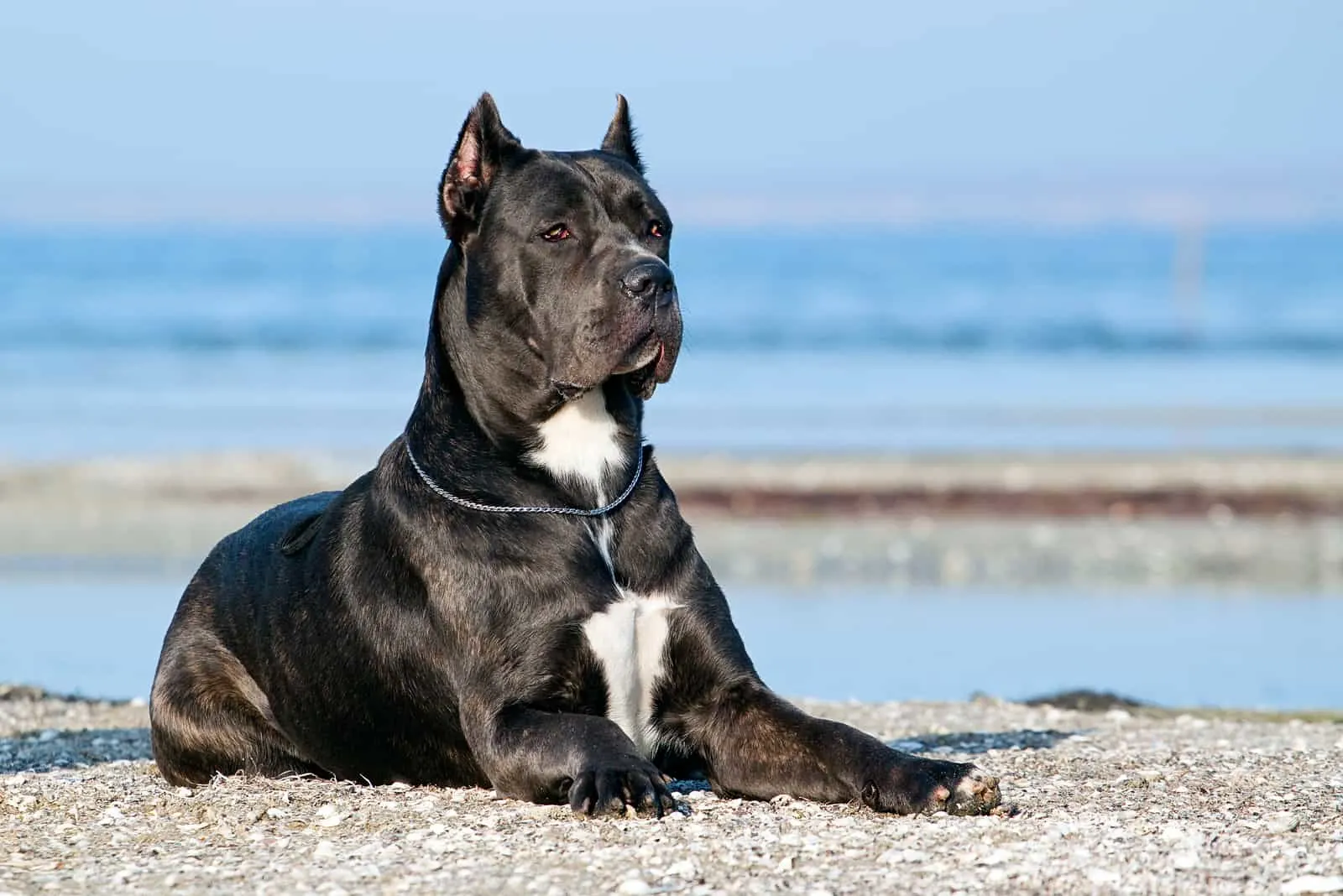 Now, outside of the listed shampoos, in general, there are often a lot of questions that get associated with the topic of making bath time easier. and about choices for the best shampoo for Cane Corsos overall.
Here are some of the most common questions:
What Types Of Cane Corso Shampoos Are There?
There are two different preferences for dog owners when shampooing their precious pets – the deodorizing shampoo, and the soothing shampoo.
Deodorizing shampoos are shampoos that focus on making your dog smell good for longer periods of time, so bathing isn't as necessary all the time.
They also serve as a replacement for soap. While soap is great for humans in combating foul odors, dog skin is a bit more sensitive, and it can get irritated or damaged easier by using soap.
Luckily, there are plenty of alternatives – the bases on which deodorizing shampoos are founded on, like coconut extract, oatmeal, and lemongrass, to name a few.
They're my personal preferences when doing routine cleaning.
On the other hand, we have soothing shampoos.
While we mostly mentioned them being used as spa-like treats for your canine companion, soothing shampoos help anxious dogs stay still and relax while you tend to them, and Cane Corsos are notorious for being fidgety doggos.
They're a hard-headed breed that have a hard time doing things they normally don't like doing, but these shampoos help them adapt quicker through the soothing feel of their suds and the tantalizing aromas of their formula.
But, which one is best?
Well, truth be told, it depends on your dog.
There are always exceptions to the rule, but you'd like to make sure he smells nice, or vice versa.
There are no wrong options, really – it is just a matter of personal preference, that's all there is.
What's The Best Shampoo For A Cane Corso?
Once again, it depends on canine to canine and owner to owner, but if I had to pick, I'd go for Buddy Wash.
Sure, it's one of the more expensive of the bunch, but I want to provide my dog with comfort during bath time while still leaving him smelling nicely.
For the more budget-oriented dog owners, I'd suggest Paws & Pals.
Is There A Different Preferred Option If My Dog Is Female?
Not really. Both female and male Cane Corsos alike will either enjoy or dislike their baths equally. The rest just depends on how they were raised and their individual selves.
How Do I Make My Cane Corso's Coat Shiny?
If you want to keep your dog's coat nice and shiny, there are two basic grooming tips that every Cane Corso owner should know:
The first thing to note is that you should groom your dog regularly regardless of whether he's shedding or not.
During shedding season, there's nothing you can really do about it – it's just nature. Just let the hair fall out, brush it out of their fur, and keep your pooch clean. Getting a deshedding brush will make your work a lot easier.
The fur will regrow soon enough, and all that grooming will pay off with a nice and lovely coat.
The other thing you should keep in mind is that grooming sessions should never feel like a forced activity.
Make it enjoyable for both you and your doggo. Grooming a Cane Corso is a bonding experience. It's also an important aspect due to these dog's aforementioned stubbornness that's likely to translate into all aspects of grooming.
If you can, start them off young so that they get it ingrained into their routine easier. You'll be all the better for it, and you'll have a calm doggo for all grooming sessions once he grows older.
RELATED: Do Cane Corsos Shed A Lot? Short Coat Shedding Issues
How Often Should A Cane Corso Be Bathed?
Canes tend to be clean for long periods of time, so you don't need to bathe them as often.
Once every three to nine weeks is the norm, give or take a few weeks depending on the trouble he got himself into that day.
When your doggo is blowing, however, the rate increases all the way to once a week so you can peel all of the shed fur off of him.
How Do I Clean A Cane Corso?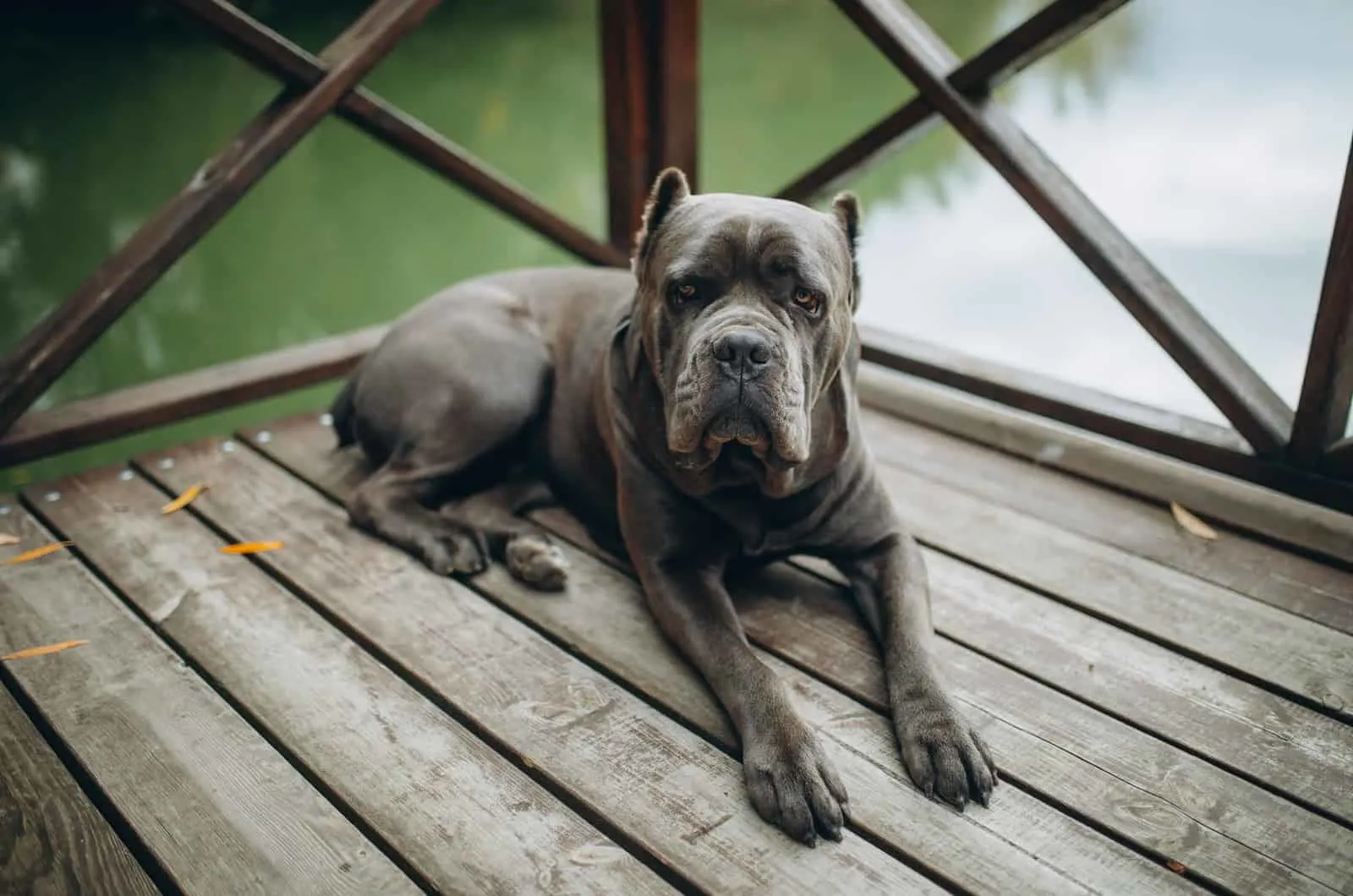 We've already covered the brushing aspect earlier – now it's time to cover the rest of the bathing with a few tips shared by dog owners worldwide.
Train Your Dog For Bathing Time
Dogs can be as stubborn as they like, but they can always be trained if given enough time.
They'll be a lot less combative if they're trained to go for bath time from a young enough age.
Sure, using dog training like that sounds a bit mean, but as dog owners, we sometimes have to be firm and responsible in order to get things done properly.
Prepare Them For Baths Early
When your canine is still a pup, you can use the sink to bathe him in. He'll be much less of a hassle when he's smaller, and that should get him used to bath time when he's older.
If you're doing this when they reach adulthood, prep the bath ahead of time because your dog may instinctively bolt as soon as he hears running water.
Also make sure you have everything you need for the bath within arm's reach, at least so you don't have to leave your furry friend unattended, which only increases the chances of something going wrong.
Use Warm Water
Warm water is the silver lining of temperature when it comes to bathing any dog, especially a Cane Corso.
You don't want it too cold since your dog will just start freezing from it, and the fur won't wash out as well.
Alternatively, if it's too hot, it may end up hurting your dog.
Keeping it warm will help detangle the shedding hair and help it wash away easier – then you can follow it up with a good shampoo.
Keep Them Steady In The Tub
A neat little trick to do to keep your dog from slipping in the tub is to provide him with some surface traction.
The easiest way you can do this is by taking a towel and placing it on the floor of the tub, allowing him to grip onto it with his claws and stay still without having to struggle to do so as much.
This will eliminate any anxiety or stress that may be building up, and will keep your pupper calm throughout the bathing process.
Use Multiple Towels When Drying Your Dog
Dogs love shaking off the water after a bath, which may not be good news for you when you get caught in the splash zone.
A good tactic to minimize the watery torrent is to drop a towel over your dog the moment you shut the water off.
Then, once they're done shaking it off and you've hopefully avoided most of it, you can remove that towel after some light rubbing and use a
fresh new one to finish drying your doggo off.
Keep Your Bathroom Clean
Since it's common for dogs to shed, and shed a lot sometimes, you need to be prepared to clean it up so that your drain pipes don't get clogged up.
A neat trick is to stuff the drain with steel wool while you're bathing your dog.
The water will still be able to flow through, but most, if not all the loose hairs will get caught in the steel wool, allowing for easy clean-up and disposal of the large amount of hair later.
In Conclusion
Finding the best shampoo for a Cane Corso can be a challenge, but thankfully, the Cane Corso is a healthy breed, so it's easier than with most other dog breeds considering the lower amount of health issues they have to contend with.
The biggest problem that arises with them is keeping them steady in the bathtub.
Shampoos won't solve the whole problem, but they'll contribute to resolving it.
Find one that'll help aid you in that endeavor the best, and stick with it.
What that shampoo is depends on you and your dog as it tends to vary from owner to owner and from dog to dog.
If you're having trouble figuring out exactly what your canine companion wants or needs, don't hesitate to schedule a checkup or a meeting with your local veterinarian so he can give you a few recommendations.
Another alternative would be phoning up your Cane Corso's original breeder to see what he used for your dog's parents and siblings.
Finally, you can ask a professional groomer for advice, and they should direct you to the right products.
Whatever you end up choosing, I'm sure it'll be the right choice for both you and your pawtner in crime. Until next time.