This post contains affiliate links, and I will be compensated if you make a purchase after clicking on my links.
As dogs get older, their bladders tend to start weakening and their urinary tracts start becoming more prone to various infections and diseases.
Thankfully, there are some types of dog food that can help make dealing with it easier and even prevent it, ones that you don't even need to ask a prescription for, but, what are the best non-prescription dog foods for urinary health?
The best non-prescription dog foods for urinary health are ones that contain useful nutrients to improve urinary tract health and reduce the amount of uric acid present.
They also contain probiotics which help reinforce overall health and prevent infections.
Vitamin C helps in that regard as well as various fats and proteins that boost the immune system and overall digestion.
However, you'll be spoilt for choice on both Amazon and Chewy as well as any other online marketplace.
So much so that you'll have an exceptionally hard time choosing the right option for your poor doggo.
But, as always, I'm here to help make that choice easier by showcasing the best of the bunch while still providing a little bit of diversity so there's something for everyone to get.
I do it so you don't have to and can save your precious time doing other things. As always, I hope that the list ends up helping you out and that you learn something new that'll help you take care of your dear doggo.
With that in mind, read on to find out what these products are as well as find out some potentially interesting questions regarding them and the answers to them.
The 10 Best Non Prescription Dog Foods For Urinary Health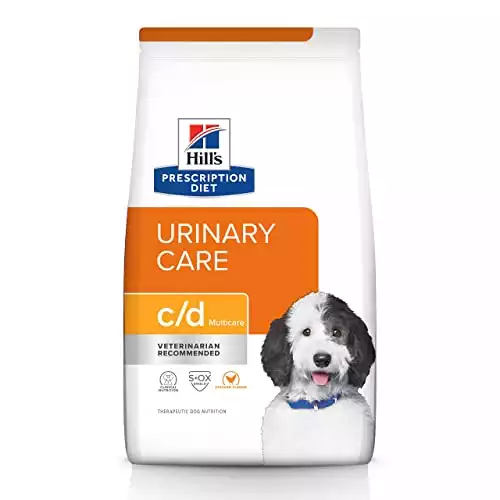 Starting off, we have a relatively popular dog food brand, Hill's, one that's often recommended by certified veterinarians nationwide as high quality pet food, especially this particular one.
With chicken as the main ingredient further supplemented by rice, it makes for an easy to digest meal.
It's made in such a way that it'll help reduce the risk of struvite stone formation and will help with their dissolution if your doggo has them already to help normalize the flow within the urinary tract.
As far as any other urinary tract problems go, it also aids in prevention of the formation of calcium oxalate stones too, helping keep your dog's urine clean and without issue.
It does this thanks to the presence of phosphorus, calcium and magnesium which will break through the calcium oxalate and struvite crystals in a very natural way that won't have any adverse effects on your canine companion.
Aside from that, it also has other benefits that come from omega-3 fatty acids that help improve joint health to a degree and keep your dog's coat strong and shiny while helping out with skin hydration.
There's l-carnitine too which aids in maintaining proper heart health.
You'll also find potassium citrate which is responsible for normalizing urine pH levels to prevent the formation of kidney stones and bladder stones alike.
It's best used for older dogs who are usually the ones who'll have bladder issues in the first place.
It's definitely on the pricier side of things, but such is the case with many of these different, medically oriented food options.
Purina Pro Plan Veterinary Diets UR Urinary Ox/St Dry Food
Key Benefits:
High quality ingredients paired with a scrumptious egg and chicken flavor

Easy to digest and full of beneficial nutrients and antioxidants for overall better bodily health

Made to specifically dissolve and prevent any calcium oxalate and struvite stones that may be present in the urinary tract.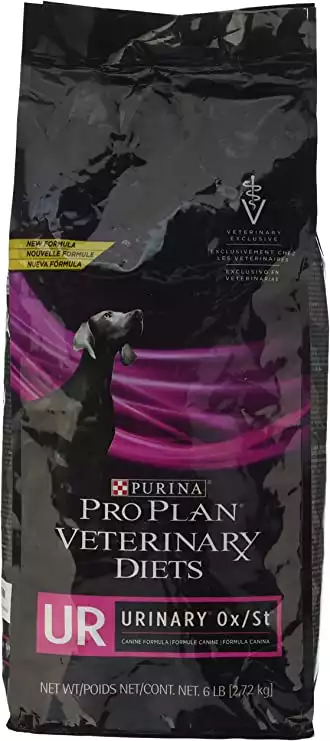 Next up is another familiar brand, Purina with their own entry into the urinary health dog food world.
The formula was made to perfection thanks to the help of various vets and nutritionists alike.
Using chicken by-product and chicken fat as the main ingredients alongside whole grains and other beneficial goodies and a natural egg and chicken flavor, this dog food makes sure it's both beneficial and tasty to your doggo.
The food also blends some brewer's rice into the mix to make the kibble easier to digest.
It's chock full of antioxidants to prevent damage to the body from free radicals.
It's also made specifically to counter any urinary stone formation be it struvite or calcium oxalate to help keep that urinary tract clear be it dissolving the current ones or preventing other ones from forming in the future.
The food is made from high quality ingredients that make sure your precious pooch's enjoyment and comfort is the top priority alongside the medical benefits.
It's a solid choice and one of my personal top picks as far as urinary tract health diets are concerned, especially since it can be used by dogs of any age or size.
It's a bit on the pricier side, but not as much as some of the others on this list.
It does, however, contain gluten meal which may be an allergen for some dogs, so be wary of that if you have a pooch with a particularly sensitive stomach.
Royal Canin Veterinary Diet Canine Urinary SO 14 Dry Dog Food
Key Benefits:
Chicken by-product meal as main ingredient

Uses Relative Super Saturation (RSS) methodology to prevent calcium oxalate and struvite stone formation within the urine

Updated formula that contains less magnesium than other dog food brands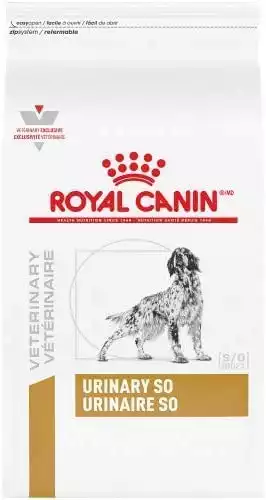 Next up, we have Royal Canin's dietary option.
It features chicken by-product meal as the main ingredient, a nice, neutral meat flavor that almost every doggo favors and will make him stomach the food a lot easier.
It's made using Relative Super Saturation (RSS) methodology which helps predict the crystallization potential of urine and reduces the ion saturation where needed to severely reduce the chances of struvite and calcium oxalate crystal creation within.
However, the ingredients present will also dissolve any stones and crystals already present within the urinary tract and help clear blockages if they present themselves.
They do so partly by stimulating urine production so the sheer amount of it can dilute the minerals found within and reduce the chances of struvite crystals forming in the first place.
The dog food mix contains less magnesium than other dog food brands too to help regulate its levels, but it's still useful as it's one of the main components in preventing the creation of kidney stones.
It's a fantastic product, but it's costly, with their price almost doubling over the course of a few years making it a big expense for the sake of your dog's health, but a necessary one if you have no other option.
It does contain corn and gluten, common allergens in the doggy world, so do be wary of your canine companion's allergies before buying it.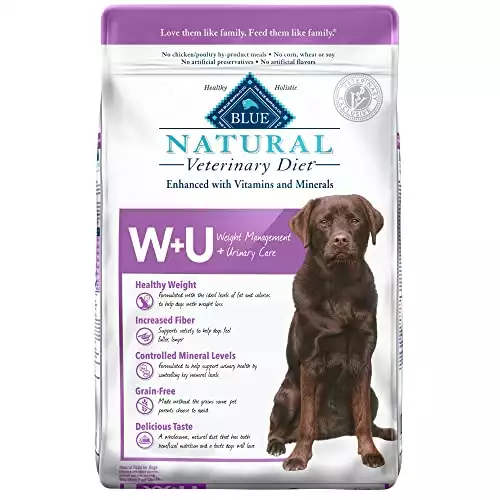 Another great dietary option, this time from Blue Buffalo, another well known dog food brand in the industry with more affordable options.
It has real, deboned chicken as the main ingredient, further supported by peas for that extra load of fiber to improve digestive health.
The fiber helps keep your pooch sated for longer periods of time, allowing his body to properly digest the consumed food and absorb all of the nutrients and minerals from it properly.
It also helps improve overall dietary practices and exert improved weight management.
However, it also helps take care of your dog's urinary health too through their carefully constructed formula that helps regulate mineral intake and reduce the chances of any struvite or calcium oxalate stones from forming in the first place.
The minerals of particular interest are sodium and magnesium since those tend to be shoveled in with practically every standard meal, which is what this kibble is trying to control,
Aside from that, the food is completely grain-free, meaning it contains no common allergens associated with that group like corn, wheat or soy.
As far as price goes, it's on the more average end, even if that one still feels a little expensive, but it's the price we pay to keep our furry best friends safe.
Wellness CORE Rawrev Grain Free Natural Dry Dog Food
Key Benefits:
Features turkey and chicken as main ingredients powered up with peas, potatoes and several other high quality ingredients

Rich in fiber with a controlled mineral count for better overall digestive and urinary tract health

Filled with various beneficial nutrients and minerals like omega-3 and 6 fatty acids, antioxidants, taurine and probiotics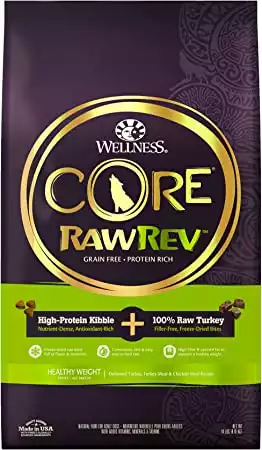 Wellness is up next with their healthy dog food option.
Made from a mix of chicken and turkey meat as the primary ingredients and paired with peas, potatoes and plenty of other high quality stuff, this one is sure to stick with your doggo for a while.
While they don't advertise themselves as a urinary tract health option, they do contain reduced amounts of minerals in the food itself which contributes to less issues regarding the urinary tract in general.
It's packed with fiber too to help your dog eat less while still getting that feeling of satiety within.
But that's not all as it also has some of the more standard benefits of regular dog food like glucosamine and chondroitin which are essential for joint health, especially in adult dogs.
There are omega-3 and 6 fatty acids too which help maintain the strength of your dog's fur and its sheen as well as ensuring proper skin hydration is maintained too.
Probiotics are present too to improve overall digestive and immune health as well as antioxidants which help reduce the risk of heart disease and protect the body from the influence of free radicals.
Finally, the taurine supports regular heart function too, further reducing heart disease risk alongside the antioxidants.
Some of the meat chunks are freeze dried so your dog can get that instant enjoyment too.
The overall ingredients help build leaner muscle tone as well, improving overall bodily health and allowing your dog to keep up with age.
The food contains no fillers and is free from common grain allergens like soy, wheat and corn meaning that it's relatively light on calories with only 360-ish calories per cup.
The price is relatively affordable, with the smaller packages offering a better dollar per pound ratio if you're looking to budget optimally.
The only real downside can be some of the larger pieces that may not be as easy to manage as some of the other ones, but it's really just a small setback rather than a major issue.
Merrick Backcountry Raw Infused Grain Free Dog Food
Key Benefits:
Chicken as main ingredient paired with lamb and duck, proper, high-quality proteins that are further supplemented by peas and sweet potatoes for ease of digestion

Gluten and grain-free option making it safe even for dogs with sensitive stomachs

Rich in fiber, protein, nutrients and contain yucca schidigera extract to balance out the pH levels in your dog's urine for better urinary tract health
When it comes to making sure large dog breeds get their proper nutrition at all life stages, even when urinary tract health is concerned, Merrick has you covered.
A fully US made product using local meats meaning they've met our rigorous food standards and that they're truly a quality product.
It uses chicken as the main ingredient, freeze dried and deboned to give your doggo the taste of a nice, juicy chunk between all the kibble for a mouth-watering spectacle of flavor.
There are bits of lamb and duck meat in there too, to further enrich the flavor palate and turn the kibble into a real feast for your pooch.
These are further supplemented with peas and sweet potatoes to add some fiber into the mix to make it all a lot easier to digest and to keep your dog sated for longer periods of time, helping with weight management to a degree.
It's free from any common, grain-based allergens like corn, wheat or soy and it also has no gluten, meaning your dog will mostly be in the clear if he has a particularly sensitive stomach.
As for what it does have, chondroitin and glucosamine are on their essential nutrient list, key players in maintaining proper joint health, especially for larger breeds or senior dogs who usually have issues regarding them.
It also features omega 3 fatty acids which stave off skin irritation and make sure your doggo's fur coat remains nice and lustrous as it always was.
The high protein count helps build and maintain lean muscle mass so your dog can walk around freely without feeling any pain or discomfort, keeping himself in tip top shape.
You'll also find probiotics in the mix which are crucial for digestive health, as well as yucca schidigera extract which helps balance out a more alkaline pH level by reducing the presence of uric acid in your dog's urine.
It's also listed as one of "Amazon's Choice" products, so you know that it's top tier.
The price is about average, a few bucks more than the standard, but it's still in the affordable spectrum, especially considering how many benefits it offers your canine companion.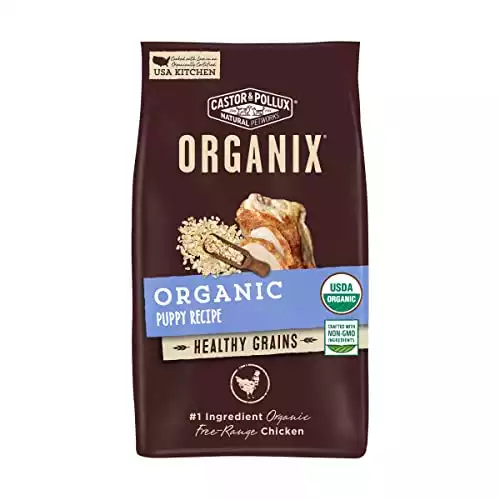 A dog food option that caters more to the young pups, providing them with the necessary nutrients to grow while still keeping UTIs away.
Castor & Pollux is yet another US brand in case you were considering buying local and supporting the US economy one bit at a time.
It uses free-range chicken as the main ingredient, a high-quality protein which is further bolstered by a variety of organic fiber like peas, oatmeal, brown rice and similar for ease of digestion.
The main draw with these comes from the probiotics, beta-carotene and antioxidants, each of them playing a vital role in UTI prevention.
The probiotics help by boosting overall digestive health and the immune system itself.
Meanwhile, the antioxidants and beta-carotene help promote more frequent urination on top of their usual benefits of reducing risks of heart disease and improving eye health.
The other reason why this is considered a fantastically diverse choice for puppy food is the addition of DHA which supports healthy development of cognitive functions, vital for any growing pooch.
The ingredients are made without any common grain allergens like wheat, soy or corn nor are they laced with any GMO ingredients whatsoever or any hazardous chemicals that may come from pesticides or similar.
The price tag is reasonable too, one of the more affordable options on this list by far.
It is a little heavy on the calories though considering this is a puppy we're talking about, averaging about 408 calories per cup, so be careful when dosing your pup's daily food intake.
Weruva Classic Canned Dog Food, Jammin' Salmon with Chicken & Salmon in Gravy
Key Benefits:
Salmon and chicken as main ingredient further supplemented by a tasty gravy and various other natural ingredients

High in protein, low on carbs and contains a good amount of fiber to keep your dog full for longer periods

Omega-3 fatty acids help support fur and skin health but also help improve urinary health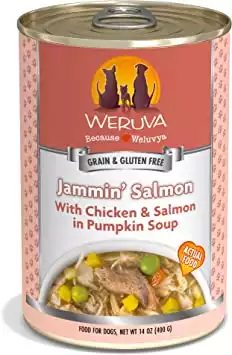 How about some wet food for a change? Weruva has you covered with that one with their high quality canned dog food.
Its high moisture content makes it a great option for boosting and regulating urinary health as more liquid intake = more urination which helps filter out the bad stuff sooner and doesn't let it crystallize.
It uses salmon and chicken as its primary ingredients paired together with a delicious gravy that'll make your doggo's mouth water.
The high-quality protein is there to help build lean muscle mass and it's pretty low on carbs to help regulate your canine companion's weight a little better.
As is the standard for good dog food, it's also filled with all the essential minerals, vitamins and nutrients to help fulfill your dog's daily quota.
One of the key ones are the omega-3 fatty acids which benefit the entire body, but primarily the skin and coat in maintaining their peak condition.
A good amount of fiber is present too with sweet potatoes and green peas in the mix to help make digestion easier and to keep your dog's satiety up for longer periods of time.
It's completely grain-free as well, meaning no wheat, soy or corn is present at all which makes it a lot easier to digest for doggos with more sensitive tummies.
It's decent on caloric content with the smaller, 5.5 ounce can giving as little as 85 calories while the larger, 14 ounce one goes up to 219, which still isn't all that much making it a great, lightweight meal.
However, wet dog food is usually on the expensive side and this seems to be the case here too. It won't last you as long as dry dog food would, but it's certainly a great treat for your furry friend every now and then.
IAMS Advanced Health Adult Healthy Digestion Dry Dog Food
Key Benefits:
Real chicken as main ingredient supported by ground up whole grains

Omega 3 and 6 fatty acids as well as live probiotics and antioxidants are just some of the many beneficial nutrients found within

Fantastic budget option for the penny pinchers out there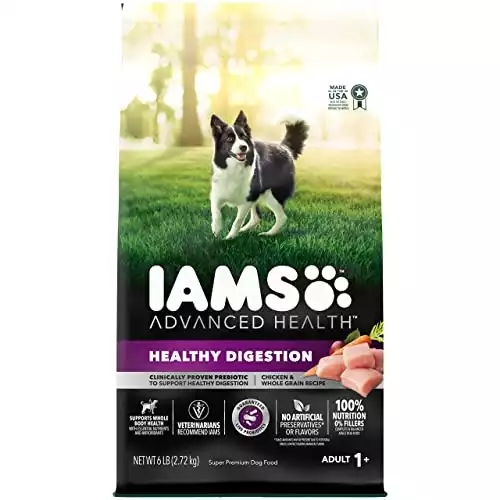 Another one of "Amazon's Choice" products, one that's highly recommended by veterinarians nationwide and that's a great budget option for a dog's diet.
Using real chicken as the main ingredient paired with healthy whole grains, this kibble is a delight to almost every doggo out there.
It's high in protein and fiber, the former helping build more lean muscle mass while the latter helps improve digestion and nutrient absorption while keeping your dog full for longer periods.
It features Omega 3 and 6 fatty acids, both beneficial in aiding skin and fur health while also improving a variety of other bodily functions, namely the kidneys as an important one in this case for better urinary health.
The food also contains live probiotics which will help out with improving digestion overall.
Antioxidants are present too, great in preventing heart disease and defending the body from the influence of free radicals.
It's a really great budget pick with plenty of benefits, the price going much lower than any of the other options listed with a better taste to boot.
It does contain chicken by-product though which may be a bit harder on some of the more sensitive stomachs out there, but other than that, it's a solid pickup.
NUTRO Ultra High Protein Natural Dry Dog Puppy Food
Key Benefits:
Salmon, lamb and chicken as main protein bolstered by a diverse amount of healthy foods

Contains omega-3 fatty acids to help improve kidney health as well as keep the dog's fur shiny and strong and the skin free of irritation

Contains no grain allergens or artificial preservatives, colors or flavoring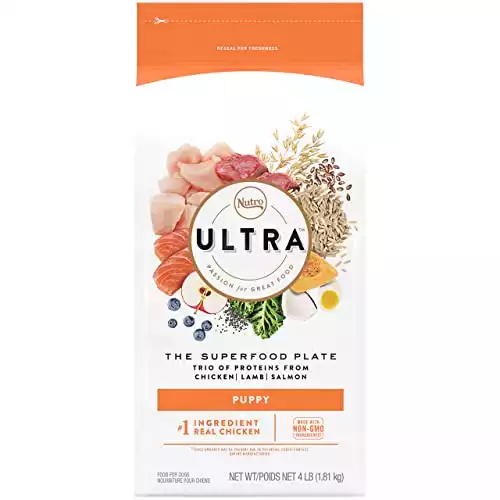 The final entry of the day comes from NUTRO, a brand who often uses fresh and healthy ingredients in their kibble mixes and this time is no different.
It uses 3 different proteins, salmon, lamb and chicken fused together into an incredible taste sensation and paired together with a massive number of other ingredients for added flavor.
Some of the main ones are: blueberries, apples, pumpkins, carrots, kale, spinach, coconut and many others.
All of these help provide your good little boy with a variety of essential nutrients and minerals.
Omega-3 fatty acids are the star of the nutrient show, helping aid proper skin health and keeping the fur strong and shiny while also improving kidney health to help reduce urinary tract infection risk and preserve optimal kidney function.
The things they don't have are artificial colors, flavoring or preservatives or any potentially harmful chemicals for your dog for the sake of cutting down on costs.
They also don't use stuff like lamb or chicken meal to pad out their protein and caloric content, instead relying on the real deal.
Finally, they're also free of the common grain allergens like soy, wheat or corn, though you may end up finding traces of it in the bags given that they share warehouses with products that do contain them so some may end up in the package.
Do be wary of that in case you have a dog with a sensitive stomach.
The price is a bit on the higher side, but it should be decent enough still considering it isn't as high as some of the foods that are specifically formulated for the improvement of urinary health.
Before You Buy: What To Be On The Lookout For When Buying Non Prescription Dog Food For Urinary Health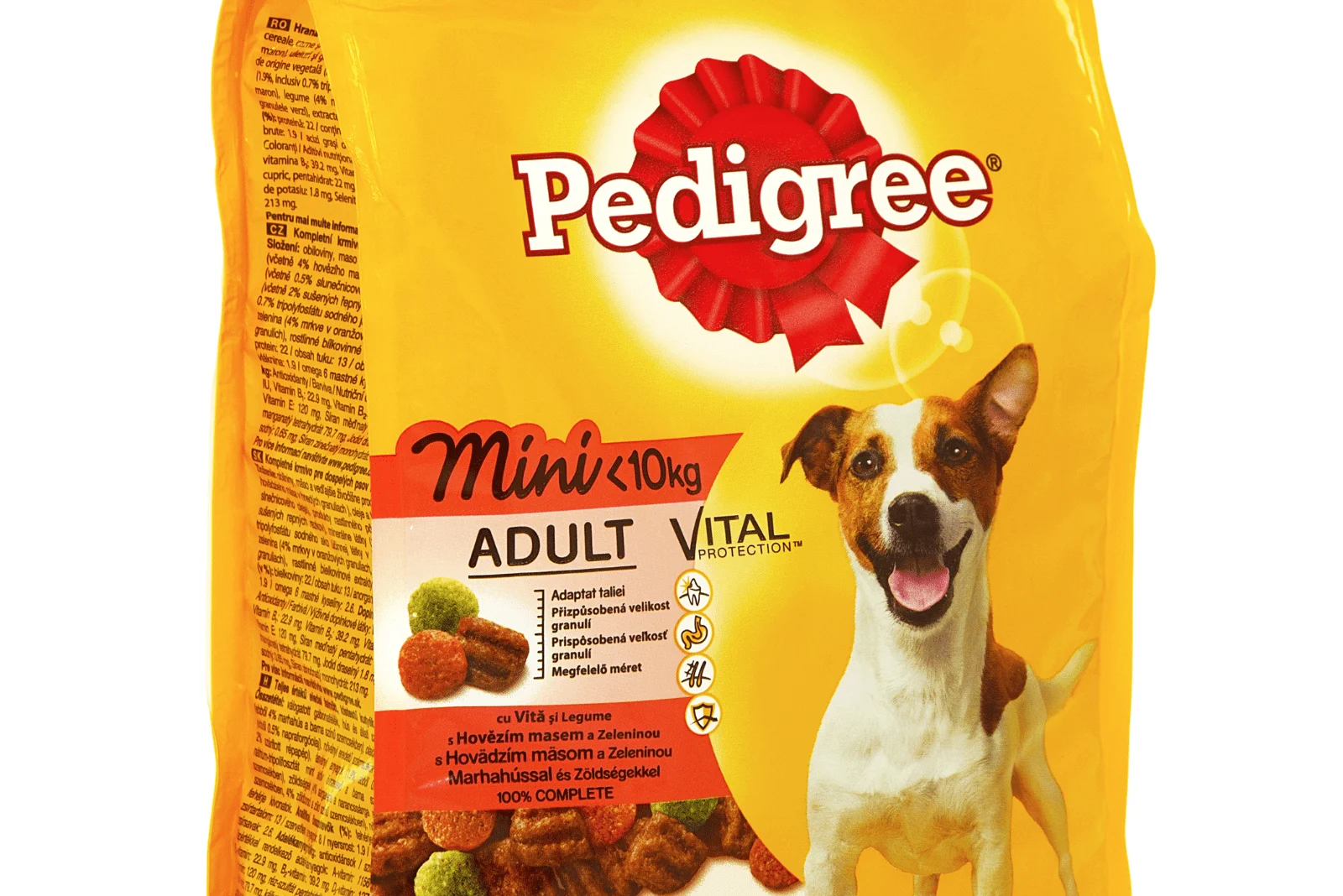 With all of these wonderful products listed, one still may be spoiled for choice, but some of you may end up not liking any of them.
If that's the case, I wanted to simplify the methods by which you should go by in order to find out which foods are good for urinary health and which don't really benefit it.
Here are some of the things to keep in mind:
Potassium Citrate
Look for anything with potassium citrate or something with similar benefits as it's used to normalize pH levels in urine and create an environment in which crystallization of struvite and calcium oxalate is a lot harder.
Omega-3 Fatty Acids
While these have universal use with cognitive health, skin and fur health among others, they also benefit kidney health, and the better the kidney can filter wasteful material, the harder it'll be for kidney stones and the like to form
Probiotics
While they play a lesser role, they do help improve digestive health overall which helps better filter out and absorb nutrients which may otherwise find themselves in urine and end up crystallizing if your digestion isn't up to par.
Phosphorus, Magnesium And Calcium
Healthy amounts of these minerals can help break down existing struvite and calcium oxalate crystals in the urinary tract to help clear up any blockages and prevent further ones from forming
FAQs
What Is The Best Non Prescription Dog Food For Urinary Health?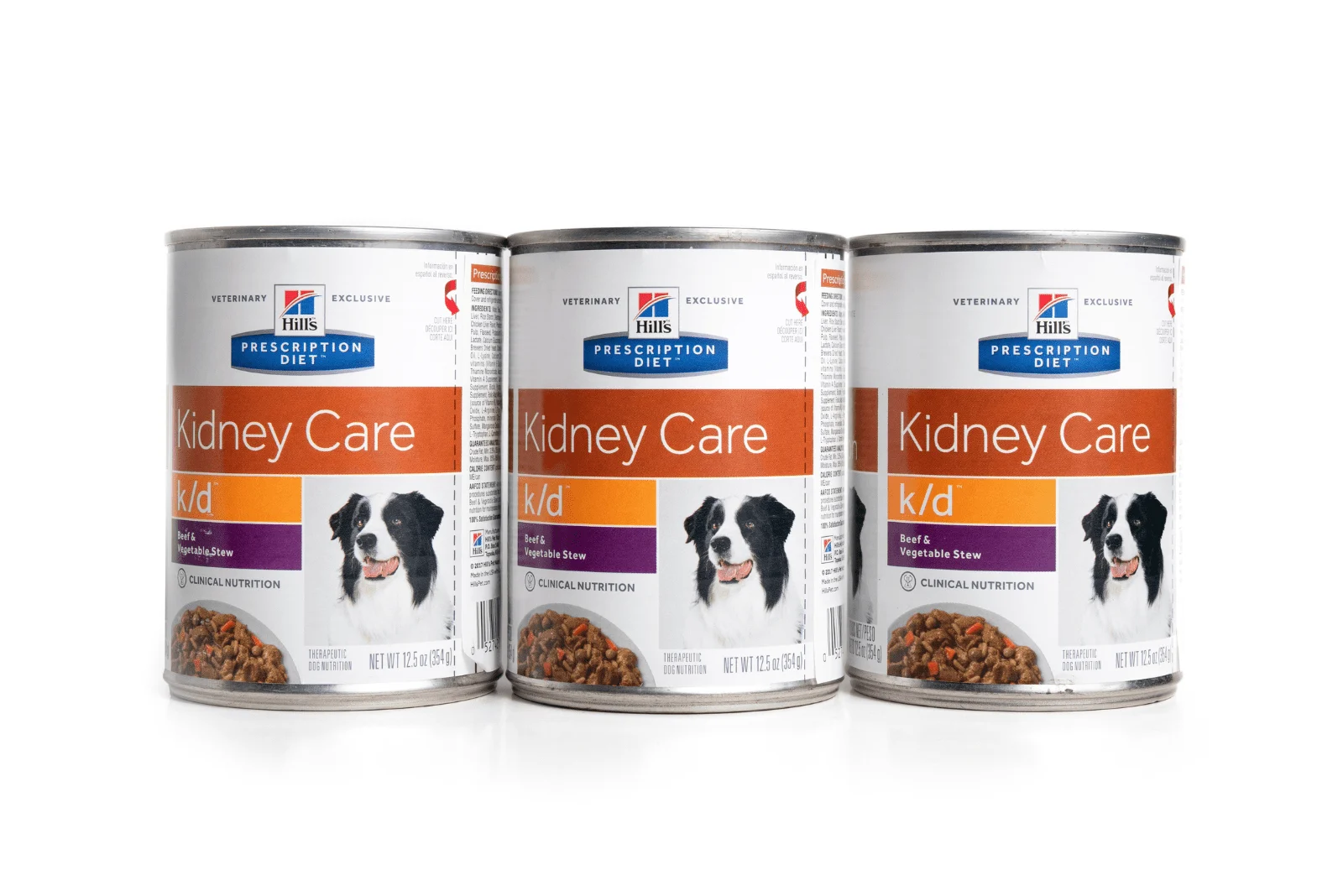 Personally, I'd go with Hill's as an option as they tick almost every box listed up above in what makes the best dog food option for maintaining proper urinary health.
What Are Some Common Urinary Tract Issues?
As mentioned already, the most common problems are kidney stones, be they struvite stones or calcium oxalate stones, it doesn't matter.
The issue is that they block the urinary tract and passing them can be extremely painful, much like with humans.
Aside from that, you may find various infections, one of the most common ones being bacterial cystitis.
A weak urethral sphincter could be an issue too where the dog is having a hard time holding the urine locked up and ends up leaking at random. Nothing major, just enough for you to notice the smell.
Do keep in mind that small breeds are more prone to urinary tract health problems than larger ones, so keep an eye out if you have a small doggo around the house.
What Other Urinary Problems Are There?
Well there's also urinary cancer which is by no means pleasant and oftentimes fatal, as sad as it is.
What Causes Urinary Health Issues?
Well, one of the main things is inflammation of the bladder or improper diets filled with sodium and similar minerals that can crystallize within the urinary tract or increase the amount of uric acid present in the urine.
Some form of trauma, be it external or internal, can cause a temporary blockage that may need to be treated to be fixed up too.
Various forms of disease impacting the kidneys or, in a male dog, the prostate can be a problem too, something always worth looking into.
Urinary incontinence is also a thing which is usually a by-product of trauma or age.
Whatever the case may be, be a responsible pet parent and make sure to call your vet if you see anything unusual.
What Are Some Of The Common Symptoms Of UTIs Or Overall Urinary Tract Issues?
Well, there's a great number of them, but they're easy to spot so do keep an eye on some of these:
• Potent urine smell
• Fever
• Vomiting
• Weight loss
• Incontinence
• Unusually frequent urination
• Pained expressions and sounds while urinating
• Sluggish behavior
• Blood in urine
• Cloudy or tainted urine
How To Reduce The Risk Of Urinary Tract Health Problems?
There are a few simple things you can do which will greatly reduce the risk of UTIs or related issues.
The main thing you should worry about is controlling the intake of various minerals, the main ones being sodium, phosphorus, calcium and magnesium.
While the latter 3 help with preventing formation of certain types of crystals in urine, an excess of them will have the adverse effect.
As for sodium, it's generally just bad and should be kept to the daily allotted amount.
Aside from that, I suggest adding more moisture to the foods be it through the use of a gravy or similar product.
Either that or just getting your dog to drink more water in general to help filter out potentially problematic substances from his urinary tract.
You may also want to look into dog food with a cranberry supplement in it or add them in yourself as they contain proanthocyanidins, or PACs for short which act as a cleanser for the urinary tract.
These are helpful in UTI prevention, but they'll also make your dog pee a whole lot.
Finally, various vitamins, namely C, B12 and E are useful to a smaller degree as they help give the overall immune system a bit of a boost.
This helps it kill the harmful bacteria before it reaches the urinary tract. The vitamins help reduce inflammation too which'll make your dog all the happier for it.
In Conclusion
The best non-prescription dog food for urinary health needs to keep a healthy balance of minerals while also giving your dog a heaping helping of essential nutrients and vitamins to boost his overall digestive and immune health.
Other benefits are just a plus, but these are crucial to maintain your dog's urinary health in tip top shape.
Regulating his diet goes a long way and eliminating as much sodium as you can will go a long way too, however, UTIs aren't inescapable so don't beat yourself up over it if one manages to slip by.
Just keep an eye out for it and take your dog to the vet at the first sign of trouble and everything should be fine. Until next time.
RELATED LINKS:
• Dog Urine Color Chart: What Does My Dog's Pee Color Mean?
• The 22 Healthiest Dog Breeds – Dogs Who Live Long And Prosper
• Puppy Pees A Lot: Why This Happens And How You Can Help
• 7 Vet Approved Homemade Dog Food Recipes For Kidney Disease
• Chihuahua Potty Training: Housebreaking Chis In A Few Short Steps