This post contains affiliate links, and I will be compensated if you make a purchase after clicking on my links.
Many dog owners are faced with the challenge of potty training their new furry friend, especially since at times they may not have time to take them out for a walk to do their business. That's what indoor dog potties are for, but what is the best indoor dog potty?
Well, the best indoor dog potty is one that offers easy clean up without letting the odor set in too easily. One that's absorbent in terms of pee and has a large enough potty area so it doesn't go on your floor, carpet or similar.
While it does vary from dog to dog, I personally find that the ones that replicate the feeling of a lawn well tend to provide the best results.
However, even all of these requirements don't boil it down enough as the amount of choice on both Amazon and Chewy is immense.
That's why I've taken it upon myself to sift through them and find the ones that have the most desirable traits for dogs in general.
Some options may vary based on dog size as small dogs have a bit of an advantage over larger dogs in terms of available products, but I aim to find a little something for every dog breed regardless of size.
So read on to find out what these products are as well as find out what desirable traits you should be looking for in an indoor dog potty, and answers to some of the more commonly asked questions regarding them.
I hope it ends up helping out in some regard.
The 9 Best Indoor Dog Potty Options
The fresh patch disposable dog potty lawn is one of the first products that came to mind as it's a great tool to help potty train your pooch with ease.
It's a fresh cut of lawn with real grass that'll serve as a recognizable point for your dog to know where an adequate place to do his business is.
The natural grass is US sourced too and hydroponically grown, making for a realistic looking patch of lawn as compared to something like astroturf or similar. It's even safe to use as an outdoor dog potty too.
The sod grass pad contains no dirt so you don't have to worry about making a mess of your household either.
The pad is ultra absorbent, keeping the liquids from pee and feces in while also trapping odors in so it doesn't stink the place up.
It's also pretty easy to clean and replace as you can just roll the pad up and throw it in the trash after a few weeks, give or take a few days depending on frequency of use.
The standard size is intended for small breeds that go up to 15 pounds of weight, but you have 3 other size options on offer between mini, large and extra large 8, 15-30 and 30+ lbs respectively.
The fresh patch disposable dog potties are an excellent option for older dogs too or ones that have issues with their joints or overall mobility where they can't go out for walks too often as this provides an alternative that's the next best thing.
They're decently affordable too, making it a decent investment to help potty train a dog or assist an older pooch with his daily needs.
The only problem with the real grass dog potty is the actual real grass and when any moisture hits the sod pad as it's known to attract bugs of all kinds.
It makes for the ideal humid environment which they thrive in. If you can manage that problem, you shouldn't have too much trouble with the product otherwise.
Next up is a pooch potty option from PetSafe, a well known brand that dabbles in all sorts of doggy gear and has been a presence in the pet world for over 30 years.
The product is shaped like a small chunk of lawn enclosed in a box that'll serve as the container for the pee and other liquids.
It's relatively compact and perfect for apartments that don't have lawn access but who still want to provide the doggo a place to relieve himself at without having to go outside, especially in the dead of night.
The base houses a covered waste bin which can be filled with Wee Sponge powder to help pull the smells in rather than allow them to radiate outward, keeping your home odor-free.
The base also houses a pee-pod which uses the Wee sponge powder mentioned earlier, but this time to help coagulate the pee into a gel to make cleanup a lot easier with less mess for you to deal with.
While it may be a synthetic grass mat instead of one that uses real grass, the plush helps recreate the feeling just as well without attracting bugs. It also makes it reusable and a lot easier to clean as it'll stay evergreen.
All you have to do to clean it up is take it off the base then scrub it out with some water and it'll be as good as new.
The product comes in 3 different sizes; small, medium and large to help accommodate all dog breed sizes.
And, should you have an issue with the product, the people over at PetSafe have customer care support at the ready to help you out in that regard.
Price-wise it's more expensive than disposable doggy and puppy pads, but it also costs less to maintain as you have a reusable product whose only added costs will be keeping the supply of Wee sponge powder up.
The piece itself can work as a great aesthetic addition to your patio or anywhere on the inside despite its intended use and is definitely a contender for the best dog potty out there.
The only downside to the product is the grass itself as you only get 4 clips to help keep it steady. Clips that won't outlast the heaviest chewers, and, if your doggo is stubborn enough and actually eats one of them, it can pose a choking hazard.
Next, we have a self-cleaning option with the BrilliantPad.
You might wonder how exactly can something be self-cleaning, well the answer is that this specific indoor dog potty is automated.
It may still sound crazy, but that's the 21st century for you as even dog toilets are coming out automated.
The automated part comes as a key part of its design as it's made to be this large, spread out sheet as the intended spot for your dogs to do his business in.
After a customizable amount of time, usually once to few times a day, it would auto advance and clean itself up.
Don't worry though, it won't suddenly advance while your dog is pooping or peeing as it has an animal sensor that detects pet movement and it will only advance once your dog or cat is sufficiently clear from the premises to slide in a new pad for use.
Plus, you can also advance it manually if you so choose, just in case there is some outstanding mess that you have to deal with.
This also helps keep your doggo from stepping in his own excrement and then tracking it into the house.
The BrilliantPad also automatically seals the pad up, preventing messes and keeps the house free of any odors.
The pads aren't made from a flimsy material either. They're greatly absorbent thanks to the 5 layers that the sheet is made out of and it's eco-friendly as the material decomposes.
According to the brand, their pads are over 20 times better and more absorbent than a standard doggy pad, which is quite the achievement if true.
The product may look complex, but it's really easy to assemble, taking only 10 or so minutes to do so and it should be ready to go.
However, it is on the pricier side of things thanks to all these doodads which may put it out of reach for many pet parents unless they really want to take the plunge.
It does also come with the caveat of relying on a socket to function as there is no battery operated option as of yet, meaning it's only really intended for indoor use.
The fact that it's not a grassy surface may mean that it'll take your doggo a bit more time to adjust, but it shouldn't be the biggest of issues.
Finally, if your dog is a very destructive chewer, the pads are likely to end up all over the place, so keep a lookout on it when your doggo is around it.
Next we have one of the highest rated doggy pads on Amazon, the Embellbatt.
It may just be as simple as using a standard grass pad with a tray, but it does function really well, and there's more than meets the eye.
You see, the whole thing has 2 extra layers to it aside from the 2 mentioned.
The grass as the first layer helps attract the dog's attention and acts as familiar terrain, great for dog potty training in general so your doggo can get used to the places he can and cannot do his business in.
It drains off pretty well during the actual process, keeping your dog's paws clean so he doesn't track any back into the rest of the house.
Once it drains through the drainage grille, it hits the doggy pad that collects the moisture and traps any odors in while the tray as the final layer helps collect any excess in case the pad overflows, serving as an extra safety measure.
The bottom of the tray also has a non-slip layer so someone doesn't accidentally kick it and cause pee to splash out everywhere or to ruin the indoor dog potty in general.
The size of the product is relatively compact so it should fit almost anywhere reasonable in the apartment that your doggo can comfortably do his duty in.
Going back to the pads a bit, the provided ones are made from durable fabric that's easy to clean and fully reusable, cutting down on added costs post purchase.
The inside is quite absorbent too thanks to a pretty dense inner layer that, as mentioned earlier, helps keep the smell of pee out of your home by trapping it inside as well.
As far as cleaning is concerned, all you really need is some soapy water to rinse the whole thing down and it should be good to go.
The Embellbatt isn't that expensive either, coming in on the cheaper end of the spectrum, at least when compared to some of the other products on this list and the market in general.
Also, if you're not satisfied by the product in any specific way, the people over at Embellbatt will issue you a replacement or even provide a refund to ensure a 100% satisfaction guarantee.
From what I've read up on, there aren't really too many downsides to the product either, the only one that I could really stumble upon is that it doesn't really work well with large dog breeds.
Aside from that, it should definitely be one of the top picks for an indoor dog potty in any pet owner's book.
The next product is another relatively simplistic one, the Pick For Life's large potty patch.
This one is specifically tailored toward larger dogs, but can be used by smaller ones if you can spare the space.
It's made out of a 3 layer system as opposed to the 4 from the earlier product with a collection tray on the bottom followed by a washable pee pad in the middle to collect the urine from the artificial grass layer on top as it drains into it.
As with any indoor dog potty that utilizes grass as a form of camouflage, it's a great tool in helping potty train your darling doggo by teaching him what places he can do his business on.
Despite being artificial, the grass itself is soft and you'll likely find your dog rubbing himself on it often. Just make sure it's clean beforehand.
Overall though, it's a great alternative for pet parents who own older dogs with joint issues who can't really stomach long walks that often or for people with little free time or those living on high floors in apartment buildings without easy access to a green surface.
It helps bring a little bit of greenery to your doggo's life so he doesn't feel devoid of it and will bring some extra color to your home.
The pads mentioned earlier are reusable, which often tends to be better than using a disposable pad in some ways as it helps keep the environment clean by reducing the amount of waste produced.
Ultimately, they're also a great long-term investment as you'll only ever need the ones provided whereas you'd have to constantly be buying disposables.
You will be trading money for time though as you will need to clean the reusable pads up, but that barely comes out at a few minutes every now and then compared to the savings you'd be making otherwise.
Besides, most indoor dog potties have to get cleaned up manually anyway, so it comes down to the same amount of invested time regardless.
As with any other reusable pad, all you need is some soapy water to get all the bad stuff out and it should be good to go. The same goes for the artificial turf on the top layer.
The tray itself can safely be hosed down, nothing too fancy.
The price is about what you'd expect from a dog potty of this level of quality, sitting at about average pricing
The one glaring issue seems to be that the company doesn't sell replacement grass pads which tend to wear down over time. A sizable oversight, but not the end of the world.
PETMAKER's dog pad is the next one up for contention to be the best indoor dog potty as it's marked as one of Amazon's #1 top sellers in the category and for good reason.
It has a beauty in its simplicity with a sleek design that doesn't take up too much space, akin to that of a dog litter box, but provides a beautiful aesthetic to your home with the lush green astroturf that doubles as a place for your dog to pee in.
It's formed as a three layer system with the collection tray at the bottom serving as the base where everything drains to, the middle layer being the drainage insert that leaks the pee down from the artificial grass at the top.
The lack of an absorption pad takes it down a few notches in my book, but the tray is simple enough to empty out every day.
The cleaning up shouldn't be too much hassle either as all you'll really need is some soapy water to wash out the smell and any lingering stains.
This is especially true if you get a replacement mat that can be used while the other one dries.
It's pretty cheap too, all things considered, definitely cheaper than almost all the products on this list, making it an excellent budget option.
However, it's not without its flaws despite being marked as a top seller because it has no odor absorption and eventually, as the grass gets saturated enough, some users have reported that the smell becomes impossible to get rid of.
So do keep that in mind when looking up your ideal dog potty solution.
Here's a product that mixes it up a little by adding something that will ultimately assist male dogs greatly, the Hompet dog grass pad.
What makes it unique is the addition of a bionic wall for your male dog to pee against if he's the kind to lift his leg up while doing his business.
It's a lot less awkward than it would be with standard ones.
The whole thing is designed in a clean and efficient manner with a removable collection tray on the bottom to pool the pee up.
On top is a grid tray shaped in an odd, sloped, vortex-like form with ridges littered about that helps drain the urine down faster and allows for less time for your doggo to accidentally soak his foot in it, treading that nasty smell all over your floors or carpet.
It has well over 50 drainage holes all spread about to more efficiently drain the urine down and reduce the chance that it gets stuck stagnant in between two holes.
On the layer above all that is the artificial Hemming grass mat to cover it all up and serve as a piece of recognizable territory.
This allows your doggo to get adjusted to during potty training and to let him learn where it's appropriate to do one's business and where it isn't.
The mat is made from high quality polyethylene too so it gets to retain the rich green color for longer and it won't be worn down as quickly as some other artificial grass mats tend to.
And, even if it does get worn, the company offers purchasable replacement mats so you don't have to worry about it whatsoever.
On that same layer is the bionic wall mentioned earlier, attached to a side to allow male dog's who've learned to lift their leg when peeing a suitable target that won't end up going all over your house.
The wall itself is made from highly durable plastic as most dogs tend to try and gnaw on it so the makers of the product didn't want it getting destroyed easily.
This wonderful indoor dog toilet is reasonably priced, coming in at about an average cost between most other options on the market.
But, it also comes with a 3 year warranty and a 2 month trial period where you can get a full refund if you dislike the product.
Even their customer service is on standby to help out with any problems to ensure a 100% satisfaction guarantee.
That said, even the best options out there have some flaws, and the main problem with this one is that the lack of a non-slip bottom hurts it to a degree as it may end up scaring your doggo during a number 1.
Some users have also reported that it doesn't protect from smells that well, but that's just a reminder to clean the potty tray out regularly since it's still pee in there and that will smell up the place if left to stagnate.
Specifically designed for pups and older dogs of smaller dog breeds
Next up is a rather simple indoor dog potty with PAWISE's training pad holder.
A simple, but effective design tailored toward puppy potty training or for older dogs of small dog breeds with incontinence issues.
It's small and compact, making it easily placeable wherever you need it without obstructing anyone's path.
The holder is a two piece design that fits a training pad between the two pieces and firmly locks it in with the snap-in frame to keep it from moving or getting pulled out by your curious canine.
The surface coverage is decent enough to prevent any potential accidents and should keep the moisture locked in as long as the dog hits the mark.
The price is pretty affordable, but then again, it's intent is to be a budget option so it is understandable, especially given its innate simplicity.
Though, some more aggressive chewers that tackle the locking mechanism are known to unlock the pad with ease which tends to cause a whole heap of a mess you have to clean afterwards, so be wary of that when buying.
Thankfully, if you end up disliking the product or your dog simply doesn't enjoy it, the people over at PAWISE offer a one year warranty with potential for a full refund of your purchase as long as you contact them and explain the situation.
Easy to clean with an extra grass pad included in the purchase
The final entry on our list is the LOOBANI grass porch potty tray tailored specifically toward the larger dog breeds which have been slightly neglected in these reviews thus far.
Another relatively simple design that comes with a large plastic collection tray and two replaceable grass mats so one can be in use while the other gets cleaned.
Sure it's simple, but it is effective, especially considering the feel of the grass is exceptionally realistic with its vibrant green color and soft feel that will make your furry friend love to do his business on it.
Not only that, but the grass will let the dog's urine through, as well as any other liquids, almost immediately, making sure to keep his paws clean and safe to trudge around your home once more without worry that he'll track anything unwanted on your carpets.
Do remember to empty the tray out regularly though so the pee doesn't linger as it may end up smelling the place up for no reason.
The pads themselves are relatively easy to clean too. All you need is some mild-strength detergent, some water and a good rinsing and it'll be as good as new once it dries up.
Given its size, it may be a bit more difficult to find a spot for it in a smaller apartment compared to that of smaller dog breed oriented grass, but it should still be more than fine as long as it doesn't block a path.
The price itself is on the average side, if not leaning a bit toward the more budget-friendly end while still retaining the qualities of a solid indoor dog potty.
Overall it makes for a decent potty trainer for larger dog breeds or a place for an older dog to do his business in.
It does, however, have the problem of the grass pads eventually getting saturated by the pee smell, by which point you'll need to go and grab a replacement set from the product page.
Before You Buy: Things To Be On The Lookout For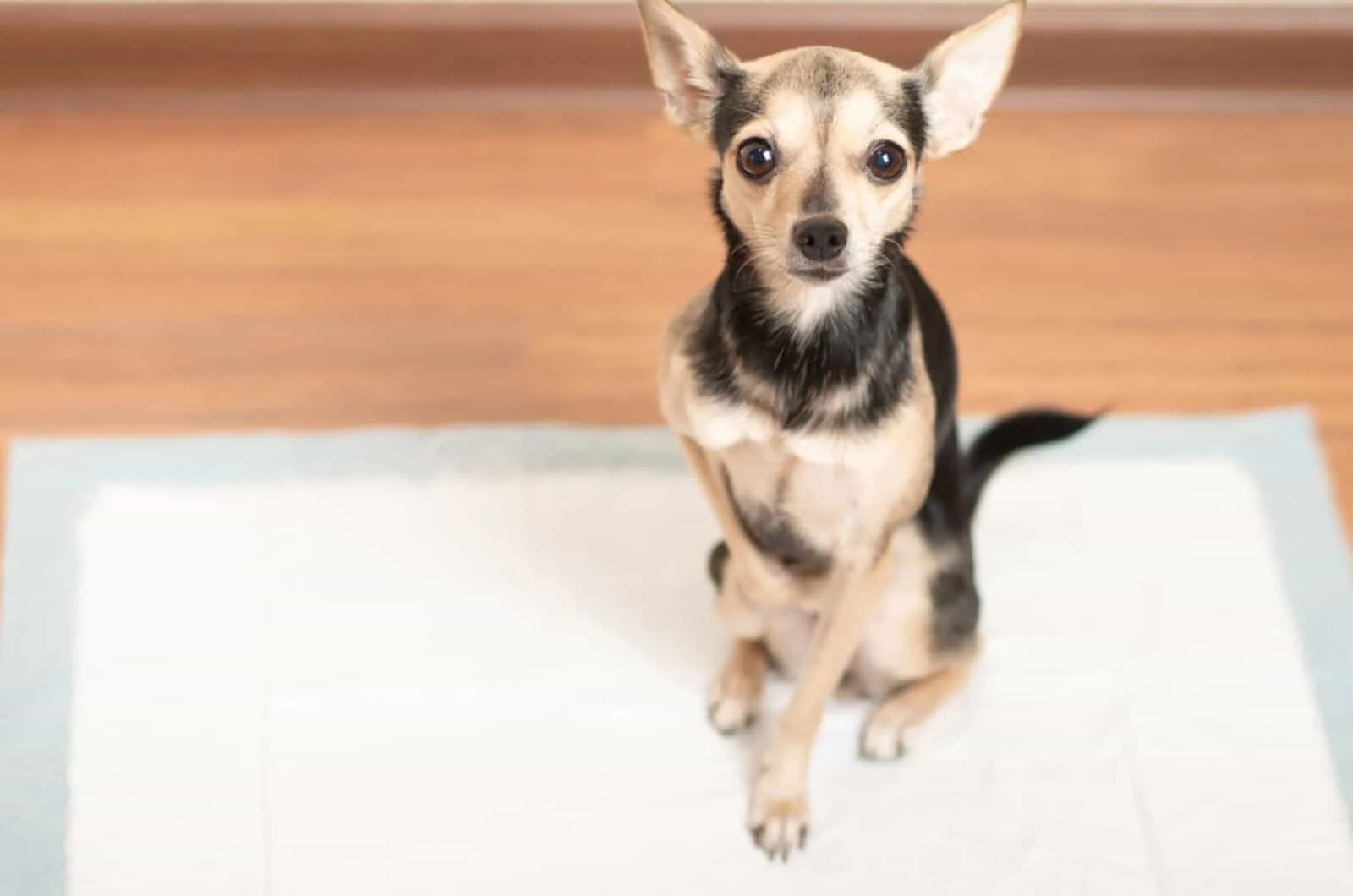 As with any other product, trait awareness is a key factor.
You may have noticed a few repeating positives throughout the product reviews which are there for good reason, they're positives that make them stand out above the rest and it's why they're listed as some of the best indoor dog potty options.
Sure, there are plenty of other options out there, but they can't all make this list.
If none of the ones here are to your liking, here are a few key features you should prioritize:
Easy To Clean
One of the major issues with a lot of these indoor potties is that they tend to smell up the place after a while and that cleaning ends up being a real hassle.
The best ones are usually real easy to clean through the use of soapy water or similar techniques and don't end up stinking your household up
Hygienic
Adding on to the earlier feature, you don't want any of the options to be messy seeing the things we're dealing with here.
Look for potties that drain the dog's urine quickly enough that your dog's paws won't have a chance to get soaked and leave messes all over the household.
Additionally, try finding ones that trap the smells within so they don't end up spreading around the house.
Also, I'd recommend trying to avoid natural grass patches as they do attract all sorts of bugs to your house given how the real grass mixing with urine provides a damp natural area for bugs to flock to.
Environmentally Friendly
Another important trait, especially in current times where every little bit toward a healthier ecosystem counts.
There isn't much to add here though outside of finding products that use reusable pads over disposable ones to help reduce waste.
High Level Of Absorbency
You'll want grass that drains the dog pee down quickly and pads that can hold a lot of liquid in to prevent any nasty and smelly leaks from happening.
Alternatively, Wee sponge powder does wonders too as it helps coagulate the pee by absorbing the moisture into it and makes it easier to clean.
Material Quality
Naturally, you don't want any dingy knockoff that'll break down from a few gnaws on the product. Look for options made from durable material that'll withstand most dogs, especially heavy chewers who like using their potties as teething toys.
Size Matters
Obviously, larger dog breeds will have loads of trouble trying to go on a potty designed for small dog breeds. They could, but they'd just end up making a mess of your beautiful household instead.
Choose Your Style
While not as important as the others, the type of indoor dog potty system could be a key difference of appeal to your dog. There are plenty of styles to choose from depending on preference with the artificial grass ones being the most popular.
The others include real grass variants, various pee pads, grates and even litter boxes.
I'd advise going with the one your doggo shows the biggest interest toward since their appeal to the product will make it easier for your doggos to get used to them as the place to do their business at.
Does It Have Replaceable Parts?
The grass on most potties tends to wear down over time, as do the many pads they use which is why it's always good to have a level of assurance that you'll be able to get a replacement part.
Most of the better ones even cover it under their warranty.
Affordable Pricing
Another less relevant factor to the actual quality of the product, but price does play a big part in how wide your selection is.
Try keeping within a certain budget and only expand it if there's something that really catches your eye and you can easily afford it.
Also, don't just check prices of the actual product, but try taking any added costs into account like extra disposable pads or wee sponge powder resupply.
Extra points to the product if they offer a warranty or an overall refund policy because it'll let you try the product out and return it if you're unsatisfied with it.
FAQs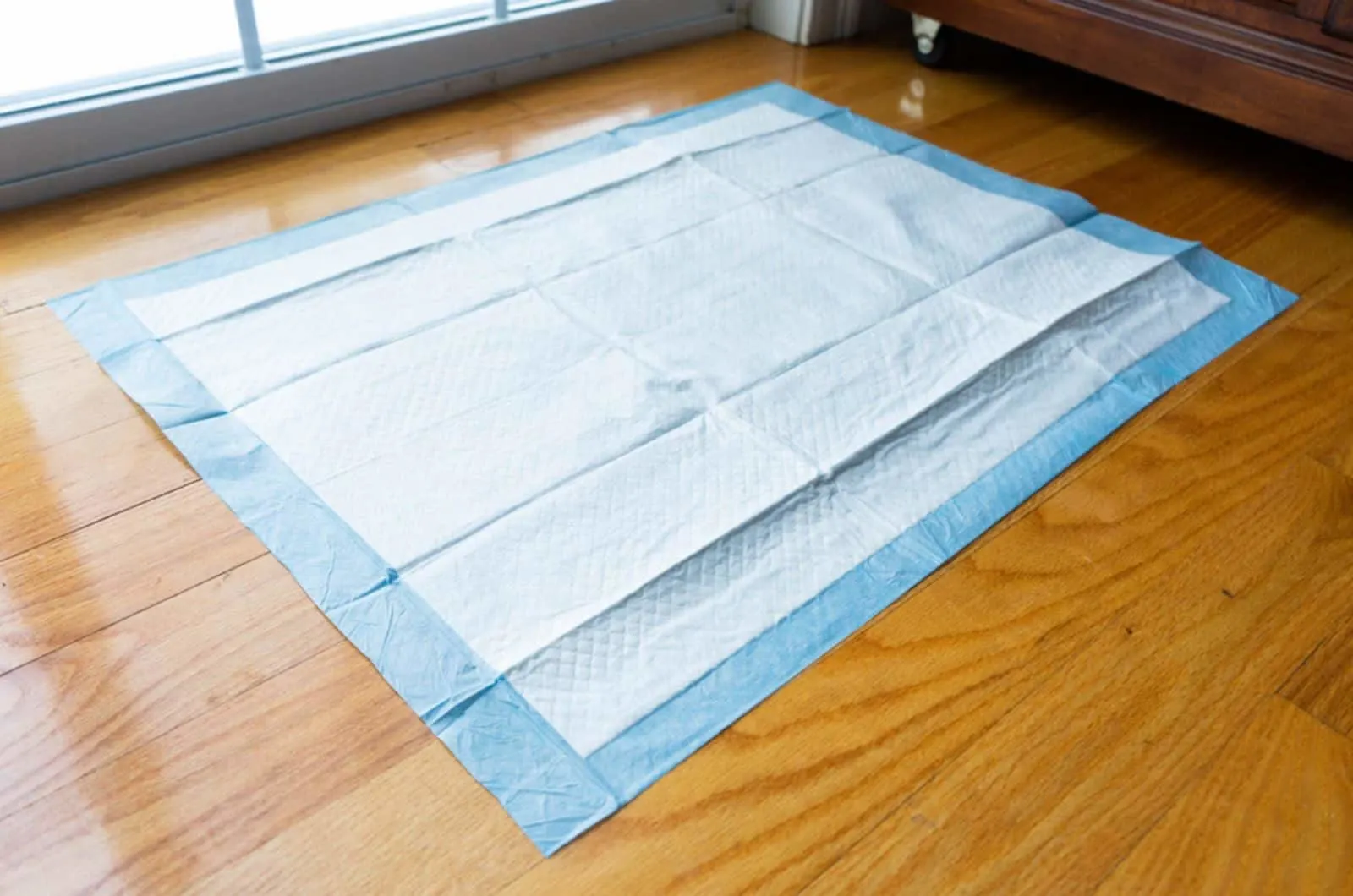 So, What Is The Best Indoor Dog Potty Out There?
While there are several defining factors in play as well as the preferences of many different dogs making it hard to give you a proper winner, my personal favorite would be the PetSafe pet loo portable indoor dog potty.
It keeps things relatively clean, has super absorbent powder and won't take up a lot of space.
Sure, it's a little bit on the pricey side, but I feel like the pros outweigh the added price tag.
There are others too like the Petmaker or the Embellbatt who are close contenders, or wildcards like the Doggielawn or the Blyss Pets Klean Paws indoor dog potty options, but they've recently fallen out of favor which is why I haven't included them in the listing.
What's The Best Type Of Indoor Dog Potty?
Again, plenty of options to choose from that'll usually depend from dog to dog. My personal suggestion would be going for any dog potty which utilizes fake grass.
It'll help get a puppy adjusted to the appropriate surface that he's allowed to do his business on.
Plus, it'll take a lot less adjustment time to convince your dog to go on it in general, and it's superior to real grass because it lasts longer and won't attract bugs when wetted.
There are other options, sure, but I firmly believe that grass pad potties are universally the best option to go for if you're not sure which one your dog prefers.
What Is The Best Potty Grass For Dogs?
As mentioned earlier, the best option would most definitely be fake grass over a natural grass surface. It lasts longer, stays green for longer and won't attract bugs when wet.
Some people might say that artificial grass ruins the feel of the real thing, but from what I've witnessed with my dog and heard from other dog owners, it doesn't make a lick of difference. They'll enjoy it all the same.
What Are The Benefits of Indoor Potty Training?
Well, if you leave your house often with your doggo in it without the proper training, you may or may not have come back to a nasty surprise that smelled up the place or you even stepped into and had to scrub out thoroughly after.
Teaching a dog to pee and poop indoors in a specifically designated spot for it will save you the trouble of hard clean-up and will make it less stressful for the dog in the long run.
How Do You Clean An Indoor Dog Potty?
Cleaning an indoor potty is usually fairly straightforward with the instructions listed on the product page.
The most common way of doing so is replacing disposable potty pads if you're using any or washing the reusable ones.
If the potty has a collection tray, emptying it often as well as rinsing it out or hosing it down is the standard method of cleaning that out.
For ones with Wee sponge powder, remove the coagulated urine gel and replace it with a fresh batch.
The grass itself is often rinsed with warm water too, but some may have alternate methods so the grass can preserve its lush green color and thickness.
When it comes to solid waste though, that will have to be removed immediately so the smell doesn't seep into the product itself as it tends to be rather difficult to get rid of afterwards.
Make sure to have some poop collection bags ready for when it does happen.
In Conclusion
Finding the best indoor dog potty is no easy task. Not only does it need to cover at least a number of the many key features people would look for in one, they also need to pass the doggy preference test too.
Even the most ideal ones in our eyes can be denied by your doggo, so don't feel disheartened.
If you're looking at the greatest chance of success, I'd advise going for one that has a comfortable, artificial grass cover as most dogs seem to prefer that one.
Unfortunately, I don't know your darling doggo's preferences, only you do, and I'm sure that you're going to figure out what the best potty option for your canine companion is with ease. Until next time.
RELATED LINKS:
• Help, My Dog Is 6 Months Old And Not Potty Trained!
• Dog Urine Color Chart: What Does My Dog's Pee Color Mean?
• Puppy Pees A Lot: Why This Happens And How You Can Help
• 7 Vet Approved Homemade Dog Food Recipes For Kidney Disease
• Chihuahua Potty Training: Housebreaking Chis In A Few Short Steps