With all the hard work they put into being our loyal companions, our dogs deserve a reward every now and again, so this time, we're going to be talking about what some of the best dog treats for Cane Corso canines are.
There are several options for treats to choose from on both Amazon and on Chewy, a wide variety that'll appease any dog's specific needs.
Whether you go full healthy with some fruits and vegetables or nutrient-rich treats, or you want to spoil your Cane Corso puppy or adult with some pig ears or cow hooves, that's up to you.
What's up to us, however, is to find you the best quality for the price for each of them, so you can later choose the best one for your dog without having to spend hours on the internet reading through reviews of each individual one.
Trust me when I say that your dog is likely to love all of them. They wouldn't be called treats after all, but some of them can put on a few more calories than intended, so use treats in moderation since they are the doggo's junk food.
With that in mind, let's see what the best options are, shall we?
8 Greatest And Best Treats For Cane Corsos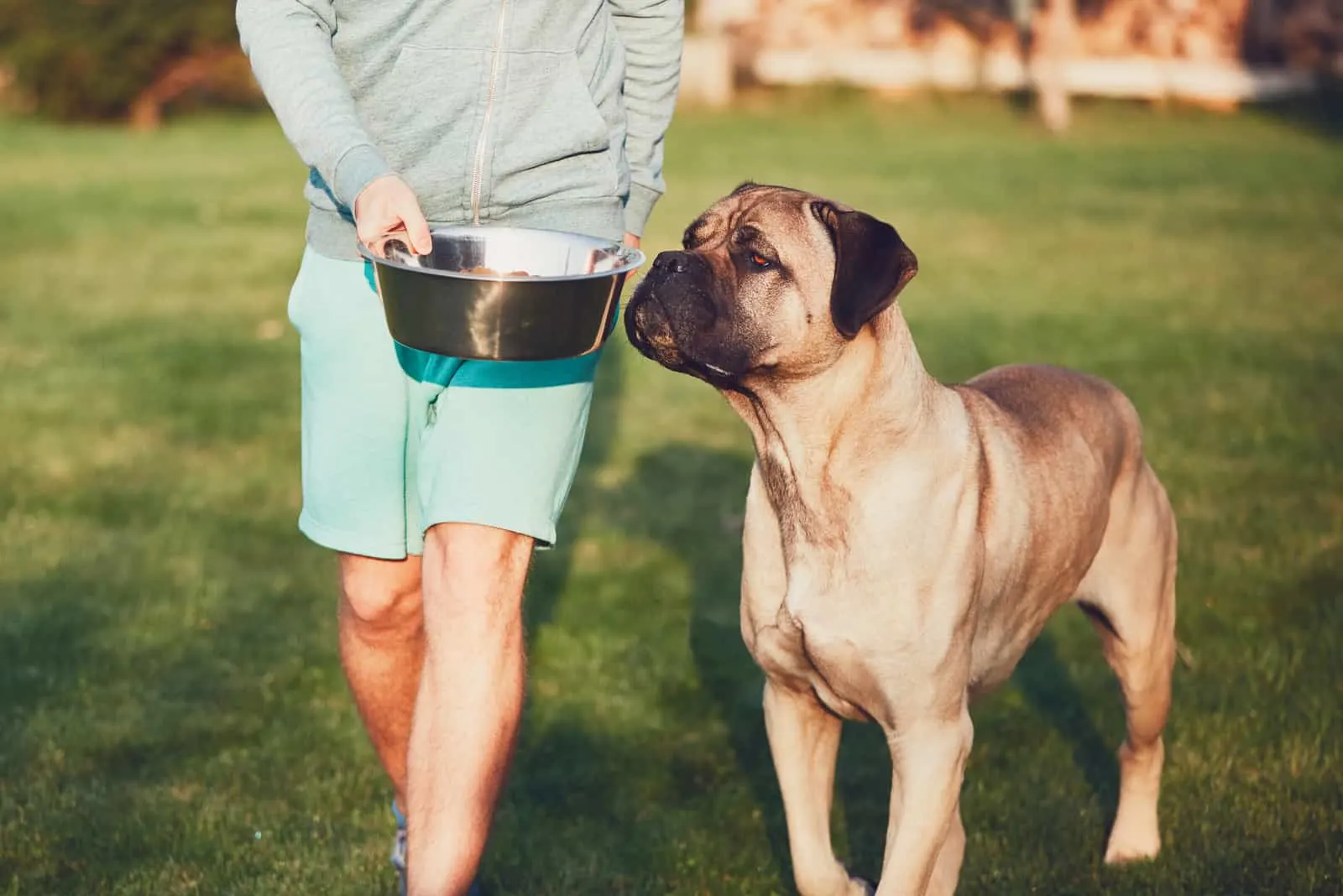 What Types Of Treats Are There?
Before continuing, I wanted to get you up to speed on the kinds of treats there are for dogs, especially the Cane Corso dog treat options.
There are a total of 8 most common ones, with a few different variations, and they are:
1. Horns and antlers.
2. Pig or cow ears.
3. Yak dog chews.
4. Cow hooves.
5. Stick treats.
6. Rawhide kebabs and rolls.
7. Marrow roasts.
8. Regular treats.
All of them come in a variety of flavors and ingredients, but it's important to choose the ones that fit your dog's diet the best, and that don't have too many unhealthy and harmful chemicals and ingredients in them in order to prevent any potential health problems.
With all that in mind, here are the best options for each type of doggy treat as well as what they are.
1. Horns And Antlers
These are a great alternative to rawhide bones since they're easier to chew and are more nutritious than the former.
Horns and antlers don't splinter easily, so they won't cause any painful jabs or gashes in your dog's mouth, they are a more human alternative to bones, and they're a completely natural treat.
They come in two forms – full or split. Choose the appropriate one depending on how hard of a chewer your own dog is – full, for a real eager one, and split for ones just starting out.
It's usually safer to go with the split option first in order to get your dog used to antlers before advancing him to the full one if need be.
And, if you're looking for the best of the best, deer or elk antlers are the most nutritious and high-quality types out there.
Buck Bone Organics Split Elk Antler Dog Treats
Key Benefits:
Fully natural product

Great for beginner chewers

No artificial whiteners like bleach or formaldehyde

No artificial colors, preservatives, or flavoring of any kind

No strong or pungent scent on the antler

Rich in calcium, phosphorus, and even protein

Comes in two different sizes

Made in the U.S.
Cons:
Bone may still end up staining furniture if the dog chews on it nearby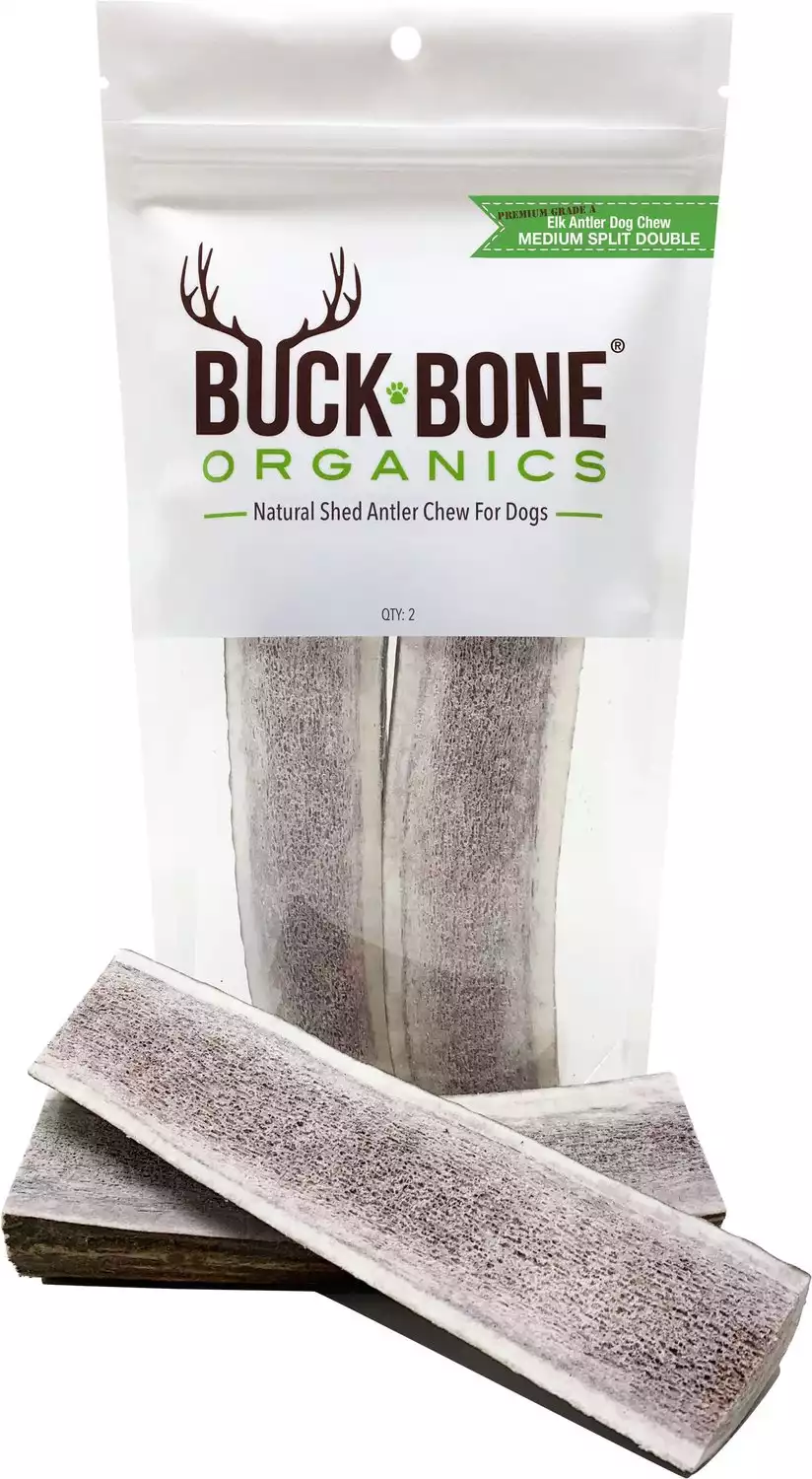 Speaking of split antlers, Buck Bone Organics has a pretty affordable option for you with their split elk antlers.
This is an all-natural product with no artificial ingredients like preservatives, coloring, or flavors that's rich in nutrients necessary for healthy bone growth like phosphorus and calcium.
There's a healthy bit of protein in there as well to give your doggo an extra kick of energy for the day.
Apart from anything artificial, it's free of any harmful ingredients like bleach or formaldehyde, normally used to whiten the bone for better presentation.
The bone doesn't produce any nasty odors, and it doesn't stain your fabric easily, though you still may want to keep the dog off the furniture when chewing on it as a precaution.
Given that Cane Corsos are a rather large breed of dog, you may want to consider upgrading your dog to the large package rather than the standard, medium one.
While a bit pricier, the large version will last your dog a lot longer.
Finally, given the large amounts of calcium and phosphorus, the antler is a decent supplement for puppy food if it doesn't provide your little pooch with enough of the stuff while also helping clean and sharpen its teeth.
The product is also fully U.S.-made, all the way in Bozeman, Montana, so you're supporting the local economy by purchasing it.
2. Pig Or Cow Ears
While these may seem like an odd option for a dog treat, cow and pig ears were quite the popular item for them back in the day when nothing fancier was available.
Rest assured that they are perfectly safe for consumption, albeit a lot less humane than antlers are for those of you who are friends with all animals.
As far as the ears themselves are concerned, they provide several benefits. They're often rich in protein content, which every dog loves, and they house a nutrient called chondroitin, which is one of the two normally found in some of the best dog foods as a key ingredient in maintaining good joint health.
The cartilage that the ears are made of is quite chewy and can serve as a good cleaning agent for dog teeth.
I And Love And You Ear Candy Beef Ear Dog Chews
Key Benefits:
Procured from healthy, unmodified, free-range Brazilian cattle

Healthy source of protein and chondroitin

Low in fat

Safer than antlers or rawhide

Cartilage helps keep teeth clean

Extremely affordable
Cons:
Might smell and could stain carpets or furniture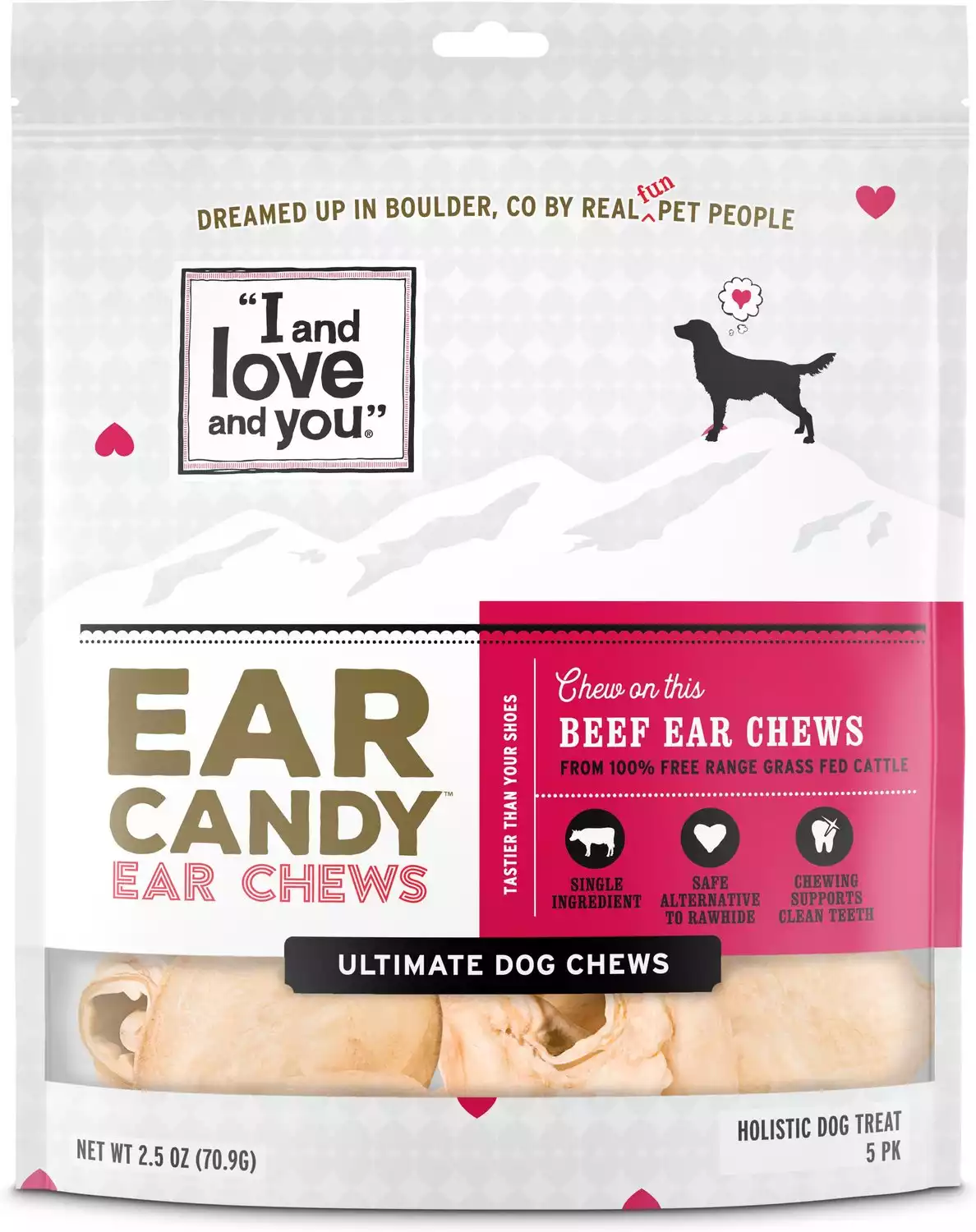 This is a quality product from a little known provider for those new to the world of pets.
There's not much to cover here outside of what has already been said. The ears have very low amounts of fat and high amounts of protein, making for a really healthy snack.
The chondroitin found within helps improve joint health – something especially important in large dog breeds, especially adult dogs given their potential health problems regarding it.
The cartilage is a great teeth cleaner, too, ensuring good dental health for your pooch for a good while.
The ears come from special Brazilian cattle raised in São Paulo. They're brought up in a humane way and they're raised free-range, living their life until their time comes, with no genetic modification, hormones, or other harmful chemicals included.
Just like the antlers, this is a lot safer and better than rawhide bones, especially since it doesn't have any sharp edges, though it can still pose a slight choking hazard, so always ensure that your dog has proper supervision when being fed one of these.
The price itself is an incredible steal considering how long these treats are going to last your doggo.
3. Yak Dog Chew
This is another interesting and overall healthy entry to this list. Usually made from coagulated yak and cow milk with a few extra ingredients thrown in, this treat is a great delight for any dog, big or small, and it offers some healthy nutrients alongside it.
This is a relatively simple and durable thing that's best used in puppy training regarding their jaw muscles in order to help them learn how to chew better.
It's also great for cleaning teeth and preventing periodontal disease.
Yak9 Chews Flaxseed Yak Chew Dog Treats
Key Benefits:
Yak and cow milk as first ingredients

High in protein, low in fat

Flaxseed provides omega-3 fatty acids for a shinier coat and a reduced risk of skin problems, along with fiber for better food digestion

Brimming with flavor

Gluten free and grain free, which is good for dogs with allergies
Cons:
More expensive than the other products on this list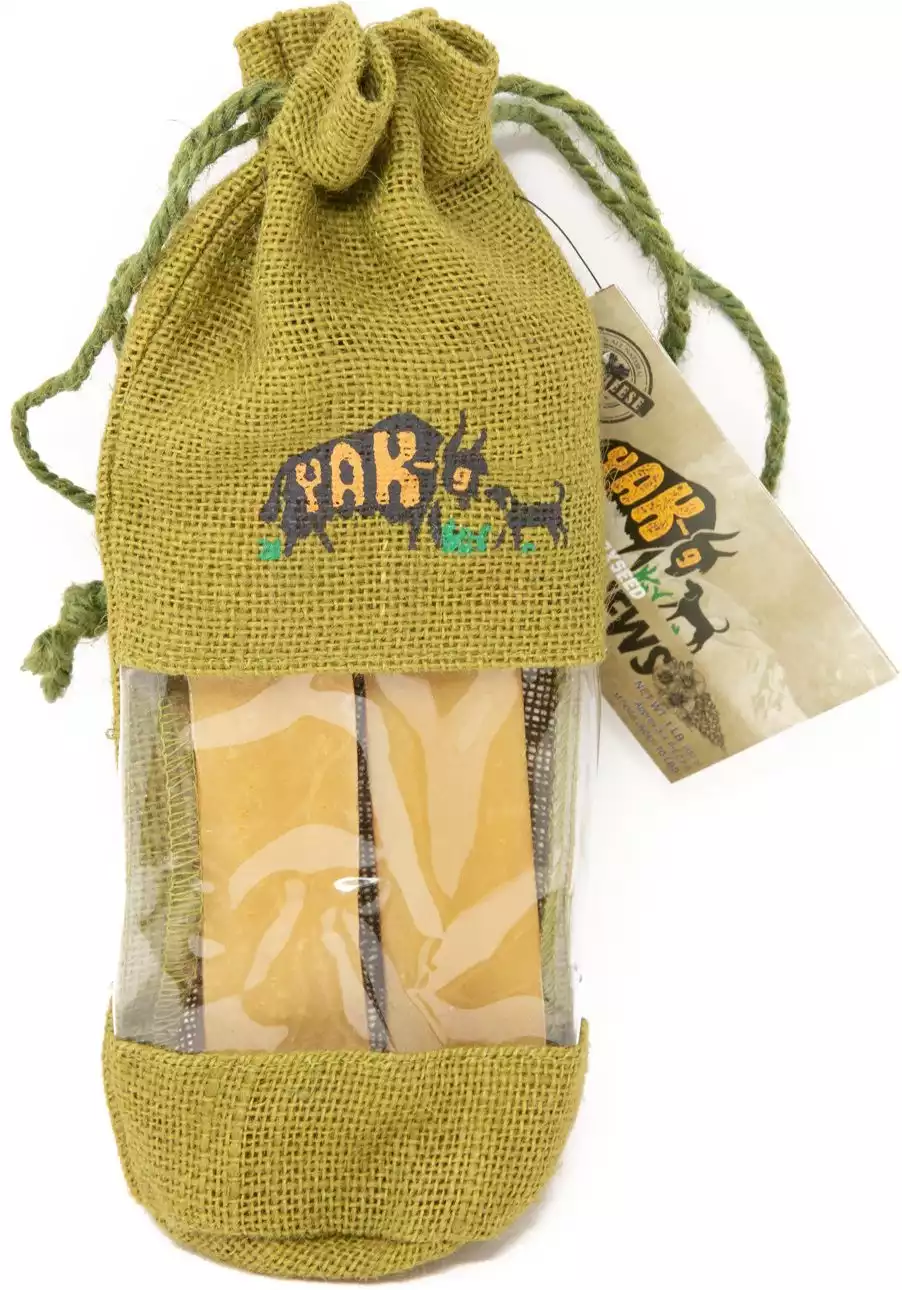 This is one of the healthiest and most nutritious treats on this list for your precious Cane Corso.
The first ingredients are the high-protein yak and cow milk, paired together with flaxseed, along with being rich in omega-3 fatty acids which help keep your Cane Corso's coat color shiny and lustrous and his skin safe from inflammation.
The flaxseed also provides a decent bit of fiber to help the food come along nicely in his stomach after a good meal.
This tasty, low-fat cheese stick, which is smoked and sun-dried, is infused with incredible flavor that your dog will be hard-pressed to part with.
The cherry on top is that the product itself is entirely grain free and gluten free, making it one of the healthiest snacks around.
The only downside is that it can be somewhat pricey, but it does last your furry friend a while, so it's still well worth it if you're looking to offer him a deluxe option.
4. Cow Hooves
A relatively simple entry – cow hooves with not much flare to them. While not as humane as an antler, hooves are a great and durable chewy treat for your dear canine companion.
They're recommended since they're good at keeping teeth clean.
They come either hollowed out or, if you're willing to pay a few extra bucks, filled with all sorts of different flavors, from beef to peanut butter.
Redbarn Beef Filled Cow Hooves
Key Benefits:
Durable treat

Filled with beef

Unique shape helps with maintaining dental health

Extremely affordable
Cons:
Level of nutritiousness depends on the filling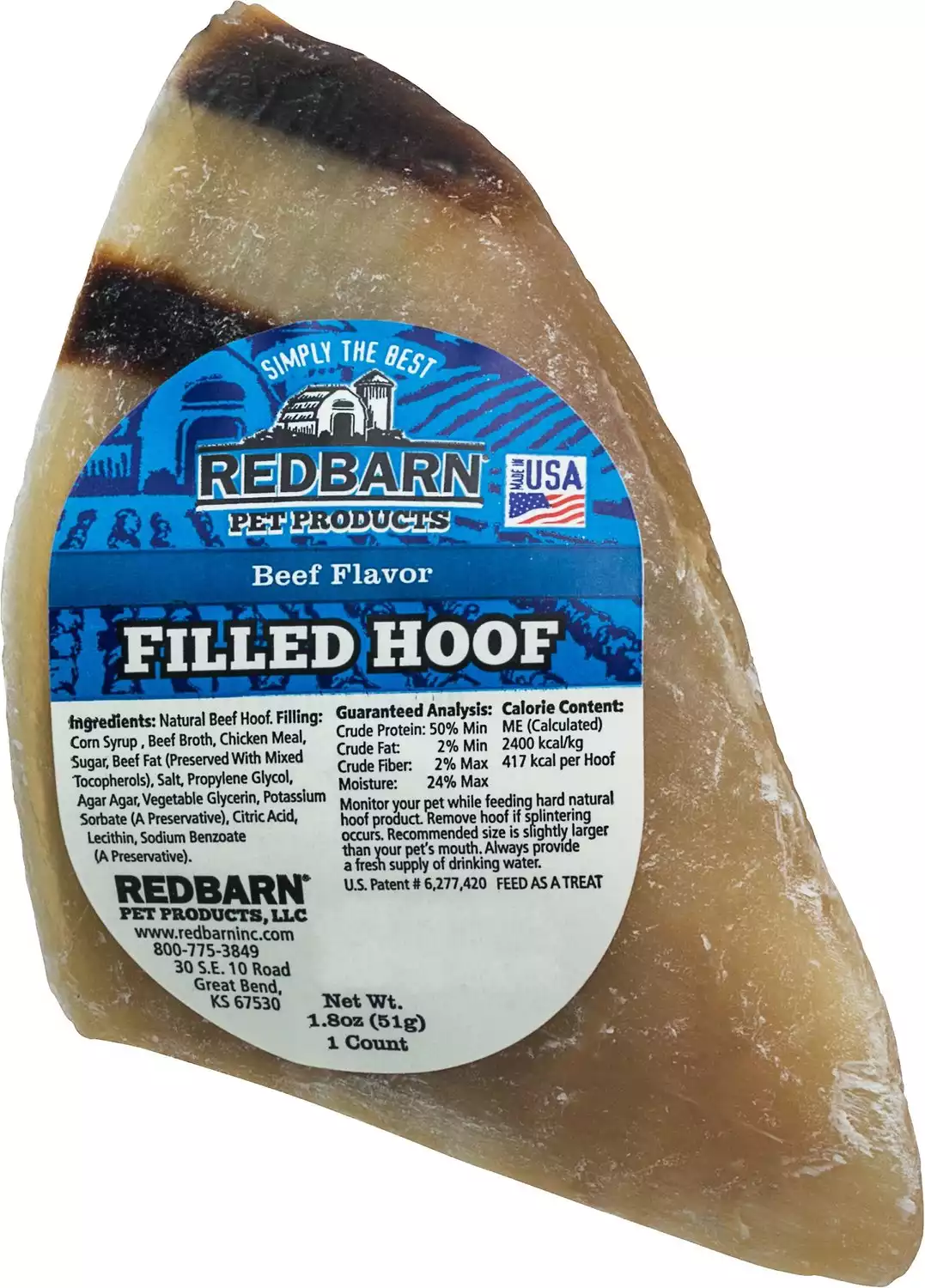 Redbarn's hooves are a great example of a filled hoof – this one in particular is stocked up with tasty beef that your dog is sure to love, and once he's done with it, he's left with a succulent bone that'll help clean his teeth and gums right after.
The one downside is the lack of nutrition, but given the relatively cheap price, it's still well worth the effort. Think of it as the junk food option.
5. Stick Treats
One of the most common and honestly the best dog treats for Cane Corsos are sticks.
Their attractive and flexible shape, crafted from cow muscle, along with their elastic nature and their tasty body, are all perfectly manufactured to be the ideal doggy treat in every way, shape, and form.
They're also better than regular bones since they pose less of a danger for your pooch, considering they won't splinter or outright shatter under a Cane Corsos powerful jaw, leading to injury or other health complications for the Cane.
Plus, they're a good way to keep your dog's teeth clean.
True Acre Foods All-Natural Dental Chew Sticks
Key Benefits:
6-pointed star shape to help clean teeth and gums

Flexible shape for easier chewing

Nice, natural mint flavor for added breath freshness

No artificial flavors, colors, or preservatives

32 pieces for barely any money

Good for large breeds, but can be broken down into several sticks, perfect for smaller dogs
Cons:
Not as durable as actual bones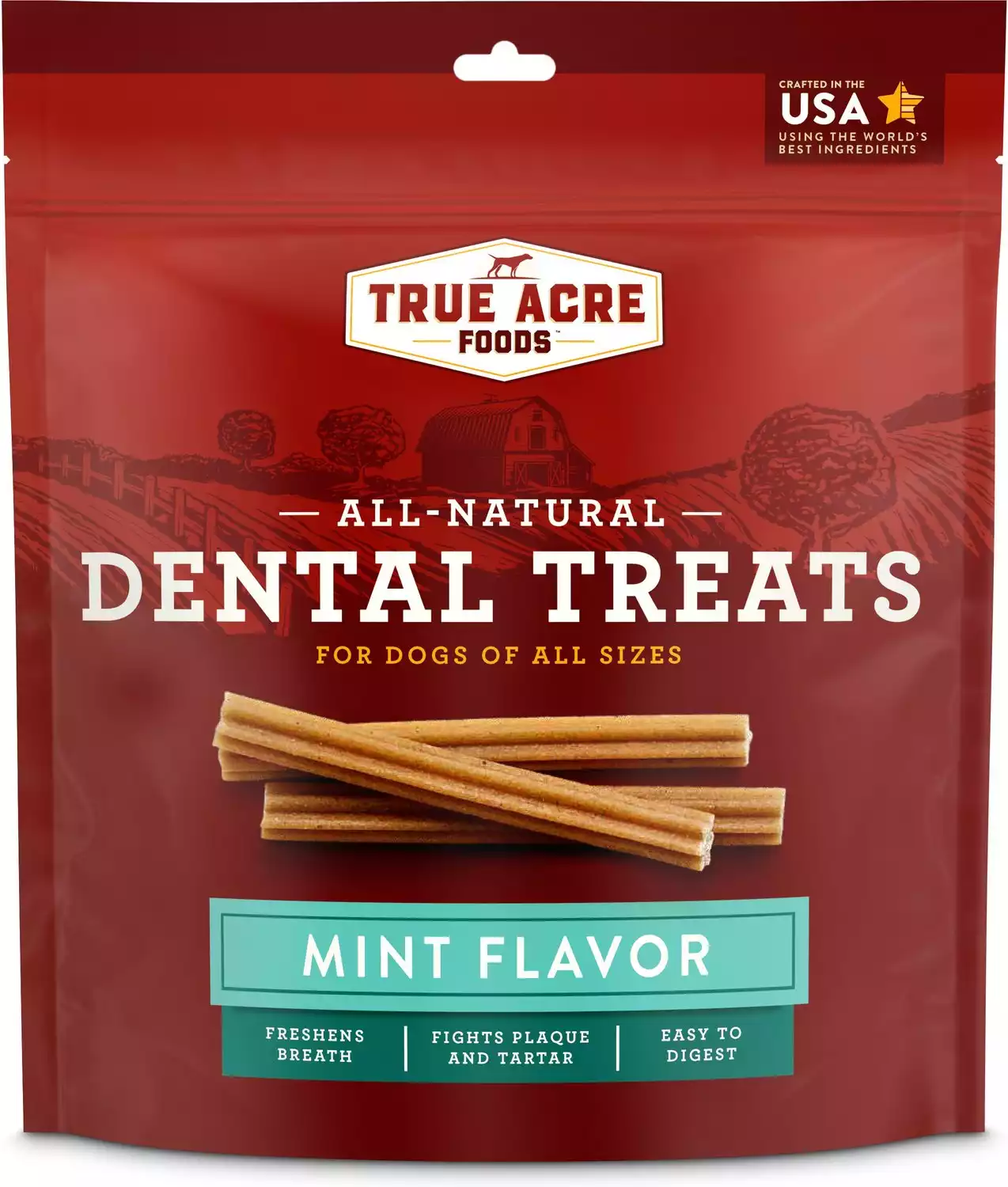 True Acre takes the standard stick treat and takes it to a whole new level.
The first obvious step is the addition of mint for added breath freshness and dental cleanliness.
The second is their choice of removing any and all sugars, and keeping it completely healthy by opting out of adding any artificial preservatives, flavors, or colors.
The sticks are made in the shape of a six-pointed star, which helps clean your doggo's teeth from every angle, no matter how he chooses to bite into it. The flexible shape will accommodate all jaws.
While not as durable as other options, they're digestible should they break off, and they are extremely cheap to the point that the whole 32-piece bag is cheaper than some of the former, more luxurious options.
6. Rawhide Rolls and Kebabs
Finally, the standard rawhide chew that we've all grown accustomed to.
Made out of dried leathers left over from the leather industry, these have both a positive and a negative side.
While the material provided certainly isn't as humane as the others on this list, it's at least being sourced from the scrap that was intended to be thrown away, meaning it's at least an eco-friendly product.
However, low-quality rolls risk breaking off and being swallowed by your dog, and some of these won't dissolve that easily, which may lead to potential complications.
Higher quality ones, however, don't have this issues often, so it's worth keeping an eye out on your pets whenever they gnaw on it, or any other similar chewing product.
Pure & Simple Pet 8 Rawhide Retriever Roll Dog Treat
Key Benefits:
Made from high-quality U.S. beef hide

Extremely durable and perfect for games of fetch

High in proteins, low in fat

Great stress-relief treat

Safe to digest and consume

Extremely affordable
Cons:
The packaging is rather bland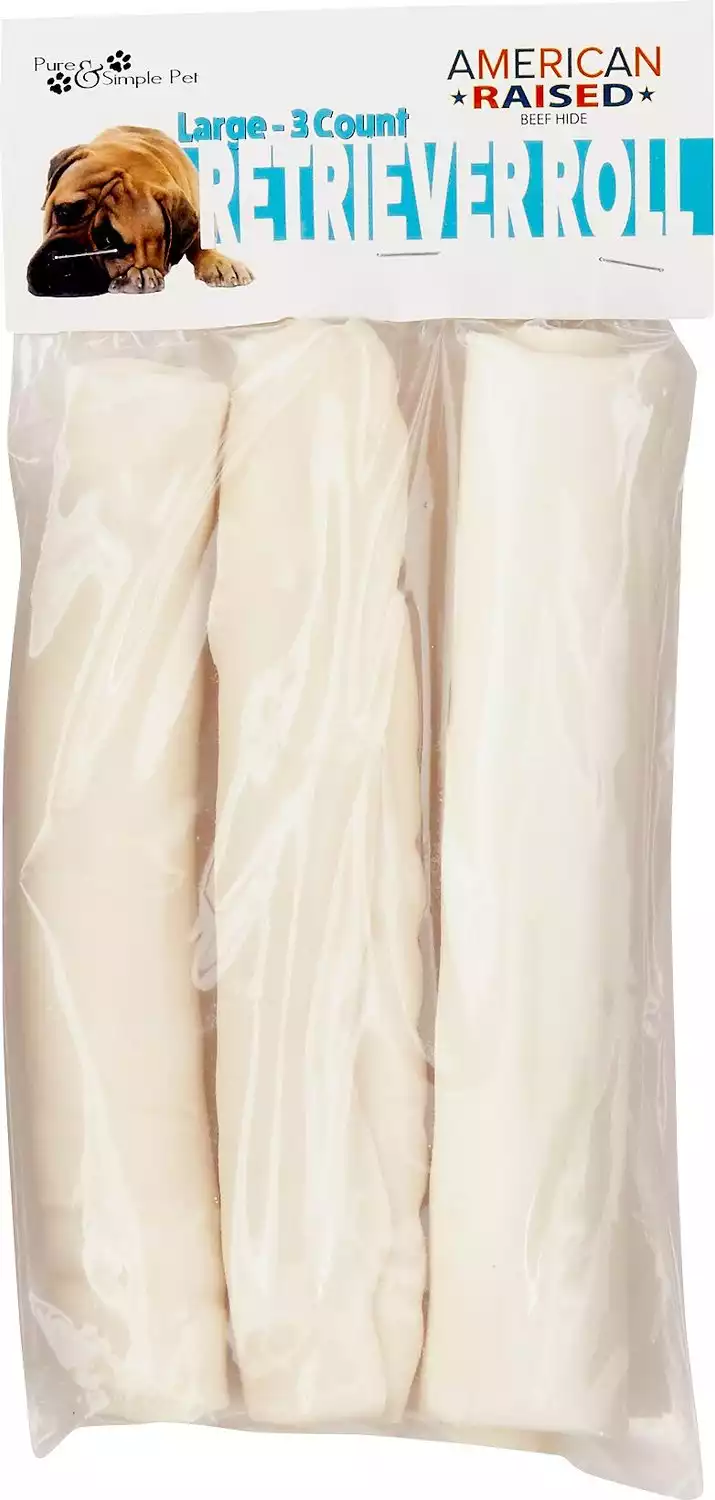 This is one of the more popular options on the market given the popularity of Rawhide rolls.
The skin used is that of American cattle raised in the USA and fed with only the highest quality ingredients to ensure the best of the best for their customers.
Its lovely, rolled shape looks compact and makes it seem like your dog is snacking on a nice, juicy burrito whilst keeping him occupied and interested in gnawing and chewing on it, thanks to the interesting texture.
The hide itself is high in protein, but low in fats, much like everything else from this list. It's easily digestible, too, as most high-quality rolls are, stamping a seal of safety on rolls for any breed, big or small.
The shape also lends itself nicely to games of fetch, which many doggos love using the roll for.
The constant biting and gnawing ends up having a positive dental effect on your pooch by helping scrub away tartar and plaque from his teeth and ensuring healthy gums for a long while.
Finally, it's extremely affordable given the amount provided, one of the rare ones of its kind.
7. Marrow Roasts
Not all the best dog treats for Cane Corsos are meant to be healthy, and such is the case with marrow roasts.
Sure, all they are is (as the name implies) roasted marrow, but they're usually packed with a lot of extra flavor and a tantalizing smell that rarely any dog can resist.
Their bitesize can be small, and they may pack low caloric content per bite, but that can easily pile up if you're not careful.
That said, most of them are great to mix with dry dog food or any other sort of kibble as both a flavor and texture enhancer.
Wellness CORE Grain-Free Marrow Roasts
Key Benefits:
Turkey as the main ingredient, with no other meat by-product

Crunchy texture and nice smoky flavor

Safe for dogs with allergies

Packed with nutrients and minerals that are beneficial to dogs

Relatively cheap considering the quality

Only 11 calories a piece
Cons:
Overdoing it will cause more harm than good by making your dog rack up the pounds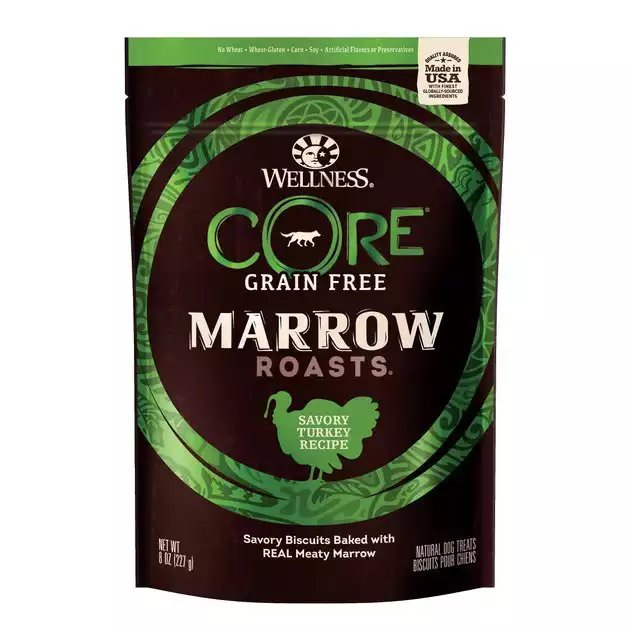 A fine example of a marrow roast lies in one of the most popular doggy food brands out there – Wellness core.
The marrow roast in this case is enriched with turkey as the main protein, with no other meat by-product, and it is filled with nutrients and minerals that are necessary for a dog's vital functions. A perfect supplement to any dog food.
Their delicious texture makes sure to help them work as a supporting treat by adding some extra crunch into the mix, or as a standalone snack that many dogs will enjoy.
They're completely grain-free and gluten-free, meaning they're safe for consumption by dogs with a more sensitive stomach.
Not only that, but there are no artificial flavors or coloring as well.
As for the more beneficial side of things, you'll find that they're chocked full of vitamins and minerals like vitamin A, calcium, iron, and zinc.
The food is an overall treat, and each piece only packs 11 calories, though do be careful not to overindulge your doggo with them as these can quickly pile up.
8. Regular Treats
Sometimes, sticking to simple, bite-sized treats is the way to go. They're easy to use as a reward when training your dog, and they come in a variety of shapes, sizes, and flavors.
Wellness Soft + Crunchy Puppy Bites
Key Benefits:
Made from high-quality protein, fruits, and vegs

No refined grains or dairy, making them great for allergy-prone dogs

Soft texture that is ideal for young pups and for cleaning their teeth

Bite-sized bits make for great training rewards

Full of healthy nutrients and minerals like DHA, antioxidants, and omega-3 fatty acids
Cons:
Overdoing it with the treats can rack up calories quickly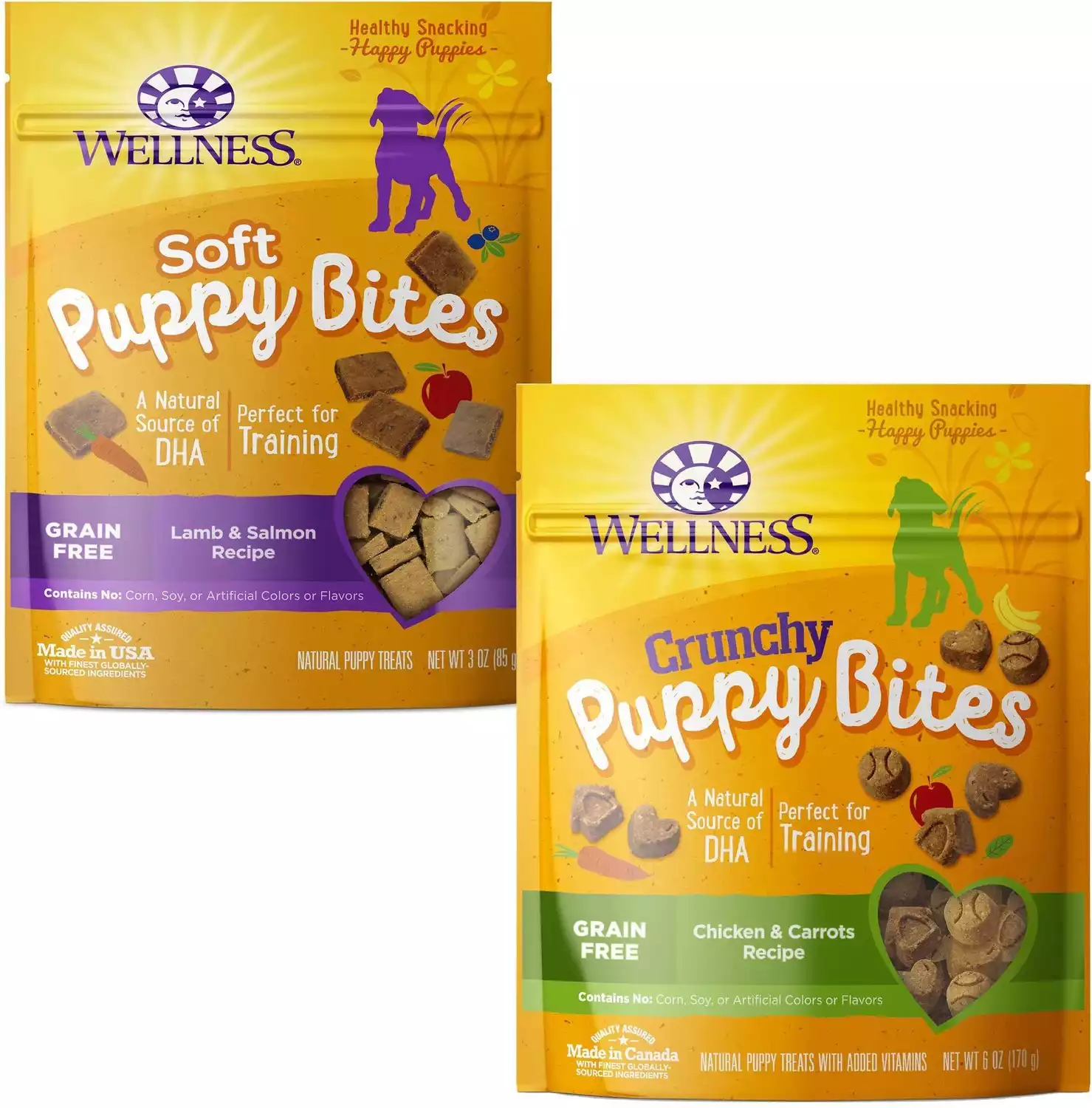 This is a bundle of treats packed with some of the most beloved canine flavors.
Their soft textures are ideal for teething pups that aren't even a year old yet.
The ingredients are all high-quality, with no added meat by-product or common allergens like corn, dairy, wheat, or refined grain, but rather, mixed with healthy stuff like fruits, vegs, and high-protein meat.
There's no artificial flavor or dye either, making them real healthy snacks.
What they do have are an abundance of omega-3 fatty acids, antioxidants, and DHA, promoting healthy skin, a shiny coat, and improved cognitive function, respectively.
Their shape and easy-to-chew texture lend themselves well to training pups to behave and do tricks or any other specialized training you have in mind for them.
The said texture is also perfect for helping pups clean their teeth.
DIY Doggy Treats
Outside of these, there are a handful of doggy treats that you can make yourself out of healthy ingredients that your dog will love at a fraction of the cost. It just takes a little bit of effort on your part.
Here are some of the most common ones that all Mastiff-type dogs, such as Cane Corsos like:
• Baked sweet potato bits
• Carrots
• Pears
• Cooked chicken liver bits
• Bananas
• Blueberries
• Apples
• Watermelon
• Strawberries
• Peanut butter
Things To Consider Before Buying Dog Treats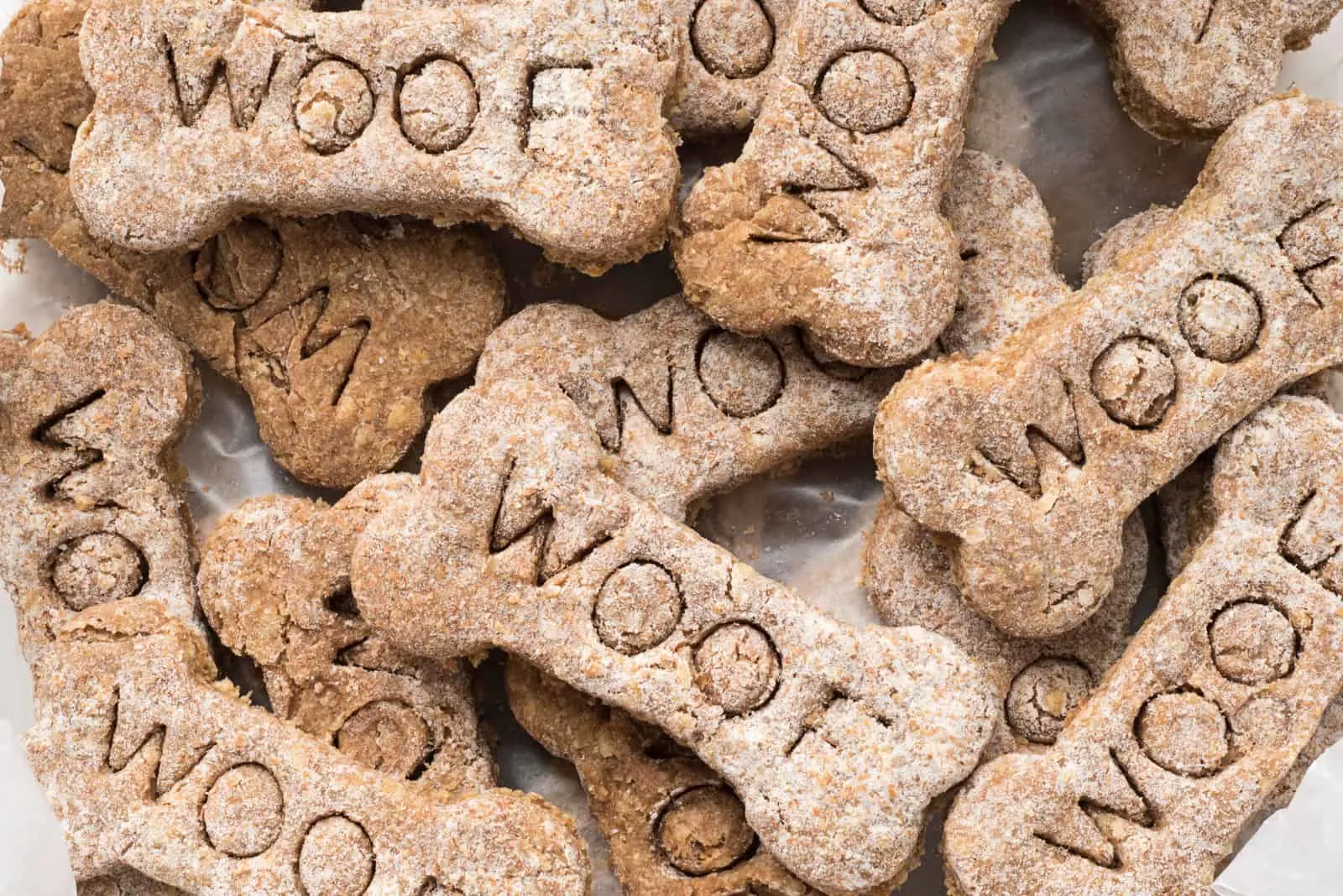 From this list of various types of healthy dog treats, there are certain aspects they have in common, which are signs that you're looking at a good product.
In case you weren't satisfied with the ones listed here and want to find your own, here are some of the things every dog owner should be on the lookout for:
• High in protein
• Made with high-quality meats
• Low in fat content. The existing fat should be primarily healthy fat
• Packed with calcium and phosphorus for good bone health
• Chondroitin or glucosamine for good joint health
• Good fiber and carbohydrate content, usually with brown rice and similar
• No refined grains or other fillers
• Has probiotics, antioxidants, amino acids, or omega-3 fatty acids
• Doesn't have a high sugar content (the ones that do should be given sparingly)
• No artificial colors, preservatives, or flavors
• The texture lends itself to helping keep your dog's teeth clean
FAQs About The Best Dog Treats For Cane Corsos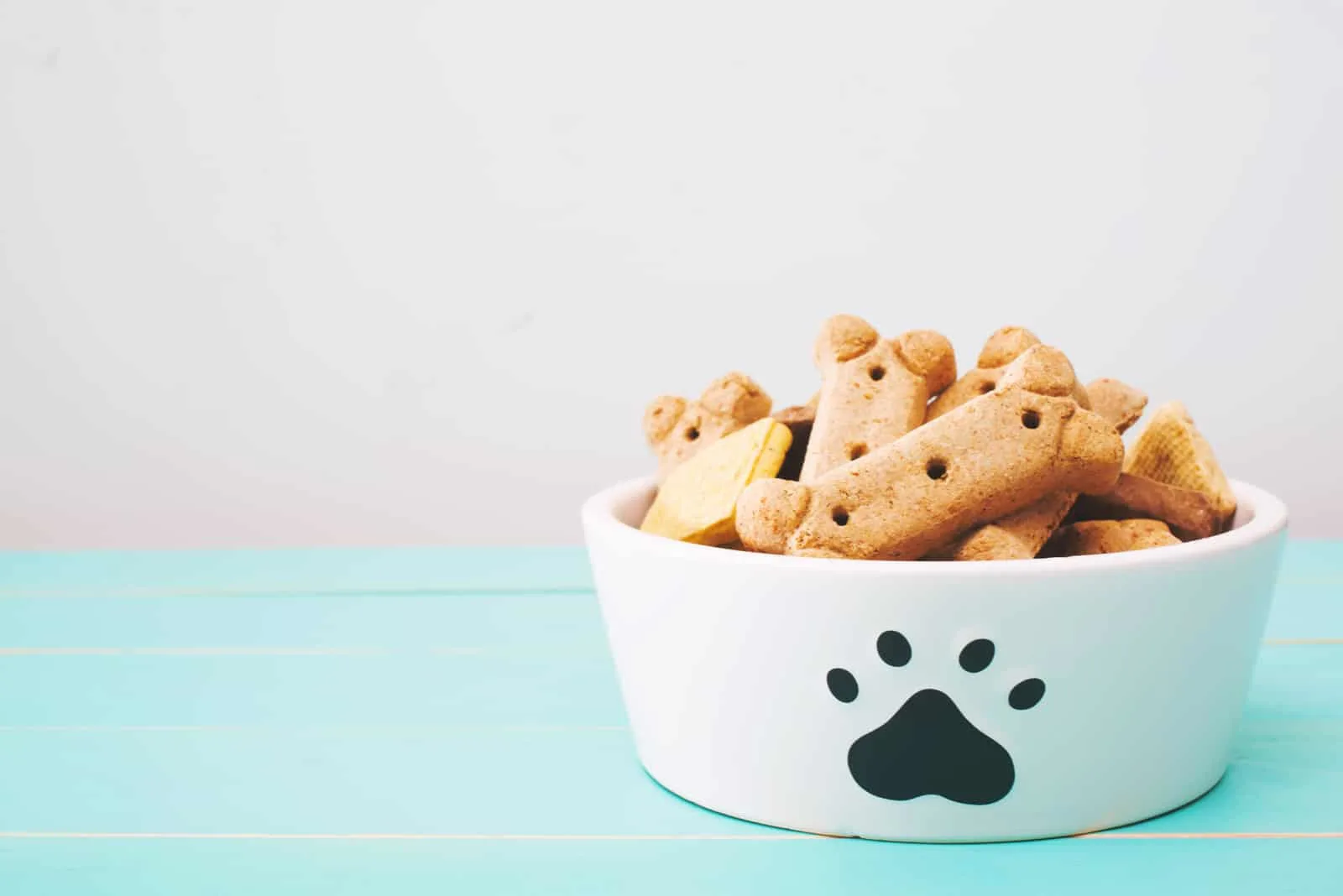 Is Rawhide Good For Cane Corso?
It depends on the quality. Usually, the answer is 'yes', but you need to supervise your dog when he's chewing on it in case it splinters or forms sharp edges as your furry family member could end up getting hurt.
What Is The Average Weight Of A Cane Corso?
It varies between female and male Cane Corsos. An adult female should weigh around 80 to 90 lbs, while a male is usually around 90 to 100 lbs, give or take a few lbs.
You generally want to keep them around that area since adding any extra weight will put even more pressure on the most problematic large-breed area, the joints.
What Are Some Dog Treats For Cane Corsos?
As mentioned earlier, there's a wide variety of them. From marrow roasts and pig ears to DIY ones like fruits and vegs that are favorites for Canes.
Can I Use Treats To Train My Dog?
You can, but don't make it a replacement for actual discipline. You may end up spoiling him to the point where he won't do it unless there's a treat waiting for him at the end.
That, and he may end up putting on a few unwanted pounds.
In Conclusion
With so many options available, finding the best dog treats for Cane Corsos can be hard.
All of these are certainly the best types of treats for them, but every dog has its own preferences, much like a human does.
It's up to you to do a little bit of testing in order to see what your own Cane favors the most and adapt to the situation.
I wouldn't be surprised if it ends up being sliced up fruits and vegs since that's what most of them seem to default to, oddly enough.
Do check with your Cane's breeder for a potential preference as this may cut down on time and costs drastically.
Whatever the case may be, I'm sure you'll do what's best for your canine companion. Until next time: