This post contains affiliate links, and I will be compensated if you make a purchase after clicking on my links.
The Sheepadoodle is a fantastic dog with his own set of needs, one of them is quality dog food. But what is the best dog food for Sheepadoodle?
The best dog food for Sheepadoodle dogs is one that can ensure their luxurious coat maintains its quality by providing them with the nutrients necessary to keep it strong and shiny.
Of course, the coat isn't the only thing that needs to be healthy with this mixed dog breed, overall bodily health is equally as important.
The eyes in particular as the Poodle parent gene makes them more susceptible to health issues regarding their eyes and sight in general.
Bone and joint health is important for this high energy breed as well as they'll want to stay as mobile as they can be.
Of course, this also means that the food needs to provide enough calories to last him throughout the day.
This all seems like a tall order, but believe me, even with all of this, you'll still be spoilt for choice.
The problem that then arises is which one to pick? But, as always, I'm here to help you out with that today.
I'll scour through the popular marketplaces like Amazon and Chewy in order to pick through the lot and deliver to you some of the best options on the market that are still affordable for the common household.
There may be a luxury option here and there, but that's mostly to help diversify the catalog.
This way, you'll have somewhat of an easier time choosing the right options for your canine companion.
So, read on to find out what these products are as well as finding out answers to some of the more common questions asked regarding Sheepadoodle nutrition and topics regarding it.
7 Best Dog Foods For Sheepadoodles
Blue Buffalo Life Protection Formula Natural Adult Dry Dog Food
Key Benefits:
All-natural ingredients and real meat

Well-balanced diet built to improve your dog's quality of life

Contains antioxidants, omega 3 and 6 fatty acids as well as other essential nutrients and minerals to keep your furry friend healthy with great skin and a shiny fur coat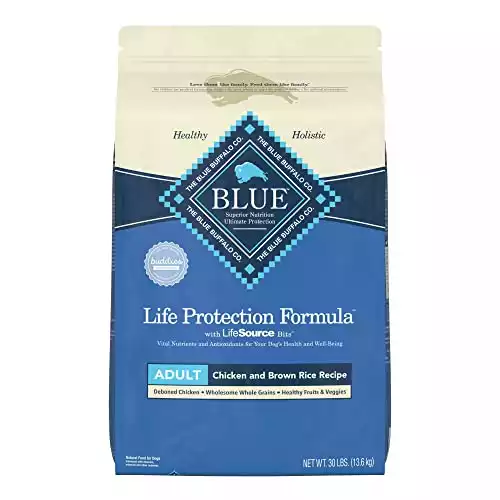 Starting off, we have one of the most universal brands out there that helps cater to almost every dog breed, Blue Buffalo
They offer a variety of different flavors to choose from so you can help diversify your doggo's diet.
The best part is that they're all made from real meat and they always put it down as the main protein.
The one highlighted in this article uses chicken and brown rice as the base as they're the most neutral options And are likely to have every dog enjoy it, even the pickiest ones.
The food also contains a lot of key ingredients and nutrients that every dog needs, omega 3 and 6 fatty acids, key components in maintaining proper fur and skin care, ensuring the latter remains hydrated and the former remains strong.
You'll also find antioxidants, vital nutrients in protecting the body against free radicals and boosting your dog's overall immune system.
Other than that, you'll find your standard vitamins and minerals in there to fully blanket your Sheepadoodle's daily nutritional needs.
With all natural ingredients, this dog food is one of Amazon's best sellers for a reason.
The Blue Buffalo food also contains no common grain allergens like corn, soy or wheat.
They also avoid using meals and meat by product that would just bloat the food with empty calories.
It's also free from any artificial preservatives, ingredients, flavors or any other potentially harmful chemicals.
As mentioned prior, this is but one of six different flavors, so you can choose the one that best caters to your dog's diet.
While I still recommend this one primarily, you can also opt in for real beef paired with brown rice, healthy weight chicken, small bite chicken, lamb, or even fish, if you wanted to.
You can also choose the amount that you order too, well, 5 different options at least with 5, 6, 15, 30, and 34 pounds as your available choices.
The price at which you get it is relatively affordable, the packaging may be a bit simple and look more like something someone would put on a bag of flour, but that's a negligible issue.
Hill's Science Diet Dry Dog Food
Key Benefits:
Specifically made to help out dogs with health problems

Approved by veterinarians all over the US

Contains the nutrients ideal in preventing the health issues that stem from the Poodle side of the Sheepadoodle like vitamin E and omega 6 fatty acids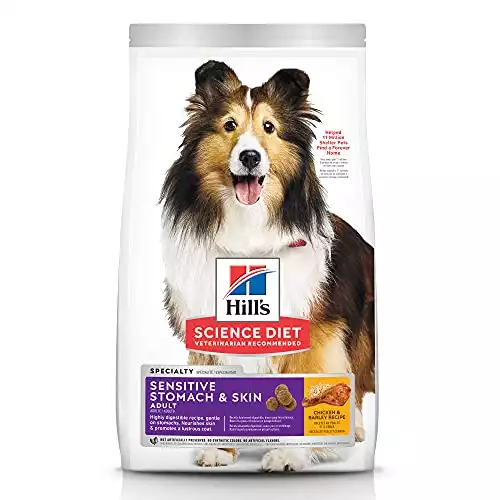 Contains the nutrients ideal in preventing the health issues that stem from the Poodle side of the Sheepadoodle like vitamin E and omega 6 fatty acids
Another universal classic, Hill's Science Diet dog food.
Specifically made to give your dog a well balanced meal with all of the necessary nutrients and vitamins.
It uses chicken as the main protein and pairs it together with barley to provide a source of fiber to help aid with digestion.
Aside from that, it covers all of the necessary aspects a Poodle crossbreed like the Sheepadoodle would need to help mitigate the potential occurrence of the health issues that get transferred along with the genes.
Vitamin E is the crucial one in this case as it helps improve cognition and improve eyesight, safeguarding the ocular nerves from degradation and keeping them in as healthy a condition as they can be.
Then there are the Omega 6 fatty acids, a mainstay in any high quality dog food that helps improve skin health by reducing rashes and helping hydrate it while also keeping their hair silky smooth and incredibly strong.
The aforementioned addition of barley also helps bring in some prebiotics to help further strengthen your dog's immune system and overall gut flora for the sake of digestion.
This makes it an especially good choice for Sheepadoodle puppies who may need that extra dose of prebiotic fiber.
Amino acids are another big player in this batch that come in with the protein to help repair any damaged muscle tissue and act as a bit of extra reinforcement for their immune system.
All of the ingredients used are completely natural and there are no artificial additives, flavors or fragrances in this extraordinary food option.
It even comes as recommended by veterinarians nationwide.
Speaking of nationwide, this product is fully made in the US which holds merit to all you folks out there who like buying local.
However, this stellar option that's considered one of the best puppy food options and one of the most easily digestible ones is not without its drawbacks.
The price, for one, is double that of standard kibble, if not more which puts it way above the price range for a good number of dog owners, or severely hampers their budget for other stuff.
It's a great choice to go for every now and then, especially if your dog ends up having some health problems regarding his digestion so he can have something easy to digest to consume, but I don't know if it's a solid regular use option.
Royal Canin Medium Breed Adult Dry Dog Food
Key Benefits:
Great option for adult dogs as well as pups thanks to the addition of DHA and EPA fatty acids

Uses all natural ingredients with a healthy mix of essential proteins and nutrients

Unique kibble shape encourages dogs to chew their food instead of just swallowing it, promoting healthier digestive and eating habits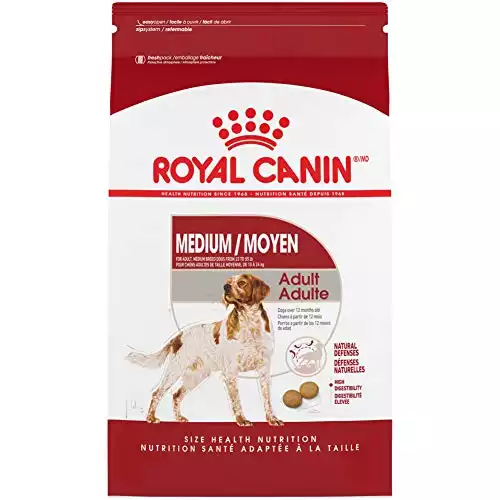 Unique kibble shape encourages dogs to chew their food instead of just swallowing it, promoting healthier digestive and eating habits
Royal Canin is yet another well known and well respected dog food brand with relatively affordable kibble.
It's made to accommodate medium dog breeds, at least this specific one is, but there are options for small and large breed dogs too, should the need arise, or if you have another dog of a different breed in your household.
Using chicken fat and chicken by-product meal as the main ingredient and paired together with brewer's rice, the Royal Canin may have a simple recipe, but it's an effective one.
However, it's not all about the recipe itself, but the minerals and nutrients held within.
It contains EPA and DHA, both essential nutrients for Sheepadoodle puppies even though the food is branded as adult food.
They're Omega 3 fatty acids which are responsible for keeping the dog's skin healthy, hydrated and free of rashes and other forms of irritation, not to mention, the sheen they leave on the fur.
Aside from the fatty acids, you'll also find antioxidants to help protect your precious pooch's body from the degradation caused by free radicals, as well as a healthy dose of prebiotics to strengthen their immune system.
The unique shape of the dog food is what sets it apart from its competition as it's meant to encourage proper chewing and swallowing, to meter your dog in his consumption.
The price, while higher than average, still falls under the more affordable option.
Oh, and if you're having doubts about it, know that it has the "Amazon's choice" tag awarded to it, so there's at least some merit to their claims.
The only issue that you're likely to face with it comes from actual shipping as the bags seem to often get damaged during transport, so make sure to look over your delivery and see if you can get a return in case damage occurs.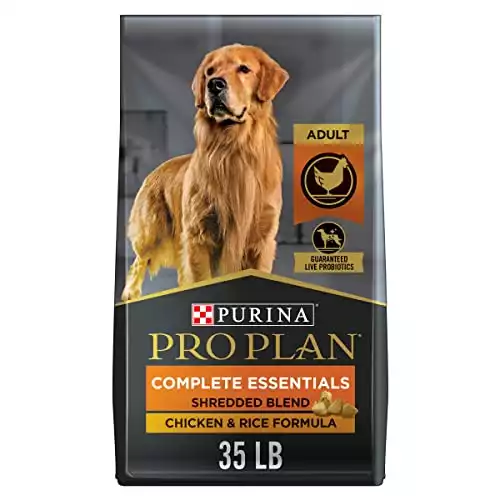 The next brand of dog food is yet another popular one, Purina Pro Plan with their high protein dog food entry.
The one presented here, once again, is that of chicken as the main ingredient paired with rice as a healthy source of fiber to make digestion of the kibble a lot easier.
There are a few other flavors, mainly swapping out the protein for either shredded beef or salmon. Feel free to pick the one that your dog likes the best.
Aside from the flavor palate, the protein to fat ratio is high as it's meant to provide your dog with the high energy amount standard Poodle crossbreeds often require like the Sheepadoodle, Labradoodle, Goldendoodle and others.
The probiotics present in the food help boost the overall immune system by allowing your dog's gut flora to flourish.
The Purina dog food also contains vitamin A which has several functions, one of which relates to improving eyesight while the others are there to boost the immune system or to help stimulate organ growth.
Omega 6 fatty acids are present too, of course, no self-respecting kibble would be caught dead without them in the mix as they're the key ingredients in better skin and coat health.
The caloric content isn't all that crazy, coming in at about 387 calories per cup.
If that's not an accurate enough clarification for you, the people at Purina have kindly provided a chart on the back that you can use as a rough reference guide on how much food your doggo should be getting based on his weight.
Price wise, it's pretty standard fare, coming in on the more affordable side of things with 4 different size options to choose from: a 6 pound bag, an 18, a 35 and a 47 pound one.
Do, however, keep in mind that both corn and gluten are present in the food as meal which may end up causing an allergic reaction in some dogs.
If your canine companion falls under that category, you may want to skip this option for a different one.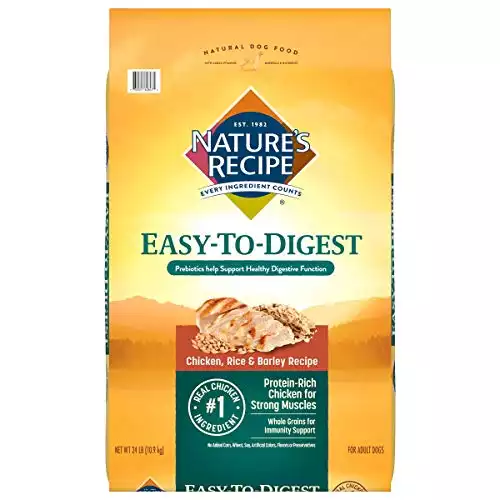 If you need a more affordable alternative to Hill's Science Diet for easy to digest food, then Nature's Recipe may be just what you're looking for.
Using real chicken as the main protein paired with brewers rice and barley as sources of healthy fiber, the package serves as a pretty neutral base that can be added on further.
Aside from that, we have the standard package of vitamins and minerals that help your dog meet his daily nutritional needs if fed adequate amounts of kibble.
It's chock full of prebiotics that improve the digestive system in terms of food processing and nutrient absorption.
The food, while containing grains, doesn't contain the common grain allergens like wheat, soy or corn.
It's also free from any artificial preservatives, colors, flavoring or otherwise harmful chemicals to dogs.
The calorie count is relatively small, coming in at 344 calories per cup, and they also have daily feeding guidelines printed on the back of the bag that you can use as a reference for your Sheepadoodle.
Cost-wise, it's one of the more budget options out there and is decent for its cost.
Some people complain that the bag isn't of great quality, but that's about as much of a downside as I could find with this food option.
Taste Of The Wild High Prairie Canine Grain-Free Dry Dog Food
Key Benefits:
Uses bison as the main protein paired with sweet potatoes and peas as a fiber supplement and some chicken and lamb meal for added flavor

Contains Omega 3 fatty acids to preserve the quality of your dog's coat and skin

Dog-specific probiotic and prebiotic groups help boost the immune system as well as the dog's digestion to be more resilient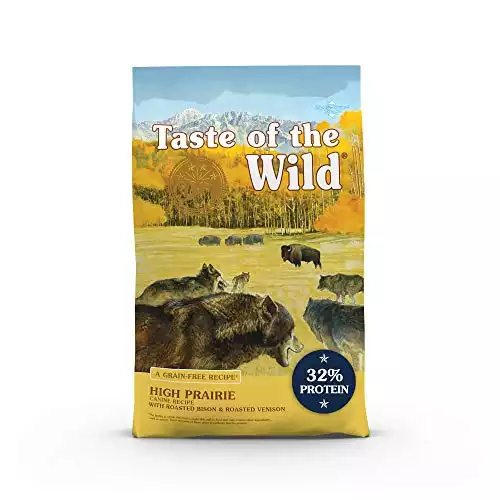 Taste of the Wild brings one of the less standard flavor options on the table, bison and venison, something to break away from the standard chicken mix.
And most of it is proper meat with a little bit of chicken and lamb meal added for some difference in flavor.
This is all supplemented by peas and sweet potatoes to add some fiber and to make the meat go down easier.
The food contains omega 3 fatty acids, a core nutrient for a dog's coat and his skin in order to preserve their quality and prevent any issues like fur falling off or skin rashes.
You'll also find k9 strain probiotics, great for boosting your dog's digestive system and promoting growth of their gut flora.
Prebiotics are in there too for that same reason, and antioxidants are present too to give the body an overall boost and to help protect it from free radicals.
It also has the standard array of nutrients and vitamins essential for your Sheepadoodle's body to function.
What it doesn't have are any common grain allergens like soy, wheat or corn so you can rest easy knowing your pooch is a lot less likely to have an allergic reaction to this food brand.
And, Taste of the Wild is fully US made with locally sourced bison meat that has met our rigorous standards of quality, so you know you're getting the good stuff.
After all, they do have the "Amazon's choice" tag there for a reason.
It contains no artificial ingredients, flavors and the like or any hazardous chemicals that may put a damper on this exquisite flavor experience.
It does contain 422 calories per cup so dosing may be slightly difficult, but the people over at Taste of the Wild have provided their buyers with a handy feeding guide on the back of the bag.
Speaking of the bag, you can get bags in three different sizes, be it 5 pounds, 14 or 28 pounds.
As for other options, you can get either this specific one which is the "Grain-free adult" option, the same one but for puppies, or, if your doggo is fine with consuming some grains, you can get the "ancient grains" option.
The price is very reasonable, less than a good portion of the other options listed here, though that has to do with the lower bag options. Still, the cost should be acceptable for the average dog owner.
The only bad thing relates to the actual delivery of the product which tends to not handle these products with care overall, and some users have reported that the food would give their dogs some nasty gas.
If that's the case with your canine companion, I do hope you can crack open a window fast enough or that you have good ventilation.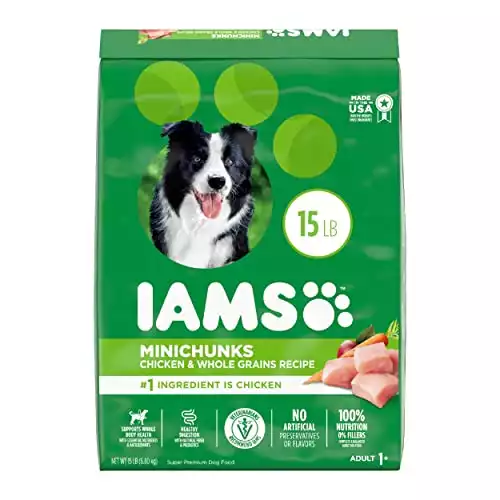 If you're looking for a proper budget pick that's extremely popular with many other users, IAMS may be the right option for you and your precious pooch then.
They pride themselves on their farm-raised chicken as one of the juiciest, especially when paired with their whole grains that help make it into a more balanced meal.
It contains flaxseed too, a great source of omega 3 fatty acids, which, by now, I'm sure you know that they improve the quality of your dog's skin and fur while preventing any issues regarding them like hot spots and rashes.
Antioxidants are a core part of IAMS dry dog food too as they help give the body a boost and improve your dog's overall lifespan by protecting organs from wear by free radicals.
Prebiotics are there too to aid in digestion and immune system response against harmful bacteria and similar.
The one unique thing about them is that they offer their dry dog food in a smaller pellet size.
However, this is a double edged sword as larger dog breeds have a harder time dealing with these while small ones have a much easier time picking up, chewing through and digesting these.
The food isn't that fattening either, only about 380 calories per cup, and there's an easy feeding guide to follow on the back of the packaging so you can better measure the amount of food your doggo should be consuming on a daily basis.
And the price? Well, when comparing their 30 pound option to the others on the market, it comes down to being a dozen dollars cheaper than the average as of writing this article.
I'd say that's a pretty generous cost for the benefits that this kibble provides.
Oh, and if you don't want the 30 pounder, you have 3 other size options to choose from with the small 7 pound option and the middle ground 15 pound one.
Finally, if you're looking to get some wet food for your doggo too, you have the 13 piece set with 12 cans and a 30 pound bag for a discounted price.
Aside from the small kibble size that may not go well with large dogs, there isn't really anything else bad to comment on it aside from shipping errors or poorly stored bags, and some dogs simply not liking the flavor.
Before You Buy: Things To Be On the Lookout For
In all honesty, a lot of products are pretty similar, it's really just the small details that end up being the clincher.
Plus, your dog is most likely going to be the one to decide these things for you depending on what fits him and what doesn't.
However, there are plenty of bad options out there that one needs to be wary of.
In order to find the dog food with the best traits, there are a few elements that you should be on the lookout for, like:
All-natural Ingredients
The first and foremost trait is going for naturally sourced products that aren't laced in all sorts of chemicals and artificial ingredients that only dilute the quality of the product for the sake of mass production.
Not to mention that these chemicals and other artificial nonsense are some of the main causes of the many health issues our poor pooches have to deal with.
Quality Protein
The protein is the star of the show in any meal, dogs and humans alike. For dogs, the best options are usually beef and chicken with salmon being the least desired of them all.
It's not bad by any means, but it's less satisfying for the dog and more likely to be rejected.
A Healthy Dose Of Nutrients And Minerals
Of course, good food wouldn't be good if it wasn't nutritional to a degree.
The best food for dogs in general is going to be one that has stuff like Omega 3 and 6 fatty acids for skin and coat health, pro or prebiotics to aid digestion and immune system response, antioxidants for overall bodily health and the like.
For Sheepadoodles specifically you'll also want vitamins and nutrients that help improve eyesight and overall eye health like vitamins A and E.
For dogs with bone and joint issues, you'll want to find sources of glucosamine and chondroitin.
The list goes on and on, and if you're looking to deal with a specific ailment, I suggest asking your dog's vet for the specific nutrients you should be looking out for or a dog food recommendation in general to help treat what ails your pooch.
Watch Out For Allergens
Dogs, much like any human, can have allergies, and, even though the Sheepadoodle is a hypoallergenic breed to us, it doesn't mean that he can't have any allergies himself.
The most common allergies are ones related to grains like corn, wheat and soy, so avoiding those may be smart if you know your dog is allergic to any of the three.
Gluten is another one to be on the lookout for, as is chicken itself, but to a much lesser degree.
Affordable Pricing
Finally, the dog food you find may be the most amazing thing you've ever seen, but if its price isn't reasonable, chances are low that you'll be buying them regularly.
Try limiting your search to your budget, it should narrow down the options considerably and make it easier for you to find the best dog food for your Sheepadoodle.
FAQs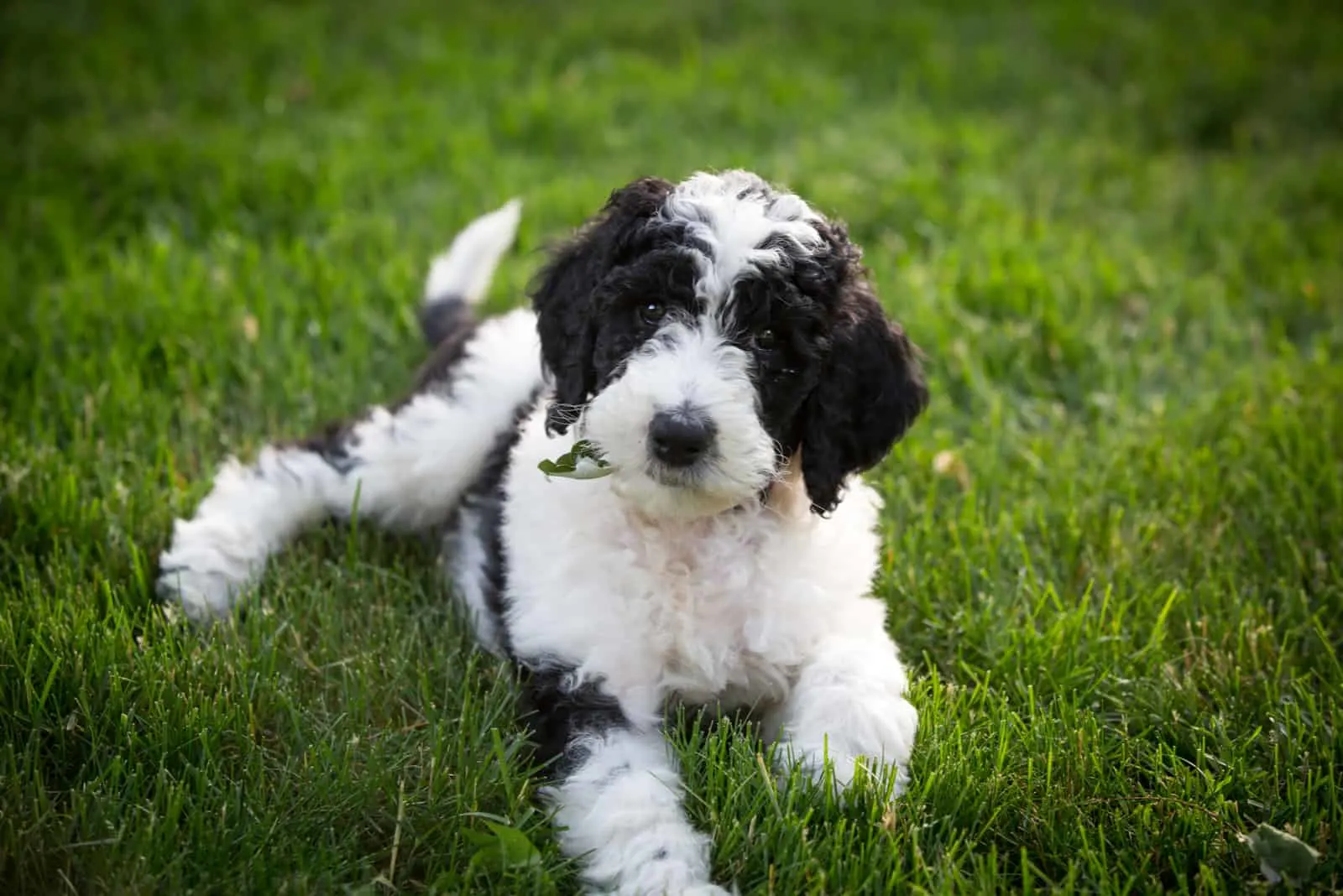 What Else Should I Be Avoiding When Looking At Dog Food For Sheepadoodles?
If this is your first time getting food for your dog, I'd advise avoiding stuff like meat by-products and meals like lamb and chicken meal.
These often translate to calorie bloat without much benefit and the only thing they aid in is earlier obesity in dogs.
The same goes with unhealthy carbs. Try finding foods that have healthy carbs in them or ones that cut down on them quite a bit.
Make sure to always go for high quality food, even if it means having to pay a bit extra. A good diet is the foundation of good health alongside exercise and the like.
This is especially true for Sheepadoodles and any Poodle mix given their high activity levels on average and high requirements for daily physical activity.
I advise avoiding some of the standard no-go foods for dogs too like chocolate, nuts, garlic, onions, peppers, avocados and the like.
What Are Some Common Health Issues That Sheepadoodles Have To Deal With?
No dog is medically perfect, they'll always have some issue that they're more or less likely to contract.
While the Sheepadoodle has some hybrid vigor and is less likely to develop the issues that plague his two parent breeds, the old English Sheepdog and the Poodle, they are still susceptible to them, just like his fellow doodle breeds.
Eye degradation and skin issues being the main culprit, as well as various problems with joints in his old age or bloat.
That's why the type of food is adjusted to different standards as the dog ages and has 3 different categories: puppy, adult, and senior.
What About Homemade Pet Food?
I have briefly mentioned it earlier, but homemade food is a great alternative if you can find a good and cheap recipe.
Though, it's best to stick to brand dog food as it's more likely to have all the needed nutrients.
That said, making stuff like bone broth or gravy to act as food toppers for dry dog food are always going to be a delight for your family dog, and should be given every now and then.
Just make sure to avoid foods that are toxic to dogs when prepping your homemade stuff.
Will The Size Of My Sheepadoodle Affect His Feeding Habits?
Size rarely has any effect in a dog's diet aside from pellet size for which there are different options for.
Whether you have a mini Sheepadoodle or a standard one, your dog will like the same food as his counterpart would, barring personal preferences.
In Conclusion
Most breeders will agree that the best dog food for Sheepadoodle dogs and their well-being is the one that's made all natural and contains the necessary nutrients and minerals to meet his daily needs.
You don't need anything more than that, if I'm being honest unless your dog needs to have a specific problem treated.
Should that be the case, I suggest consulting your dog's vet or a certified pet nutritionist on the matter.
Other than that, I'm sure that you'll be able to figure out what your dog likes best. Until next time.
RELATED LINKS:
• 11 Best Sheepadoodle Breeders In Ontario
• Best Dog Brush For A Sheepadoodle: No More Mats And Knots
• Do Sheepadoodles Shed? All You Need To Know Before Buying
• Are Sheepadoodles Hypoallergenic? Here's The Real Answer!
• The Sheepadoodle: Another Breed Of Doodle That You'll Love!
• F1b Sheepadoodle: The Right Dog For You? Find The Facts Here!
• Micro Sheepadoodle: 17 Things To Know About This Crossbreed