This post contains affiliate links, and I will be compensated if you make a purchase after clicking on my links.
Everyone deserves to eat healthy and nutritious food. This goes doubly for our furry friends, but what are the best dog foods for pugs?
Well, much like with humans, the de facto best dog food for pugs isn't one particular brand of food.
It changes from dog to dog as each pup is unique on its own, with different nutritional needs and feeding habits.
It's on us as owners to figure this out through trial and error and determine what wet or dry dog food is best for man's best friend.
Luckily for you, I've gone through the trouble of scouring the internet to find which of the many different types of dog food work best for a small breed of dog like the Pug, with the pros and cons of each one clearly laid out.
Do be sure to read on to determine which one fits your pooch the best.
10 Best Dog Foods For Pugs
First on the list is a rather famous brand, Royal Canin, known for their specialized approach to dog food for each popular breed of dog, and the Pug is no exception.
Made For Pugs
Royal Canin Pug Adult Dry has been tailor-made to help purebred adult Pugs (10+ months of age) fulfill their daily nutritional needs.
The Benefits
It's chocked full of necessary vitamins, nutrients, calcium, and Omega-3 fatty acids like fish oil, DHA, EPA, L-carnitine, and precisely measured levels of protein per serving that'll keep your pug physically healthy.
These same measurements ensure your dog won't be gaining much excess weight either while maintaining proper muscle tone. What little fat ends up accumulating can be melted off with his daily walks.
The fish oil itself helps maintain healthy skin in Pugs as well as provides them with a shiny, lustrous coat. It can be found in the anchovy oil and chicken fat that's put in the food alongside the other Omega fatty acids.
Smaller Pellets
Even the shape of the food was made smaller and softer, taking the shape of the Pug's mouth and his biting strength into account to provide a more enjoyable meal than when feeding him generic kibble.
The said shape was also specifically chosen because it's easier to digest so your Pug's little tummy doesn't strain itself too much when he's eating, allowing him to remain a bit more active.
This is further supported with ingredients like beet pulp, oats, and rice, which help the food digest faster and with less gastric hiccups.
There are a few downsides, though, namely the chicken fat and other poultry by-products commonly found inside, as well as the presence of corn, both of which could be a potential allergen for your little friend.
Should it cause problems, it's best to choose a different brand so as to not create problems for him.
Another minor issue is the lack of fiber in the dog food, which is easily remedied by adding some sort of fiber supplement to your doggo's food portions; otherwise, you may be looking at one constipated canine.
Next up, we have dog food made from some of the finest ingredients found worldwide, all brought together to provide your Pug with an amazing taste experience while still remaining a healthy option.
Made in the USA, this premium kibble may not be tailor-made for Pugs, but it does have a smaller size that accommodates every small breed of dog.
Don't worry, though, they're not skimping on any of the ingredients just because they've shrunk the pieces.
The Ingredients & Benefits
Each of them still contains a healthy amount of proteins, omega-3 fatty acids, probiotics, taurine, glucosamine, various amino acids, and antioxidants to keep your pupper fit and active.
On top of that, your dog gets a delicious mix of meaty flavors with the addition of salmon meal and chicken meal, as well as chicken fat as the base, with peas and lentils added in as healthy carbs.
You can even find some non-meat ingredients added in like flaxseed, spinach, and even blueberry in order to bring variety to the food's flavor profile.
No Refined Grains
The addition of whole grains helps cleanse their gut fully in order to help minimize any gastric woes that can occur with dogs over time.
The probiotics mentioned before help strengthen your dog's immune system in order to defend it from any nasty disease.
Meanwhile, the addition of glucosamine and antioxidants strengthen the body as a whole, reducing the risk of inflammation, heart disease, and the like.
The presence of Omega-3 fatty acids helps keep their coat shiny as well as promoting healthier skin.
While dogs normally prefer wet over dry dog food, the Wellness Complete Health option might change their minds. I know it'll turn you around when you look at all these health benefits.
And, that's not even all of it.
Minimal Harmful Ingredients
The people over at Wellness went the extra step to ensure that the food is free from as much questionable content as possible.
Throwing things like artificial preservatives, various GMOs, ground up meat by-products, and other fillers out shows you just how much they care about your pooch and his quality of life.
Small-breed Friendly Bites
They've even reduced the size of each individual piece, much like Royal Canin did, so your Pug has an easier time chowing down.
Unfortunately, nothing is perfect. There are a few minor downsides, though nothing too major.
The first thing that comes up is the strong odor of the salmon oil that supplies the food with Omega-3 oils. It's a scent that dogs don't really take kindly to. Some may straight up refuse to eat it altogether.
The other issue is the white potato presence that's known to make dogs smell up the place. Your dog may not mind it too much since it won't cause him many digestion problems, but you may wish you had a gas mask if your buddy lets one rip.
Another meaty treat for man's best friend in the form of dry dog food, and top contender for the title of best dog food for Pugs, is American Journey's own brand of pet food.
The Ingredients
While meat is certainly the star of the show for the most part, with five different options in various mixes of high-quality protein like venison, lamb, duck, turkey, and salmon, there are a number of complementary bits that enhance the flavor experience.
These are flaxseed and sunflower oil, to be a bit more precise, with the former providing a healthy source of Omega-3 fatty acids while the later gives your Pug access to Omega-6 fats, both equally important in skin and coat health.
The Benefits
Most importantly, these natural ingredients help provide a balanced diet while meeting the nutritional requirements that every Pug needs to meet in order to stay healthy and active.
The limited ingredient Lamb & Sweet potato, grain-free recipe variant packs in some extra vitamin A in case your dog is struggling with his sight or if his immune system needs an extra boost.
Good For Sensitive Stomachs
Not to mention that sweet potatoes are an amazingly healthy source of carbohydrates and the fact that the mix is grain-free means it's a good choice for dogs with certain allergies.
High Protein Content
Another type of ingredient that you'll find in American Journey's line of small breed dog food is various types of meals, namely lamb meal, turkey meal, venison meal, duck meal, and fish meal (salmon, to be more specific).
Their purpose is to provide a more concentrated protein source alongside the actual meat; that way, the individual pieces can be kept small while retaining everything needed for a healthy dog's diet.
Grain-free
The best part of it all is that there are no traces of wheat, soy, or corn in case of allergies, nor is there any poultry by-product meal since those tend to be a bit more questionable.
All-natural
The lack of artificial preservatives, artificial flavor, and artificial coloring helps maintain your adult dog's digestive health at its peak, allowing him to keep his activity levels high without having to rest after feeding time.
The American Journey food brand is all about bringing the best of flavors to your dog without bringing extra health issues to the table.
That said, the issue that's prevalent in most forms of adult and puppy food that use salmon oil plagues American Journey, too, and that's the potentially off-putting smell that may make your dog lose his appetite.
It's also one of the more expensive food brands, though for good reason, considering the various types of meat alongside the mix of other healthy ingredients that make up this canine feast.
Another Wellness brand option, this one is aimed specifically for dogs with health problems revolving around allergies.
The Ingredients
A grain-free variant of the classic small-breed dog food packed full of flavor from deboned chicken and turkey meat, a dash of salmon oil, and a variance of fruits and veggies, including apples, spinach, blueberries, and carrots.
The ingredients are precisely measured to allow dog owners to keep their small dogs at a healthy weight.
The Benefits
The high protein and low fat content help build the foundation for building and maintaining lean muscle tone in Pugs by giving them the energy they need to zip around and lose some excess body weight if need be.
The omega fatty acids help Pugs maintain their shiny coat color while all the other essential minerals and nutrients like glucosamine and chondroitin, as well as probiotics, help strengthen overall bodily function.
Grain-free And Gluten-free
The main draw of this specific version of Wellness dog food is the fact that it contains no soy, corn, or wheat and other grains.
It's free from any meat by-product as well as other fillers and artificial flavors, preservatives, and colors that come with them.
Small Bits For Small Dogs
The dog food itself is made into smaller bits to help smaller dog breeds eat with little issue, as is tradition for the Wellness brand.
Allergy Warning
While everything seems fine and dandy, there is still something that should be taken into account, and that's that some packages of Wellness CORE may not be entirely grain-free.
The same plant that processes the food also works with grains, meaning traces of it could transfer over to the food and still lead to a mild allergic reaction with your pooch.
While new on the list, Purina Pro Plan is one of the most famous dog brands globally, so it's no wonder they'd have a few kibble blends for small dogs in contention for the best dog food for Pugs.
The Ingredients
The base of the food is real chicken meat; a staple of almost any standard kibble, mixed with Rice Formula for an authentic lunch experience.
The Benefits
You'll also find a variety of botanical oils that provide the dog food with EPA, DHA, and omega-3 fatty acids, as well as vitamin B, arginine, and antioxidants, all to help support proper mental development in dogs, sharpening their cognitive skills.
Precisely-measured Ingredients
Targeted more for dogs ages 7+, it helps provide a balanced and precisely-measured mix of ingredients and fat-to-protein ratio to help regulate weight gain and prevent canine obesity; something that's easy to slip up on with smaller dog breeds.
Each piece of food is scaled down to make it easier for small dogs, especially Pugs and their genetic neighbors with flat snouts, to get the food in their mouth easier.
This is a less-known brand that still holds up to the industry giants, fighting off with high quality and affordable pricing.
The Ingredients
Using roasted bison and venison, this dog food has a rather unique base that draws customers in, with a few added extra ingredients like sweet potatoes for high fiber content and antioxidants from other fruits and veggies.
Some variants even take dried chicory root and mix it in for the abundance of prebiotics and ease of digestion.
The Benefits
You'll also find a plethora of essential minerals and nutrients that provide small breed dogs with amino acid, boosting the efficiency and speed of nutrient absorption from foods, like a booster pill.
Good For Sensitive Stomachs
What it doesn't have is grains, but instead, it replaces the carbs with sweet potatoes and peas for a more tummy-friendly option.
Budget-friendly
Other than grains, the food is also free of any artificial color or flavor as well as wheat or corn and, despite the unique flavor combination, it's one of the cheapest options on offer by a large margin.
One of the more luxury options on this list is Eagle Pack Original, offering a healthy, whole grain brown rice option for dogs with issues digesting more refined grains.
The Ingredients
The soft lamb and the tasty brown rice are used as the base for this dog food, without any added artificial preservatives, color, or flavor.
There's no wheat or corn either, or any meat byproduct, keeping the overall caloric content relatively low.
The Benefits
It does, however, contain a varied ingredient list that provides your pupper with vital nutrients and minerals like glucosamine, various antioxidants, and Omega-3 fatty acids to keep every aspect of him as good as new.
Given the abundance of health issues that Pugs tend to have, Eagle Pack dog food is a blessing considering it was tailored specifically for small breeds, making it one of the best dog foods on the market for Pugs.
This doesn't come without its drawbacks, though, as the taste is relatively simple compared to some other options, which may lead to your dog getting bored of the flavor after a while.
There's also the matter of the price being one of the most expensive available options, at least from this list, though if it helps circumvent your dog's digestive sensitivities, it's more than worth the extra few dollars.
That, and it's a product entirely sourced from products found around the USA, so you'd be supporting the local economy with each purchase.
This is the puppy variant of the first-mentioned Royal Canin option, one that starts your little pupper off on the right foot when it comes to a doggy diet.
The Ingredients
While not the highest-quality ingredients as the main one is chicken by-product meal, it'll ensure that your dear furry friend gets an abundance of protein necessary for him to grow strong.
The Benefits
It also features a good concentration of amino acids for proper development and maintenance of lean muscle fiber.
The presence of fish oil provides your puppy with a healthy amount of omega-3 fatty acids, ensuring his coat grows out soft and shiny.
Small-dog Sized Pellets
The food is easy to pick up and swallow, thanks to the appropriated, smaller sizes of each individual piece specifically tailored for Pugs and other small breeds to have an easier time with.
It's an enormous help for pups learning to eat dry dog food as it helps them work out how to properly utilize their developing jaw without having to strain themselves too much to get food in their bellies.
With all that said, there are a few downsides to it, too, and I'm not just talking about the by-product main ingredient.
Carb-heavy
It's loaded with carbs from the brewer's rice and corn, which is justifiable considering it's puppy kibble, but it shouldn't be used once your dog is out of the pupper stage.
The presence of corn in the mix makes it a less than ideal option for dogs with sensitive stomachs.
Other than that, it's a solid pick for any puppy starting out on his gastronomic journey.
A wet food contender is thrown into the mix when you want to spoil your dog with an extra special treat that he'll go nuts over, Purina Bella provides a large number of benefits.
The Ingredients
The main protein is chicken; the meat of choice that helps build lean muscle and maintain the desired small breed weight.
It's further supplemented by the addition of potatoes, which serve as an excellent source of fiber, keeping hunger at bay for longer.
Then, there are carrots, which provide a healthy source of carotenoids, and help reduce the risk of heart disease as well as adding some extra texture to the dish.
Grain-free
The pate is completely grain-free, making it an ideal choice for puppers with sensitive tummies.
Other Benefits
It contains the standard array of necessary minerals and nutrients that keep your dog's immune system and overall body in peak form.
Precisely measured ingredients help meet the daily nutritional needs of man's best friend.
On top of all that, it's completely devoid of any artificial preservative, coloring, and flavor, meaning it's an almost all-natural product.
And, seeing as it's not dry, but rather wet dog food, you don't have to worry about its size as your Pug will easily be able to dismantle it and swallow it with little issue.
The only real problem here comes with the price tag, which is normal for all wet food, considering the freshness, quality, and overall enjoyment the dogs get from eating it.
While it may seem less on paper, the prices shown for wet dog food are usually only for one serving, while the dry options can last you for a good number of bowl refills.
Finally, we have one of Chewy's and Amazon's highest rated dry dog food options, Hill's Science Diet.
While the rating itself may not be a good representative of the non-prescription product, the prescription options are what rank them so high because they'll tailor the food to your dog's specific needs.
However, this process tends to get quite pricey, which isn't in everyone's budget, so we have to settle with the former.
The readily available versions aren't all that much cheaper either, ranking among some of the highest on this list, but you do get a lot of bang for your buck.
The Ingredients
The main ingredients are a mix of chicken, peas, rice, and barley, making for a solid foundation in order to maintain an ideal weight and muscle tone in small dog breeds.
All of this helps provide the standard for every good brand of dry food out there with essential amino acids, vitamins, and minerals added in.
Smaller Than The Rest
The food is smaller than even its competitors, giving Pugs an even easier time consuming it, though the roundness detracts from that ease of consumption.
A Bit Too Salty
There are a few other problems, namely a high salt quotient, which can be quite unhealthy if given in large amounts, as well as the presence of gluten, making it less than an ideal choice for dogs with sensitive digestive tracts.
Other than that, it's still one of the best options for small dogs out there, and it shouldn't be skipped in favor of other products if your dog has no issues with gluten.
6 Things To Keep In Mind When Buying Dog Food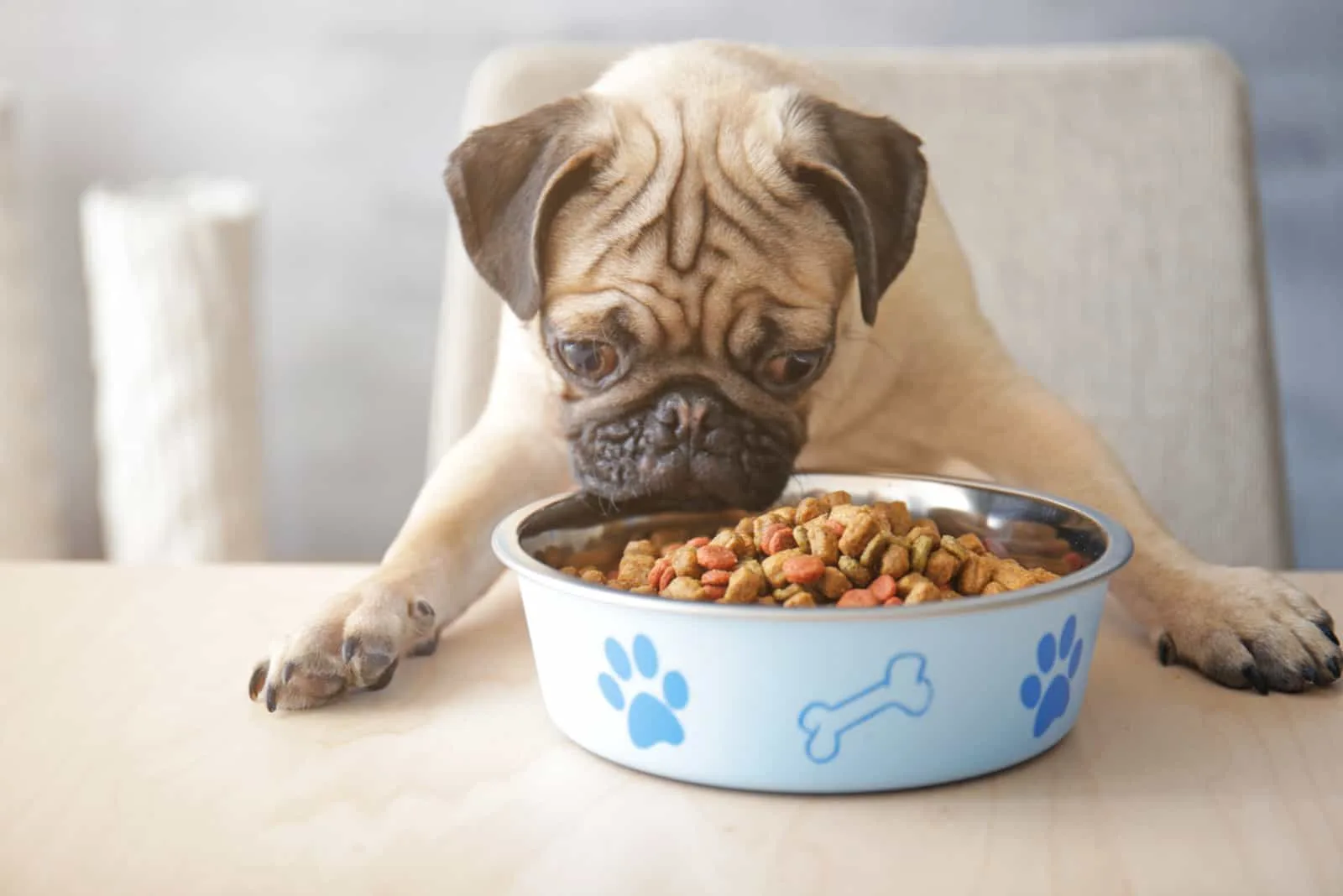 With the top contenders listed, it's still worth noting that just like humans, every dog is different, and thus, will have different preferences.
Pugs specifically have a few things to look out for when buying food for them, and I'm not just talking about food allergies.
1. Small Kibble
The first thing to keep in mind is that the best dog food for Pugs is going to offer you smaller kibble bits.
This makes it a lot easier for Pugs to pick the food up into their mouth, making eating enjoyable rather than a chore.
2. Omega-3 Fatty Acids
The next thing to note are Omega fatty acids and other ingredients that are beneficial to maintaining healthy canine skin and hair since one of their main problems is their wrinkled skin, which is prone to skin dermatitis.
Eating food that supports better skin health will help reduce the risk of the said inflammation occurring (though you should still wash your dog regularly to reduce it even further).
Aside from these, there are a few more standard things to look out for.
3. Alternate Between Dry And Wet Food Options
While your dogs can do perfectly well on a strictly dry dog food diet, it's good to surprise them with a wet option every now and then, or whenever you can afford it.
Alternatively, it's not good to always give them wet dog food. Not just for your pocket's sake, but dry food helps train their jaws, which helps them in the long run, while the wet variant is a lot mushier.
4. Don't Stick To Dog Food Alone
While certainly the healthier option is to just use dog food, you know that your Pug will want a piece of whatever you're eating every now and then, and it's no sin to spoil them with a bite here and there.
Just make sure that whatever you're giving him is safe to consume by dogs, and that you're not doing it too often. The obesity line is easily crossed in smaller dogs after all. So, avoid salty foods like spam, fried food like fish sticks, or anything spicy like wasabi paste.
5. Pricier Doesn't Always Mean Better
Look at the ingredient list of the food you're intending to buy. You'll be surprised just how many similarities some cheap options have to their more expensive counterparts.
6. Buy According To Your Pug's Needs
Continuing off the price point, try looking for the food that manages to cover everything your pup needs and stick to it. Some of the more expensive foods may not have what your dog may need while a cheaper variant will, even if it means lower-quality ingredients.
For instance, a friend of mine gets her Pug Blue Buffalo dry food because it helps alleviate tartar build-up on teeth, it is an overall healthier option for her pooch, and it's less expensive than the next thing above it that offers the exact same things.
FAQs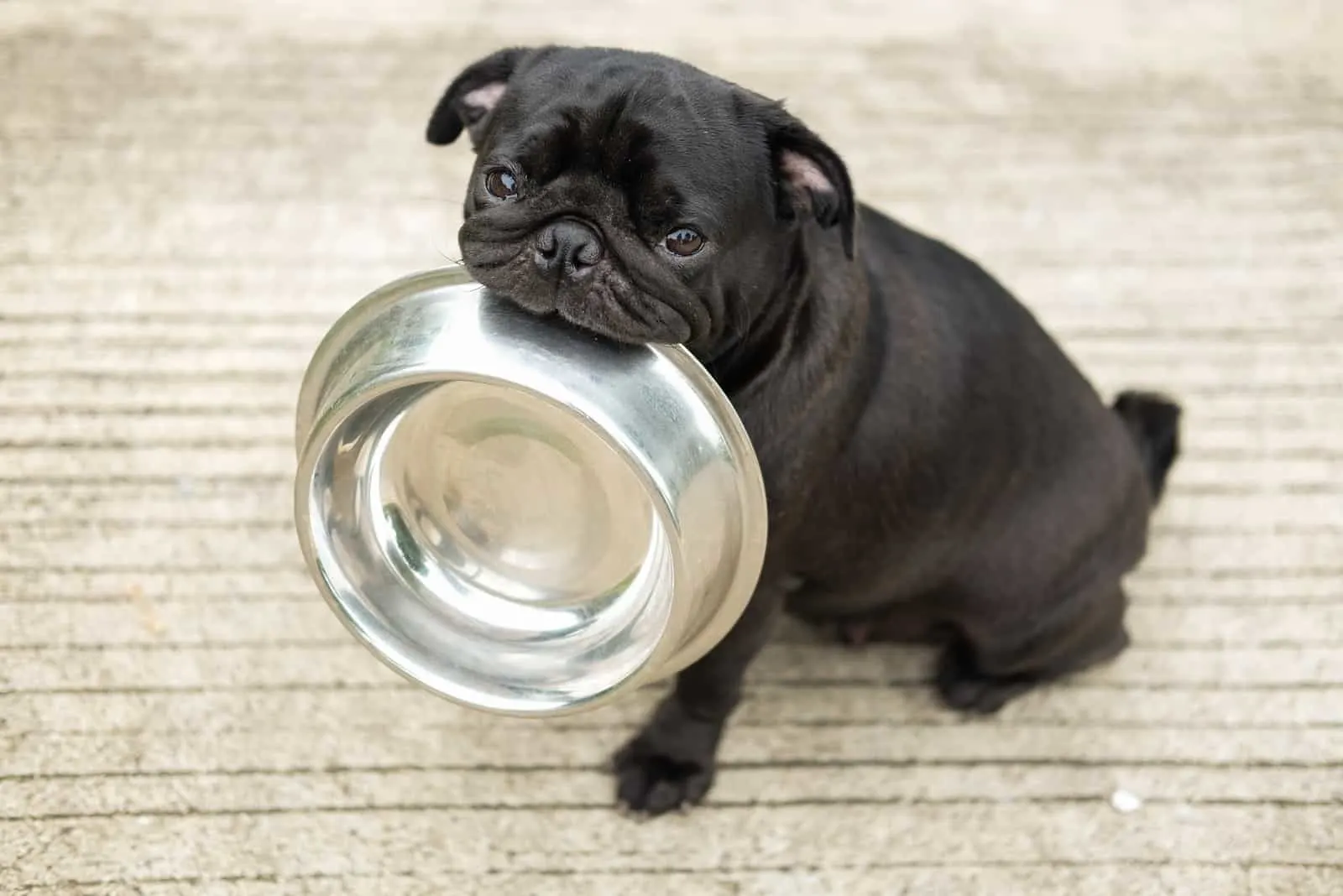 What Is The Best Food For A Dog With Allergies?
You want to look for food that helps avoid using refined grains or other common allergens. From this list, your best choice would be the Taste of the wild dog food, but American journey comes in at a close second, if anything, for its price tag.
Is wet or dry food better for Pugs?
It's about the same, though a healthy mix of both is best.
You may want to skew a bit more toward the dry option, about a 70-30 split, if not 80-20 since wet dog food isn't good for their teeth, and can lead to loose stools.
But, using it as a treat every 4th or 5th time should be alright.
What Food Do Pugs Eat?
In case you run out of dog food and the stores are closed, you can resort to feeding your puggy friend some boiled potatoes, soft baby carrots, various types of lean meat, green beans, or some boiled eggs. They love the stuff.
How Much Should A Pug Eat A Day?
This wholly depends on the Pug's age. Ones that are still not a year old should eat about a third of a cup of food, twice a day.
If your doggo is older than that, you can increase the portions to half a cup, but reduce the feedings to once a day; twice if he's really hungry.
What Food Is Bad For Pugs?
Avoid food that can agitate their stomach. The most common culprits are garlic, mushrooms, onions, raw potatoes, avocado, and green tomatoes.
On top of that, avoid giving them anything that contains caffeine, including chocolate, though that one's a given.
In Conclusion
Finding the best dog food for Pugs can be a challenge at times since Pugs are a breed that requires a lot of care and attention, which they reciprocate with undying loyalty and affection.
With the many health issues that Pugs tend to have due to their flat face, PDE, and wrinkled skin, as well as the issues that are specific to smaller breeds in general, namely obesity, it can be difficult to find what suits your dog the best.
It'll come down to a lot of trial and error as well as label reading, but I'm certain that you'll eventually come to the decision that both you and your precious little puggo will be ecstatic about.
If you're still indecisive, give your Pug's breeder a call to see if he has some better insight into the matter. Until next time.