Disclosure: This post contains affiliate links, and I will be compensated if you make a purchase after clicking on my links.
Short-haired Pitbulls shed, and they require grooming more than you'd think. This dog breed has no double coat like the German Shepherd, for example. A Pitbull's skin is dry and prone to irritations. Therefore, sensitive skin needs proper care, good dog food, and the right grooming tools.
While long-haired dogs need pin brushes as well as grooming brushes with wire bristles, the Pitbull's coat doesn't need many types of brushes.
No detangling tools or clippers are needed. The best thing you can do is invest in good shedding brushes; maybe some brushes with a soft bristle side and rounded pins on the other side, and some nifty rubber gloves for short-haired dogs.
Pitbulls are huge shedders. All Pitbull owners know this, and you will soon see that not every brush for dogs will suit your Pittie. A Pitbull brush needs to be able to capture dead hair, and massage the dog's skin for the ultimate grooming experience. And, if the brush has a retract button for easy cleaning, even better!
Finding the best dog brush can be difficult if you don't know where to start. Lucky for you, we've got dozens of best brushes for a Pitbull that will steal your heart. Your search is now over, so you can focus on pampering your best buddy!
Only proper care will make your dog healthy and happy. The biggest part of their well-being is keeping their hygiene at a high level. That includes regular bathing, trimming, and brushing. But, brushing should be done only with proper brushes for certain dog breeds. You can't groom a short-coated dog with an undercoat rake!
But, you can groom a short-coated dog like our Pitbull by using slicker brushes! The FURminator has come up with a brand new line that will make a professional groomer out of you.
The brush features straight bristles on one side and curved ones on the other. With its dual-flex head, you can brush your dog following its natural curves. This means that your pooch will be brushed AND get a massage he'll enjoy.
Massaging the dog's skin promotes not only good blood flow, but it also stimulates the growth of new hair.
The FURminator's slicker has an ergonomic handle that fits comfortably in your hand. The brush is lightweight, and it won't make your hand cramp even during the longest brushing sessions. The best of all? It's easy to clean since it's made of antimicrobial plastic.
Dogs with short hair and no undercoat will appreciate gentle massaging and brushing with rubber brushes. Those rubber nubs collect loose hair like a magnet, and still make it easy for you to clean. Kong's ZoomGroom brush features those amazing nubs, but it's special for numerous other reasons.
First of all, this brush can be used either wet or dry. So, how do you use it wet? You use it as a shampoo brush! With this brush, you will be able to distribute dog shampoo evenly and massage it thoroughly into the skin. This ensures better effects, less shedding, and less dander or dry skin.
What else that reduces shedding is the brushing that comes afterward. Dog owners who have bought the ZoomGroom have proven that this brush really works AND reduces overall shedding.
The coat stays smooth, shiny, and healthy. Natural oils are distributed easily, which makes sure that the entire coat stays perfect!
If you commit to everyday brushing, then both you and your dog will find out that brushing is no big deal. A couple of minutes a day will truly make a difference, and the ZoomGroom brushing is a piece of cake!
Our love for self-cleaning products is widely known. What's not to like? You brush the dog and let the brush do all the dirty work. And, we really mean ALL of it! The Safari is proud of its self-cleaning slicker brush; one of the bestselling items on Chewy. We're proud, too, for trying it out.
The brush features retractable pins that close up with one push of the button. You get all the dead hair ready to toss in the bin. No mess and no dead hair flying everywhere. The Safari slicker actually contains stainless steel pins that won't hurt your dog's skin in any way.
Professional grooming will be done with minimum effort. All you have to do is brush from head to tail, and watch how the coat becomes shiny and smooth.
Pitbulls are huge shedders, even though they might not seem like it. During the heavy-shedding season, they can shed so much that you'll be covered in dog hair. Those brushing sessions can last a while. You don't want your hand to become tired, don't you?
Luckily, this slicker brush is very light, and it even has a comfortable grip to ensure that the brush will stay put.
Don't say we didn't warn you about the self-cleaning slicker brushes. Hertzko has come up with their own, and it's another favorite of ours.
With this brush, grooming, even during the shedding season, will be like a stroll in the dog park.
Hertzko's self-cleaning slicker brush will solve any knot, tangled coat, or matted hair patch no matter what kind of dog you have. Yes, even Pitbulls get tangled hair from time to time, especially if they've been outside rolling in the dirt.
Hertzko's unique bristles penetrate deep into the skin and brush out the coat, but don't cause any skin irritation. This is extremely important for Pitbulls since these good boys don't have an undercoat.
The brush massages their skin, leaving the blood circulation working like a clock, and all the natural coat hair distributed evenly. The result is a shiny and healthy coat.
Now, let's say a word or two about that awesome, self-cleaning function. All you've gotta do is press the retraction button and wipe away dead hair. The brush will then be ready for the next use. You will look forward to using Hertzko's slicker since it's not heavy at all, and it also features a non-slip handle for ultimate comfort.
We're used to FURminator's deshedding tools, but this brand has come up with a completely different dog brush, perfectly suitable for short-haired pups. We present to you the curry comb, by FURminator.
This comb is made for short- and medium-haired dogs, which makes it perfectly appropriate for your Pitbull. The molded rubber teeth catch dead hair and help get rid of any dirt.
While brushing, you promote good blood circulation, and distribute natural oils that every dog has in its coat. The coat will look shiny, and the dog will feel great. It's a win-win situation!
The entire brush is made by using antimicrobial plastic to ensure that no bacteria gets trapped in the brush to cause more problems. Also, the brush has an ergonomic handle, which makes it quite easy to use, even if you've got a lot of work to do. It fits all hand sizes, and it serves all Pitbulls ready to get a nice rub.
If your Pitbull enjoys bath time, chances are you're using some of the Bodhi Dog products, like their shampoos, or this excellent shampoo brush. Wait, you don't own a shampoo brush? What are you waiting for? You simply must own this baby!
This rubberized plastic brush comes with soft bristles that reach deep and clean your dog while giving it a massage, too. These soft bristles are excellent for getting rid of dirt trapped inside the dog's hair. Also, it scrubs off dead hair and dander, leaving the coat spotless and lustrous. The best part is that you can use it wet or dry. This is not only a shampoo brush, but it's also a great rubber brush for daily use.
What's so great about the Bodhi Dog Shampoo brush is that the oval shape fits all hand sizes, and it can even be used on other animals like ferrets, cats, or even guinea pigs. Households with multiple pets will love having this brush around.
Pitbulls should be brushed every day. However, if you simply don't have much time, you can do it a few times a week. What's important is to have a brush that won't feel heavy in your hand. After all, you're gonna be handling it all the time, and you need something that will make you feel comfortable.
Although Pitbulls don't have many tangles and knots, they can be a bit tricky to handle because of their extensive shedding. But, with a proper brush like this Gripsoft slicker from JW Pet, brushing terror will be over. Your dog will actually look forward to your sessions.
This brush comes with a rounded head and pins that are angled at 90 degrees, so they align parallel to the skin instead of being straight. This brush was made to prevent the so-called raking or scratching of the skin in order for a more pleasant experience.
The JW Pet brush has a non-slip grip and an ergonomically-designed handle to fit the natural curve of your hand. If you have to buy just one good slicker that won't leave scratch marks, go with JW Pet!
Who doesn't love a good wet and dry brush? The more uses a single brush has, the better! And, if it can replace multiple tools, it's winner winner, chicken dinner! This brush from Four Paws is the closest thing your dog will have to a salon experience at home.
The Four Paws Magic Coat brush is completely latex-free. It features rubber bristles that are sturdy enough to remove loose hair and dirt, but soft enough to massage the dog gently. When wet, the flexible bristles help to lather the shampoo and penetrate deep into the coat, giving the skin the ultimate treatment.
This brush fits everyone's hand snuggly, and it contours the dog's body gently. Featuring a slide-on handle, the Magic Coat brush gives you absolute control while brushing without slipping off. No wonder they call it "magic".
Grooming gloves are the latest hit in the dog grooming profession. Experts recommend these nifty tools for everyday use, especially if your dog has a short coat. They're easy to use, fun, and more personal. Your dog gets the feeling that he's being petted, but in fact, you're removing dead hair off of his coat!
This pair of grooming gloves from Ethical Pet is extremely cheap, but still of high quality. For only $5.99, you get a handy tool that will really surprise you with its efficiency. The Ethical Pet gloves come with soft rubber nubs that massage the dog's skin while brushing off loose fur.
Dead hair, dirt, debris, and dust simply stick to the glove, and all you have to do is wash it and hang it to dry.
Gloves like these are ideal for pets that won't stay still while you brush them. Also, gloves can reach places that ordinary brushes simply can't, i.e., around the face.
While brushing with gloves, your dog gets the feeling that he's being petted, not brushed, and they seem to enjoy it even more. Gloves are adjustable and fit all hand sizes.
Palm brushes are more comfortable to use than standard brushes. They offer you more control when brushing, without your hand getting tired. Most of them come with an adjustable strap to fit all sizes, and so does the Burt's Bees Palm Bristle brush.
For only $12.99, you get a premium bristle brush made with bamboo and recycled materials. The biggest feature of this brush is the hemp bristles that shed dead hair and remove dirt efficiently.
The coat remains smooth and luxuriously shiny. Brushing with Burt's Bees Palm Bristle brush gives your dog a pleasant experience since the brushes are quite soft.
The best part is, you can use it on multiple dogs because this brush suits all dog breeds, sizes, and coat types. Burt's Bees is slowly becoming one of the bestselling dog brushes on Chewy.
​What's better than one grooming glove? Two grooming gloves! These ones from HandsOn come in pairs for twice as much fun and efficiency. Slip them on and give your dog the ultimate brushing / petting experience.
The HandsOn brushes even come in three colors: black, green, and purple, as well as in multiple sizes from junior to extra large. No matter which combination you choose, you get a pair of gloves that truly deliver.
HandsOn gloves will clean your dog's coat thoroughly, remove dead hair, and distribute natural coat oils throughout the coat. These gloves double as a deshedder tool, so it wouldn't be such a bad idea to get them when the heavy shedding season kicks in.
What we love about this particular pair of grooming gloves is that they're made of durable material that won't crack or develop mildew. The gloves can even be used wet while you wash your dog without the fear of them slipping off.
We love our grooming gloves, but we love them even more when they have multiple uses. The PETMATE FurBuster 3-in-1 is made to groom, bathe, and collect dead hair. This combo glove can be used wet without fearing it will slip off and cause you more issues with grooming.
The glove's outer mesh allows water to go right through easily, which makes the drying process a bit faster. This mesh also picks up loose hair.
The FurBuster serves as a deshedder while its rubber bristles penetrate deep into the coat, massaging the skin, and stimulating blood flow and natural oil production.
The glove is completely adjustable. It comes with an inner strap and a wrist strap for ultimate control and to ensure that all hand sizes can use it. After the use, just pop it into the washing machine and hang it out to dry afterward. It will be waiting for your next grooming session with no signs of usage.
FAQs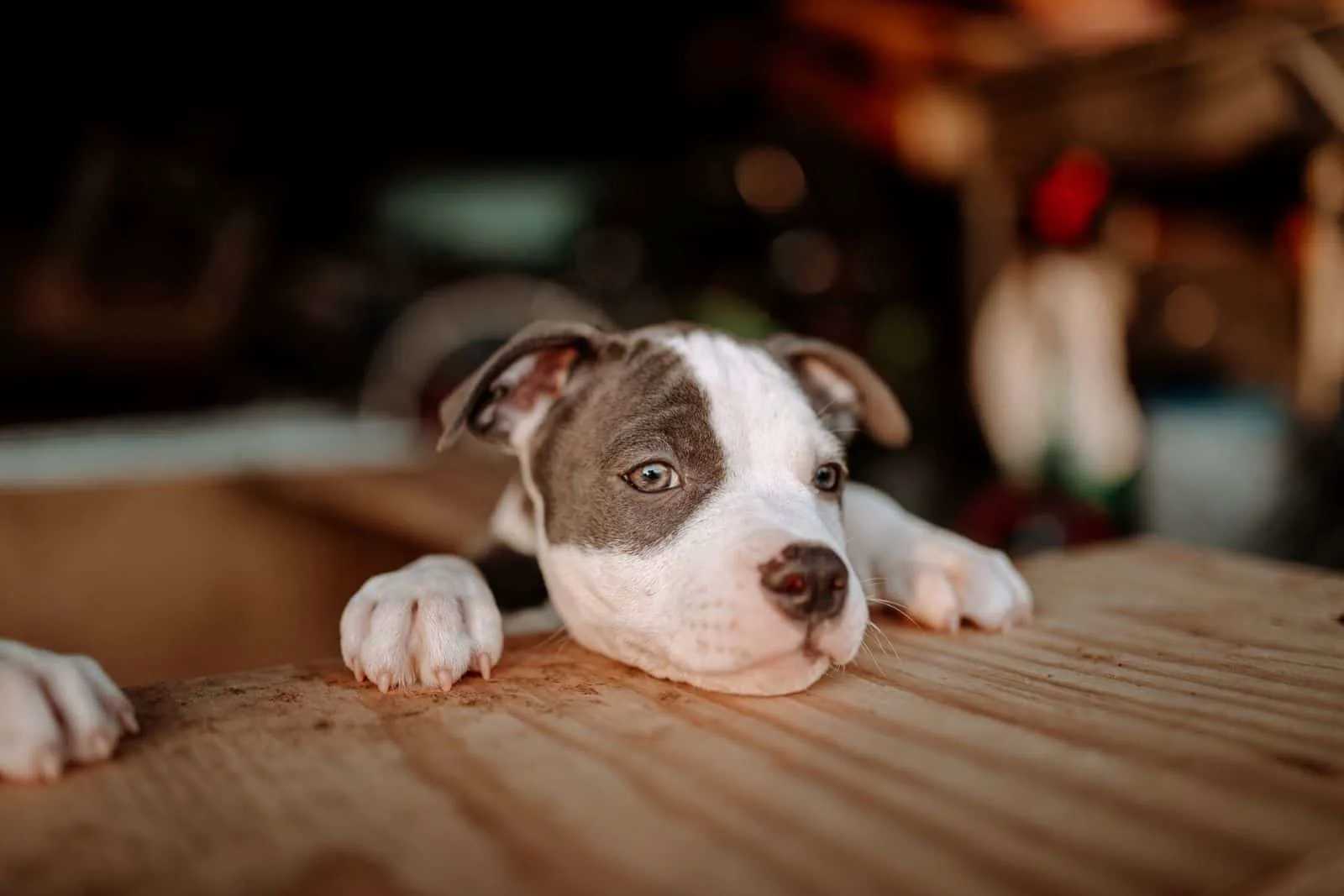 1. What type of coat does a Pitbull have?
Pitbulls are essentially a mix of multiple sorts of breeds. Regardless of which type of Pitbull you have, their coat is almost always smooth, short, and stiff.
The American Pit Bull Terrier, the American Staffordshire Terrier, the Staffordshire Bull Terrier, and the American Bully all have the same coat with slight differences between the dogs. These are dogs with only one layer of a short coat that should be brushed regularly to achieve its full potential.
2. Are Pitbulls hypoallergenic?
For a dog to be hypoallergenic, it must not trigger one's allergies. All Pitbulls are known to have extremely dry skin that causes them to shed dander.
Dander is the dog equivalent of human dandruff. Also, dander is probably a bigger allergy trigger than dog hair. So, no. Sadly, Pitbulls are not hypoallergenic dogs.
3. How often should you bathe your Pitbull?
All dogs should be bathed regularly, but you should never over-bathe them. You risk drying out the skin and causing severe irritations or skin allergies.
Since Pitbulls are prone to extra dry skin, you should bathe them once a month by using mild shampoos. Of course, if your dog gets too dirty in between baths, you will wash him and continue with the standard grooming routine.
4. How often should you brush your Pitbull?
If you can commit to everyday brushing, that would be amazing. Otherwise, you can brush your Pittie a few times a week by using a firm bristle or rubber brush.
Regular brushing benefits your dog in multiple ways. It promotes good blood circulation, it evenly distributes natural oils in the coat, and it removes dead hair and debris that may cause further problems.
5. What do you look for in the best brush for a Pitbull?
Some dog groomers will say that the best brush for Pitbulls is a bristle brush. However, we have to add that it's only one of the best brushes for Pitbull dogs. Where's the curry brush? The slicker? How about some rubber grooming gloves?
We can't put a finger on it and claim this brush is the only one you'll need for grooming a Pitbull, but we can give you some pointers on what to look for in a brush.
Pitbulls shed more than you can imagine. If you want to groom your Pitbull at home, you will need a good deshedder brush in your grooming kit.
Brushes with rubber nubs, like curry brushes or rubber gloves, are always a great addition since they can be used during bath time and for everyday brushing.
Look for a product that's lightweight, so it won't cramp your hand. Also, make sure that the material used in the making process is durable and will last you a while. No one likes buying new brushes every so often.
Lastly, ask for other dog owners' opinions. They've all been there, and they know which brushes are excellent for brushing a Pitbull. You'd be surprised by how many overhyped products are out there!