Every dog owner loves spending time with their canine companion no matter what they're doing and most dogs can keep up.
But when cycling, some simply can't or will get too tired, for that purpose, bike trailers exist, but what are the best bike trailers for dogs?
The best bike trailers for dogs can help any and all dog breeds, be they large or small, to experience the outside for a longer period of time than their stamina would allow while remaining comfortable and enjoying the fresh air.
Plenty of dog breeds, especially small dogs with breathing problems love being outside, however, they simply don't have the stamina to go for longer walks or to run beside a bicycle.
Aside from that, a dog needs to be well disciplined and focused not to get distracted by something while you're cycling which can cause a whole lot of trouble for passers by, or even you if you have your dog on a leash.
Needless to say that a bike trailer is a lot safer for everyone and helps you skip some of these steps while getting your own exercise in.
There are several options to choose from though, be they on Chewy or Amazon, but only so many that are worth the effort.
I've assembled a list of some of the best options for you and your doggo that will hopefully help you out with such a tough choice.
Read on to find out about them in greater detail as well as find out what you need to be on the lookout for when choosing the right trailer.
8 Best Bike Trailers For Dogs
Retrospec Rover Waggin Dog & Cat Bike Trailer
Key Benefits:
Sturdy and foldable steel frame

50 pound weight capacity

Fits most adult-sized bicycles with coupler included in purchase

Fits 20 to 29 inch wheels

Water resistant rain cover with mesh windows for added breathability and a top flap to make room for medium sized dogs.

Includes safety leash to keep your dog safe and secure

Non-slip material underneath your furry friend prevents movement with bumpier rides

Zippable back entrance adds extra security

3 different color options for added personalization

Affordable pricing
Cons:
Some bikes won't be able to fit the retrospec which requires the purchase of a bolt extender

More care needs to be taken during rides with medium or large dogs due to decreased stability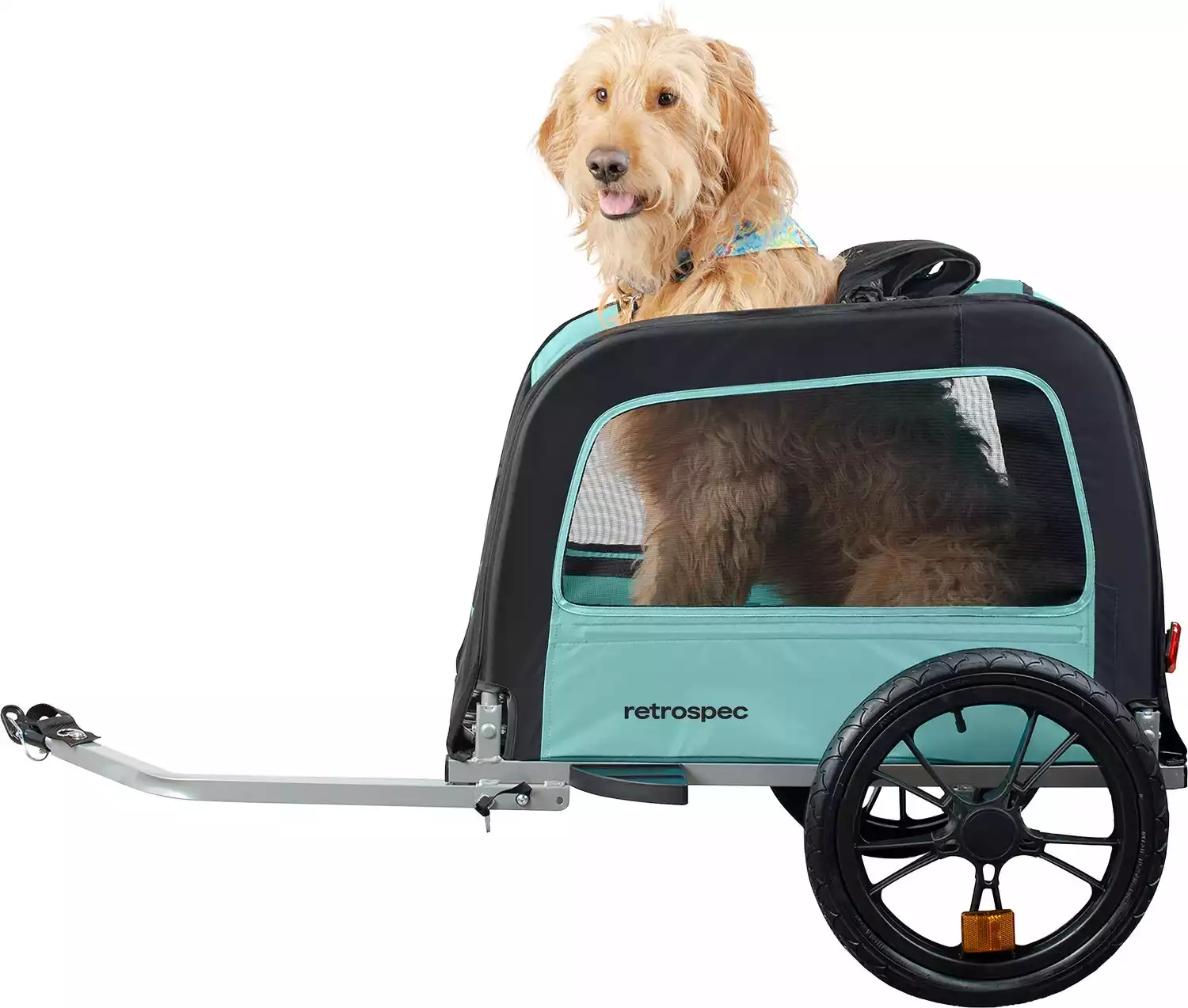 First up we have Retrospec's dog bicycle trailer, a solid choice for small to medium sized dogs that weigh up to 50 pounds.
It has everything one would need in a standard trailer.
Easy To Store
The first thing worth noting is the collapsible folding frame made from steel that's easy to attach and remove to any adult-sized bicycle so it doesn't take up much space when not in use.
Fits Almost All Bikes
The product comes with a universal coupler that'll fit most standard bike wheels.
Water Resistant Canopy
The canopy is made of a water resistant material with mesh windows to allow for proper air circulation so your doggo doesn't boil inside, and it provides him with a nice, picturesque view.
Small breeds can enjoy the comfort of the inside, while medium sized dogs are seated thanks to a flap on the top that opens up so he can stick his head out and enjoy the breeze.
The entrance to the trailer is on the rear end with a zipper for extra safety so your doggo doesn't slip out.
Extra Comfort And Security
For some extra security, there's an internal leash to keep your dog put in case of any potential accidents.
The bottom of the trailer is covered in a non-slip material to prevent skidding out and disturbing him during your peaceful ride together.
Storage Space
There's an extra bit of space on the back too where you can put any necessities for your doggy friend in case of a longer journey, dubbed "the pooch pouch".
The trailer comes in three different colors for you to choose from so you can better match the trailer's style to your bike's, or find one that goes well with your dog's fur.
As far as prices go, it's one of the more affordable trailer options out there too as some others are known to be more than double the price of the Retrospec.
If it doesn't end up fitting your bike, a simple bolt extender should fix most problems.
It's worth noting though that the heavier and larger the dog, the lower the stability can be, so make sure to temper your speed with your furry passenger on board.
TRIXIE Premium Quick Fold Dog Bike Trailer
Key Benefits:
Foldable steel frame for easier storage

Trailer hitch with added hitch safety strap

Parking brake for added safety

Doubles as a jogging stroller with height-adjustable handlebar, cup holder and extra pockets for personal stuff or dog gear

Reflectors on wheels and back add to trailer's visibility at night

Weather-resistant polyester canopy with mesh windows and zippable, clear rain flaps to cover them

Openable front flap for added wiggle room and better view for doggo

Floor lined with easily washable memory foam pad

Short safety leash on the inside

Zippable rear entrance

Two different sizes: medium with a 48.5 pound weight capacity and large with 66.5 pound capacity
Cons:
No personalization options

On the more expensive side of things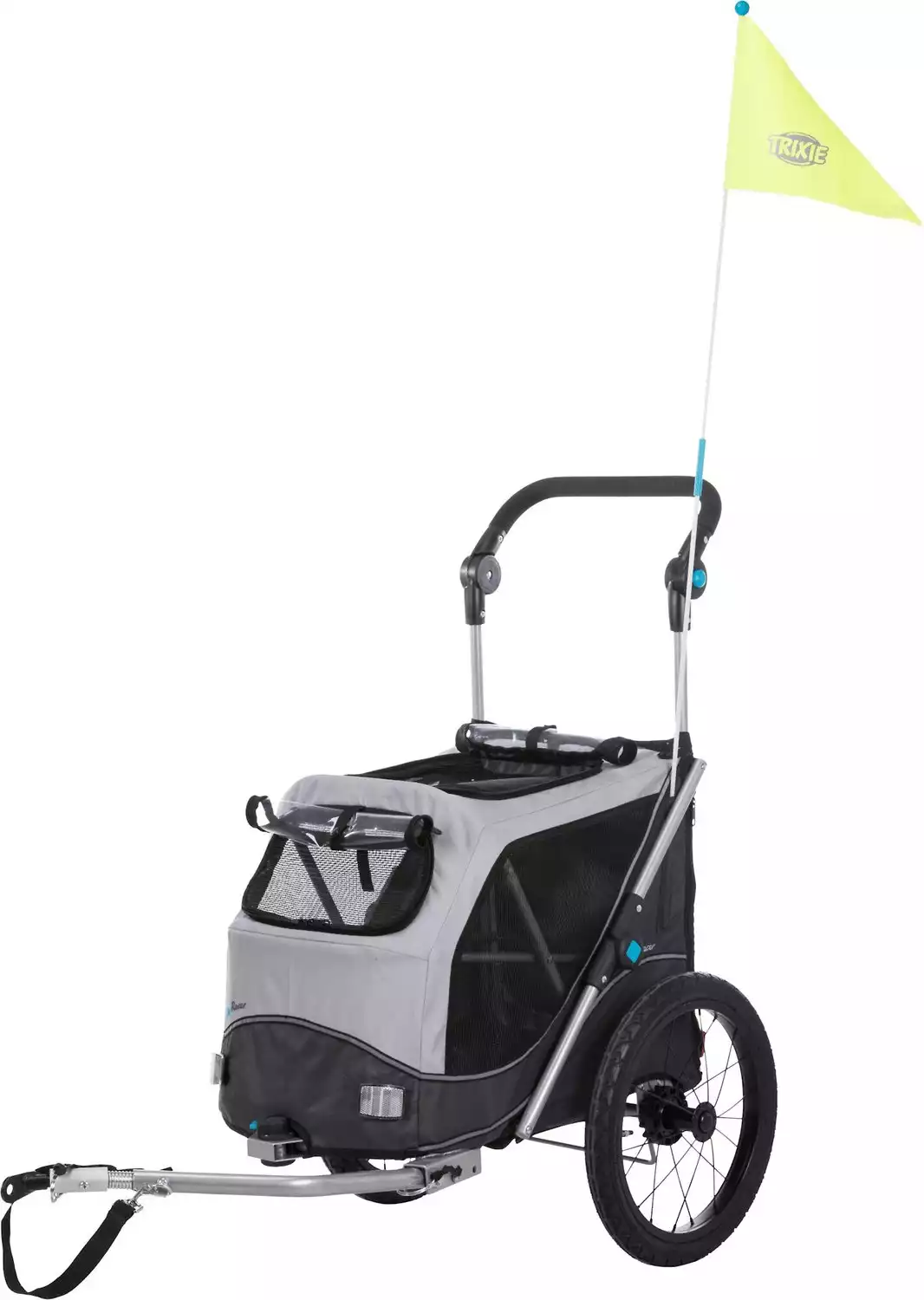 Next up on our list is the TRIXIE quick fold trailer.
Easy To Store
As the name would suggest, it too is a trailer with a foldable steel frame to make storage easier.
Aside from that, it has a trailer hitch to attach to your bicycle as well as several useful additions if you're just using it as a jogging stroller.
Amenities
Simple things like a cup holder for your bottle or drink, an adjustable handle so you can actually use it as a stroller and a number of pockets for personal belongings, dog toys and the like.
Weather-Resistant Canopy
The canopy is made from extremely durable and water-resistant polyester paired with a set of mesh windows.
The windows also come with a set of clear rain flaps that can be zipped over them so there's no potential leaking during heavy rainfall.
The front window also doubles as an openable flap in case your doggo wants to peer outside for a better view.
The main entrance and exit is in the back which is also zippable.
The inside floor is covered with a removable memory foam bolster pad which is easily washable for maintenance purposes.
Safety Options
There's also a short safety tether on the inside to keep your dog from getting tossed around on rougher rides.
On top of all that, the trailer has a parking brake system just in case as well as a hitch safety strap should the trailer hitch come undone for whatever reason.
The wheels and the back also have a set of reflectors so you and your best friend remain visible at night, and the back also features a tall flag so you stand out from the crowd and are more noticeable to prevent any traffic accidents.
The trailer comes in 2 sizes, medium and large, with their respective weight capacities of 48.5 and 66.5 pounds each so even large dogs have a chance at enjoying a chill bike ride.
The price is a bit expensive, but still in the affordable realm comparative to some of the other options out there.
The trailer sadly doesn't have any color variations aside from the initial black, which isn't the biggest of problems, but is a bummer for some dog owners.
PetSafe Happy Ride Aluminum Cat & Dog Bicycle Trailer
Key Benefits:
Collapsible, lightweight and durable aluminum frame

Trailer hitch with hitch safety strap for added safety

Weather-resistant canopy with mesh openings for better air circulation

Openable front flap on medium sized trailers while large sized have openable top flap with a window in front instead

Front window in large sized trailers has zippable cover

Safety leash on the inside to keep dog from jumping out of flap

Reflectors on wheels for visibility in traffic

3 storage pouches on top for personal items or doggy gear

Medium trailer has 50 pound weight capacity, large goes up to 110 pounds

Zippable mesh back entrance
Cons:
Leaning toward expensive

The flooring is low-quality and often sags around, providing a suboptimal riding experience.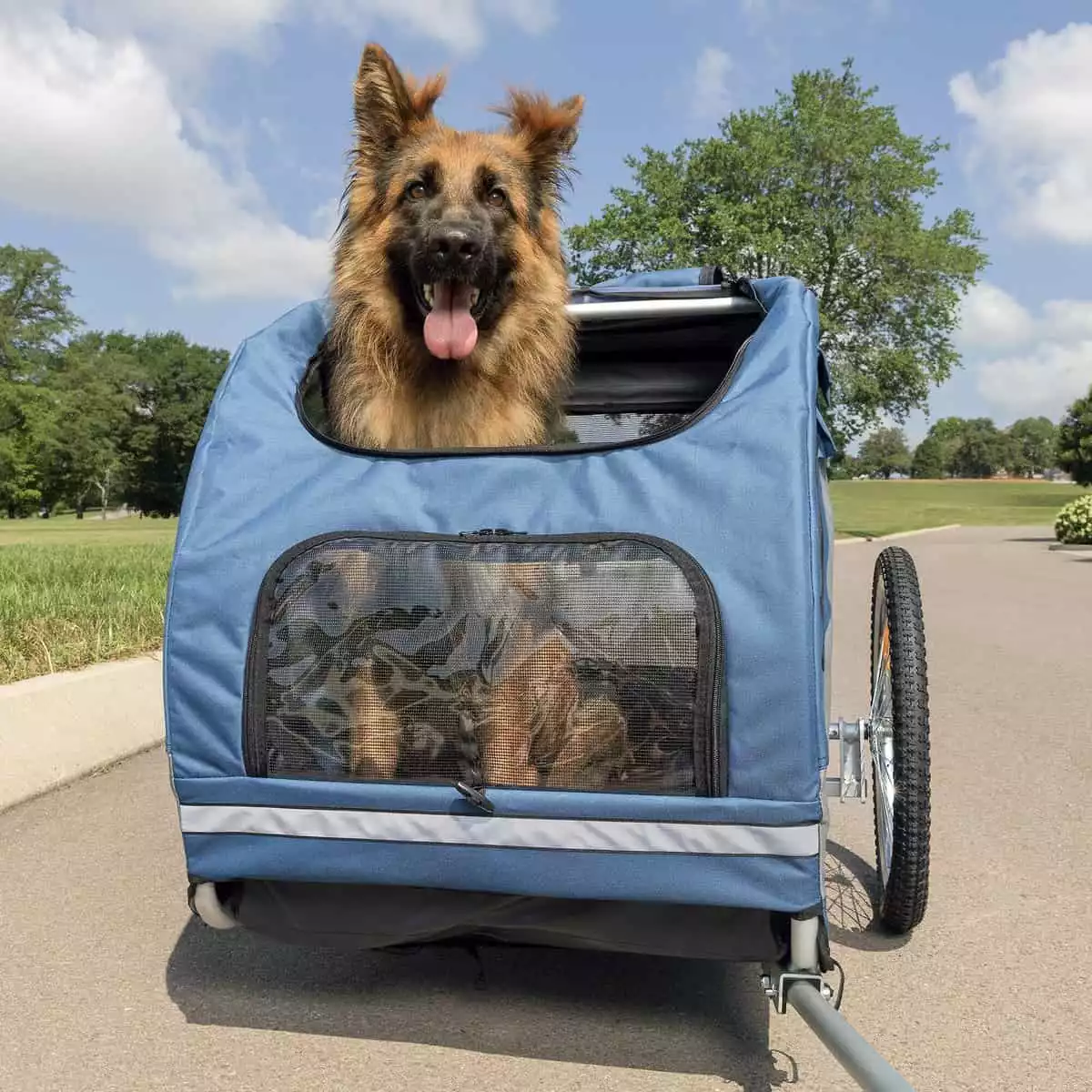 Another delightful bike trailer, this one from the well known PetSafe brand and formerly known as the Solvit Houndabout trailer.
Easy To Store
Much like the other options listed so far, it has one of the best features you never knew you needed, a collapsible aluminum frame that'll save you so much space with storage while preserving the quality of the product itself.
Lightweight
Because it's aluminum and not steel, the frame is a lot lighter while still keeping the same level of sturdiness, making it easier to lug around when not in use.
It comes with a trailer hitch for easy attachment to your rear wheel, making setup a breeze, as well as a hitch safety strap in case the former fails for whatever reason.
Weather-Resistant Canopy
The material that the canopy is made out of is weather-resistant and comes with mesh openings to help provide a decent amount of airflow and offer a nice view from the inside while preventing bugs and debris from flying in.
The entrance on the back is made from mesh and is zippable too to prevent your doggo from falling out of the trailer.
Depending on the chosen size, the medium has a front flap so your doggo can stick his head out to get a better view.
Meanwhile the large has an extra window in that slot with a cover in case of heavy rain whereas the top has the flap here instead to adjust for size.
Weight Capacity
The medium has a weight limit of up to 50 pounds while the large goes all the way up to 110.
Aside from that, you'll find that there are 3 different storage pouches where you can keep your dog's toys, snacks or similar inside for longer trips.
The wheels themselves have reflectors on for better visibility in traffic to make those night rides better.
As an added measure of safety, the inside has a short safety leash to secure your doggo so he doesn't decide to hop out of the flap.
In terms of price it comes out on the pricier side of things which is a given considering the type of product being bought.
That said, the flooring of the trailer isn't all that great, merely some plastic that doesn't really provide a solid foundation and makes the whole thing sag around.
Burley Design Tail Wagon Pet Bike Trailer
Key Benefits:
75 pound weight capacity

Foldable steel frame

Trailer hitch for easy setup

Durable cover capable of resisting most weather with heavy mesh windows and a rollable flap to give your pooch more room to breathe

Internal rings for added safety via leash

Removable floor for easier cleaning and disassembly

Foldable tailgate for easier loading and unloading of pets

Side buckles to secure back cover

Reflectors on wheels, tailgate and front of trailer for easier spotting at night

Quick release wheels for easier removal

Parking brake to stop on inclines or to keep trailer put when taking a break and dog is still inside

Comes with handlebar that can be used with stroller kit to turn trailer into a jogger stroller

Cargo pockets for storing anything your dog needs for the trip

Easy to assemble or disassemble

5 year warranty

Relatively decent off-road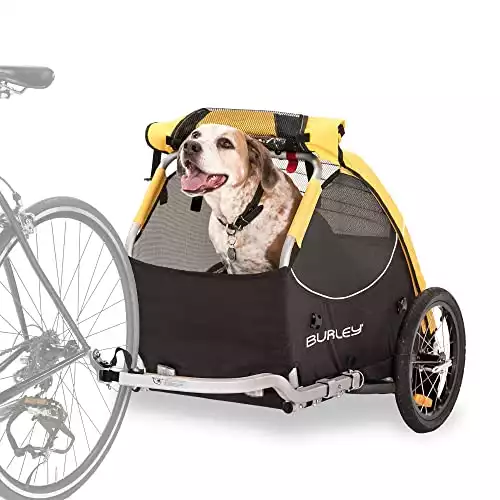 It's time for one of Amazon's top picks this time around with the Burley Tail Wagon that has an impressive weight capacity of up to 75 pounds.
Easy To Store
It features a rather compact design with a foldable steel frame making it easy to store in case you're bringing it along in a car or simply leaving it in the garage or house.
It has a trailer hitch for easy attachment to your bike, making setup take very little time.
Weather-Resistant Canopy
The main draw of the product, however, is the quality, durable and weather resistant cover that also features waterproof zippers that won't rust when exposed to the elements.
Said cover also has high-quality, heavy mesh window slots so your dog can enjoy the view while riding in style, without having to worry about pests or dust flying his way.
The front window folds up as well to allow your dog more air and a chance to stick his head (and tongue) out in the wind and enjoy himself.
While the inside doesn't have a safety leash, it does have rings on the side where you can loop your own leash through to provide additional security for your darling doggo.
The tailgate in the back has a set of reflectors for better trailer visibility in traffic, and it's foldable to easily load and unload your canine companion with the rest of the exit secured by side buckles.
The wheels and the front have reflectors too for the very same purpose, ensuring visibility from all sides.
The floor inside is positioned above the axle to make your dog's experience as comfortable as it can be. It's also completely removable to make it easy to clean.
In fact, the whole thing is pretty easy to assemble and disassemble as even the wheels can be taken off thanks to their quick-release system.
The trailer also has a parking brake to secure itself when you take a bit of a break and your doggo decides to jostle around.
The Burley can also function as a jogger stroller if you install the handlebar that comes along with it and get the stroller kit in case you prefer a walk over a bike ride on any given day.
It has several cargo pockets to store your personal items or your dog's necessities so you never have to leave home without them.
It's a shame that it only comes in one color, but the standard yellow does have some charm to it.
Though, as far as price is concerned, it's definitely expensive when compared to the first one on the list.
Definitely a big investment, though potentially worth it considering you get a 5 year warranty on the product.
Another one from Amazon and another contender for the title of best dog bike trailer with more affordable pricing, the Aosom Elite pet bicycle trailer.
Weight Capacity
It has a pretty enviable weight capacity that goes up to 66 pounds, able to house even the largest of medium sized dogs with ease.
Easy To Store
And, much like all of the best bike trailers for dogs, the Aosom Elite features a collapsible frame, this one made from steel, making it really easy to put in your trunk or store otherwise.
Weather-Resistant Canopy
The cover is made from quality fabric that protects your doggo from rain, wind and similar weather while also providing ample light and viewing space with mesh-covered openings on the front and side as well as the actual entrance.
Said entrance is zippable for added safety for your canine companion. The front mesh is too, but for the purposes of allowing your dog to peer out during rides.
All of these openings also provide excellent airflow inside the trailer, letting your doggo cool off and always have access to fresh air.
In case of heavy rainfall, the front flap has a rollable cover that you can put over it to protect the insides from getting soaked.
There's no safety leash inside, but there is a D-ring that you can loop your doggo's actual leash through to serve as one instead.
Quick-Release Wheels
The wheels on the side are 20 inches in diameter and can easily be taken off with their quick release mechanism, making it a lot easier to assemble and disassemble the carrier.
Naturally, the trailer comes with a universal coupler and has a hitch safety strap for added protection, helping turn your bike into a doggy rickshaw.
In terms of safety, there are reflectors on the wheels, on the back and in the front of the trailer as well as a flag that'll make it easier to notice when outside at night or in foggy weather.
It comes in 3 different colors too to help you better match the colors with your bike.
And, as stated earlier, the pricing is relatively tame compared to some of the other options on the market with egregious pricing.
That said, some people have reported an issue with the trailer's balance, saying it's quite easy to flip over, especially when you're reaching the weight capacity.
DoggyRide Mini Dog Bike Trailer
Key Benefits:
55 pound weight limit with a 15 inch height limit

Sturdy and lightweight aluminum frame

The whole setup folds with ease through the push of a single pin

Built-in trailer hitch with hitch safety strap for added security

Quality cover that'll resist most weather and keep your dog safe

UV-resistant Mesh windows on sides and front with the front one zippable to give your small friend more space

Front has rollable cover to protect from rain

Zippable sunroof on top doubles as an extra opening for your canine companion to peer through

Main entrance is zippable as well to safeguard your doggo from falling out

A pouch for a water bottle and some extra items can be found on the main entrance as well

Inside features an internal leash and extra leash hooks to keep dog put

Comes with a flag and rear reflectors to make the trailer easier to notice for traffic in low visibility conditions

Quick release wheels for easier storage

Can be converted into stroller with conversion kit

Can also function as d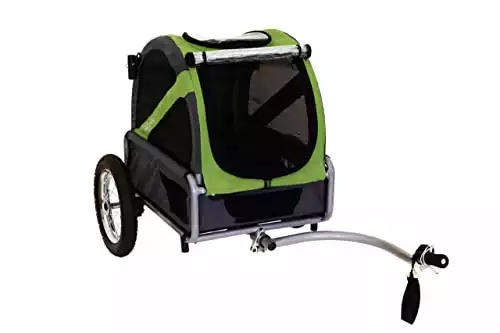 If steel trailers are a bit too heavy for you, here's yet another lightweight option, the DoggyRide Mini.
Easy To Store
Featuring a foldable aluminum frame that easily breaks down at the push of a single pin, the DoggyRide cleans up pretty nicely.
Weight And Height Capacity
It has a solid weight limit of 55 pounds, adequate for most small dogs and some of the lower end medium dog breeds, though do be wary of the 15 inch height limit too.
The trailer comes with a built in trailer hitch and a hitch safety strap to make sure nothing detaches accidentally and causes major problems.
Weather-Resistant Canopy
As with most trailers, this one has quality rainproof material for the cover which also helps keep harsh winds at bay.
The windows on the sides and the front are covered in UV-resistant mesh meaning your doggo won't cook himself inside and will get all the air he needs as if he was walking right beside you without having to tire himself out.
The front window can be zipped open too to let your doggy peek outside a little and enjoy some wind against his fur if he so chooses.
For harsher weather, it can always be zipped back up and covered with a rollable cover that's secured by velcro above the window itself.
It'll help keep your best friend dry during heavy rains.
The very top has a zippable sunroof too in case you want to give him a topside view rather than the front, though he'll always have a good source of light from it regardless if it's open or not.
The back door is zippable too so your dog doesn't fall out during bumpy rides. It also features pockets on it for a water bottle and to store some extra stuff that your doggo might need on your trips.
The inside has a proper internal leash for safety purposes, keeping your dog put when he pokes his head out if he's one to get easily distracted. You don't want him flying out in the middle of a busy street after all.
The trailer also comes with a mountable flag for better visibility in crowds and in low visibility conditions as well as rear reflectors to shine off the lights of any oncoming vehicles.
It also has some versatility in what form it takes if you're willing to splurge a bit and get the stroller conversion kit, but it can also function as a doggy crate if you just take the wheels off the whole thing.
The trailer has 2 different color variations if you want to mix it up and personalize the design of the cover to better fit you and your doggo.
Cost-wise though, it's one of the more expensive ones. Not nearly as expensive as some, but it'll definitely burn a few holes in your wallet.
Schwinn Rascal Bike Pet Trailer
Key Benefits:
Steel folding frame with quick release wheels for easy storage

The small version of the trailer can take loads up to 50 pounds while the large doubles that to 100 pounds

Comes with universal coupler that fits most standard bikes

Rain and wind resistant canopy with openings on the sides covered in mesh that protect from debris and bugs while providing good internal ventilation

Zippable front mesh flap in case your doggo wants to stand up a little

Front flap comes with rollable plastic cover to protect from rain

3 different styles on offer with 3 varying colors, one of which offers a mesh variant of the main entrance for extra airflow

Main entrance is zippable in every style to keep dog secure

Comes with adjustable safety leash on the inside

Easy-to-clean, removable non-slip lining for comfier rides

Reflectors on wheels and back for easier noticeability at night
Cons:
Treading into expensive territory

Not stable when taking sharper turns when dog is standing up inside the trailer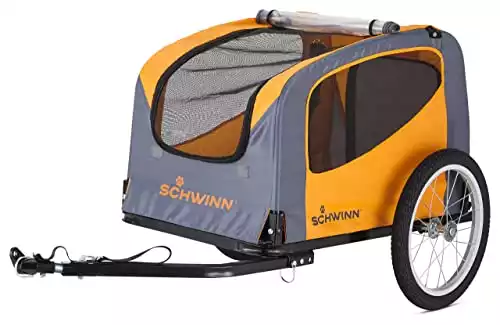 The Schwinn Rascal is another trailer that's greatly recommended by dog owners everywhere.
Weight Capacity
A trailer with two weight options to choose from, the small that can withstand loads of up to 50 pounds, and the large that goes all the way up to 100 pounds.
Durable And Easy To Store
The frame is built out of a sturdy steel alloy for maximum safety, compact and easily collapsible and paired with a set of 16 inch quick-release wheels, making the whole process quick and effortless.
It also features a universal coupler for easy attachment to most bikes except some of the higher end ones, the issue of which can easily be remedied with a visit to the hardware store to get a bolt extender or any other adequate tool.
Weather-Resistant Canopy
The canopy of the trailer is resistant to most normal weather and should keep your doggo well protected. The mesh windows on the sides allow your dog to peer out while keeping him protected from any debris or bugs that may try sneaking their way inside.
There's also a large frontal mesh flap that can be unzipped to let your dog comfortably stand up inside the trailer and 'stretch his legs'. The flap comes with a rollable plastic cover that keeps rain away from the exposed mesh.
Depending on which of the 3 colors and styles you choose, the entrance in the back is either going to be covered or mesh, so choose the one you think your dog will like the best.
The inside features an internal leash with adjustable length to maximize comfort for dogs of all sizes and has a removable, non-slip surface that's easily washable to ensure a comfortable ride for your canine companion at all times.
And, for added safety at night, the wheels and the back end of the trailer have reflectors so any traffic from behind can spot the trailer easier.
As far as costs go, it, once again, hinges on the expensive-ish line, but can be a reasonable investment considering it's one of the rare options with removable non-slip lining which is always a great plus.
However, the trailer isn't all too great at taking sharp turns when your doggo is standing upright given the shift in the center of gravity, the flaw of many dog bike trailers it would seem.
Sepnine Pet Dog Bike Trailer
Key Benefits:
Can take loads up to 88 pounds

Foldable steel frame for easier storage

Comes with removable trailer hitch and dog stroller conversion kit

Canopy made to resist all types of standard weather with mesh covered openings on all sides for added air circulation.

Zippable mesh main entrance to keep your pooch from falling out

Zippable front flap allows dog to shift to a sitting or standing position and enjoy the air

Front flap comes with rollable cover to protect against rain

Front, rear and back have reflectors for added visibility as well as a bright flag on top

Safety leash on the inside to keep your dog put

Decent budget option
Cons:
Hard to assemble

Lack of comfy flooring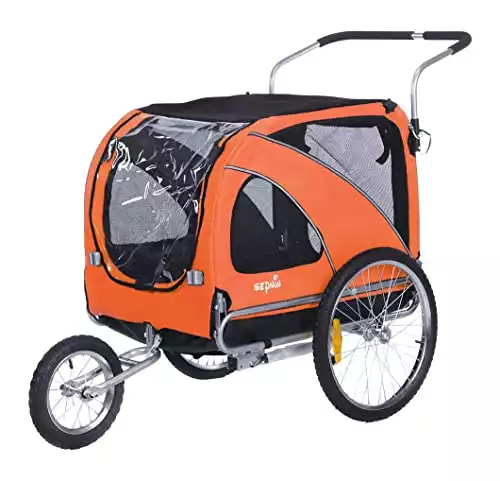 Last, but not least, we have the Sepnine dog trailer.
A slight alternative to many of the others posted with the addition of a front wheel for added stability when used as a pet stroller.
Weight Capacity And Ease Of Storage
The rig is quite sturdy, featuring a steel folding frame with a load capacity of up to 88 pounds.
It comes with a trailer hitch that can easily be moved out of the way if you want to convert the trailer into a stroller by attaching the 12 inch, directional front wheel and the handlebar, all of which are part of the conversion kit.
Weather-Resistant Canopy
The canopy over the frame is made of weather resistant material that'll keep your dog safe while the mesh-covered openings on all sides provide as much air as your doggo needs.
Even the main entrance is mesh for full coverage. It's zippable too to make sure your furry friend doesn't fall out on accident
The front mesh flap is zippable as well to let your dog feel the wind against his face and get a better view of the surroundings passing by. It also has a rollable plastic cover to protect from the elements.
Safety Options
In terms of safety, it has reflectors on the front, back and wheels as well as a bright flag for better visibility at night and in low visibility conditions.
There's also a safety leash on the inside to help keep your dog from jumping out when the front flap is open.
It is a pretty decent budget pick in terms of price, but it does lack the inside comfort so you may want to invest in some non-slip flooring that fits the dimensions of the trailer.
Things To Note Before You Buy
When dealing with pricy products like these, it's easy to get lost in all the features thrown around. Here are some things to keep track of to make things easier for you:
Weight And Height Capacity
The first thing you look at is whether or not your dog's size is even supported by the trailer. If not, freely move on to the next option
Ease Of Assembly
Ideally, you'd want a trailer that's easy to assemble and disassemble considering most of the better ones fold to be more compact and take up less space when traveling
Hitch Safety
The hitch and coupler are key parts that keep the trailer connected to the bike. When buying, make sure they can fit onto your wheel in the first place and that they have a backup strap in case the primary option comes loose.
Stability
You want a trailer that won't roll over on every turn, otherwise you'll just be upsetting your doggo. Find ones that are well balanced
Comfort
Your dog needs to be comfortable in his new trailer otherwise he won't want to go in one next time.
Overall Safety
Every cyclist knows safety is key in traffic which is why the best bike trailers for dogs have reflectors on them and bright safety flags to get noticed easier and not get into an accident.
Point Of Entry
You'll want a trailer with an easy point of entry, the best being the front door option that I've been calling back throughout the article for orientation purposes. There are other points of entry, but they're more cumbersome to deal with.
In Conclusion
The best bike trailers for dogs are filled with safety features, pack up nicely and offer great comfort and stability for your doggo.
Some come with optional features like the kickstand, various conversion kits and the like, but they're not really needed.
Honestly, the trailer itself shouldn't be considered mandatory as it is a big investment. If you're struggling with funds, think twice about how much you really need it.
But, if you can afford it, I'm sure you and your doggo will have a wonderful time bonding on your trips. Until next time.
RELATED LINKS:
• The 5 Best Dog Crates For Shih Tzu Dogs
• Is Your Dog Refusing To Walk? Here's What You Can Do To Help Them!