This post contains affiliate links, and I will be compensated if you make a purchase after clicking on my links.
When you need to take your little lion on a road trip, a plane or simply to give him a secure place to mess around in to not leave him unsupervised in your house, a dog crate is your best option, but what are the best dog crates for Shih Tzu dogs?
The best dog crates for Shih Tzu need to give them a little bit of room so they don't feel too claustrophobic if they need to be left in there for a little while.
Sure, it is a cage for all intents and purposes, but it ultimately is a necessity if you're a dog owner who has to leave their little buddy alone in the house when going out to work or similar.
Of course, you can always crate train your doggo so he learns exactly how to handle these spaces and even get him to defecate in a designated area.
Regardless, the point of this article is to find your doggo the ultimate doggy crate to serve as his little sleeping hut and there are plenty of options on both Amazon and Chewy.
I've gone through a good number of them and have tailored a list of what I consider to be the best ones in terms of size, price and overall features.
Hopefully these will help you out in picking out the ideal one for your Shih Tzu companion.
Read on to find out what these options are and what their best traits are.
The 5 Best Dog Crates For Shih Tzu Dogs
MidWest Homes for Pets Newly Enhanced Single & Double Door New World Dog Crate
Key Benefits:
Easy to assemble and disassemble

5 different sizes for all dog sizes, from small breeds to large ones.

Foldable frame for easier storage

2 options between a single and double door

Sturdy, metal wire frame exterior

Leak-proof plastic pan on bottom with built-in pan stops to stop it from moving

Protective feet on bottom of cage to prevent damage to floors

Rounded corner clips to prevent unwanted dog injuries

Slide-bolt latches on doors for to stop escape artists in their tracks

Low thresholds to make entry and exit to the crate easier

30 day return or refund policy

Average cost
Cons:
Not as sturdy when using sizes intended for larger sized dogs.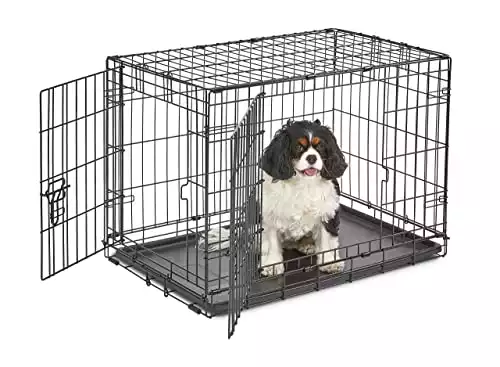 First on the list is a relatively simple one, the MidWest Homes for Pets Dog Crate.
It comes in the form of a standard wire dog crate with 5 different sizing options depending on the size that you need, though the first two sizes should be more than adequate for a Shih Tzu.
Do keep in mind that if your dog is close to the edge of the estimated weight limit of the crate size that you chose, it's better to size up to the next one in line so he has enough room in his new den to rest up in.
It doesn't cost too much extra and will give your pooch some extra wiggle room.
You can even choose to get a single door or a double door crate to make it easier for your canine companion to get in and out of his little lair without having to adjust too much.
The frame is made out of sturdy metal which should last your doggo for a lifetime barring any extreme circumstances.
Another great thing about this one is that it's easily portable. A given for any dog crate, but this one features a foldable frame to save space in the trunk of your car for when you need it.
It's pretty easy to assemble too, so you don't have to worry too much about learning how to operate this folding metal dog crate.
The bottom of the cage has protective feet so any movement of the crate on a bare floor doesn't damage it with unsightly scrapes.
The bottom of the crate has a leak-proof plastic tray in case of any unwanted accidents or drooling, making a mess of your carpet, making it an ideal tool for house training your doggo.
The plastic pan is fixed in place with pan stops to make sure your doggo has a sturdy place to rest that won't wobble around for whatever reason.
The clips connecting the crate on the corners are rounded out to reduce any potential sharp points that he may end up hurting himself on.
Of course, the lock too has been dog-proofed with sliding locks that are further secured with a paw block to combat some especially crafty doggos from paw-picking the lock.
The thresholds are kept low so your doggo doesn't trip on them either and can retreat to his safe place with ease.
The price is relatively sane and it even comes with a 30 day refund or replacement policy in case you end up having some issues with the product.
There aren't many personalization options sadly, but you can always go for their ICrate variant if that's what you're looking for in one.
The New World dog crate does have its flaws though.
A number of people have reported the crate to not be as sturdy as advertised for the larger sizes and that large dogs could break it down, but it should be less of an issue with a dog breed like the Shih Tzu.
Diggs Revol Dog Crate
Key Benefits:
Made from quality aluminum for body and steel for mesh wire

Fully collapsible to save room during travel or in the house when not in use

Ideal option for small to medium dog breeds or small pups

One front door with a ceiling hatch on top to get the dog in and out manually and with ease.

Removable tray lining the bottom of crate for easy cleaning

Comes with divider panel in case more than one doggo ends up using the crate for travel

Built to the high safety standards of baby gear

Easy to assemble

2 different size options

5 color options to choose from for further personalization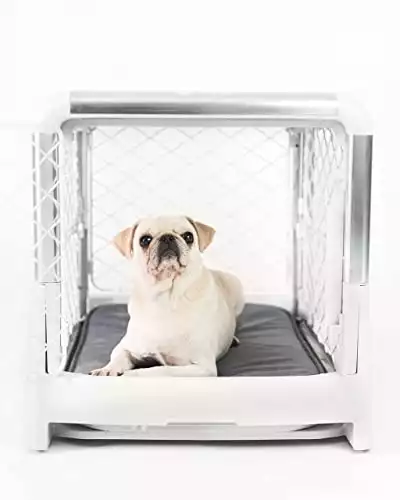 If you're feeling like splurging a little to get your dog something luxurious, then look no further than the Diggs Revol dog crate, the obligatory big ticket item on this list for those of you feeling a little spendy.
A fancy little thing primarily intended as a small dog crate, be it a small breed or just a new puppy.
It's fully collapsible and easy to assemble, making travel a breeze, not to mention that it can transform into the shape of a small, wheelable luggage bag with a carrying handle for easier transportation.
It's primarily made from high-grade aluminum with reinforced plastic on some parts to keep the whole rig secure and a diamond-shaped steel mesh wire as cover between the frame to keep your dog safe and secure without injuring himself.
The bottom has a removable tray that's easy to clean up in case your doggo makes a mess with food, during potty training or otherwise.
The top has a ceiling hatch as an alternate way of getting your furry friend out, especially useful for puppies to keep them inside the box while also allowing you to take them in and out with ease.
It also comes with a built-in divider should you choose to use it in case you have more than one dog to worry about and you don't want them getting at each other's throats.
The entire crate is made in accordance to high safety standards akin to those of babies and children, ensuring there are not small spaces where your dog's paws may get pinched against or stuck on.
The crate comes in 2 different sizes, small and medium depending on the one you need for your canine companion.
It also comes with 5 color variations to choose from to help you further personalize your doggo's crate.
However, it's a very pricey product which may put a lot of people off of buying it, but, if you're willing to get something fancy for your pooch, this may be the right option for you.
AmazonBasics Pet Carrier Kennel With Plastic Ventilation
Key Benefits:
One of Amazon's dog crate bestsellers

3 different size options

3 different style options: plastic vented, metal vented, and two-door top-load

Features carrying handle for easier transportation as well as wheels with individual brakes

Made from sturdy, molded plastic

Top can be unlatched to help save some space

Secure locking mechanism

Solid starter crate

Average-ish pricing
Cons:
Doesn't save as much space as foldable wire dog crates would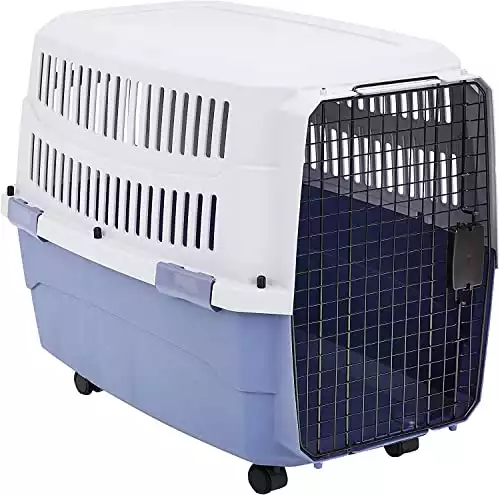 If you're looking for a simple, relatively okay budgeted plastic crate for your dog that performs just as well as any other one, then you may want to look at one of Amazon's best sellers, the AmazonBasics carrier.
It's a rather versatile product, all things considered, with various styles and sizes on offer.
In terms of size, there are 3 options, each intended for small, medium and large dog breeds respectively.
Meanwhile, by style, I'm mostly referring to the feature differences as you have 3 different choices to pick from.
You have the standard, which involves a largely plastic construction with a metal, wire door. Then there's the one with metal vents on the side, a more angular construction and a different door.
And finally, you have the two-door top loaded one which is similar to the plastic vented one, but it also features an easily openable, spring-loaded hatch on top to get your doggo in and out easier than having him walk on in.
Some also feature a carrying handle on top while others like the plastic one don't which should be kept in mind if you're looking for ease of transportation.
It's a great new crate option for first time pet owners as it's relatively simple and inexpensive and functions well enough for most needs.
The downside of it, however, is that it doesn't fold up to conserve space like some of the wired metal crates do, but it is sturdier than they usually are, if anything.
It does however feature wheels on the bottom for ease of transportation and the door on it is pretty safe, featuring a secure locking mechanism.
And, don't worry, the wheels have individual brakes so you can keep it stationary when your Shih Tzu needs to use it as his den.
For added comfort, you can always put in a simple dog bed or dog mat inside too if necessary.
Price-wise It's certainly not the cheapest option, but it's also not that terribly expensive, providing a sturdy product for a decent investment.
AmazonBasics Premium Folding Portable Soft Pet Crate
Key Benefits:
Foldable soft crate with top handle and shoulder strap for added carrying variation

Cover made from mix of PVC and polyester

Large mesh openings on the side for proper air circulation and ventilation

Zippable, rollable entrance keeps doggo safely inside for longer trips

Has a plush-filled, fleece dog bed that's easy to remove and easy to clean

Has pockets on sides and top to store personal items in when traveling or dog treats, toys and the like

One of the cheaper, but quality products on the market

4 different sizes to choose from

4 different color variations
Cons:
Not easy to assemble

Not great against heavy chewers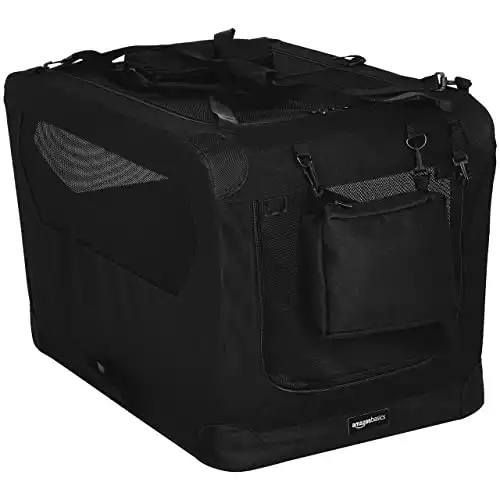 Next up is yet another product from AmazonBasics, one with a more stylish and modern appeal to it, and this time it's foldable too! Their Premium Folding Portable soft crate.
The fully assembled crate resembles a duffel bag, though it's collapsible and ends up looking like a briefcase when fully folded, taking up a bare minimum of space.
There's a top handle and a shoulder strap too for easier carrying without having to keep your hands too occupied.
It's made from a highly durable mix of PVC and polyester, though it does have several sizable mesh-covered openings for proper ventilation so your doggo gets the maximum level of comfort.
The crate comes with several pockets too where you can store your Shih Tzu's favorite toys or maybe some treats if you seal them well enough so they don't end up teasing your furry friend.
It also comes with a removable dog bed on the inside made from plush and fleece, easy to clean so it's never out of commission for a long time.
The soft crate comes in 4 different sizes, adequate for dogs of all sizes and life stages according to the corresponding choice.
There are also 4 different colors to choose from too, allowing you to better match the fabric of the crate to your own personal style.
The entrance is a zippable, rollable cover to keep your doggo safe and secure during longer rides.
Price-wise, it's on the cheaper side actually, making it a great option to get when traveling out with a smaller doggo.
However, the bad part about it is that it's somewhat hard to assemble and the instructions aren't all too intuitive.
It's also not the best choice for pet parents whose furry baby is an aggressive chewer as he'll usually tear straight through the fabric.
Do be wary of that when buying.
Petmate Vari Kennel Heavy-Duty Dog Travel Crate
Key Benefits:
Solid budget pick

Eco-friendly option made from recycled heavy-duty plastic

Plastic ventilation holes for better airflow and a view

Reinforced with plastic fasteners and metallic screws

Raised interior to keep off ground for added comfort

Comes with carrying handle for easier transportation
Cons:
Takes up a lot of space when not in use

Size measurements go from end to end instead of measuring the inner living space of the doggo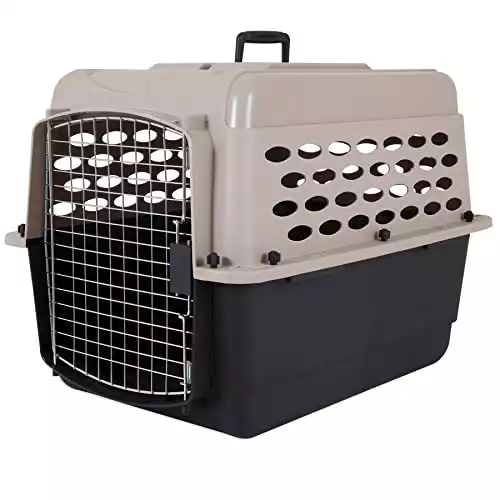 The final pet product on the list is another plastic dog kennel, the Petmate Heavy-duty travel crate.
While it may only come in one color, it does come in 6 different size options to allow you the option of sizing up as your doggo gets bigger, though, with smaller breeds, you tend to stop at the first 3.
It's properly ventilated, allowing your doggo plenty of breathing room and it's paired with a wired doggy door with a safety lock, easy open latch system.
For ease of travel, it has a carrying handle on top so you can carry your dog around in a travel-friendly way.
It's made from heavy duty, recycled plastic, meaning it's quite durable and will keep even the heaviest of chewers at bay. It's further reinforced with plastic fasteners and metallic screws to keep everything firmly in place.
The interior is slightly raised so the temperature from the floors doesn't directly transfer to the crate itself, allowing your dog to adjust to his new surroundings at his own pace, especially when traveling.
And, as far as prices go, the Petmate is somewhat averagely priced, maybe slightly teetering on the more expensive side, though still well within the double digits, making it a decent budget pick.
The size can be deceptive though as they measure it from one end to another instead of the size of the inner space for your pet as most others do, so you may want to consider getting a size higher if your dog is nearing the weight and height limit of one.
Before You Buy: What Features Do The Best Dog Crates For Shih Tzu Have?
You may have spotted a pattern in a few of these product reviews, some similar features that a lot of them seem to possess.
That's because it's these specific features that we're trying to track down that benefit your doggo the most and are the main reason to even get a dog crate in the first place.
In case none of these here end up piquing your interest, it's good to have something to orientate yourself with when going hunting for the perfect one.
Here are a few key things to keep an eye out for:
More Points Of Entry
A single door can be fine, but having a second point of access is even better as it'll let you fit the crate in more spaces without completely blocking all entrances off.
The best ones for a smaller dog like the Shih Tzu, in my opinion, are the ones that have openings on top as they allow you to grab your pet out or put him back in with ease.
Comfort
A crate with an adequate amount of space that also comes with a bed or can have a dog bed installed inside also gives a crate bonus points.
That and any other feature that makes the inside more of a safe space for your darling doggo like rounded edges, paw-proof doors and the like
Construction
It's important that every crate is sturdy, that it won't get bent or chewed through by your own canine companion that's why plastic and stainless steel options are usually the best, but other options can work too depending on their other benefits
Portability
The last point is that a crate should be portable if you want to bring your dog on a trip somewhere. Wheels, carrying handles and straps are key players here, and a foldable crate for easy storage will get you especially far.
In Conclusion
The best dog crates for Shih Tzu are comfy, sturdy and easily portable. Many people get choice paralysis with how many are on offer, but I hope that this list has helped you find the ideal crate to serve as your little Lion's throne. Until next time.
RELATED LINKS:
• Are Shih Tzu Hypoallergenic? Keeping Dog Allergies At Bay
• How Much Does A Shih Tzu Cost? Buying And Raising Shih Tzus
• Busting The Myth: Male Vs. Female Shih Tzu
• Shih Tzu Lifespan: How Long Do Shih Tzus Live On Average?
• Shih Tzu Growth Chart: How Big Will My Shih Tzu Be?
• The Ultimate Shih Tzu Feeding Chart — How To Feed Your Dog