If you were not someone who loved shedding polar dogs, you certainly would not be looking to buy them. We take your love for dogs seriously, so we put in the effort to provide the most possibly accurate and informative breeder listicles.
For today's special, we have some American Eskimo breeders for you, and regardless of how few of them there are, your job is to find the nuances between them and pick one out for your next puppy purchase.
We always put health and pedigree first, followed by temperament and other breeder-related bonuses like shipping options, puppy packs, and accomplishments in the doggy arena. I guess all that is left is to get the wheel rolling.
American Eskimo Puppies For Sale
1. Wright's American Eskimos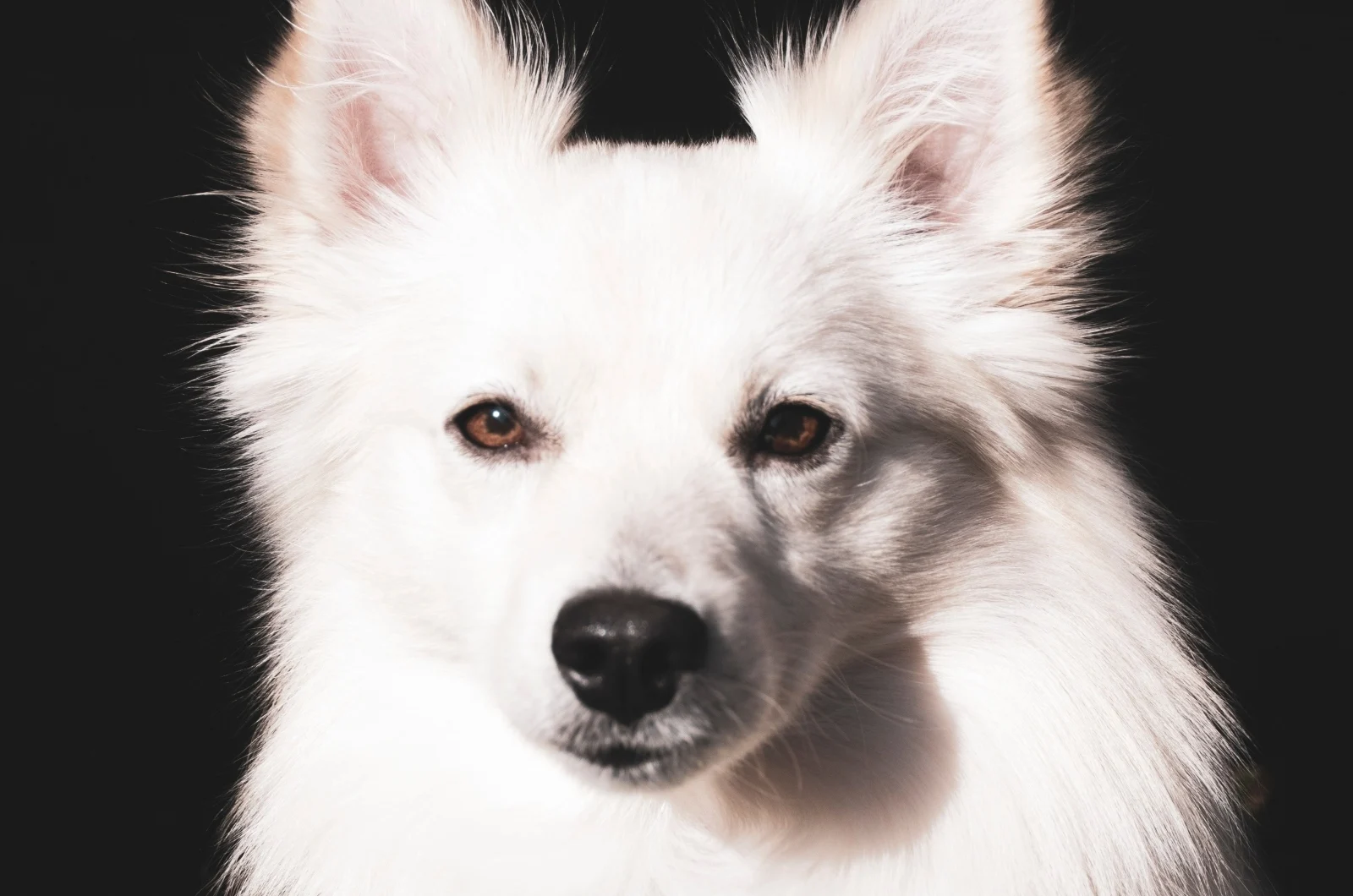 You are probably aware of the teddy bear-type American Eskimo and its exorbitant cuteness. Wright's is breeding these for your pleasure. The owner, Theresa Wright, even wrote a book that compiles forty years of experience working with the breed.
Standard American Eskimos from this breeder are the best American Eskimo breeders have to offer. All of their adult dogs are cleared for Progressive Retinal Atrophy (PRA), hip dysplasia, and other breed-specific health issues.
The puppies (and adults) are raised on a holistic program, NuVet, that includes dietary supplements which reduce the need for extensive vaccination and deworming purely through chemistry.
In terms of accolades, Wright's American Eskimos have raised numerous United Kennel Club (UKC) and American Kennel Club (AKC) champions in their bloodlines, so you will be able to earn a title or two, too.
The Process Of Acquiring A Puppy
Emailing is the owner's preferred method of communication, but a phone number and Facebook page are available to get in touch.
Getting on the waiting list will cost you $25, and the total cost of a puppy is $800. Before the puppy is sent to you, or when you come to pick it up, the rest of the money (deposit fee deduced from final cost) must be paid.
The litters are not available all year round, and sometimes it takes more than a year for puppies to be available. Wright's Eskies can be picked up personally, or you can come to the St. Louis airport to fly your puppy back in a crate.
Puppies are ready for pickup between ten and twelve weeks of age when all the required shots, dewormer, and microchipping are done.
Breeder Information
Address: 121 Ridgemount Drive, Troy, MO 63379
Phone: +1 573-384-5043
Email: [email protected]
Website: Wright's American Eskimos
Socials: Facebook
2. Cu Alainn American Eskimo Dogs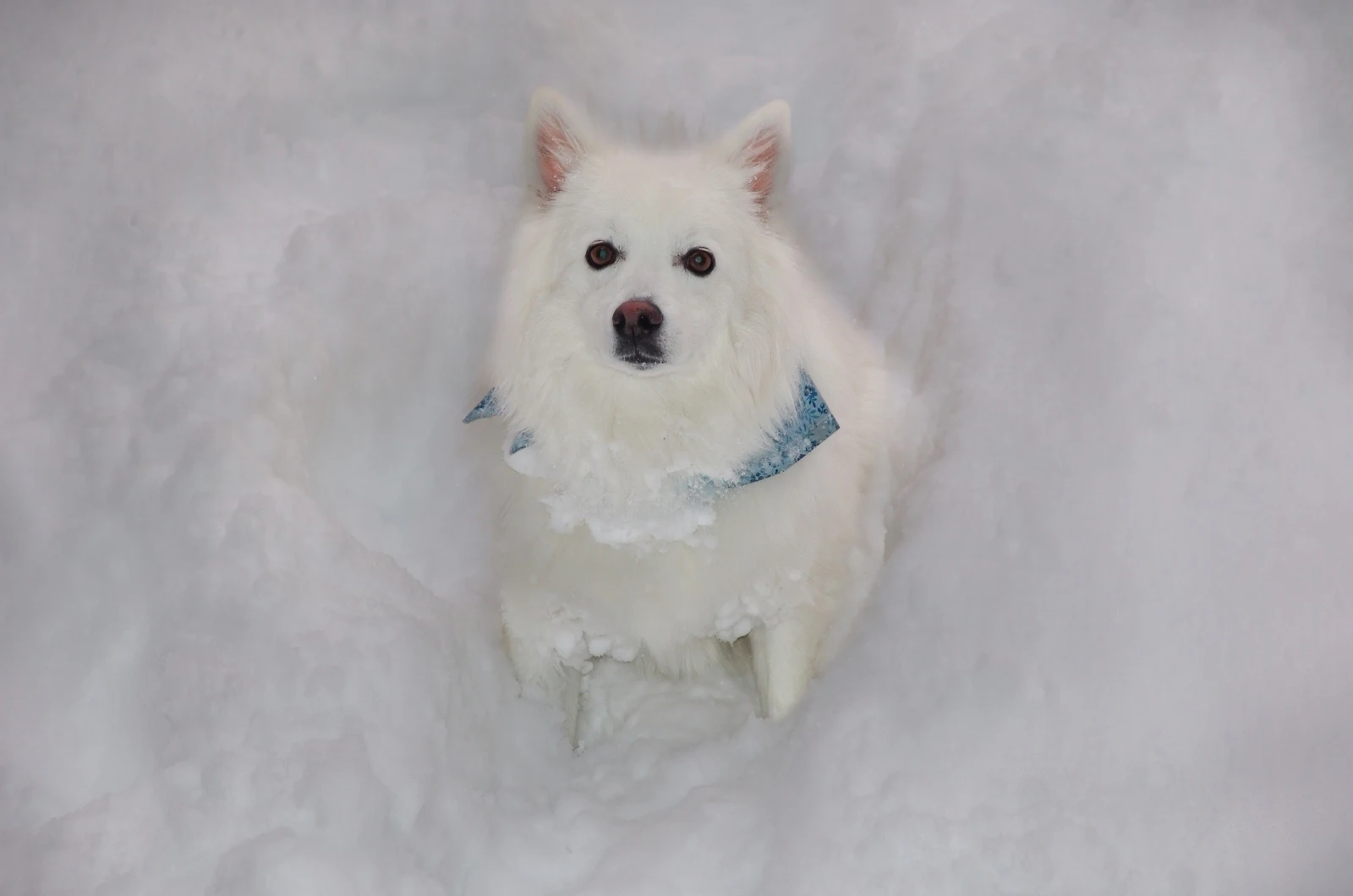 This is another exceptional breeder of standard American Spitz dogs (before they were renamed to American Eskimos) that has quite a successful track record of UKC and AKC champions within their ranks.
Coursing and obedience titles, like FastCAT and rally, are clear indicators that Cu Alainn Eskies are of sound temperament and in perfect health. Adults are screened for genetic diseases that are common in the Spitz Nordic dog, with all the required certificates from OFA and CERF.
Puppies get their shots, dewormer, and microchips by ten or twelve weeks of age, and that is exactly when you can pick them up or discuss transportation options. Additionally, they also offer training and stud services for those looking into starting breeding or competing.
The Process Of Acquiring A Puppy
The website does not provide a lot of information, but I managed to get an email to get in touch. Other than that, there is not much else in terms of contact information.
Naturally, you will have to inquire about prices, availability, deposits, methods of payment, etc., in your initial email.
Breeder Information
Address: Vancouver, WA, US
Email: [email protected]
Website: Cu Alainn American Eskimo Dogs
3. Sierra American Eskimo Dogs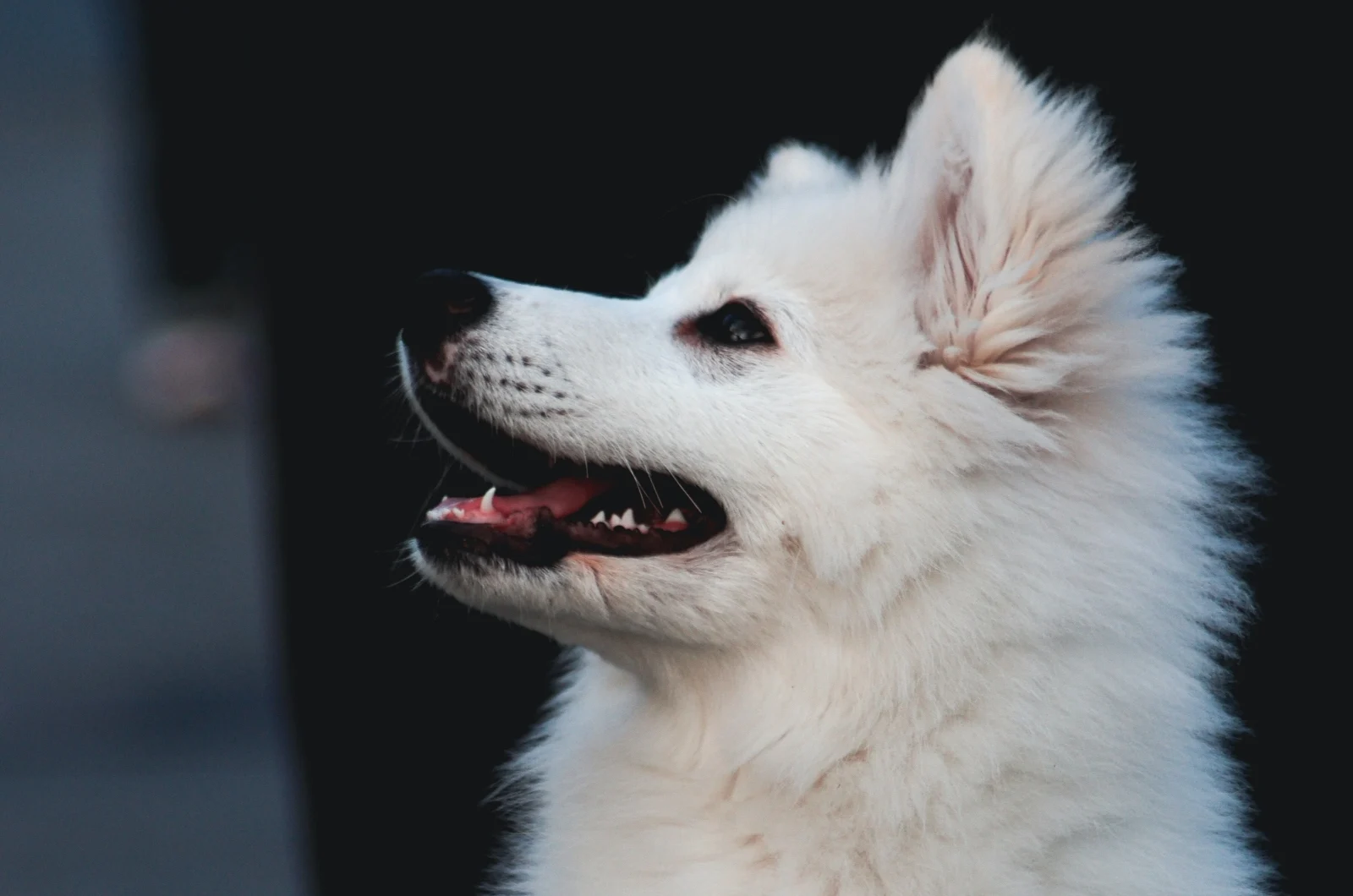 Bred according to the AKC and UKC American Eskimo breed standards, Sierra Eskies are no strangers to title-winning bloodlines. Starting their breeding business back in 1976, they have competed and won countless titles with their standard American Eskimos.
Here, you can purchase more than just a puppy. You can have a retired dual-registered champion for adoption and purchase adult dogs and puppies of companion, performance, or pet quality.
Keep in mind that all the adult dogs were cleared for PRA (CERF) and hip and elbow dysplasia (OFA). Full DNA tests for the Eskie that reveal a predisposition to genetic diseases are part of the health certification documents that come with the puppy.
The Process Of Acquiring A Puppy
You can send an email to Joe and Diana Allen with all the questions you have. Considering the breed's rather low, but rising, popularity, the price will be around $800 to $1000.
The best way of going about it is to inquire about availability, deposits, contracts, and transportation options. The Facebook page is a group, so you will have to join it to see the content.
Breeder Information
Address: Edinburgh, Indiana, US
Email: [email protected]
Socials: Facebook
4. Smokey Mtn American Eskimo Dogs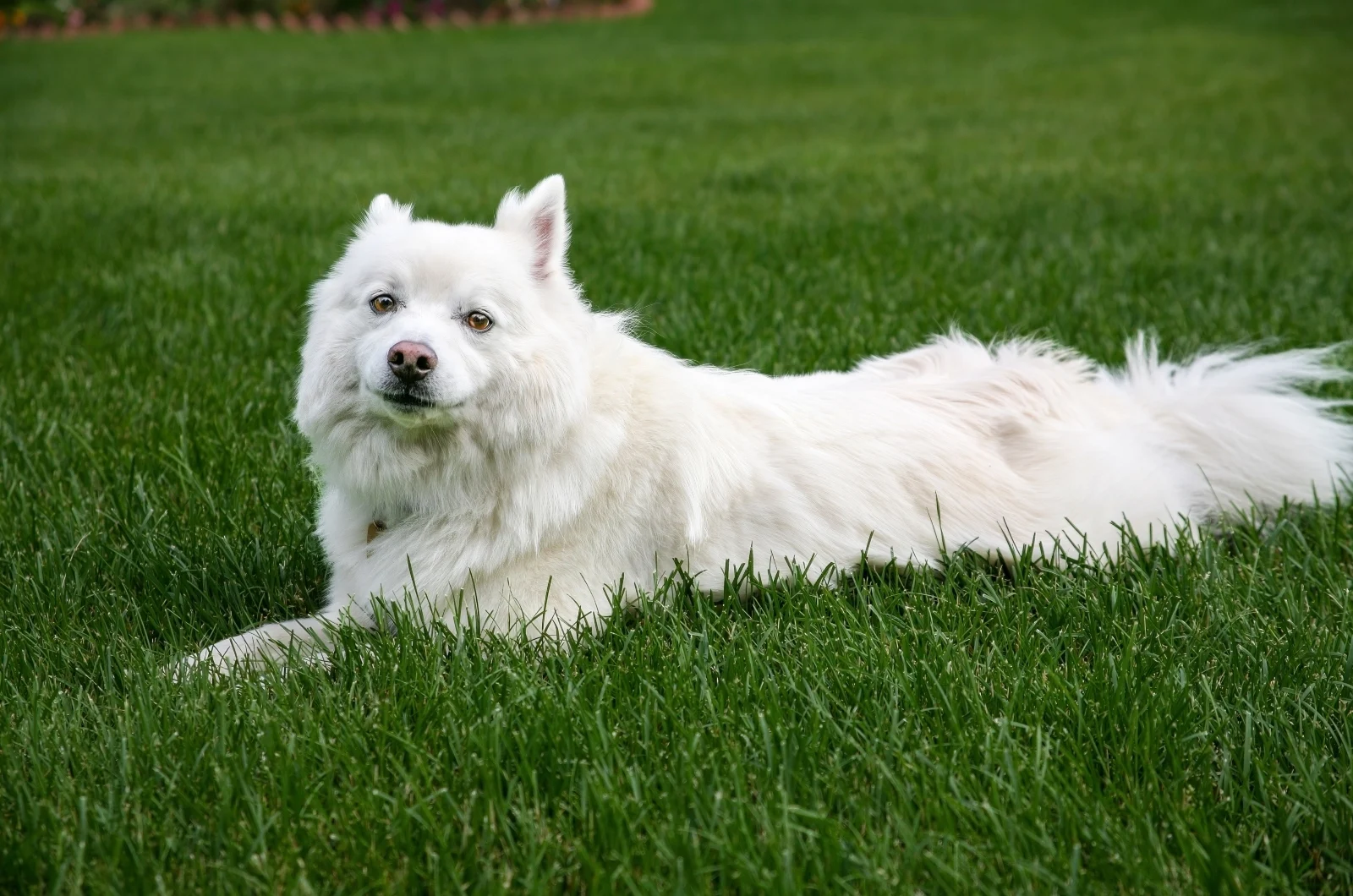 This breeder from Salem, Oregon, sells high-quality puppies that are AKC and UKC-registered. This means you can get a show or performance dog and rush for the top of conformation, obedience, coursing, or other agility-based competitions.
As members of the American Eskimo Dog Club of America and the National American Eskimo Dog Association (NAEDA), the high standards mean health certifications on the usual genetic conditions the breed is prone to.
Socialization is done in-house, which means your Eskie will be potty and crate-trained and used to children and other dogs, alongside the usual household objects, noises, and lights. The Early Neurological Stimulation (ENS) approach works exceptionally well for family dogs.
A thing to note is that only standard American Eskimos are available. No toy or mini Eskies at Smokey Mtn. Be sure to check out their adult dogs and accomplishments in the "meet our dogs" section.
The Process Of Acquiring A Puppy
Getting in touch by calling the provided phone numbers or filling out the website contact form at the bottom of the homepage.
If you wish to proceed straight to putting your name on the waiting list, there is a puppy referral form that you can fill out. It is rather short but comprehensive, so make sure you include extensive answers to questions.
Once you receive a reply, you will get all the information regarding deposits, puppy cost, and transportation options (shipping is available).
Breeder Information
Address: Salem, Oregon 97301, United States
Phone: +1 503-363-3587 Home | Mobile +1 503-930-0610
Website: Smokey Mtn American Eskimo Dogs
5. Valhalla White Splendor AE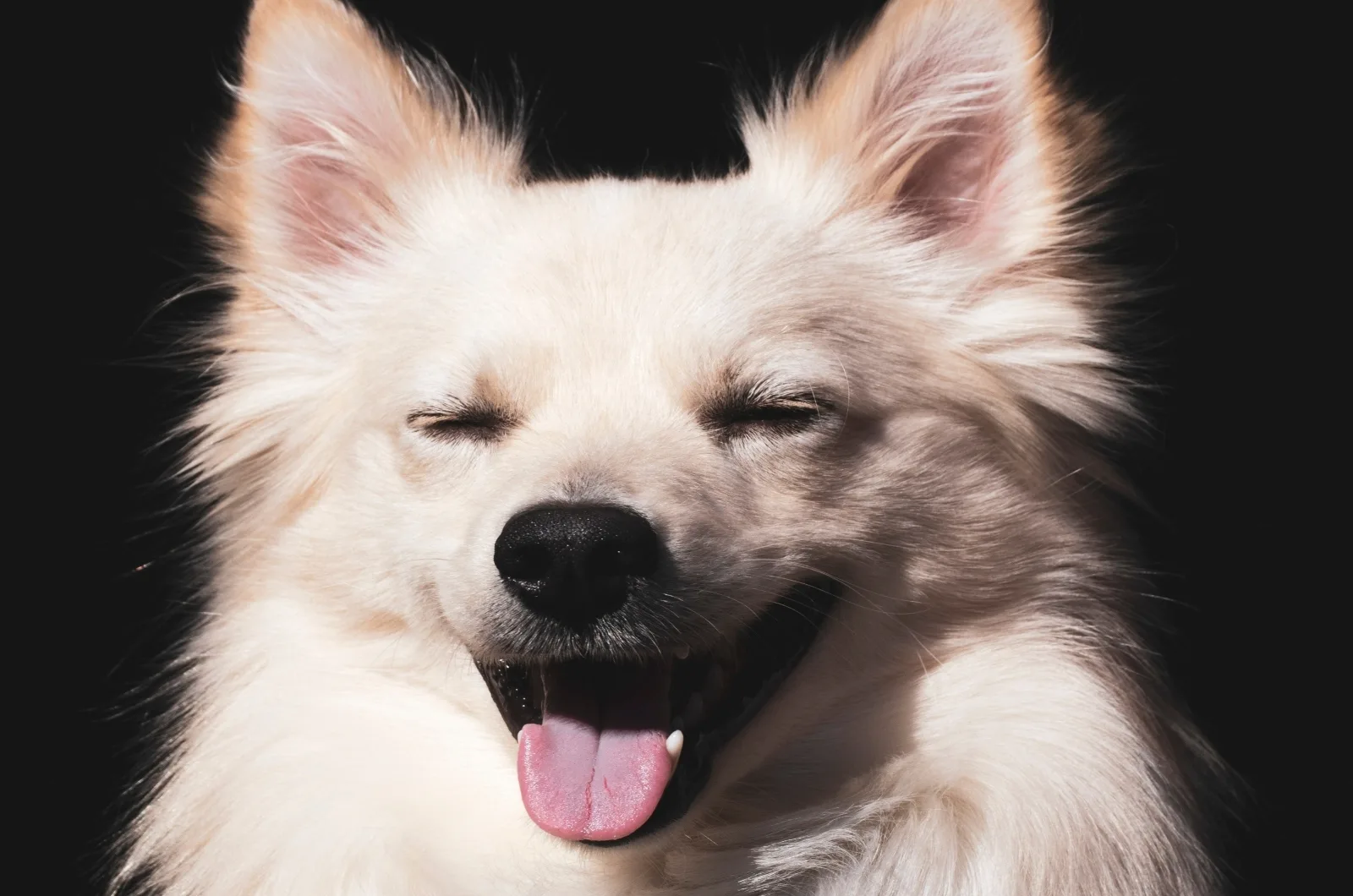 American Eskimo dogs from this family-owned business are equally capable of getting you that medal you always wanted, hanging around with you all day, or taking trips into the snowy outdoors.
Their standard Eskies have CERF and OFA certificates, alongside full DNA profiling. All the adults and puppies are part of the Canine Health Information Center (CHIC), so you can check out each dog's individual profile.
Degenerative myelopathy is another test that Valhalla White Splendor does, which is not a test American Eskimos usually do. Props for being thorough. Puppies are vaccinated, dewormed, and microchipped, as well as vet-checked before departing for their new homes.
The Process Of Acquiring A Puppy
There is a phone number and email address to get in touch with but no official website. Without any socials, you might find it less desirable to consider this American Eskimo breeder. Still, I urge you to send an email or call if you want a great customer experience.
Naturally, all the information regarding pricing, deposits, transportation, etc., will be provided to you once you express interest in getting a puppy.
Breeder Information
Address: Portland, Oregon, US
Phone: +1 503-803-8216
Email: [email protected]
A Meet And Greet With The American Eskimo Dog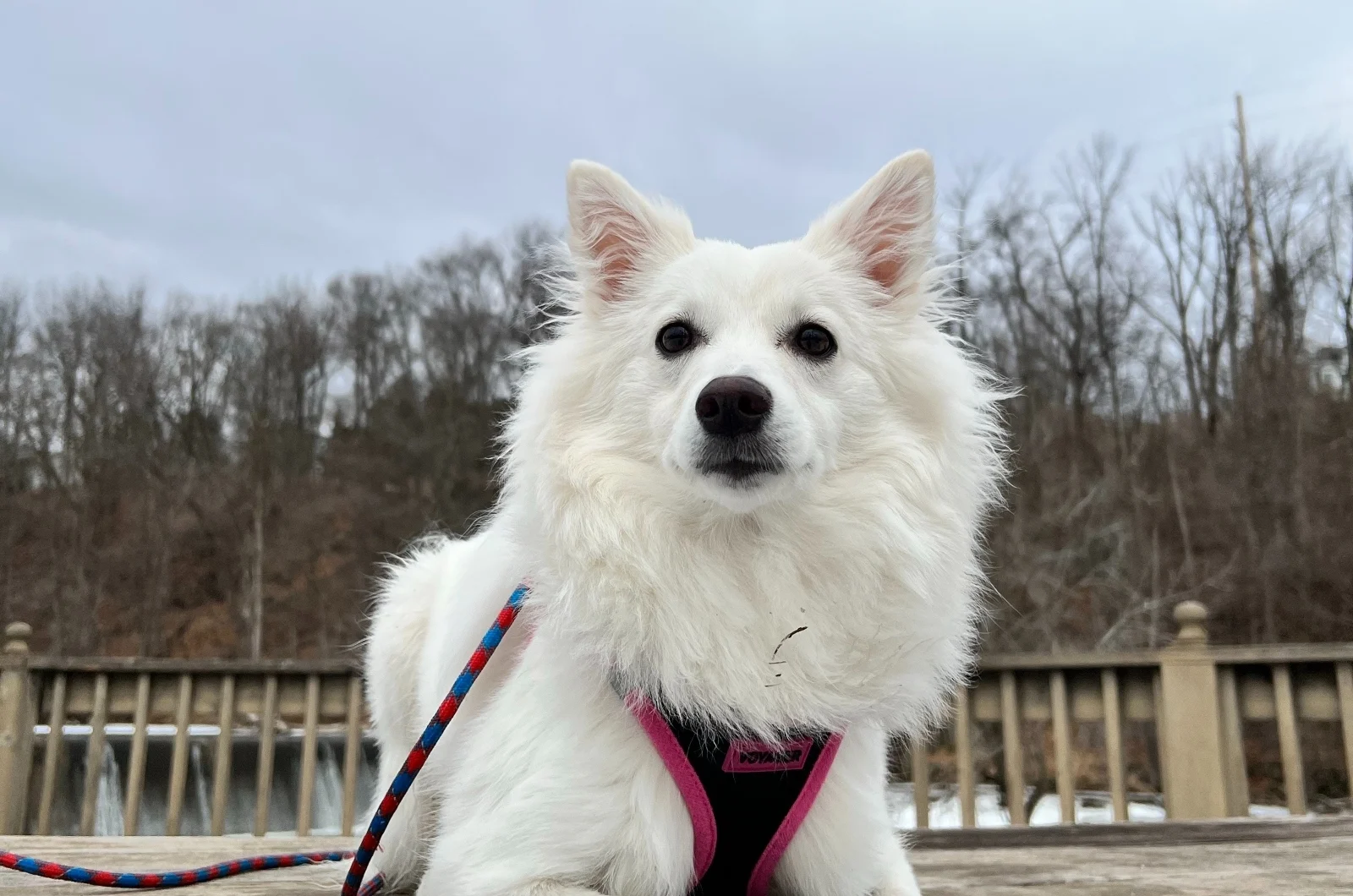 Despite being a dog without ties to Eskimos or the underbelly of the Polar cap, the name, American Eskimo dog, stuck after World War I. The aftermath of the First World War carried over animosity for anything related to Germany, including this German spitz dog.
It might surprise most to find out these were farm dogs used in Germany and Nordic countries. The 19th-century immigration wave of German farmers meant their dogs were in for a change of scenery too.
Now a well-established name but still relatively unknown amongst the wider public in the States, the Eskie is equipped for cold, harsh, and unforgiving climates. Still, you will find them in California, Texas, and other states with scorching summer temperatures.
Having fun finding out about "new" breeds? Here is another boredom-killer article on twenty-five dog breeds that you might have never heard of.
All-Around Fluffy And Able
There are three sizes the American Eskimo dog comes in — toy, mini, and standard. Many American Eskimo breeders have permanently switched to standard Eskies. Breeding small dogs is great and all, but it seems standard is the way to go.
On the topic of standards, they grow anywhere between fifteen and nineteen inches tall, with a weight of twenty-five to thirty-five pounds. Minis come in at twelve to fifteen inches of height and weigh in from ten to twenty pounds.
Similar to Pomeranians, the toy-sized American Eskimo dog is nine to twelve inches tall and as heavy as six to ten pounds. They are very similar to the Pomeranian, so you might want to check out our article on teacup Pomeranians.
For a small breed, the Eskie is athletic, compact, and slightly longer than its height. A wedge-shaped skull is a host to two triangular, erect ears that are moderately set apart but seamlessly connect to the head.
The muzzle is usually not longer than the skull but can be a little bit shorter than it. A black or dark-colored nose and similarly colored eyes are desirable. A straight back and wide, deep-seated chest give it substance without looking stocky.
Front and hind legs are well-developed and perpendicular to the ground without any arching. When the dog is alert, the tail is positioned high. At rest, the tail can be laid flat on the back or slightly over it.
Coat Quality And Colors
Built for working in snowy and cold climates, the American Eskimo dog has a double coat of medium length. The undercoat is very dense and works as insulation, with a more rugged but still silky outer coat.
The tail is heavily feathered, and the neck is rich in hair. Feathering is lush on both front and back legs, and any trimming of the coat is a reason for deducing points in conformation events.
The dense coat spanning from the shoulders and back to the ears creates the illusion of thickness, softening the angles of the head area.
Reputable American Eskimo breeders will most often produce white-coated Eskies, but biscuit cream conforms to breed standards, too. Skin color plays a major role in the breed, so an American Eskimo dog should have either pink or gray skin.
Grooming
Since these dogs love playing outside, dirt, mud, and water can give you some grooming nightmares. Matting occurs when any of the previously mentioned things remain on the coat, and the dog lies on it. The result is a clumpy mess of hairs that will have you on a tightrope.
This buildup can luckily be removed with cleaning shampoos, and just by accident, we have an article on eight of the best shampoos for Pomeranians. Having a similar coat to the Eskie, you will have great success with them.
Because you will be using a brush more often than a spoon with an American Eskimo dog, have a look at some that work for a Siberian Husky. Do not blame me for any accidental perms your dog might get with these.
The occasional nail trimming will prevent the dog from hurting the quick or paw during physical exercise. If you need some guidance in trimming the nails, you must read this article on "sedating" your dog for a painless grooming experience.
American Eskimo Dogs Are Awoof
Tootsie-cutesie American Eskimo dog puppies would bring out a smile from any of us. However, they are serious working dogs that thrive on killing rodents and herding cattle. You will not live to see a cuddly Eskie. They are the epitome of the phrase "sound temper".
Despite being aloof and wary of strangers, they love to play with family members. This deep affection for the closest to them allows for great trainability, which is why they excel in obedience and trick competitions.
Eskies prefer not to make many new friends. The few they have will be warned about danger but also annoying people — a watchdog everyone wishes they had. With high energy levels and around-the-clock playful behavior, you will need to walk them often or do some agility training.
During puppyhood, socialization is crucial if you have other dogs or animals that the Eskie will cohabitate with. Mental stimulation needs are average, so spending long periods of time on their own should not mean your home will be turned into a chaos chamber.
Health, Life Expectancy, And Food
Any American Eskimo breeder will tell you how resilient this dog is. They are adaptable, intelligent, and of a balanced mind. The few minor genetics-mediated conditions that can occasionally pop up do not impact its life expectancy.
The average lifespan of an Eskie is between twelve and fourteen years. Many dogs from any of the reputable breeders on this list have health certificates that prove the absence of PRA, elbow and hip dysplasia, CERF, MD, and other conditions in the bloodlines.
One thing that Eskie owners must keep tabs on is calorie management. Although the breed is not known for its gluttonous tendencies, inadequate diets and overfeeding can cause obesity in American Eskimos.
A high-quality dog food product like kibble can be easily dosed and has all the required nutrients, but you can go the home-cooked or raw diet route. Keep in mind that the latter two will require considerably more time and money.
Conclusion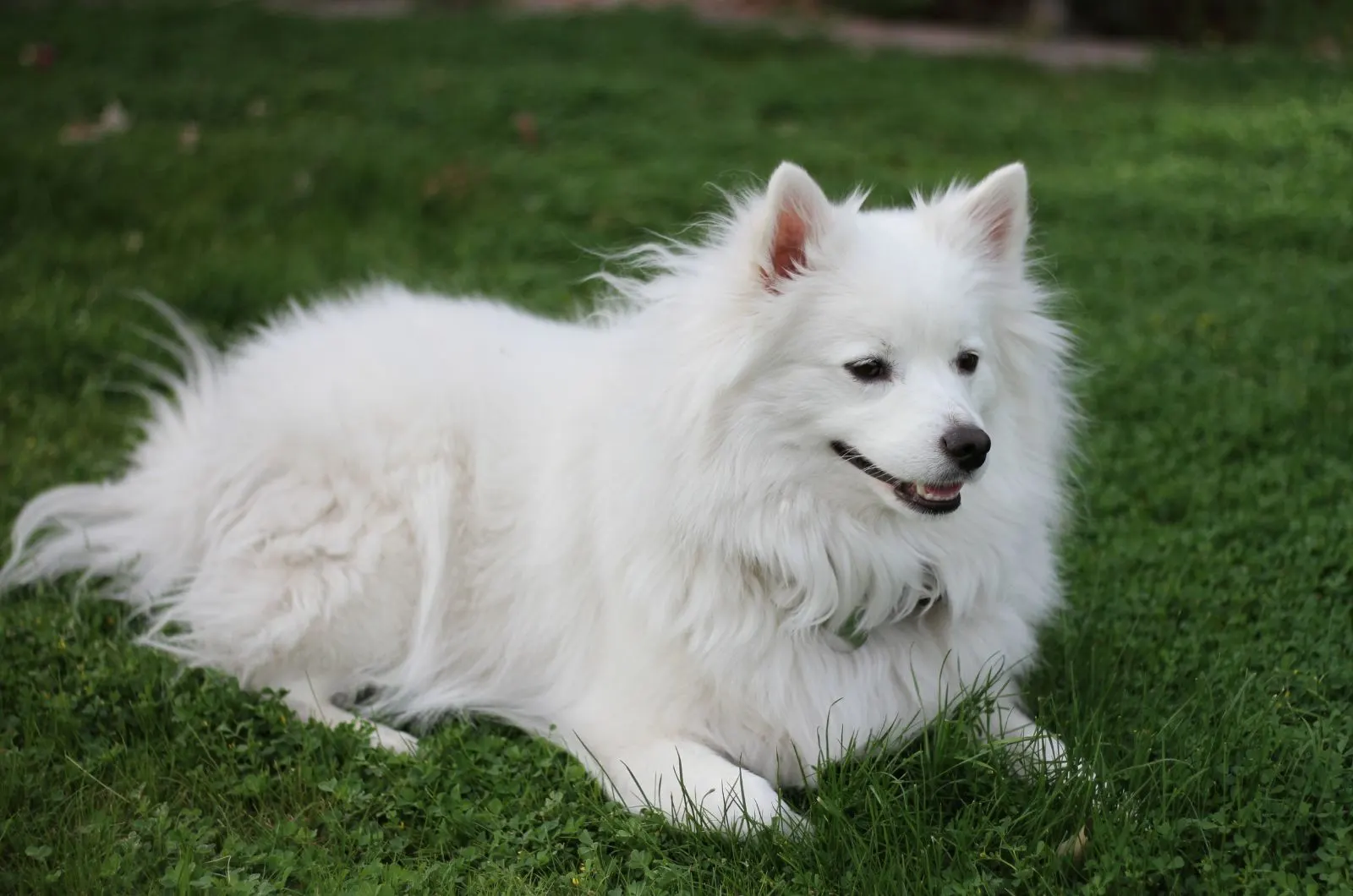 Popular dog breeds often fall victim to backyard breeders or puppy mills due to the high demand. I dare say that the Eskie does really well on this front. The majority of American Eskimo breeders are fully dedicated to producing healthy, conformation-ready dogs of excellent temper.
Rest assured, the ones on this list are safe choices if you want to pull the trigger on a puppy purchase. With that in mind, be sure to research the breed a little bit more before committing to it.