Today, we have the honor of introducing you to one of the oldest dog breeds: the Alaskan Malamute. What is important to know about this wolf-like, incredibly intelligent, and energetic large dog?
It is believed that these Spitz-breed dogs' ancestors traveled with humans from Siberia to Alaska over 4000 years ago.
Alaskan Malamutes, or so-called M'Loot Mals, were bred as hard-working dogs by the tribe named Mahlemuts, in northwestern Alaska. Years ago, Alaskan Malamutes were used as sled dogs, just like Siberian Huskies.
These dogs pulled heavy loads for long distances, and in this way, they helped their humans to survive, and to gain food and other important life supplies.
Alaskan Malamutes were also known as hunting dogs: they hunted animals, such as seals, and made sure that polar bears were not anywhere near their property.
In 1935, this hard-working dog breed was recognized by the AKC (American Kennel Club). The same year, the Alaskan Malamute Club of America was formed.
Hopefully, this introduction has given you an idea of how amazing the Alaskan Malamute dog breed is.
If you are now asking yourself, Where can I find this lovely dog?, we are here to help you. Keep reading and check our list of 7 reputable Alaskan Malamute breeders all across the States!
Alaskan Malamute Puppies For Sale In The U.S.
Today, this Arctic dog breed is the favorite family member for many people. This dog is incredibly good with small children, and it adores showing affection to his owners.
However, the prey drive is always present in the Alaskan Malamute dog breed, so it is extremely important to socialize and train Alaskan Malamutes at an early age.
What are some other important breed characteristics of the Alaskan Malamute?
They have an undercoat and a topcoat, and they are not suited for places with hot climates. Malamutes generally do not bark a lot, and they are very playful and good with all humans. Their lifespan is estimated at around 10 to 12 years.
These pack animals make wonderful best friends for humans, as they're always wanting to be a part of every activity their human family is involved in.
If you are already aware of all the advantages of this gentle giant, all there is to do now is find the right dog breeder. Where should you start your journey? First, it is important to be informed about reputable breeders near your location.
Talk to people who are already Alaskan Malamute owners and ask them about recommendations for breeders. Also, you can find a lot of information on the breeders' website or by directly contacting them via email or a phone call.
The most important thing to always check is the health certificates of the puppy.
To get an initial idea of what a responsible dog breeder means and how you can assess whether you are dealing with a decent breeder, today, we bring you our list of 7 selected Alaskan Malamute breeders across the United States.
1. Beartooth Alaskan Malamutes, Wyoming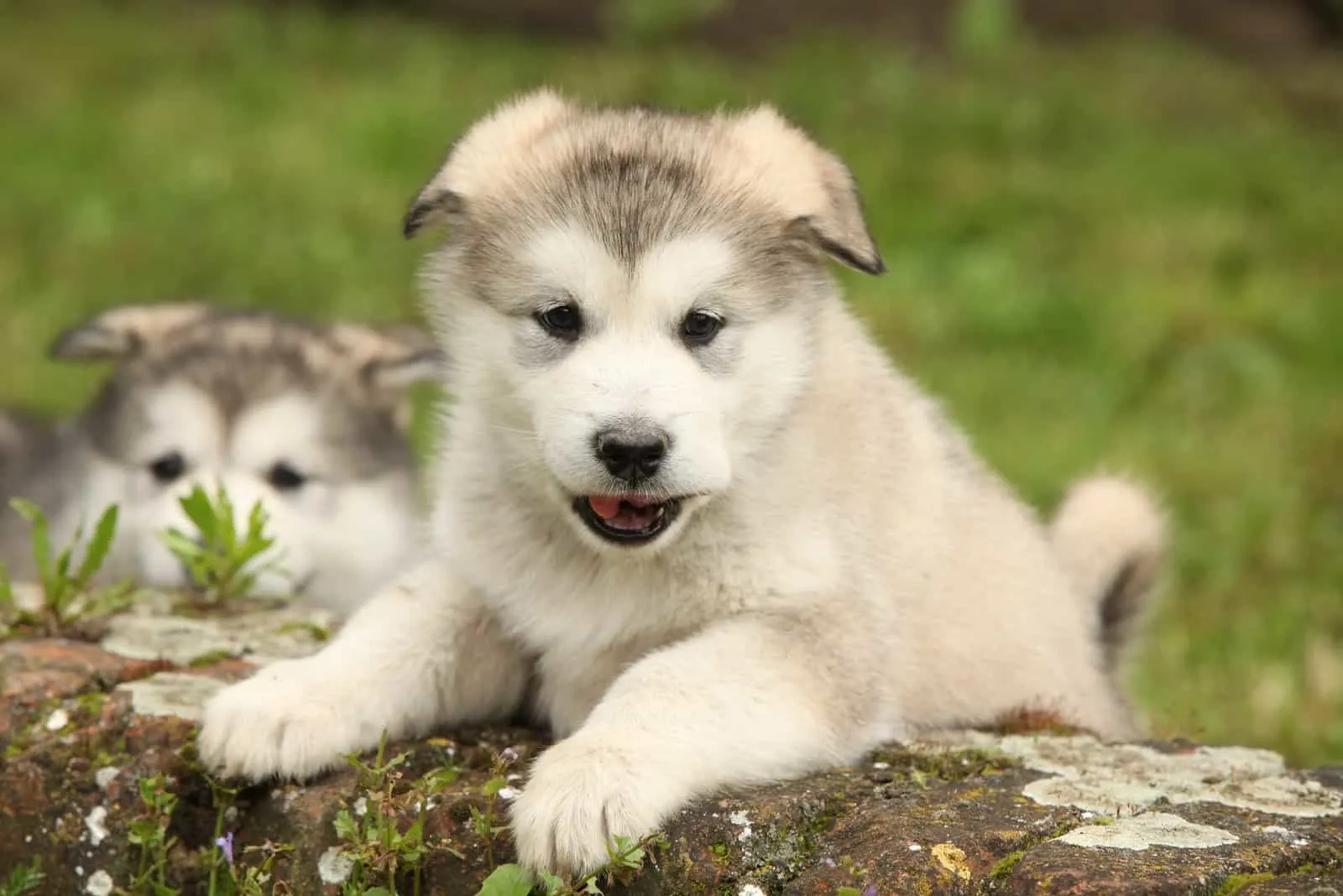 Beartooth Alaskan Malamutes is located in Powell, Wyoming, and has been breeding purebred Alaskan Malamutes of world champion bloodlines since 2015. Alaskan Malamutes at the Beartooth kennel are socialized from an early age, and are well behaved around other animals and children.
These breeders are primarily focused on the temperament, conformation, and health of their Alaskan Malamutes. Their dogs are raised on a large ranch in Northern Wyoming where they can enjoy all the freedom and space of farm life!
Here, at the Beartooth Kennel, Alaskan malamutes serve as companions to their owners in different activities, such as herding, riding, and hiking. By going to their website, you will see pictures of previous litters of incredibly cute Alaskan Malamute puppies. Also, you will find all the information about their upcoming litters.
This breeders' website also offers you to read some reviews from people who have already become owners of Beartooth's puppies.
Beartooth Alaskan Malamutes details
Address: 61 Peace Way, Powell WY 82435
Website: Beartooth Alaskan Malamutes
Phone number: +1 307-899-3424
E-mail: [email protected]
2. BluMoon Alaskan Malamutes, Washington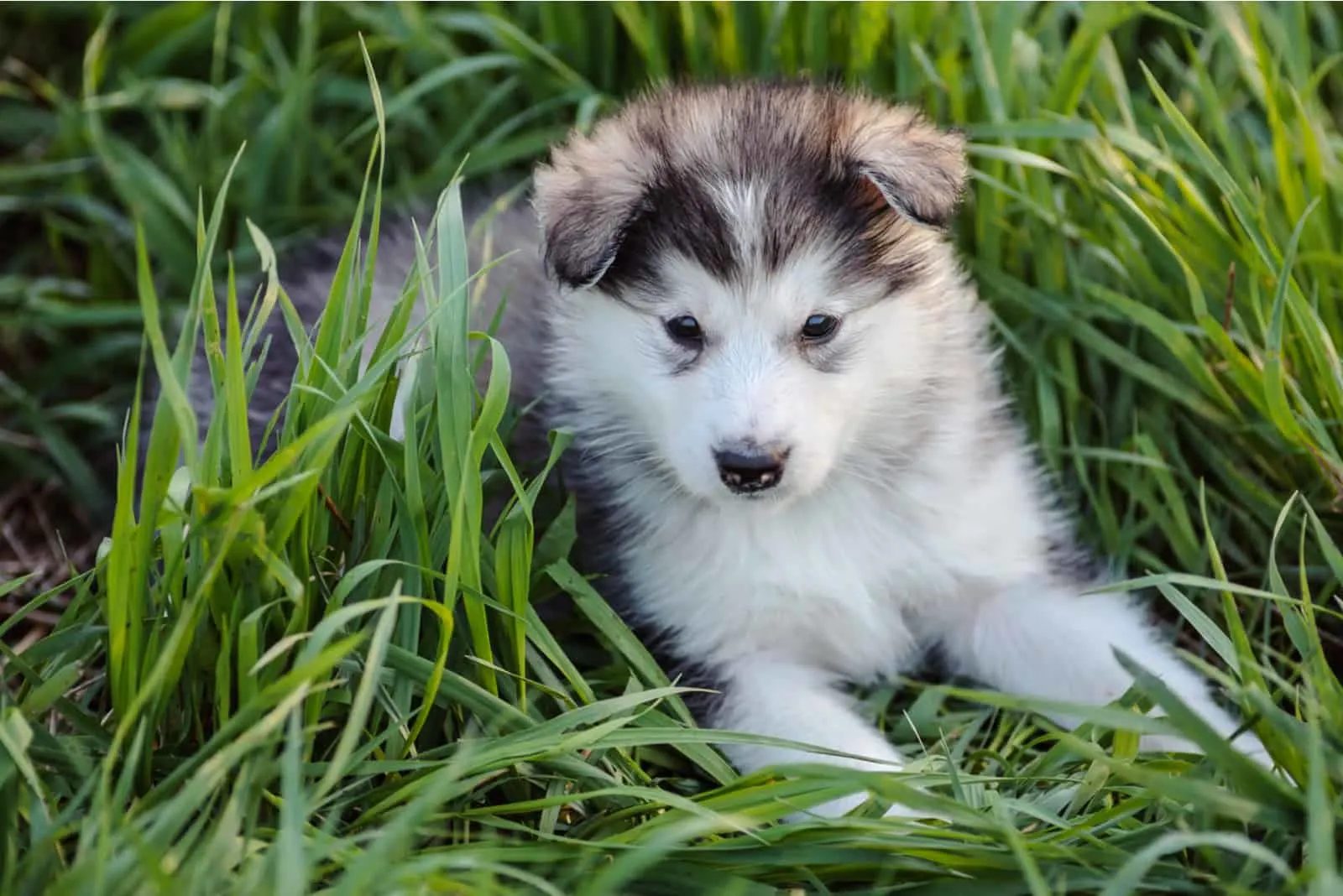 BluMoon Alaskan Malamutes is a kennel located in Bonney Lake, Washington that's owned by Cynthia Carrigan. Together with her family, Cynthia has been breeding Alaskan Malamutes since 2006. These top-quality Alaskan Malamutes have been equally successful as family dogs, and working and show dogs.
All of BluMoon's puppies and their parents are AKC registered and will come to you with copies of their health guarantees. The location of this kennel is quite marvelous: the Alaskan Malamutes from the BluMoon kennel are being raised on a farm in the foothills of Mt. Rainier in Washington.
These dogs enjoy all the perks of real country life. Although BluMoon Alaskan Malamutes is a small, family-owned kennel, these breeders have really put their heart and soul into helping their dogs to become champions in the obedience and conformation fields.
If you are looking for a true, hard working dog of Alaskan Malamute breed, BluMoon might be just the right place for you!
BluMoon Alaskan Malamutes details
Address: Bonney Lake, WA 98391
Website: BluMoon Alaskan Malamutes
Phone number: +1 206-403-5187
3. Cascade Alaskan Malamutes, Washington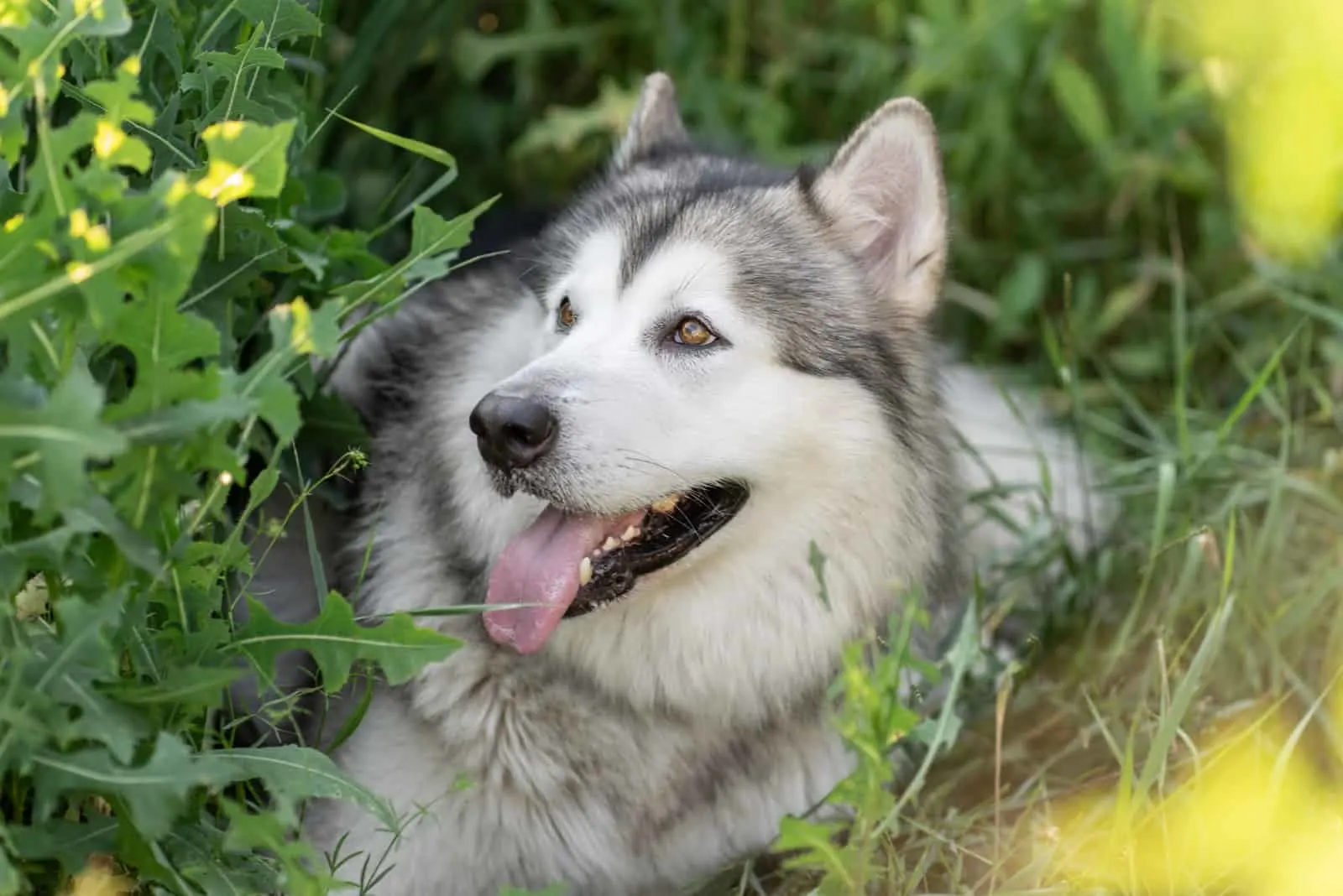 Madeline Sellers and Bob Hagan are the owners of the Cascade Alaskan Malamutes kennel, located in the city of Stevenson in Washington. For over 40 years, these breeders have been raising and training Alaskan Malamutes.
Throughout all this time, Madeline and Bob have received many accomplishments and awards in the field of dog breeding. What sets these breeders apart from others is the incredible love they feel for their dogs.– this we learned from reviews available on the kennel's official website.
Today, the Cascade kennel is known for being one of the best Alaskan Malamute breeders in North America. You're probably already thinking about making an application to these breeders!
Cascade Alaskan Malamutes details
Address: 632 Woodard Creek Rd, Stevenson, WA 98648
Website: Cascade Alaskan Malamutes
Phone number: +1 509-427-4883
4. Envizion, Indiana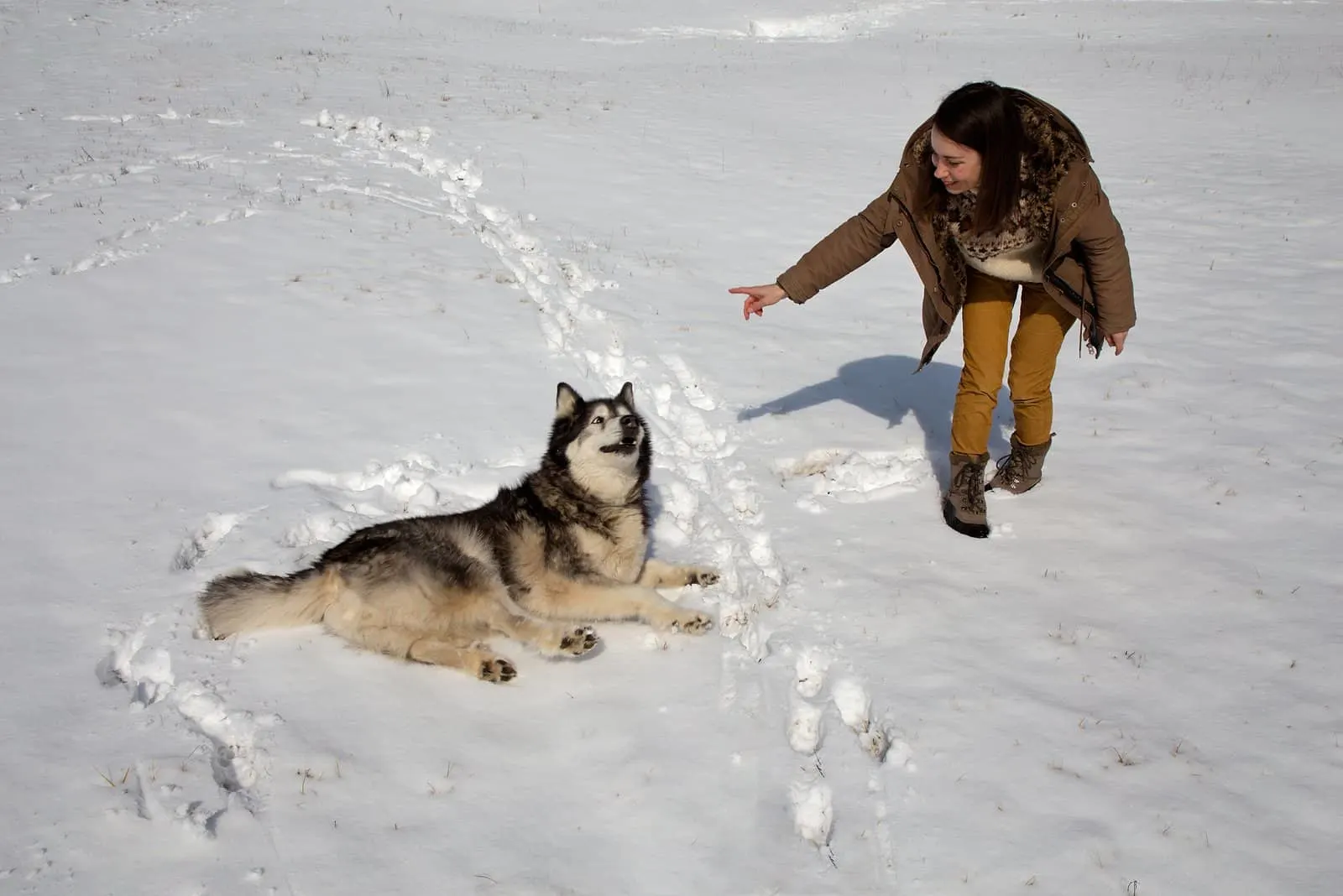 Envizion kennel is located in Bloomington, Indiana and is owned by Erin Myers. Erin is a third-generation dog breeder of the Vizsla and Alaskan Malamute breed. She bred her first dog when she was just 14 years old.
Today, Erin is still working as a dog breeder together with her mother Teresa and her grandmother Gwen. Erin warns all the potential future dog owners that an Alaskan Malamute is not the right dog for first-time owners.
Being used for weight pulling activities and bred to survive harsh and extremely cold weather conditions, these dogs have stayed independent and equally strong till today. If you don't have enough space and determination to train an Alaskan Malamute that has a tendency to be stubborn, you should probably choose a dog that is less demanding.
However, if an Alaskan Malamute is exactly everything you are looking for in a dog, do not hesitate to contact the Envizion kennel in Indiana.
There is no waiting list for this kennel, but you will have to pay a deposit of $500 and once the Alaskan Malamute is old enough to leave the kennel, you will meet your new favorite pet.
Envizion details
Address: Bloomington, IN 47401
Website: Envizion
Phone number: +1 808-638-1518
E-mail: [email protected]
5. Illusion Alaskan Malamutes, Michigan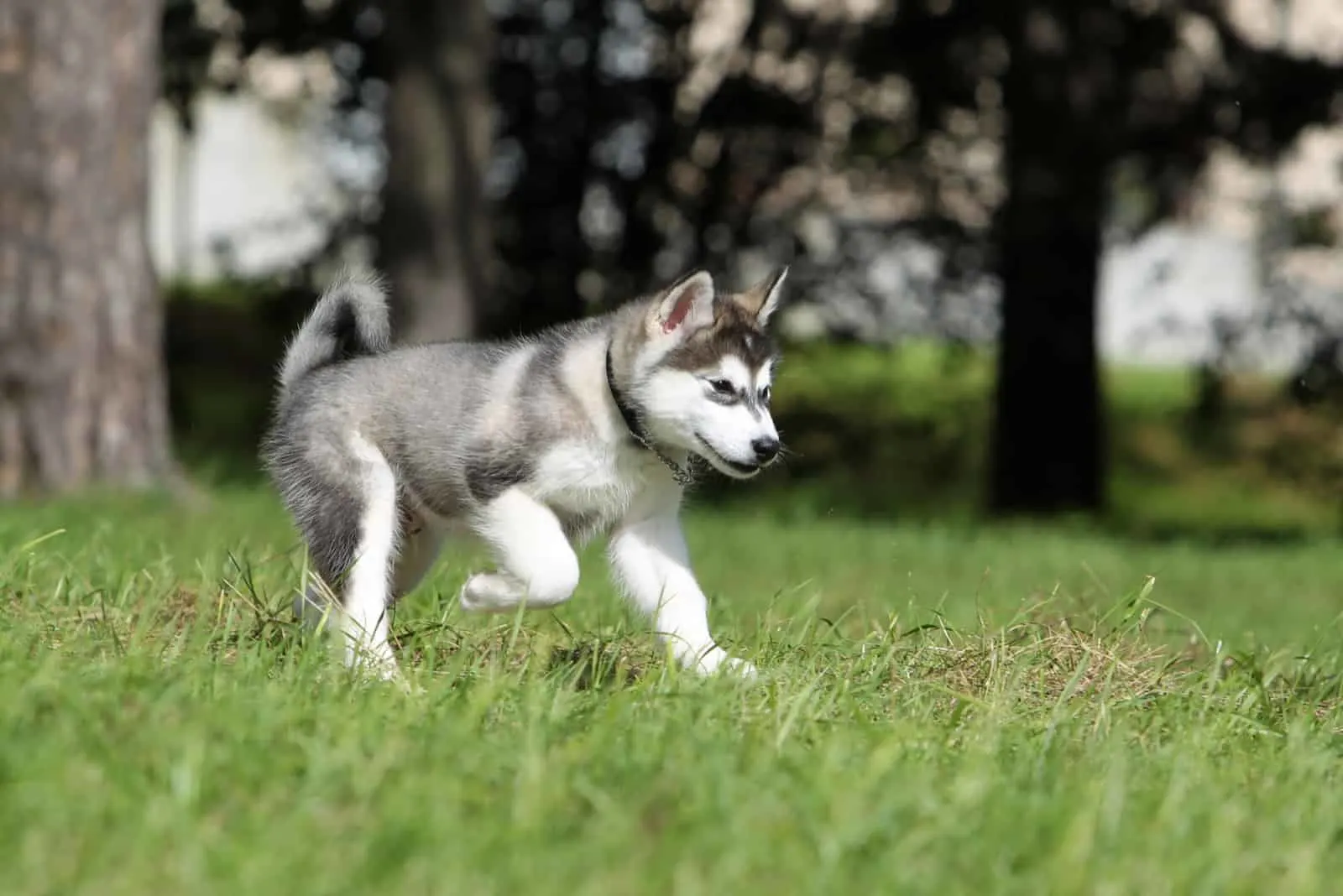 Illusion Alaskan Malamutes is located in Palmyra in Michigan and is owned by Pam Fusco. Pam has been breeding Alaskan Malamutes for more than 20 years. All of Pam's puppies are healthy dogs who will be a truly best companion any dog lover can imagine.
Pam strives for all of her dogs to develop a strong work ethic. Before you take your new puppy home, Pam assures you the dog will already be health checked, vaccinated, and microchipped. Alaskan Malamutes puppies from the Illusion kennel come with a lifetime health guarantee.
One interesting fact: all of Pam's dogs are named after magicians, in accordance with the name of the kennel itself.
Illusion Alaskan Malamutes details
Address: Palmyra, MI 49268
Website: Illusion Alaskan Malamutes
Phone number: +1 734-957-6200
E-mail: [email protected]
6. Kwik-Pak Alaskan Malamutes, Virginia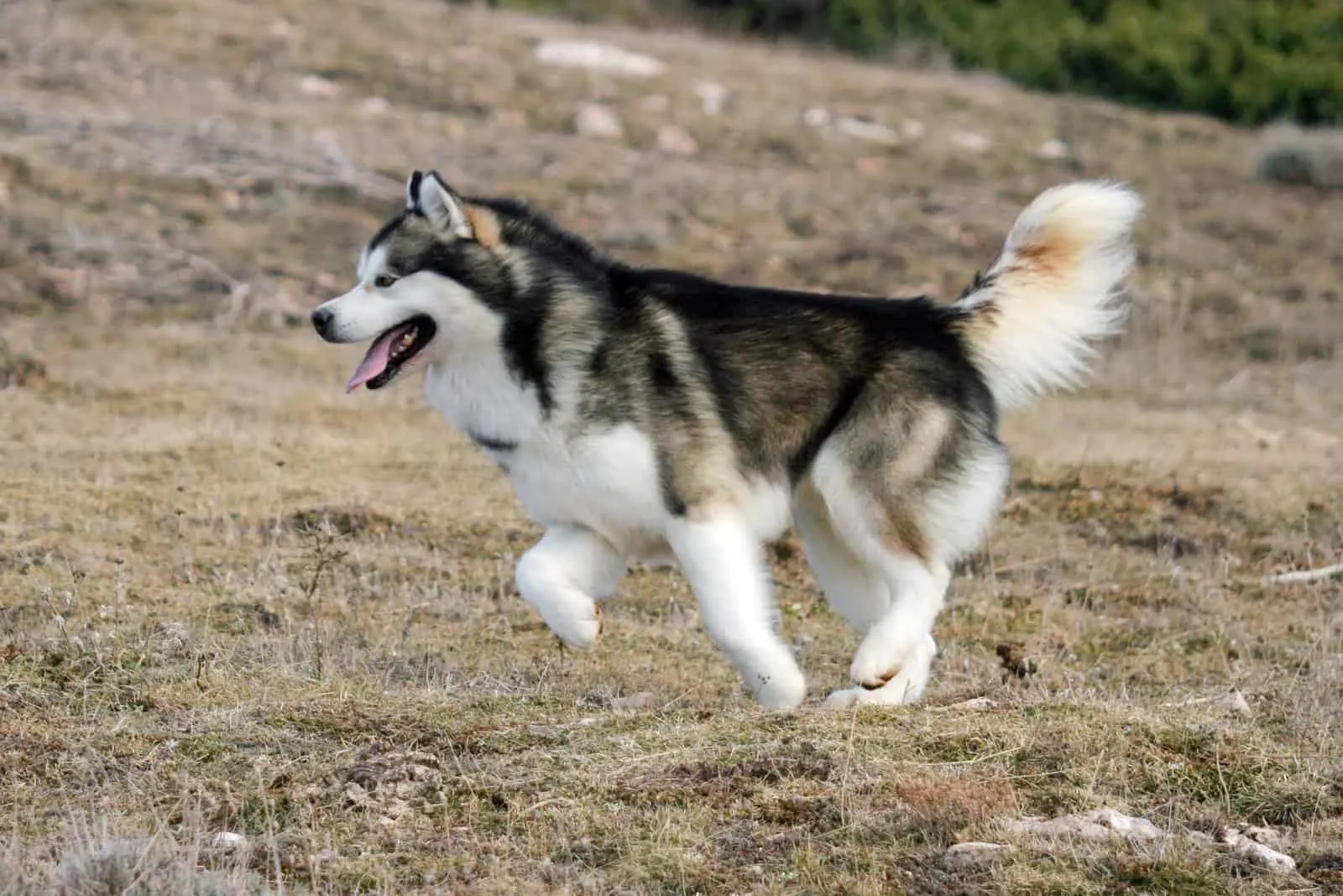 Kwik-Pak Alaskan Malamutes kennel is located in Manassas in Northern Virginia and is owned by Dana Childers and Timothy Bussard, who have been working with Alaskan Malamutes since 1994.
Dana has been known as an experienced dog breeder for many years now, while her son Timothy joined her in the breeding business when he was barely 9 years old!
These breeders follow the standard of the American Kennel Club in their breeding program for Alaskan Malamutes. Kwik-Pak kennel offers not only the breeding program but also grooming, training, and dog boarding for Alaskan Malamutes.
Kwik-Pak's dogs have proved to be successful as therapy dogs, show dogs, and above all – loving dogs and best friends of many families.
Kwik-Pak Alaskan Malamutes details
Address: Manassas, VA 20111
Website: Kwik-Pak Alaskan Malamutes
E-mail: [email protected]
7. Strong Water Malamute, Texas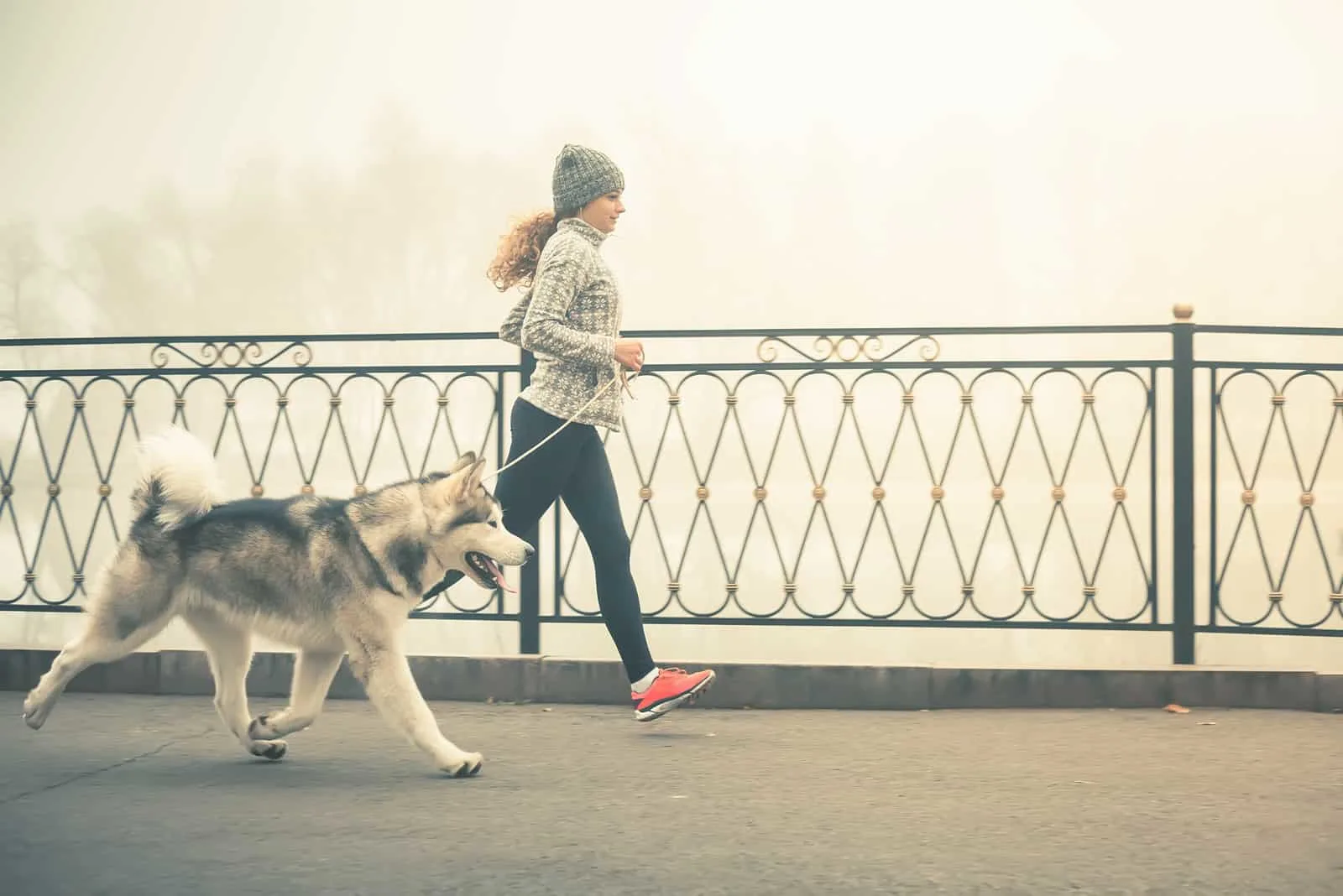 Strong Water Malamute is located in Longview in Texas and is owned by Amber Schireman. Confirmed by the American Kennel Club and the Alaskan Malamute Club of America, Amber is a reputable and ethical Alaskan Malamutes breeder.
She has been breeding Alaskan Malamutes since 2009, but has been involved with dogs in general since she was a child. Today, Strong Water Malamute is a family-owned kennel: Amber's husband Kevin, son Alex and nieces Emily Flores, Ashlyn and Madison Reeves are also Alaskan Malamute lovers.
These breeders turned the breeding process into a fun family activity. Dogs at the Strong Water Malamute are indeed treated as a part of the family, so it would not be a surprise to find one of the Alaskan Malamute puppies lying on the couch.
The main goal of the breeders at Strong Water Malamute is to produce and love healthy, beautiful, and top-quality Alaskan Malamutes, in accordance with the AKC Breed Standard.
Contact Amber now and get yourself your own anti-stress therapy in this giant, yet gentle dog!
Strong Water Malamute details
Address: Longview, TX 75604
Website: Strong Water Malamute
Phone number: +1 903-261-4128
E-mail: [email protected]
How Much Does A Alaskan Malamute Puppy Cost?
Now that you have gained an insight into reputable Alaskan Malamute breeders, it is time to investigate the basic information about price and expenses for this lovely dog breed. Quick warning: don't ever buy a puppy from an unreliable breeder!
While it may seem like you have saved money at first, over time you will find that a lower price will actually cost you more.
Adoption Of An Alaskan Malamute Puppy
The adoption of a puppy is always a nice idea and it will cost you far less than buying a purebred Alaskan Malamute. If you choose to adopt, you should spend anywhere between $50 and $300.
While you will for sure be making a noble act by adopting a puppy, beware that these puppies have probably not gone through necessary health testing. At the beginning, you will probably have to vaccinate your dog and make vet appointments to check its health state.
Although the shelter you might buy a puppy from is probably taking good care of their puppies, they can never be sure of the history of the puppy before it came to them.
Going With A Reputable Breeder
If you want to buy a top-quality Alaskan Malamute, you can expect to pay anywhere between $1000 and $2500. Reputable breeders assure their customers that they will be getting a puppy that has been subjected to all health testing.
If you are a serious dog lover and would love to have a purebred Alaskan Malamute with a special pedigree, be prepared to pay a price up to $6500! This said, we can conclude that an Alaskan Malamute is not a cheap dog breed.
However, the real price you are paying if you decide to go with a reputable breeder is lifetime insurance that you will be getting a healthy dog, with no genetic conditions inherited from the dog's parents.
Are There Any Additional Costs?
I'm sure we all know that real dog care, emotionally and financially, only starts when we bring our new pet home. So, what are the additional costs for an Alaskan Malamute puppy?
First of all, food and water bowls, dog collars, and a leash will cost you $20 each on average.
A comfortable dog bed for your new friend will cost around $80.
A proper dog brush (because your Alaskan Malamute will need it!) costs around $20.
Shampoo, toothbrushing supplies, toenail clippers – your Alaskan Malamute needs all of these! The cost of each is around $15.
These are just the essential items, so make sure your budget covers all items your pet will need for starters.
Final Thoughts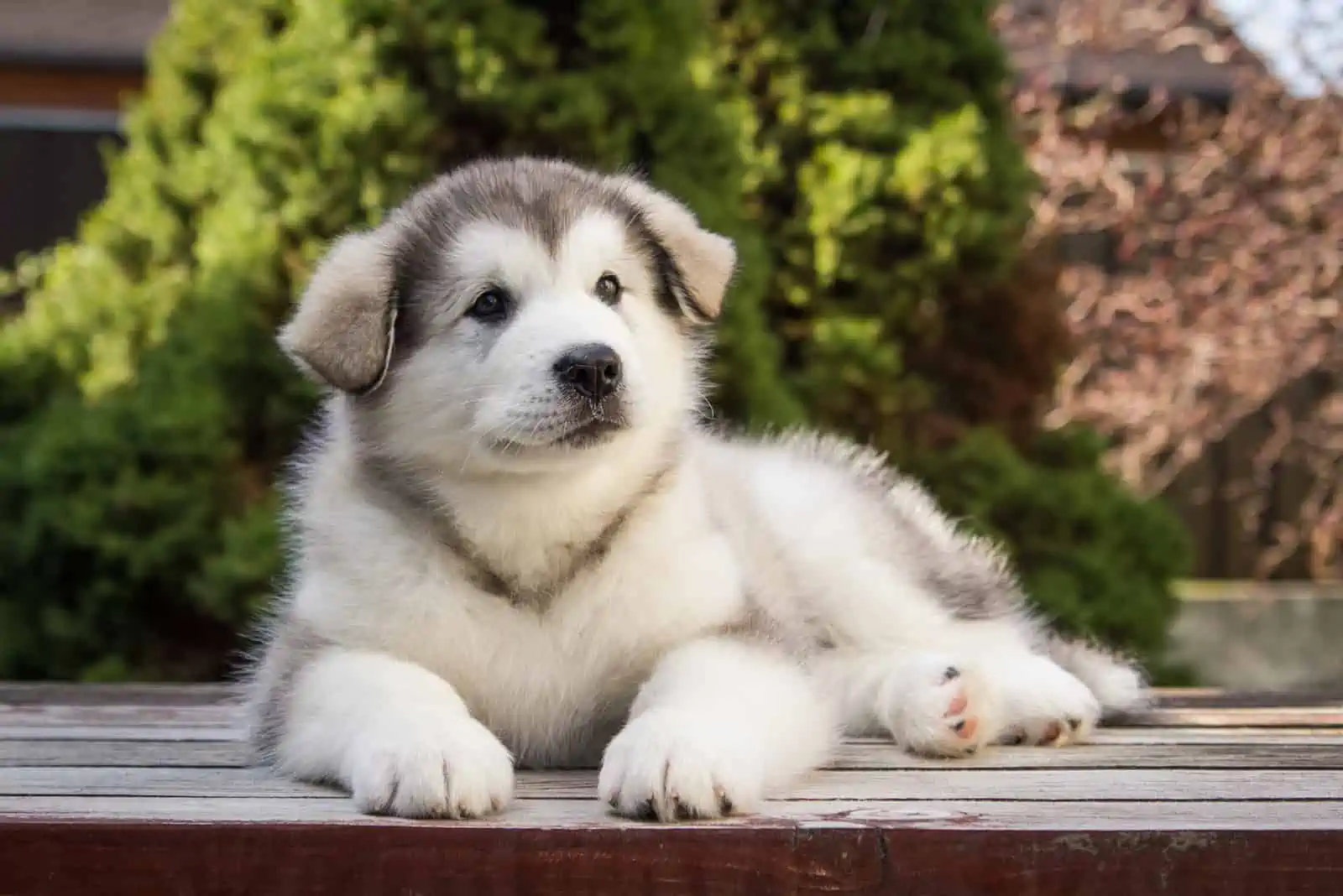 While they used to be working dogs, Alaskan Malamutes are nowadays companions for many families. Since this dog is very popular among dog lovers, don't be surprised to find many breeders of Alaskan Malamutes online.
However, it is necessary to be careful. Not all breeders are ethical and truly caring about their puppies. Some might see lovely Alaskan Malamutes puppies as an opportunity to make a quick profit.
Don't ever buy a puppy without checking the background of the breeder and without visiting the kennel you are looking to buy a puppy from.
Hopefully, our list of 7 reputable Alaskan Malamute breeders across the US will be the starting point of your search for this wonderful Arctic dog!
Read Next:
• Malamute Vs Husky: The Battle For An Ice Throne
• German Shepherd Alaskan Malamute Mix — Loyalty And Devotion
• Alaskan Malamute Growth Chart — Big Sled Dogs From The North