Looking for an active companion that could also fit into your pocket? Then the yorkiepoo puppy is a perfect fit for you! These adorable, chocolate-fur canines happen to be the best of the best when it comes to designer dogs.
The credit goes to their outstanding dog parents – yorkshire terrier and the poodle breed.
The crossbreed actually has two versions – the first one is crossing the yorkshire terrier with a miniature poodle and the second one is crossing with a toy poodle.
This combination is totally up to yorkiepoo breeders and depends on how big they want the yorkiepoo to be.
They inherited the wittiness and the funny character of a yorkshire terrier. Even though they appear as a small size doggie, they are fearless in their nature.
Their parent breed, the yorkshire, was popular as a ratter – it was used in England for rat hunting.
Hence – the terrier trait and the fearless character of a yorkiepoo puppy.
Yorkiepoo, goes by several names: yorkipoo, yorkiedoodle, or yorkie poodle.
Yorkie Poo Puppies For Sale In The U.S.
There are a plethora of yorkiepoo puppy mills all over the United States. You can find them on the East and West Coast evenly, as well as in Texas.
However, not all of them have been recognized by the American Kennel Club and the best is to look for certified yorkiepoo breeders.
AKC recognition is a must in a yorkie poo designer dog. This is a mixed breed and many breeders try to sell genetically unreliable puppies under the name of a yorkie poo. That is why you need to pay attention to are several things:
– breeder certification
– their readiness to provide info about the puppy's origin
– vaccination and deworming documentation and schedule.
In the following part of this article, we bring you the ten most reputable and best yorkiepoo breeders in the U.S.
1. Petland Lexington, Lexington, KY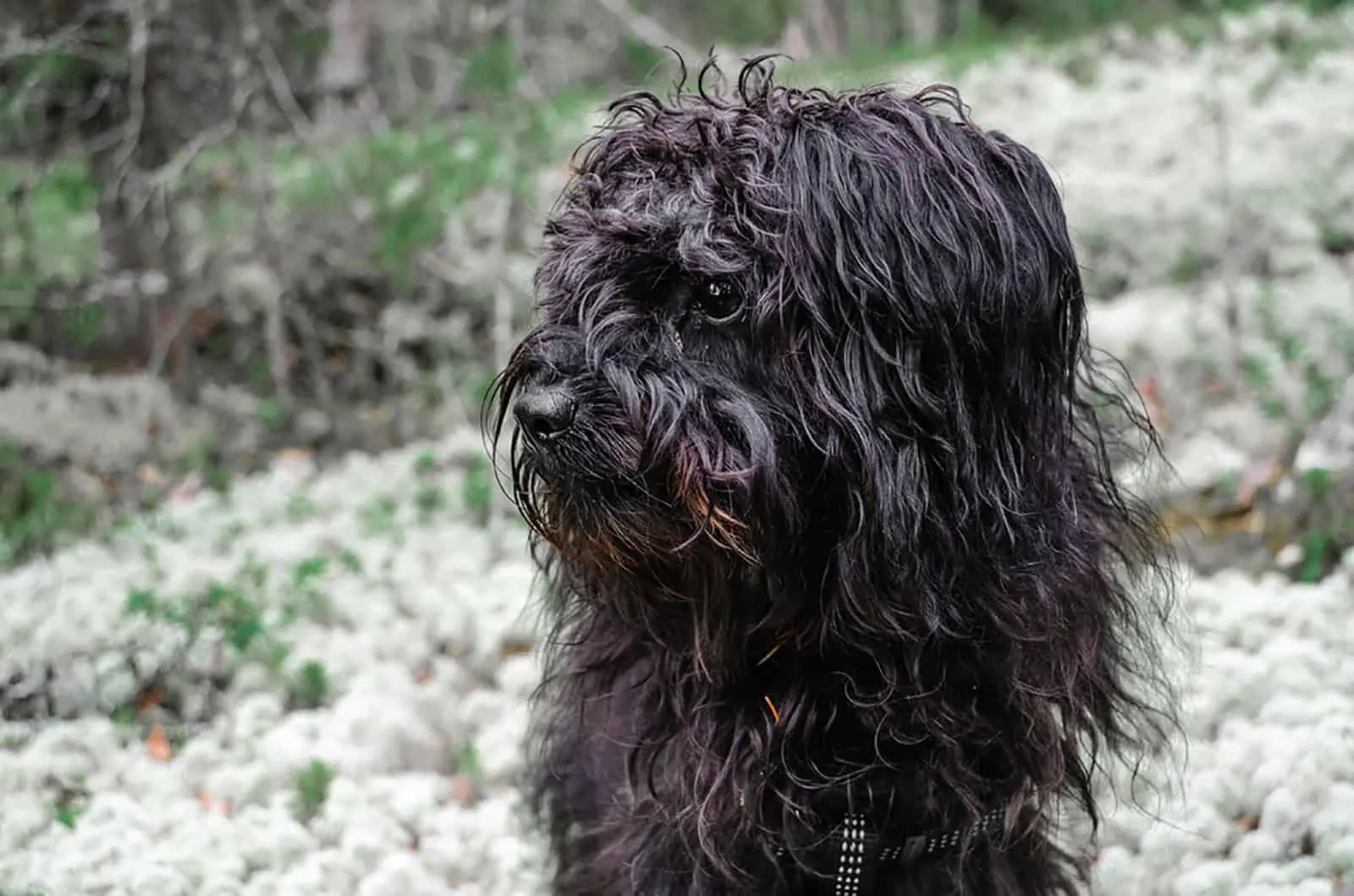 Petland Lexington is probably one of the most famous and reputable breeders of small breeds in U.S.
Aside from yorkie poo puppies, they also have a variety of other small size dogs – all the doodle puppies, beabulls, daisy dogs, and the list just goes on and on.
They also sell other dog breeds.
When it comes to yorkie poo puppies, they do not recommend it to families with small kids, due to a yorkiepoo frailness.
However, if a family still decides on purchasing one, the Petland Lexington team's advice for parents is to have daily supervision when letting their children play with the puppy.
The breeding process has the three main pillars in Petland Lexington: time, patience and love.
Yorkie poo puppies can sometimes be stubborn and act up during their training sessions, so they need a lot of time, love and patience for proper character building.
When the first time appointment is scheduled at Petland Lexington, you can get a 100 USD off price.
Location:
2909 Richmond Road Suite, Lexington, KY
Contact number:
(859) 328-2085
Website:
2. Little Darling Pups, Peyton, CO.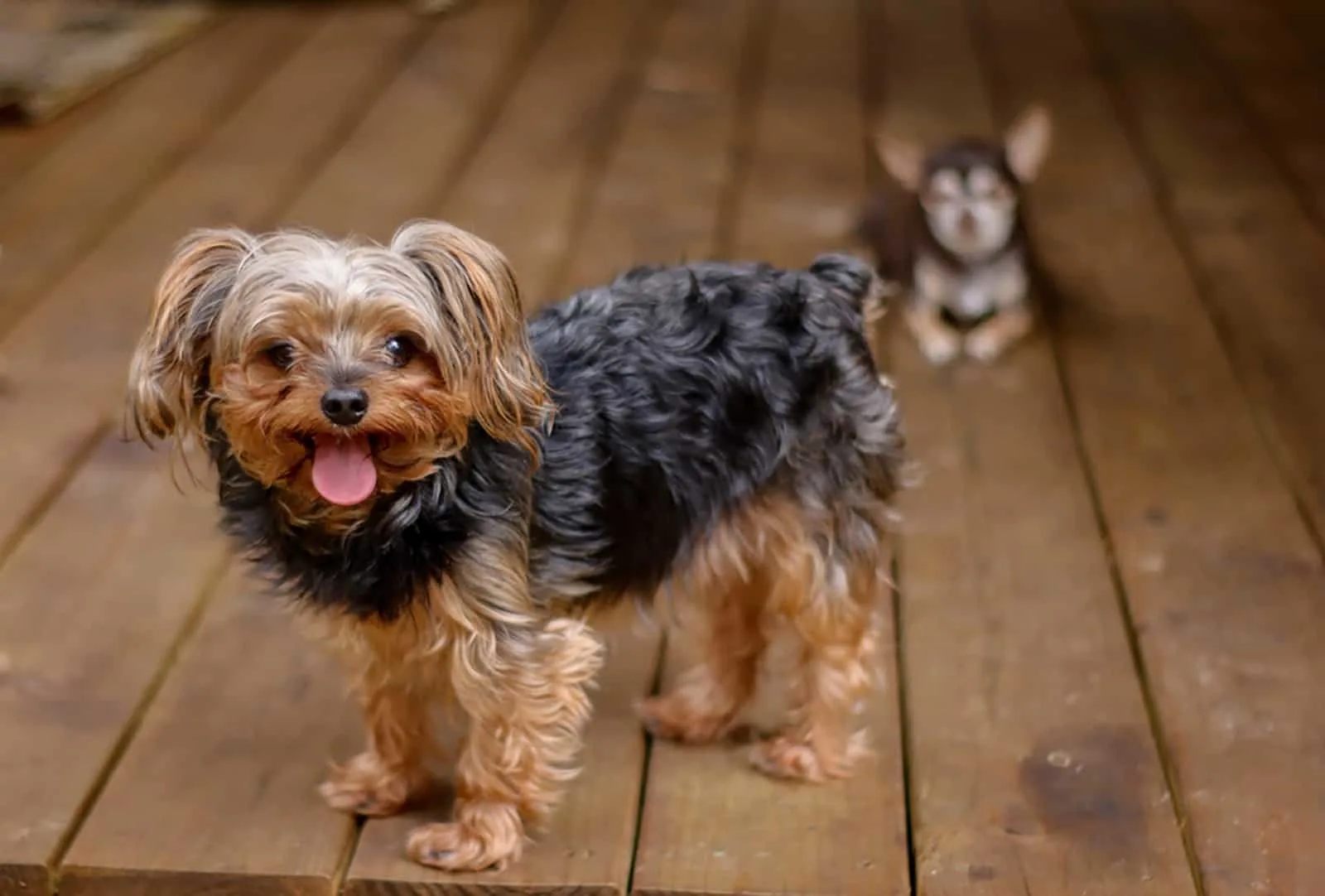 Yorkie poo dogs are the Little Darling Pups specialty. This Colorado-based breeder provides both purebred and designer breed puppies, but has a special place in its heart for yorkie poos.
You don't have to be worried about your new puppy once you purchase it from this yorkiepoo breeder. The Little Darling Pups is very strict in doing business with its clients, since they don't do waiting lists.
The only way to buy your puppy is to put a deposit and wait the appropriate amount of time after the puppy is born.
The manager, Kathryn, provides information about the yorkie poo puppy four weeks after they are born because that's the proper way to identify the doggie's coat color and other physical features.
This breed house has several State licensed breeders and the only way to use their services is to get in touch personally, on location.
One of the main reasons why they don't do ''peek before you buy'' practice is a health guarantee that is sacred for the breeder.
They want to make sure the yorkie poo breed doesn't have any health issues and that nobody interferes until they are fully vaccinated and examined.
Location:
13750 Canter Rd, Peyton (Falcon), CO
Contact number:
(719) 332-1939
Email address:
Website:
3. Patience's Puppies, Townsend, DE.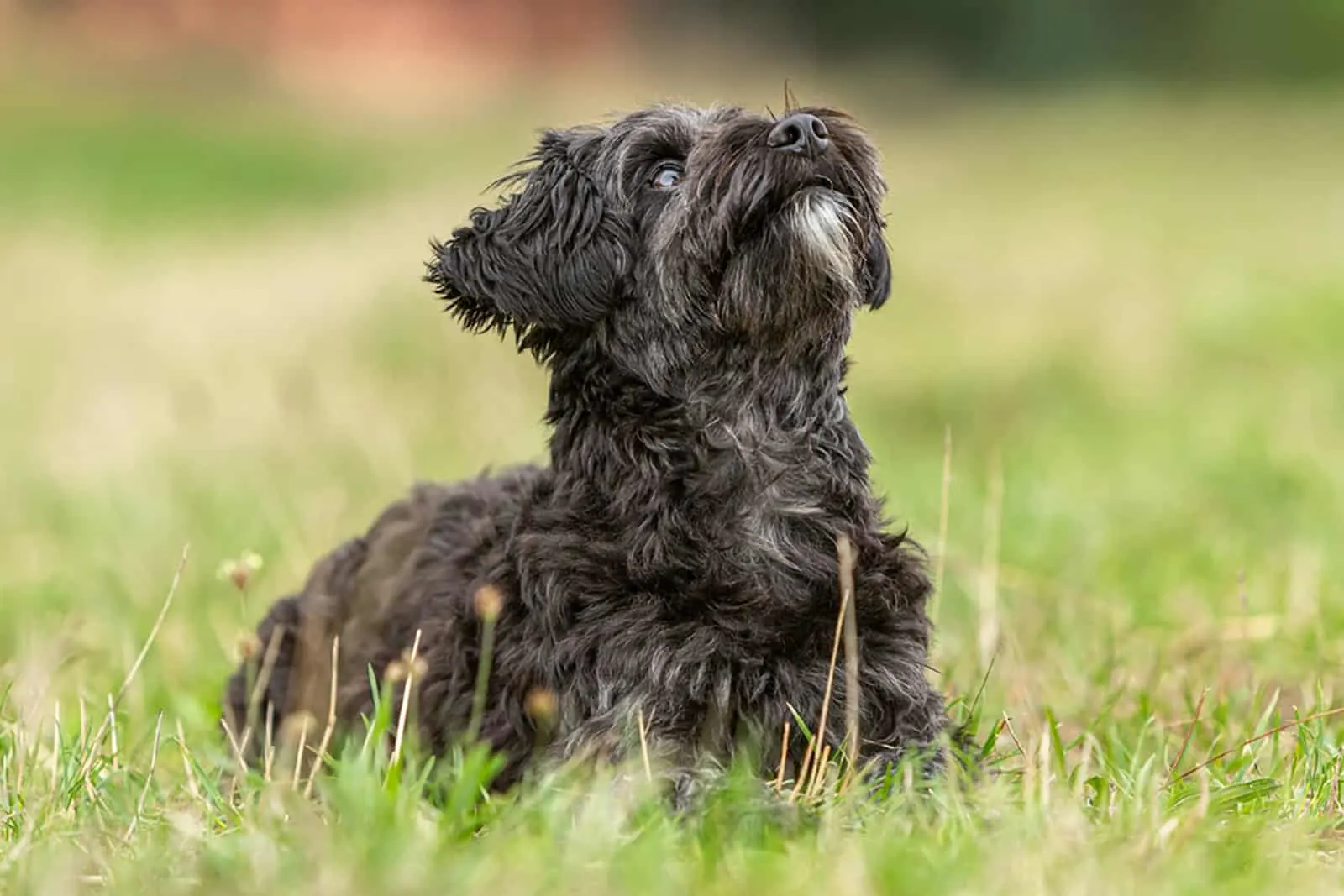 The only thing to make sure the Patience's Puppies is one of the yorkiepoo breeders for you is to check their website and read the testimonials. They have over twenty years of experience in breeding and the healthy lifespan of a puppy is guaranteed.
The Patience's Puppies team consists of three main breeders: Rebecca, Pablo and Brenda. They are kind and accessible at all times.
Patience's Puppies is a certified breeder with the following recognitions: The AKC, International Canine Organization and the American Canine Organization.
The breeder puts a lot of effort into maintaining its professional code of ethics. It provides timely information about the breed with all pros and cons.
Furthermore, he is well informed about yorkiepoo puppy genetics and constantly works on eliminating the health defects.
Lastly, their mission is to daily educate future dog owners about the proper way of breeding. You can learn everything about canines' socialization, small dog breeds and their recommended feeding habits.
They won't hold up when it comes to creating a perfect feeding chart for your puppy.
The Patience's Puppies breeder lives by positive reinforcement and good relationships with its customers.
Location:
844 Dexter Corner Road, Townsend, DE
Contact number:
(302) 834-4137
Email address:
Website:
4. JJ Pups, Safford, AZ.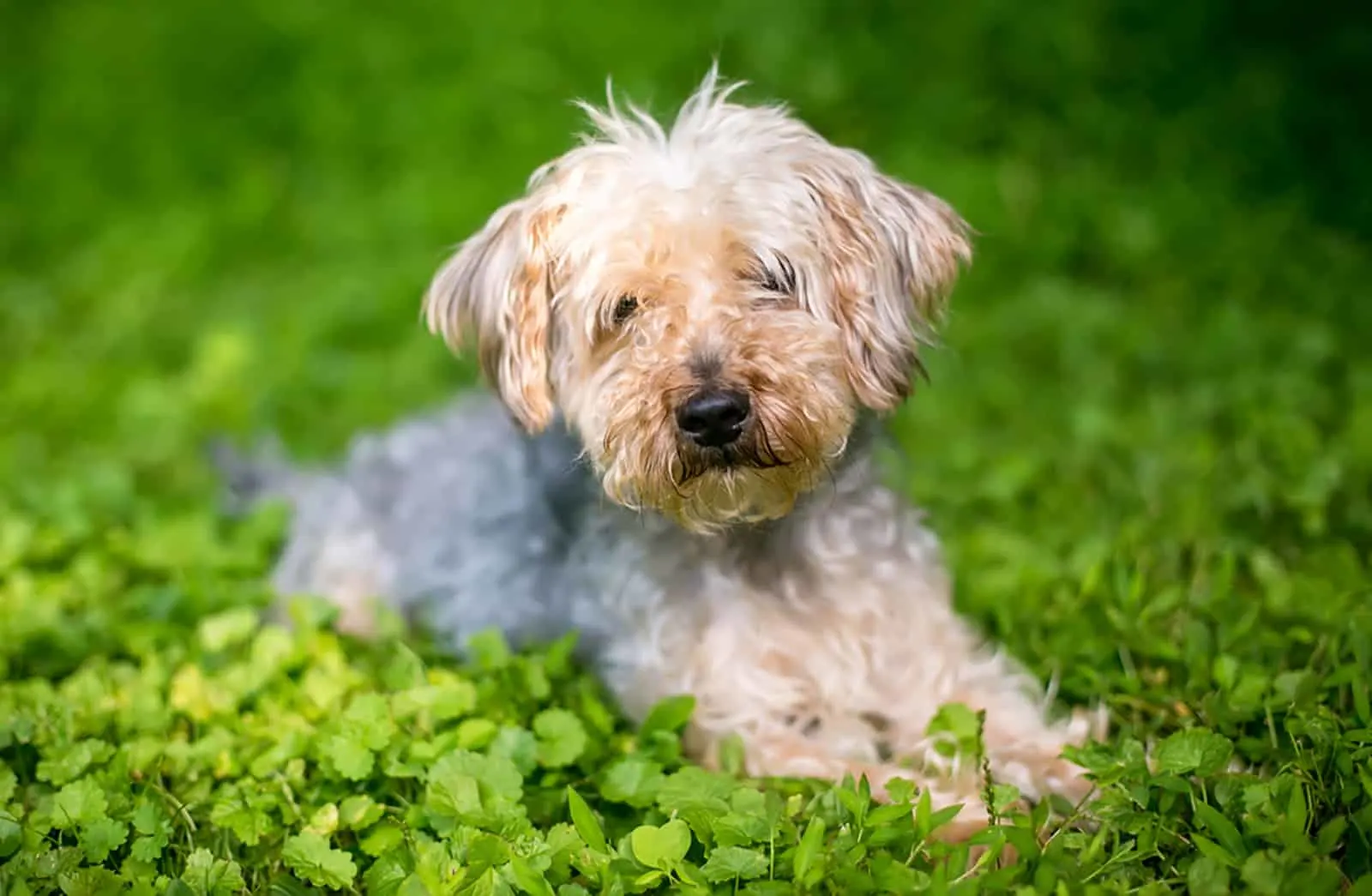 JJ Pups sells the f1 yorkiepoo puppies, which means their yorkie doodles are the first generation canines mixed from the purebred dogs.
These teacup, family member-like doggies are the long tradition in JJ Pups' home, considering the fact that this breeder has been in business since 2001.
The John family – the owner of JJ Pups, breeds healthy puppies and makes sure they study their customers well. If you are the customer who doesn't know exactly what breed would be perfect for your personality, or your lifestyle – don't worry.
The JJ Pups team will work on finding the best match for you! They will also tell you whether the yorkiepoo puppy is or isn't the one.
The owner of JJ Pups is at the same time the manager of this house and works daily on puppies' socialization process.
They make sure the activity level of each dog is satisfied and they do multi-component training for all yorkiepoo puppies.
Once this yorkshire and poodle mix maintains proper character and once the breeder is one hundred percent sure it has reached the adaptability level, it is marked as the puppy for sale.
Location:
902 W John Lane, Safford, AZ
Contact number:
(928) 965-4396
Email address:
Website:
5. Thompson's Kountry Kennel, Waterville, IA.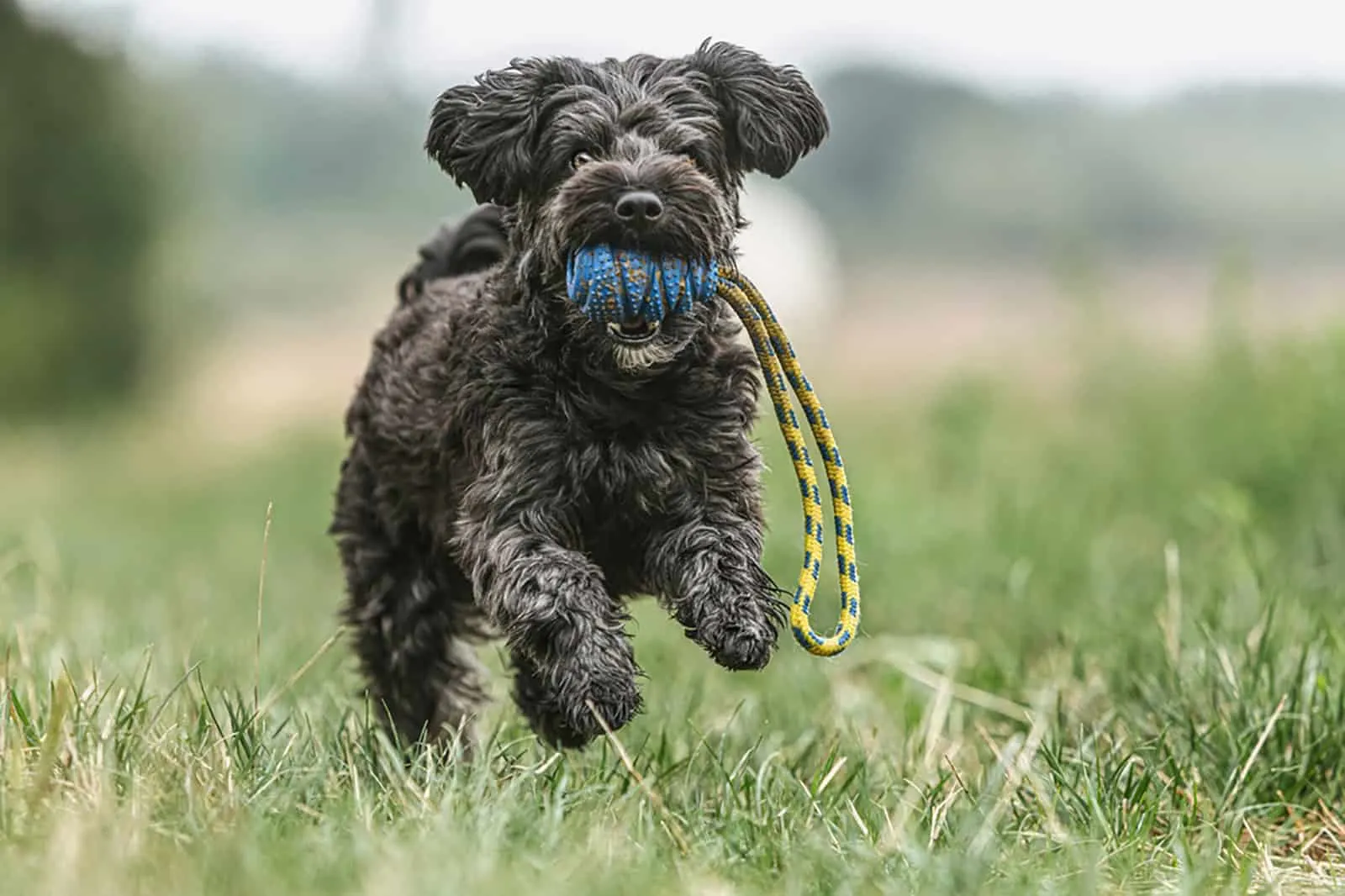 The Thompson's Kountry Kennel in Iowa is something else. Its beautiful environment and nature is just the perfect place to breed dogs.
The Thompson family has its own farm in the countryside in Waterville and aside from dogs – they also have a robot barn.
The Thompson's Kountry Kennel is regularly inspected and licensed by the USDA and this breeder holds a Federal Breeder's license. This means it is reliable and reputable among the yorkiepoo breeders in the U.S.
The Thompson's team will provide a free of charge feeding chart for your puppy and will even send you a full container of the current yorkiepoo puppy's food. This is because they put a lot of effort into providing healthy nutrition and fulfilling dietary needs of all of their dogs.
They recommend a slow transition to a new foot once the puppy gets to the new owner's address.
The breeder provides the first vaccine to your designer dog and creates a vaccine schedule for you, too. They point you to what potential diseases and health issues you have to pay attention to.
Also, part of the Thompson's Puppies' mission is to deliver you a well-trained teacup yorkiepoo. So, probably your canine will already be potty trained.
Future owners should know that these puppies were bred on a farm with a lot of room for activities and socialization with other animals. Choosing this breeder means you have to keep maintaining that routine once the new puppy gets to its new address.
Location:
1433 Knudtson Road, Waterville, IA
Contact number:
(563) 568-1178
Website:
6. NYC Yorkies, Brooklyn, NY.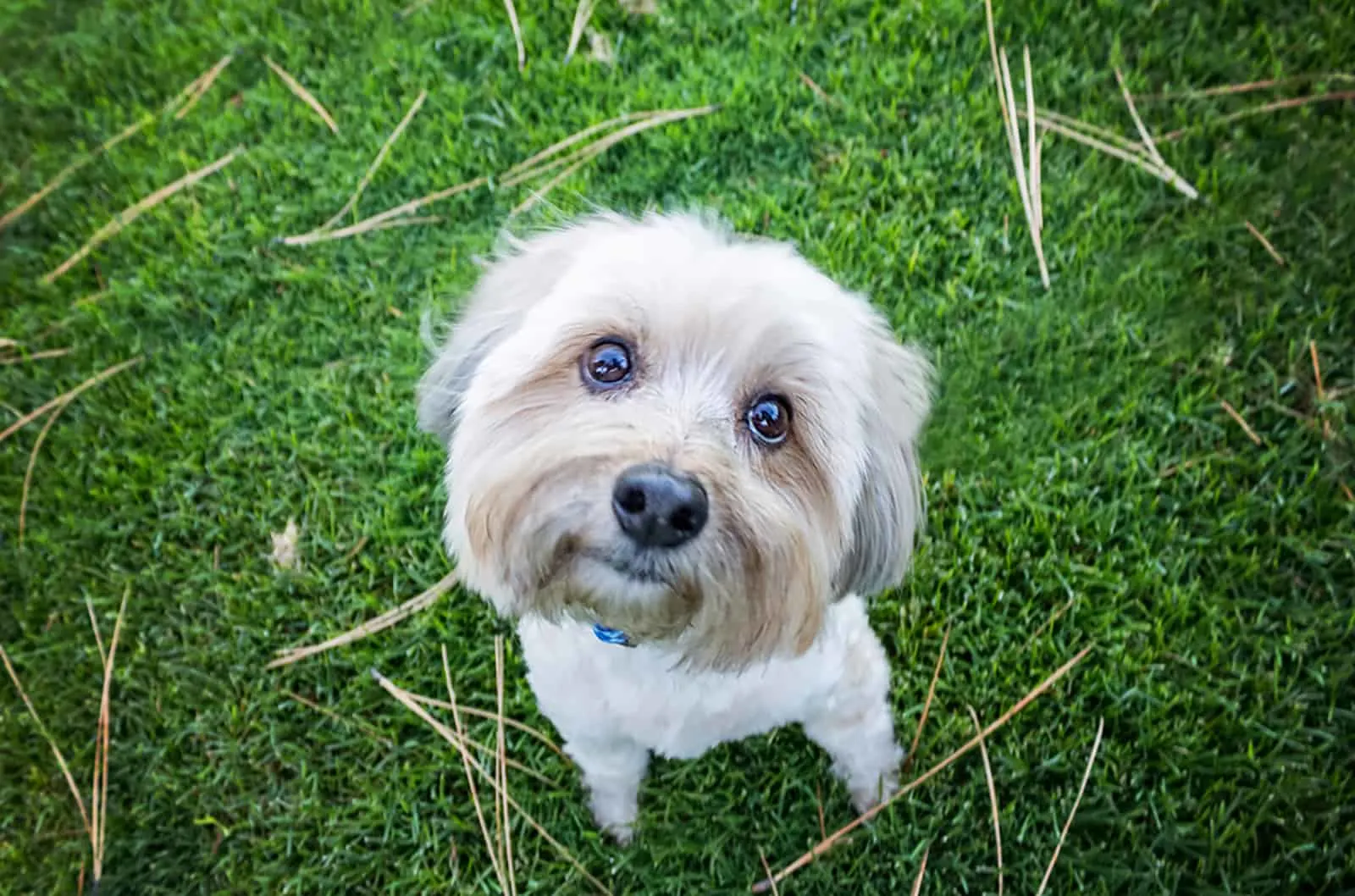 The NYC Yorkies breeder has been in business since the 1970s. If you want an affectionate and indoor bred yorkie poo puppy, this is the perfect breeder for you!
There are several mission statements of the NYC Yorkies – building affectionate temperament of the puppy, making the puppy comfortable at all occasions and providing a healthy and nurturing environment to their pups.
They give a 1 year guarantee to all of their customers, which means the health guarantee is on a high level! Two health exams are free of charge if you want to make sure your yorkie poo puppy's overall health is in order.
If this is not enough for you, they even go beyond that! They will gladly provide fourteen days free of any charge for you to get a new puppy and take it to the vet station of your own choosing.
Once you make sure the puppy is fine, you can make the purchase.
The NYC team is available 24 hours a day for any information you need.
Location:
1690 80th street, Brooklyn, NY
Contact number:
(347) 355-8347
Email address:
Website:
7. Family Dog Puppies, Ladysmith, WI.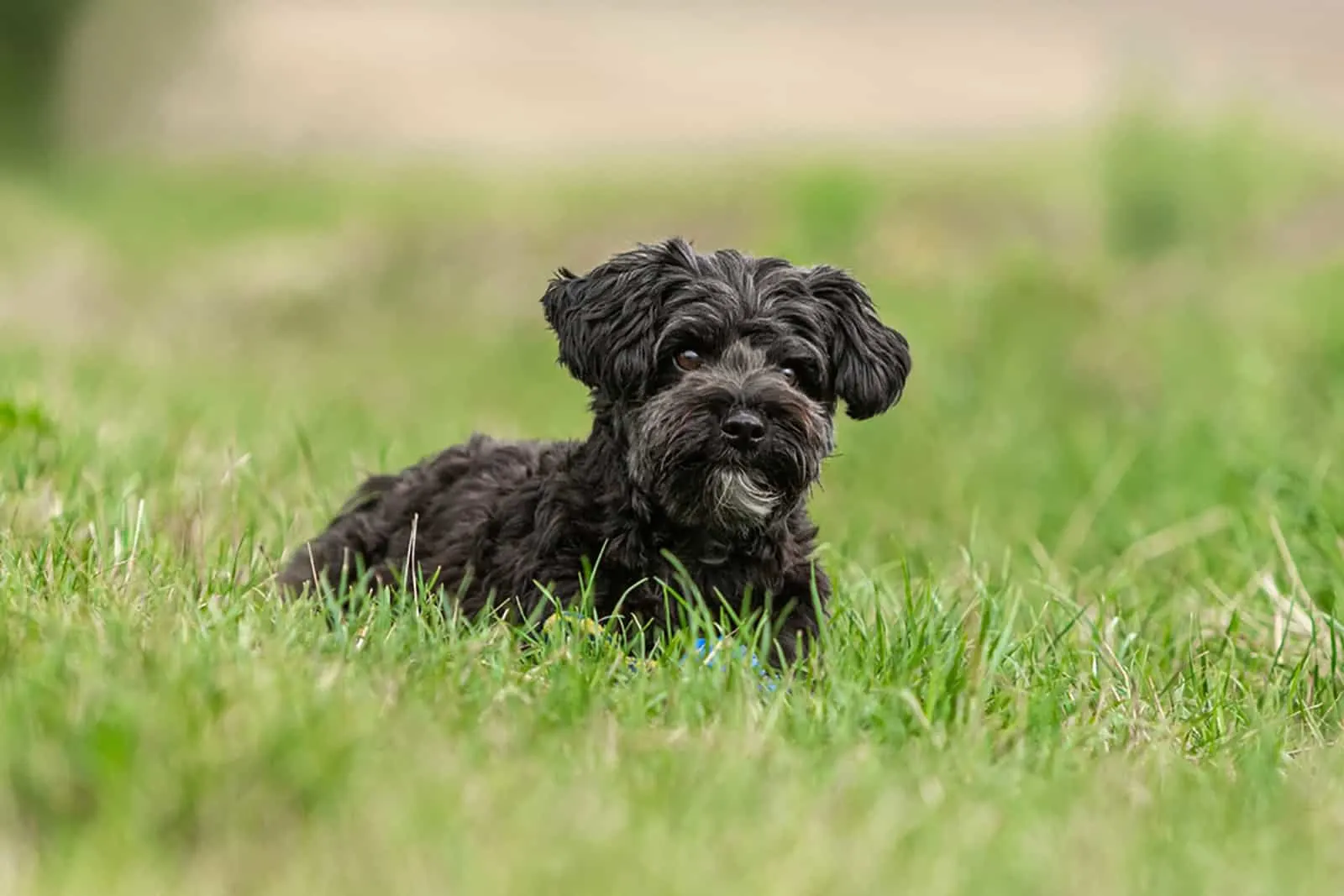 This is a chance to get a puppy from a reliable breeder if you live near Ladysmith, or in Wisconsin. Family Dog Puppies is managed by the Smith family which consists of three young couples who adore small size puppies.
Although this is a relatively new breeder, since the kennel was established in 2019, you have nothing to be suspicious about.
Their commitment is shown in the fact that they require from each customer a confirmation of a medical check within three days after the pickup.
If the yorkie poo puppy shows any sort of defect, they will return the puppy to the breeder and it will be replaced with a new one.
However, these sorts of situations have been rare based on the testimony of their previous customers. This policy shows their willingness to help with any sort of health issue and to provide exclusively healthy puppies.
The most important mission statement at Family Dog Puppies is preserving a yorkie poo puppy's health! They guarantee the puppies are free of contagious or any other disease.
Furthermore, they educate the future puppy's family members about how to prevent the puppy from being contaminated and what to do in case they catch any disease.
They provide hypoallergenic puppies and the yorkie poo is one of them. However, there is no hundred percent guarantee that some members of the family won't catch an allergy, but that's just something nobody can vouch for.
Note to the future owner: all deposits are non-refundable, except in the case where the puppy gets sick with a non-curable disease and dies.
Location:
Ladysmith, Wisconsin, U.S.
Contact number:
(715) 314-0700
Email address:
Website:
8. TLC Puppy Love, Jacksonville, FL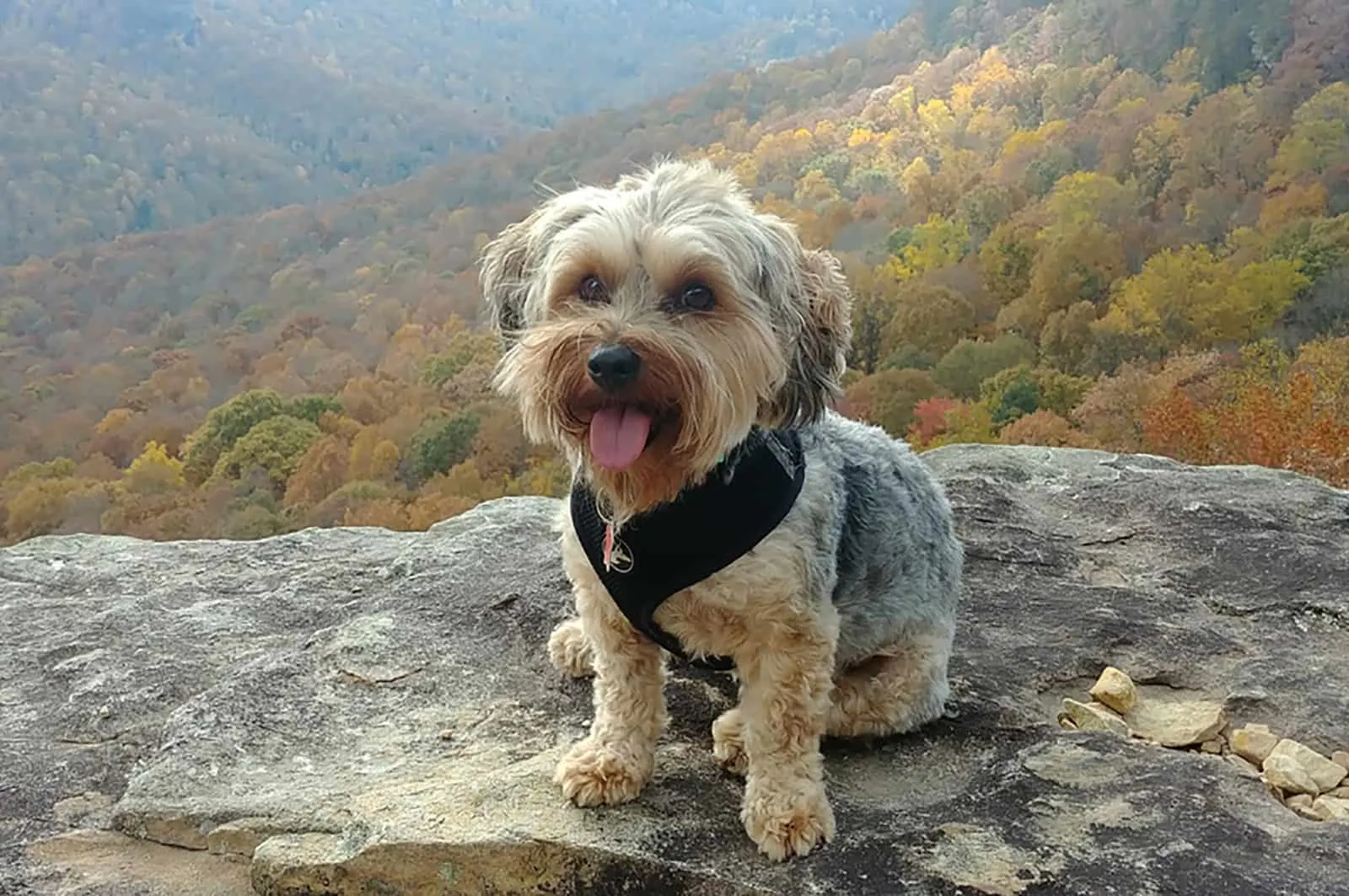 You live on the East Coast and looking for a small size yorkiepoo? TLC Puppy Love is the first place you should visit!
This breeder specializes in breeding small designer dogs and they give a lot of attention to hypoallergenic coat types. So if you have a family member that has an allergy issue, the TLC team will provide you with the perfect canine!
This breeder sells only the AKC recognized breeds and focuses on mixed breeds almost exclusively. There are several things they pay attention to and they recommend it to a future owner, too.
Firstly, they put a lot of effort into training. The yorkie poo puppy is potty trained and familiar with basic commands once it arrives at the new family home.
The daily exercise routine is twenty to thirty minutes for the yorkiepoo and they highly recommend it.
The yorkies sometimes have a tendency to become overly active to the point of destructiveness just because they didn't reach the proper activity level.
Furthermore, medical care is what the TLC Puppy Love team pays special attention to. They make sure the yorkies are free of parasites and the first deworming starts within the first two weeks of a new puppy's life.
Location:
Jacksonville, Florida, U.S.
Contact number:
(904) 838-9628
Email address:
Website:
9. The Happy Woofer, Harrington, DE.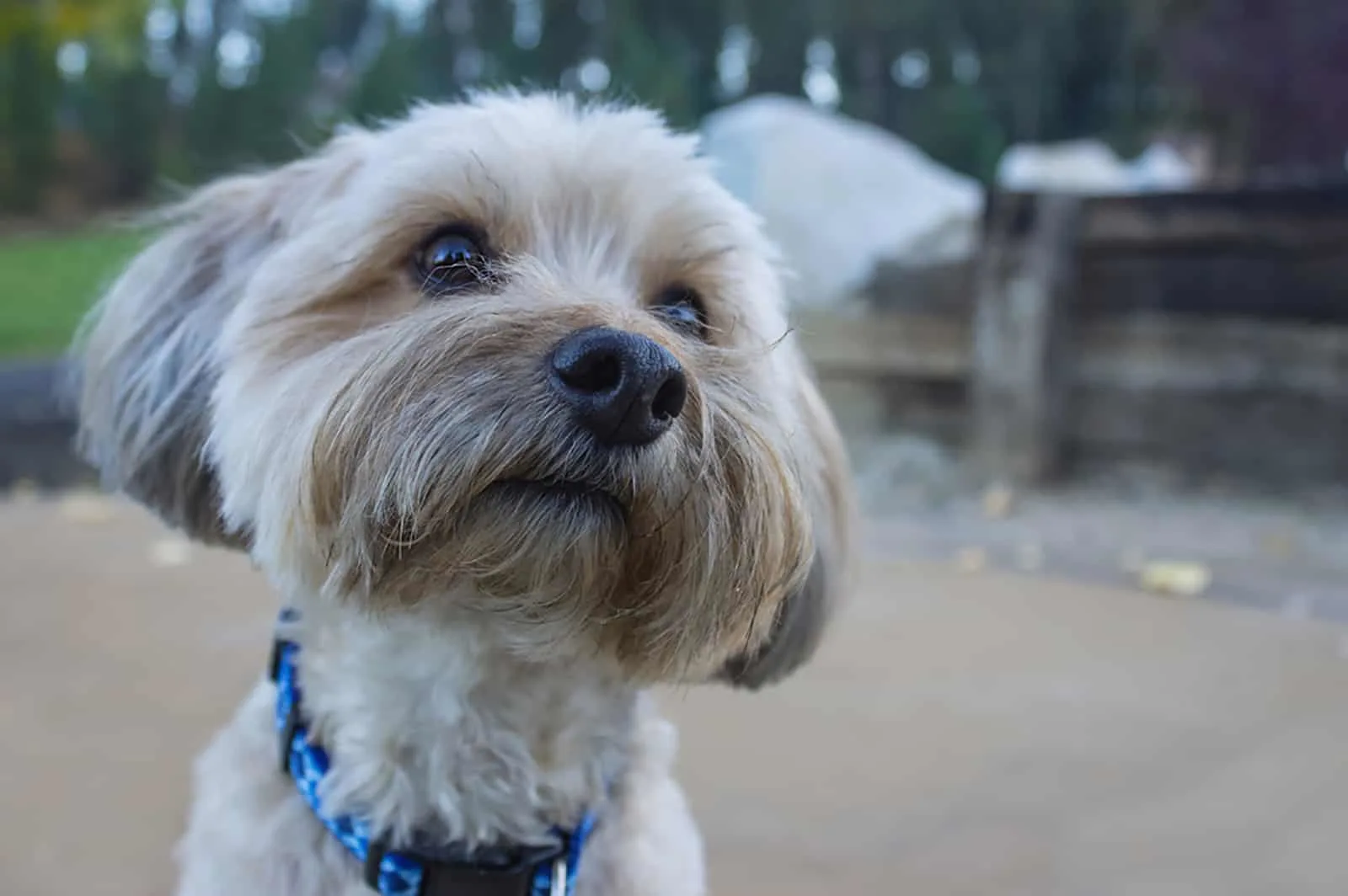 If you live in the Harrington surrounding and you seek a yorkiepoo puppy, it would be a big mistake not to come to the Happy Woofer! This is one of the most reputable yorkiepoo breeders in Delaware.
The Happy Woofer is the oldest breeder house on the list! The owner, Diane, has a 48 years long tradition of breeding dogs.
Among other breeds, like miniature poodles, toy poodles, or yorkshire terriers, the breeder specializes in breeding yorkie poo dogs!
Having experience in yorkshire terrier and poodle breeding has made a lot of room for learning everything about this mixed breed – the yorkie poo.
All of the dogs on the list are AKC recognized and you should be at ease because the breeder is available in a well-known location 24 hours a day.
Location:
2427 Flat Iron Road, Harrington, DE
Contact number:
(302) 566-1010
Email address:
Website:
How Much Is A Yorkiepoo Worth?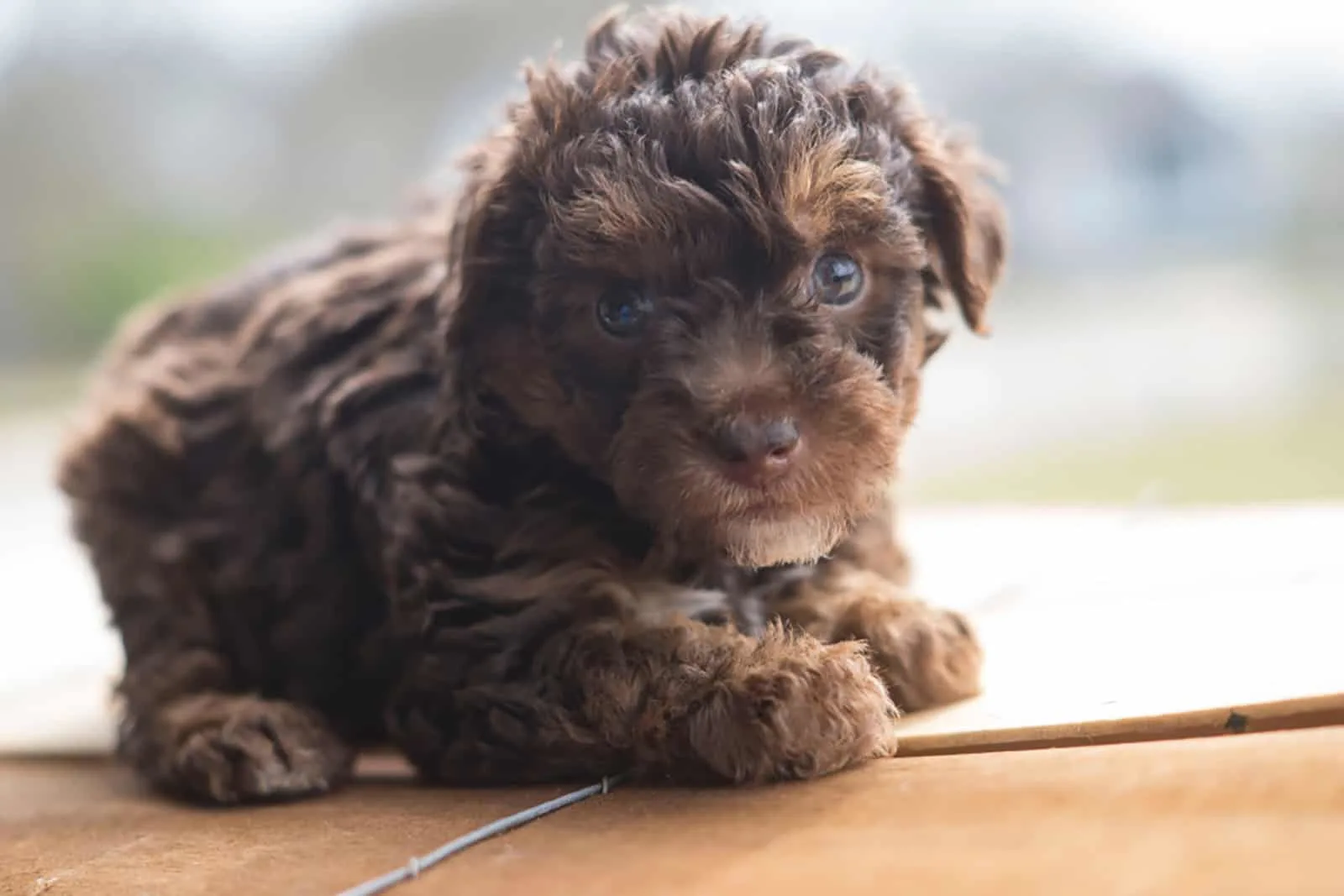 All of the yorkie poo puppies are pretty much expensive. Their average price goes from 1000 USD to 4000 USD.
However, you should pay attention to shady puppy mills where you can get a yorkie poo at a really low price. If the breeder is offering a yorkie poo for anything less than a thousand dollars, do not take it!
This usually means the dog does not meet genetic standards of this designer breed.
On the other hand, anything more than 4000 USD for a yorkie poo is overpricing.
How To Detect Quality Yorkie Poo Breeders?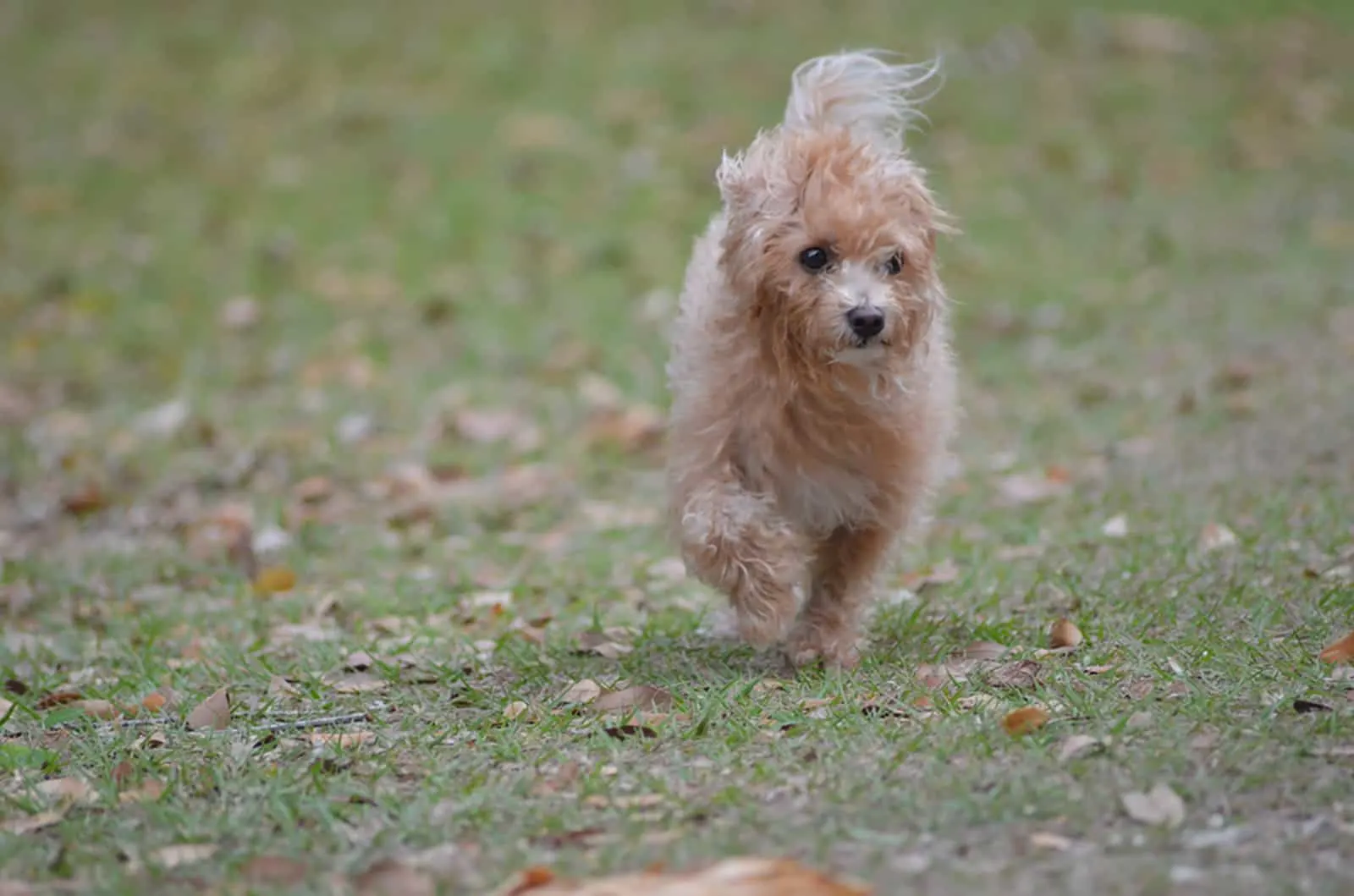 There are few things you can take as the ultimate guide for picking quality yorkiepoo breeders.
The first one is their certification. The ACA or AKC recognized breeders are reliable and meet the standards of being a quality breeder.
Furthermore, no quality breeder will say NO when it comes to requesting information about your future puppy. Reputable breeders are usually 7 days a week accessible and provide all the necessary info about the puppy.
Lastly, vaccinated dogs and their medical documentation can be found at any reputable breeder. Health guarantees are a must and if this isn't the standard of your potential seller, do not get in business!
FAQ:
1. Why Are Yorkiepoos So Expensive?
There are two main reasons why yorkiepoos are so expensive. The first one is if the buyer requests specific coat coloring.
There are the colors that are rare in yorkie poos and, consequently, cost more. Here we specifically talk about solid-colored yorkies in red, chocolate, apricot or black coat colors.
The second reason is the uniqueness of the breed. This designer dog was originally created to be the first generation, free from disease, successor of the poodle and the yorkie. So, basically, the price goes for the effort of achieving that goal.
2. Is A Yorkiepoo A Good Breed?
Yes! A yorkie poo puppy is not only a good breed, but an excellent one! It has everything you look for in a dog.
It is affectionate, funny and sassy at the same time. It's a lap dog in one part of the day, while in the other you can find him chasing his own tail in the backyard and having big time fun in doing so!
Also, remember that yorkie poos are extremely intelligent dogs. They are easily trained and learn new tricks. This is a trait of both of its parent breeds, especially poodles. All you need is patience and time. Consequently, this is a show dog, too!
Conclusion
Yorkiepoo breeders put a lot of effort in designing a dog breed free from any major disease and they succeeded. The yorkiepoo puppy is a product!
This intelligent yorkie and poodle mix is an excellent companion and will provide lots of love to a family. Although represented as hypoallergenic dogs, which they are, this isn't a non-shedding breed and requires daily brushing.
However, their grooming is not as hard as it seems.
In order to find a perfect yorkie poo for you, take into consideration the breeder standards and pick only the most reliable ones.
Read Next:
• Breaking: The Teacup Yorkiepoo Cannot Fit In A Cup
• 12 Yorkie Poo Haircuts That Are Trending Right Now