Terrier dogs are among the most active small dog breeds around and, deservedly so, are very popular family dogs that fit any lifestyle. With a torrent of puppy mills and backyard breeders, the need for a list of quality Yorkie breeders in Oregon and other states is high.
As you may already know, we take this research more than seriously so that you may choose only from the most reputable breeders in the state. The benchmark is high, so we focus on finding the best-rated, AKC-registered, healthy dogs for you to pick out.
This is the place where doubt dares not venture, which is why Pupvine is the sorting hat for breeder options. Without further ado, let us get into the list.
Yorkshire Terrier Puppies For Sale In Oregon
1. Hannah's Little Yorkies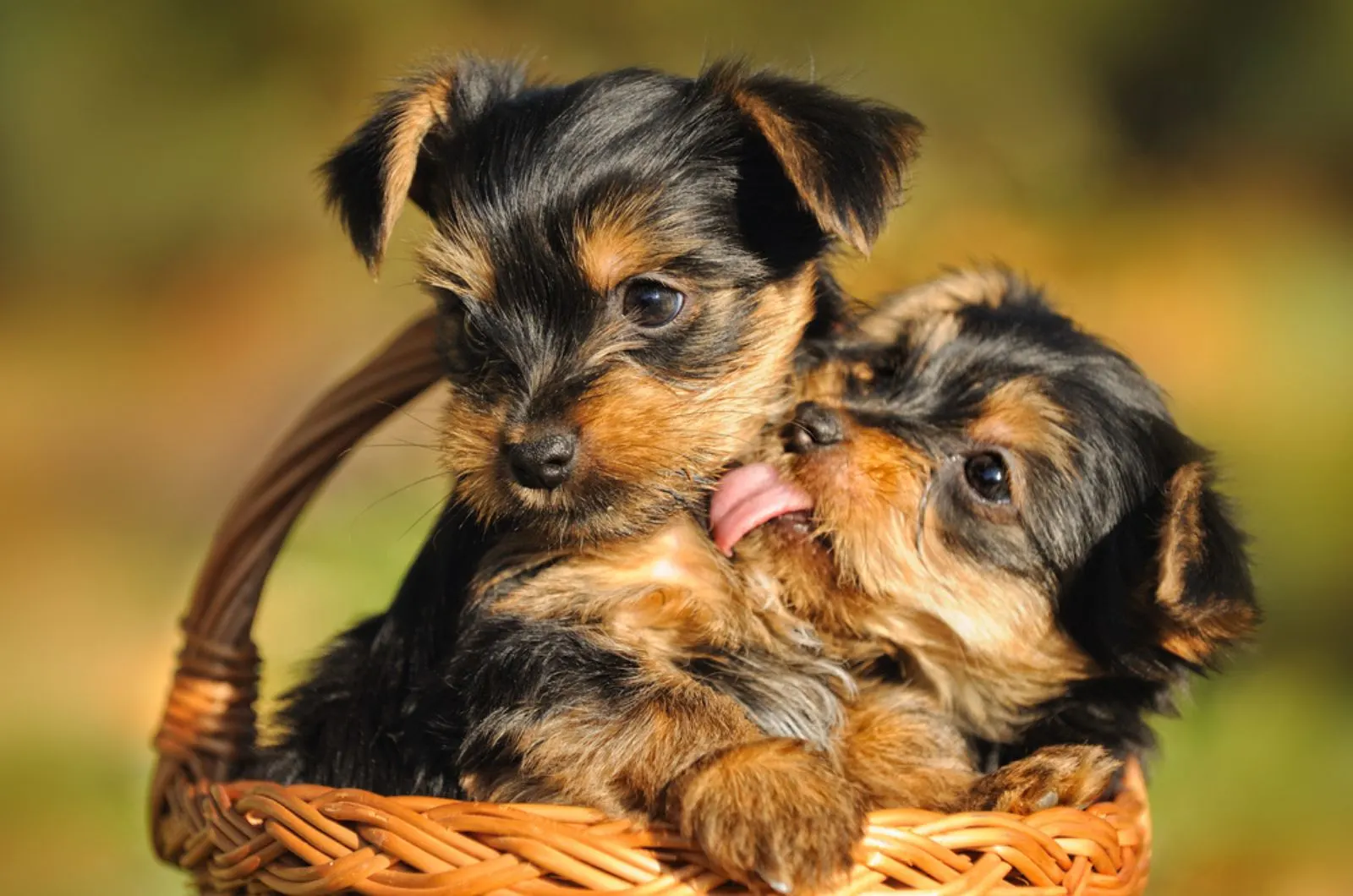 First up, a family-owned Yorkie breeder in Oregon that seeks not only to produce some of the most healthy and show-ready Yorkie puppies in the state but also educates us all on how to navigate the Yorkie breeding and owning space.
Adult dogs are health screened for breed-specific genetic health diseases like luxating patella, dysplasia, progressive retinal atrophy, and more. With bloodlines spanning years back, Hannah managed to breed high-quality Yorkies with excellent temperaments for a reasonable price.
All of her puppies come with docked tails, dewclaws removed, and a health record with dewormer and shot history. In addition, every single Yorkie is AKC registered and has a one-year health guarantee for the previously mentioned genetic conditions.
The Process Of Acquiring A Puppy
It will be easy to get in touch with Hannah, and you can do so by calling or emailing her. Keep in mind she leads a busy life, so you might have to wait a couple of days to receive a reply to your email.
Reserving your puppy will require a $250 deposit fee which is non-refundable. The amount is counted towards the puppy's final cost. You are looking at $1800 to $2400 for a female and $1600 to $1800 for a male Yorkshire terrier.
All contracts are AKC limited registration, but if you plan on starting your own business, there might be a chance to discuss it with the owner. In terms of transportation, you will have to inquire with the breeder.
Breeder Information
Address: Roseburg, Oregon, US
Phone: +1 541-530-3116
Email: [email protected]
Website: Hannah's Little Yorkies
Socials: Facebook
2. Haute Looks Yorkshire Terriers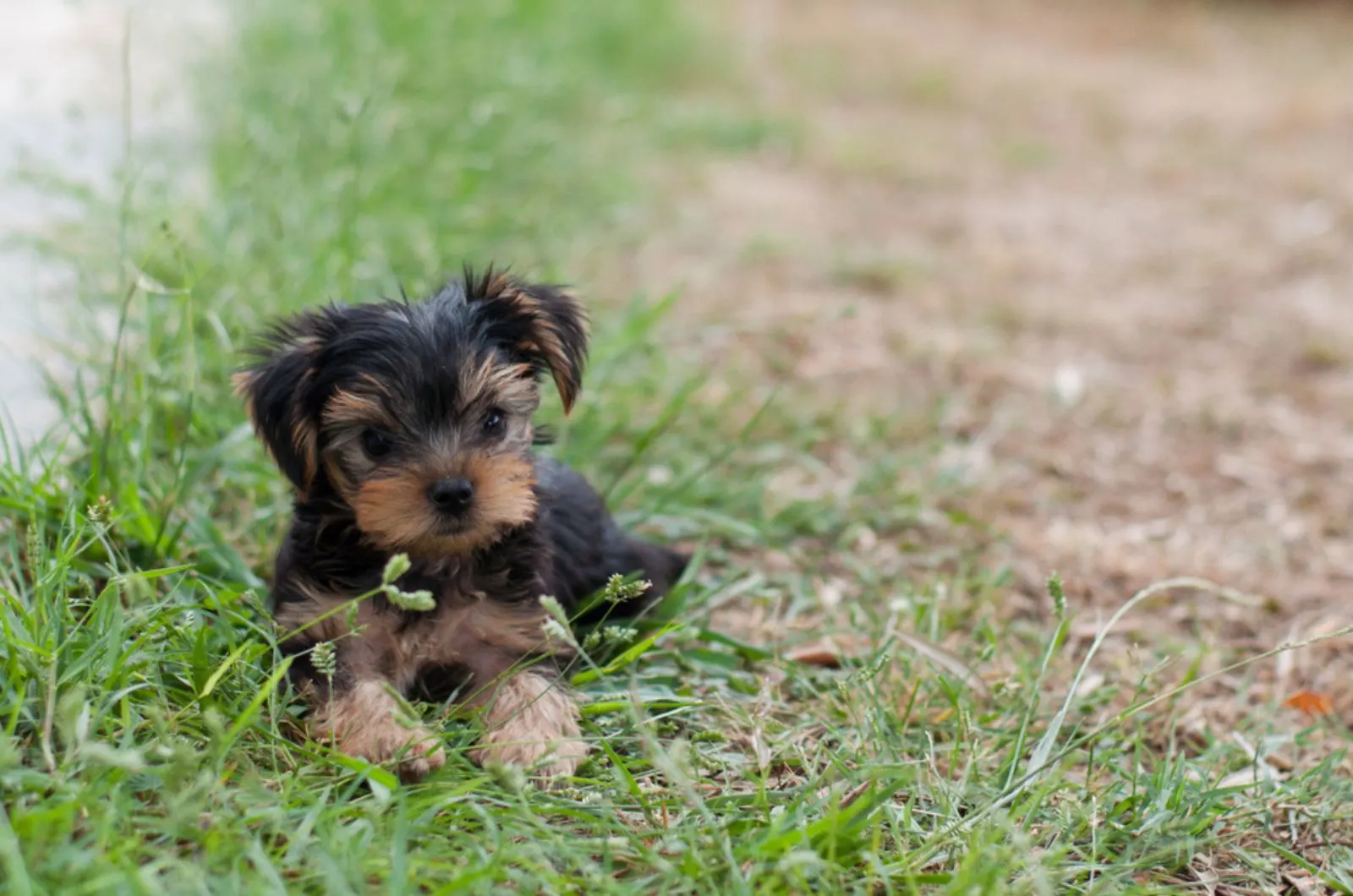 The owner, Karen, has a great story behind her love for the Yorkshire terrier breed. After adopting a female called Maggie, she managed to breed a Yorkie puppy that ended up becoming a champion.
Going past a few life obstacles and raising two daughters, Karen is back in business and on our list of best Yorkie breeders in Oregon. Her puppies are bred according to AKC standards for the Yorkshire terrier and come vaccinated, dewormed, with dewclaws removed and tails docked.
A one-year health guarantee is valid for Legg-Calve-Perthes and portosystemic shunt, but with the pedigree that HTTY dogs have, that is highly unlikely. These are quality puppies that are raised inside the breeder's home and get all the socialization required for a balanced temperament.
The Process Of Acquiring A Puppy
You can text or call the number provided below or send an email to express your interest in purchasing a puppy. There are useful links on the website, so make sure to explore the page.
The default contracts are for a companion dog, with the male Yorkies priced at $1800 and upward and females starting at $2000. You can privately discuss breeding or show-quality puppies.
A puppy contract and application can be found on the website, alongside upcoming and previous litters, photos from shows, etc.
Transportation options are not disclosed on the website, so a personal inquiry will do. Keep in mind that your puppy will be ready for you after twelve weeks of age.
Breeder Information
Address: Eugene, Oregon 97404, US
Phone: +1 760-937-2121
Email: [email protected]
Website: Haute Looks Yorkshires
Socials: Facebook
3. Joyful Traditional Yorkies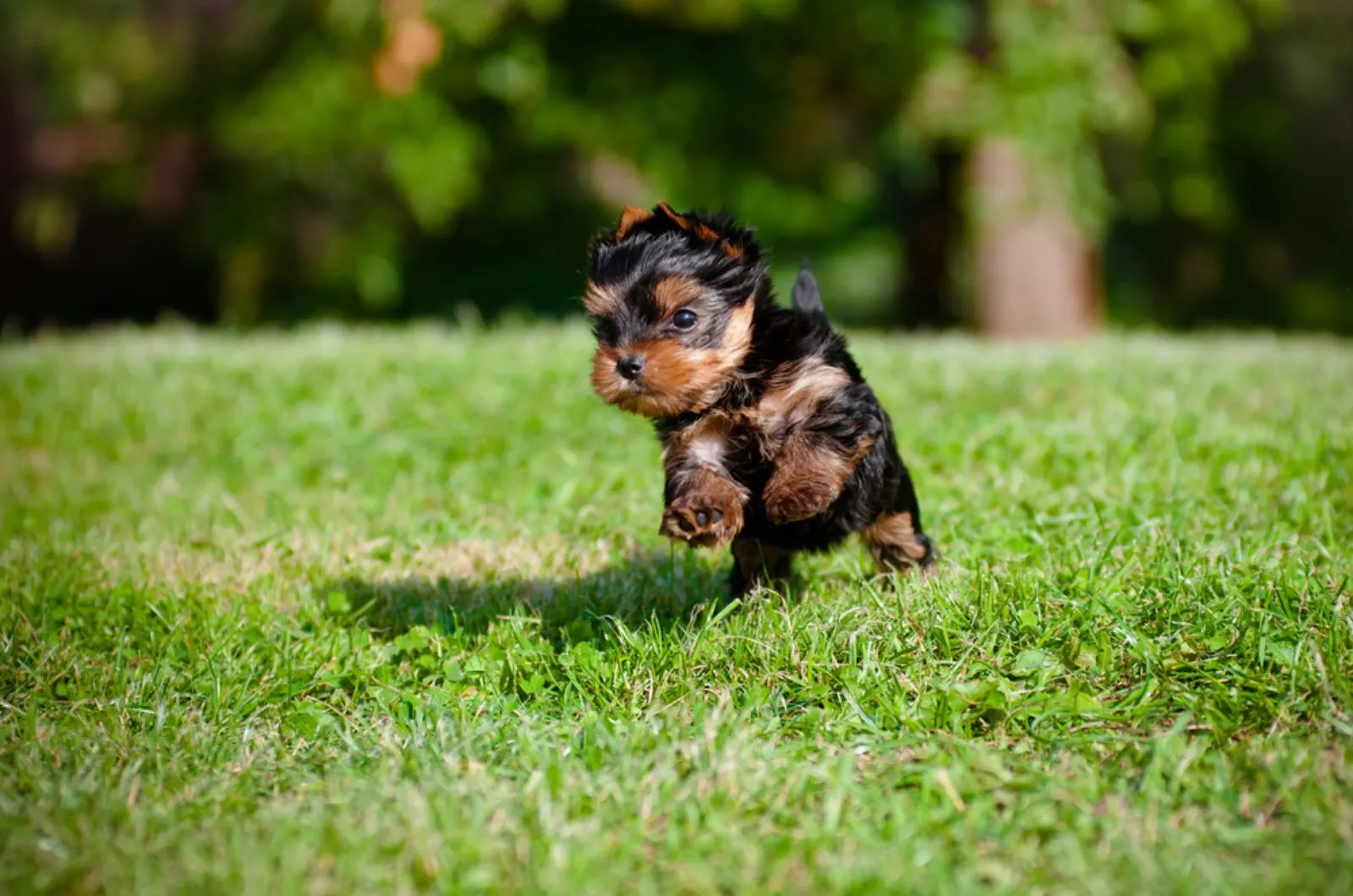 This is not a Yorkie breeder in Oregon but in Washington, Battle Ground, near Portland, that switched from parti Yorkies to standard Yorkie breeding. The owner, Helen, works alone, so the occasional litter will be of great quality.
Joyful Yorkies are cuddle machines that like going to all kinds of people and dog events in Washington, so you are covered on the socialization front. In terms of health, there is a one-year health guarantee for genetic diseases.
All the vaccinations and dewormer are done by the time the puppies are eight weeks of age, with proper parent pedigree certificates and AKC registration papers. A vet examines every puppy prior to its departure. Tails are docked and dewclaws removed for your convenience.
The Process Of Acquiring A Puppy
A website contact form, email address, and phone number are available for getting in touch with the owner. She welcomes questions about the breed if you are truly interested, so do not hesitate to ask about your concerns.
Puppies are sold only on a pet contract, which means you will be contractually obliged to spay or neuter your Yorkie puppy. There is a waiting list that requires a $100 deposit and then an additional $200 for reserving the puppy after it is born.
All of this is, of course, deduced from the final cost of the puppy. Prices range between $2500 and $3500. The determining factors for the price are size and gender (females are more expensive). Read our article on male vs female Yorkies to know which one is the best choice for you.
Breeder Information
Address: Battle Ground, WA, US
Phone: +1 360-566-5273
Email: [email protected]
Website: Joyful Traditional Yorkies
Socials: Facebook
4. Desert Rose Yorkshire Terriers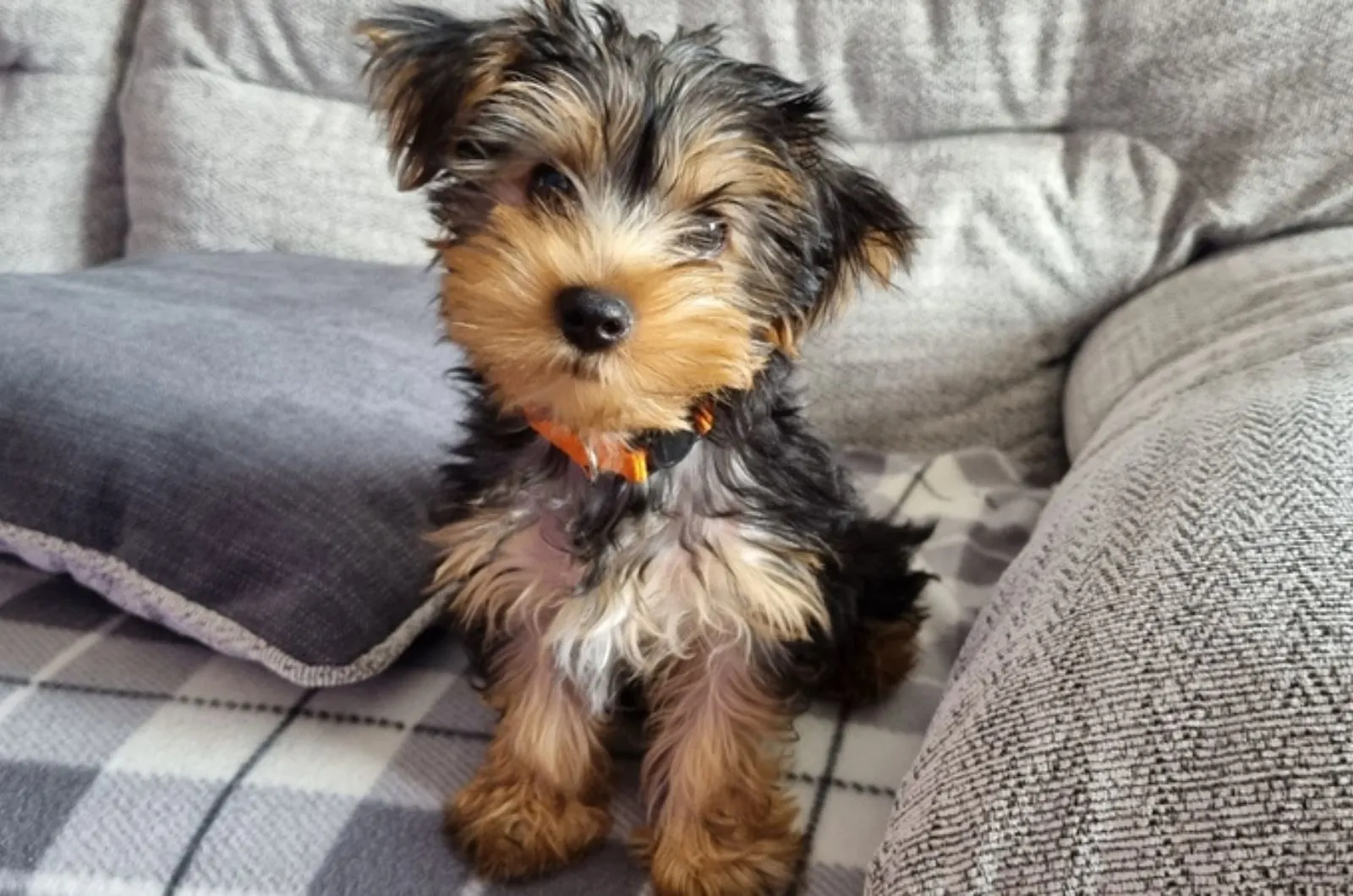 Breeding parti teacup Yorkies, and standard Yorkies, Desert Rose aims to produce high-quality "hypoallergenic" Yorkshire terrier puppies. As a smaller breeder, they do not have many litters per year, but those that are available will blow your mind.
Why am I saying that? Because there are many testimonials of customers delighted by the Desert Rose Yorkies' character, health, and baby face beauty. To further reassure you, a one-year health guarantee on genetic diseases comes with every puppy.
The pups receive all their shots and dewormer by the eighth week of age, with intense socialization within the owner's family home. The puppy parents are all DNA tested for genetic predisposition to breed-specific conditions, and some pups come with these tests, too.
The Process Of Acquiring A Puppy
You will not have any trouble contacting Desert Rose, as they provide two phone numbers and an email address. Their working hours are 9 AM to 7 PM, so make sure you reach out within this time frame.
A $350 deposit fee is required to reserve a puppy. Since it is non-refundable, you will be able to transfer it to another litter in case the litter does not have a puppy fitting your wishes or other breeding-related issues.
Puppy contracts are all pet contracts, meaning you will have to spay or neuter them once they arrive at your home, and they will not be registered with the AKC. For breeding rights or limited AKC registration, there is an increased fee of $300 (males) and $500 (females).
Prices depend on the coat color or pattern and sex and range from $1800 to $2400. You can have them ship the puppy to you via airplane, which is another $300 for airfare, flight nanny, etc.
Breeder Information
Address: Oregon, US
Phone: +1 541-893-3205 Home | +1 503-409-2598 Cellphone
Email: [email protected]
Website: Desert Rose Yorkshire Terriers
5. My Lil' Yorkies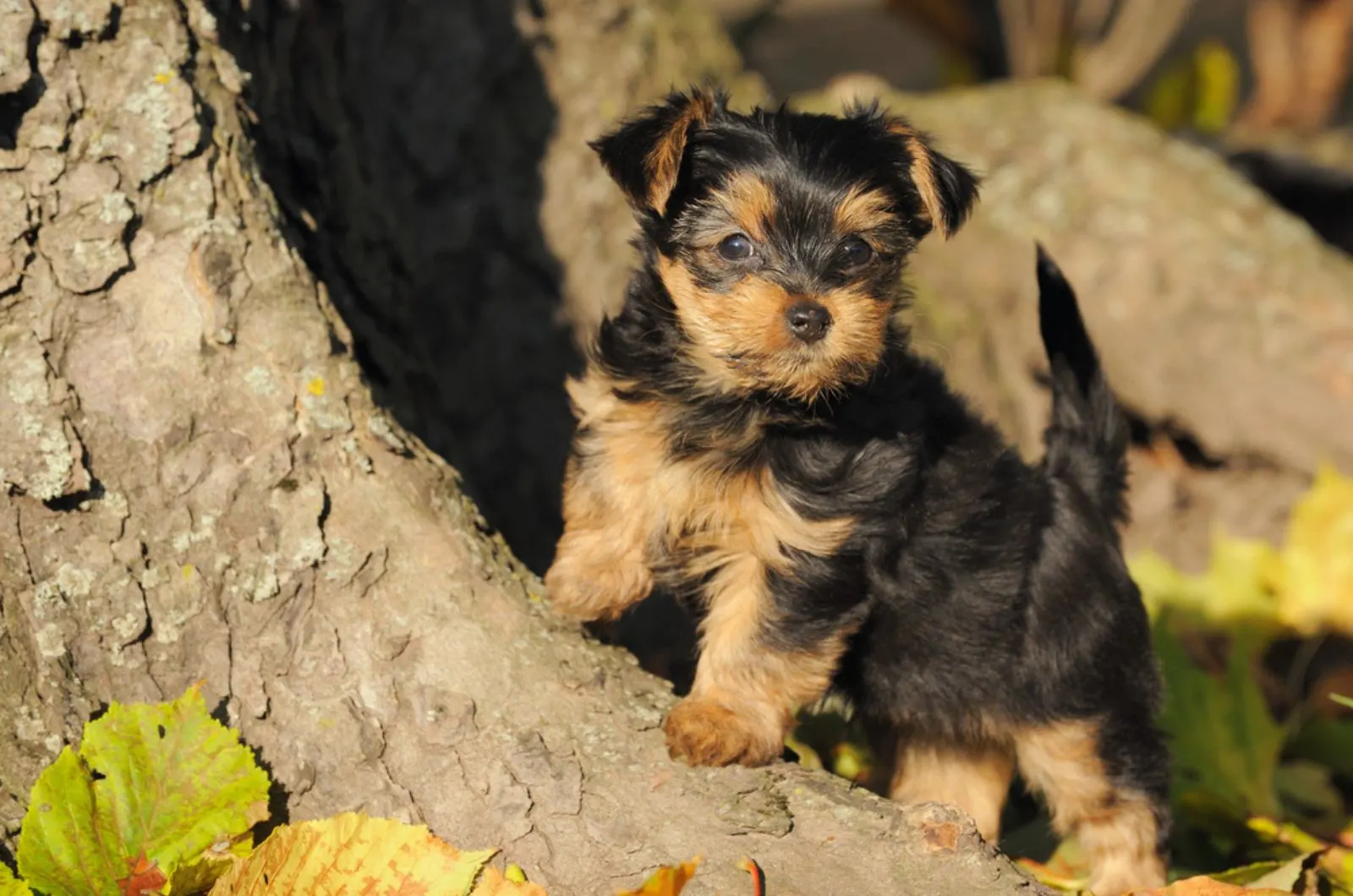 If you like seeing a jolly webpage with pictures of Yorkies dressed as actors, you will love this breeder. Other than the cuteness and funny outfits, this is a business that ranks among the top Yorkie breeders in Oregon/Washington.
With years of experience as a Yorkshire terrier breeder, My Lil' Yorkies has clean bloodlines that come with a clean bill of health and AKC-registered parents. Because of this, they also offer stud services for breeders who would like to extend the pedigree.
A one-year health guarantee, up-to-date vaccines, dewormer, and lineage confirmation papers will come with your puppy. Being home breeders, they raise and expose the puppies to different external stimuli, such as noises, lights, people, and other animals.
The Process Of Acquiring A Puppy
Other than a phone number and email, you can use this contact form to show your interest in joining the waiting list. Reserving the puppy will require you to pay a $250 deposit fee.
My Lil' Yorkies sells puppies on pet contracts, which means no AKC registration. However, you can discuss a full or limited AKC registration that will require the owner to visit your home. That is a precautionary measure to confirm that the customer does not run a puppy mill at home.
Prices are $3500, and the owner encourages potential customers to contact her prior to placing the deposit fee, as puppies are sold very quickly. The puppies are shipped via airplane country-wide.
Breeder Information
Address: Olympia, WA, United States, Washington
Phone: +1 360-470-3652
Email: [email protected]
Website: My Lil' Yorkies
Socials: Facebook
6. Precious Yorkies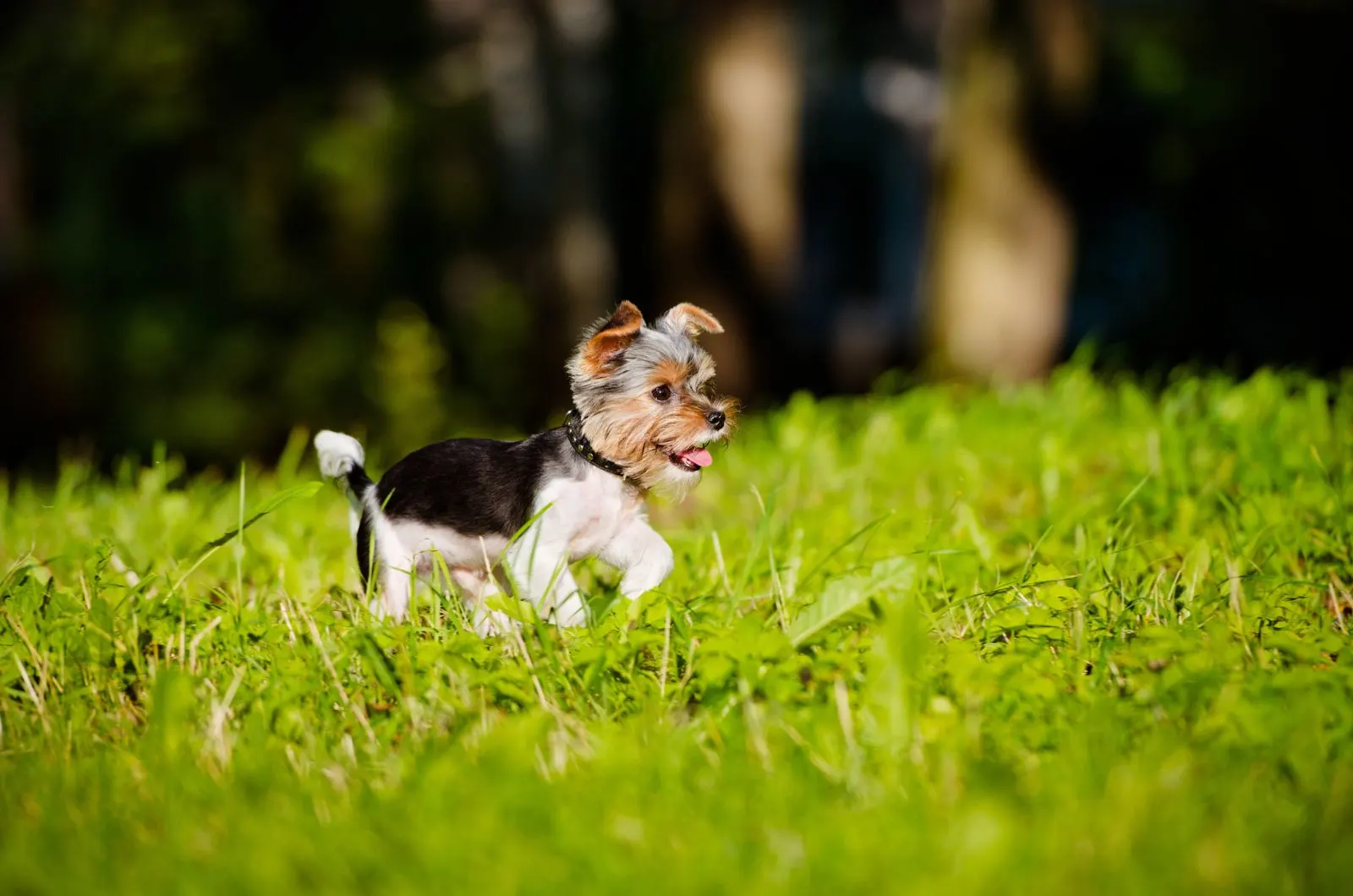 Despite being from California, the owner, Jessica Sanchez, earned her place on our list of best Yorkie breeders in Oregon because her Yorkie puppies are exceptional.
Operating the breeding business from her home with four ACK-registered and health-screened male and female Yorkies, Jessica takes pride in preserving breed standards, Yorkie-like temperament, and health.
Socialization is great, but a crate and potty-trained Yorkie is a delight. If you want to know how important these basic things are, here is an article talking about what happens when a six-month-old puppy is not potty trained and how to fix it.
Raised inside the family home, these puppies long for nothing and know the ins and outs of living amongst children, adults, and other dogs. Needless to say, all vaccinations and dewormer are done and dusted by the time the puppy is ready for a new home.
The one-year health guarantee included in a starter puppy kit covers common hereditary genetic conditions. A vet will also examine your future puppy before it is time to leave.
The Process Of Acquiring A Puppy
You can reach out to Jessica via the phone number, email, or apply through her Gooddog and AKC Marketplace profiles. She also has an Instagram page showcasing the puppies, so a DM might work too.
Precious Yorkies' pups are sold on a limited AKC registration contract, which means you will sign a spay/neuter agreement, too. Getting breeding rights costs another $1000 on the original puppy price.
The deposit fee is undisclosed, but a puppy from Jessica will cost you between $3500 and $5500. Pups are ready for pickup or shipping at ten weeks of age.
In terms of transportation, personal pickup, flight nanny, and pick-up at the breeder's airport are available. This option is particularly useful for customers from neighboring states like Nevada and Oregon or residents of San Diego.
Breeder Information
Address: San Jose, CA 95116, US
Phone: +1 408-807-1392
Email: [email protected]
Website: Precious Yorkies (Gooddog) | Precious Yorkies (AKC Marketplace)
Socials: Instagram
7. Gooddog And AKC Marketplace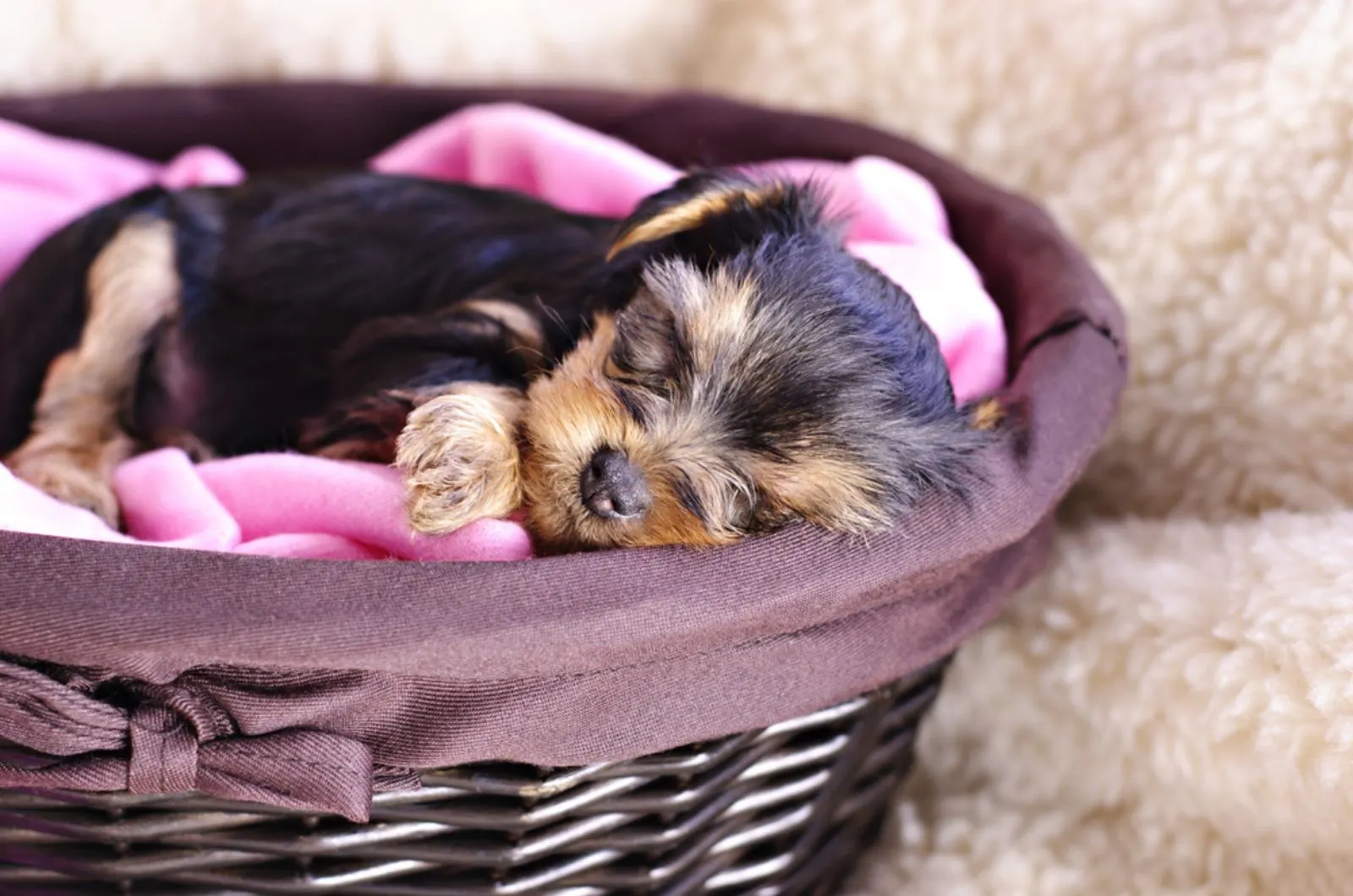 Many breeders do not like the hassle of setting up a website, socials, or even emails and decide to just provide a phone number through third-party sites that give them an online presence.
Gooddog and the AKC Marketplace are trustworthy, authoritative, and one hundred percent safe in terms of breeder reputation. All members of their websites are registered and inspected by veterinarians and sanitary experts.
Finding a Yorkie puppy that is not from a shady kennel, puppy mill, or backyard breeder is tough nowadays, so having a legitimate source of breeder options is a life-saver.
Conclusion
Thanks to these seven Yorkie breeders in Oregon (and California), we are able to enjoy some high-quality Yorkshire terrier puppies without worrying about legitimacy and suspicious breeding practices.
If you are seriously considering getting a Yorkie, then you will be hard-pressed to contact one of these breeders as soon as possible. Waiting lists are long, and puppies are sold in a blink of an eye, so shortlist some of them and make your move.
Hopefully, you will get a puppy from one of these breeders so that the Pupvine team can feel like we contributed to your happiness. Best of luck on your Yorkie adventure.