One of the most exciting and scary moments in a person's life is deciding on getting a dog. There needs to be a lot of research done to figure out what kind of dog breed will suit you and your family the best.
We can feel free to assume that you decided on the beautiful Weimaraner since you are reading this article.
The Weimaraner is one of the most beautiful dogs in my opinion. The other name people love to call them is the Silver Ghost.
Why is that? Well, first of all, they have the most beautiful shade of gray that goes all through their coat.
It looks shiny, and people just can't contain themselves not to approach and pet these beauties. Weimaraner colors are just different shades of gray.
But, besides beauty, these dogs are amazing hunting dogs. They have that elegance while they are walking, especially hunting, and because of that, you can barely hear them while hunting, even in a leafy and grassy environment.
Besides being amazing work dogs, they are amazing family pets as well. They love their family, and will do everything and anything for them. They have their goofy side as well, which means that they will constantly make you laugh.
We are sure that you have done good research, and that you know all of this. Now, we can start with the list of best Weimaraner breeders in Ontario.
Weimaraner Puppies For Sale In Ontario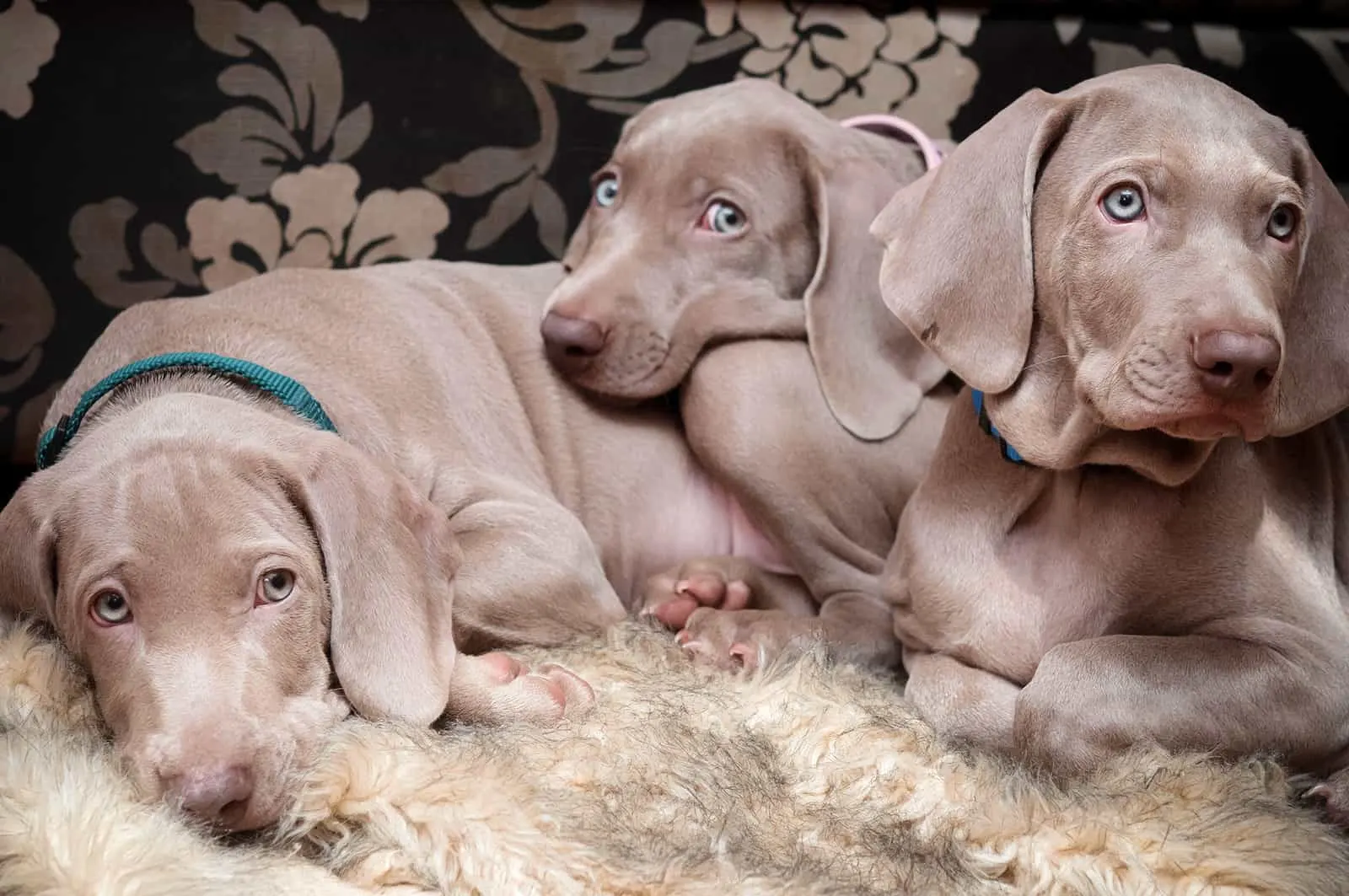 The second step in buying a dog is finding a reputable breeder. This can be even more difficult than deciding on the breed. There is a lot you need to know about in order to be sure that the breeder you like is worthy of belief.
Since Weimaraners are quite popular, you need to know that there might be a lot of scammers. These people care only about profit. Some of the situations that might happen are that certain people are not selling a purebred Weimaraner.
They are mixed with another dog either on purpose or by accident. Sometimes, this is difficult to see when they are puppies, and this is why some of those scams get through.
Another thing is that they don't care about the dogs, and won't do all the necessary health tests or everything that a reputable breeder would do.
The thing you need to avoid at all costs are puppy mills. These places keep both parents and puppies in horrible and inhumane conditions. Profit is the only thing the people that run puppy mills care about.
But, before buying, you can always check your local shelters. A puppy only makes a rare appearance in shelters so this is for people who won't mind getting an adult Weim.
If you are one of those people, you should check some shelters because maybe there is a Weimaraner waiting for their forever home.
Now, we can start with the list of Weimaraner breeders in Ontario that we created just for you.
1. Almamater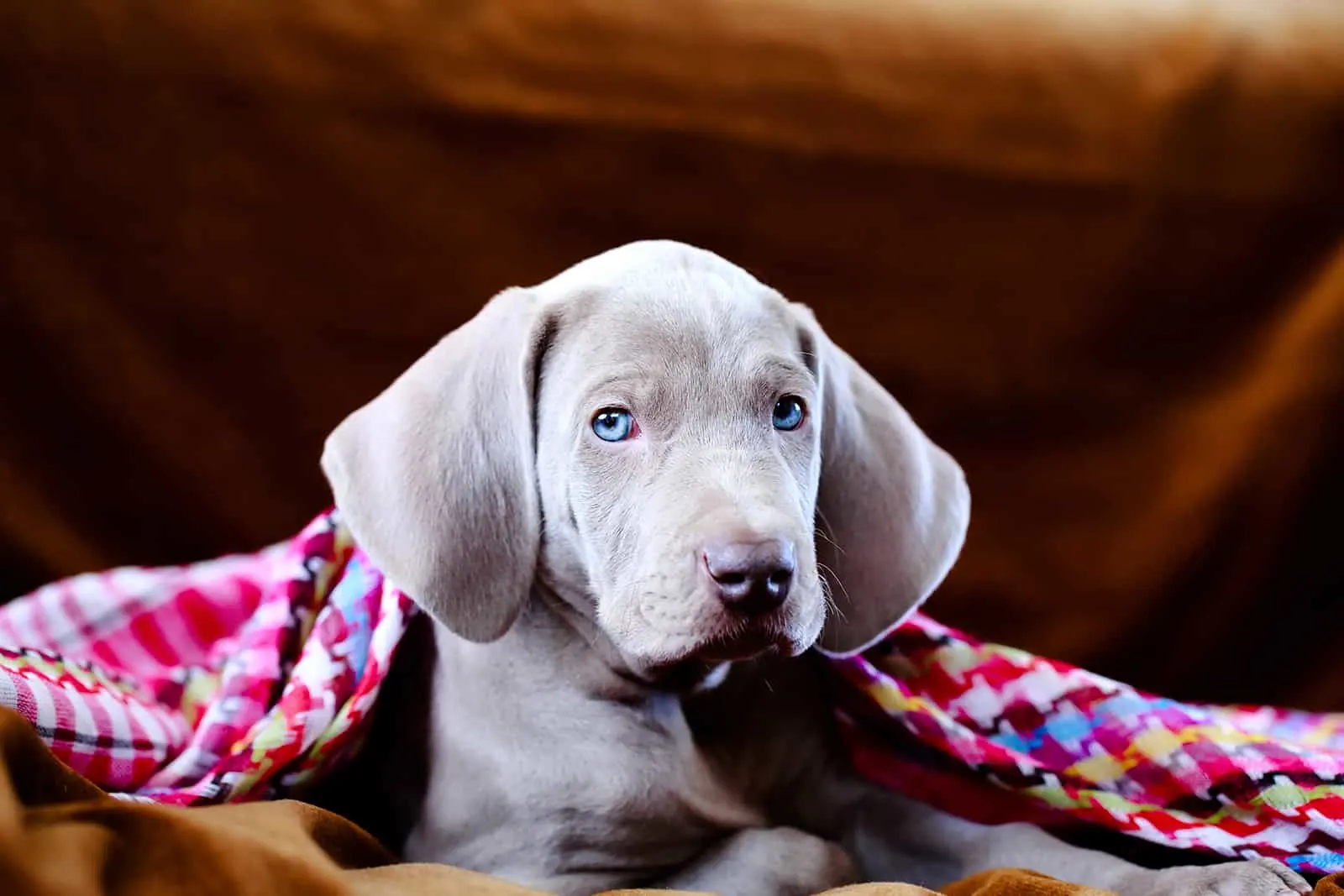 The kennel name means Alma – soul, and mater – mother in the Latin language. This kennel is owned by a family, and it was started because of a lovely female Weimaraner called Luna. She was the foundation of all these high-quality puppies.
Their puppies are raised within their home, and they are treated as family members. They socialize them, and make sure that both the future dog owner and the puppy will end up with a best friend.
Their dogs can be found in show rings, agility, obedience trials, fields, and on the couch chilling with their owner. All of their Weimaraners are DNA-tested by the University of California, and are free of HYM, HUU, and SD.
The parents are also screened for any hip and elbow problems. Puppies come vet-checked, with all the necessary vaccines, as well as microchipped, health guaranteed, and CKC-registered.
If you want a puppy from them, you should contact them as soon as possible and make a reservation.
We suggest you visit their website and see all the incredible pictures they have of their dogs and puppies. If you want more details about them, there is an ˝about us˝ section on their website.
There, you will find even more pictures of their dogs and family members.
Almamater's Details
Website: Almamater
Location: 2190 No. 28 Side Road, Milton, Ontario, Canada
Email: [email protected]
2. Breica Weimaraners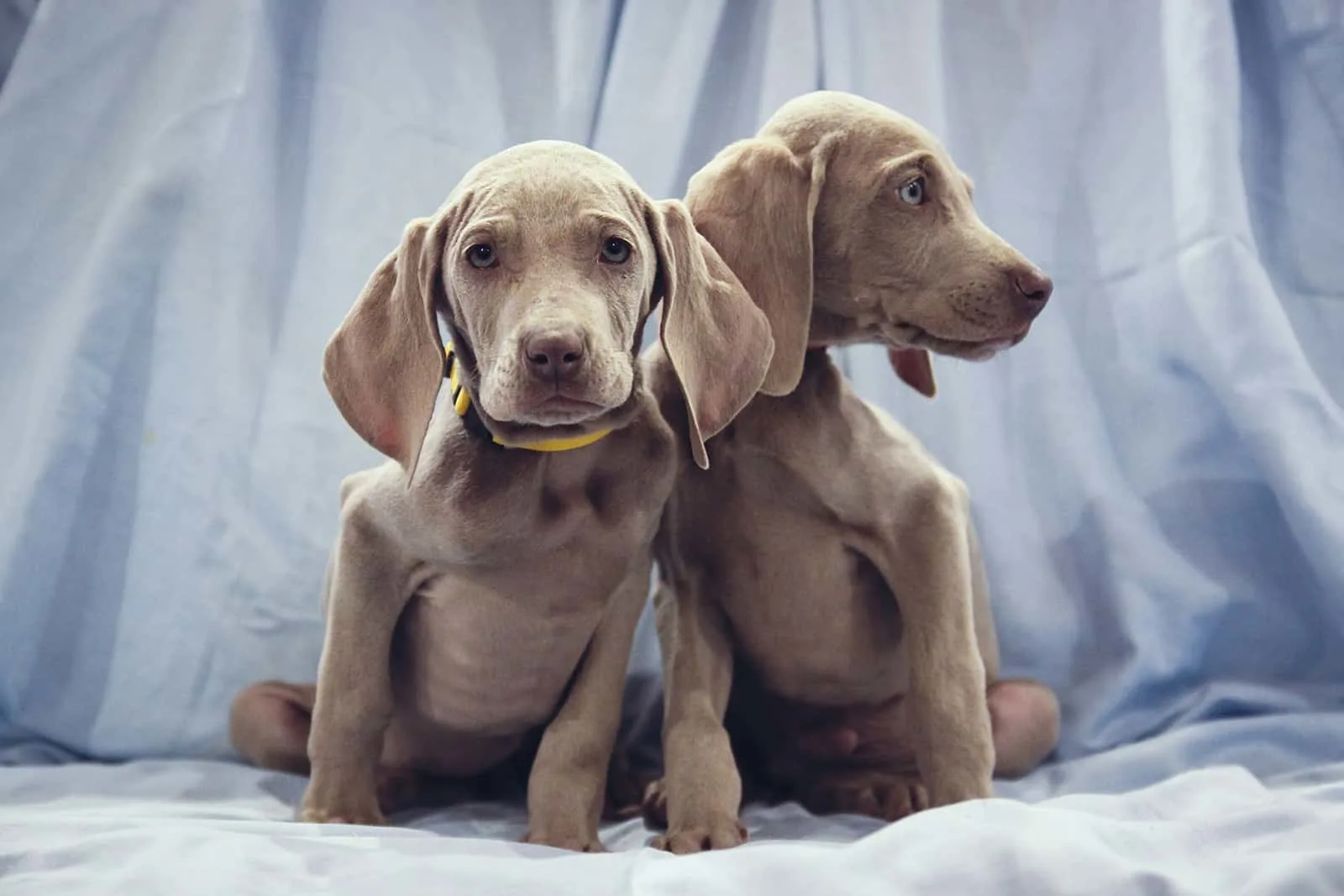 This kennel was established in 2006, and they pride themselves on keeping the breed standard and temperament. They are members of the Weimaraner Club of America, and the Canadian Kennel Club.
Their purebred dogs have had much success in the show ring.
The most important thing for them is that their dogs end up with loving and caring families. They treat all their dogs and puppies as part of their family, and they are showered with love. They are extremely socialized.
Their puppies are vaccinated, microchipped, and dewormed, and come with a health guarantee, a puppy welcome package, and six weeks of free puppy insurance.
Their Weimar dogs make amazing pets as well as the best hunting dogs and show dogs.
They invite you to contact them by visiting their website and filling in the brackets you can find in their "contact us" section.
They are more than happy to answer all the questions you may have. They like to stay in contact with potential future owners of their puppies.
Breica's Details
Website: Breica
Location: South Western Ontario, approximately 45 minutes west of London
3. Simplicity Weimaraners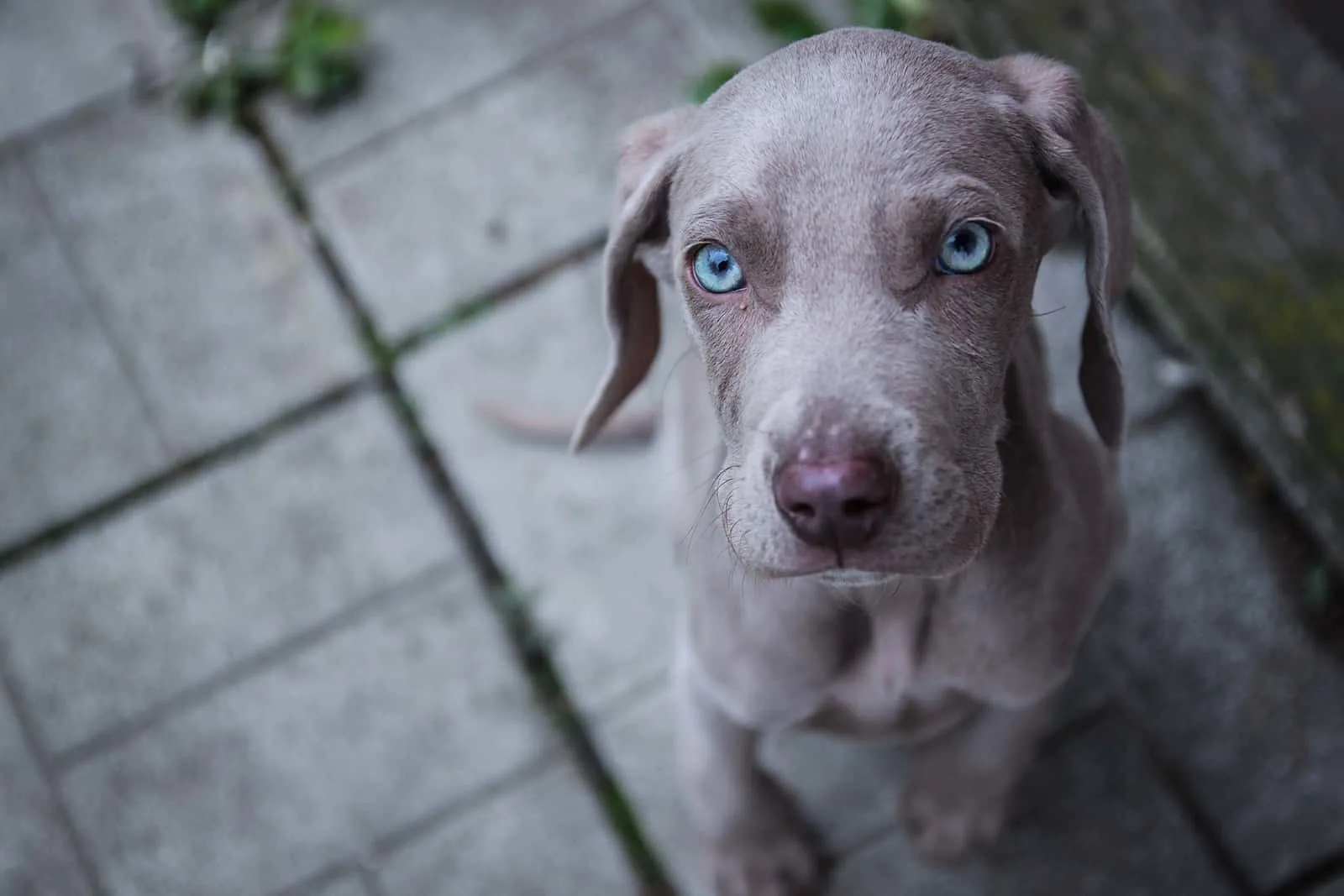 Simplicity Reg'd Weimaraners is owned by Nancy Skyba, and she founded this kennel in 2006. She is selective when it comes to finding the perfect bloodline. She already had years of experience even before she started breeding this breed.
She is offering lifetime breeder support, and she likes to call this a home away from home. She loves to stay involved with the puppies and stay in contact with their new owners.
This is, of course, if you want to, but she adores seeing them grow up and celebrating all the small victories they go through during their maturation.
She deeply cares about the puppy's health; therefore, they go through all the necessary vet checks. Feel free to contact her about any of these details. You can also read testimonials of their previous customers.
You can always visit their website, learn more about them, and see all the amazing pictures of their previous dogs and all the litters they have had.
Simplicity Details
Website: Simplicity Weimaraners
Location: Kawartha Lakes, Ontario
4. Waypoint Weimaraners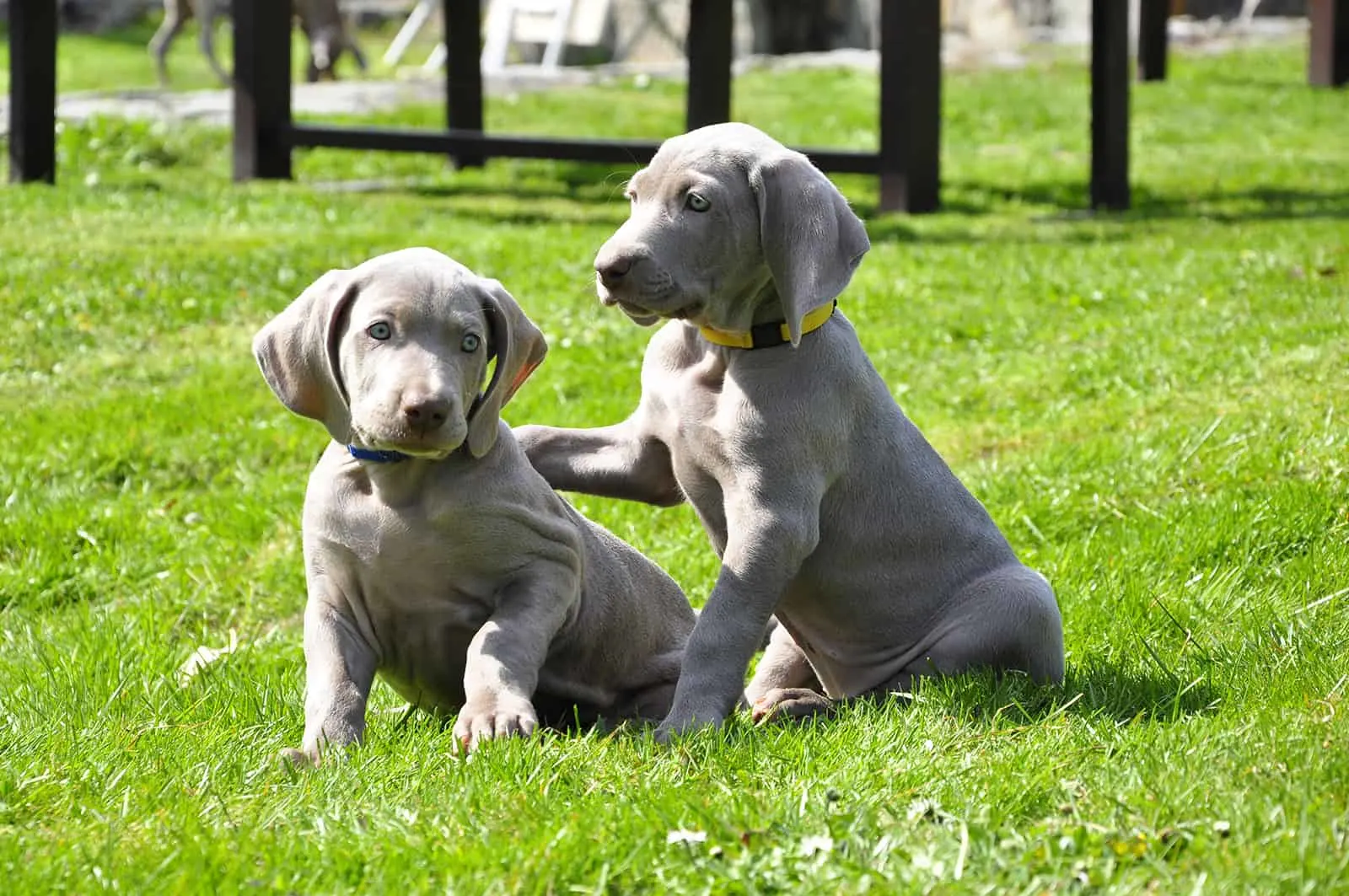 This kennel is amazing for people who want to get a hunting dog. Their Weimaraners will make great hunting dogs, and they specialize in these types of dogs.
But, besides being hunters, they need to make sure that all of their puppies will go to loving homes.
Why are their dogs so good at hunting? Because they spent so much time picking all the right bloodlines.
They pride themselves on producing highly intelligent dogs. It is in their genetics to never quit, and they can be on the move the whole day.
Even though this kennel is quite new (it was established in 2018), they produce high-quality Ontario Weimaraners. It is best to sign up for upfront reservations for their puppies because they are in high demand.
We also advise you to visit their website and explore a bit. You can find many interesting things there.
Waypoint Details
Website: Waypoint Weimaraners
Location: London, Ontario, Canada
Email: [email protected]
5. Colray Reg'd Weimaraners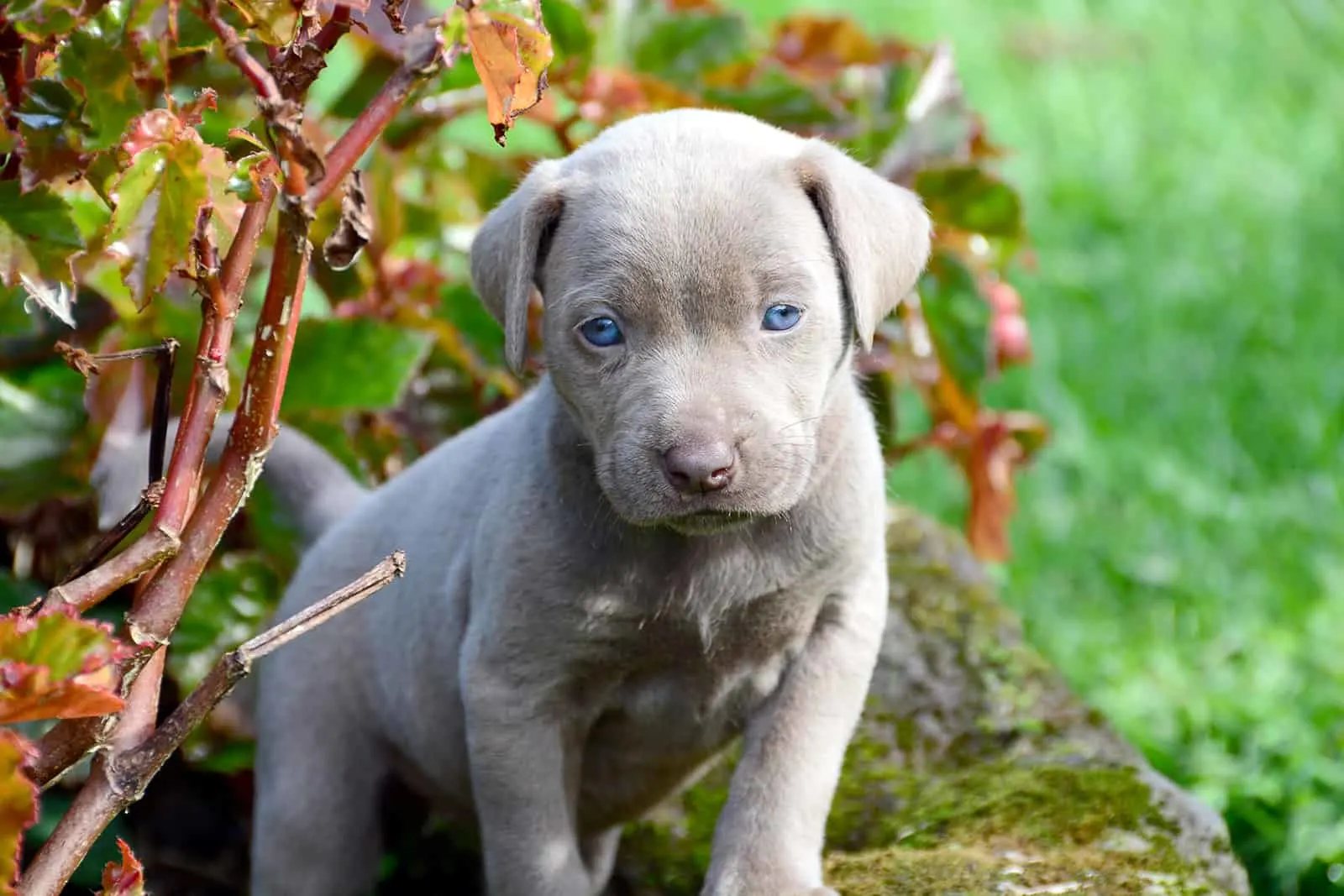 This kennel is owned by Holly and Frank, and they are a small breeding practice that is proud of producing healthy, quality, and happy dogs. They breed both short-haired and long-haired Weimaraner dogs.
Holly is a veterinary technician, and you can be sure that your future puppy, as well as every puppy and adult dog, will be well taken care of.
They do all the necessary tests, and they will be more than willing to give you the results if you purchase a puppy. They also offer stud service.
They pick only champion bloodlines, and they are very careful when picking their breeding dogs. Their dogs are living and being raised in their own living room, a.k.a., their house.
They believe that these dogs are part of their family, and they don't believe in a kennel setup.
They are members of the Weimaraner Association of Canada, The Canadian Kennel Club, the Ontario Association of Veterinary Technicians, and many more organizations.
Colray Details
Website: Colra Weimaraners
Location: 40107 Cranberry Rd, Whitehorse, YT Y1A 6M7
Email: [email protected]
6. Gramayre And Leith Weimaraners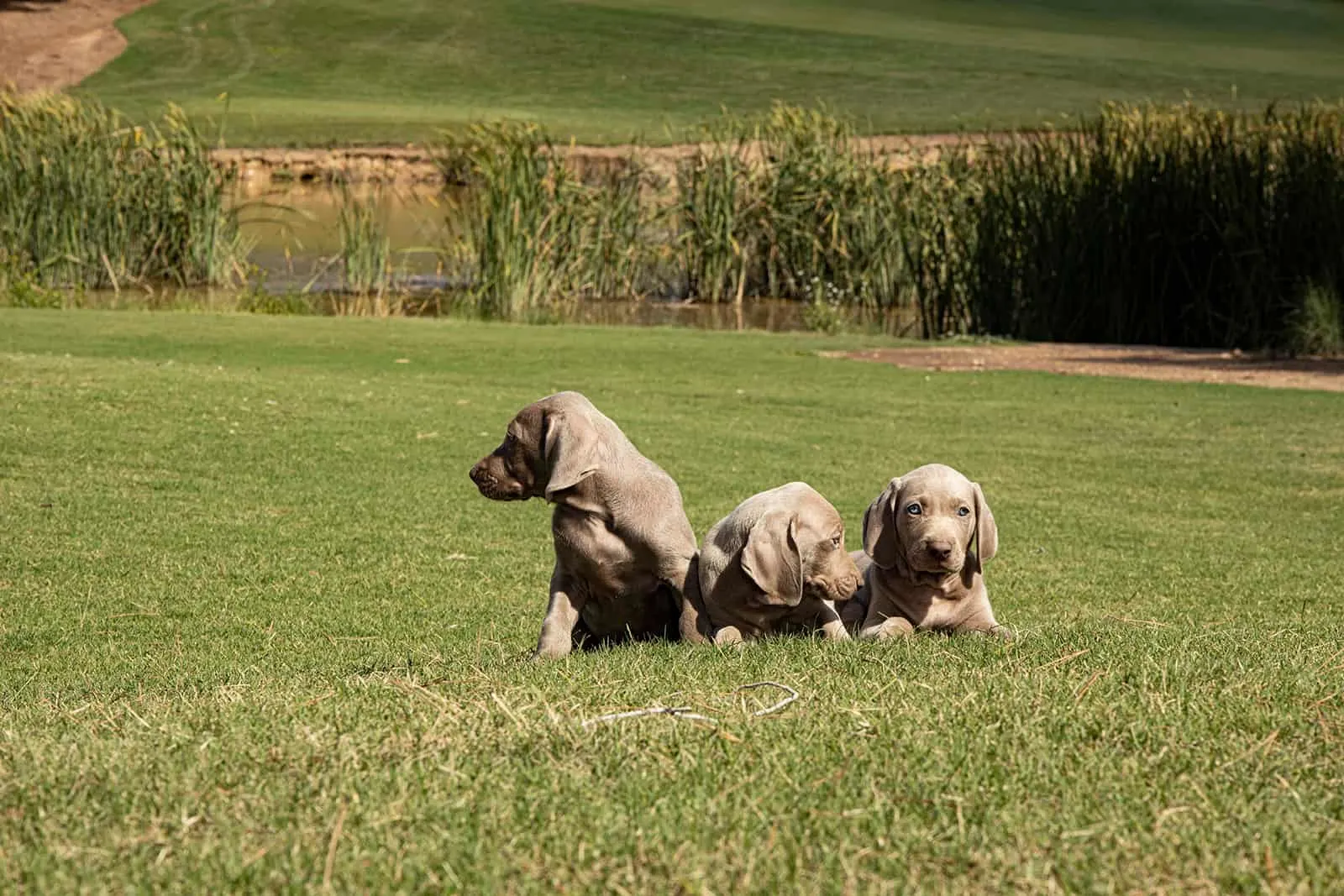 They are a small kennel that rarely has more than one litter a year. They have co-owned and co-bred dogs, and because of that, they have genetic diversity.
Their puppies get their first vaccination at eight weeks, and they can go to their new home at nine weeks of age.
They can ship you the puppy if you are not able to come and get it personally. But, they prefer if the distance is not that big because they don't want the puppy to be in distress. This will be additionally charged.
They can sometimes have an adult dog ready for adoption. This is also a good way to get your new Weimaraner. This isn't that often, but you can always contact them and ask if they could tell you if they get any new adults.
Gramayre And Leith Details
Website: Gramayre and Leith Weimaraners
Location: Ottawa, Ontario-Gramayre, Edmonton, Alberta-Leith
How Much Should You Pay For A Weimaraner Puppy?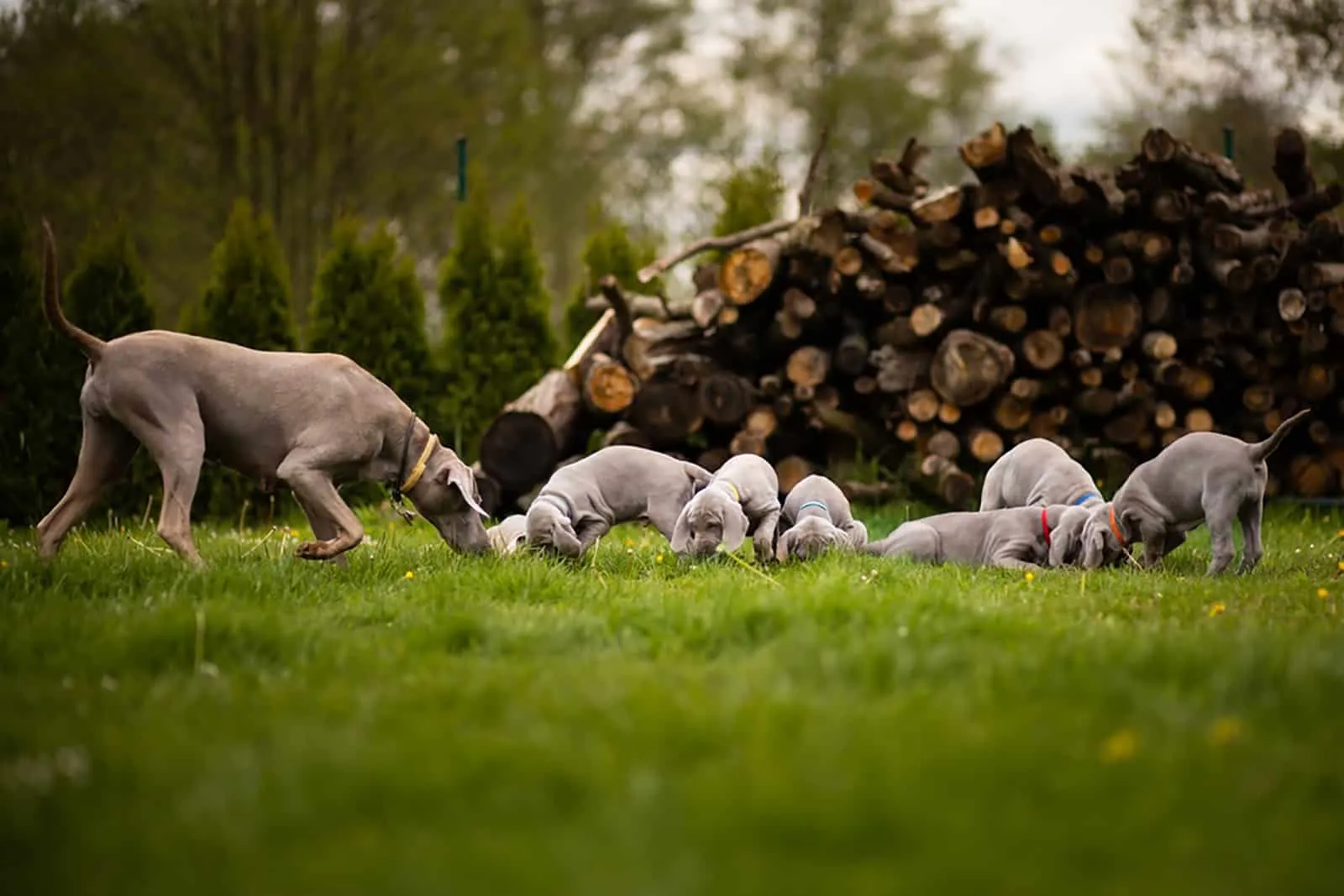 When you find the breed and the breeder, there is always the question of how much money you need to set aside. This is where the question of a Weimaraner's cost comes in.
The price of a Weimaraner puppy can range anywhere from $600 to $3,000, and this depends on a lot of factors.
You can find a healthy puppy for $700, but it is better to stay away from the cheaper side.
It depends if you are buying from a person who has had his first and maybe only litter, but you need to make sure that these people are taking good care of their puppies.
Besides the price of the puppy, you need to know about additional costs. This is why it's important to have enough money to raise a dog.
People get carried away, and unfortunately, they end up giving up their dog for adoption because they can't take care of them anymore.
Some of the additional costs are dog food, grooming tools, shampoos, a bed, toys, treats, a leash, a collar, a crate, etc. Something you should not skimp on is high-quality dog food, and a good brush since Weimaraners shed.
Another additional cost is vet bills, along with all the necessary vaccines, possibly spaying or neutering your dog, deworming pills, products for fleas, etc.
Factors That Can Determine The Price Of A Weimaraner
There are some factors that can determine if your puppy will be cheaper or on the more expensive side, and we made a list of a couple of those factors.
1. Bloodline
When you are searching for reputable breeders, you can see that almost every single one of them truly care about the bloodline of their dogs. They carefully pick the best bloodlines from all over the world so your puppy can be of the best quality.
If you are picking a puppy from one of those breeders, you can expect your puppy to be a bit more expensive than usual.
They can be around $3,000, or sometimes even more, especially if the parents are champions and have proven to be some of the best-hunting dogs.
2. Female Or Male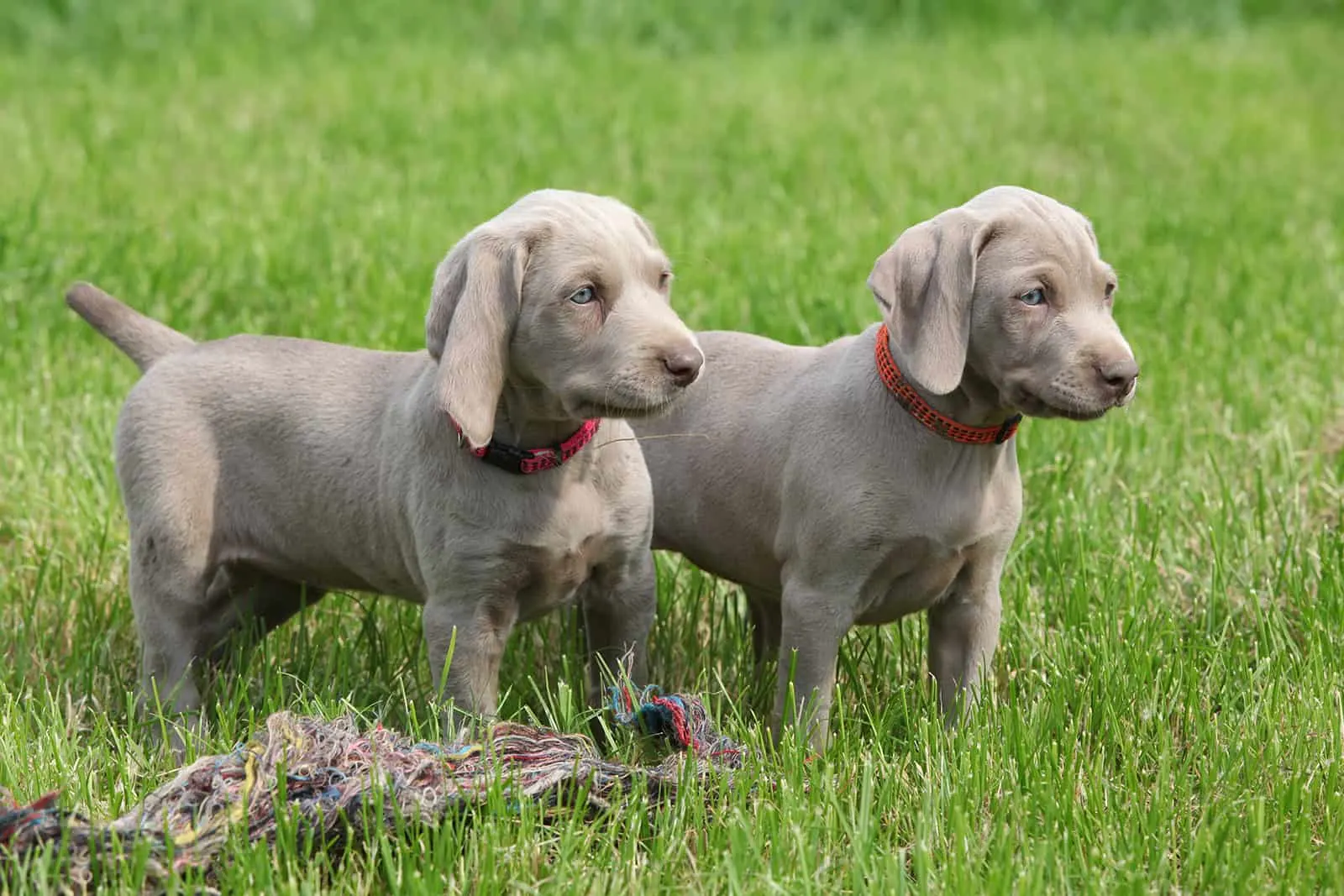 Now, this depends on the breeder. When talking about male vs female Weimaraners, some will price one of them higher than the other. Some breeders price females a bit higher because they know that they can produce new litters.
Other breeders price males higher because they make good stud dogs, and they can be used to produce litters in various places.
If the males are of good quality, which these breeders think they are, they can be further used for other kennels to give them top-quality puppies.
But, the price difference is mostly a couple hundred dollars.
3. Coat Color
This is something that you need to keep an eye on. There are some breeds that have rare coat colors and patterns, and they can get expensive. This is not the case with a Weimaraner; however, some think that the blue Weimaraner is rarer.
This is why some use that to their advantage, and price these puppies higher than others. You need to know that every single color of this breed is common, and there shouldn't be a difference in price when it comes to this factor.
4. Certifications
This is also one of the main factors that can set the price higher. This includes a pedigree, all the health certificates, and all the others, like certificates from some championships. This can also include a passport.
The more certificates your puppy has, you can expect the price to be higher. Puppies that have no certificates or papers can be found for $600 or even less.
What Is Considered A Reputable Breeder?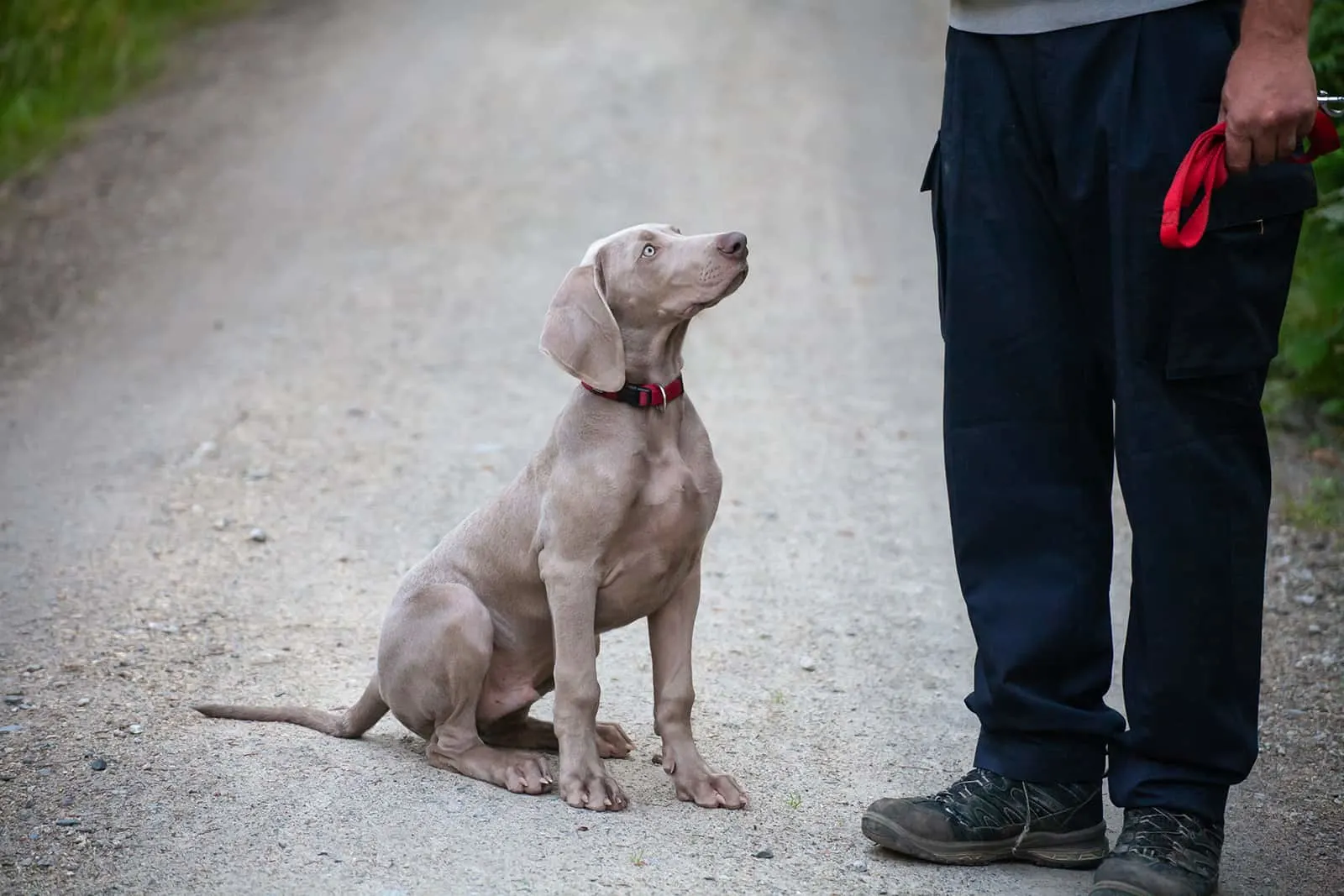 There are some factors that a reputable breeder should possess. We made a list of the main things your future breeder should check out.
– You should see that they care about the breed's standards and bloodline, and that they are trying their best to produce top-quality puppies.
– Health certificates are very important. They should be able to provide you with both the dog's parents' and puppy's certificates that showcase that there are no potential health issues.
– They don't mind you asking questions and them providing you with all the answers you need.
– They will be more than happy to stay in contact with you throughout the process of adoption, and will schedule a meeting where you can see how your puppy is doing.
– They will either let you visit the kennel or show you around via a video call. If they don't want to show you the conditions in which their puppies are held or how the parents of the puppies look, you should consider that a red flag.
– They should be registered with the Canadian Kennel Club (CKC)
Sites Where You Can Find Weimaraner Puppies In Ontario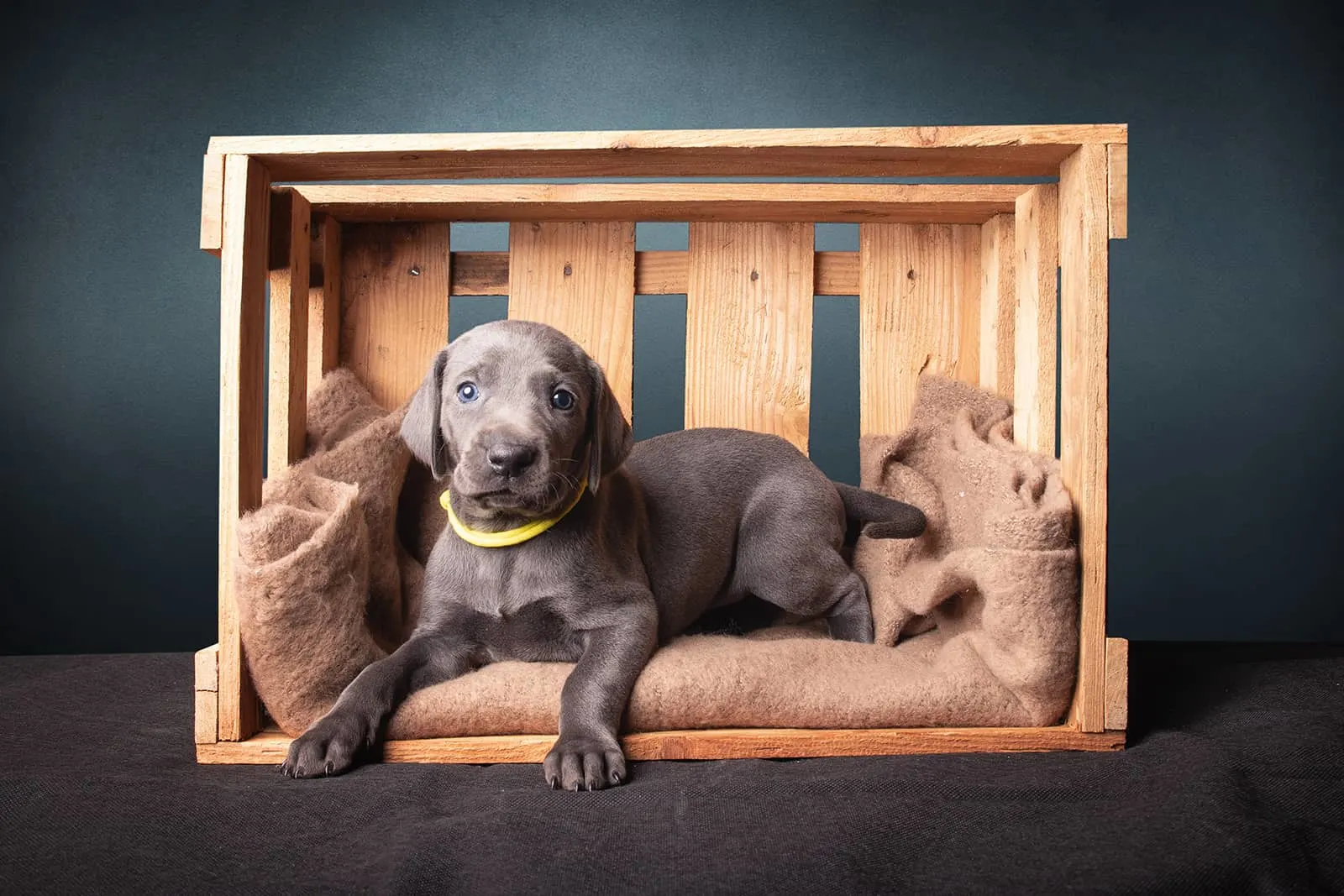 This is one of the reasons why we listed all the things that a reputable breeder should possess. These sites can be full of scams, and also people who don't want to pursue breeding as a career, but have an occasional litter here and there.
These types of people deeply care about their puppies and want them to go to amazing and caring homes.
They might not fulfill all the needed points, but if they allow you to see their puppies and the parents, have all the health certificates from both the puppies and the parents, and stay in contact and give you all the answers you need, then you can consider them reputable.
You can also find an adult Weimaraner for a very low price. In most of these cases, an owner can't take care of them anymore, and that price is more for covering the shipping and all the belongings that this dog will come with.
Here are some of those sites on which you can possibly find your future Weimaraner.
These sites work on the principle of finding a litter that is close to you. You enter the city or even the address where you are located. After that, you put in what breed you are looking for; for example, Labrador Retriever, or in this case, Weimaraner.
Then, the program finds the nearest litter.
In Conclusion
Picking a dog and a breeder is never an easy task. Since you have dealt with the difficult task of picking a breed, we hope we have helped you pick a breeder by giving you the best Weimaraner breeders in Ontario.
If you decide on another way of buying (besides these breeders we provided you with), you need to know what a reputable breeder needs to fulfill. There are many ways to get a dog, and sometimes people get too excited and don't do much research.
Please try to stay focused, and take all the time that is needed to find a breeder who will provide you with the best-quality puppy. This list might help speed up that process, and you will be with your puppy in no time.
We wish you and your puppy all the luck, love, and happiness in this world. We are sure you will be the best dog parent, and that your puppy will be the luckiest puppy in the world.
Read Next: The Weimaraner Growth Chart For A Healthier Puppy