Living a life of solitude is no picnic, especially for stray dogs. Always on the lookout for a family to adopt them, these canines will seize every opportunity to join a hooman pack and start a new life in a loving home.
Buddy, the stray Pittie, had the same idea in mind! As soon as he saw an empty truck on someone's property, he wasted no time entering!
He was just sitting there, hoping for the best – and indeed, the best happened!
Buddy Was Just Meant To Be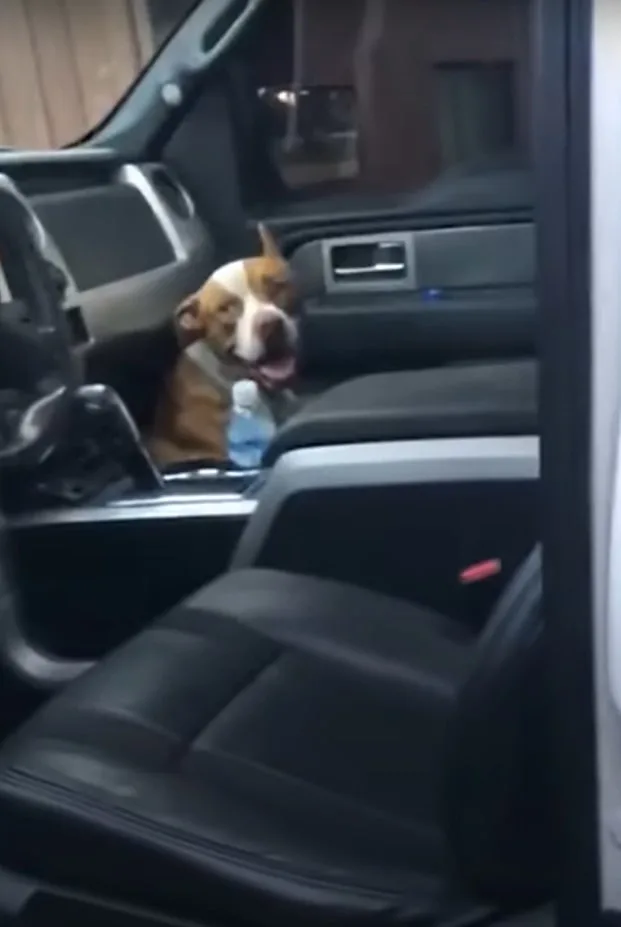 Emily and Garrett, a couple living in Los Angeles, California, never in their wildest dreams could imagine that they would find a stray Pitbull waiting for them in their truck. They were on their way to yoga class when they saw Buddy there – a stray Pittie with eyes full of hope.
"We were coming home from yoga and opened the gate into our property, and saw this tail just swoosh into the truck. Our first impression was that this is a dangerous situation," Emily told The Dodo.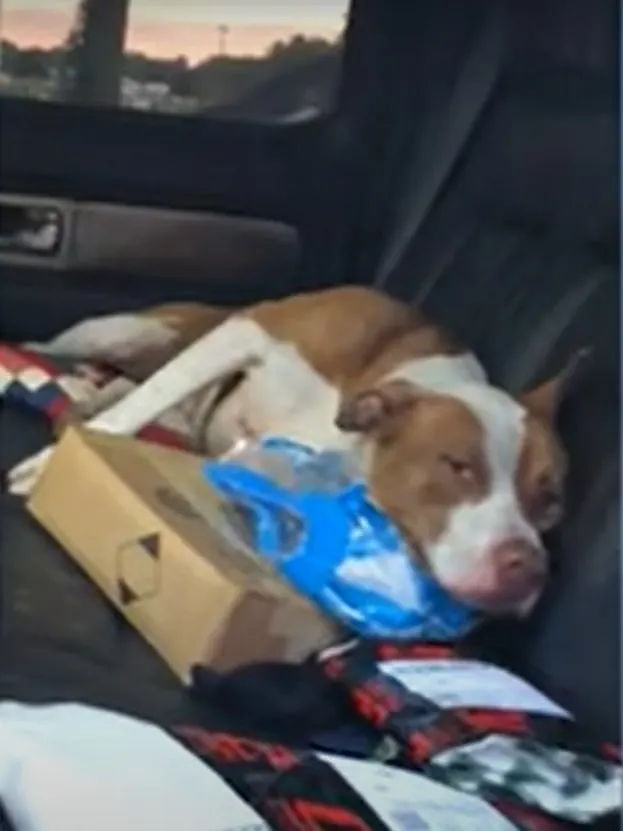 At first, they didn't know what to do, but after they gathered themselves after the initial shock, the couple tried to lure him out with snacks. Still, they had no success! Buddy was inclined to stay in, and he seemed pretty comfortable!
It took them about two hours, some snacks, and a bowl of water to lure him out. But then – when they realized how sweet of a dog he was – both Garrett and Emily decided to keep him!
"He just kinda looked at me, and he was like, super chill, just like: 'Let's hang out!'," says Garrett.
Jumping Into Emily And Garrett's Life As A Pro
The next day, Emily and Garrett took him to the vet and tried to find his owners, but it turned out that Buddy had no owners.
"I was hoping that he would not end up having any owners because I loved him pretty quickly," says Emily.
The couple took Buddy in and in no time – he was already acting like a long-time family member! This crooked-eared Pittie felt very comfortable around his new pawrents, and he loved spending time with them right off the bat!
Unfortunately, only three weeks into having Buddy in the family, he got a whiff of some animal and ran off into the woods, chasing it. Back then, the couple was living in Houston, Texas, and Emily went into every shelter looking for her lost dog.
She was so devastated after losing Buddy, especially after being miraculously gifted with him that day she found him in the truck.
"I was like: 'No, this is my dog that I'm meant to have. This is not the way it's supposed to go', " Emily told the Dodo.
Fortunately, a few days later, Emily received a call about Buddy from the Montgomery County Animal Shelter, in Texas. They found Buddy roaming the streets and they took him into the facility until Emily arrived.
From that emotional reunion on, Emily and Garrett decided to get him a GPS tracker so he doesn't get lost, ever again!
He Just Wants To Be A Part Of Everything
Buddy is just the sweetest doggo in the world! All he wants is to be involved, and Emily and Garrett do their best to include him in just about everything they do.
"I'm a key part of the WFH team over here. I keep things on schedule (like my naps), I keep everyone motivated by giving them guaranteed breaks (to stop my squirrel barking), and I provide my "thunder-blanket" services to any member of my staff (my parents) should they encounter stress," Emily wrote under the photo of Buddy lying on his dad's nap during the work.
Buddy helps his pawrents do their daily chores (at least he motivates them to do them) and he always makes sure to take naps on their laps.
Other than that, he's a passionate hiker and he just loves to spend time resting on his pawrent's comfy bed.
You can keep up with Buddy's adventures on his official Instagram, as he's a local star now!