We have Goldendoodles, Labradoodles, Aussiedoodles, Doodledoodles… okay, the latter is not a Doodle, but I know which one it is.
The Springerdoodler, a.k.a., the Sproodle.
Haven't you heard of them? Sproodles are the coolest combination of English Springer Spaniels and Poodles. Ask any of the Sproodle breeders and you'll get the same answer:
Sproodles are simply great!
If you're interested in getting one of these fur babies, but you have no idea where to start your search, you're in the right place.
PupVine's presenting the top six Sproodle breeders in the States just for you!
Sproodle Puppies For Sale In The USA
The Sproodle (or the Springer Doodle dog breed) is super adorable even as a grown-up dog, but I bet you're here for the puppies. To ease your search, here are the top six Sproodle breeders with puppies waiting to go to their forever home.
1. Springerdoodles, SC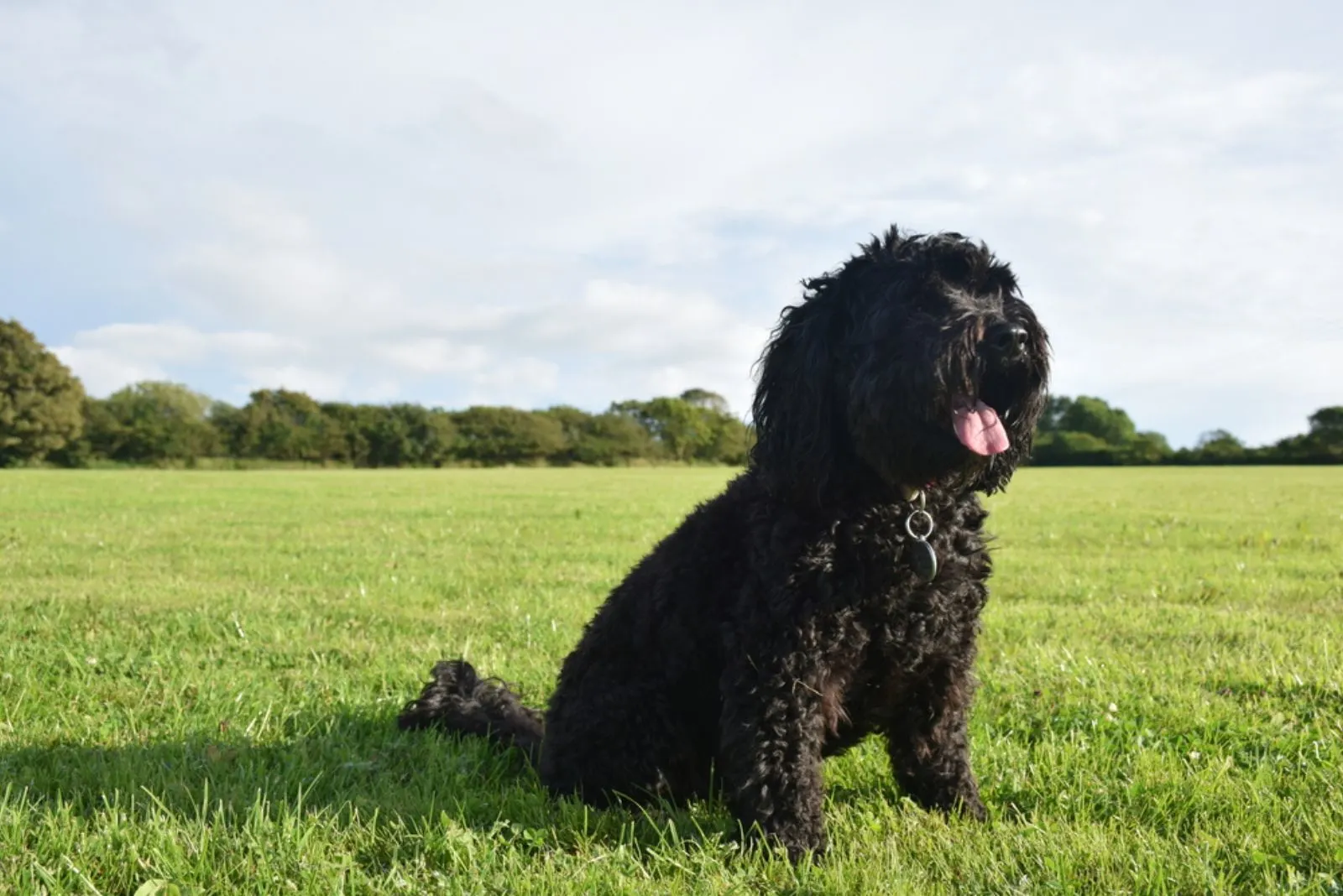 You can contact Springerdoodles through Crockett Doodles, a reliable network that offers all kinds of Doodles. You don't have to worry… you're in safe hands.
So, why do Springerdoodles deserve to be on this list? Is it because of their pups' friendly personalities or is it because they offer pawdorable pooches?
Well, both are true, but so many other reasons have earned Springerdoodles a place here. And, we're about to see which ones.
Springerdoodles is run by a family that really loves Doodles of all kinds. With this breeder, you can not only find Poodle English Springer Spaniel mixed pooches, but also Goldendoodles and Labradoodles. Both mini and standard Sproodles are also available here.
South Carolina's favorite Sproodles come in chocolate, chocolate & white, black & white, and tri-color options.
I believe it's enough to say that these Sproodles come from champion lines. Their English Springer Spaniel mom is a champion with more than 30 titles in her pedigree.
Want a spectacular Sproodle? You're in the right place.
Breeder's details
Website: Springerdoodles
Location: Greenville, South Carolina
Email: [email protected]
Social media: Facebook
2. Family Raised Doodles, NY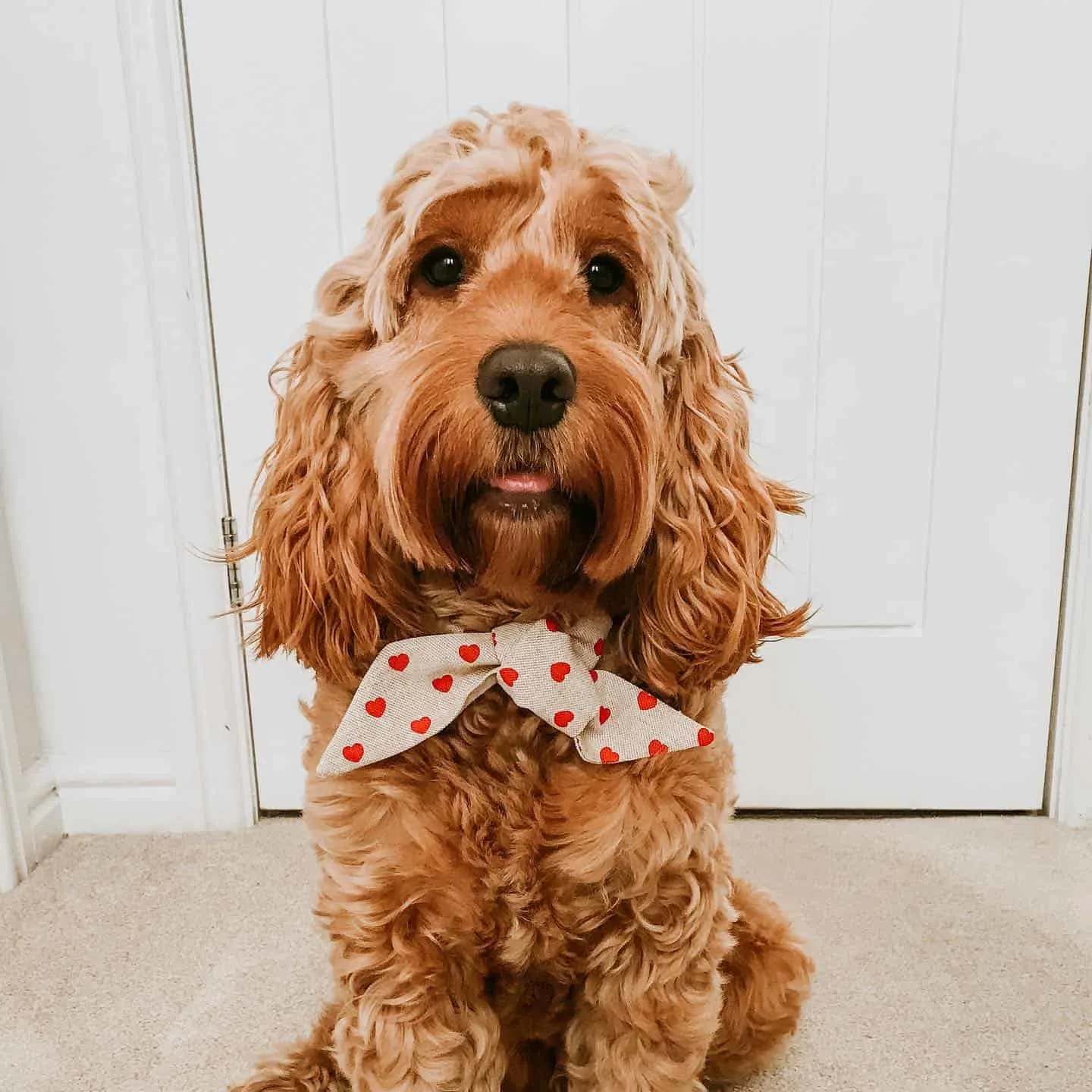 Family Raised Doodles are truly family-raised pooches. The Springerdoodles from this breeder are pups with a fine temperament, attractive looks, and a superb health status. This may sound like bragging, but these Sproodles are really something special.
Besides the lovable Springerdoodles, the breeder also offers English Springer Spaniel puppies.
The reason why I had to include Family Raised Doodles in this list is because they're a small business… more of a passion run by dog lovers. The family has been crazy about dogs, precisely Doodles, throughout their entire life.
But, their breeding approach isn't just supported by immense love for Doodles. These guys actually care about their dogs, and want to make sure they go to their forever home as healthy dogs. That's why Family Raised Doodles are all tested for numerous health conditions.
Precisely, these Doodles are submitted to over 180 genetic tests to ensure their Sproodles live the maximum of their life.
The whole family is involved in the socialization of these puppies from the day they're born. The good news is that they are born and raised inside the house. There are no kennels or harsh conditions for the little ones or their parents, and all dogs are treated as equal family members.
Family Raised Doodles are F1 Sproodles. This means they're 50% English Springer Spaniel and 50% Poodle. If you want to get information on the price of these puppies, you'll have to call in and ask the breeder about their upcoming litter. But, be quick because they get sold fast!
Breeder's details
Website: Family Raised Doodles
Location: Kendall, New York
Phone: 585-643-7799
Email: [email protected]
Social media: Facebook
3. Old Mill Doodles, VA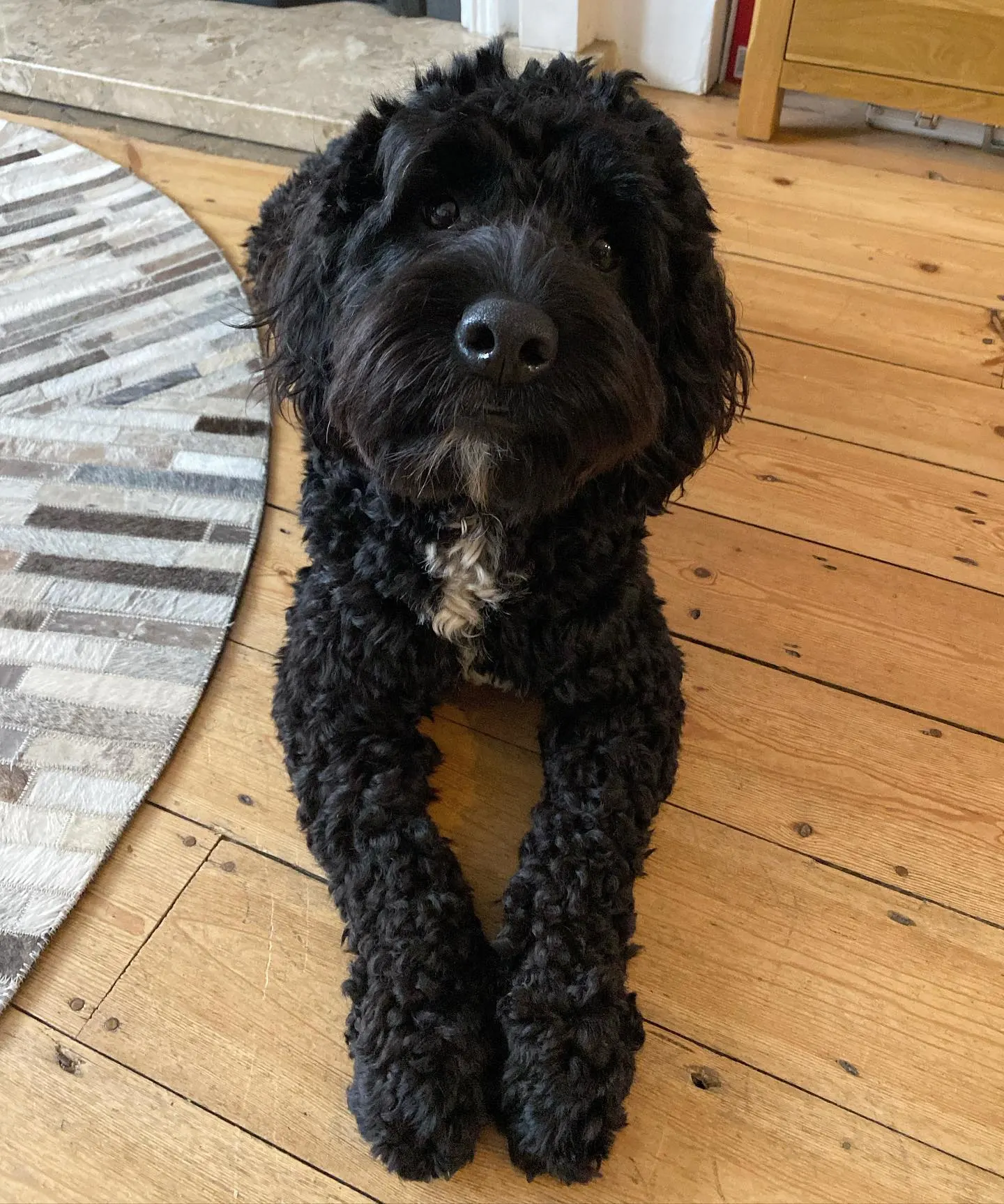 Don't be scared of their name… this is not a puppy mill. In fact, it's not even close to being one, and it never will.
This is just a breeder with a fancy retro name and a wonderful breeding program.
Guys, meet Old Mill Doodles – fine specimens of the Sproodle Doodle breed. Oh, and let's not forget about their buddies – the Goldendoodles. These Doodles can also be found with this breeder.
So, what makes Old Mill Doodles so special? Why should you consider their puppies?
Well, for starters… this is the original Sproodle breeder, the first one in the States. In fact, even the name 'Sproodle' originated from here. How amazing is that? Who wouldn't love to get a Sproodle puppy from the people who started it all?
Old Mill Doodles are such wonderful companions, full of affection and love for all humans, not only their owners. This breeder has more than 25 years of experience in breeding Springerdoodle puppies, so expect only the best.
To prove how pawesome Old Mill Doodles are, they offer lifetime support for every adopted Sproodle. Yes, there's a health guarantee available, too, and it lasts for two years. But, I highly doubt you'll need it because these Springerpoos are hybrid vigor pups destined to be in pawfect condition.
All of their puppies will be vaccinated and dewormed, as well as started with potty training, which is always nice.
Old Mill Doodles isn't available all the time. You should call in and ask the breeder to put you on their waiting list because you'll need to wait for a bit to have your puppy available for adoption.
Website: Old Mill Doodles
Location: Staunton, Virginia
Email: [email protected]
Social media: Facebook and Instagram
4. Old Dominion Kennel, VA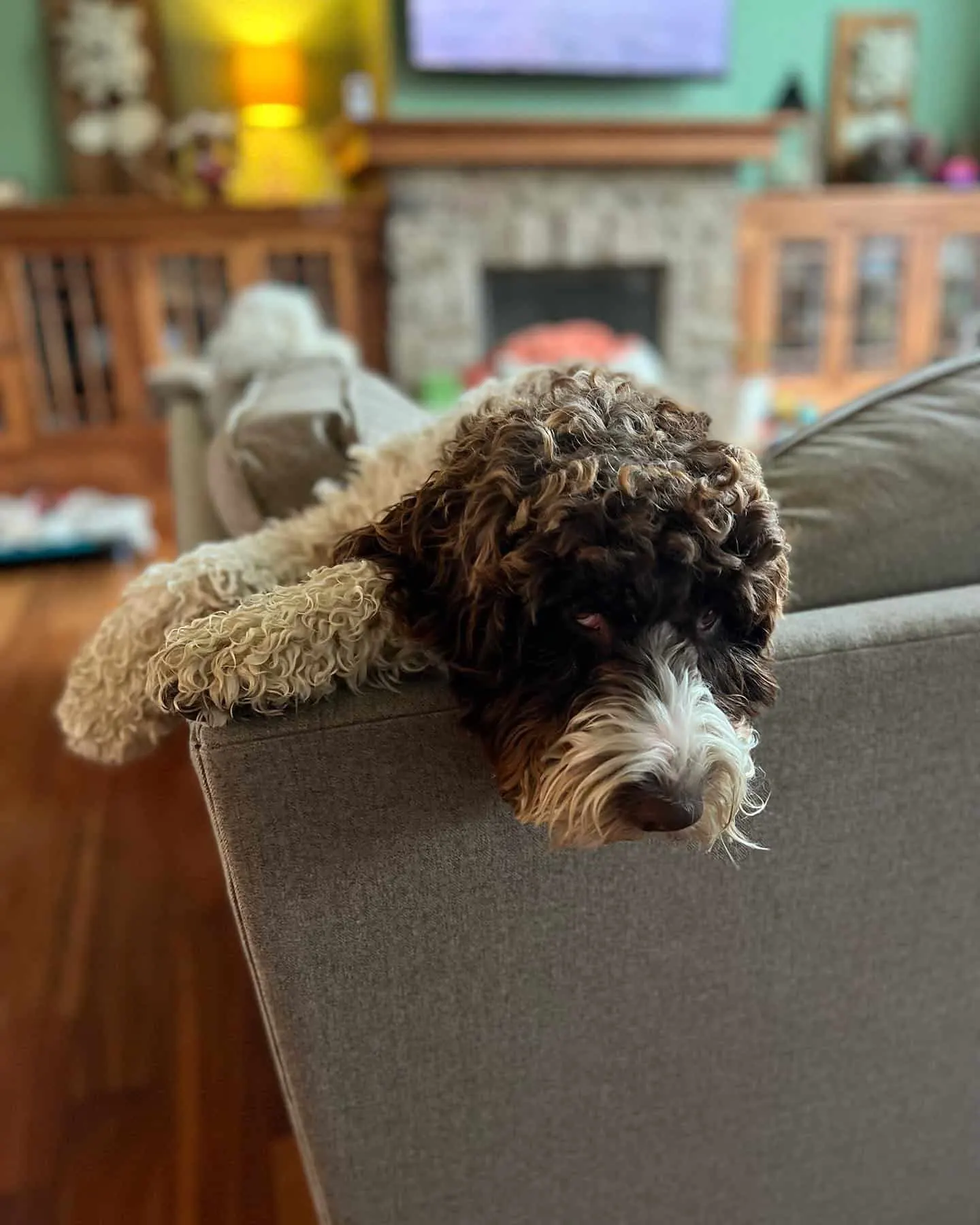 If you're wondering where to get good Sproodle puppies from in Virginia, then you have to go to the southern countryside. That's where all the good Sproodles hide, right on a little farm called Old Dominion Kennel.
To be honest, there are not a lot of Sproodle breeders in the States. This is a fairly fresh designer dog breed, but thanks to the fact that it's a Doodle, Sproodles are gaining popularity. The Old Dominion Kennel saw potential with this Doodle and decided to breed them.
This is how the good people of Virginia and the area got the chance to enjoy their curly coat and wagging tail.
Over 30 acres of countryside is proudly under the feet of many Old Dominion Sproodles. The family has been into breeding dogs for many years, and their approach to raising healthy dogs has resulted in numerous successful litters.
What sets Old Dominion Kennel apart from the rest is the fact that they have really taken everything seriously. Even though all of their dogs are family dogs, they still have modern kennels with heating and cooling systems. You can definitely say that this breeder does their best to make the pups feel absolutely loved and spoiled.
Breeder's details
Website: Old Dominion Kennel
Location: Saxe, Virginia
Phone: 434-547-5342
Email: [email protected]
5. Montgomery Springerdoodles, AL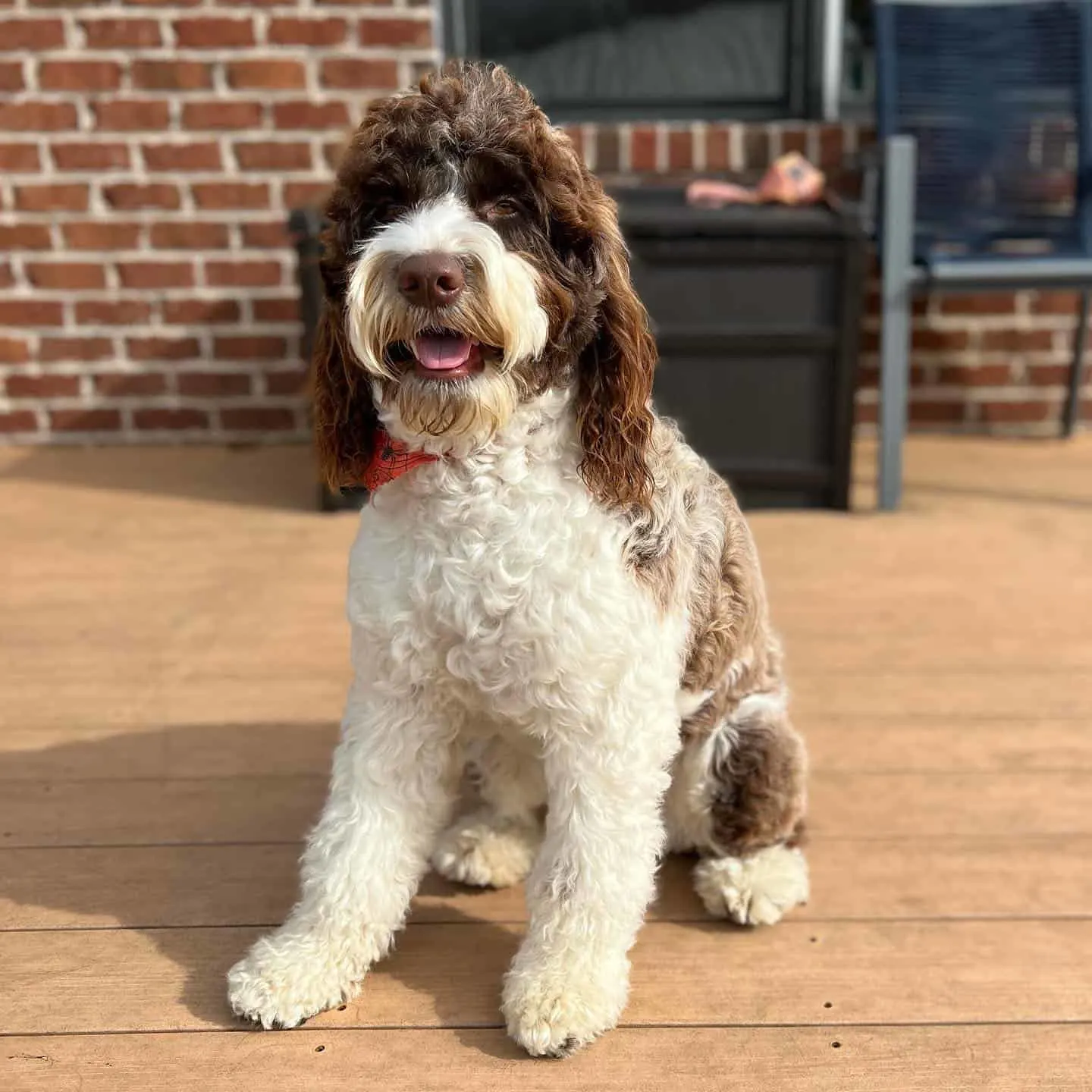 Raising Sproodle puppies is more of a passion than a business for the next breeder on this list. This Alabama-based family breeder never thought they'd need hypoallergenic dogs, but here they are. As a family with kids who suffer from allergies and are surrounded with Sproodles, hypoallergenic pups was the best decision they could make.
Jayna, the mommy of Montgomery Springerdoodles, inherited a love for English Springer Spaniels, and later, for Standard Poodles, from her mom. As you can see, the whole family is involved in breeding spectacular Sproodles.
A rich breeding stock of seven English Springer Spaniels and Poodles is guilty of producing lovely Sproodle pups. All of the dogs stay with the family, and no one gets to go outside into any kennels because there aren't any on this farm.
Montgomery Springerdoodles come from a devoted breeder who puts the dog's health in first place. These dogs are regularly dewormed and taken care of, but the breeder's vaccination policy usually makes them wait until they are up to 12 weeks of age.
All pups will be introduced to potty training and socialization from birth. The family's children are significantly helpful with socializing the puppies and turning them into well-behaving Springerdoodles.
As far as the pricing goes, you'll be happy to hear that Montgomery Springerdoodles aren't too pricey. You should set a budget of $1,800, but before the purchase happens, you must spend some time on their waiting list, waiting for your special little Springerdoodle.
Breeder's details
Website: Montgomery Springerdoodles
Location: Vestavia Hills, Alabama
Phone: 478-240-9313
Email: [email protected]
Social media: Facebook
6. Sand Hollow Doodles, ID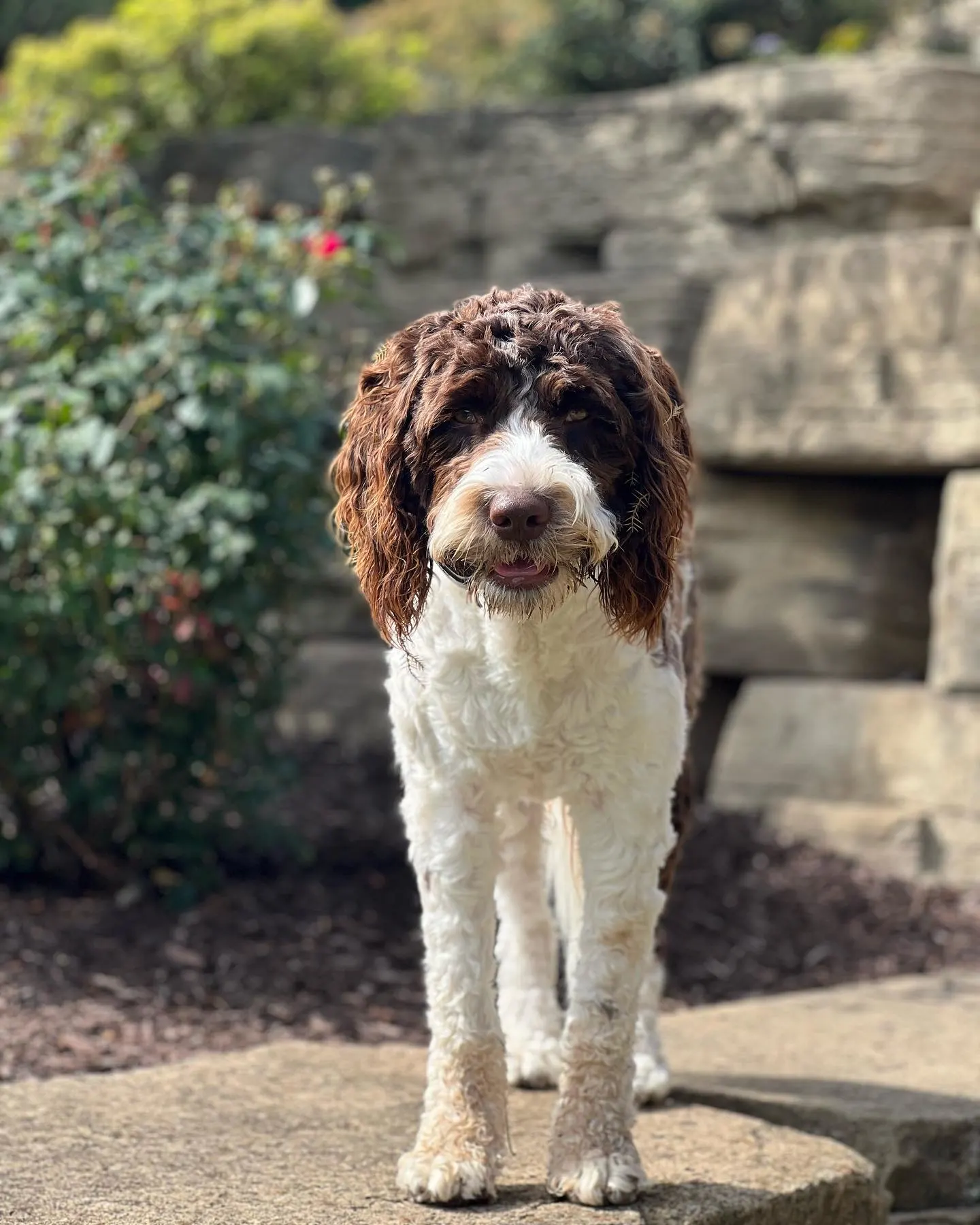 The last breeder today isn't just crazy about Springerdoodles… they're crazy about all the other Doodles, too, including Goldendoodles, Shepadoodles, Aussiedoodles, Goldendoodles, Bernedoodles, and Spanish Water Doodles.
Now you know the exact place where to go to make your own little Sproodle family!
Meet the Jemmett's and the Dale's… two families from Idaho's countryside, huge friends, and even bigger dog lovers. These people have been deeply involved with Doodle dogs for two decades, so you can expect only the best pups coming from their home.
Yes… home because all dogs are indoor dogs – loyal family companions, to be precise.
What you should know about Sand Hollow Doodles is that all puppies will be sold under a spay/neuter contract. This means you won't have the rights to breed these pups once they grow older.
Every Sproodle from this breeder goes to their forever home with a special puppy package, including some nifty items like a blanket with mommy's scent, a sample bag of dog food, feeding instructions, and health records.
However, the most important thing that comes along with Sand Hollow Doodles is a three-day health guarantee and a one-year genetic guarantee, claiming your new Sproodle pup will be as sound as it can be.
Breeder's details
Website: Sand Hollow Doodles
Location: Parma, Idaho
Phone: 208-318-3656
Email: [email protected]
Social media: Facebook and Instagram
Final Words
A cross between the Poodle and the purebred English Springer Spaniel sure brings a lot of attention these days. Let's admit it: Sproodles are pawesome, and that's why we have so many Sproodle breeders.
Springerdoodles, a.k.a., Sproodles are sweet and caring dogs. They're playful, but still gentle with kids, and they enjoy humans the most.
I know there are a lot of Doodle dogs out there, and it's hard to pick the ideal one, but you should definitely give Sproodles a chance.
I have a hunch that these Doodles will soon become more popular than average Goldendoodles or Labradoodles, all thanks to their superb looks and friendly character. Oh, and let's not forget their hypoallergenic traits!