Among all dog breeds, the Shih Tzu is perhaps the ultimate family dog. Expanding your family with a canine companion is a decision that calls for large-scale research and no small amount of oofing.
To ease your way into Shih Tzu breeder browsing, I put together a list of only the best Shih Tzu breeders in Michigan. Every important bit of information you need is here: a summary of who they are, what they offer, the reputation and every possible way of contacting them.
Shih Tzu Puppies For Sale In Michigan
Michigan people should be excited for the prospect of getting a Shih Tzu. There are quite a few options to choose from, and none of them will be wrong.
At Pupvine, we like to give you an enjoyable read on any topic, so helping you choose a puppy from a good breeder makes us feel like we were a tiny part of the new friendship you and your Shih Tzu will relish.
1. Little Lion's Den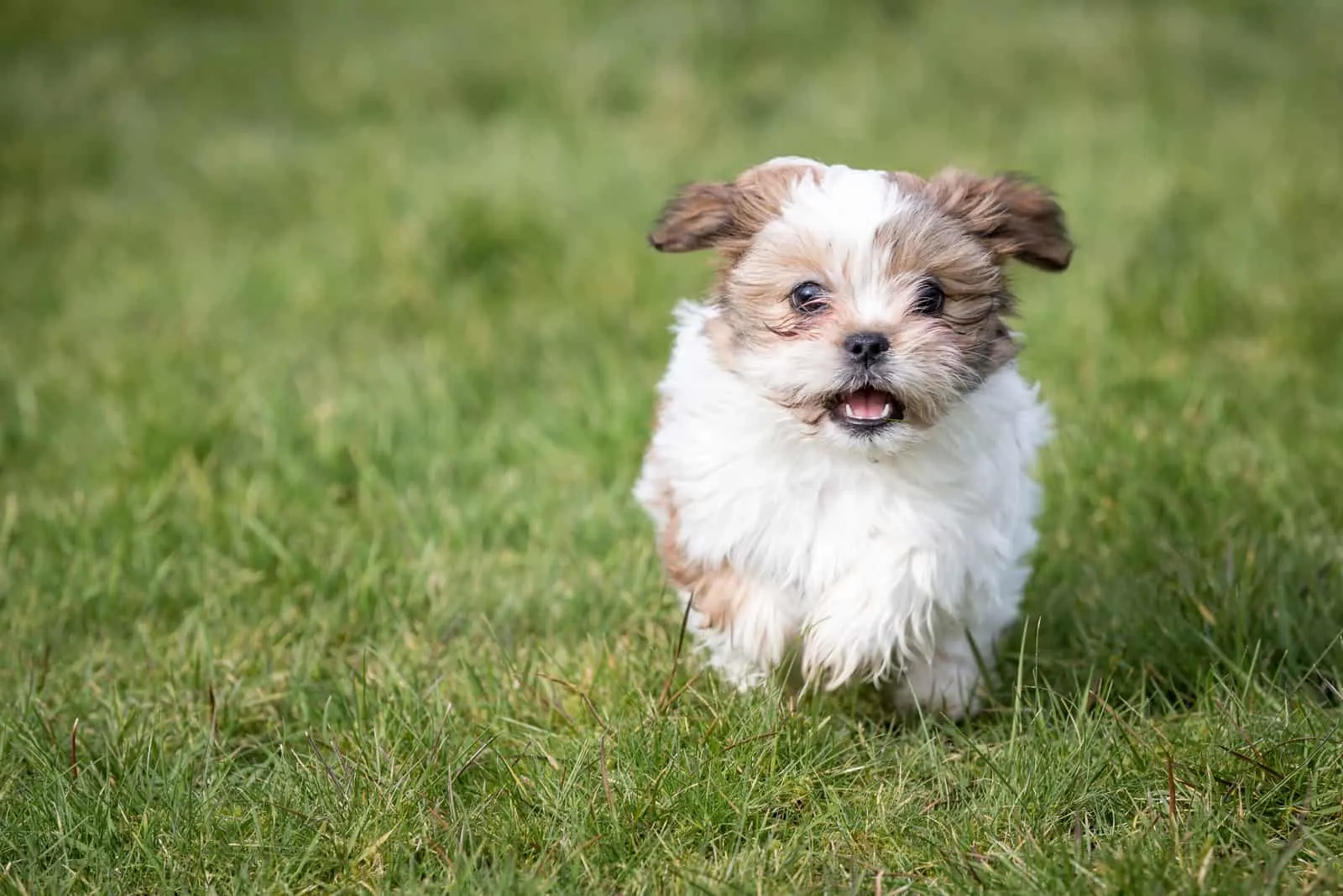 Playing the card of dainty nicknames, this small family Shih Tzu breeder will not sell you a Shih Tzu puppy, they will have you meet a friend for life. You can be friends with the owners too if you want to.
Certified by the American Kennel Club, Little Lion's Den will provide you with all the necessary papers that prove the puppy's good heritage and health. Bloodline certification, a health guarantee and AKC registration documents are all included.
The puppies are vet checked, dewormed and receive the first round of vaccination before being ready for a new home. While we are on the topic of homes, Little Lion raises all their dogs inside the house, so that they receive a fully fledged family treatment.
This breeder specializes in standard sized Shih Tzus that come in a rich palette of colors. Obviously, you will not be starved for choice at Little Lion's Den. You even get a starter's puppy package.
The Process Of Acquiring A Puppy
Expect a smooth process in terms of communication from start to finish. You can contact them via the contact form, email, Facebook or phone. Signing up for a puppy can be done through the contact form, but keep in mind that you will have to exchange a couple more calls with the owner.
In terms of pricing, puppies will cost you $900-$1300. This is the price for pet contracts. Limited AKC registration is an additional $200. Deposits are non-refundable (any reason) and in the amount of $200. The life updates of your particular puppy are posted on their webpage.
Shipping is discussed after the process of reserving the puppy, so I am not entirely sure whether pet cargo transportation or a flight nanny are available.
Breeder Information
Address: 16235 Riverview St, Detroit, MI 48219, United States
Phone: +1 248-200-6508
Email: [email protected]
Website: Little Lion's Den
Socials: Facebook
2. The Shih Tzu Cottage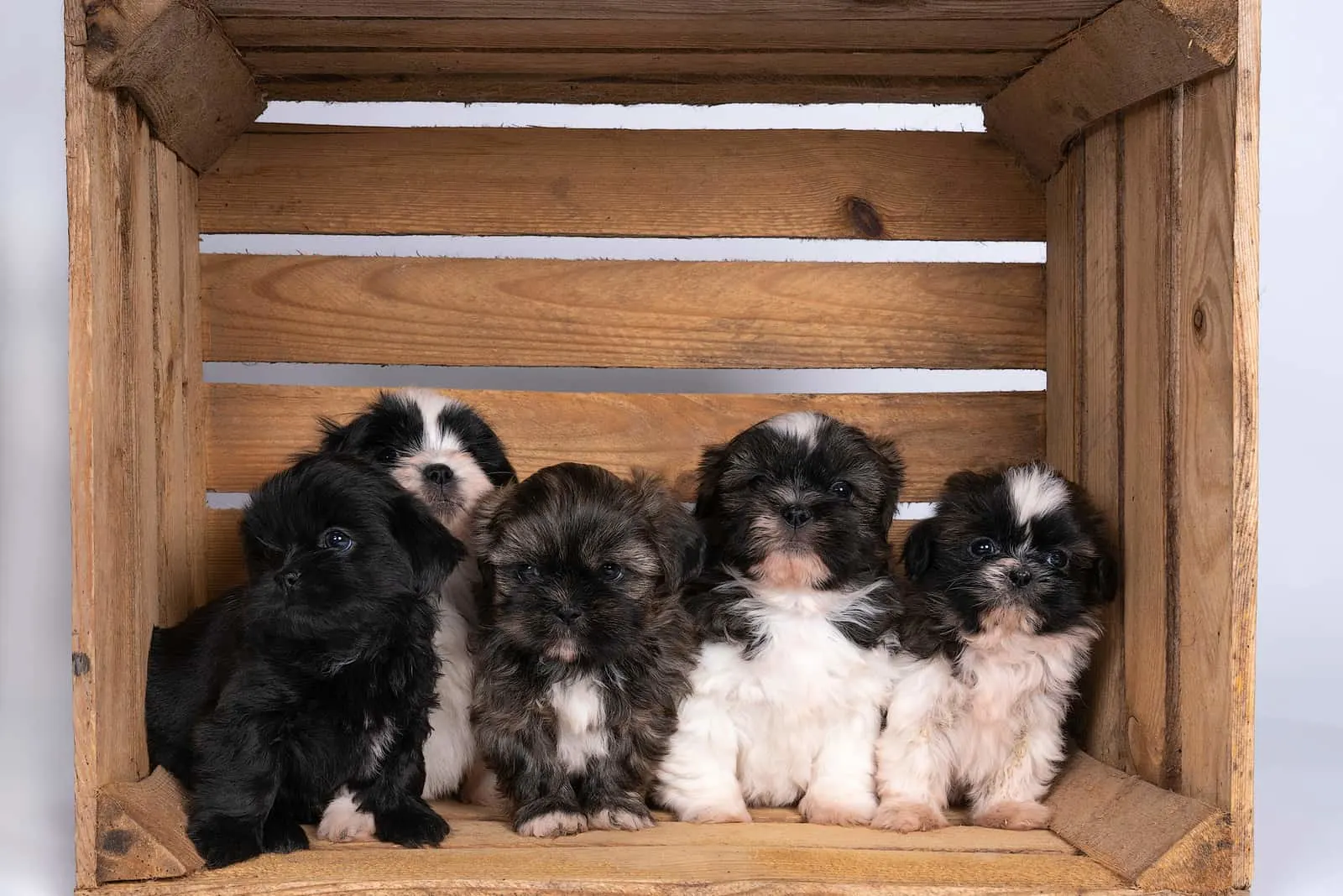 Hailing from southeastern lower Michigan, and only a forty minute drive from Detroit, I present to you The Shih Tzu Cottage. This breeder has been in the breeding game for over thirty years.
Growing up surrounded by dogs, she raises all her puppies in the family home. The owner managed to overcome some tough life situations with the help of dogs, so you can be sure that getting a puppy from The Cottage will be a good story too.
A long resume in breeding and showing different breeds but sticking to the Shih Tzus for good means that your Shih Tzu will be a healthy puppy. The Cottage puppies are AKC certified, covered by a health guarantee, dewormed and vaccinated.
The Shih Tzu Cottage is part of the AKC Bred with H.E.A.R.T. program that focuses on breeding healthy dogs that adhere to tradition and responsible breeder/owner education. You will find information on what dog food you can feed your new puppy.
The Process Of Acquiring A Puppy
At The Cottage you are encouraged to give them a call during working hours so that the owner can get to know your puppy needs better. Contact is possible via phone, mail or Facebook.
To reserve a puppy, you need to deposit $500. The deposit is non-refundable except in case of puppy genetic or health problems and death. Calling them for puppy availability is preferred over email.
Personal checks and online payments are viable only for deposits. The undisclosed remaining sum needs to be paid two weeks before the puppy is ready to be picked up. They sometimes ship puppies, so getting your puppy in person is the best option.
Contact the owner for more information regarding contracts, breeding rights, other means of shipping etc.
Breeder Information
Address: 3177 Beach Rd, Port Huron, MI 48060, United States
Phone: +1 810 794-2159
Email: [email protected]
Website: The Shih Tzu Cottage
Socials: Facebook
3. Maple Lane Pups Shih Tzu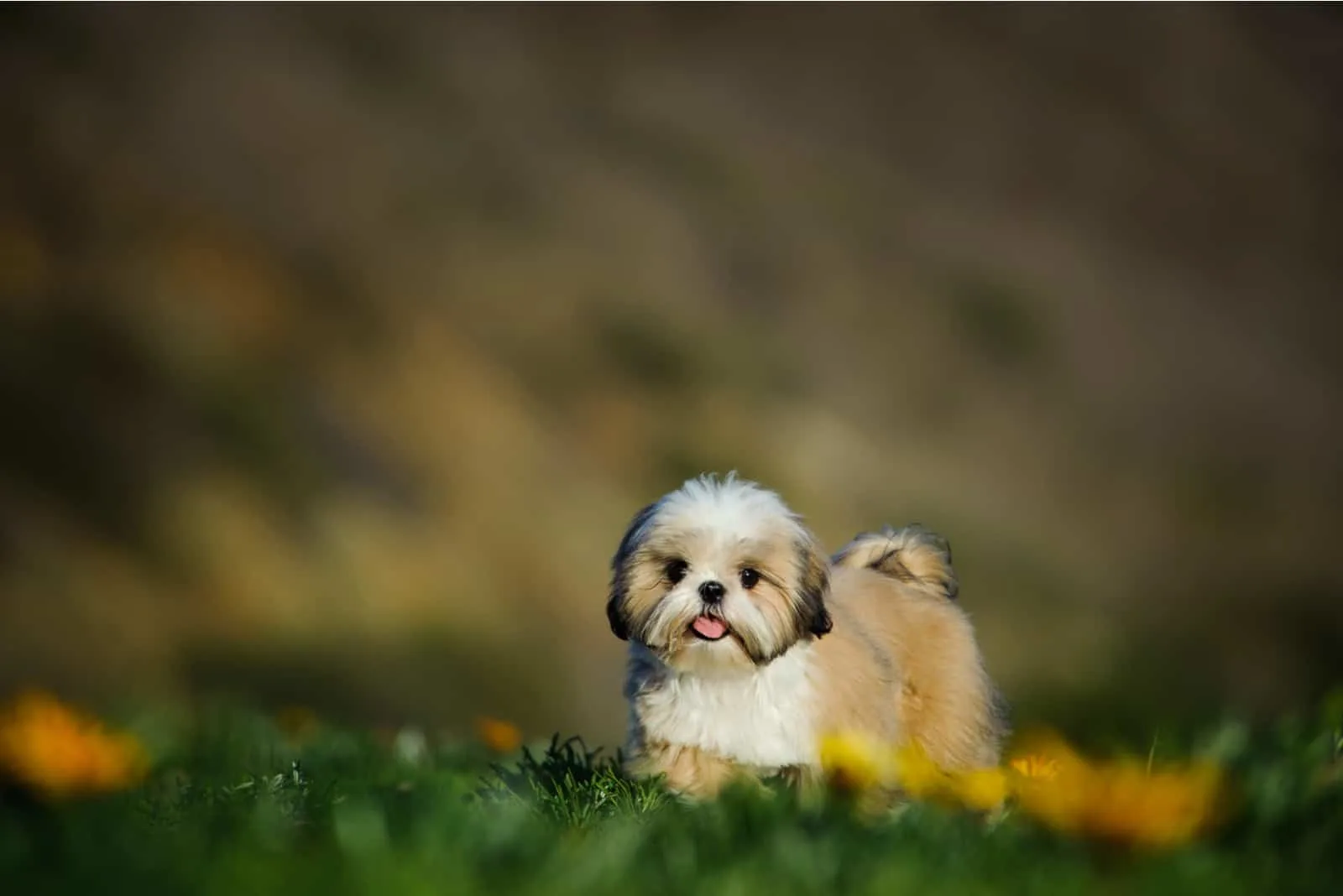 The Shih Tzu breed is not only a great family dog, but also a good family business. Maple Lane is a family led breeding business that oozes warmth and wholesomeness.
Selecting only the most exquisite representatives of this small dog breed means that a Maple Lane Shih Tzu will be purebred and AKC registered. You will not have to worry about potty training, deworming, vaccination or socialization because the owner and her family take care of that.
Conforming to breed standards is of great importance for Maple Lane, which is why dew claws are removed and a full health screening performed by their vet on every dog.
To top this off, they have been awarded the Best Shih Tzu Breeder award by Vetary, and are marked as a recommended breeder on Gooddog.
The Process Of Acquiring A Puppy
Getting in touch with the owner can be done by filling out the contact form, phone call, email or Facebook message. Personal visits are by appointment only. To arrange it, you will have to call the owner to figure out the best date and time.
To reserve a puppy, you will have to sign a contract and send a holding fee. The owner requires you to contact her for access to the holding agreement. There is a waiting list, so you might want to be fast. A puppy application is available online.
You are allowed four days maximum to send the signed contract and proof of holding fee payment. The fees are non-refundable. The holding fee can be paid by postal money orders, Gooddog payment or personal check. The remaining balance has to be paid in person.
Maple Lane does not ship their puppies, so you will have to personally pick your puppy up. Still, ask if ground transportation is possible in case you cannot make the trip.
The puppy pricing is individual, which means that, after the owner has chosen a puppy for you, the price will reflect its color, sex etc. The $3500 is for pet contracts, which means that limited and full akc registration cost more and have to be discussed with the owner.
Breeder Information
Phone: +1 231-743-6948
Email: [email protected]
Website: Maple Lane Pups
Socials: Facebook
4. Shih Tzu Family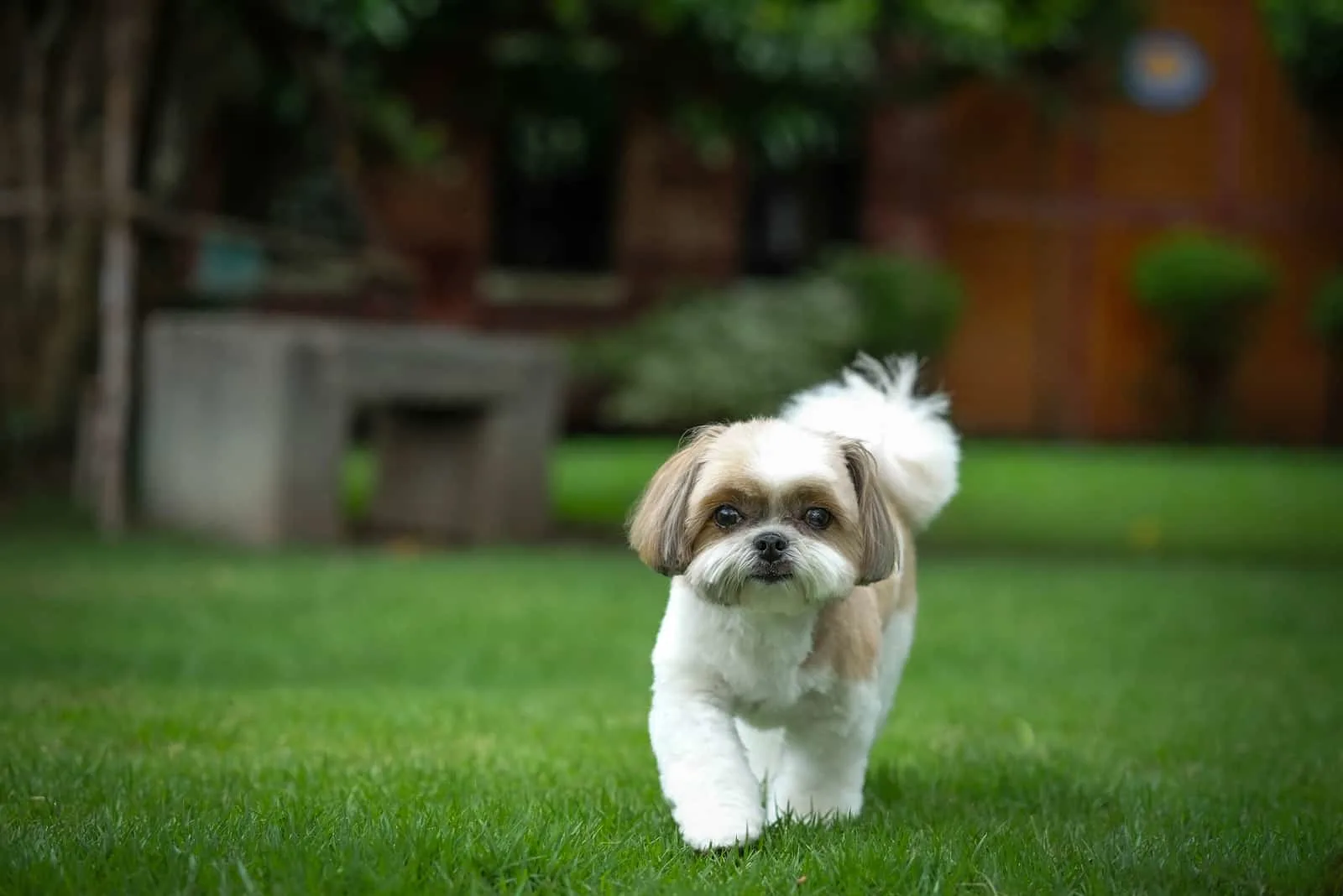 For locals of Novi, Michigan, this is the best option for personal puppy pickup. Other than Shih Tzu dogs, Shih Tzu Family has a Westie-Maltese Poodle designer mix breed too, in case you like looking at photo galleries of posh dogs.
Acquiring a puppy at Shih Tzu Family means you are getting a dog from some of the most amazing Champion litters. Needless to say, their dogs are AKC registered and show ready.
Socialization is done inside the family's home, so your dog comes house broken, dewormed, accompanied by all possible health screens and vet checks before it reaches a new home.
They occasionally host open house visits, so that future Shih Tzu owners can experience the amazing environment their dogs learn how to behave in. If you give them a shoutout, they will add a $50 puppy gift package free of charge.
The Process Of Acquiring A Puppy
You can contact the owner via the contact form on their website, email or phone. There is no information regarding pricing or the process of reserving the puppy.
Getting in touch with Karen from Shih Tzu Family will probably provide you with all the information on pricing, contracts, reservation and shipping.
Breeder Information
Address: 41714 Dukesbury ct Novi, MI 48375
Phone: +1 248-915-8133
Email: [email protected]
Website: Shih Tzu Family
5. Pam's Pups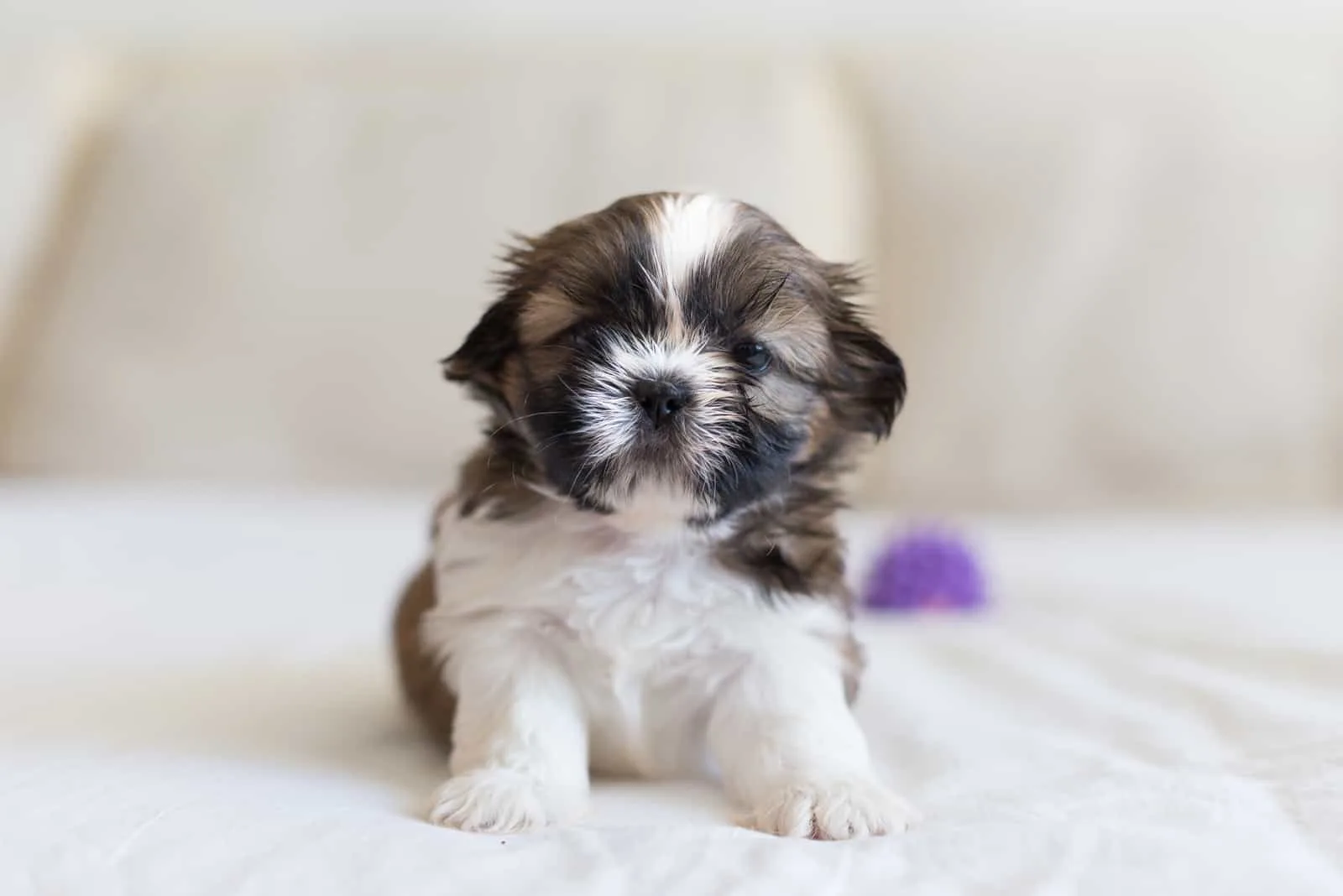 Small town breeder Pam's Pups made the switch from breeding Collies to Shih Tzus and never looked back. If they found joy in the Shih Tzu as dog breeders, you are certainly going to like hearing their experience.
For over ten years, this breeder from Gaylord, Michigan, has been producing litters with Champion bloodlines from both parents' sides. The entire family is involved in caring for the dogs, so rest assured they will be properly socialized.
Choosing Pam's Pups gets you an AKC registered, dewormed, first round vaccinated, health screened and glorious puppy. A one year health guarantee is included for fatal genetic diseases.
On their website, you will find a really extensive FAQ that should answer most of your initial questions. In case you didn't know — they have Maltese puppies too, so your Shih Tzu puppy will be an excellent buddy to a Maltese you might already have.
They also have great references from the Alpine Animal Hospital in Gaylord. Good veterinarian care is never a bad thing to have. They get all their dog's checked out at AAH, along with dewclaw removal procedures.
The Process Of Acquiring A Puppy
It should not be too difficult to get a hold of Pam. You can use the website contact form, email or phone. Once you are past the first contact, you will have to give some info so that Pam's Pups can match the best puppy they have with your needs.
A deposit is required, and there are several incremental payment options in addition to paying the standard $300. You can find all the choices on this link. The $300 is the cost of reserving a puppy before its born. That sum goes to $500 if you reserve a puppy that has already been born.
The deposits are non-refundable, and personal checks or money orders are valid methods of payment.
In terms of shipping, Pam's Pups prefers personal pickups, but in certain cases air cargo is possible. At around $450 for transports, the option is quite costly, but the best course of action would be contacting the breeder directly.
Most puppies are ready to be taken to their new homes when they reach the age of nine to twelve weeks. This way, the breeder can give a second round of shots before sending them your way.
Breeder Information
Address: 49735, Gaylord, Michigan, United States
Phone: +1 989-350-3959
Email: [email protected]
Website: Pam's Pups
6. Robin's Nest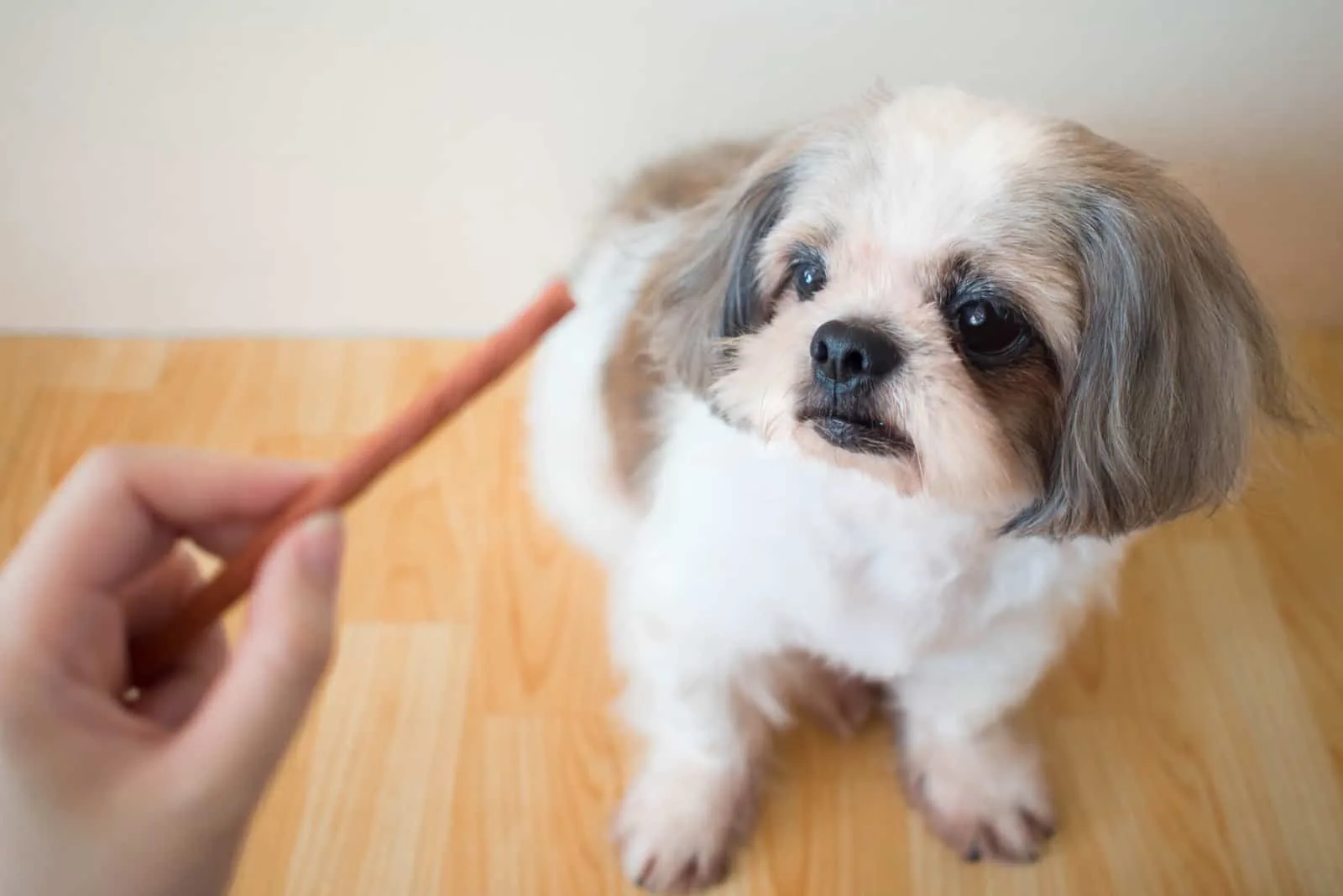 I love a specialty breeder with a clear goal. This Shih Tzu breeder focuses on creating the most unique colors in the dog breed. Whatever coat color you fancy, you will find it here: solid white, blue, black, chocolate, red and silver. This is not to say they do not have other colors too.
Robin's Nest owner, Theresa, has been a veterinarian for many years which is why her dogs are among the most thoroughly health screened and cared for in the state.
You get the whole deal when purchasing a puppy from them: AKC registration, health guarantee, first round of vaccination and deworming. The puppies are raised inside the house, so you can skip the house breaking process once you bring your new puppy home.
The Process Of Acquiring A Puppy
Using the contact form on the website is finicky, and the owner herself has a note saying email, phone or Facebook are preferred over the contact form. You can still give it a try if you feel adventurous.
After you exchange your first thoughts, you will have to fill and sign an agreement form, which doubles as a contract too. Since puppies are priced individually, there will be factors like color, size and sex that determine the cost.
However, the base cost is $1800 for a limited AKC registration. If you wish to show or breed Robin's Nest Shih Tzus, then you will have to pay an additional fee after discussing it with the owner.
The non-refundable deposit is half of the puppy's price and you are given one day to pay it. Postal money orders are accepted but personal checks are not. The remaining balance is cash only at pickup which is usually around the eighth week of the puppy's life.
Your puppy can be shipped to you with the use of a flight nanny, who you pay in cash upon delivery, and by car (gas expenses are considered as the delivery cost).
Keep in mind that the fee for a flight nanny is between $400 and $550.
Breeder Information
Phone: +1 810-735-3122
Email: [email protected]
Website: Robin's Nest
Socials: Facebook
7. AKC Marketplace And Gooddog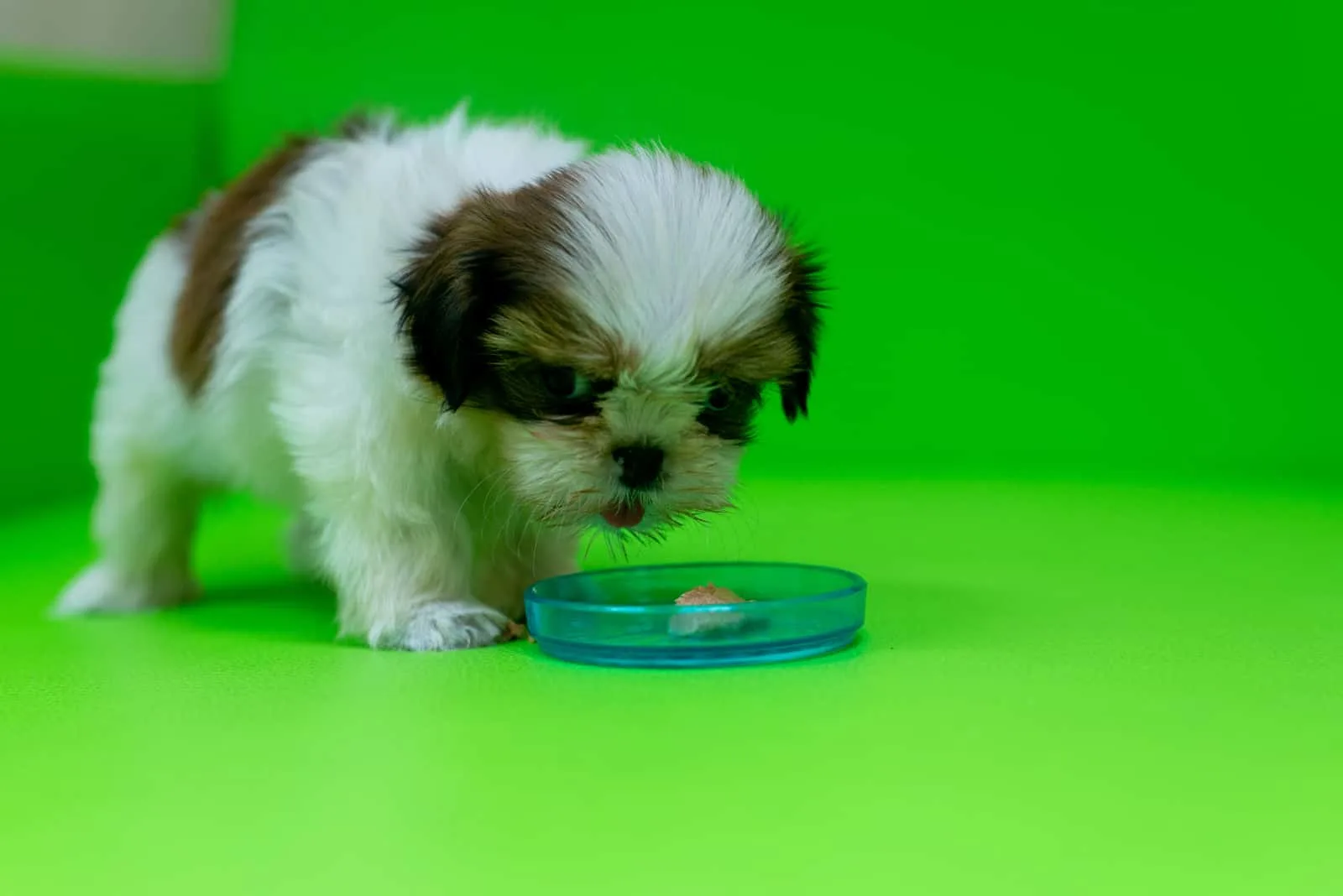 If you cannot find local Shih Tzu breeders through websites or you live too far from some of the ones we went through, you can always take a look at the AKC Marketplace. Whether you live in Belleville or Troy, there will be at least one breeder in your area.
Equally good, and created for dog breeders to have a platform without the hassle of getting web pages, socials etc., Gooddog is an amazing option. They also check the breeder authenticity and practices to provide a safe buying environment for purchasers.
Conclusion
With this kind of market for Shih Tzu breeders in Michigan, your research is already done for you. Use the phone, email, Facebook or the contact form and grab a spot on the waitlist.
Shih Tzus are amazing dogs that barely shed, respond great to training and do not take up much space. Their loyal and sensible view of the world inspires many dogs around the world, and us humans can feel inspired too.
If you look at some of the photo galleries from the breeders' websites or socials, I am sure the decision has been made. All you have to do now is pick one breeder and select a puppy.
The ball is in your court.