A hero in blue, Officer Cory Radke, risked his own life to save a four-legged buddy from a burning house.
It was the end of the shift as Officer Radke said goodbye to his K9 partner, Lou. He was looking forward to a nice and calm evening at home, but things didn't go as he had planned. There was a sound on the radio and the dispatcher called 11-71. There was a building on fire just some minutes away.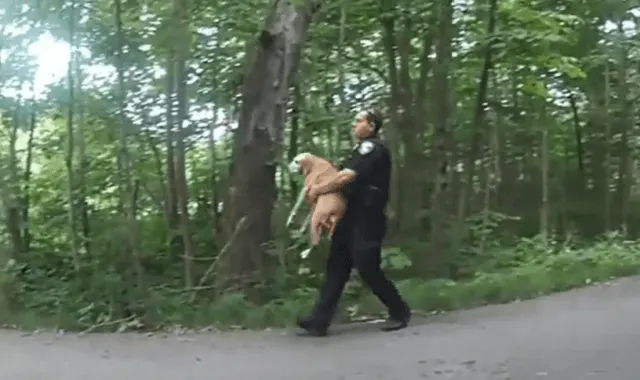 Officer Radke was the first to reach the catastrophic scene. Fire had already captured the roof of the house, threatening to spread onto the entire building. Thankfully, the owners and their children weren't inside at the time.
However, the house was not empty. The two family dogs, Deezel and Norton, were trapped inside.
Without any protective equipment, Radke kicked in the side door to the garage and entered the burning chaos. Deezel, the twelve-year-old female Vizsla, was quickly located. According to the Village of Caledonia Police Department, Deezel was chilling out on the couch, completely unaware of the situation.
What's even more strange is that Deezel refused to leave her comfy couch. Radke had to carry the dog out in his arms. The entire rescue mission was captured on his body camera.
"I was just kind of like, 'Hey, what are you doing here?' Smoke in the room," Radke told of the moment he located Deezel. "Come on, let's get out of here, buddy."
"Got a dog — I don't know if there's another dog," Radke was heard saying in the body camera video.
Once Deezel was out and in a safe place, Radke went immediately back to search for the second dog. But, the fire was spreading. Flaming debris from the bathroom ceiling fan threatened to harm the officer. Smoke was everywhere.
"The smoke was getting to me," said Radke. "Had to get on out of there and let the true heroes clear it."
The house suffered way too much damage, but surprisingly, no one in the rescue action was hurt. The firefighters managed to locate Norton, the family's twelve-year-old Dachshund, hidden under a bed.
Not a scratch was made on their fluffy bodies.
Even though Lou, the K9 partner, didn't participate in the rescue, he did play a vital role. Once everything cooled down, Lou was there to provide emotional support to officer Radke.
Being such a good friend of the animals made officer Radke a true hero, the one who jumps through fire to save those in need.