Stumbling upon this article can have two reasons: you liked what you saw while researching Neapolitan mastiffs and now want to buy one or you just feel nice browsing through Neapolitan mastiff breeders because of the photos breeders post.
Be my guest. There is no wrong or right here. The Mastino is an ancient breed and deserves your interest. I devised a list of the best Neapolitan mastiff breeders in the US to give you a head start before someone grabs a puppy right in front of your eyes.
Neapolitan Mastiff Puppies For Sale
Puppy searching never ceases to entertain whether you are serious about it or just killing time. There are plenty of breeders to explore for the purpose of time killing, and in case you want more, you can find a lot of them at the AKC marketplace.
These are the best in the business, so you should be able to find your perfect neo puppy among them. Let us have a go at it.
1. Edin Farms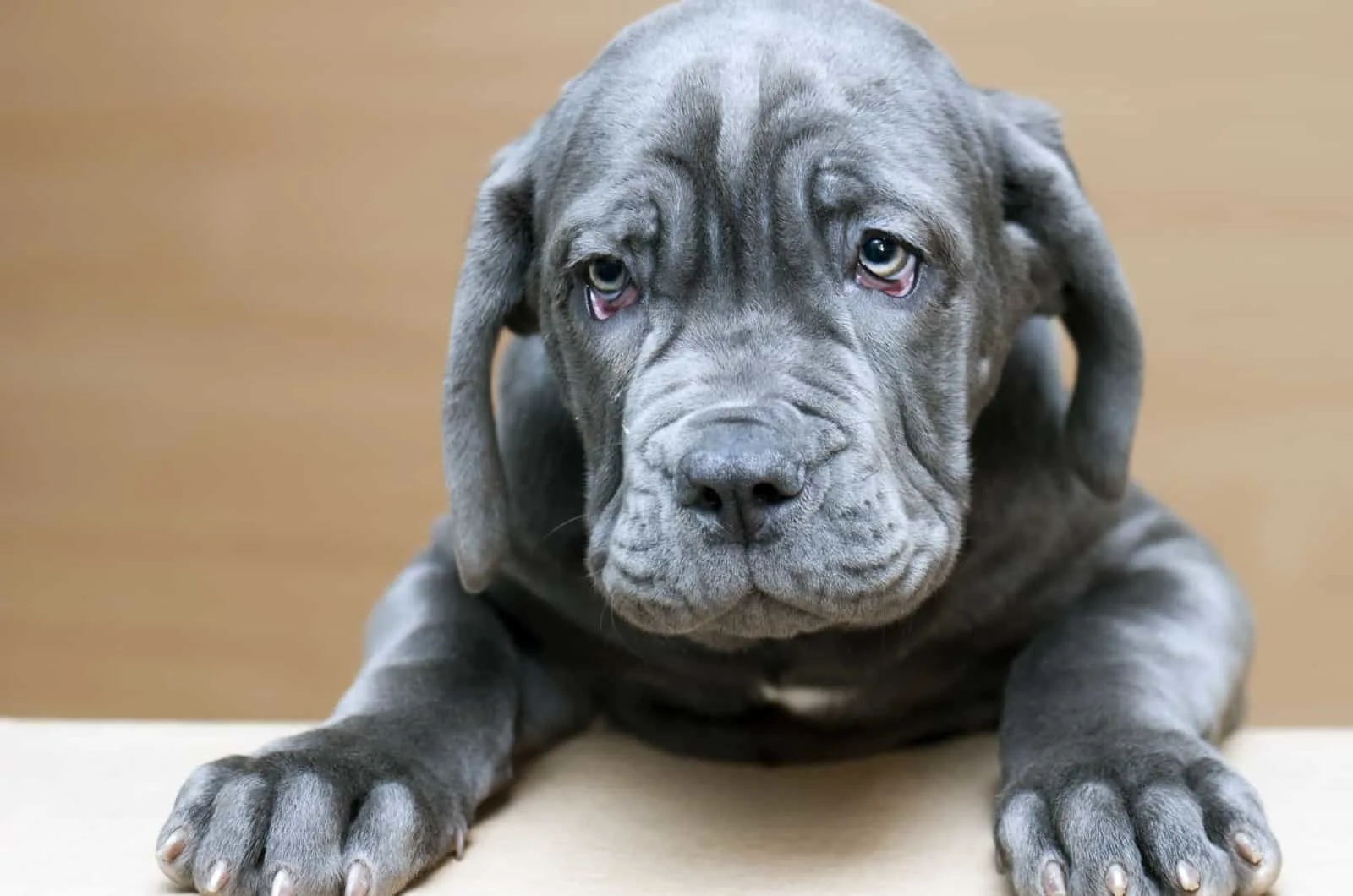 Edin Farms has been in the business for a while now. The fact that they breed other farm critters on their property is a clear sign of love for animals. With all those expensive assets in the form of sheep, pigs, cattle and goats, they certainly require protection.
What better protection is there than a farm full of Neapolitan mastiff guard dogs? The answer is none. Though I can neither confirm or deny that they started breeding Neos for this reason, they are well regarded and one of the top Mastino Napoletano breeders in the US.
They are members of the American Kennel Club association, the AKC Bred with H.E.A.R.T. Program and the Missouri Pet Breeders Association. In addition, they are recognized by Good Dog and have been commended for their excellent health breeding practices.
Edin Farm puppy parents get tested for heart, hip and elbow conditions with the use of OFA and PennHip radiographs. These will show potential health conditions, primarily hip and elbow dysplasia.
The Process Of Acquiring A Puppy
In their FAQ, Edin Farms has a rather comprehensive list of questions that will satisfy your initial interest. You can start off the communication via phone (though the owner states he is extremely busy but will make time if you prefer that way of communication), email or contact form.
Then, you will be "screened" as a potential family for one of their dogs. Why is the screening necessary? Well, they love their dogs at Edin Farms, and their requirements are that you have some experience with dogs, enough yard space, kids that understand the dynamic of raising a puppy etc.
You will be on a waitlist and a $300 deposit is required to join the wait. It is non-refundable unless the litter does not have a puppy of the sex you request. The final price of the puppy (deposit included) is $3500.
Edin Farms rarely offer full breeding rights. If they do, then it will cost you more and you will have to provide them with a well planned out breeding program. Keep in mind that they do not use commercial delivery systems, and instead, opt with a personal delivery of your puppy.
Breeder Information
Address: Stella, Missouri US 64867
Phone: +1 479-586-0470
Email: [email protected]
Website: Edin Farms
Socials: Instagram
2. Drago Neapolitan Mastiffs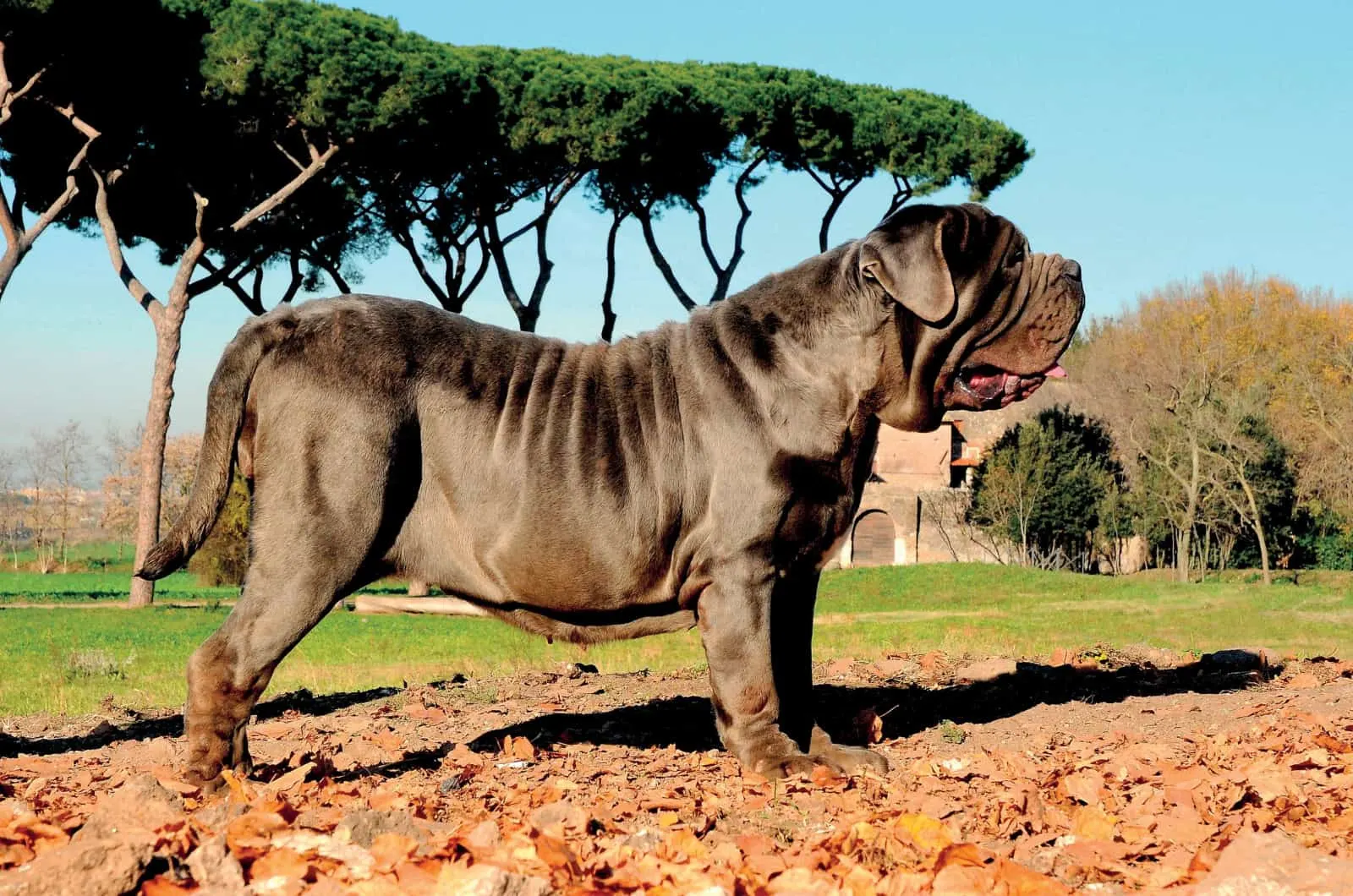 As one of the oldest US Neapolitan mastiff breeders, Drago have a complete program that offers, basically, anything you could imagine.
They are recognized by the AKC, have several AKC champion dogs as parents and are one of the few AKC Breeders of Merit in the Neapolitan mastiff circles. Active participation in AKC shows and events makes Drago a great option for those who want a show or breeding dog.
Mastinos from this breeder have the old and traditional head shape with a massive body and perfect temperament. With the family, their dogs are perfectly mild mannered and cuddly. Being guard dogs, they will rise to the occasion, if it presents itself.
Health guarantees include heart and hip and extend from twelve to thirty six months. If you want your Mastinos to have their ears cropped as puppies they do that too for an additional $500. Both pups and adults are microchipped and come with a 30 day insurance.
The Process Of Acquiring A Puppy
Before contacting them, Il Drago requires their potential buyers to read the page that contains a lot of information on Mastinos. This is especially important for those who plan on buying dogs for breeding.
Once you are approved, you will need to make a $500 deposit to reserve a puppy of your preference or, as happens in most cases, Il Drago will pick a puppy according to your profile.
The deposit for a puppy that has already been born is $1000. While they accept wire transfers via Chase or Bank of America or digital transactions such as Venmo, Cashapp and Zelle, checks and PayPal are not supported.
If all goes according to plan, you will have your puppy delivered to you once it reaches the age of eight weeks. The shipping costs range from $550-$750 for a flight nanny because cargo transport is not available for Mastinos.
Breeder Information
Address: Indianapolis, IN 46234
Phone: +1 317-366-6039
Email: [email protected]
Website: Il Drago
3. Titani Del Nord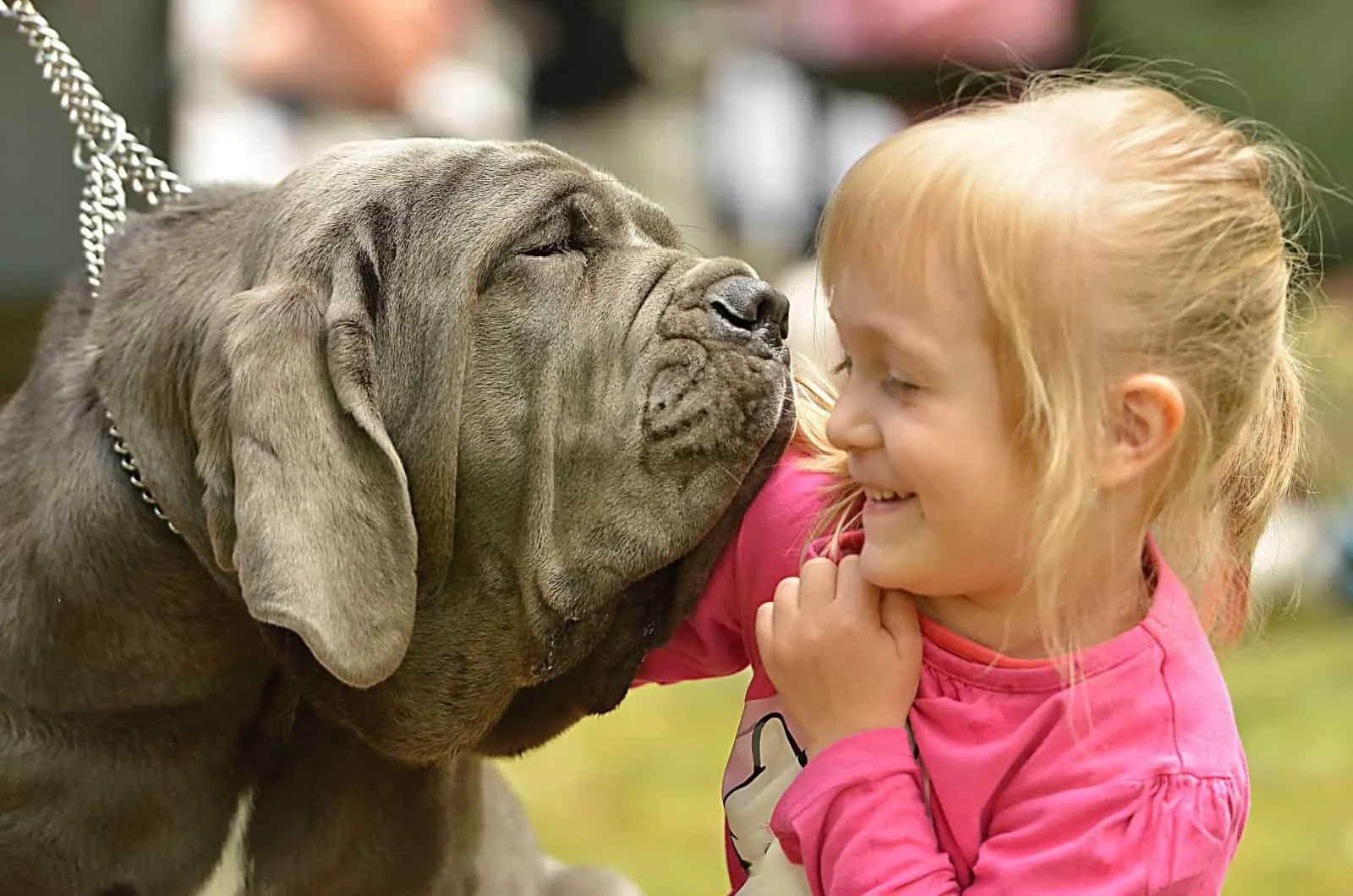 True titans of the Mastino breeding business, Titani del Nord are situated in Canada but have happy customers in the US too. They have excellent Mastino bloodlines from US breeders Il Drago's champions like Il Drago Amadore and Il Drago Necessita.
Their goal of preserving and promoting Neapolitan mastiff breed standards is why they are members of both the Canadian Kennel Club and Canadian Neapolitan Mastiff Club. They health test all their dogs and include Early Neurological Stimulation (ENS) in puppies.
The ENS helps the puppies adapt to external stimuli like noise, visual triggers etc. while providing them with the necessary mental exercise that elevates their problem solving abilities above those of non ENSd puppies.
With a policy of being there for the puppy owners even when the dogs become adults, it is hard not to love what Titani del Nord are doing here.
The Process Of Acquiring A Puppy
On their website, you can find a section called "Application" where there is a detailed form with information regarding, not only your wishes on puppy sex, color etc., but also on your experience with dogs, family, allergies and the likes.
They do stress the importance of reading the "puppy package", as they call it, before potential customers decide on becoming puppy buyers. Five hundred dollar deposits are necessary to join the waiting list, and the list gets filled pretty quickly.
If you are looking to purchase a puppy for breeding purposes, Titani del Nord has you covered, as long as you fulfill the criteria. Breeding rights are issues only "to those who are willing to take a health test as outlined in our contract."
Finally, shipping is available in Canada and the US. Potential buyers can inquire about shipping to areas outside the two previously mentioned.
Breeder Information
Address: Marble Mountain Rd. River Deny's, NS
Phone: +1 705-229-7997
Email: [email protected]
Website: Titani del Nord
Socials: Instagram | Facebook | YouTube
4. Cinciripini Mastini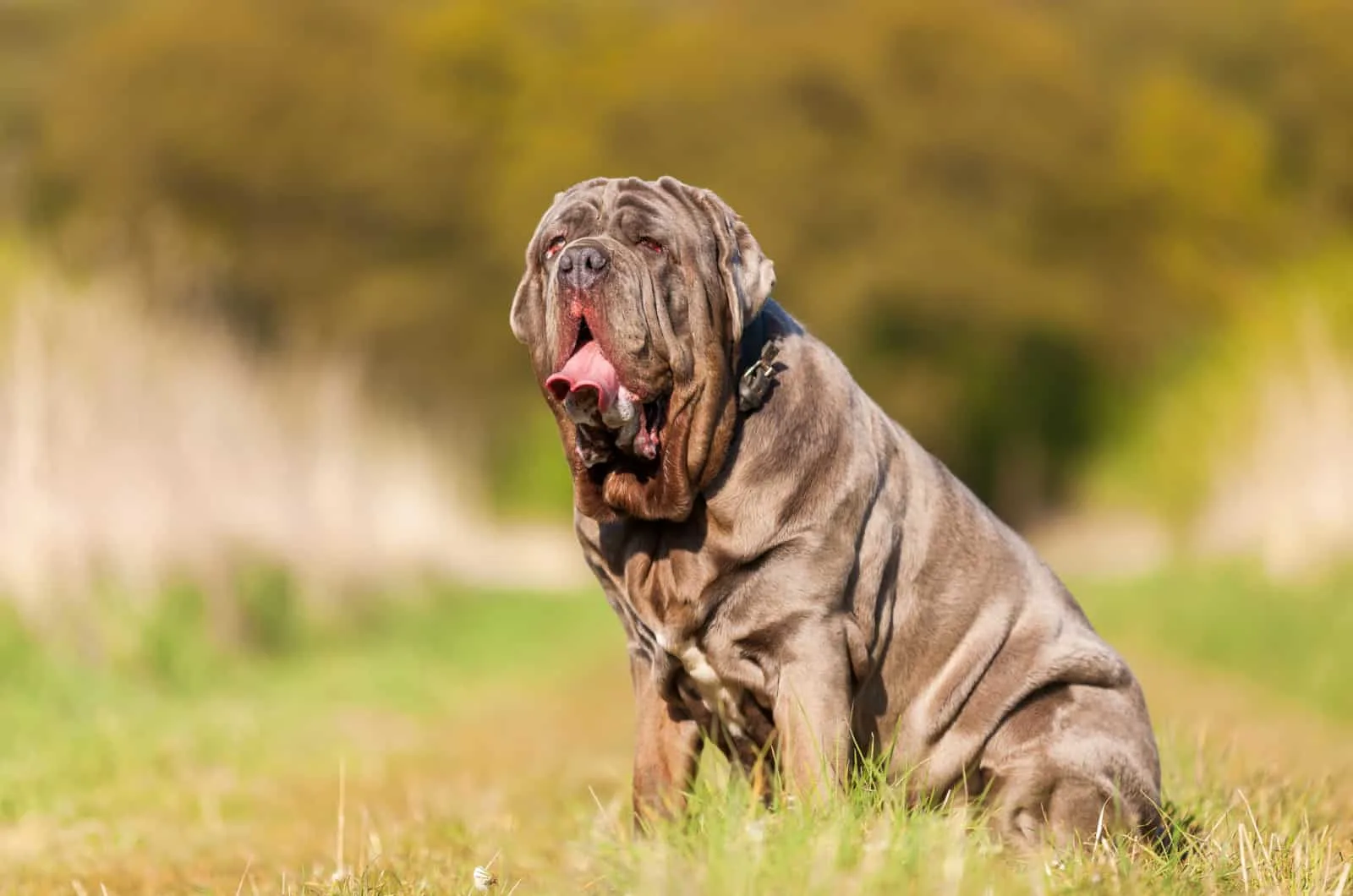 Joe Cinciripini's Italian heritage transferred the strong connection to Neapolitan mastiff breeding when he moved to the United States. His wife Lisa and him have been a strong presence in the research and education circles of Mastini breeding.
Lisa, Cinciripini Mastini co-founder, serves on the Board of Trustees for the Mastino Health Foundation and, as a member of the AKC Parent Club Neapolitan Mastiff Health Committee, assists in canine research projects.
Maintaining the breed standards and values of the Neapolitan mastiff in the US is a task both Lisa and Joe approach with utmost seriousness and dedication.
Their exhaustive process of selecting only the strongest and smartest breed representatives produced some of the best Mastinos in the States like Del Castellaccio Mastini.
Litters are thoroughly planned years in advance and are not a hasty process to create as much business as possible.
The Cinciripini bloodline is an original from Italy itself. The vast range of both male and female parent dogs from this incredible line means that your choice is guaranteed to be excellent.
The Process Of Acquiring A Puppy
Buying a puppy from Cinciripini Mastini will probably start with contacting them via the provided contact form. There are no details on the application process, but I am fairly sure there is a waitlist and a deposit involving between $300 and $500.
They do point out that adult dogs, especially male, can occasionally be available for sale. However, this most likely falls under the show dog contract. Another important topic is health guarantees and, while I am sure they do have one, contacting them will give you precise info.
In terms of shipping, you should probably enquire about the method of delivery with there not being any concrete information on it. My advice would be to take these estimates with a grain of salt and ask the owners directly about all you want to know.
Breeder Information
Address: 2901 Friendly Grove Rd NE Olympia, WA 98506
Phone: +1 360-357-4309
Website: Cinciripini Mastini
Socials: Instagram
5. Mastini Della Forte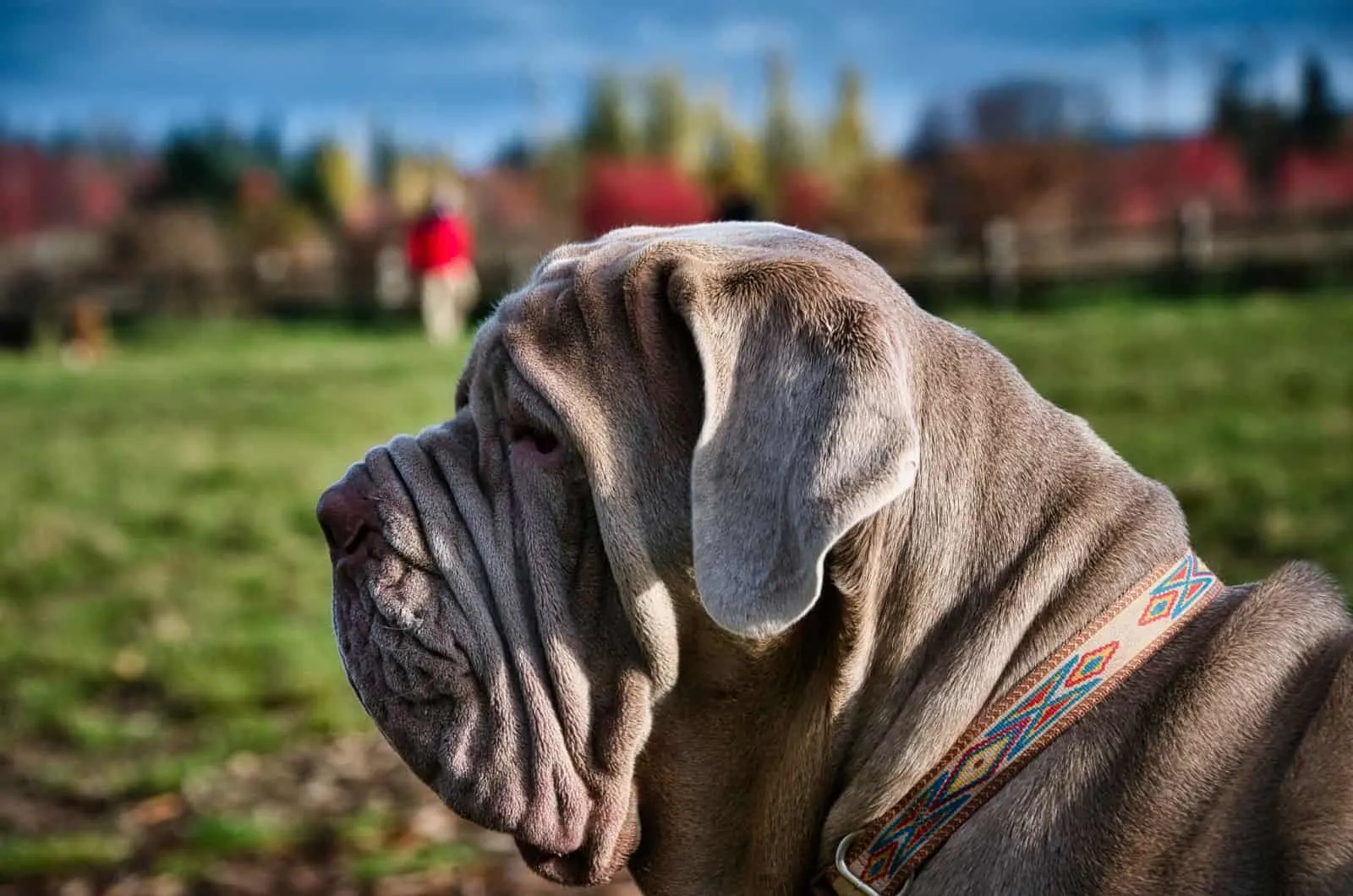 Della Forte is a Veteran owned business that is part of the national breed club — the United States Neapolitan Mastiff Club (USNMC). They have been the number one AKC breeder for several years which means the puppies come with pre-registered AKC papers (included in the price).
All the Della Forte Mastinis come with champion bloodline genes, showcasing their ability to be very gentle and loving with their family and protective and fearless if the situation demands it.
The puppies are socialized in a mixed environment including children, adults, neighborhood and other animals.
Though the dogs from this breeder had great historical results with the AKC, the owner is not a professional AKC handler anymore. Instead, he focused on handling his own dogs only alongside breeding.
The Process Of Acquiring A Puppy
Information regarding buying a puppy from Della Forte is well laid out on the website. You can ask anything via email, phone or contact form, but the first serious step is filling out the puppy application. It is fairly short and comprehensive.
If the breeder decides you are a good candidate for a Della Forte Mastini, you will need to pay a $750 non-refundable deposit. There are two types of contract available: pet and show/breeding rights.
With the pet contract, you also sign a spay/neuter contract, obliging yourself to spay or neuter as proof that will not illegally breed the bloodline. Pet contract price is $3250 and $3750 for full breeding rights.
The first pick of the litter is $5500 while the second pick is $4500. The puppies are on a 2 year health guarantee and have prepaid AKC registration papers. Other than a full vet checkup, the puppies get a lifelong microchip from the start.
Shipping is not included in the pet price and is only available via cargo shipping for international buyers. Domestic shipping is available as personal delivery or puppy pickup. Those who
Breeder Information
Address: Amarillo, Texas
Phone: +1 806-476-9858
Email: [email protected]
Website: Mastini Della Forte
Socials: Instagram | Facebook | YouTube
6. Blu House Mastini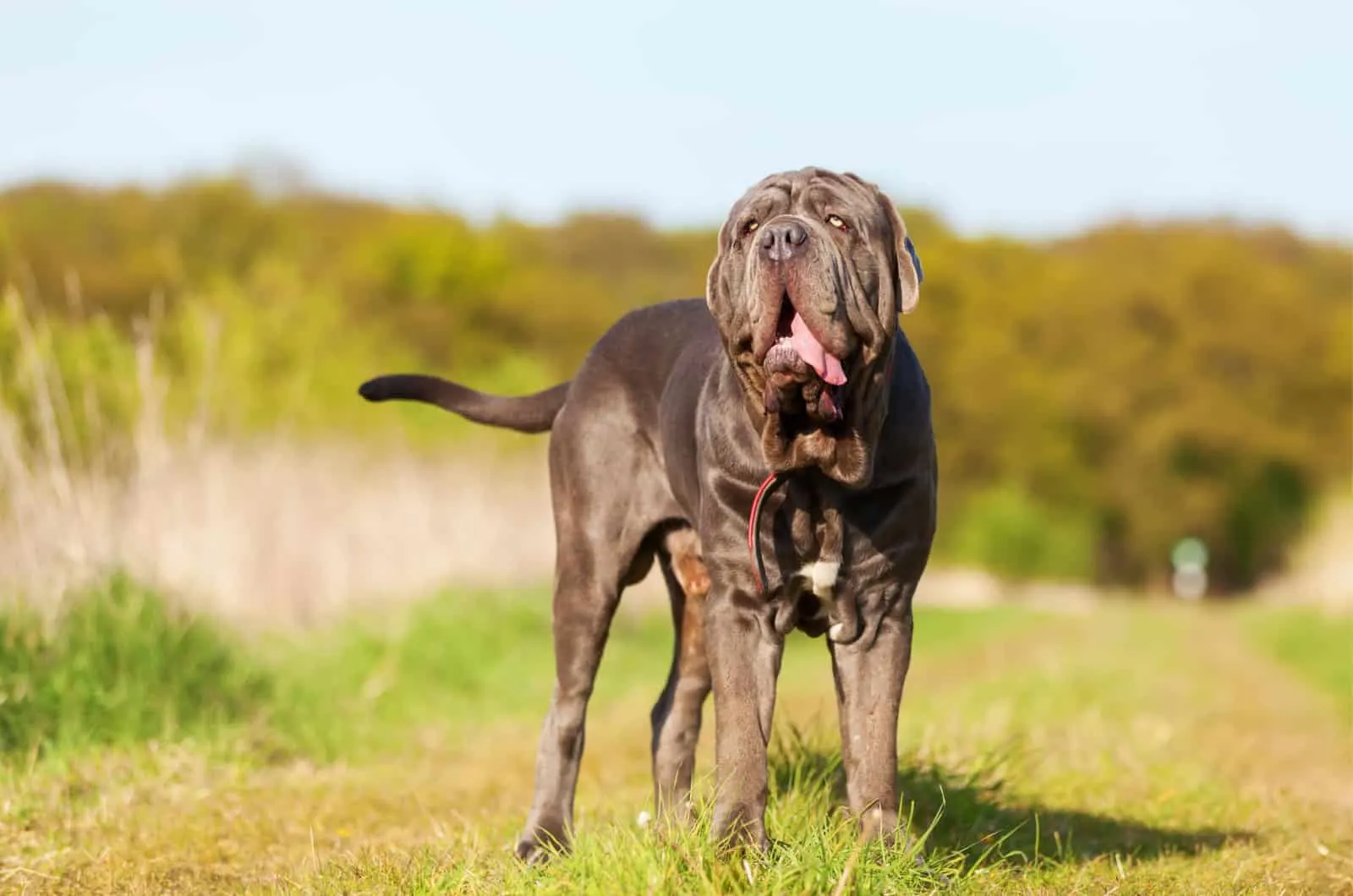 Buying from a family business such as Blu House is among the best experiences a dog buyer can have. Bred with love and as a hobby, the owners produce one litter per year. Sometimes there are no litters at all. This is mainly due to the high cost and preparation time when breeding Neos.
Their goal is not only to sell high quality Mastini puppies but also improve their health. It is a well known fact that Neapolitan mastiff health can get tough to handle which is why their effort is greeted with respect.
The puppies they sell are all AKC registered, and health screens are performed on all of their dogs. Their veterinarian, Dr. Robin White has been with Blu House for a while and performs all dog checkups. Loyalty is valued highly at Blu House Mastini.
One interesting and innovative thing on their webpage is the "store" where you can buy a children's board book on Neapolitan mastiffs.
The Process Of Acquiring A Puppy
Contacting them directly via the contact form or via any of the social links provided below is the only way to find out more about the process of buying a puppy.
There are several social platforms to enquire about pricing, contracts, delivery etc. but I can tell you for certain that Blu House ship in the US and abroad.
Breeder Information
Email: [email protected]
Website: Blu House Mastini
Socials: Instagram | Facebook | YouTube
7. Bokee Farm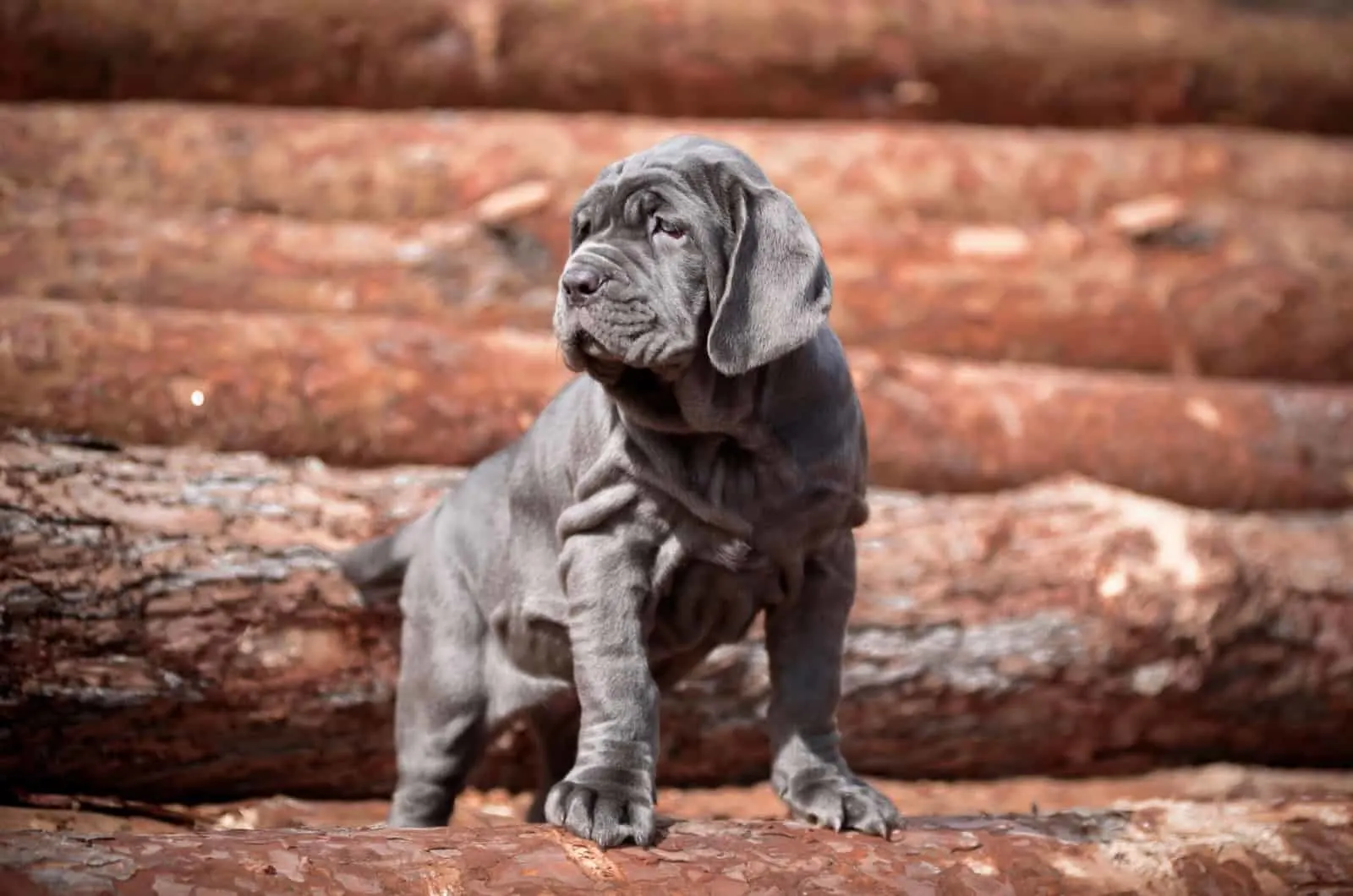 Located in paradise with over one acre of tropical beauty around them, Lisa and Shannon Grantham are among the best regarded Mastini breeders in the US. Lisa is very knowledgeable on Mastiffs because she lived alongside them her entire life and has worked with other animals too.
Upon acquiring a Neo, both fell in love with the breed's character and looks. They decided to take on breeding Neapolitan mastiffs and earning the AKC's recognition and are a club member.
With every litter plan they work to preserve the standard muscular and heavy boned physicality of the Mastini. They are also part of the AKC Bred with H.E.A.R.T. program.
Needless to say, the dogs are like family members at Bokee farm and socialization is no problem with all kinds of other animals in their vicinity. Dog socialization is embedded into all of their puppies because they also breed English bulldogs.
The Process Of Acquiring A Puppy
To get in contact with them you have the usual methods of communication that I will provide below, but to get you started there is a puppy contract that doubles as an application too. It is short and concise with several clauses listed on the page.
Bokee Farm rarely offer breeding or show contracts and their pet contracts include a spay/neuter clause that requires new owners to perform spay or neutering surgery.
There is a one year health guarantee against fatal or non-threatening congenital diseases and you get papers on all shots and antiparasitic med the puppy received prior to your purchase.
For those living in nearby states like Georgia, transportation can be arranged to be personal (if you do not pick up the puppy yourself). An $800 deposit is required for puppies that cost less than $3000 and $1000 for those that are more than $3000.
Delivery will commence only after paying the full amount at a location agreed between the seller and buyer.
Breeder Information
Address: 12320 Eagles Nest Drive Bokeelia, Florida, 33922
Phone: Lisa +1 239-789-0054 | Shannon +1 239-789-0056
Email: [email protected]
Website: Bokee Farm
8. Shining Hills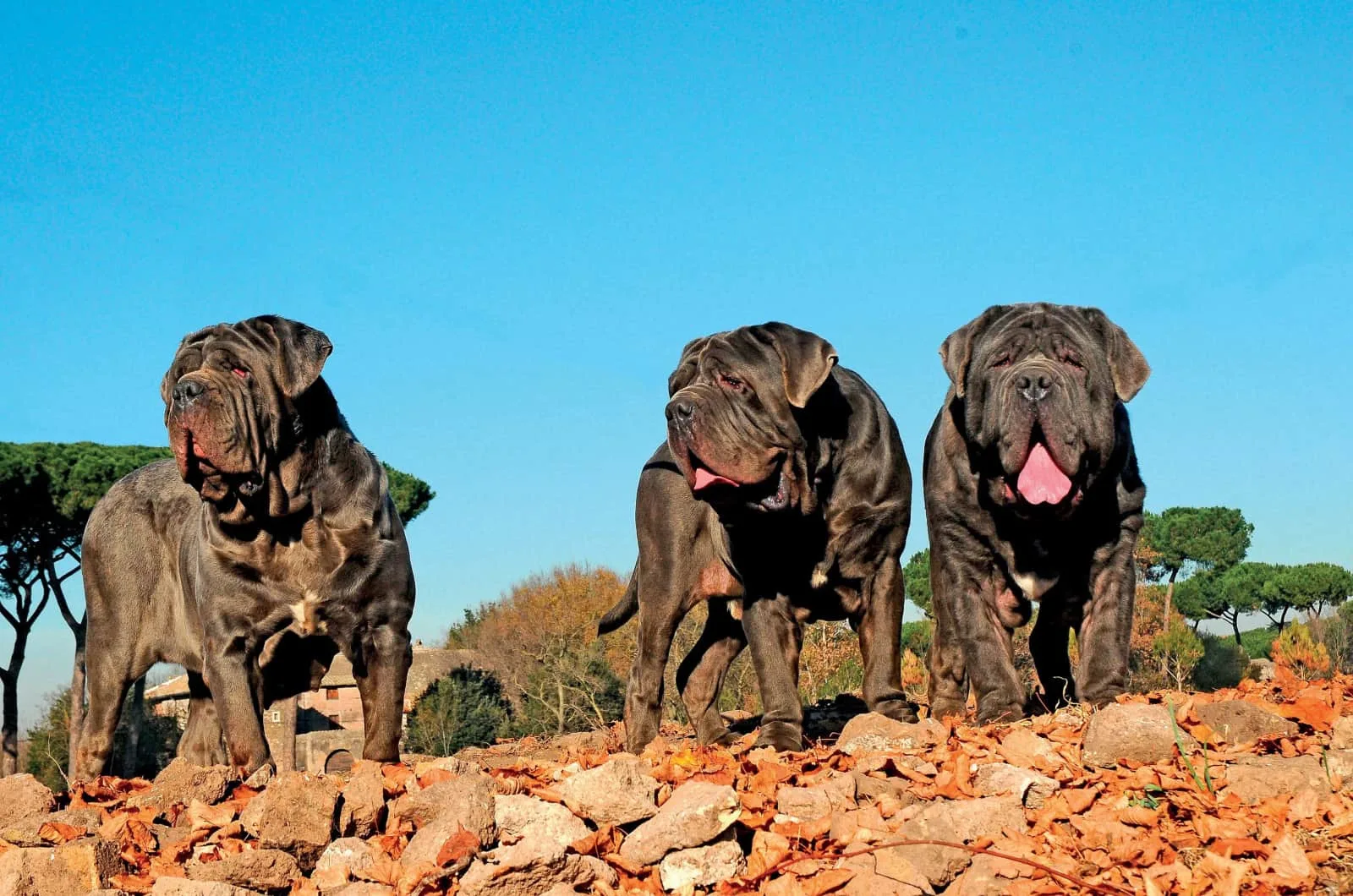 This Missouri based breeder has some of the greatest Italian-born bloodlines of Neapolitan Mastiff. Neos born in Shining Hills have the best treatment secured by the owner, Shannon Drake.
Shining Hills are recognized by the AKC as a Breeder of Merit. This is a high honor and their champion Mastini have certainly done them proud. Their priority is healthy, pure bloodline litters with puppies that grow to be icons of their breed.
Just like any other dog lover, Shannon is now inseparable from his dogs and, naturally, they live alongside each other. All their dogs have health screens and puppies undergo various enrichment and socialization processes.
The Process Of Acquiring A Puppy
Getting in touch with Shining Hills is best done by phone as the website contact form is a bit messy, and the owner does not have active social network accounts.
The classic two contract types apply in this case too. A pet contract will require proof of neutering or spaying while the breeding/show contract will require you to show the dog and complete the AKC conformation title.
To get on the waiting list, you need to place a $500 deposit which is non-refundable unless Shining Hills cannot provide the puppy within 12 months. Pictures are provided at birth and five to six later. The final cost is $3500-$4500 for breeding/show dogs and $3500-$4000 for pets.
You will have a two year health guarantee and a 30 month hip, patella, elbow and heart guarantee. Microchip, certificates, photos and other documents will be sent with the puppy.
There are two options in terms of transportation: you can pick up the puppy yourself or have car or van transportation arranged with the seller. The puppy will need to reach eight weeks of age to be shipped to you.
Breeder Information
Address: 655 Lon Rd Rogersville, MO 65742
Phone: +1 417-300-4193
Website: Shining Hill Neapolitan Mastiffs
Neapolitan Mastiff F.A.Q
What Does A Neapolitan Mastiff Look Like?
This dog breed is one of the largest in the world. They can weigh up to 150 pounds and be as tall as 31 inches. Their characteristic big head is a breed standard that all breeders are looking to preserve.
Perhaps they are even more famous for their loose skin and really, and I mean REALLY, excessive drooling. If you plan on getting a Mastini, make sure you have a lot of space and protection on your furniture. The drooling is crazy!
They have a short and smooth coat that, usually, comes in four or five colors. The AKC recognized ones are black, blue, tawny and mahogany.
Are Neapolitan Mastiffs Good Pets?
Rest assured, they are excellent pets. You will have a great guard dog that is very affectionate with your family but weary of strangers if not properly socialized as a puppy.
They are gentle with kids and smaller pets but can be stubborn and aggressive with larger, dominant dog breeds, so make sure you are in command from the get go.
Some people claim they are good as therapy dogs but you should contact Paws for Mental Health (PMH) to check whether they qualify or not for that purpose.
They do not require high levels of activity because of their size but do not misunderstand their need to use their natural strength. A game of tug or strength exercises is a good idea.
They are sort of short lived due to their size and certain health risks that a massive body carries, so keep in mind the six to eight years lifespan.
Are Neapolitan Mastiffs Hard To Train?
Mastinis can be headstrong and will mostly do their own business if not properly trained. While puppies, they will have an intense food drive and you should make the most of it.
Although exceptionally smart, they are a large breed and will often just do whatever they want to. Do not try to outmuscle them if they disobey as you are probably going to lose. Outsmart them instead.
This is an individualistic dog breed that does not like to play too much. Being that big is a huge responsibility.
Conclusion
All of the listed Neapolitan mastiff breeders are dedicated to the perhaps most important aspect of breeding — preserving the strong bloodline and reducing health risks.
If you decide to get one, the Mastini breeders and I urge you to find out everything you can about them as upkeep and healthcare can be quite costly with this breed.
Whether you live in a New York apartment or a ranch in Arizona, the Neo will adapt to your life dynamic. Still, do not forget about proper socialization and exercise to keep mental and physical health on a high level.
If you need a gentle giant with some raw strength as a guard dog, this is the breed for you. As long as you take into account all the special care it takes to have one.
Happy puppy browsing. May the Neapolitan Mastiff protect you in your endeavors.
Read Next:
• Top 9 English Mastiff Breeders In The U.S.
• Neapolitan Mastiff Price – Big Fee For A Big Dog