Hello there! Are you from Gopher State or do you live in the area? I've got some pretty great Labrador breeders in Minnesota that I'd like you to check out.
Why?
Because Labradors are one of the best family dogs ever! Everyone needs a friendly face in the morning, so why not make that face nice, block-shaped, and with a huge grin?
Labrador Retrievers have a soul made of cotton candy and so much empathy, like no other dog. I'm not surprised by the extreme popularity of these dogs in the States. Each US State has lots of great Lab breeders.
Today, we're focusing on lovely Minnesota. The Gopher State has a lot to offer to you, including pawmazing Labrador puppies.
Why don't you keep on reading, and I'll present to you some of the sharpest minds in the Labrador breeding business!
Labrador Retriever Puppies For Sale In Minnesota
The following top nine Labrador breeders in Minnesota are the people you can trust with your new puppy. Every fresh dog owner wants a puppy without defects, a gentle soul with a fine temperament and an even sweeter appearance.
Look no further because here are those puppies!
1. Silver Creek Labs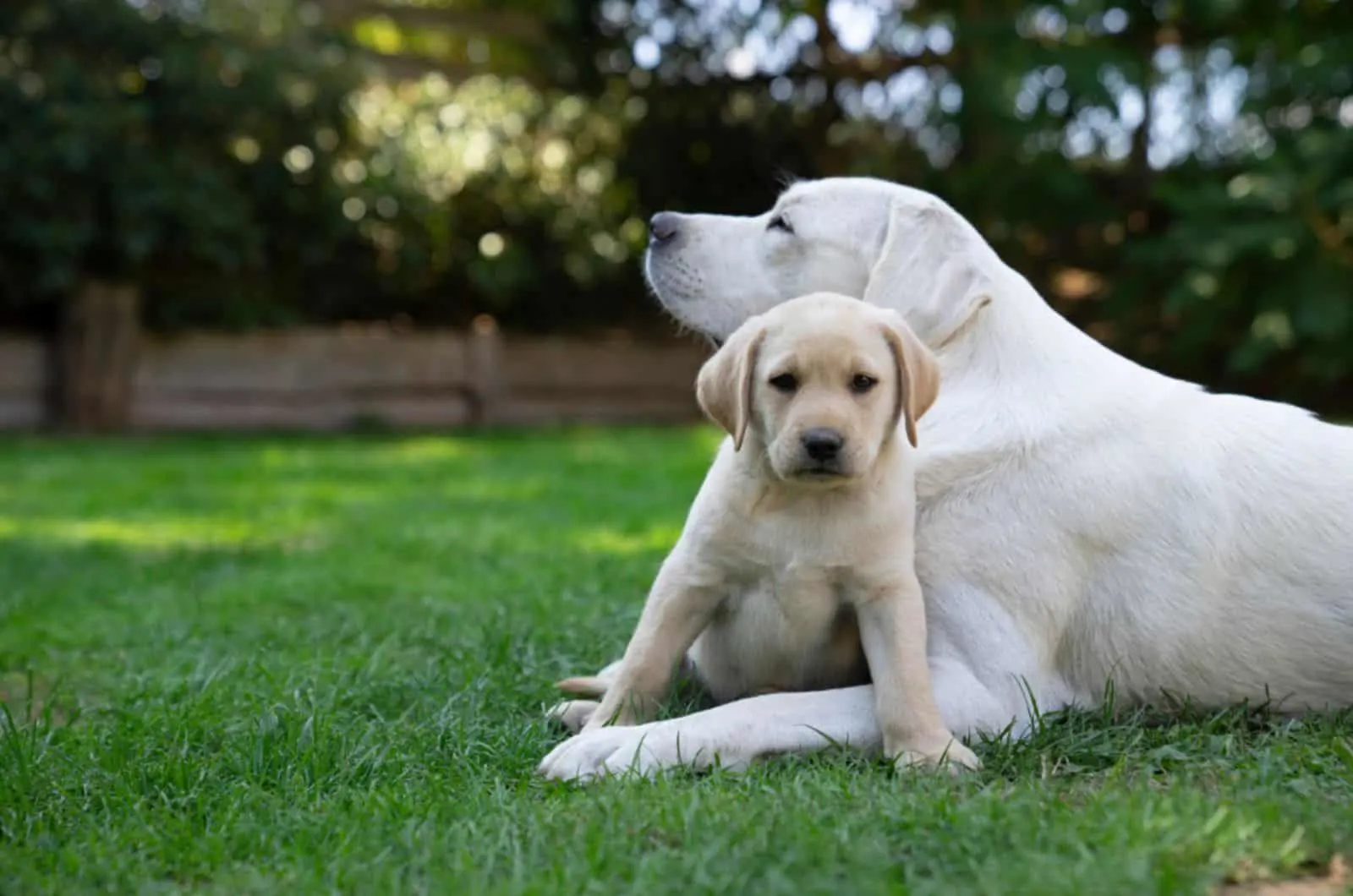 If you're a fan of Labrador Retrievers and you live in the area, you must've heard of Silver Creek Labs. They're popular all across the nation with their superb quality puppies. Everyone who's thinking of getting a Lab always checks if Silver Creek Labs are available.
As one of the best AKC registered dog breeders, Silver Creek Labs are extremely proud of their English Labrador Retrievers. They live on a lovely, 57-acre farm where the dogs can run as much as they want and enjoy the best that nature has to offer them.
Silver Creek Labs aren't silver at all. These Labs come in a variety of colors, including chocolate, black, and ivory or yellow.
However, it's not only the good looks that sell these puppies. Silver Creek dogs are so popular for their good upbringing and overall terrific health status. This family-run business takes good care of all their dogs, raising them as equal family members and showing them all the love in the world.
Like any good breeder, Silver Creek makes sure all their puppies are health tested. They're OFA and CERF clear. A health guarantee will be provided once you adopt a Silver Creek puppy and it should cover you for 26 months.
In case you find no common ground with the adopted puppy, and you feel he'll do better with someone else; you can return it back to the breeder, 100% healthy, of course. But the chances you won't like living with a Silver Creek Lab are extra small!
They're sweet, caring, and above all, loyal buddies for life!
Breeder's details
Website: Silver Creek Labs
Location: Brook Park
Phone: 320-282-3685
Email: [email protected]
2. Danikk Labradors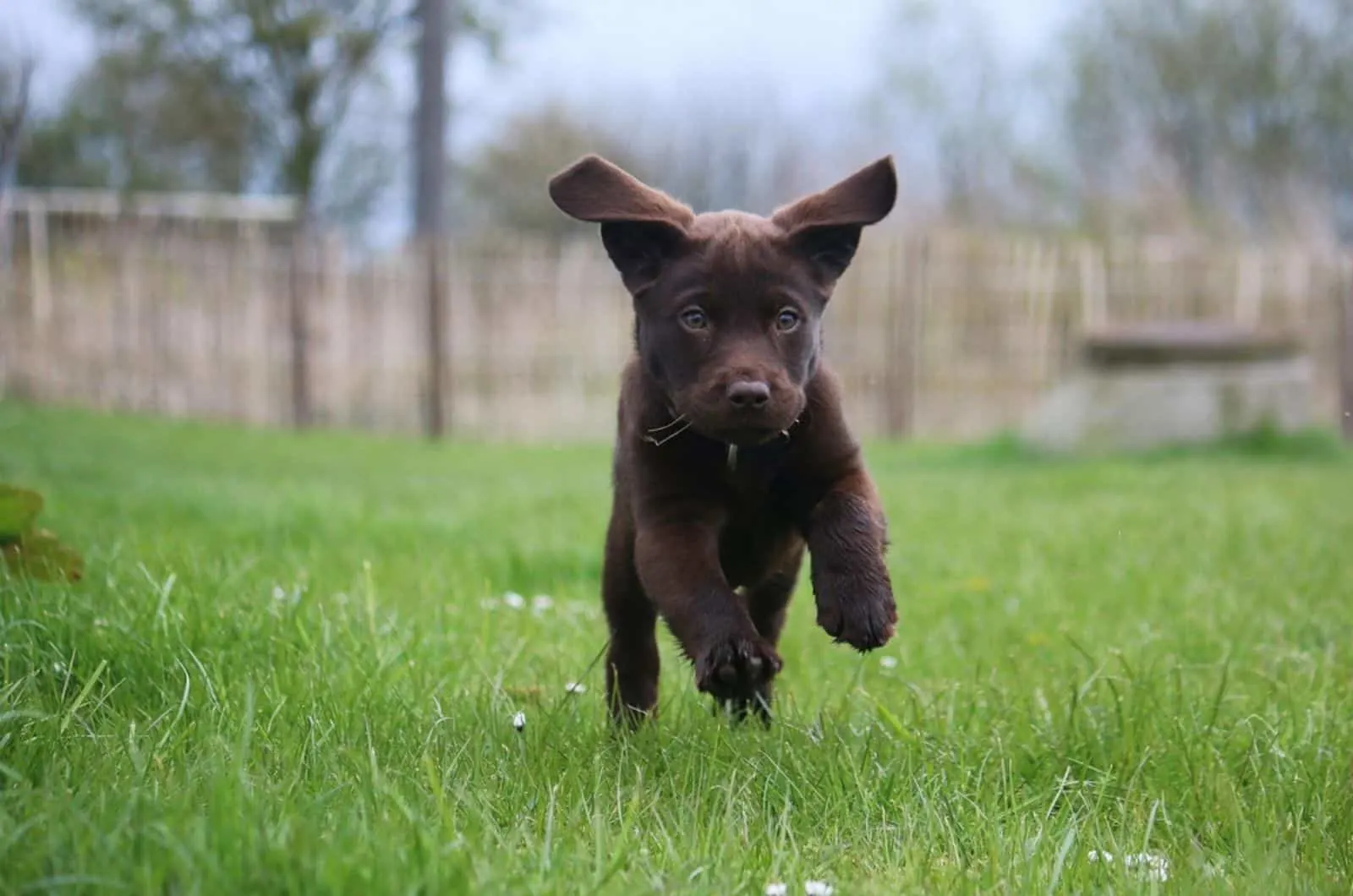 For over 30 years, Danikk Labradors has been a kennel known for its quality. Well, the quality will definitely endure for many more years, because you're looking at one of the finest professionals in this business.
Run by a professional veterinarian, this kennel has all it takes to stay on top of the game. Want a puppy from a trusted source? This is where you go.
Danikk Labradors are boasting with pride for each new litter being better than the previous one. Let's just say these puppies are known Internationally. That says enough, doesn't it?
Danikk Labs come in three coat color varieties: chocolate, black, and yellow. All of Danikk Lab puppies are tested for health conditions like hip dysplasia. And guess what? No signs of dysplasia or any major Labrador health problem!
I bet the incredibly good health status has a lot to do with Dr. Fran, the mastermind behind this breeding program.
Thanks to Dr. Fran, all Danikk Lab puppies are vaccinated and well-taken care of. You'll receive a puppy with its dewclaws removed, and that has been dewormed, microchipped, and socialized like no puppy before. Luckily, these Labs don't go through the Labrador ear cropping process.
Besides being excellent companions, Danikk Labs are great at conformation competitions and can even serve as service dogs because of their wonderful temperaments.
Breeder's details
Website: Danikk Labradors
Location: Lonsdale
Phone: (507) 744-2284
Email: [email protected]
3. Smith Farms Labradors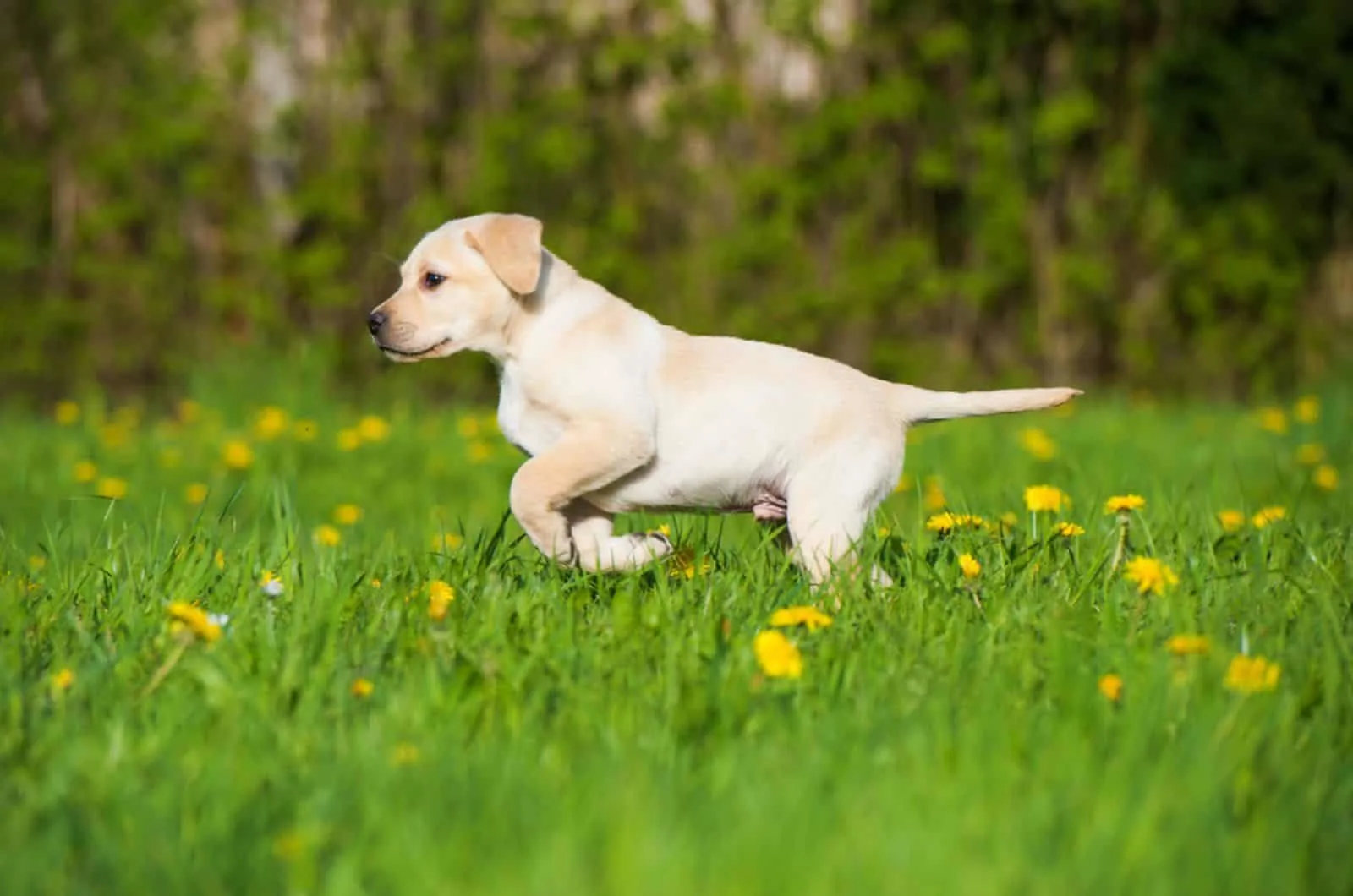 Staying for six generations on a lovely little farm in Central Minnesota can only mean one thing: these people are so devoted to each other and their beliefs. And, you know what else they believe in? Giving 110% to raising wonderful Labradors and enriching the lives of other people by letting them adopt Smith Farms Labs.
Unlike some other breeders, Smith Farms focuses on both types of Labradors, American and English ones. They're not only pet-quality dogs. Their Labradors have show and field bloodlines, making them ready to enter competitions as soon as they're ready.
This Labrador breeder from Minnesota is proud of their various coat colors, and we all know that the coat color is the second most wanted thing. The first being great health, of course. Smith Farms Labradors come in chocolate, yellow, black, and white.
In addition, they're one of the best fox-red Lab breeders.
What's so amazing about Smith Farms is that they offer an incredible 30-month health guarantee for all their dogs. This means puppies will be clear from health problems that often strike Labs like PRA or Progressive Retinal Atrophy. Don't worry, you'll have the guaranteed signs as well as additional health test documentation like those from CERF.
Smith Farms Labs aren't too pricey, but they are of extraordinary quality. You'll only need $1,700 to get your hand on one of their babies.
Breeder's details
Website: Smith Farms Labradors
Location: Grove City
Phone: (320) 857- 2494
Social media: Facebook
4. Fieldstone Kennels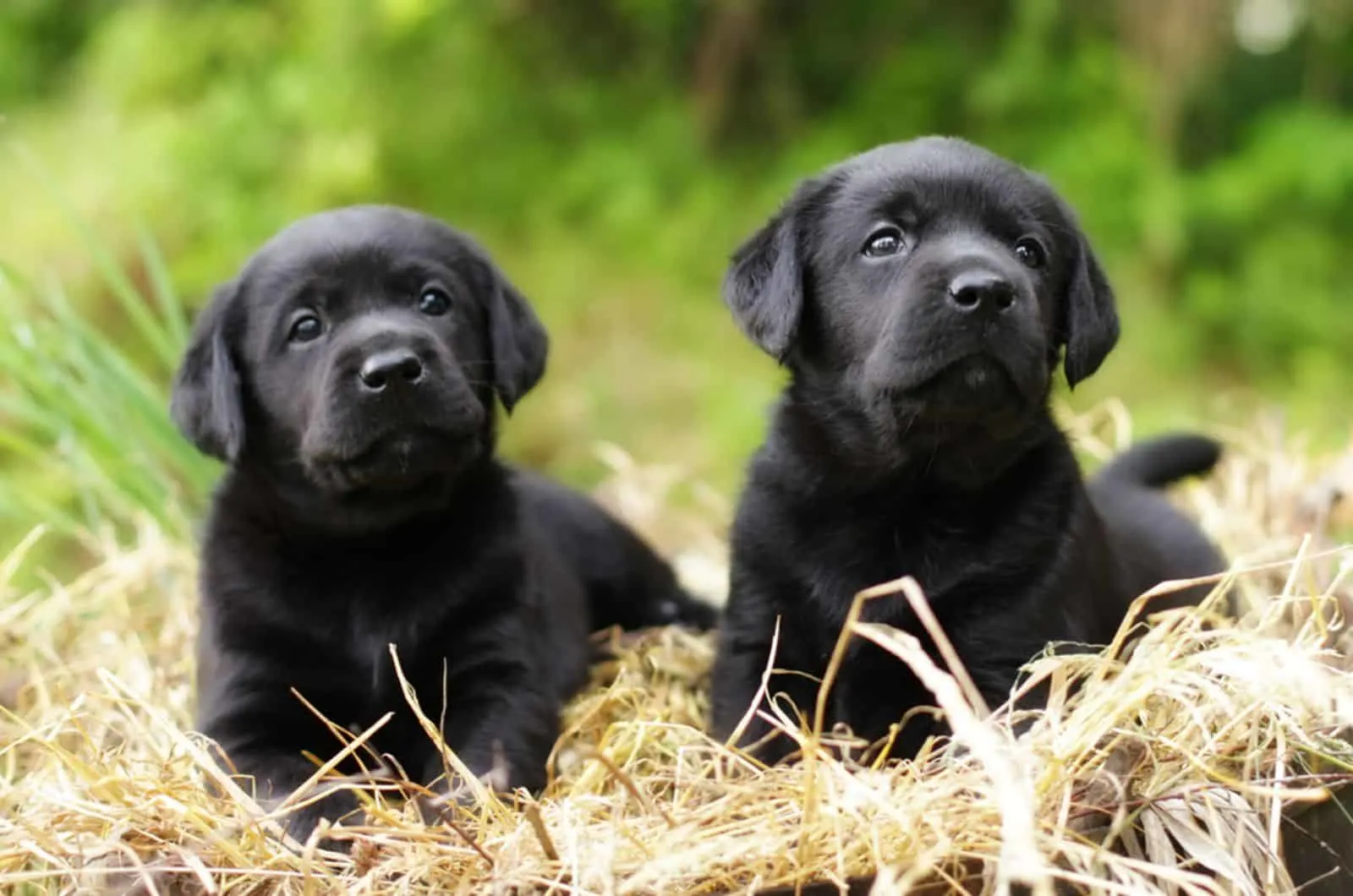 Every time a breeder has a countryside setting, It's a plus for me. I love when dogs get bred and raised surrounded by nature. I have a feeling those dogs grow up to be calmer and more relaxed than any other.
Fieldstone Kennels are blessed with having such a wonderful living arrangement. This is a small farm with wide pastures and picturesque red barns, like those you see in the movies.
But the lovely setting isn't the reason why you should adopt a Fieldstone Labrador. Let's see why they're so special!
Fieldstone Labradors are actually English Labs with fantastic temperaments, as sound as they get. These dogs have zero reported health issues and they're not likely to develop any, just because they were bred with utmost care. Genetic problems, what are those? Fieldstone pups don't know about them either.
Even though I always recommend visiting the breeder in person, that's not possible with Fieldstone pups because of their strict no-visitors policy. This is to ensure puppies won't be subjected to outside germs and possible diseases.
However, you should contact the breeder and arrange video calls and meetings. They'll be more than happy to provide you with all the photos and videos of the puppies you could need.
Want a choco Lab puppy sweeter than chocolate? Pick Fieldstone Labs!
Breeder's details
Website: Fieldstone Kennels
Location: St. Milaca
Phone: 320-250-2143
5. Whispering Pines Family Kennels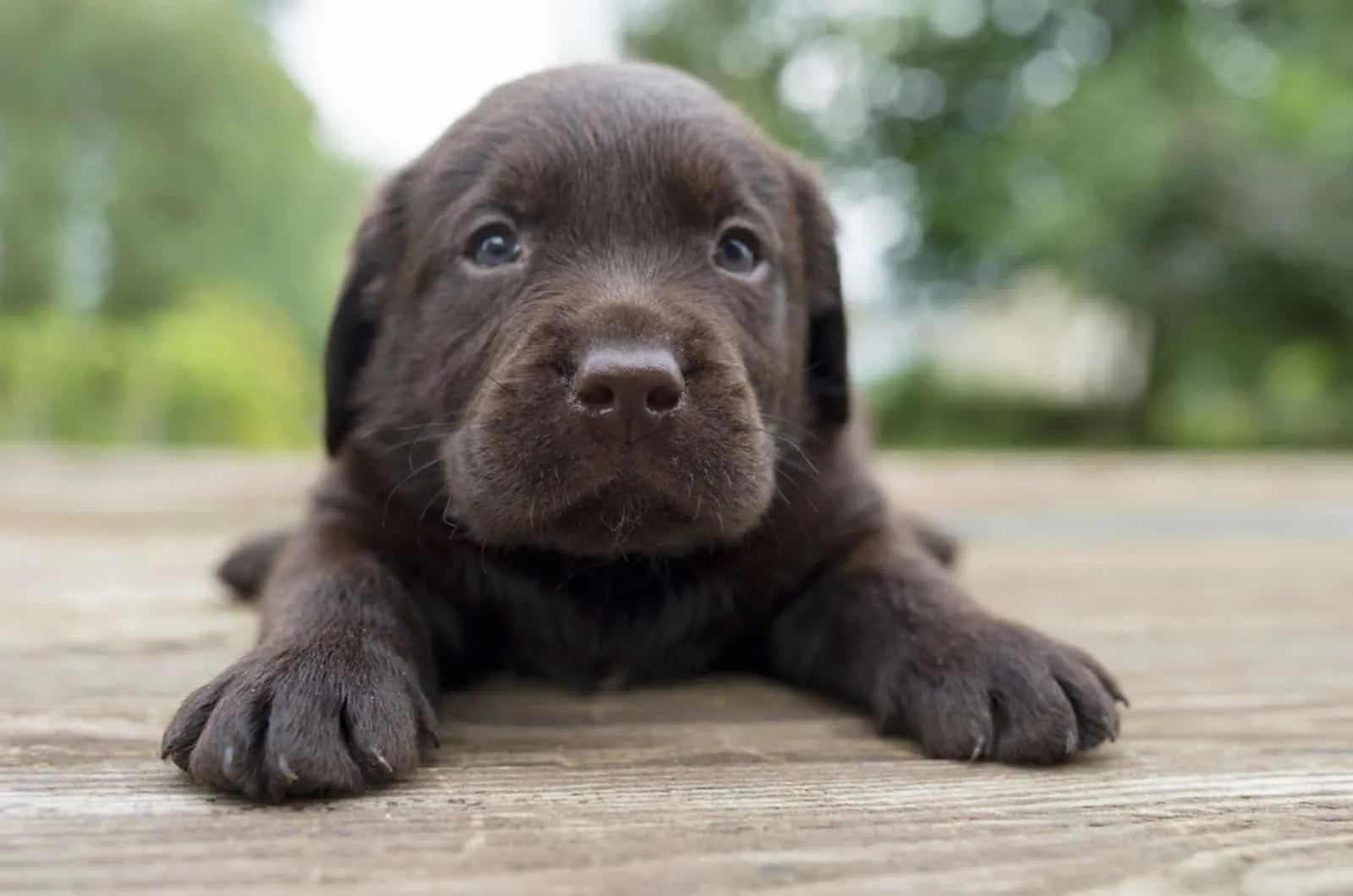 You have to give a chance to this small country kennel. The years of experience have led these people to the top. They have excellent Labrador Retriever breeding stock, and they produce wonderful future family companions.
Whispering Pines Labs are more than just family pets. They have a special bond with their breeders and love each other deeply.
But what happens when they go to their new homes? Will the pups be sad about leaving?
Yes, but they are also trained to perfection and socialized, so they can embrace anyone and any lifestyle. Socialization is an important task this breeder tends to master even more with each puppy.
Whispering Pines Labs are bred up to the highest breed standards and they receive all the necessary treatments before they get adopted, like deworming or vaccinations.
You should rest assured, knowing your new Lab is as healthy and sound as it gets.
Stay in touch with Whispering Pines to see when they announce new litters of their wonderful Labs.
Breeder's details
Website: Whispering Pines Family Kennels
Location: Milaca
Phone: 320-983-6589
Email: [email protected]
6. Welcome Home Labs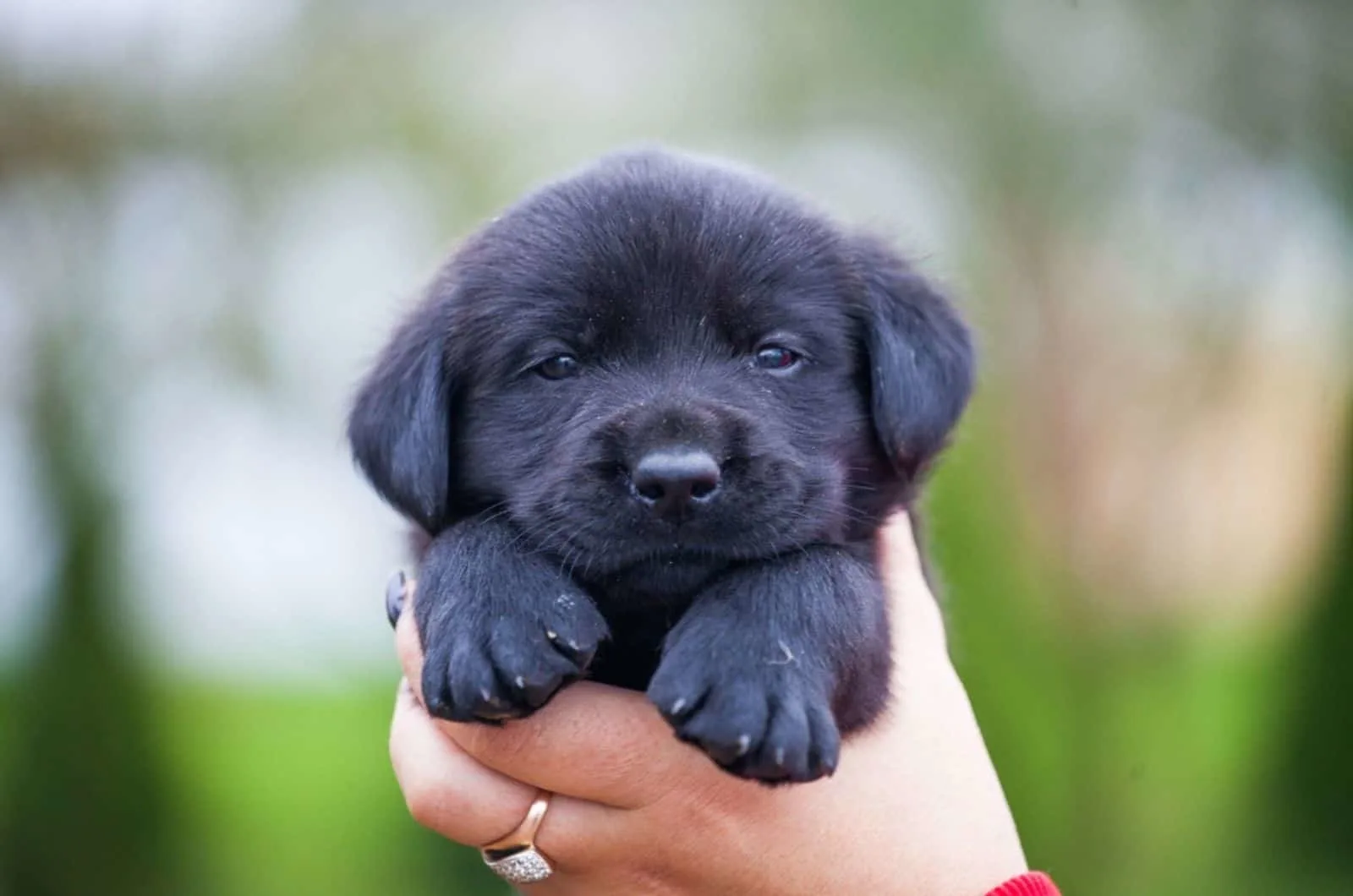 Do you fancy English Lab puppies? How about black Labs or the gorgeous English Chocolate Lab pooches? Welcome to Welcome Home Labs, home to stunning English Lab puppies and a place you'll call your new home.
This is one of those highly focused breeders that makes sure his dogs are bred and raised with utmost care. Isn't that what we're all looking for in a breeder?
Yes, that and a bit more. Let's see what else!
Welcome Home Labs are home born and raised. They have wonderful characters and temperaments that won't get them in trouble, ever.
These puppies are showered with love and go through various tests to ensure they're 100% healthy. Only a breeder that's absolutely focused on their dogs does all kinds of health tests.
Jason and Carissa from Welcome Home Labs encourage you to reach out and wait for their new litters.
Breeder's details
Website: Welcome Home Labs
Location: Bruno
Phone: 320-838-3636
Email: [email protected]
Social media: Facebook
7. Eboni Labrador Retrievers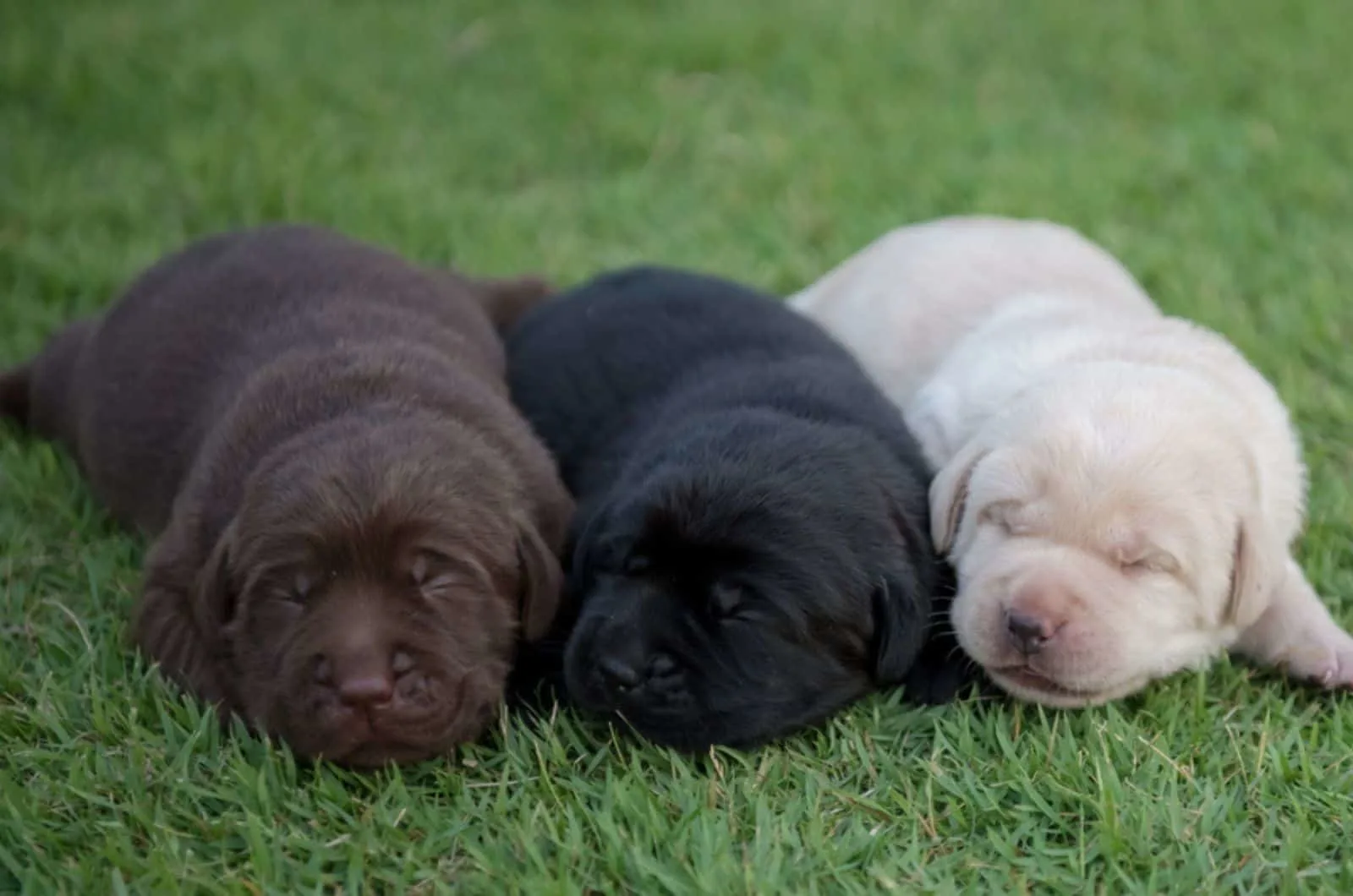 Meet Mike and Gloria, the good people behind Eboni Labrador Retrievers, one of the finest Labrador breeders in Minnesota.
Eboni Labs are known for their versatility. You can either wish for a show-quality pup or a pet for your home, and you'll be satisfied with Eboni Labs.
This is a breeder that lives and breaths their dogs. All of Eboni Labs are healthy dogs, with OFA and EIC certificates to claim that. You don't have to worry about their health status because both Mike and Gloria treat these pups as their babies.
This also means they spend all their time with their Labs, turning them into the friendliest pups you'll ever see.
I was absolutely stunned by how sweet Eboni Labs are and I'm sure you will be too if you contact these kind people.
Breeder's details
Website: Ebony Labrador Retrievers
Location: Bird Island
Phone: 612-702-0363
8. KT British Labs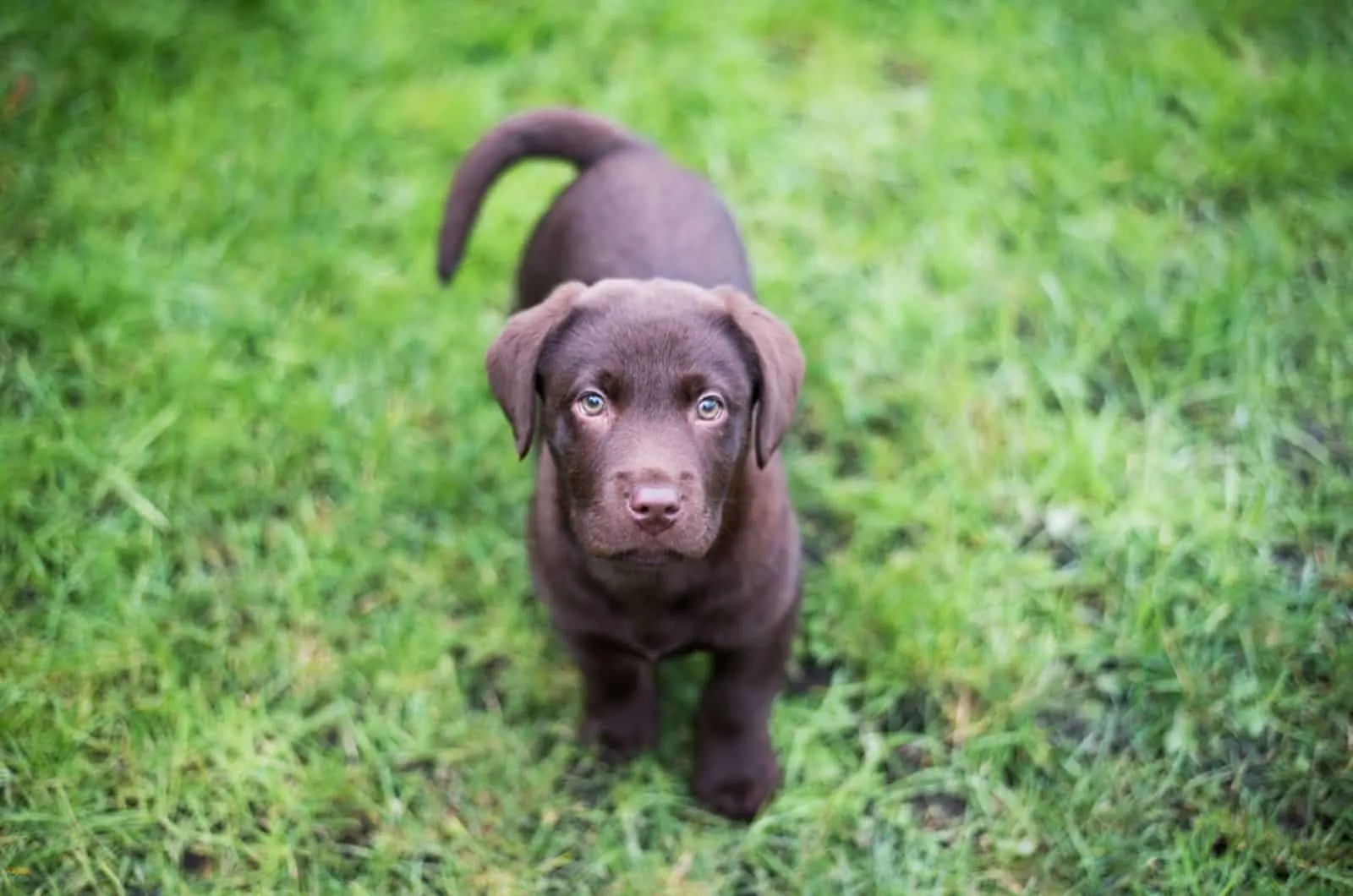 There's really no point in advertising KT British Labs. Everyone who's into Labradors and from Minnesota or the area knows about this breeder.
I mean, what else is there to say about a breeder that puts all of his dogs through all the possible health certificates just to prove to you they're bred with care and caution?
KT British Labs are Labs of the finest lines and sweetest temperaments.
For almost 30 years, KT British Labs have been on top of the game, producing each new litter better than the previous one. The goal is to breed out any potential problems and raise the best puppies possible.
I can only add that these pups are already familiar with basic training commands so it will be easier for you to keep on the training.
Isn't that wonderful? Kudos to the breeder for putting effort into extra training!
Breeder's details
Website: KT British Labs
Location: Elbow Lake
Phone: 218-685-5103
Email: [email protected]
Social media: Facebook
9. Hayshaker Labs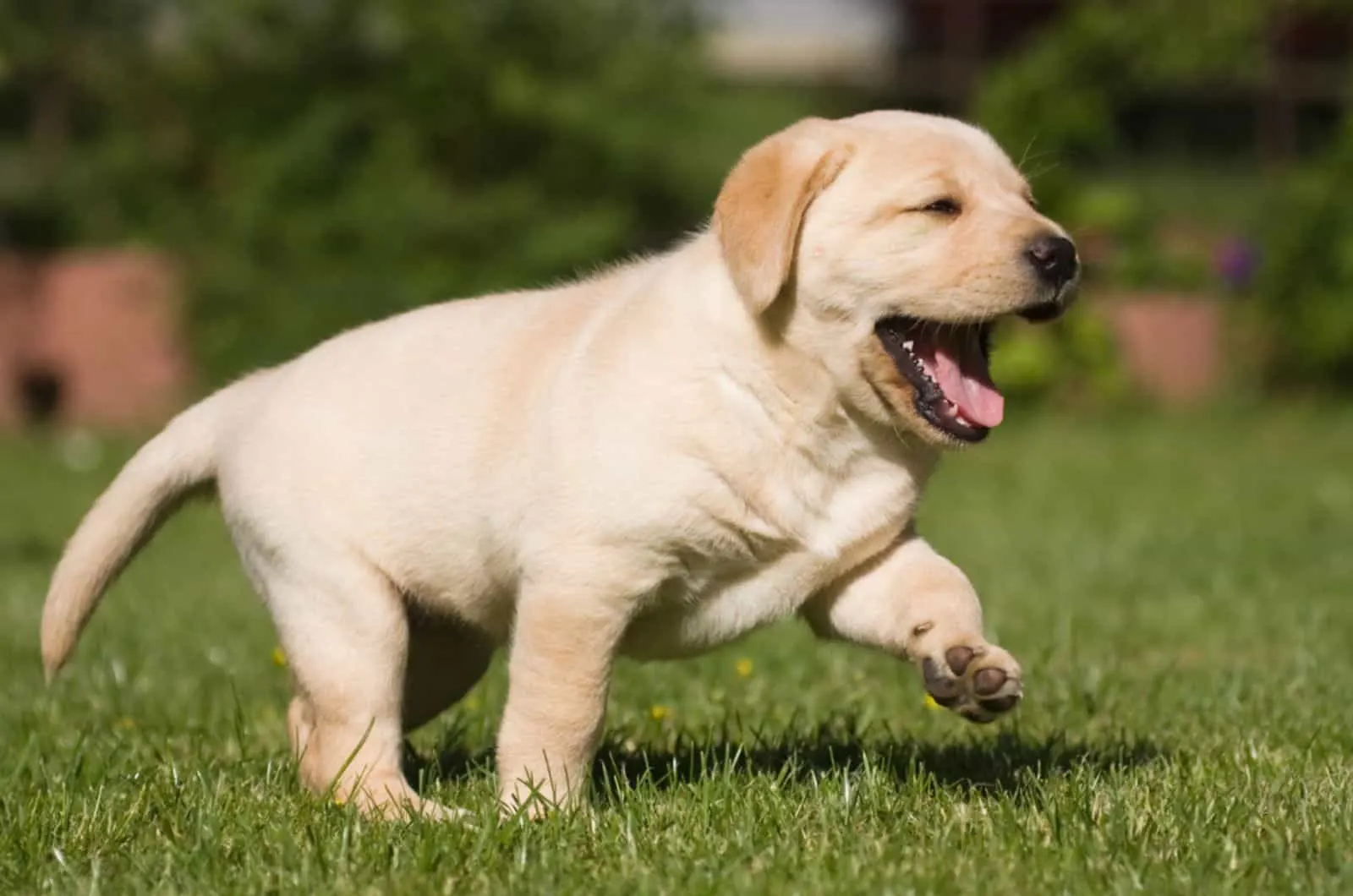 Last, but not least, we have a breeder that's so involved with their dogs, it's unbelievable.
Here is Hayshaker Labs, a place you go if you want quality and nothing else but quality.
As an American Kennel Club breeder of Merit, Hayshaker Labs breeds stunning chocolate and black Labradors, not to be mixed up with charcoal Labs.
Of course, they all come with mandatory health certificates. In case you're still worried about their health, there is a 25-month health guarantee to calm you down.
If I were you, I wouldn't hesitate for a moment. I'd grab that phone and contact this breeder. Hayshaker Labs are home born and raised, pre-spoiled and ready to enrich your life.
Breeder's details
Website: Hayshaker Labs
Location: Marshall
Phone: 507-828-0926
Email: [email protected]
To Sum Up…
Labrador Retrievers aren't just gun dogs or hunting dogs turned family pets. They're also excellent therapy dogs and companions with the sweetest temperaments. Ask any Labrador Retriever breeder and he'll tell you the same.
This dog breed is one of the most popular breeds in the world thanks to its high quality.
But quality Labradors are hard to find. I mean, quality Labrador breeders are rare. Luckily, we have these top 9 Labrador breeders in Minnesota, people we can actually trust.