So, you've fallen in love with the Harlequin Great Dane, and now you're looking for reputable Harlequin Great Dane breeders?
You're in the right place, my friend because today, we're discussing the most trusted sources in the USA and Canada where you can get healthy and happy Harlequins.
Everything about this type of Great Danes is special, but their coat is definitely what makes people gasp. I remember once hearing that Harlequins are like mini versions of our moo-moo friends, cows!
Well, they do look a lot alike, but Great Danes are simply giant dogs with lovely patterns of black and white markings.
Before we get to the point and start discussing trusted breeders, I want you to know that getting a pretty dog is more than getting a fashion statement. Harlequin Great Danes are lovely, but will you be able to take care of such a large dog?
Let me tell you something: it's not easy.
There will be times when you'll question your decision because that puppy you got is growing so fast. Still, don't waver.
Harlequin Great Danes are worth owning, and the following list of breeders will prove it!
Harlequin Great Dane Puppies For Sale In USA And Canada
The following Harlequin Great Dane breeders should definitely have a puppy for you.
If you don't manage to find an available pooch from any of these trusted sources, I recommend you either wait or check out some of the most trusted Great Dane rescue centers in the States.
1. Rose Danes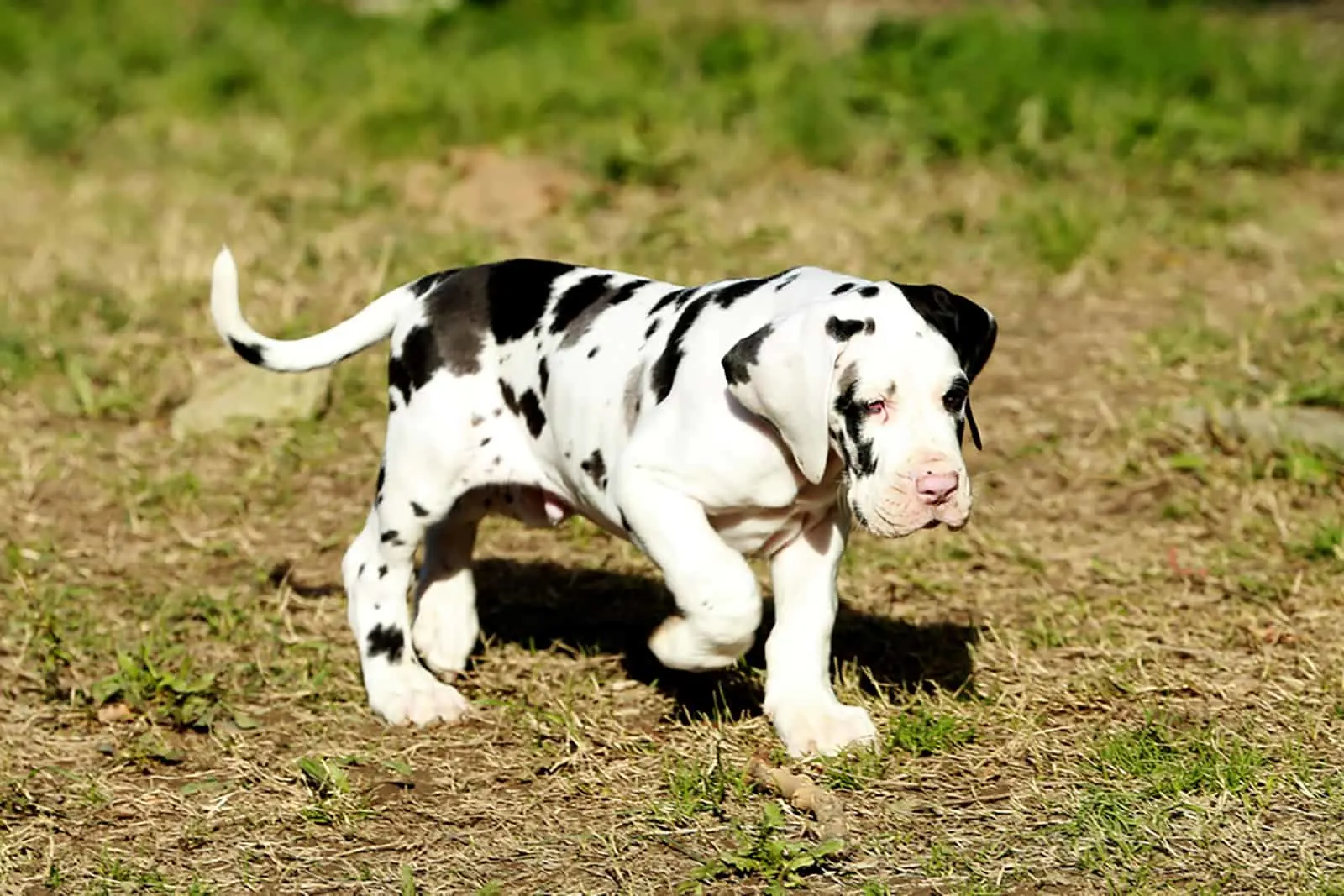 Rose Danes is the place to go if you're looking for a professional approach to breeding dogs. These puppies come from a superior breeding program that brings only champions into the world.
When you look at Rose Danes' website, you'll notice how much attention they give to their champion studs and dams. Every now and then, the breeder will post an update on the spectacular success of their Great Danes.
This kennel is focused not only on Harlequin Great Danes, but also on merle mantle Great Danes, mantle black Great Danes, and merle Great Danes. Their parents are from AKC and International bloodlines.
As a proud member of the Great Dane Club of America, and the Durango Kennel Club, Rose Danes participates in all major events, and they enroll their puppies into competition quite early.
Some of their champions have won first place at the age of only 17 months! That's quite impressive.
Moreover, their merle Great Dane was the first merle in history to win Best in Futurity. If this doesn't prove the excellence of these puppies, nothing will!
Rose Great Danes' pups are all health tested, and have their OFA results come back without any issue. This means they're free of genetic conditions, and have no chance of developing mobility issues.
And, we all know how prone Great Danes are to dysplasia and other problems.
This breeder has been around since 1995. They started strong, and they have continued to bring quality throughout the years.
Rose Danes is the place where you'll find the soundest Great Danes, with a lovely appearance, and a lifespan significantly longer than other pups on the market.
All pups are raised with conscious care and love. As their motto says: We produce winners!
They sure do.
Just contact Sam to see if Harlequin Great Dane puppies are available because they get adopted incredibly fast.
Breeder's details
Website: Rose Danes
Location: Colorado Rocky Mountains of Durango, Colorado, USA 81301
Phone: 970-259-1128
Email: [email protected]
2. Michaeldane Jaybee Dane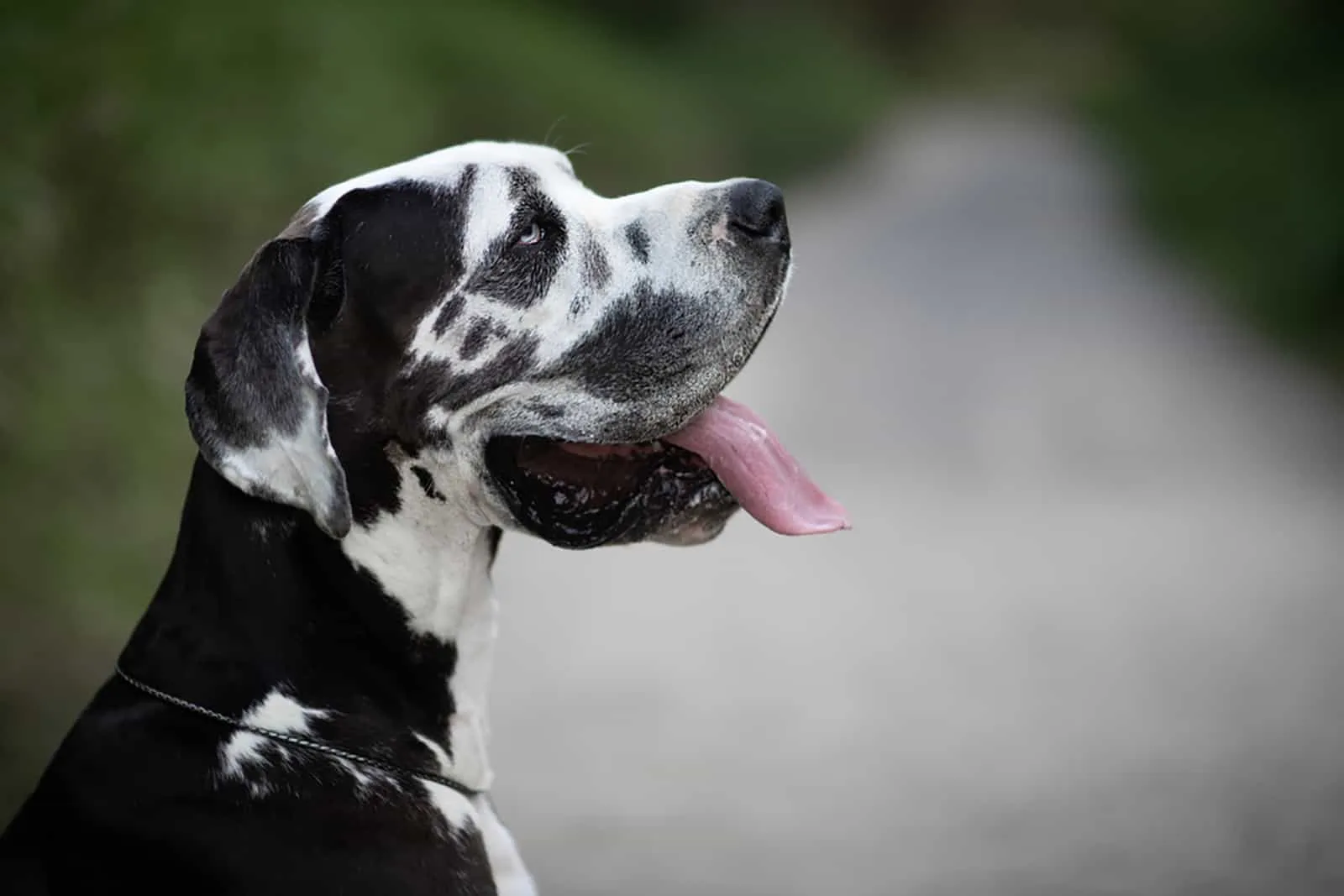 The following breeder does have an unusually registered kennel name, but there's nothing unusual about their breeding program.
Meet the Michaeldane / Jaybee Dane kennel – an American Kennel Club Breeder of Merit, and a trusted source for getting not only Harlequin Danes, but also other fashionable Dane coat colors that are all AKC-registered.
Besides the lovely Harlequin statement coat, Michaeldane / Jaybee Dane puppies also come in mantle, black, merle, and blue Great Danes.
They're fine-looking doggos bred not only for stunning looks, but also for temperament, personality, and overall soundness.
For over 25 years, Michael, Jodie, and Bud have worked on their partnership, joined by an immense love for Great Danes. Occasionally, they will have litters of fawn or brindle Great Danes.
These Great Dane lovers breed and show dogs, but they also offer stud service if needed. No matter what they do, premium quality is guaranteed.
If you go through their website, you'll notice numerous championship titles for the vast majority of their dogs (if not all of them).
However, Michaeldane / Jaybee Dane puppies are also great family pets because they're raised with so much love and devotion.
Breeder's details
Website: Michaeldane Jaybee Dane
Phone: 419-536-1857 Michael or 520-455-5236 Jodie
3. Darby Plains Danes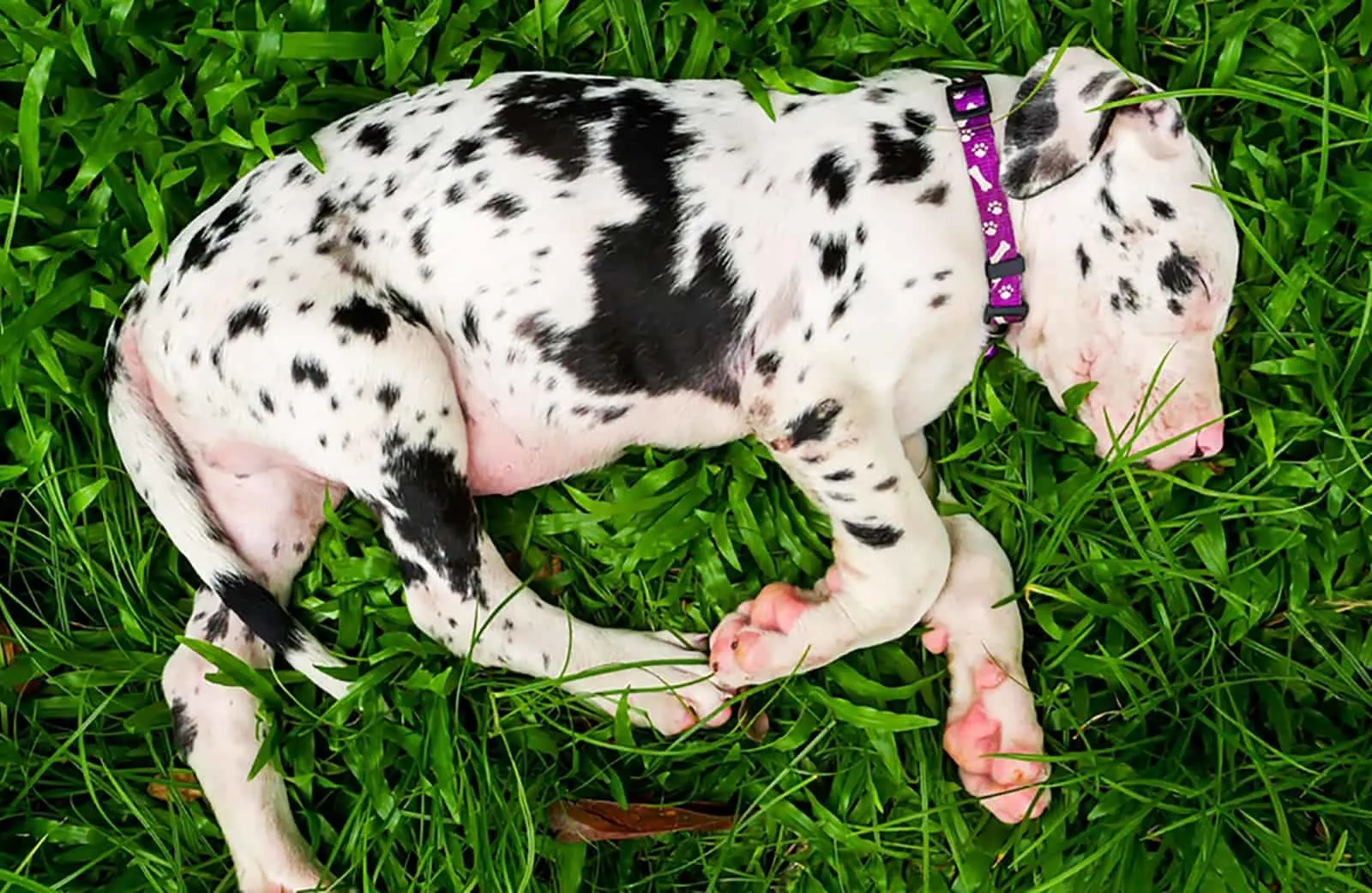 We breed forward, not backward.
That's the motto of Darby Plains Danes.
This trusted source where you can get premium Great Dane puppies focuses on breeding and raising only Harlequin and Mantle Great Danes that are blue and black. But, don't worry – the team will screen their dogs for piebald genes.
The reason why they're on the list of the best Harlequin Great Dane breeders in the States is the fact that they're completely committed to breeding fine specimens of the breed, AND they do it somewhere secluded.
I love breeders who are located on farms, somewhere hidden in unspoiled nature, just like Darby Plains Danes!
These doggos live in Darby Creek – a place they love with all their heart because it provides ultimate fun and refreshment during summers and falls.
All Darby Danes will be submitted to screenings to see if they're carriers of any health issue. Also, the breeder will have their hips tested at PenHipp.
I always look for breeders who pay lots of attention to socializing dogs. Trust me… Darby Danes are perfectly socialized canines.
They're housebroken, and they can sleep inside the big, family home anytime they want. In case they fancy their own privacy, the owner of this small family kennel is in the process of making state-of-the-art Dane suites on his property.
Darby Plains' puppies are pet-quality dogs. They may not enter conformation shows by the AKC, but they will perfectly suit the purpose of being excellent family companions.
You can find Darby pups listed at $1,200, which is pretty affordable for Euro-line dogs.
This belongs to the standard found with other Great Dane prices.
The reason behind the affordable price is the fact that the breeder wants only to improve the breed, not to make money out of selling puppies. That couldn't be more appreciated!
Breeder's details
Website: Darby Plains Danes
Location: 7884 Darby Road, Circleville, OH 43113
Phone: 740-412-3500
Email: [email protected]
4. GMJ Harle Or Harlequin Country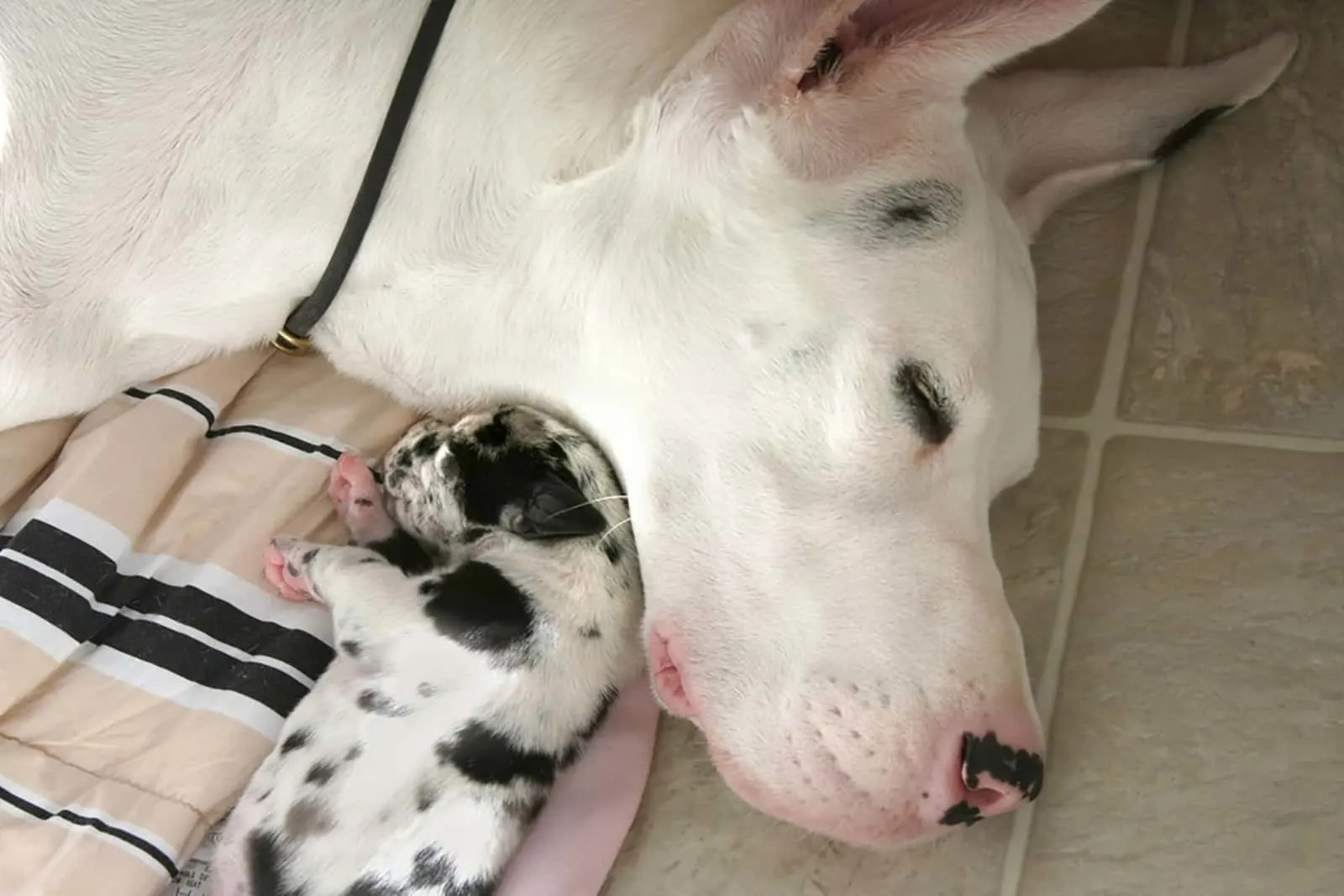 Conformation and soundness come first, and different colors of the coat come last.
That's the way GMJ Harle or Harlequin Country functions.
For over 50 years, this breeder has been polishing the breed to perfection and judging official AKC shows. The experience with this Harlequin Great Dane breeder is on an admirable level.
Before we get into the details of what you get with a GMJ Harle, I must add that this breeder has made history. Three generations from the Harlequin Country have made Best in Show.
The grandfather, father, and son from the same line have all won the same title, which has never happened before.
GMJ Harlequins are a result of 50 years of quality, longevity, and health.
This is one of the rare Great Dane breeders that doesn't offer health guarantees because they believe one test proves nothing.
Instead, she believes that dogs should be checked by the vet regularly.
Numerous healthy dogs throughout the years will serve to prove the excellence of her puppies.Of course, puppies will come with vaccinations, dewormed, and de-flead.
If you're looking for a show-quality Harlequin Great Dane, you won't find better puppies than the ones from Harlequin Country!
Breeder's details
Website: GMJ Harle
Phone: 419-877-9222
Email: [email protected]
5. Against The Grain Danes, CA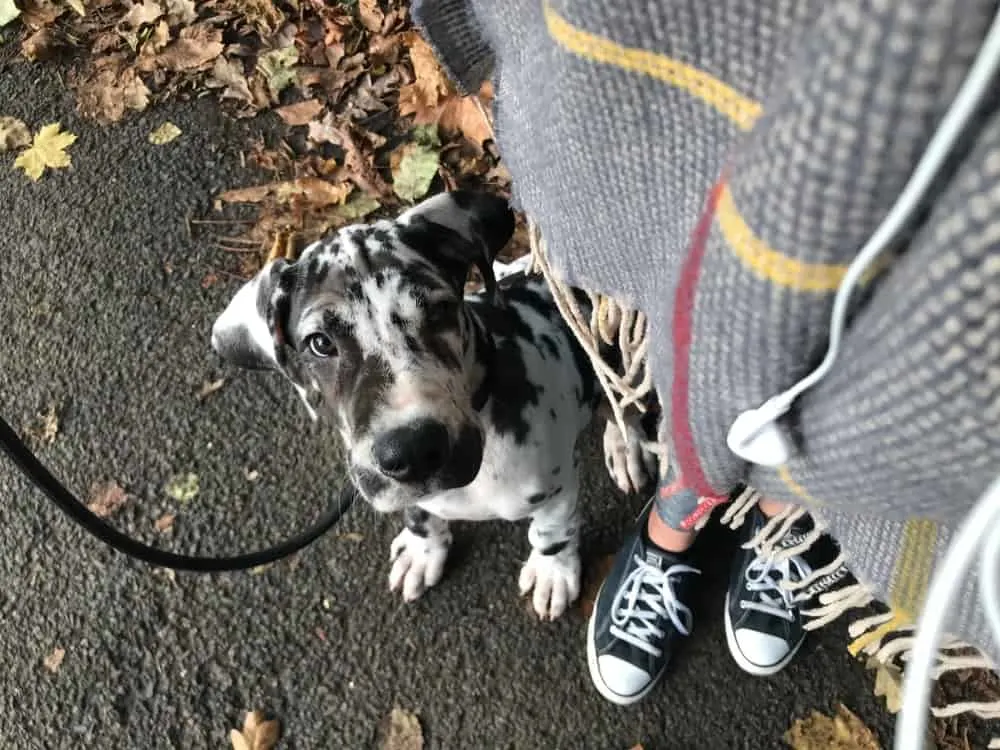 I had to include a breeder from Canada on this list of best Harlequin Great Dane breeders. Why? Because they deserve it with their hard work throughout the years.
This is the place where dogs are family, and family comes first.
Charity Smith, the founder of AGT Danes, has been a registered member of the Canadian Kennel Club (CKC) since 2010, and also a member of the Great Dane Club of Canada.
She breeds puppies with OFA certificates, but that's not all that comes with them. Before their adoption, puppies will be microchipped, vaccinated, dewormed, and examined by their DVM.
All pups come with a special package containing their photos and a Dane growth chart while growing up, as well as pedigree copies, and their own blanket with the scent of their litter.
Unfortunately, not all Great Dane lovers will be an ideal fit for these big doggos. If you live in an apartment without a yard, you won't make the cut. Charity only approves adoption to people with a spacious home and yard.
After all, our Harlequin Great Danes are giant dogs, also known as German Mastiffs, so you understand why they need lots of space.
Against The Grain Danes are worth your trip to Alberta, Canada. You'll get an extra-quality Great Dane puppy that will prove to be the most loyal friend ever.
If you have any questions, Charity is there to help. In fact, Charity will always be there because she offers lifetime support after you become a part of their big Great Dane family.
Breeder's details
Website: Against The Grain Danes
Location: Alberta, Canada
Email: [email protected]
6. Davishire Danes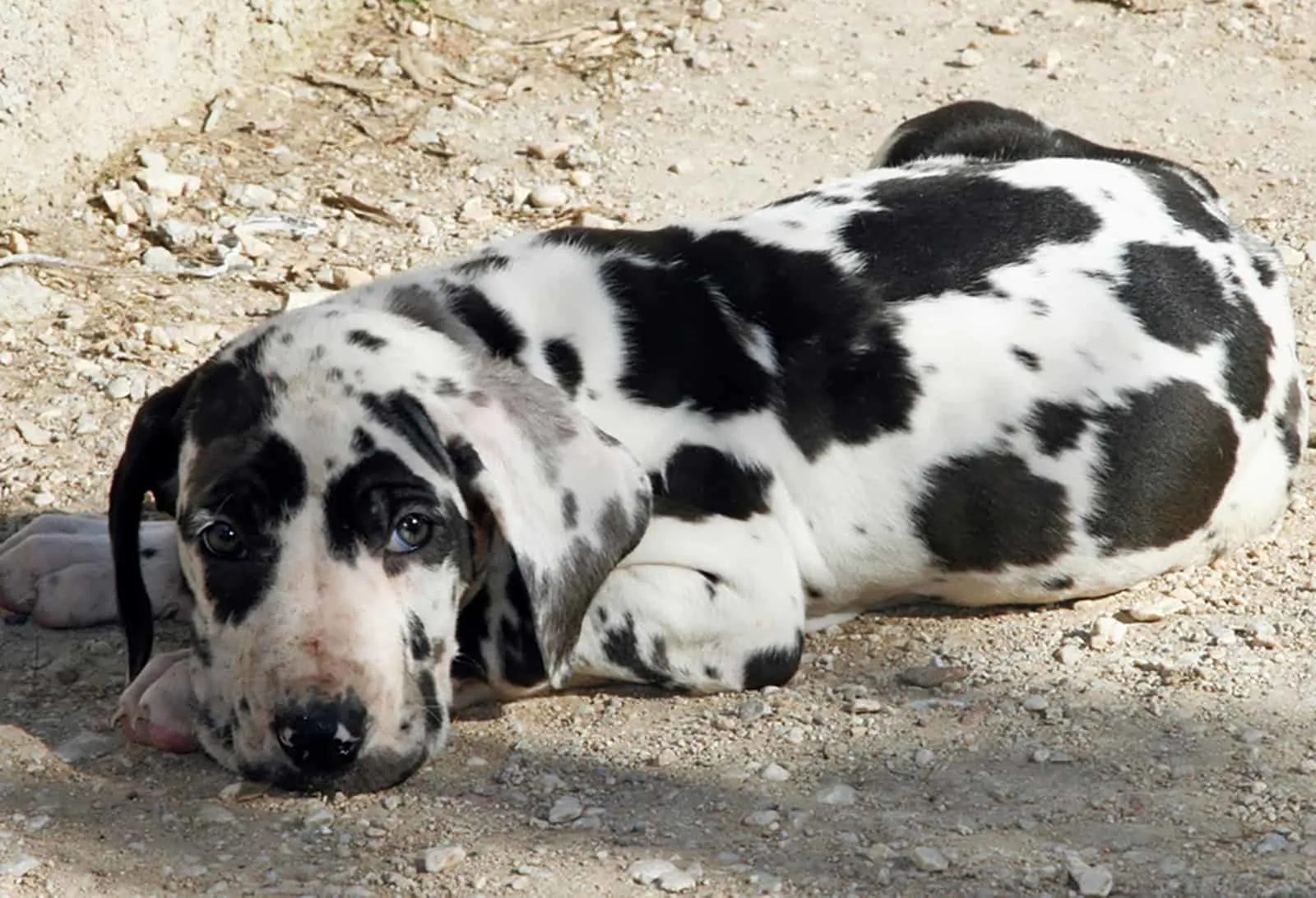 Davishire Danes is one of those old-school breeders, and fetching their contact information was a bit tricky.
If you look at their official website, you'll notice that they only have a contact form. I usually steer away from such breeders, but this one was an exception.
After all, Davishire Danes are longtime members of the Great Dane Club Of America (GDCA), and that's more than enough for me to consider them.
Here's why YOU should consider them, too!
Davishire Danes is a reputable breeder of our gentle giants, from Sacramento.
As proud members of the GDCA as well as the Northern California Working Group Association, this family of Great Dane lovers produces only top-quality Great Dane puppies.
All puppies are bred according to the AKC breed standard for the Great Dane breed, making Davishire Danes an AKC Breeder of Merit! Puppies, as well as their parents, are OFA tested, and have excellent results, proving they're not carriers of any illness.
Davishire Danes also supports the CHIC program, ensuring that their dogs have health testings on their hips (OFA and PennHIP), cardiac conditions, thyroid conditions, and eye conditions (CERF).
All Davishire sires and dams have both beauty and brawn. They're stunning-looking doggos with sweet temperaments and a somewhat elegant behavior. They're strong, intelligent, and compassionate animals.
You can easily get a Harlequin Great Dane from this breeder if you contact them in time to reserve a puppy. This family of Great Dane lovers produces not only champions, but also sweet family members.
Davishire Danes are some of the finest purebred Danes in the world. If you want supreme quality, then contact Kathleen, the mastermind behind this breeding program.
Breeder's details
Website: Davishire Danes
Phone: 415-389-8377
Email: [email protected]
Final Words
The Great Dane dog breed is already very special with its impressive size and loveable temperament. But, Harlequin Great Danes are even more special. Our list of the finest Harlequin Great Dane breeders proves it.
These pretty pups turn heads no matter where they show up. Whether we like this type of Great Dane or not, we all have to agree that they're one of the most beautiful dogs out there.
Thanks to merle and harlequin genes mixed on a black coat, we have the popular Harlequin Great Dane – proof that big dogs can also look very fashionable.
I hope you'll find your ideal Harlequin puppy with some of these listed breeders. Of course, you'll definitely have to wait for a puppy to be born because these pups get sold very fast!
Harlequin Great Danes are very in demand at the moment, and I don't see their popularity decreasing anytime soon.
If you want a loyal buddy with incredibly good looks, you should go with a Harlequin Great Dane!
The only thing you'll have to worry about is how to fit that giant pooch in your lap for cuddling.