The Great Dane. As the name itself states, you can see that we are dealing with a great dog. We can't decide what is greater, their size and presence, or their temper. The origin of this ancient dog dates all the way back to 3000 BC and can be seen in the Egyptian monuments. There are also dogs that resemble Great Danes in Greek art from the 14th century BC.
The American Kennel Club recognized Great Danes as a breed in 1887.
The Great Dane we know and love today was created by crossbreeding the English Mastiff and Irish Wolfhound in the 16th century. This dog is the tallest dog breed in the world, so calling them gentle giants really is super fitting.
The only unfortunate thing about this breed is that they have a short lifespan. They live 7 to 10 years, which goes by so fast for this breed with their amazing temperament.
Even though these dogs are large, don't let that fool you. They have such a calm nature that can turn goofy at any moment. They aren't active dogs and even with the size they are, they make good apartment pets. But, if you can offer them a yard, then that would be a slightly better option.
In the past, they were used for hunting and bullfighting. Today, they make amazing family pets and get along with all animals and humans, whether they are adults or kids.
Great Dane Puppies For Sale In The UK
Even if you are not fond of big dogs, Great Danes will surely change your mind. Nobody ever regretted, and probably never will regret, getting a Great Dane. Getting any puppy can be stressful enough though.
Bringing home a new family member is exciting and nerve-wracking. We advise that you take your time when picking a breeder. The most important thing for future dog owners to ensure is that their puppy is healthy and happy, and you need to find a breeder that takes these things seriously.
Some people might breed Great Danes just for profit, not knowing how much it takes to take care of a puppy of this breed. So, if you see super cheap Great Dane puppies, you should probably think twice about this breeder.
Another thing you should never do is buy a puppy from a puppy mill. These places are hell on earth for adult dogs and puppies. The dogs are kept in horrible conditions and are only bred for profit.
Another option is to adopt a dog. Usually, if you decide on adoption, you will only find an adult dog. Puppies are quite rare in rescue centers but sometimes, a puppy or two can be found. So we advise that you check your local shelters in case there is a Great Dane looking for a new forever home.
Now that we have talked a little about this fabulous breed,, let's look at the list we've prepared of the best Great Dane breeders in the UK.
1. Tamzdane Great Dane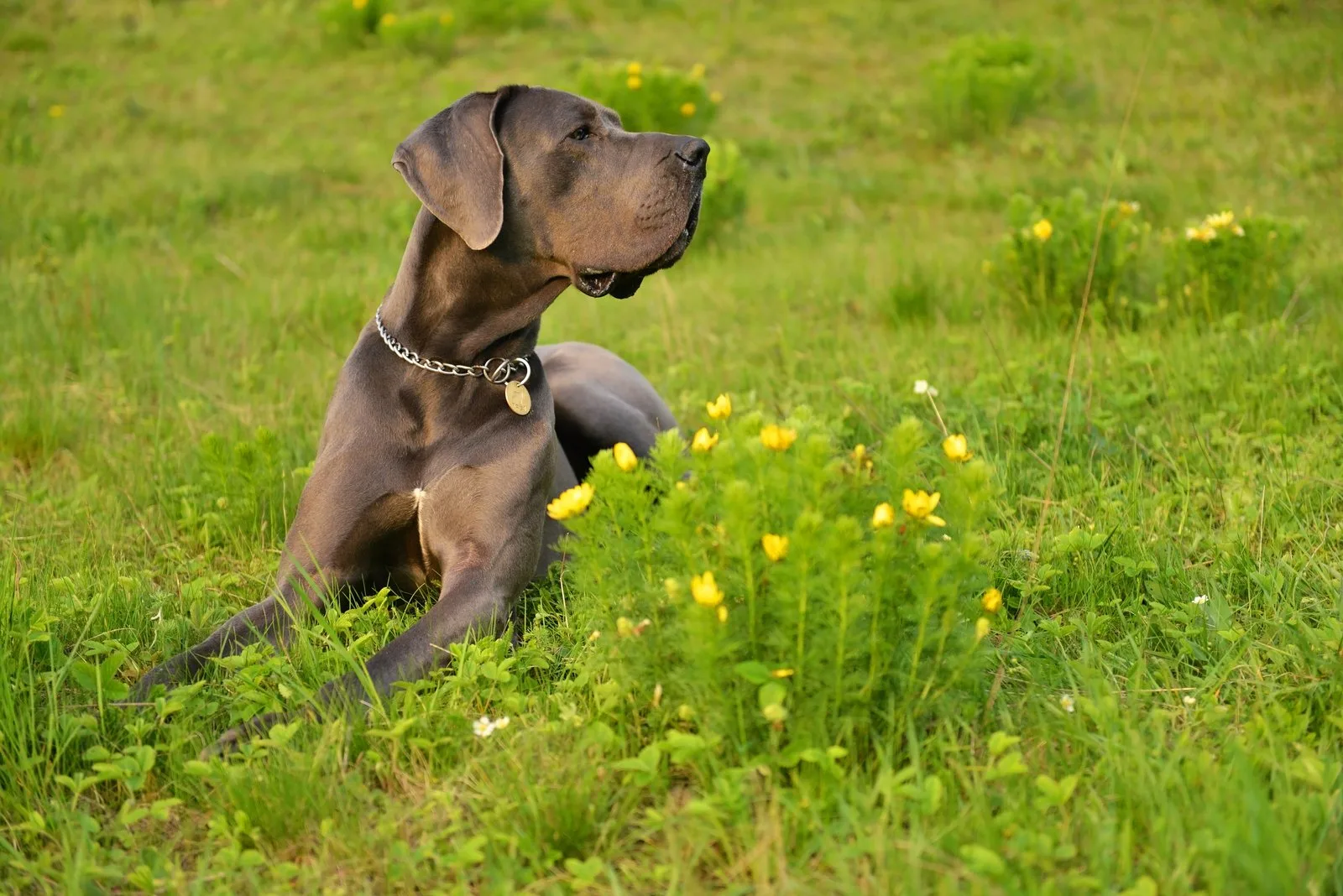 The Tamzdane Great Dane kennel is owned by a mother and daughter duo, Lorraine and Tamasin. Their passion is harlequin Great Danes. They are members of the KC Assured Breeder scheme.
Tammy is a championship show judge for this breed. They take their dogs to shows all over England, Scotland, Wales, Ireland, and Europe (Holland, France, Germany, and Belgium).
They have bred a best of breed Great Dane for Crufts 2015, UK Champions, many International champions, Irish champions, Netherlands champions, Belgium champions, and many more, all of which you can see on their website.
Even though they take their dogs to shows, they breed dogs that are firstly family dogs or pets, then secondly show dogs. Some of the health tests they do include hip and elbow scoring, IMGD testing, color testing, and heart testing.
We advise you to check their website, where you can see videos and pictures of some shows they have attended and all the certificates from those shows. You can also see pictures of all the males and females that they have and also pictures of past puppies.
They strive to breed top quality puppies. They breed healthy, strong, and intelligent dogs. Your puppy will be socialized, well taken for, and showered with love until they get to you.
They are happy to answer any questions you may have. The best thing to do is contact them to find out if there are any planned litters and to get to know them.
Tamzdane Great Dane's Details
Website: Tamzdane
Location: Essex, United Kingdom
Email: [email protected]
2. Ravendane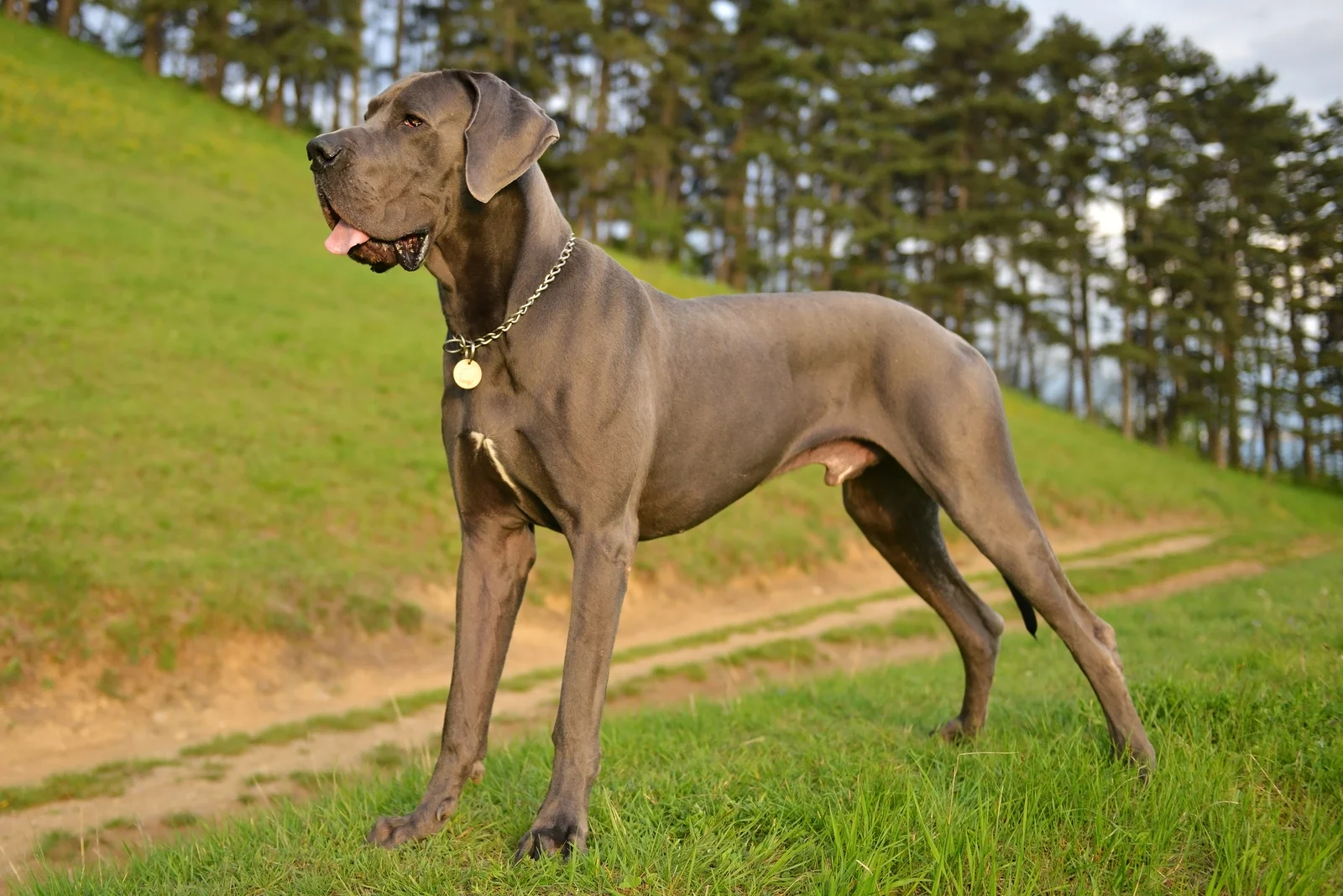 Ravendane was founded by Joanne, who has now teamed up with her partner and family. She produces champion Great Danes. She is a member of the Kennel Club Assured Breeder Scheme.
She is also an ongoing participant in the Liverpool University Dilated Cardiomyopathy Scheme. She tests her breeding dog for hip dysplasia, which is a common problem with Great Danes. They take the health of their dogs and puppies very seriously.
They specialize in merle, black, blue, and harlequin Great Danes. In January 2014, they achieved a superb accolade and became a UKAS Accredited Breeder.
They live in beautiful countryside, which you could say is heaven for dogs, especially large dogs like Great Danes. They live with them and the dogs are considered to be part of their family. They think socialization is very important for the quality of a dog's life when they become adults.
They also take in adult dogs that have lost their homes due to unfortunate circumstances. So, if you don't mind getting an adult dog and can see that they have a Dane that is ready to be rehomed, you can consider that option too.
Their website is full of pictures and more in-depth information on how the kennel was started, so we advise you to have a look.
Ravendane's Details
Website: Ravendane
Location: Warrington, Cheshire
Email: [email protected]
3. Garsak Great Danes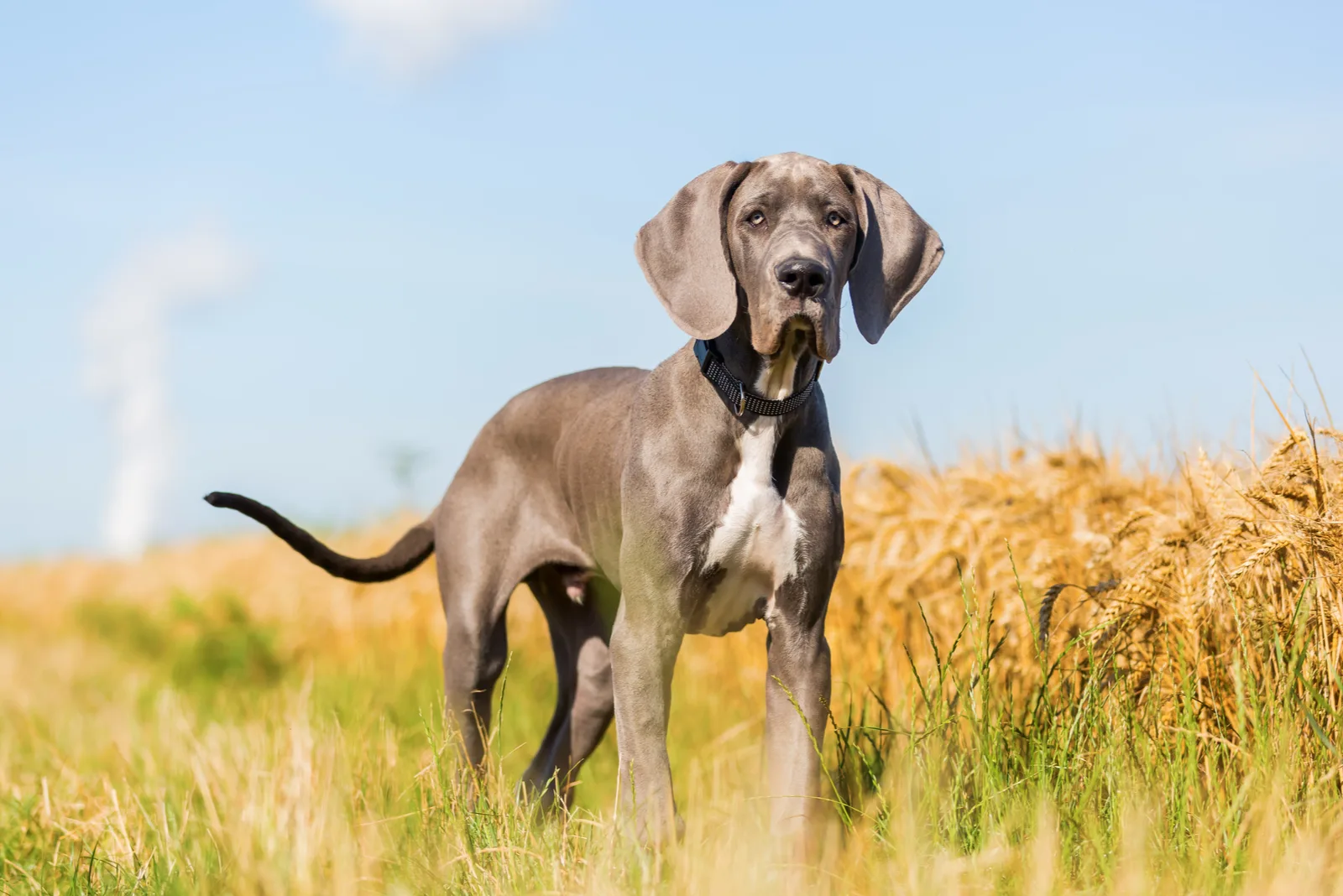 The Garsak Great Danes kennel was established in 1985 by Gary Hooker & John Lockey. They pride themselves on being the second-best Great Dane breeder in the UK of all time.
When they pick their breeding dogs, they look at the strengths and weaknesses of the bitch first. These all depend on what they want to improve and what qualities they don't want to dilute. The stud dog needs to excel in all the areas where the bitch has some weaknesses.
When they pick stud dogs, they ask many questions, which you can read about on their site. This is important for them to maintain the excellence of breed standards. They care about the socialization of their dogs too.
Health is one of the most important things to them and they take it very seriously. Their dogs go through all the necessary health tests and you can ask them about these if you decide to contact them. You can be sure that your puppy will be surrounded by a lot of dogs and people and will be showered with love.
Their website is full of in-depth information about the process of picking their breeding dogs, beautiful pictures of their dogs, the property where they raise their dogs, and all the accomplishments their dogs have achieved, so we advise you to check it out.
Garsak Great Danes' Details
Website: Garsak
Location: Newcastle, UK
Email: [email protected]
Facebook: Garsak Facebook
Instagram: Garsak Instagram
4. Primus Great Danes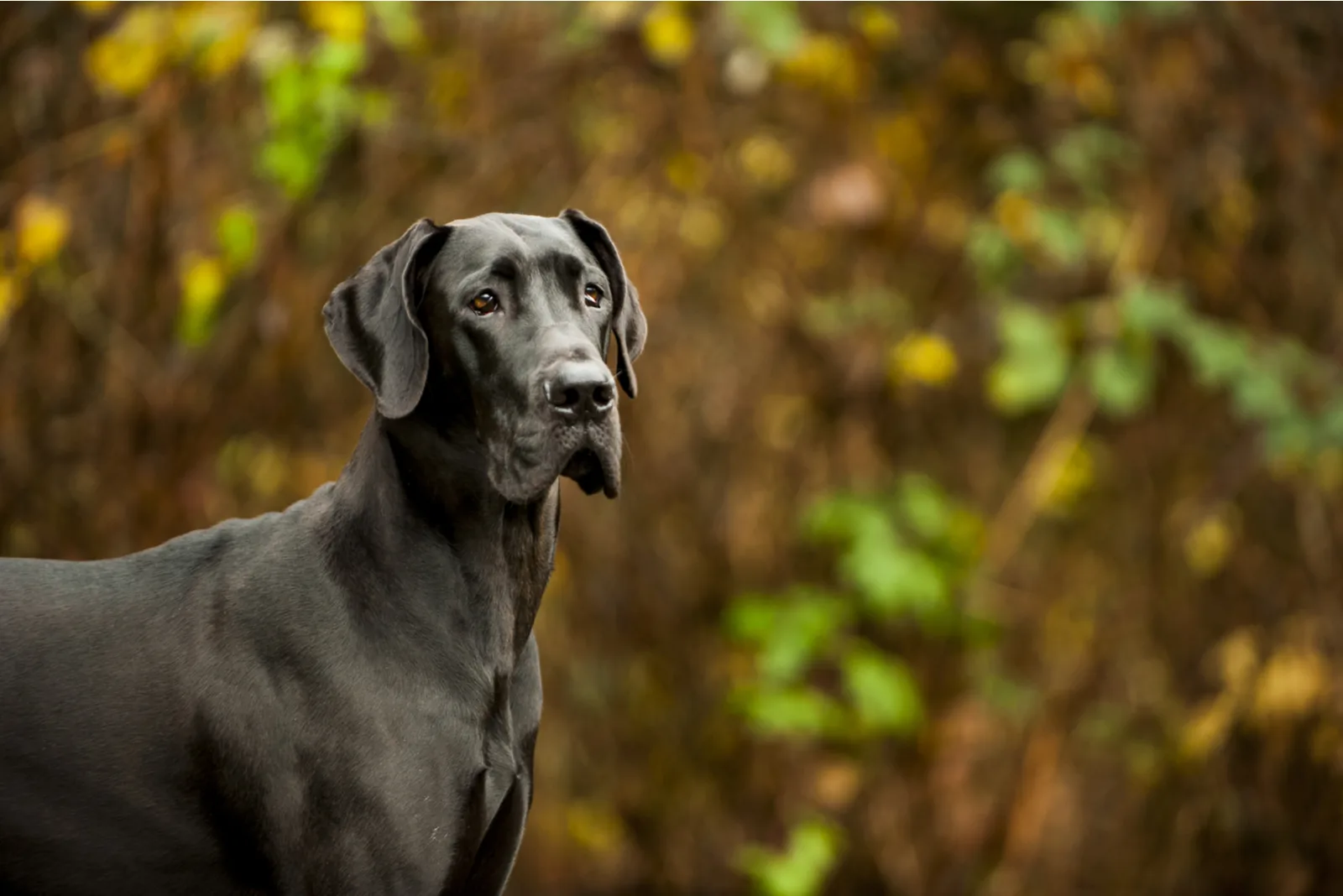 The Primus Great Danes kennel was founded in 1980 by Jim and Lynne. They specialize in fawn, brindle, black, blue, and harlequin Great Danes. Besides Great Danes, they also breed Bulldogs. They export their puppies worldwide.
Their puppies go through all their health tests and they are more than happy to share with you the certificates from both the puppies and parent dogs. They feed their dogs with top quality food and do everything in their power to breed the healthiest puppies.
The dogs live with them and are well taken care of. The puppies will be fully socialized when they come home to you. They have a lot of space to run but they tend to take their puppies to a lot of adventures, so they can get used to different environments.
If you have any more questions for them, feel free to contact them. You can also visit their website for pictures and further information about their kennel.
Primus Great Danes' Details
Website: Primus Great Danes
Location: Tame Valley, Woodley, Stockport, Cheshire, N.W. England, SK6 1RR
Email: [email protected]
5. Selmalda Great Danes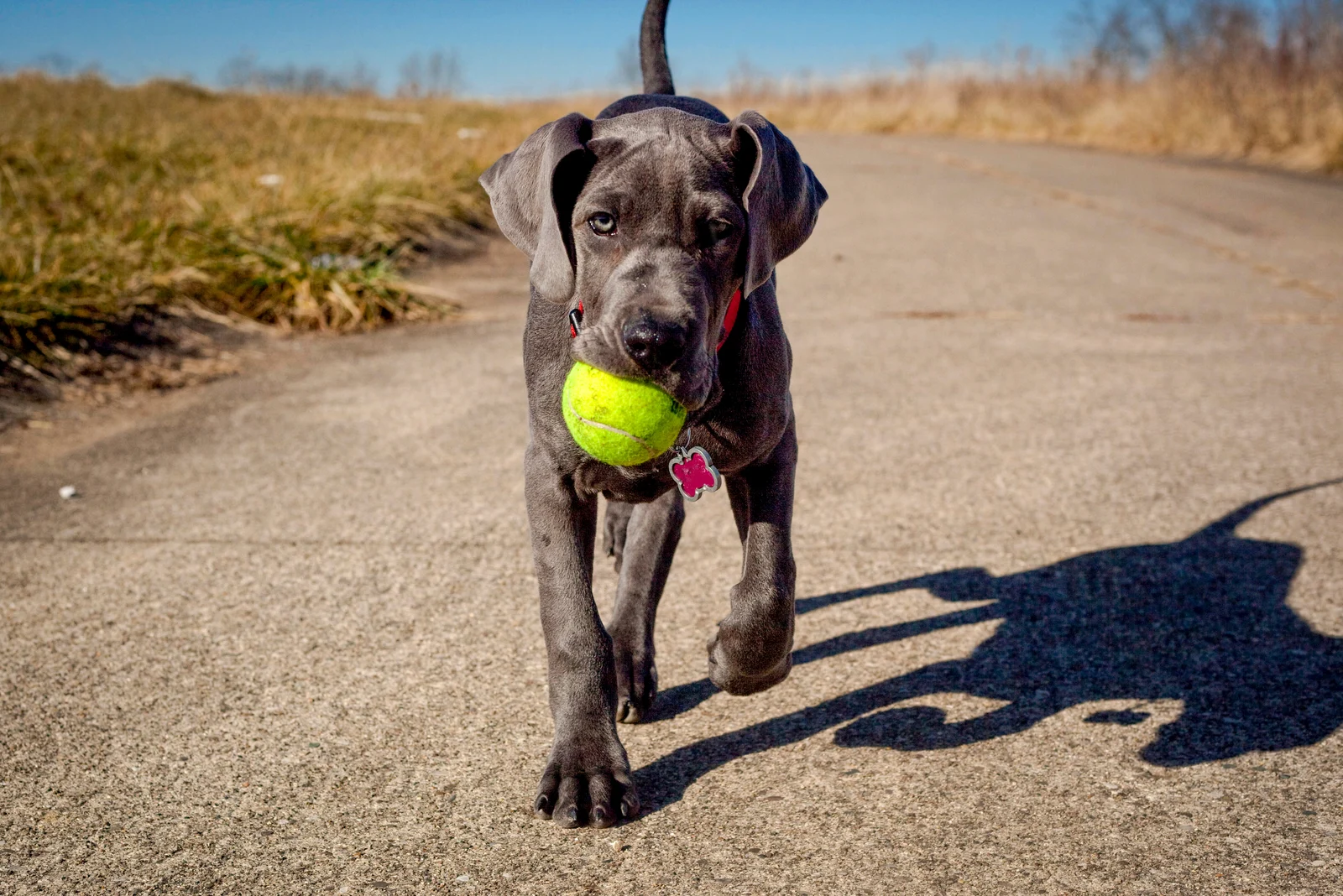 Selmalda Great Danes is a kennel that has been run by ethical breeders, Lesley and Adam Chappell, for over thirty years. They specialize in fawn/brindle Danes. They also have a boarding kennels and cattery.
They have immense love for Great Danes and treat every single dog they own and puppies they have as family members. Your puppy will be in an environment that caters to all their needs. You can come and get your dog when they get to the 8-week mark.
They are breeders that prefer to get to know you and decide if you are a perfect fit for them and their puppies. They choose their bloodlines very carefully so they expect the future owners to match their quality.
Health is a priority, so you can ask them to provide you with all the health certificates. If you have any other questions, contact them for answers and for information on future litters.
Selmalda Great Danes' Details
Website: Selmalda Great Danes
Location: Stankirk, Church Lane, Churchtown, Darley Dale, Derbyshire, DE4 2GL
Email: [email protected]
6. Damarkann Great Danes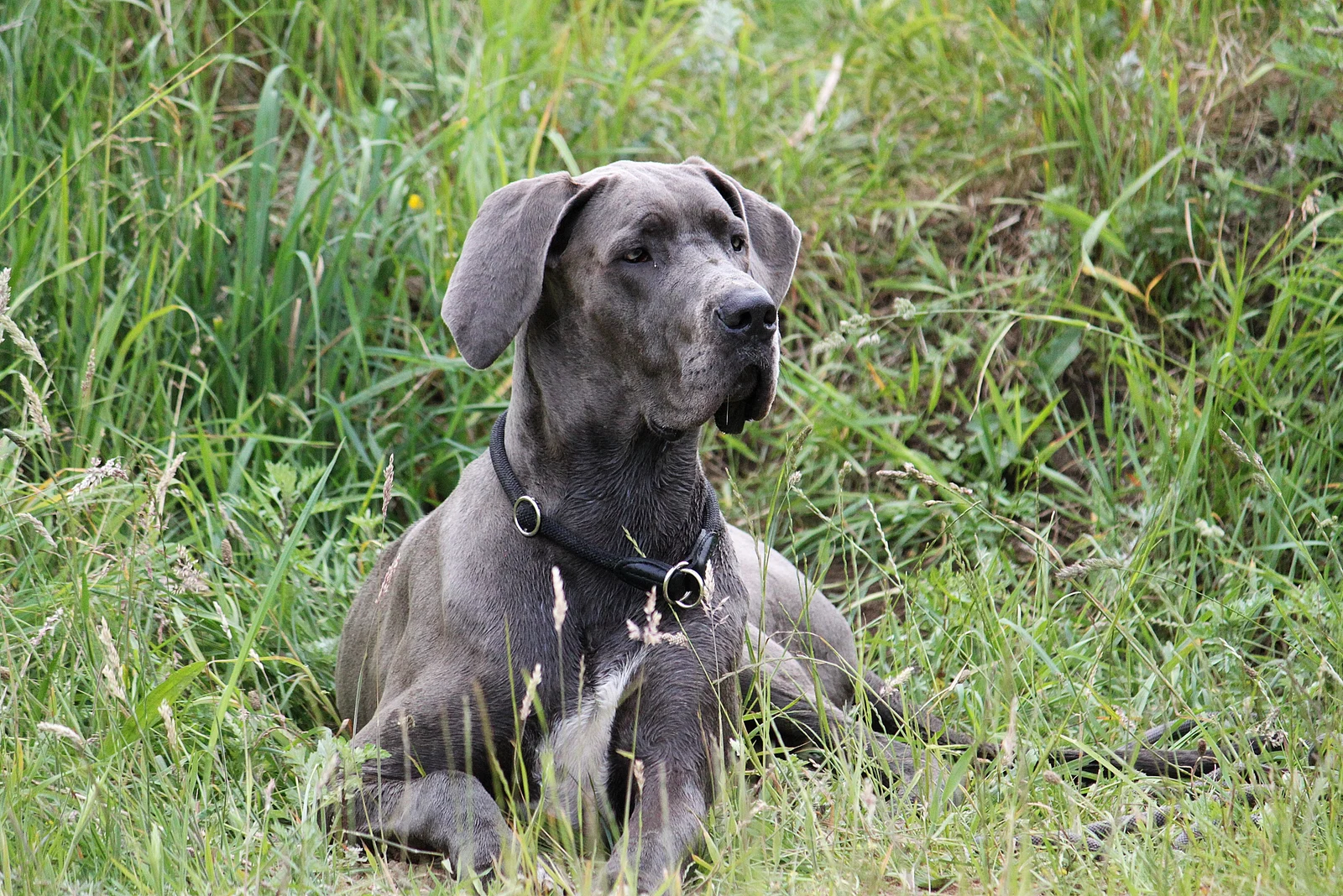 The Damarkann Great Danes kennel was founded by Anne Asquith over 25 years ago. Besides breeding, Anne also judges them at championship levels. She specializes in harlequin Great Danes.
They breed their dogs for type and temperament. They truly take their time to find the best bloodlines out there, so they can create the best quality puppies. Their bloodlines come from German Imperial kennels and also the American Manatasquots kennel.
The other thing they don't forget about is their movement. They believe that Great Danes have an elegant and graceful way of moving around, which they want to maintain through their puppies.
They produce the healthiest puppies, since they provide their puppies with all the health tests that are required. Every health certificate will be given to you when you purchase your puppy.
Their website is full of useful information, pictures of their dogs and puppies, and pictures from events they have attended. You can also see all the pedigrees, so we advise you to take a look.
Damarkann Great Danes' Details
Website: Damarkann
Location: Driffield, capital of the Yorkshire Wolds
Email: [email protected]
How Much Should You Pay For A Great Dane Puppy?
After finding a breeder, you might think to yourself ˝How much does a pure Great Dane Cost?˝ Well, we need to prepare you for the fact that these dogs don't come cheap. It takes a lot of time, space, money, and love to breed these dogs, so you can expect that getting a dog from a reputable breeder will cost you a lot.
The average price of this gentle giant is anywhere from £1,000 to £3,000. We advise you to take a seat before reading the next statement. Don't be shocked if you see that a well-bred pedigree puppy can cost around £25,000.
Some puppies can be sold for £800. This isn't a bad sign, but anything less than this can be a problem. The thing we need to say is that male and female Great Danes are usually the same price. There are cases where males can be a bit more expensive, while other times when females can be. This depends on the breeder.
Besides paying for your future puppy, you need to know that you will have additional costs, and these are more prominent in the first year of your puppy's life. The first thing that you will need to spend some money on is the vet bills. The most important things are vaccines and neuter or spay surgery. Also, microchipping and deworming if your breeder doesn't offer these.
Other things that will be additional costs are food, bed, toys, crate, leash, bowls, collar, leash, grooming tools, etc. This can cost you around £200. Of course, it all depends on if you go for a cheaper or more expensive version of each item.
The thing you shouldn't skimp on is food. And, a thing you should know is because of their size, Great Danes need a lot of food. You will probably spend around £80-£90 a month on food.
Factors That Can Determine The Price Of A Great Dane Puppy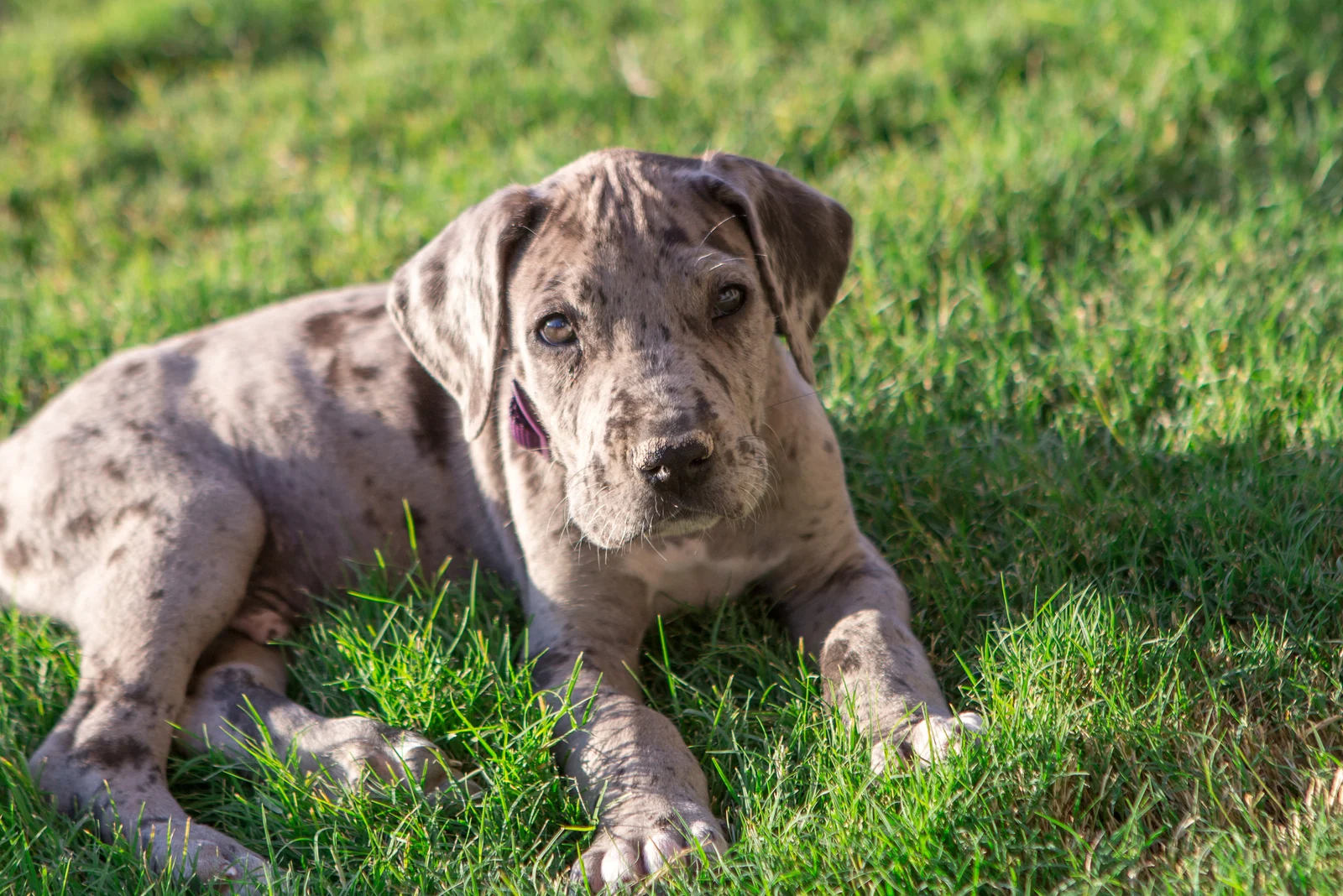 There are a couple of factors that can make your Great Dane puppy either more expensive or cheaper. We have made a list of 3 things that are the biggest determinants of your puppy's price.
1. Papers
The more papers your puppy comes with, the bigger the price will be. What do we mean by papers? Health certificate, pedigree, passport, KC registration, etc. All of these papers can make your puppy quite expensive, especially a good pedigree.
As we mentioned, some of the puppies can be on the cheaper side and this is usually because they don't come with a lot of papers. This doesn't mean that this dog is less worthy or has health problems.
These are usually from an accidental litter, which also, in many cases, doesn't mean anything bad. These people take good care of their puppies but maybe don't want to spend money on all of the papers, or are a bit inexperienced and don't know that it is better for a puppy to own some of these certificates.
2. Bloodline
This is one of the things that reputable breeders care about the most. Bloodline is connected to temper, health, build, lifespan, etc. Going through the list of the best Great Dane breeders in the UK, you will notice that all of them make great efforts to find the best bloodlines.
A good bloodline means that the dogs and their parents are champions, have a good pedigree, are healthy, have the build and temper that is characteristic to the breed, etc. This can really ramp up the price of the puppies.
The price can even go up to £25,000. But, this is usually for people that want to pursue a career in showing their dog and producing a new, quality litter. If you are looking for a family pet, you won't need to spend to this extent.
3. Color
Great Danes can have different colors. Some are rarer, some more unique, and others more common. Some of the colors Great Danes can come in are mantle, merle, blue, black, fawn, and brindle. Some of these colors can be more expensive than others.
If you have some preferences when it comes to color, you might prolong the time before your puppy's arrival. Litters are usually diverse, so to come along with an expectation of a preferred color might make your wait a bit longer.
But, you could also get extremely lucky and see one on the first try. But, whatever color you end up with, we can guarantee that you will end up with an amazing dog.
Sites Where You Can Find Great Dane Puppies In The UK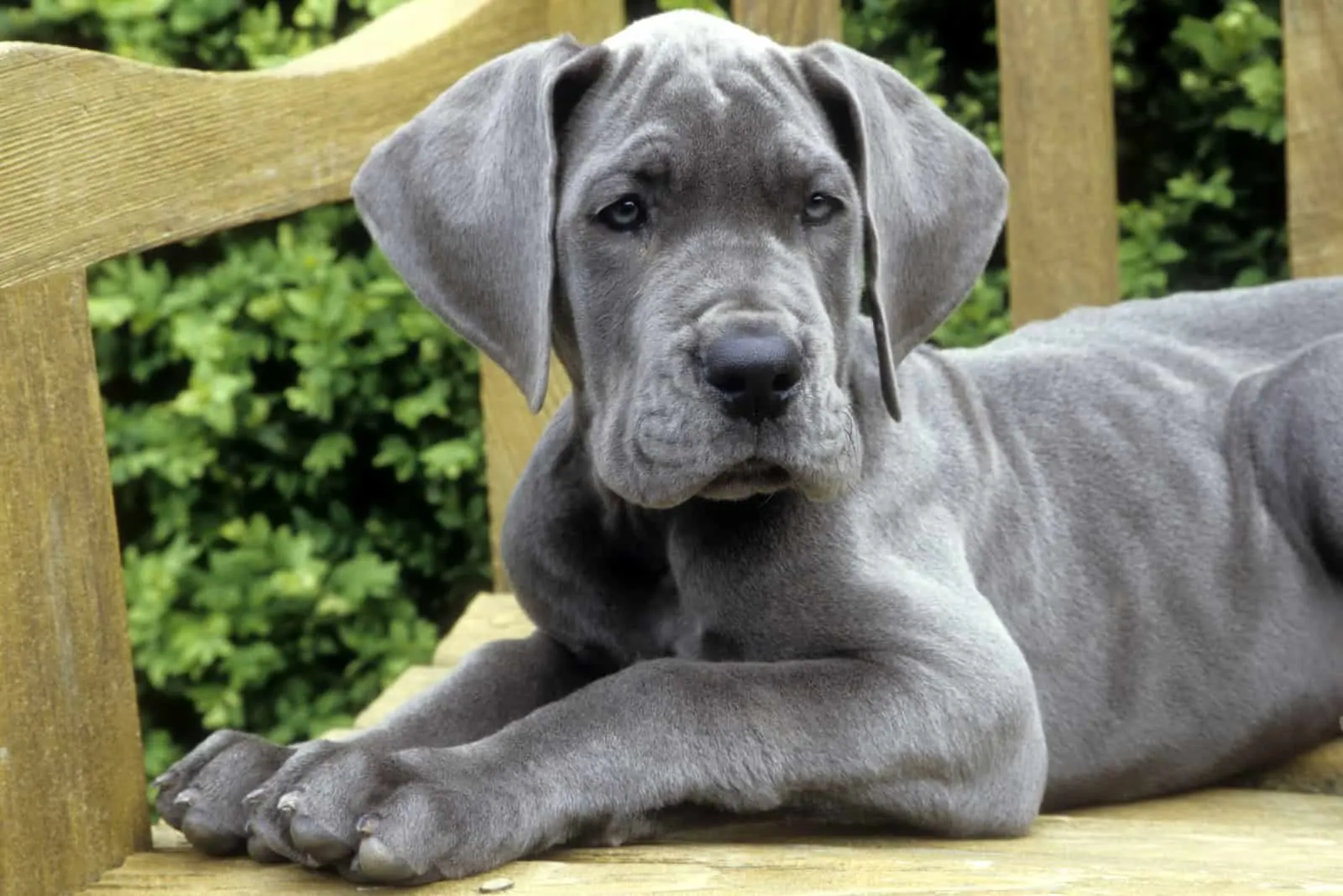 There are some sites where you can find Great Dane puppies, and sometimes they can be a bit cheaper than when you are buying a dog directly from a breeder. But, it can get a bit tricky.
Well, cheaper puppies usually don't mean good things, because people don't take good care of the dogs and only use them for profit. And, this is something you should avoid at all costs. But on the other hand, this doesn't mean that this is true for every advert.
Some people have maybe a litter a year or even less and don't consider themselves professional breeders. This doesn't mean that they don't take care of their dogs, but it might mean that they won't come with papers and that they are probably not KC registered.
Sometimes, when people want to rehome their Great Danes, they put them up for sale at a very cheap price. And usually, this price is mostly for all the things that come with them.
Whatever the situation might be, make sure that you get all the health certificates, that the owners are willing to show you the puppies, and make an appointment either in person or via video call.
Some of these sites are:
You just need to enter the breed that you are looking for, which in this case is a Great Dane. These sites work for any breeds, like Spaniels, Terriers, Labradors, etc. The other thing you need to enter is the place you live, or a place that is close to you, for example, Northampton.
The site will find all the available litters that might interest you.
In Conclusion
To sum it all up, picking a breeder isn't an easy task. It is a big responsibility to find a breeder that cares deeply about dogs and that is doing it out of love, not just for profit.
One of the most important things is the health of the puppy. A reputable breeder will be more than happy to show you all the health certificates from both the puppy and the parents of your puppy. If they refuse to do so, you should turn your back on them.
A good thing to do is ask to either visit the kennel or make an appointment for a video call. This is a good way for you to meet the breeders and for them to meet you. Also, you can see your puppy and the dog's parents and the conditions they are kept in.
Most assured breeders will be happy to do either one or the other, but they will for sure let you meet them and the dogs. If they stall on the meeting or completely refuse it, you should probably go with another breeder.
We hope that our list of the best Great Dane breeders in the UK helped you and that it will speed up the process of getting your puppy to their new home. We are sure that you've got this and that you will be with your puppy in no time.
We wish you and your puppy all the luck and happiness and hope you cherish every minute with this fascinating dog.
Read Next: 9 Greatest Dachshund Breeders In The UK: The Best Of 2022!