We love German Shepherds, and we love German Shepherd memes! They might be serious-looking dogs for outsiders, but for German Shepherd owners, they are cute and sweet, and one of the funniest doggies.
If you are looking for some funny pics or, better yet, funny German Shepherd pics — you came to the right place! It's 55 best German Shepherd funny memes that will make you fall in love with this brilliant dog breed once more!
German Shepherd Memes
German Shepherds are popular dogs. We can see their cute face on stickers, and T-shirts, and I am sure there are German Shepherd shops somewhere where they sell only GSD merch.
However, half of the time, these GSD pics and stickers are actually German Shepherd memes! So, why not just have memes – 55 GSD memes to make your day a bit better?
1. "Tie" Your Dog
I mean, they weren't specific… And, by the way, what a handsome doggo he is!
2. I'm Adopted?
I don't know who spilled the beans, but my bet it is no one else but… the cat! We have to add some cat memes. Eye for an eye, meme for a meme.
3. He's A Good Dog
And, here we are. The truth: the cat made me do it! Have you seen those sharp claws? I had to do what she wanted me to do.
Don't worry, doggo — we believe ya!
4. A Fair Ransom
If you ever wondered what happens to socks, and how we always find only one and then they reappear all of a sudden after a month — your GSD might have the answer.
5. Gordon Ramsay Vs German Shepherd Dog Memes
The food is so frozen, it started singing Let it go!, or
What do you call a frozen GSD? A pupsicle!
You choose your best meme…
6. The Truth
It is true for all doggies, not just the German Shepherd! No matter if you have a Chihuahua, a Labrador, or any other dog breed — they are our best friends, and they steal our hearts.
7. A Well Deserved Break
Well, what are you waiting for? Get this fine German Shepherd lad some iced tea.
8. I Will Have My Revenge
…And it will include your favorite shoes.
9. Renovation In Progress
Whether it's your new home or not, your German Shepherd will surely add a special doggy touch to your interior design.
10. Mirror, Mirror…
My Queen, you are! And, the Magic Mirror always tells the truth!
11. Expectation Vs Reality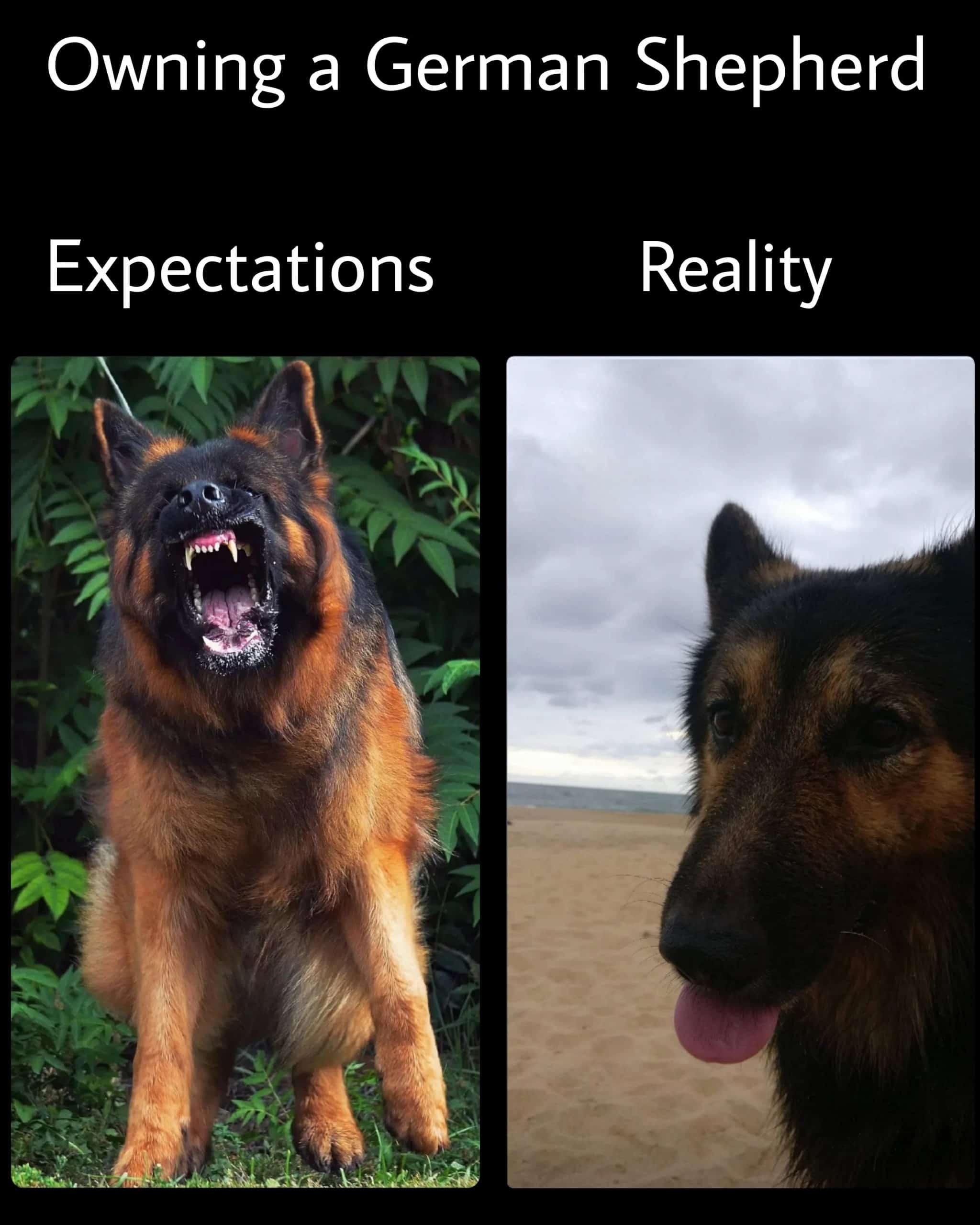 We have to say our really looks absolutely gorgeous! And, it has its tongue out! Cute!
12. I Will Find You!
It's just one of those things you have to get used to if you own a German Shepherd dog. But, that's not that bad, is it?
13. Me Vs Mom
My personal favorite. How does this happen, what kind of sorcery is this? We will never know…
14. Humans With Muzzles?
It's not meme time if there isn't at least one joke about the he-who-shall-not-be-named. (virus)
15. 2 Seconds Rule
Eating and having a German Shepherd puppy is like having a small black hole under your table that swallows everything you drop. Saves us the cleaning, tho.
16. Going Out? I Don't Think So.
Ladies and gentlemen, now you know why she is late. She has a German Shepherd…
17. Mom! He Did It Again!
Mom, he's looking at me! Mom, I was here first! They are the best dogs, but sometimes they act as if they are children fighting for their spot on the sofa.
18. Those Trash Cans Did It Again!
I swear those trash cans are too much sometimes. The audacity to trip over everywhere! Good German Shepard, good boi for telling mom about the trash can… again!
19. It's A Code
I don't always wink, but when I do, I wink back at my dog.
Now, this is memeception!
20. Ice Cream?
I saw no ice cream. You say you had ice cream? Silly hooman…
21. I Really Wanna Play With You, But…
That's how it goes. They want to play, you give them the ball, and then they don't want to give it back. That's not how you play fetch, Fido.
22. K9 Unit
This is how it all starts…
23. Bail Time
This is how it ends if they choose the wrong side.
24. Cat Meme Alert
Did you know GSDs are very intelligent? They can even cover their tracks.
25. Petting Another Dog?
They are loyal, and they love you so much, and this is how you repay them? Petting another dog?
26. Educational Meme
I'm just going to leave this one here for anyone who needs to see it…
27. Sad, But True
I've heard that story, too. Some say they even go to the bathroom alone.
28. Silence Means Trouble
If you have a puppy, and you don't hear a thing… that is very suspicious. Better prepare yourself for some mess.
29. I Don't Always…
And, who has the heart to tell him to go off the chair? I'm going to sit on the floor – it's quite comfy, actually.
30. Just Act Casual
Oh, hey… you're home! Yeah, I've been on the floor the entire time.
31. Fuzzy Wuzzy Snowing
This one is called an ode to Fuzzy Wuzzy.
32. Favorite Toy
But, it is his favorite tennis ball! It's not his fault they roll under the bed.
33. Welcome, Stranger
These are memes of funny dogs, but GSDs are guard dogs, and fine guard dogs they are, indeed.
34. Bad Boys, Bad, Boys
Another personal favorite. It goes right before the song 'who let the dogs out?'
35. I Don't Always… Part 2
I don't always eat human food, but when I do, I eat everything they give me and poop mud.
36. Vet Appointment
I told you they are smart dogs. They can answer phones.
37. German What?
German Shredder. Need some paper to shred to pieces? Say no more.
38. Thanks, Mom…
A dog can't even eat nowadays without people clapping and lighting candles.
39. eBay User GSDsRulez
GSDs are intelligent proof No 3.
40. Happy Friyay
And, we're going to do everything we said we would when we have the time!
41. Herd Shep Herd
Bond who? The German Shepherd is the real 007 Agent!
42. Food Is Love
Same, doggo, same…
43. Moms Rule!
Oh, it's daddy's shoes. It's OK then.
44. How Rude
The Doors were right all along — people are strange.
45. No Dogs On The Bed
Unless you are a super-cute GSD pup!
46. Cmaaawn…
You can resist those puppy eyes?
47. Parent Meme
We've all been there.
48. New Alarm System
Can I pet your alarm system?
49. He did!
GSD & cat friendship does exist.
50. What, Cat?
What did I tell you — besties!
51. Fast Boi
I wouldn't test this.
52. I Dare You
I wouldn't do this either…
53. We Love GSDs!
Yes, they are amazing guards, but they are good dogs that love a good belly rub.
54. Awesome Help
And, they help us clean our home.
55. Head Scratches, Please
Puppy eyes mod activated!
To Sum It Up
Memes are the best! Whether it's German Shepherd Memes or memes about the weather, there is nothing that cannot be funny when you turn it into a meme.
People share GSD memes on Pinterest, Facebook, and Tumblr whenever they can. And, for a reason — they are lighthearted, they are easy to understand, and they make our days brighter.
We hope we made your day a bit better. If nothing else, you got to look at 55 photos of German Shepherds, and that has to count for something.
They are gorgeous!