Michigan may be known as the Wolverine State, but these creatures we're about to discuss aren't wolverines at all.
Okay, ask any of the Dachshund breeders in Michigan and they'll tell you that a Doxie's temperament may resemble wolverines from time to time.
Dachshunds are dogs with temperaments, but they're also canines with a sweet spot and a friendly demeanor.
When someone mentions this breed, the first thing we all think of is how aggressive or yappy Doxies can be. The truth is very different. Doxies can be terrific family pets. I'm absolutely pawsitive you'll enrich your life if you bring a Doxie to your home.
But, where to find good Dachshund puppies? How to figure out which breeders are reliable and which are not? I mean, it's not like we're all experts in finding good puppies, right?
Well, we don't have to be experts at all.
You can do some thorough research by yourself, or you can lean back and enjoy the following read, because I'm about to present to you the 11 best Dachshund breeders in Michigan!
These are the breeders you should contact if you're looking for a new four-legged friend.
Dachshund Puppies For Sale In Michigan
Looking for AKC-approved Dachshund puppies without any faults, flaws, or behavioral issues? Then you must check out the top 11 Dachshund breeders in Michigan. These are the people to trust in the Great Lakes State.
1. Doxies With Moxie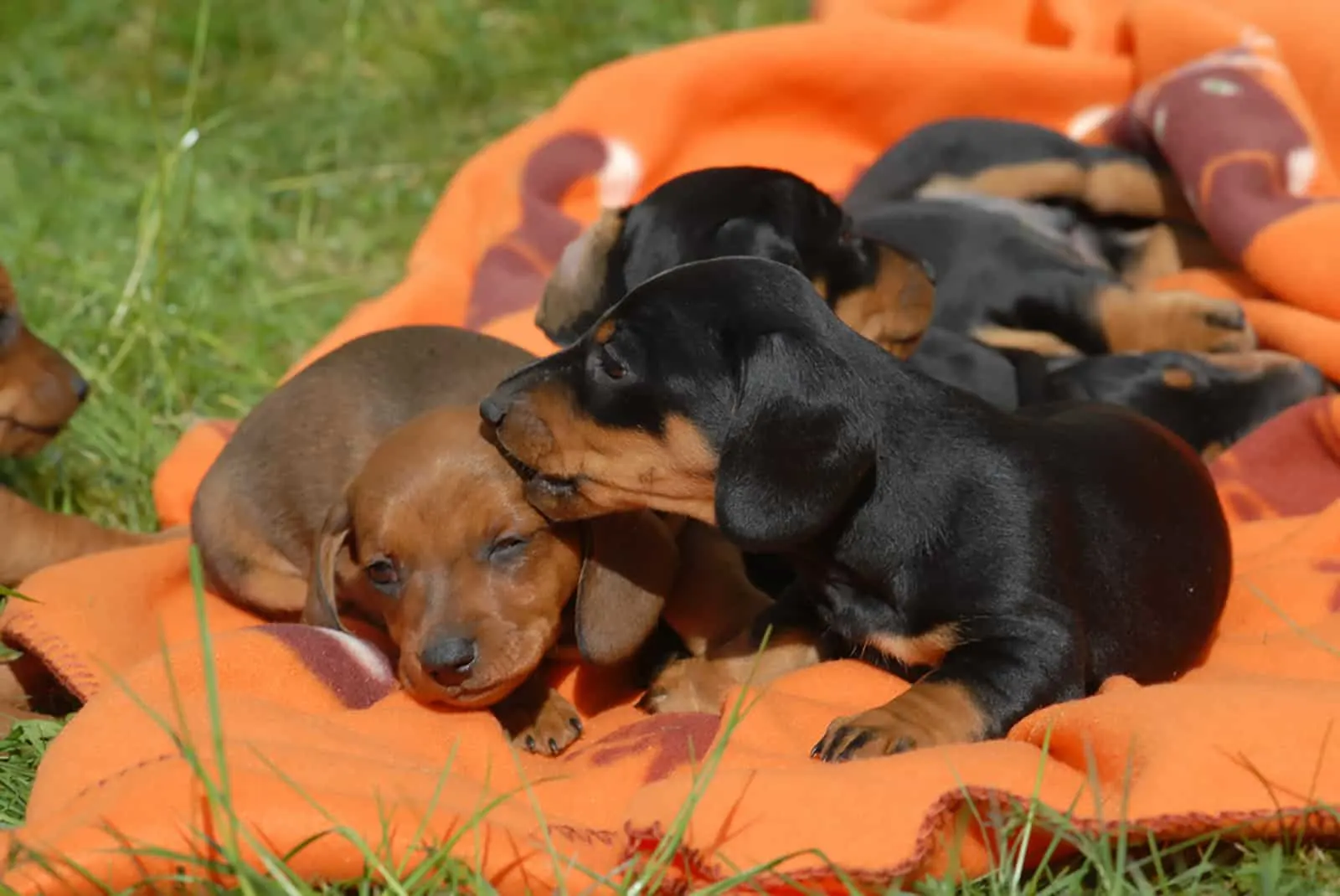 For over 30 years, Kandy from Doxies With Moxie or Round Lake Kennel has been into raising pawfect Dachshund puppies.
When I say puppies are pre-spoiled, that doesn't mean it's a bad thing. Pre-spoiled puppies mean they're raised with love, care, and extra devotion. They're not spoiled brats; these dogs are well-taken care of.
All of Kandy's dogs are AKC-approved, but she no longer registers her litters. That's up to you to decide if you want a registration or not.
Round Lake Kennel puppies come as tweenie and miniature Doxies. Also, short haired AND long-haired Dachshunds are available with this breeder. Occasionally, wire-haired Doxie puppies will be put up for sale too. But, none of these Doxies are hypoallergenic.
Doxies With Moxie will only be sold under a spay/neuter contract. I know you're all interested in prices and you'll be happy to hear they're not too expensive.
These Doxies are priced at $1,300. The breeder promotes Isabella and Tan Dapple Doxies as some of the prettiest Doxie colors.
As far as the health guarantee is concerned, these Doxies will be covered for the 6 months after finalization of the adoption.
This means the breeder guarantees zero congenital health problems in the given period. Having a health warranty is always a lovely bonus.
Breeder's details
Website: Doxies With Moxie
Phone: 989-429-9004
Email: [email protected]
Social media: Facebook
2. Mare-Bella Dachshunds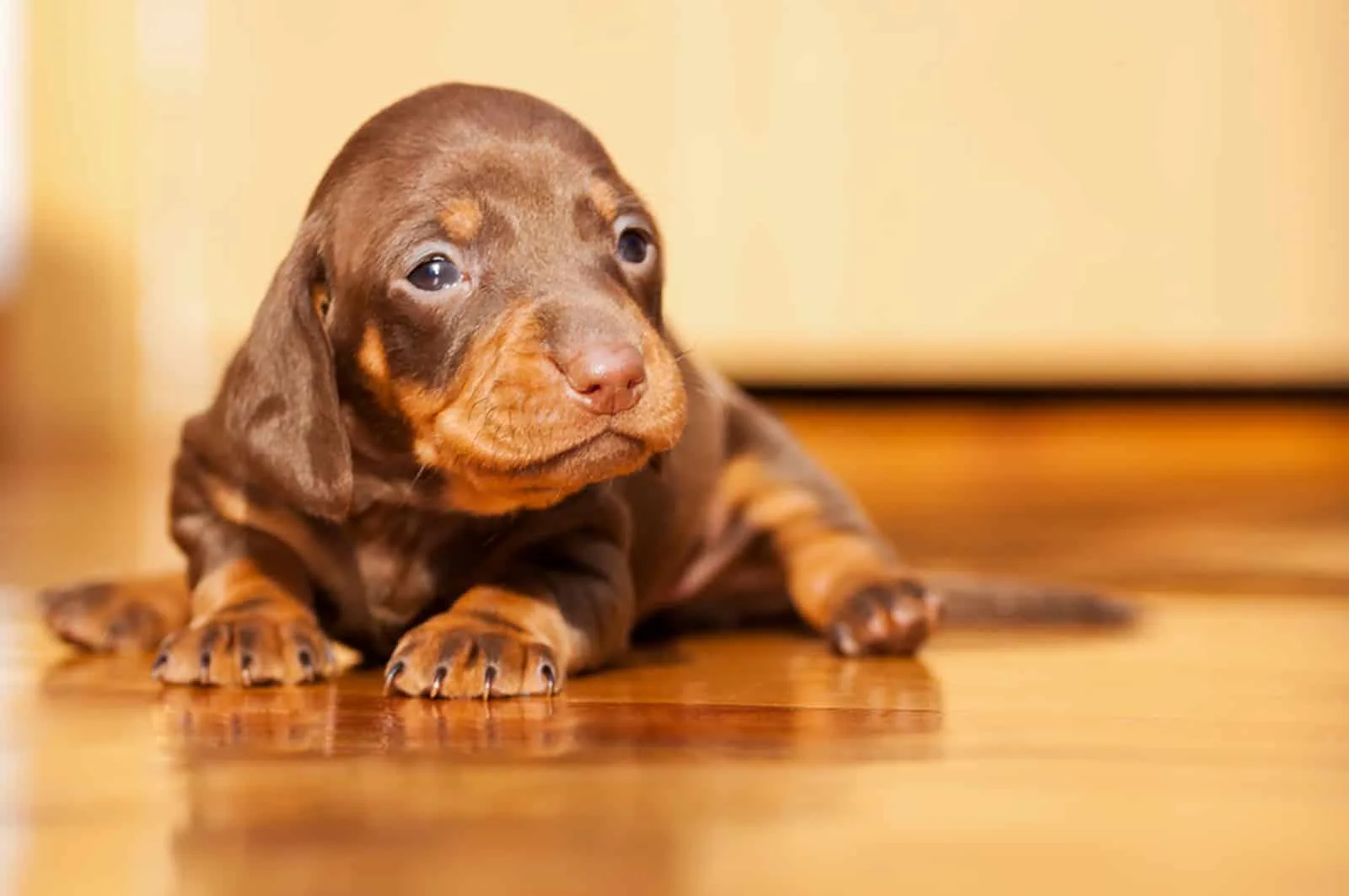 One of the most famous of all Dachshund breeders in Michigan is definitely Mare-Bella Dachshunds. This Doxie-lover crew has been around for a while, and they don't plan to go anywhere in the near future.
As far as Mare-Bella is concerned, they would love to spend an eternity breeding and raising loveable Dachshund puppies.
Mare-Bella Dachshunds are extremely proud of their long-haired English cream Dachshunds, as well as the standard, short-coated red or black and tan ones. English cream Doxies are bred according to UK breed standards to improve and maintain the breed.
What you won't find with this breeder are dapple Doxies, wire-haired pups bred into smooth or long hair, and chocolate and cream Dachshund mixes.
What you will find are 100% healthy dogs, free of some conditions like PRA, or brucellosis, for example. All Mare-Bella Dachshunds will be properly dewormed, vaccinated on time, examined by their vet, and pawfectly socialized.
The starting price for these puppies is $3,000. The price will go even higher, depending on the coat color and texture.
This breeder is against puppy shipping via airmail, so you better come in person and meet your puppy.
Breeder's details
Website: Mare-Bella Dachshunds
Location: Stanton Rd, Crystal
Phone: 989-506-4378
Email: [email protected]
3. Limberlost Exotics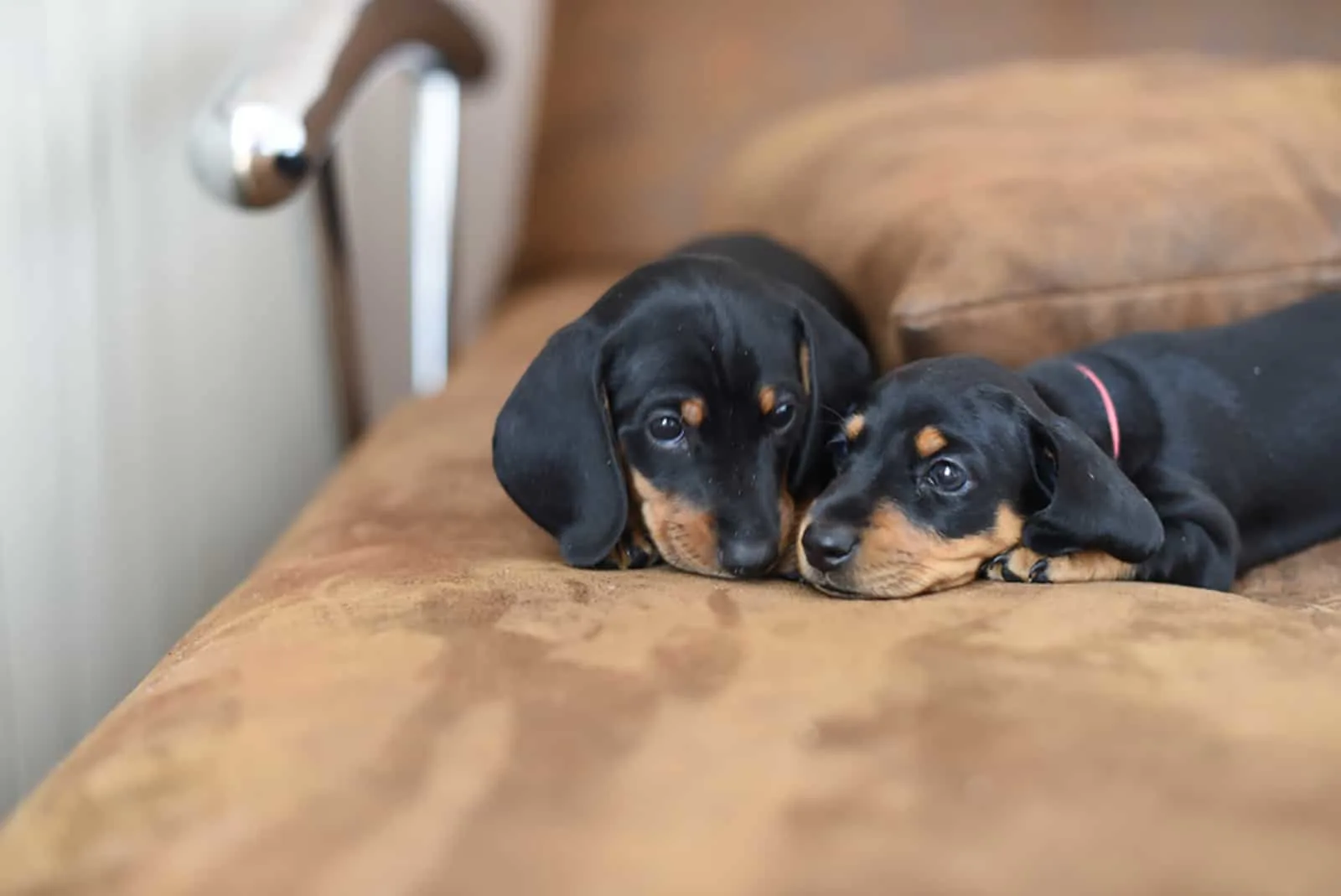 When I first heard about Limberlost Exotics, I thought it was a mistake. The first glance at their website reveals that they're handling exotic creatures such as tropical insects, silk moths, and rare chicken species.
But then, I saw they carry Dachshunds too, and my mind was simply blown.
Combining rare species and Doxies seems like an odd decision. But, then again, Dachshunds are truly one of the weird dog breeds, special in every way.
There are not many breeds like Doxies in terms of their visual appearance or their possessive, yet still friendly, behavior.
Limberlost Exotics recognized the X factor in Dachshunds and thus decided to breed them on their own. This breeder offers long-haired English cream Dachshunds.
Male Doxies of this kind will be priced at $2,000, while females are $500 more.
There's only a minimum difference when you compare male to female Doxies, but the price still varies from one breeder to another. Male Doxies are calmer than dominant females, which is quite unusual in the canine world.
The mentioned prices are for pet-quality dogs. If you want AKC breeding rights, you'll need to pay $3,000 and still be approved by the breeder.
Limberlost Dachshunds aren't as exotic as the other animals they offer, but they have an impeccable pedigree which sets them apart from other Doxies from the listed Dachshund breeders in Michigan.
Limberlost cares a lot about their English cream Dachshund lines and makes sure all their pups can be traced back to their UK origin.
Breeder's details
Website: Limberlost Exotics
Location: Lansing
Phone: 517-230-1827
Social media: Facebook
4. Jodachs Miniature Dachshunds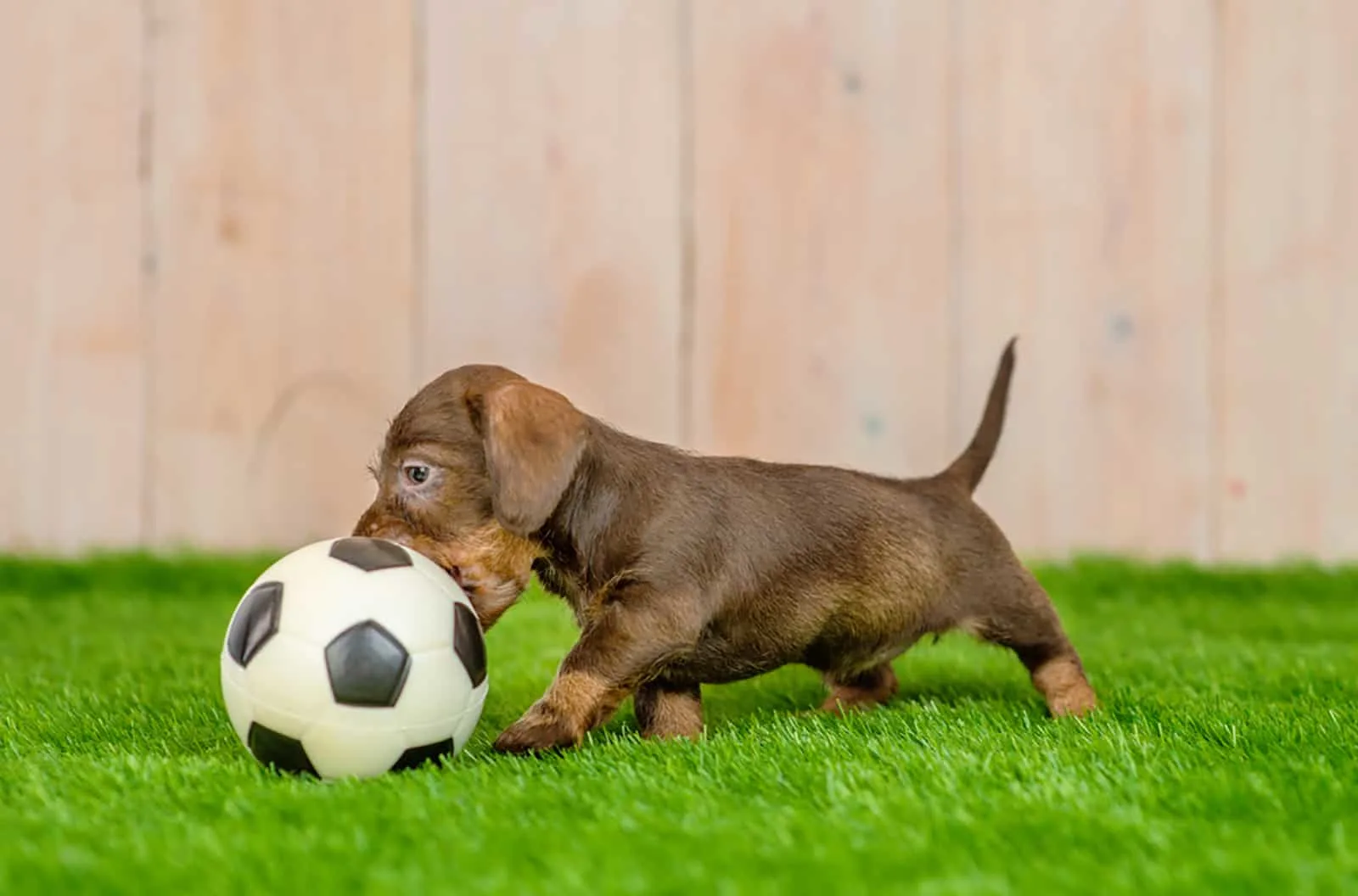 Jodachs Miniature Dachshunds have always been a synonym for great quality puppies. This is one of the first Dachshund breeders in Michigan you should check out.
The many years of breeding and improving the breed has put Jodachs Doxies on a whole new level.
These guys have worked really hard to bring smooth-haired cream and black and cream Doxies to our families. These dogs are rare, but they've been becoming more popular for the past several years.
Well, thanks to breeders like this one, rare Doxies will no longer be an elite, but a must in every wiener-dog home.
All Doxies occasionally shake like crazy, but Jodachs Doxies are more relaxed and easy going than others.
Jodachs Dachshunds also offers stud service for Dachshund females in their area, or if you don't mind the drive. Jodachs studs are sound dogs with great temperaments and overall friendliness to everyone, including strangers.
You can blame this on the loving approach to early socialization with every puppy.
Jodachs Doxies will come free from any diseases and regularly checked by their vet. Each puppy will be thoroughly evaluated, inspected, and then put up for adoption.
And, if you end up being interviewed and matched to the right pupster, even better! I love when the breeder shows that amount of dedication!
Want a dog with zero issues? Go with these lovely boys and girls!
Breeder's details
Website: Jodachs Miniature Dachshunds
Location: Grandville
Phone: 616-534-3337
Email: [email protected]
5. Hielscher Dachshunds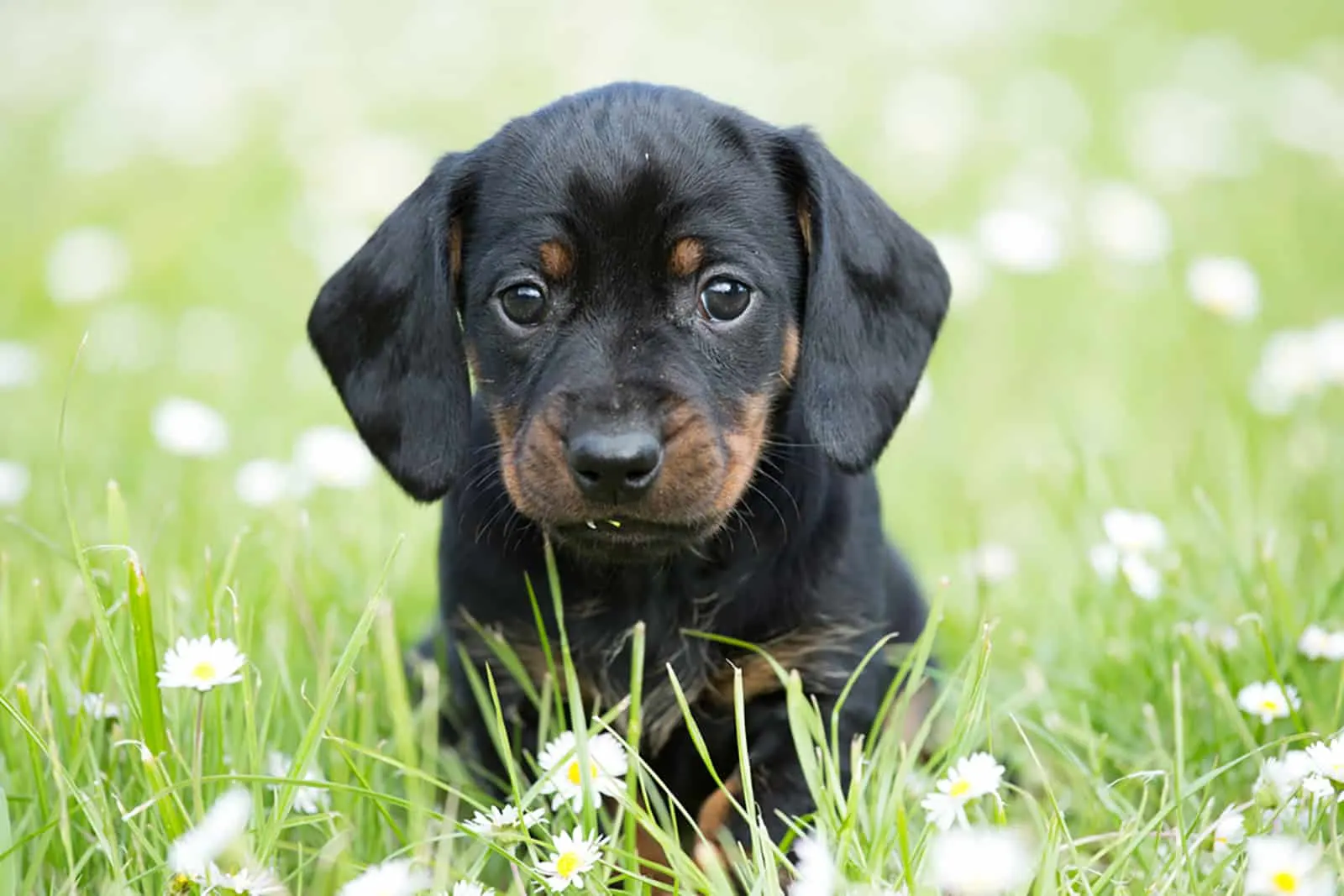 Gayle sure knows what she's doing because she's been breeding Dachshunds for more than 35 years. All I can say about that is: congratulations!
This woman is a true rockstar in the Dachshund breeding business, and her Doxies aren't too far behind either.
Gayle raises not only Doxie puppies, but family members. All her dogs are treated with the same amount of love and care.
They're free from diseases, regularly cleaned, groomed, and treated for parasites.
We all know that Doxies are terrible shedders, especially long-haired ones. But, Gayle's Doxies don't look scruffy or like they're shedding all the time. These dogs are fully groomed and ready to sweep you off your feet with their charming looks.
The reason why I chose Hielscher Dachshunds as one of the featured Dachshund breeders in Michigan today is not only their devotion to the breeding program.
I highly admire Gayle because she offers lifetime support and guarantee that her pups will stay clear of any congenital problems.
Name a breeder who does that!
Also, she's got a pretty cool boarding program so you can always contact her to doggysit your dogs if you're on a vacation or simply out of town.
Gayle is definitely a breeder worth visiting, and her puppies are more than just dogs that bring profit. They bring joy you've never experienced before.
Breeder's details
Website: Hielscher Dachshunds
Location: Macomb
Phone: 586-615-9717
Email: [email protected]
Social media: Facebook
6. Hidden Haven Dachsies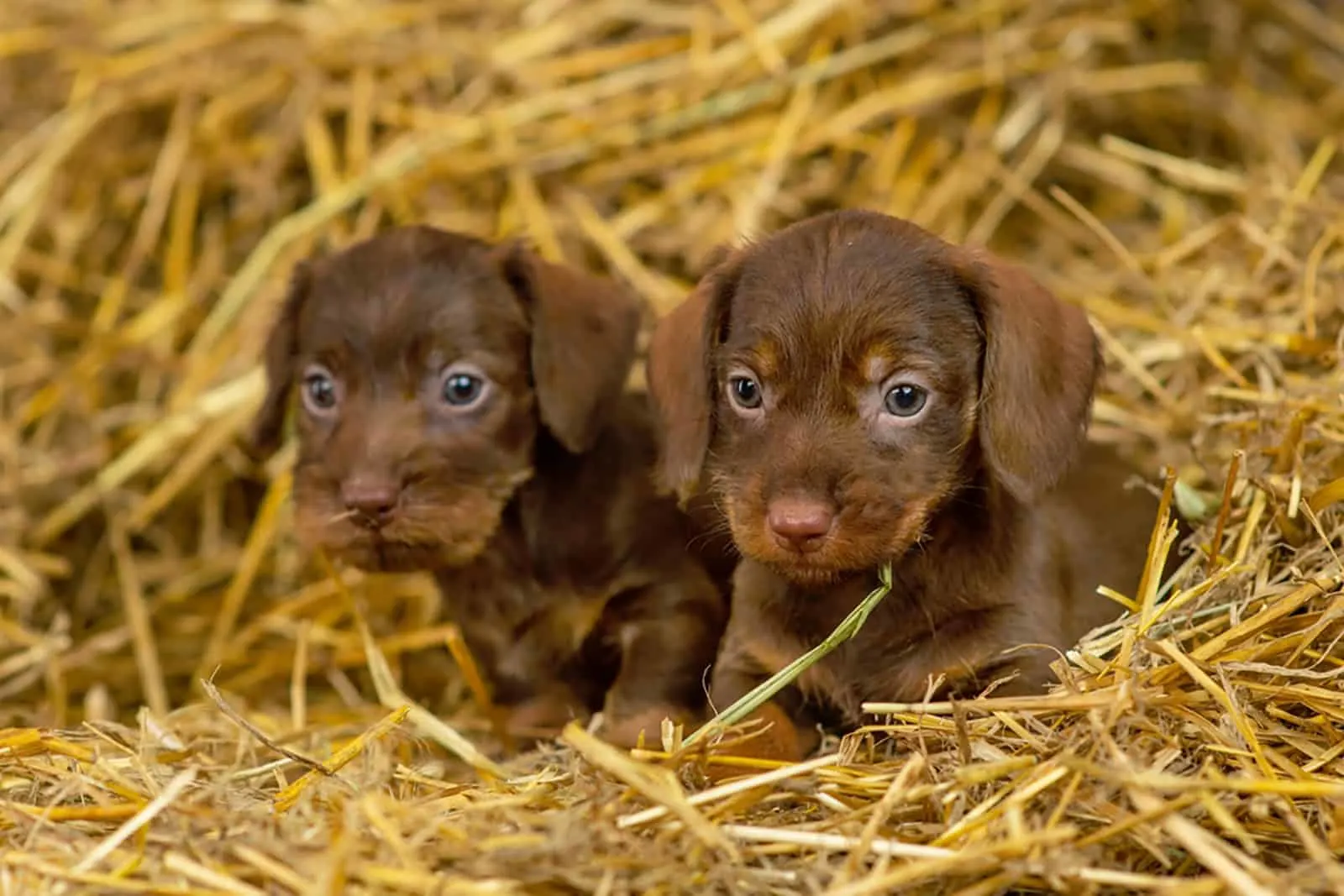 Miniature Dachshund puppies may be one of the smallest dog breeds, but they sure have temperaments and egos that go way past their capabilities. Hidden Haven Dachsies are also small pups with big minds and big hearts.
As a specialized miniature Dachshund breeder, Hidden Haven is the right place to contact if you want a Dachshund from a trusted source.
This place is the real haven for Dachshund dogs and Dachshund lovers for more than 25 years.
Everytime a breeder's been in the business for so long, I immediately put a green flag on them, marking them as one of the best in the field. I mean, devoting a quarter of a century to dogs means a lot, don't you agree?
Hidden Haven Dachsies are usually long-haired pooches, but they also have brothers and sisters in smooth coats. Every Dachsie from this breeder will be sold on a spay/neuter contract.
The prices aren't sky high as with some breeders, mostly because Hidden Haven dogs are pets, not show dogs.
For a Doxie from this breeder you'll need to have a budget from $1,800 to $2,000. That's quite reasonable given the fact their temperaments, social skills, and health status is without any flaws.
Breeder's details
Website: Hidden Haven Dachsies
Location: Rock
Phone: 906-356-6441
Email: [email protected]
Social media: Facebook
7. Sweetdachs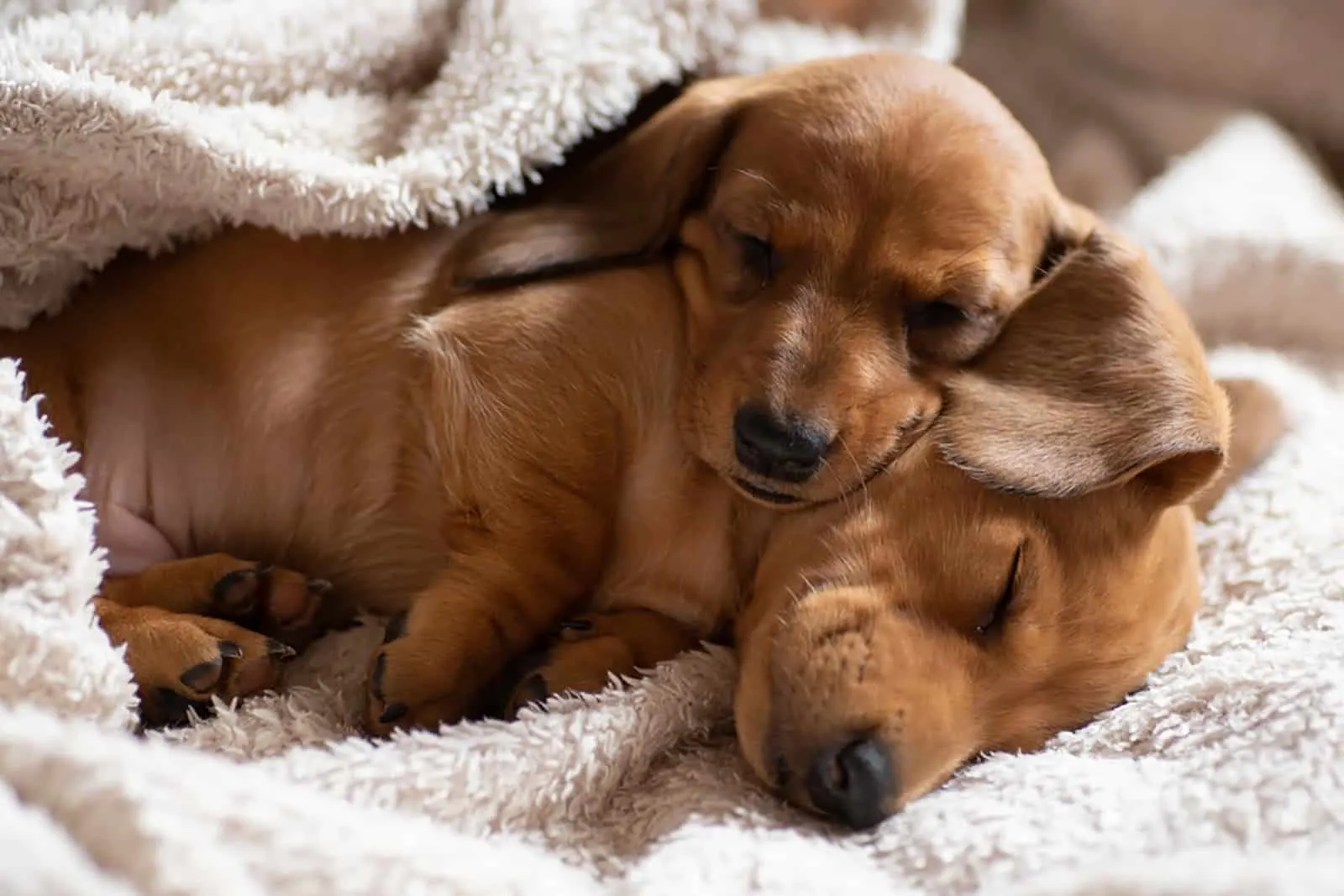 Let's meet a small family-run business run by a mother and daughter. These gals adore their Doxies so much, they decided to share their love with others by breeding pawdorable Doxie puppies.
Years of experience have helped these girls to reach the stars and become one of the finest Dachshund breeders in Michigan.
Sweetdachs Miniature Dachshunds are the sweetest ever! These pups are home born and raised because the breeder doesn't believe in any kennels or putting the dogs outside.
No! Sweetdachs are spoiled pups that stay inside and only go out to play.
Each litter of puppies gets extra special care so they can grow up to be extraordinary Doxies. Being extraordinary isn't so hard because most of the breeding stock are champion-quality dogs with great pedigrees.
As far as the numbers are concerned, you will need to put down a non-refundable $200 deposit to save you a spot in the list for one of the litter. But, the purchase price will be discussed with the breeder.
Don't be afraid to reach out and contact this Doxie-loving duo. The girls will do everything in their power to have you leave with a Doxie puppy perfect for your lifestyle! Pay the pup back in taking good care of it so your Doxie has a long lifespan full of joy.
Breeder's details
Website: Sweetdachs
Location: Whitehall
Phone: 231-246-5380
Email: [email protected]
8. Puppy Luv Kennel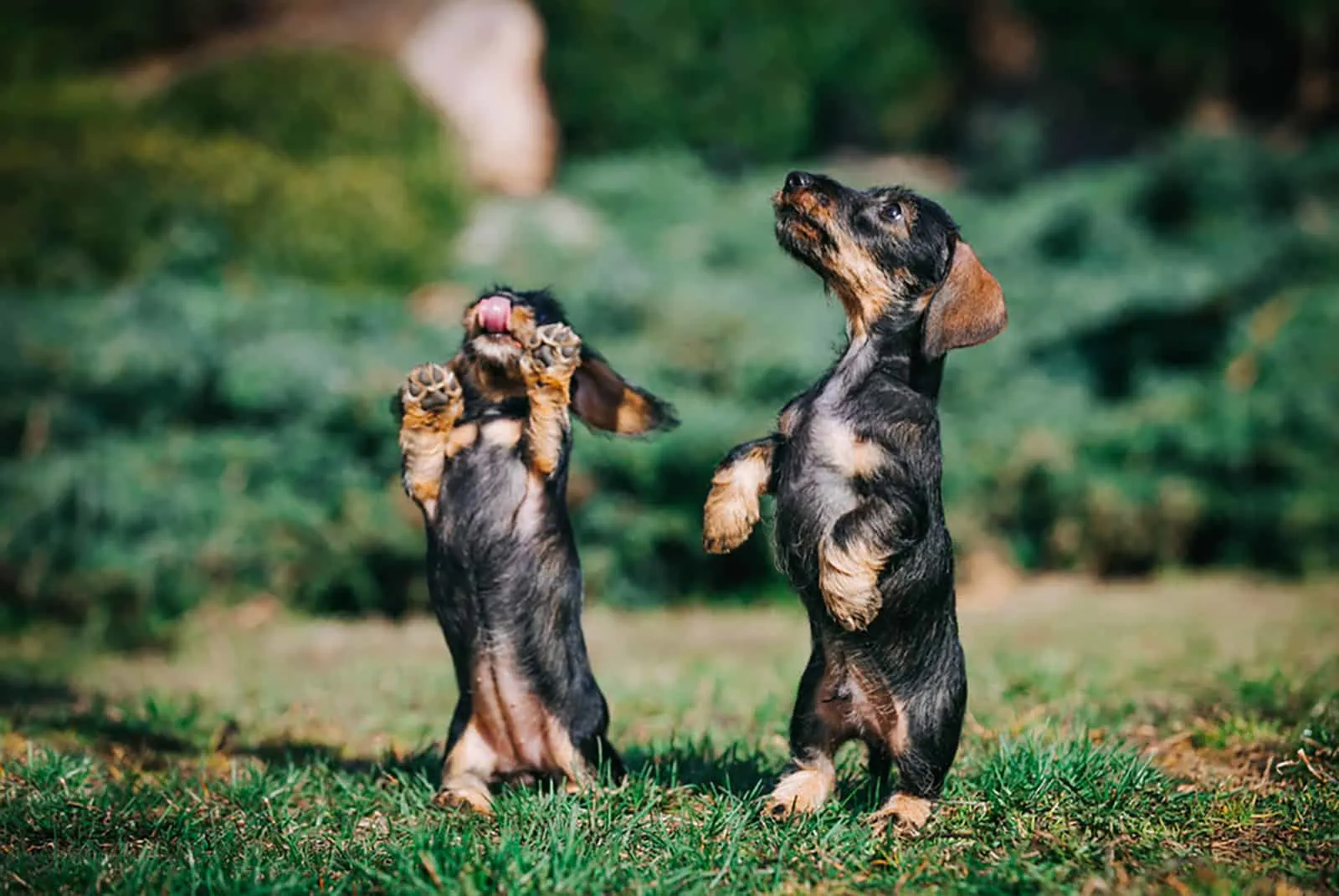 Once you get a Dachshund puppy, you'll be hooked for life. That's the deal with these dogs; they're simply addictive.
When Deb from Puppy Luv brought home her first Doxie pup a while ago, she immediately fell in love with sausage dogs. The rest of the family followed her steps shortly after.
Before they even realized it, the whole family was madly in love with Dachshunds.
When I say Deb and her family love Dachshunds, I mean every Dachshund. No matter which Doxie color they're featuring or coat type, she's got them all.
Being so crazy about Dachshunds has made this breeder a part of the creme de la creme of Dachshund breeders in Michigan… and even wider!
What amazed me with this breeder is the fact they don't really update their official website as much as they update their Facebook page.
They're modern, always learning, and always in touch with their fans. And, trust me, these Doxies sure have lots of fans.
I encourage you to contact Deb. If she doesn't have puppies available for you at the moment, just wait. She breeds frequently, with utmost care, and a highly professional approach.
Most importantly, Deb is not a scammer and she'll be happy to point out which breeders in the area or the States are scammers, so look out for her updates.
Breeder's details
Website: Puppy Luv Kennel
Location: Alma
Phone: 989-463-2008
Email: [email protected]
Social media: Facebook
9. Stone River Dachshunds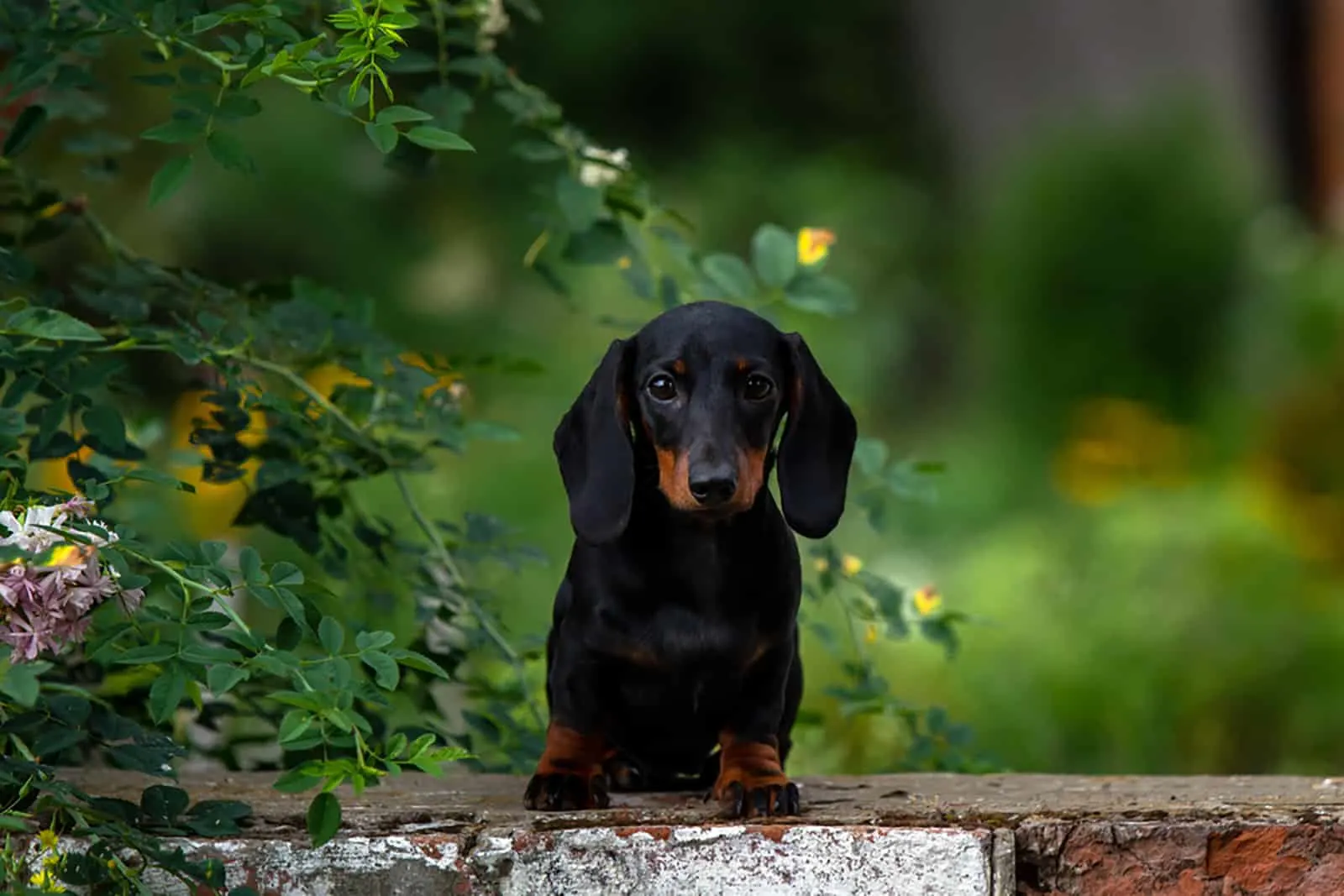 Ever since 1999, Stone River Dachshunds have been on top, producing one fine Doxie litter after another. The numerous championship titles and exceptional puppies have proved their worth.
Even today, Stone River Dachshunds are considered one of the few good Dachshund breeders in Michigan.
As you can see, there's less than a dozen good ones in this State. All the others are mostly scammers or beginners with untrusted breeding programs.
Stone River Dachshunds is the place where Doxies are not only being raised – they're having so much fun here too! With three special doggy yards comprising pools and toys, Doxies sure live a life out there.
They can run freely, swim, go down the slides, play with toys, and enjoy being puppies even after they're not puppies anymore.
Surrounded with love from the entire family, Strone River Doxies are fully socialized and kind to everyone, including little children.
We all know how Doxies can show aggression, especially if they encounter someone new. But, that's not the case with Stone River Dachshunds.
All their dogs are either champions or champions in training.
I must tell you something truly incredible about this breeder.
Don't tell anyone, but these guys offer a 5-year health warranty on all their puppies, claiming they're free from all the terrible genetic conditions that can strike the Dachshund breed!
Breeder's details
Website: Stone River Dachshunds
Phone: 231-652-9727
Email: [email protected]
10. Noodle Miniature Dachshunds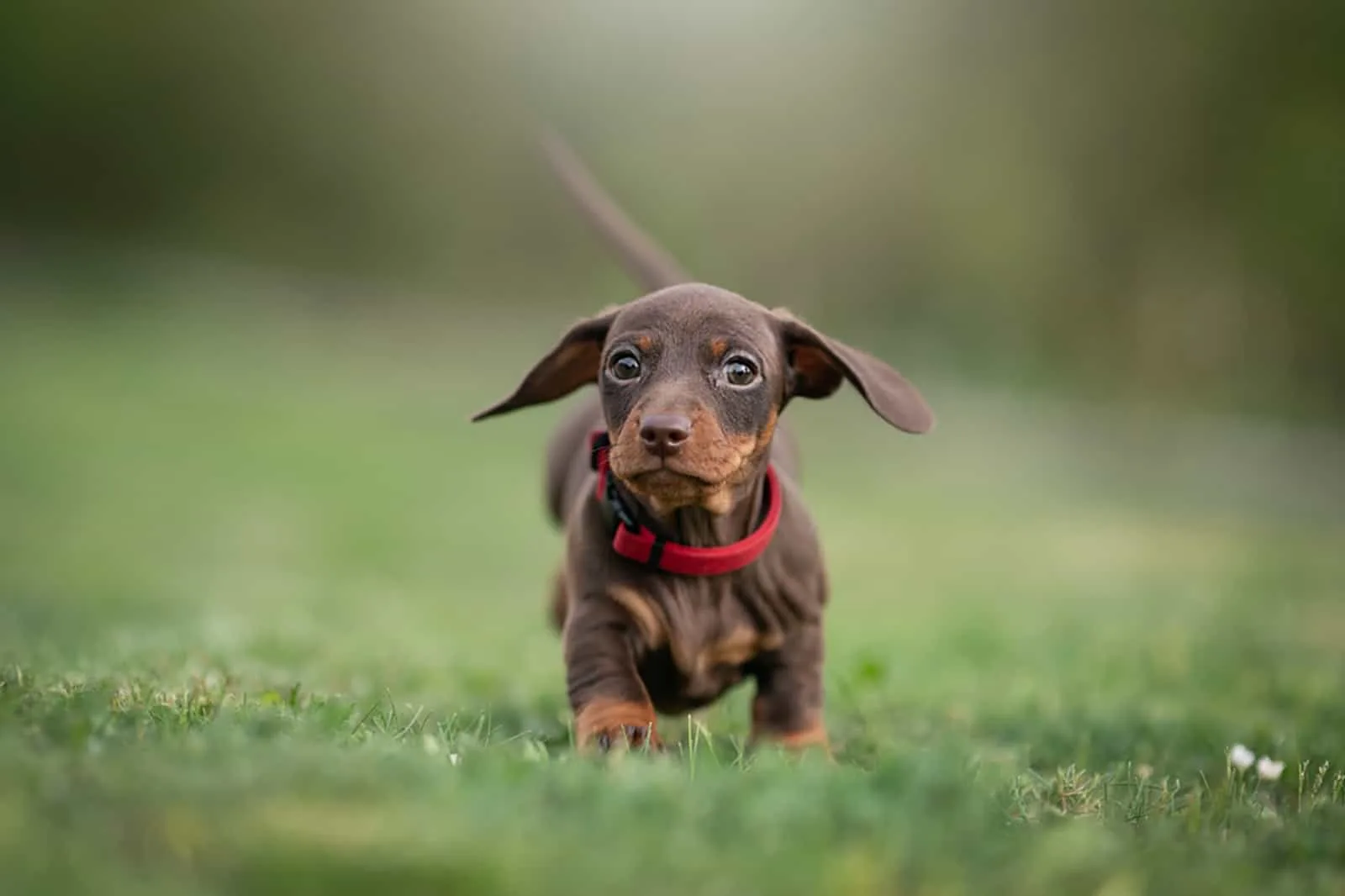 Doxies are usually so needy. They're considered velcro dogs, and if you're their "person" you won't have a moment of your own.
Consider this a blessing, not a curse, because being adored by Dachshunds is truly something else. Well, at least it is when you're adored by Noodle Dachshunds.
A home to Doxies of rare and unique colors, Noodle Dachshunds is the place you go first if you want a show-stopping dog by your side. Dachshunds usually come in black and tan or red shades, but Noodle Doxies are absolute beauties.
This breeder carries the famous Isabella Doxies, cream, black and tan, chocolate, blue, as well as patterns like sable, brindle, piebald, and silver dapple.
Also, dapple Doxies are possible, but a double dapple Doxie is never an option with this breeder!
Noodle Dachshunds aren't only special for their outer appearance. These dogs are also special because they're good friends with other dogs, cats, horses, and birds on the farm where they live.
They're fully in touch with nature and such a program has proved to be incredibly beneficial for growing puppies.
Noodle Dachshunds come with limited registration. However, the breeder is willing to adjust the price and offer you full American Kennel Club breeding rights if they believe you're a good, trusted new breeder of Doxies.
Breeder's details
Website: Noodle Miniature Dachshunds
Phone: 877-655-2008
Email: [email protected]
11. Piglet Mom's Pups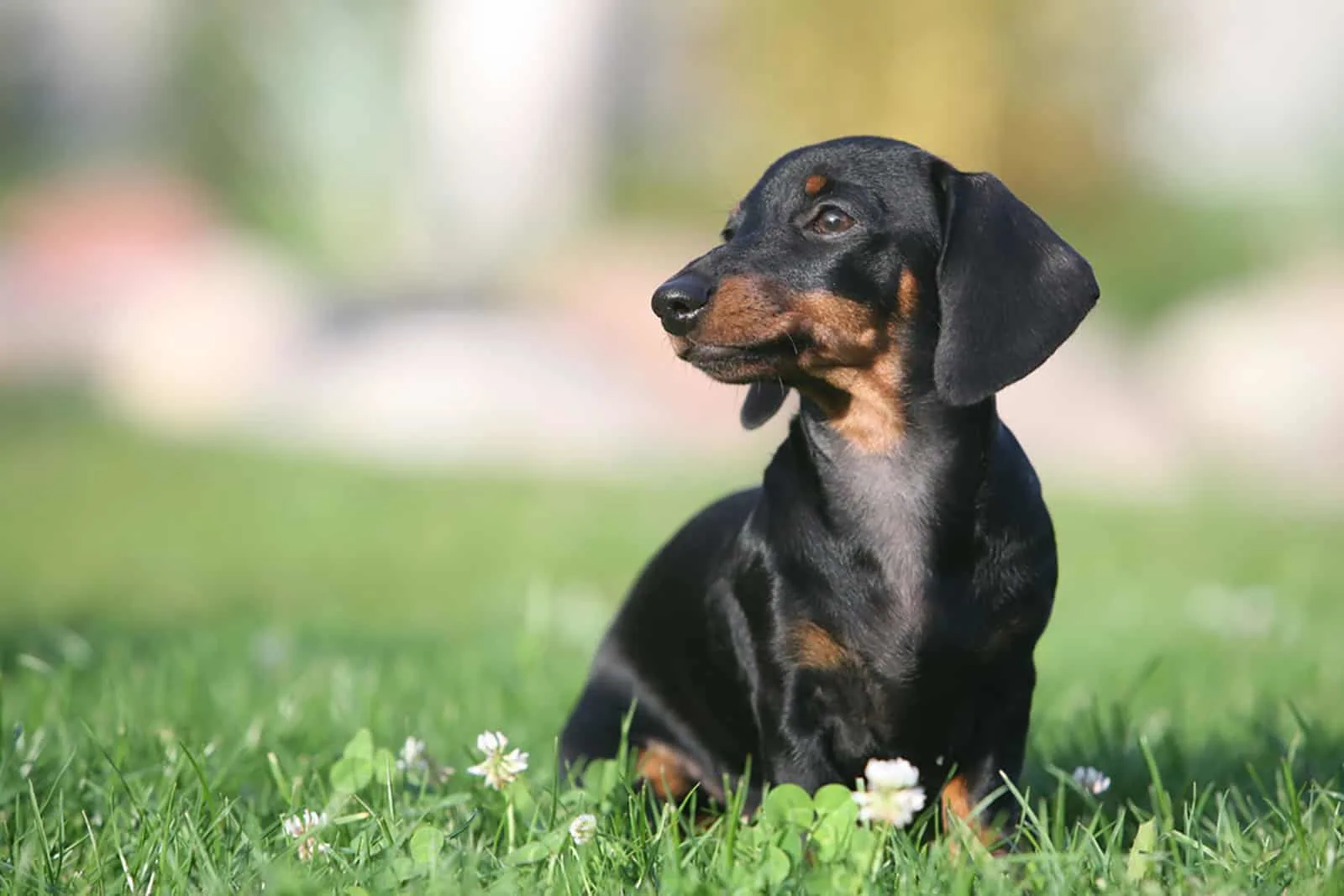 Is the AKC certification really important to you? Yes? Oh, well, you better contact Piglet Mom's Dachshunds because these Doxie boys and girls are all approved by the official kennel club in America.
But, that's not really the reason why you should want a Dachshund puppy, especially one from Piglet Mom's.
Ever since 1993, when her first litter was brought into the world, Lynne from Piglet Mom's has been making sure she's got top-quality Doxie puppies for all dog lovers. They're sound, friendly, and sweet – exactly why you should adopt them!
Lynne focuses on breeding mini Dachshunds. I feel like there's a market for mini Doxies here in Michigan because standard Dachshund breeders aren't that usual. People here just love the sausage-shaped body in an even smaller size!
I guess that's why Piglet Mom's Dachshund puppies get sold even before they're born. Seriously, she's got the litter spoken for months before they get to see daylight. You must be fast and reserve a spot in a litter if you want a Doxie puppy from Lynne.
What sets her apart from other breeders is the fact she breeds pet Doxies with AKC quality, and sells them for an affordable price. Lynne doesn't care about the profit.
She breeds Doxies because she wants to make other people happy and show them a dog can make such a difference in one's life.
Breeder's details
Website: Piglet Mom's Pups
Location: Freeland
Phone: 989-573-0707
To Sum Up…
As you can see, we only have the top 11 Dachshund breeders in Michigan. There aren't other trusted or valuable breeders in this State you should check out. However, I do hope there will be more of them in the future.
The State of Michigan is a bit crazy about Miniature Dachshunds. Dog lovers here enjoy the extra tiny size of these pups.
Honest breeders have recognized the immense love and decided to help out with finding your ideal Doxie puppy.
The reason I chose the above-mentioned guys is because they're all reputable Dachshund breeders in my book.
All of the mentioned breeders are treating dogs like their family members. They're not puppy mills or pet stores. They're all family businesses.
Sure, some are more professional than others, but that doesn't change their approach to raising perfectly sound puppies.
Each breeder takes good care of their dogs' health, takes them for a deworming treatment, makes sure they have all their vaccines, and does their best to put them into loving homes.
That's exactly what a good breeder does!
You do the rest after the adoption, from potty training to obedience lessons, and showering them with incredible amounts of love.