People all throughout the world adore the quirky and fluffy hybrid dogs known as Cockapoos. Developed by crossing a purebred Poodle and a purebred Cocker Spaniel, the Cockapoo puppy is easily one of the favorite mixed dog breeds.
There are many places where you can find a Cockapoo puppy, but one of the most reliable locations to find these puppies is at the Cockapoo breeders in Minnesota.
Since you are here, I guess that you are a Cockapoo lover who is located in or around Minnesota. To your convenience, we're here to introduce you to some of the top Cockapoo breeders in Minnesota.
It could be challenging for you to settle on just one ethical Cockapoo breeder given everything that the North Star State has to offer. So, make sure to read thoroughly and choose your favorite Cockapoo breeder in Minnesota!
Cockapoo Puppies For Sale In Minnesota
Did you know that your search for a Cockapoo puppy should start by searching for the best Cockapoo breeders? Well, if you want to get a high quality puppy with a great genetic background, then you should search for reputable breeders. Additionally, by buying Cockapoo and any other Doodle puppies from reputable breeders, you are helping put the stop to awful puppy mills.
So, while the majority of ethical Cockapoo breeders in Minnesota give their all to develop healthy puppies, we must warn you about irresponsible breeders.
Minnesota is not as huge as other states like Texas, Montana, and California, but it has a big amount of dog breeders. Just like in any state, there are unreputable and reputable breeders who produce Cockapoo puppies.
Spotting a bad Cockapoo breeder might be easy, but it may also be quite difficult because a lot of them hide behind fake marketing and large online dog markets.
5 Best Cockapoo Breeders In Minnesota
Because both Poodles and Cocker Spaniel dogs fall into the smartest dog breeds category, it is no wonder that the Cockapoo hybrid dog is highly sought after.
Not only are Cockapoos extremely intelligent, but they are also very affectionate which makes them lovely family members. Many first time dog owners often choose these hybrid dogs as first pets. Besides Cockapoos, some of the most famous hybrid dogs are Goldendoodle and Cavapoo puppies
Lucky for you, these breeders on our list have a lot of Doodle dog breeds to offer!
Here are the most responsible and reputable Cockapoo breeders in Minnesota who deliver only the best quality puppies.
1. Country Cockapoos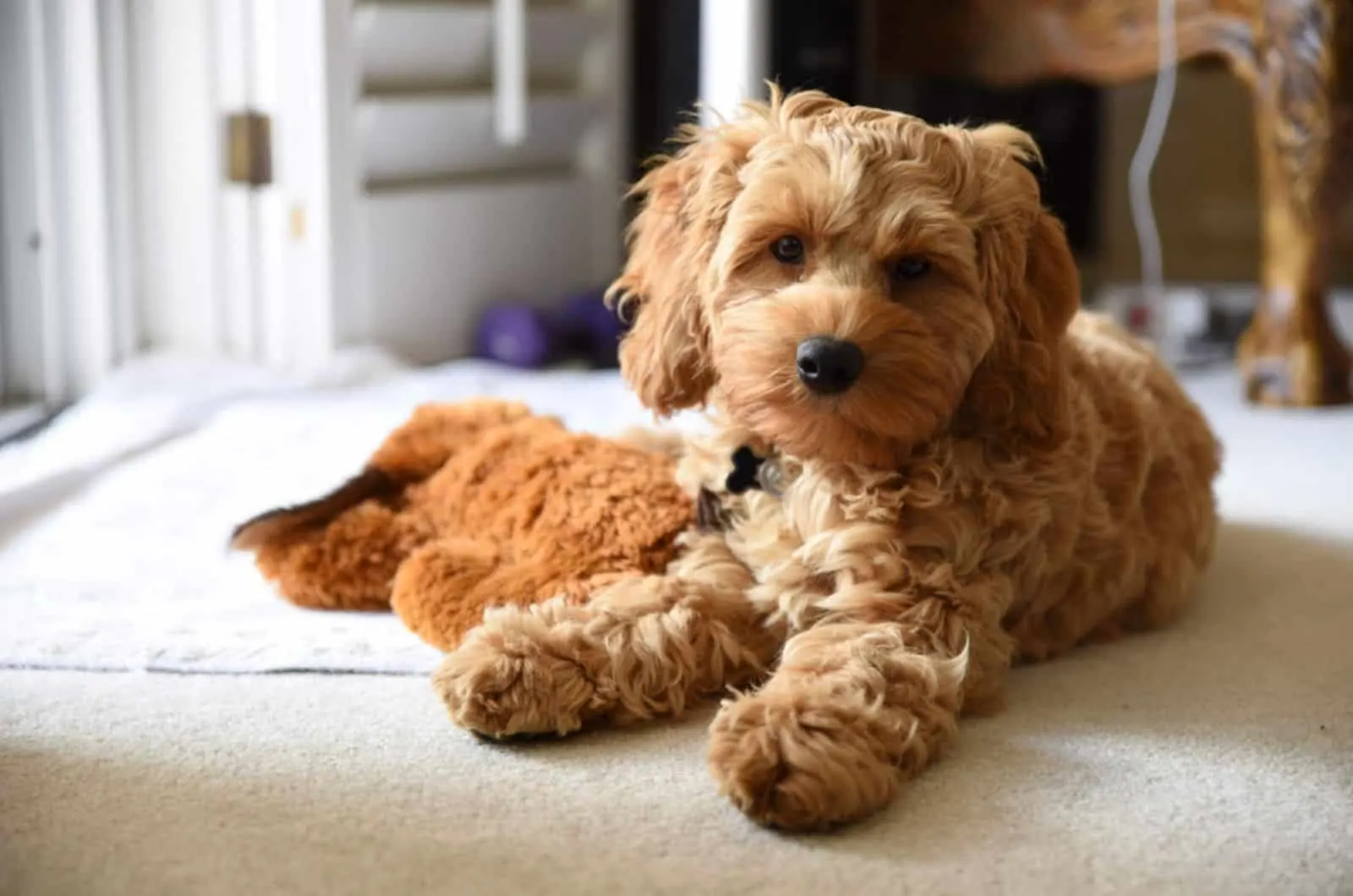 I want you to meet one of Minnesota's most reputable Cockapoo breeders! The breeding program at Country Cockapoo is unique compared to others, so prepare to be impressed!
Who They Are
A modest dog breeder named Steffanie Janssen is aware of how sensitive and intelligent Cockapoo babies are. She is therefore fully equipped with the knowledge required to home-raise healthy puppies that are loving, affectionate, and most importantly, healthy.
PupVine is proud to present Country Cockapoos special breeding program.
Breeding Program
What makes Steffanie's Cockapoo breeding program so special is the fact that she develops and raises these puppies at home. Therefore, each Country Cockapoo puppy is born in the comfort of their own home. They truly get the best start in life!
Additionally, each adult dog from Steffanie's breeding program is subjected to recommended health examinations before mating. Most Cockapoo parents are F1, F2B or F2 Cockapoo dogs with amazing features.
What They Offer
As a reputable family-owned Cockapoo breeding business, Country Cockapoos have a lot to offer. All of their beautiful Cockapoo puppies are dewormed, vaccinated, and health examined by a professional veterinarian. Each Cockapoo dog parent has a one year written health guarantee and all additional details are described in the adoption contract.
Since all Country Cockapoos are hand-raised and socialized, they are used to meeting new people and other animals. A big plus is that this Cockapoo breeder introduces each of her puppies to early potty training!
Country Cockapoos details
Website: Country Cockapoos
Email: [email protected]
Phone: (320) 905-8071
Location: Maynard, MN 56260
Facebook: Country Cockapoos
Instagram: @countrycockapoos
2. Puppies Up North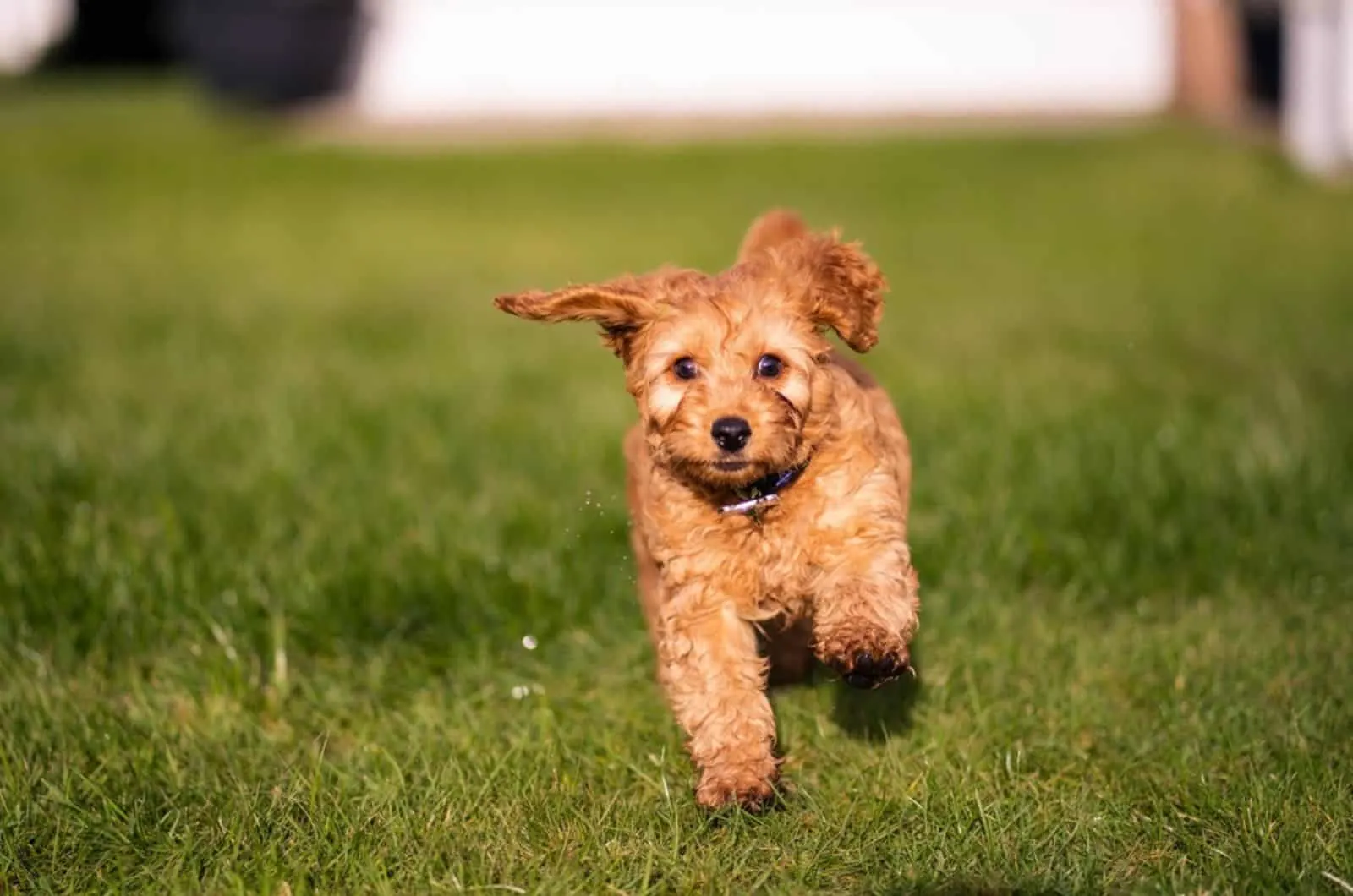 The breeder of Cockapoos that will blow your mind with their superb breeding program is Puppies Up North.
Check out Puppies Up North if you want a Cockapoo dog that is as fluffy as a little teddy bear!
Who They Are
Meet Pamela and Mike Withage, reputable Doodle breeders who live on a family farm of 100 acres!
As reputable breeders, the Puppies Up North team wants to ensure that these puppies are adopted into new homes where they will receive lots of love and care. Puppies Up North puts a lot of work into breeding and raising high-quality Cockapoo puppies.
The Puppies Up North team concentrates on matching their Cockapoo puppies with loving humans whose energies match perfectly!
Breeding Program
When it comes to health testing the foundation stock of all of their Doodle breeds, the Puppies Up North team is meticulous and in-depth.
Each Cockapoo dog from Puppies Up North undergoes a series of health examinations before it gets adopted into a new home.
What They Offer
New Cockapoo owners will receive all required paperwork and a puppy package that is full of yummy goodies and a scented blanket.
Most importantly, Puppies Up North offers healthy puppies that received all age-appropriate vaccinations and deworming treatments, as well as the removal of dew claws. Additionally, all of their Cockapoo puppies are well-socialized and potty trained!
Make sure to get in touch with Puppies Up North if you want additional details!
Puppies Up North details
Website: Puppies Up North
Email: [email protected]
Phone: 320-250-2464
Location: Staples, MN 56479, United States
Facebook: Puppies Up North
Instagram: @puppiesupnorthmn
3. Puppies By Possehl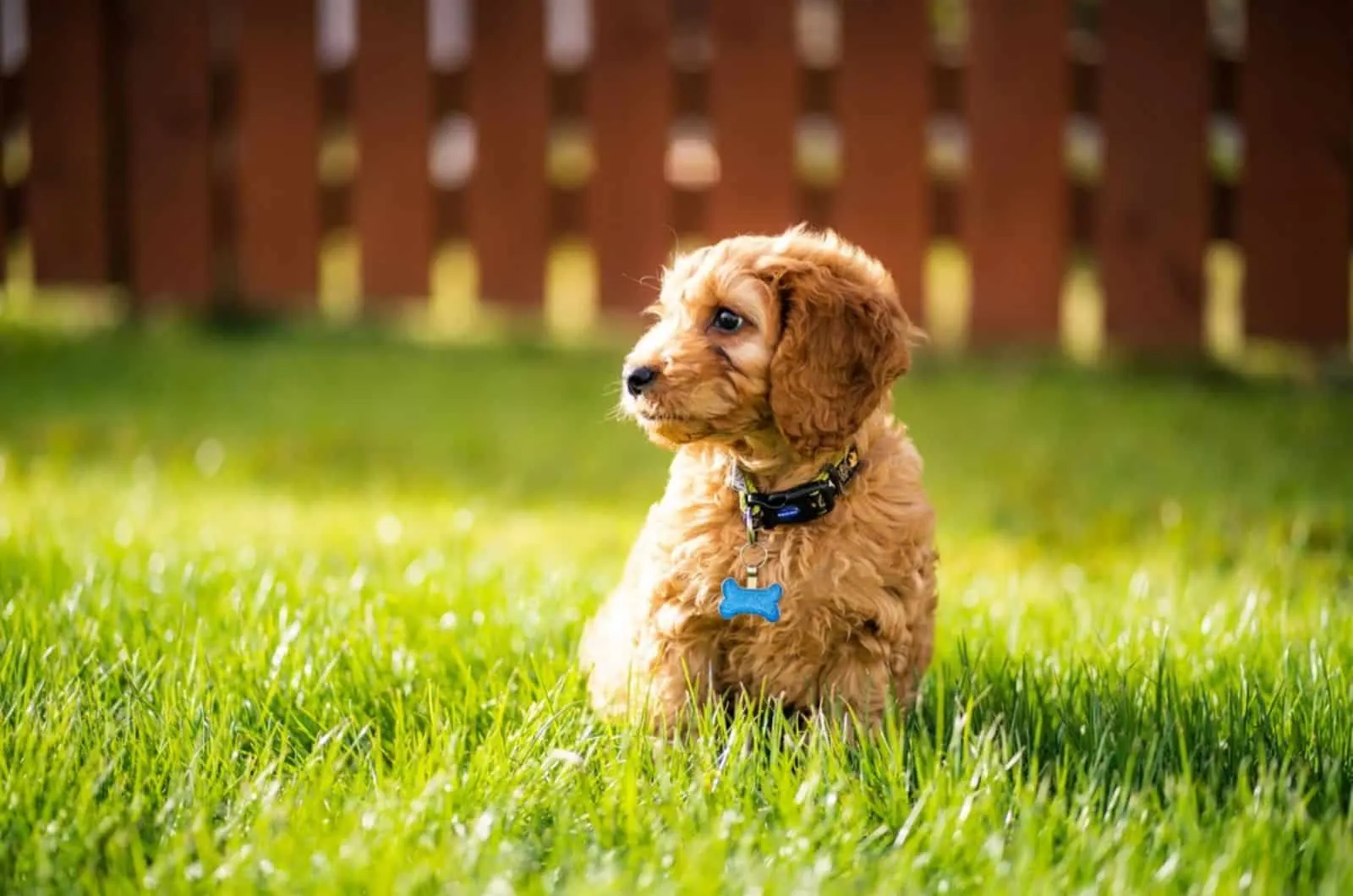 The breeders and caretakers at Puppies By Possehl focus especially on matching each puppy with the ideal new family.
Keep reading to learn more about what makes Puppies By Possehl so special!
Who They Are
It is safe to say that Puppies By Possehl are among the most reputable breeders of Cockapoos in the Midwest area.
Puppies by Possehl is a reputable breeder of not only Cockapoo puppies, but also Yorkiepoos, Schnoodles, and Cockaliers! They have been into the dog breeding business since 1993.
With so much experience, Puppies by Possehl delivers the best Cockapoo puppies in Minnesota!
Breeding Program
In addition to providing healthy and well-behaved Cockapoo puppies by carefully breeding the parent dogs, Puppies by Possehl breeders make sure that each puppy is socialized and happy.
The secret behind their excellent breeding program is that each Cockapoo puppy from the litter receives lots of love and attention.
You can find many Doodle breeds and purebred dogs like Poodles and Yorkies at Puppies by Possehl, all of which are in excellent health and have been socialized to make wonderful canine companions.
What They Offer
If you decide to adopt a pet Cockapoo from Puppies by Possehl, you will receive the healthiest and happiest pup.
Before leaving for their new homes, Puppies by Possehl makes sure that each puppy has received age-appropriate immunization and required deworming treatment. But, that's not all because Puppies by Possehl offers a one year written health guarantee against congenital health problems, as well as a puppy wellness check.
Additionally The Minnesota Puppy Law applies to each and every puppy purchased from the Puppies by Possehl.
Puppies by Possehl details
Website: Puppies by Possehl
Email: [email protected]
Phone: 507-461-3327
Location: Albert Lea, Minnesota, United States
4. Over The Hill Kennels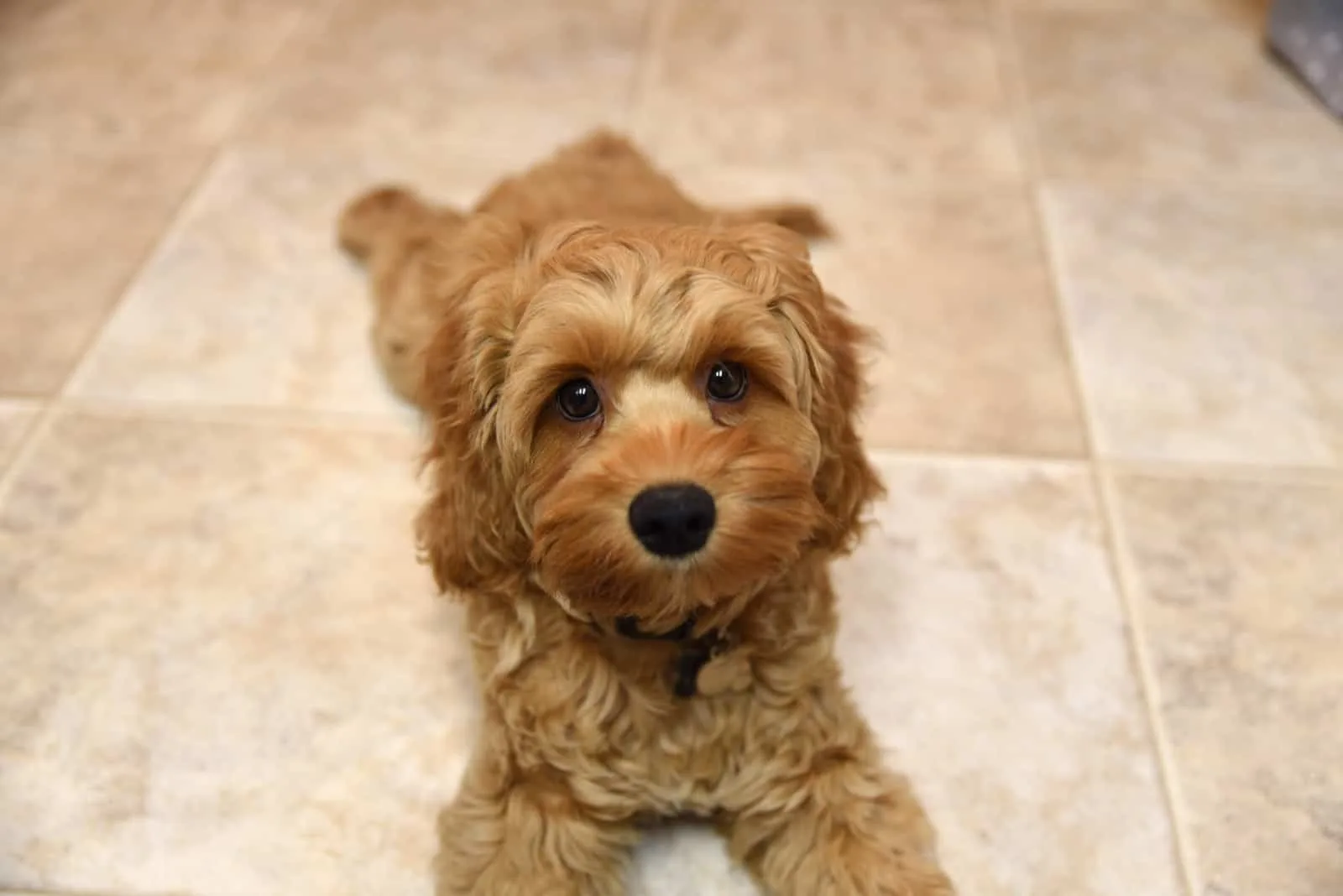 Over The Hill Kennels promise a devoted and healthy Cockapoo family member that will make everyone smile! Meet some of Minnesota's prettiest Cockapoos can be found here!
Who They Are
Over The Hill breeders have benefited from their years of experience in breeding high-quality Cockapoo dogs.
The primary goal of the skilled dog breeders at Over The Hill Kennels is to grow healthy puppies that will be adopted into loving new homes.
Despite being a kennel breeding program, Over The Hill is exceptionally loving and attentive to each Cockapoo puppy and parent dog.
Breeding Program
Cockapoo puppies from Over The Hill Kennels grow up in sizable floor-heated kennels that are equipped with everything this little puppy needs. When weather conditions allow it, each Cockapoo puppy goes outside to play and run!
In order to provide new owners with the healthiest Cockapoo puppies, Over The Hill team introduces an excellent breeding program in which only purebred dogs from excellent bloodlines are carefully selected.
Over The Hill Kennels focuses on developing high-quality F1 Cockapoo puppies that derive from quality purebred Poodle and Cocker Spaniel parents.
What They Offer
Before leaving to its new home, each Over The Hill Cockapoo puppy has its tail docked and dew claws removed. New Cockapoo owners receive all medical records that include information on deworming and vaccinations.
Over The Hill Kennels also offers a six-month written health guarantee against congenital health issues.
Because Cockapoo puppies from Over The Hill Kennels are bred and raised to be both indoor pets and outdoor adventure buddies, they will make amazing canine companions.
Over The Hill Kennels details
Website: Over the Hill Cockapoo Kennels
Email: [email protected]
Phone: 507 450 0945
Location: Caledonia, MN 55921, United States
5. Livingstone Kennels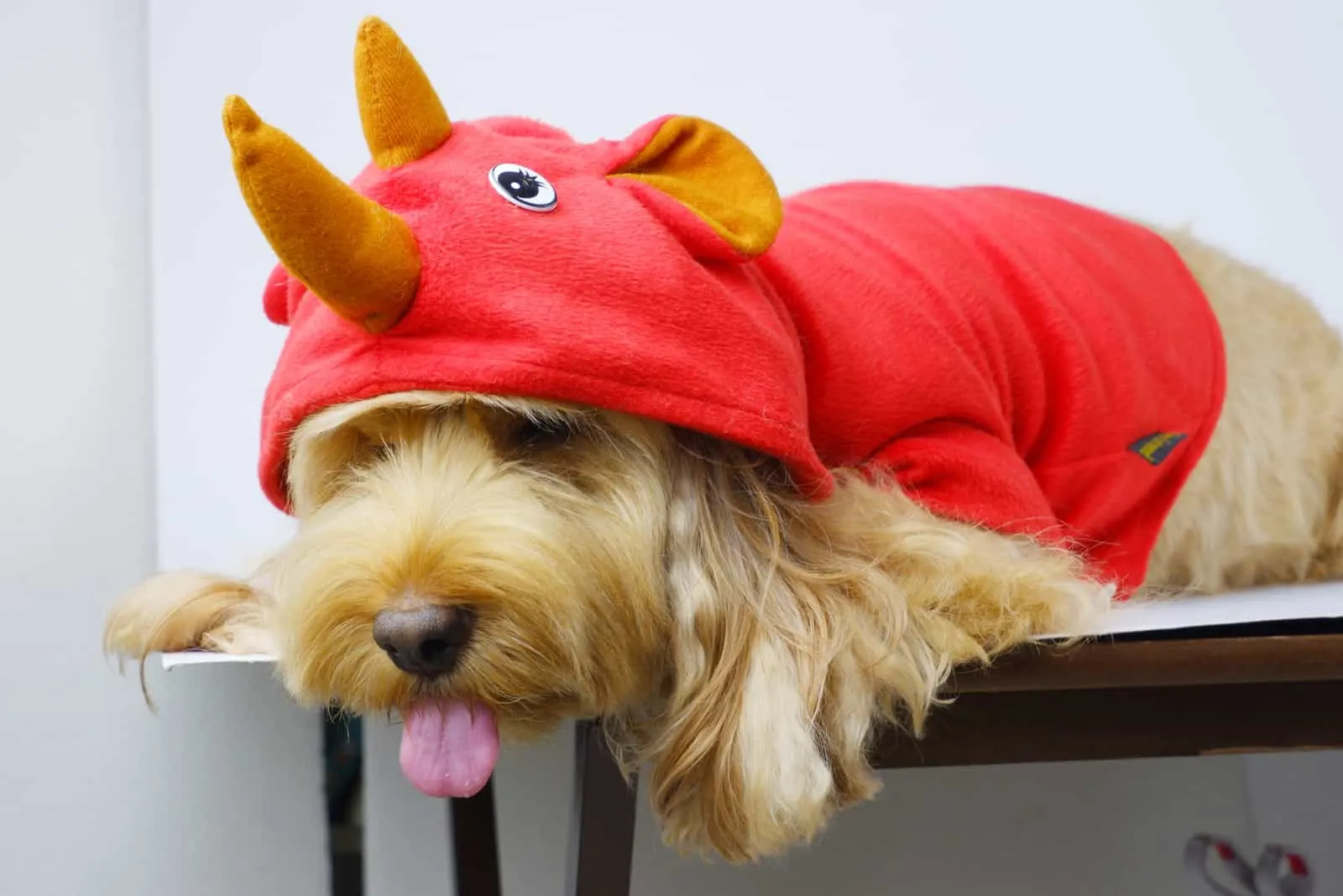 Anyone interested in owning the cutest and healthiest puppy is welcome to knock on the doors of the Livingstone Kennels who have been around since 1998!
Who They Are
Livingstone Kennels focuses on producing purebred Poodle and Cocker Spaniel puppies — the perfect combination for the perfect Cockapoo puppy.
Although we are not sure if they produce Cockapoo puppies, aspiring owners can reach out to Livingstone Kennels and ask for more details. But, when it comes to developing, raising, and socializing purebred American Cocker Spaniels and Poodles, Livingstone Kennels do the best job.
Breeding Program
Only the best Cocker Spaniel and Poodle parents are introduced to the quality breeding program at Livingstone Kennels. This means that in order to produce healthy puppies, each purebred parent dog must pass all health examinations before mating.
Because these adorable creatures spend so much time with their human friends, all Livingstone Kennel puppies are very well-mannered and socialized.
What They Offer
All dogs from Livingstone Kennels are vaccinated and dewormed, as well as secured with a one year written health guarantee.
New owners who buy their puppy from Livingstone Kennels receive a healthy puppy that is backed with all medical records and phone contact of the veterinarian.
Livingstone Kennels details
Website: Livingstone Kennels
Phone: +1 763-257-2572
Location: 18241 Swallow St NW, Oak Grove, MN 55011, United States
What Is The Average Price Of A Cockapoo Puppy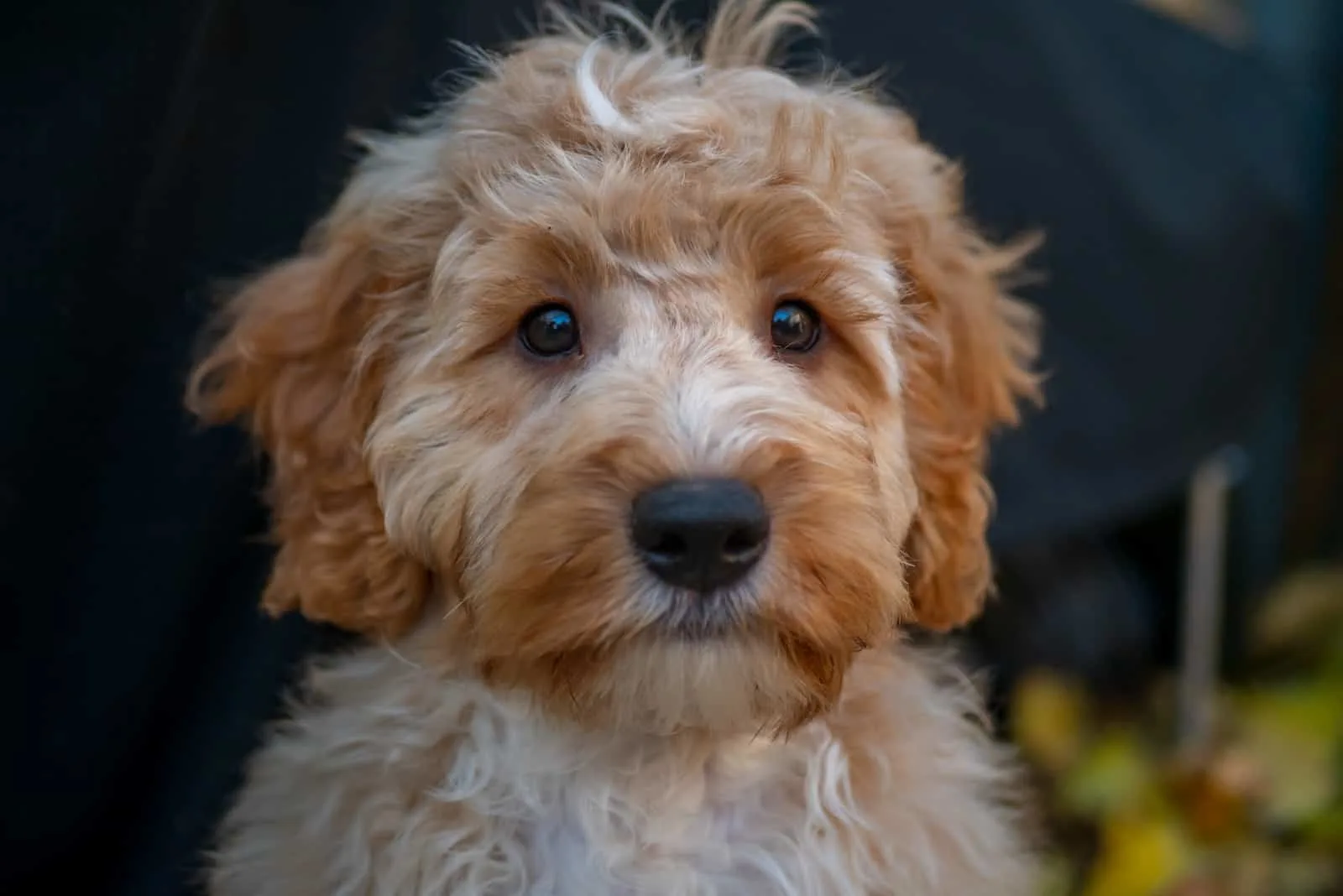 Even though the Cockapoo is a hybrid dog, its price can range between $1000 and $3500 depending on the breeder and the quality of the breeding program.
Since all of the Cockapoo breeders in Minnesota that are on our list are reputable, they put in a lot of effort into producing healthy puppies. This is why most of their puppies cost about $2000.
Websites like Puppies For Sale Today (puppiesforsaletoday) and Puppyspot may have a lot of Cockapoo and other hybrid dogs to offer, but the breeders behind these puppies may not be reputable.
Searching for a Cockapoo puppy on an AKC marketplace is practically impossible because the Cockapoo hybrid dog breed is not recognized by the American Kennel Club.
If you are not sure which Cockapoo breeder from Minnesota to choose, you can search anywhere from Iowa, Wisconsin, North or South Dakota.
Also, breeders like Puppy Paws 4 You and Livingstone Kennels that we mentioned in our article produce purebred dogs and they may also occasionally produce a Cockapoo litter of puppies.
To Wrap It Up
Whichever you choose, these reputable Cockapoo breeders in Minnesota can assure you that your life will be more exciting with a loving and healthy puppy.
By collaborating with trustworthy veterinarians, our finest Cockapoo breeders in Minnesota ensure that every puppy is healthy and fit before you welcome it to its new home.
Don't be afraid to ask questions about your new Cockapoo puppy because these reputable breeders will gladly respond to them.
The Cockapoo breeders on our list are all kind and eager to assist all aspiring and interested Cockapoo owners.
Cockapoo breeders in Minnesota generously offer their knowledge about this excellent hybrid dog breed, so it is up to you to select your favorite Doodle breeder! Your new family dog is waiting for you!
Related Content
11 Cavapoo Breeders In Minnesota: The Best From Gopher State
Dog Breeders In America: Meet 50 American Breeding Stars