Have you ever had a chance to meet this beautiful puppy mix? The cavapoochon canines happen to be one of the cutest breeds in the world. They are often referred to as puppies that never grow old.
Found in various shapes and colors, the cavapoochon mix of three breeds – the poodle, the cavalier king charles spaniel, and the bichon frise, represents a family puppy with the finest traits.
It is affectionate, loving, and sassy in its appearance, and it is one of the most favorable indoor dogs.
It is easy to maintain, and considering its hypoallergenic coat, it's highly favorable for families that have members suffering from dog allergies. Cavapoochon pooches are intelligent and easily trained, which makes them perfect for dog shows.
The cavachon poodle mixes are not that cheap, considering that their price goes somewhere between two to three thousand U.S.D. However, the price is pretty reasonable considering all the benefits this Teddy bear-like puppy has.
In the following part of this article, find out who the best cavapoochon breeders in the U.S. are.
Cavapoochon Puppies For Sale In The U.S.
These cavapoochon breeders are represented both in the United States and in Europe. There are numerous breeders who offer this puppy mix, but you need to take into consideration several things when finding the best among them.
First, you need to make sure you choose a licensed breeder. Always ask for more information about the potential puppy kennel owners since there are a plethora of those who are unreliable.
The reputable breeders will always provide you with sufficient information and documentation.
Furthermore, make sure the proper puppy bloodline is represented in the cavapoochon mix. The parent breed's genetic proportion is highly important, considering the differences between cavapoochon, cavachon, and cavapoo puppies. These are not the same!
Cavapoochon puppies are a mix between a toy poodle (or a miniature poodle), a cavalier king charles spaniel, and a bichon frise.
All three need to be represented by at least 20 to 30 percent in the cavapoochon's bloodline in order to have all of the common traits that cavapoochon puppies usually have.
This refers to socialization, intelligence, color, a hypoallergenic coat, Teddy-bear eyes, and body shape.
We bring you the eight most popular cavapoochon breeders in the United States. The classification was based on their reputation, their popularity among current cavapoochon parents, and their overall quality.
1. Timshell Farm, Payson, AZ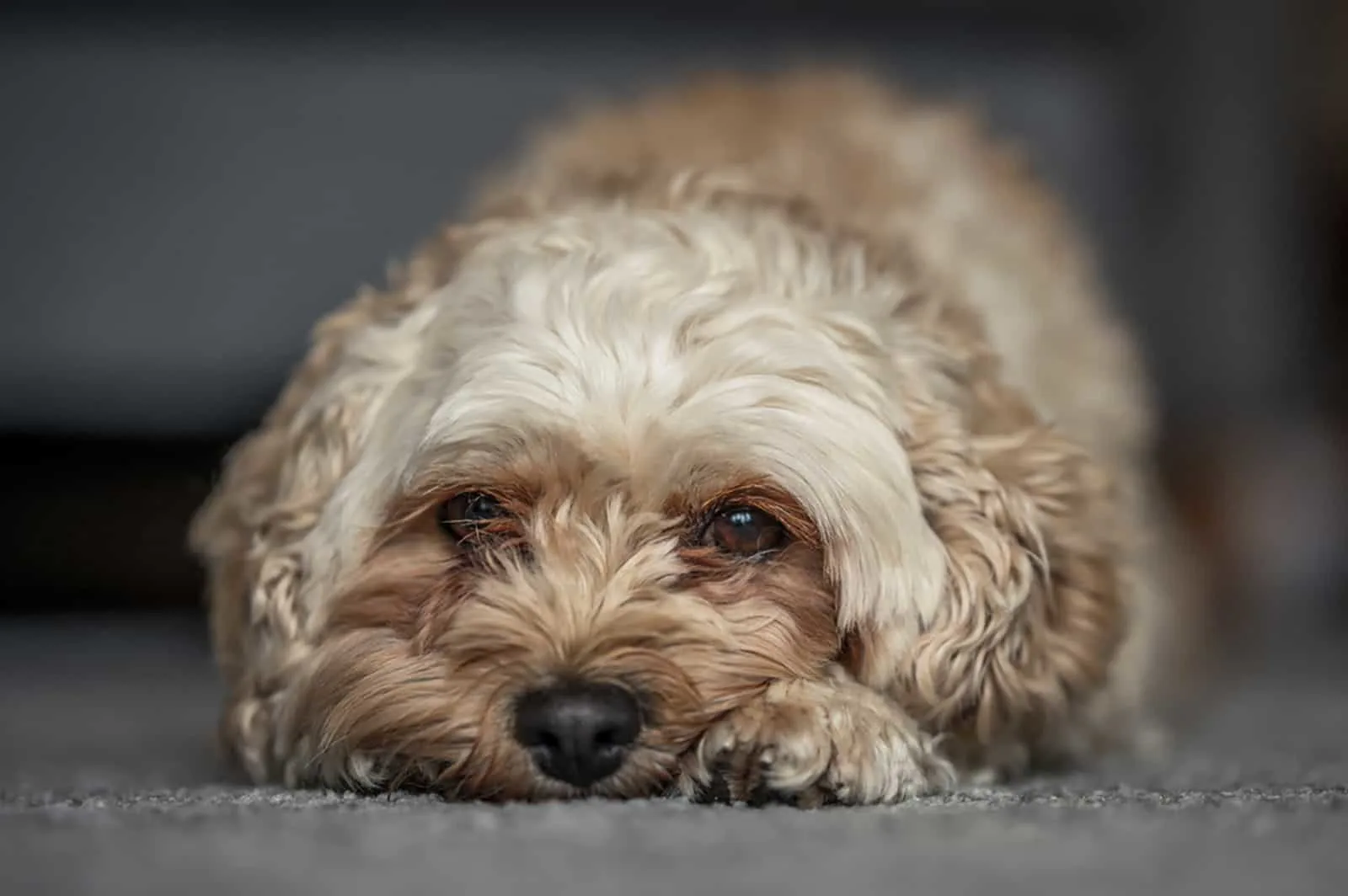 The first on the list of cavapoochon breeders is Timshell Farm, from Arizona.
This breeder has a reputation in this business, considering its AKC (American Kennel Club) and IACP (International Association of Canine Professionals) certifications.
Although the cavapoochon puppy is not AKC recognized, considering its hybrid character and belonging to a club of dog breeds you didn't know existed, much of the breeders' work cannot be traced and evaluated by the AKC.
However, Timshell Farm breeds other breeds alongside cavapoochons, like doodles and cavapoos.
Its certificates and membership in professional breeders' activities all around the States make them one of the most reputable breeders of cavapoochon dogs.
This small dog is carefully provided for in this kennel, especially when it comes to food and training.
The breeder makes sure the dog owners get the best of the best once they purchase a puppy. These puppies come from a cavachon mother and a toy poodle sire, and their size varies between 10 and 15 pounds.
The smallest ones are labeled as XS cavapoochon puppies.
There are two strict purchasing policies in this kennel. The first one is related to visits – you can't enter the kennel and get in touch with puppies unless they are seven weeks or older.
This is a vet recommendation, and it involves protecting the puppies from potential external viruses.
The other policy is regarding the very purchase. In order to make a reservation, an interview is a prerequisite.
The breeder wants to get to know the potential cavapoochon parent and collect information about the future place of living of their puppies.
This shows responsibility and dedication, so Timshell Farm is a highly recommended cavapoochon breeder!
Location: Payson, Arizona
Phone number: (903) 874-6560
Email: [email protected]
Website: Timshell Farm
2. Pleasant Home Puppies, Burlington, IO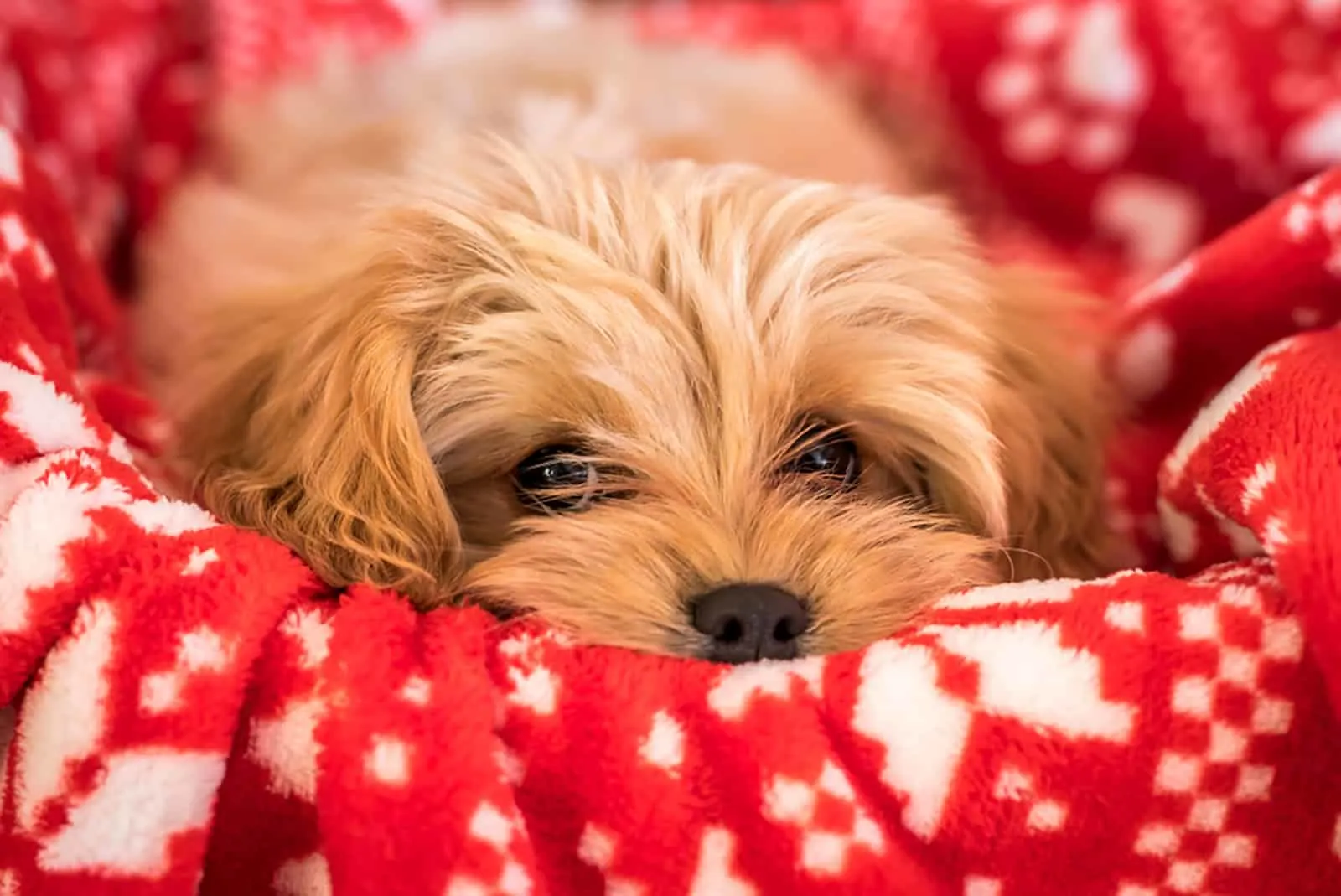 This breeder sells cavapoochon puppies as well as shih poo puppies. The name "Pleasant Home Puppies" derives from the Pleasant Home street in Ohio, where Julia, one of the co-owners of the kennels, grew up.
This crossbreed is very well taken care of in this kennel, considering the great love these owners provide for their cavapoochon puppies.
The breeder will keep you informed about everything, including cavapoochon puppy food, breeding tips and tricks, grooming tips, and training tips.
In order to buy a cavapoochon puppy from Pleasant Home Puppies, you need to put down a $500 deposit first. The deposit is deducted from the final price once you receive your puppy.
You also need to put yourself on their waiting list. The deposit is given once the puppy is four weeks old. Once the puppies are eight to 10 weeks old, you can purchase them.
There are several ways to purchase a puppy from PHP. The first one is the most ideal, and highly preferred by the breeder – on location! This is recommended due to the best flow of information, and getting to know the breeder in person.
However, for those who cannot fly or drive all the way to Iowa, there are two other options for purchasing this mixed breed.
One is to get the Nanny option – a person who will fly with the puppy to your nearest airport in the U.S. The other is to activate the First Option that includes sending the puppy to most of the major U.S. airports.
Pleasant Home Puppies emphasizes that the sale tax in Iowa is seven percent.
Also, the breeder offers the option of notifying you about upcoming litters of this curly-coated canine.
Location: Southeast 52637 Burlington, Iowa
Phone number: (319) 572-7533
Email: [email protected]
Website: Pleasant Home Puppies
3. Apricot Lane Puppy, Mansfield, OH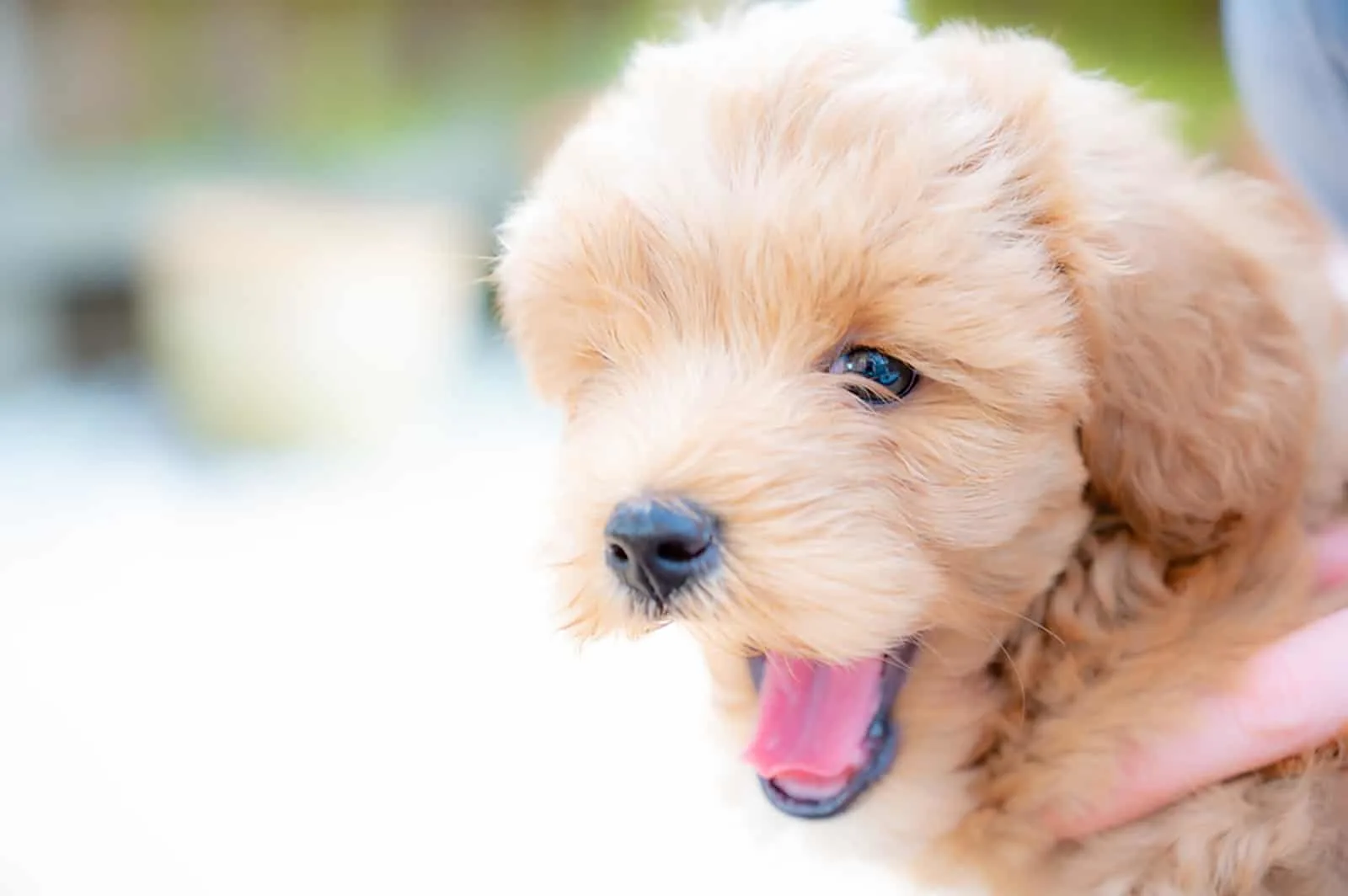 Parent dogs are proportionally represented in the cavapoochon mix, which means the hybrid canine you will get is as affectionate as possible.
Also, if you have asked yourself, do cavachons shed, or do poodles shed, the answer is not that much, which means your cavapoochon will be low-maintenance, too!
Furthermore, the breeder requires a deposit of $500, which is non-refundable except in the case of not being able to stick to the original plan. In other cases, the deposit can be transferred to a new litter.
Aside from the purchase, the breeder offers other things!
The all-inclusive arrangement includes a new crate, leash and collar, puppy toys that are best suited for the cavapoochon puppy, hygiene and grooming materials, the puppy dressings (outfits), dishes, vitamins and probiotics, and a large bag of food.
This cavapoochon breeder puts a lot of effort into research. They only feed grain-free food to their cavapoochon puppies since this is the best sort of food for their health and overall weight.
This small breed needs a proper feeding chart in order to stay within weight limits.
On the other hand, the Apricot Lane Puppies' staff make sure your future cavapoochon gets its daily probiotics. This improves its digestive system and keeps it healthy, too.
The breeder has two American Kennel Club-recognized poodles, which makes them reputable. Vet checks and all the medical documentation is available. The breeder has scheduled vaccination programs and dewormings.
At Apricot Lane Puppies, you will get a three-year genetic health guarantee, which makes this breeder highly favorable if you live in Ohio.
Location: Mansfield, Ohio
Phone number: (419) 565-8310
Email: [email protected]
Website: Apricot Lane Puppy
4. Giggle Tails, Fort Collins, CO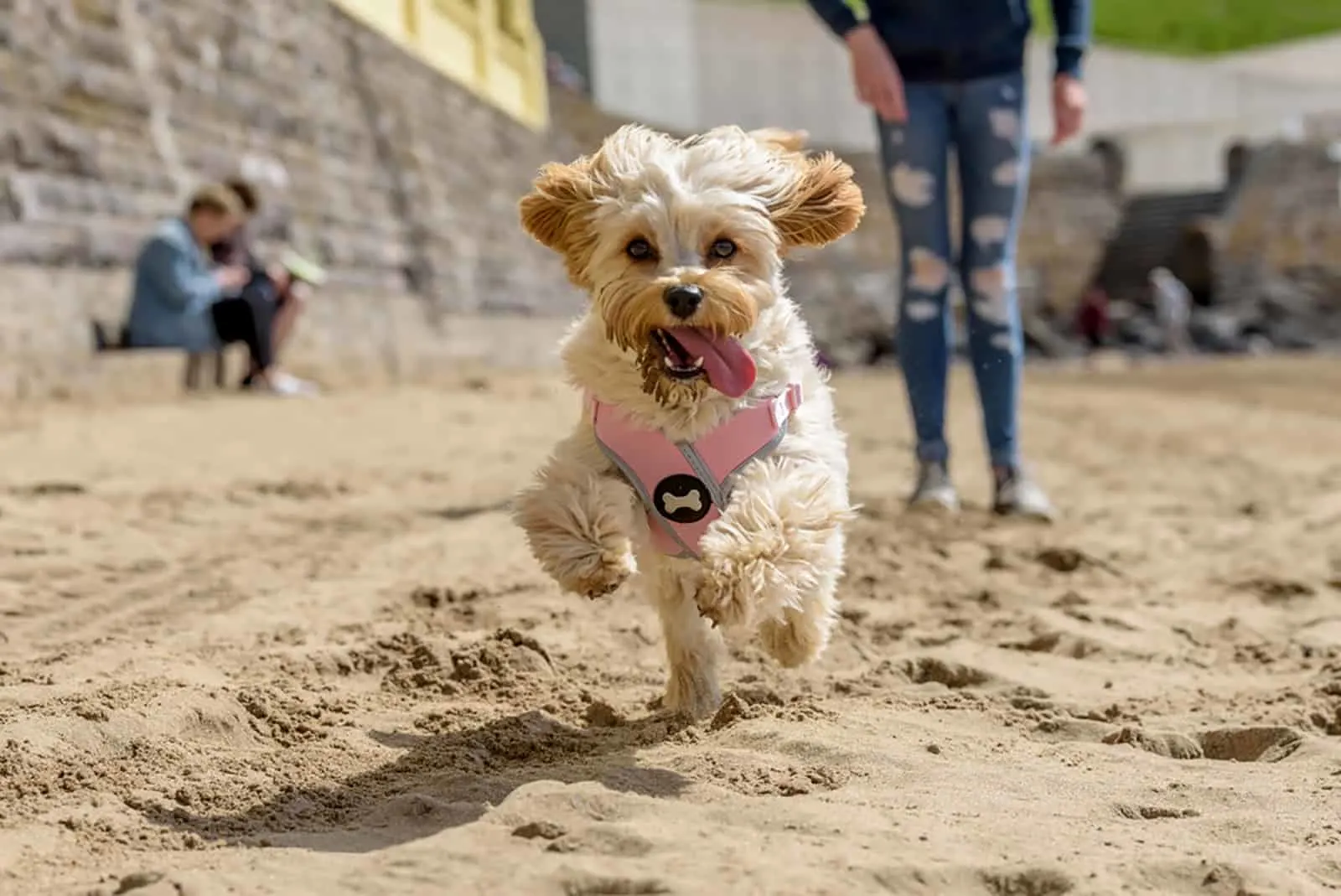 Giggle Tails is based in Colorado, and it is one of the best cavapoochon breeders in that area.
The mission statement of this breeder is to provide only the best and most reliable cavapoochon puppies. These so-called Forever Puppies are socialized from an early age, and trained to be good family members.
The new puppy will be an excellent addition to your family once it is delivered from Giggle Tails as it has already been potty trained, well-provided for, and regularly health examined.
The breeder emphasizes the importance of the non-shedding and hypoallergenic coat that these cavapoochon puppies have.
This is an extremely important issue for families with dog allergy sufferers.
You can agree upfront on the size of your cavapoochon pooch! The breeder mixes small breeds or medium sized breeds based on your personal preferences.
However, they make sure that the cavapoochon program and genetics is properly represented, especially when it comes to behavior.
The color can be negotiated, too, along with the price.
These curly-coated canines come in various colors, such as sable, apricot, white, or tri-color, and the final decision is on you!
The Giggle Tails breeder uses Nuvet products to support the canine's health. This includes probiotics, food, vitamins, and other supplements for the proper organization of the feeding chart.
Consider that the price of this puppy goes between $1000 and $3000. The price is based on the cavapoochon's origin since both the cavapoo and the bichon frise's cost are pretty high.
Location: Fort Collins, Colorado
Email: [email protected]
Website: Giggle Tails
5. Prairie Hill Puppies, Hutchinson, KS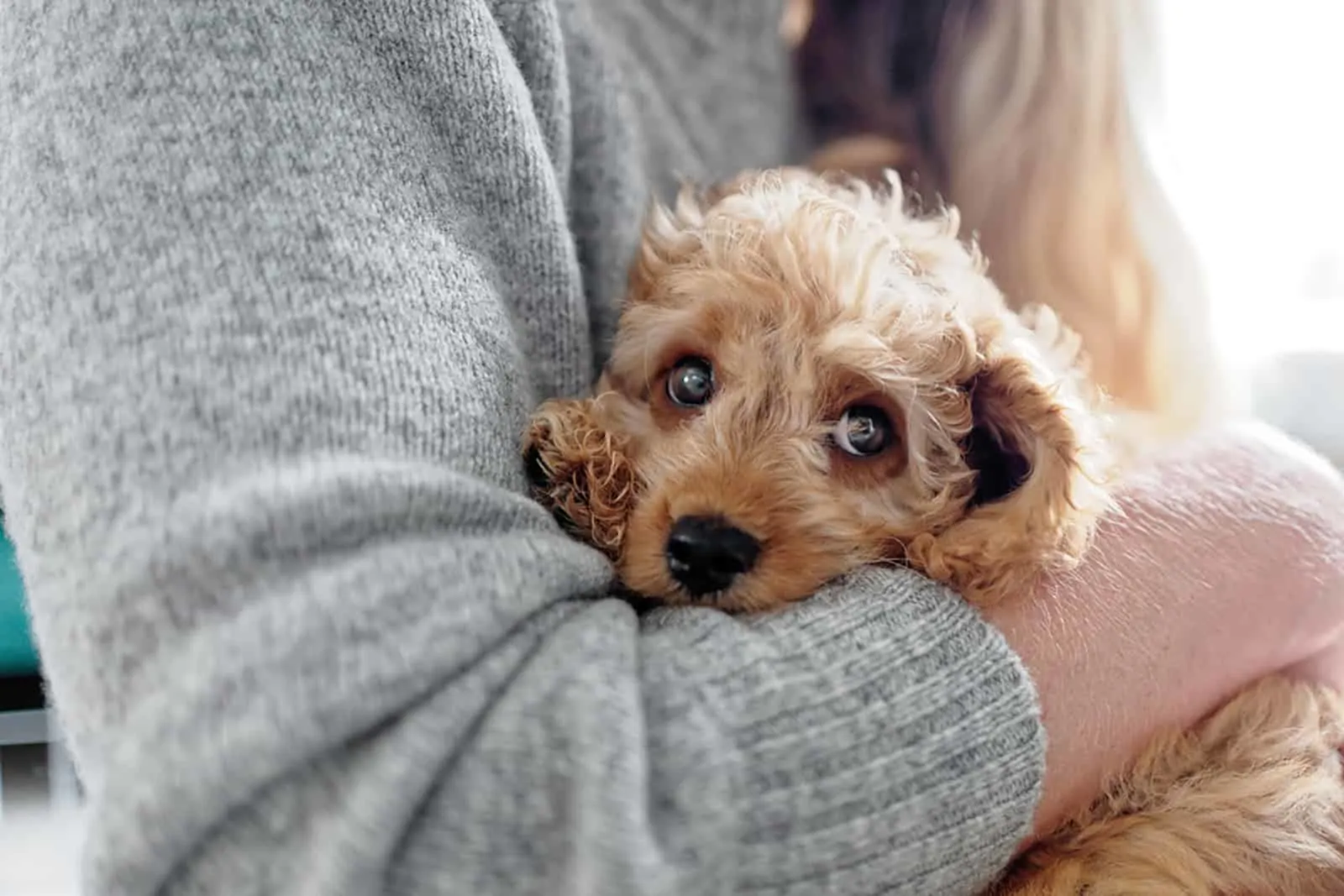 Prairie Hill Puppies is a Kansas-based breeder. The first thing you need to do in order to make a reservation is fill out the application form and provide your family's location, members, and other pets to the breeder.
This shows the deep commitment that the PHP team puts into the breeding process.
The deposit you need to make in order to purchase a cavapoochon canine is $515. The final price will be deducted by this amount once you make the full payment.
You can download the full guideline for the cavapoochon baby from the official Prairie Hill Puppies website. Several tips are crucial:
1. Do not take your new puppy anywhere for at least three days.
This is the way to adapt your cavapoochon puppy to its new family and home. Exclude groomers, shops, and friends in order to get the cavapoochon to know you first.
2. Do not make any vaccine appointments too soon.
All the puppies should wait at least seven days before receiving their first shots or other vet treatments. This gives them enough time to settle and adapt.
3. Try to avoid public places for the first month.
This especially refers to places where other dogs are frequenting daily because you want to prevent your new puppy from potential viruses.
4. Avoid the nose and the ears when bathing your cavapoochon puppy.
Cavapoochons can develop ear infections and inflammation as this is a very sensitive breed in that regard.
Prairie Hill Puppies suggests that you create a proper feeding chart since both the cavapoo feeding chart and the bichon frise feeding chart have to be strict and properly organized. This is due to their small size – obesity can be fatal in the long run.
Location: Hutchinson, Kansas
Phone number: (316) 719-6202
Email: [email protected]
Website: Prairie Hill Puppies
6. Cavapoochons R Us, East Tennessee Mountains, TN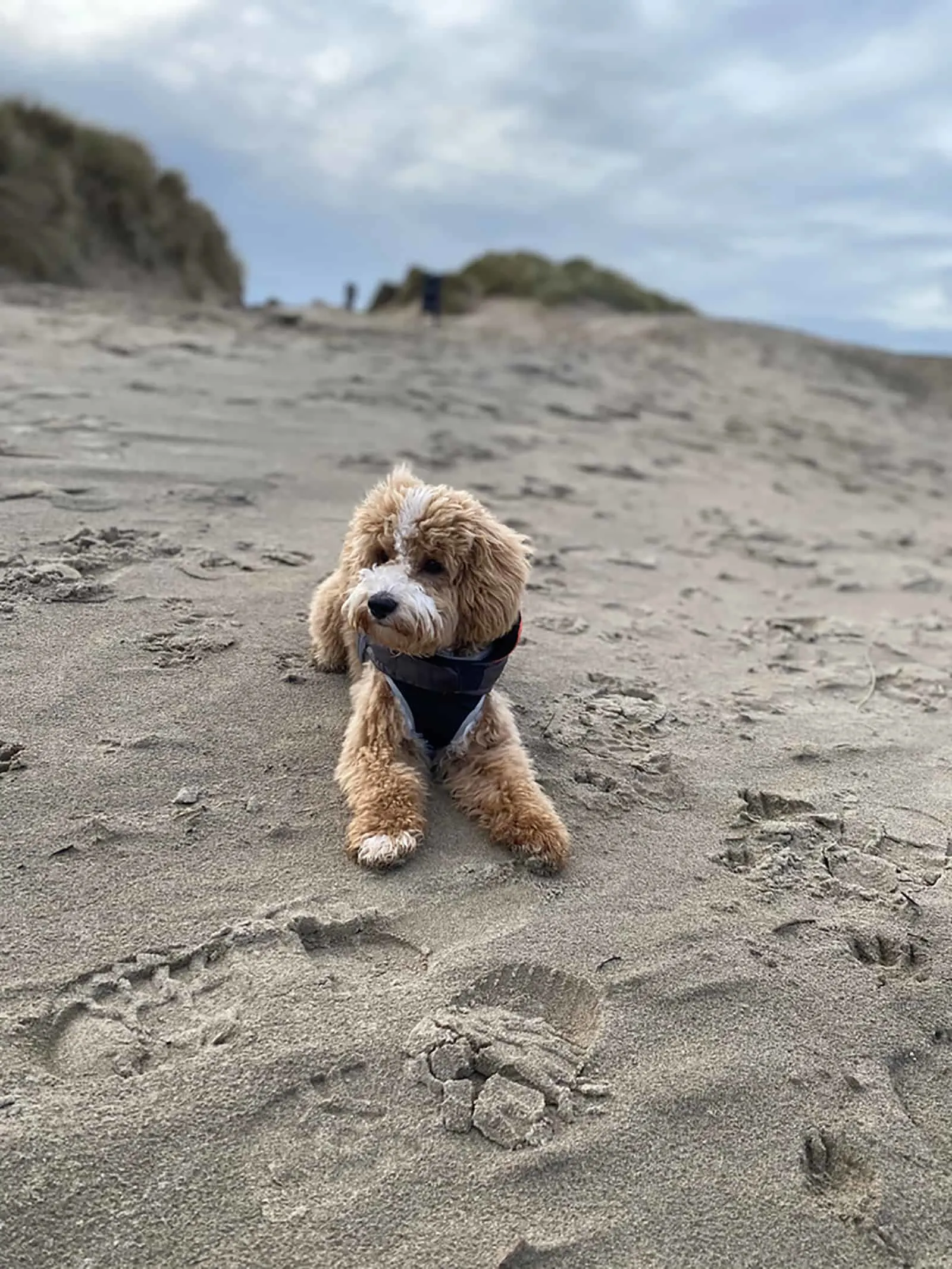 There are several reasons why Cavapoochons R Us is one of the best cavapoochon breeders in the United States.
The first of them is the bloodline quality of their puppies. They put a lot of effort in the cavapoochon pedigree, and they make sure you get an affectionate, Teddy-bear-like cavapoochon that will easily adapt to your family.
The cavapoo puppies are one of the best poodle mixes by default, considering their combined intelligence, socialization, and health, so the breeder makes sure that these qualities are preserved in the cavapoochon puppy, too!
Furthermore, all the parent breeds are regularly tested at UTMC (University of Tennessee Medical Center), and their health guarantee is supported by OFA and CERF certifications.
Two basic puppy training sessions are implemented in the Cavapoochons R Us breeding house. The first is crate training – this is one of the cavapoochon breeders who wants to make sure you get an adaptable puppy in the first place.
The second training session is potty training. The breeder uses a lot of positive reinforcement in this regard, so be at ease – your puppy will be ready for a clean start in your home.
The breeder offers full documentation on vet checks, as well as a deworming and vaccine schedule. A health guarantee is provided, too!
Grace, the owner of the house, will be happy to provide you with any additional information on cavapoochon puppies, so do not hesitate to ask away!
Location: East Tennessee mountains, Tennessee
Phone number: (865) 805-2942
Email: [email protected]
Website: Cavapoochon R Us
7. Heartland Puppies, Morris, PA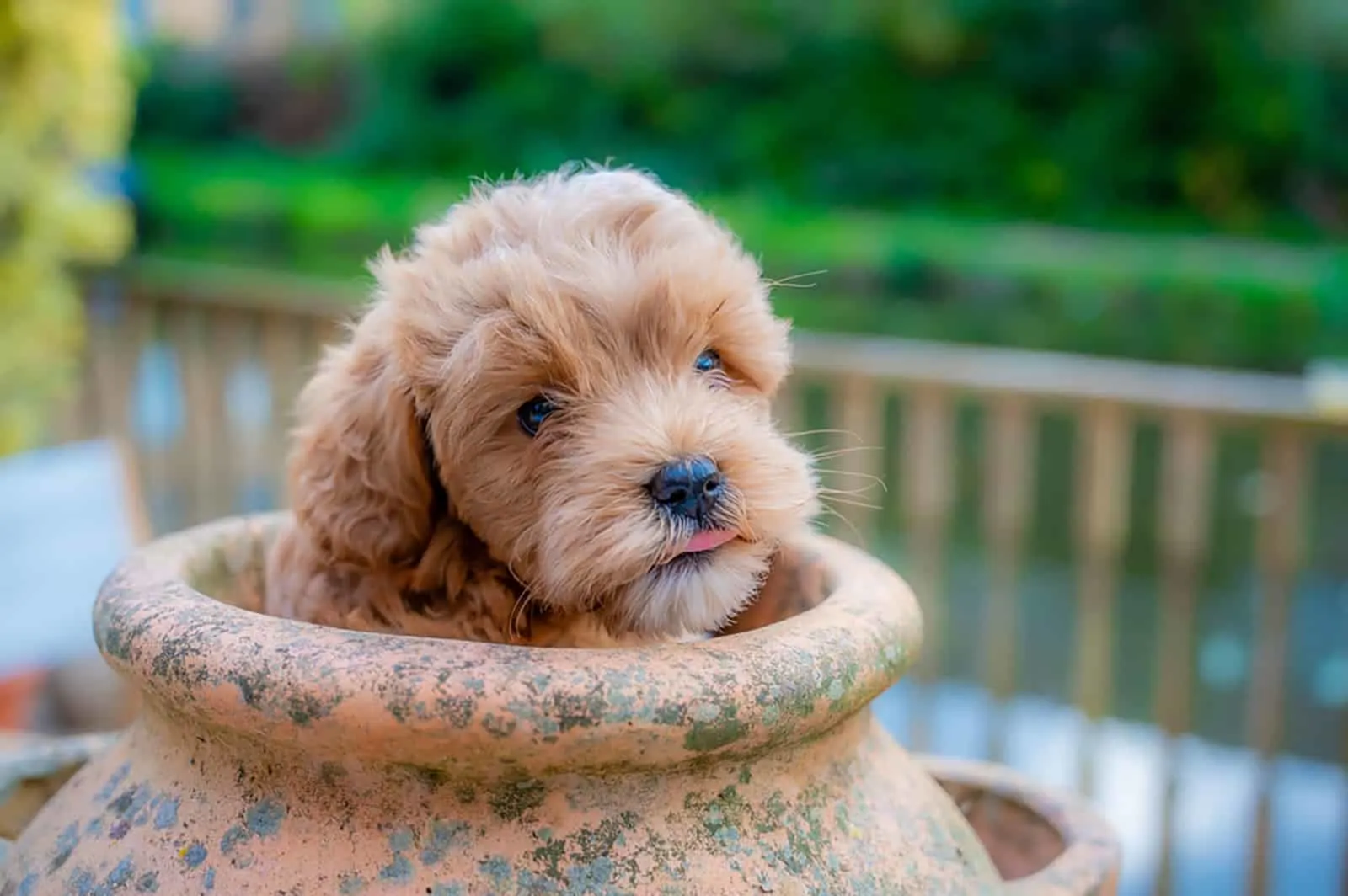 The Heartland Puppies' breeder is Pennsylvania-based, and is categorized as one of the most reputable cavapoochon breeders in the United States. Why is that? There are several reasons.
The first and most important reason is their openness and information availability.
The Heartland Puppies' team provides all of the needed information about their cavapoochon doggies, and that includes their parent breeds' bloodline, their medical checks, and their current feeding chart.
Although this breed comes from parent breeds that are categorized as being the healthiest dog breeds, they, however, still make a lot of effort to keep track of their puppys' feeding chart as they do not want their cavapoochons to become obese, or to eat unhealthy food.
They do not breed new litters more than two times a year as they want to make sure the process that their puppies go through is thorough and well-organized. This shows dedication and affection to the cavapoochon pooches they raise.
Furthermore, the Heartland Puppies' team offers a one-year health guarantee to all new owners, and they are more than happy to answer any possible inquiry.
Also, the cavapoochon puppies come with dog food and a puppy blanket once they are delivered to the new owner.
For more information, you can always contact them through their official website, over the phone, or in person.
Location: Morris, Pennsylvania
Phone number: (614) 832-4126
Email: [email protected]
Website: Heartland Puppies
Conclusion
There are a plethora of cavapoochon puppies for sale both in the United States and in Europe. However, only a few of them have the reputation of being responsible and quality breeders since this dog breed is not AKC registered.
Many of the breeders listed above also breed other AKC-registered puppies, like cavalier king charles spaniels and bichon frises.
This way, the breeders get appropriate credibility for potential cooperation.
Read more: Bichon Frise Haircuts And Grooming Tips