It's great to see that you have decided to get a wonderful canine companion such as the Boxer dog!
Boxers are purebred dogs that originate from Germany. The first time this dog breed appeared was in the late 19th century. Since then, these pooches have been loyal human companions.
Originally bred for hunting and working, the Boxer dog inherited strong work ethics, as well as a playful, goofy side. With this fun-loving and energetic dog by your side, you will never be bored!
There are three bloodlines of Boxer dogs: the European Boxer, the American Boxer, and the English Boxer. Alongside these main types, there are Boxers that are named after their coat coloration. So, we have the brindle Boxer, the fawn Boxer, the black Boxer, and the white Boxer.
All of these belong to the same Boxer dog breed, but they differ according to their heritage and breed standards that are made by kennel clubs across the world.
In this article, we will mention a few reputable breeders in Ontario that crossed only the best bloodlines, developing the most high-quality purebred Boxer dogs.
Let's check out some of the amazing Boxer breeders in Ontario!
Boxer Puppies For Sale In Ontario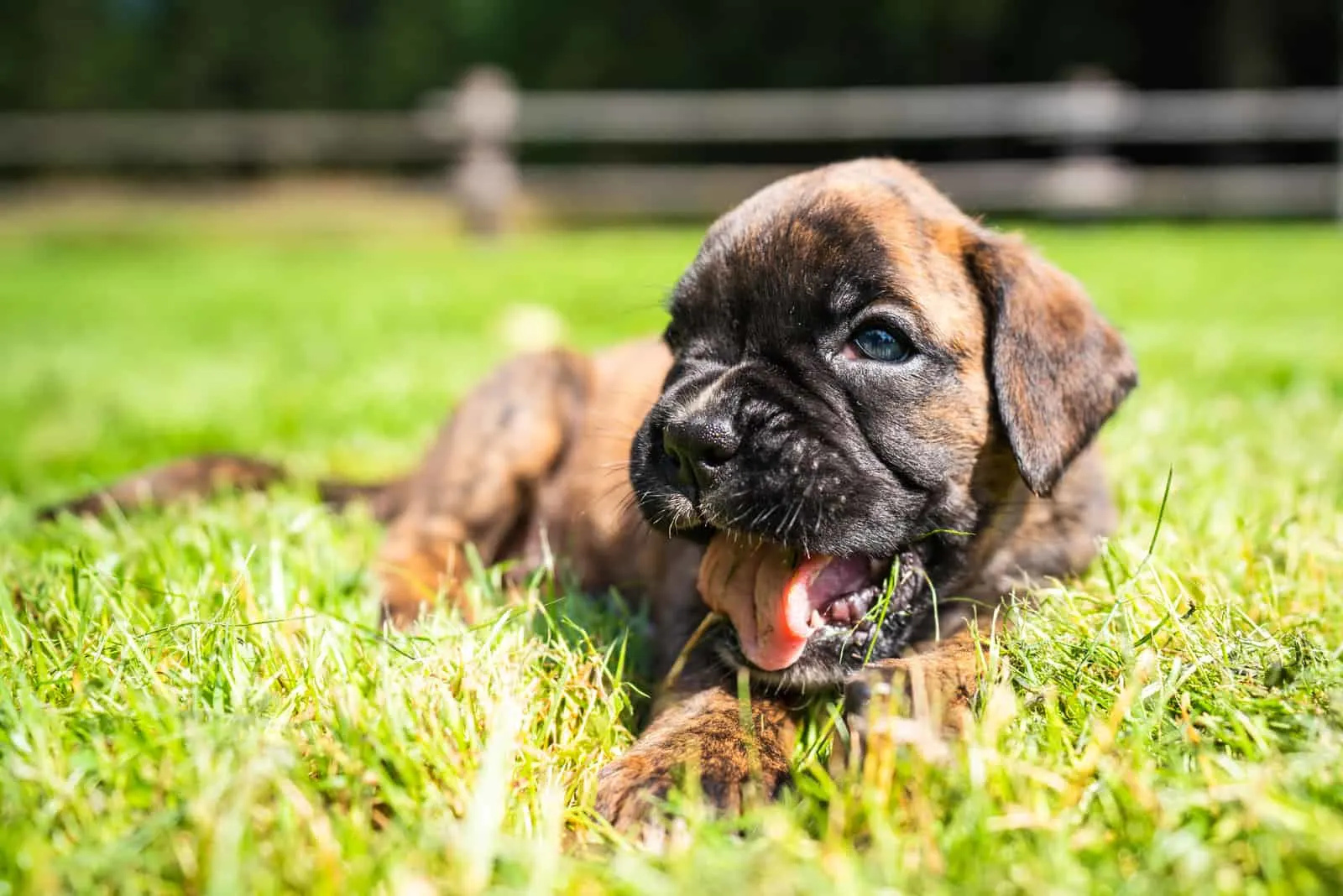 Purebred Boxer puppies can be found across Ontario, in Canada. Because there are many breeders that produce both purebred and mixed breed Boxer dogs, it's best to rely on those breeders that are registered within the Canadian Kennel Club (CKC).
The CKC offers a list of reputable Boxer breeders that breed high-quality dogs. In order for these breeders to be registered with the CKC, they have to apply for dog registration and meet the club's standards.
There are many websites that are offering Boxer puppies from different breeders in Canada. Keep in mind that not all breeders care for their puppy's health. That's why you have to be careful when doing your research on Boxer breeders in Ontario.
When getting a Boxer puppy, it is advisable to avoid pet stores and puppy mills because these places do not guarantee healthy litters and well brought up Boxer puppies.
It's best to get your Boxer from recommended and accountable Boxer breeders. Luckily, you're at the right place!
The Best Boxer Breeders In Ontario
A breeder is not just a person you will buy your dog from and forget about ever making contact with that person again.
A breeder is so much more than that. When getting your new puppy, you will make contact with the desirable Boxer breeder through either a phone call or social networks.
If you're serious about getting your new puppy, not only will you need to stay in touch with the Boxer breeder, but you will also arrange a visit or an online meeting.
Most reputable breeders will be happy to answer your questions and help you with any concerns you may have during the process.
Soon, you and your Boxer breeder will become a great team that will focus on raising a healthy Boxer puppy to becoming a healthy adult Boxer dog.
So, it's very important to stay in contact with your dog breeder and make sure you receive all the necessary information and documentation.
Here are some of the best Boxer breeders in Ontario!
1. Tanoak Boxers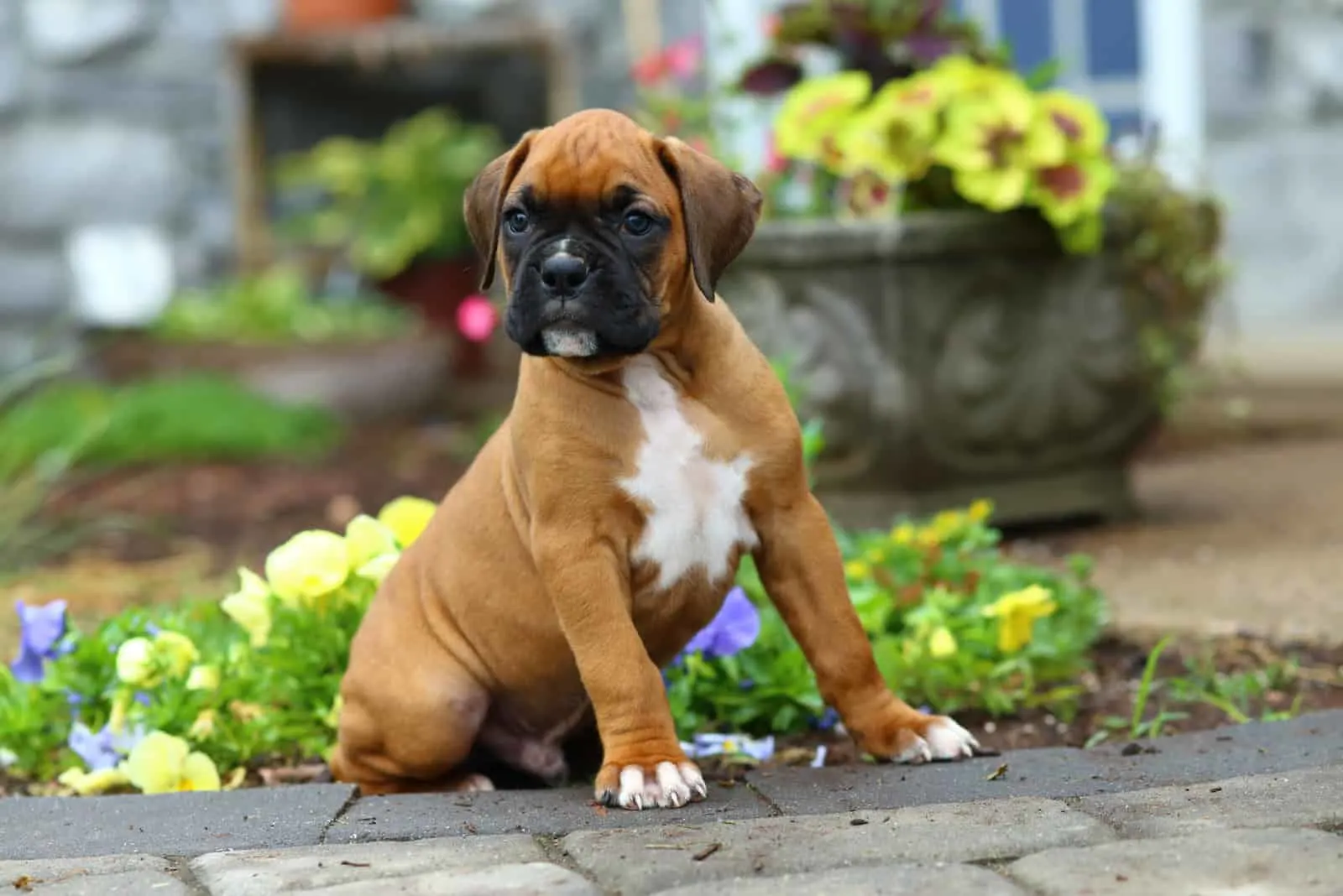 Since 1973, the Tanoak's Boxers have proven to be outstanding friends and family dogs. These purebred dogs are mostly of European ancestry, meaning that they were bred with the high-quality European Boxer.
This Boxer breeder is registered with the Canadian Kennel Club. The Tanoak's Boxers are qualified for obedience and conformation shows.
Not only that, but these puppies can also be brought to dog shows as they make perfect candidates in the working dog group.
The Boxer puppies from Tanoak Boxers have been examined and vaccinated by a veterinarian, and they come with a health certificate.
All of the Boxer puppies are nurtured in a loving environment. Tanoak's breeders offer the possibility for future Boxer owners to visit their residence during the summer. The house is located 350 meters into a vegetation-rich green environment.
During wintertime, the Tanoak breeder offers a puppy pick-up from the "upper parking lot" near County Road 27. All can be arranged through contact with this Boxer breeder.
Each of the Boxer puppies has its own crate with a blanket and a toy to keep them comfortable and engaged.
When visiting this breeder, the Boxers will happily greet you with lots of barking, but once you sit down, they will calm down. This breeder will let you engage with each dog to make it easier for you to choose the perfect Boxer puppy.
One more thing to mention is that these Boxer puppies have plenty of time to wander and play in the spacious, enclosed back yard during the day.
Because so much love and care has been put into breeding these wonderful family companions, the Tanoak Boxer puppies are to be put in loving homes that will provide them with all the care and attention they need!
Tanoak Boxers' details
Email: [email protected]
Phone: 705.733.0330 – Fax: 705.733.5780
Website: Tanoak Boxers
Location: RR5, 8292 County Rd 27, Barrie, Ontario L4N 9C4
2. Kaco Boxers Reg'd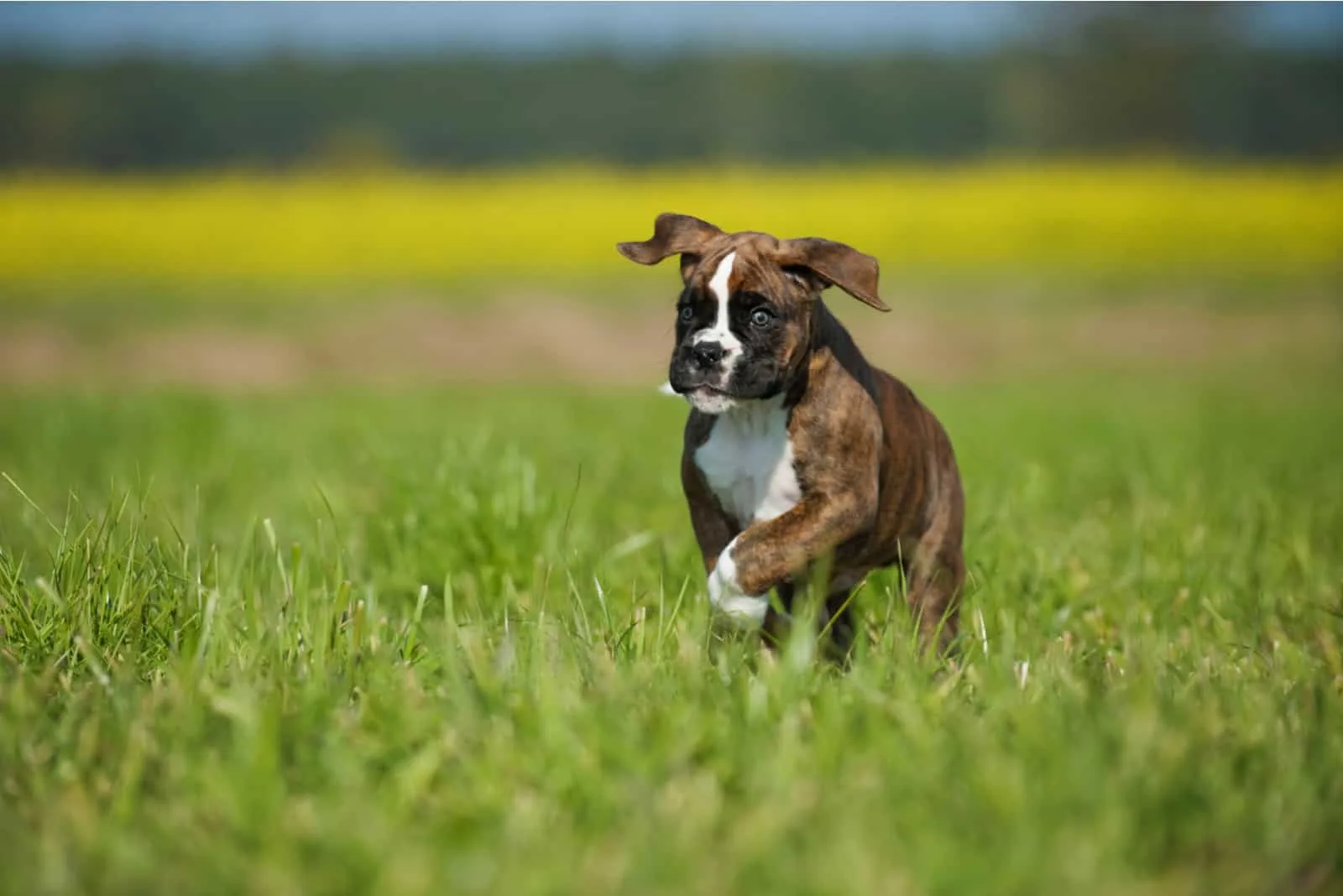 Kaco Boxers is a small, reputable breeder that breeds imported European Boxers. What's special about this breeder is that their Boxers are raised in the beautiful area of Kawartha Lakes, in Ontario.
Moreover, these dogs are brought up in a wonderful home surrounded by open farm fields.
The main goal of Kaco Boxers is to produce the healthiest Boxer puppies. This is why Kaco Boxers genetically health tests for inherited health issues that are specific to the Boxer breed.
They are one of the few Boxer breeders that test for hip dysplasia, cardiomyopathy (heart disease), subaortic stenosis (heart disease), thyroid disease, and degenerative myelopathy.
Kaco Boxers imported European Boxers from the best and the healthiest bloodlines. This breeder is registered with the Canadian Kennel Club. As CKC-registered breeders, they offer a three-year health guarantee on their Boxer puppies.
A quality trait that shows that this breeder is accountable and reliable is that Kaco Boxers breeds for quality and not quantity. This means that they put a lot of effort into selecting only the best Boxer parents and producing the healthiest Boxer puppies that are put through health testing and regular veterinarian checkups.
Kaco Boxers are professional and outgoing Boxer breeders who provide useful advice and tips for new Boxer puppy owners.
The secret of raising healthy Boxer puppies is feeding them a raw diet. After these puppies are weaned, they transition to a homemade raw diet that results in healthy growth of these little Boxer puppies.
If you want to purchase a loving, affectionate, healthy, and happy Boxer puppy in Ontario, make sure to contact this breeder for more information.
Kaco Boxers' Details
E-mail: [email protected]
Phone: 705-887-9362
Website: Kaco Boxers
Location: 1 1/2 hours N.E of Toronto, Ontario
3. Biancales Boxers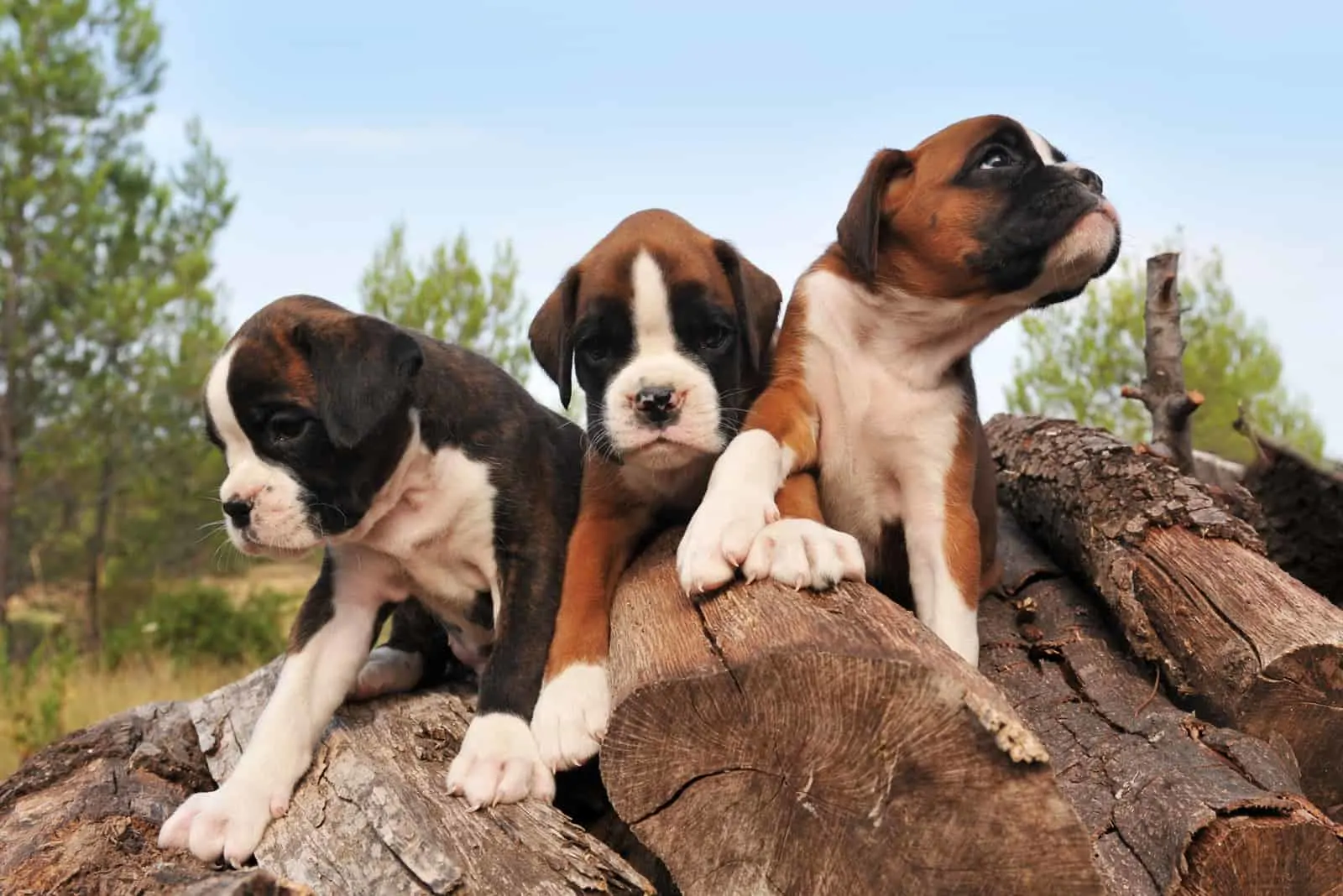 For the past 21 years, the Biancales Boxers breeder has been breeding and raising these wonderful canine companions in order to improve the breed's health and prosperity.
Located in Southern Ontario, this small Boxer breeder focuses on developing the healthiest Boxer dogs.
Biancales Boxers treats these dogs as family members. All the Boxer puppies are taken care of in a loving environment. From birth to eight weeks of age, these puppies are showered with love and attention.
All Biancales Boxers are fed a raw diet, and this breeder also offers the purchase of raw food and all-natural, homemade, one-ingredient dog treats as well.
Alongside feeding schedules, the Biancales Boxer puppies have a full day of quality playtime, sleep time, socialization, and training.
This breeder offers waiting lists for upcoming Boxer breeding to which you can sign up if you plan on getting a new puppy.
All Boxer dog parents are health tested and vaccinated. All newborn Boxer puppies come with a two-year health guarantee.
Biancales Boxers' Details:
Email: [email protected]
Phone: 289-682-5744
Website: Biancales Boxers
4. Grenfel Boxers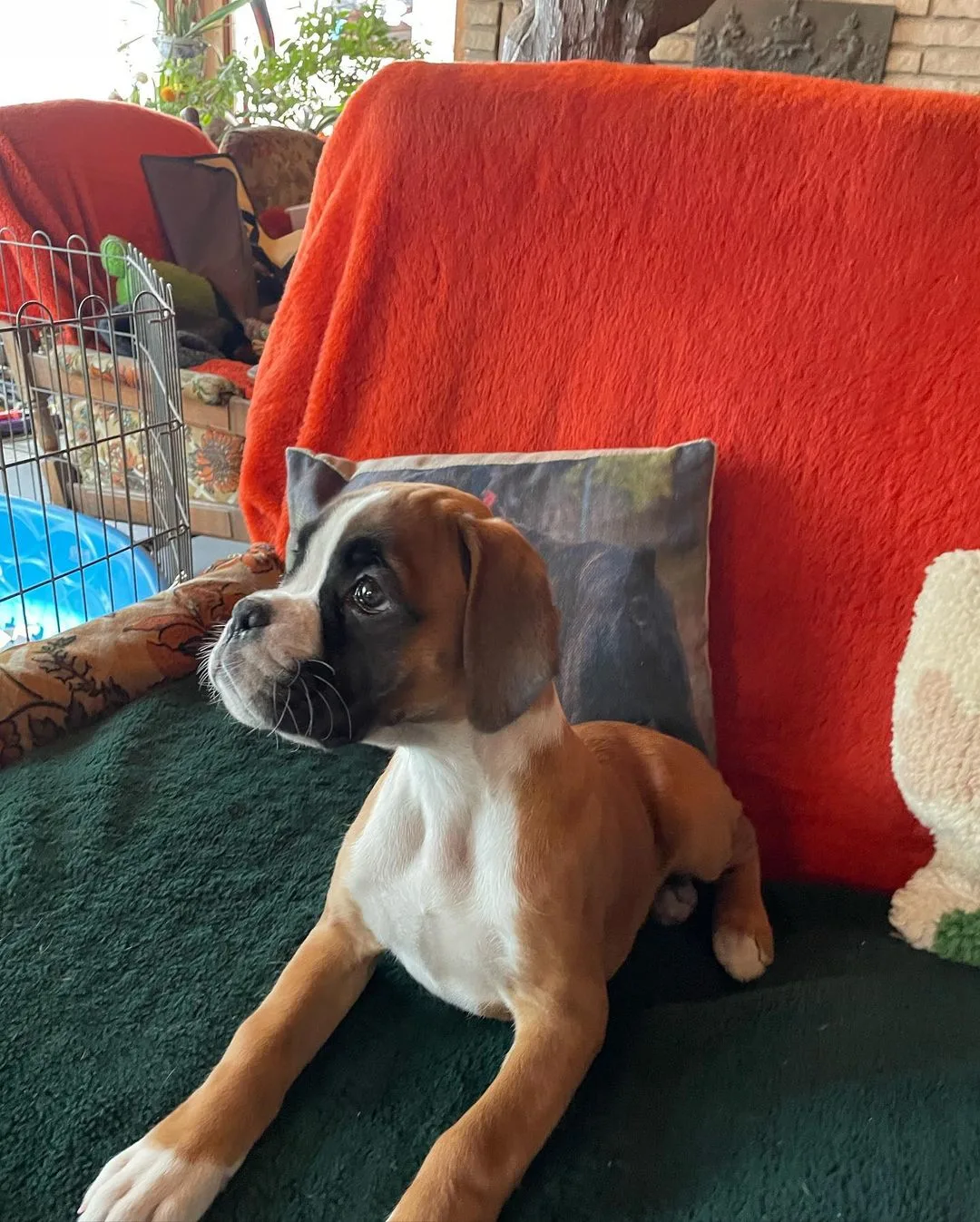 Grenfel Boxers is a Canadian Kennel Club registered Boxer breeder. These Boxer bloodlines are derived from the Tanoak Boxers in order to keep the bloodline as healthy as it can be!
What's great about this Boxer breeder is that both the Boxer dams and sires have been screened for inherited health issues such as arrhythmogenic right ventricular cardiomyopathy (ARVC), dilated cardiomyopathy (DCM), and degenerative myelopathy (DM).
This reputable breeder only breeds high-quality and healthy purebred female Boxers with purebred, healthy, and certified Boxer studs.
Grenfel Boxers offers 24/7 Boxer support, which is a client service that answers any questions about bringing a new Boxer puppy home. Not only does this breeder answer your questions, but he also offers advice and guidance.
You can find the "Re-home program" option on their website, which is offered in case you are not able to care for your new Boxer puppy. In this case, the Grenfel Boxer breeders help find a loving home for their lovely Boxer puppies.
Grenfel Boxers' Details
Phone: (647) 96-BOXER (26937) or 647-962-6937
Website: Grenfel Boxers
Location: 11791 County Rd 10 Stayner, ON L0M1S0
YouTube: Grenfel Boxers
TikTok: Grenfel Boxers
Instagram: Grenfel Boxers
Facebook: Grenfel Boxers
5. Blackmore Boxers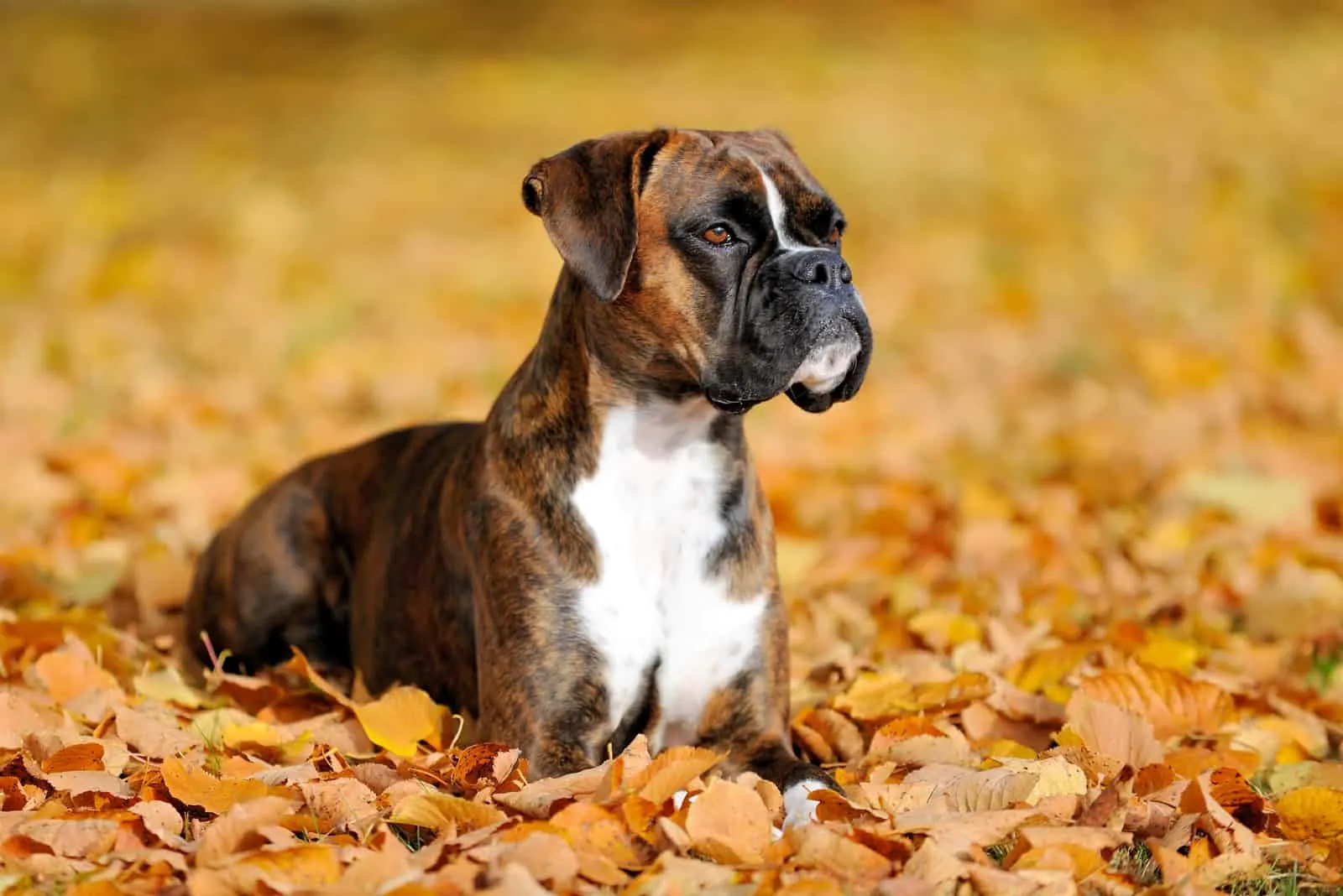 Blackmore Boxers is dedicated to creating a strong, healthy bloodline of Boxer dogs. This breeder is on a mission to improve and maintain breed standards in their purebred Boxer dogs.
Located in Courtice, Ontario, the Blackmore Boxers are raised in a loving environment; thus, developing healthy growth and a wonderful temperament. Because these Boxers are well-bred and raised, the Blackmore Boxers' breeders are dedicated to finding them loving homes.
You can contact this reputable breeder for planned litters and make a reservation for your new Boxer puppy.
Blackmore Boxers provides tips and advice on caring for your new best friend! Moreover, they provide behavior consultations and private dog training for new owners!
Make sure to check this reputable breeder out.
Blackmore Boxers' Details
Email: [email protected]
Website: Blackmore Boxers
6. Xelascon Boxers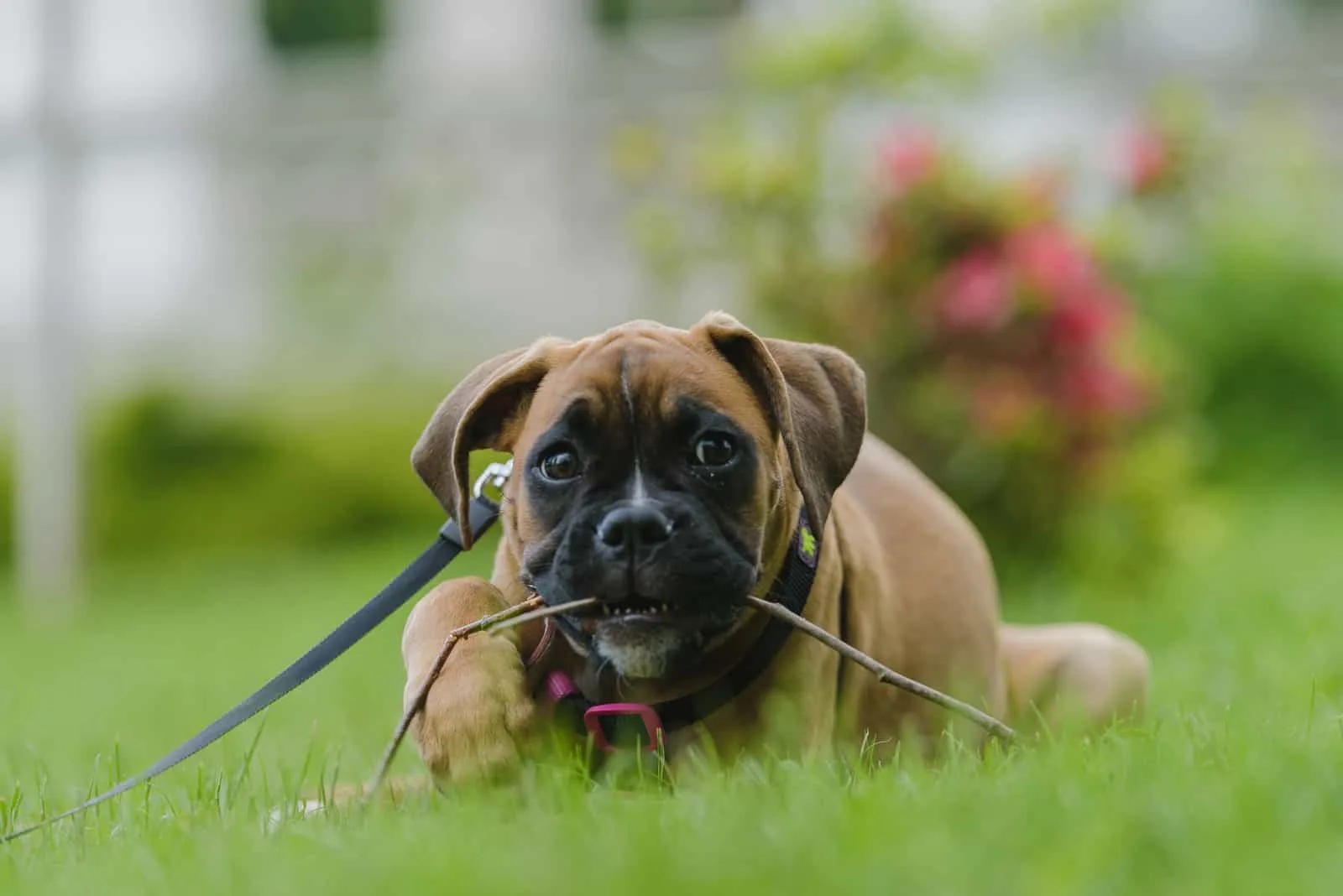 Whether you're looking for a show dog, a family pet, or a working dog, Xelascon Boxers is the right choice. We might have a CKC-registered boxer puppy for you.
Xelascon Boxers is a small selective kennel located northwest of Toronto, Ontario. Registered with the Canadian Kennel Club, this breeder develops affectionate and protective purebred Boxer puppies.
Not only does this breeder breed Boxers for conformation shows and dog rings, but also for wonderful family dogs that are obedient and loyal companions.
The Xelascon Boxers are known for many dog competitions and shows in which they have accomplished a lot and won many awards.
This reputable breeder is a member of the Canadian Kennel Club, the Boxer Club of Canada, and the Oakville and District Kennel Club.
Xelascon Boxers' Details
Email: [email protected]
Phone: 647 271 8593
Website: Xelascon Boxers
Facebook: Xelascon Boxers
7. HaltonHill Boxers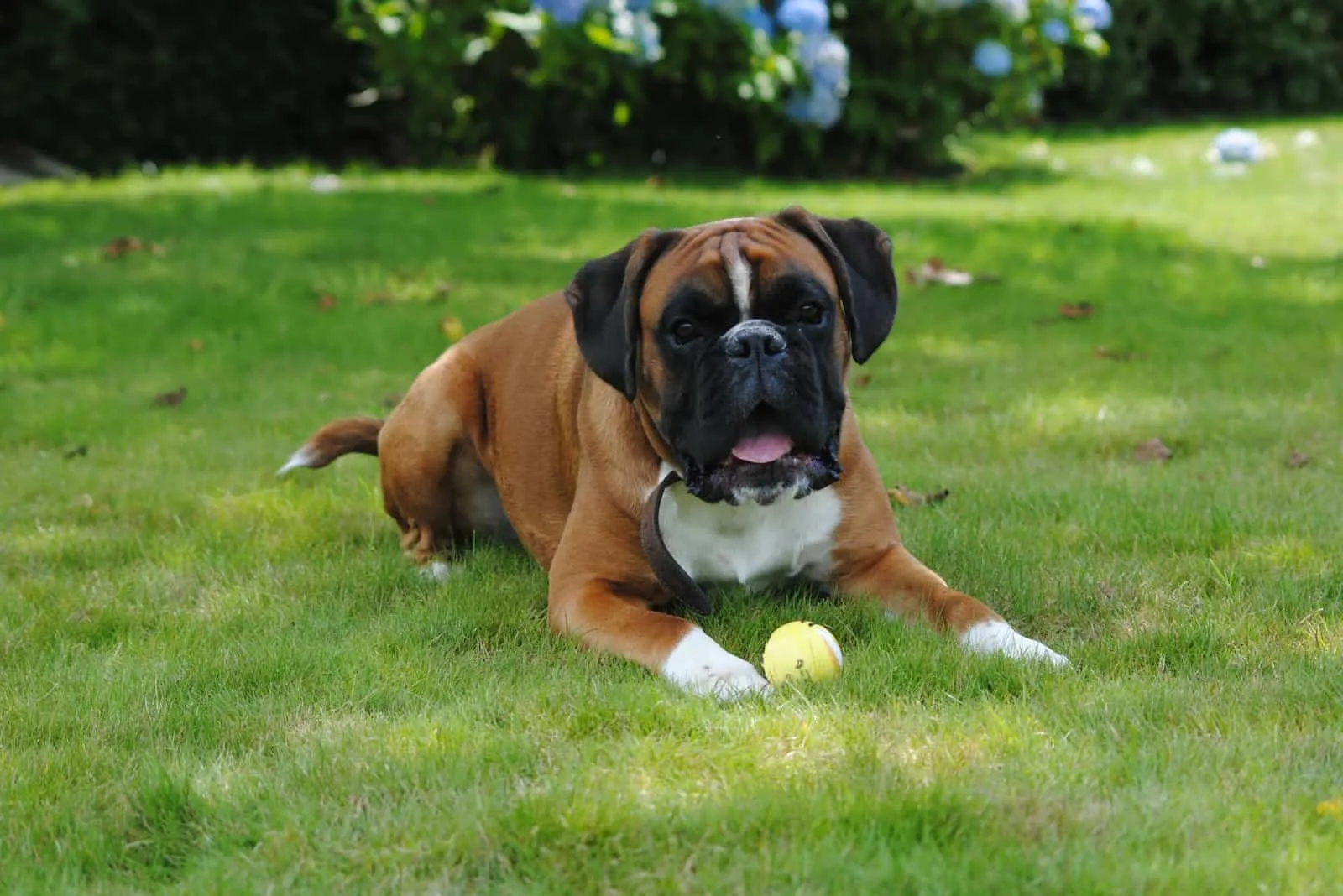 Dating back to 1999, HaltonHill Boxers started breeding the amazing Boxer dogs. With a lot of love, care, and passion for this breed, HaltonHill Boxers are devoted to producing only high-quality, healthy, and happy Boxer puppies.
All HaltonHill Boxers are home bred and raised in a wonderful, loving environment. Because the Boxer's health is the number one priority of HaltonHill Boxers, all Boxer puppies are examined by a veterinarian.
These Boxer puppies are microchipped, de-wormed, and have received their first set of shots. The HaltonHill Boxers have their tails docked and their dew claws removed. The breeder also offers a two-year health guarantee.
Moreover, the HaltonHill Boxer puppies are CKC-registered, and come with six weeks of free pet insurance.
This reputable breeder tests his Boxer puppies for inherited diseases. In fact, these bloodlines have been tested by Board Certified Cardiologists, and were also involved in an ARVC study by the U of Guelph, Veterinarian College of Ontario.
HaltonHill Boxers' Details
Email: [email protected]
Phone: 519 996 6729
Website: HaltonHill Boxers
8. Everlong Boxers
"We breed for quality, not quantity" is the motto of Everlong Boxers.
Getting their first Boxer dog, called Maggie, started the Everlong Boxers' breeding story. Maggie, the Boxer, was, in fact, the creator of Everlong Boxers.
This reputable breeder joined the Boxer Club of Canada, where they have been mentored in providing guidance, information and teaching of the Boxer breed standard.
Everlong Boxers produces healthy purebred Boxer puppies that come with a health certificate and a puppy contract form that future owners have to fill out.
Prior to purchasing a Boxer puppy from Everlong Boxers, this breeder provides a puppy application form in order to ensure that their Boxer puppies are going to a loving home.
Moreover, Everlong Boxers offers reservations on upcoming puppy litters. All you have to do is contact this amazing Boxer breeder!
Everlong Boxers' Details
Email: [email protected]
Phone: (905) 607-3736
Website: Everlong Boxers
Location: 3393 Folkway Drive, Mississauga, Ontario L5L 2E3
9. Jersey Boxers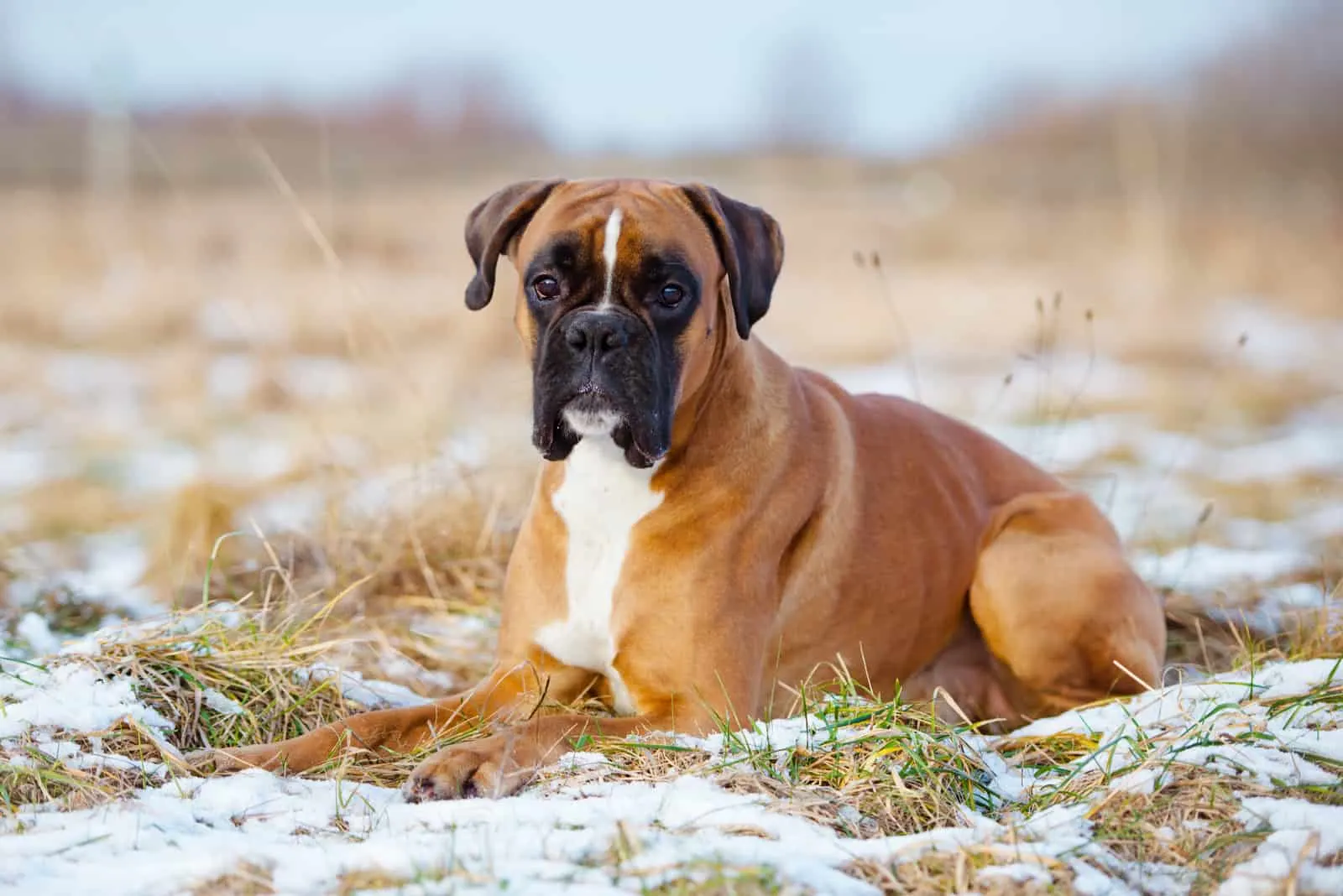 Jersey Boxers is based in Ontario, and they breed and raise Boxer dogs at home. Jersey Boxers breeds the high-quality European boxer bloodlines that originate from Germany.
Jersey Boxers' bloodlines are solely bred from imported European boxers. European, German, Slovenian, French, Belgian, and Serbian are the Boxer lines that have helped build the foundation of the Jersey Boxers' bloodline.
These Boxers have been raised in perfect conditions, growing up healthy and happy.
The Jersey Boxers breeder crosses healthy and powerful purebred Boxers that produce healthy Boxer puppies. All Jersey Boxers are examined by a veterinarian, de-wormed, microchipped, and vaccinated.
Scent detection is their specialty, and they've been trained since puppyhood to appreciate working with the people they live with.
Boxer puppies mature into loving family dogs that get along with every family member. If you're looking for a wonderful, loving, and loyal Boxer dog, make sure to check out Jersey Boxers!
Jersey Boxers' Details
Website: Jersey Boxers
Facebook: Jersey Boxers
Boxer Breed: Health Problems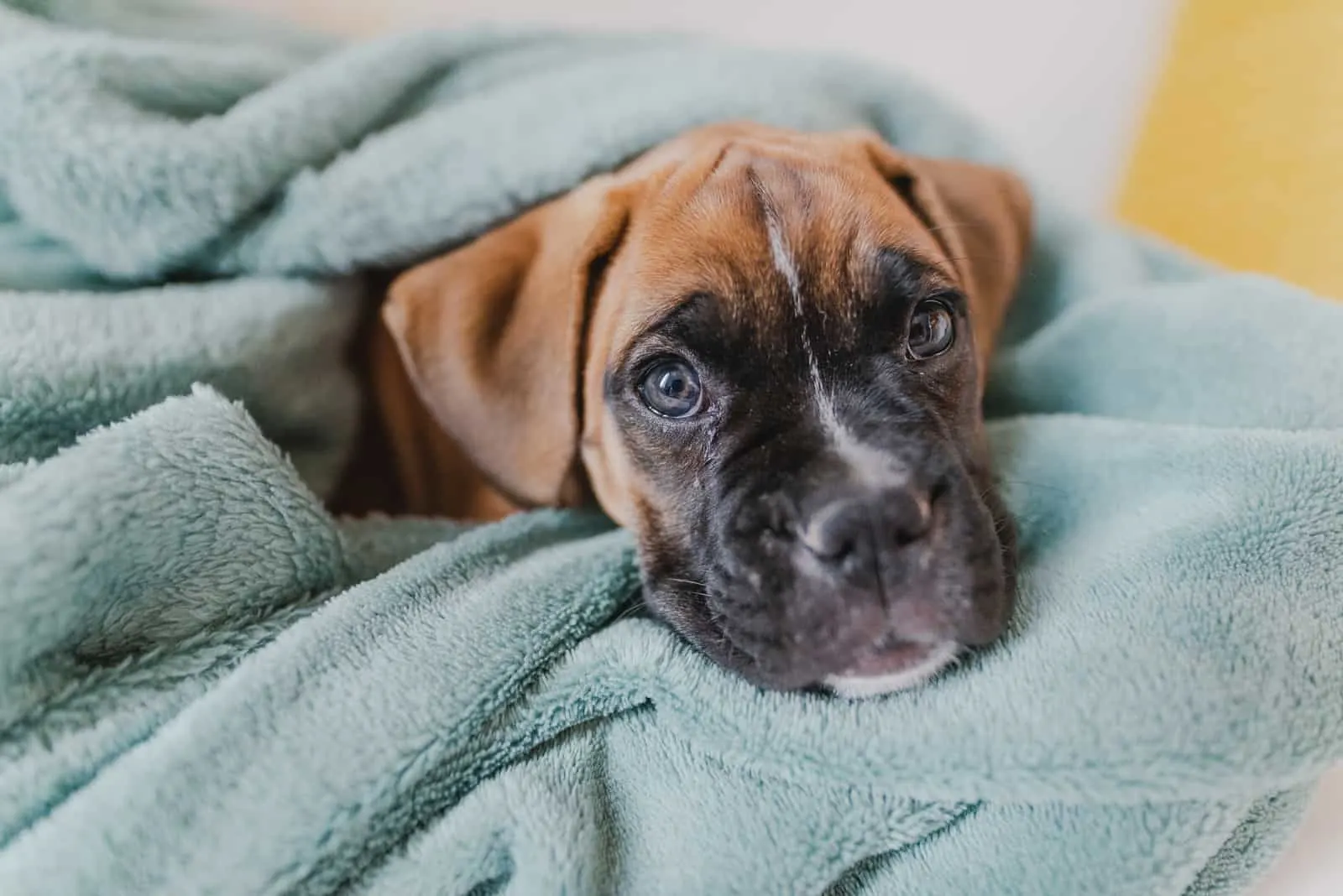 Unfortunately, the Boxer Breed is known for some specific health issues that they have inherited through selective breeding. You're probably no stranger to this topic, but it's important to mention a few health problems that often affect the Boxer breed.
To make things clearer, we made a list of possible Boxer breed health problems:
• Aortic stenosis
• Arrhythmogenic right ventricular cardiomyopathy (also known as "Boxer cardiomyopathy")
• Dilated Cardiomyopathy (DCM)
• Degenerative Myelopathy (DM)
• Bloat
• Hip dysplasia
• Ear infections
• Hypothyroidism
• Epilepsy
• Skin diseases
• Brachycephalic Obstructive Airway Syndrome (BOAS)
Heart Conditions
Most purebred dogs inherit health problems that are specific to that dog breed. When it comes to the Boxer breed, this medium-sized dog is prone to heart conditions.
In fact, Boxers are so known for their inherited heart condition that a certain disease got the name, "Boxer cardiomyopathy". In other words, this inherited heart condition is called Arrhythmogenic Right Ventricular Cardiomyopathy (ARVC).
Heart murmurs, coughing, breathing difficulties, fainting, and other general symptoms can be seen in as early as the first year of life. ARVC is a genetic heart condition that unfortunately many Boxer dogs inherit. Luckily, this condition doesn't affect all Boxers.
Research on ARVC gene mutation has been conducted in the United States among 2,000 Boxer dogs. Statistics show that almost 41% of the examined Boxer dogs had inherited the gene that causes Boxer cardiomyopathy.
Respiratory System
Another thing to mention is that the Boxer dog is a brachycephalic dog breed. This means that its skull is shaped differently than in other dogs. Their skull is short-muzzled with short, narrow airways.
Just like other brachycephalic dogs such as Pugs, French Bulldogs, and Boston Terriers, your new Boxer puppy may snore a lot because of its specific skull anatomy.
But, snoring is not as serious as other health conditions that might appear due to the airflow obstruction that can result in more serious respiratory diseases.
Canine Hip Dysplasia
Considering its size and body type, the Boxer dog may also suffer from hip dysplasia. This condition is an inherited trait, but it can also be caused by injuries. Hip dysplasia is a term used to describe the dislocation of the hip joint.
This health condition is usually seen in medium to large dog breeds such as the Labrador Retriever, the German Shepherd, the Great Dane, and other big dogs.
Canine hip dysplasia is a very painful health issue that is shown through clinical signs that include difficulty in moving and rising, lethargy, depression, weakness in hind legs, and loss of muscle mass.
Why Choosing A Reputable Boxer breeder Is Important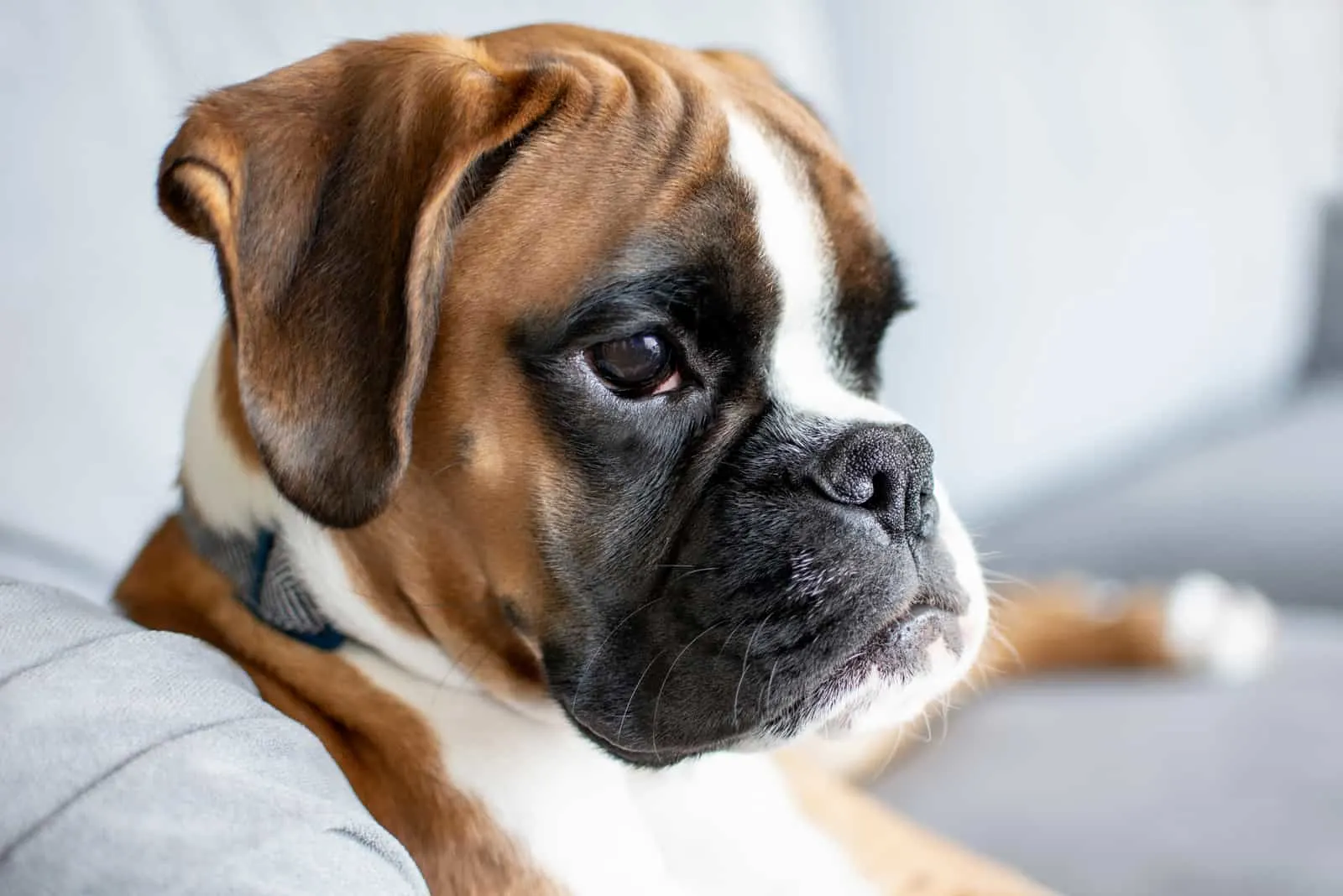 If you decided to get a Boxer dog, which you probably did since you're reading this article, it is always good to keep in mind the possible health problems your new puppy may be prone to.
Therefore, choosing a reputable breeder is very important when it comes to the matter of your new puppy's overall health.
Reputable breeders put their Boxer puppies through health tests and predictive genetic testing that predict the future health risks of those dogs.
Serious and high-quality Boxer breeders will happily offer a health guarantee on their Boxer puppies. This health guarantee usually comes with a health certificate, which is proof that the Boxer puppies from the litter are as healthy as they can be!
The main job of Boxer breeders is to make sure you are bringing home a healthy and happy new puppy.
Final Thoughts
Getting a new puppy is a very exciting period in your life. But, all that excitement and eagerness shouldn't lead you to make fast decisions when it comes to choosing a reputable Boxer breeder.
Instead of searching all by yourself, you can find the best Boxer breeders in Ontario in this article!
All reputable breeders care for their puppies and spend a lot of time, money, and effort in producing the healthiest little furballs. If you decide to purchase a Boxer puppy, make sure to provide it with lots of love and cuddles!
We hope that this was an interesting read that has helped you choose the best Boxer breeder in your area.
Related Articles:
• Best Pomeranian Breeders in Ontario
• Best Pug Breeders in Ontario