This post contains affiliate links, and I will be compensated if you make a purchase after clicking on my links.
Everyone knows that Pugs are among the cutest family pets out there! These brachycephalic dogs are charming and easy-going, but their short coat and sensitive skin require some taking care of.
Pugs come in two standard coat colors – fawn and black – but what not many people realize is that these two colors also come with a different coat type.
Black Pugs have a single coat, and fawn Pugs come with a double coat that needs additional maintenance.
This can make things more complicated for first-time owners, as they might not know what type of products their pups require. Picking the best shampoo for Pugs can be a real nightmare!
Do you even need to bathe your short-haired Pug, and what types of products should you use? If you're unsure about how to properly keep your pooch clean, you're in the right spot.
I'll give you a list of eight of my favorite products, and also explain how you can pick the best Shampoo for Pugs on your own.
Let's get started!
Best Shampoos For Pugs
Before I get into more details, here is a quick rating of all the best shampoos for Pugs, according to Chewy and Amazon reviewers:
8 Best Shampoos For Pugs Reviewed
Despite their short coats, Pugs are high-shedding dogs. Bathing is one of the ways you can manage the shedding and make your life a bit easier.
Also, they have lots of wrinkles, and this is a haven for dirt and skin infections!
The best shampoo for Pug is great not just for keeping your doggie clean, but also for ensuring the dirt doesn't get onto your clothes when these lap dogs climb on top of you.
Here are eight best shampoos for Pugs that you cannot go wrong with: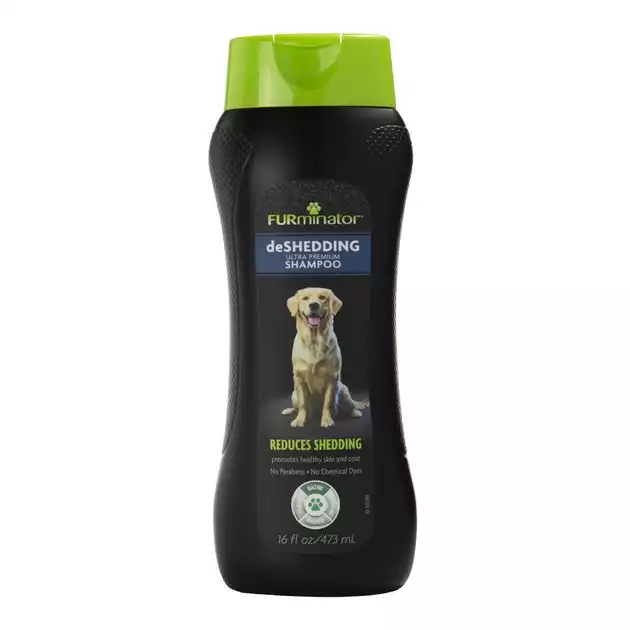 This is the best shampoo for Pugs that are struggling with high shedding amounts. It's also a good choice for the shedding season when dog hairs are everywhere.
This shampoo contains all-natural ingredients, such as calendula, papaya leaf, and fatty acids. These will not just improve the quality of the dog's hair, but also promote the healthy development of his skin.
One issue that I have with this shampoo is that there is not enough information about the ingredients. Also, the shampoo shouldn't be used on the dog's face, as it's designed particularly for body parts that shed.

If you've just bought a new Pug puppy, this might be the best pet shampoo for him. It's a limited ingredient formula that is 97% natural. IT contains honey, buttermilk, and beeswax to keep your pup's coat clean and soft.
The formula is hypoallergenic, something that should be a must for all puppy shampoos. It's free of artificial colors and sulfates, making it one of the gentlest formulas on our list.
Most importantly, the shampoo won't wash off any tick and flea treatments you might be doing on your pup. As the formula is pH balanced, it won't dry out your pup's skin or cause any skin issues.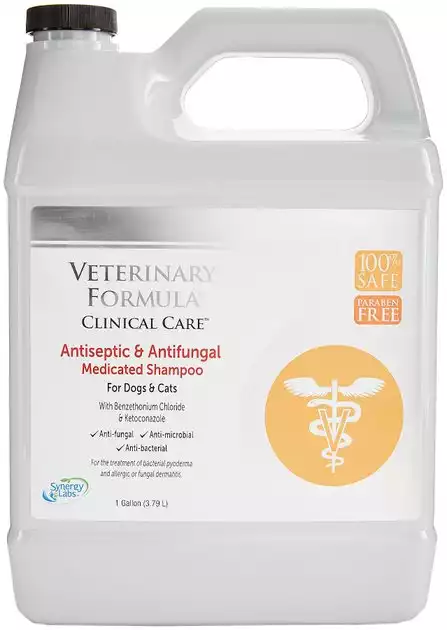 This might not be a shampoo for everyday use. However, it is the best shampoo for the treatment of various skin conditions, such as dermatitis and hotspots.
You might also use it as a prevention if you know your doggie is prone to skin infections, and his immune system dropped.
Also, for a limited amount of time, you might use this shampoo more often than other options. This will ensure your dog's itchy skin is gone.
Keep in mind that this isn't a deodorizing product with a nice smell – quite the opposite. However, it is an excellent medicated shampoo that will do wonders for your pup's health.
You can always use a second shampoo if you'd like your dog to smell nice afterward!
Editor's Choice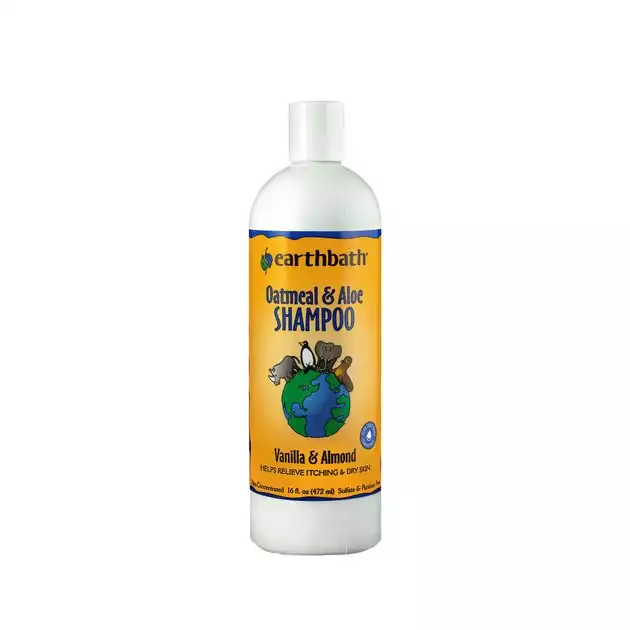 This is probably the best dog shampoo for Pugs I've run into. While it's not 100% natural, it combines many great ingredients that help make the skin healthy and coat shiny.
This is a moisturizing oat meal and aloe dog shampoo rich with essential oils that will make sure your dog's skin is no longer dry and flaky.
The formula is free of any artificial fragrances and dyes, so you'll know it's perfectly safe for your pooch! Also, while not hypoallergenic, gentle ingredients make sure allergic reactions aren't likely.

This is a great shampoo if you have a sensitive 4-legger that is prone to itchy skin, allergies, and similar health issues. It's suitable for frequent bathing, even if your pooch is currently on a topical flea and tick treatment.
The formula will help your dog have healthy skin and a shiny coat thanks to a special blend of ingredients designed by veterinarians.
Also, unlike many other medical dog shampoos, this product smells amazing. It will get rid of the dog's odor and make sure he smells fresh and clean even after long walks!
However, it does contain tea tree oil, so make sure to check with your vet whether it is the right choice for your pooch.

If you'd like some lather in your dog's bath, this is the best shampoo for you. It will give the impression of a luxurious bathing experience at an affordable price.
The formula detangles and removes mats from a dog's coat – something that isn't necessary for Pugs, but it will ensure brushing sessions are as smooth as possible.
The shampoo mostly contains natural ingredients, such as mango, papaya, kiwi, and coconut, which will hydrate the skin and make the coat soft and shiny.
At the same time, the shampoo is suitable for both cats and dogs and most other pets you might have. As such, if you have several pets in your household, you can bathe them all with just one product.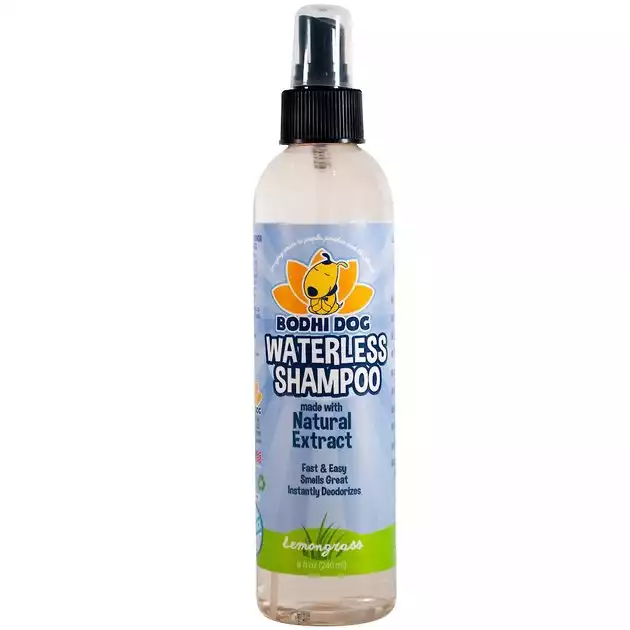 This product is different from others on the list as it is a dry dog shampoo. All you need to do is to spray your pup with it, brush him with a comb or hands, and he's good to go! This is a great quick solution for when you don't have the time to put your dog in a bath.
The product has a pleasant lemongrass scent that will smell good to not just you, but your pooch alike.
Also, due to a gentle ingredient list, this product is suitable not just for dogs, but for any other house pet such as cats, rabbits, ferrets, or guinea pigs.
Keep in mind that dry dog shampoos can never entirely replace a proper bath. Still, they are a great quick solution, and they are suitable for dogs that hate baths, as well.
Buddy Wash Original
Key Benefits:
Soap-free

Alcohol-free

Shampoo and conditioner in one

Made in the USA

If you're looking for a natural dog shampoo free of harsh chemicals, this might be the best product for you.
This is a hydrating formula that will do wonders for your Pug's skin. It contains many pure botanical extracts and it's even coconut-based!
Everything is enhanced with lavender and mint for that pleasant experience.
It creates a proper lather that will help you clean even a Pug puppy that loves to get dirty.
Keep in mind that this shampoo contains tea tree oil. If your pooch has very sensitive skin, it might be best to skip this product.
Features To Look For
Pugs are dogs with some unique needs that make them stand out from the rest. Their wrinkly faces and unique coat types are why they require some special care.
You cannot just walk into the store or open a website and buy the first product you see. You need to check for ingredients and think about what might be the best combination for your pup – and what ingredient might cause harm.
If you'd like to do some research on your own, here are a few features you need to look for when you check the ingredient list:
Natural Ingredients
Best ingredients are usually natural ingredients. The same goes for both humans and for our four-legged friends.
Of course, finding a 100% natural shampoo might be an impossible task. However, it's important to avoid artificial fragrances and dyes, as well as other harmful chemicals.
Another thing you need to be mindful of is that just because something is good for your hair, it doesn't have to be good for your pooch.
Certain ingredients, such as tea tree oil, are extremely toxic for dogs, even when not eaten but simply absorbed through the skin.
Mineral oils are also not always a good thing, as they can block your dog's body from eliminating toxins.
As such, you should aim for products that are as natural as possible but make sure to check the ingredients thoroughly. Don't be swayed just because something is labeled as natural.
On the other hand, there are some ingredients that are good both for us and for our pups. Such are aloe vera and chamomile, moisturizing ingredients that soothe your dog's skin and lower dander production. This makes your Pug a bit more allergy-friendly and easier to groom.
Hypoallergenic
Pugs are prone to various skin allergies. They have dry skin that is very easy to get irritated. While it is important to look for shampoos that don't contain any allergens for any dog breed, this is especially important for Pugs due to these specific needs.
If anything else, try to get a hypoallergenic dog shampoo that you'll use on your Pug's face. This is the most sensitive area, and nothing that is too harsh should touch it.
Also, if you notice any redness or hair loss on your Pug, make sure to get him to the vet so they can see whether he has any allergies or skin sensitivities that you might not be aware of.
Once you determine this, you can go on and pick the best shampoo for Pugs that doesn't have this particular ingredient.
Still, picking a hypoallergenic shampoo is a good way to stay on the safe side and try to avoid problems before they arise.
A dog with skin allergies will feel itchy and uncomfortable, he'll scratch a lot and he might even injure himself. This will also increase the shedding amount, and I doubt this is something you'd like.
Antifungal And Antibacterial
One of many health problems Pugs are prone to are hotspots. These are inflamed skin lesions that often contain pus. You might also know them by the name acute moist dermatitis or pyotraumatic dermatitis.
This is a condition caused by scratching, and one of the main reasons why your Pug will scratch excessively are fungal infections. This is especially the case with wrinkly dogs, such as Pugs or Shar Peis.
Things also go vice versa, and fungal infections can be a consequence of hotspots – or rashes and allergies – after the dog was licking them and scratched for too long. Its saliva and other bacterias will cause the scratched spots to become infected.
Bathing your Pug with anti-fungal shampoo can be a good preventative measure. These shampoos will regulate the dog's skin pH levels, which will slow down the growth of fungi and bacteria.
While they are not a replacement for medication, they are a good thing to have nearby when you have such sensitive dogs.
Good For Dog Hair
Pugs are dogs that experience moderate to high levels of shedding. While this won't hurt your pup, it will certainly hurt your free time, as you'll spend every last minute of it cleaning dog hair.
This is especially the case with fawn Pugs, as they have a double coat, with a thick undercoat and a bit longer topcoat.
Two times a year, during the shedding season, their shedding amount will increase, and this can make it really challenging to clean.
One of the things you can do for your Pug is to pick the best dog brush and make sure you use it at least a few times a week.
Another thing is to buy one of the best shampoos for Pugs.
There are many deshedding shampoos currently on the market that you can use. These shampoos have such ingredients that they make the hair follicles stronger, reducing the number of loose hairs and making the shedding season a bit more manageable.
Keep in mind that using these shampoos is not a replacement for the rest of the grooming session. You'll still need to make sure your dog is properly brushed and blow-dried every few days.
Still, the difference should be noticeable after just a few months of using such shampoos.
No Harmful Ingredients
When looking at the ingredient list, there are a few things to be aware of.
If you see the label proprietary blend of coat and skin conditioners and moisturizers, avoid this shampoo at all costs. This is a label manufacturers use when they want to hide the true ingredient list.
Also, while I've said that artificial ingredients should be avoided, I never listed which ones are truly bad. Some ingredients and chemicals you should avoid at all costs include:
• Phthalates.
• Artificial fragrances and artificial colors.
• Formaldehyde preservatives.
• Paraben preservatives.
• Most sulfates.
• Any additives.
Most certified organic dog shampoos won't contain any of these ingredients. Still, it doesn't hurt to double-check.
Bathing Tips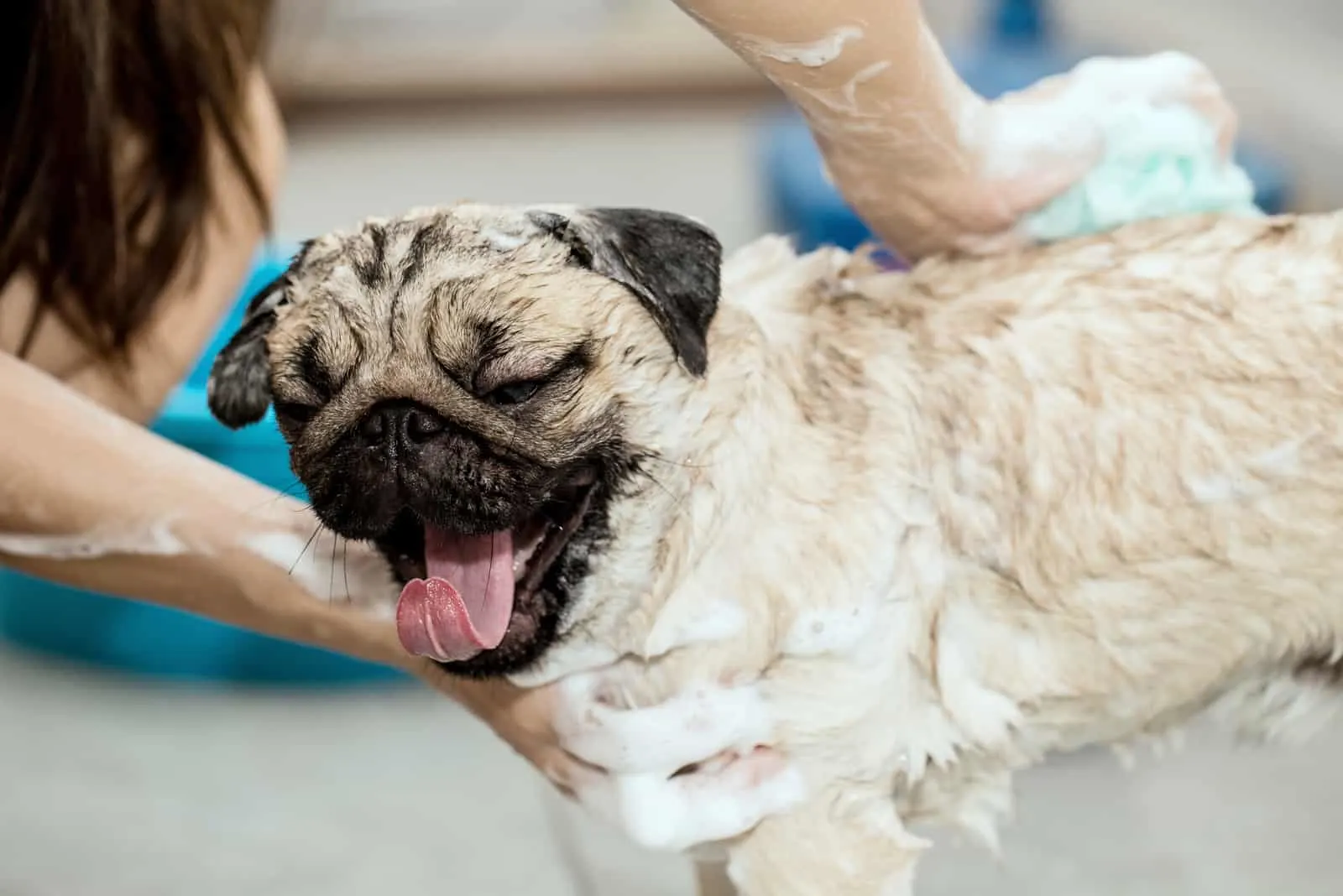 As I've mentioned, Pugs are not that easy to maintain, even though their looks might fool you.
These are not clean dogs, so you'll be the one to take proper care of them. You need to learn as much information about the best Shampoos for pugs, as well as some tips that can help you have the most out of bath times.
Here are a few dog bathing pieces of advice you might find useful:
Bathe Your Pug Often
Pugs need more baths than most other breeds. Their skin and specific coat type means they get dirty faster, and you might need to clean them more often.
For example, most dog breeds will need a bath every few months. This is the same no matter their coat length or size.
However, Pugs might need baths every few weeks. In fact, during the shedding season or if they get a skin infection, you might need to bathe them every week!
Don't Go Overboard
Despite what I've just said, you can go overboard and bathe your Pug too much.
Bad shampoos can cause skin irritations and inflammations, and you shouldn't use them on your dog almost never.
Chemicals from water alone can harm your pooch, so even when using a proper shampoo you're risking drying out your dog's skin or increasing the chance of bacterial infections.
As such, you need to find a balance. When you buy the best shampoo for Pugs, you'll be able to bathe your Pug every week without risking harm and injuries.
Unless your vet advised you to wash your pup more often, don't bathe him more often than that. Otherwise, you're risking his health.
Don't Forget Their Face
Pug's wrinkles make it easy to skip certain parts of his face, and this is something you need to be very careful with.
The face is the Pug's most sensitive area, and it requires to be cleaned often. Due to many wrinkles, crannies, and nooks, this area is a paradise for dirt, food, and harmful bacteria.
As such, make sure to clean his face regularly with a gentle face cleanser or some similar product. You can do this each week, even if you don't bathe your Pug as often.
Mind Their Flat Nose
Just because your Pug's face needs some additional cleaning, this doesn't mean that you shouldn't leave some parts of his face dry and free of soap and shampoo.
For example, Pug's bulgy eyes are very sensitive and prone to infections. If shampoo gets into them, it might irritate them, causing redness or even vision problems.
Similarly, due to the shape of their nose, they are prone to breathing problems. This will only worsen if the water gets into their noses – especially if this is something that keeps on happening.
Clean your dog's nose and ear after every bath time, and try to keep water away from them as much as possible. Don't risk your pooch having breathing issues or an asthma attack just because you didn't want to protect his nose.
FAQs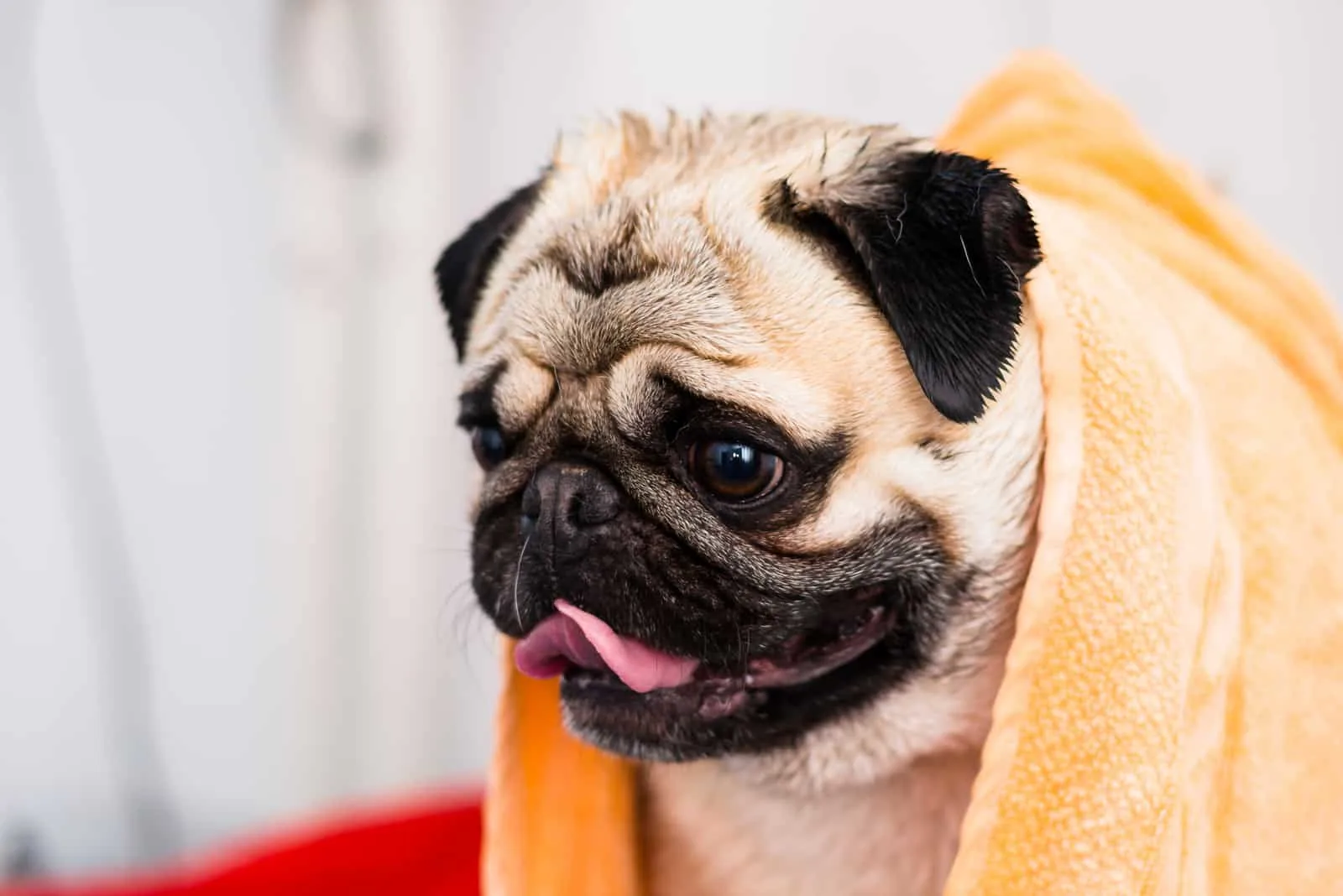 What Is The Best Shampoo For Puppies?
When looking at puppy shampoos, there are a few things you need to have in mind.
First and foremost, Pug puppies are even more sensitive than their parents. Think about everything I've mentioned about Pugs having sensitive skin, now multiply that by ten. This is how sensitive they are.
Look for tearless, hypoallergenic shampoos that are specially formulated for puppies. Also, look for a shampoo with a pH value of 6.2 to 7.4. These shampoos are considered pH-balanced when it comes to dogs, as dogs have a more neutral pH balance compared to humans.
Natural ingredients are especially important for puppy shampoos, as they certainly won't cause harm to your new pet.
Do Pugs Need Conditioners?
Using a dog conditioner isn't a necessity. However, it can truly make a difference in your dog's health and appearance, so I would advise you to try it.
Conditioners will help your dog get free of mats and tangles. However, this isn't something that happens with short-haired dogs, such as Pugs.
Instead, you might want to use conditioner for the appearance benefits it brings. Conditioners give your dog's coat shine, making it look as healthy as possible.
Can You Use Human Shampoo On Pugs?
Technically, you can use human shampoo on dogs. It won't poison them or directly ruin their health.
However, you really shouldn't do this.
Dog shampoos and human shampoos have different pH values. As such, your gentle shampoo might harm your pup.
Also, many shampoos we use have artificial fragrances and colors. These are bad not just for dogs, but also for us.
However, while you might say that you enjoy the flowery smell of your shampoo, your dog probably hates it, and now he cannot get rid of it no matter what he does.
Human shampoos might disrupt the dog's natural oil production, increasing the chance of infections and parasites.
As such, you should never use the same shampoo you use on yourself to bathe your beloved Pug. Fortunately, there are so many products that might be considered the best shampoo for Pugs that you'll certainly find some suitable for you and your pooch.
Check ingredients, check price, place the shampoo in your cart and make your pooch shiny and clean!