This post contains affiliate links, and I will be compensated if you make a purchase after clicking on my links.
Corgis are a small breed, but a delightfully wonderful one. They are puppies that always seem to shine no matter what they drag themselves through. In order to keep them that way, giving your doggo proper baths is key, but what's the best Shampoo for Corgi dogs?
The best shampoos for Corgis are those that help solve two problems; shedding, and relaxation.
You see, Corgis, much like cats, aren't the biggest fans of taking baths, so finding shampoos that can help soothe them is going to be one of your biggest concerns.
Luckily, most of them have turned to various herbs and oils to provide a little bit of relaxation in the form of doggy aromatherapy, which has given dog owners a few options for pet shampoos.
The rest of the requirements are pretty optional, and mostly depend on your dog's needs, but more on that later.
First, let's find the best shampoos out there for your little doggo.
To save you the trouble of looking all of them up, I've browsed the Amazon and Chewy online marketplaces to give you what I consider to be the best of the best for the Pembroke Welsh Corgi, and I have put them down here for your convenience.
Let's see what they are.
10 Best Shampoos For Corgis
Our first option on this list is a great example of the things you'll want to look for in Corgi shampoo.
It's a pH-neutral shampoo that's completely soap free, preventing skin irritation while also reducing any other potential occurrences of the problem through the inclusion of omega-6 fatty acids – a nutrient commonly used in dog food to keep the skin soft and the Corgi's coat shiny.
On top of all that, there are a number of other skin moisturizers like Aloe Vera and awapuhi, which help hydrate dry skin or soothe itchy skin.
Apart from managing sensitive skin to slow the shedding process down, Earthbath Shed Control is the type of shampoo that also helps relax your canine companion during the bath through the uses of shea butter, ginseng, and green tea leaf essential oil.
All of these help relax your dog's muscles and provide a soothing scent or feeling of comfort, which will make your doggo's experience more compliant.
The shampoo is completely free of any harmful chemicals like sulfates, phosphates, and parabens, and it is also completely biodegradable.
The product itself is certifiably cruelty free, meaning no animals were harmed in the process of making it.
And, do remember that if your dog is using a tick or flea ointment, read how long your dog must wait after its application in order to be bath-eligible. You don't want it getting washed off after all, do you?
The pricing for the shampoo itself is somewhere in the middle, though it's understandable given the benefits it provides.
The packaging, on the other hand, feels a bit outdated and could use a modern coat of paint.
Burt's Bees is a brand known for its creation of products that care about skin health, whether it is for dogs or babies, and this shampoo is no exception.
Made with almost completely natural ingredients like honey and colloidal oatmeal, the shampoo helps reduce the likelihood of any potential skin condition popping up, and it helps your Corgi maintain a lustrous and soft fur coat.
The product is made cruelty-free, showing that Burt's Bees is a brand you can trust.
Aside from that, the shampoo is pH-balanced, meaning there won't be any stinging in the eyes or burning on the skin, which is always a great benefit when you have to lather up a pooch that doesn't like baths.
It's free of any artificial additives like sulfates, parabens, phthalates, petrolatum, and any other harmful chemicals or artificial fragrances.
They're even eco-friendly as the bottles are 80% recycled.
If none of that has convinced you, you should know that this shampoo comes vet recommended as well, adding that extra seal of approval.
It's incredibly cheap, too, considering everything that it provides, which makes it a great budget option for money-savvy dog owners.
The only thing that I could see wrong with it is the bottles' somewhat old-fashioned design.
Our next entry is a fully hypoallergenic shampoo coming from 4-legger.
The base for this shampoo consists of lemongrass and Aloe Vera, both of which work wonders in soothing irritated and otherwise sensitive skin in a healthy manner.
The lemongrass itself helps fight various bacterial and fungal infections while Aloe Vera is a well known ingredient that helps relax the body and soothe the skin for both humans and animals alike.
They're further supplemented by a mix of essential and organic oils, like coconut oil, that further relax your Corgi pup, improve his skin quality, and make it like he's having a day at the doggy spa.
All of these ingredients are gentle and won't peel any natural skin oils off, keeping the sheen of your dog's coat as great as it always was.
The shampoo is made completely cruelty-free, and it is both vegan- and gluten-free, not to mention that it is completely biodegradable and made out of non-GMO ingredients.
That was a mouthful, for sure, but that mouthful earned them a USDA certification.
That, and the fact that the shampoo contains no artificial preservatives, parabens, thickeners, sulfates, or any form of detergent or harmful chemicals.
Not only that, but for dogs going through flea or tick treatments, the shampoo won't wash the treatments away as long as you follow the instructions on both the ointment and the shampoo itself.
It is a bit pricey, but the benefits are worth it if you can spare the money, plus the design of the bottle is quite appealing when paired with the shampoo's color.
A little bit pricey compared to some of the others on this list
Another great entry; this time with a new ingredient added to the mix – vitamin E.
It's mixed in with the standard oatmeal and Aloe Vera base to further improve skin health and reduce hot spot occurrences and any other bacterial, yeast, or fungal infection.
All of this while still keeping your Corgi's skin moisturized and giving your pupper a natural vanilla scent.
The main draw of the shampoo comes from groomers themselves, due to its versatility, as it can be used on all dog breeds with relatively equal success without them feeling any irritation whatsoever.
While it is universal, it does feel a little ingredient-lite compared to other brands, but more isn't always better, and the price is relatively okay for what you get – maybe a buck or two more than I'd like.
Nature's Miracle is a well-known pet brand that makes excellent (and budget!) products for pets, and their shampoo's quality can rival some of the best out there.
The shampoo itself is primarily made from a mix of Jojoba oil, Aloe Vera, and Cocoa surfactant.
It comes as a four-in-one package, helping to deodorize the skin, neutralize odors in the first place, and acting as a shampoo and conditioner.
Normally, these packaged deals try sneaking in some shady stuff between the lines, but not this one. In fact, much like the other shampoos on this list, it's completely soap-free, and it has no artificial dyes, fragrances, phthalates, or parabens.
It even works well with any topical ointment used against ticks or fleas.
On top of that, it's tear free and gentle on sensitive skin.
It's made entirely in the U.S., so buying it means supporting the local economy.
And, as mentioned earlier, the price is relatively affordable compared to some of the higher-priced products on this list while still giving you everything that your Corgi bud might need for his regular baths.
A simple, two-in-one combo of shampoo and conditioner is next on the docket.
But, just because it's simple doesn't mean it's not worth the trouble – after all, it's often considered to be one of the best dog shampoos.
Buddy wash brings a mix of Aloe Vera to help soothe skin irritation and bring about overall doggy relaxation, aided by the calming scent of lavender and mint.
It's further supported with conditioners that come from essential oils and botanical extracts like rosemary, green tea, chamomile, and sage, which serve as extra relaxants.
The main ingredient here is a coconut base, which gives the shampoo a certain soft creaminess that feels like heaven to your canine companion.
The shampoo itself is completely soap- and alcohol-free, meaning it's gentle on the skin, and you shouldn't worry about irritation too much. It's even safe for human use under the right procedures.
Naturally, it's also cruelty-free because no good animal product subjects animals to cruel experimentation.
The price itself is a steal – cheaper than most products on this or any list, while still managing to easily compete and even outpace some of them.
The product does feature wheat protein, though, to serve as a natural odor neutralizer, but this can be questionable if your pupper has a wheat allergy, so do keep that in mind.
Another Earthbath product; this time with the standard oatmeal and Aloe base to help soothe the skin and prevent excessive shedding.
Its best use is revitalizing dry skin, so if you have a doggo with a particularly nasty problem of skin drying out quickly, this is the shampoo to go for.
It works for dogs as well as cats, though only those that are six weeks of age or older.
It's soap-free, meaning that it's not going to irritate the skin or anything else too much as long as you're careful.
The shampoo is fragrance-free as well for dogs with a sensitive nose or potential allergies to some scents.
On top of that, it's also free of phosphates, parabens, and any other harmful chemical, as well as being completely biodegradable as opposed to some others on the market, ensuring the health and safety of your Corgi and his environment.
Once again, it could serve to be a buck or two cheaper, but it's not too bad, though I do wish they'd update their label design.
Here's a more tropical entry – the two-in-one Papaya and Coconut option from Tropiclean.
The coconut and mango in the base aren't just there for fragrance; they also help untangle fur to make it easier to brush and groom properly.
The other parts, which are papaya and kiwi, are there to re-moisturize the skin and then add the final polish to the Corgi's fur coat.
It lathers up nicely, though it's still completely soap-free in order to prevent soap irritation.
The price is reasonable, too, considering the mix of all these exotic ingredients.
The one downside to it is that there have been lots of reports of the cap not being properly screwed on, which can cause leaks in transfer.
Yet another solid candidate for the Best Shampoos for Corgis award. This one promises a long-lasting scent, all the way up to two weeks.
It's made from all-natural ingredients, so the shampoo is completely soap-free.
Aside from the standard Aloe as a conditioner, it also has a dash of vitamin E to help rehydrate skin and lock moisture in.
This helps keep his coat shiny and easy to brush, and reduces potential skin irritation.
The shampoo itself is gentle and fully pH-balanced, leaving a very slim chance of the shampoo itself causing any issues with your doggo.
The pricing could be a little bit lower, but it's not the biggest issue.
And… our final entry is quite a decent contender as well.
While it's not as fancy as the others, it gets the job done quick and easy.
The shampoo is primarily made from Aloe Vera, chamomile extract, and mild surfactants, and the mix is perfectly pH-balanced and gentle on your furry friend's fur and skin, leaving him comfy and fluffy as if he was brand new post-shower.
It's completely paraben and sulfate free as well, though it's still not recommended for use on any dog younger than eight weeks.
The price is on the border of affordable to pricy, which is why I wish it was at least a dollar or two lower.
The packaging itself is pretty basic, too, but its results are undeniably good.
Things To Note Before You Buy
While these 10 may be the best bathtime products for a Corgi puppies' fur and skin, there is a chance that you may end up not liking any of them.
That's why I'd like to tell you about things you should be on the lookout for when looking for the best shampoos for Corgis.
All-Natural Ingredients
The first thing worth noting are all-natural ingredients and formulations.
"Natural" in shampoos usually means high-quality ingredients that are pH-balanced and easier on the skin in general in comparison to commonly harmful chemicals, which only cause more problems down the line for your dog's skin.
Something like oats and Aloe Vera are very common options that should be on your mind when buying a dog shampoo.
Soothing Properties
As I've said before, Corgis don't particularly like bath time, so finding one with a mix of essential oils and other potentially natural relaxants is the way to go.
It'll at least make it a little easier for your Corgi companion to ease himself into the ordeal.
Deshedding Properties
If your Corgi is a notorious shedder, you'll want to look into shampoos that help slow the process down so you don't have to clean a bucketload of fur out of your carpets and furniture every day.
Soap-Free
This one plays into the initial premise of wanting to prevent the shampoo from being an irritant itself.
Soap usually irritates the skin, especially for dogs with more sensitive skin, so getting rid of it without compromising the cleansing power by utilizing natural cleansers is also a big plus for a shampoo brand.
FAQs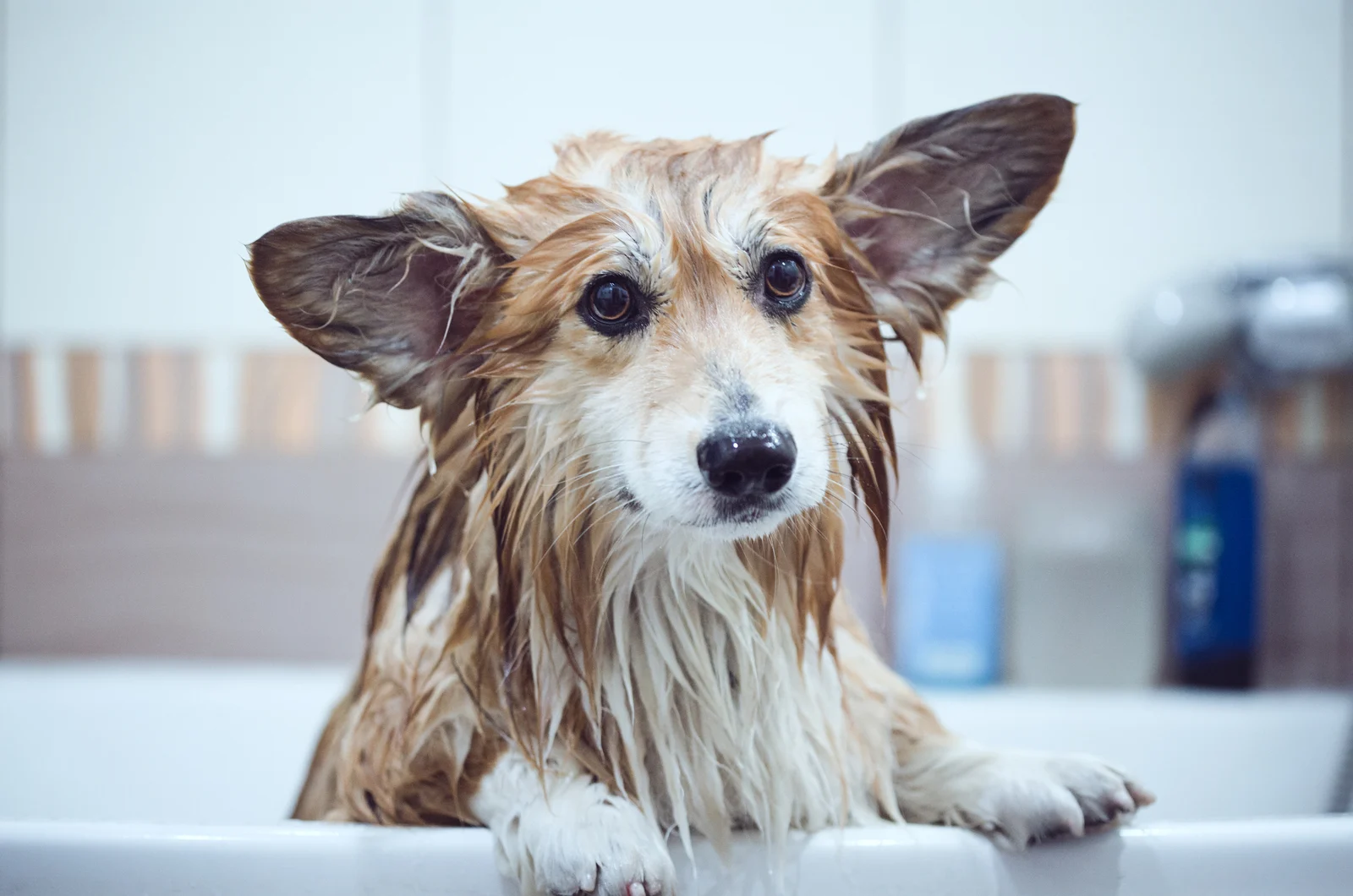 What Types Of Shampoos For Dogs Are There?
There are two types of shampoos for dogs that concern Corgis – the others aren't worth mentioning much:
Anti-Shedding Shampoo
The first is the anti-shedding option because Corgis shed, and they shed a lot when the season comes around.
A Corgi isn't the most hypoallergenic dog of the bunch, but he's still a beautiful one.
Unlike other dogs, their shedding 'season' covers almost the entire year – a fact made worse when you realize that Corgis have a double coat, meaning they practically smother you in their own hair with just how much there is.
Spring and winter are where you'll take the brunt of it as these are usually the peak due to changing seasons.
The shampoo will only slow the process down somewhat, but it'll also make it easier to groom your dog so you can get that hair off in a less chaotic fashion than your dog would do by rubbing himself all over your carpet and furniture, or even your pants.
One that I'd recommend that's not on this list due to supply issues would be the Furminator Ultra Premium if you can manage to get a hold of some stock.
Relaxation Shampoo
The other option is a relaxation shampoo. As I mentioned before, Corgis don't particularly like taking baths. Sure, there are outliers, and if your dog is one of them, I commend you for it.
These slippery rascals, however, are a whole different story, especially if they have skin problems which'll make them even jumpier.
The way to somewhat alleviate this behavior is through the use of various essential oils and other known safe and natural calming agents in the shampoo itself.
While, again, every dog is different and things may not work out as you expected them to, the oils and other ingredients will help (if just a little) regardless of the dog.
A good one that I'd recommend would be the 4-Legger Dog Shampoo.
How To Properly Bathe A Pembroke Welsh Corgi
With all the shampoo info sorted out, there's only one thing left to do, and that's giving your little guy a proper bath.
Here are a few tips that may help in that endeavor:
1. Brush Your Dog Down Before The Bath
Matting and tangles can be a nightmare to deal with during a bath, but if you give your dog a quick brushing before the deed, you can straighten it all out, and even remove some of the hair prior to the wash so you don't end up clogging your drain.
2. Place a towel or something similar in the bathtub
Dog paws weren't built to walk on smooth surfaces like ceramics, porcelain, and the like, so your dog will have quite a bit of trouble during bathtime struggling to maintain his stance.
Luckily, this can easily be remedied by just taking a towel or anything of the sort and placing it on the 'floor' of the tub or the sink to provide something for them to grip onto.
Sure, it'll get wet too, but that's the purpose of a towel anyway.
3. Plug The Drain
If you're not giving your dog a bath outside, it's recommended to either plug the drain with the actual plug, or better yet, with steel wool so that the hair catches.
You don't want that hair clumping up in your pipes only to end up causing a blockage and potentially great damage down the line. Trust me – I've almost been there, but I've learned since.
4. Bathe The Corgi In The Sink
You heard me right – the sink.
Corgis are small dogs, and if you bathe them in a large enclosed space and perform an activity that they're not too keen on, you're going to have a very panicked dog.
A sink feels a lot safer for them, the kitchen sink to be more specific.
It's smaller and more open in a sense, without having to compromise too much, and unlike the bathroom sink, it gives your Corgi some room to sit or stand.
The angle of a sink will work out a lot better for you compare it to a bathtub anyway, especially if you have issues of your own with your bones, muscles, etc.
Your doggo will now be level with your torso, meaning you won't have to bend over as much.
How Often Should You Bathe A Corgi?
Despite their excessive shedding, Corgis end up self-grooming most of the time, so the average time between baths is five to eight weeks under normal circumstances.
You can do the same when your Corgi starts shedding heavily, but it's better to make the baths a bit more regular in order to get rid of the accumulated hairs in one go rather than finding them all over the place.
Can You Use Human Shampoo For Corgis?
No, you can't – not really. We wouldn't be buying dog shampoos if we could.
Sadly, the skin of a human and a dog vary differently. Theirs is a lot more sensitive compared to our more adaptable skin.
It gets easily irritated, and it has a different pH level overall, among other things – the pH part being the crux of it.
Human shampoos are simply made for our pH level in order to actually remove dirt, and they're likely going to be too harsh for your little doggo.
It may end up causing harm to him or some irritation, but there's no need to put your dog through that when you can just get shampoo tailored directly for him.
You may be the best of friends, but you each have your own different needs.
Are There Any Coat Grooming Tips That Help With Corgis?
Well, you already know about the whole pre-bath brushing tip, but there are a few others you should be aware of:
Corgis Don't Need To Get Haircuts
The first thing that comes to the mind of any dog owner who has a dog with a shedding problem is to give him a haircut.
However, that's not the case with Corgis as they have the ideal amount of fur for them year-round.
Sure, it sucks in terms of cleaning, but regular baths when they're blowing or molting help minimize the spread of it throughout your household as well as this next tip.
Regularly Brush Your Furry Friend
With regular brushing, you start gradually picking up smaller clumps of your doggo's hair with each brushing, regulating the speed of the shedding process in a sense, along with its overall spread.
Make sure to get a good deshedding brush to help pick up all those hairs, so you can throw them away properly and do minimal cleanup later down the line.
About once or twice a week should be more than fine.
When he's in his most active shedding period, you should intensify this to daily brushing sessions in order to maintain a minimal amount of hair spread.
Get Good-Quality Grooming Tools
Doing maintenance on a canine is a big responsibility, which is why with every adoption article, I always state the question, "Is this dog the right one for you?"
Sure, Corgis can be cute, but they can be a handful, too, as can any other dog, and the costs pile up when you tally them all together.
Equipment is one of those costs, and for Corgis, anything related to brushing should be of good quality in order to keep him comfortable and your house clean.
Do Corgis Get Stressed?
Yes, they do! In fact, any creature can suffer from stress, even your furry little friend.
Stress can accelerate the shedding process, which is one of its side effects, along with a rowdier canine.
You don't want either to happen, so make sure your dog is always comfortable and has his mind occupied by something. Corgis are working dogs, after all, and not having something to do (surprisingly enough) can stress them out.
In Conclusion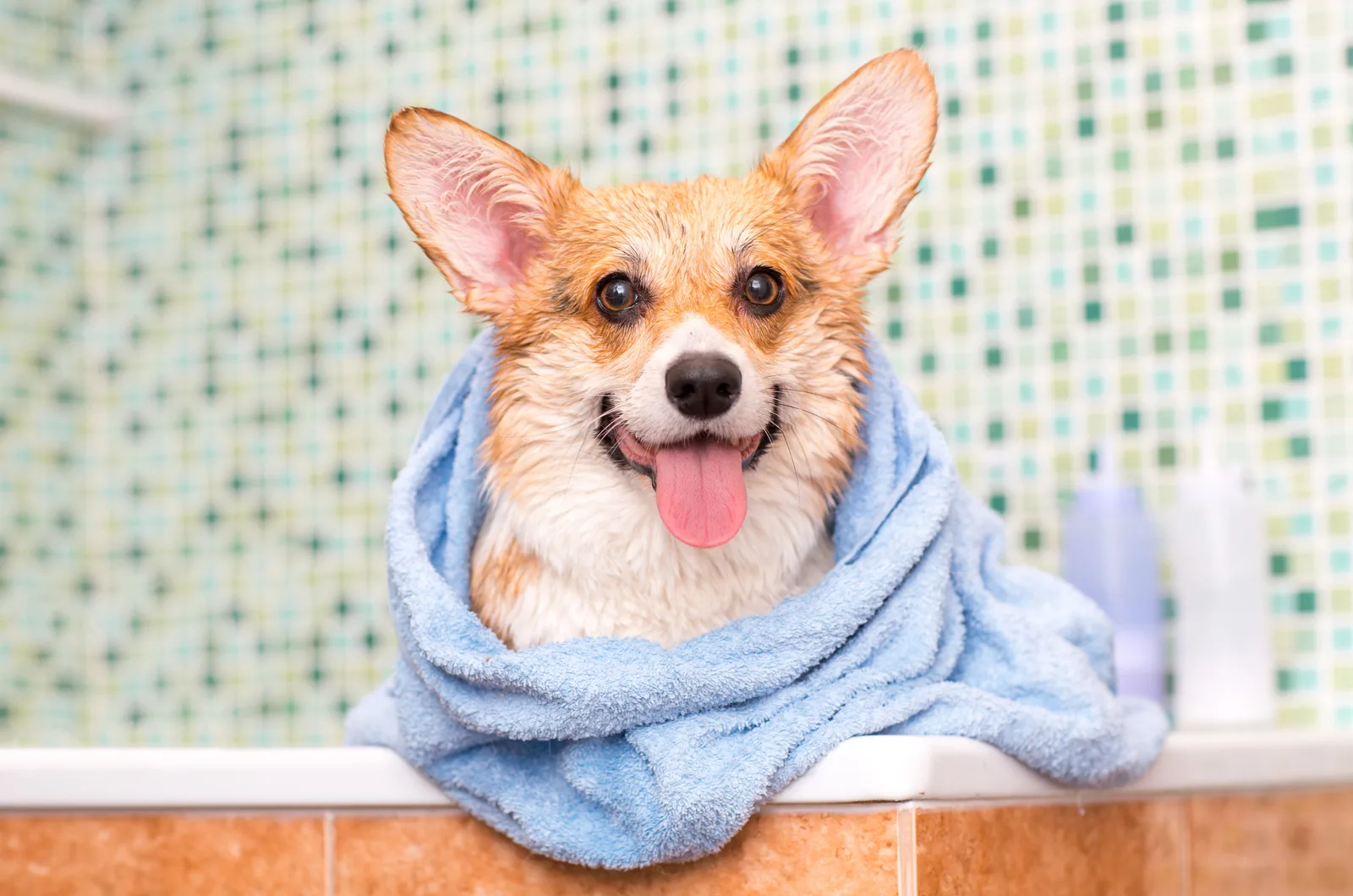 The title of the best shampoo for Corgi dogs tends to vary according to the needs of each individual dog and their preferences.
Some may like a fruity smell while others may find it irritating to their sensitive nose.
Some may like the soothing effect of oatmeal and Aloe Vera, while others may prefer some other mix of ingredients.
Ultimately, no matter which one you get, it falls on your dog as making the final vote.
However, the few constants are that getting a shampoo with ingredients that promote relaxation as well as ones that slow the rate of shedding are some of the best options on the market.
Find one that mixes those two, and is made from all-natural ingredients and you've got yourself a winner. I hope that ends up being the case, and that your cute little doggo enjoys it. Until next time.
RELATED LINKS:
• Fluffy Corgi: Everything You Need To Know Before Buying