This post contains affiliate links, and I will be compensated if you make a purchase after clicking on my links.
The Belgian Malinois is a great and powerful dog that is known to be very physically active, but physically active dogs are known to get themselves dirty, and a thorough scrub is needed, but what are the best shampoos for Belgian Malinois?
Well, the best shampoo for a Belgian Malinois is one that helps maintain his nice and shiny coat, detangles it, and one that helps soothe and relax him since most dogs don't like taking baths.
These herding dogs are much akin to German Shepherds to the point where they get confused for the latter dog breed.
The similarities don't end there, though, as their grooming needs are somewhat similar, too, with the need to ensure that the dog's skin remains unirritated, and that his fur remains presentable with no mats or tangles present.
The one problem that arises here is the abundance of choices on the market, often leading to decision paralysis, which ends up wasting more time than needed.
Though, as always, I've got your back. I've gone through the trouble of scouring two of the biggest online marketplaces for dog gear out there, Chewy and Amazon, for some of the best shampoos out there in terms of quality and price.
Read on to find out what they are, and whether or not they fit your furry friend's needs and solve his problems.
6 Best Shampoos For Belgian Malinois
First up on the list is one of the more budget options – a colloidal oatmeal shampoo for dogs that still performs just as well as some of the pricier options.
The main ingredients here are colloidal oat flour, which is great in reducing skin irritation in dogs, and the other is honey, which is a great, natural way of retaining moisture in the dog's skin.
You'll also find some green tea extract there, fantastic for improving coat health and strengthening hair follicles in order to slow down the shedding process so you don't get hair all over the place.
The shampoo is made of 97% natural ingredients, and it contains no sulfates, artificial fragrances, colors, phthalates, parabens, petrolatum, Sodium Lauryl Sulfate (SLS), or any other potentially harmful chemical.
It's a pH-balanced concoction, gentle on your dog's skin, and will not cause irritation.
It's made completely cruelty free as Burt's Bees is a company that values all life, whether human, canine, or any other.
To add to that, the bottle itself is made out of 80% recycled material, so even the ecosystem is cared for to an extent.
Given the shampoo's gentle nature, any topical flea control treatment shouldn't get washed away as long as the instructions are followed properly.
One of the few issues I have seen this product have is the unappealing packaging, but that's more of an aesthetic displeasure than anything, and the other issue is the fact that it's not tear free.
Next up on the list is a shampoo from Healthy Breeds, a company known for tailoring shampoos for dogs of small and large breeds alike.
The avocado extract serves a double purpose. First, it is a relaxant that soothes your dog and makes him calmer when taking a bath, and second, it is a great form of hydration for the skin as well as a moisturizing agent.
On top of that, it'll help detangle your doggo's hair in order to make brushing easier after a bath.
Your dog's coat is sure to look absolutely astonishing after a few lathers of this stuff.
The product is made in the USA, without the aid of any parabens, Sulfates, or other harmful chemicals.
The price is also decent for a shampoo of this quality, coming in at just below the average as of writing this article.
The one thing that's questionable about the whole practice is claiming that the products are breed-specific, yet many users have reported that the ingredient list is the same for several breeds.
A groomer's favorite, Zesty Paws dog shampoo is one of the premium products on this list given its flexibility.
The main ingredients are Aloe Vera and oatmeal, both great in maintaining proper skin and coat health while hydrating and moisturizing it to reduce chances of skin irritation as well as any potential infection.
Vitamin E is also added to the mix in order to help strengthen hair follicles and prevent hot spots.
It comes with a wonderfully fragrant, natural vanilla scent from vanilla bean extract.
It's a fantastic general option if you own several dogs of varying breeds as, once again, it works on small and large dog breeds, long and short coats, and the like.
It goes well with the conditioner of the same brand, but that's completely optional.
While all of this does sound great, do keep in mind that it is still a premium product so the price is a bit higher than most of the others on this list, but I'd say it's acceptable for what you're getting.
Earthbath is another well-known brand with regard to good shampoo products.
Made with high-quality ingredients by using Aloe Vera and oatmeal as the base, it's great at helping rehydrate dry skin and keeping it moisturized.
Its other purpose is to help deal with the doggo's shedding process as Belgian Malinois are known to be notorious shedders, helping slow the process down somewhat so your house doesn't end up covered in loose hair.
The product is fragrance-free as well as soap-free, meaning your dog's eyes and nose will remain unirritated.
It's also free of any harmful chemicals like parabens, phosphates, phthalates, and the like, not to mention that it's entirely biodegradable, keeping your canine companion and his environment safe.
While they're not the most expensive of the bunch, they aren't exactly pushing the cheapest prices either, but the extra buck or two shouldn't hurt too much.
It's also worth noting that the product is only intended for use on dogs and cats that are over six weeks of age; otherwise, their skin will be too sensitive to work with.
Here, we have something entirely different – a hypoallergenic option for all dog owners with slightly more sensitive dogs, and it comes as a combination of two shampoos.
The first one is made primarily out of Aloe Vera, and it has coconut as the main ingredient, offering a lovely smell and soothing effect for your doggo during bath time.
The Aloe, paired with vitamin E and pro-V B5, also helps hydrate your dog's skin in order to prevent any irritation or infection, without the aid of potentially harmful ingredients like phosphates, phthalates, parabens, or SLS.
The product carries no artificial fragrances or dyes, and the shampoo is completely biodegradable.
The second one doesn't come out in liquid form – it's foam that you can lather your canine companion in and then scrub off later, with absolutely no water needed.
And, this one even has a subtle lavender scent to make your dog smell wonderful after his grooming session.
The neutral, non-harmful ingredients, and lack of water mean that there's a lot less of a chance for anything abrasive to touch your Malinois' sensitive skin while still getting the full treatment of taking a bath.
It also means less chance for him to protest from getting doused in water, which makes baths a bit less of a hassle.
Both of these shampoos are pH-balanced for dogs, proving just how gentle they are on your canine's skin.
Together, they act as a shampoo, a conditioner, a deodorizer, and a cleanser, making you feel like you've gotten an entire groomer's kit for a fraction of the price – one which is pretty low for a package deal of this value.
As the final entry on this list, here's a more tropical option – TropiClean's papaya & coconut shampoo.
While it does mention only two ingredients at the start, it's actually four as adding mango and kiwi may likely make the label too wordy.
Regardless, it's a wonderful mix where the papaya and kiwi extract serve as great skin moisturizers, and also helps keep your dog's coat softer and more lustrous.
The mango and coconut, in the meantime, provide a more prominent fragrance, and help dismantle tangles for easier brushing post bath.
The concoction is entirely soap-free, making it gentler on your dog's skin and less likely to irritate the skin itself.
As far as pricing goes, it's decent enough compared to other competitors, and it won't make you add too much to the already sizable expenses you have for maintaining a dog like the Belgian Malinois.
Do be wary of leaks, though, as some people have reported that the bottle often comes with a cap that has broken during transfer.
Things To Note Before You Buy
While this list does contain some of the best options that I've found, it's completely possible that none of these products will end up being according to your liking.
Should that be the case, I'd like to give you a few pointers as to the traits that make the best shampoo for Belgian Malinois so you can have an easier time finding your ideal one:
Soothing option
Shampoos with ingredients that help calm your doggo down, like essential oils and various plant extracts, which relax the muscles or just feel good to the touch are essential in any dog's bathing regime.
Look for ingredients like chamomile, lavender, Aloe Vera, and the like to make sure you have the right trait.
If a shampoo doesn't have this, good luck in keeping your dog still or calm in general during bath time unless you want to get real soapy yourself.
All-natural Ingredients
I believe this one goes without saying, but all-natural ingredients are always a better option than having to deal with a bunch of harmful chemicals that are more likely to irritate your dog's skin.
The only time a chemical-heavy shampoo (in a sense) should be considered would be if your vet prescribes one due to a particularly nasty infection or similar.
Skin And Coat Nourishing Ingredients
Following up on the all-natural part, you want ingredients that actually do something other than make your dog smell nice and combat odors.
Most dogs are prone to infections, itchy skin, and general skin irritation with the places they all get into, especially a Belgian Malinois, which is considered a herding and a working dog by all intents and purposes.
Look for things like Aloe Vera and Vitamin E in the ingredients list to confirm whether or not the shampoo is good for a dog's coat.
Soap-free
Soap is another known irritant for the more sensitive parts of the body like the eyes and such, so a Belgian Malinois dog shampoo would ideally skip on soap for a gentler alternative that does just as good of a job.
Hypoallergenic Shampoos
If your dog is suffering from some particularly nasty allergies, it goes without saying that you should look into an option that won't make those allergies flare up in your precious doggo.
X-in-1 Deals And Affordable Pricing
While this is optional depending on your income, looking out for these traits will help you save more money in the long run.
It may not seem like much, but anyone who is budget-savvy will tell you that every dollar counts when taking care of any dog.
That's because all the individual prices tend to add up quickly, so going for deals and lower prices without skimping on quality is a good thing to be wary of.
FAQs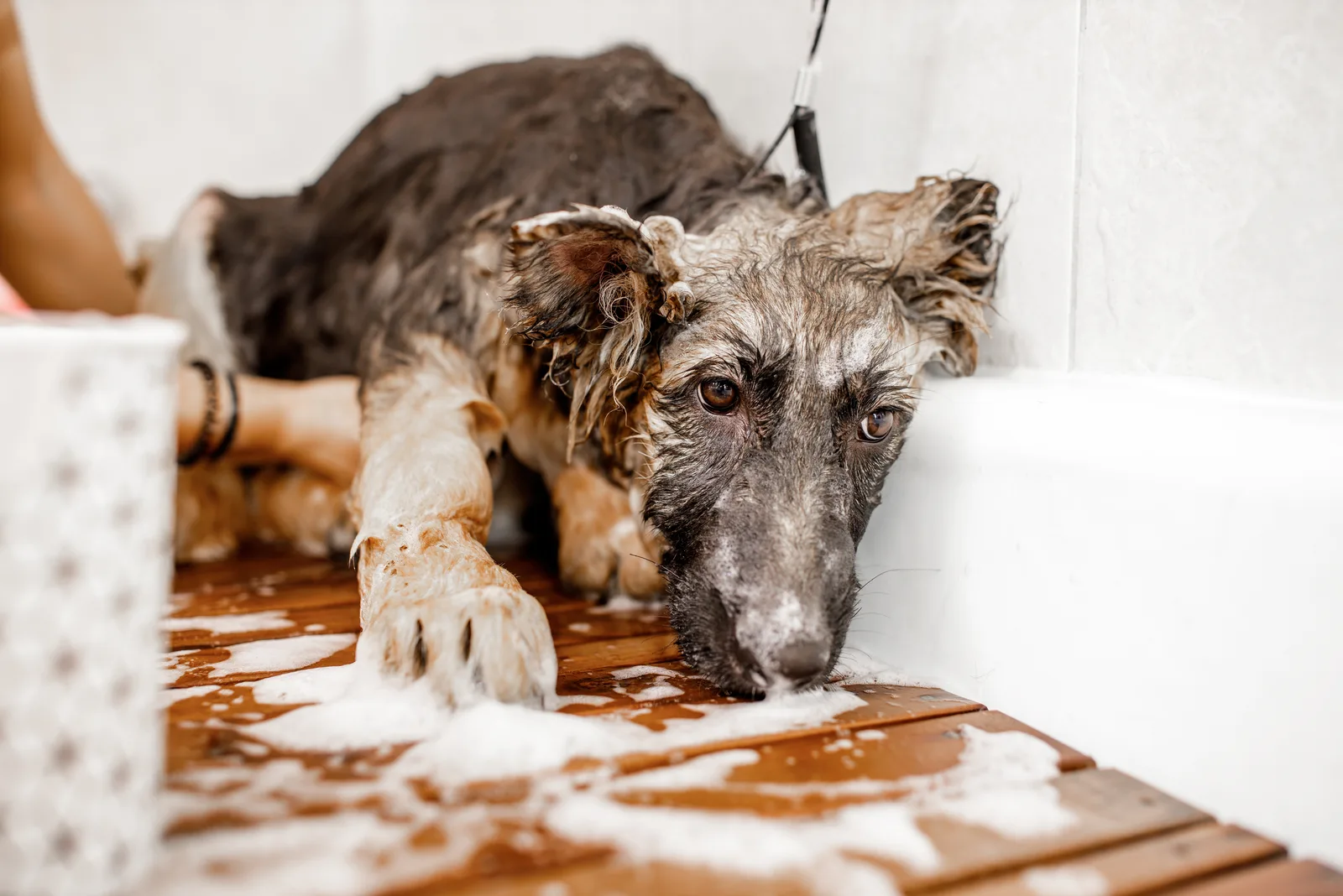 What Is The Best Dog Shampoo For A Belgian Malinois?
While this is a pretty subjective question since everyone's dog is different, I'd personally consider the Burt's Bees shampoo to be one of the better options.
It's affordable, and it mostly uses simple, non-harmful ingredients that get the job done. Eye irritation may be a problem for sure, but I trust myself to be careful enough to avoid that issue entirely.
How Often Should I Bathe A Belgian Malinois?
Luckily, this dog breed is flexible as you can either give them a bath once a week, up to one every six weeks; though, for the heavy shedding periods, I'd recommend going for once a week.
How Do You Keep A Belgian Malinois Calm During Bath Time?
It's no secret that most dogs love water, but hate taking a bath. A confusing fact, but a true one – one which our dogs may tell us why that is if we could understand them.
In order to keep your dog from fighting you when it's bath time (since he'd rather stay a dry dog more than a wet one in that case), use soothing shampoos or dog treats to coax him into that initial stage.
Proper socialization in the long term also helps him become less frightened of bath time, mostly because a Belgian Malinois is reserved around most people initially, but is very friendly and welcoming once he gets to know them.
The more people in his life that he trusts, the safer he'll feel when you approach him with a hose and a bottle of shampoo.
How Hard Is It To Groom A Belgian Malinois?
I'd say it's about average mostly because they're a double-coated dog breed like a Golden Retriever or a GSD, with a dense undercoat and a thicker topcoat since they were designed to brave harsh conditions while tending to their duties.
With proper diets that consist of high-quality protein, and key nutrients and minerals in your Malinois' dog food like omega-3 and 6 fatty acids and DHA (among others), you should be able to maintain a Belgian Malinois's coat and other needs with ease.
Aside from dieting, regular brushing is needed as always, especially during their shedding periods. Make sure to brush them every week, or even more during the said shedding period in order to periodically get the loose hair out of the way and not let it stack up.
It'll make less of a problem for you to clean up later, and it will provide your dog with some relief, not to mention brushing before a bath so you don't end up clogging the drain, and to make detangling easier.
For brushing, make sure to use a slicker brush to collect all that extra hair, and use the right clippers for trimming his fur.
If you're unsure of how to properly do this, ask your dog's breeder or a professional groomer for help and advice on the matter as going in blind is never a good idea.
In Conclusion
Finding the best shampoo for Belgian Malinois dogs can be a little hard due to the amount of variety present.
But, there's also the factor of uniqueness. Every dog is special, much like every human, and they have different needs that need to be catered to.
If you can recognize these unique traits in your canine companion, you'll have a much easier time figuring out what to get since you'll have a clear goal in mind.
I'd suggest consulting your dog's breeder, groomer, or veterinarian on the matter to get a better picture of your dog's many needs so you can meet them.
Whatever the case may be, I'm sure you'll be able to figure out what's best for him, and that he'll let you know if it is. Until next time.
RELATED LINKS:
• Are Belgian Malinois Aggressive? 11 Temperament Questions Answered
• Long-Haired Belgian Malinois: All The Information You Need
• Belgian Malinois Shedding – How Bad Is It? (And How To Reduce It)