Disclosure: This post contains affiliate links, and I will be compensated if you make a purchase after clicking on my links.
It is quite hard to imagine that the cute and wrinkly English Bulldog was once used to bait bulls. This chubby pup has been a popular pet across the globe for ages, and it has an almost mascot status in England.
However, due to overbreeding, the once fearless and unmatched breed in the bull-baiting ring now suffers from serious health issues.
Due to the English Bulldog's susceptibility to some serious health conditions, it is very important to ensure that their owners do everything they can to keep them healthy. To this end, you should know that your choice of dog food goes a long way in preventing most of these health problems.
Now, you might be wondering what more you can do to protect your beloved companion from the health issues that this breed is known to suffer from. Well, a well-balanced diet with proper nutrition can be vital in ensuring good health and longevity in your English Bully.
The same goes for providing your pooch with a cozy and comfortable bed, but we covered that in our best beds for Bulldogs article you can check out!
In this article, we will go over our choices for the best food for English Bulldog, and give each of them an in-depth review so you get a clear picture of what your dog needs.
Best food for an English Bulldog: Overview
Best dog food for English Bulldog: Reviews
Merrick Real Texas Beef + Sweet Potato Recipe Grain-Free Adult Dry Dog Food is made with real deboned beef. This extra delicious formula is high in protein (at 34% minimum), and 65% of this dry dog food is healthy fats and high-quality protein.
The remaining 35% is made up of healthy products such as vitamins, minerals, fiber, antioxidants, and other all-natural ingredients.
This recipe from Merrick is actually a multi-protein formula that also contains fats from other animals. Apart from the beef liver and deboned beef, which is its main ingredient, it also contains salmon meal, pork fat, whitefish meal, lamb meal, and salmon oil.
These are all animal ingredients of the highest quality, and are full of nutrients, so you can rest assured that no unnamed animal ingredient finds its way into this recipe.
Although it is a multi-protein formula, this kibble doesn't contain any chicken or poultry ingredients. This means that your English Bulldog can safely munch upon this awesome dog food from Merrick even if it is known to suffer from poultry-related allergies.
Additionally, this meaty, high-protein dry dog food is enriched with Omega 6 and Omega 3 fatty acids to support coat and skin health in your English Bully. As this breed is known to have sensitive skin, they will appreciate all the help you can give them when it comes to coat and skin health. On top of all the benefits we listed so far, the Merrick Real Texas recipe also contains chondroitin and glucosamine to help maintain healthy joints and hips.
Why you should consider buying this product – This formula from Merrick brings the right amount of protein to the table in a kibble packed with flavor. It is an excellent choice for English Bulldogs that have a sensitive digestive system or those that suffer from allergies due to its filler-free and grain-free content.
Blue Buffalo Life Protection Formula Healthy Weight Adult Chicken & Brown Rice Recipe comes from a well-known manufacturer, and the recipe is grain-inclusive.
The recipe is formulated without the extra calories from fat, and it is recommended for adult English Bulldogs in need of weight management.
If your pooch could use losing a few pounds or needs to maintain a healthy weight, this recipe from Blue Buffalo might just be the solution!
With deboned chicken as the main source of protein, and the most plentiful ingredient, you can put your mind at ease as your dog will get only the highest quality, easy to digest protein with every dish. This life protection healthy weight formula also contains chicken meal, which is another high-quality concentrated protein source.
Fiber is an essential nutrient not just for healthy digestion, but also in keeping your English Bulldog feeling full. Wholesome grains, such as barley and pea fiber, as well as brown rice that is found in this product provide carbs, nutrients, and fiber. Note that no wheat, soy, or corn are used in this recipe.
Apart from the reduced calories from fat and high-quality protein, this Blue Buffalo's protection formula also contains L-carnitine. This nutrient is a special type of amino acid that helps your dog maintain a healthy weight.
Furthermore, this chicken formula has the exclusive LifeSource Bits. LifeSource Bits is a combination of vitamins, minerals, and antioxidants that support a healthy oxidative balance, all life stage requirements, and the immune system. The bits are preserved in a cold environment to ensure that they retain nutritional value.
Blue Buffalo Life Protection Formula also comes with glucosamine to support mobility, hips, elbows, and bones in general. It is also enhanced with Omega 6 and 3 fatty acids, which help maintain healthy skin and coat.
Like all other formulas from this well-known and respected brand, this recipe contains no artificial flavors, preservatives, or colors, and all of its ingredients come exclusively from chicken.
If your English Bulldog is sensitive to other protein sources such as beef, lamb, or fish, this chicken recipe from Blue Buffalo is a delicious and nutritious meal that he or she can safely enjoy!
Why you should give this product a go – This recipe from Blue Buffalo delivers everything your English Bulldog needs without the hazard of putting on extra weight. Rich in minerals, vitamins, and other essential nutrients, the formula supports healthy bones, joints, and teeth as well!
CANIDAE Grain-Free PURE Healthy Weight Limited Ingredient Chicken & Pea Recipe Dry Dog Food is formulated with big-boned dogs, such as the English Bulldog, in mind.
It is specifically designed to help canines maintain a lean muscle mass, and with only nine ingredients, it is much less likely to trigger allergies in sensitive pooches.
Made with real chicken and chicken meal, this limited ingredient formula from CANIDAE provides only the highest quality protein to help your English Bulldog build and maintain strong muscles.
With a minimum of 28% protein, a little goes a long way in this case. This special recipe helps your dog feel fuller throughout the day!
Chicken provides easily digestible protein, and is also quite popular among our furry friends as they adore its meaty flavor. Peas, garbanzo beans, potatoes, and sweet potatoes provide nutritious sources of protein, fiber, and carbohydrates.
This chicken-based, high-quality dry dog food from CANIDAE is free from grains, antibiotics, hormones, gluten, wheat, soy, and corn! In addition, it contains none of the common allergy triggers in canines.
Also, rest assured that no artificial colors, preservatives, or flavors are used in this amazing blend. As English Bulldogs can be quite sensitive, this CANIDAE product is ideal for many of them!
After cooking the kibbles, the manufacturer coats them with Canidae's HealthPLUS blend of antioxidants, omega 3 and omega 6 fatty acids, and probiotics. This does wonders for a pup's immune system, and also promotes healthy digestion as well as a healthy coat and skin.
At the end of the day, CANIDAE PURE Healthy Weight Real Chicken & Pea Recipe, even though limited-ingredient, ticks all the boxes for many bulldogs.
Not only does this formula help English Bulldogs maintain healthy body weights, but it also improves their digestive system! On top of that, this specially formulated dry dog food helps dogs suffering from allergies by containing only the necessary all-natural ingredients to keep them healthy and satisfied.
Why you should give this food a try – This CANIDAE PURE recipe is formulated with just nine all-natural ingredients to promote healthy weight loss and management. The formula boasts real chicken as its main source of protein for a muscle-boosting dish your four-legged friend will adore!
Wellness Simple Limited Ingredient Diet Lamb & Oatmeal Formula Dry Dog Food is, as its name suggests, a limited-ingredient formula excellent for dogs with food allergies or other sensitivities. Even though it is grain-inclusive, it is considered one of the best dry dog foods for sensitive stomachs.
This recipe from Wellness is poultry-free and gluten-free, and all of its animal ingredients come from lamb only. The manufacturer knows that mealtime is about more than just munching down kibble; it is about nourishing your furry friend's body and providing it with the necessary nutrients it needs for a long and healthy life.
Therefore, Wellness uses only the highest quality natural ingredients with no fillers or fluff. In addition, their dry dog food products are rich with natural flavor!
This reliable dog food brand designs all of its formulas to offer exceptional nutrition using digestible carbs and premium proteins to create a sturdy foundation for whole-body wellness and health.
If you are suspecting that your English Bulldog may have food allergies or other sensitivities, you can safely add this awesome formula from Wellness into its regular diet.
Not only is this limited-ingredient blend made with high-quality protein, but it also contains a lower number of main ingredients. This helps reduce the risk of triggering food-related allergies.
Lamb is one of the best sources of protein for canines and, in addition, it is a lean source of protein that is perfect for muscular dog breeds like English Bulldogs.
The formula also contains highly digestible carbs like peas, rice, and oatmeal. On top of all this, Wellness also includes chicory root extract in this formula for supplementary fiber. Supplements, such as probiotics as well as chelated minerals, help improve your dog's digestion and nutrient absorption.
The main source of healthy fats in this Wellness Simple formula is canola oil. Canola oil ensures that your dog has all the energy it needs for its daily activities while alpha-linolenic acid and essential fatty acids work together to promote a healthy coat and skin.
Wellness Simple Limited-Ingredient Diet Lamb & Oatmeal Formula Dry Dog Food comes with flaxseed as an additional source of essential fatty acids and fiber. Flaxseed is packed with Omega 3 fatty acids, which help your English Bulldog maintain a shiny coat.
Moreover, this formula from Wellness is rich in fiber, which is necessary for the normal functioning of your dog's digestive tract. Fiber is especially beneficial for the English Bulldog breed as it helps keep flatulence and excessive farts under control.
Why you should consider buying this dog food – This natural, limited-ingredient recipe from Wellness keeps things simple with just one source of animal protein. On top of that, it contains easily digestible carbs with zero additives or filters, which ensure that your English Bulldog gets a complete and healthy diet.
The FirstMate Limited-Ingredient Diet Grain-Free Pacific Ocean Fish Meal Formula Dry Dog Food is the perfect dry Bulldog food for fish lovers. The recipe provides only high-quality ingredients, with wild fish from the herring family as its main ingredient and protein source.
The FirstMate company is based in Canada, and it follows the strictest regulations and rules to ensure the safety and quality of all of its dog food products. At FirstMate, they believe that the best nutrition is simple, which is why they use only the highest-quality, all-natural ingredients in their products and don't bulk them up with unnecessary additives or fillers.
The manufacturer offers a wide range of wet and dry dog food products made with their own food products from company-owned facilities. Furthermore, they are more than certain of the quality of their products, which is why they offer a money-back guarantee!
This ocean fish meal original dry food formula from FirstMate is an excellent choice for English Bulldogs as it is packed with premium animal protein while being highly digestible.
A whopping 73% of its protein content comes from wild Pacific Ocean fish meal while the remaining 27% comes from veggies. Fish meal is a densely-packed protein source. It is packed with flavor, rich in essential fatty acids, and, last but certainly not least, very easy to digest.
However, if you are searching for poultry-free dry dog food for your English Bully, then this may not be the best choice. This FirstMate's product has chicken fat as its main source of fat content.
On the other hand, if your pooch is not sensitive to chicken or poultry in general, chicken fat will only add another layer of flavor to this already delicious dry food.
This limited-ingredient formula is naturally grain-free so the chances of it triggering your dog's allergies are slim to none. It contains no wheat, corn, or soy whatsoever, and potatoes are the main source of carbs. This makes the food easy to digest even for the most sensitive of stomachs.
Apart from omega fatty acids, minerals, vitamins, and antioxidants, FirstMate Pacific Ocean Fish Meal is also enhanced with glucosamine, which helps support joint health in English Bulldogs.
Why you should buy this dog food – Being a fish-based diet, the formula is very rich in omega 6 and omega 3 fatty acids, which lead to a healthy coat and skin on your pooch. With a single source of protein, such as wild herring, the risk of allergies derived from chicken is completely nullified. Overall, this is a great hypoallergenic formula for pups that love the taste of fish!
Evanger's Grain-Free Chicken with Sweet Potato & Pumpkin Recipe Dry Dog Food is grain-free adult dog food made with high-quality ingredients. Although it is advertised as dry dog food, the brand describes this product as semi-moist.
According to the manufacturer, their dehydrated dog food consists of rough mixing and grinding. After that, the product is air-dried at low temperatures to retain the enzymes, flavor, and nutritional value.
The Evanger's pet food company is quite unique in the dog food world as they offer formulas that are well-balanced for both cats and dogs as well as some other pets. However, the old saying "jack of all trades, but master of none" cannot be applied here as Evanger's offers an assortment of hand-picked, gourmet, and balanced dog diets for all life stages.
Evanger's uses only USDA-inspected real meat products, and all of their pet foods are free from soy, wheat, and corn as well as artificial and other low-quality additives.
The brand proudly prioritizes natural flavor and balanced nutrition, so your English Bulldog will surely love whatever flavor you choose!
This grain-free blend with chicken and sweet potato is an excellent choice for bulldogs as it features fresh veggies and fruits as natural sources of key nutrients while protein-rich chicken ensures that your dog maintains healthy weight gain and lean muscle mass.
This formula from Evanger's provides 16% crude fat and 33% crude protein. In addition, it comes with chelated minerals for optimal nutrient absorption and lots of probiotics for digestive support.
Lastly, the formula is enriched with chondroitin and glucosamine, which have a great impact on your bulldog's joints and bones.
Why you should purchase this product for your English Bulldog – This amazing mix features fresh chicken as its main ingredient, and combined with fruits, vegetables, and vitamins, it offers a nutritious, delicious, and above all complete diet that any pooch is bound to love! It is the perfect choice for all breeds and life stages, and it is manufactured in the United States.
Royal Canin Bulldog Adult Dry Dog Food is formulated by a brand that is well-known and considered to be top-quality, and it is made with an adult bulldog's numerous needs in mind.
Most dog owners know how hard it can be to find the right food for their Bulldog. That is why Royal Canin took it upon itself to create this awesome blend that completely meets their dietary needs. There is even a puppy version of this product for bulldog puppies of twelve months or younger!
The advantage of using both of these products is that you can easily transition from puppy to adult food without worrying about how it will affect your pooch. The recipe is formulated with an optimal blend of precise fibers and carbohydrate sources to reduce flatulence and improve your Bulldog's digestive health.
Additionally, this top-quality dry dog food from Royal Canin is enhanced with fish oil and other essential nutrients that reinforce skin health, while the kibble itself is wave-shaped, which helps your bulldog easily pick it up and munch it down.
We love that Royal Canin worked with veterinarians and nutritionists to make the perfect blend for a dog's joints, bones, and skin. On top of that, the formula also protects your English Bully from wrinkle infections and demodectic mange!
However, this dry dog food includes mixed meat and grains, which are known allergens for some canines. If your bulldog is sensitive or prone to allergic reactions, perhaps it would be wise to skip this dog food and go for one with fewer ingredients.
Why you should consider buying this Royal Canin recipe – If you are on top of your dog's sensitivities and allergies, and know for certain that the ingredients in this product won't cause any issues, then this formula is a reliable option. Bulldogs are known to suffer from abdominal issues, but with this high-protein, easily-digestible formula, they shouldn't have any problem!
Wellness Core Grain-Free Original Deboned Turkey, Turkey Meal, & Chicken Meal Recipe Dry Dog Food is an excellent way to fill your dog's diet with only the best, most wholesome all-natural ingredients.
In addition to being grain-free, this premium dog food recipe is also free of soy, corn, and wheat, as well as preservatives, artificial coloring and flavoring, and meat by-products. This comes as a blessing to bulldogs that are sensitive to many of these ingredients.
This meat-based recipe from Wellness Core is rich in poultry-based protein, which supports lean muscle development and sustains your English Bulldog's energy levels. Furthermore, this dry dog food comes with a fairly low-fat content to help your pooch maintain a healthy weight.
Ingredients, such as flaxseed and fish, ensure that your bully's diet includes enough essential fatty acids which are important in preventing heart disease and ensuring a shiny coat and healthy skin.
Each kibble in this recipe is coated with a probiotic solution for easier digestion and a balanced gut. The formula is also enriched with chondroitin and glucosamine, which helps your dog maintain strong and healthy bones while warding off numerous diseases and health problems as your pup grows older.
Complex, slow-burning carbohydrate sources, such as kale and broccoli, will not only help your pooch sustain its energy levels, but will also provide it with lots of fiber for a healthier digestive system!
Why you should try this premium dog food – This all-natural dry dog food formula from Wellness Core contains premium ingredients while containing zero additives. On top of that, it is enriched with vitamins and minerals as well as many healthy additional nutrients to keep your English Bulldog happy and healthy.
The Taste of the Wild High Prairie Grain-Free Dry Dog Food made its way onto our 9 healthiest dog foods for bulldogs list. It offers several different flavors, has real meat as its main ingredient, and is made by one of the best dog food brands in the United States.
The main protein source in this recipe is real buffalo meat, and it is accompanied by supplemental sources of protein such as roasted beef, bison, and venison that make up 32% of the content. Combined with grain-free carbohydrates and several essential fatty acids, these ingredients help strengthen the muscles of your pooch and give a helping hand to its immune system.
In addition, this blend from Taste of the Wild is further enhanced with fresh fruits and vegetables as well as chelated minerals to boost nutrition and ensure healthy digestion.
Dog owners across the U.S. love this recipe because the real meat ingredients provide their dogs with much-needed energy for their daily activities, and they don't have to worry about any allergic reaction. And, on top of that, the formula blends fatty acids with probiotics, making it easier for your English Bulldog to maintain a healthy weight.
Why you should give Taste of the Wild a try – With all things considered, we think that this recipe from Taste of the Wild is one of the best foods for English Bulldogs you can come across. This particular formula offers complete and balanced nutrition without containing anything that will disturb your dog's stomach or cause allergic reactions!
Best food for an English Bulldog puppy
Best puppy food for English Bulldogs: Earthborn Holistic Puppy Vantage Dry Dog Food is a grain-free dry dog food specially designed for the nutritional needs of growing puppies. The food is formulated to provide enough energy for the high activity levels of young puppers.
The Holistic Puppy Vantage Dry Dog Food from Earthborn Holistic contains all of the essential nutrients that an English Bulldog puppy's developing body needs. As its name suggests, the manufacturer follows a holistic approach to our companions' nutrition.
Not only does Earthborn Holistic use only the finest all-natural ingredients available, but it also fills its products only with the vital nutrients your bulldog needs and nothing else! This means you get high-quality dog food without the fillers, grains, and unhealthy meat by-products.
The company proudly offers "whole food nutrition born from the earth" to support your dog's needs and ensure the proper development of your bulldog from the inside out. This particular recipe from Earthborn Holistic is uniquely mixed to ensure that a growing puppy like your Bulldog gets a complete and well-balanced diet!
It features wholesome carbohydrates, premium animal proteins, and plenty of added nutrients on top of the delicious natural flavor! The formula consists of 28% crude protein content derived from protein-rich chicken, and 18% fat for concentrated energy.
The formula is supplemented with fruits and vegetables for carbs, natural nutrients, and dietary fiber. It also has flaxseed, apples, blueberries, cranberries, and peas that are jam-packed with antioxidants and nutrients. Additionally, this amazing dry dog food is enriched with probiotics and prebiotic fiber for healthy digestion as well as chelated minerals for the best possible nutrient absorption.
Earthborn Holistic Puppy Vantage Grain-Free recipe comes with DHA, which is a type of long-chain fatty acid that is vital for healthy eye and brain development in growing bulldog puppies. Furthermore, a balanced ratio of omega 3 and omega 6 fatty acids helps keep your dog's coat and skin healthy and shiny.
Lastly, the formula comes with optimum levels of essential minerals, such as calcium and phosphorus, which help developing doggies get the right amount of minerals in order to build strong bones and teeth.
Why you should buy this dog food for your bulldog puppy – Premium protein sources, such as whitefish meal and chicken meal found in this awesome dog food support the development of strong, lean muscle mass and provide the necessary fuel for all energy levels of growing puppies.
Best food for English Bulldog: additional information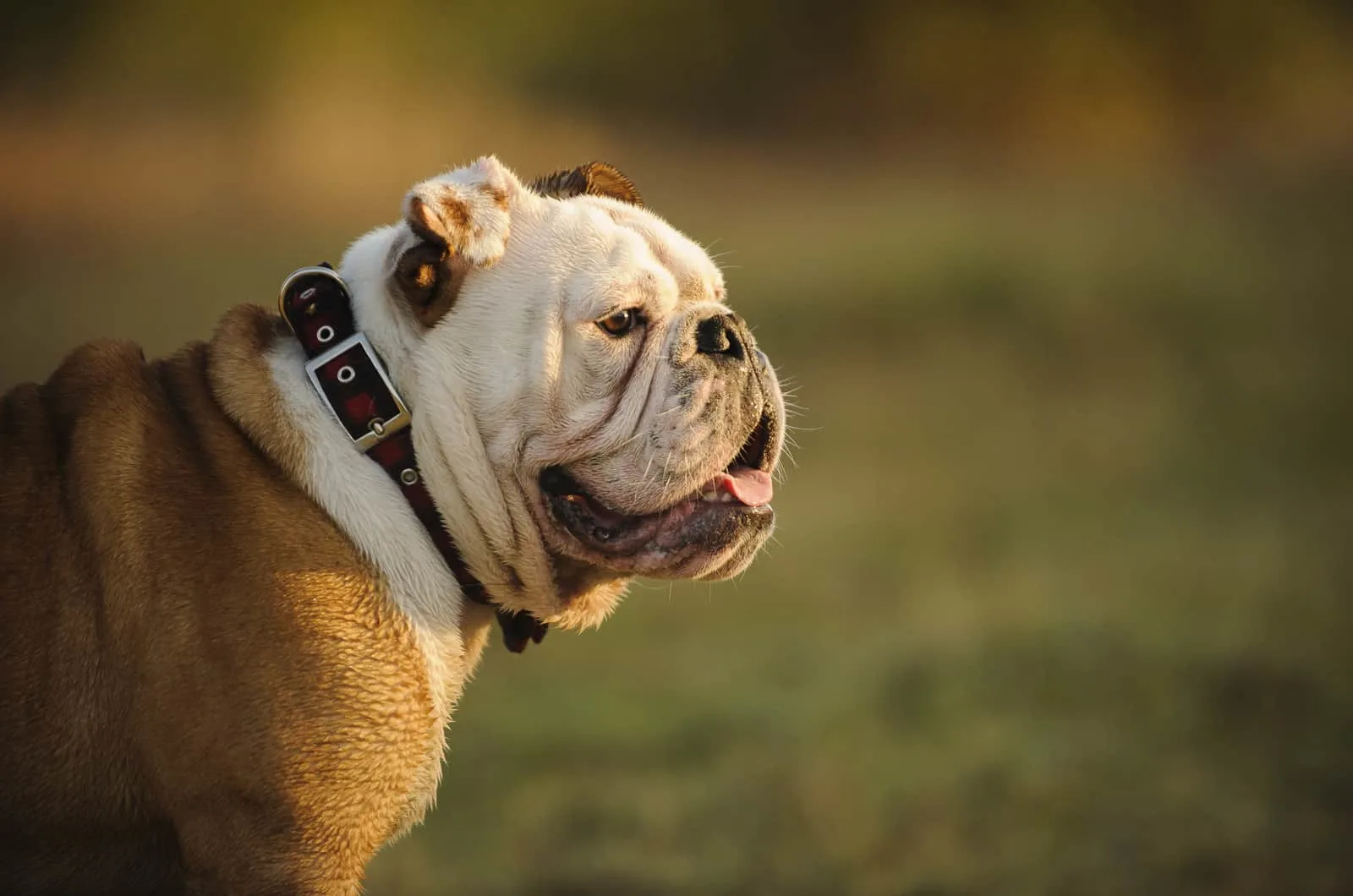 All of the products we have listed in this article are high quality and bring excellent nutritional value to your pooch. However, if you haven't had the chance of providing your pooch with one of these products, you should know the following.
When introducing a new food into your dog's diet, be sure to slowly transition from one food to the next. This will reduce the risk that a food change can have on your Bulldog's digestive health.
Once your dog has safely made it through the food change, follow the feeding instructions carefully. Most of the dog foods we have listed above have clear instructions on the packaging, which will explain everything you need to know.
Make sure to feed your Bulldog according to its weight, and always keep an eye on its body weight and overall condition in order to prevent obesity.
If you notice your pooch gaining weight and you feel like things are getting out of hand, make sure to consult your vet. A veterinarian will be able to help keep your bully at a healthy weight which, combined with a well-balanced, nutritional diet, is vital for maximizing your dog's lifespan so you can enjoy each other's company for many years to come!
Keys to a balanced diet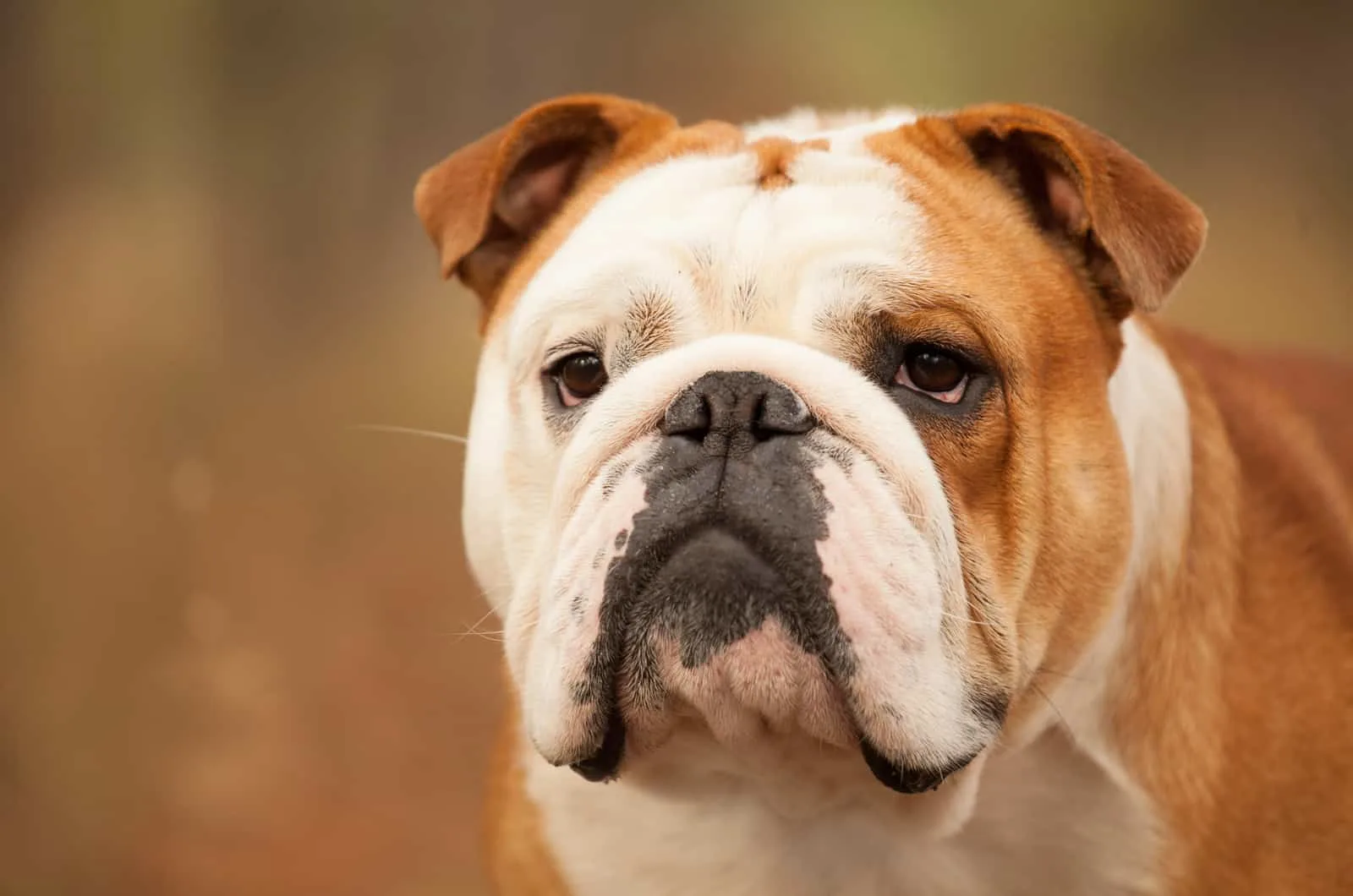 Since English Bulldogs are quite susceptible to weight gain and obesity, they need a nutritious and balanced diet. Making sure your dog gets only high-quality ingredients in its diet will ensure that its body maintains a healthy condition. This will also allow your pooch to develop properly while avoiding a number of serious health issues.
Proteins
Every dog food should be protein-based. Canines are omnivores by nature, and they need to be provided with meat on a regular basis. Proteins are packed with much-needed amino acids that our furry friends can't get anywhere else.
Amino acids help your dog's body function properly. On the other hand, a lack of protein in your dog's diet will only lead to overall weakness and organ failure further down the road. Therefore, it is recommended to choose dog foods with high amounts of protein.
Also, when browsing for dog food, you should know that the source of protein is just as important as the amount. The best sources of protein are found in the muscles of animals, so the best way to provide your pooch with high-quality protein is through an all-natural meat diet.
Although canines will get the most out of meat, any type of natural protein can be beneficial. But, processed proteins and animal by-products should be avoided.
The healthiest sources of protein for English Bulldogs and other breeds come from:
• Chicken
• Fish
• Beef
Carbohydrates
Choosing the right source of carbs is vital not just for English Bulldogs, but also for other dog breeds. You can think of carbohydrates as the necessary fuel which provides energy for your dog's daily activities. Note that compared to protein, carbs are generally a cheaper ingredient to use in dog food.
Due to this fact, some brands include high amounts of cheap carbs to keep their production costs at a lower level. However, high amounts of carbohydrates are not good for English Bulldogs, and due to their susceptibility to gaining weight, low-quality carbs and carbs in high amounts should be avoided at all costs.
Simple sources of starch, like corn, will cause your pooch to gain more weight. Instead of this low-quality carb source, look for dog food recipes that include slow-burning alternatives as these will keep your dog's weight down while providing enough fuel for the creation of energy.
The healthy, slow-burning sources of carbohydrates are:
• Sweet Potato
• Brown Rice
• Barley
Fats
Most dog food formulas you can come across are okay in terms of fat content. But, you should always check the source of fats to determine whether or not it is healthy for canines. Fat is a source of fatty acids, and it is crucial in keeping your English Bulldog's coat healthy and shiny.
Furthermore, fats are vital for nutrient absorption, and they play a big role in keeping your dog's digestive system in healthy condition. Many dog food brands use fat in their formulas to make their products more appealing for our four-legged friends. This is quite alright, though, as fat adds flavor while being very beneficial for dogs!
With that said, even though it brings a number of great benefits, fat shouldn't be a large percentage of the formula. Too much of this healthy nutrient will lead to weight gain. Protein is a great source of fat, but some brands choose to add additional fat into their recipes for the additional advantages of Omega 6 and Omega 3 fatty acids.
The best sources of healthy fats include:
• Animal fat
• Fish oil
• Flaxseed oil
Minerals and vitamins
Fruits and vegetables are great sources of vitamins and minerals, which are crucial to your English Bulldog's overall health as they help regulate many of its body functions.
To get the most out of these essential nutrients, veggies and fruits need to be combined with a protein source. A diet of vegetables and fruits alone will only cause harm to your pooch.
Hence, dog food brands use a number of different sources to achieve a well-balanced formula of vitamins and other nutrients. Note that there is not a single vegetable or fruit that contains all of them, so a variety is used to provide the perfect mix.
One of the most important things you should do before purchasing dog food is ensure that the list of veggies and fruits found in the product complements the breed's dietary needs rather than clashing with them.
Common health problems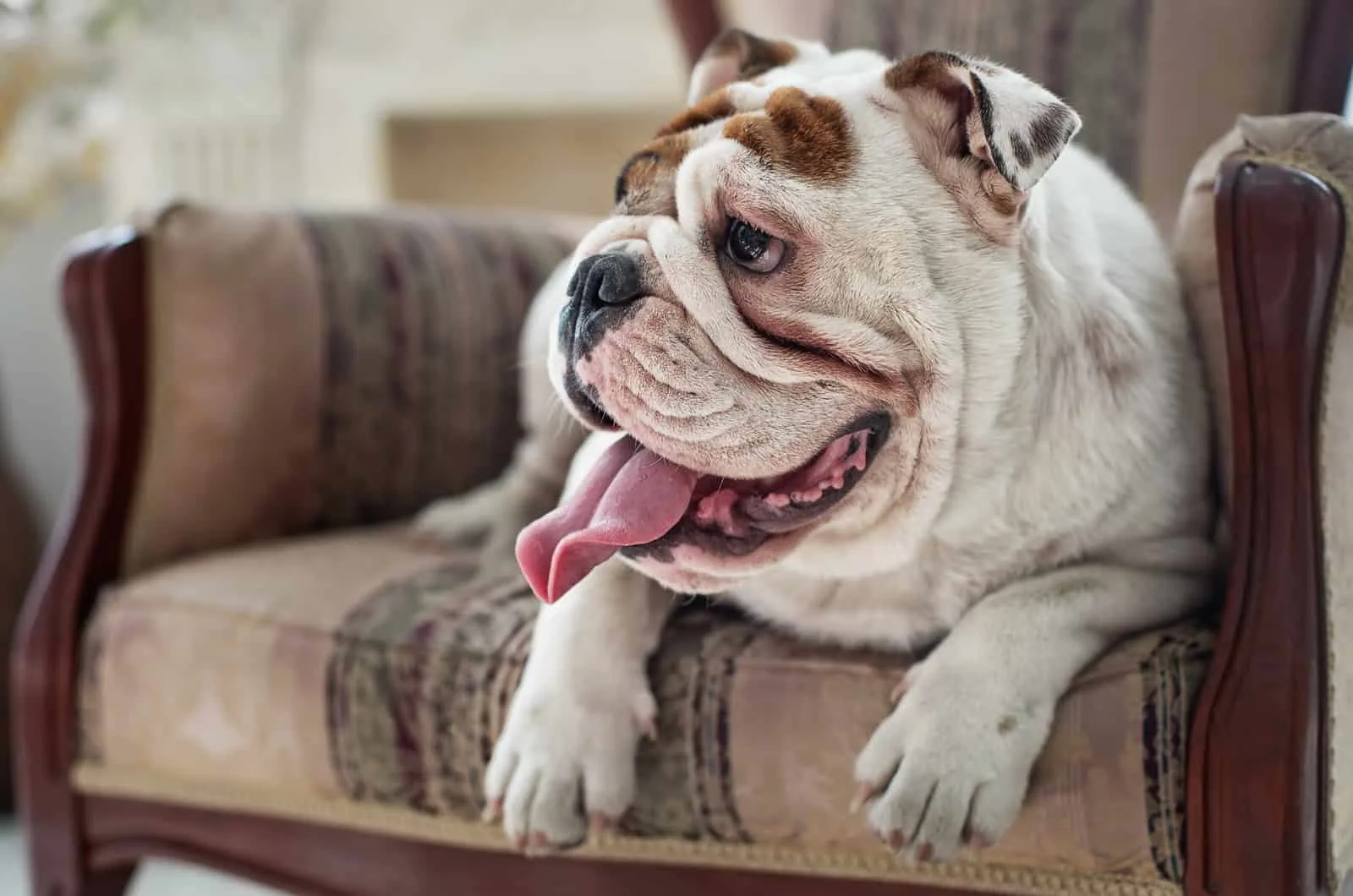 The most common health issues that plague the English Bulldog breed include skin allergies, tear stains, bloating, gas, weight gain, eye issues, and hip dysplasia.
To protect your dog's skin from allergies, make sure you provide it with food that doesn't contain food allergens, like corn and wheat. Products that are rich in proteins, such as beef and fish, are also an excellent addition to your allergy-preventing tool belt.
Bloating and gas
Excessive gas and bloating happen when your pooch does not get enough fresh, wholesome foods. Therefore, it is very important to steer away from dog food products that contain corn ingredients.
Lack of proper minerals and vitamins will contribute to the problem. So, what can you do? The best way to avoid bloating is to feed your English Bully with a healthy, balanced diet with plenty of minerals and vitamins. Combine that with making sure that your dog gets regular daily exercise and you will minimize bloating in no time.
Tear stains
Tear stains are usually caused by the buildup of toxic waste. To prevent this, it is vital that your bulldog gets enough natural and wholesome food ingredients that have lots of complex carbohydrates while containing no additives.
Weight gain
These notoriously lazy doggos tend to put on a few pounds very easily. They have relatively low energy levels, and don't often engage in physical activities on their own.
You need to be vigilant about maintaining your dog's weight through a strict diet and plenty of daily exercises. You need to provide your pooch with an appropriate amount of calories for its age and activity level as well as dog food that doesn't contain bad carbs.
Eye issues
This breed is known to suffer from several eye conditions. English Bulldogs can start to lose their vision at an early age, which can result in blindness over time.
Providing your pooch with beta-carotene is one of the most effective ways of avoiding eye issues. This pigment is known to strengthen the vision in dogs with regular consumption. It can be found in orange veggies, such as carrots. By purchasing dog food that includes veggies with beta-carotene, you can help your dog fight poor eyesight!
Frequently asked questions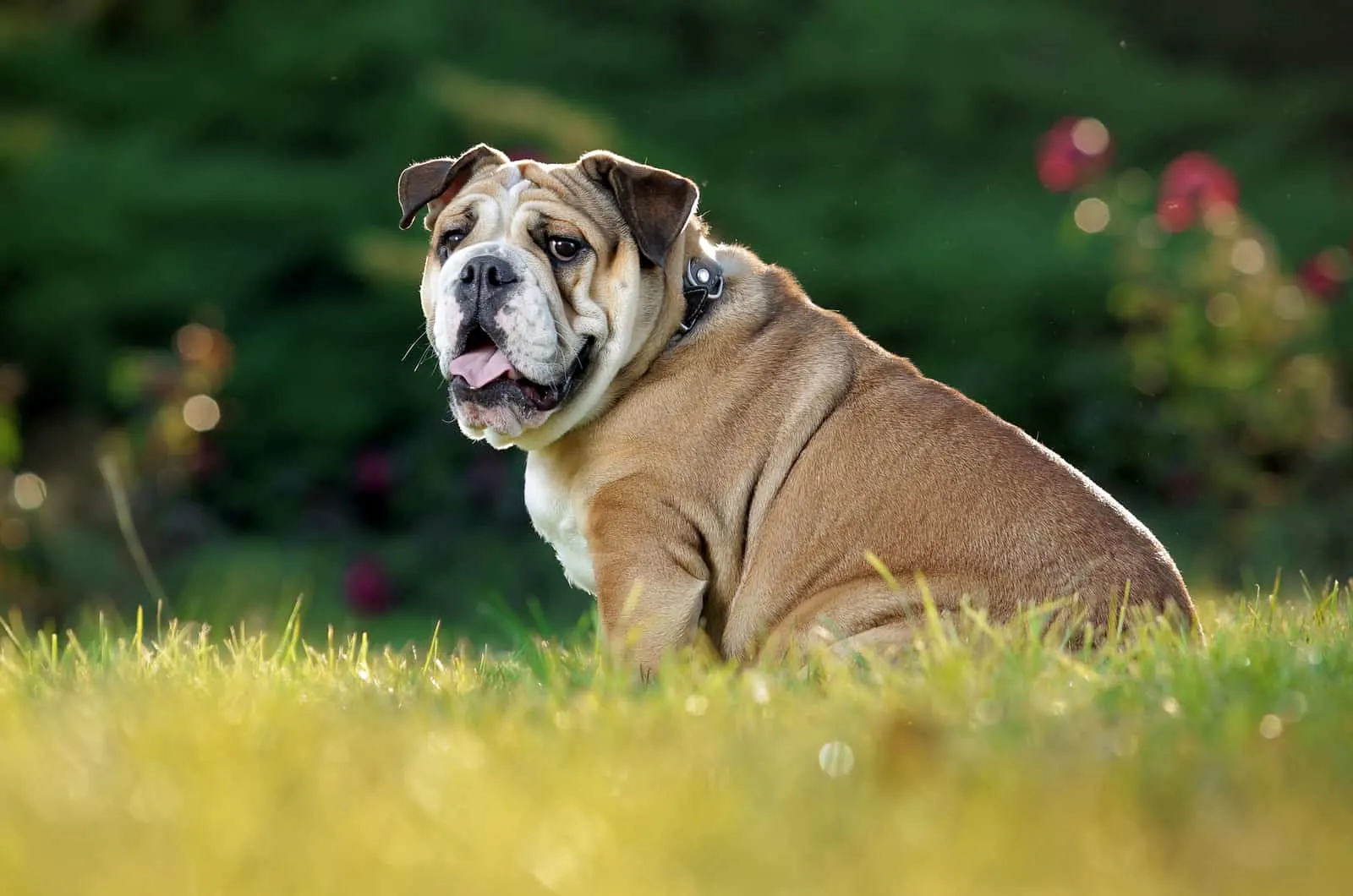 How much food do English Bulldogs need?
When figuring out how much food to give to your English Bully, you should start counting calories instead of measuring volume. Among all the various brands, formulas, and ingredients found on the market, there is a high contrast in calorie amounts.
Generally speaking, the English Bulldog breed needs approximately 1145 calories every day to maintain a healthy condition.
However, the optimal amount of calories depends entirely on your dog's activity level and age. The calorie amount mentioned here is optimal for adult English Bulldogs that are healthy and moderately active.
Canines that are more active, whether it is through exercise or work, will require more calories to replenish those burned throughout their daily activities.
On the upper end of the scale, the most active English Bulldogs will need around 1300 calories daily. These 150 extra calories will prevent nutrient deficiencies, and help your pooch maintain a healthy weight as well as prevent other health issues.
On the other hand, if your furry friend spends most of its time cosplaying as a rug, it won't need as many calories. The same thing goes for dogs in their twilight years.
Senior dogs and those that do not have an active lifestyle will need around 937 calories per day. This decrease in calories will ensure that your dog doesn't gain weight. Weight gain is one of the more serious problems that plague this breed, and it can be quite difficult to put off. In most cases, gaining extra weight leads to obesity or other serious health complications.
Do bulldogs need grain-free food?
Over time, dogs and humans became better suited to digesting fruit, vegetables, grain, and other sources of starch.
Some Bulldog owners choose to feed their dogs a grain-free diet due to the belief that dog diets should be meat-based and carbohydrate-free. This is, of course, an incorrect notion, and you should provide your dog grain-free food only if it has allergic reactions to certain grain-based ingredients.
What foods are English Bulldogs most likely allergic to?
Foods such as chicken eggs, dairy, grains, and some proteins may cause allergic reactions depending on the adaptability of your pooch.
Can English Bulldogs eat raw meat?
Even though our furry friends are able to completely digest raw meat, this doesn't mean they should eat it.
All raw meat is accompanied by the risk of your dog catching bacteria, such as listeria or salmonella. These are not only dangerous to your English Bulldog, but to you and your family as well.
Why is my Bulldog so itchy?
Canine atopic dermatitis or eczema is the most common skin condition in this breed. Eczema is a non-parasitic infection that results in itchy, dry skin, and it often manifests in open sores or scaly bumps. The most common cause of these infections are allergies, insect bites, or moisture buildup in your dog's skin folds.
Summary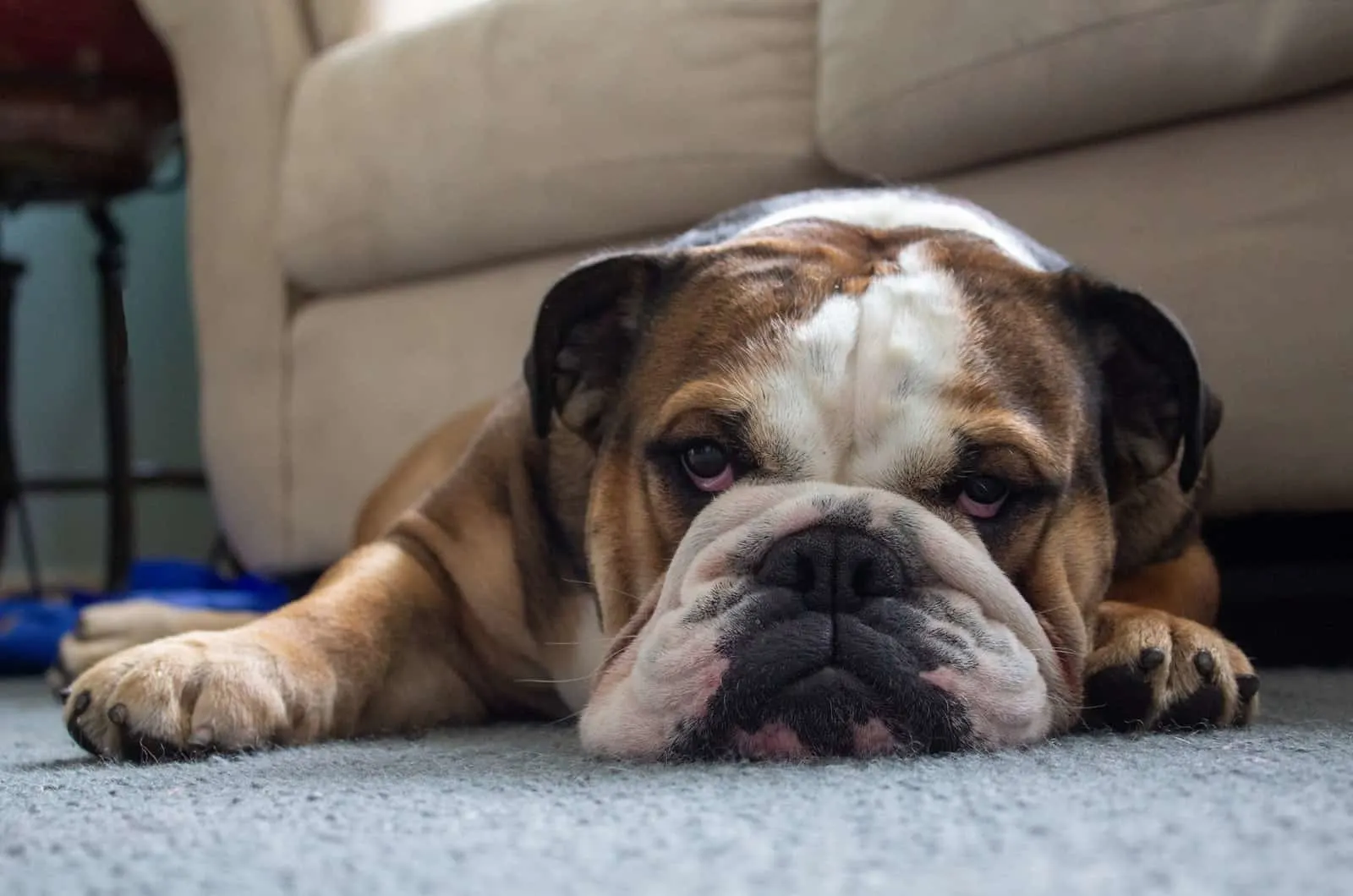 So, there goes everything we can teach you about the best food for an English Bulldog, including the proper nutrition and dietary habits of this breed.
With a lifespan of eight to ten years, make sure you provide your pooch with the best dog food possible in order to ensure that he stays with you for as long as he can!
If you are still unsure of what dog food to feed your English Bulldog, we recommend sticking with Merrick Grain-Free Adult Dry Dog Food as it is our favorite choice! It offers complete and balanced nutrition without causing harm to your dog's digestive system. Furthermore, it helps your dog maintain a healthy body weight!
If, by any chance, your bully doesn't like the taste of this one, pick another one from the list and try to find the one your pooch will love! All of the foods we have listed above are of the highest quality, and we are sure that at least one will be the perfect match for your dog!