This post contains affiliate links, and I will be compensated if you make a purchase after clicking on my links.
Our furry buddies are notorious for peeing on anything that smells of other dogs, including trees, mailboxes, fences, walls, the neighbor's lawn, and, of course, fire hydrants.
We've all seen cartoons where fire hydrants are the preferred bathroom spots for dogs, but do these stories have any merit to them?
Well, yes! Dog's love to pee on fire hydrants for multiple reasons, and buying one for your canine companion could help you potty train it.
On top of that, a fire hydrant for dogs that you can find on the market today comes with a hollow interior in which you can put your pup's toys, leashes, clothes, or even some of your own items that get in your way in the back yard. It's a win-win situation, folks!
Bear in mind that unlike real fire hydrants, which are quite heavy and fixed to the ground, these "toy" fire hydrants are portable, lightweight, and designed for back yard use. In this article, we will go over our favorite fire hydrants for dogs, and list the key features of each product. So, let's get started!
Dog fire hydrant to pee on – ratings
Fire hydrants for dogs to pee on: the best of the best
Editor's Choice
Design Toscano DC122012
Key Benefits:
It can be used both outdoors and indoors

It is tall enough for larger breeds

It can be used as a storage unit

It has a realistic look

The statue makes a cute decoration
Cons:
It might lack sturdiness due to being lightweight

The red color will likely fade over time

The price is quite high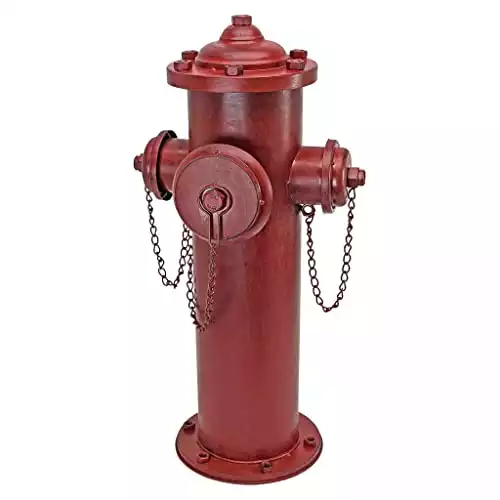 The classic red firefighter's best friend from Design Toscano is our favorite pick in this category. It is made from highly durable metal to ensure longevity.
However, despite the metal construction, it weighs only four pounds. This lightweight red fire hydrant makes a great place for your furry friend to go potty on, and you can use it as a cute storage container for your dog's supplies.
One of the best things about this product is that it is portable and hand-painted. You won't have any trouble moving it from the lawn to the garden, and back to the lawn.
This model comes in two sizes. The larger one is 23 x 11 x 9.5 inches, and it fits most large-breed dogs. But, if you have a small dog at home, you can order the smaller version.
Mayrich Yard Resin Statue
Key Benefits:
Comes with a sturdy base

Can be used outside or inside

Very easy to transport

Made from durable material

The base features a cute tile design
Cons:
It is a bit small for larger dog breeds

Might be too lightweight

There is a chance that it will arrive with chipped paint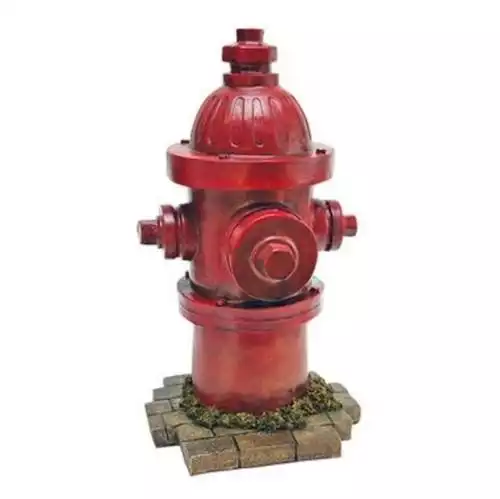 The Mayrich Dog Fire Hydrant Yard Garden Indoor Outdoor Resin Statue 14" is a small but well-crafted pee post for your pooch. It features a unique design that will grab the attention of your furry friend from the moment you bring it home.
This dog training tool comes with a flat foundation for extra stability and all the details an actual fire hydrant has. Made with resin, this fireman's bestie is very durable and detail-oriented.
With the option of using it both outdoors and indoors, this Mayrich hydrant is very convenient, functional, and trendy. It is lightweight enough to not give you back pain while moving it, and it makes for a great addition to your lawn, garden, or back yard.
Turtle King Corp Fire Hydrant
Key Benefits:
Comes with a sturdy base

Very easy to transport

Can be placed both outdoors and indoors

The base has a natural look to it

It is great for apartment living
Cons:
Not the ideal choice for extreme weather conditions

It is too small for large dog breeds

There is a chance that it will arrive damaged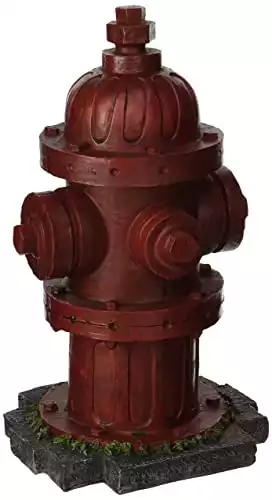 Measuring 14 x 7.75 x 7 inches, the Turtle King Corp Fire Hydrant Indoor Outdoor Garden Statue is a miniature replica of the real thing – perfect for training dogs to pee where you want them to.
The material used in making this dog training tool is polyresin, which makes it long-lasting and durable. The hydrant has a classic, yet trendy appearance.
The colors are realistic and bold, giving your dog an easy time adapting to it. This hydrant statue is lightweight, and it comes with a wider base to keep it standing in harsh weather conditions.
You can place this high-quality dog hydrant wherever your pooch loves to pee the most – on rain barrels, near bushes, near flower pots… you name it.
LULIND Dog Fire Hydrant
Key Benefits:
Highly realistic design

Has a sturdy base

The base has a tiled appearance

Comes with two stakes that help keep it in place

Has a UV-resistant coating

Safe for both indoor and outdoor use
Cons:
It can be a little too small for larger dog breeds

It can sometimes arrive damaged

The two stakes holding it are not strong enough to withstand tough weather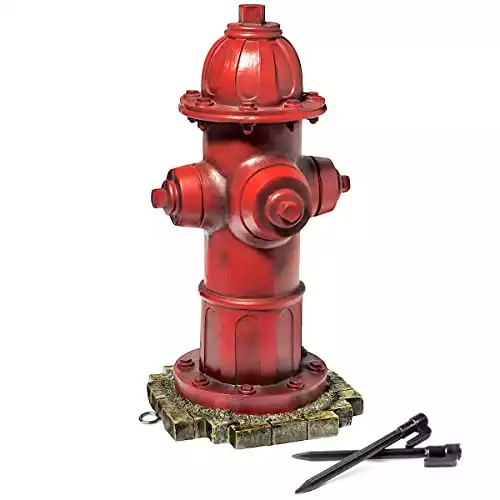 Looking for a great potty training tool that also serves as stylish garden decor? The hand-painted, bright red LULIND Dog Fire Hydrant Garden Statue with 2 Stakes is really worth giving a thought to.
It is 14 inches tall, which makes it ideal for small to medium breeds, and it comes with two plastic stakes that keep it on the ground. This can be beneficial if you have an extremely curious or destructive pooch.
The resin construction and the UV-resistant coating make it an excellent addition to both the inside and outside of your household.
Ornerx Resin Fire Hydrant
Key Benefits:
Great puppy pee post for toy and small dog breeds

Highly durable

Has a realistic look to it

Makes a cute decoration both indoors and outdoors

Easy to move around
Cons:
It is a very small figurine

Can be knocked over easily by medium- or large-sized dogs

It might not be the best choice for outdoor use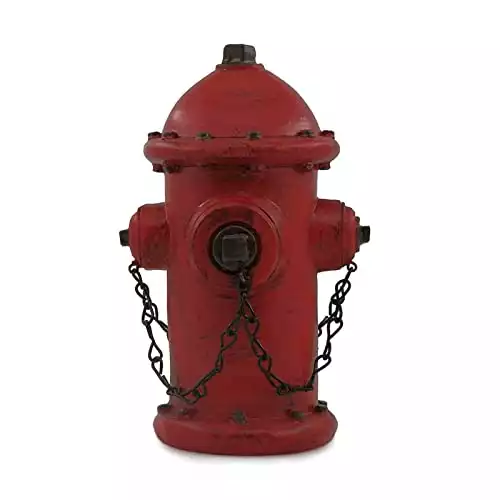 If you have a Shih Tzu, Yorkie, Toy Poodle, Bichon Frise, or any other small-breed pooch, this might be the perfect choice for you!
The Ornerx Resin Fire Hydrant Statue Decor is only six inches tall, and it does not appear overwhelming to tiny pets. On top of this, it is super light, so you won't have any problem moving it around your house or yard.
The realistically looking chains are made out of metal, while the body is made by using resin. Note that stronger dogs and extremely energetic ones will find it quite easy to drag the figurine all over the place.
So, if your pup matches this description, you might want to add some gravel or sand inside of it to weigh it down. But, with all things considered, it is a great potty training tool and a pee spot for small pets.
JHP Dog Fire Hydrant
Key Benefits:
Great for potty training

Can be a great gift idea

Safe for both outdoor and indoor use

Comes with four plastic stakes to anchor it onto the ground

Made out of resin
Cons:
Can be too light for larger dogs

The paint may fade away over time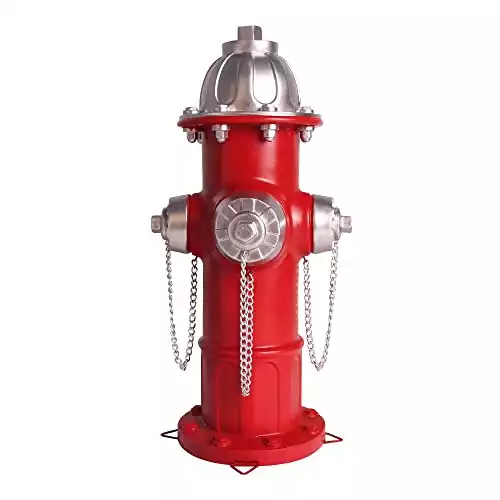 If you are looking for a dog pee spot that will help you protect your lawn from brown and yellow patches, the JHP Dog Fire Hydrant Garden Statue might be the solution.
The statue is 14 inches high, and it is meticulously crafted with high-quality resin. On top of its durability, it features a beautiful red and white finish not often seen on similar products.
This JHP hydrant is lightweight (weighs only 3.5 pounds), and it comes with four plastic stakes for anchoring it to the ground. This does make it a bit of a hassle when you want to move it, but it also prevents your dog from throwing it around like a chew toy.
Collectible Badges Fire Hydrant
Key Benefits:
Makes a great dog potty training tool

Perfect dimensions for middle-sized and larger dogs

Can be a great gift for a firefighter

Well-crafted

Has a rustic look to it
Cons:
Can be a bit too light for curious dogs

Doesn't have a UV-coating

It might not go well with your inside decor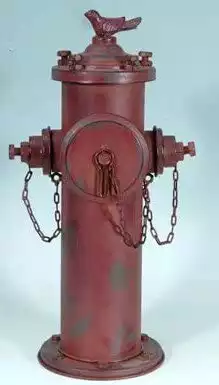 The Collectible Badges 17″ Metal Dog Fire Hydrant Yard Garden Statue is a stylish and long-lasting model. Weighing just 3.15 pounds, and measuring 17 inches high and 9 inches wide, it is an ideal pee station for dogs of all sizes.
Not only will it be useful as a bathroom area for your pooch, but it will also make great decor for your patio or garden. The only downside of this otherwise amazing potty training tool is that it can be a tad too light for stronger breeds.
An over-enthusiastic doggo will have no problem knocking it down and peeing somewhere else. If your pet matches this description, you might want to lower the hydrant down by increasing its weight or fixing its base to the ground.
Pine Ridge Lawn Fire Hydrant
Key Benefits:
Made out of weather-resistant polyresin plastic

Great doggy potty training tool

Can be a great gift for firefighting dog owners

Stylish garden figurine sculpture

Amazing replica of a real fire hydrant
Cons:
Too small for large dogs to be interested in going potty on it

Can easily be tipped over

The red color fades over time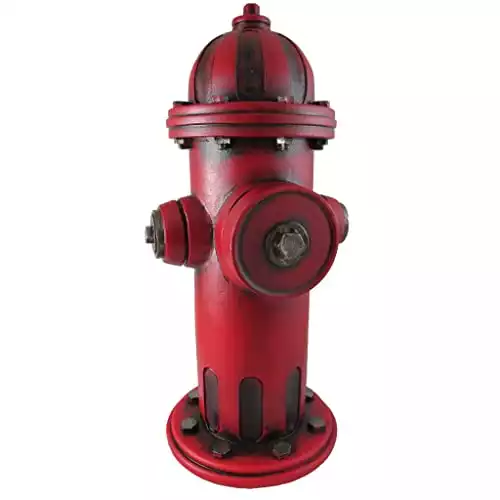 The Pine Ridge Replica Fire Hydrant for Dogs is a tiny appealing figurine that is mainly used outdoors as a puppy potty training tool.
It is a beautiful replica of a real dog park fire hydrant, with all the nuts and bolts included. Made with sturdy polyresin material, this plastic fire hydrant is impressively durable.
If for nothing else, the beautiful design of this product makes it a great gift option for a firefighter or a child that wants to become one! You can also install it in your garden as a decorative element, even if you don't have a pup to pee on it.
Why should you invest in dog fire hydrants?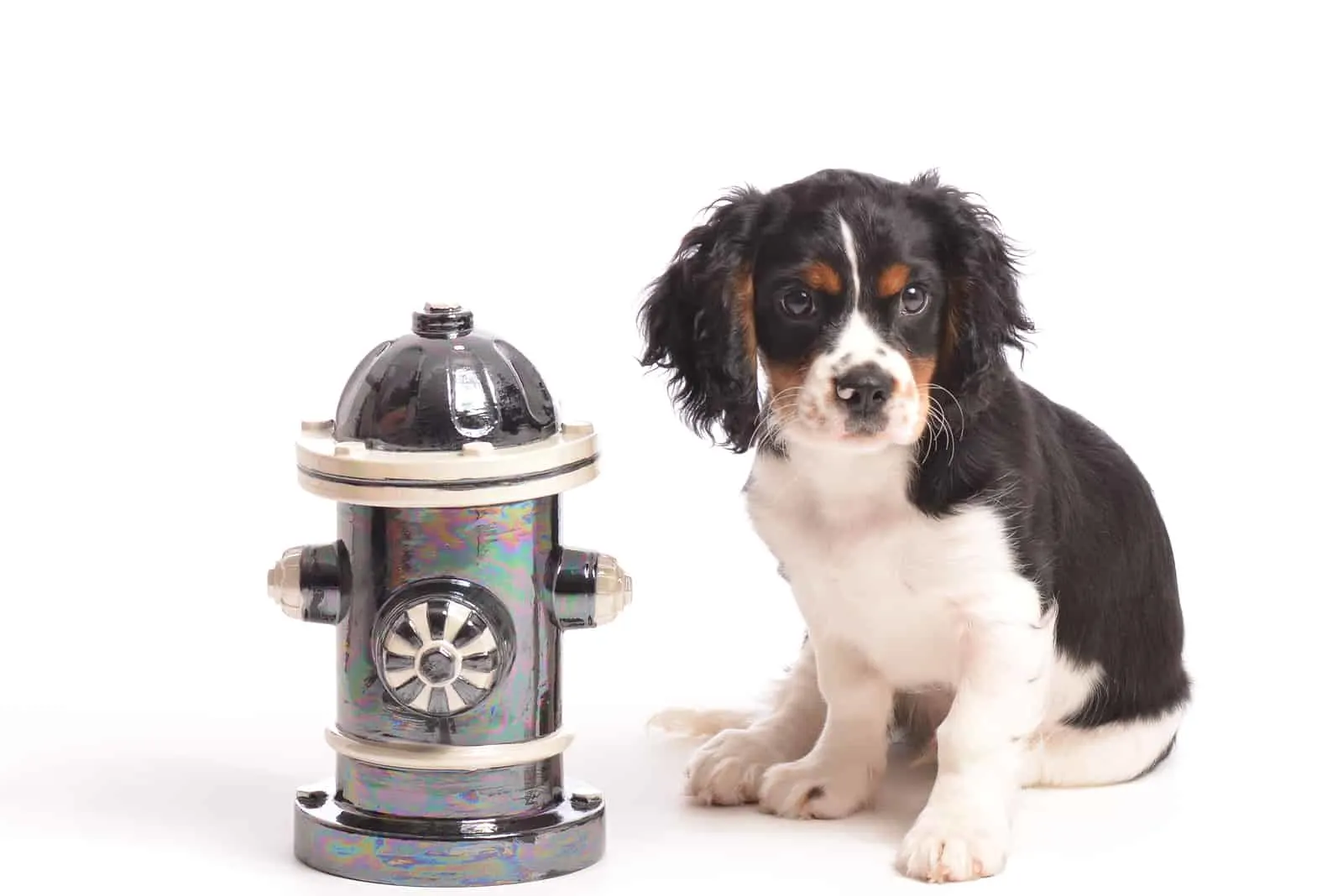 As previously mentioned, our canine buddies love answering the call of nature on upright objects such as trees, garbage cans, walls, fences, plants, and car tires, among others. So, what can you do if your pooch prefers to pee on an object in your yard that you don't really want smelling like urine all the time?
Well, since peeing on different things is the natural behavior of canines, the best thing you can hope for is to train your pup to focus its potty habits on an item that can appeal to its needs. That is where a fire hydrant comes to the rescue!
This simple solution will help you divert your dog's peeing behavior into a designated potty area of your choosing. But, why are fake fire hydrants so appealing to dogs?
Well, many dog owners report that their four-legged friends love to do their business on real fire hydrants. According to canine experts, our doggies love the smell of components in the paints or dyes used in making these fire hydrants.
The paints might smell like dog urine to a certain extent. Also, the fire hydrants might have already been peed on by some other dog, so our pus just follow the scent.
Although the fake fire hydrant you put in your back yard won't be peed on by other dogs (one can only hope), it is most likely going to be irresistible for your dog to lift its leg on.
A dog's urine can be detrimental to your lawn or picturesque patio space if left unchecked. It can also kill or damage your grass, resulting in not-so-appealing brown spots. Moreover, it can also destroy your ornamental shrubs, garden flowers, or vegetable patches.
The best way to tackle the issue of unwanted peeing behavior and protect your yard in the process is to divert your dog's attention with a fire hydrant statue or a dog pee post.
Lastly, you can use a fake fire hydrant for dogs for decoration purposes. If you own a grooming salon, a dog care center, a dog rescue or shelter, or any other canine-related business, you can install one of these red boys as a piece of decor.
Also, most fire hydrants on our list are hollow inside, which provides some storage space. So, regardless of where you install the hydrant, you can always store your dog's toys, treats, leashes, or other supplies in it.
Installing a fire hydrant for a dog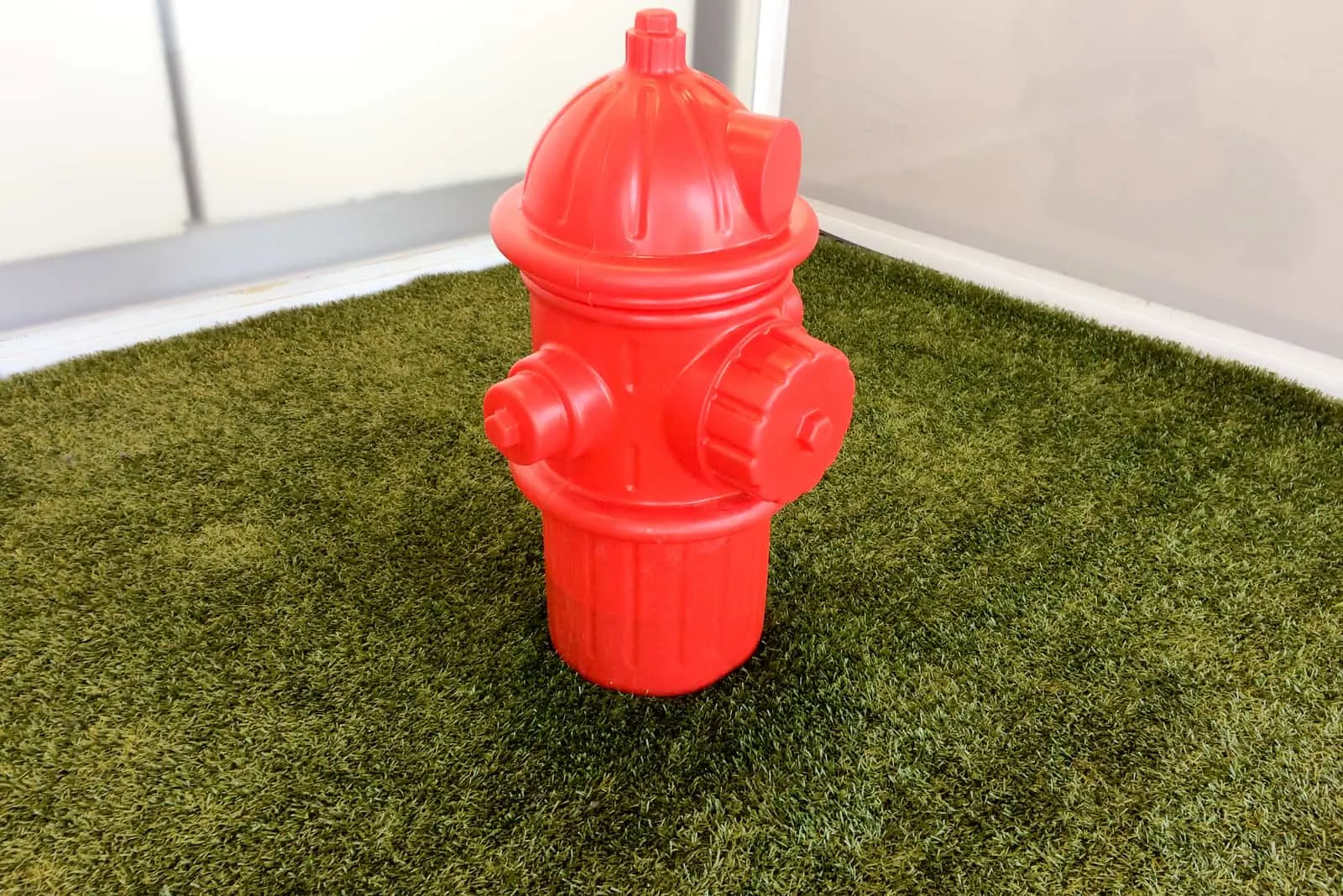 To get the most out of your firefighting tool replica, you should choose an appropriate spot to place it. Take this part seriously and carefully choose the best place to install the hydrant, as once your dog gets used to the area, it will be hard to change it.
Here are a few things you should keep in mind:
• Make sure you install the hydrant in a spot with good drainage to avoid potential messes. Otherwise, you might not have any issue at all until it starts raining…
If you can't find a spot with appropriate drainage, you can put artificial grass with drainage holes on the spot as an alternative. Artificial grass doesn't need mowing, and it can be easily hosed down whenever you need to clean it.
• Place the hydrant in one of the corners of your yard to prevent potential burns on your grass and flowers. This will also lower the chances of you stepping on your pup's latest bowel creation as it is more likely to poop in the surrounding area.
• Another thing to keep in mind is waste disposal. Try to install the fire hydrant statue as close to your trash cans as possible.
• To keep the hydrant in good condition for as long as possible, consider spraying or painting a protective layer over it. This is especially important if the product doesn't already have a special coating.
How to choose a dog's fire hydrant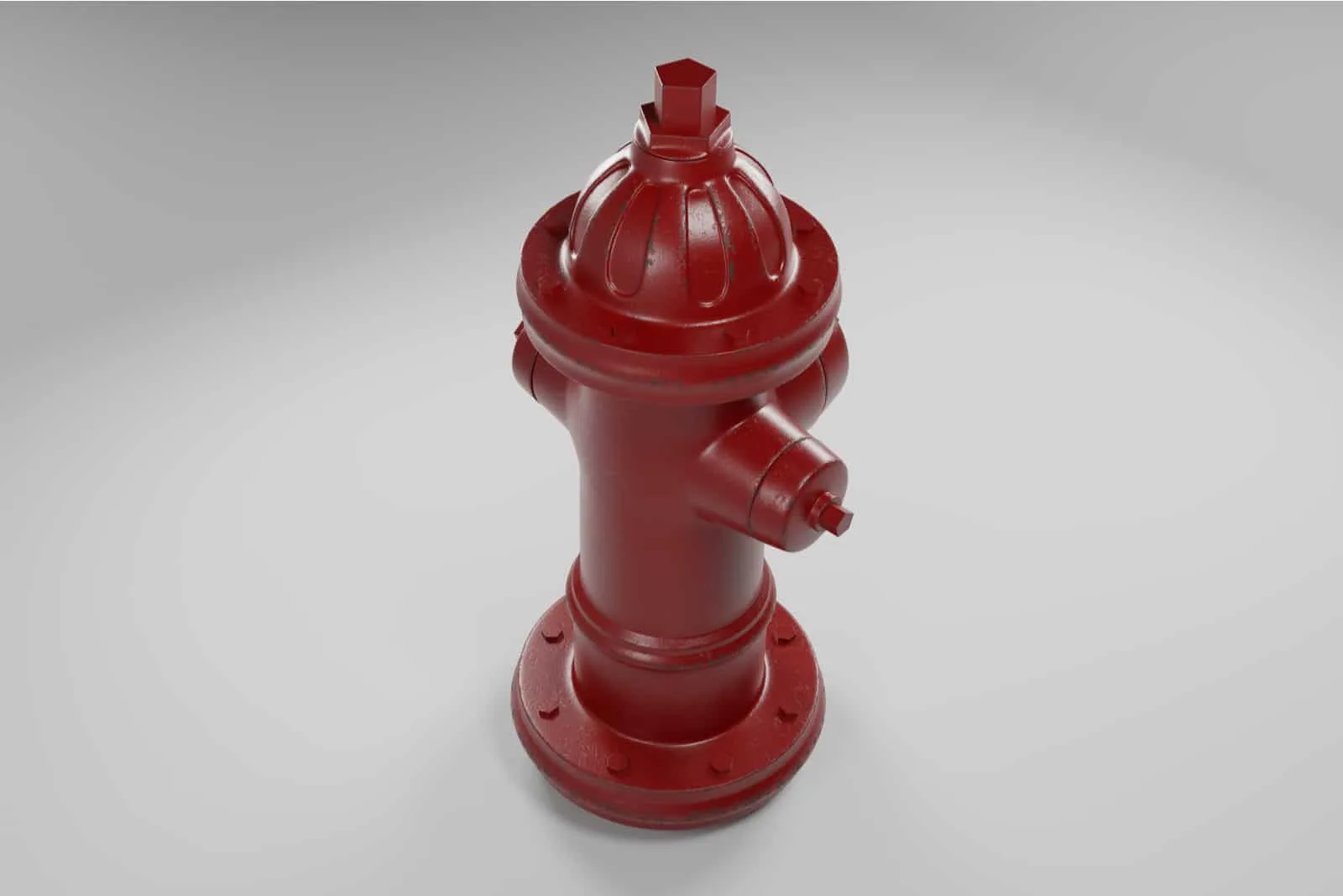 Although doggies love to do their business on fire hydrants, they also tend to be picky when it comes to certain things.
Like all other canine accessories, dog fire hydrant statues come in a variety of sizes, colors, and shapes to fit different types of dogs. So, the best way to choose the right fire hydrant for your pooch is to know your dog's preferences.
Here are a few things you should consider:
• Construction material: In most cases, fire hydrant statues are made from resin, metals, and plastic.
The ones made out of plastic are lightweight and cheap, and they are mostly recommended for pet owners who are looking for a basic option.
Fire hydrants made out of resin are sturdy, can be hand-painted, and some of them have a unique finish, giving them a rustic look.
Lastly, we have metal fire hydrants. These are highly durable, heavy, might come with a distressed finish, and will probably cost more than the other two options.
• Size: Toy fire hydrants come in a range of sizes, from miniature options to larger ones – some of them can even be bigger than the real deal!
Try to pick out something that will suit the size of your pup. If you have a large breed like a Great Dane, a Siberian Husky, or a German Shepherd, go for bigger hydrants. On the other hand, if your pup is of a smaller breed like a Shih Tzu, a Yorkshire Terrier, or a Chihuahua, go for a smaller one.
If your furry bestie is still a puppy, try to predict how big it will grow, and choose a hydrant accordingly. This should be easy enough if your dog is purebred, but it might be a little bit tricky if you have a mixed-breed pup.
If you have a female pup of any breed, don't worry so much about the size because she will be peeing near the hydrant, not on it.
• Color: Even though the vast majority of real hydrants and fake hydrants for dogs are red, there are also other colors available like yellow, blue, and green. Try to pick a color that will suit both your pooch and your yard decor.
• Hollow space for storage: Fire hydrant statues that come with a hollow interior can come in handy as storage spaces for keeping treats, toys, clothing, leashes, poop bags, and other canine necessities. You can also fill these hydrants with gravel or sand to give them additional stability, especially if you live in windy regions.
Fake fire hydrant for dogs: how to teach your pup to use it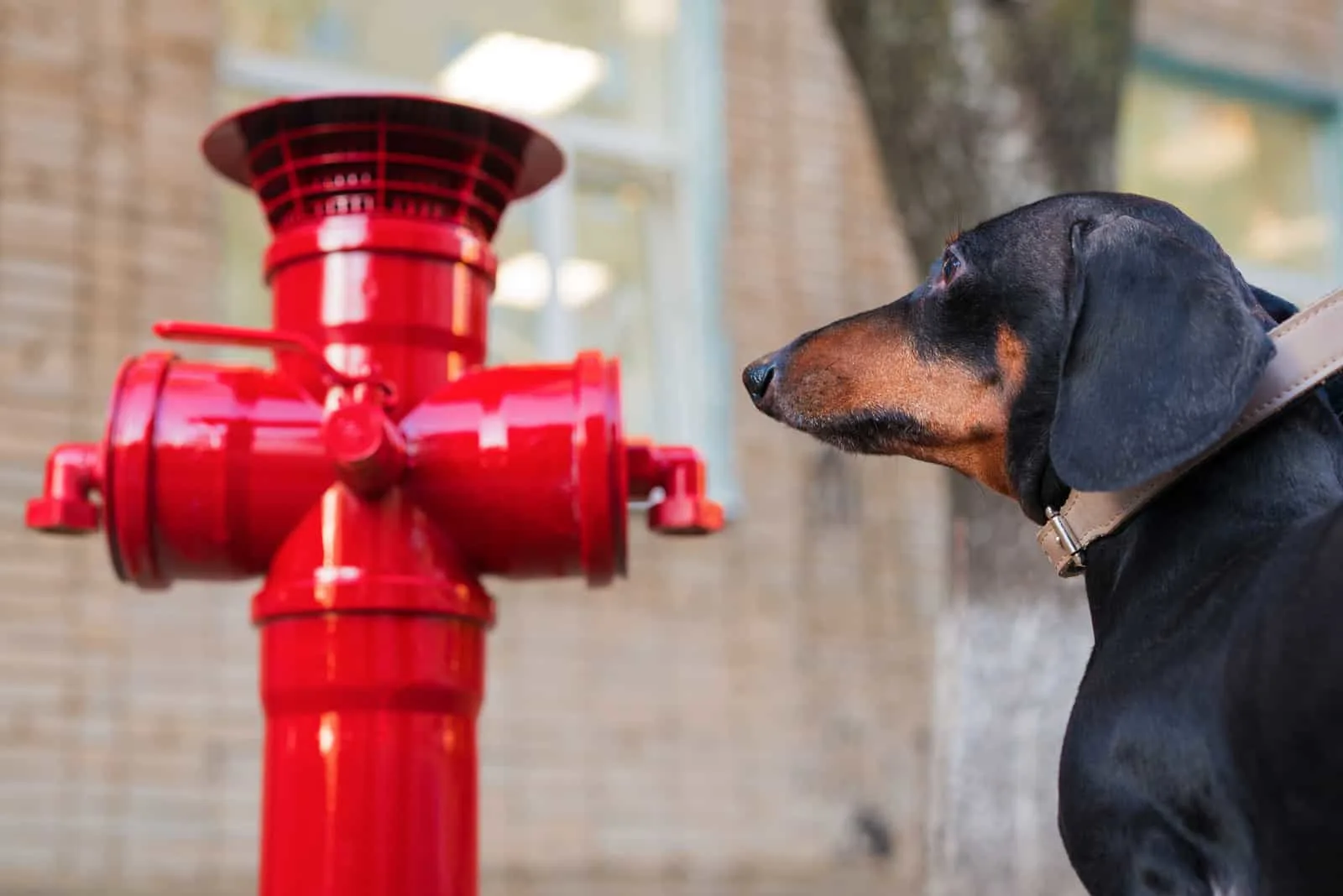 Because it is a natural instinct for male dogs to mark their territories, your pooch will probably start peeing on the new object almost immediately after you put it in your yard. Most female dogs will also be interested in the newest addition to their territory, and will start peeing around it.
Once the hydrant has been marked, your pup will make it a routine to answer the call of the wild at that particular spot every day.
However, there may be some four-legged furballs that might be reluctant to use this new pee toy. If your pooch happens to be one of them, don't give up hope just yet! Consider making a training routine until your dog gets used to the hydrant.
The best way to start is to put down a fire hydrant pee pad for dogs. A regular pee pad, or an artificial grass pad indoors will help your pup associate such items with bathroom spots. Over time, your dog will learn to go potty on these items, and you can take them outdoors near the fake fire hydrant whenever it is time for your furry friend to pee.
Eventually, it will be safe to remove the pads altogether, so that your dog can only use the hydrant. Another thing you can try is spraying a potty training attractant on the fire hydrant statue. For a DIY solution, you can soak up your pup's urine and rub it all over the hydrant, so the next time it passes by, it will be inclined to pee on it.
Frequently asked questions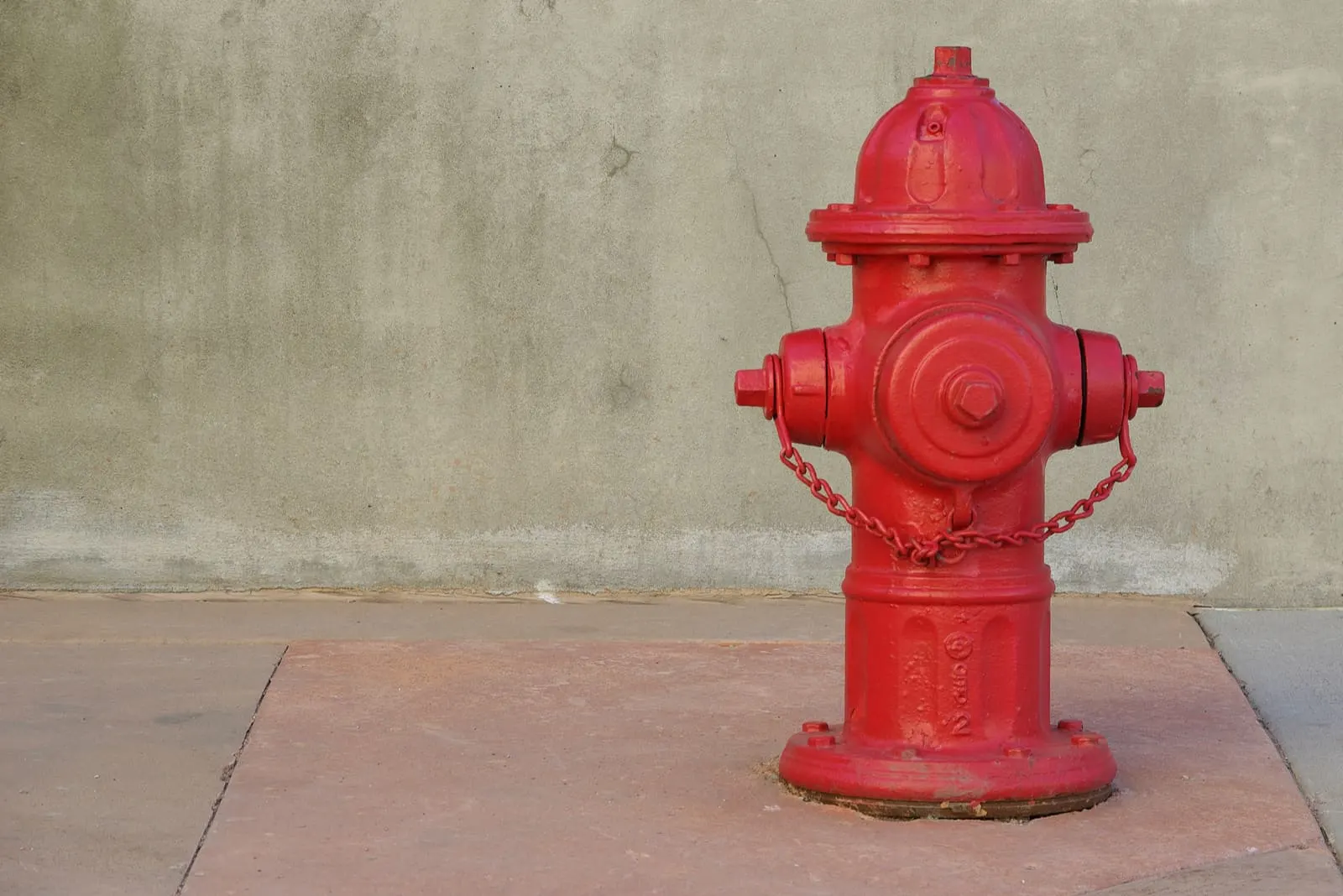 Why are dogs attracted to fire hydrants?
The exact reason as to why dogs love to urinate on fire hydrants is still unknown, but there is a lot of speculation going on. As we mentioned earlier, some pups simply want to pee on all objects they see to mark the territory with their scent.
It seems that dogs prefer vertical objects like trees, fences, and fire hydrants because in a vertical position, they can pee higher. The higher their scent reaches, the more it will spread into the air, and the more other canines will be able to smell them.
Some dog experts go as far as to say that the paints used in making the fire hydrants might have a smell that is appealing to canines.
But, with all things considered, the simplest reason might be the most accurate – dogs could just be choosing to pee in a spot where all the other dogs urinate. Since fire hydrants seem to be a popular place for peeing, your pooch may just be following the others.
Do all dogs need a fake fire hydrant?
No, not every home needs a fake fire hydrant statue for their pups. In most cases, these hydrants are used to train dogs that are still not potty trained or dogs that answer the call of the wild inside the house on things they are not supposed to.
By using a fake hydrant, you give them a designated space to pee on, which makes them less likely to urinate on objects they shouldn't.
If your furry friend has no problem going potty where it is supposed to, then you probably don't need to buy it a fire hydrant. However, with all the unique and stylish designs, you might want to get one for yourself or as a gift!
Final thoughts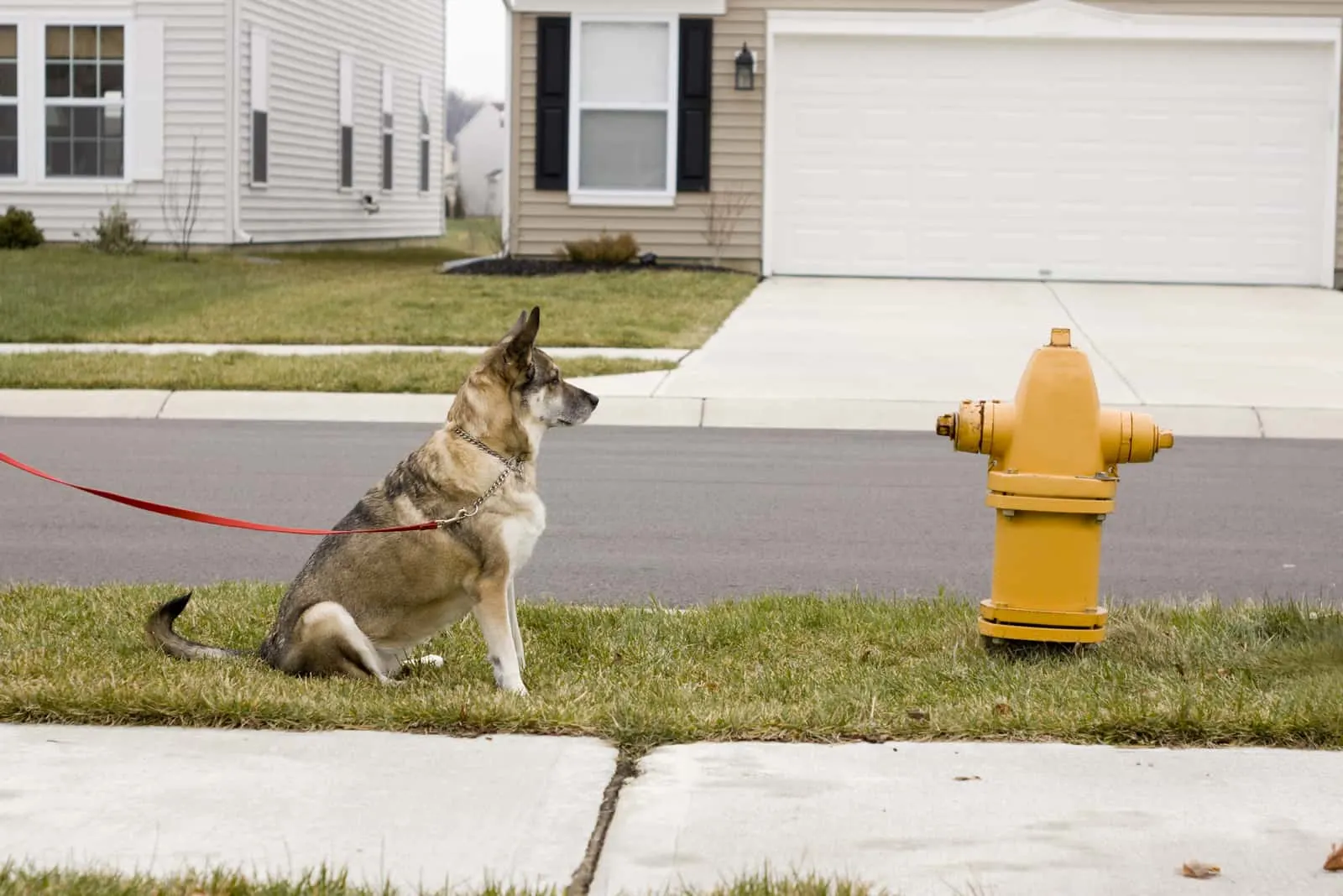 Our canine companions pee to relieve themselves, but more importantly, to mark their territory. This is why they love soaking down trees, bushes, the back yard, the front porch, and the garden.
A fire hydrant for dogs is a safe pee post for training your dog to go potty in whichever area of your back yard you want. Also, most of these hydrant replicas have enough hollow space inside to act as portable storage containers for a number of things.
However, if your pup's urination and peeing habits are only part of the problem, you should consult your vet, so that additional tests can be done. For instance, bladder issues in dogs might cause incontinence issues later on if left unchecked.
Also, if your pup is over six months of age and not yet potty trained, you might want to deal with that as soon as possible. You should also consider talking to your vet if your doggy starts licking its body parts more than it usually does.